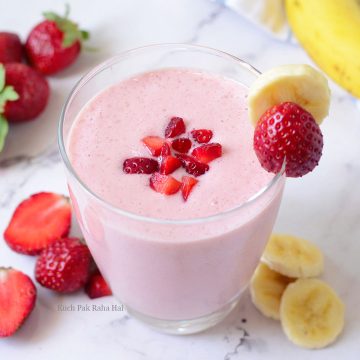 Delicious healthy banana strawberry breakfast smoothie recipe with goodness of bananas, strawberries, yogurt and milk. Its so easy to make and perfect takeaway smoothie on a busy morning.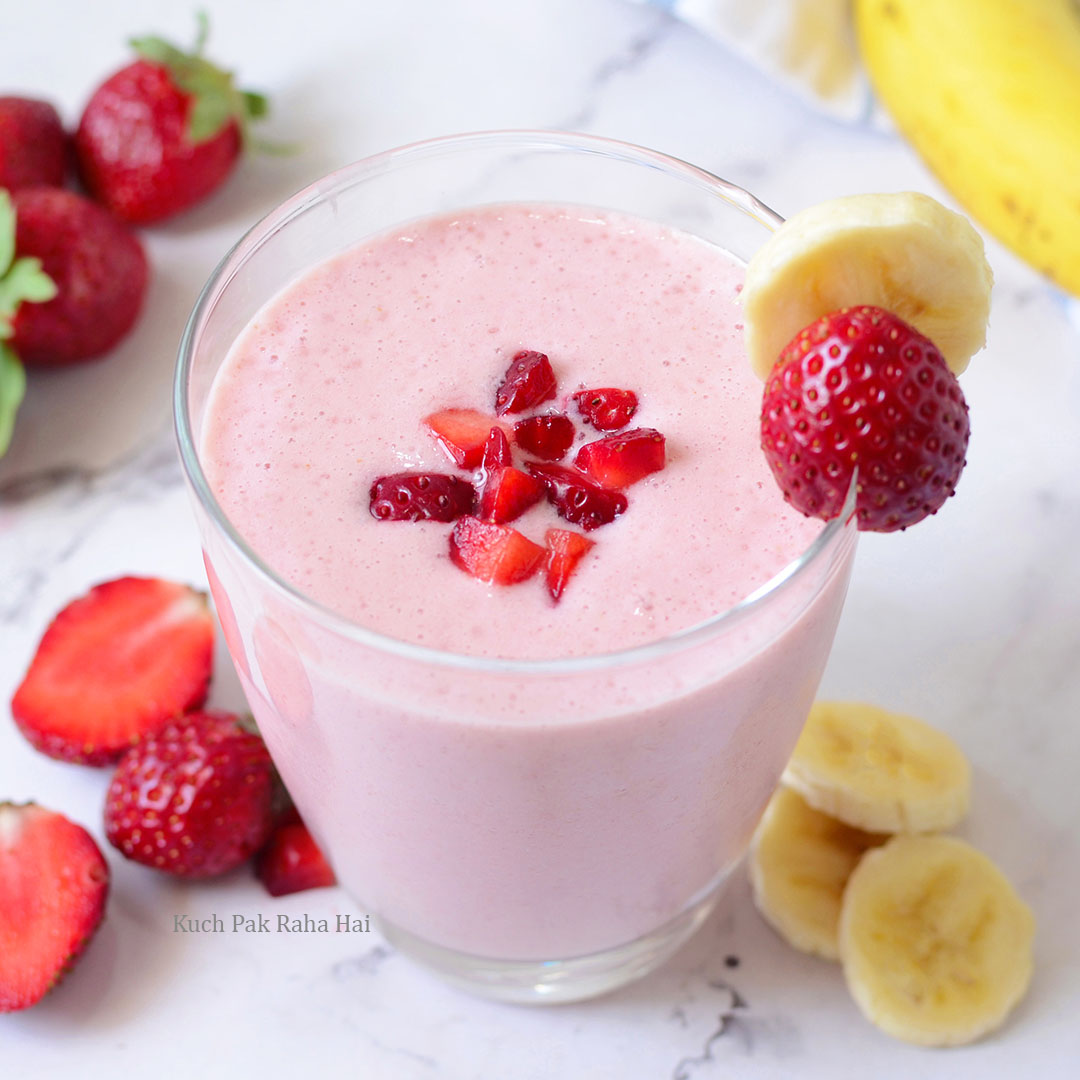 I love strawberries and this strawberry banana smoothie is one of my favourite breakfast recipes. In India, you get fresh strawberries for only 2-3 months so I make sure to use them as much as I can in shakes, smoothies, cakes, cupcakes, ice creams or over pancakes.
This fruit smoothie recipe is very simple to make and takes hardly 10 minutes of your time to prepare from scratch. It is:
Vegan
Gluten Free
Healthy
Kids Friendly
These juicy sweet strawberries not only taste delicious but also have number of health benefits as it is packed with fibre, antioxidants, vitamins and minerals like manganese and potassium. Bananas are also very healthy as they are rich source of potassium, magnesium and soluble fibre.
All the ingredients and their substitutions in this strawberry banana smoothie have been shared in detail below. You can do endless variations in it by adding oats, protein powder, peanut or almond butter etc
Ingredients to make banana strawberry smoothie:
Strawberries: You can use fresh or frozen strawberries to make this smoothie.

Banana:

Bananas make the smoothie thick & creamy. Fresh or frozen bananas can be used in this recipe. If you have surplus bananas at home, you can peel them, cut into smaller pieces and freeze them in a ziploc bag. This way you can use them in smoothies whenever you want.

Milk:

Dairy milk or any plant based milk like soy, oat, coconut or almond milk can be used. Use low fat milk to keep the calories in check.

Yogurt:

I have used epigamia greek yogurt to make this smoothie (use any brand of your choice). You can use plain yogurt, probiotic yogurt , strawberry flavoured yogurt or coconut yogurt for vegan smoothie.

Sweetener: As bananas and strawberries are already sweet I generally don't add any sweetener to the smoothie. If you wish you can add some honey, maple syrup or stevia for additional sweetness.
You can always adjust the consistency of this strawberry smoothie by adding in some more milk to make it thin or increase yogurt or banana for more thickness.
I always prefer adding greek yogurt over regular yogurt in smoothies as it has more protein content. Also, it is more thicker which makes the smoothies creamier.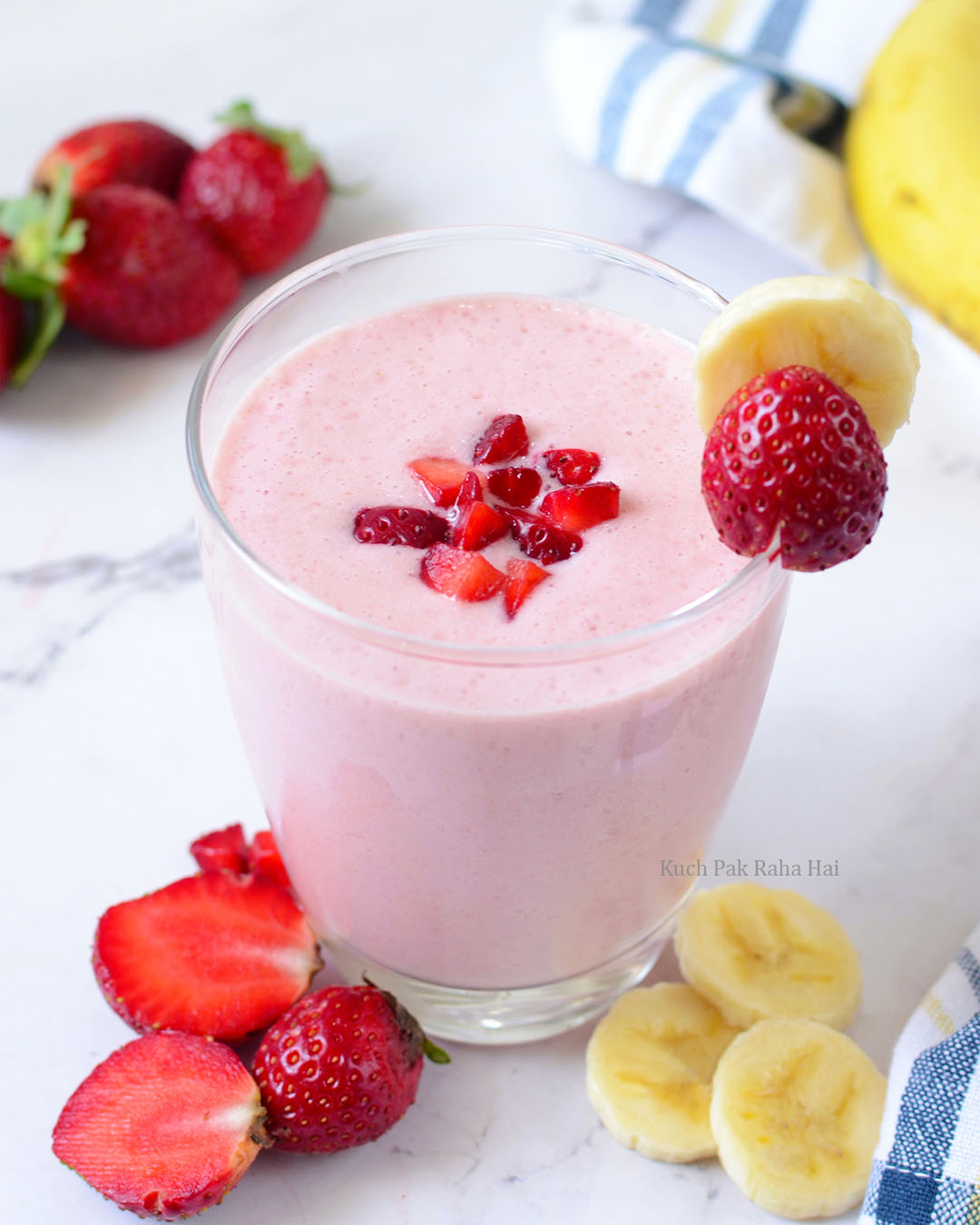 Other ingredients that can be added:
Seeds: Some chia seeds or flaxseeds can be added for additional nutrition.
Baby Spinach: To make it a green smoothie, you can add handful of baby spinach too.
Protein Powder: If you use protein powder as nutritional supplement, then feel free to add a scoop of it in this smoothie to make it more protein packed.
Peanut Butter: If you are a peanut butter fan, add 1 tbsp of it to the smoothie to make it more lip smacking.
Oats: Oats makes the smoothies thicker and more filling. You can blend in 1/4 cup of oats too in this recipe & have it in form of strawberry oatmeal smoothie bowl. Top it up with some more banana, blueberry or coconut flakes for a satisfying nutritious breakfast.
More fruits like : Apples, mangoes, blueberries or raspberries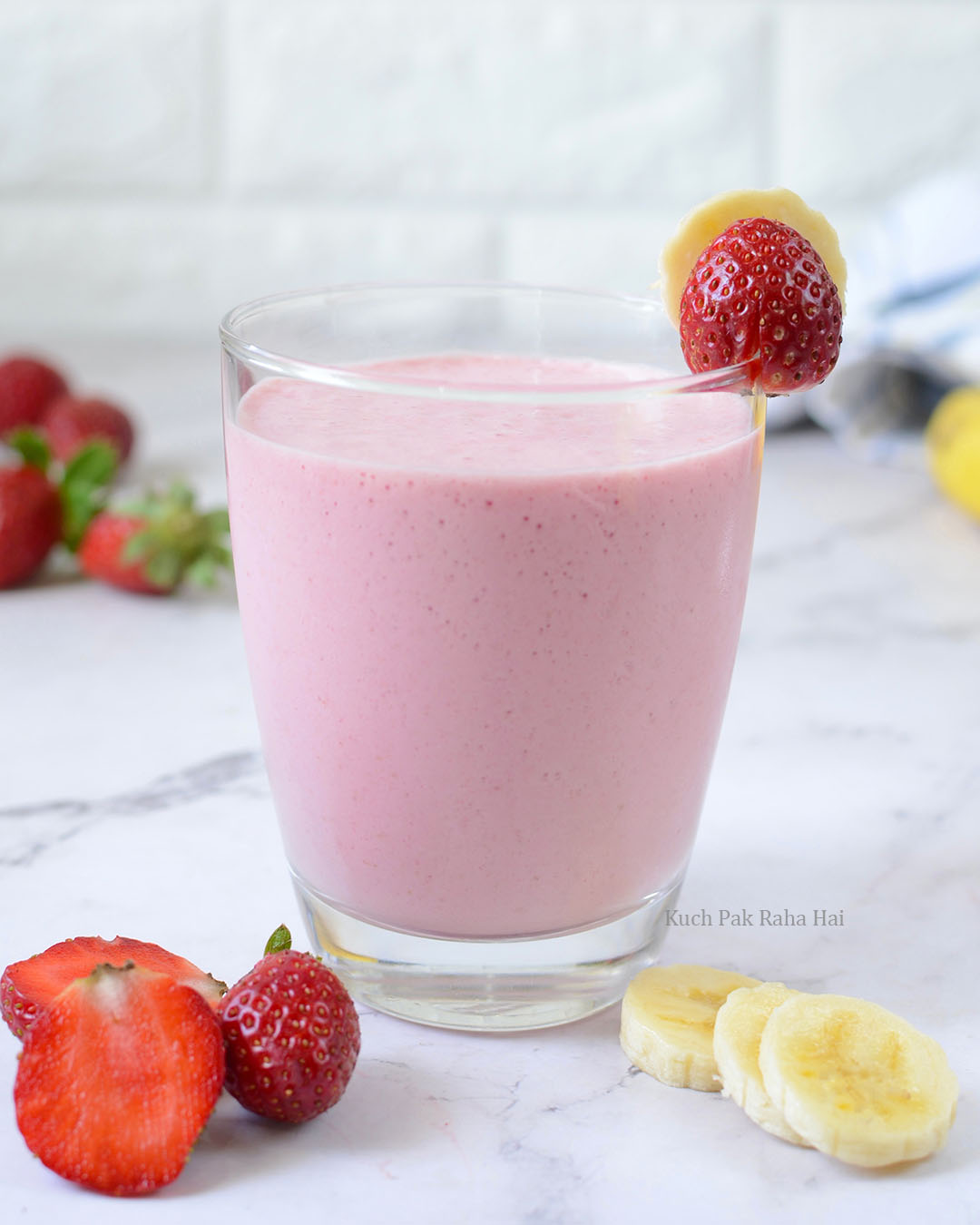 More recipes you might like:
List Of Ingredients : (Makes one serving)
Strawberries- 8 to 10
Banana -1
Milk / Almond Milk*-3/4 cup
Yogurt / Coconut Yogurt-1/2 cup
Honey / Maple Syrup- 1/2 tsp (optional)
Vanilla extract- 1/2 tsp (optional)
Notes:
1.*You can use low fat milk or any unsweetened plant based milk like almond milk or soy milk.
2. You can use low fat regular yogurt, greek yogurt. strawberry flavoured yogurt or coconut yogurt for making vegan strawberry smoothie.
3. Refer to the post above for more substitution or addition ideas.
Directions:
Step 1:
Slice banana, strawberries and add them to a blending jar.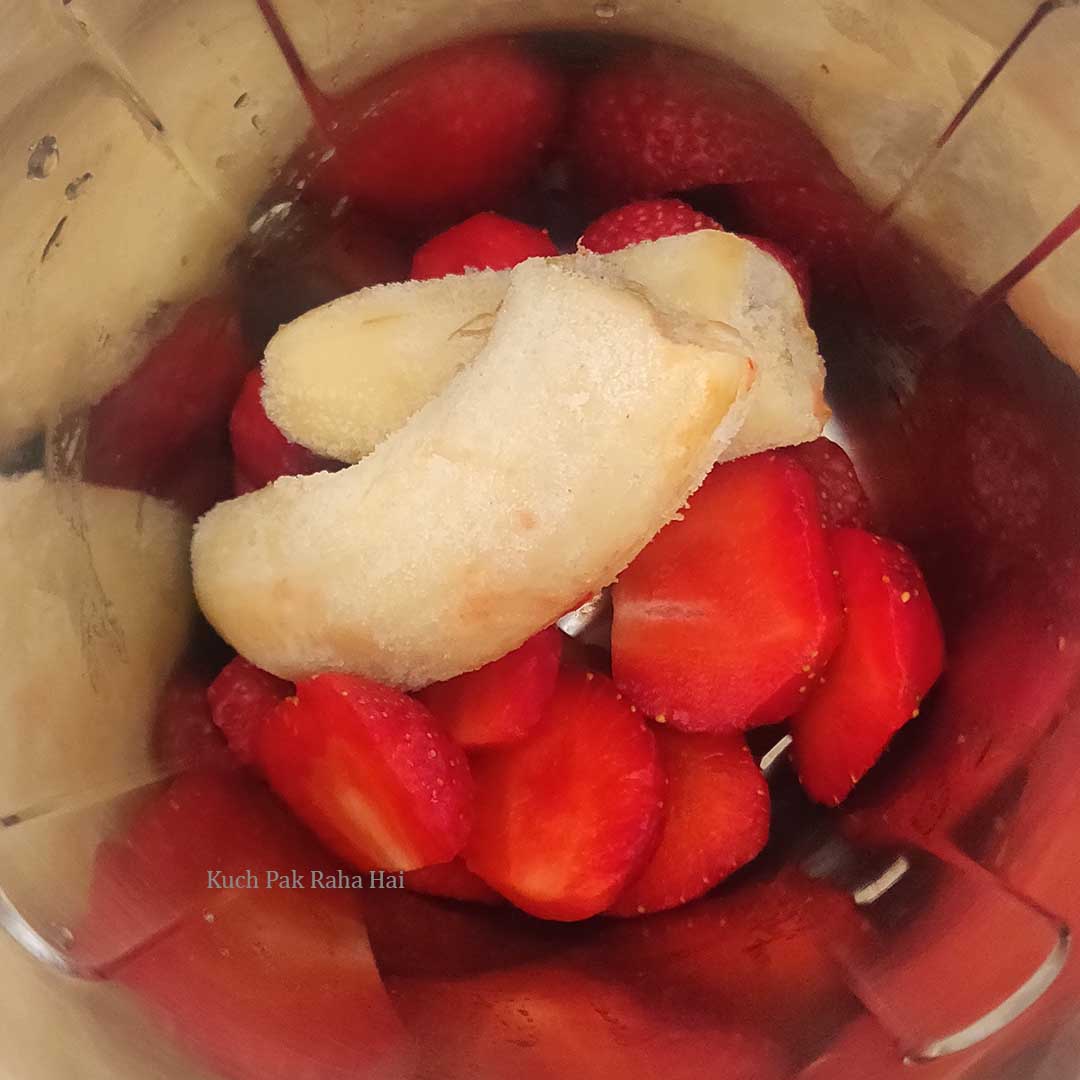 Step 2:
Also add milk, yogurt, honey or maple syrup to the strawberries and banana. Blend well.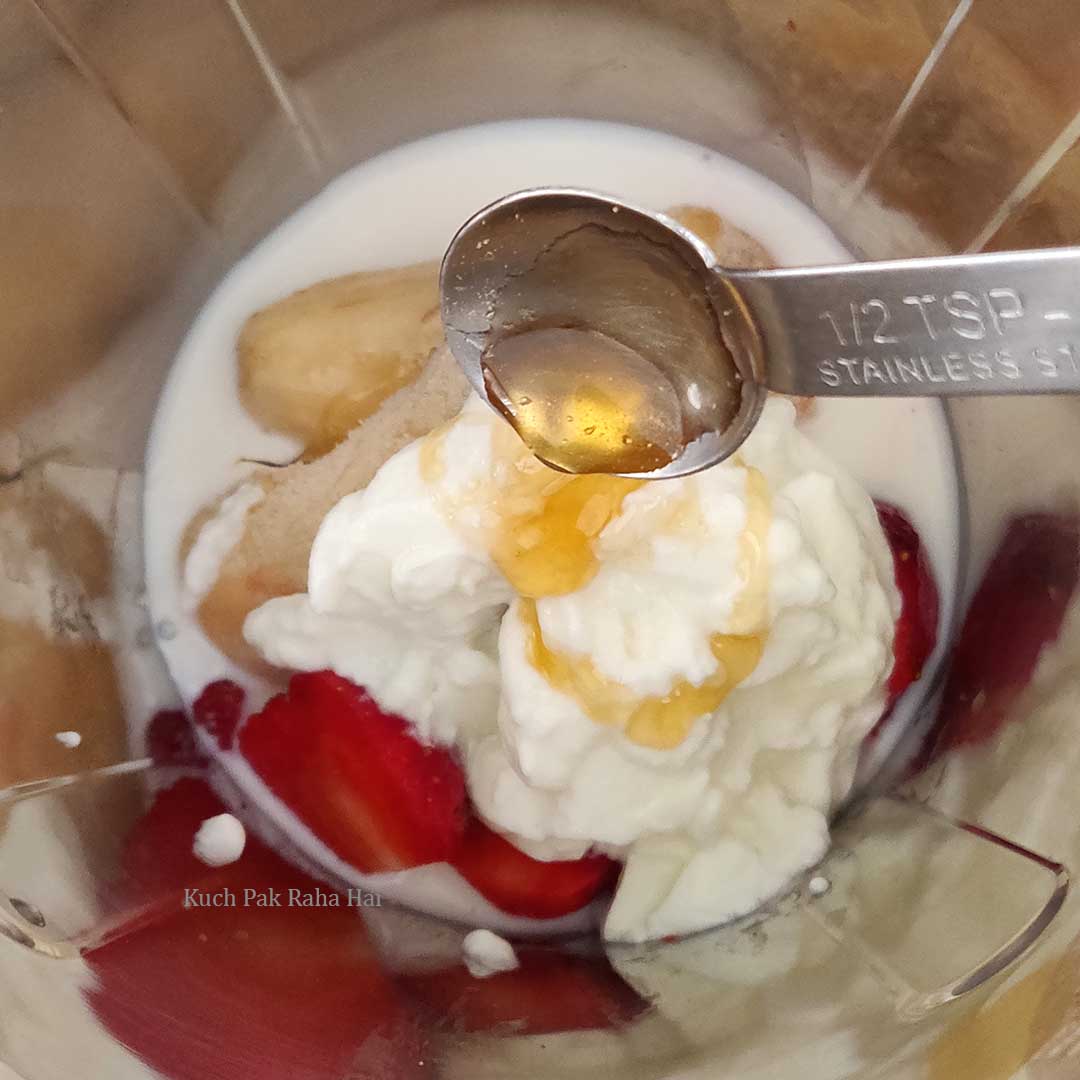 Step 3:
Taste and adjust the sweetness as per your taste. Pour this yummy strawberry smoothie in a glass & top it up with some more strawberry or banana slices. Enjoy!!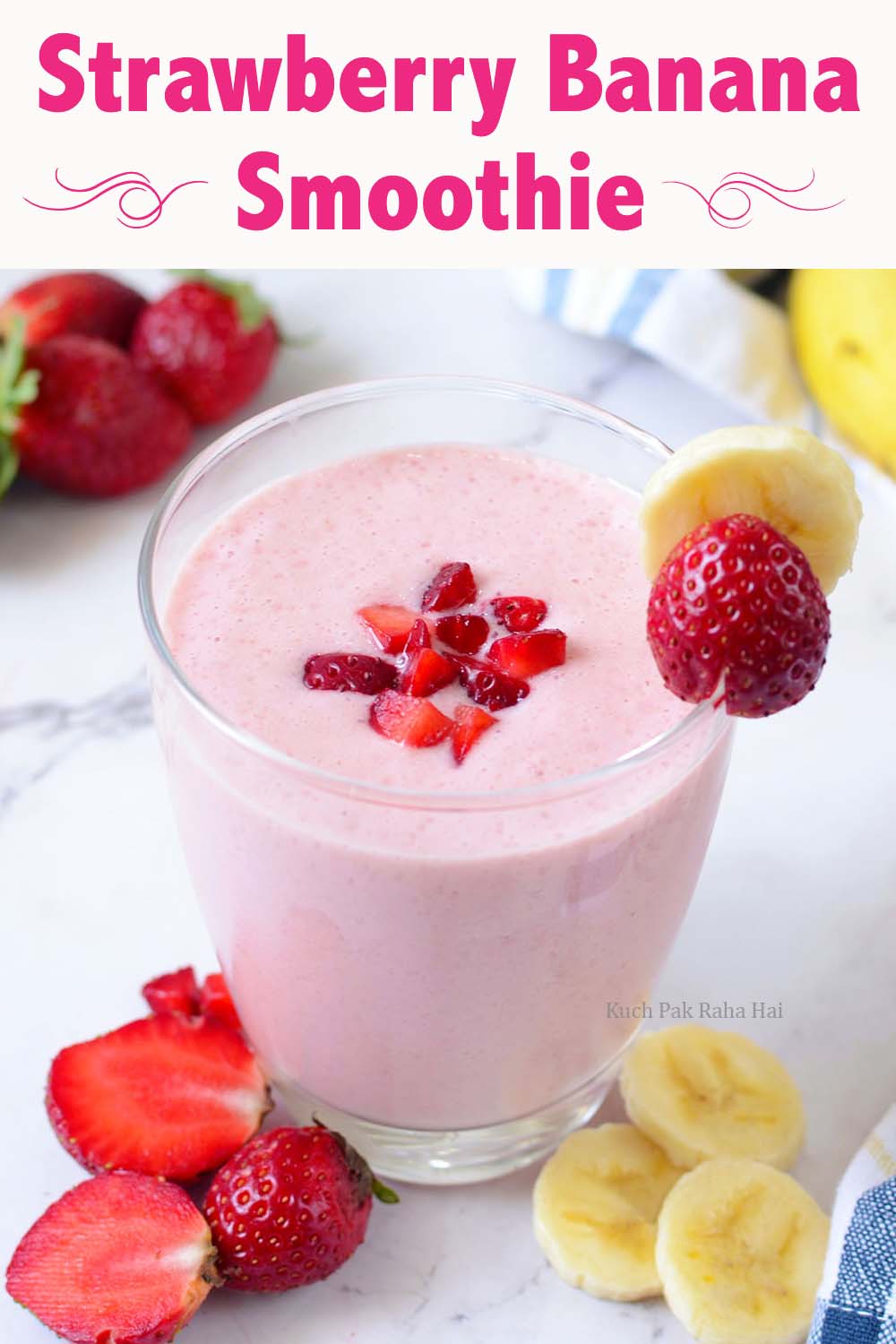 How to make strawberry milkshake?
To make delicious thick strawberry milkshake, replace the yogurt with a scoop of vanilla or strawberry ice cream and blend well. Top it up with more ice cream, fresh strawberries, generous drizzle of hershey strawberry syrup or strawberry oreo cookies to make a rich indulgent strawberry shake.
Some healthy breakfast ideas:
If you try this recipe & share pics on social media, then don't forget to tag us on Facebook or Instagram or use the hashtag #kuchpakrahahai.
Let's stay connected
Facebook | Instagram | Pinterest| Youtube