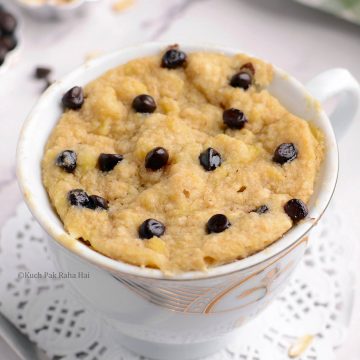 Satisfy you cake cravings with this soft, yummy yet healthy oat mug cake that gets ready in 2 minutes. It is gluten free, vegan, eggless and perfect for breakfast or as light dessert .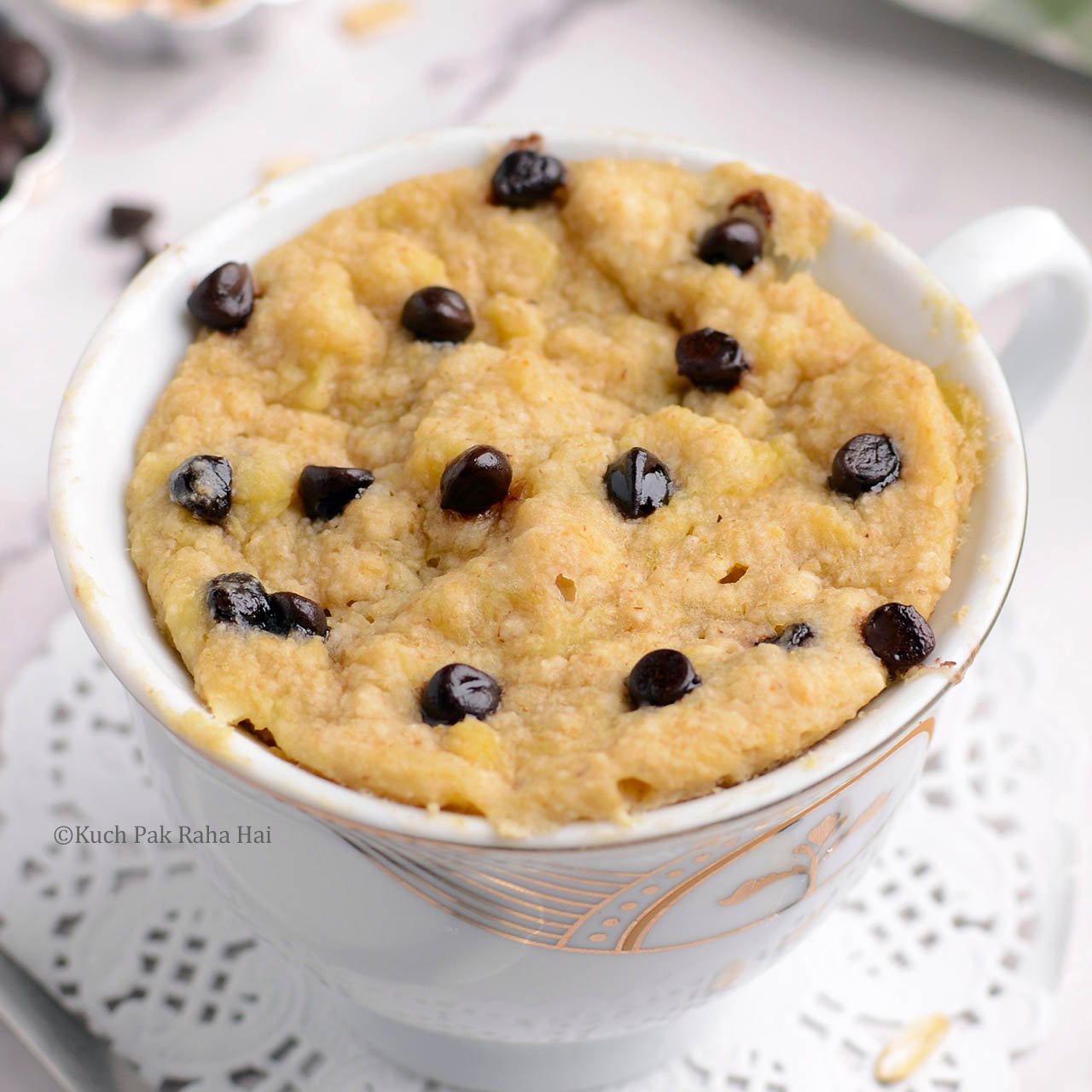 The oatmeal mug cake recipe shared here has no flour or refined sugar. You can even make it as single serve baked oats in microwave in ramekin moulds. The best part about it is that it is ready in less than 2 minutes which makes it perfect for breakfast or quickly satiate your sugar cravings in healthy way.
The mug cake uses 36 grams of oats which has roughly 140 calories & 6 g of protein. Together with banana, milk, nuts it makes for a nourishing wholesome breakfast.
You can enjoy this delicious healthy oats banana mug cake with your favourite berries, chocolate chips, honey, maple syrup or top up with a small scoop of vanilla or chocolate ice cream for healthy dessert.
The microwave oatmeal mug cake recipe shared here is
Vegan
Healthy
Gluten Free
No refined sugar
Eggless (No eggs)
Ready in 2 minutes!!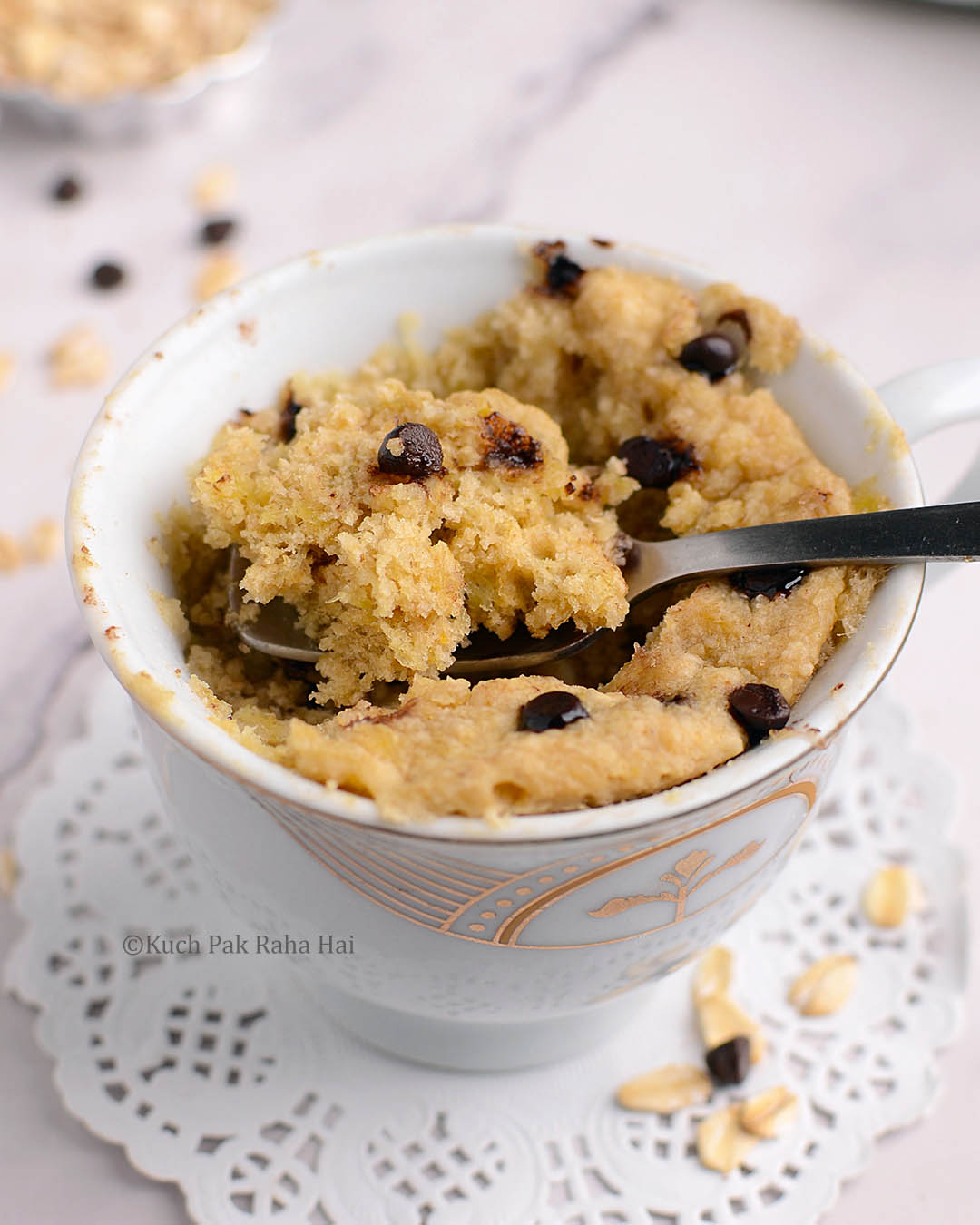 Ingredients for Oat Mug Cake:
You will need just few basic ingredients to whip up this delicious oatmeal mug cake-
Oat flour– You can easily find oat flour in grocery stores or just make your own by grinding old fashioned rolled oats or instant oats in a grinder jar.
Banana- Use ripe banana for maximum sweetness.
Sweetener- As I did not want to use refined sugar in this mug cake recipe, I have used honey as sweetener. For vegan mug cake, use maple syrup or coconut sugar.
Milk- You can use skimmed milk or almond, soy, oat milk in this recipe.
Flavouring- Little bit of vanilla extract & pinch of cinnamon instantly adds a lovely aroma in this mug cake. You can even use pumpkin spice mix.
Oil- Use any neutral flavourless, odourless oil like olive, canola or avocado oil.
Add ons- You can add milk or dark chocolate chips or chopped nuts like almonds, walnuts etc as per your choice.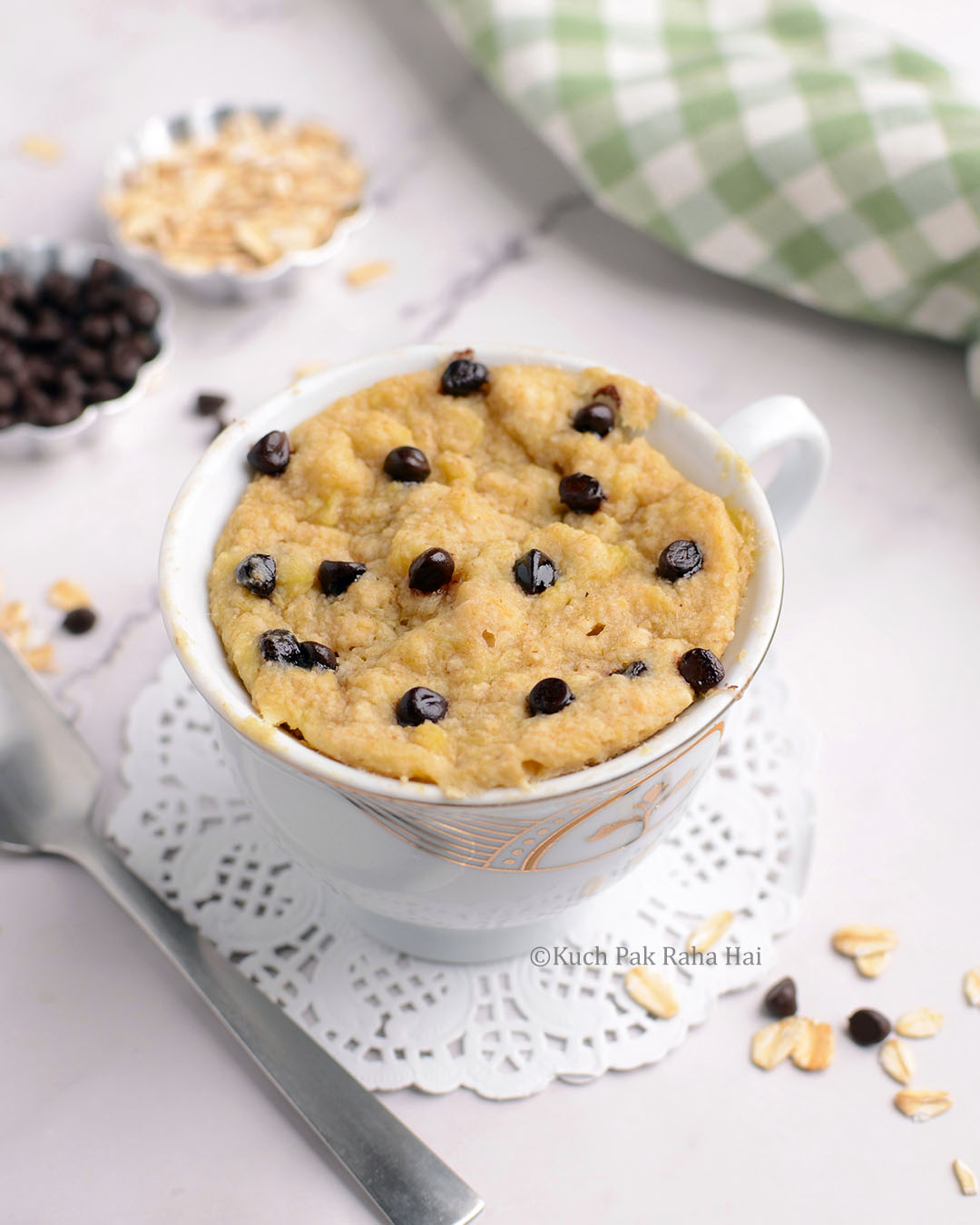 More eggless microwave mug cake recipes:
Hope you would like this tasty easy & healthy oatmeal mug cake recipe!!
Youtube Video:
If you are looking for more yummy oats recipes then do checkout the links below:
Ingredients:
Powdered Oats / Oat flour- 1/3 cup
Ripe Banana-1
Milk / Non dairy milk-1 tbsp
Oil*-2 tsp
Honey / Maple syrup- 3/4 tbsp (to taste)
Vanilla Extract- 1/4 tsp
Baking Powder-1/2 tsp
Chocolate Chips or Nuts- 2 tsp
Notes:
1. Use any odourless cooking oil like olive oil, canola oil or avocado oil.
2. You can prepare oats flour by grinding rolled oats or instant oats. I have tried this recipe with both types.
3. You can also add a pinch of cinnamon powder in this mug cake.
Directions:
Step 1:
Take some rolled oats in a grinder jar & grind them to get oats flour. If you are using store bought oats flour, then skip this step.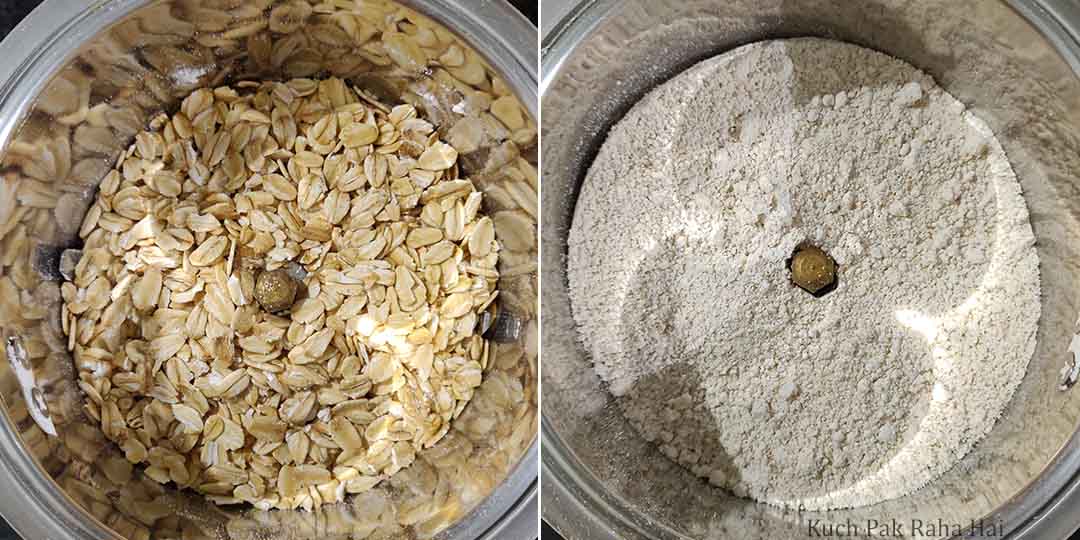 Step 2:
In a microwave safe mug, add banana with rest of the wet ingredients. Mash the bananas with the help of fork & mix well all the ingredients.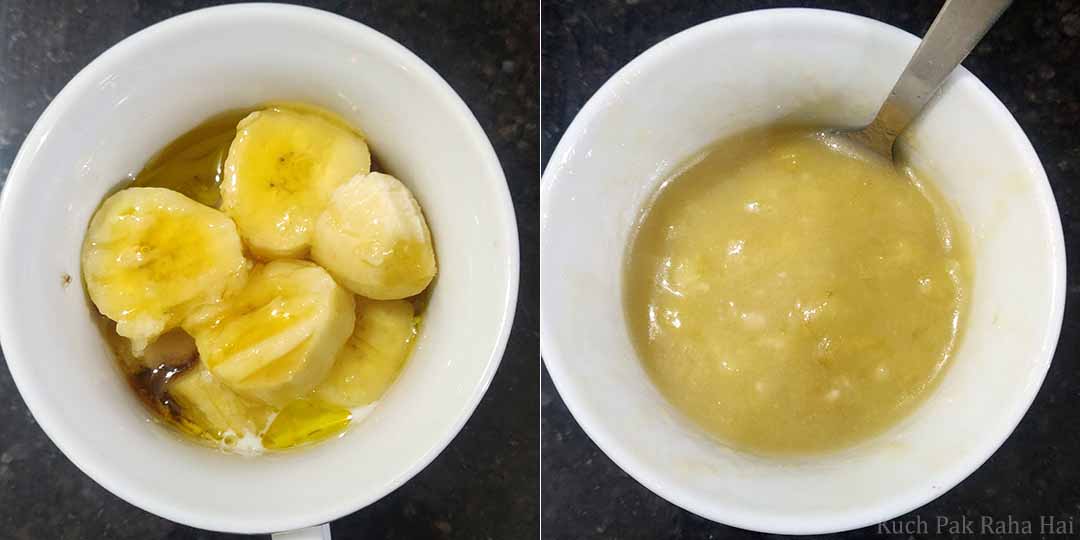 Step 3:
Add oats flour & baking powder in the mug. Mix well once again. Add some chocolate chips or nuts of your choice.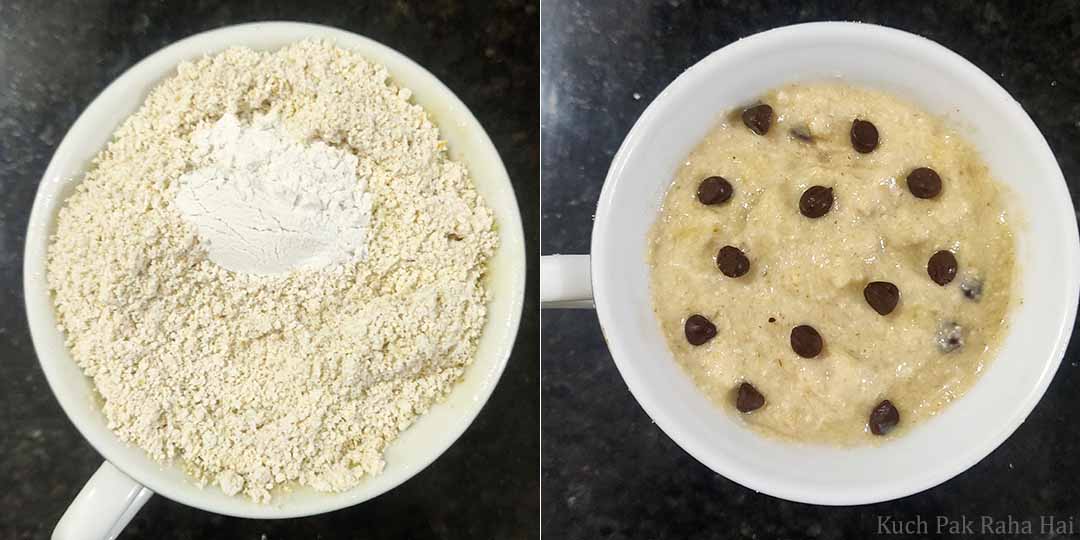 Step 4:
Microwave for 2 minutes. If you like your mug cake gooey & moist then microwave for (1 minute + 50 seconds).
Enjoy this yummy oats mug cake warm in breakfast or as a light dessert.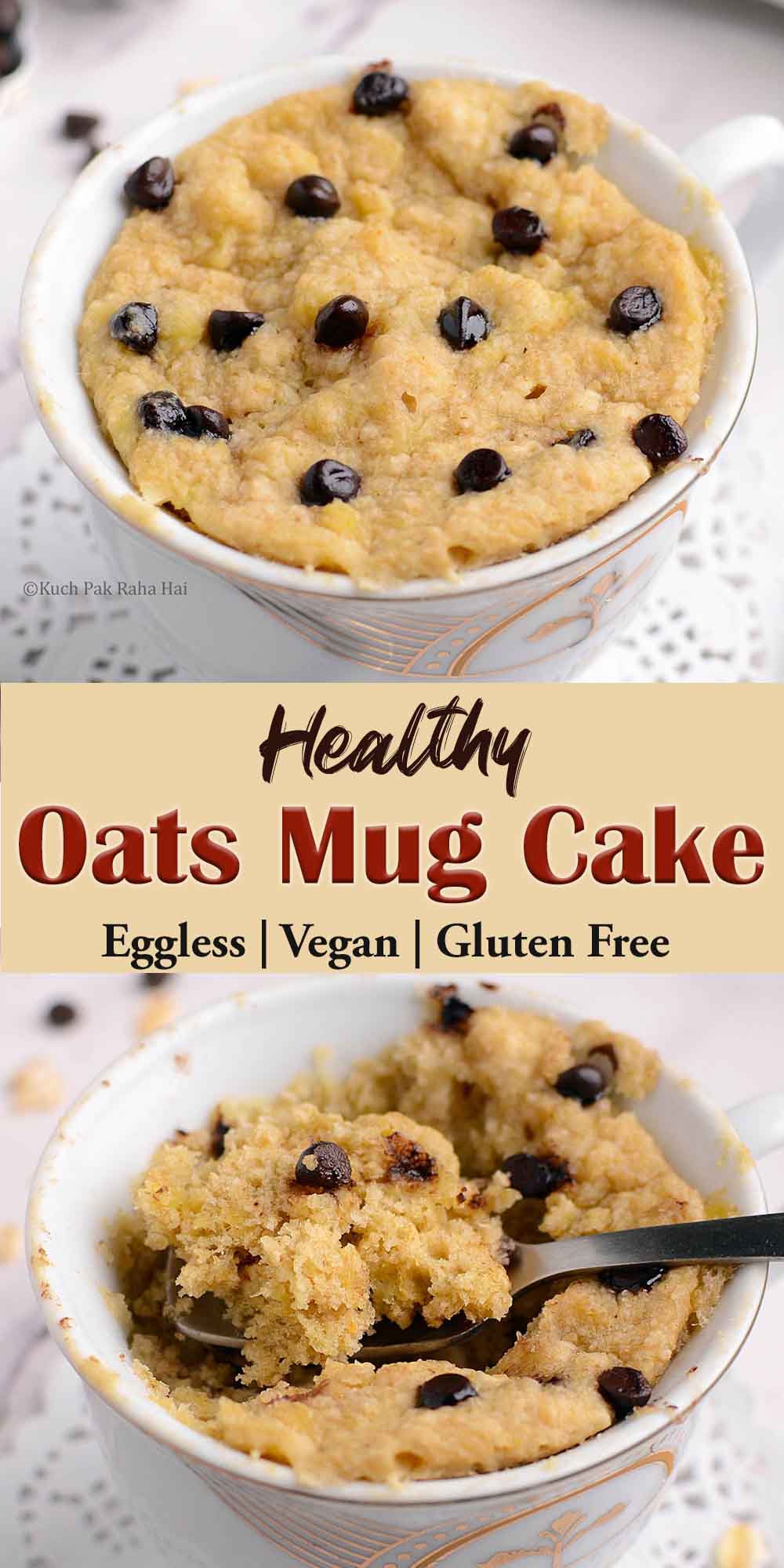 More healthy desserts to satisfy your sweet tooth:
If you try this healthy mug cake recipe & share pics on social media, then don't forget to tag on Facebook, Instagram or use #kuchpakrahahai to get featured.
Let's stay connected
Facebook | Instagram | Pinterest| Youtube