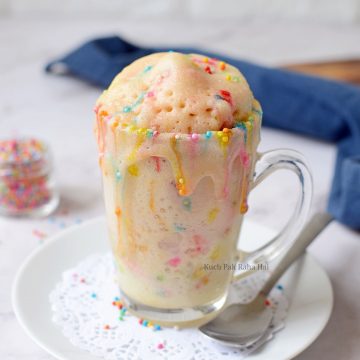 Delicious soft eggless vanilla mug cake recipe made in microwave in just 2 minutes. Simple, quick to make and perfect to satiate your midnight sweet cravings.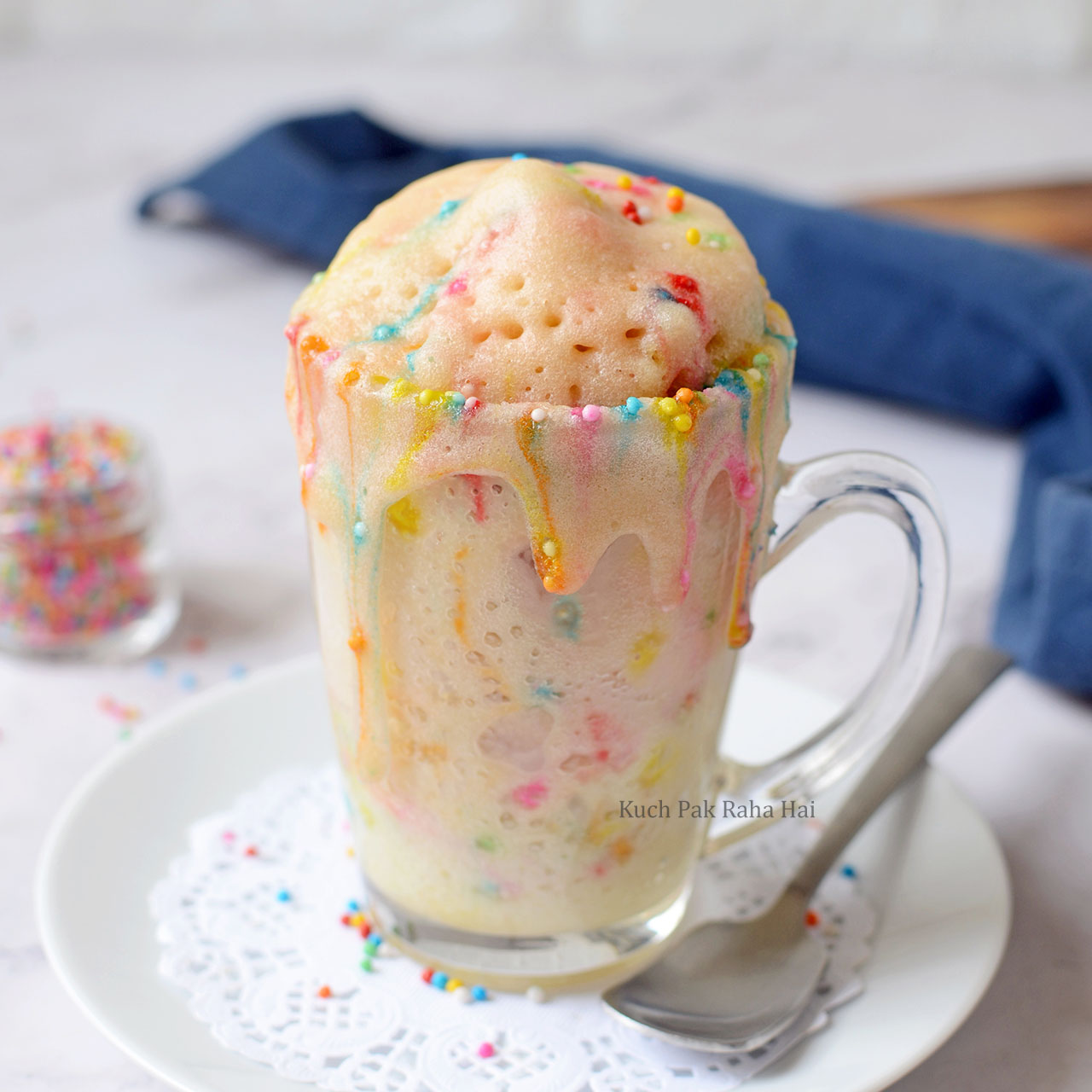 It is an easy mug cake recipe which is:
Egg free
Easy to Make
Made in Microwave in just 2 minutes!!
This vanilla mug cake in microwave is perfect for the time when you are craving for something sweet after lunch, dinner or to have something quick after a long tiring day at office. For late night snack cravings, this recipe can be your perfect companion as each bite of warm, soft & fluffy cake feels so comforting, just hitting the right sweet spot.
Mug Cake Variations:
Apart from vanilla extract to flavour this mug cake, you can also add:
Fresh fruits or berries like cranberries, strawberries or blueberries
Any fruit jam of your choice to make the cake gooey & more moist. Remember to adjust the sugar as jam already has sugar.
Chopped Nuts like almonds, walnuts, pistachios or golden raisins.
Warm spices like ginger powder, cinnamon powder or a pinch of nutmeg.
Some whipped cream and edible confetti or sprinkles
Chocolate Chips, chopped chocolate or drizzle some chocolate sauce/ syrup on top.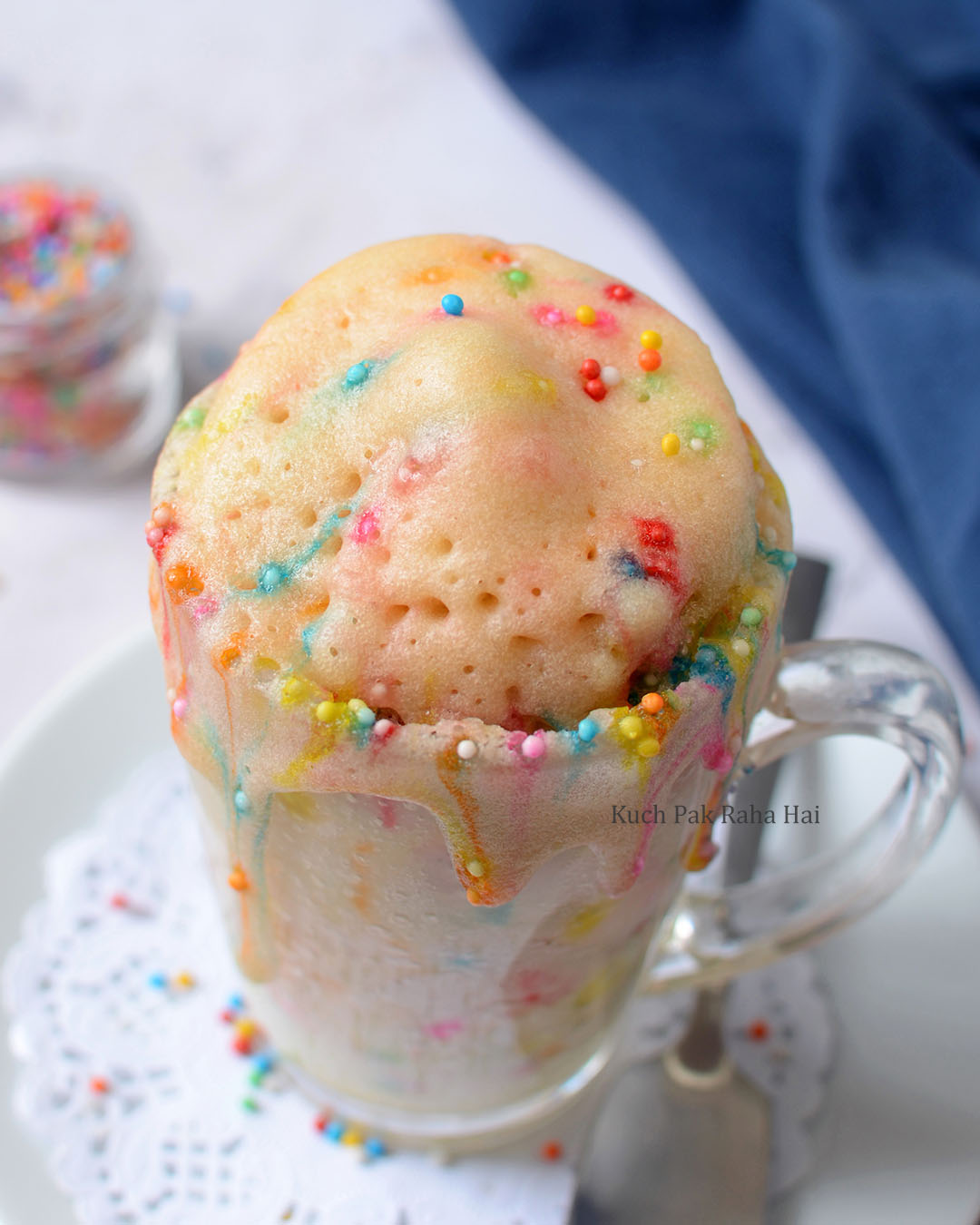 If you are looking for more easy mug cake recipes, then do checkout the link below:
This is one of the first recipe I learned from my mother. I loved eating cake as kid & this recipe always came to rescue. I still make it whenever I crave for cake and not in a mood to bake a whole cake.
Tips to make perfect mug cake in microwave:
All you need is do is gather & mix few ingredients to get a fresh, soft and yummy mug cake in less than 2 minutes. Sharing few points before you try this microwave mug cake recipe:
Use only microwave safe mug to prepare cake in microwave. Do not use metalware.
The cake is meant to be served hot. Do not keep it for too long once it is out of oven. Enjoy it while it is still warm.
The microwave cooking time varies from model to model. This mug cake gets ready in my oven in 1 minute 30 seconds. It might take upto 2 minutes sometimes. Check the centre of the mug cake with the knife or skewer. If you get wet batter on the tip then microwave for 5-10 seconds more.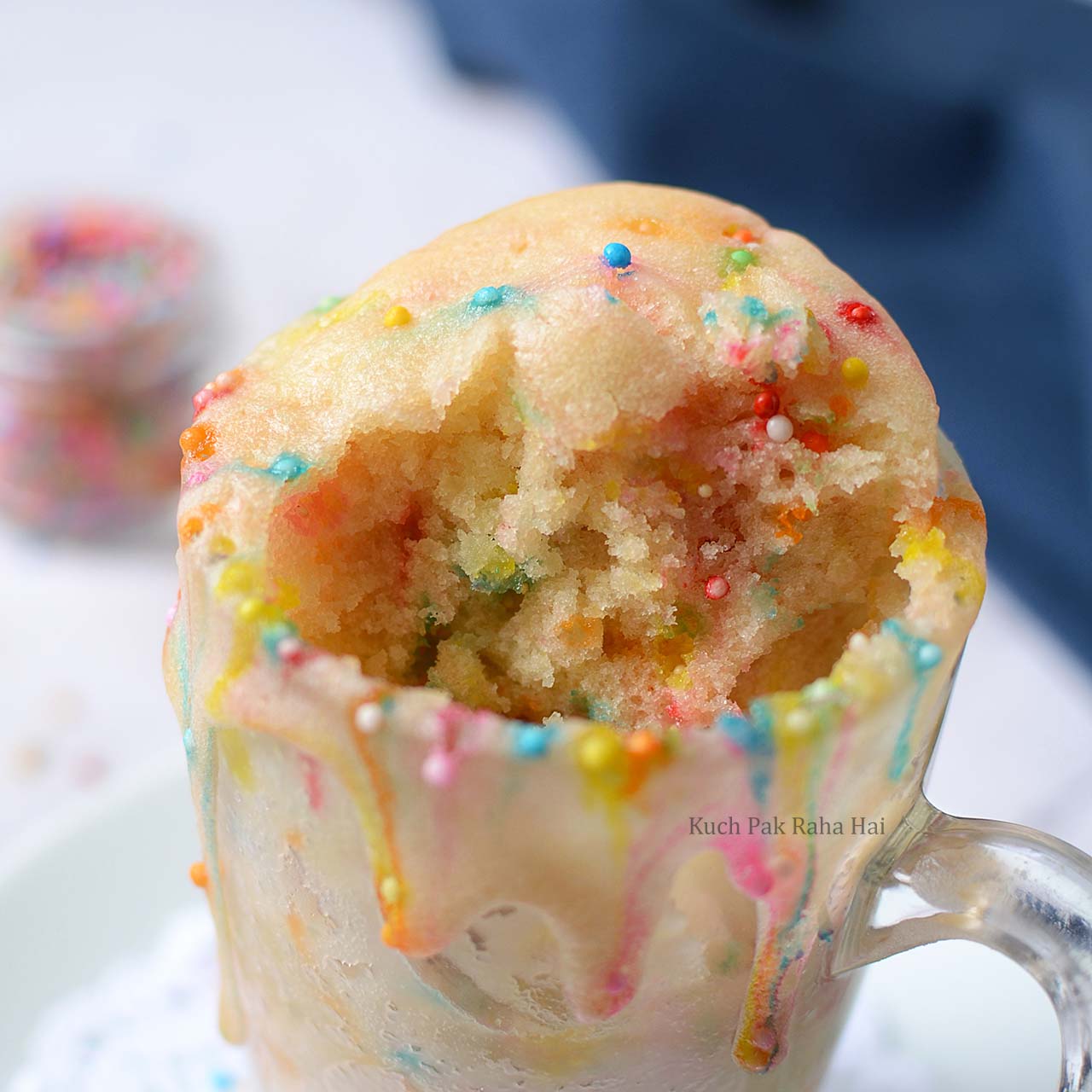 Hope you would like easy and delicious soft vanilla mug cake recipe!!
More eggless baking recipes:
Youtube Video:
List Of Ingredients: (Serves 1)
All Purpose Flour (Maida)-5 tbsp
Powdered Sugar-2.5 tbsp
Baking Powder-1/4 tsp
Baking Soda-A pinch
Milk / Non dairy milk-1/4 cup
Oil*-2 tbsp
Vanilla essence-1/4 tsp
Vinegar-1/2 tsp
Edible Confetti / Choco Chips- 2 tsp
Notes:
1. Measuring Cup Used 1 cup = 240 ml
2. To make vegan mug cake, use any non dairy milk like soy, almond or oat milk.
3. You can use any odourless neutral oil like sunflower, canola, avocado or olive oil.
3. If you like less sweet cakes, add 2 tbsp sugar.
4. Instead of vinegar you can also use lemon juice but for best results I would recommend using vinegar only.
Steps To Prepare:
Step 1:
Add flour, powdered sugar, baking soda and baking powder in a mug. Mix well.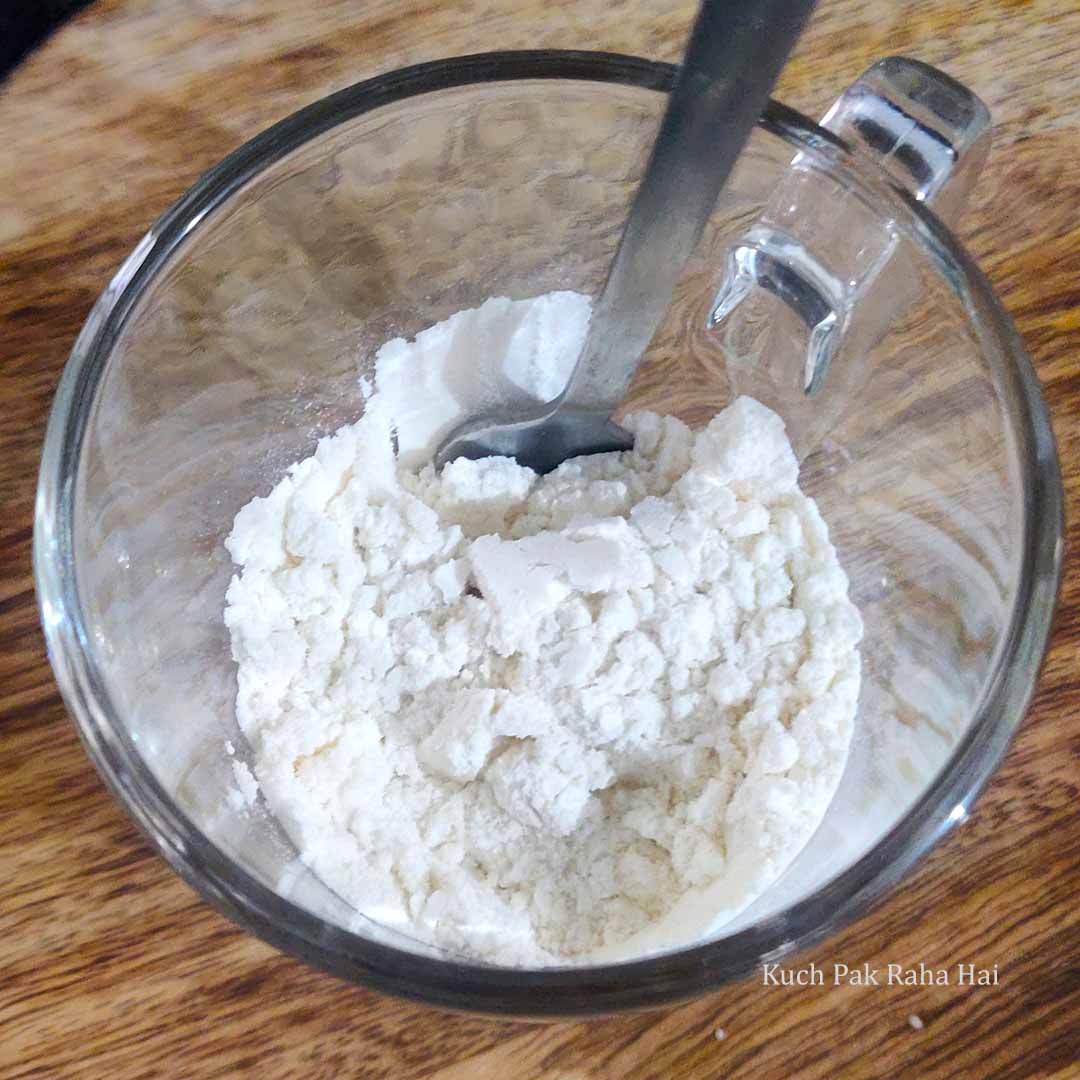 Step 2:
Add wet ingredients i.e. milk, oil, vanilla essence and vinegar to the mug.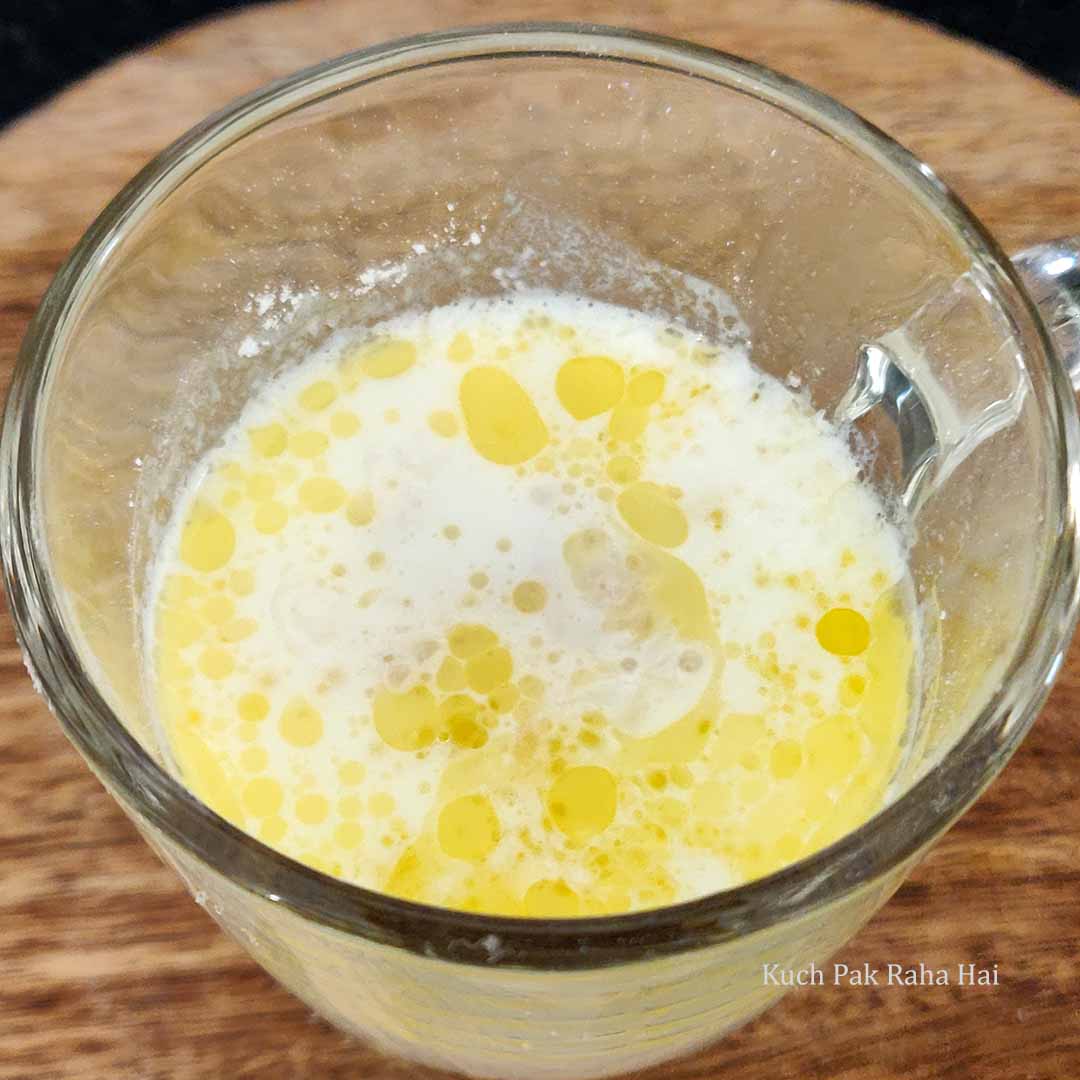 Step 3:
Mix thoroughly using a fork till you get a smooth lump free batter. Make sure you stir till the bottom of the cup.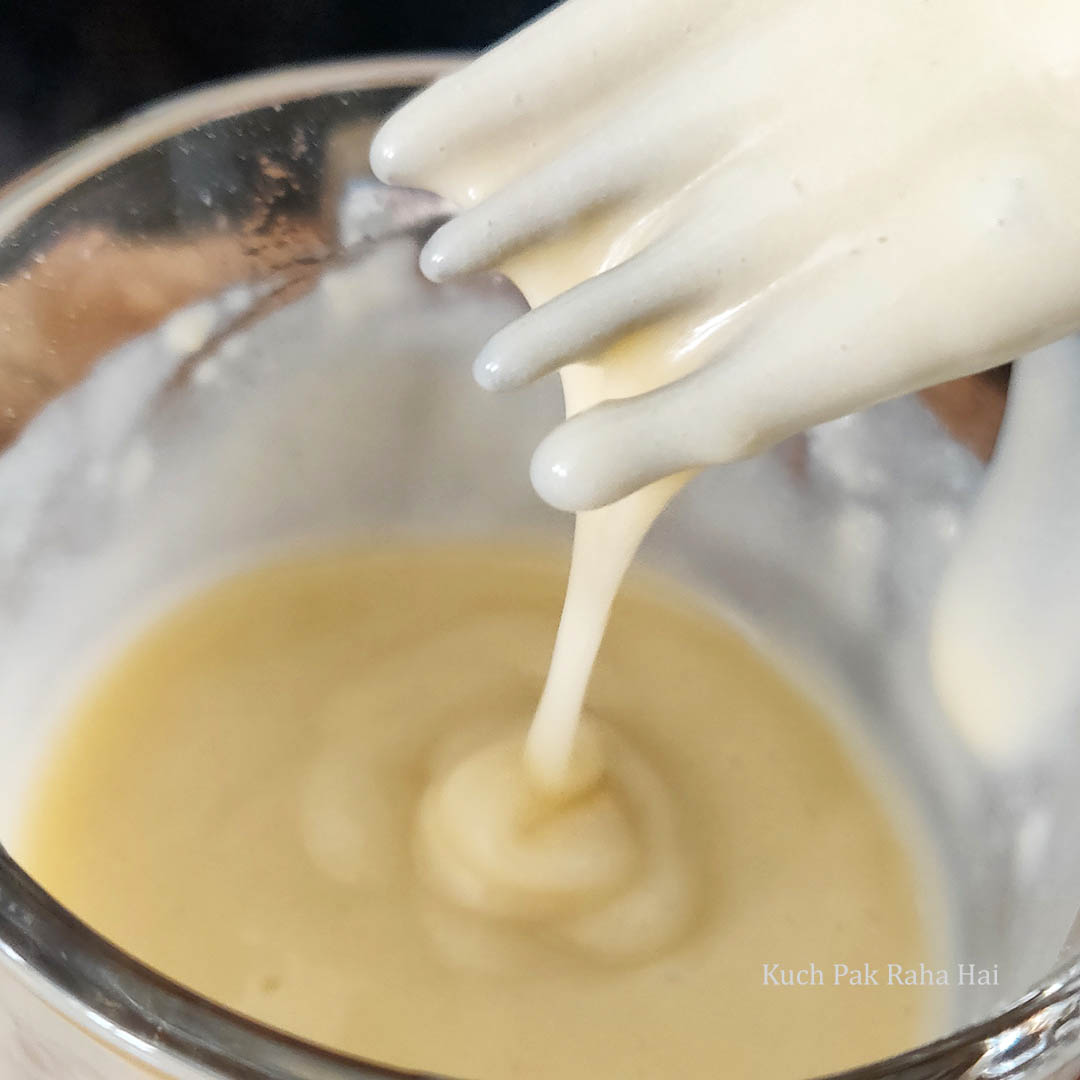 Add some sprinklers and mix gently. Top up with some more.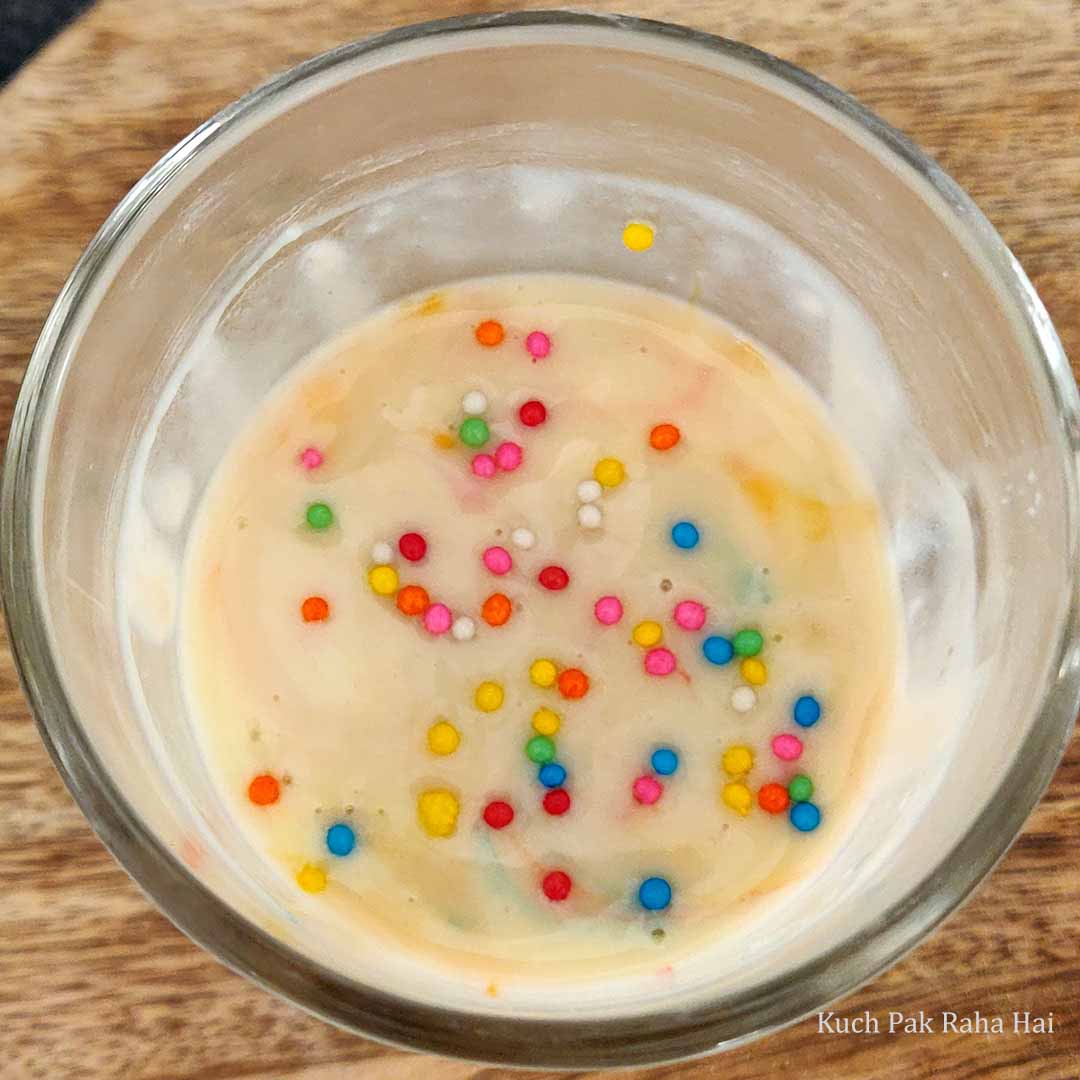 Step 4:
Microwave it for 90 seconds (1min 30 seconds). The time taken depends on the capacity and brand of your oven. Mine gets ready in 1 min 30 seconds. Insert a toothpick and check if it comes out clean. If it is wet, microwave it for another 10-15 seconds.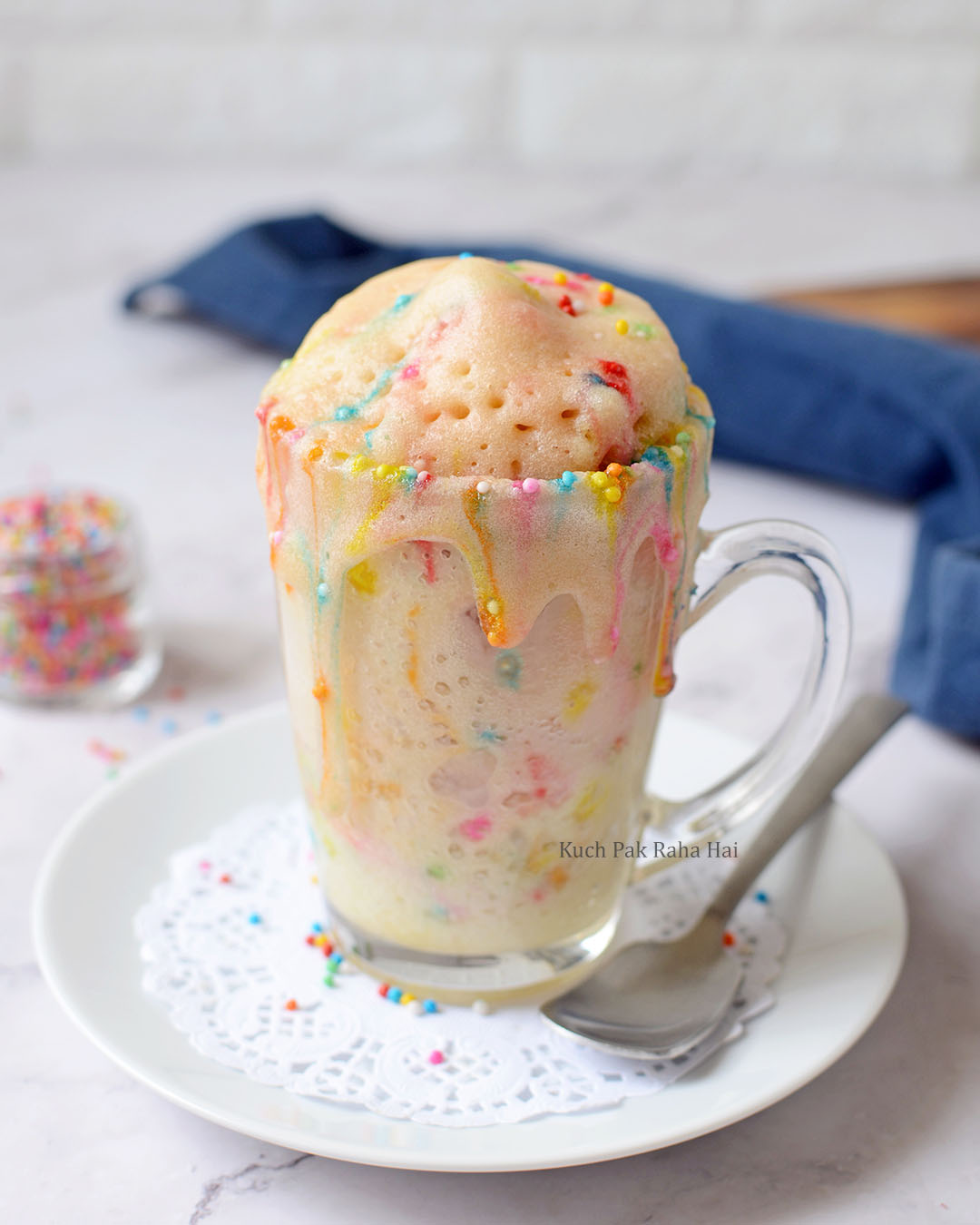 You can top it with some whipped cream, chocolate sauce. Enjoy this delicious warm mug cake.
Just look at the texture of this mug cake. Turns out so soft!!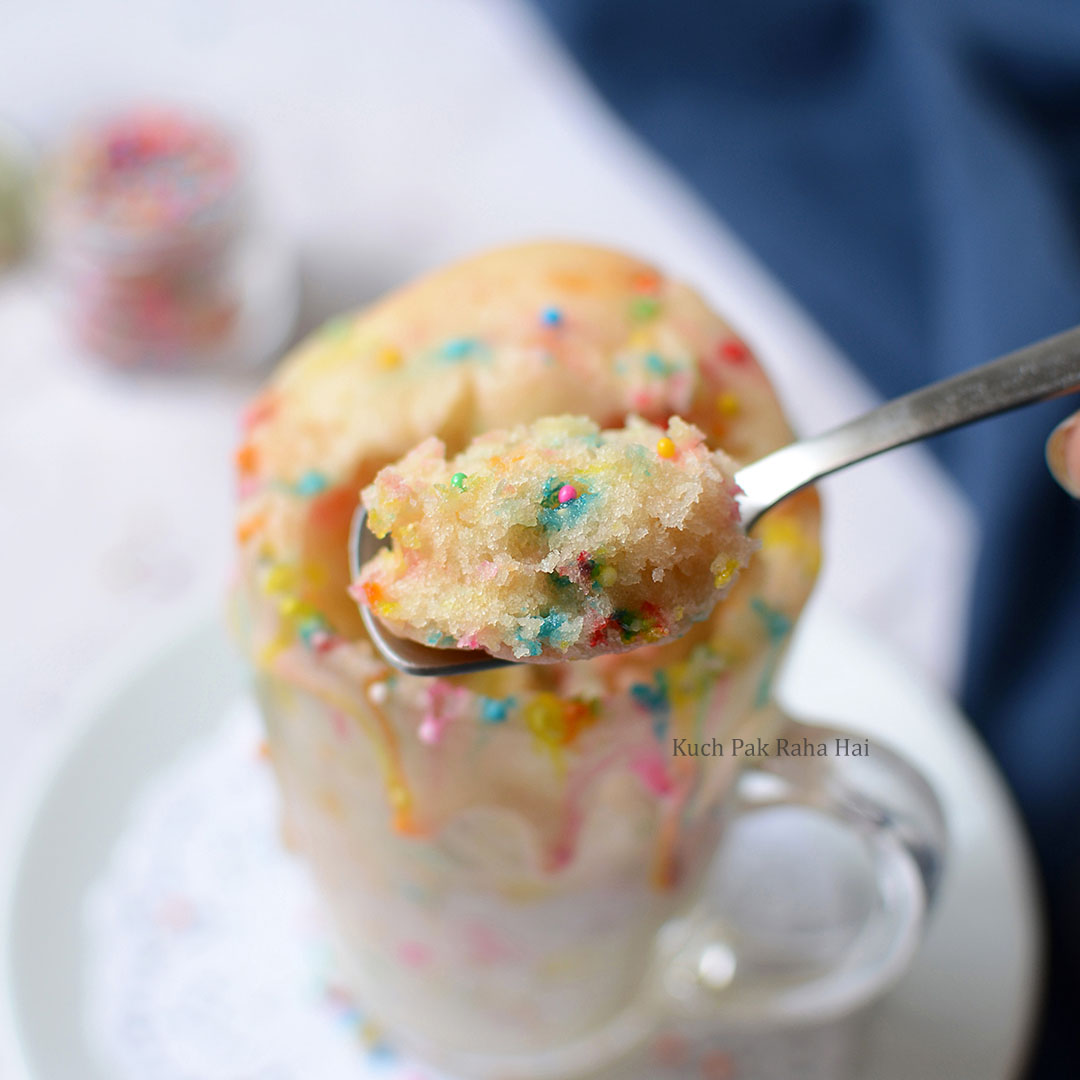 If you try this recipe & share pics on social media, then don't forget to tag us on Facebook or Instagram or use the hashtag #kuchpakrahahai.
Pin for later: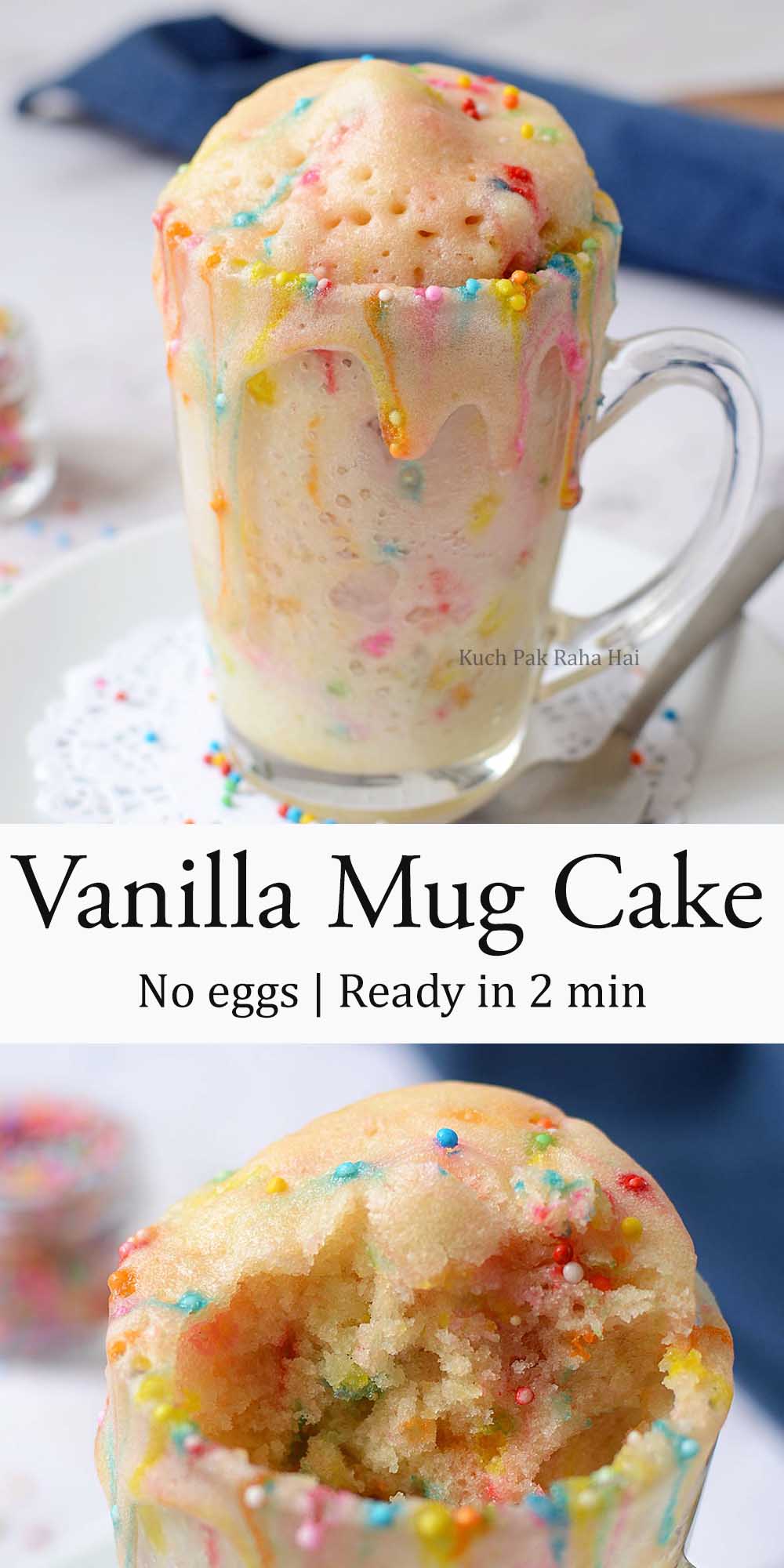 Let's stay connected
Facebook | Instagram | Pinterest| Youtube