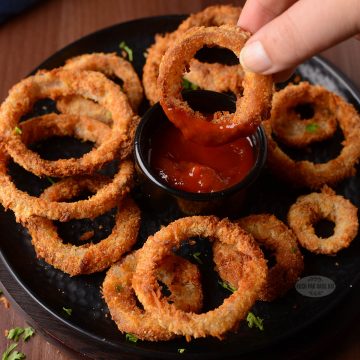 Air fryer onion rings is an easy to make crunchy delectable snack that can be made in air fryer using very little oil. The recipe shared here has no eggs, no buttermilk & is completely vegan.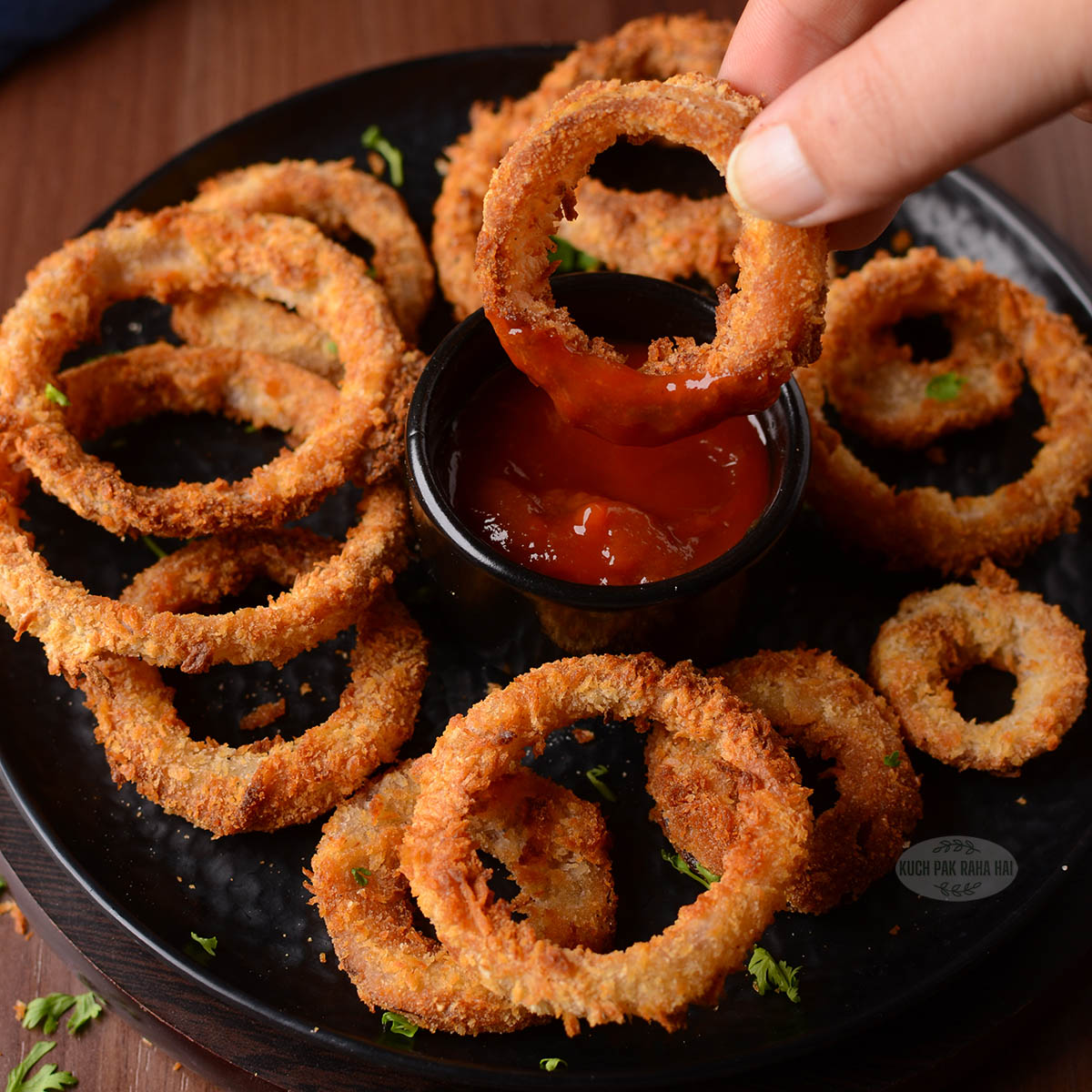 Everyone at my home loves onion rings. Whether it is weekend or game day, these vegan air fried onion rings are enjoyed by all. They are great to serve as snack, appetiser or side dish with burgers.
Before air fryer, I honestly made onion rings very occasionally because of the entire hassle of deep frying, but with air frying the cooking process has become so much easier. In most recipes, the onion rings are first dipped in egg batter before coating with breadcrumbs but as I wanted to make the recipe without eggs I have made a flour based batter as egg substitute.
These homemade onion rings turn out so crispy & amazing that you would love to make them on repeat. You can also easily reheat the leftover onion rings in air fryer.
The air fryer onion ring recipe shared here is:
Easy to make
Vegan / Vegetarian
Egg free & Dairy free
Great for snack or appetiser
Are onion rings healthy? In comparison to deep fried version, air fried onion rings are made with such little oil and hence better option.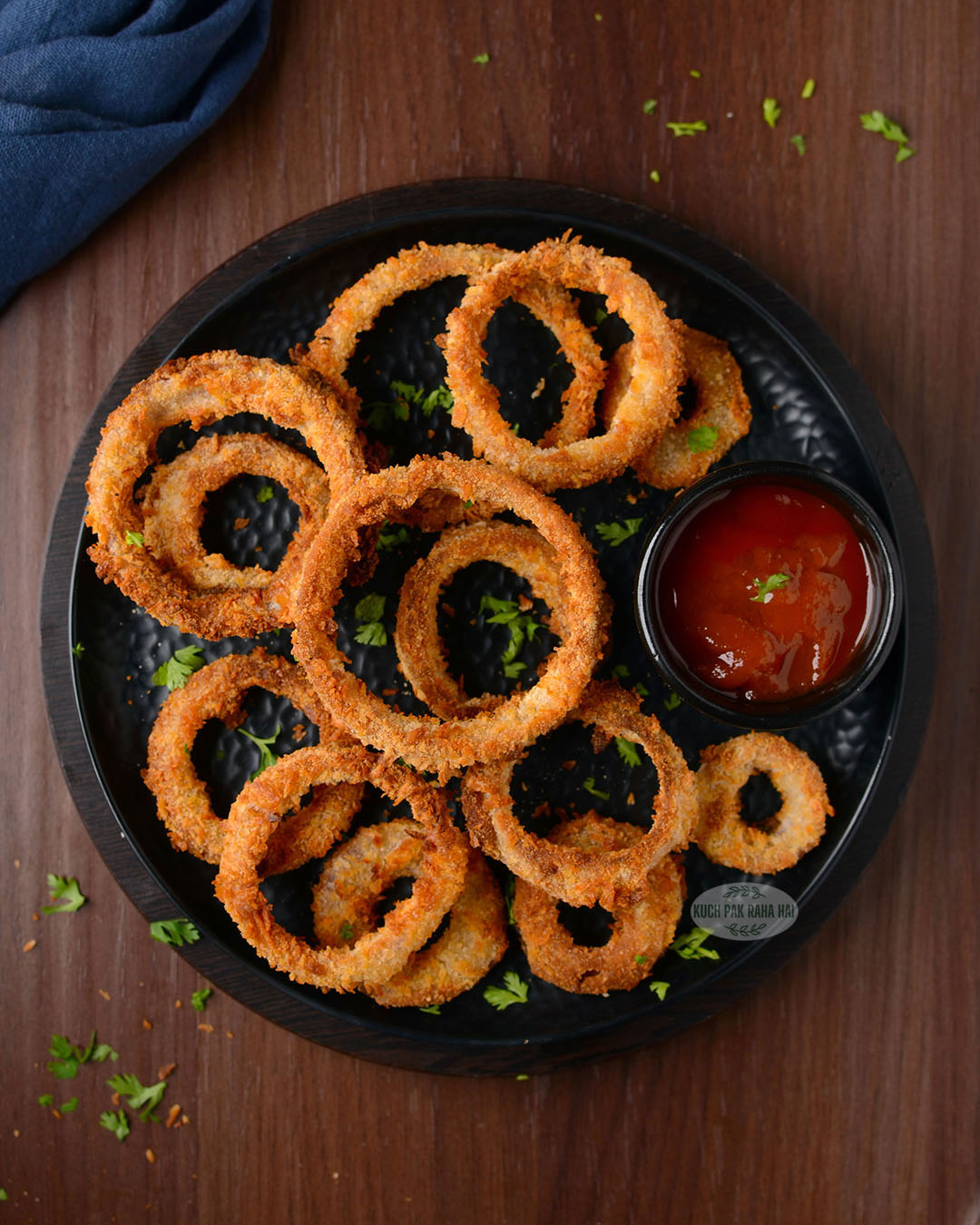 Onion Rings Ingredients:
Onion: Always go for medium or large sized onion for making onion rings (preferably sweet onions ). While cutting the onions make sure to keep the rings medium thick & not very thin. As we will be using only the outer ring part of these onion slices, the inner leftovers can be used in stir fry or salads.
Flour: All purpose flour or plain flour has been used here. Onion rings are firstly coated in dry flour and then in wet flour mixture. Dipping in dry flour ensures that the wet coating does not slips off the onion surface.
Cornstarch: Cornstarch also known as cornflour is a gluten free flour derived from the endosperm of corn kernel. A mixture of cornstarch, flour & water (called 'slurry') works as an egg substitute in this recipe and helps the breadcrumbs stick to the onion ring.
Breadcrumbs: To get the maximum crispy texture on onion rings, use panko breadcrumbs. I tried this recipe with plain breadcrumbs also but panko gave better results.
Seasoning: The rings are seasoned with salt, black pepper, paprika or red chilli powder and garlic powder. You can reduce or increase the amount of spices as per your taste.
Oil: You can use olive oil, canola oil, avocado oil or any cooking oil for spraying the onion rings. I have mixed some oil in breadcrumbs also as it helps in getting lovely golden brown colour.
Serving Suggestion:
These air fried onion rings can be served with mayonnaise, chilli garlic mayo, tandoori mayo, ketchup, barbecue sauce, sriracha, honey mustard or any dip of your choice.
Reheating onion rings in air fryer:
Apart from low oil cooking, air fryers are also great for reheating leftover snacks. To reheat onion rings in airfryer, first preheat the air fryer at 180°C (350°F). Transfer the onion rings in air fryer basket & spray some oil on them. Air fry for 2-3 minutes at 180°C (350°F) till they are crispy hot again.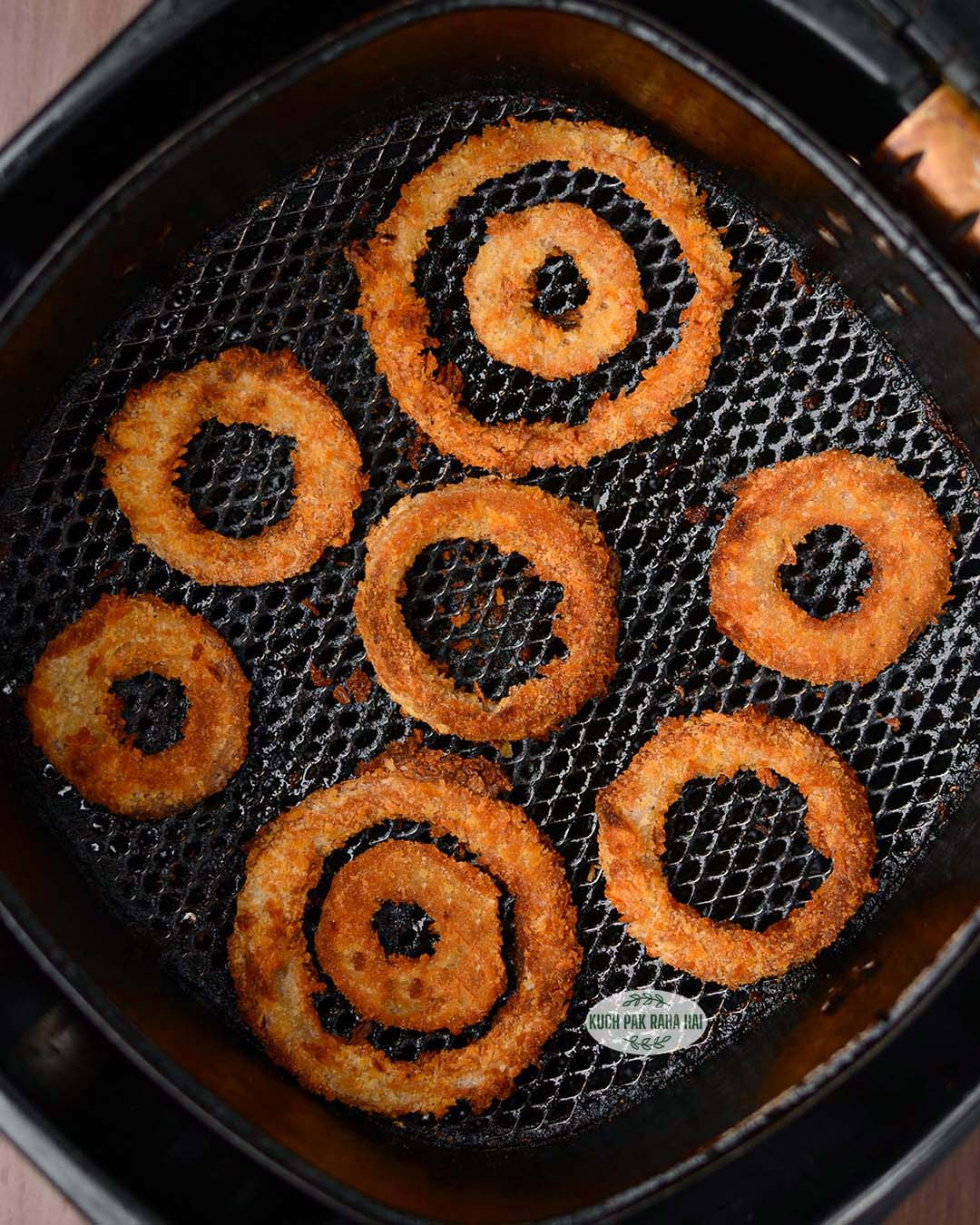 You can also make frozen rings in air fryer in similar way. Without thawing them, add them straight away to preheated air fryer and air fry for 8-10 minutes at 180°C (350°F) till they are golden & crispy. You can also spray some oil on them if required.
I do not recommend microwave for reheating onion rings as they turn them limp & soggy. Hope you would try & like this easy no egg onion rings recipe.
More air fryer snack recipes:
Ingredients:
Onion (large)- 1
All purpose flour- 1/2 cup + 1/4 cup (divided)
Cornstarch- 3 tbsp
Baking Powder-1/4 tsp
Salt- 1/2 tsp (to taste)
Ground Black Pepper-1/4 tsp + 1/4 tsp (divided)
Garlic Powder- 1/2 tsp
Paprika / Red Chilli Powder- 1/4 tsp
Water- 1/2 cup (as required)
Panko Breadcrumbs-1 cup
Olive Oil- 2 tbsp
Directions:
Step 1:
Remove the ends & peel the onion. Cut it into 1 cm thick slices. Gently press the centre of the slices and separate all the full rings from it. Dicard the inner parts (you can use them in salad or gravies). Keep them aside.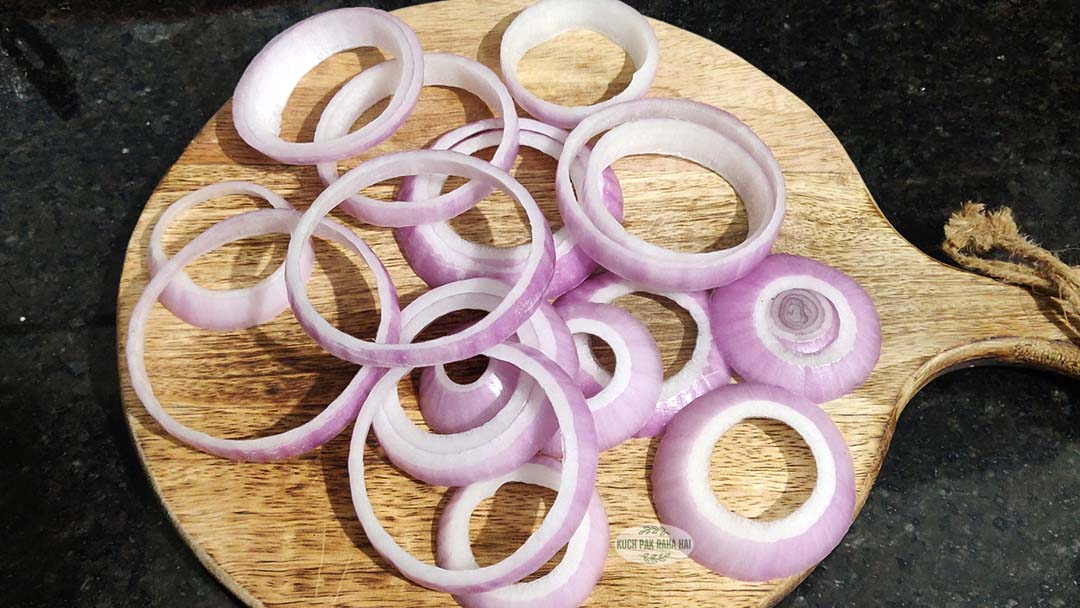 Step 2:
Add 1/2 cup flour with cornstarch, water, baking powder, salt, paprika, 1/4 tsp ground black pepper and garlic powder to a mixing bowl. Start adding the water gradually to it while mixing with a whisk. Make a smooth mixture (slurry) which is neither too thick nor too thin in consistency. (Here it took me slightly less than 1/2 cup water.)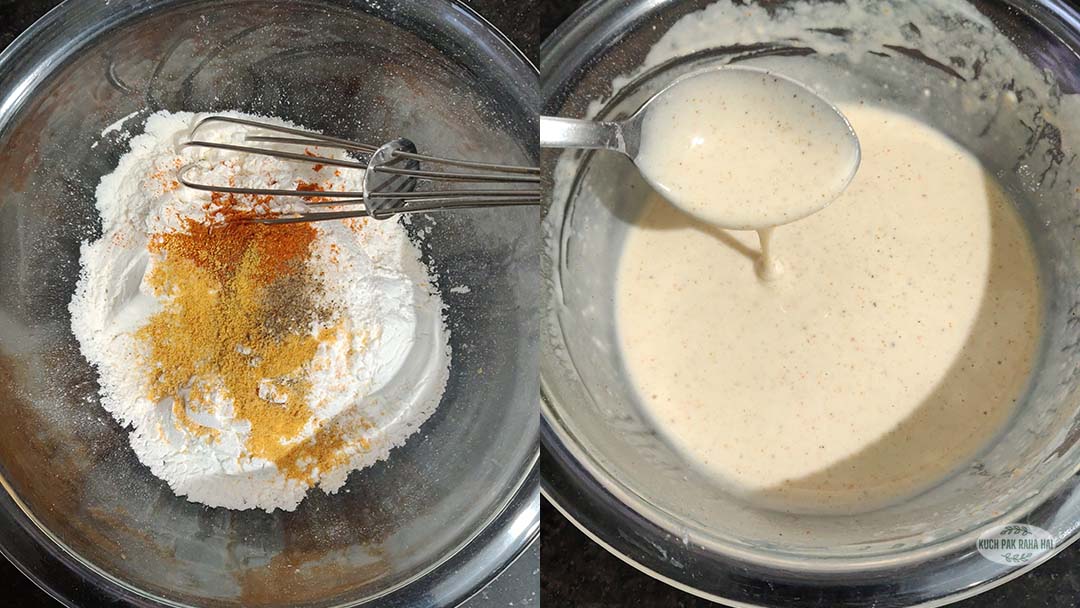 Step 3:
Add 1/4 tsp salt and 1/4 tsp ground black pepper to the panko breadcrumbs. Mix well. Little bit of seasoning in breadcrumbs makes sure that the outer layer of onion rings does not taste bland.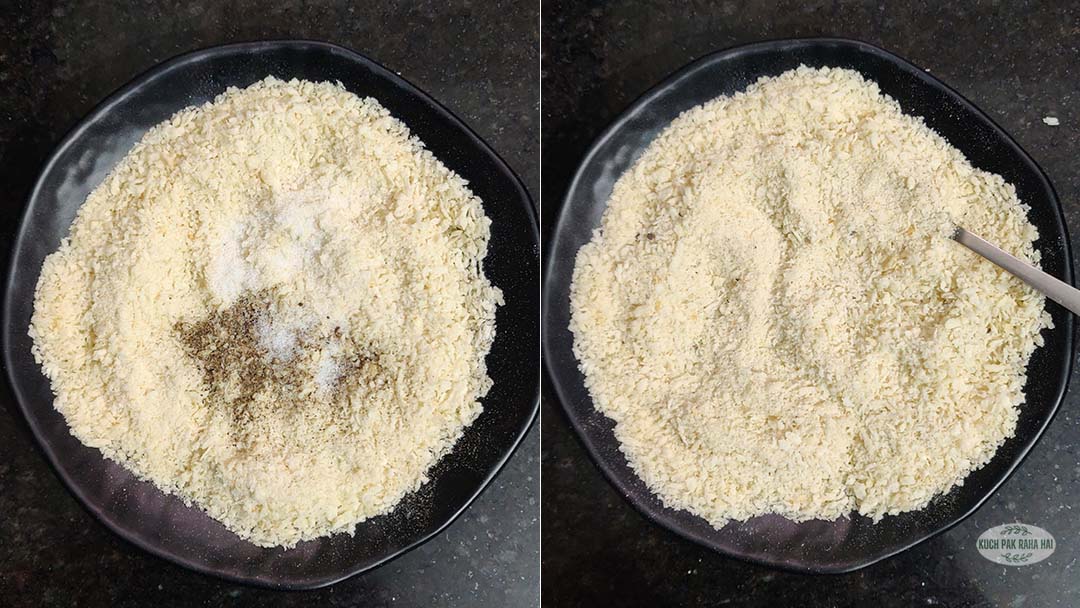 Step 4:
Prepare the dredging station by placing 4 bowls- onion rings, dry flour (1/4 cup), slurry mixture and bread crumbs.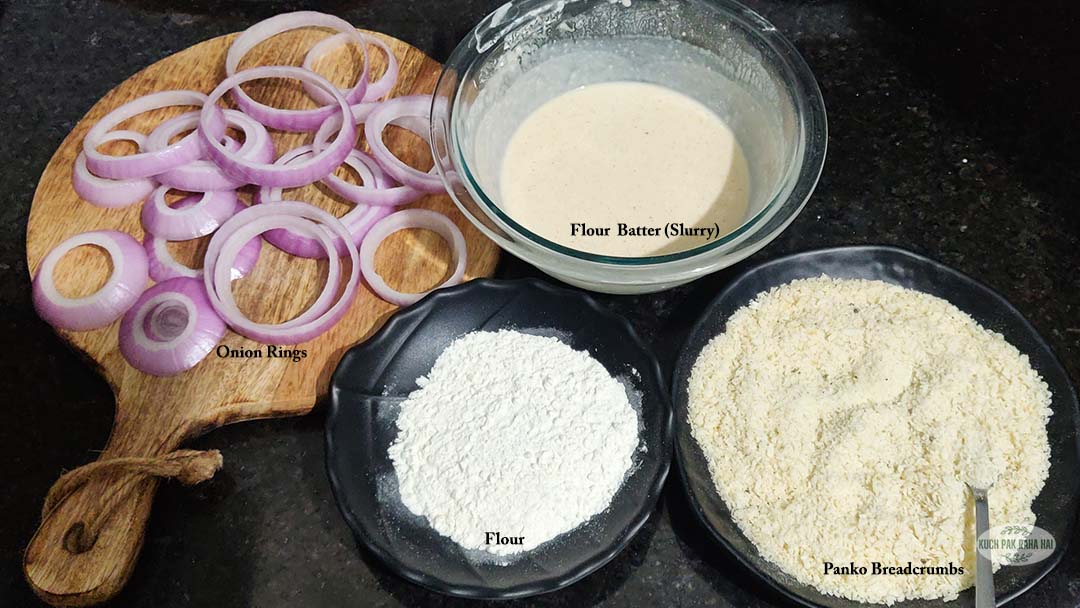 Step 5:
First coat the onion ring in dry flour, then dip it in slurry mixture. Lift it with a fork to drip all the excess liquid and transfer it in bread crumbs bowl. Using another fork, turn the ring till it is coated with bread crumbs on all sides.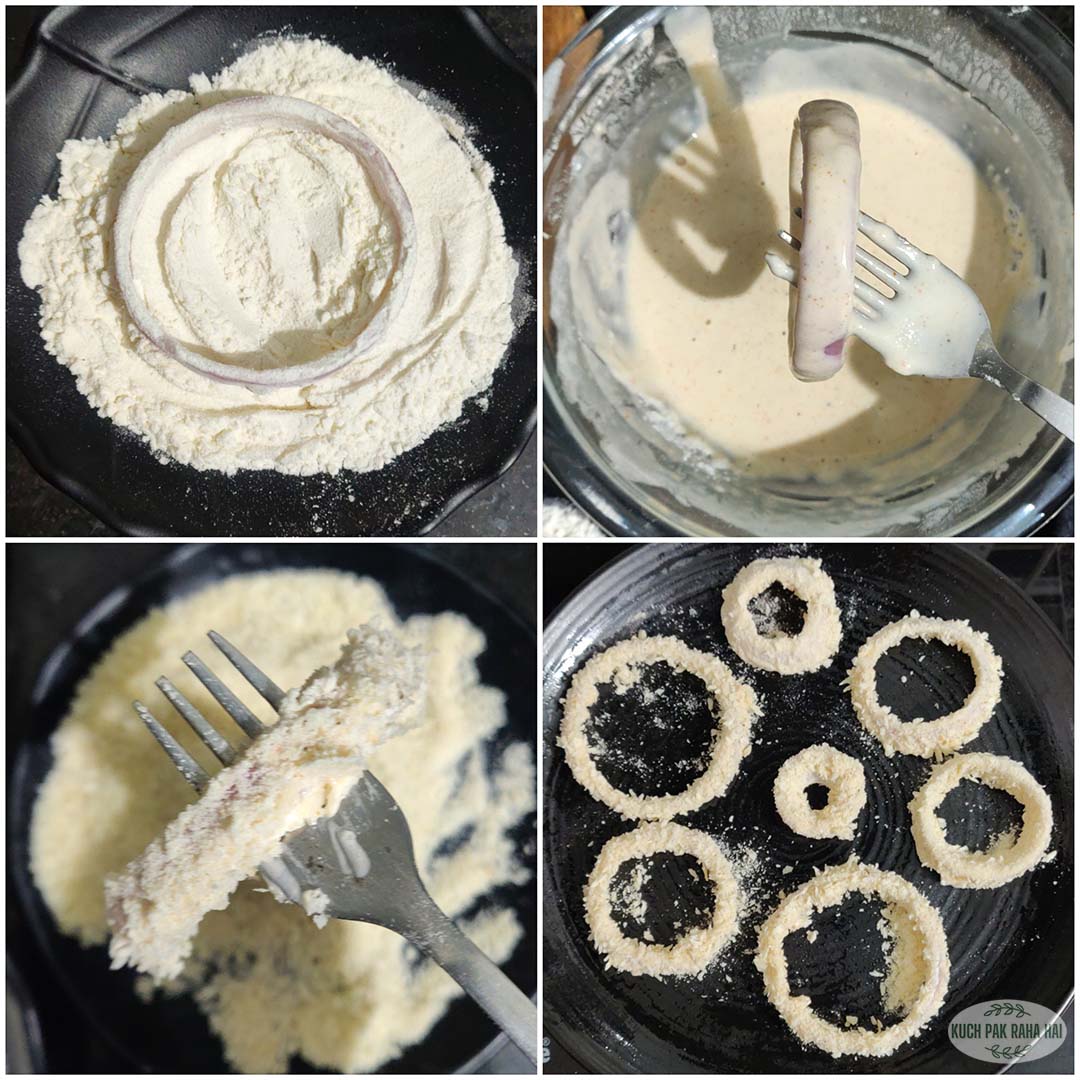 Transfer this breaded onion ring on a greased plate. Repeat this for all the rings. (While doing this set the air fryer for preheating at 200°C (392°F) for 3-4 minutes).
Step 6:
Brush oil on air fryer basket & transfer the onion rings to it in a single layer. Spray oil & air fry in preheated airfryer at 200°C (392°F) for 6-8 minutes. Spray or brush oil over them after half time also for better colour.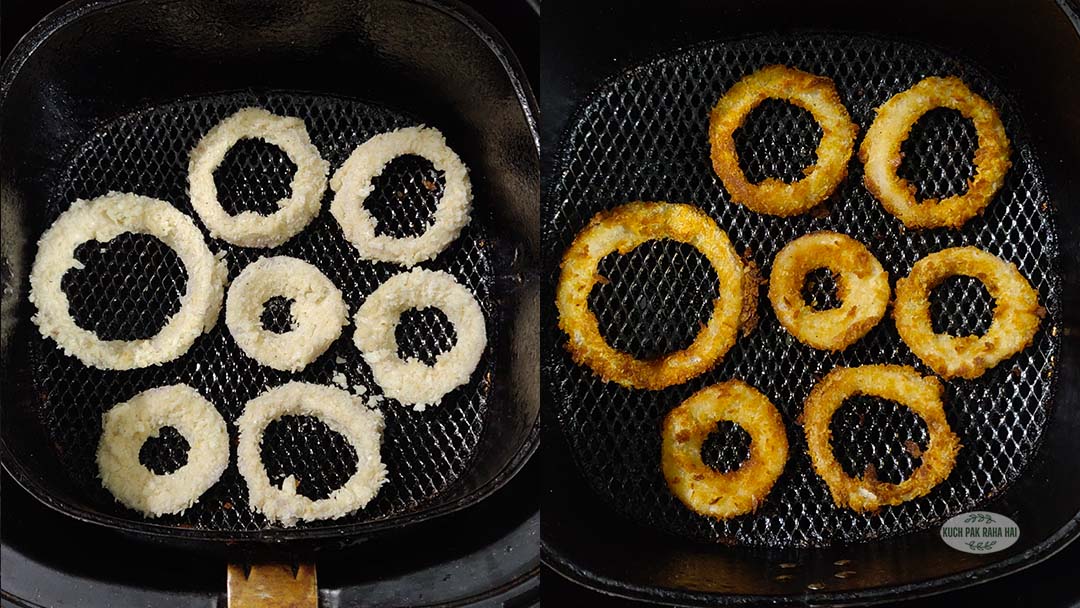 Serve them hot immediately with mayonnaise, ketchup or any dip of your choice.
Tips:
1. Don't cut the onion rings too thin it disturbs the onion to bread crumb ratio and you will end up tasting bread crumbs more than onion.
3. Keep eye on onion rings after 6 minutes in order to not overcook them.
2. Avoid too much overlapping of the onion rings for even cooking.
Can I make air fried onion rings in advance?
Yes. You can make them in advance & air fry for half time i.e 3-4 minutes. When you are about to serve them spray oil on onion rings & air fry till they are golden brown.
How to store leftover onion rings?
You can store the leftover onion rings in an airtight container in fridge for upto 2-3 days (Air fryer reheating instruction are described in detail in post above).
Can I make these onion rings on stovetop?
Yes you can deep fry these eggless onion rings in medium hot oil. If the oil is less hot the onion rings will absorb too much oil & on high heat they will quickly brown from outside. So always fry them on medium heat. Once fried transfer them on a kitchen tissue to get rid of extra oil.
Pin for later: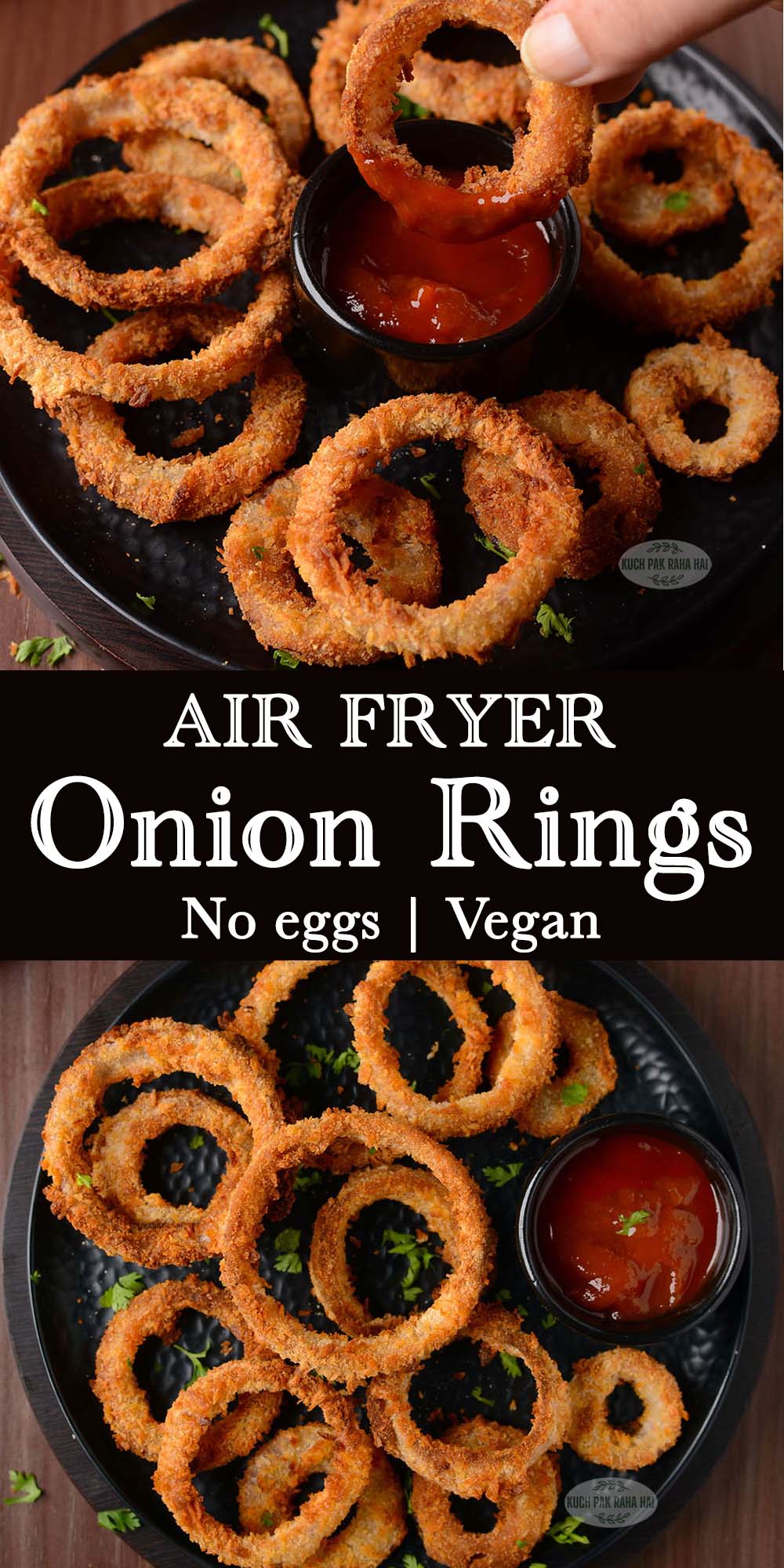 If you try this vegan air fryer onion rings recipe & share pics on social media, then don't forget to tag on Facebook, Instagram or use #kuchpakrahahai.
Let's stay connected
Facebook | Instagram | Pinterest| Youtube