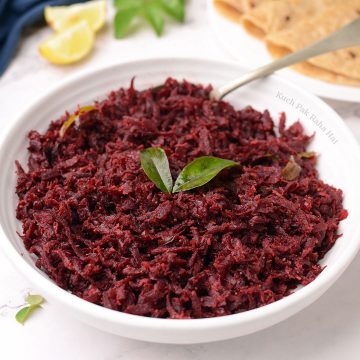 Beetroot Thoran is a flavoursome stir fry beet recipe made with grated beetroot, coconut, onion, ginger & few spices. It is a healthy & easy to make beetroot recipe which is also vegetarian, vegan & gluten free.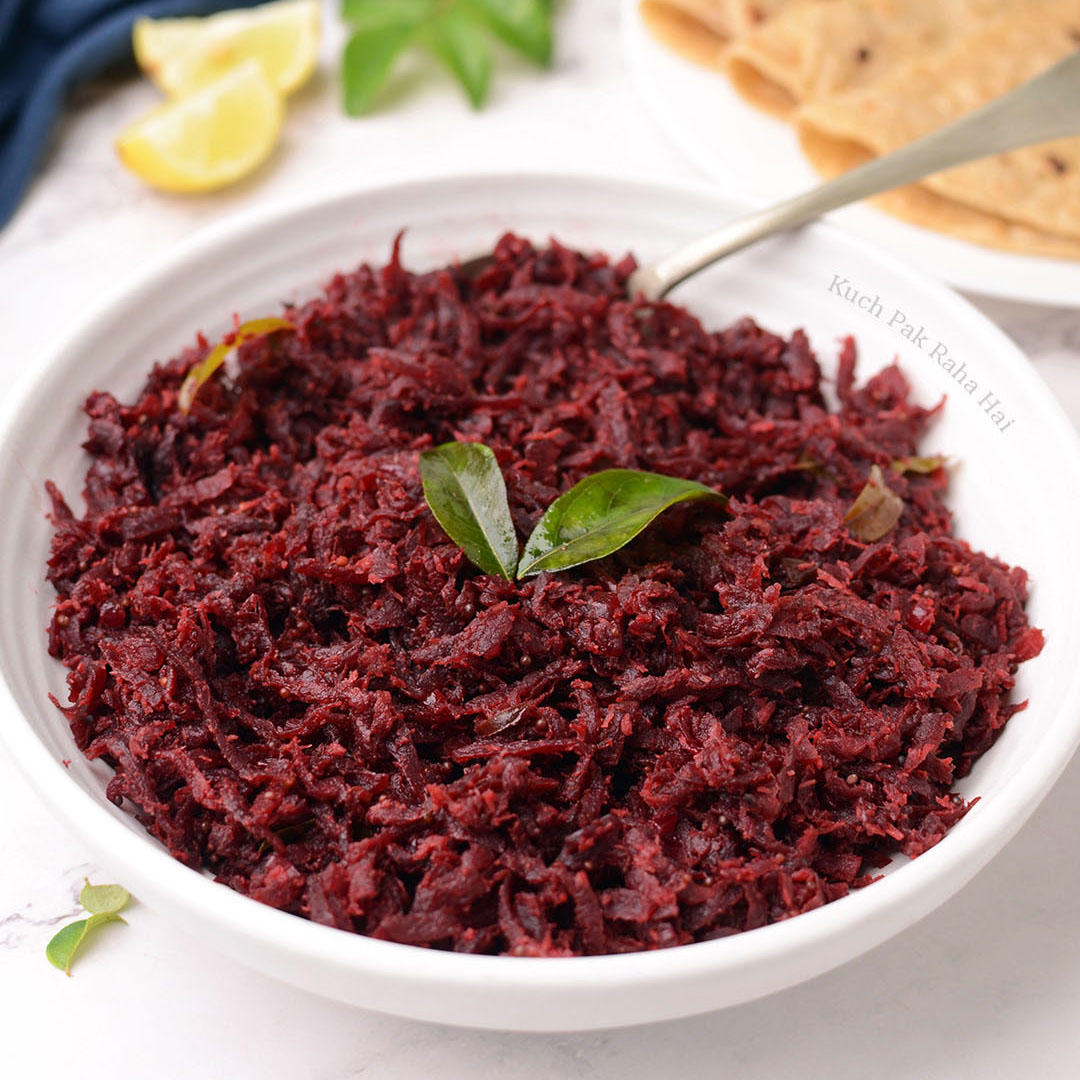 Stir Fry Beet is a great option to be served as side dish with dal, chapati or rice. It gets ready in less than 30 minutes and you can even store it in fridge for later use.
Beet are considered to be a great source of manganese, folate & other minerals like iron, potassium & magnesium etc. The lush ruby tender beets combined with coconut taste absolutely divine. The sweetness from beets and coconut is well balanced by use of chillies and ginger.
To make this beet stir fry, I have used grated beetroot. You can even use finely chop beetroot in this recipe. My personal preference is always the grated version as it takes lesser time to cook.
I was introduced to beetroot thoran after coming to Hyderabad & ever since, this has become one of the most relished beetroot recipe at my home. For a long time I used to refer this dish as beetroot subzi but it was recently when I got to know that the dish is actually called 'Thoran'.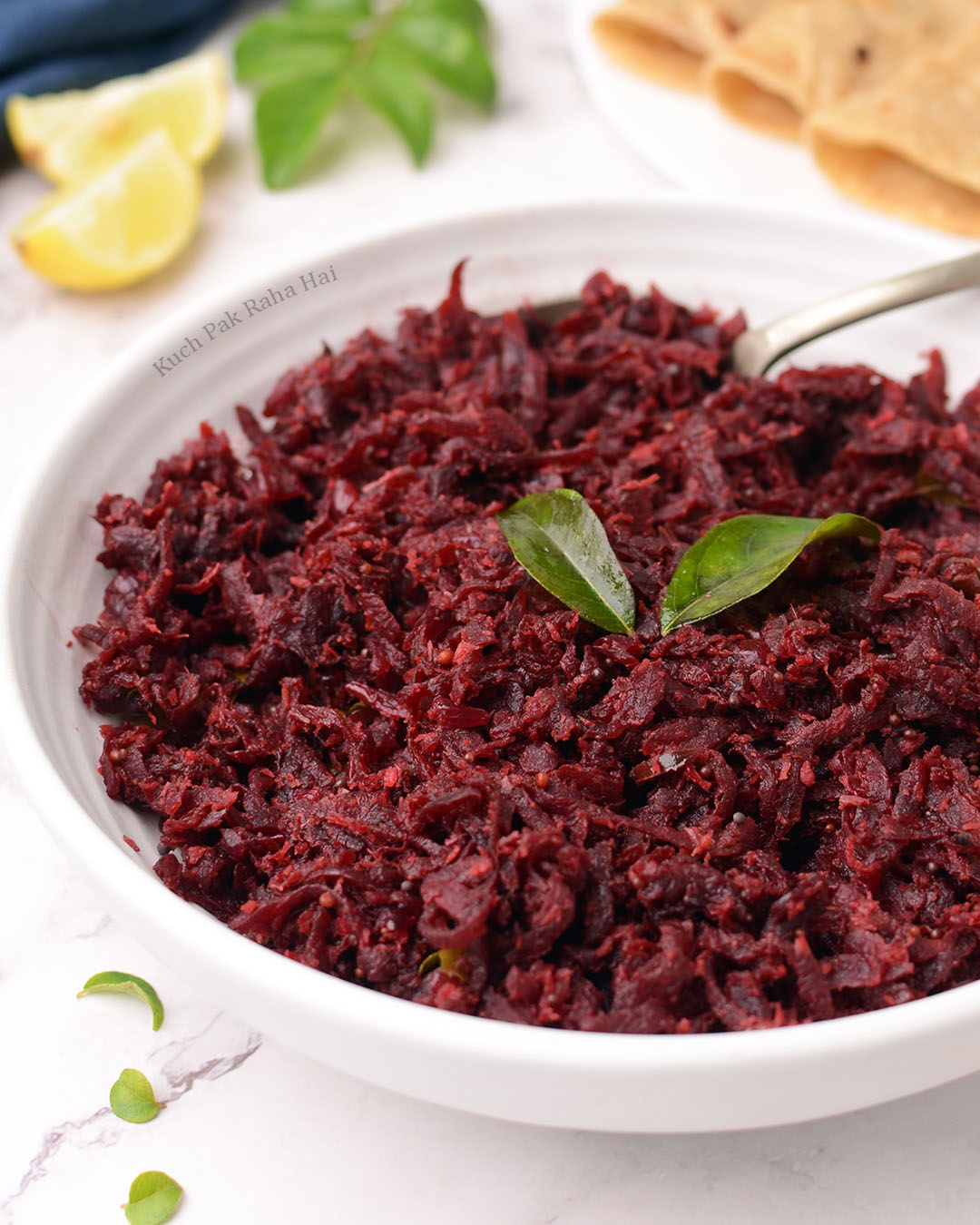 What is Thoran?
Thoran refers to traditional South Indian dish where chopped or grated vegetables are stir fried with shallots, chillies, coconut & mustard seeds etc. Apart from beetroot other vegetables like carrot, cabbage & beans etc are also used to make thoran. Instead of shallots I have used onion to make this stir fry. You can also add little bit of crushed garlic though I have not used any.
Authentically freshly grated coconut is used in its preparation, but as we may not always have it home, it can be replaced with desiccated coconut powder. As it is dried form of coconut, it is used in lesser quantity than freshly grated coconut.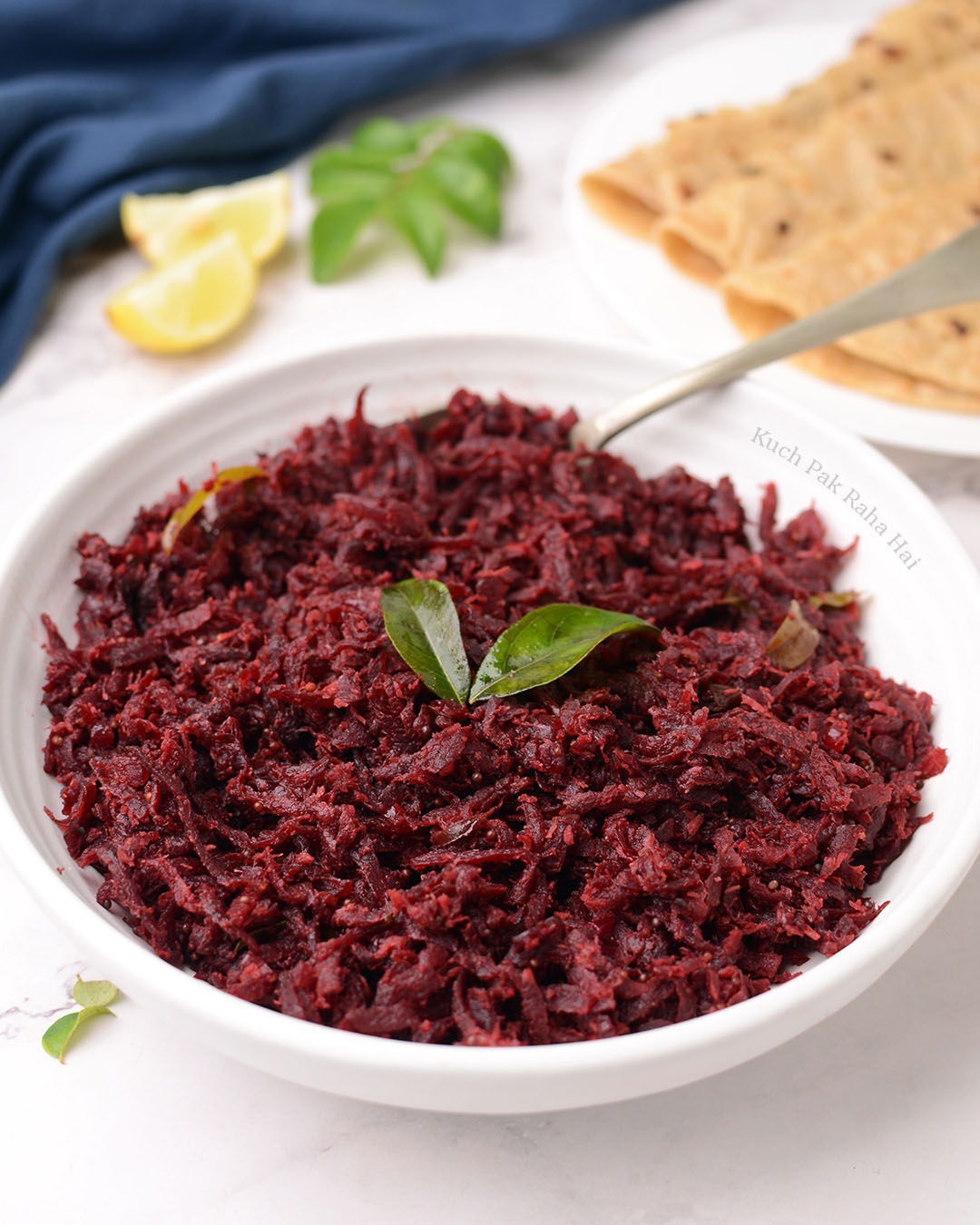 More beetroot recipes :
List of Ingredients :
Beetroot – 2 to 3 (~300 grams)
Olive Oil / Coconut Oil- 1 tbsp
Mustard Seeds (Rai)- 1 tsp
Ginger Paste- 2 tsp
Chopped Green Chilli-1
Small Onion (chopped)-1
Desiccated Coconut*- 2 tbsp (unsweetened)
Salt -1 tsp (to taste)
Lemon Juice- 1/2 tsp
Curry leaves- 6 to 8 (optional)
Whole Dried Red Chilli-1
Notes :
1. *If you are using freshly grated coconut use double the quantity.
2. You can skip curry leaves if you don't have them.
3. Instead of whole dried red chilli you can use 1/2 tsp red chilli powder as per your taste.
Directions:
Step 1:
Prepare the beetroot by washing & peeling them.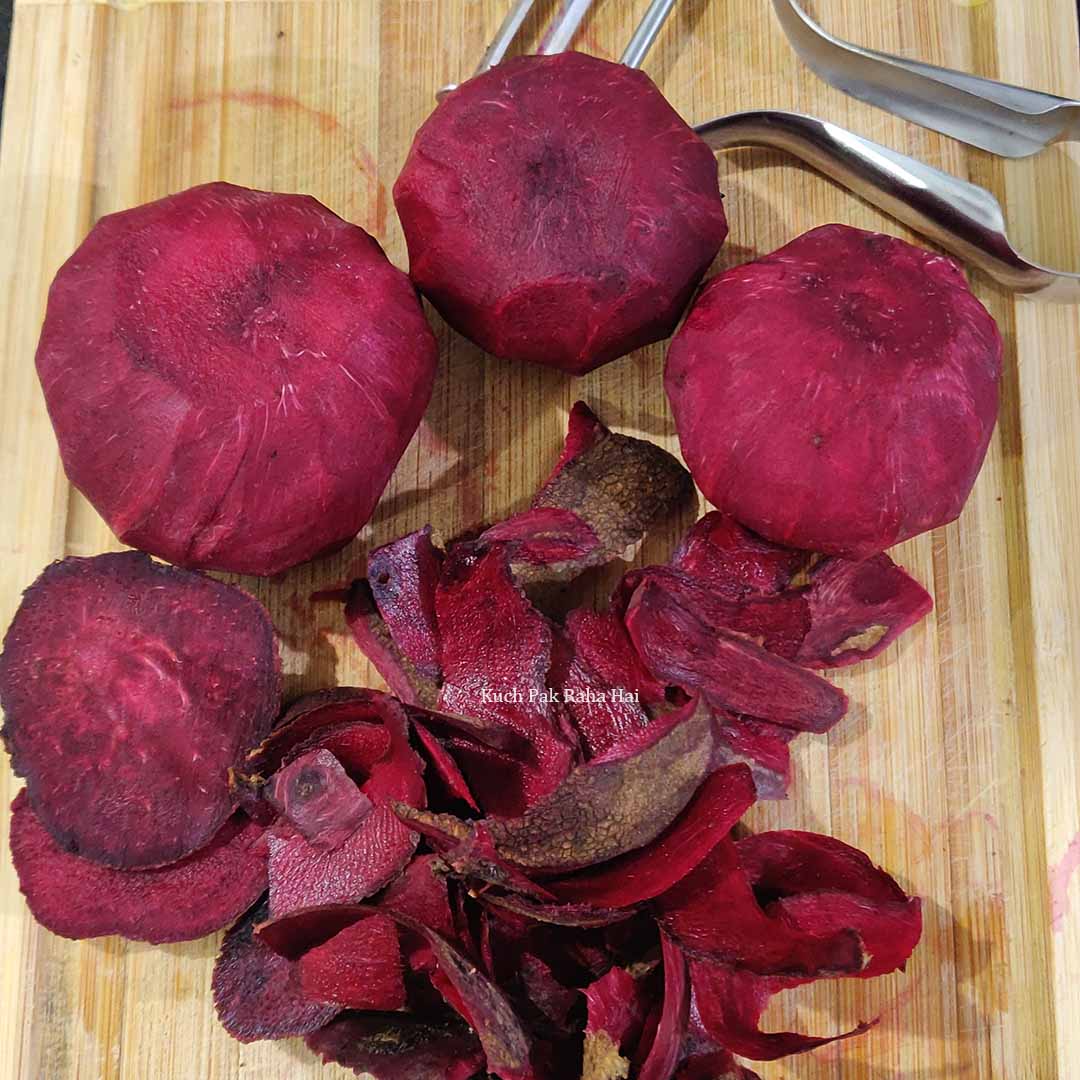 Chop their both the ends and grate/chop them. You can also use a food processor for the same.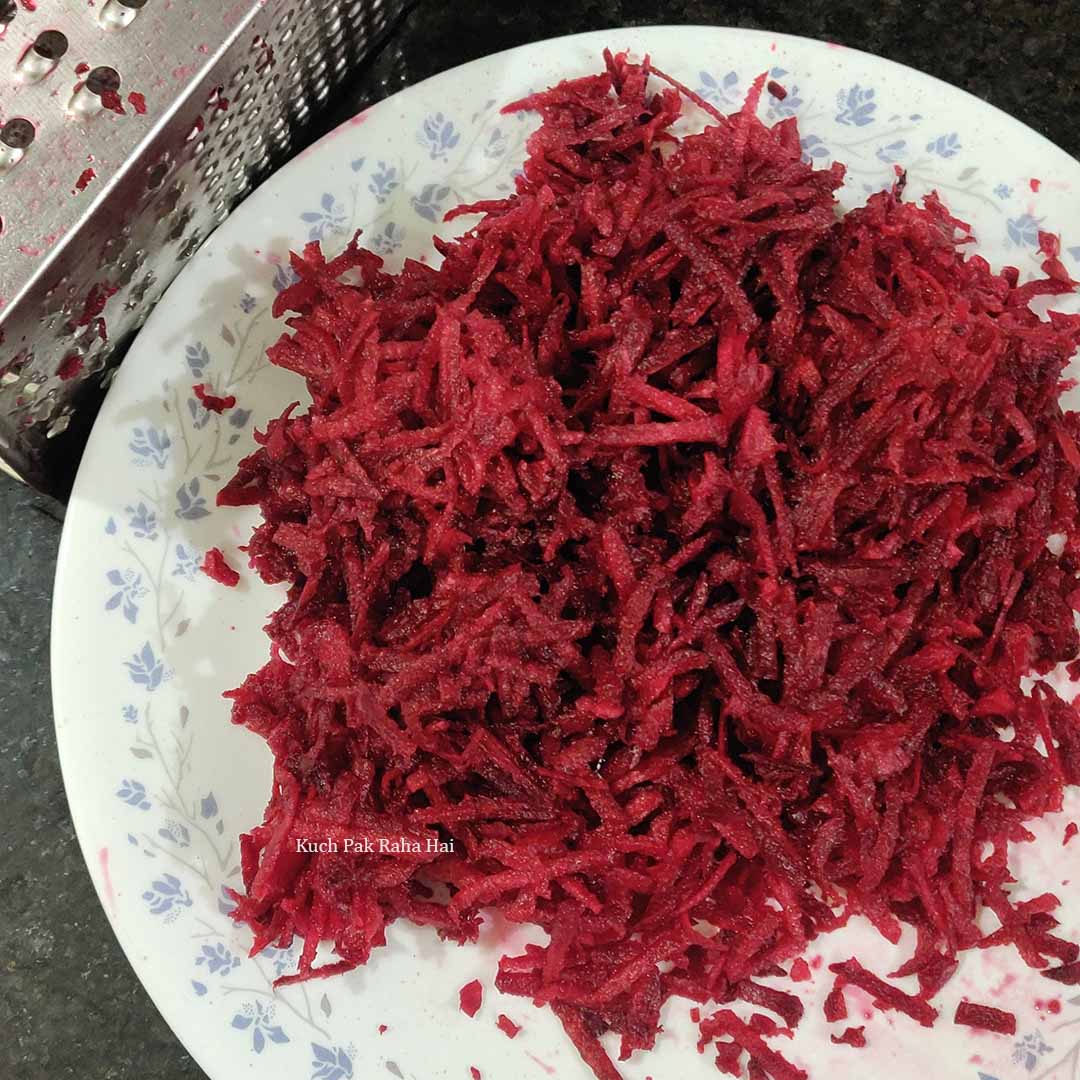 Step 2:
Heat oil in a pan & add chopped onions to it. Saute them till they turn pink in colour.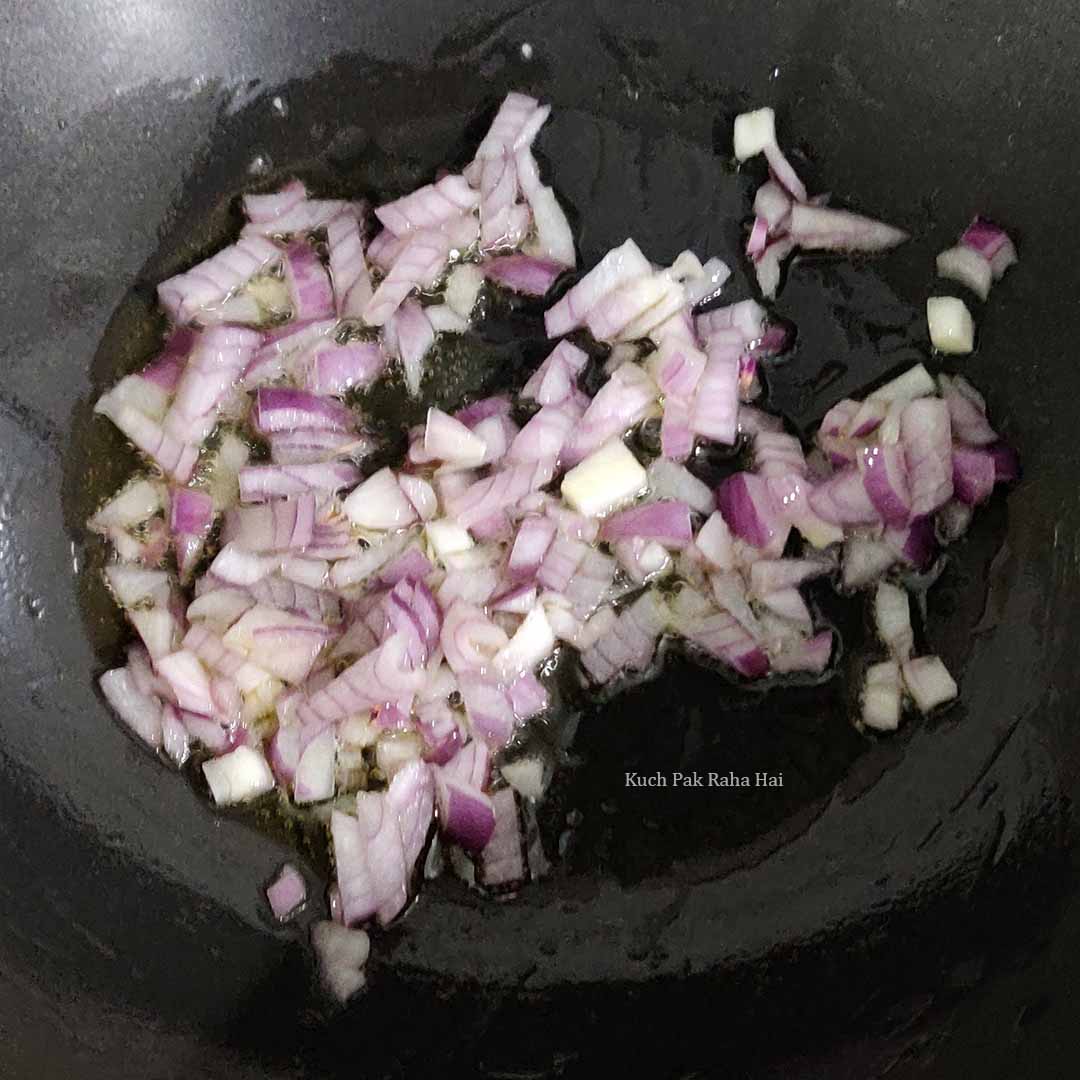 Step 3:
Add mustard seeds (rai), curry leaves, dried red chilli, green chilli & ginger paste to the above pan. Sauté for a minute or more till seeds begin to splutter.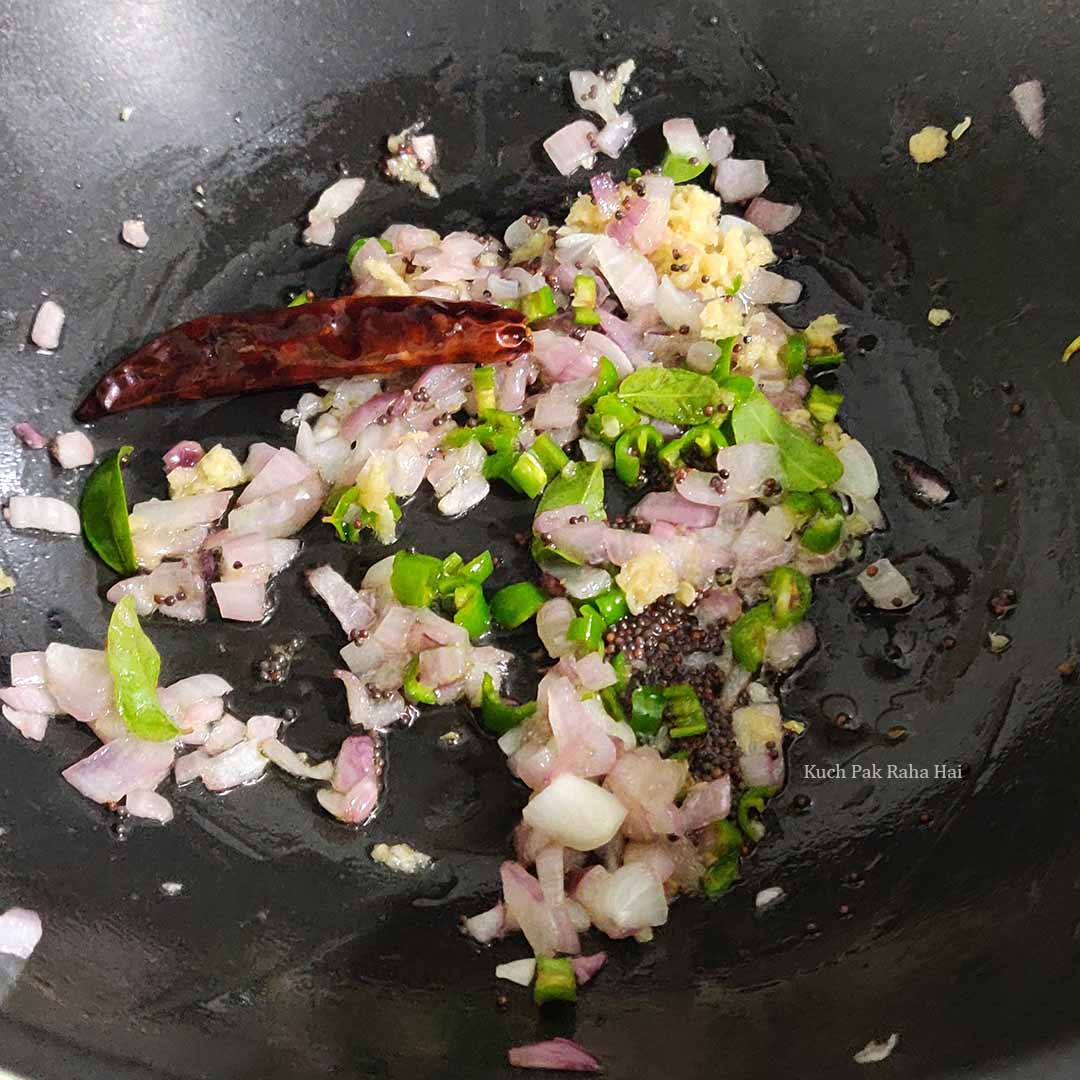 Step 4:
Add grated beetroot, desiccated coconut & salt to the above mixture. Mix well. Cover with lid, keeping the flame to low & let it cook for 12-15 minutes.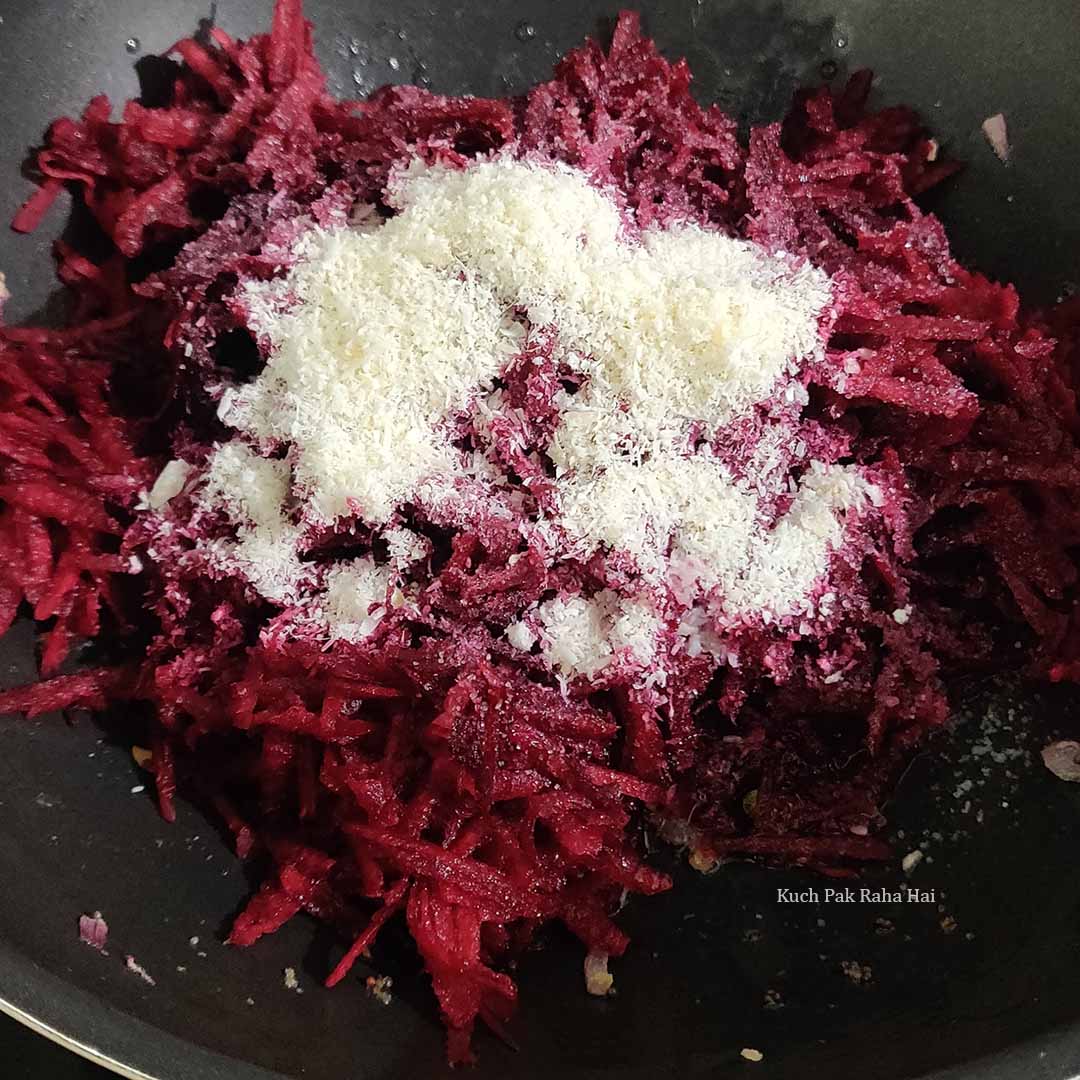 Step 5:
Check the beetroot after 12 minutes. If you want softer texture cook it for more time. In case the mixture looks dry add 2-3 tbsp of water too. Once the beetroot is cooked, switch off the flame.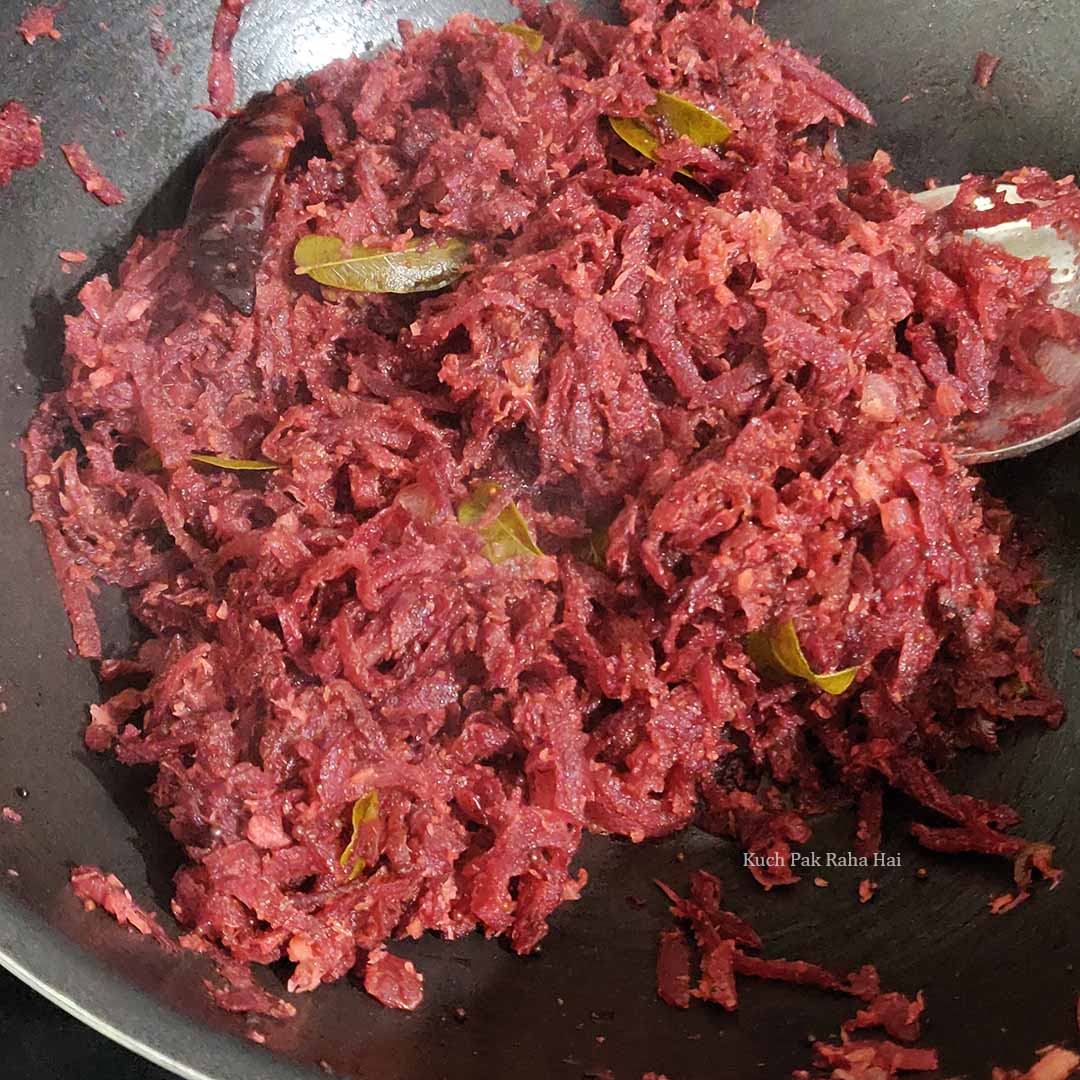 As this recipe tastes a little sweeter, you can sprinkle some lemon juice over it before serving or else enjoy it warm as it is with chapati or spinach paratha!!
Pin it for later :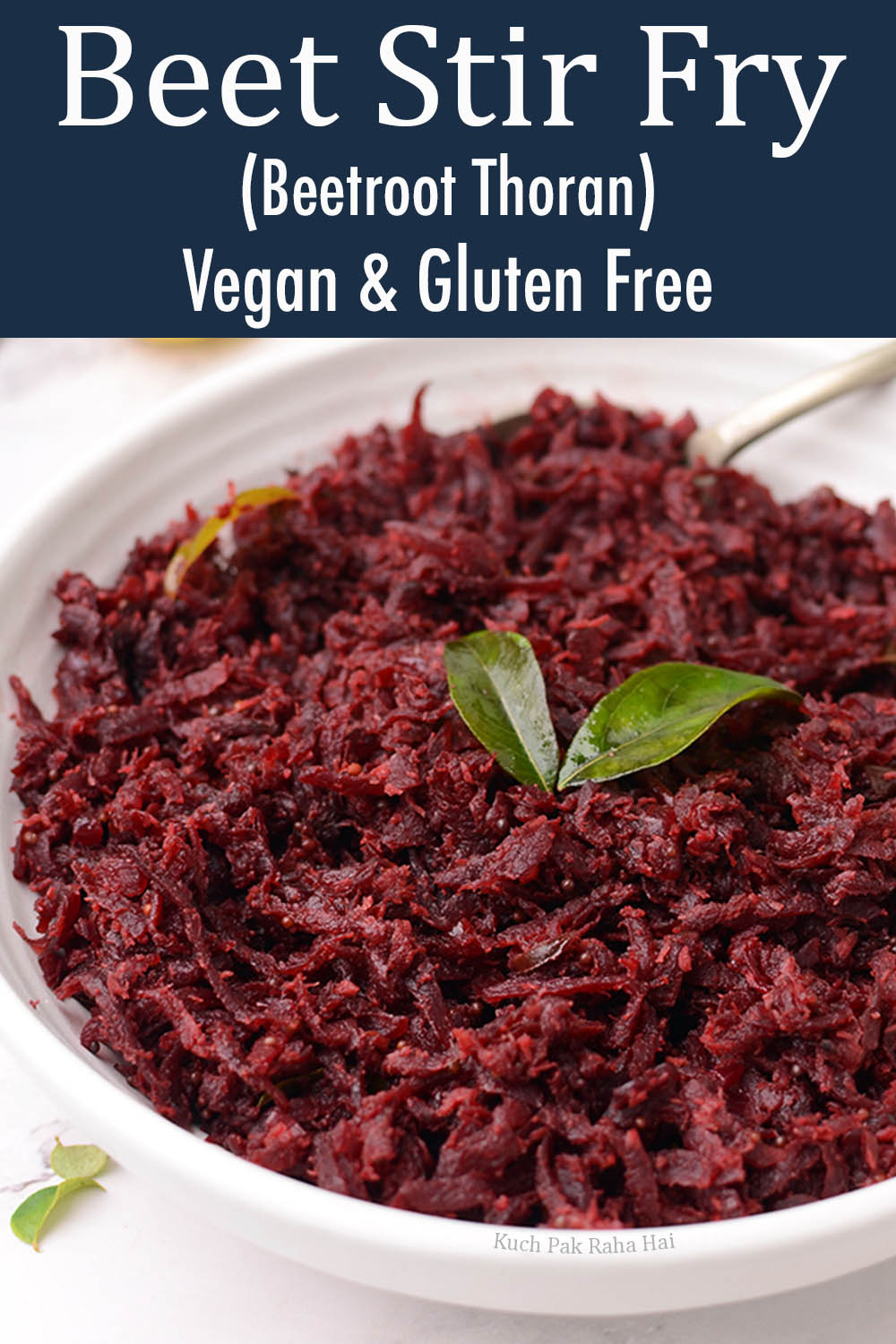 More such vegetarian recipes :
If you try this recipe & share pics on social media, then don't forget to tag us on Facebook or Instagram or use the hashtag #kuchpakrahahai.
Let's stay connected
Facebook | Instagram | Pinterest | Youtube