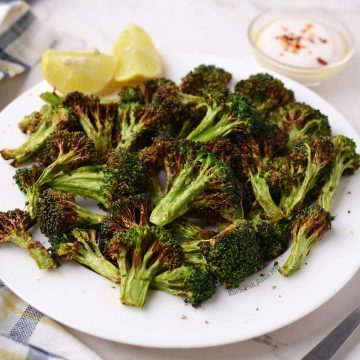 Delicious crispy air fryer broccoli prepared in less than 10 minutes. It is so easy to make, great to serve as healthy low carb side dish or snack.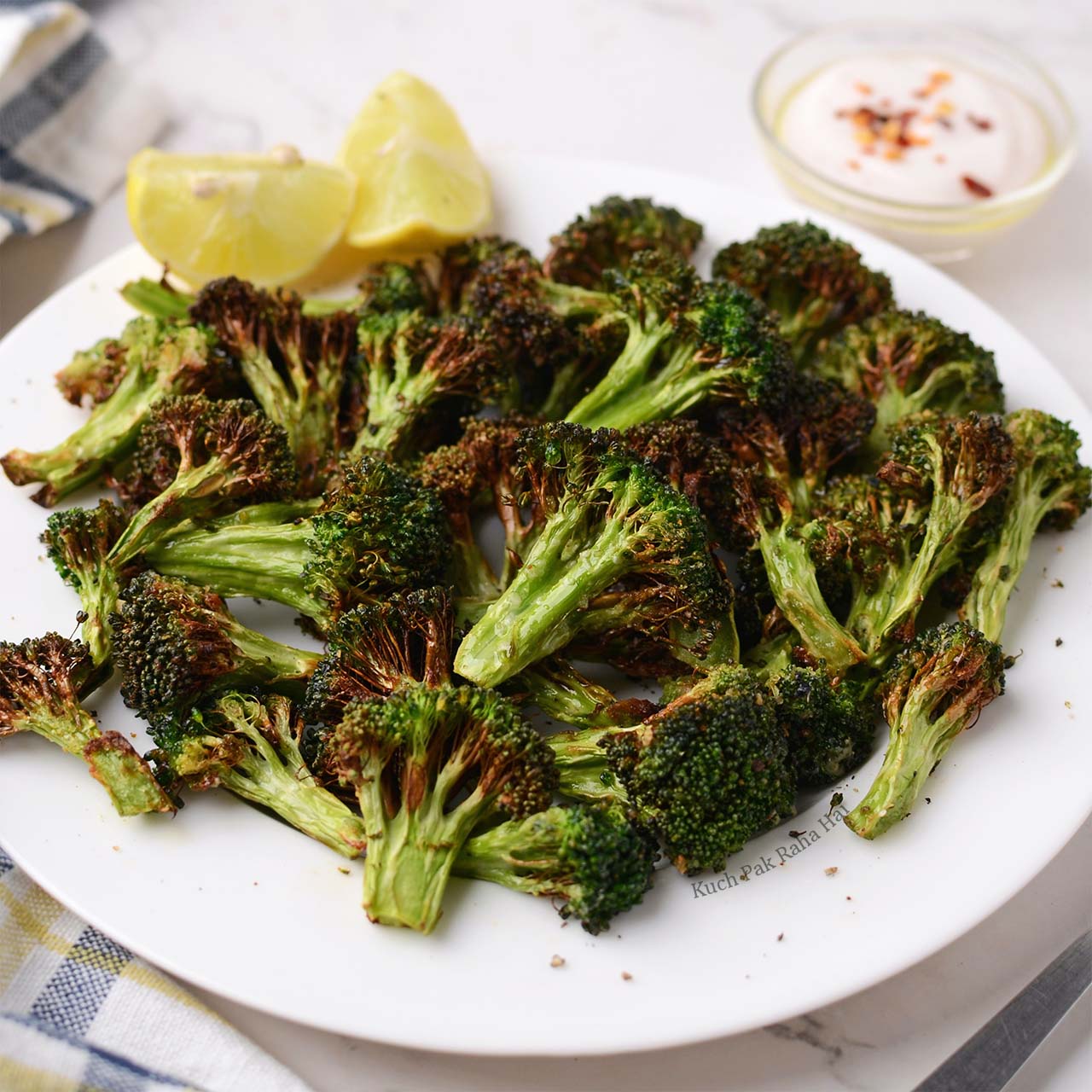 Air fryer roasted broccoli recipe shared here is:
Vegan
Gluten Free
Low Carb
Made in less than 10 minutes!!
This air fryer broccoli turns out perfectly crispy from edges with subtle garlicky hue. It is so simple, quick to make and perfect side dish to include in everyday meals as broccoli is packed with number of nutrients like vitamins, iron, manganese, potassium etc.
I recently made it to accompany vegan mushroom gravy, steamed rice and it made for such filling, soul satisfying dinner. In comparison to oven roasted broccoli, the air fryer takes lesser time and broccoli turns out more crispy as the hot air circulating inside it cooks the florets more evenly.
Ingredients to make air fryer broccoli:
You will require few basic ingredients to make this broccoli in air fryer:
Broccoli: Use fresh or frozen broccoli to make this recipe. Just make sure to cut the broccoli in bite size pieces for even consistent cooking.
Oil: Coating the broccoli florets with cooking oils like olive oil, canola or sunflower oil etc helps it in becoming crispy and golden brown. Don't skip the oil as skipping the oil will dehydrate the broccoli instead of roasting.
Seasoning: These crispy air fried broccoli florets are seasoned with salt, crushed black pepper and garlic powder. Personally I prefer garlic powder as it sticks better to the florets. However if you don't have it you can use freshly minced garlic cloves.
Lemon Juice & Fresh Herbs: Little lemon juice or some finely chopped fresh herbs like parsley adds freshness to the roasted broccoli.
Parmesan: You can use some grated parmesan too in this air fryer broccoli recipe. It is completely optional, you can skip it or use vegan parmesan.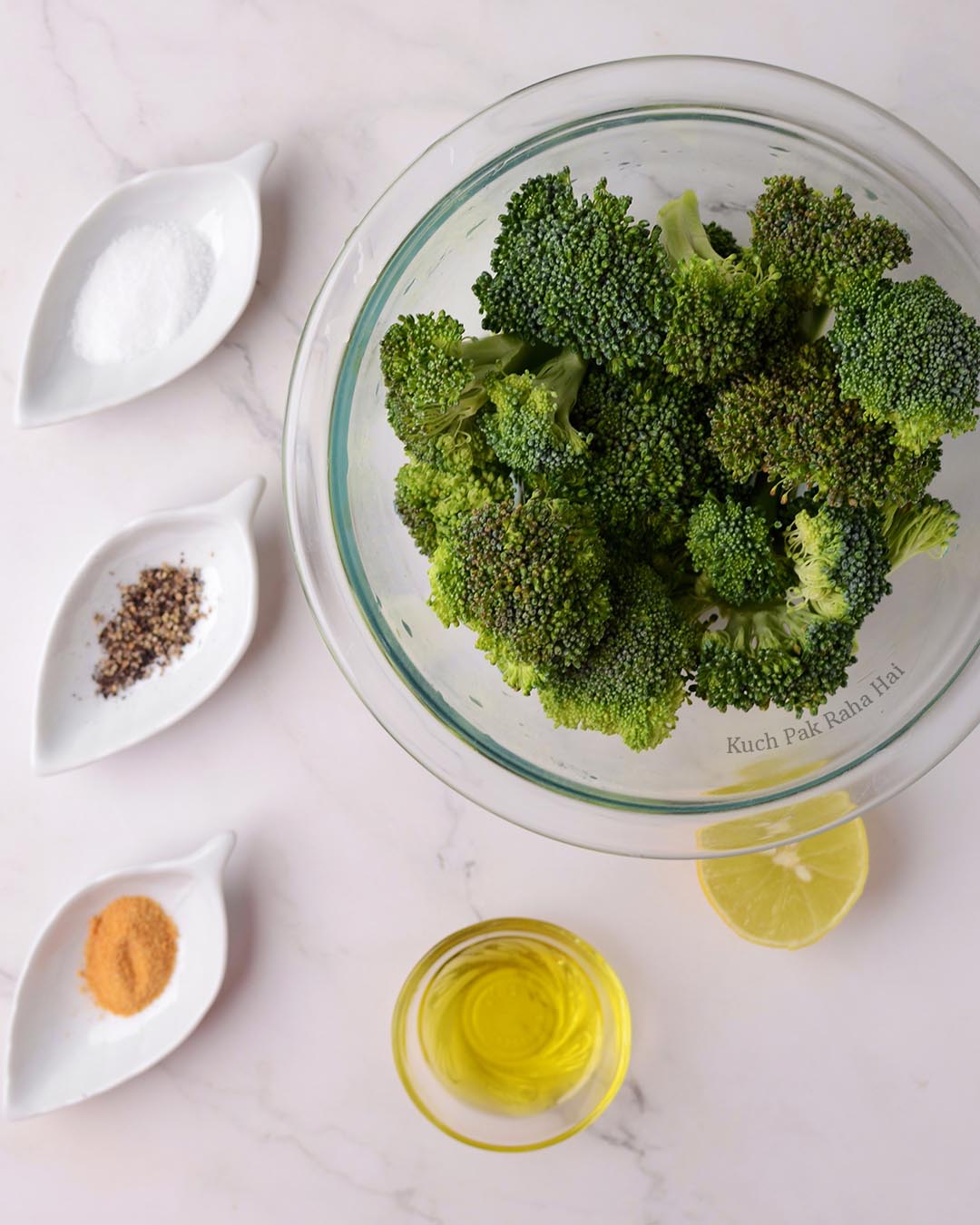 How to roast broccoli in air fryer?
Roasting broccoli in air fryer a very easy process. First cut the broccoli in medium sized pieces. In a bowl, mix together olive oil, salt, black pepper, garlic powder etc and toss the florets in it. Air fry these florets in a preheated air fryer at 180ºC (350°F) for 6 to 7 minutes till you get desired crispness.
You can top up the roasted broccoli with some parmesan, lemon juice or fresh herbs. Stepwise recipe with ratios & images are shared below.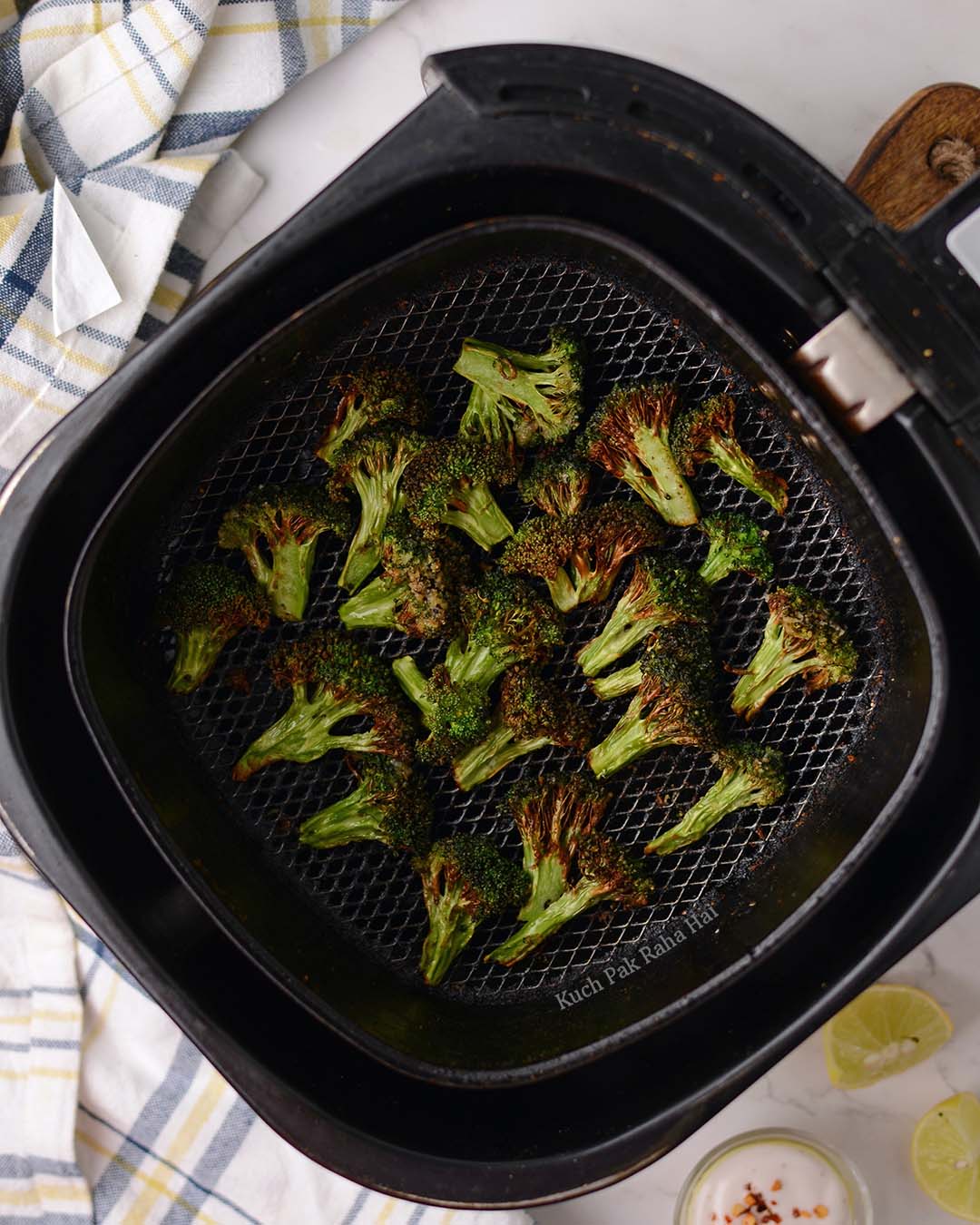 What should I serve with roasted broccoli?
Though roasted broccoli makes for a perfect side dish but you can even have it as snack with some creamy dip like:
Garlic Mayo
Lemon Tahini Sauce
Tips :
1. Keep the broccoli florets to medium size. As these florets shrink while air frying, too small pieces can burn quickly.
2. Don't overcrowd the air fryer basket with broccoli florets for even roasting.
3. Be generous while using the oil. If the florets are not well coated with oil they will get charred instead of getting roasted.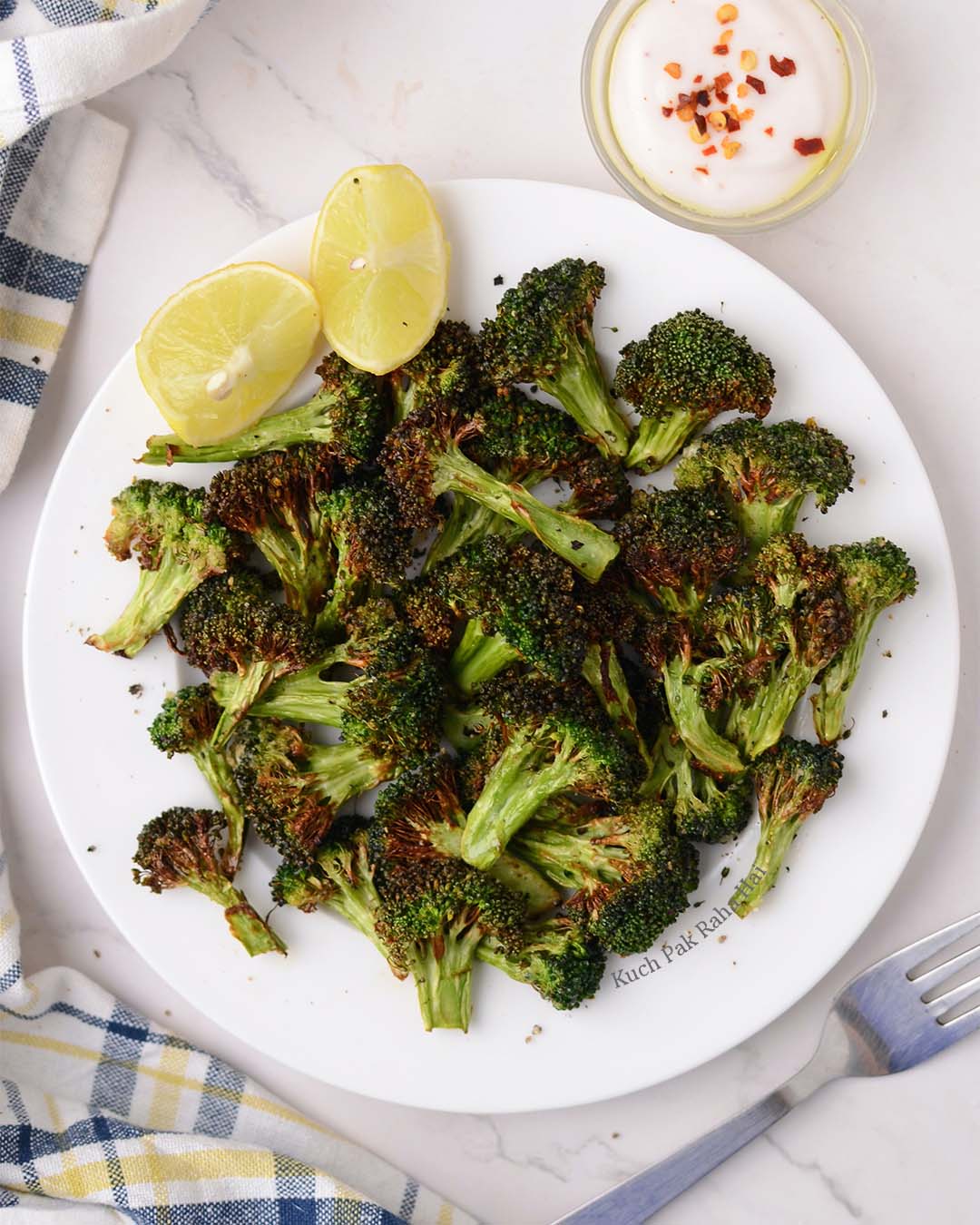 If you are looking for more easy lite healthy air fryer recipes to try, then do check out the recipes below:
Hope you will like this simple easy roasted broccoli recipe!!

Ingredients:
Broccoli – 1 head
Olive Oil- 2 tbsp
Salt- 1/2 tsp (to taste)
Crushed Black Pepper- 1/2 tsp
Garlic Powder- 1/2 tsp
Lemon Juice- 1 tsp
Notes:
1. If you don't have garlic powder, you can use 1 or 2 finely minced garlic cloves.
2. Instead of olive oil, you can also use avocado oil, canola or sunflower oil.
Directions:
Step 1:
Cut the broccoli into medium sized florets. The pieces should almost be of same size so that they have similar cooking time. Keep these aside.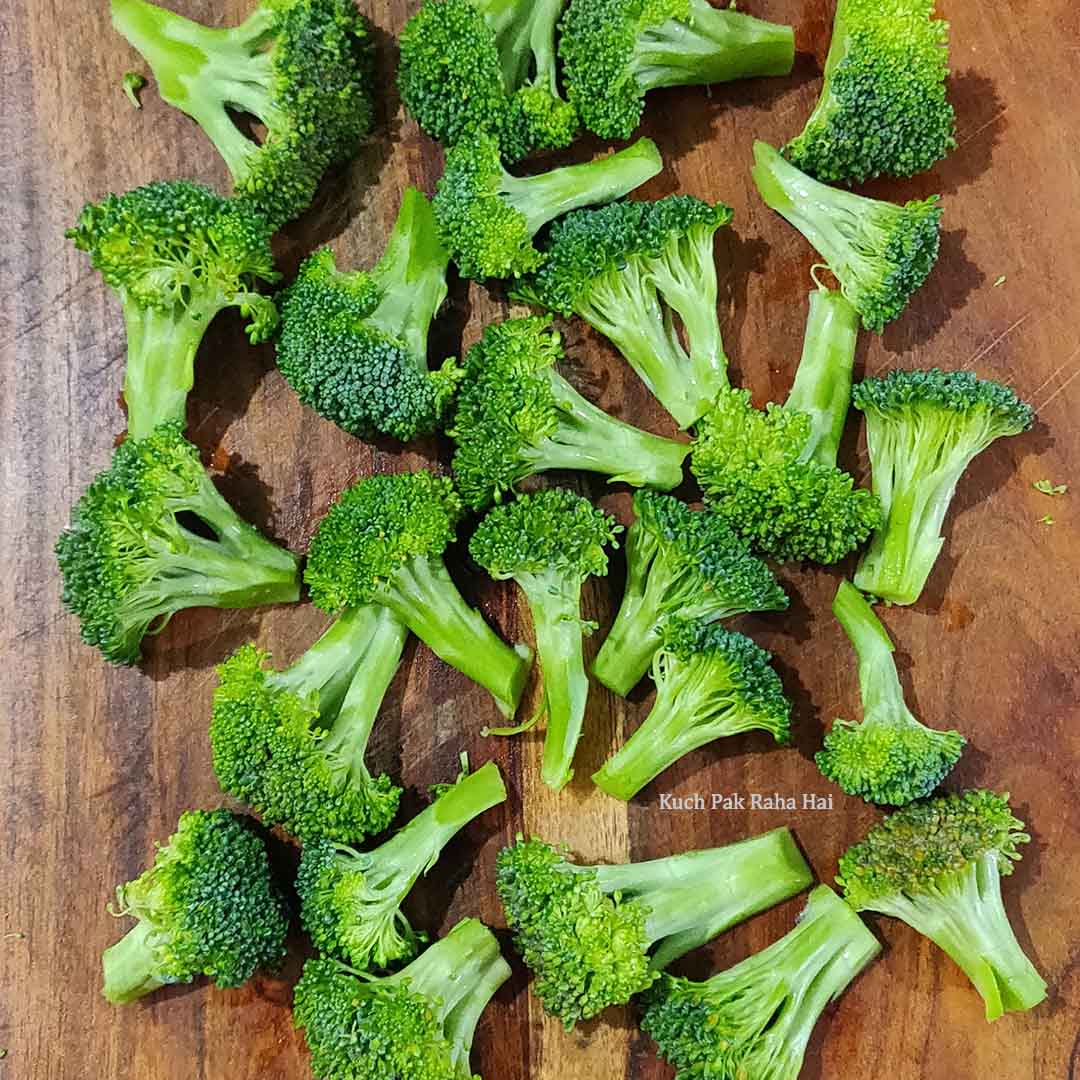 Step 2:
In a big bowl, add oil, salt, crushed black pepper and garlic powder (or finely minced garlic cloves). If you are using parmesan in the recipe, add it at this step. Mix well.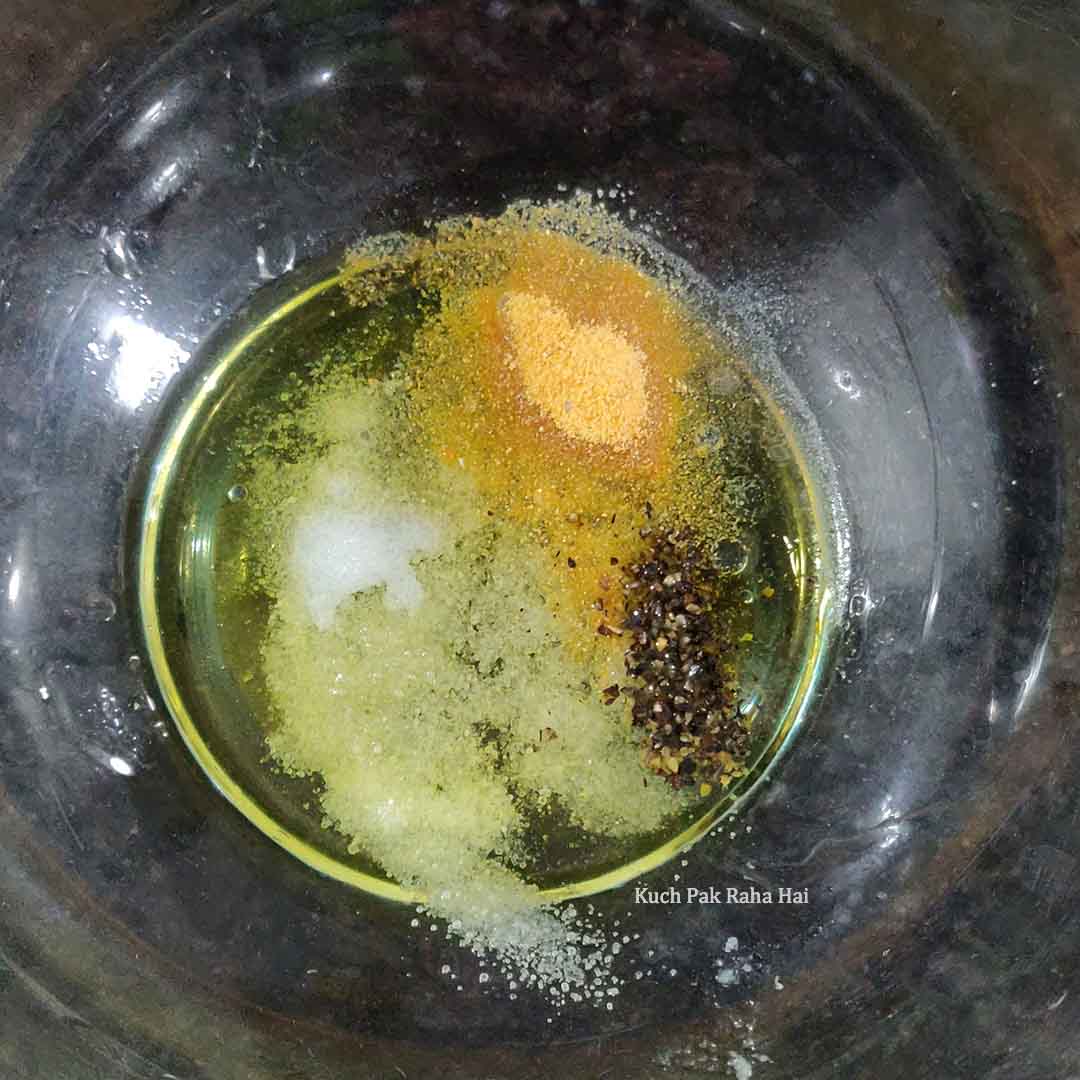 Step 3:
Add chopped broccoli to above bowl and toss well so all pieces are evenly coated with oil and seasoning.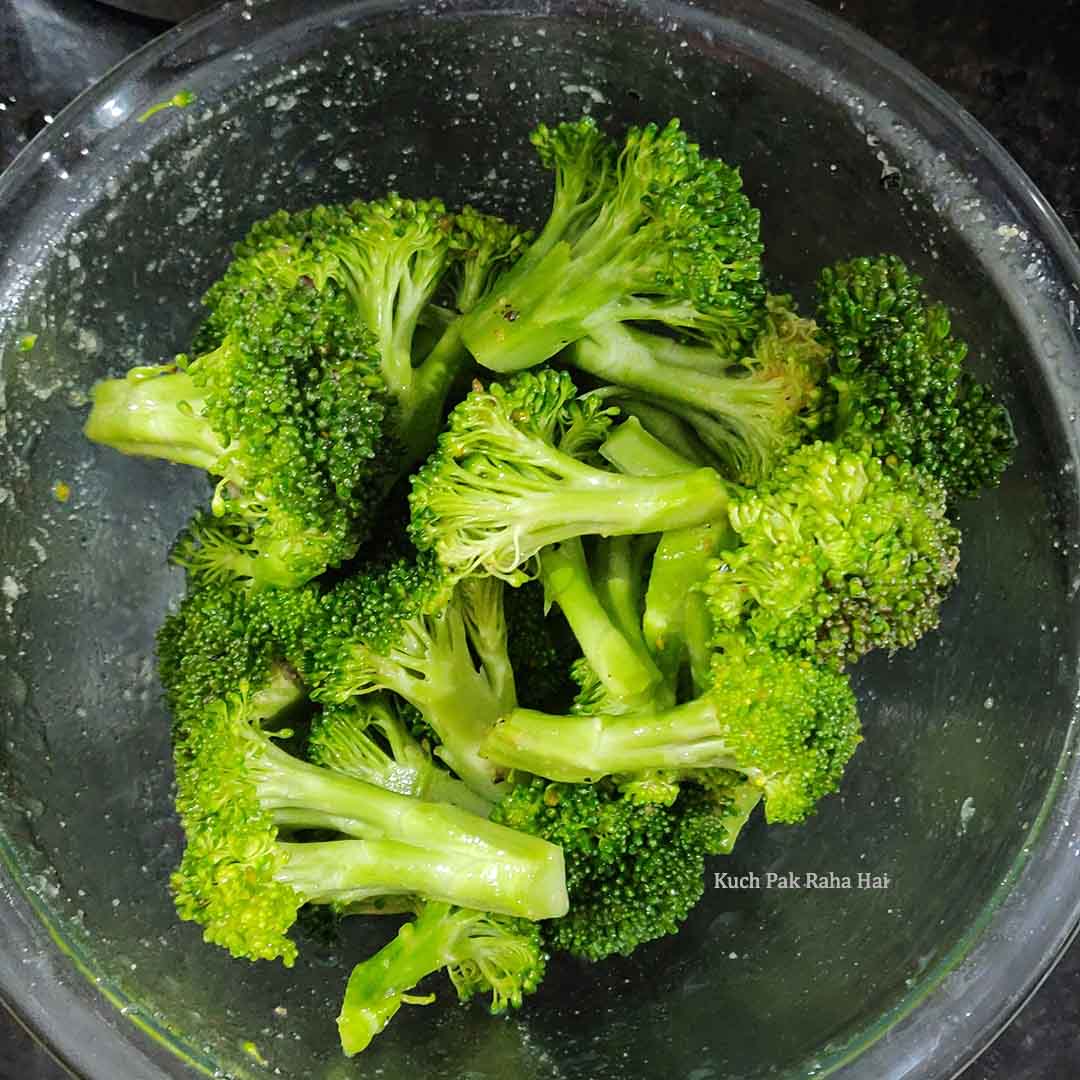 Step 4:
Preheat the air fryer at 180ºC (350°F). Spread the broccoli florets in air fryer basket. Avoid over crowding for even cooking.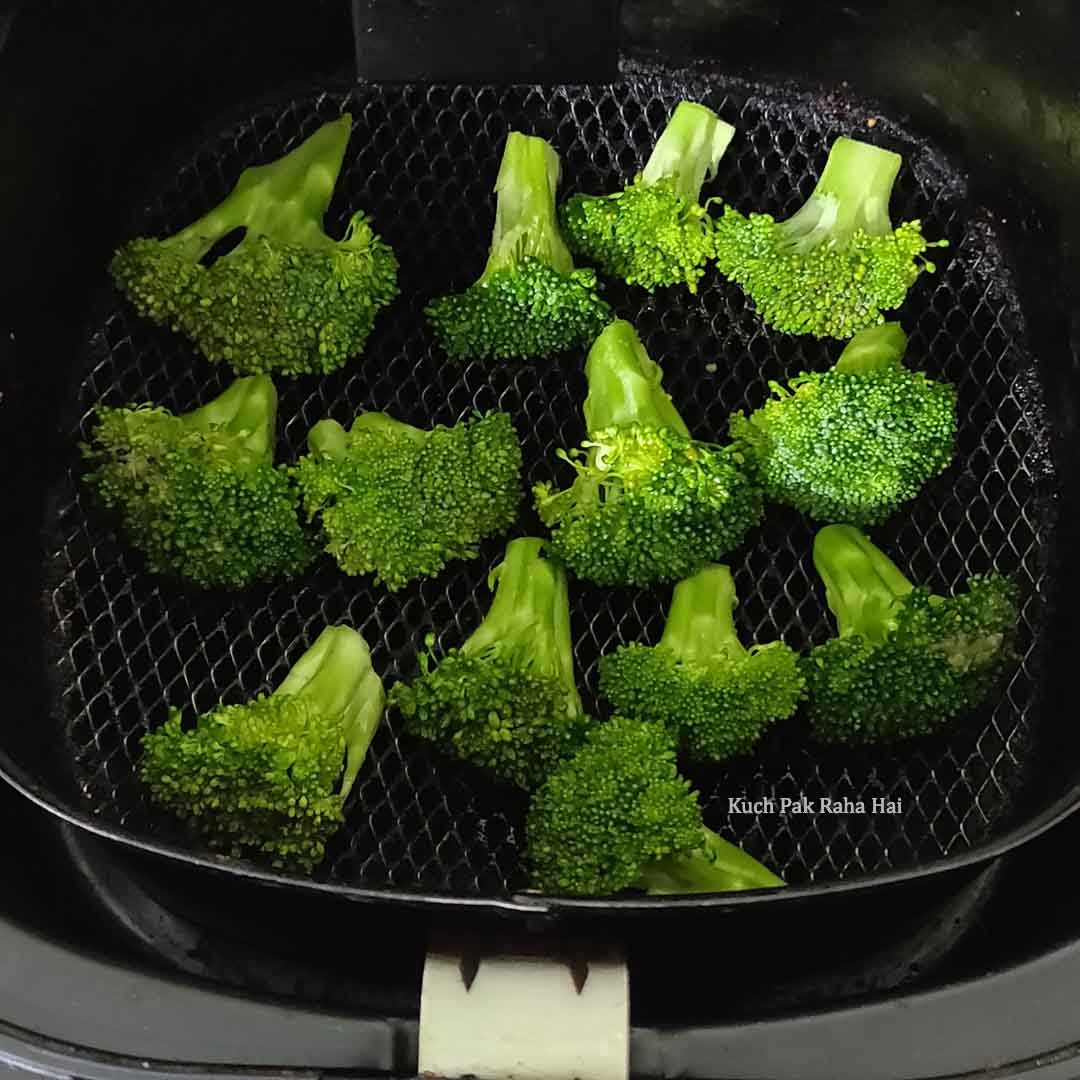 Air fry for 6-7 minutes at 180ºC (350°F) depending on how crispy you want the edges. Flip the pieces after 3-4 minutes (You can even spray or brush more oil if you want). The air frying time sometimes depends on the air fryer size and model, so you may have to adjust the timings little bit.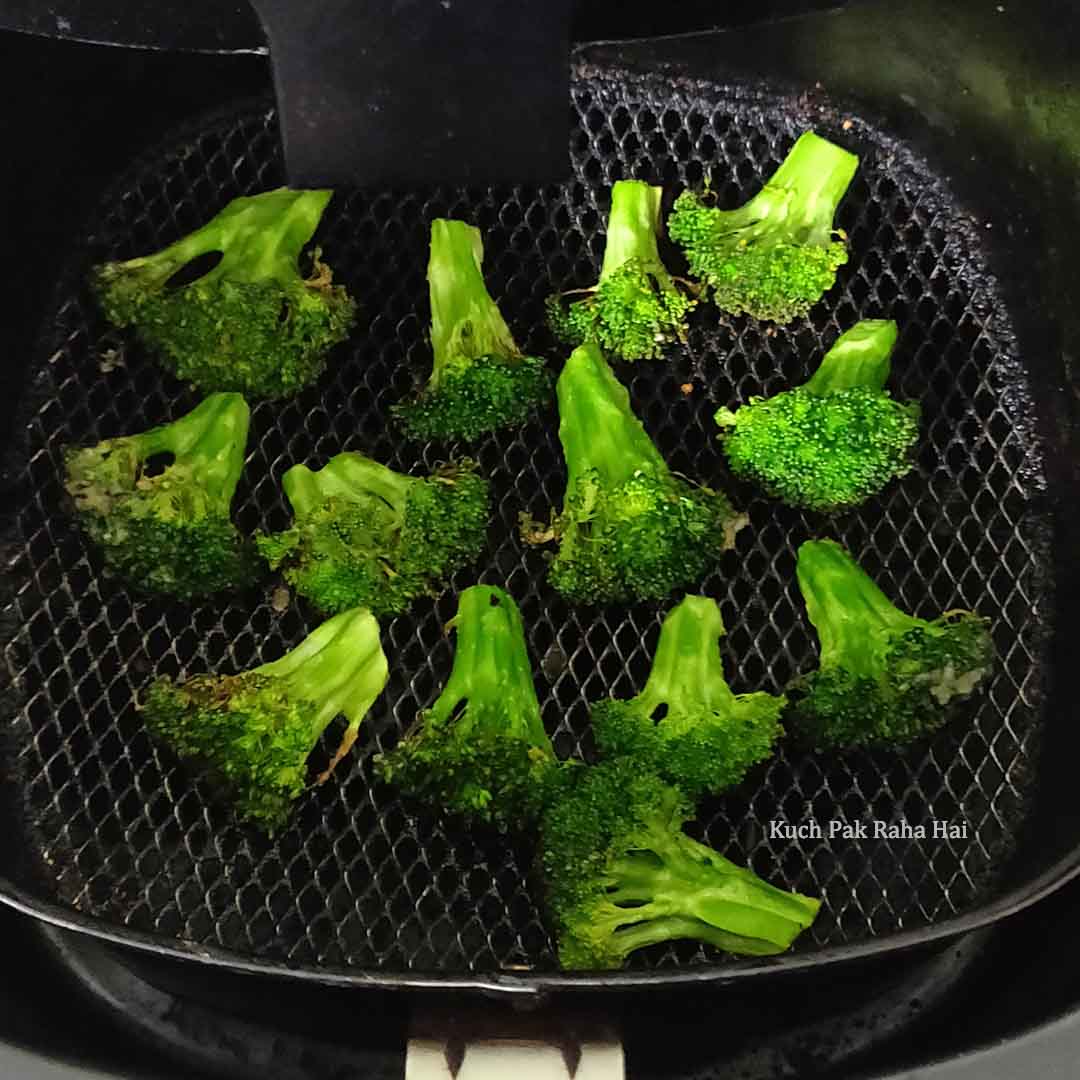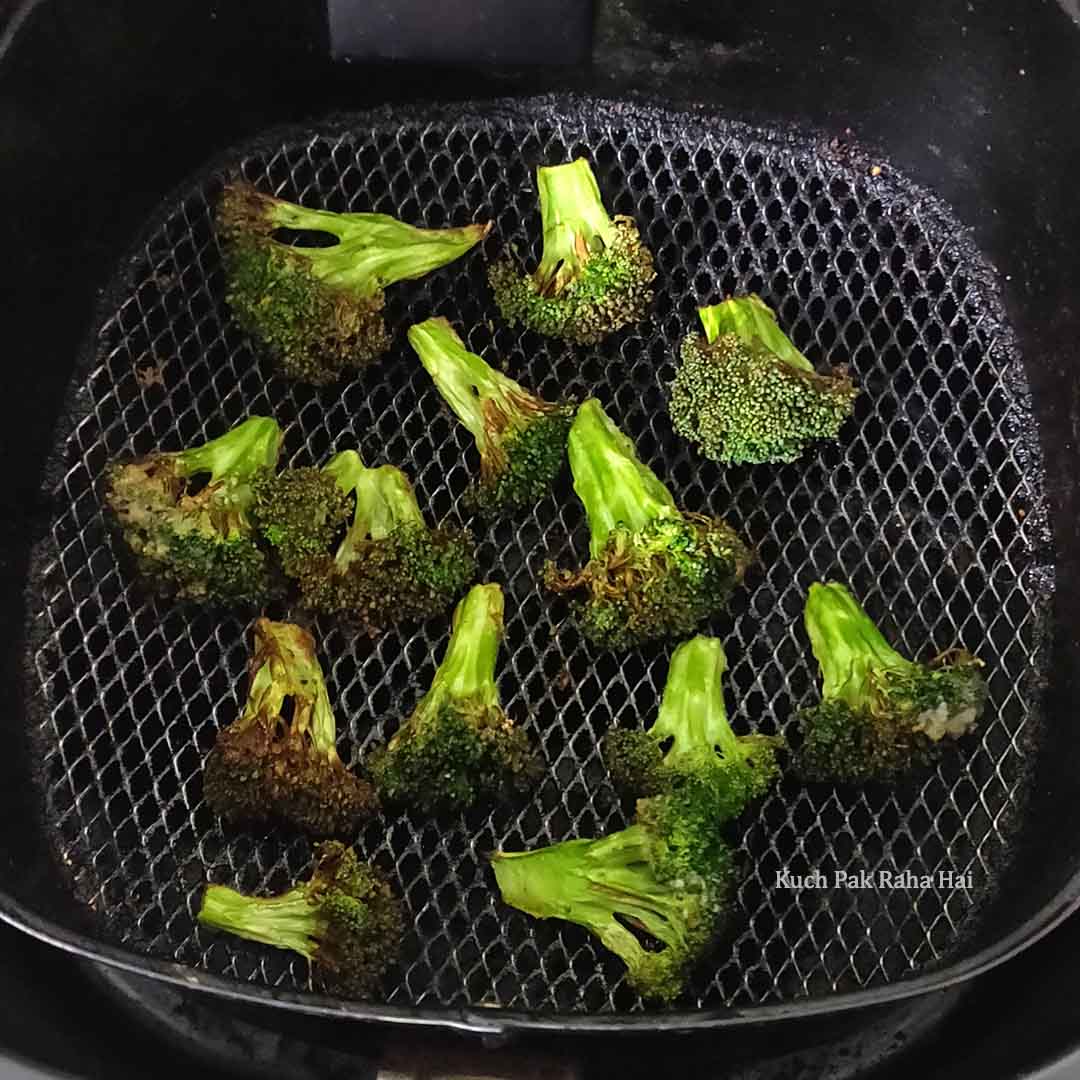 Drizzle 1-2 tsp lemon juice over this crispy roasted broccoli. Enjoy as it is or serve with dips like tzatziki, tahini sauce or mint yogurt sauce.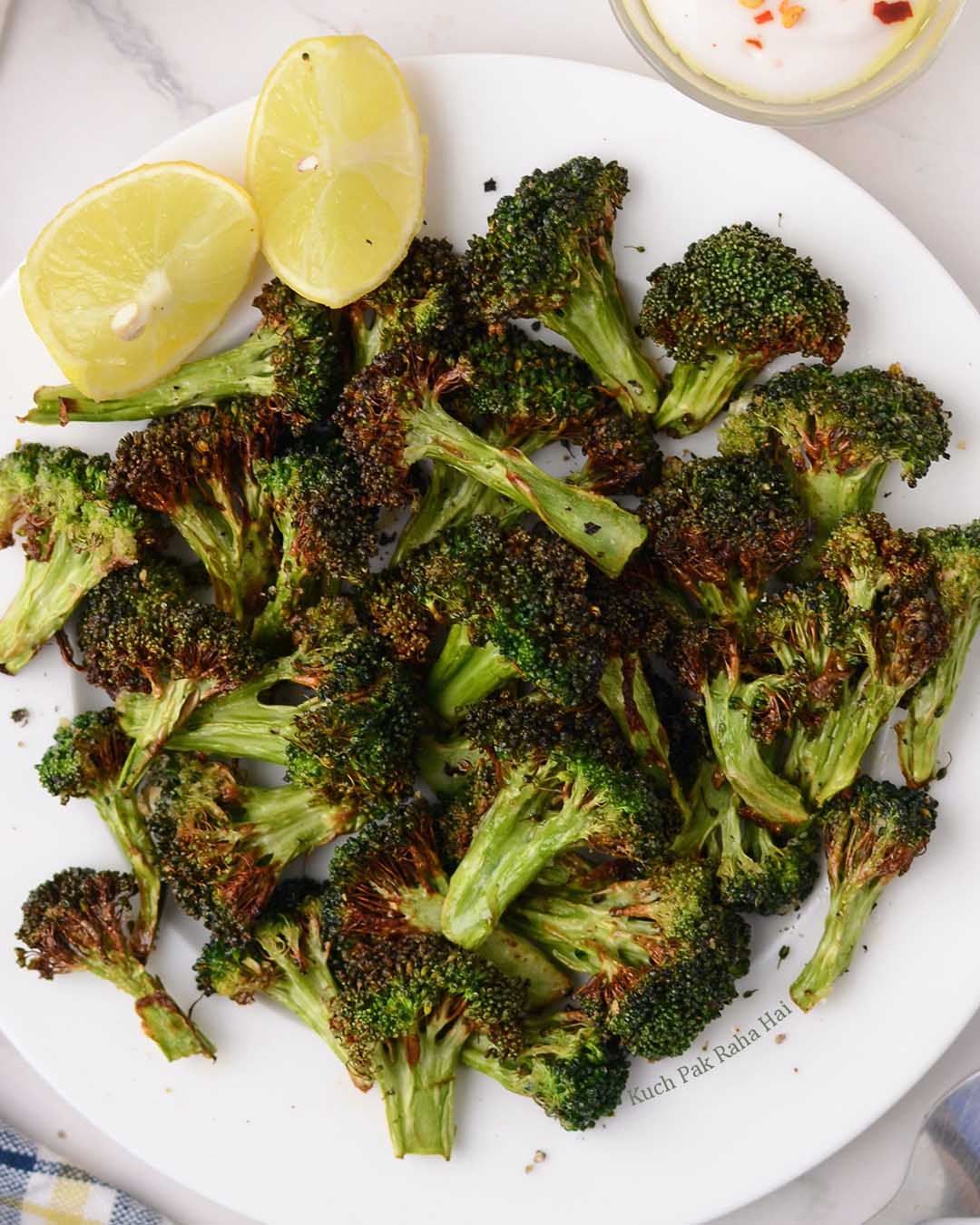 More broccoli recipes to try:
Pin for later: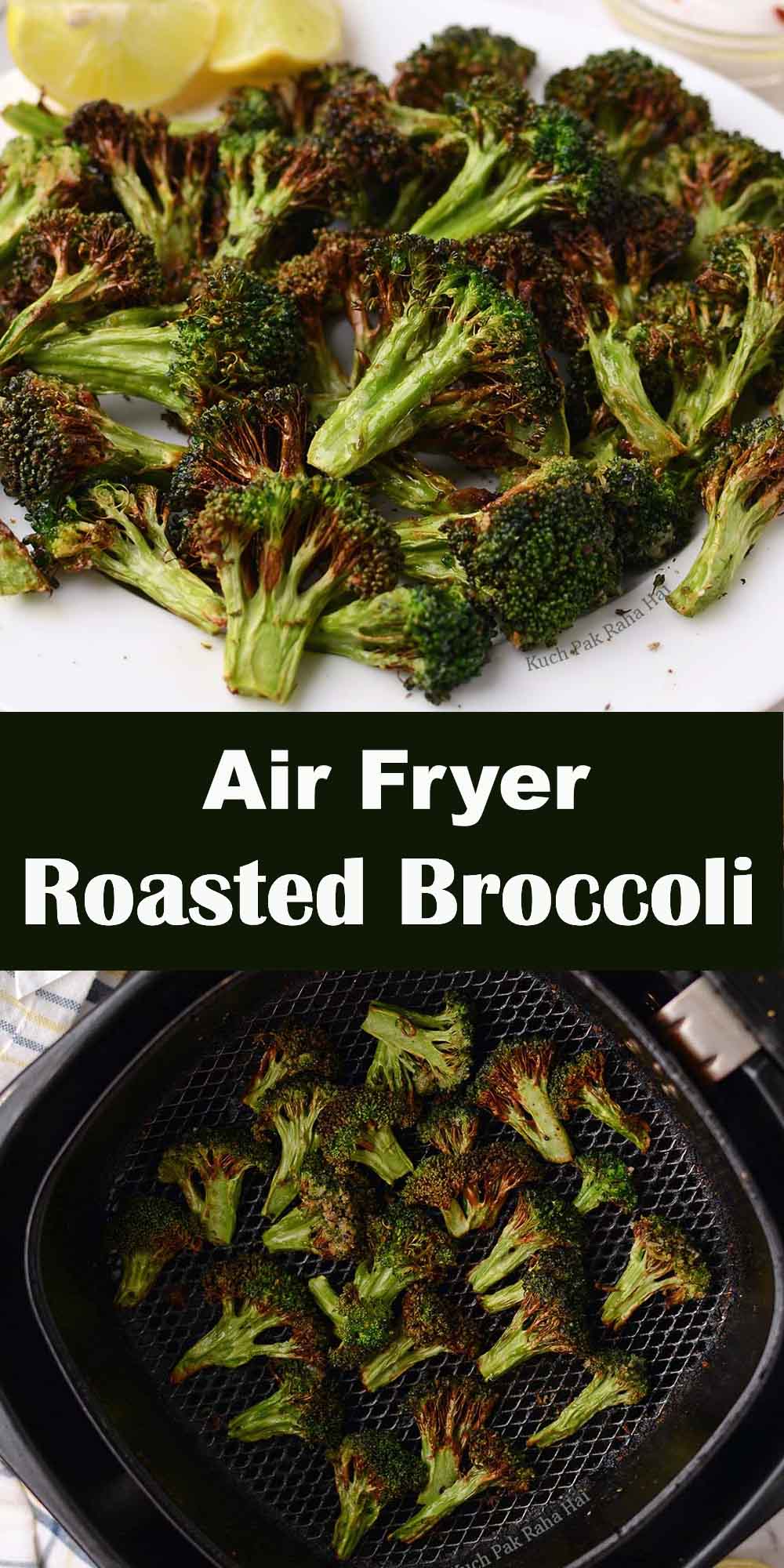 If you try this air fryer broccoli recipe & share pics on social media, then don't forget to tag us on Facebook or Instagram or use #kuchpakrahahai.
Let's stay connected
Facebook | Instagram | Pinterest| Youtube