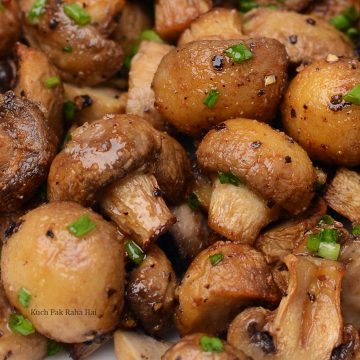 Air Fryer Garlic mushrooms is a delicious easy air fryer recipe that can be served as snacks, starters, appetiser or side dish.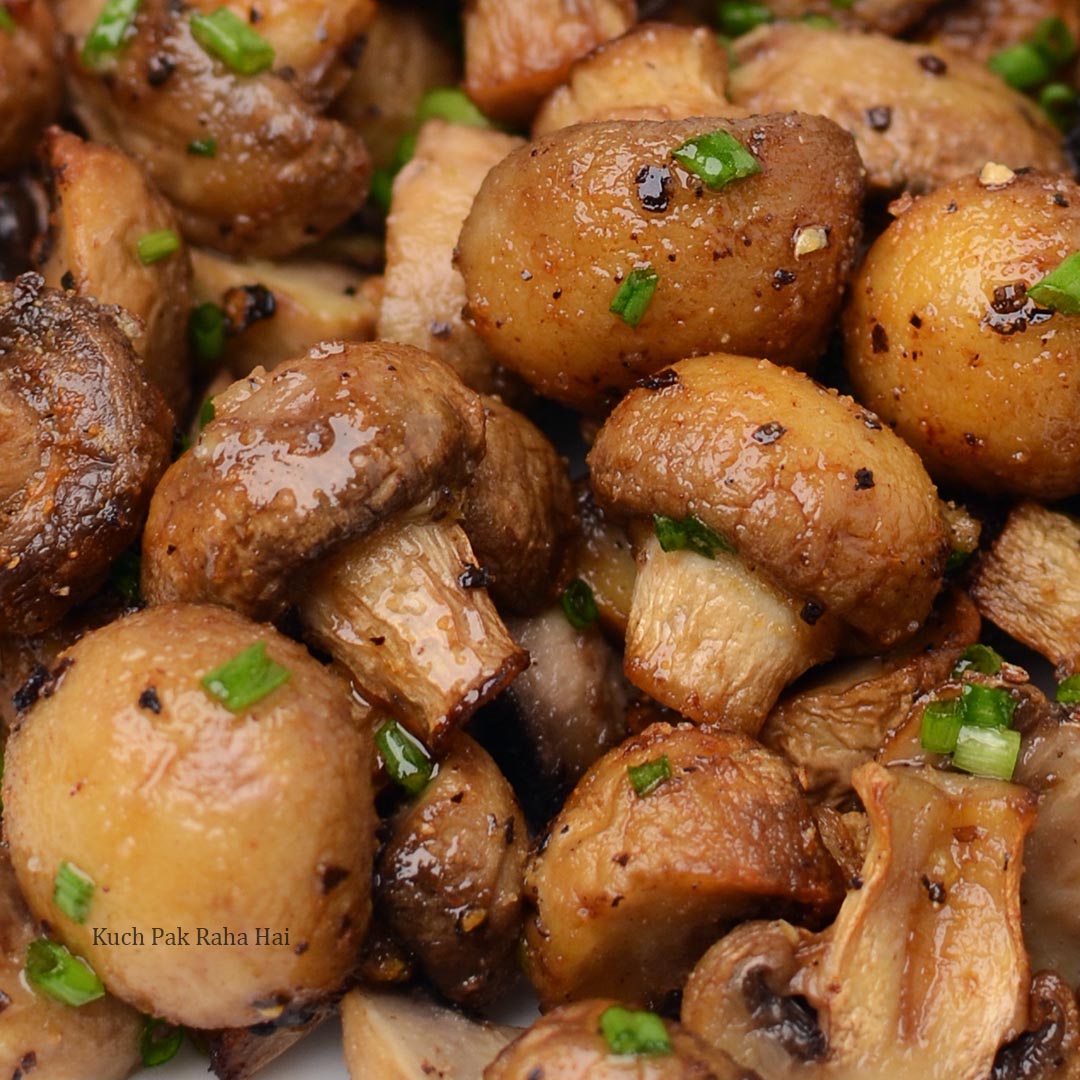 The combination of earthy juicy mushrooms with garlic is a simple yet divine combination. This air fryer mushrooms recipe is :
Vegan / Vegetarian
Gluten free
Easy & quick to make
I keep on trying different vegetarian recipes in air fryer and this simple garlic mushrooms recipe was one of the initial ones. They can be made in less than 15 minutes and tastes so good!! Since then I have made it so many times & today finally decided to shoot it to post on the blog.
These mushrooms can be served as side dish with casserole dishes like vegetarian shepherd's pie, broccoli gratin, soups or just be made as a light snack or appetiser. Though they vanish from dinner table in minutes but still if there are any leftovers, I like to have them over my toast or make mushroom quesadillas with them.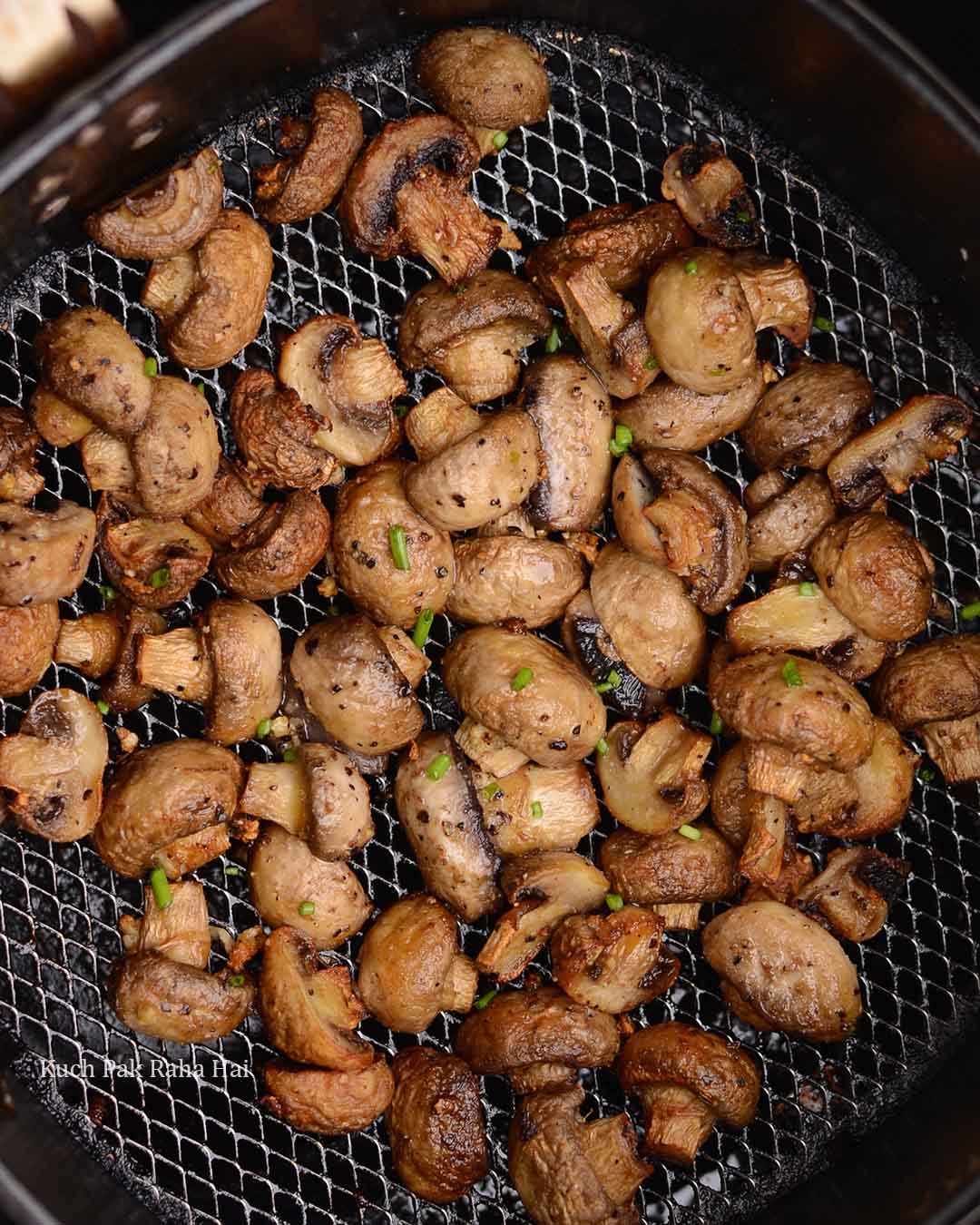 Type of Mushrooms Used:
I have used white button mushrooms in this recipe as they are most commonly available where I live but you can even use cremini mushrooms.
Flavourings & seasonings used:
These mushrooms are thickly sliced and tossed in a mixture of butter, olive oil, salt, black pepper, minced garlic and garlic powder before air frying. You can add more herbs of your choice or even use soy sauce or balsamic vinegar. I always recommend cooking in butter as it brings out the rich umami flavour of mushrooms.
Before serving these air fried mushrooms, I like to sprinkle some lemon juice over them and garnish with some freshly chopped herbs. You can use chopped parsley, cilantro or spring onion green for garnishing.
Air Frying Temperature:
As mushrooms are high in moisture, they taste best when cooked on high heat as this prevents them from releasing too much of water and hence turning soggy. For the same reason, these are air fried at 200 degree Celsius which gives them lovely golden caramelised exterior with juicy insides.
Do not overcrowd the air fryer basket as we want all the mushrooms to be evenly cooked. Also the mushroom slices should not be too thin otherwise they can get charred easily. Hope you would like this easy air fryer Garlic Mushroom recipe!!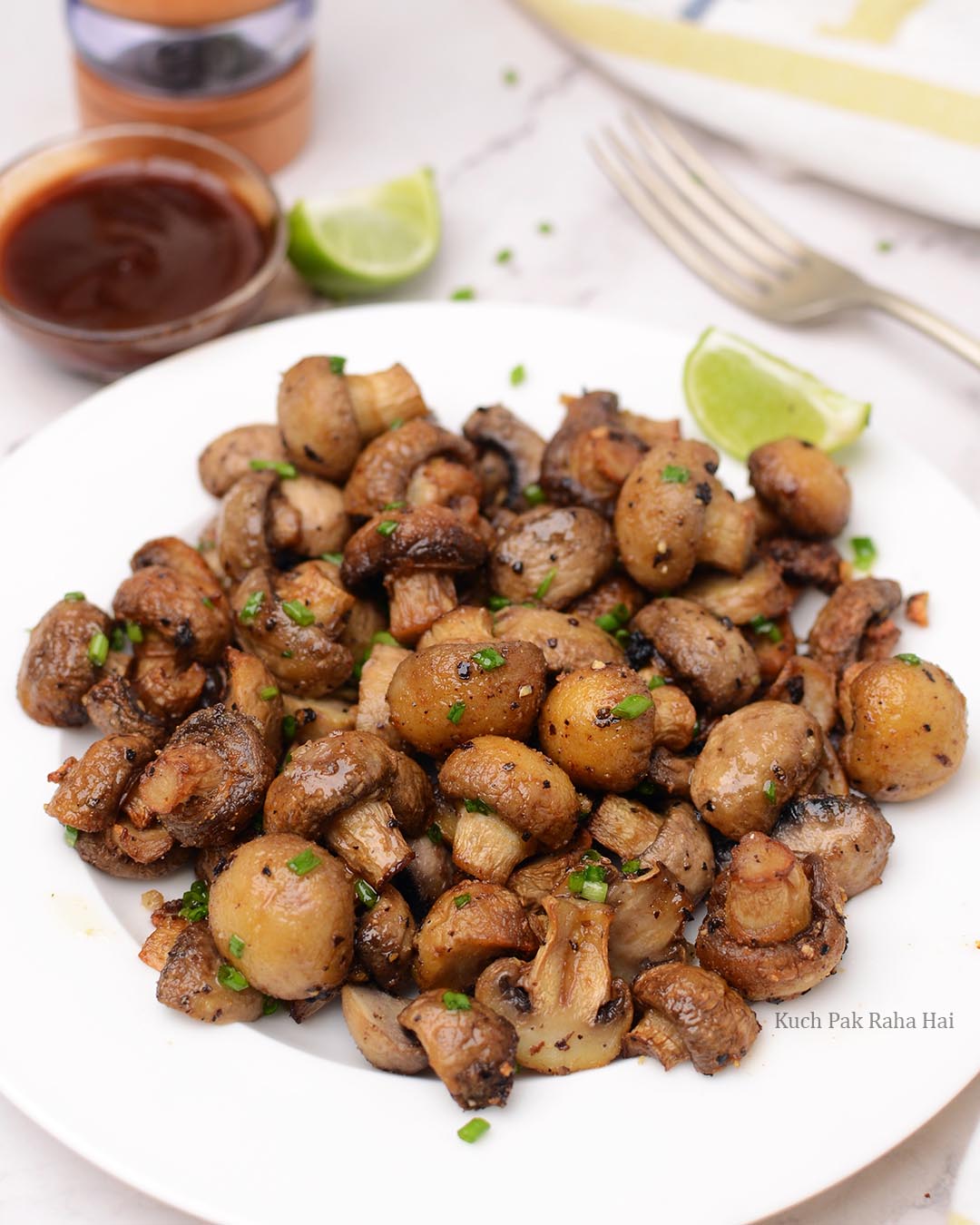 Servings : 2 (if served as side dish)
List of Ingredients:
Button Mushrooms – 300 to 350 grams
Butter / Vegan butter-1 tbsp
Olive oil-1 & 1/2 tbsp
Garlic cloves – 4 to 5
Salt – 1/2 tsp (to taste)
Crushed Black Pepper-3/4 tsp
Garlic Powder- 1/2 tsp (optional)
Lemon Juice- 2 tsp
Chopped Parsley / Spring onion greens- For garnishing
Recipe Notes:
1. If you are not able to find vegan butter, replace it with equal amount of olive oil.
2. You can use salted, unsalted or herbed butter for this recipe. If you are using salted butter, be light handed on salt later on.
3. Garlic Powder intensifies the garlic flavour in mushrooms. However feel free to skip it incase you don't have it or want lighter garlic flavour.
4. You can also add some soy sauce or balsamic vinegar for variation. Other herbs that can be used are-rosemary, thyme & oregano etc.
Steps To Prepare:
Step 1:
Give a quick rinse to mushrooms and rub their surface with a kitchen towel to get rid of dirt and excess moisture. Keep these aside.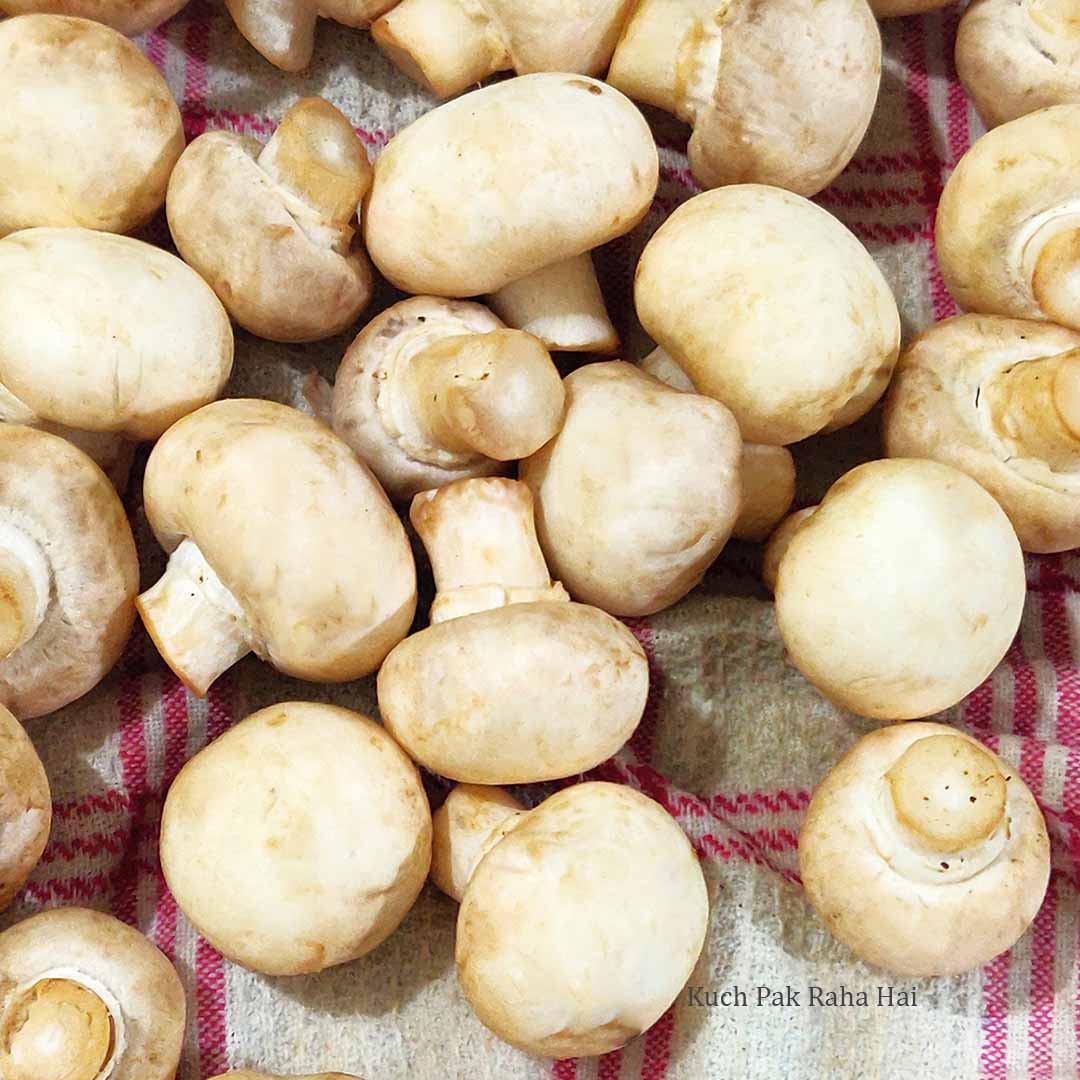 Step 2:
In a big bowl, take olive oil, butter, salt, minced garlic, crushed black pepper & garlic powder. If the butter is not soft enough you can microwave it for 10-15 seconds in this same bowl before adding rest of the ingredients. Mix them well and keep aside.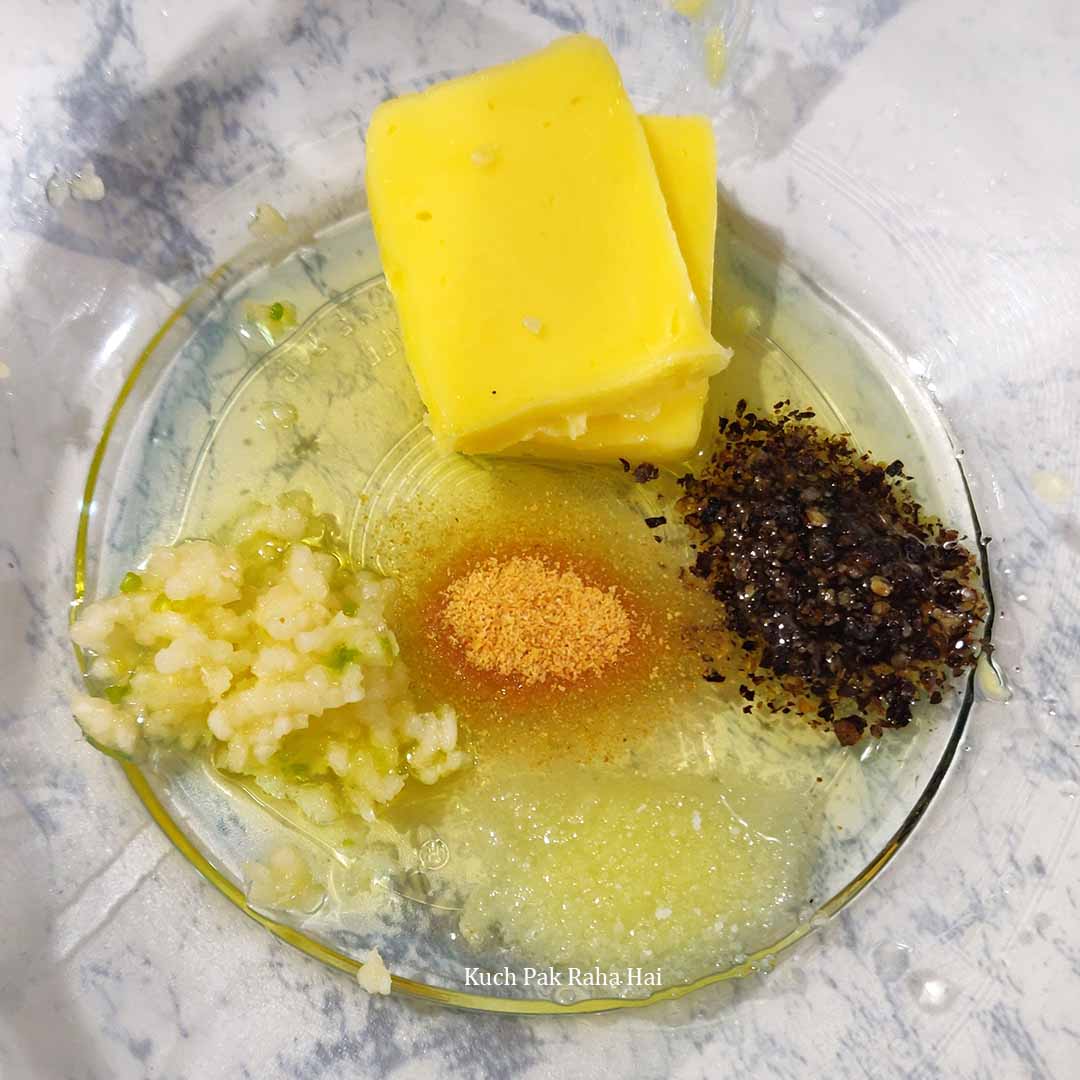 Step 3:
Set the air fryer for preheating on 200 degree Celsius.
Step 4:
Slice the mushroom in big pieces. I have left the smaller mushrooms as it is and sliced the bigger ones in 2 to 4 pieces. The thickness of all mushroom pieces should nearly be the same as this will ensure they have the same cooking time.
Toss these mushrooms in the same bowl in which we mixed butter, olive oil and rest of the seasoning. All the mushrooms should be coated well with butter/oil.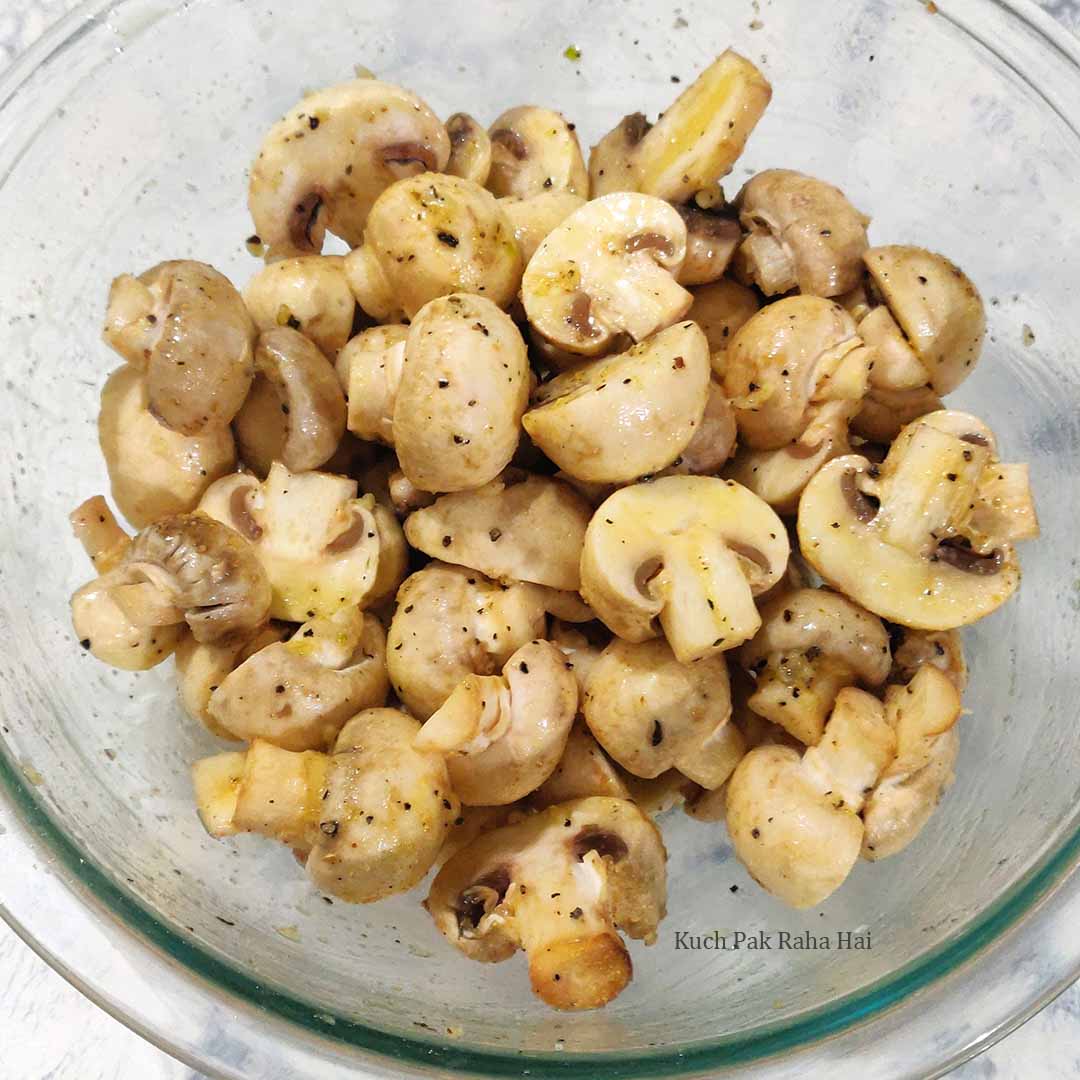 Step 5:
Once the air fryer is preheated, transfer these mushrooms in air fryer basket and air fry them at 200 degree Celsius for 10-11 minutes. Gently toss them after half time.
(Sometimes air frying time varies according to the air fryer model. You may  have to adjust it by 1-2 minutes. )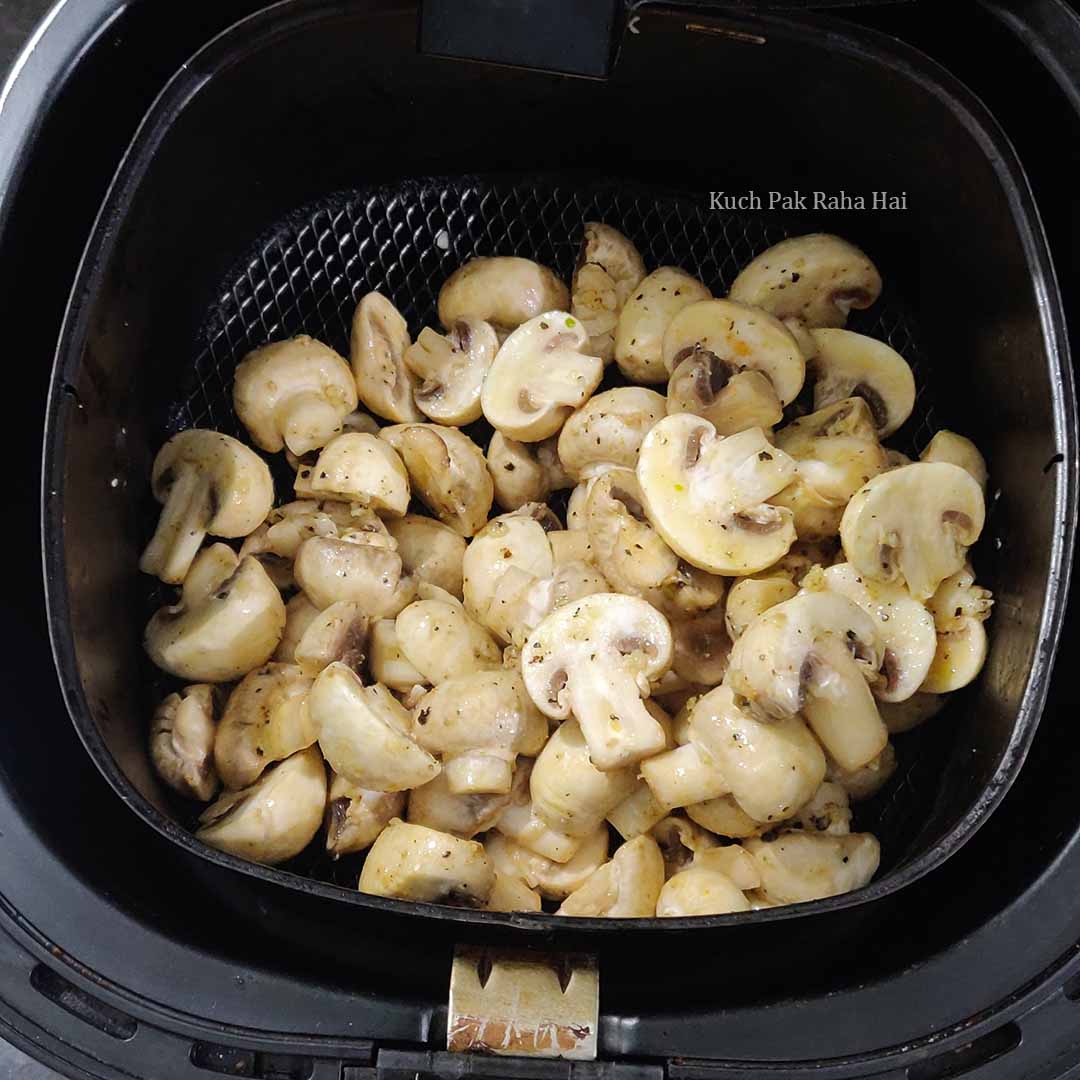 Sprinkle some fresh lemon juice & chopped parsely or spring onion greens over these air fried mushroom. Enjoy these delicious succulent garlic butter mushrooms. Happy Cooking!!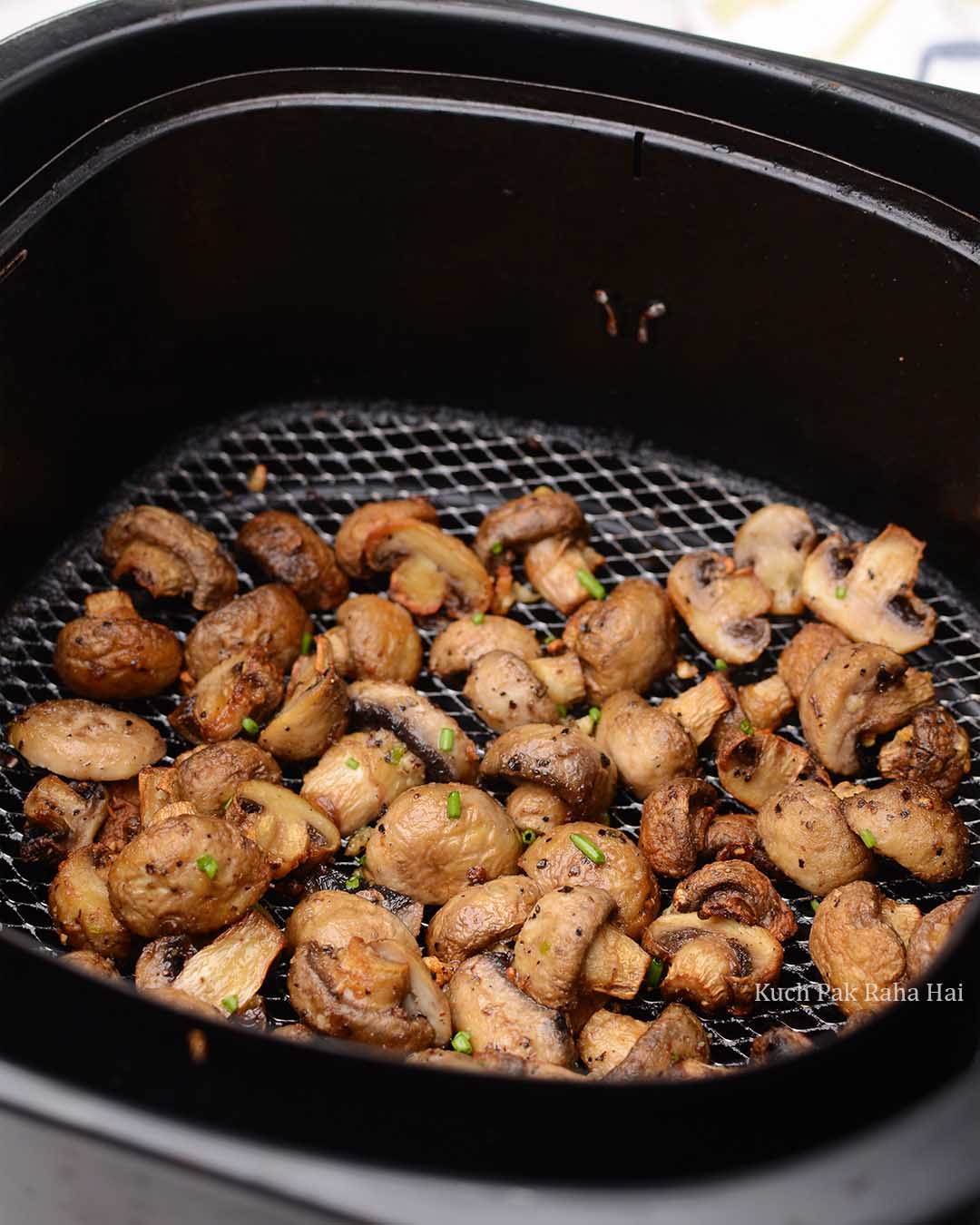 If you are a mushroom lover, then do check out some more mushroom recipes below:
Pin for later: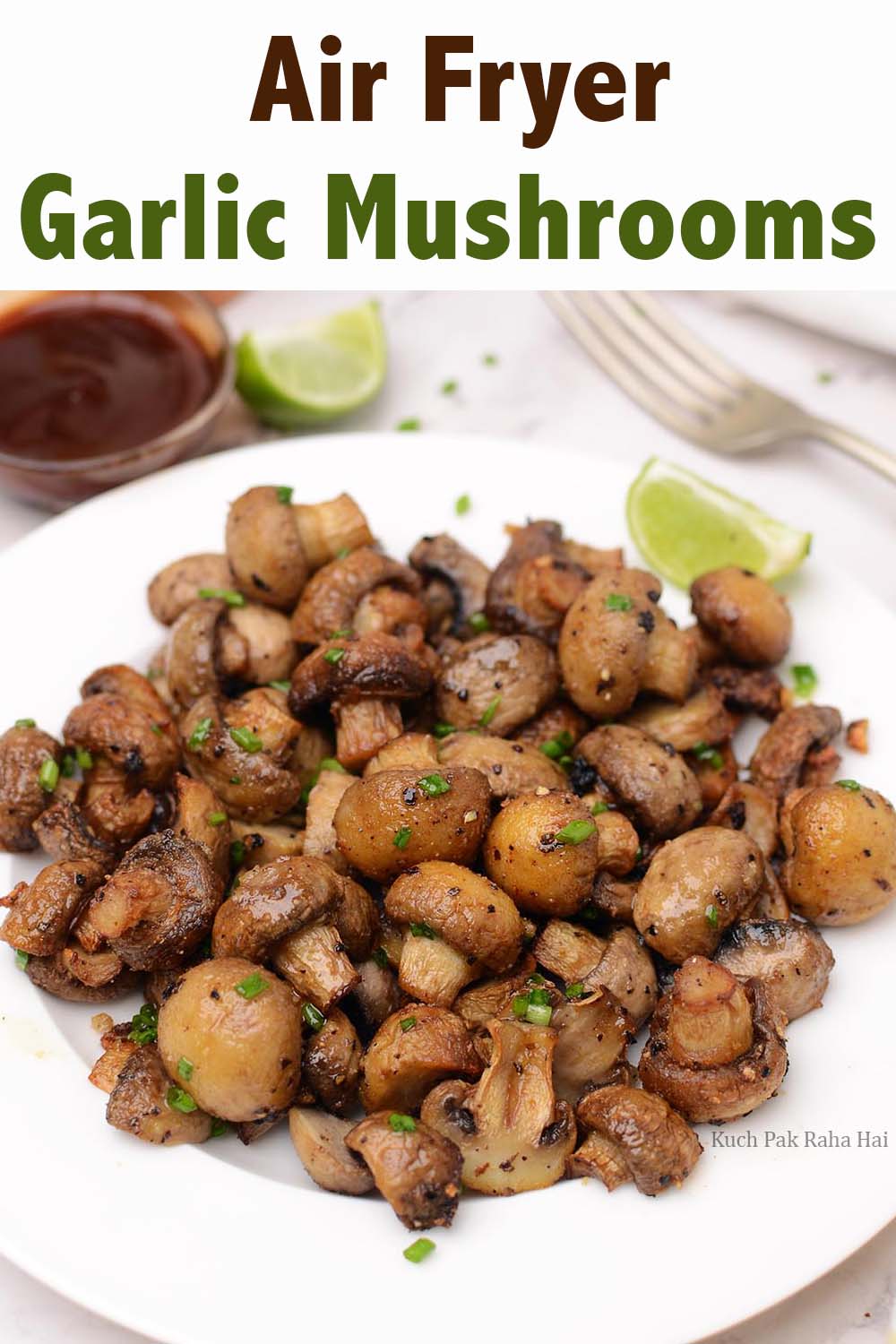 Let's stay connected
Facebook | Instagram | Pinterest | Youtube