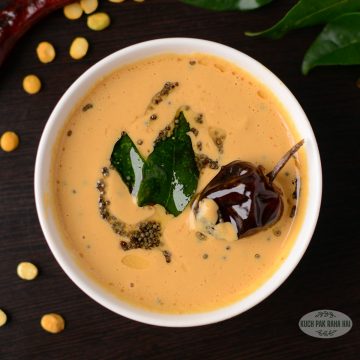 Chana Dal chutney is a flavoursome high-protein South Indian chutney made with chana dal (split chickpeas), ginger, lemon and chillies etc. It is a healthy, easy, quick to make and great accompaniment to serve with dosa, idli or uttapams etc.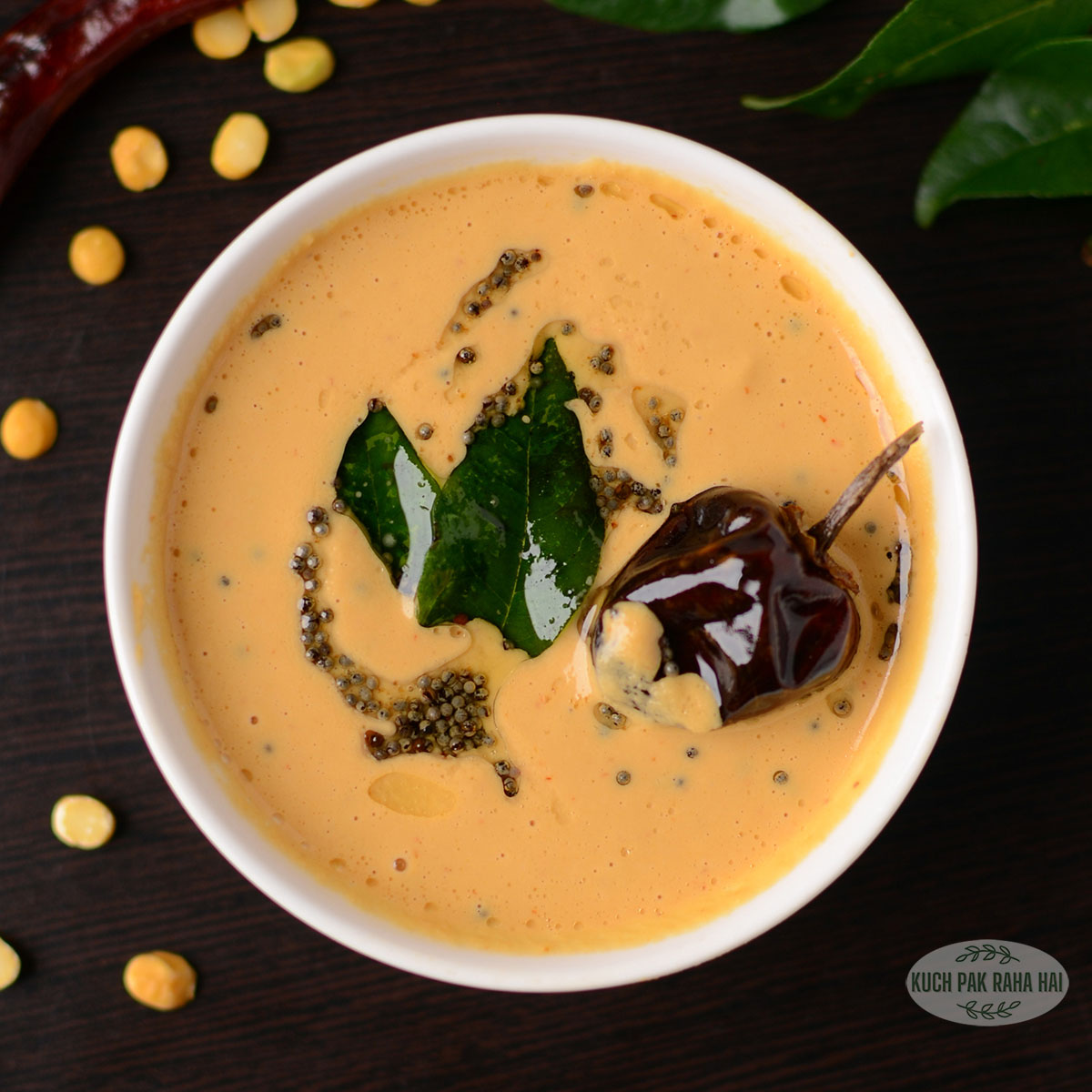 This chutney is traditionally served with South Indian food but it tastes so good that I even have it with regular meals or as dip with cucumber, carrot sticks. The chana dal chutney recipe shared here is made without tomatoes, without onion or garlic. It is also:
Vegan (dairy free)
Vegetarian
Gluten Free
High Protein
Chana Dal Chutney Ingredients:
Chana Dal: Chana Dal is also known by other names like split chickpeas, split gram, gram dal or bengal gram. It is yellow in colour & is basically made by splitting the black chickpea with outer cover removed. Chana Dal is considered to be one of the nutritious legumes as it is rich in protein, fibre and folate etc.
Difference between chana dala and roasted chana dal: In some grocery stores you will also find 'Roasted chana', also called daria dal, bhuna chana dal or roasted gram. The difference between chana dal & roasted chana dal is, the latter is puffed up and crunchy to eat.
This chutney can be made with roasted chana dal also but as it is not available everywhere, I am making it from scratch using raw uncooked chana dal which we use in making everyday dal, curry or soup.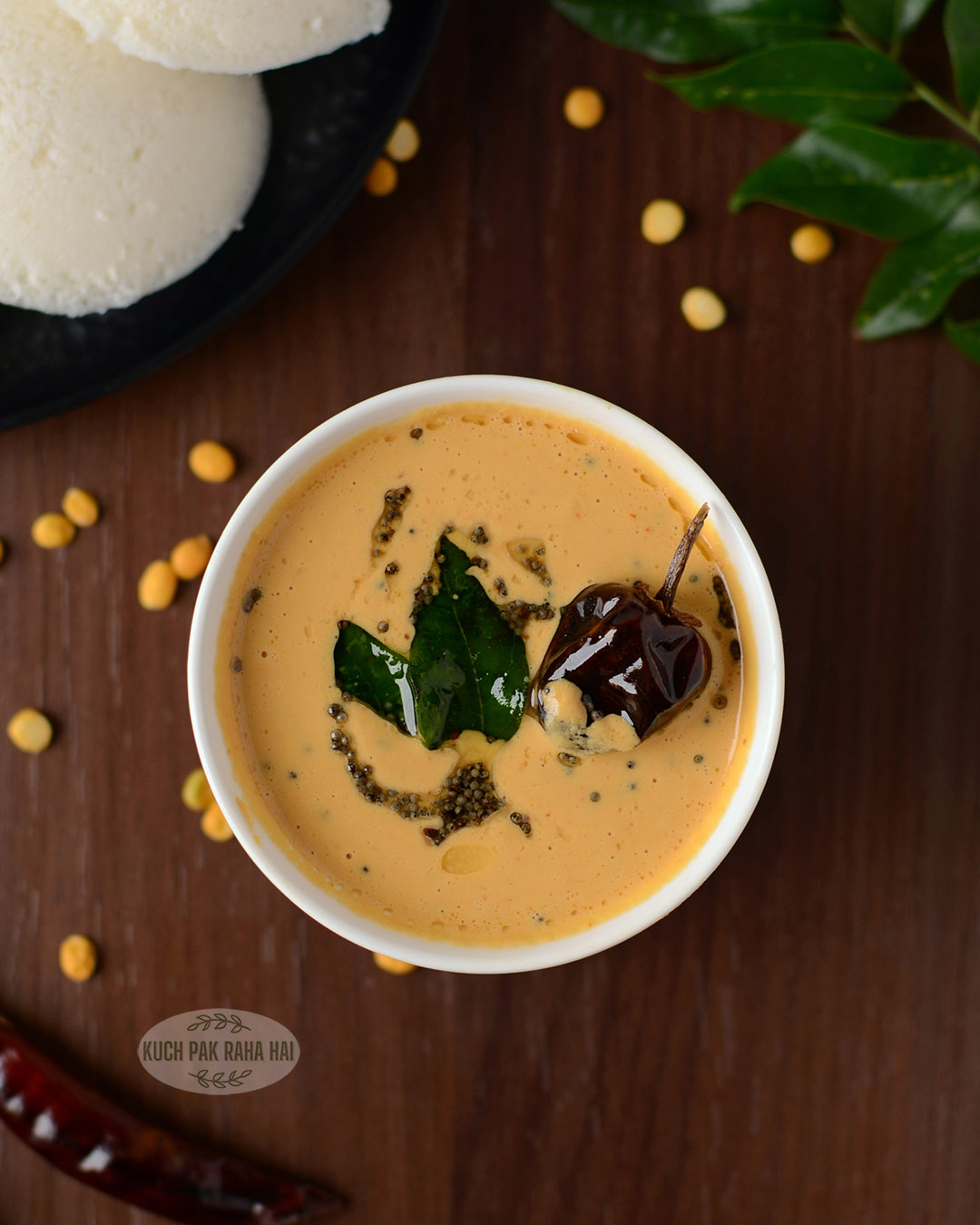 Ginger: Ginger adds flavour and aroma to the chutney. Though fresh ginger tastes best in this chutney, but you can use store bought ginger paste too.
Coconut: Coconut adds a slight sweet and nutty flavour to the chutney. Either Desiccated coconut powder or freshly grated coconut can be used here. You can make this chutney without coconut also.
Dried Red Chillies: Dries red chillies are used in almost every south indian chutney recipe. Instead of dried red chillies you can also red chilli powder.
Oil: Use good quality or cold pressed oil like peanut oil, sunflower oil or sesame oil for making this chutney.
Sweetener & Lemon Juice: Little bit of sugar (or jaggery powder) & lemon juice add sweet-sour taste to the chutney enhancing its flavour. Traditionally a small piece of tamarind is added for sourness but as it is always not available everywhere, I have used lemon juice.
Tempering: Tempering, also known as tadka, is prepared by adding mustard seeds, dried red chilli and curry leaves to hot oil. This oil is finally poured over chutney which gives it a lovely rustic aroma.
Variations:
Skip adding coconut if you want to make roasted chana chutney without coconut.
To add nutty taste, you can add some roasted peanuts to the chutney.
If you like garlic, add 1-2 cloves of garlic with ginger in the recipe.
To make it more creamy or smooth, you can add 2-3 tbsp yogurt(curd) while blending.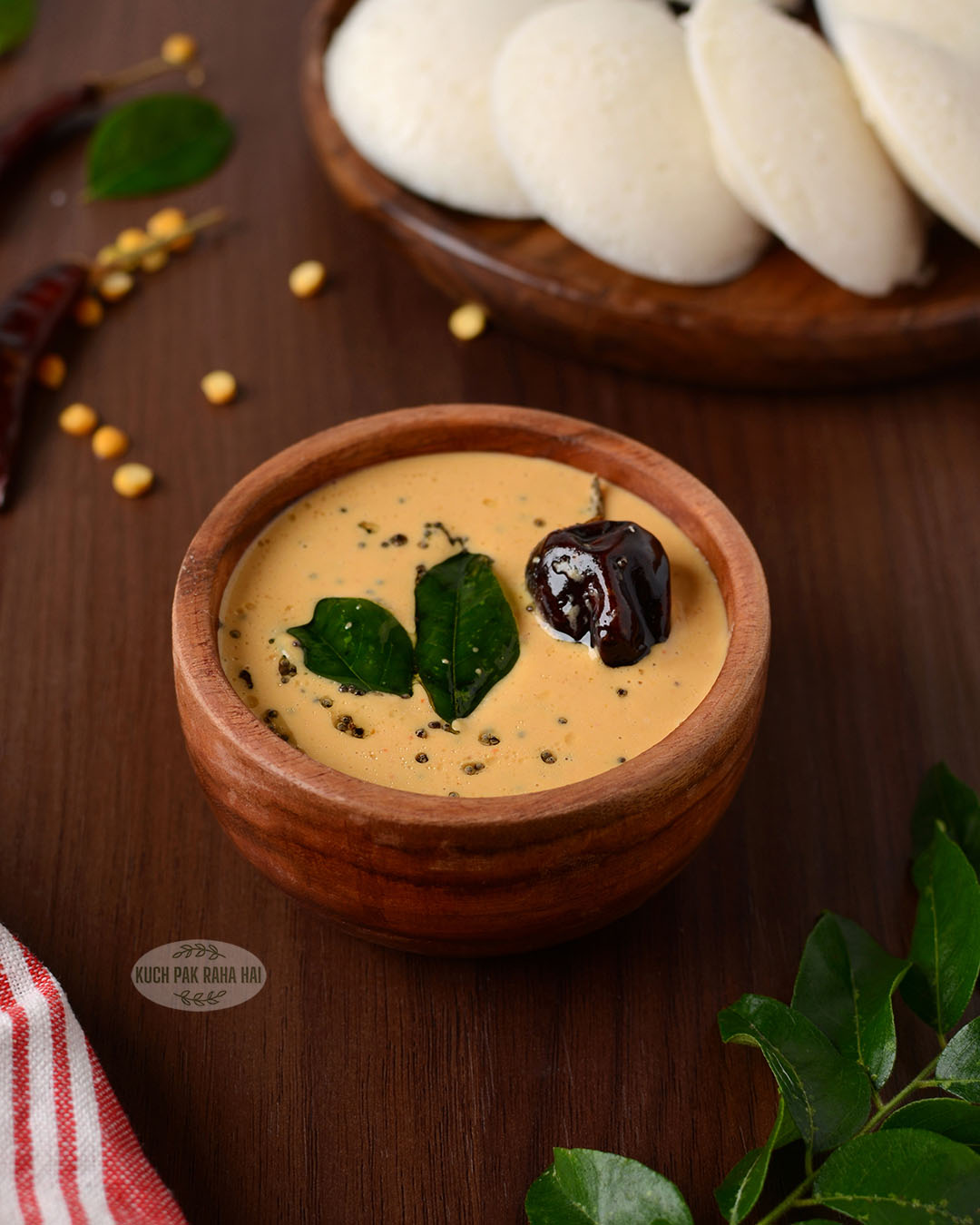 Serving Ideas:
You can enjoy this chana dal ki chutney with various uttapam, idli, dosa recipes like mixed dal dosa, vegetable rava idli, matar oats idli & rava paniyaram etc
More South Indian Chutney Recipes:
Ingredients:
For chutney:

Chana Dal (uncooked)- 1/4 cup
Cooking Oil-2 tsp
Dried Red Chillies-2 (to taste)
Ginger (chopped)-1 inch piece
Water – 2/3 cup
Desiccated Coconut Powder-3 tbsp
Lemon Juice- 1 + 1/2 tbsp
Salt-1/2 tsp (to taste)
Jaggery Powder / Sugar- 1 tsp
Rai (Mustard Seeds)-1/2 tsp

For tempering

Oil- 1 tsp
Curry Leaves- 5 to 6
Directions:
Step 1:
Heat 2 tsp oil in a pan. Add chana dal to it and begin roasting on medium low flame. Do this for 2-3 minutes while stirring.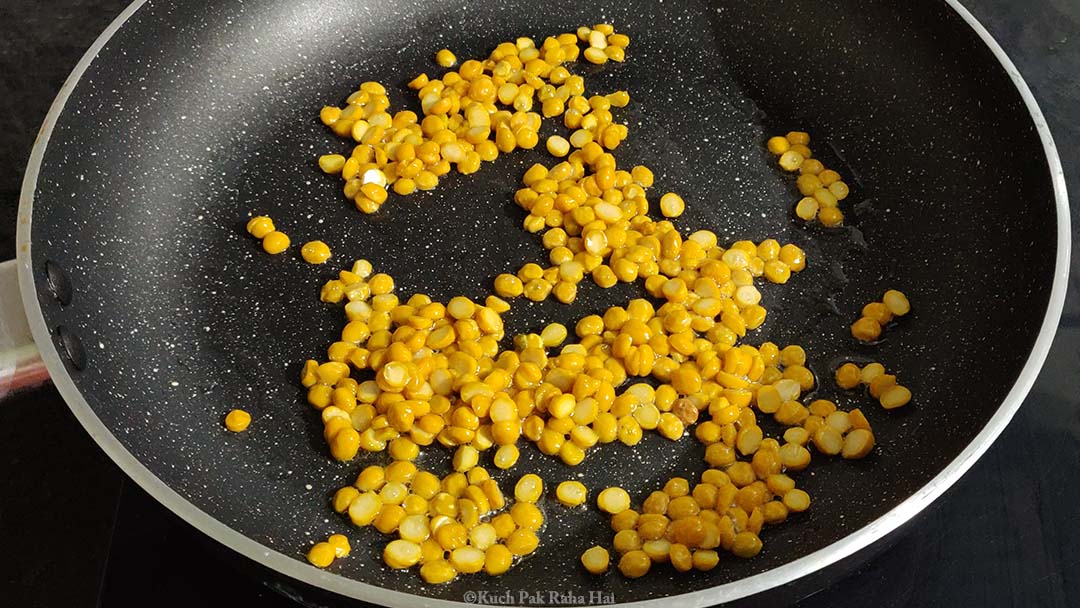 Step 2:
Add roughly chopped ginger and dried red chillies to it. Roast for another 2-3 minutes till chana dal slighlty changes its colour, becomes puffed & crunchy.  (Tip: You can taste 1-2 grains of chana dal. It should be crunchy to bite, not hard and should not taste raw).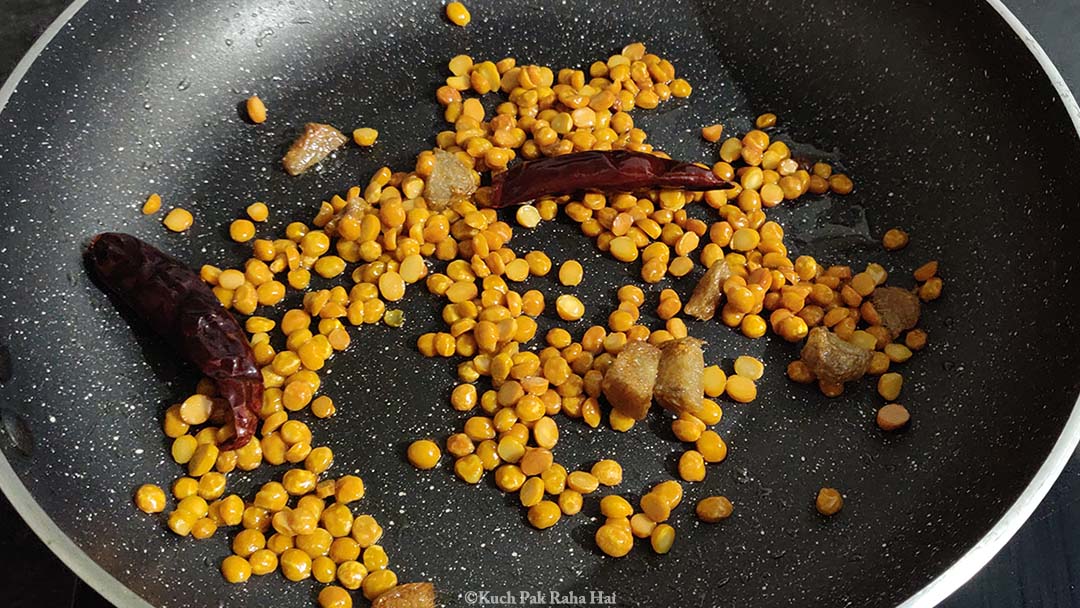 Step 3:
Add 1/3 cup water to the above pan and let it cool for 3-4 minutes. You can even add dal & water directly to the blender jar at this step but I prefer to cool it slightly as it gives dal the time to soften up making it easily grind-able.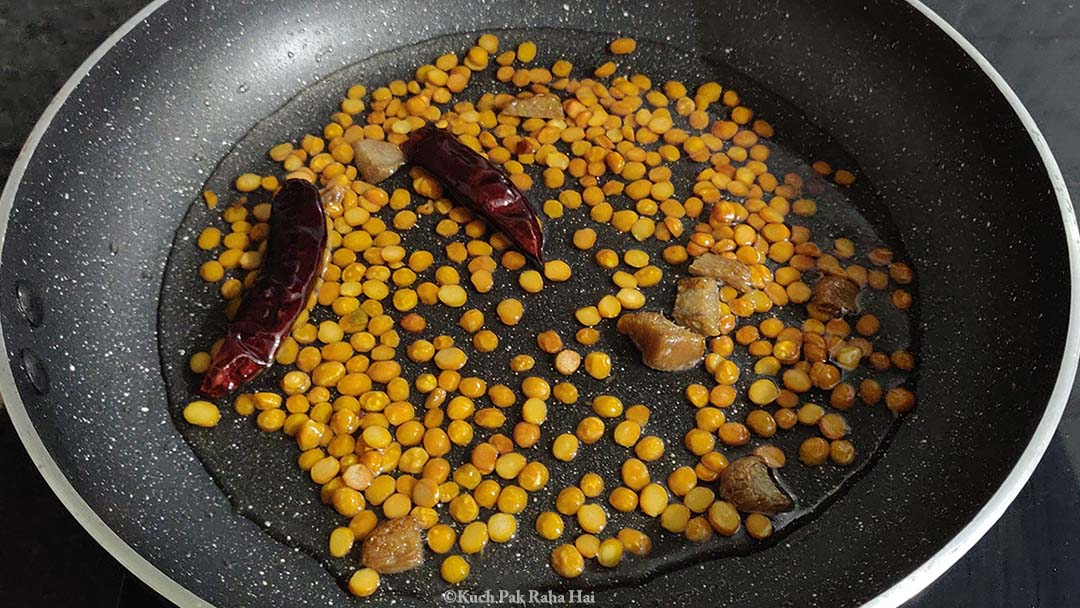 Step 4:
Add the above mixture to blender jar along with remaining water, desiccated coconut, salt, lemon juice, jaggery powder (or sugar) and grind to get smooth chutney. Add more water if required during grinding.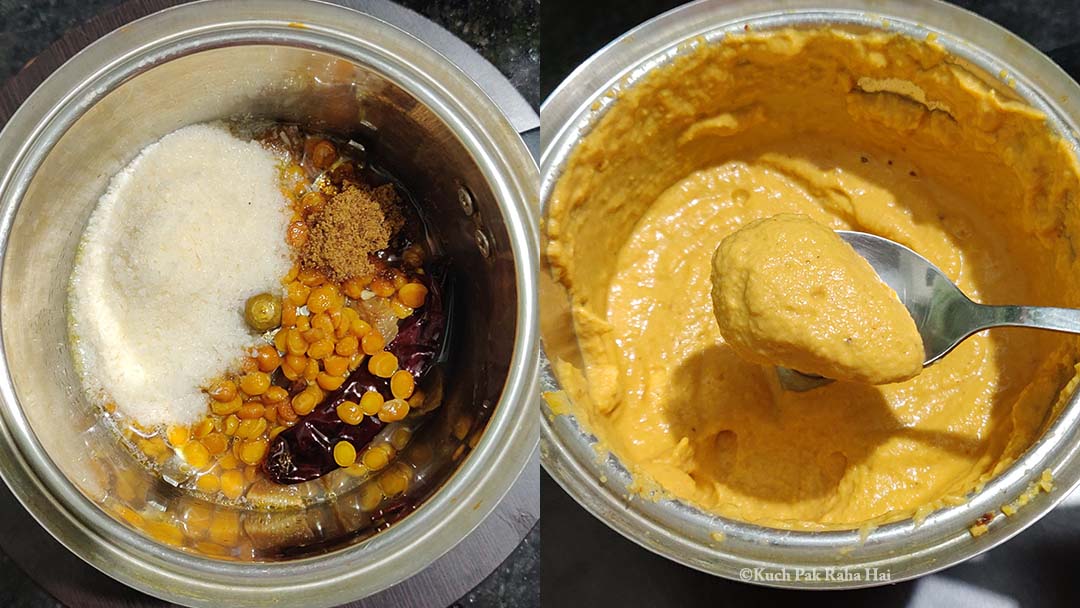 Taste to adjust salt or lemon juice as per your taste. Transfer the chutney in a bowl.
Step 5:
To prepare tempering, heat 1 tsp oil in a small pan and add rai (mustard seeds) and curry leaves to it. Saute for 10-15 seconds till mustard seeds begin to crackle. Switch off the flame immediately and pour this tempering over chutney. Mix well.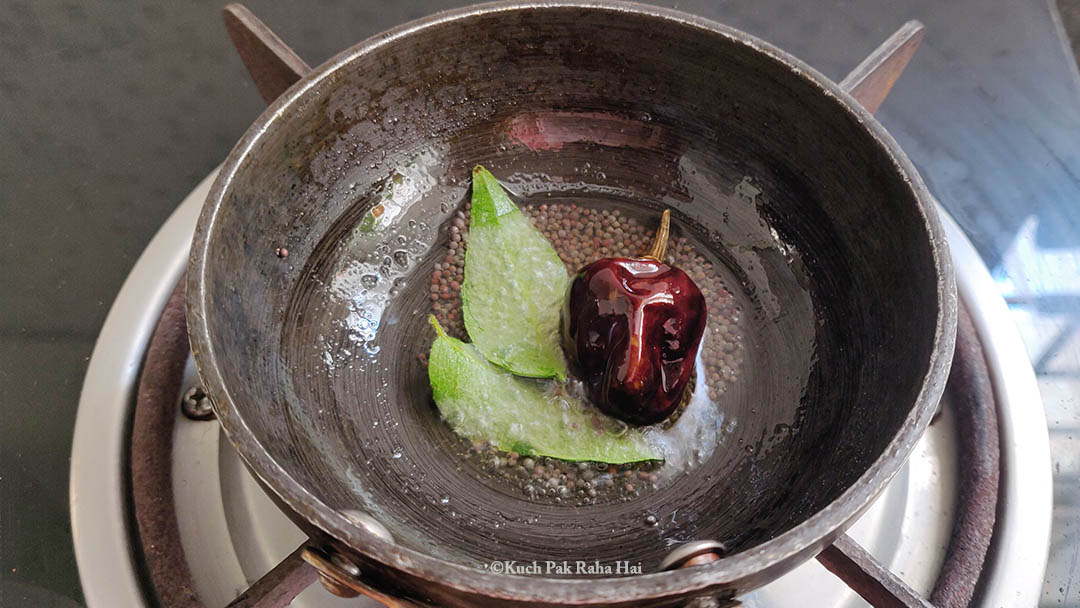 Enjoy this delicious healthy chana dal chutney with idli or dosa!!
How to store roasted chana chutney?
You can easily store it in an airtight container in fridge for 3-4 days. Sometimes chutney begins to thicken up on cooling down as chana dal absorbs moisture. You can bring it to desirable consistency by adding some more water.
Can I freeze chana dal chutney?
Yes, this gram dal chutney can easily be stored in freezer also. I generally divide the chutney in portions and transfer in small freezer safe containers.
Whenever I am making uttapam or idli I bring out one container at a time. You can thaw it on kitchen counter or leave it overnight in fridge. The maximum time I have kept it frozen is 1 month.
Pin for later: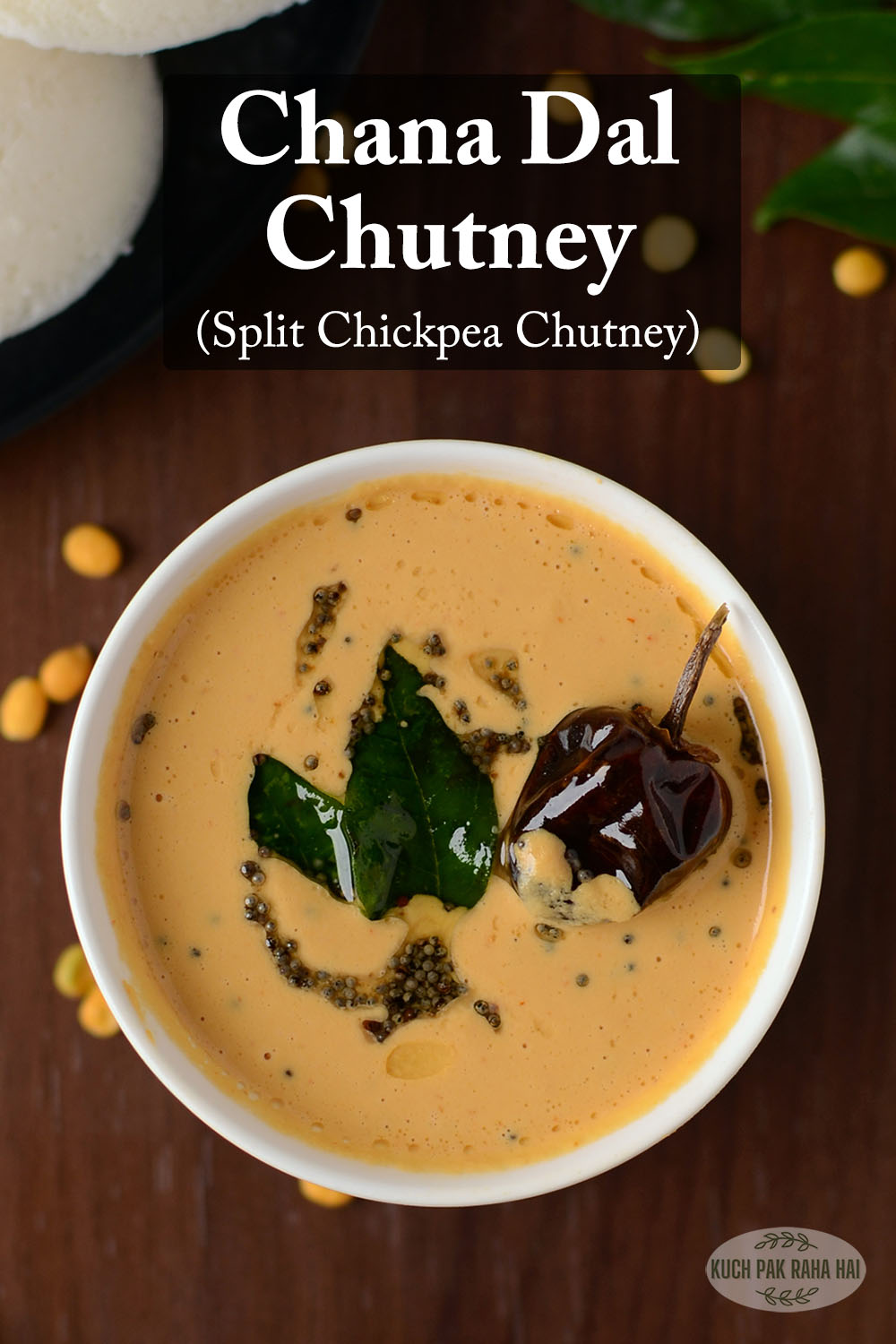 Some more high protein recipes you would like:
If you try this chane ki dal ki chutney recipe & share pics on social media, then don't forget to tag on Facebook, Instagram or use #kuchpakrahahai.
Let's stay connected
Facebook | Instagram | Pinterest| Youtube