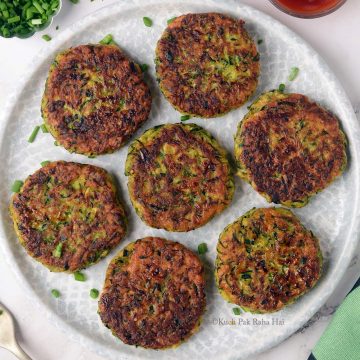 Crispy from outside soft inside, these zucchini fritters are yummy, healthy & are great to serve as snack or appetiser. These are vegan, gluten free & can be made on both stove top or air fryer.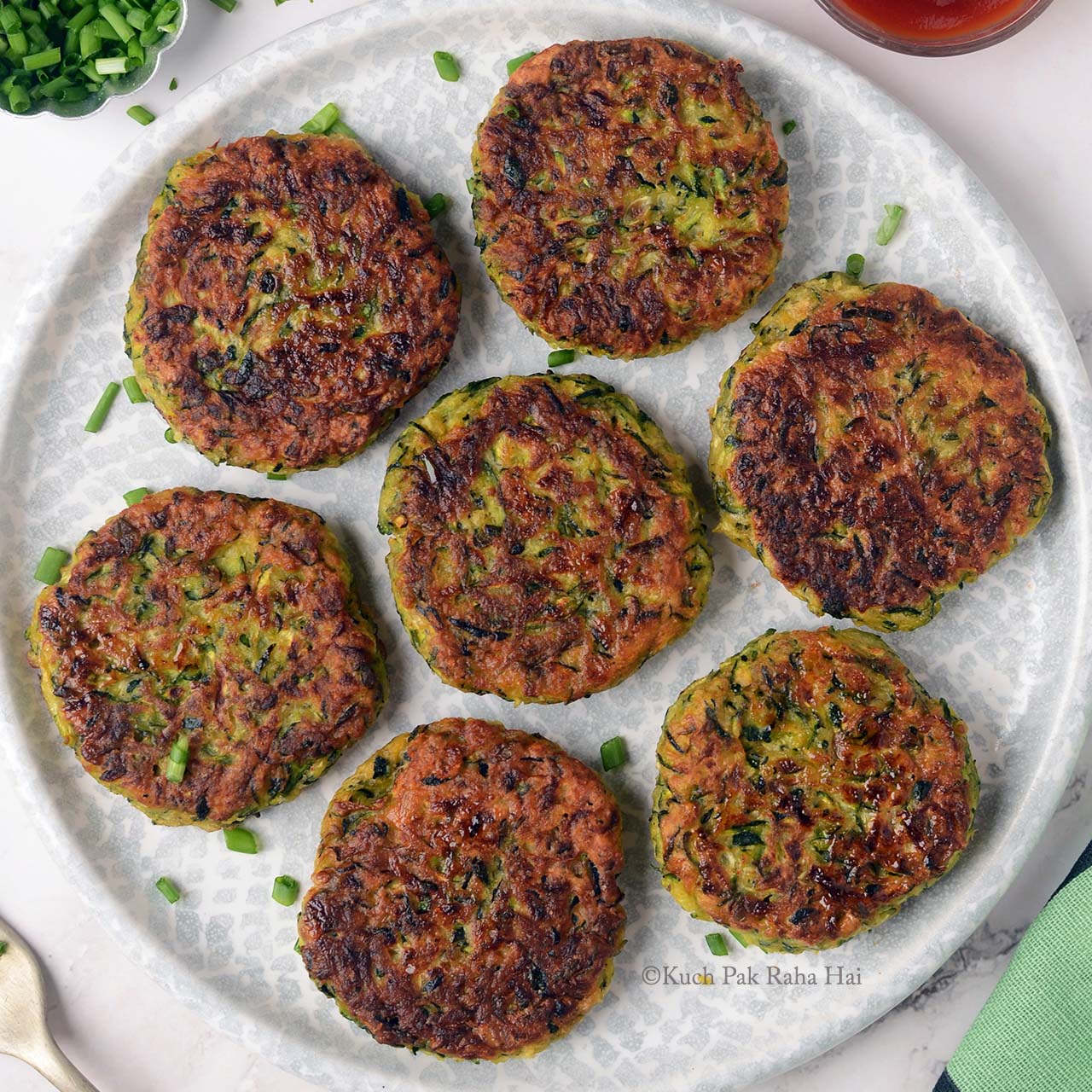 Zucchini, also known as courgette, is a variety of summer squash. It has number of health benefits as it low in calories, carbs, sugar and packed with anti-oxidants, vitamins, minerals etc. You can use it in salads, pasta, soups, muffins, breads, stir fry veggies or fritters.
The Zucchini Fritters recipe shared here is :
Vegan
Vegetarian (No eggs)
Gluten Free
Low Carb
Kids Friendly
Can be made in air fryer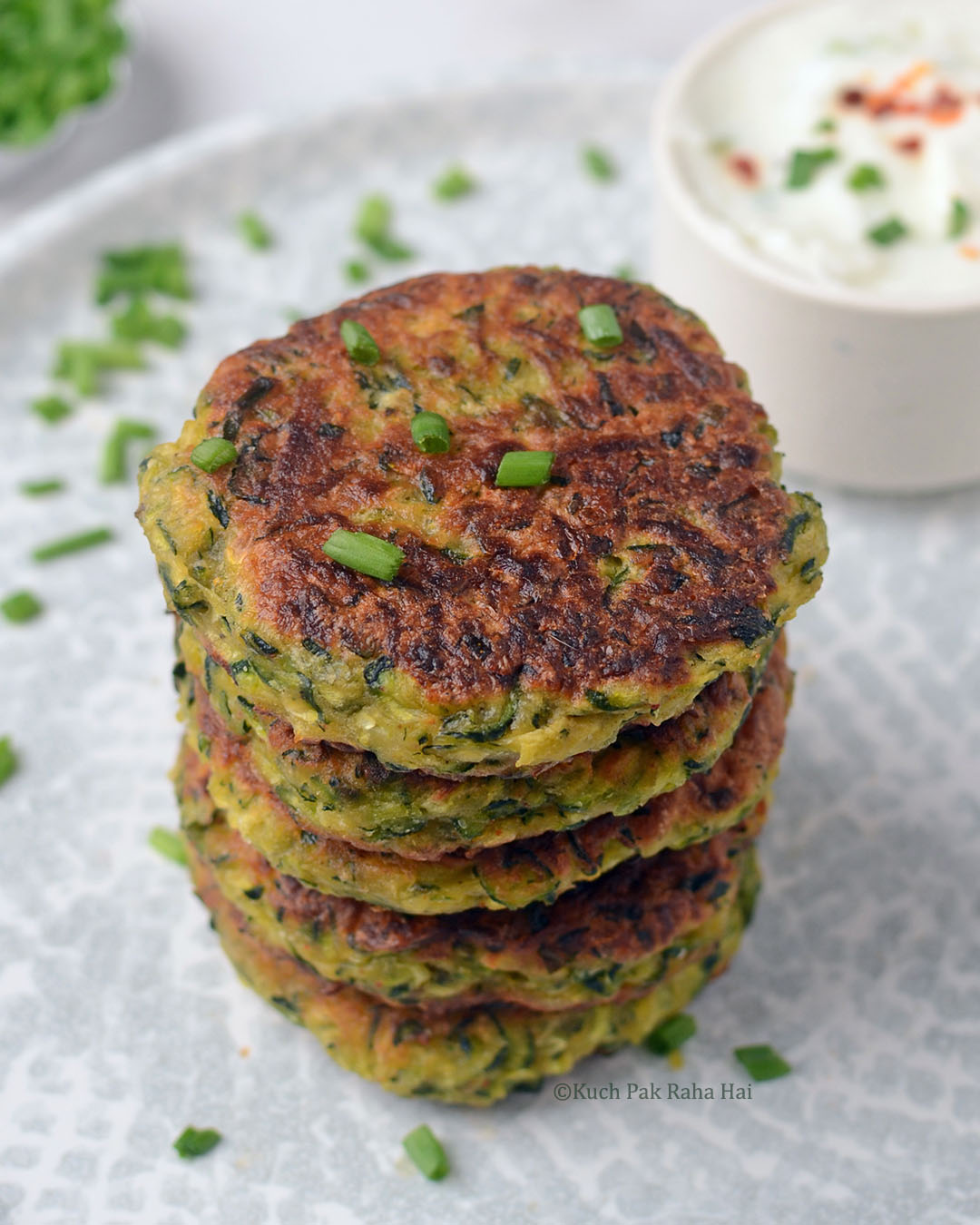 Ingredients for Zucchini Fritters:
Zucchini: Use firm green zucchini for making fritters. If zucchinis are even slightly soft, you will find it difficult to grate them.
Other Veggies: If you like you can add some finely chopped onions too.
Chickpea Flour: Also known as garbanzo beans flour or besan, it is gluten free flour, rich in vitamins, minerals like manganese, copper, folate, phosphorus and has lesser calories than wheat flour.
Spices & Herbs: These low carb healthy zucchini fritters are seasoned with black pepper, red chilli powder, garlic powder & oregano. Herbs like spring onion greens or scallions, chives & cilantro etc add aroma to the fritters, so definitely don't skip them.
Oil: You can use olive, avocado, canola or any oil of your choice to cook these fritters. For making in pan, you will need 2-3 tbsp of oil but if making in air fryer you will need very little oil for spraying or brushing.
Optional Ingredients: Some grated parmesan cheese adds richness and flavour. If you want to keep these fritters vegans and yet want to enjoy cheese flavour, then add 2-3 tsp of nutritional yeast in the mixture.
What to eat with zucchini fritters?
You can enjoy these fritters with ketchup, garlic mayo, sour cream or chipotle sauce. If you are on low calorie diet, then greek yogurt or tzatziki are best choices.

Zucchini Fritter Variations:
Zucchini Carrot Fritters:

You can add some grated carrots to these fritters for more nutrition and flavour.

Zucchini Corn Fritters:

If you are a sweet corn lover, then add around 1/4 or 1/3 cup of boiled corn kernels in the fritter mixture (Kids especially love this version).
For Indian flavour, you can add some grated ginger, finely chopped green chillies, fresh coriander & spices like cumin (jeera), coriander powder, turmeric & garam masala etc .
Tips to make perfect zucchini fritters:
1. Always make sure to squeeze excess moisture from zucchini (method explained in detail below). It makes sure the batter does not turn runny & the fritters are crispy.
2. Don't skip on oil completely whether you are making fritters on stovetop or air fryer.  It makes the outer surface crispy & golden brown.
3. It is always advisable to taste a small piece of zucchini before proceeding with the recipe as sometimes zucchini is bitter in taste.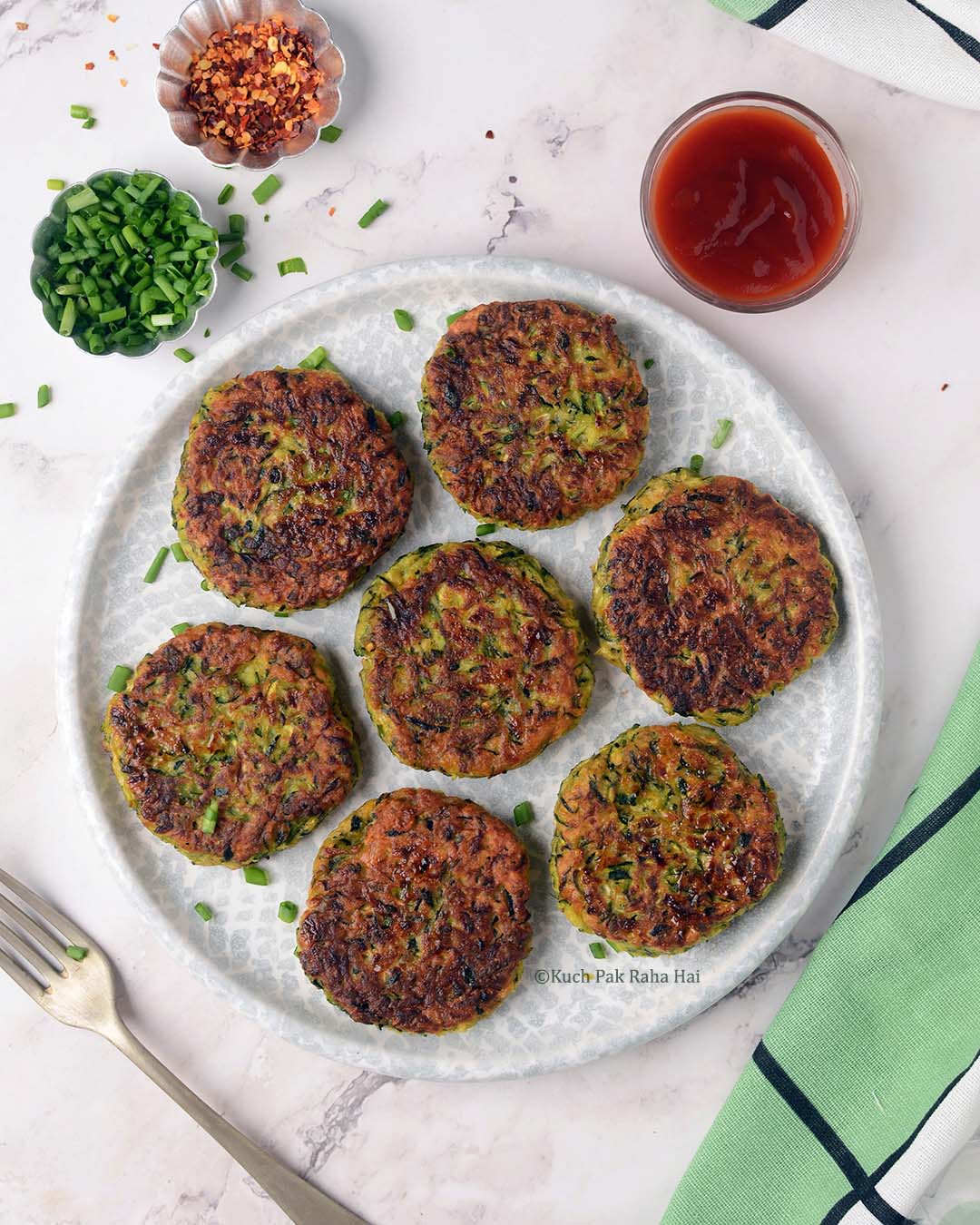 More easy vegetarian / vegan snacks recipes:
Hope you would like this easy zucchini fritters recipes!!

Ingredients: (Makes 10-11 pieces )
Zucchini*- 3 medium
Chickpea Flour (besan) – (3/4 +1/4) cup
Salt-1+1/2 tsp (to taste)
Crushed Black Pepper- 1/2 tsp
Red Chilli Powder / Paprika -1/2 tsp
Garlic Powder- 1 tsp
Chopped Spring Onion greens- 3 tbsp
Dried Oregano-1/2 tsp
Oil- 2 to 3 tbsp
Chopped Spring Onion greens / Cilantro- For garnishing
Notes:
*I have taken 3 medium Zucchinis (~650 grams) which yielded 6 cups grated zucchini.
If you don't have garlic powder, add finely minced 2-3 garlic cloves.
Instead of spring onion greens, you can also use chives or cilantro / coriander.
Directions:
Step 1:
Wash the zucchini well and chop its ends. Grate them using a grater (with large holes side). I have not peeled them here, if you wish you can peel it before grating.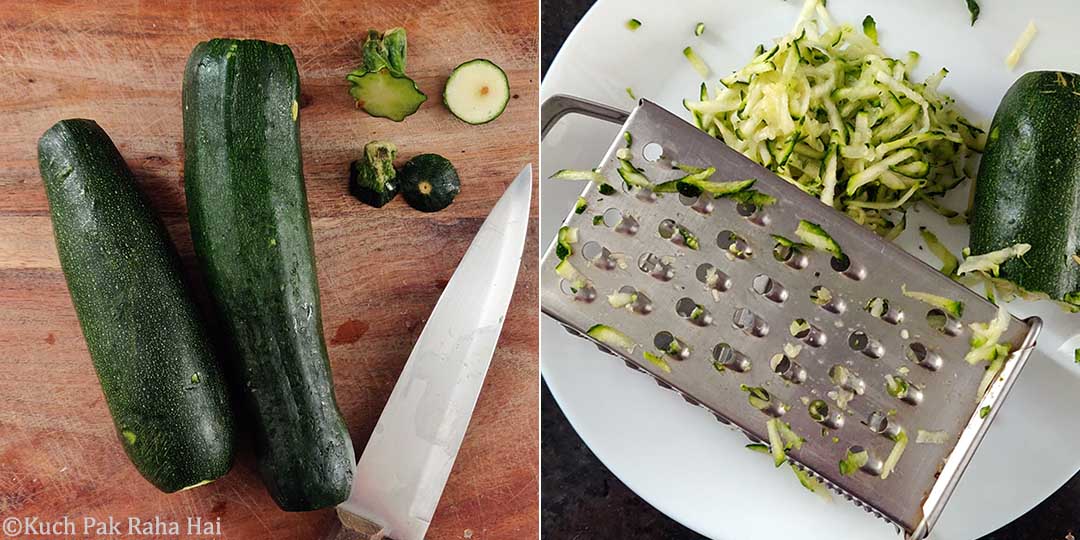 Step 2:
Transfer all the grated zucchini in a bowl and sprinkle 1/2 tsp salt on it. Mix well. Place a sieve & kitchen (or muslin) cloth over a bowl. Transfer this grated zucchini on it & leave aside for 10-12 minutes.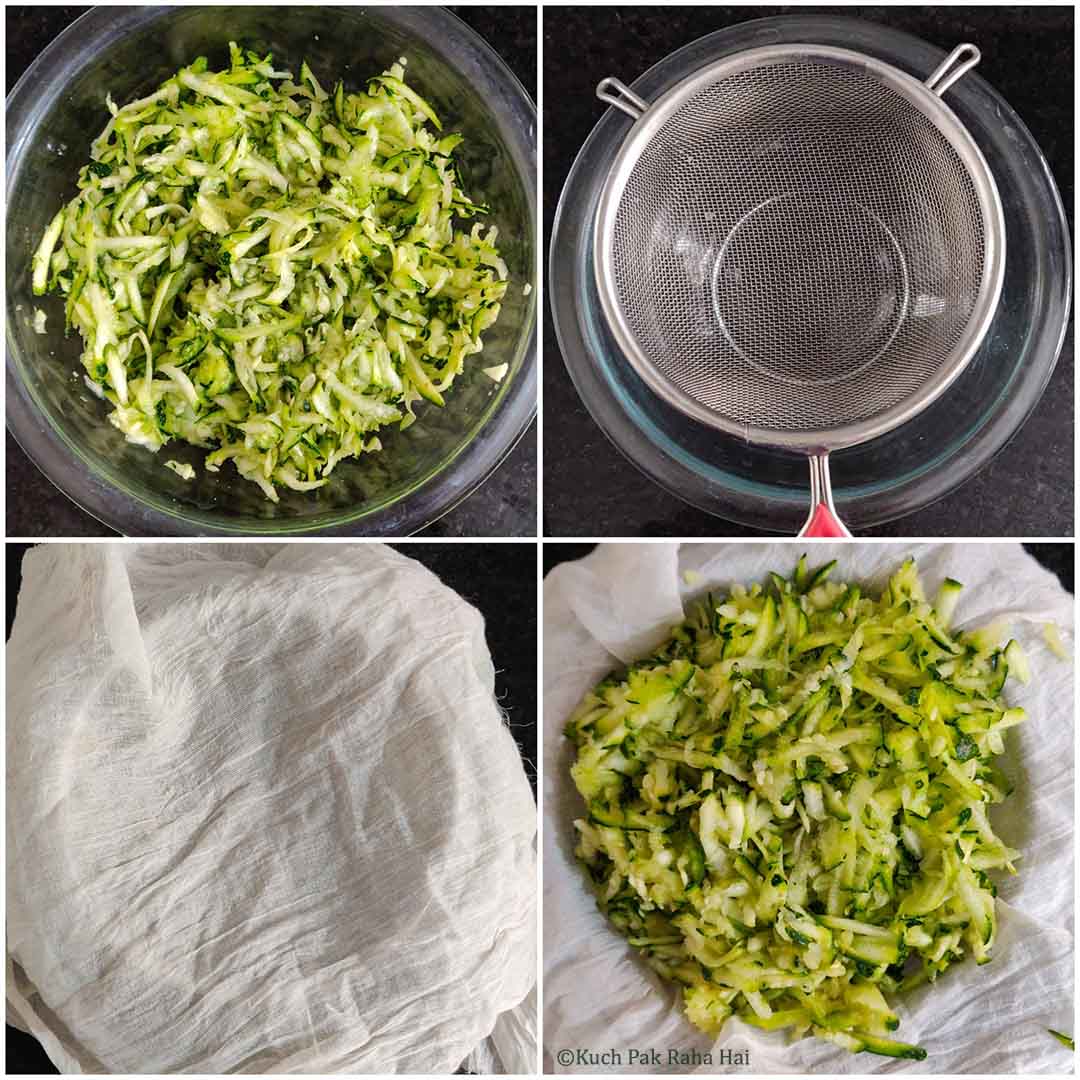 Step 3:
After 10 minutes, squeeze & twist the muslin cloth to get rid of excess moisture from zucchini. If you don't have muslin cloth, you can even press the zucchini in small portion between your palms.
(Tip: You can use this water for kneading dough or add in dal / curries while cooking.)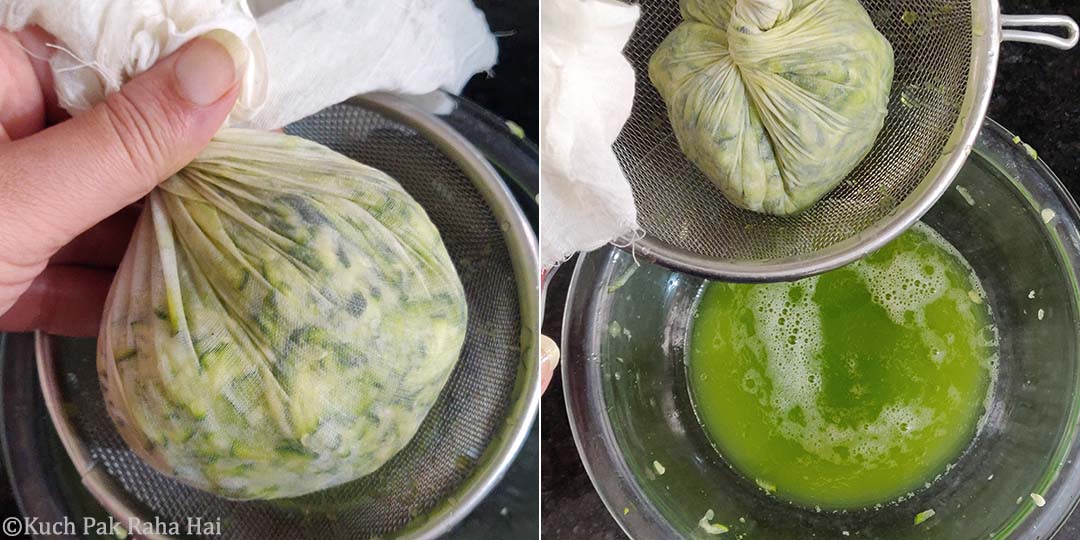 Step 4:
Transfer this squeezed zucchini, chickpea flour (besan), salt & spices in a large bowl. Start by adding 3/4 cup chickpea flour and if the batter seems thin or difficult to bind then add remaining 1/4 cup flour. Mix with help of spatula. (If you are adding parmesan, sweet corn or chopped onions add at this step.)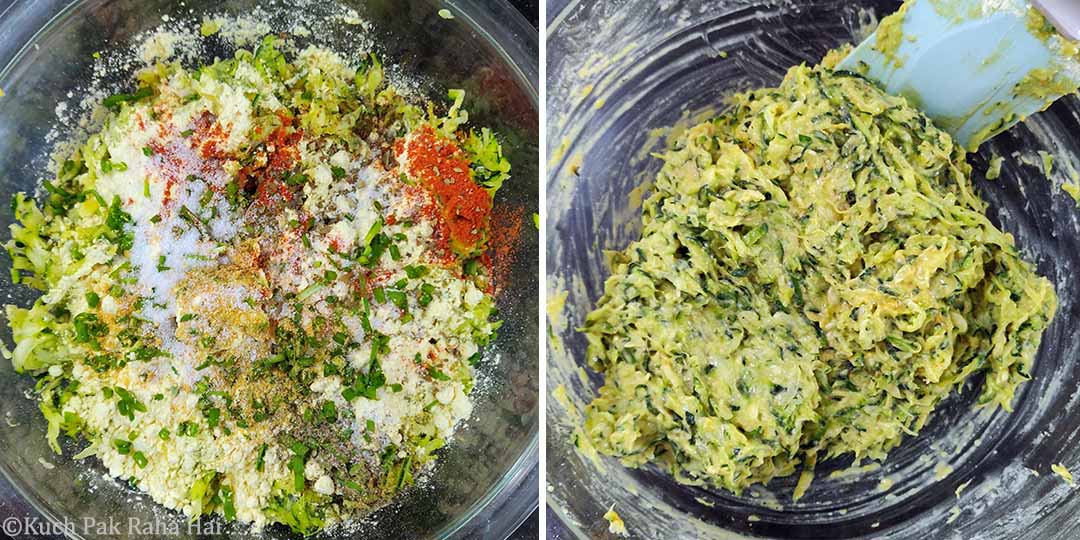 Step 5:
In a heavy or non stick pan heat 2-3 tbsp oil. Scoop out a portion of fritter mixture using a large spoon (or ice cream scooper). Apply some oil on your palms and gently flatten them. Transfer it on pan. Repeat for remaining mixture. Cook them on medium-low flame for 2 to 3 minutes.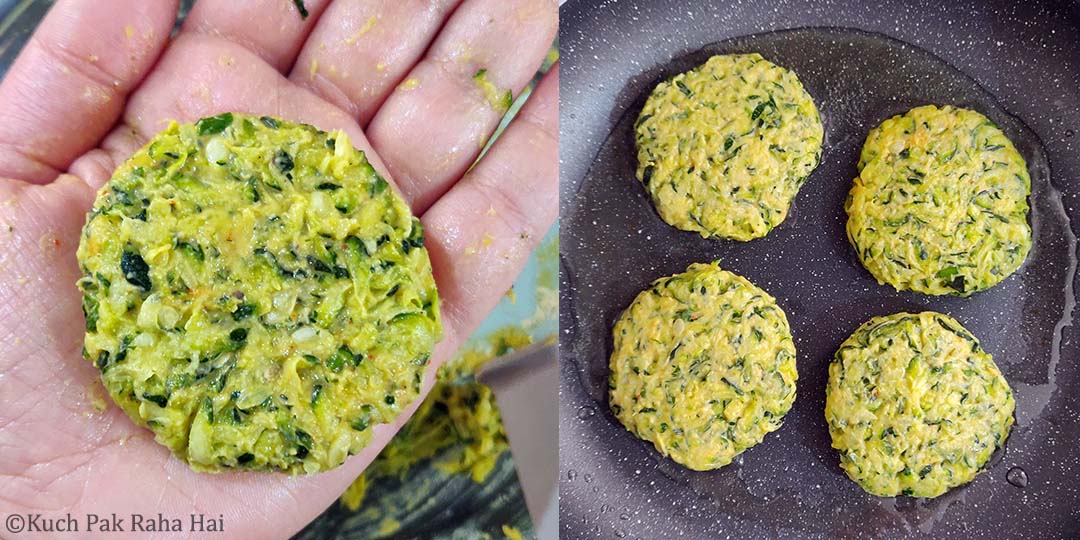 Step 6:
After 2-3 minutes, flip them and let the fritters cook from other side too till they are golden brown crispy.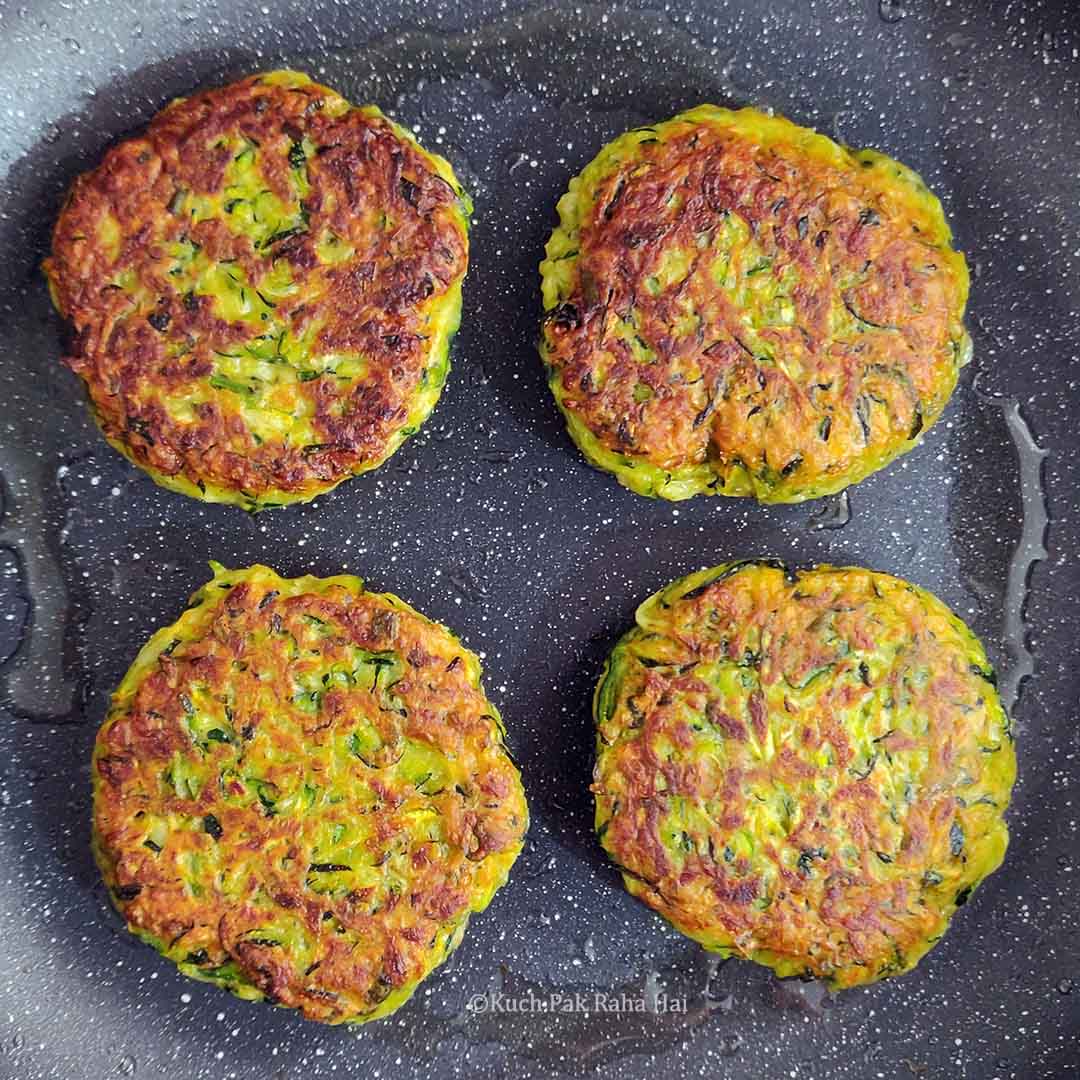 Enjoy these yummy zucchini fritters with sour cream or greek yogurt.
Air Fryer Zucchini Fritters
If you want to make zucchini fritters in air fryer, first prepare the fritters mixture as stated above.
Step 1:
Preheat the air fryer at 180°C (356°F). While the air fryer is preheating, cut a parchment paper of the size of air fryer basket and make some holes in it using toothpick or skewer.
Step 2:
Once the air fryer has preheated, take out the air fryer basket and spread parchment paper on it. Brush or spray oil on it.
Step 3:
Using a large spoon (or ice cream scooper), scoop some of the fritter mixture & shape it by pressing gently between your palms. Carefully transfer the fritters over parchment paper. Brush oil over them.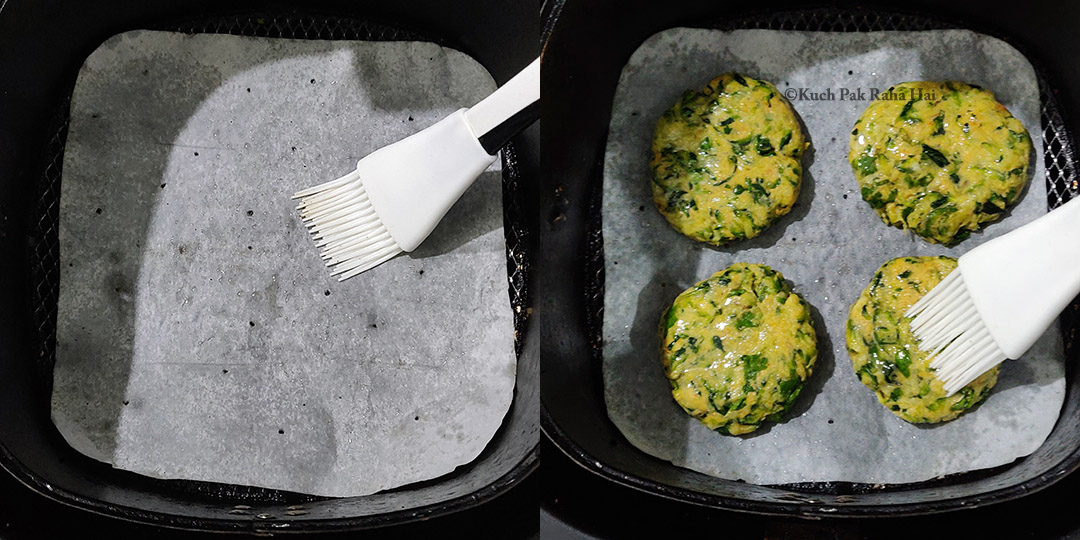 Step 4:
Air fry the zucchini fritters 180°C (356°F) for 18-20 minutes. Flip them after half time, brush some more oil and air fry till they are golden brown from both sides.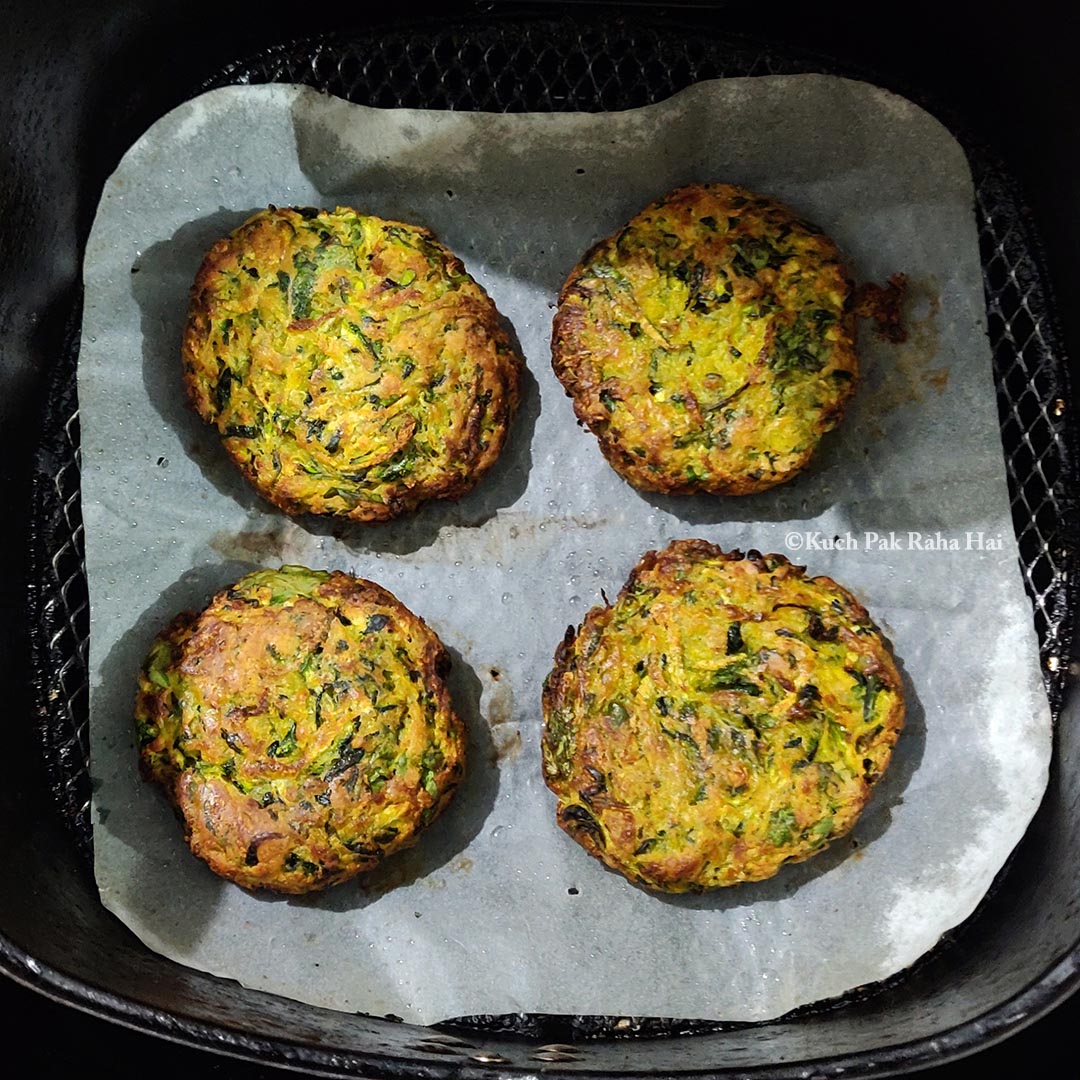 (Note: The time can vary by 2-3 minutes depending on the air fryer model.)
More air fryer recipes you would like to try:
Pin for later: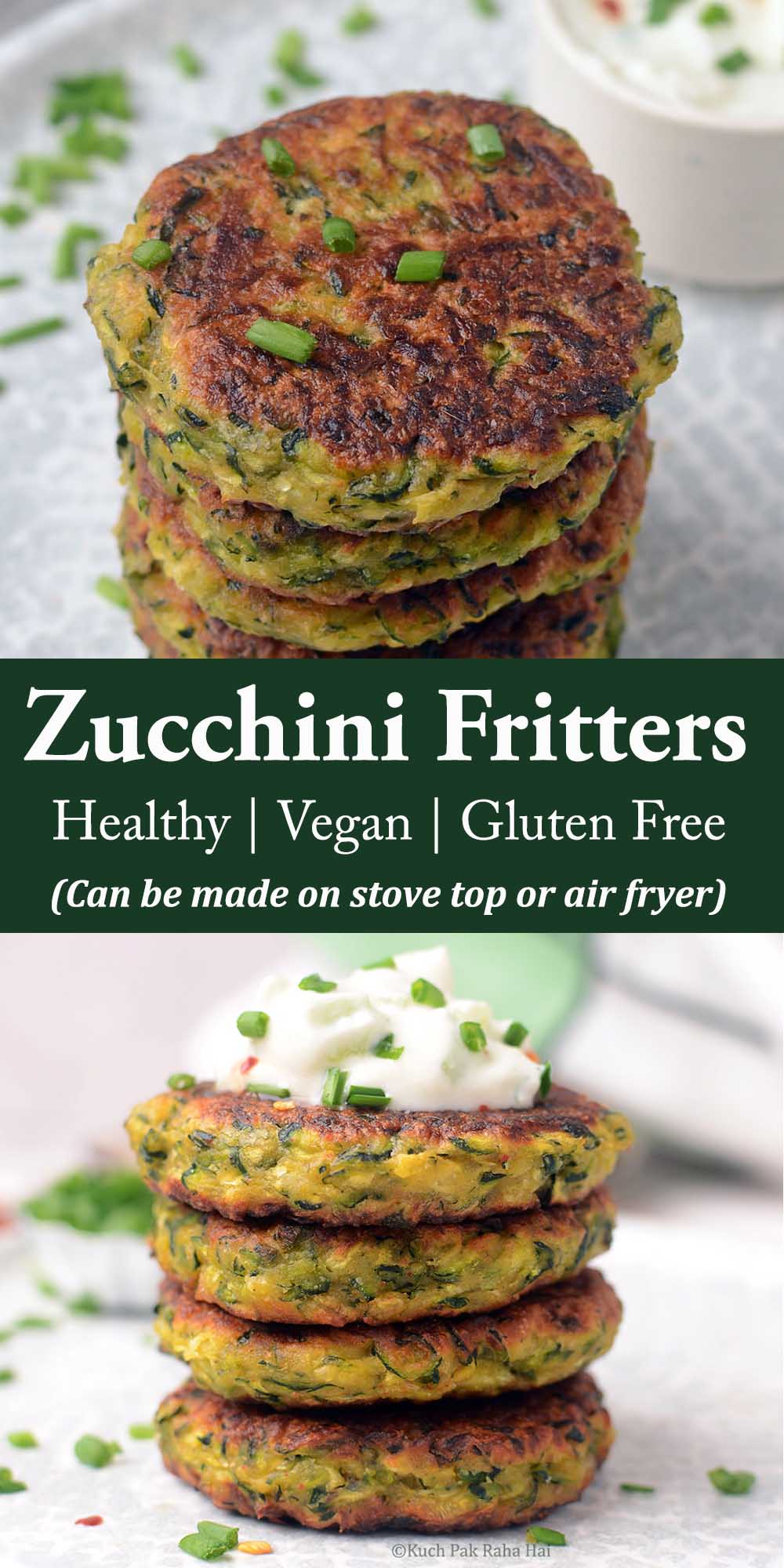 If you try this recipe & share pics on social media, then don't forget to tag on Facebook , Instagram or use #kuchpakrahahai.
Let's stay connected
Facebook | Instagram | Pinterest| Youtube