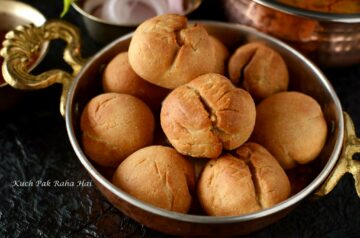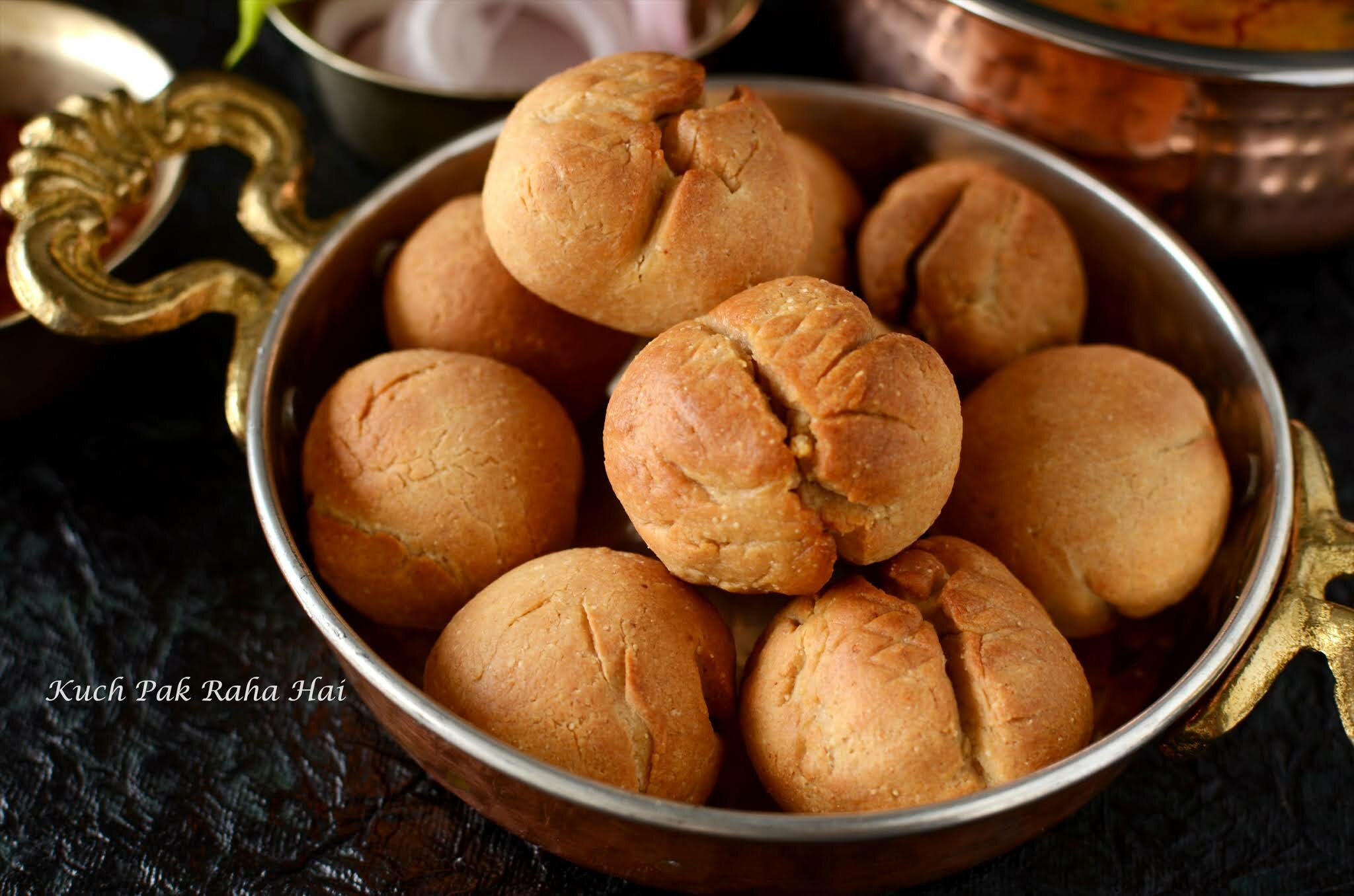 Dal-Baati is a popular Indian dish which originated in Rajasthan state of India. Baati are whole wheat flour balls cooked in a charcoal oven, generously dunked in ghee (clarified butter) and served with spicy dal (lentils).
Traditionally bati used to be cooked on hot coals giving it a rustic smoky flavour but with time now it is being baked in ovens or gas tandoor at homes. I tried making bati in air fryer and liked the results as it cooked quite evenly, giving it a perfect texture and colour. It is an Indian vegetarian recipe that you can easily make in air fryer. In the end of this post I have also shared method of baking these batis in oven.
India is a land of cultural diversity and this clearly reflects in its food also. Each state has some its own unique dishes & somewhere deep down if you observe the pattern, it can be attributed to the local vegetation, climate and history of that place. The generous use of chickpea flour (Besan) in Rajasthan, curry leaves in South India, Poppy seeds (posto) in Bengali cuisine and Saffron in Kashmir are few examples which can give you the idea of multifariousness of flavours in our country. If you are someone who enjoys reading about the history of food like me, then surely you will enjoy reading this article about Dal Bati🤓🤓:
https://www.thebetterindia.com/73751/story-dal-baati-churma-rajasthan/
Some people make Bati using whole wheat flour only. However addition of sooji (semolina) and besan (chickpea) flour adds up to its texture and gives a mild aroma also. One of the other essential components of Bati is ghee or clarified butter. It gives bati flaky texture and enhances its taste so much. The combination of spicy creamy lentils, smoky Batis and generous serving of ghee is what pure bliss tastes like.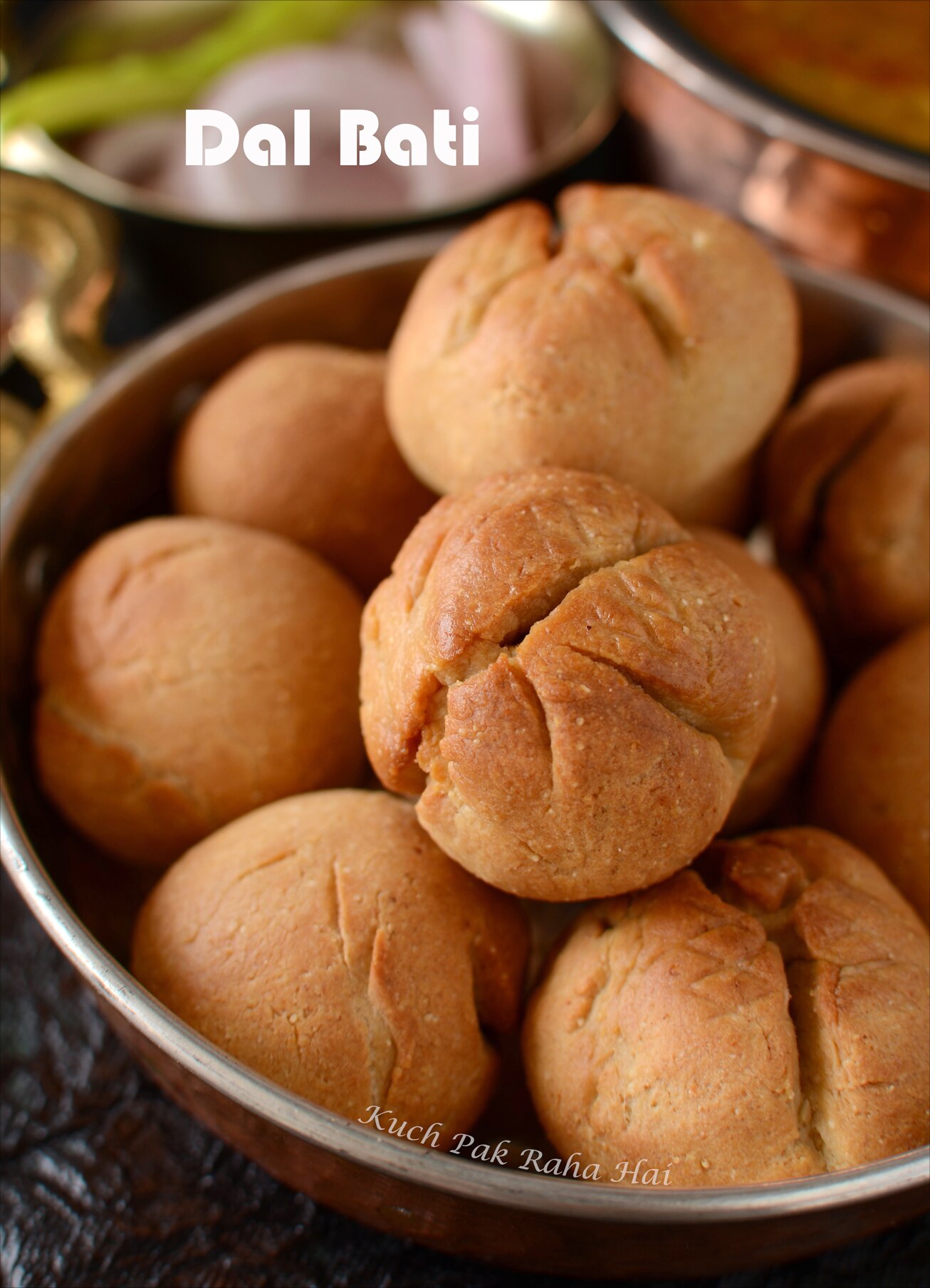 The Batis are served with Panchmel Dal which is a combination of 5 lentils – Arhar, Urad, Moong, Chana and Masoor. It is seasoned using other typical Indian spices like Bay Leaf, Clove (Laung) and Black pepper etc along with onion and garlic. I have shared detailed recipe in other post. You can check it out by clicking here.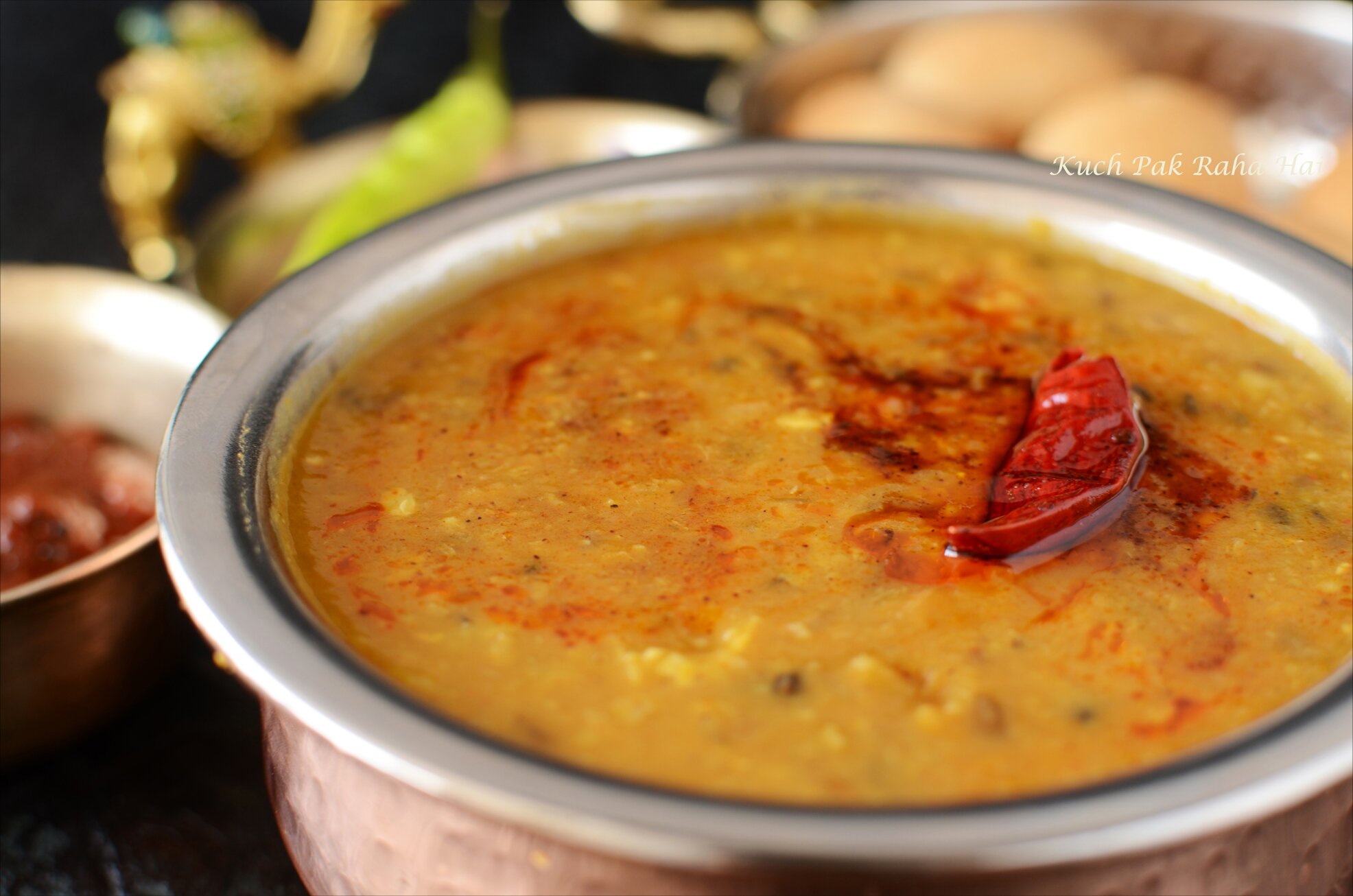 You might be interested in other recipes:
Both Air Fryer & Oven method has been explained in the post. Hope you will like this Rajasthani Dal Bati recipe. If you try it, we would love to see your food pics. You can share it with us on Facebook or Instagram.
For more such Vegetarian Air Fryer recipes, click here.
List of Ingredients: (Makes 9-10 pieces)
Aata (Whole Wheat Flour) – 1 & 1/2 cups
Sooji (Semolina) – 1/4 cup
Besan (Chickpea Flour) – 2 tbsp
Baking Powder – 1/8 tsp
Salt – To taste
Ghee (Clarified Butter) – 2 tbsp
Warm Water – 3/4 cup (approx.)
Steps To Prepare:
Step1:
Take all the ingredients except water in a mixing bowl. Rub it between your palms. This will make sure that ghee is evenly mixed evenly with other ingredients.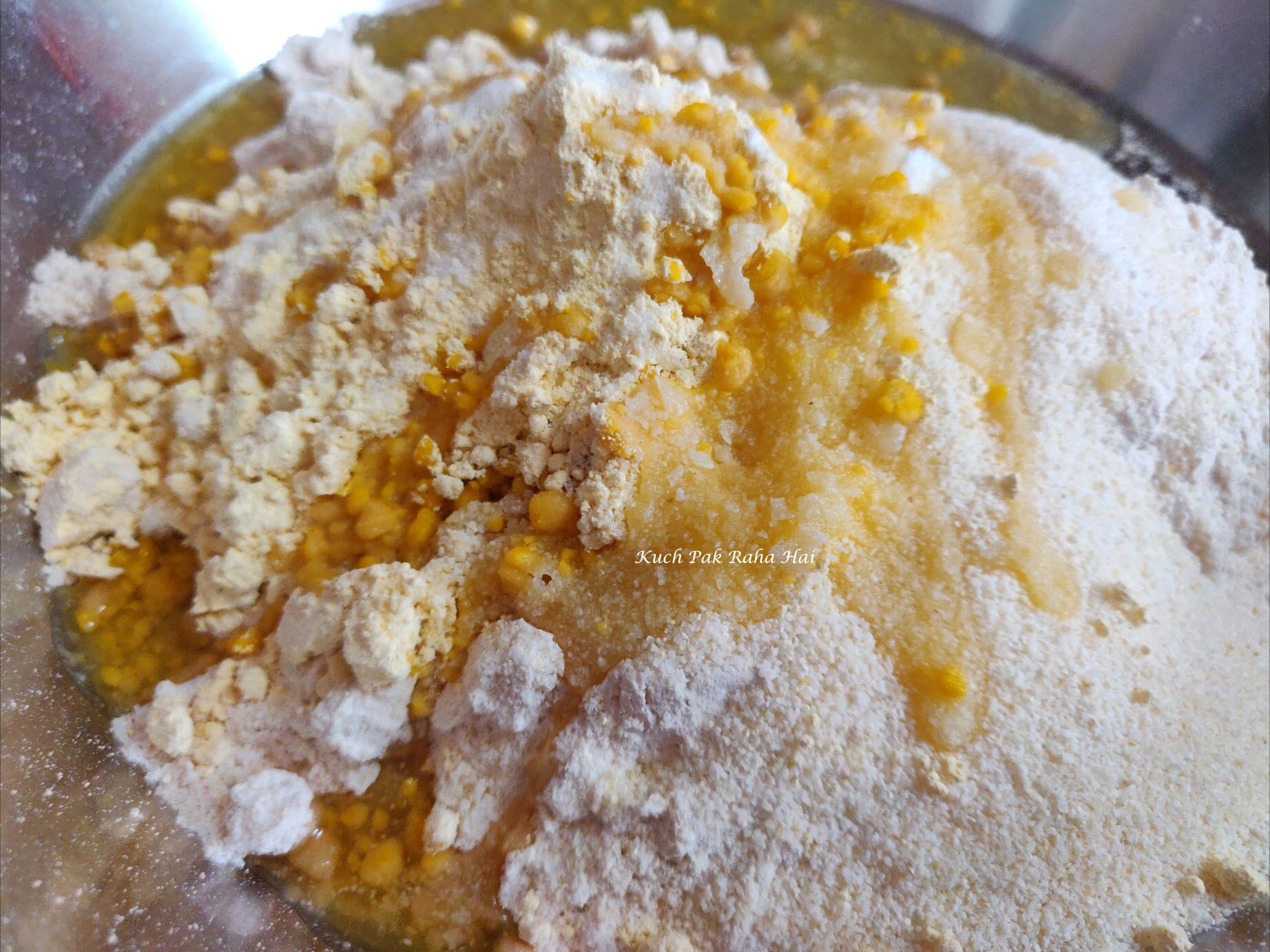 Traditionally this step is called "Moain lagana" in hindi. Take a small quantity of this ghee mixed flour on your palms and close your fist. It should losely form a lump as shown below: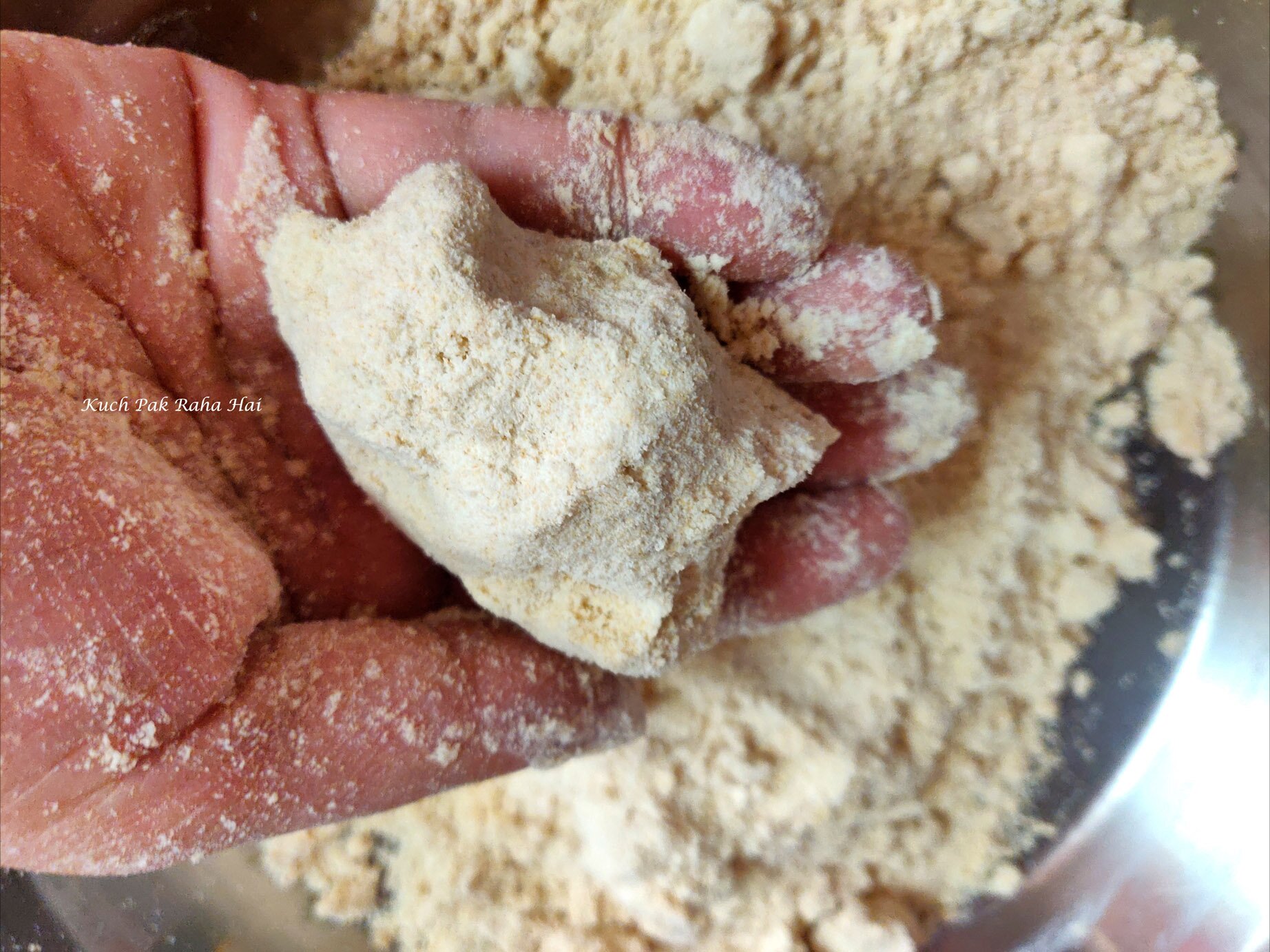 Step2:
Gradually add warm water to it and start kneading. The quantity of water may vary depending on the quality of wheat flour. All we have to do is knead a stiff dough.
Cover it and let it rest for 30 minutes. If you are using cloth then make sure its moist (not wet).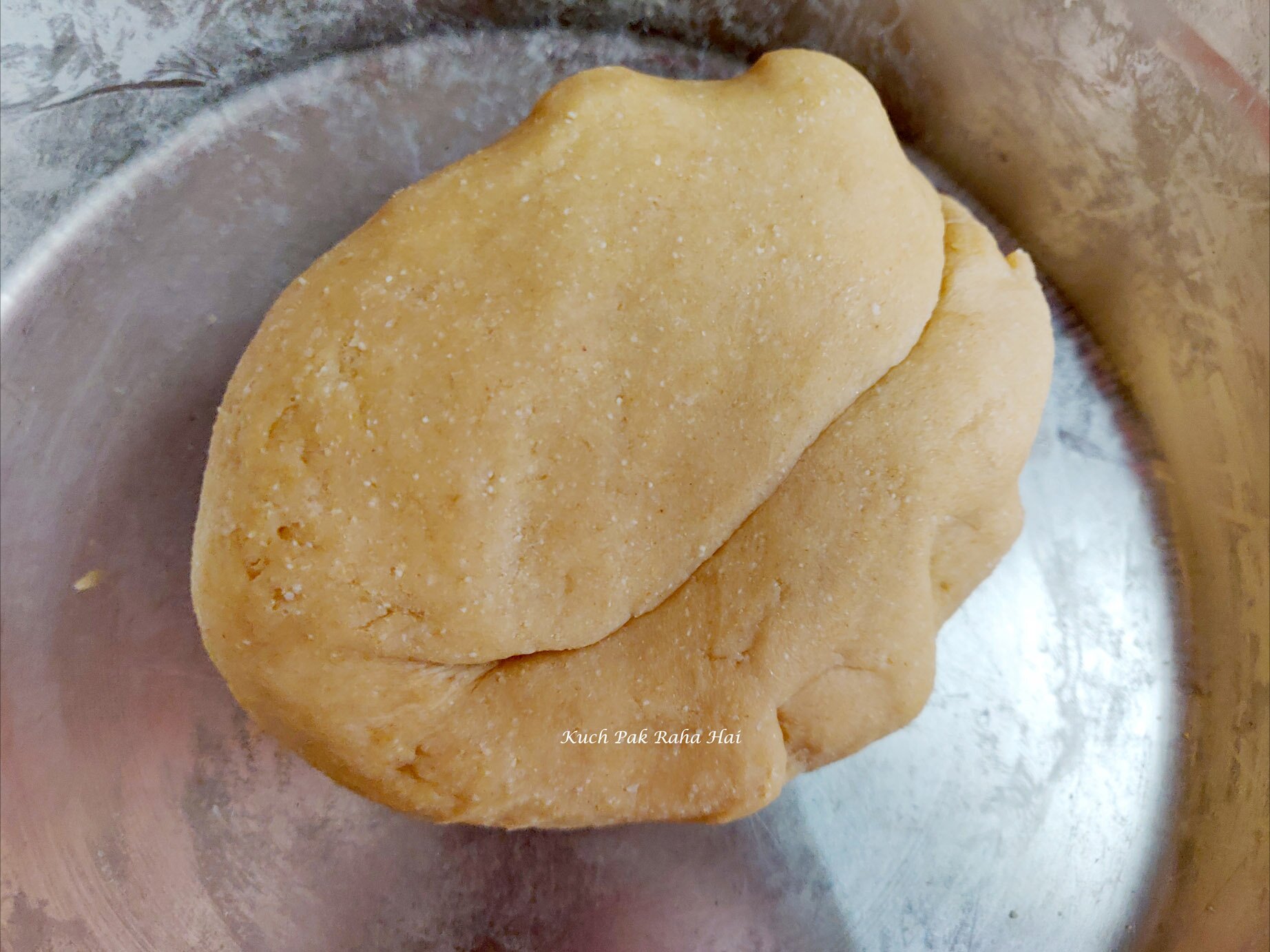 Step3:
Set the air fryer or oven for preheating at 200 degree Celsius. By the time air fryer or oven is preheating, let us move to next step.
Step4:
Knead the dough once again for 2-3 minutes. Divide the dough into 9-10 equal size parts. Take one part, roll it to form a ball, then flatten it slightly between your palms.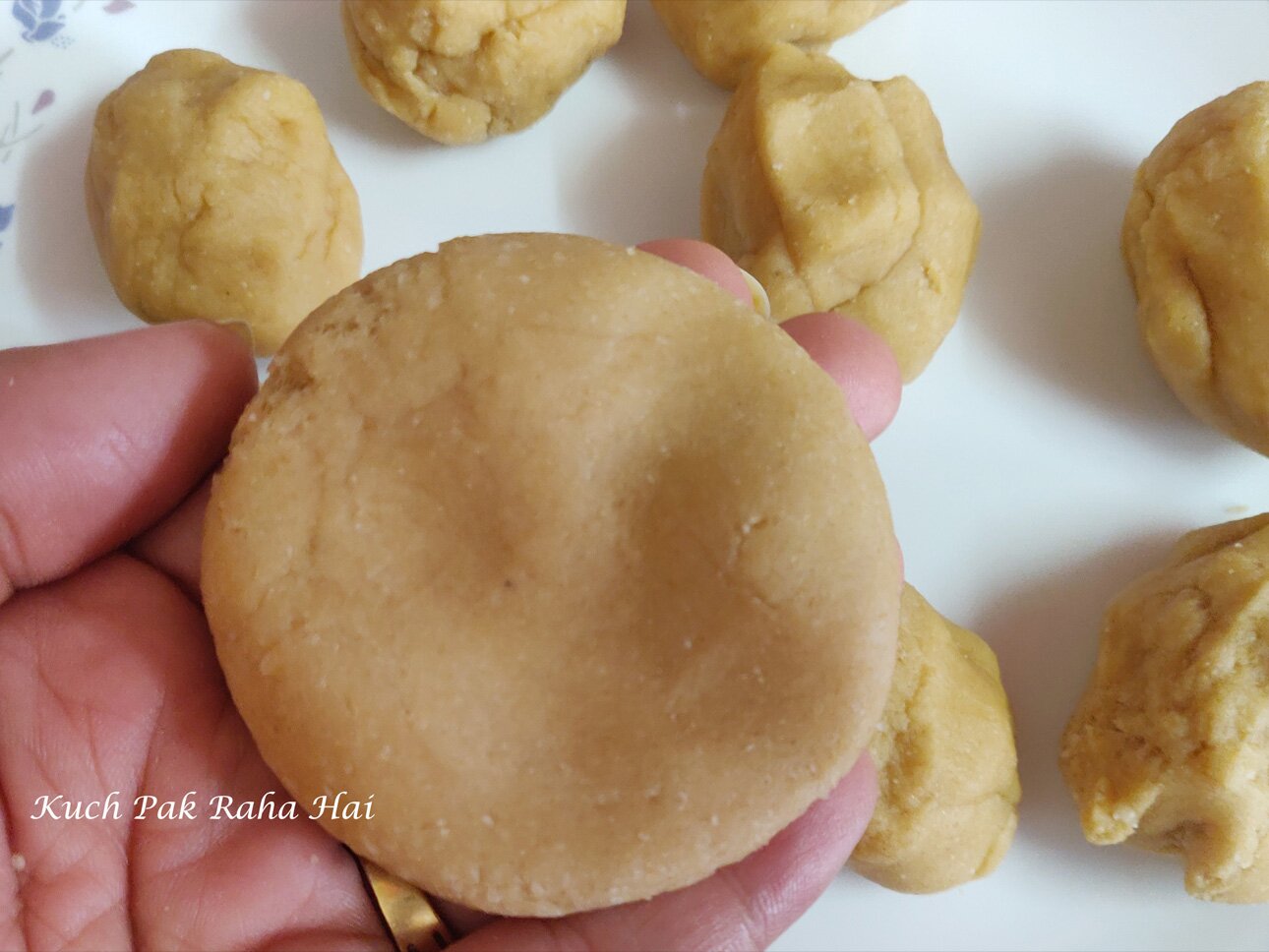 Apply dash of ghee in center & gather the sides to make a closed ball again.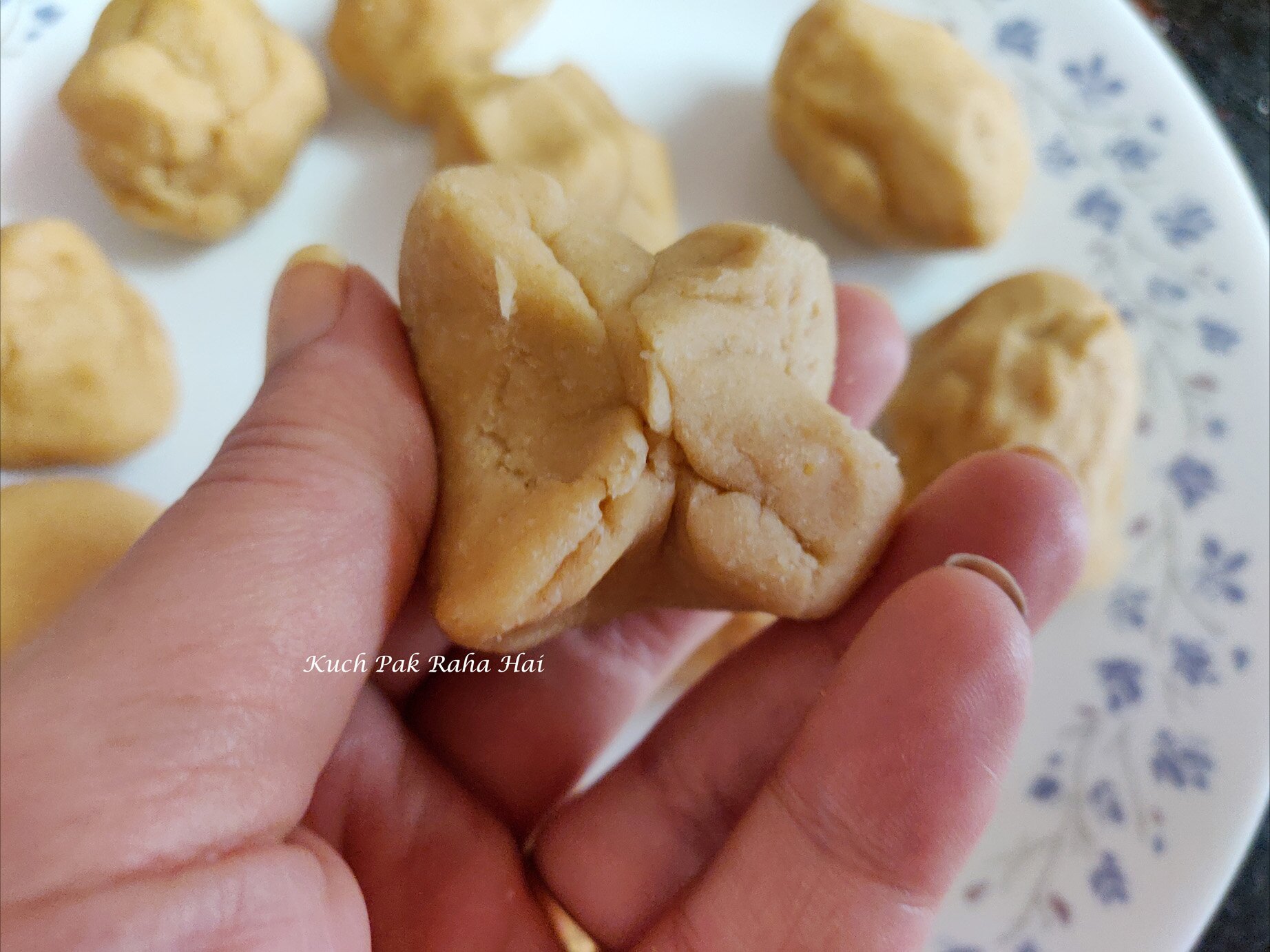 Roll it gently once again. Repeat this for other parts to make balls.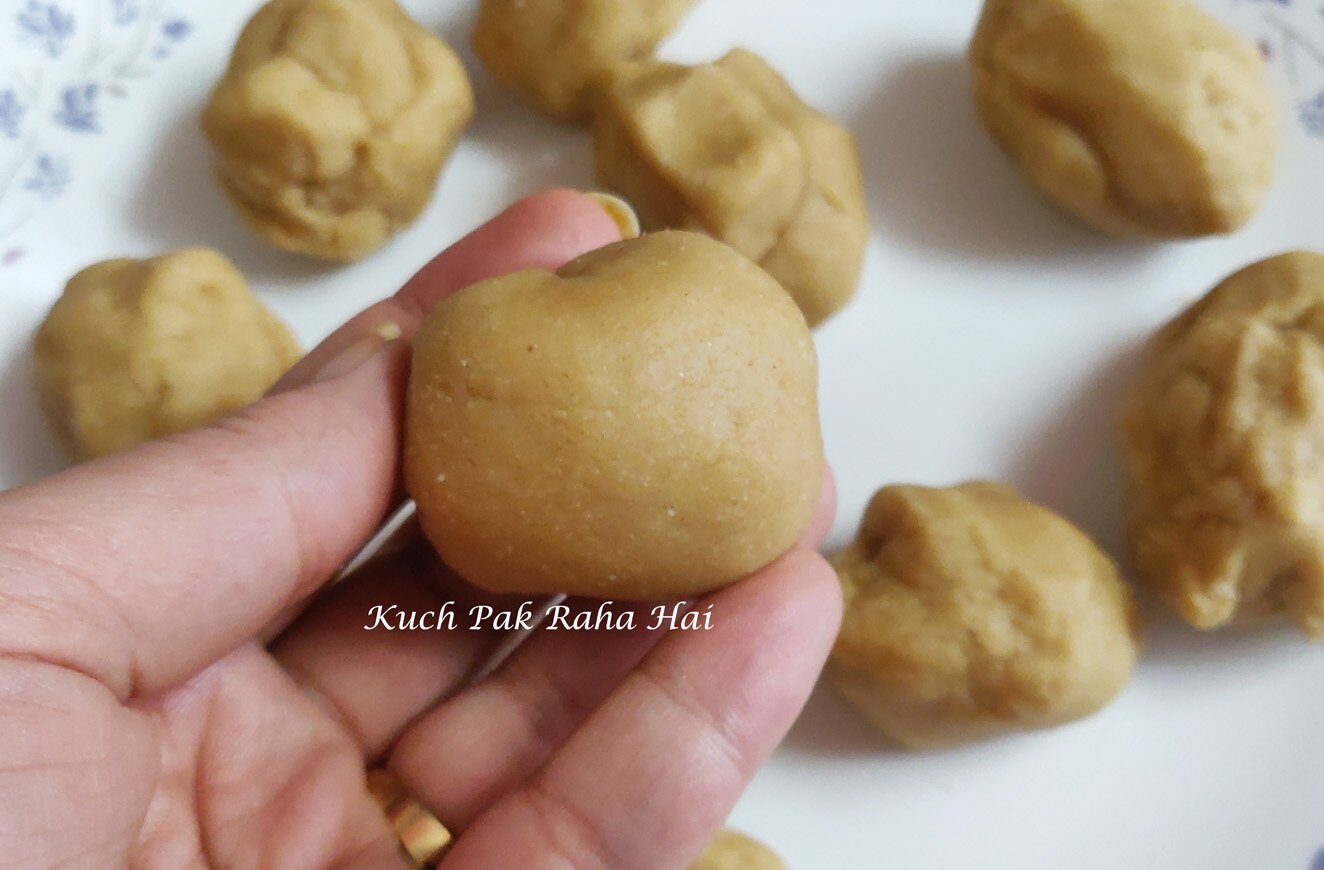 Step5:
Place these Bati in pre-heated air fryer and cook them for 15-20 minutes at 200 degree Celsius. (For oven method, scroll to the bottom of post).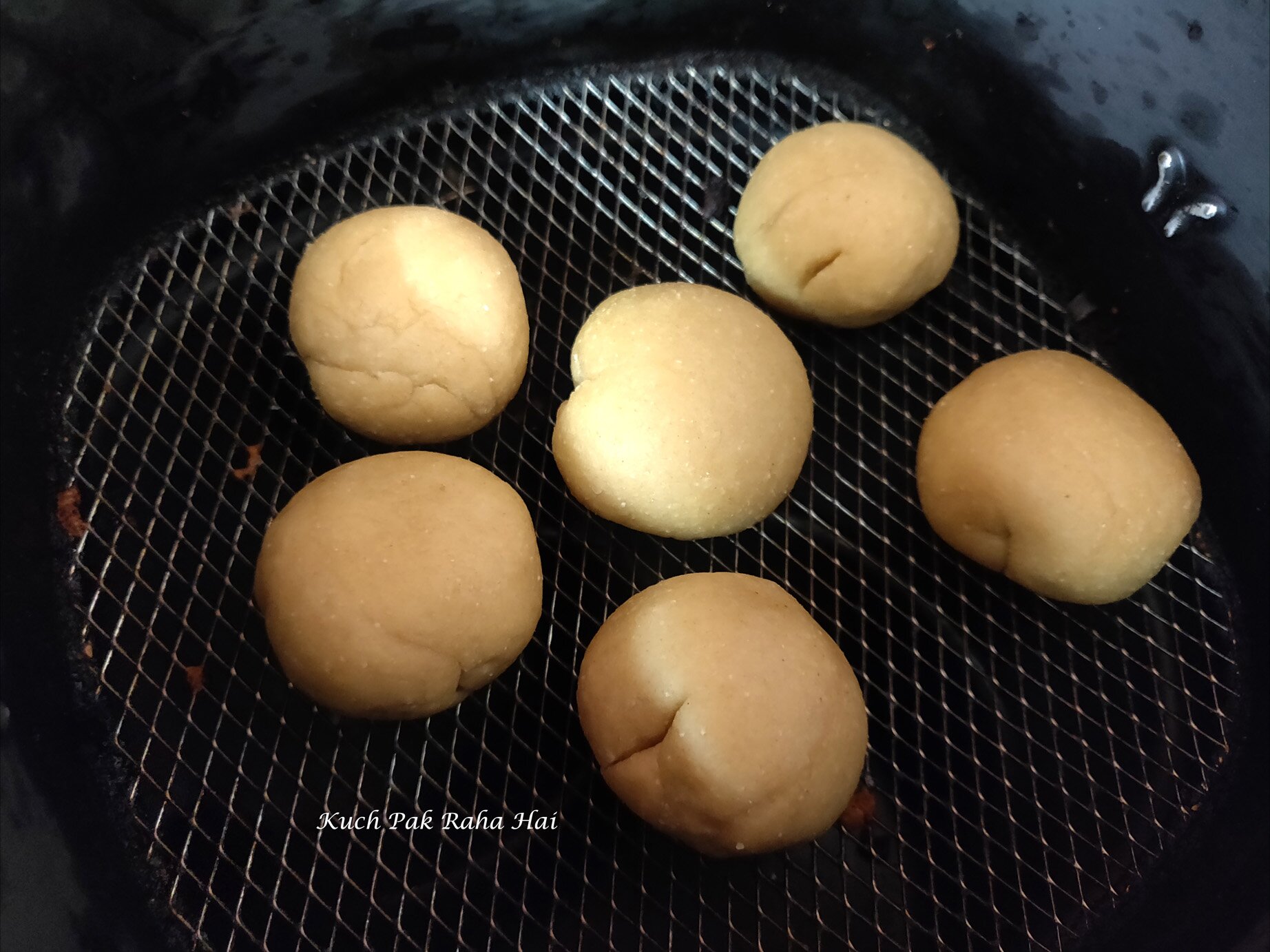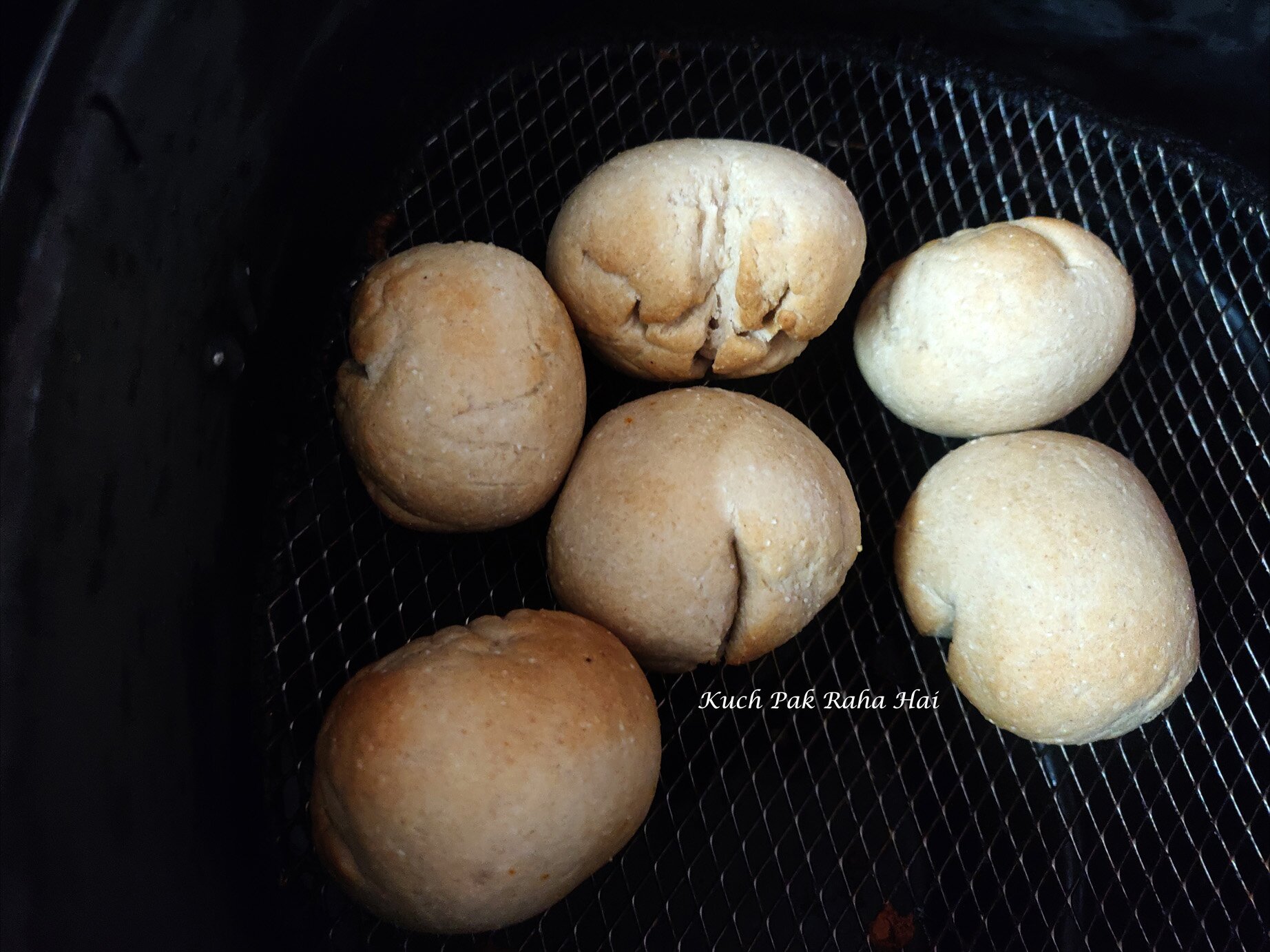 After mid time, turn it so that they are cooked from all sides. Air fry them till its gets golden brown or start noticing some cracks on them.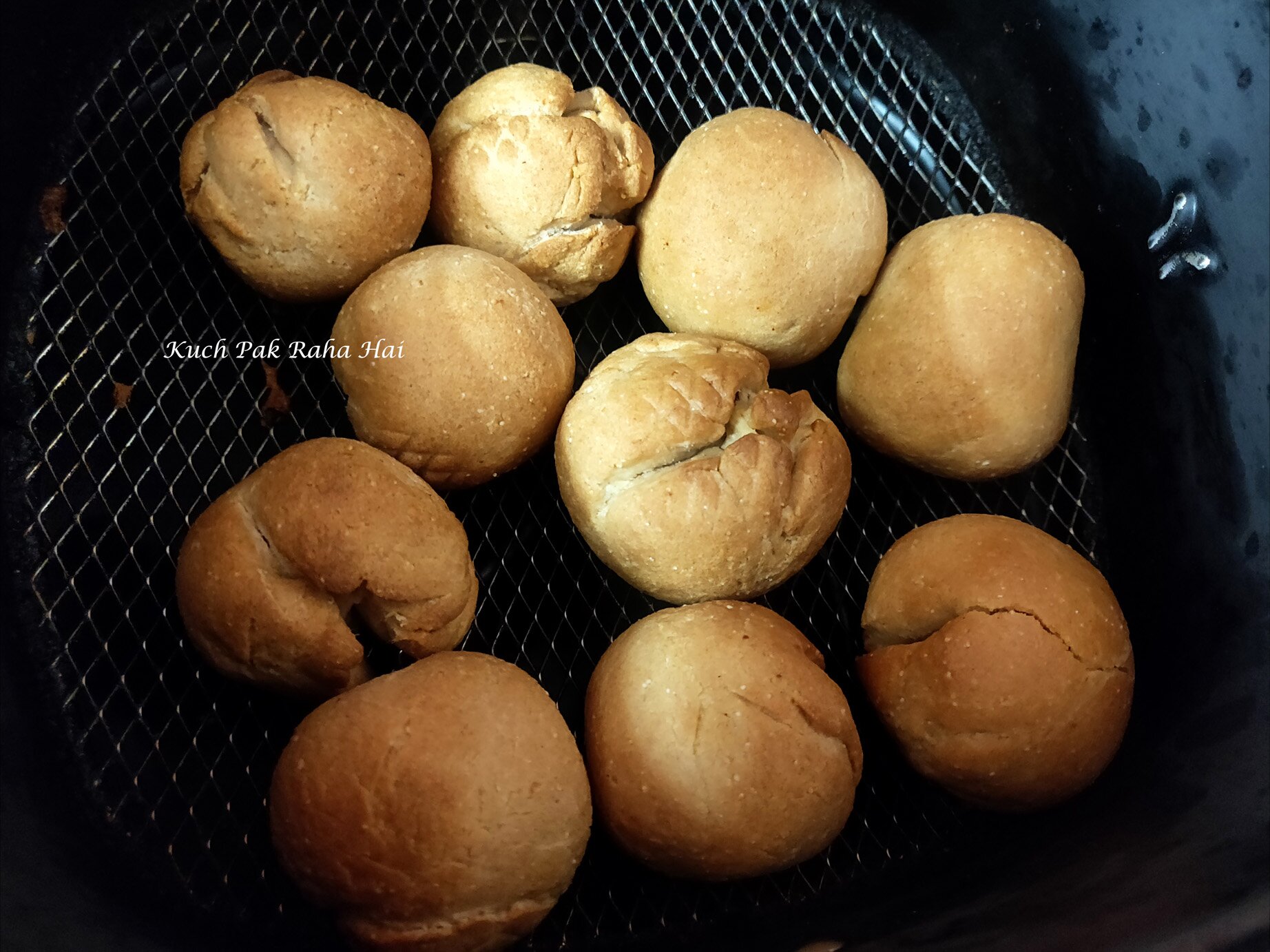 Step6 (Serving):
Take the cooked bati and dip it into ghee and serve. Repeat this for other baatis too.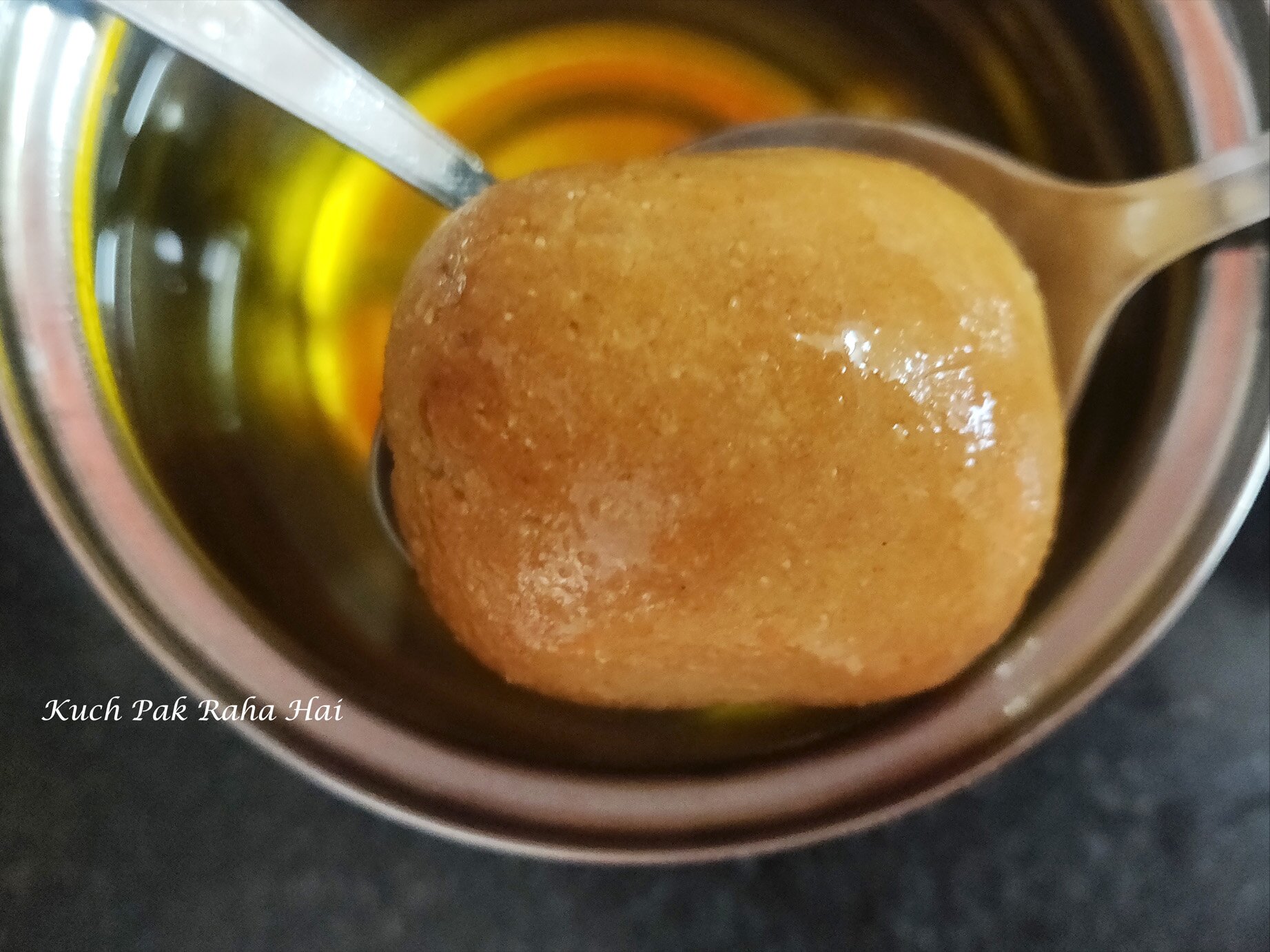 Baking Bati in Oven
Pre heat oven at 200 degree Celsius. Bake Bati in Toast mode (i.e. both rods on) for 20 minutes at 200 degree Celsius.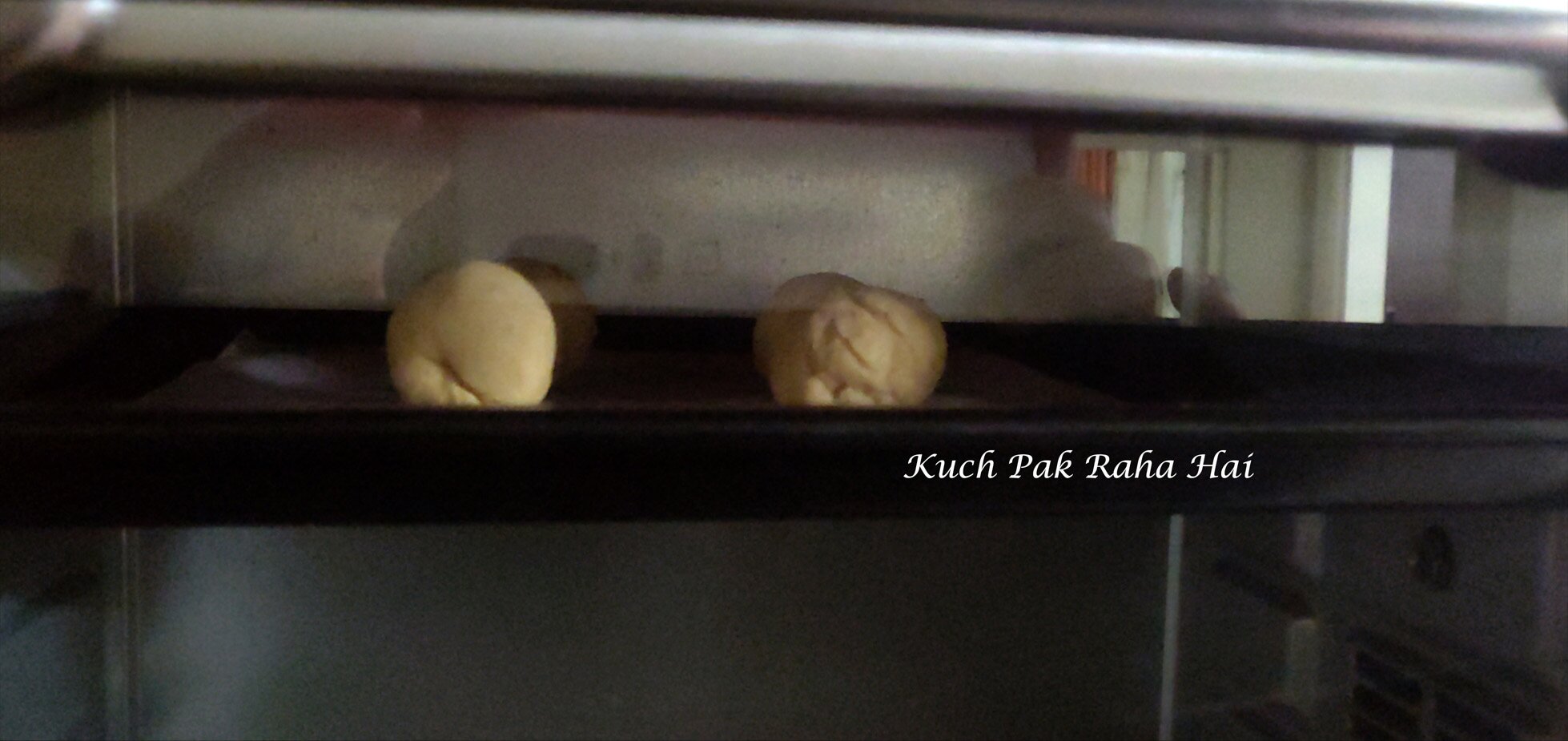 For additional browning, I baked for 3-4 minutes extra at 220 degree celsius.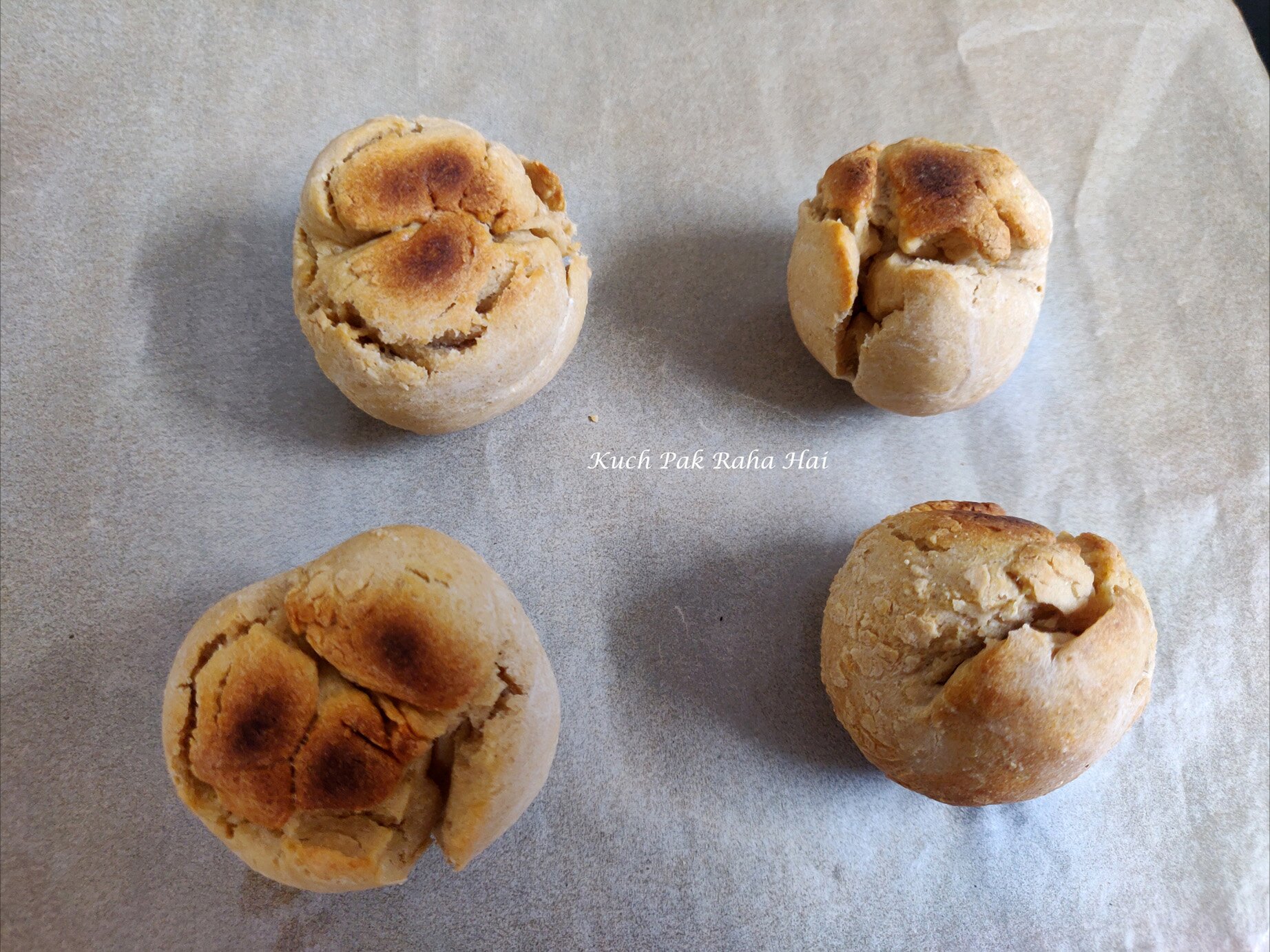 Enjoy hot batis with Panchmel Dal. For Panchmel dal recipe, click here.