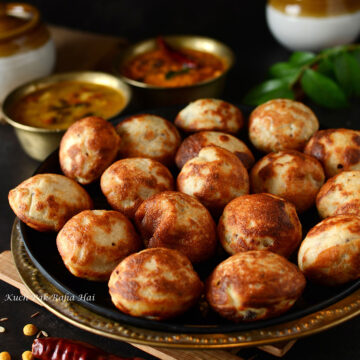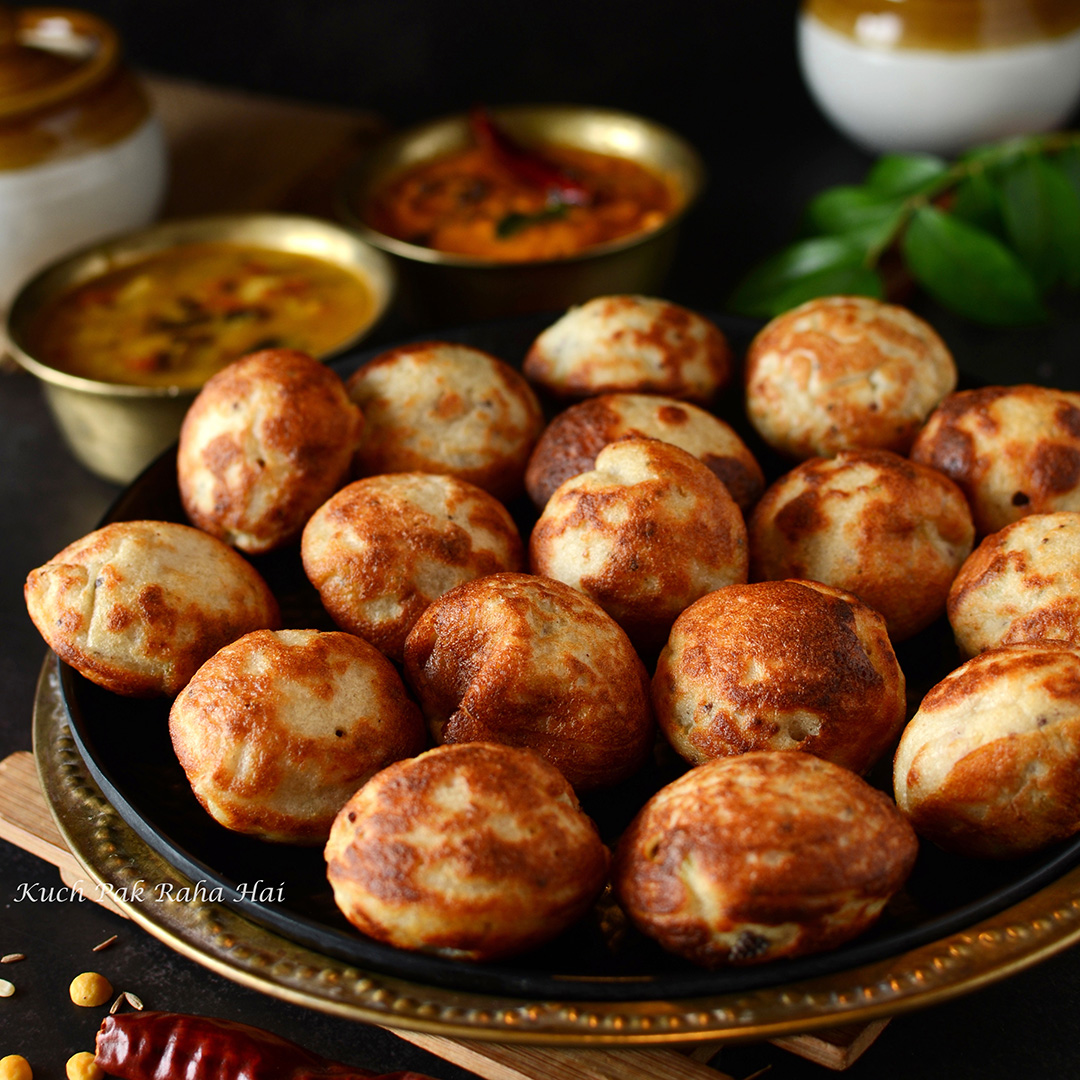 Quinoa & Lentil Appe is a delicious healthy breakfast or snacks recipe made using quinoa & lentils. These quinoa appe or paniyaram are completely vegan , gluten free and a great option for giving in kids lunch box too.
Paniyaram or Appe is a South Indian breakfast recipe, traditionally made using rice & black lentil. These are round in shape (ball like) & are made in a type of pan which has spherical cavities. In this post we will be making these appe with Quinoa & Urad Dal (Split skinned black lentil).
Quinoa, pronounced as 'Keen-wah', is basically edible seed derived from plant 'Chenopodium Quinoa'. Many people often confuse it with cereal grain but it is actually a seed. It is also considered a superfood as it high in protein, contains all nine essential amino acids and is a great source of gluten free carbs.
Earlier I had shared recipe of Vegan Crispy Quinoa Patty which was liked by many readers. So I though of using it in Appe recipe this time by replacing rice with Quinoa. To my surprise the batter turned out perfect and the outcome was soft fluffy appe or paniyaram.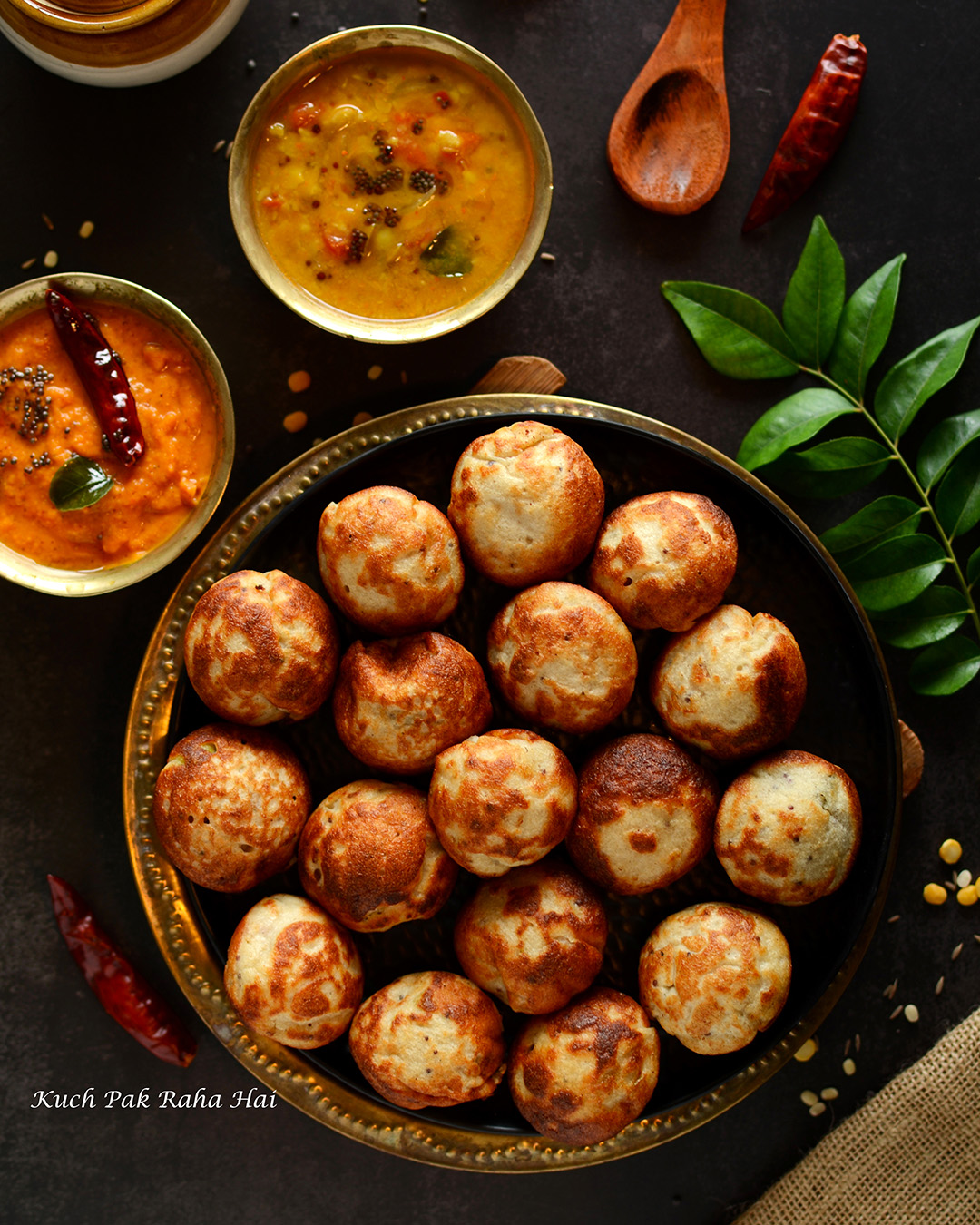 Before this, I had shared instant recipes for Moong Dal Idli & Mixed Dal Dosa. This time I decided to go old school & made these appe by fermenting the batter overnight. The batter is made primarily using soaked quinoa, urad dal & methi seeds (fenugreek). For those who are unaware, urad dal is skinned & split black lentil. For tempering, mustard seeds, curry leaves & chana dal has been used. Along with this I have added some fresh vegetables which add nice flavour to these appe.
One thing I would like to lay emphasis on is to wash urad dal & quinoa well as if quinoa is not washed properly, it leaves a peculiar smell in dishes. Also, fenugreek seeds or methi are essential part of this process so don't skip it. I usually make this recipe for breakfast so here is the timeline that I follow (just for idea). I soak dal, quinoa & fenugreek around 6:00 pm in evening & leave it like that for 3-4 hours. Just before sleeping I prepare the batter (explained below), cover & leave it on kitchen counter to ferment overnight. Fermentation time also depends on climate & surrounding temperature. In winters it might take upto 10 hours to ferment. Once our batter is ready just add tempering to it & make appe using it.
These appe taste best with spicy tangy Onion tomato chutney but you can have them with Coconut chutney as well.
Other Appe / Paniyaram Pan recipes you might like:
Hope you would like this delicious healthy Quinoa Paniyaram recipe. If you try this recipe, do share your feedback in comments section below or tag us on Facebook or Instagram 🙂 .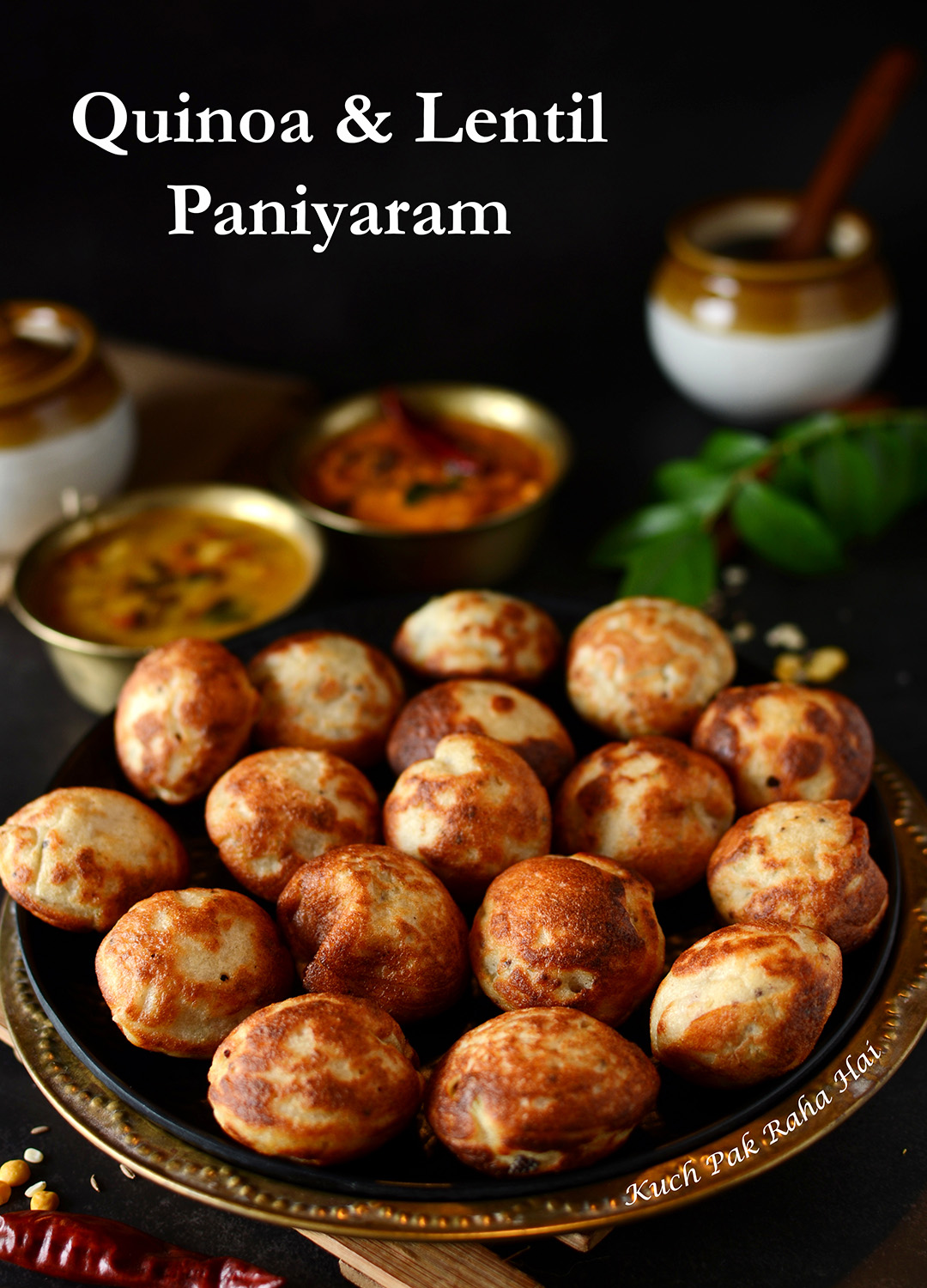 List of Ingredients :
Quinoa – 1/2 cup
Urad Dal (Split Skinned Black Lentil)-1/2 cup
Methi Seeds (Fenugreek seeds)- 1/4 tsp
Salt – 1 tsp (or to taste)
Mustard Seeds- 1 tsp
Curry Leaves – 5 to 6
Chana Dal- 2 tsp
Chopped Onion- 1/4 cup
Chopped Carrots- 2 tbsp
Chopped Capsicum- 2 tbsp
Chopped Green Chilli-1
Oil- For cooking
Water- 1/4 cup (For grinding)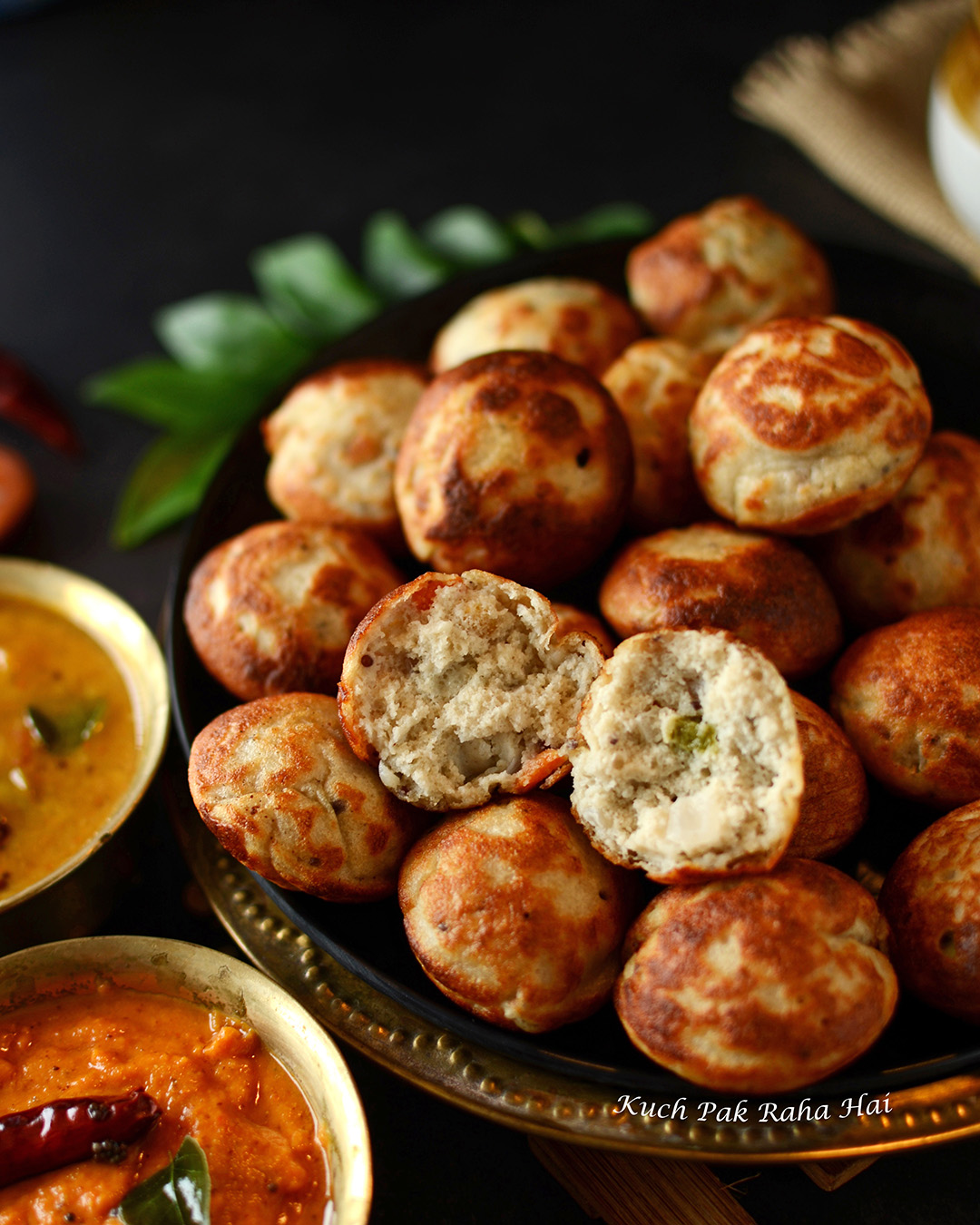 Steps To Prepare:
Step 1:
Wash Urad Dal & Quinoa well under running water while constantly rubbing it with fingers. Repeat this twice or thrice to get rid off all dust & impurities. Soak them in separate bowls with methi seeds (fenugreek seeds) for 3-4 hours.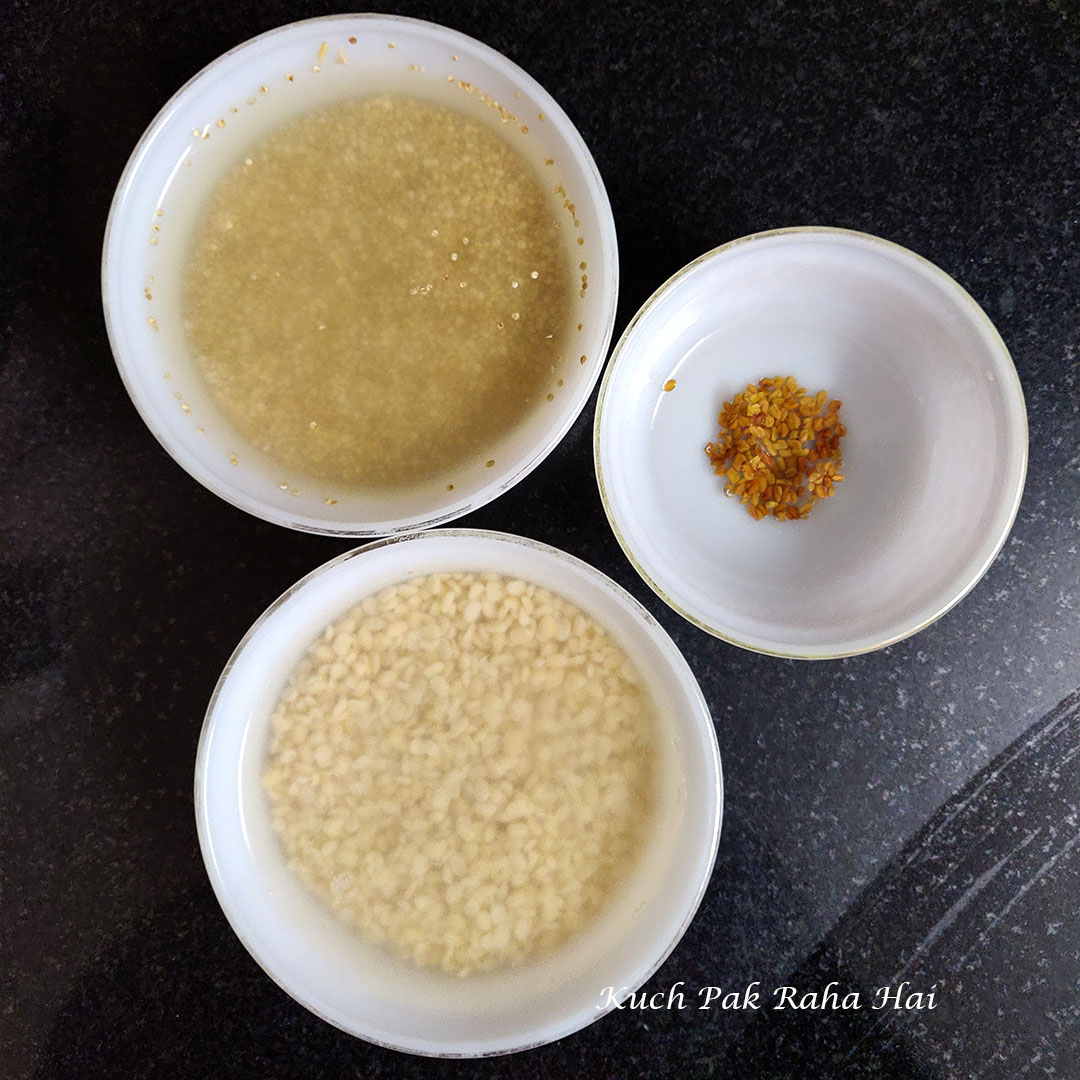 As you can see below, this is how urad dal & quinoa will swell up after 3 hours of soaking.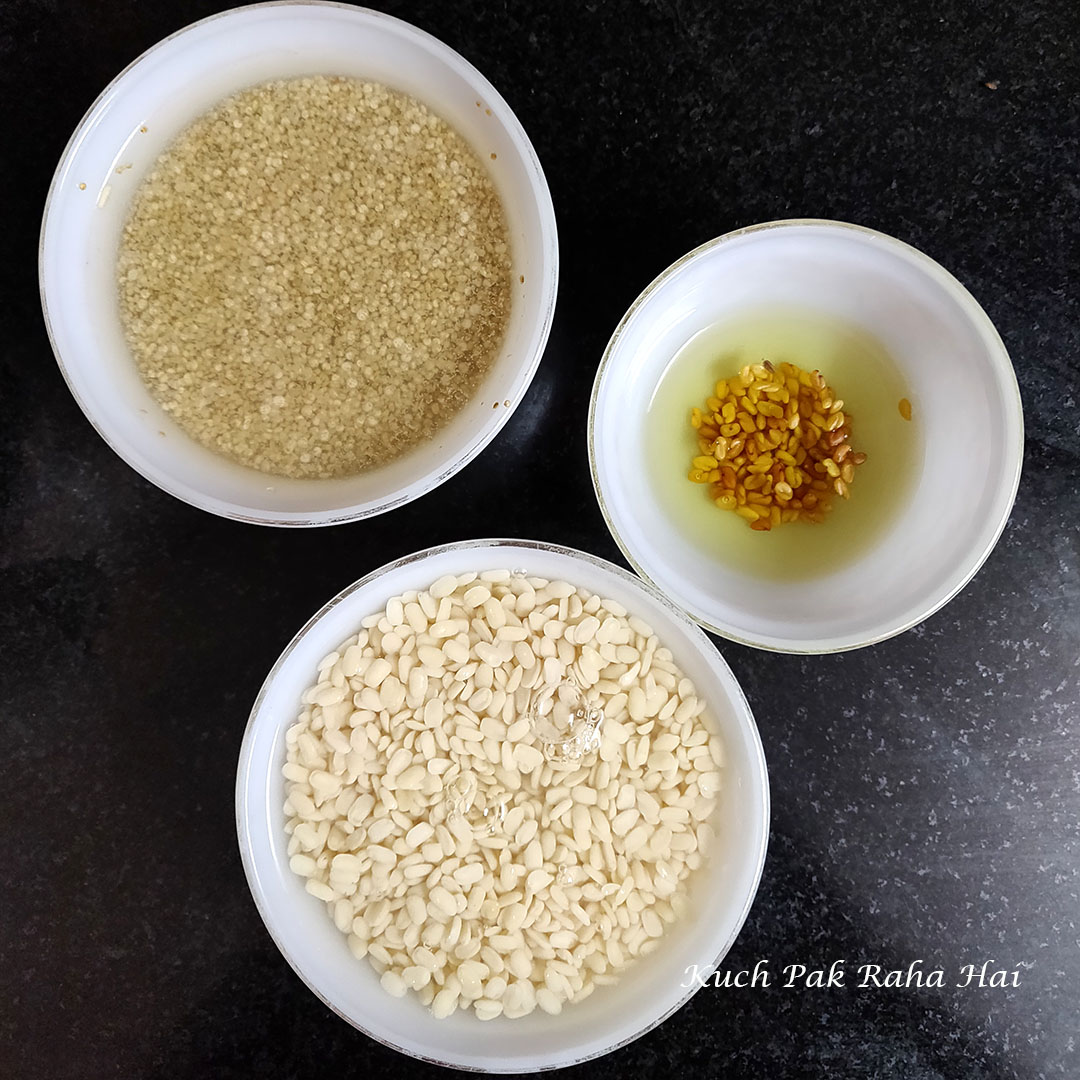 Step 2:
Discard all the water in which urad dal & methi seeds were soaked. Add them in a grinder jar & grind till urad dal batter is smooth & light. You may need to add 2-3 tbsp of water while grinding, add it gradually as per the need. Transfer this in a mixing bowl.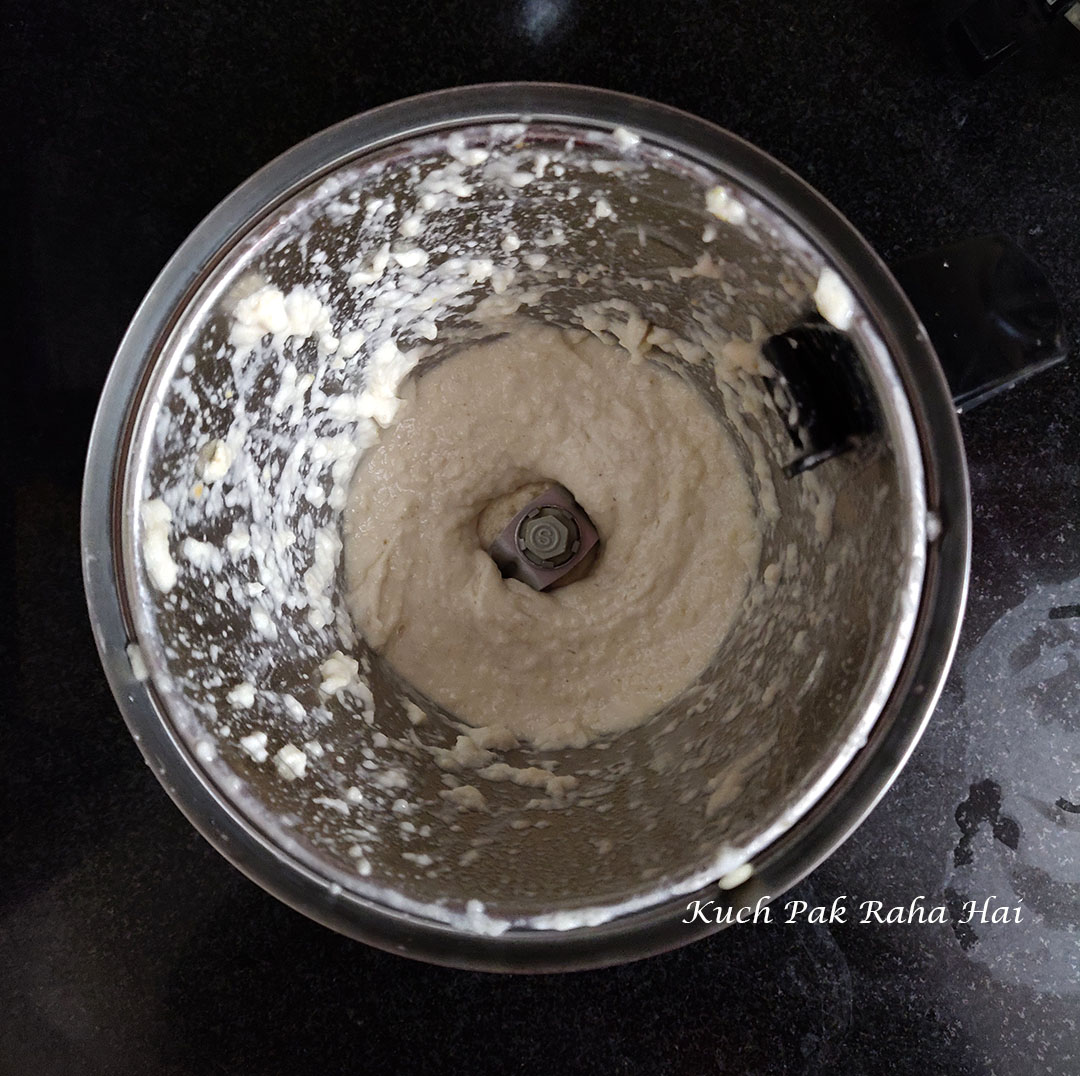 In similar manner we will discard the water in which quinoa was soaked and grind it too. Add 1-2 tbsp of water while grinding as per requirement. Add this to the urad dal batter above. Whisk the mixture well till it is light & fluffy. Cover it & keep it for 6-8 hours. As I generally make it for breakfast, I keep it overnight so that it is ready by morning.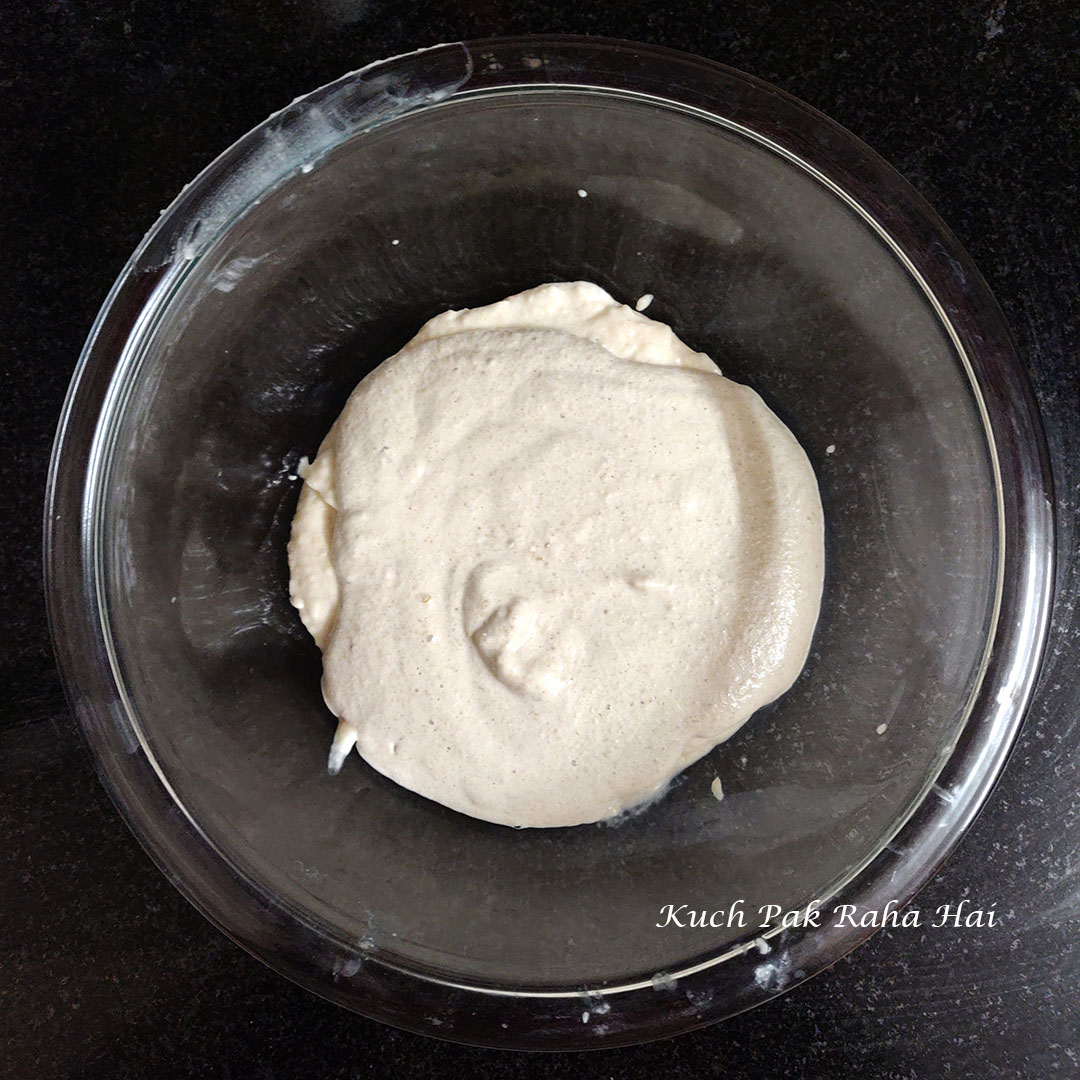 Step3:
After 8 hours, you will notice the batter has fermented & developed air pockets. This fermentation time depends on climate too. If it is summer time it may take lesser time & in winters it might take upto 10 hours. Add salt to the batter & mix well.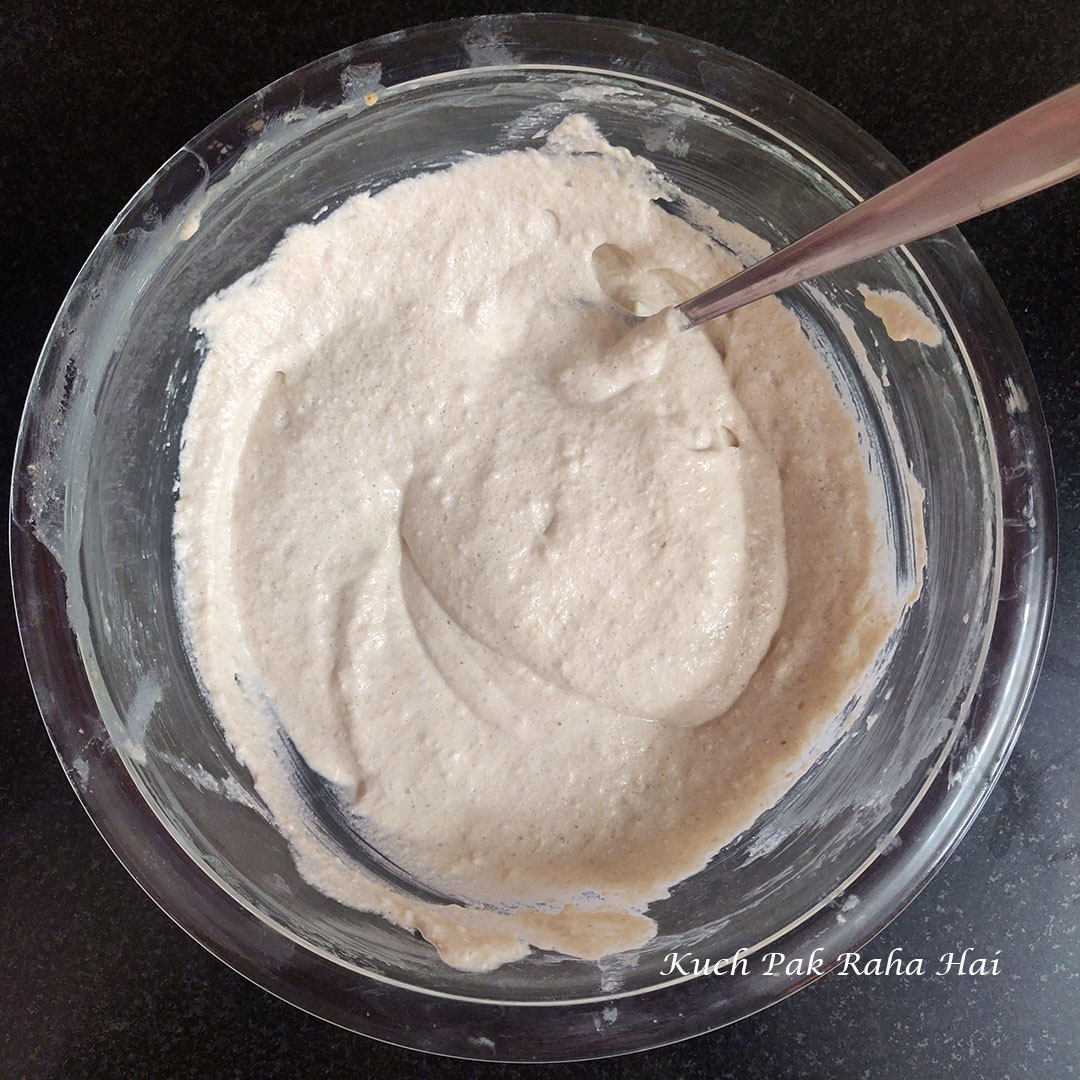 Now, we will prepare tempering for the batter. In a small kadhai or pan, heat 2 tbsp of oil. Add mustard seeds , curry leaves, chana dal & let it saute for 15 seconds or till mustard seeds start spluttering. Add all the veggies, mix well & let them sauté for another 15-20 seconds.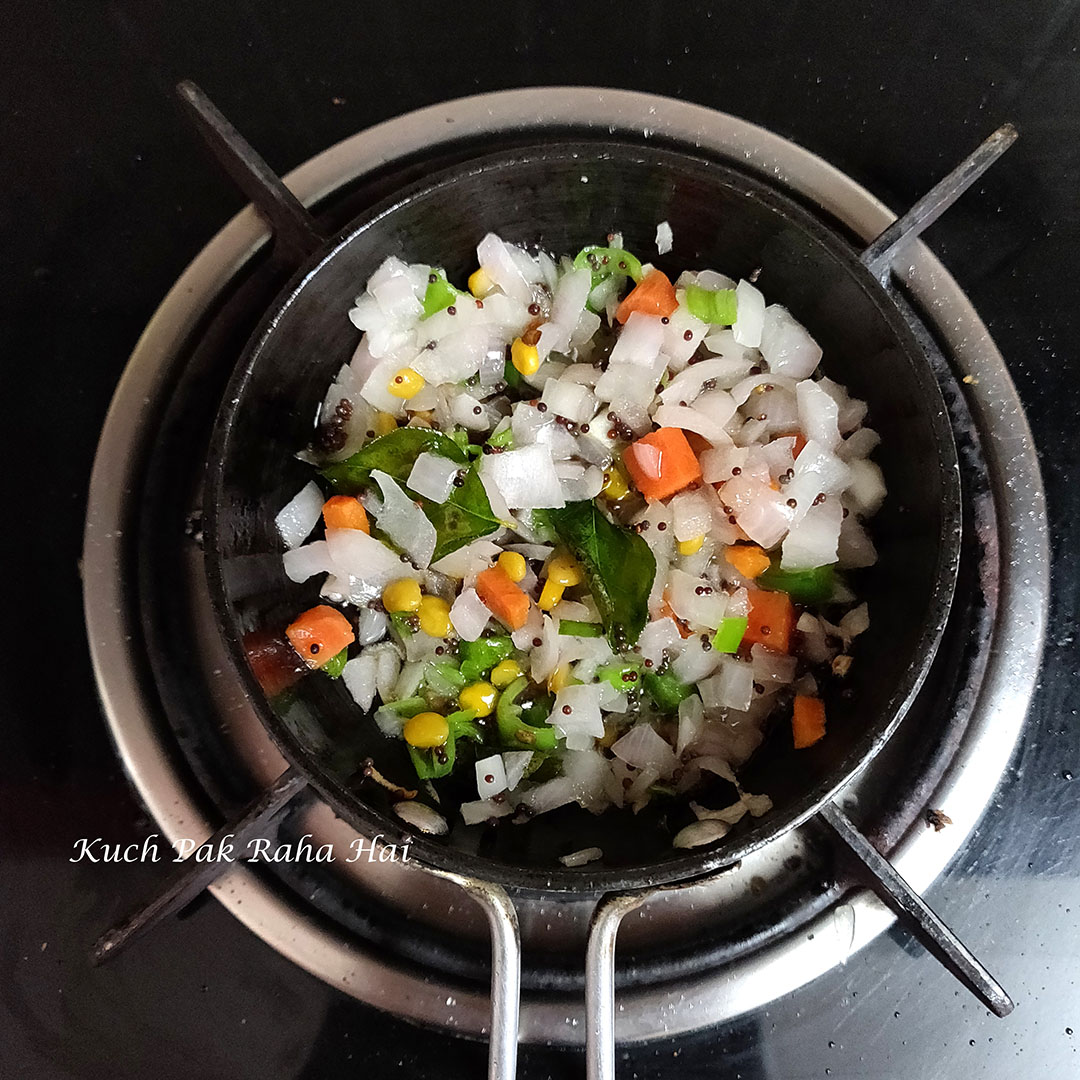 Add this tempering to Appe batter we prepared in step 2. Mix well. You can adjust the salt in batter as per your taste.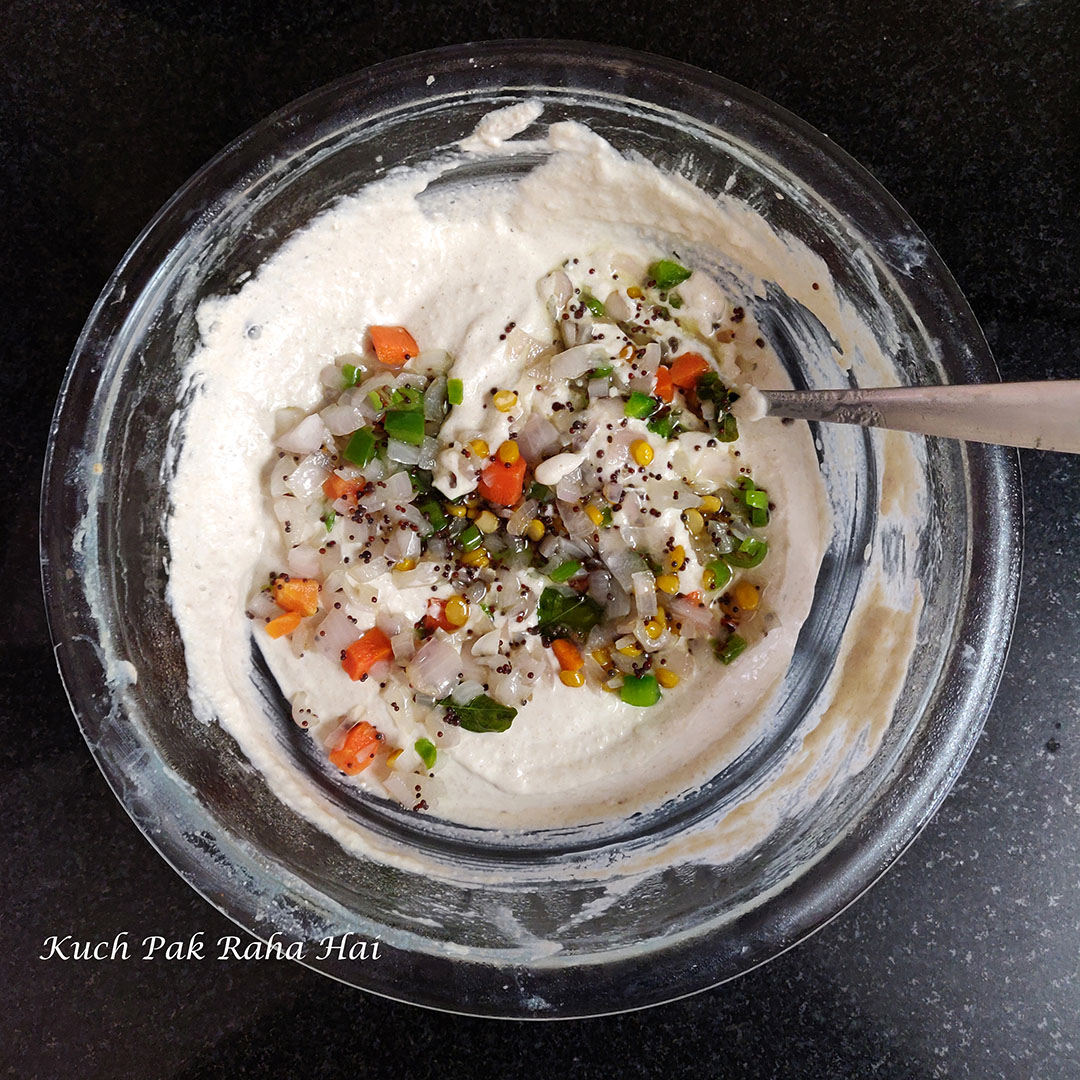 Step4:
Once the batter is ready, heat paniyaram pan. Add few drops of oil in each cavity. If you have silicon brush, apply the oil evenly inside all cavities. Drop spoonful of batter in each cavity of paniyaram pan. Keep the flame to Medium-low.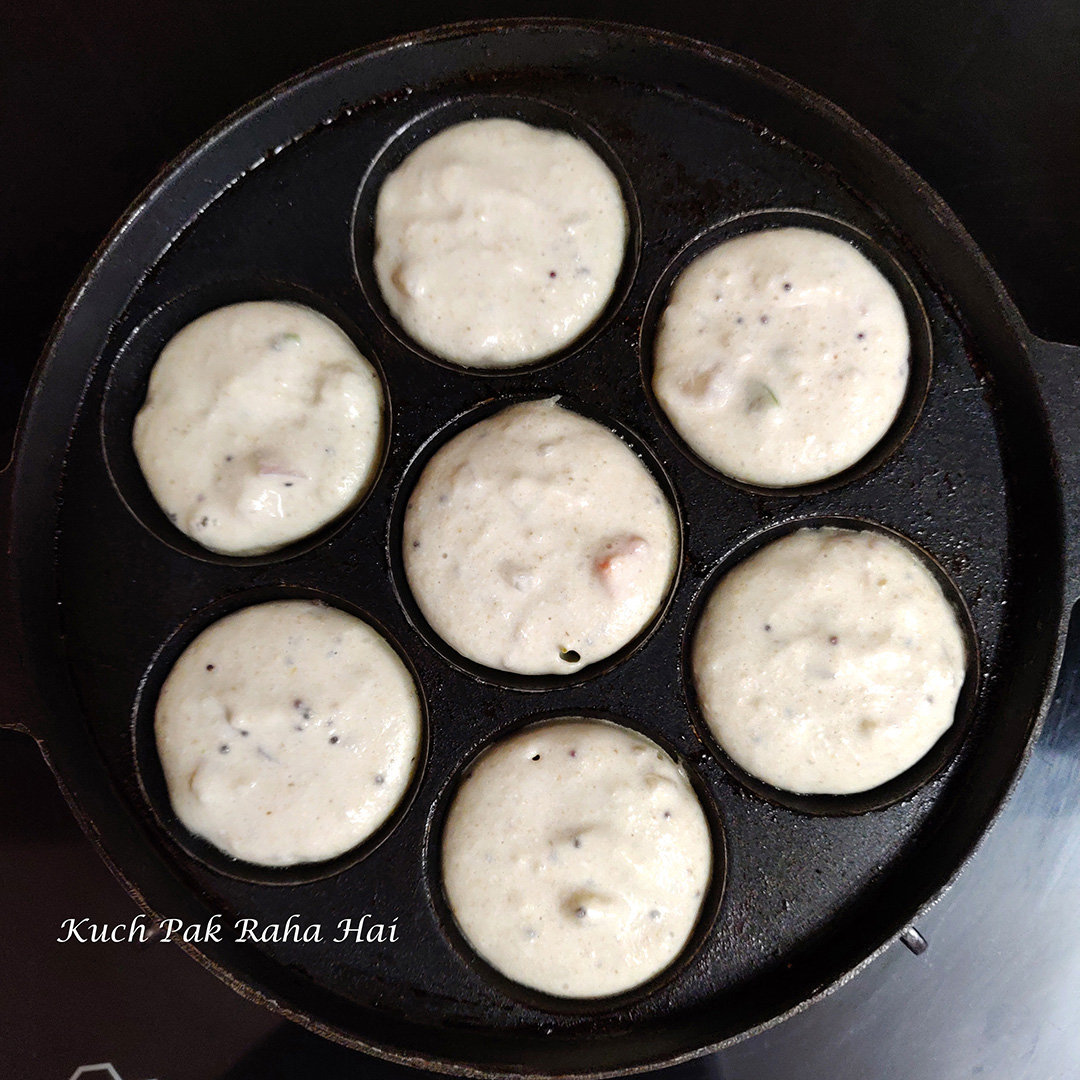 Step5:
When the edges begin to cook, turn it with the help of knife or spatula. The batter at top should still be little wet when you are performing this step. (If you wait too long at this step, the appe will get cooked completely & will not become round from other side.)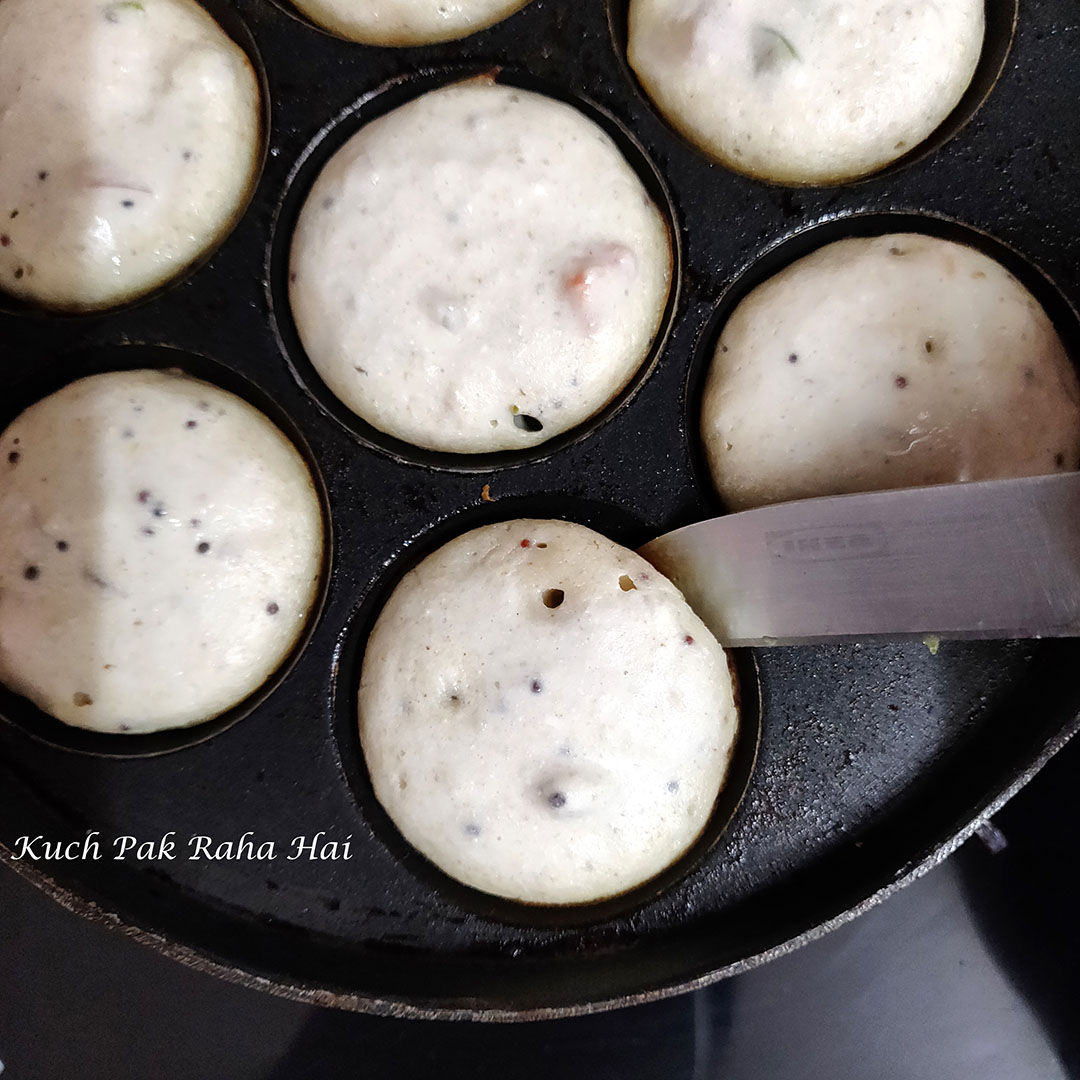 Drop some more oil on these quinoa paniyaram & let them cook from other side too.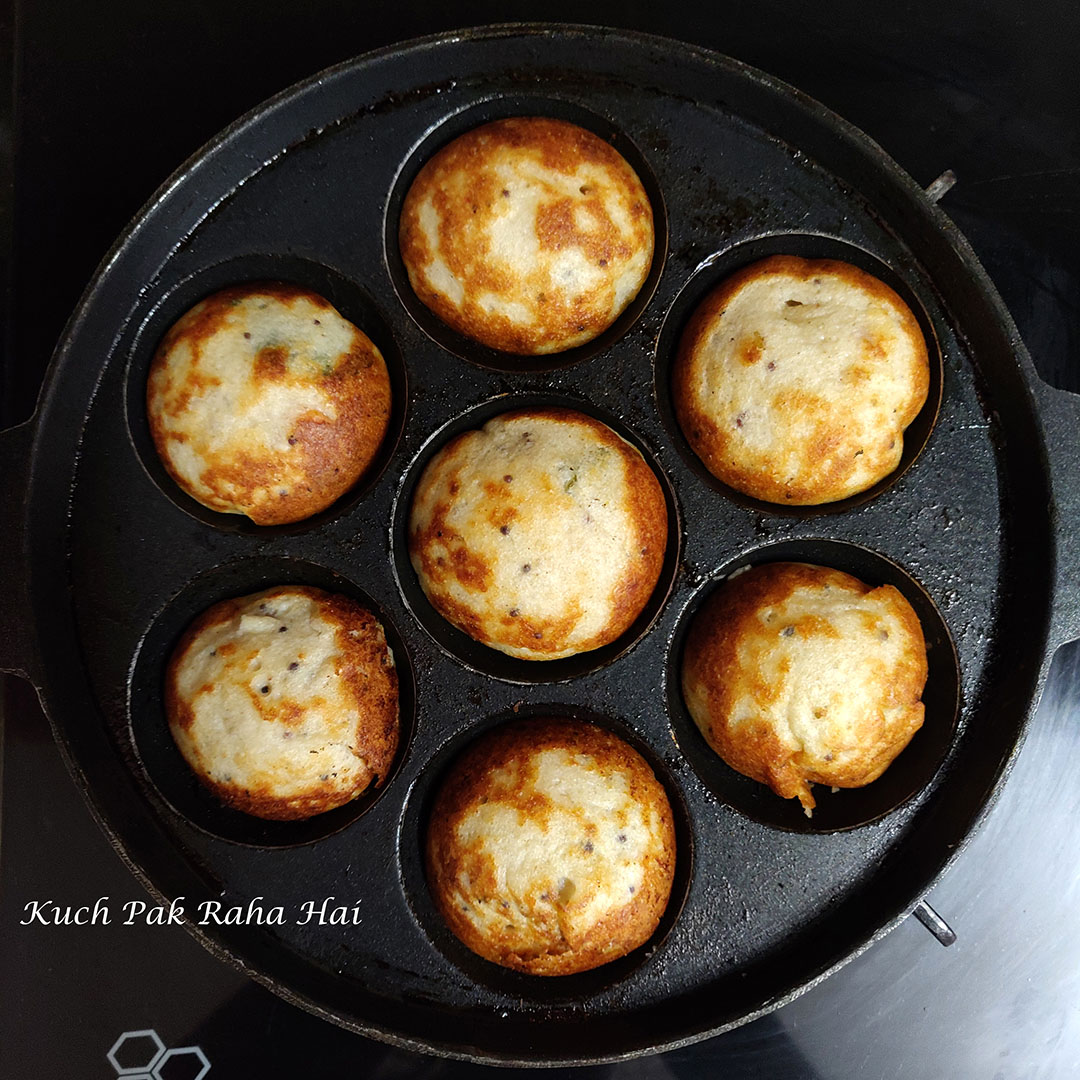 (Paniyaram / Appe Pan : https://amzn.to/3iF4n0M)
Keep cooking & turning the appe in pan till they are golden brown from all sides.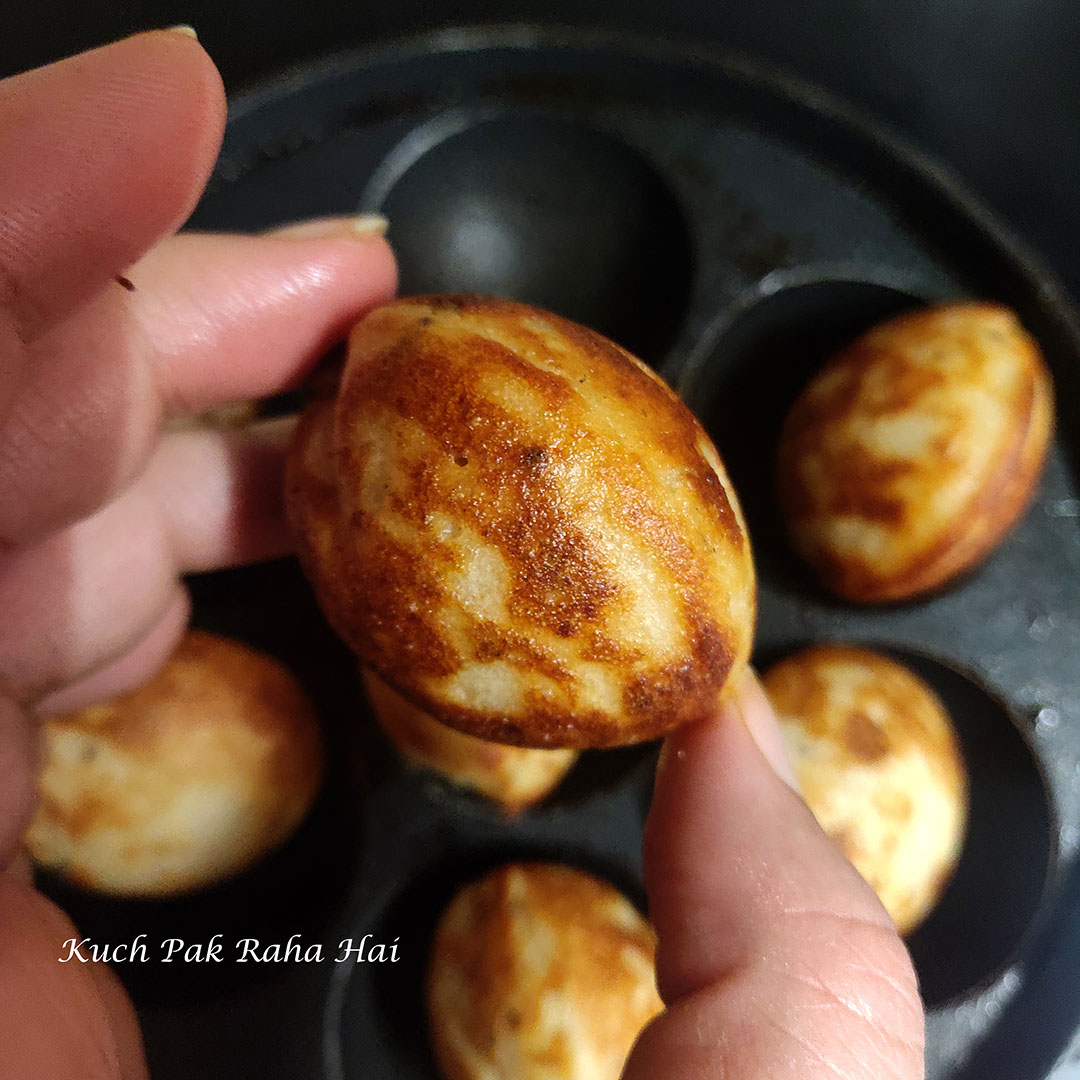 Delicious soft healthy Quinoa paniyaram or Appe are ready. Enjoy them with fresh Onion- Tomato chutney, Coconut chutney or hot piping sambhar.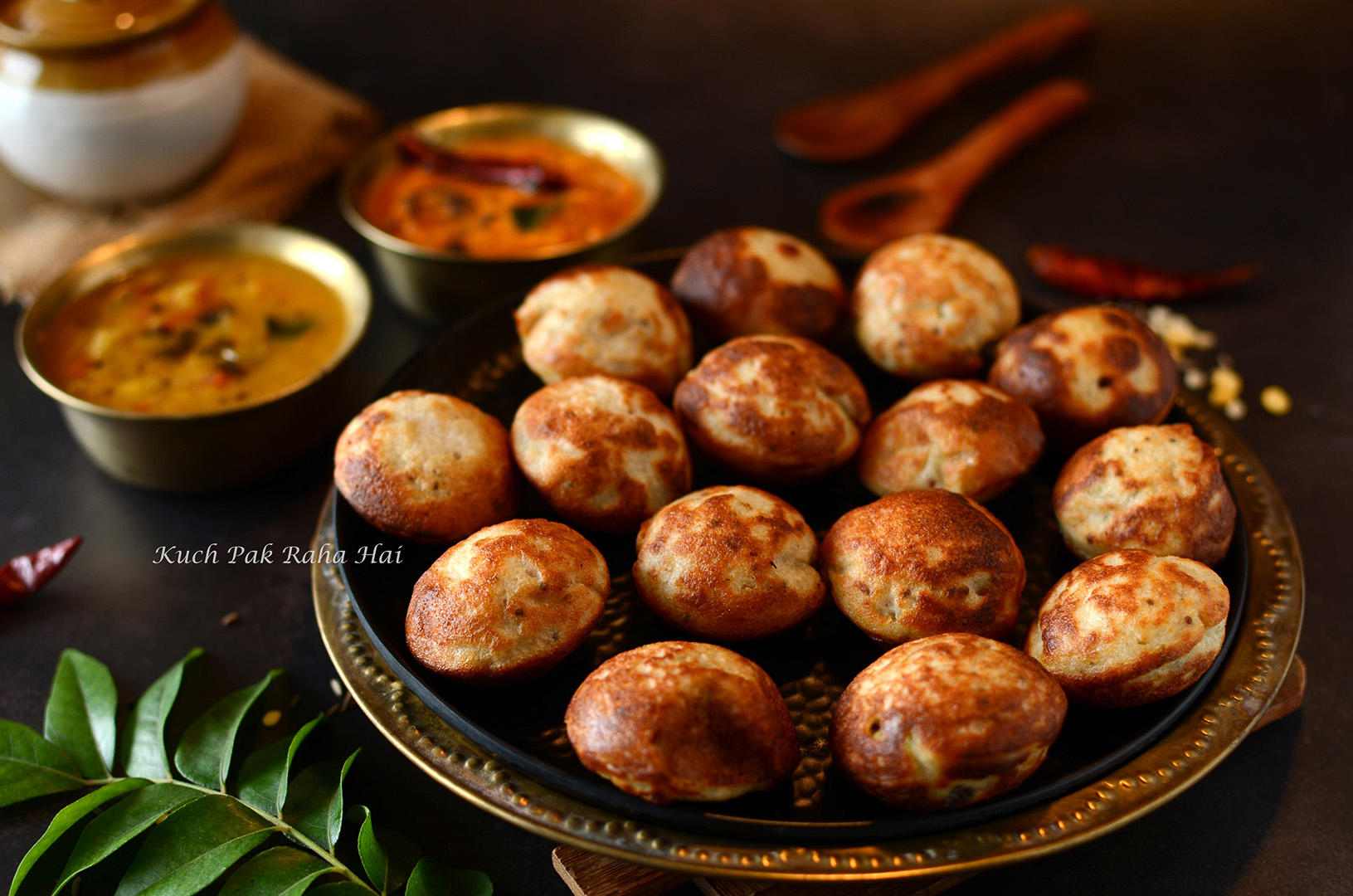 If you try this recipe, then do tag us on Facebook or Instagram or use the hashtag #kuchpakrahahai. We also have Youtube channel where we regularly post food videos every week.
Bon Appetit !!
More Quinoa Recipes:
Let's stay connected