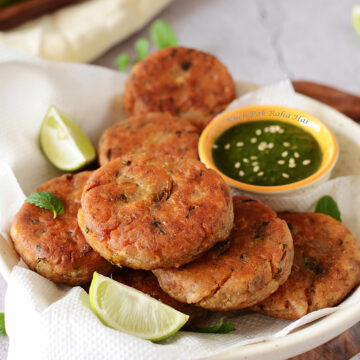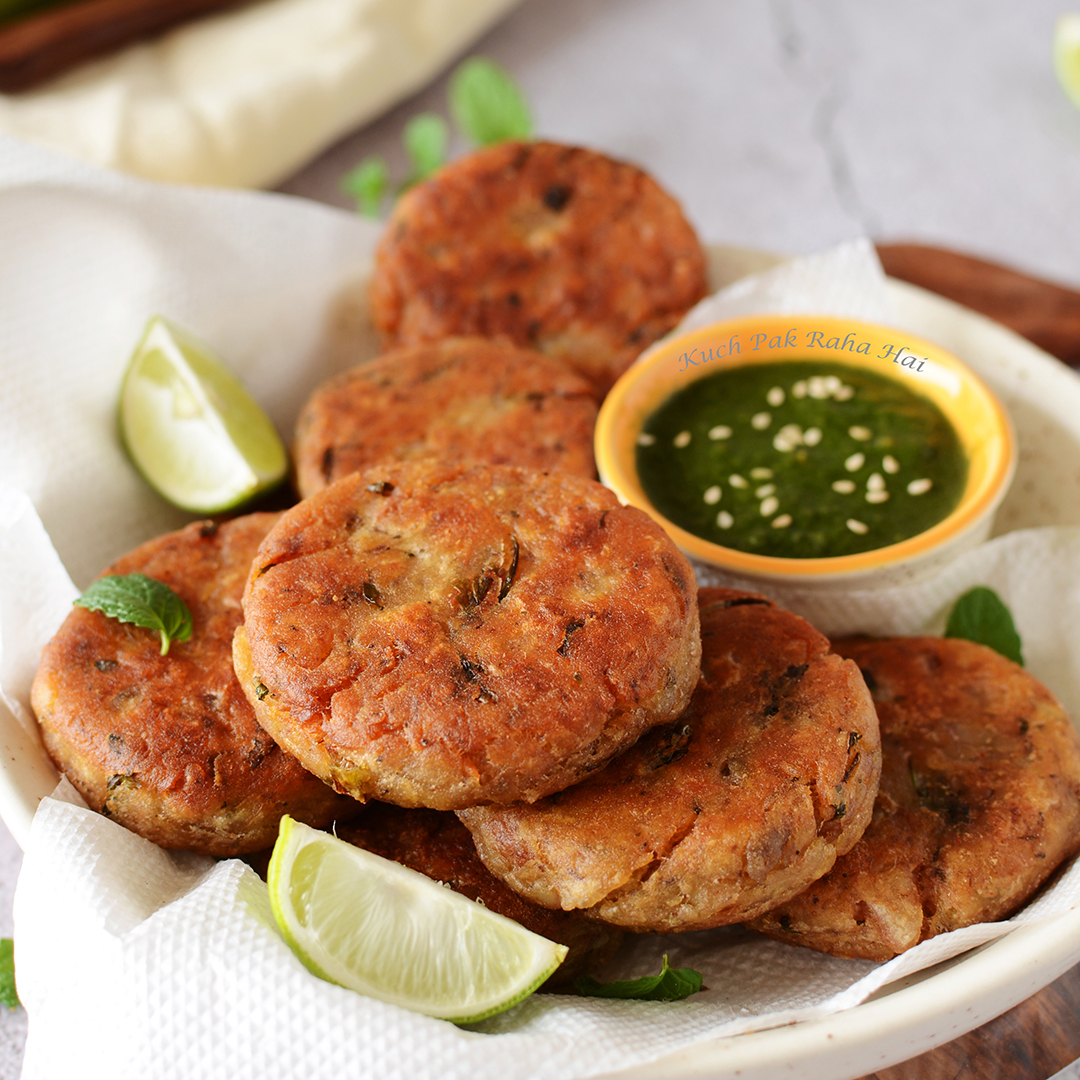 Kacche Kele Ki Tikki or Raw Banana Cutlets is a flavourful crispy snack recipe made using raw banana/plantains. They taste great as starters too & are really easy to make. It is a completely vegan & gluten free recipe.
This is a no-onion no-garlic recipe so can be relished by Jains as well. Intriguing fact about Jains is most of us refrain from eating onion, garlic and even potatoes at certain times of the year. As I am born & brought up in Jain family, this raw banana tikki recipe is quite popular & liked at my home.
Generally potatoes are used in making tikki or vegetable cutlets ,however we can get the same texture & taste using raw bananas. I recently made them for my husband & he was unsable to guess that these are not made using potatoes.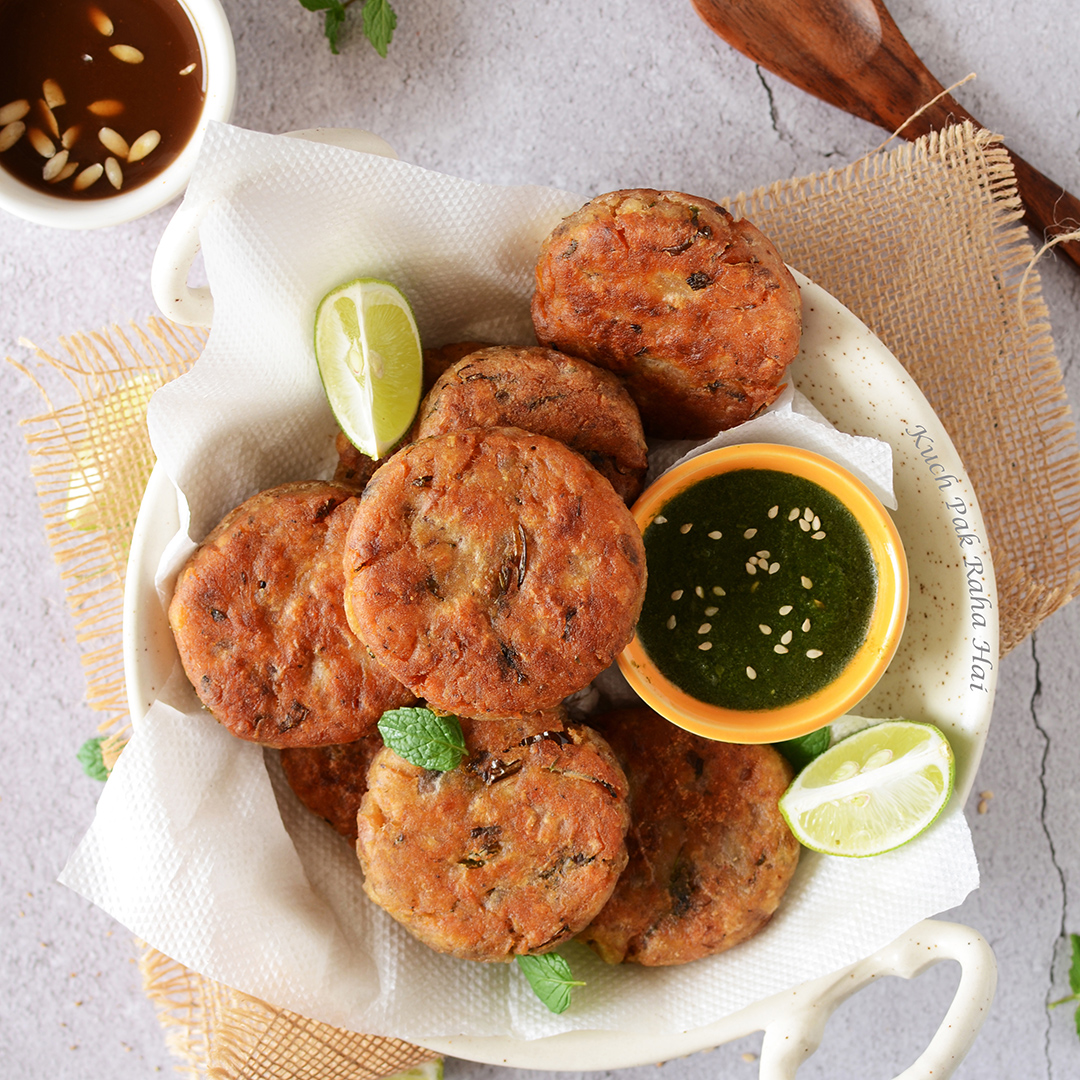 These kacche kele ki tikkis turn out absolutely crispy from outside with melt in the mouth insides. The tikkis are flavoured using fresh green chillies, ginger & coriander / cilantro leaves. If you wish you can add some chopped onion, garlic too but I would request to try this original recipe first & I am sure you will love the no onion-no garlic version. For binding purpose, some cornflour is added. I have added salt, red chilli powder & chaat masala as seasoning. The substitutes are mentioned after the ingredients list.
Also, Navratri is one of the major Hindu festivals & those who do  fasting in these days don't eat cornflour. You can replace it with some Amaranth (Rajgira) flour or Buckwheat (Kuttu) flour.
You can even air fry these raw banana cutlets for a low calorie version. In that case brush some oil on both its sides & air fry them at 180 degree celsius till they are crispy golden from both sides.The air fryer method is explained towards the end of the post. I have shared more air fryer recipes on this blog. You can check them out by clicking here.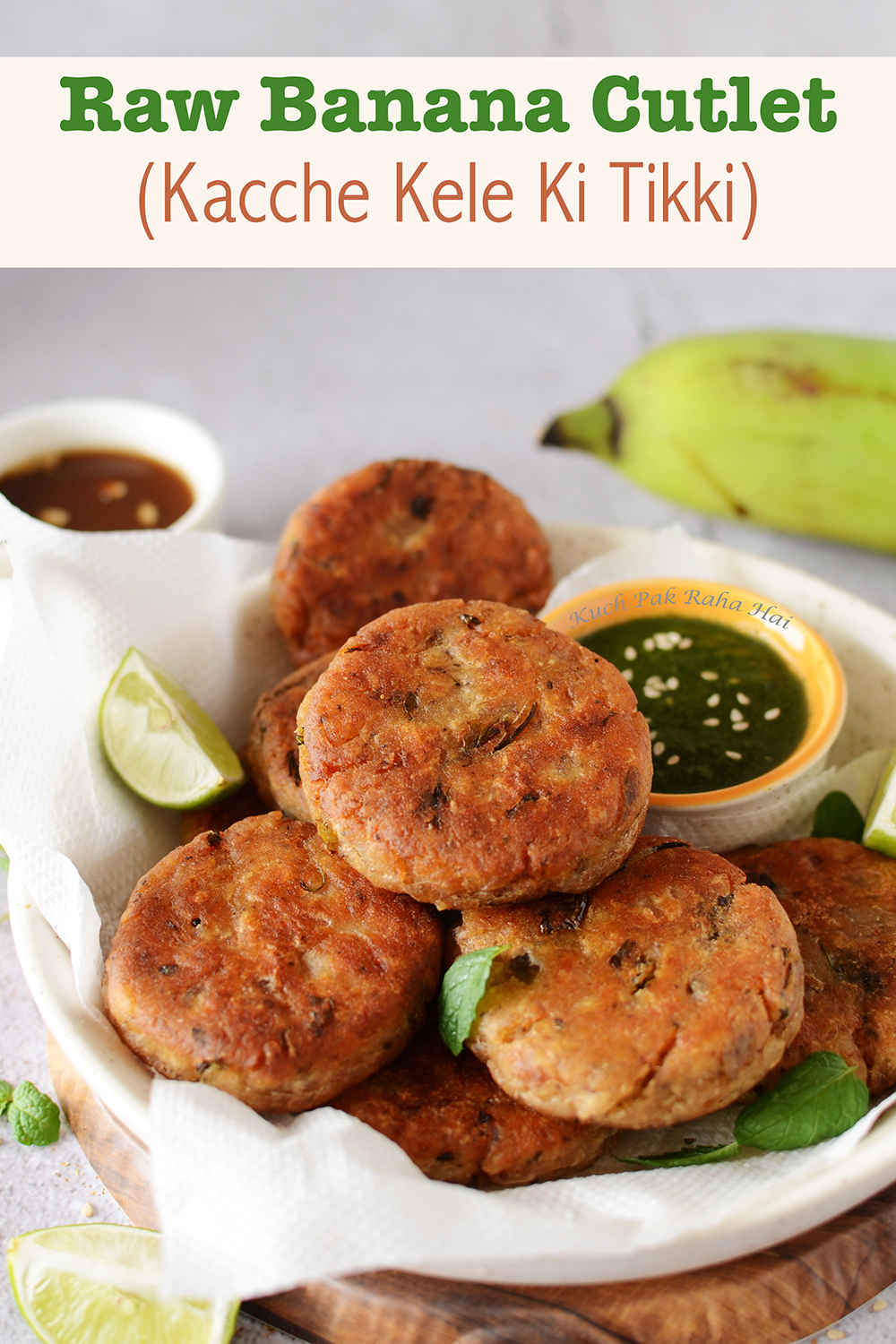 Raw banana (also called 'kaccha kela' in hindi)   is a great substitute for potatoes in various recipes & is also know for number of health benefits. They are rich source of vitamins & minerals like vitamin C, vitamin B6 & potassium. Also as they help in maintaining blood sugar level, they are often recommended to diabetic people. They are rich in fibre & hence beneficial in treating digestive problems like constipation & irritable bowel syndrome. As raw bananas are quite hard, it is important to boil them properly before we start making cutlets or tikki using them. I have boiled raw banana in pressure cooker but you can even use instant pot for this. Rest of the cooking steps have been shared in detail below.
Other crispy snack recipes which you would like to try:
I have also shared a Youtube video for this same recipe. If you like it, don't forget to subscribe to our channel 🙂
Watch here:
Hope you would like this delicious crispy Kacche Kele ki tikki or Raw banana cutlet recipe.
List of Ingredients: (Makes 12-15 pieces)
Raw Banana/Plantain – 4
Chopped Green Chillies – 2
Ginger paste – 1 tsp
Chopped Coriander – 3 tbsp
Cornflour* – 3 tbsp
Salt – 1 tsp (or to taste)
Red Chilli Powder – 1/2 tsp
Crushed Black pepper – 1 tsp
Chaat Masala – 1/2 tsp
Cooking Oil – 1/4 cup (For shallow frying)
Substitutions:
*If you are making these kachche kele ki tikki for Navratri fasting, replace cornflour with amaranth (rajgira) or buckwheat (kuttu) flour and instead of table salt use 'Sendha Namak' or rock salt. You can add or omit other spices as per your choice.
If you don't have chaat masala, use a mix of mango powder (amchoor), coriander powder (dhaniya powder) & roasted cumin powder (bhuna jeera).
Steps to Prepare:
Step 1:
Chop the stem & tip of the banana. Add 3 cups of water & these trimmed raw bananas in pressure cooker. Cook them for two whistles & simmer down the flame for next 5 minutes.Switch off the flame & let the pressure release on its own.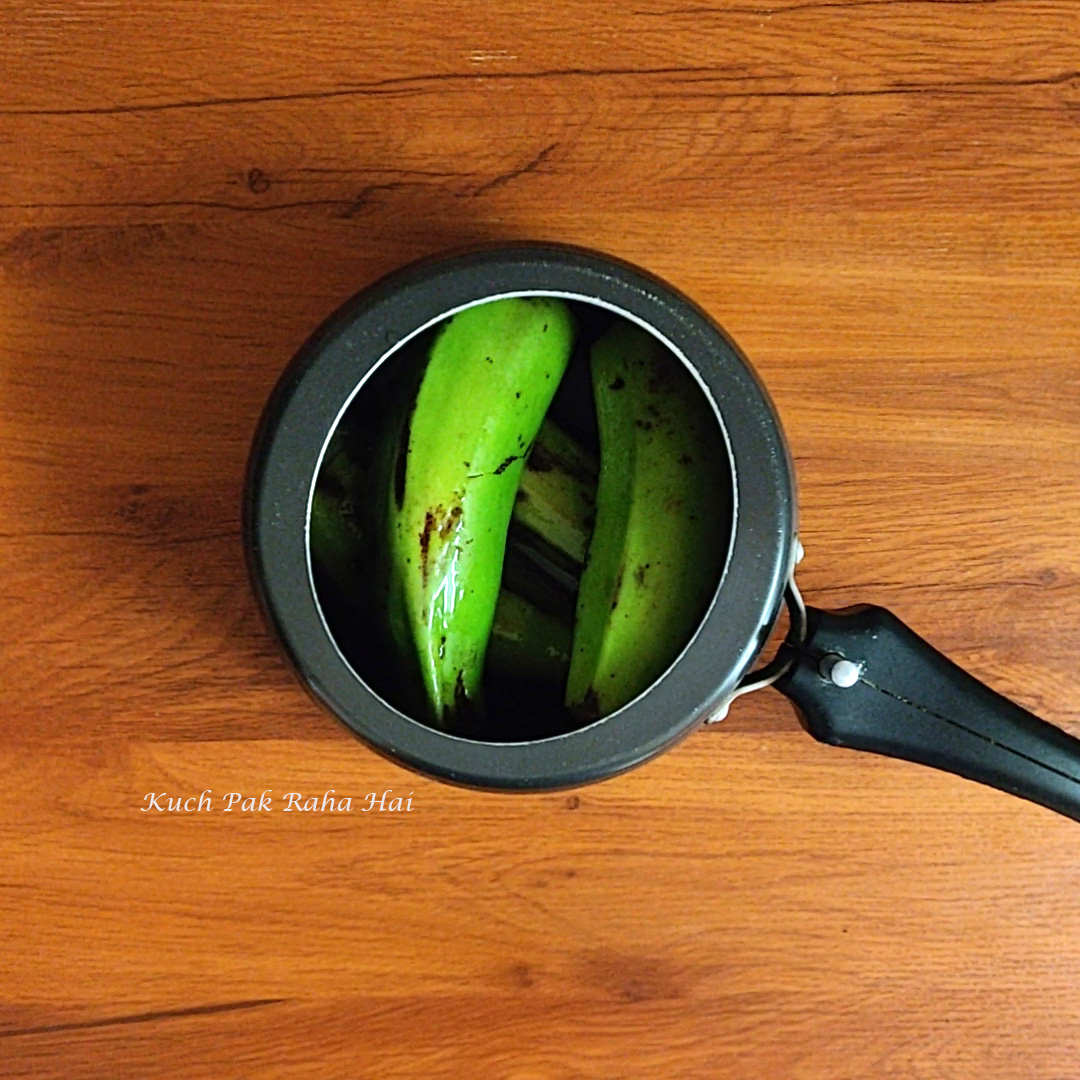 Step 2:
Once the pressure is released, carefully take out the boiled bananas and let them cool down a bit. Peel the raw bananas when while they are still warm & let them cool down completely.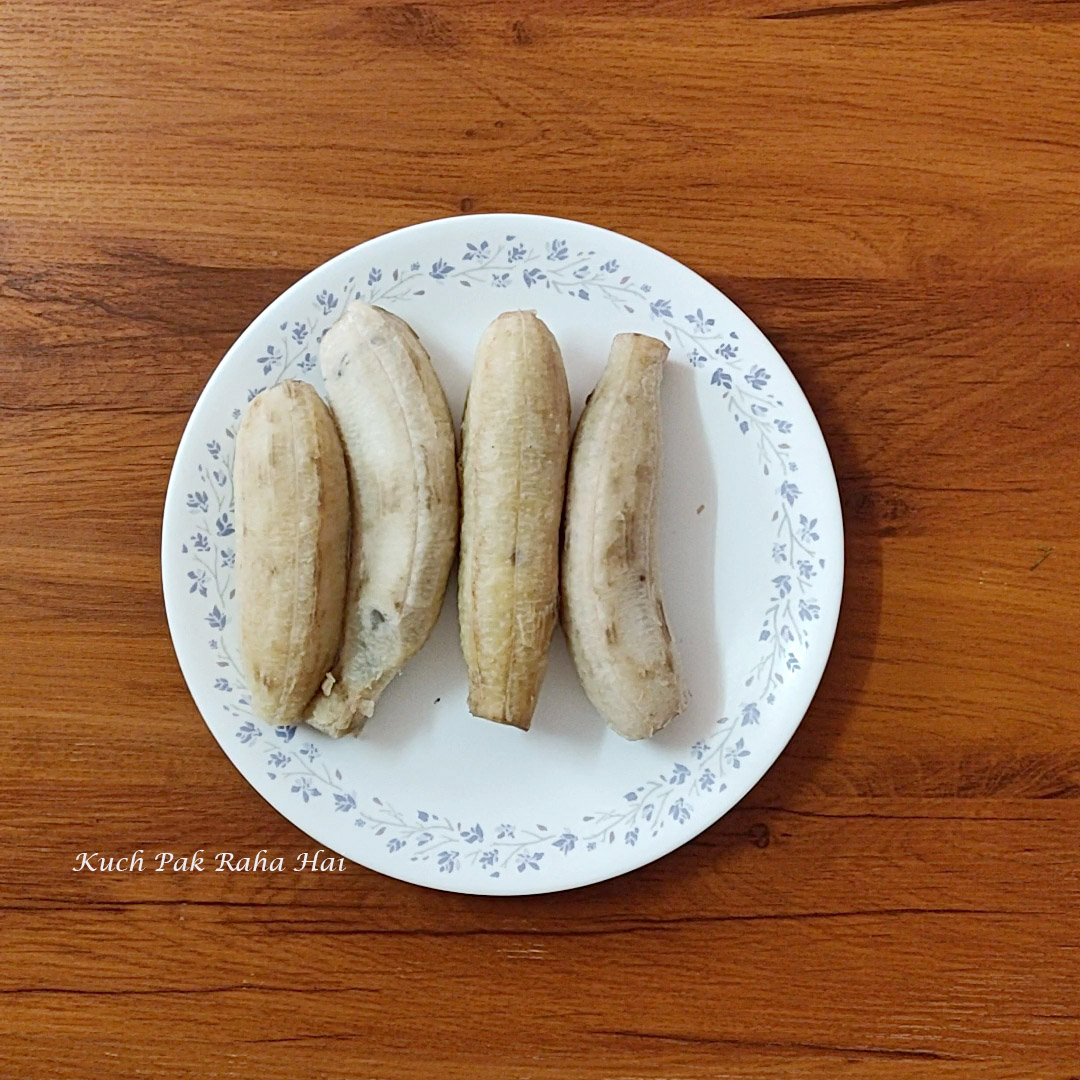 Step 3:
Transfer these boiled raw bananas in a mixing bowl & mash them using a fork or masher.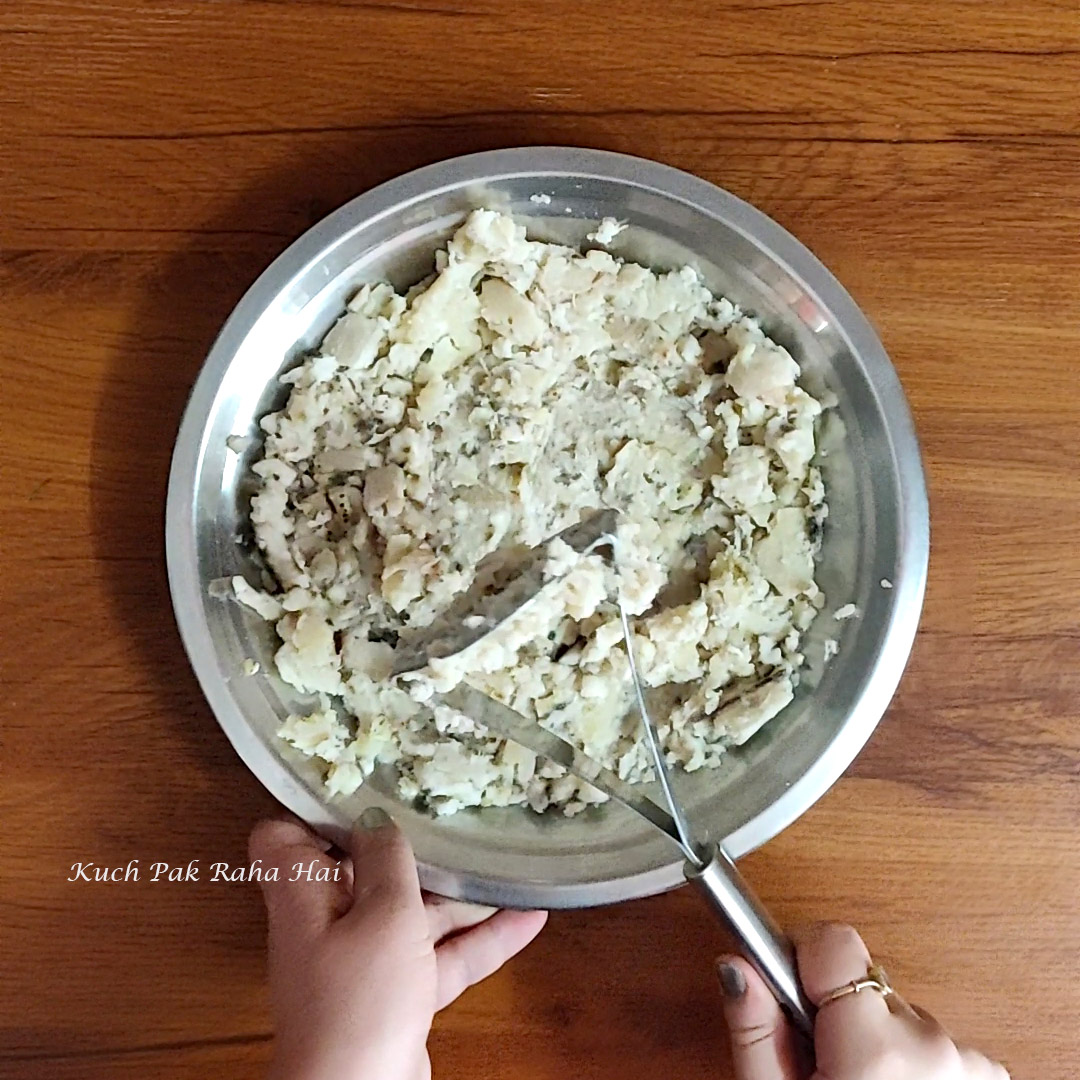 Add green chillies, ginger paste, chopped coriander, cornflour & all the spices to it. Add 2 tbsp cornflour first. If the mixture seems sticky or wet then add little bit of cornflour more.  Mix them well. It should form a dough as shown below.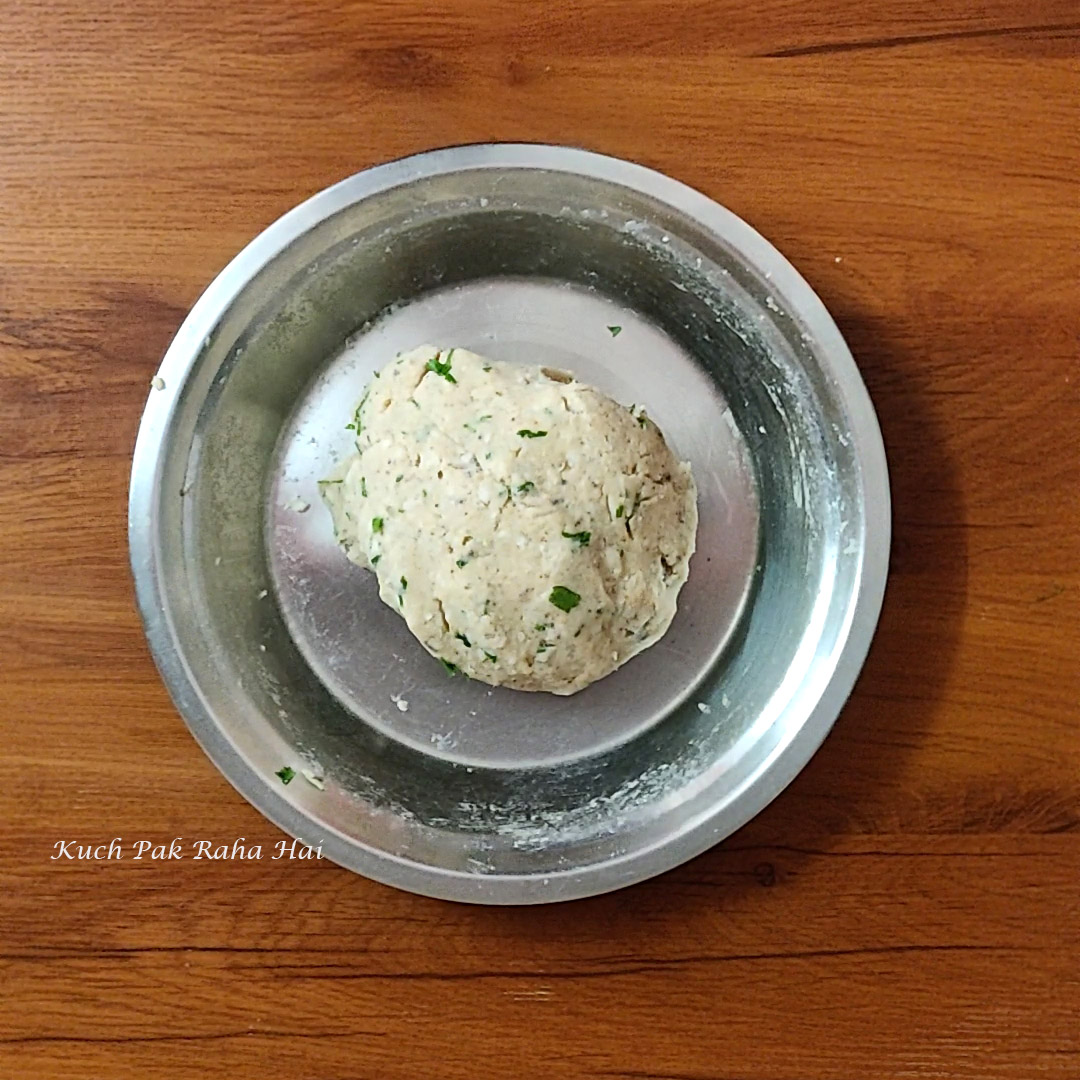 Step 4:
Divide the mixture into parts & start rolling them into balls. Flatten these balls between your palms to give them 'tikki' (cutlet) shape.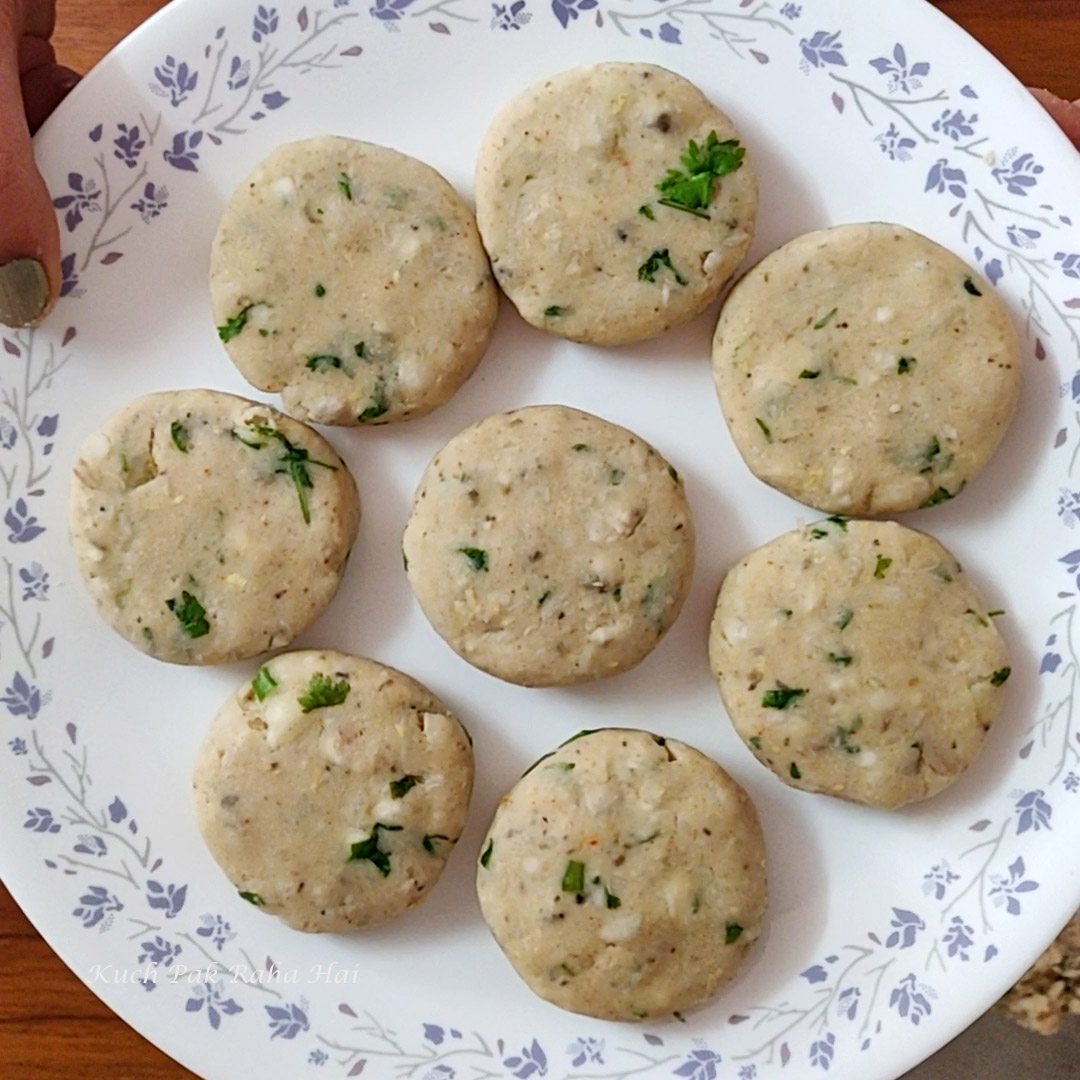 Step 5:
Add oil in a non stick pan. Shallow fry these tikkis in this pan till they are crispy golden brown from both sides.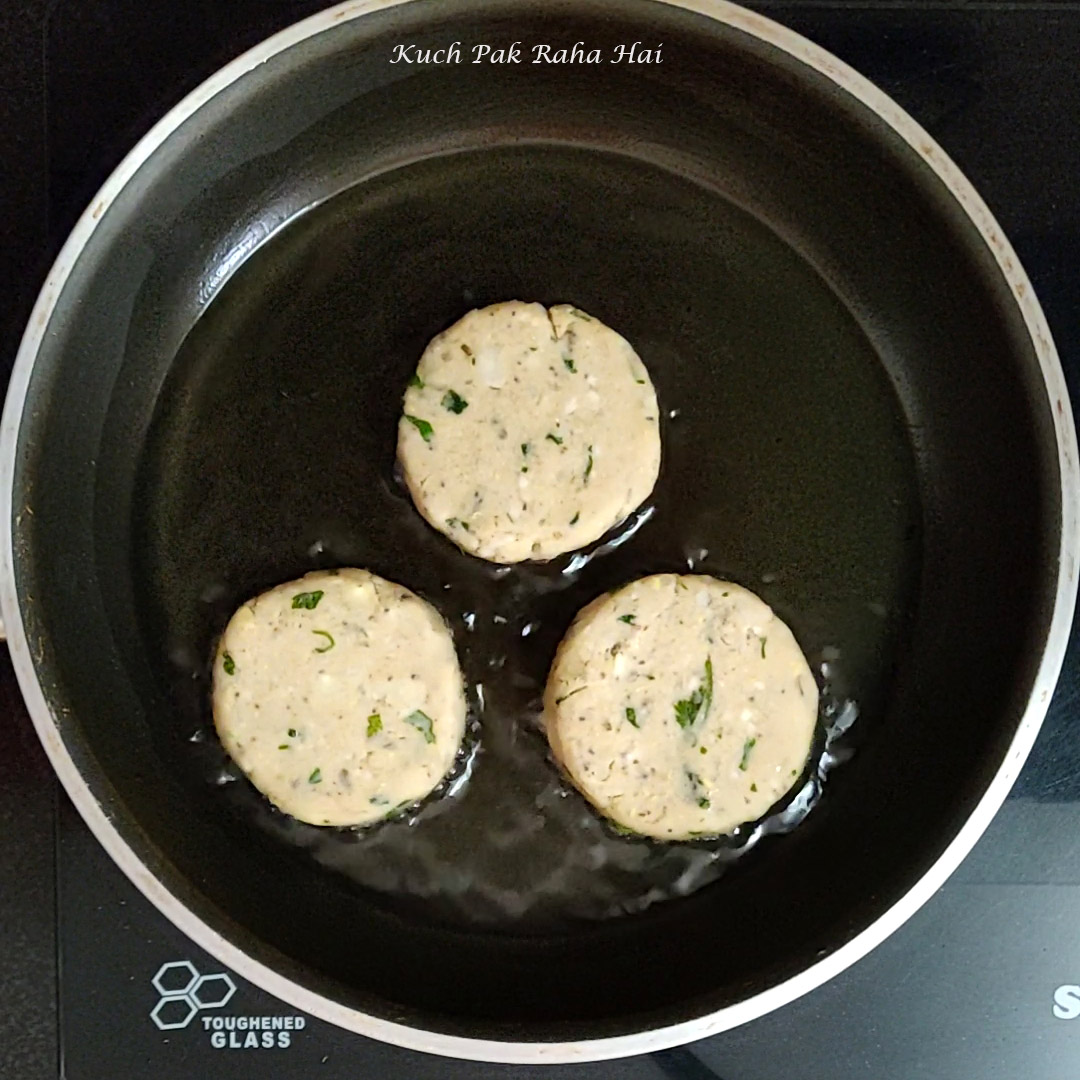 Flip them & cook them on medium-low flame giving them enough time to cook from inside. Transfer them on a tissue paper once to absorb any oil.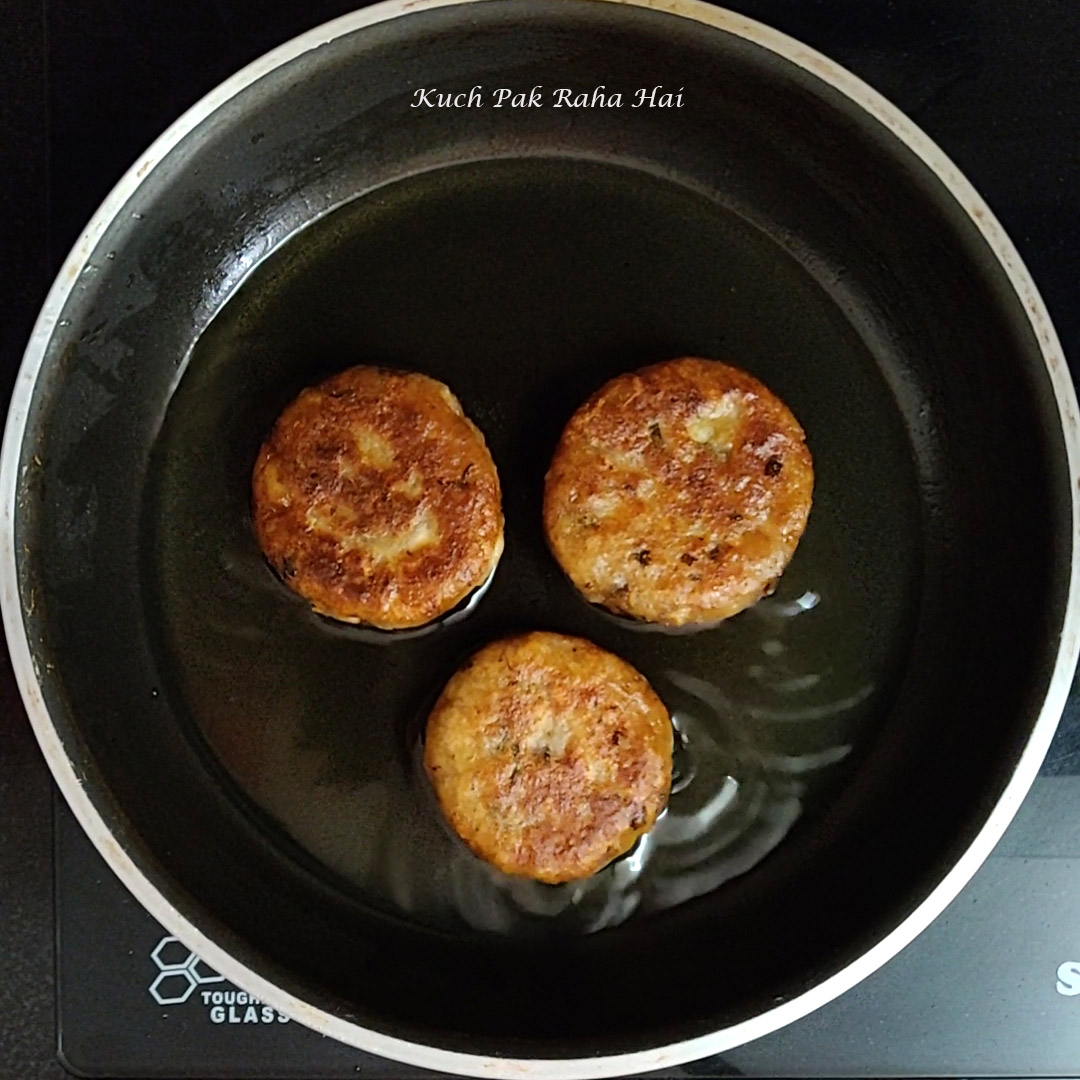 Serve these delicious cripsy kacche kele ki tikki or cutlets with fresh coriander chutney or tamarind chutney or tomato ketchup.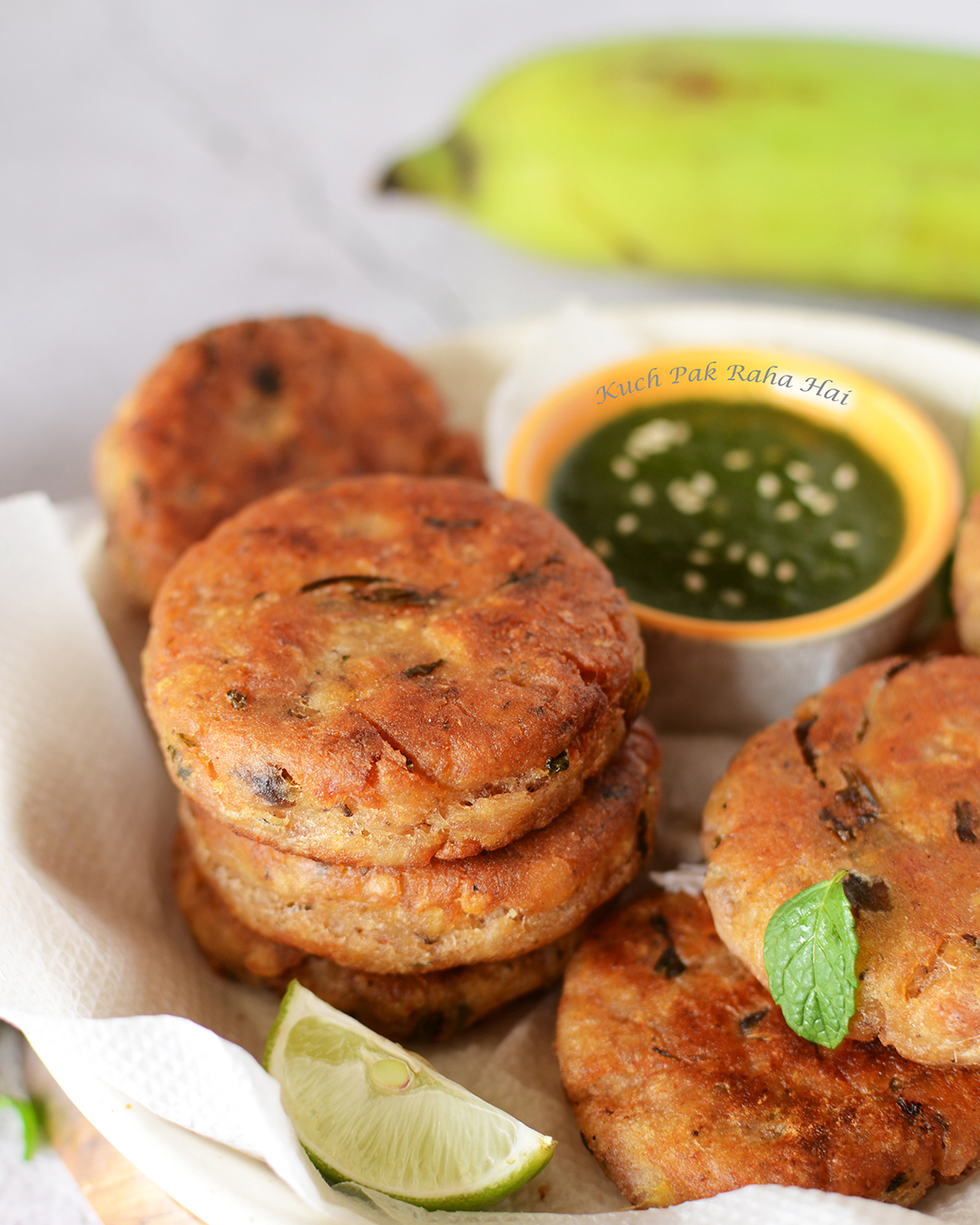 (If you don't want to shallow fry these tikkis, you can air fry them as explained in below steps.)
Raw Banana Tikki in Air Fryer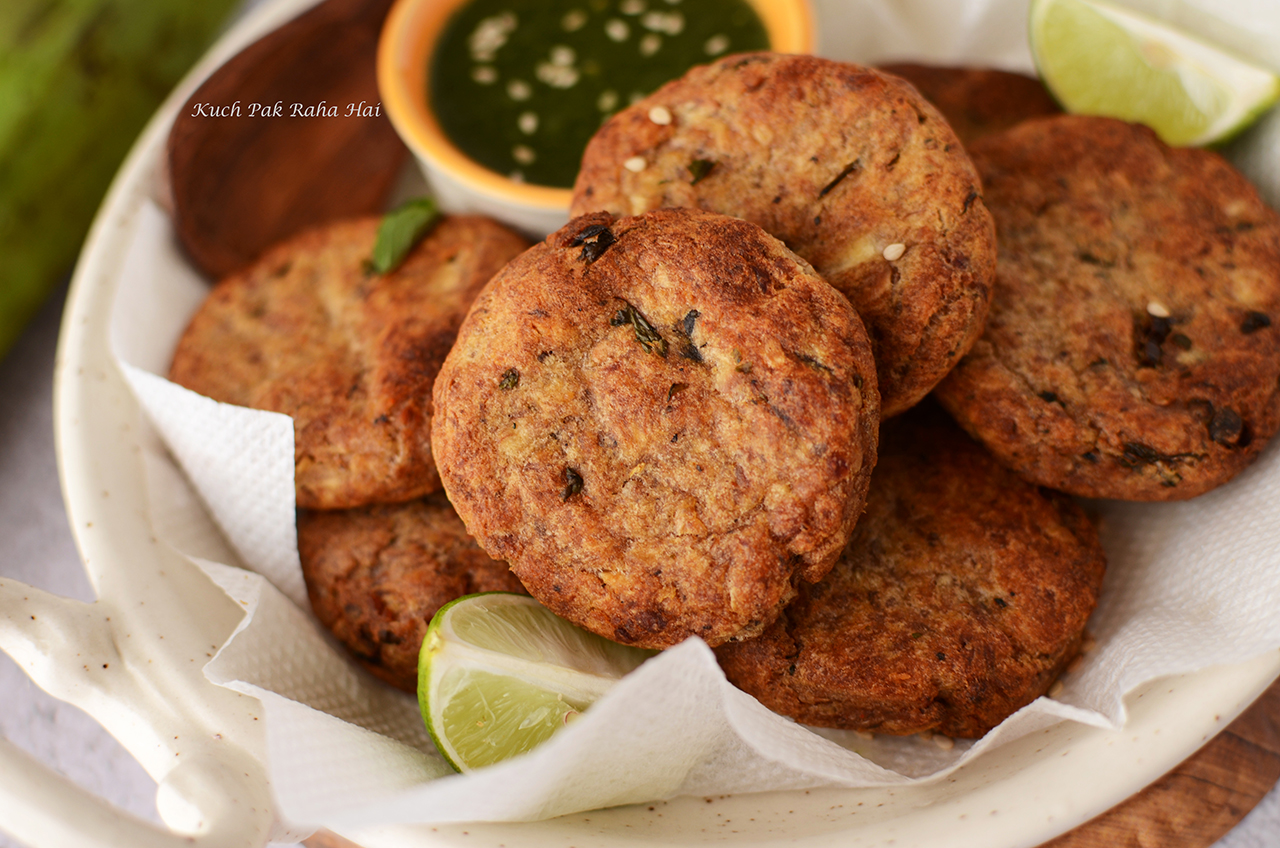 You can make these cutlet or tikki in air fryer as well. All steps will remain same till step 4. After that, follow these steps:
Step 1:
Preheat air fryer at 180 degree celsius for 10 minutes.
Step 2:
Brush oil on both sides of tikki. You can use olive oil or ghee also for brushing.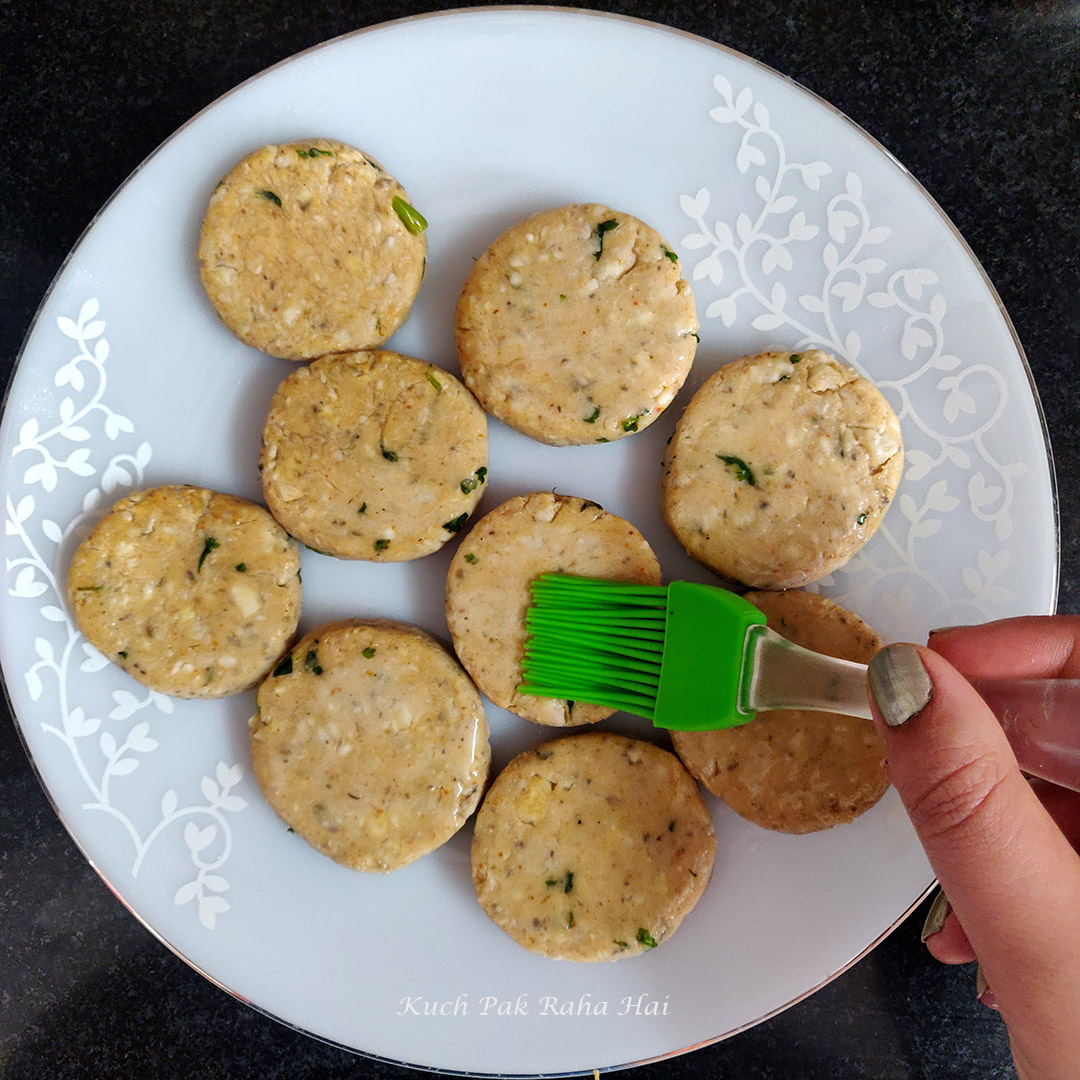 Step 3:
Transfer these tikkis in air fryer & cook them for 20 minutes at 180 degree celsius.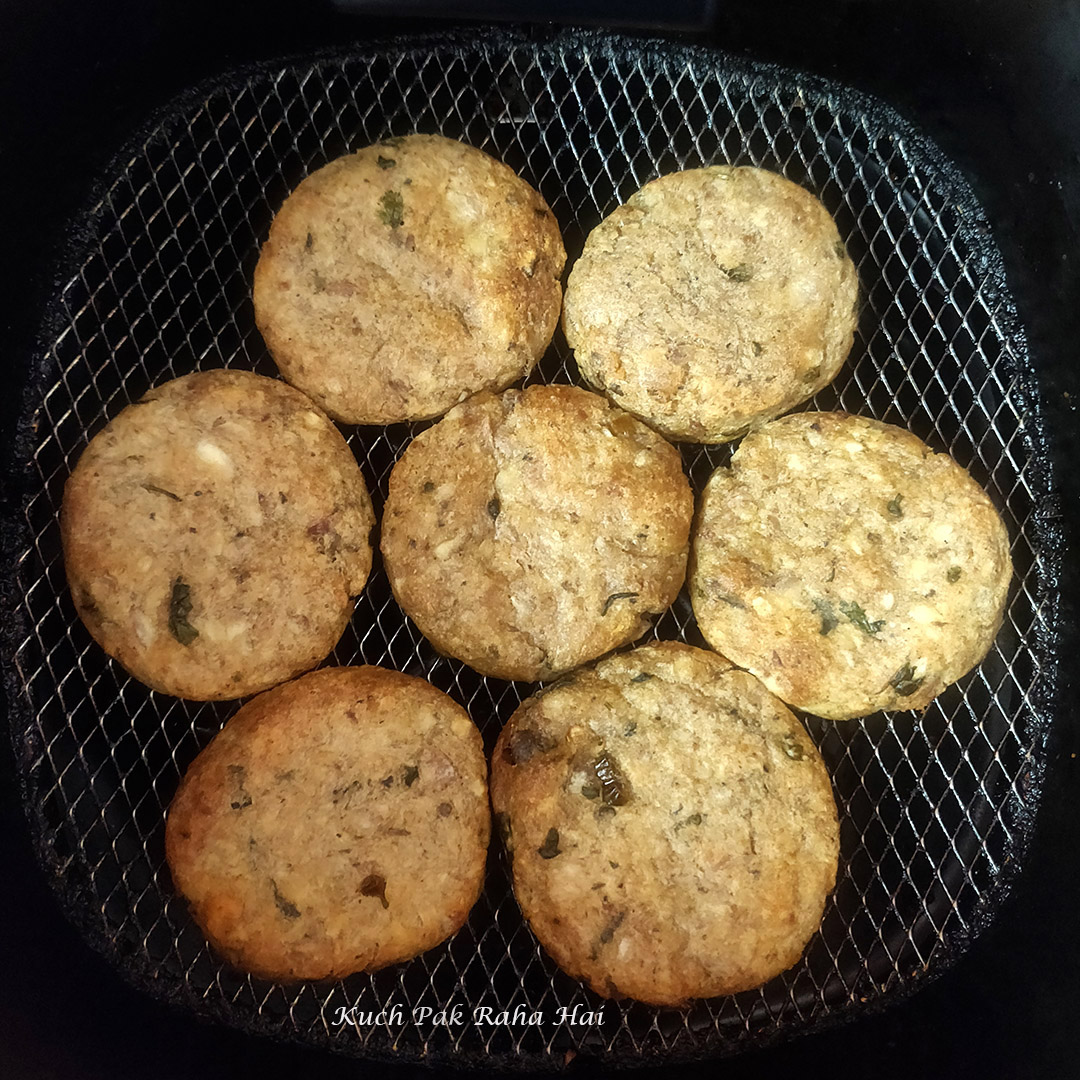 Step 4:
Increase the temperature to 200 degree Celsius & air fry for 5 minutes more. This will turn these tikkis golden brown. The time may vary slightly depending on the air fryer model so keep an eye after 3 minutes.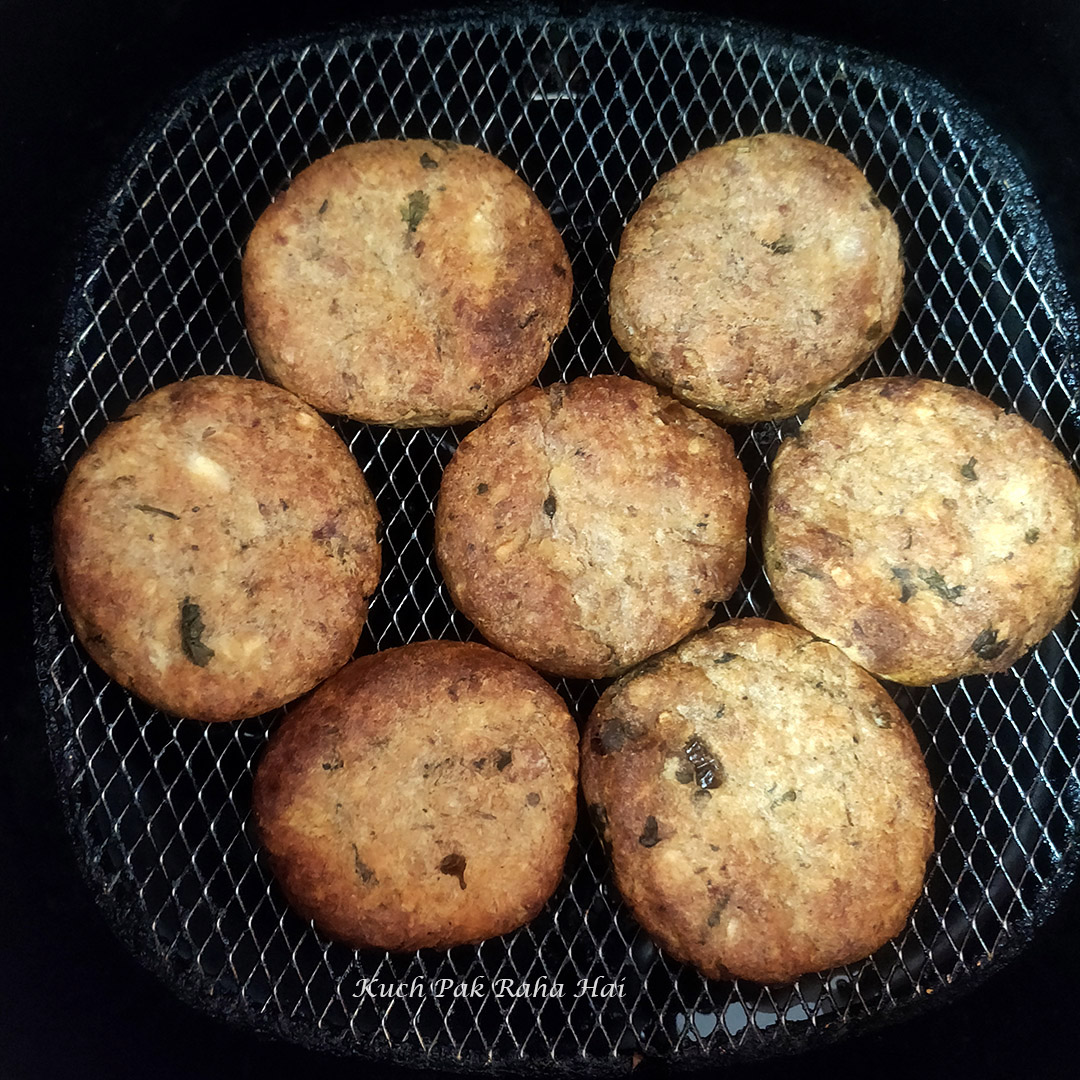 Crispy healthy raw banana tikkis are ready!! For more air fryer recipes, click here.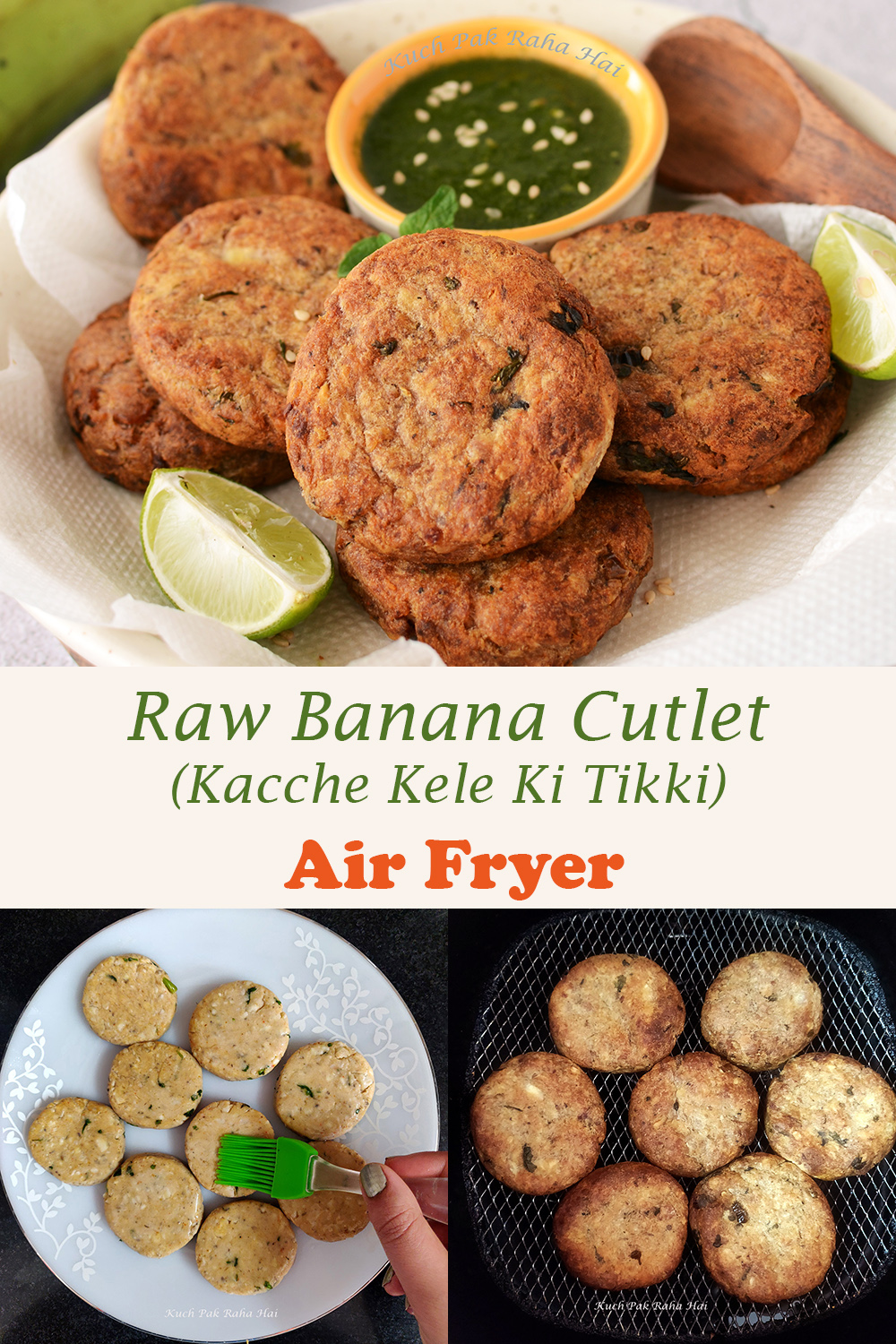 If you try this recipe & share its pics on social media channels, please don't forget to tag us on Facebook or Instagram. Your feedback & suggestions are valuable.
Bon Appétit!! 
Let's stay connected