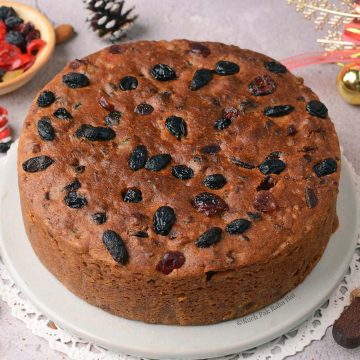 Rich, decadent and moist eggless Christmas fruit cake recipe without alcohol. It is so easy to make, kids friendly & perfect for upcoming holiday season with nuts, dried fruits, berries and warm spices.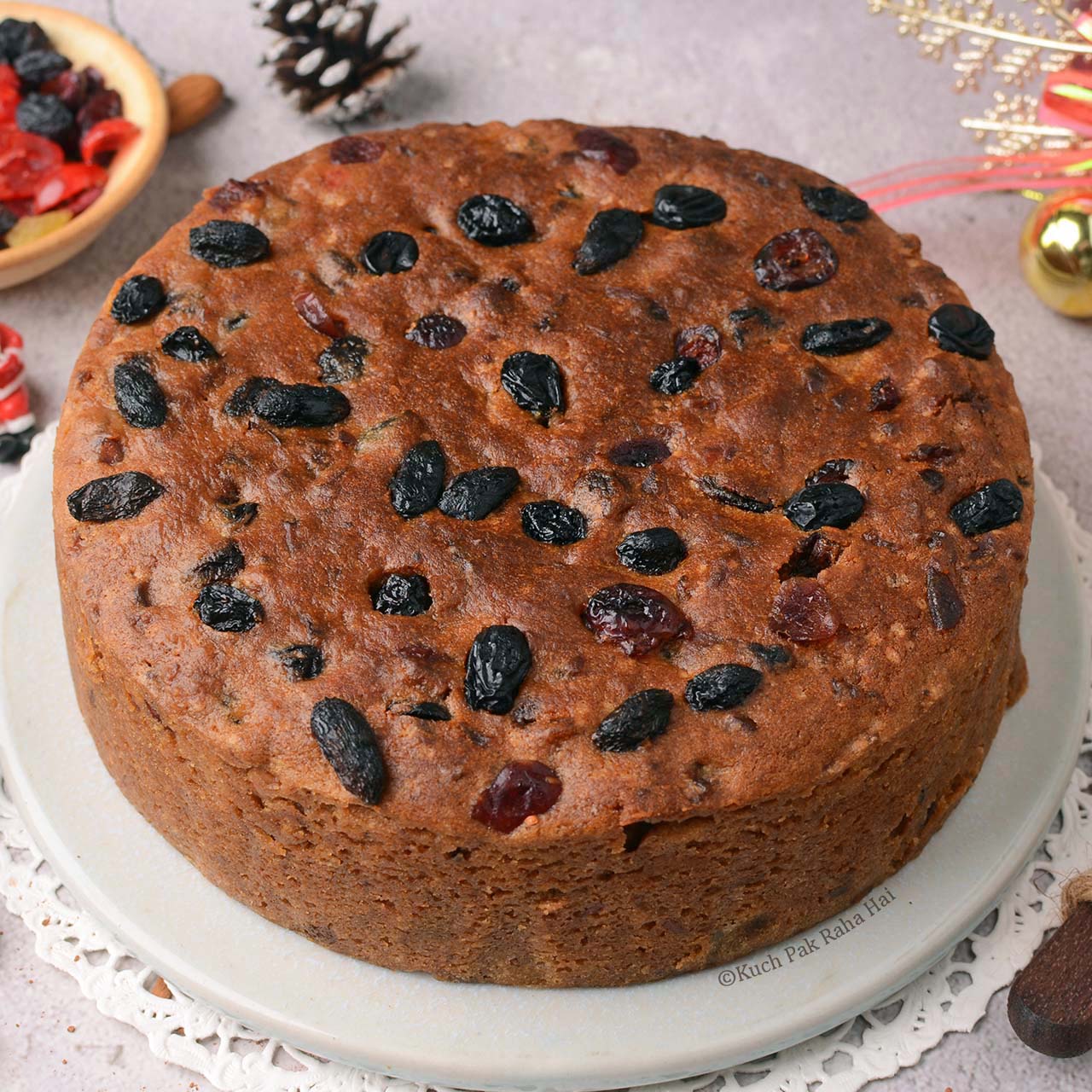 Earlier I had shared Eggless Christmas plum cake recipe with alcohol where rum was used for soaking and condensed milk was used in cake batter. I got lots of DM's where people requested to share a recipe without rum or condensed milk  and so here I am with another yummy non alcoholic Christmas plum cake recipe.
December is officially baking month and this soft moist eggless fruit cake is perfect for Christmas time. This month is also little more special as our Youtube channel has just crossed 10,000 subscribers (yayy!!). Thanks to each one of you who made this possible with your love & encouragement.
The christmas cake recipe shared here is:
No Egg
No Oil
No Alcohol / No rum
No Condensed Milk
(You can make this eggless fruit cake with alcohol too. I have also included details for it in this post.)
Ingredients to make christmas cake:
Flour: All purpose flour (maida) has been used in this Christmas fruit cake.
Fruit Juice: You can use homemade or packaged orange juice, apple juice, cranberry or grape juice for soaking dry fruits. I have used packaged grape juice here.
Nuts & Dried Fruits: You can use any nuts & dried fruits of your choice like almonds, walnuts, cashews, pecans, golden raisins (kishmish), black raisins, sultanas, dried apricots, dates, mixed dried berries (cranberry / blueberry / strawberry) etc.
Mixed spices: Aromatic warm spices like cinnamon, clove, nutmeg and ginger make this Christmas cake perfect for holiday season.
Butter: I have tried this recipe with oil also but liked it more with butter as the cake tasted richer. Use unsalted butter for this recipe. If you want to make vegan Christmas cake use vegan butter or margarine.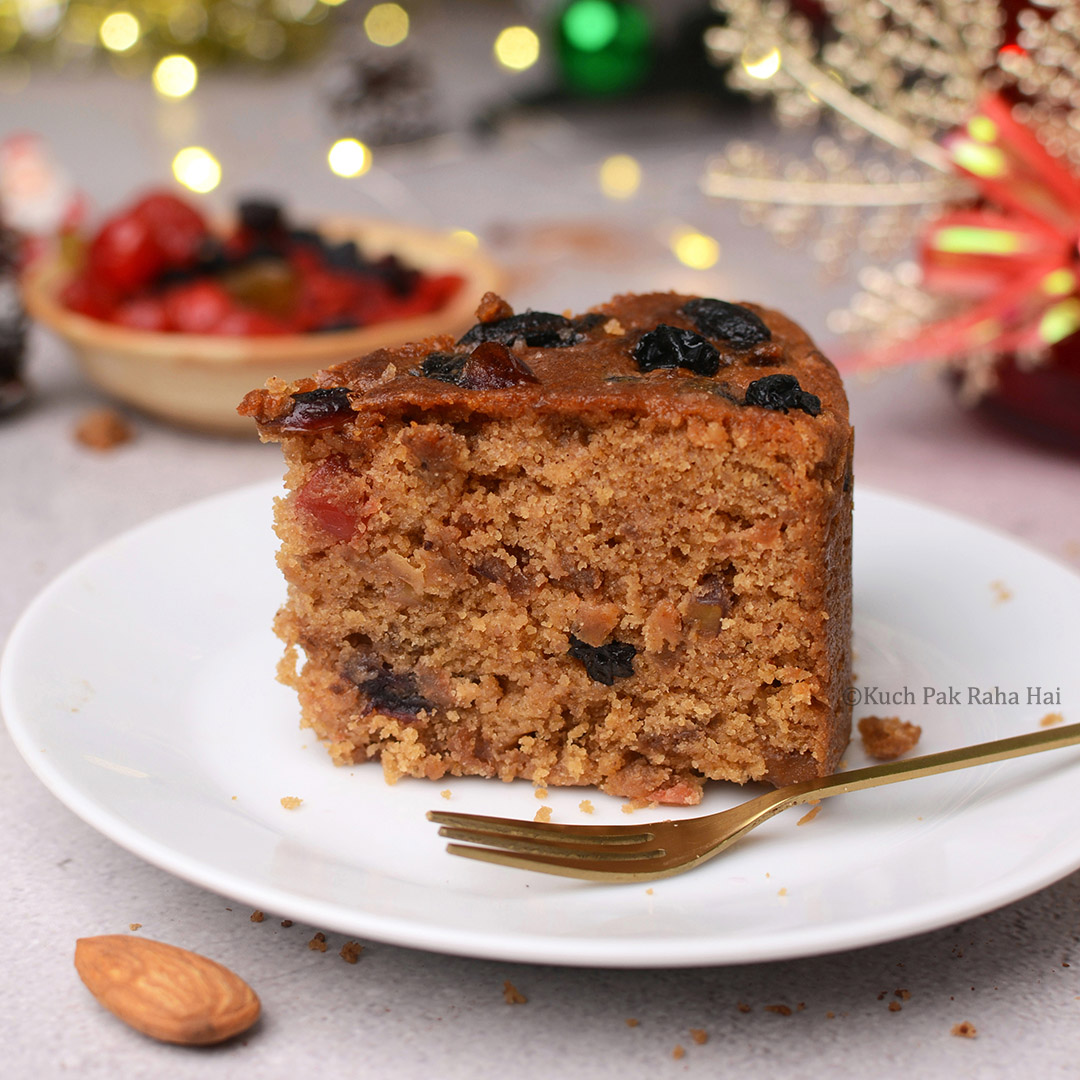 Milk: You can use regular milk or soy milk (for vegan cake) . A mixture of milk & vinegar is used to make 'buttermilk' which works as a wonderful egg replacement.
Ground Almonds: Ground almonds make the cake moist and soft. It can be easily made at home by grinding whole almonds in a grinder jar.
Brown Sugar: Use fine brown sugar as it dissolves easily.  Brown sugar has molasses so it gives a nice aroma and colour to the cake.
Traditionally molasses or treacles is added to Christmas cake which gives it a lovely dark colour & rich caramel flavour. In this recipe, we will be preparing caramel syrup using fine brown sugar which will give similar taste & colour to the cake.
How to soak dried fruits in juice?
Add the chopped nuts, dry fruits, dried berries glazed cherries, tutti fruity bits into a big bowl or container. Add fruit juice over it. Use a glass bowl as metals can sometimes react with acid in juices and make them bitter.
Cover with a lid and place this bowl in fridge. Fruit juices can spoil quickly at room temperature so it is always better to keep the juice chilled while soaking. If you like crunchy nuts in the cake, then don't soak them in juice. Add them later on while preparing batter with dry ingredients.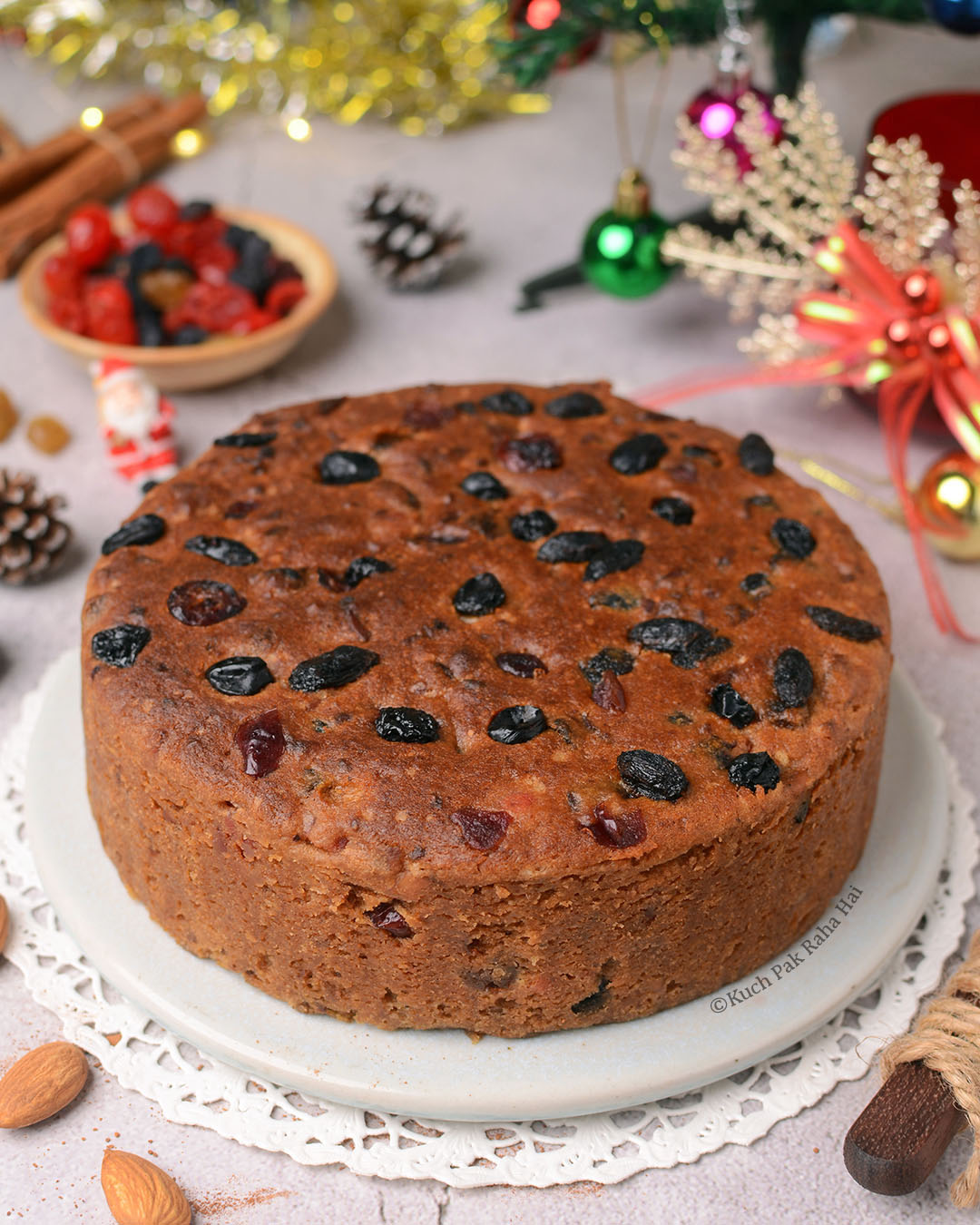 Can I make this cake with alcohol?
Yes instead of juice you can use any alcohol of your choice like rum, brandy, wine, whiskey to soak the dry fruits. After soaking, you don't need to store it in fridge. In fact you can do the soaking even a month before. Rest of the recipe will remain the same.
More holiday special recipes:
Youtube Video:
Ingredients:
Grape Juice / Rum- 1/2 cup (125 ml)
Chopped Nuts-1/3 cup
Mixed Dried Berries- 1/4 cup
Chopped Glazed Cherries-1/4 cup
Golden Raisins- 1/8 cup
Black Raisins- 1/8 cup
Chopped Dried Apricots- 1/4 cup
Fine Brown Sugar – (3/4 +1/2 cup) (185 grams)
Water – 4 tbsp
All Purpose Flour (Maida) – 1+3/4 cups (210 grams)
Ground Almonds- 1/4 cup (20 grams)
Baking Powder- 1 tsp
Baking Soda- 1/4 tsp
Cinnamon Powder- 1/2 tsp
Ginger Powder-1/4 tsp
Nutmeg Powder- 1/4 tsp
Clove Powder-1/4 tsp
Salt- A big pinch
Unsalted butter- 1/2 cup (110 grams)
Vanilla Extract -1 tsp
Lemon / Orange Zest- 1 tsp
Milk / Soy milk- (1/2+1/4) cup
Vinegar- 2 tsp
Notes:
1. Measuring Cup used: 1 cup=250 ml, 1/2 cup=125 ml, 1/3 cup=80 ml, 1/4 cup=60 ml
2. Make sure butter is at room temperature before you start whisking it.
3. Instead of dried apricots you can also take dates, figs. I have used a mix of chopped almonds & walnuts here. For rest of the substitutions, please refer to the details in the post above.
Directions:
Step 1:
In a mixing bowl, add all the nuts dried fruits for soaking and add grape juice to it. Mix gently and cover with lid. Let them soak in fridge for 5-6 hrs or overnight.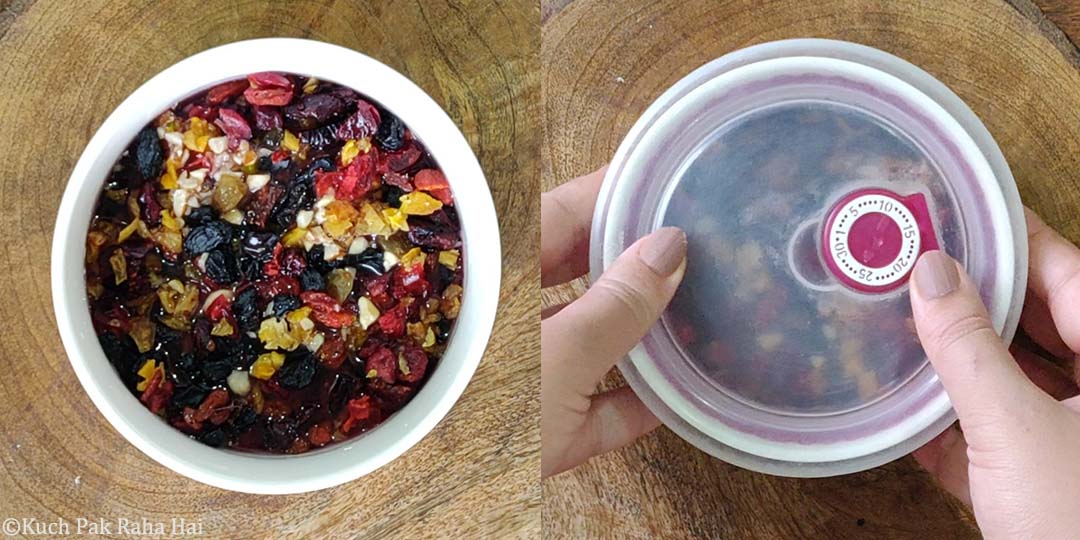 Step 2:
Add 1 tbsp water in a heavy bottomed pan. Add 3/4 cup fine brown sugar to it. Keep the flame low. When sugar starts to melt (bubble), don't mix it. Rotate the pan gently in round motion. Once all the sugar has melted, mix well. Let it cook on low flame for 15-20 seconds till you start noticing caramel aroma. Switch off the flame.
After 15 seconds, Add 3 tbsp water (As it can splatter because of high heat be careful). Mix well. Switch on the flame & cook for 2 more min on low flame till caramel syrup begins to thicken up. Switch off the flame & once it cool downs a bit, transfer it in a bowl. It will thicken up little more on cooling down. The final consistency should be honey like. Keep it aside to cool down.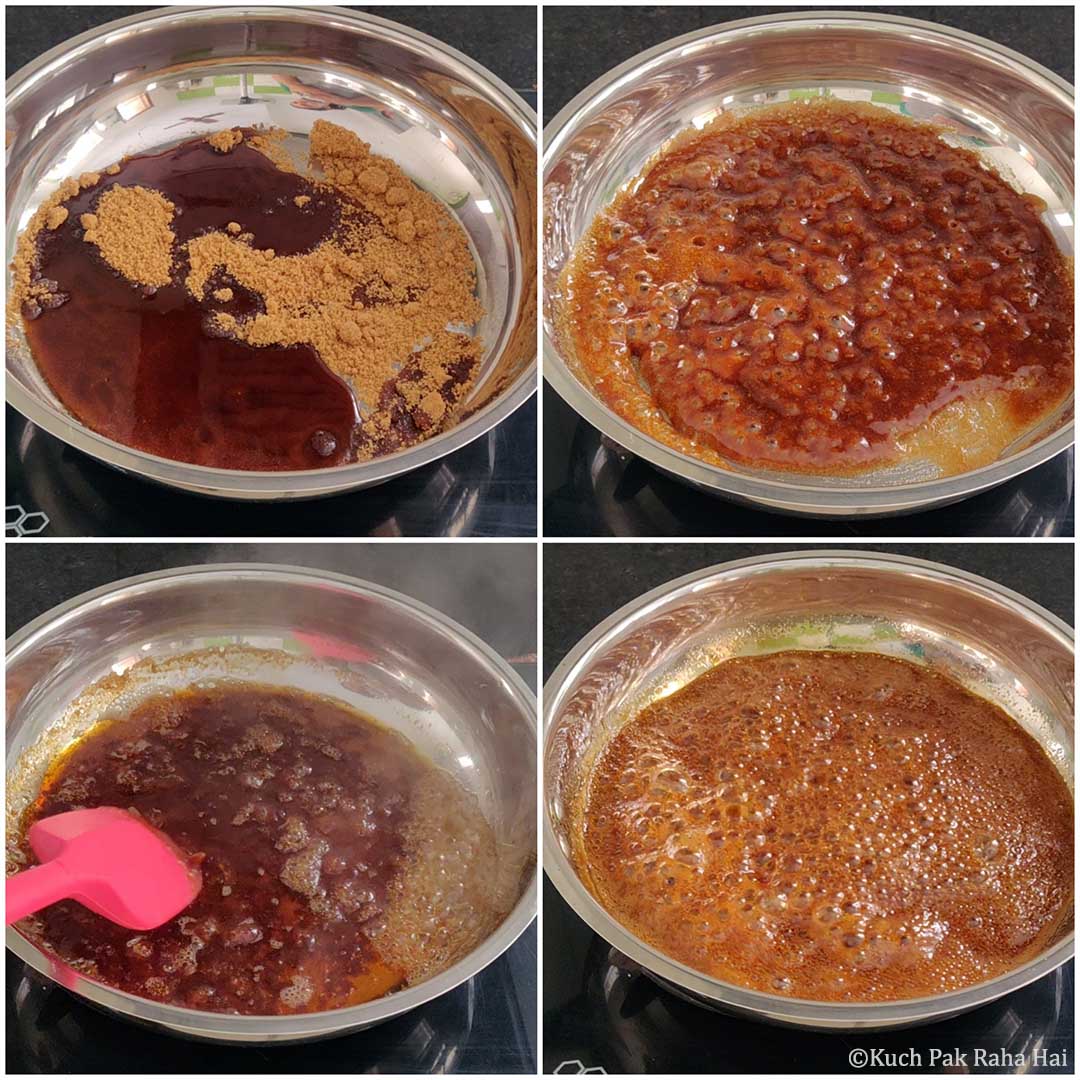 Step 3:
Take 1/2 cup warm milk in a bowl & add vinegar to it. Mix well & keep it aside.
Step 4:
Place a sieve on a large bowl. Add flour, baking powder, baking soda, ground spices (cinnamon, clove, nutmeg, clove), salt and ground almonds to it. Sieve the dry ingredients and keep them aside.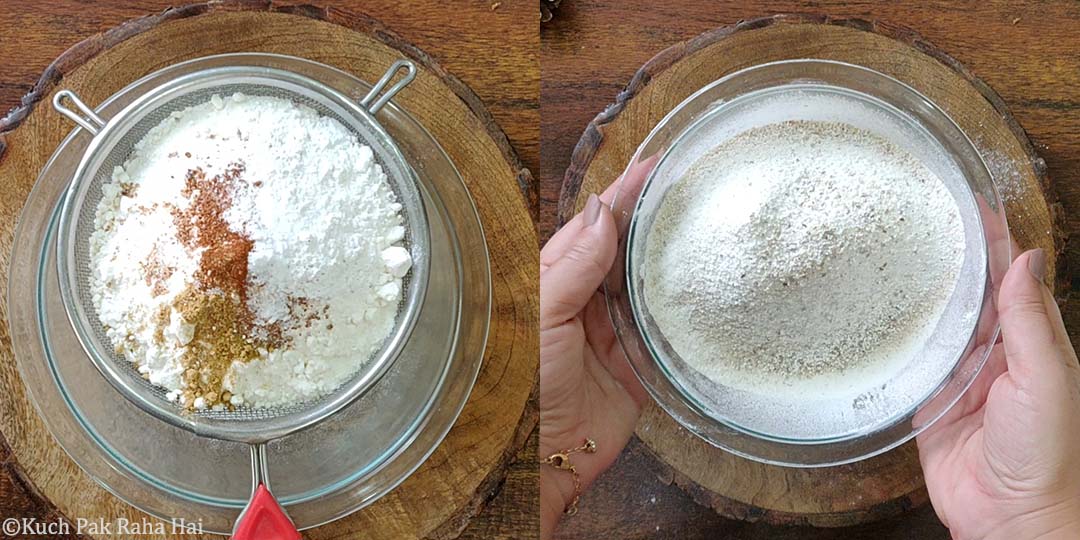 Step 5:
Set the oven for preheating at 150° Celsius. By the time oven is preheating, let's move to next step. Prepare a 7″ or 8″ cake tin by lining with parchment paper and brushing oil over it. Keep this prepared tin aside.
Step 6:
In a bowl, whisk together butter & add remaining fine brown sugar to it. Whisk till it is fluffy. Add the prepared caramel, lemon zest, vanilla essence to it and whisk once again. Add soaked dry fruits, milk & vinegar to it as well.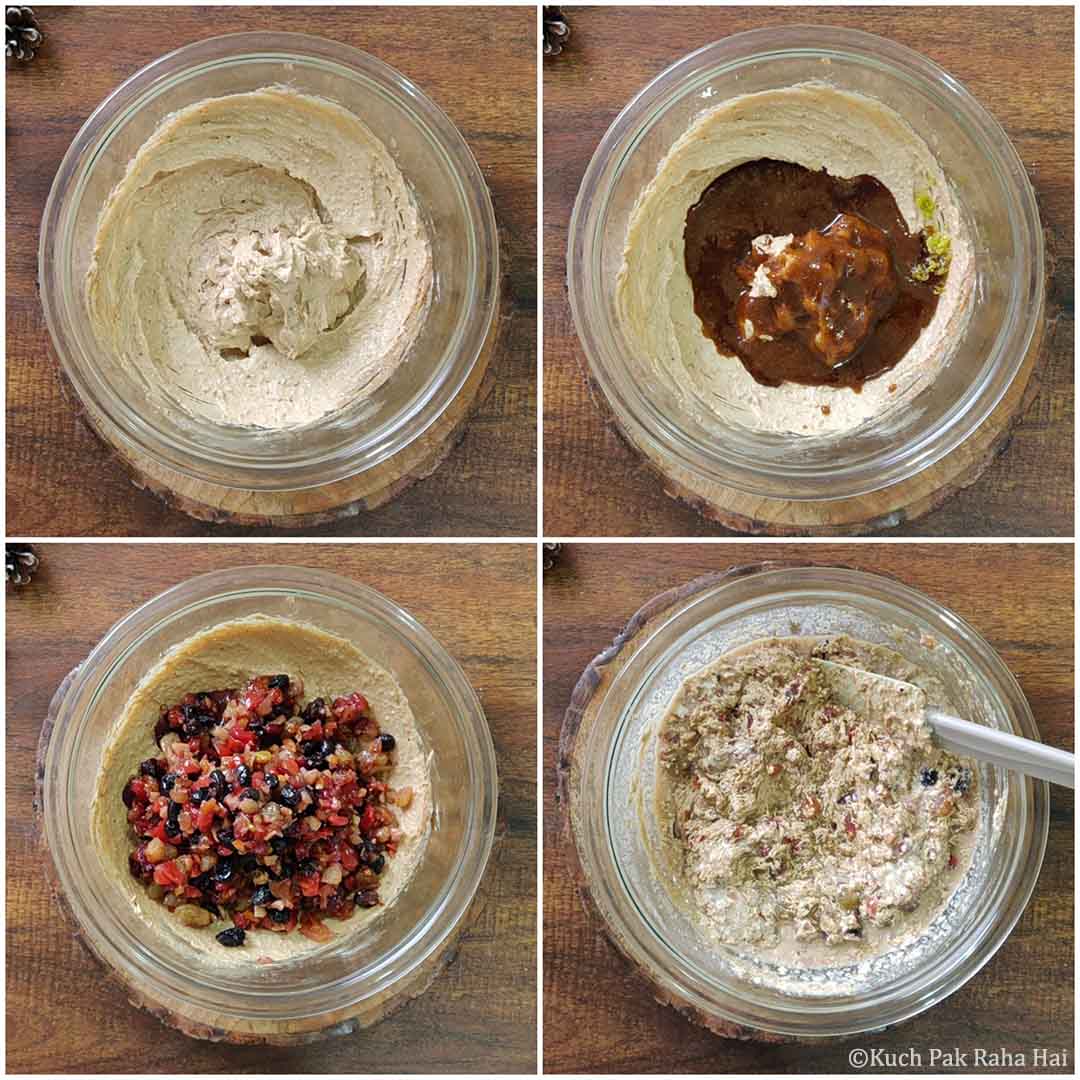 Step 7:
Add dry ingredients to it. Mix gently while adding remaining 1/4 cup milk little by little till there are no lumps left. The cake batter should be on thicker side.
Transfer the batter in a prepared cake tin. Smoothen its top with the help of a spatula. Top up with some more dried berries or glazed cherries.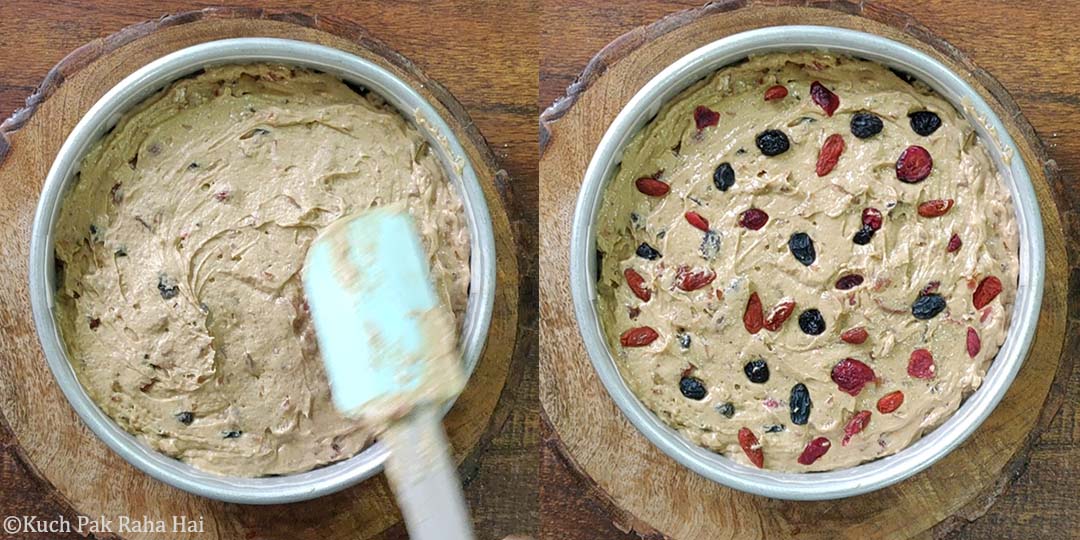 Step 8:
Bake the cake at 150° Celsius for 50-60 minutes. Check the centre of cake after 50 min . If there is wet batter on it, bake for another 5 minutes.
Let the cake cool down for 5-8 minutes. Then invert the cake over a plate, peel parchment paper & then finally transfer over a wire rack to cool. Don't try to cut the cake while it is still hot as it can crumble. Let it cool completely.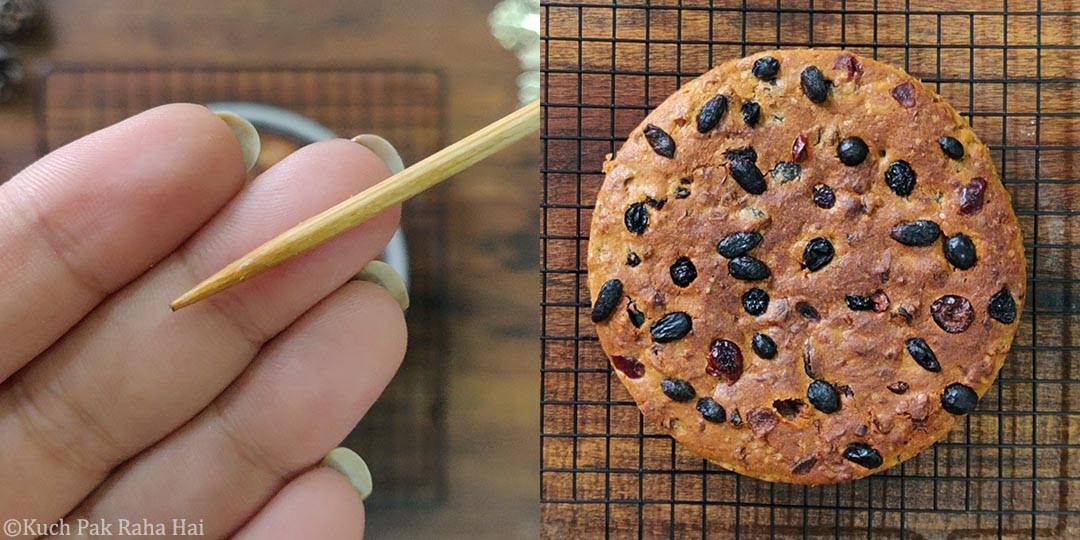 (Optional step: If you are using alcohol to make this cake, brush some rum over the cake. You can brush some juice also to intensify fruit flavour, however brushing juice reduces the shelf life of cake as juice gets spoilt.)
How long can I store Christmas cake with fruit juice?
Once the cake is cooled, cling wrap it (or place it in an airtight container) to prevent it from drying. It stays fine outside for 2-3 day or in fridge for upto a week.
As the cake has butter, it may solidfy a bit after keeping in fridge. Cut the slices as per your requirement and microwave them for 10-15 seconds before serving.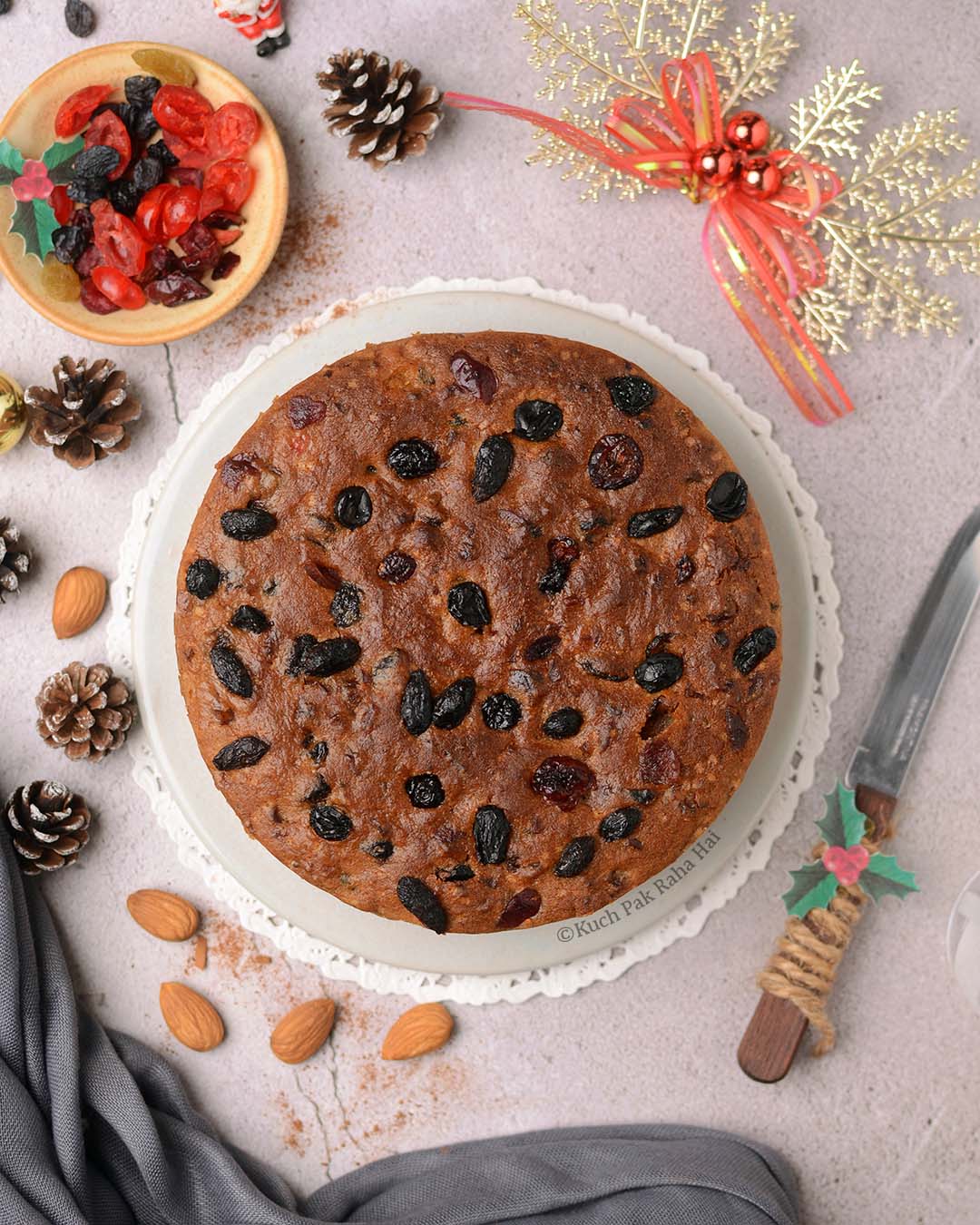 Tips:
1. The cake tastes better when consumed next day of baking as it gets time to absorb all the flavours.
2. Sometime caramel syrup becomes too thick on cooling down. Add 1 tsp of water to it & reheat it or microwave for 10-15 seconds to get honey like consistency.
2. Lining the cake tin with parchment paper prevents the cake from sticking to the tin & makes the de-moulding easy.
3. To give darker colour to the cake, you can replace 1 tbsp flour with 1 tbsp cocoa powder.
4. Chop the berries, raisins and other dried fruits into smaller pieces before soaking. This way you will get evenly neatly cut cake slices.
Pin for later: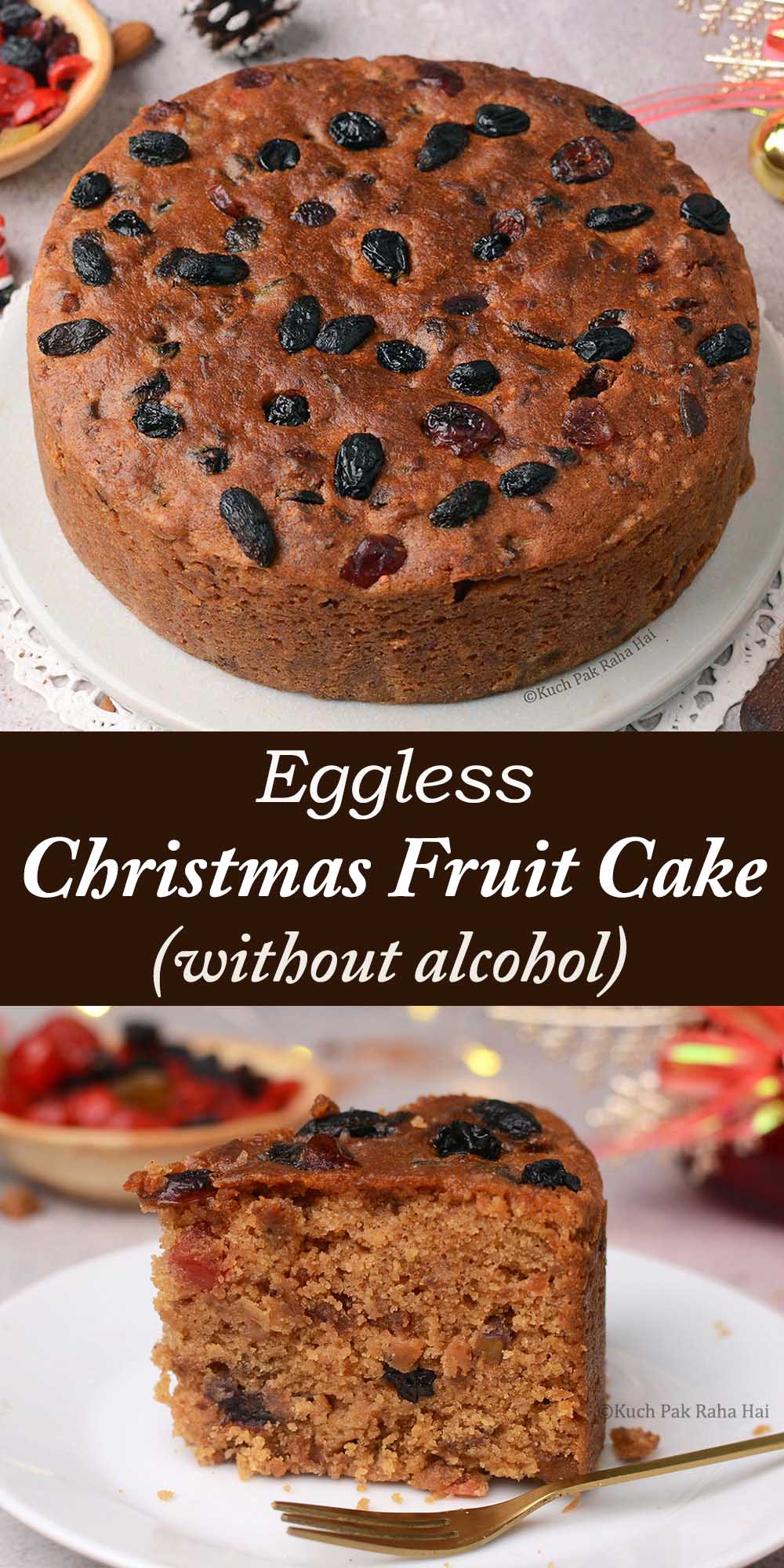 If you try this non alcoholic christmas fruit cake recipe & share pics on social media, then don't forget to tag on Facebook, Instagram or use #kuchpakrahahai.
Let's stay connected
Facebook | Instagram | Pinterest| Youtube