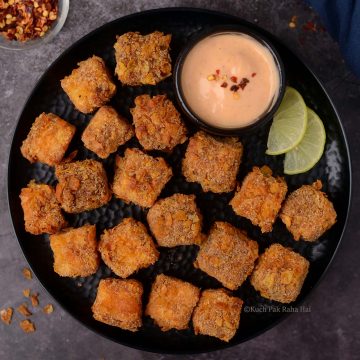 Crunchy crispy from outside, and soft melt in the mouth inside, these paneer nuggets make for a perfect appetiser or snack. You can either deep fry or prepare them in air fryer.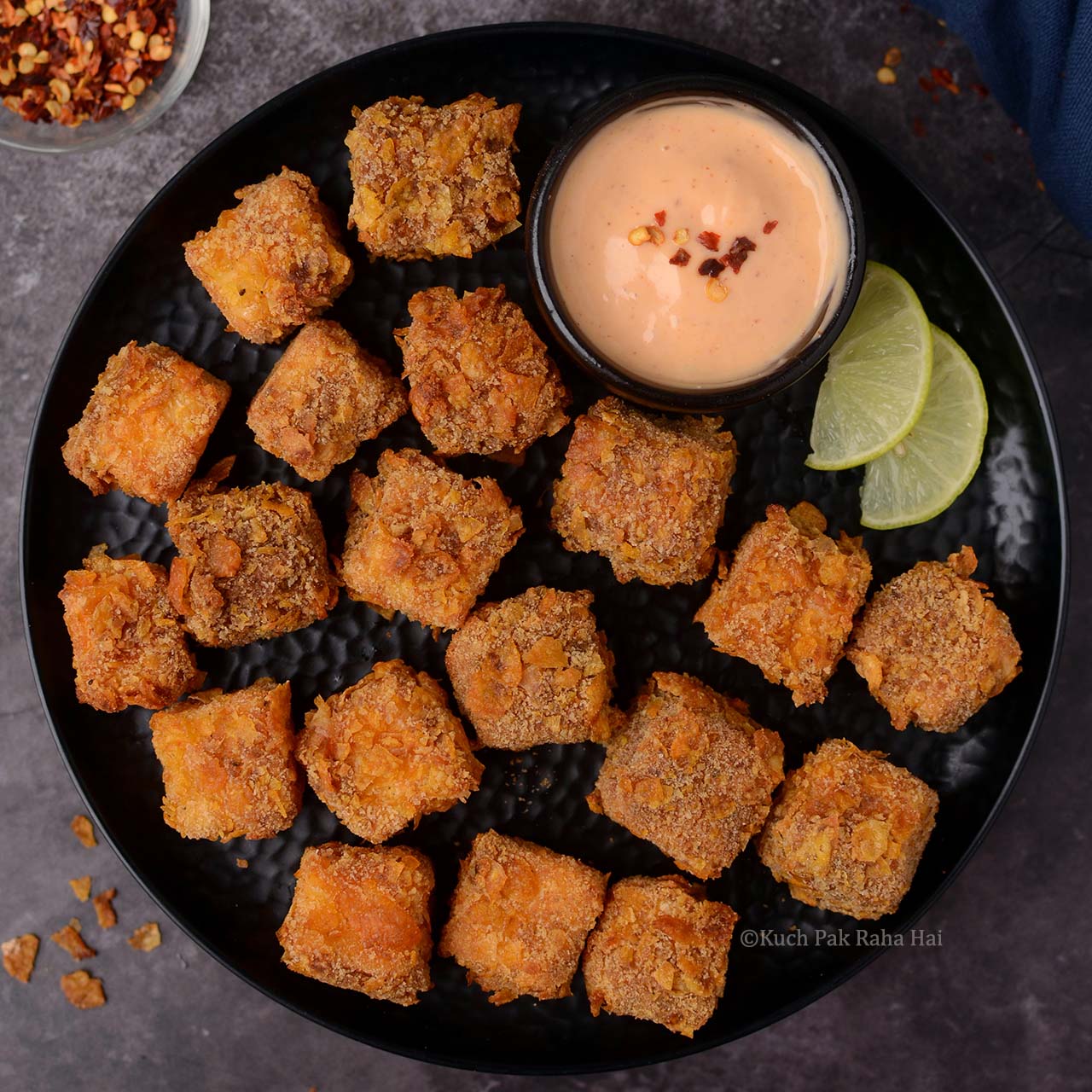 Paneer nuggets, are also popularly known as paneer popcorn. Paneer or Indian cottage cheese, is made by curdling milk using an acidic medium like vinegar or lemon juice. It used in variety of recipes like curries, gravies, sandwiches or snacks.
The paneer popcorn recipe shared here is:
Vegetarian (can be made vegan)
Easy to make
Can be deep fried or air fried
Perfect as snack, starter or appetiser
Ingredients to make Paneer Popcorn:
Paneer:  You can use store bought or homemade paneer to make these nuggets. Make sure the paneer you are using is soft & fresh. You can also use firm tofu instead of paneer for vegan nuggets.
Breadcrumbs: Breadcrumbs make the exterior of the nuggets crispy & golden brown. Use panko breadcrumbs for best results.
Cornflakes: This secret ingredient make these vegetarian nuggets extra crispy & crunchy (just like KFC). They are crushed coarsely using a rolling pin and then used for coating.
Slurry: A thick mixture of cornstach, all purpose flour (maida) and water is called slurry. It helps the breadcrumbs and crushed cornflakes stick to the surface of paneer.
Seasoning: The nuggets are seasoned using salt, crushed black pepper, mixed dried herbs, onion powder, garlic powder, ginger paste and red chilli powder / paprika.
Oil: Use any cooking oil of your choice like sunflower, olive or avocado for making paneer popcorn.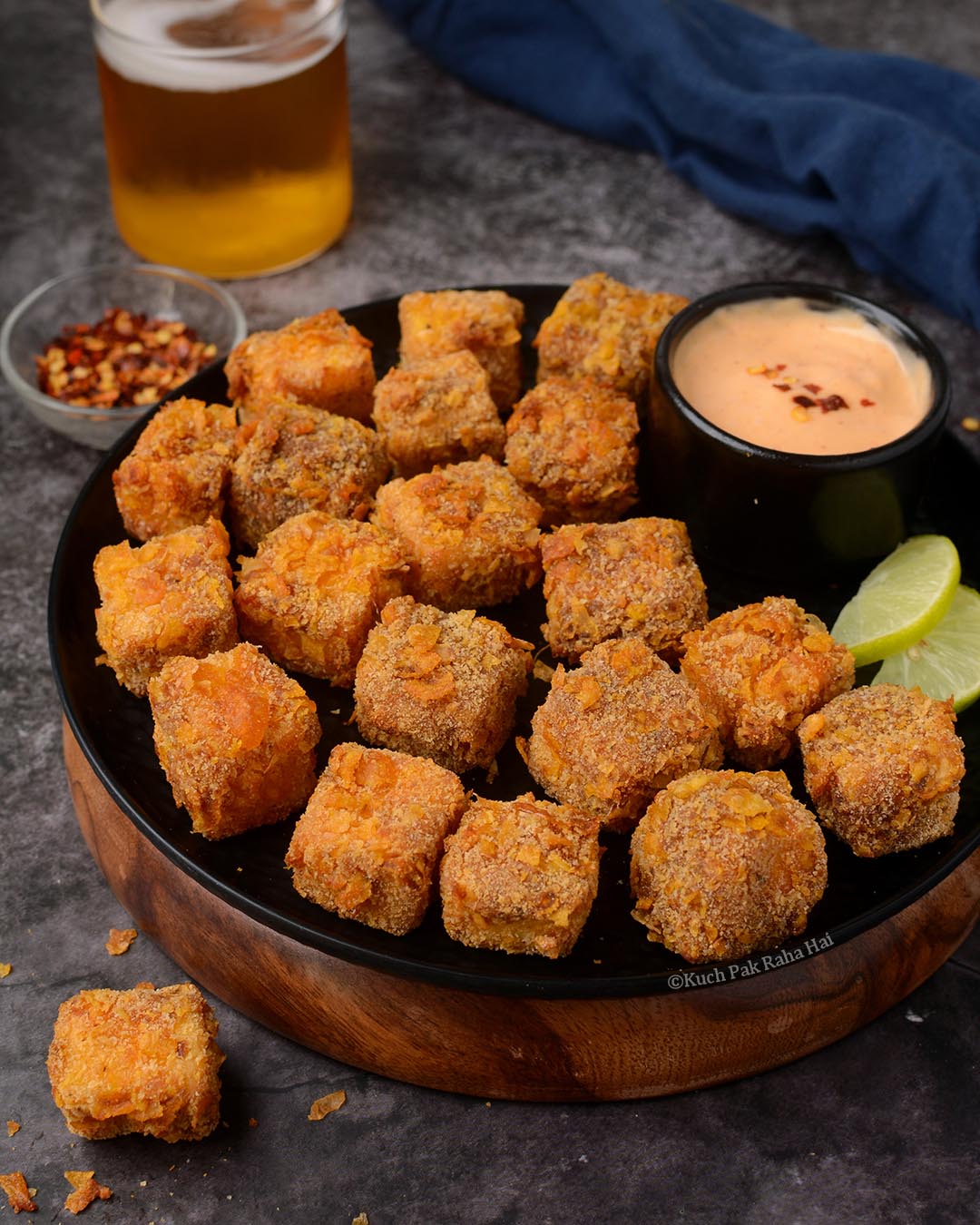 Can I use frozen paneer to make nuggets?
Yes you can use frozen paneer but thaw them before making nuggets. To thaw frozen paneer, you can leave it on kitchen counter for 2-3 hrs or dip in warm water.
How to make paneer popcorn?
To make paneer popcorn, begin by cutting paneer into medium sized cubes. Marinate these cubes in some salt, black pepper and lemon juice. This way paneer will not taste bland from inside.
Prepare the cornflour & APF (maida) slurry and add all seasoning to it. Dip each of the paneer cube in this slurry & then coat in a mixture of bread crumbs and crushed cornflakes. You can deep fry these paneer popcorn or air fry them for a healthier version.
How to make gluten free vegan nuggets?
To make these paneer nuggets vegan & gluten free, switch paneer with firm tofu. Instead of bread crumbs, use crushed oats for outer coating. Prepare the slurry for dipping using cornstarch only.
Hope you will like this tasty crunchy paneer popcorn recipe.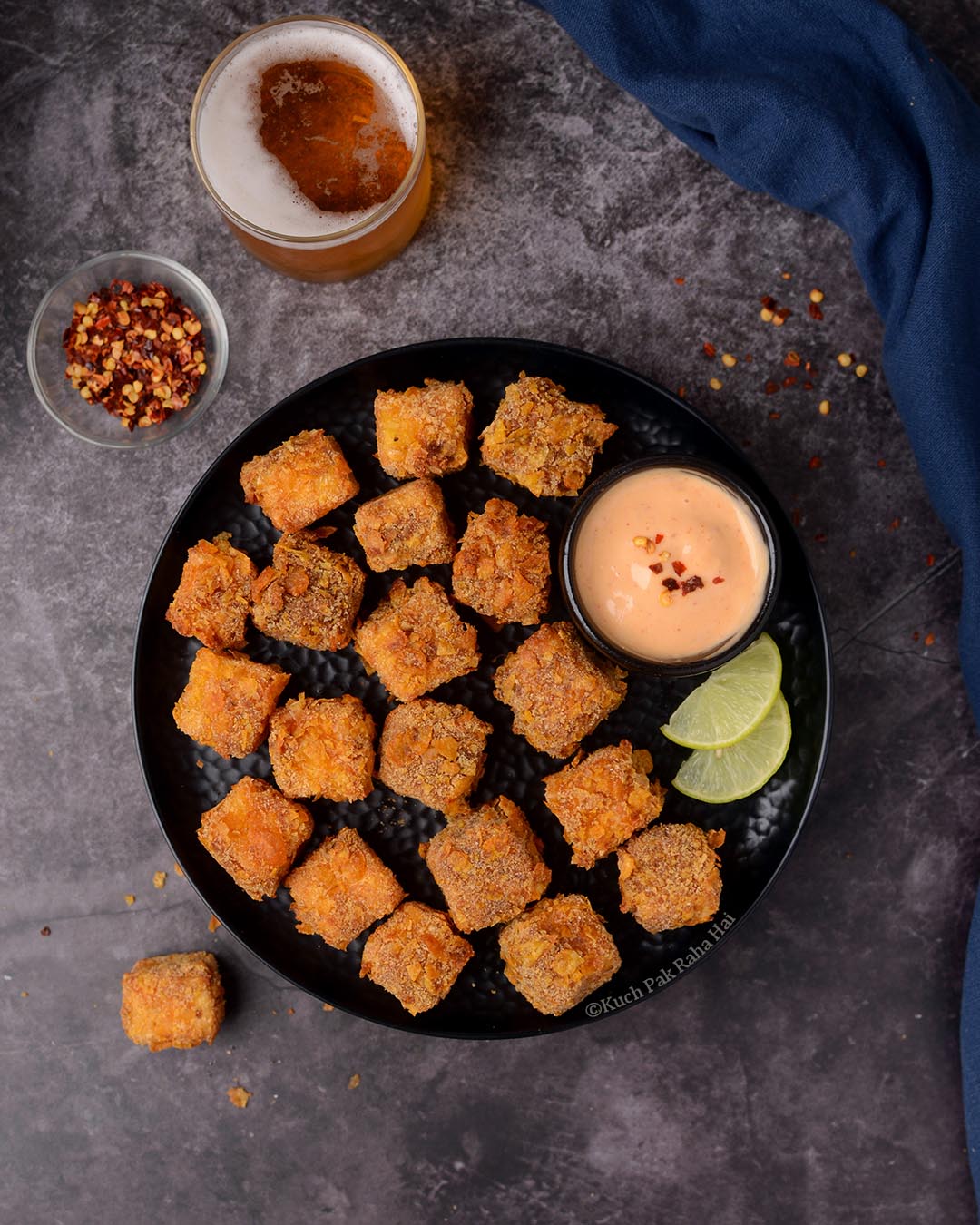 More paneer recipes:
Ingredients:
Paneer (Indian Cottage Cheese)- 200 grams
Crushed Black Pepper- 1/4 tsp
Lemon Juice-1 tsp
Salt- 1/4 tsp
Breadcrumbs- 1/4 cup
Corn flakes- 1/2 cup
Oil- For cooking
For Slurry-

Cornstarch / Cornflour- 4 tbsp
All purpose flour- 2 tbsp
Water- 1/4 cup (as required)
Salt- 1/3 tsp (to taste)
Garlic Powder- 1/4 tsp
Onion Powder- 1/4 tsp
Ginger paste- 1 tsp
Mixed Dried Herbs- 1/4 tsp
Crushed Black Pepper- 1/4 tsp
Red Chilli Powder*- 1/4 tsp

For Dip(optional)-

Mayo- 2+1/2 tbsp
Sriracha / Red Chilli sauce-1/2 tsp
Ketchup- 1 tsp
Lemon juice-1 tsp
Notes:
1. *Red chilli powder is added for spiciness & colour. You can also use kashmiri red chilli powder (which is milder) or paprika.
2. If you don't have garlic powder, used some finely minced fresh garlic or use ginger-garlic paste.
3. Instead of paneer, you can use firm tofu to make vegan nuggets.
Directions:
Step 1:
Press the paneer block gently between kitchen tissues or cloth to get rid of extra moisture.
Step 2:
Cut the paneer into medium sized cubes. Transfer these cubes in bowl & sprinkle salt, crushed black pepper and lemon juice over them. Give a gentle toss and keep aside.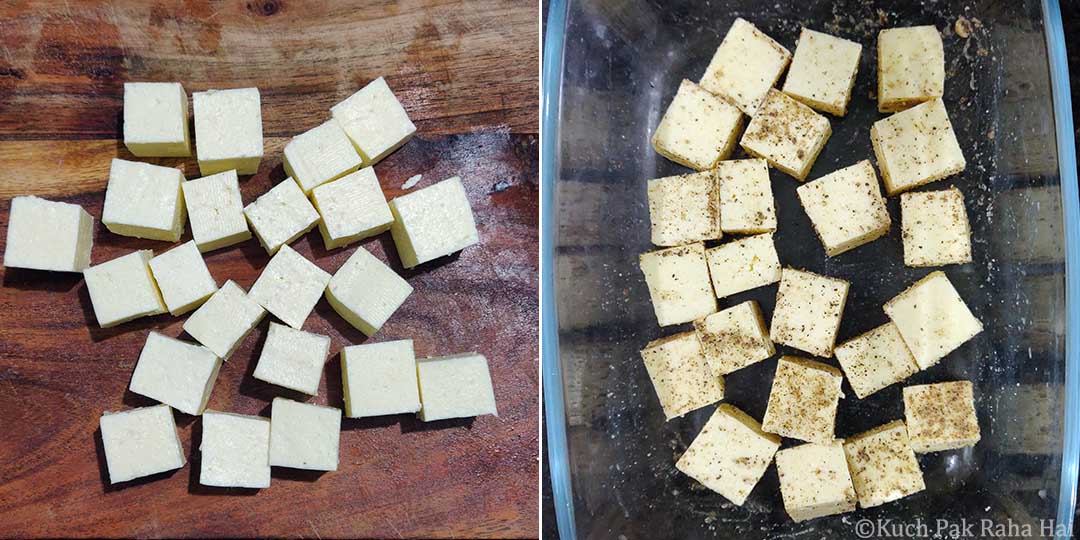 Step 3:
Transfer cornflakes in a resealable bag. Seal the bag & gently crush cornflakes with the help of a rolling pin. Don't crush too much as we want a coarse texture. Transfer these crushed cornflakes along with bread crumbs to a plate.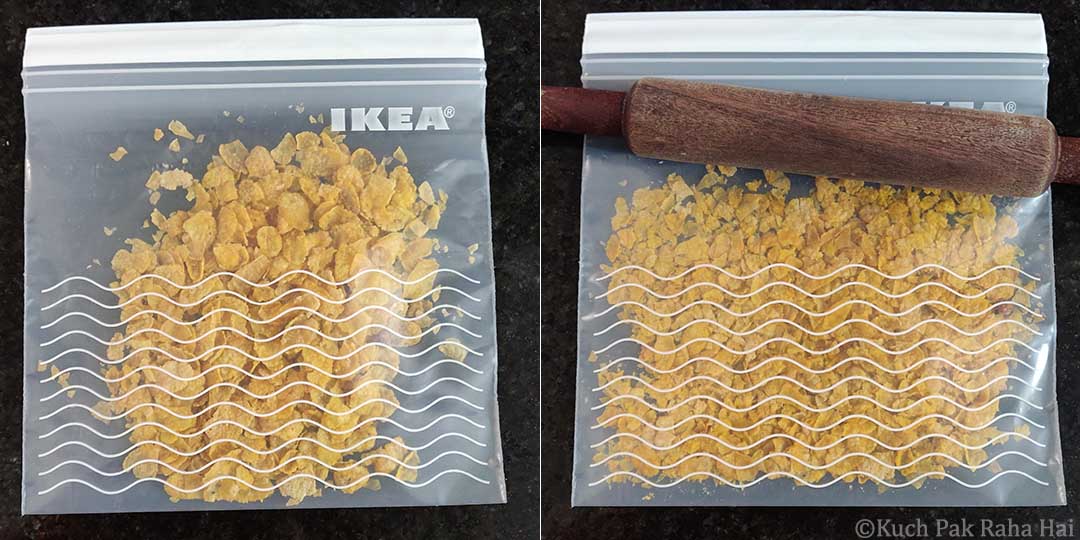 Step 4:
Prepare the slurry by mixing cornflour, apf (maida), water & rest of the spices.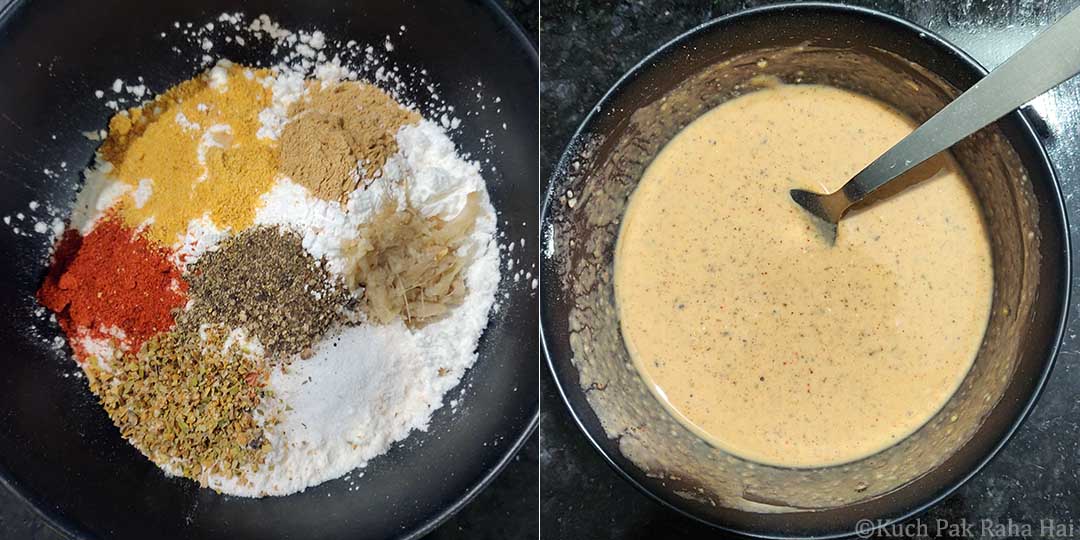 Step 5:
Dip the paneer cubes in slurry first, pick them out with a fork (to drip excess slurry) and then transfer them in bread crumbs and cornflakes mixture. Toss gently so that all sides are coated well.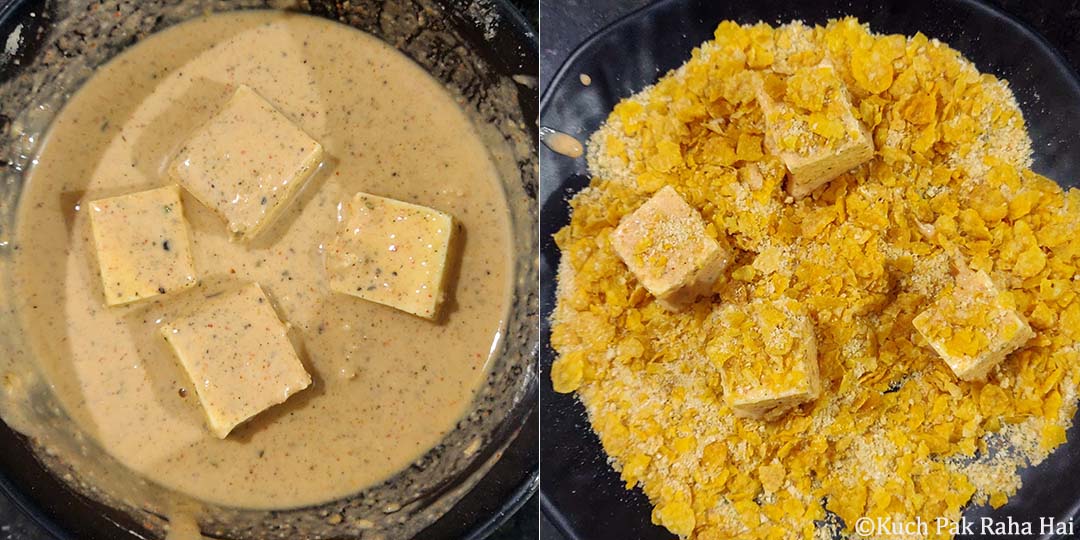 Transfer them on a plate. Once all the pieces are done, keep the plate in fridge for 5-10 minutes.
(Note: If you feel any piece is not coated well, dip it again into the slurry & coat once again.)
Step 6: (Deep fry)
To deep fry, heat oil in a deep pan or kadhai. Once the oil is hot, deep fry these paneer nuggets on medium heat till crispy. Transfer them on a kitchen tissue to drain excess oil if any.
Air Fryer Paneer popcorn:
Step 1: To air fry paneer popcorn, preheat the air fryer at 180°C (356°F). While the air fryer is preheating, dab or spray some oil on paneer popcorn.
Step 2: Transfer them in preheated air fryer basket. Air fry the paneer nuggets at 180°C (356°F) for 10-12 minutes till they are golden brown and crispy from outside. No need to shake the basket, just randomly flip the pieces after half time & spray some more oil.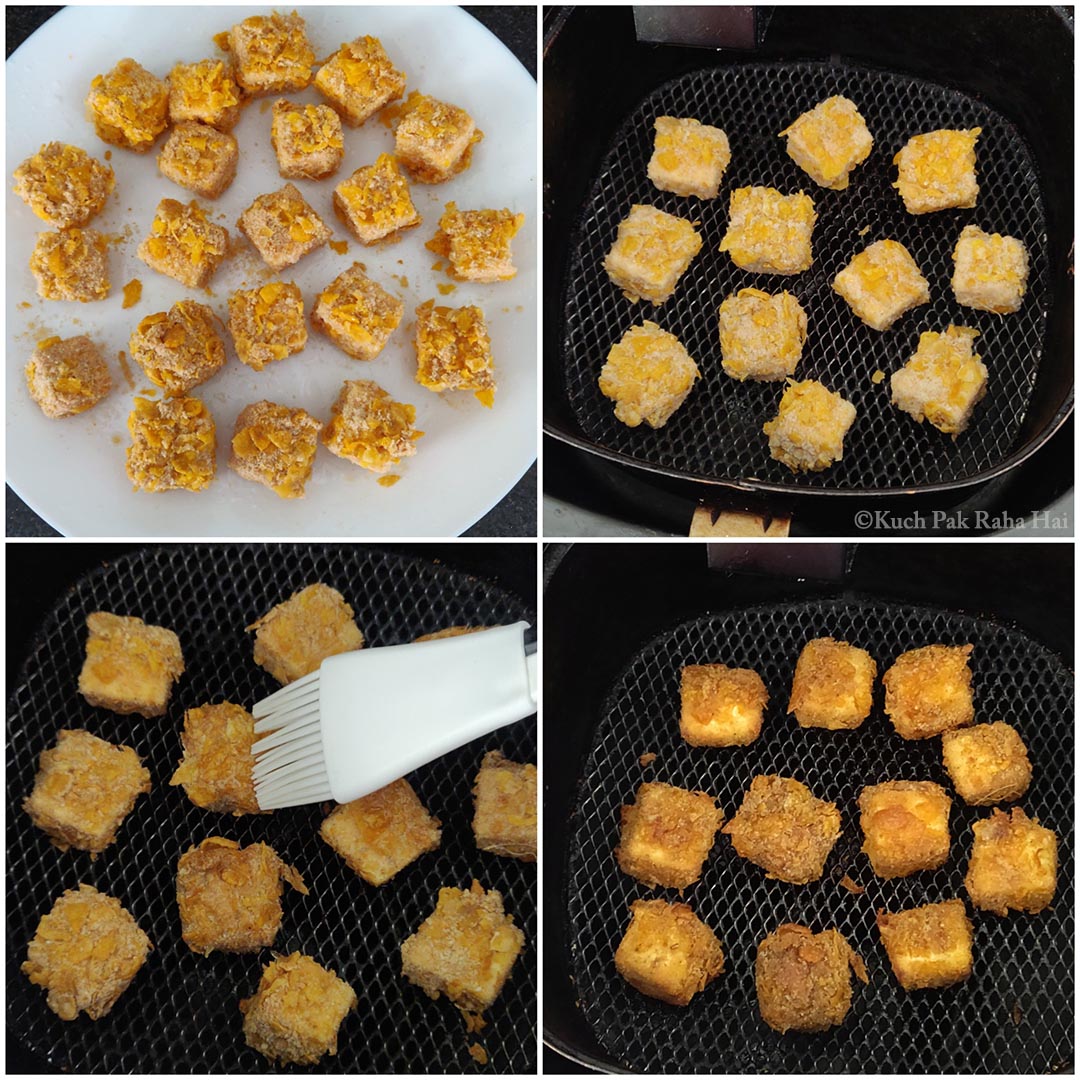 Serve these crunchy paneer popcorn with ketchup, chilli mayo or any dip of your choice. (To make chilli lime mayo dip, take all the ingredients mentioned under dip heading in a small bowl and mix well.)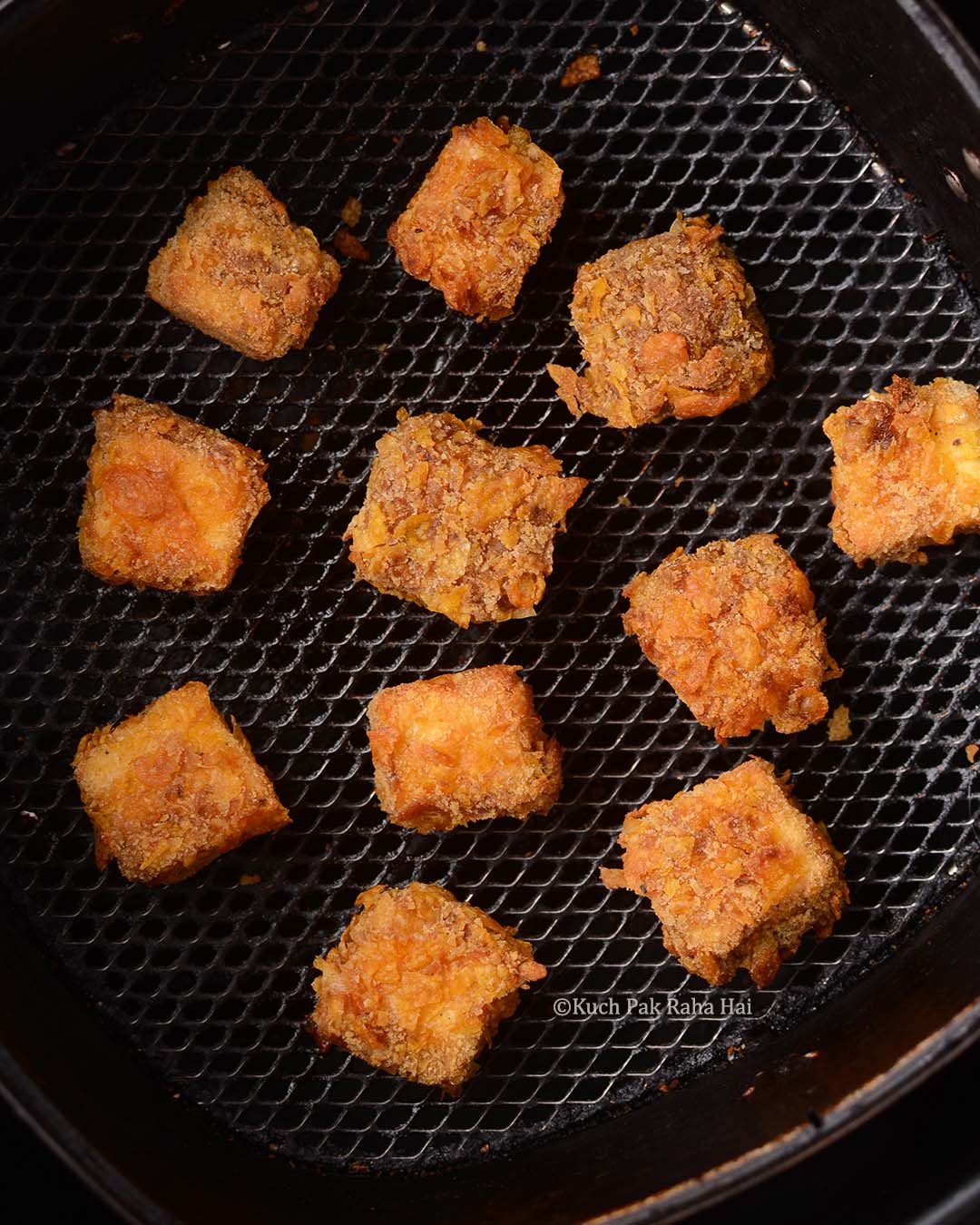 Paneer Nuggets Variations:
Tandoori Paneer Nuggets: You can can give your own twist by using Indian spices. Use paneer tikka spices like roasted cumin powder, kasuri methi, turmeric, coriander powder, garam masala etc in cornflour slurry (keeping rest of the steps same).  Serve these masala paneer nuggts with spicy green chutney.
Herbed Paneer Nuggets: Use masala or herbed paneer to make these nuggets. (Check out the easy recipe for masala paneer).
More vegetarian vegan air fryer snacks recipes:
Pin for later: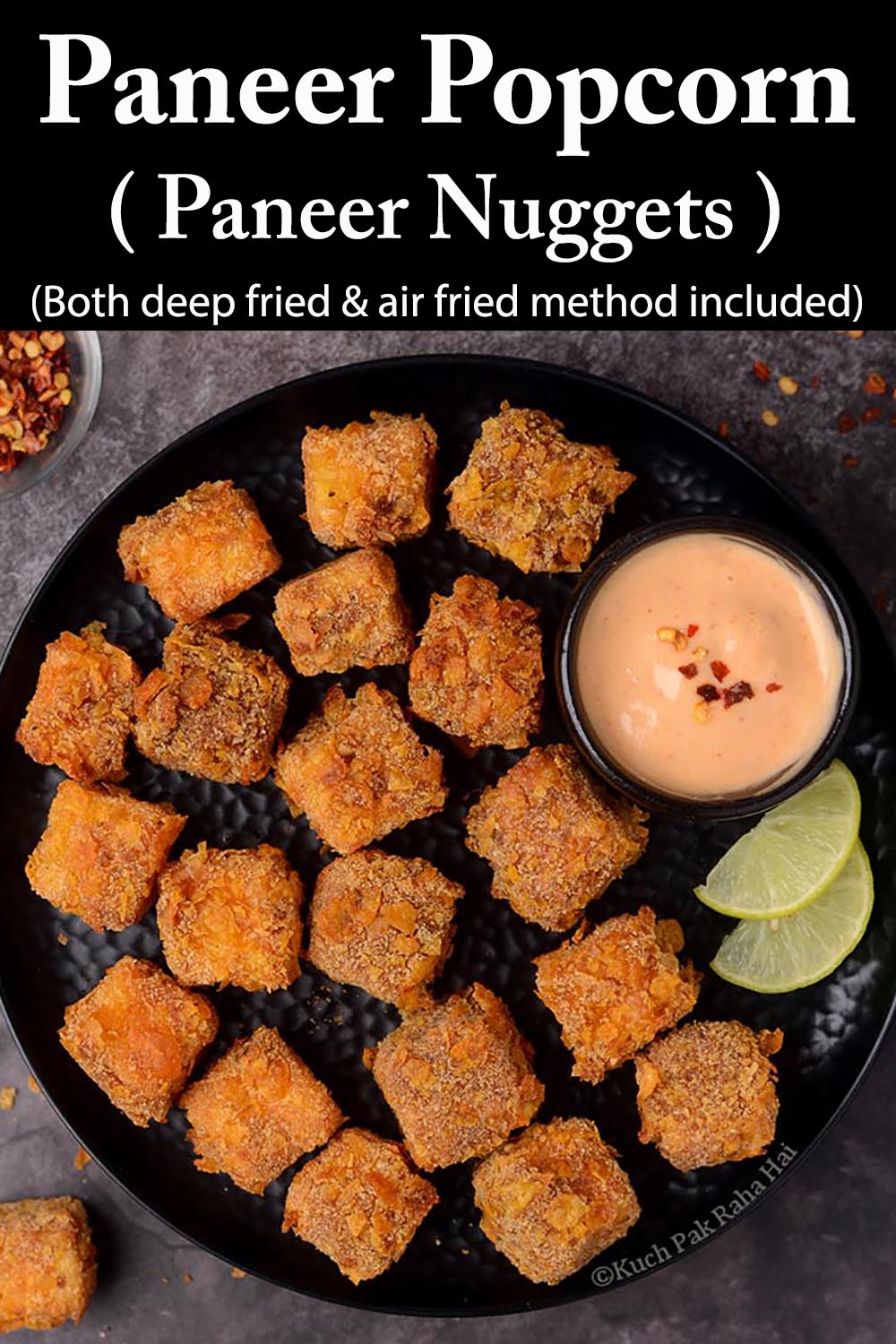 If you try this easy paneer popcorn recipe & share pics on social media, then don't forget to tag on Facebook, Instagram or use #kuchpakrahahai.
Let's stay connected
Facebook | Instagram | Pinterest| Youtube