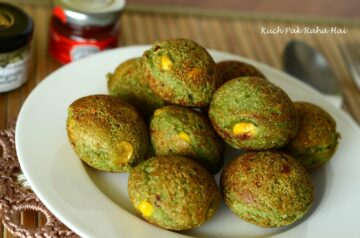 Stuffed Spinach Corn Appe is a delicious instant suji appe recipe made with semolina (rava or suji in hindi), spinach (palak), sweet corn, paneer & some spices. These are made in very little oil & are great to serve in breakfast or evening snacks.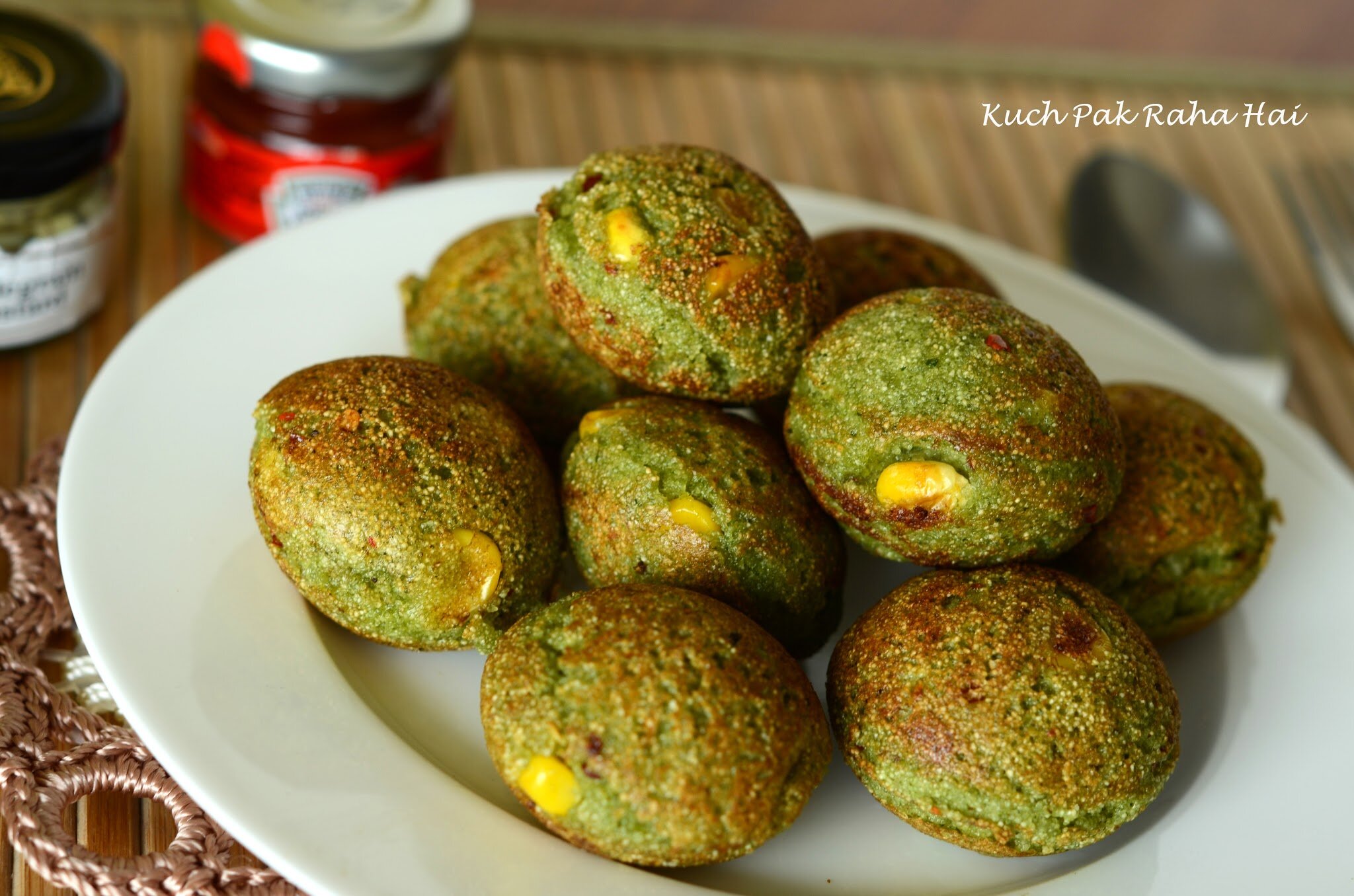 Appe is a South Indian dish also known by other names like kuzhi paniyaram, paddu or paniyaram. This spinach corn appe recipe is adapted from previously shared Instant Masala Rava Paniyaram recipe with a twist of spinach (palak), sweet corn and stuffed with paneer (Indian Cottage Cheese) in centre.
The idea of making spinach corn appe came to me one day when I was planning to make spinach corn sandwiches for breakfast but forgot to bring bread. I changed my plans & started making simple masala rava appe. Then the idea struck & I included spinach and corn in them. I stuffed some paneer in the centre of these appe and everyone just loved them at home!!
These spinach corn paneer stuffed appe are great to serve as snacks , breakfast or packed in kids lunch box with some coconut chutney, onion tomato chutney. It is an easy instant suji appe recipe which you can make at home with readily available ingredients at home.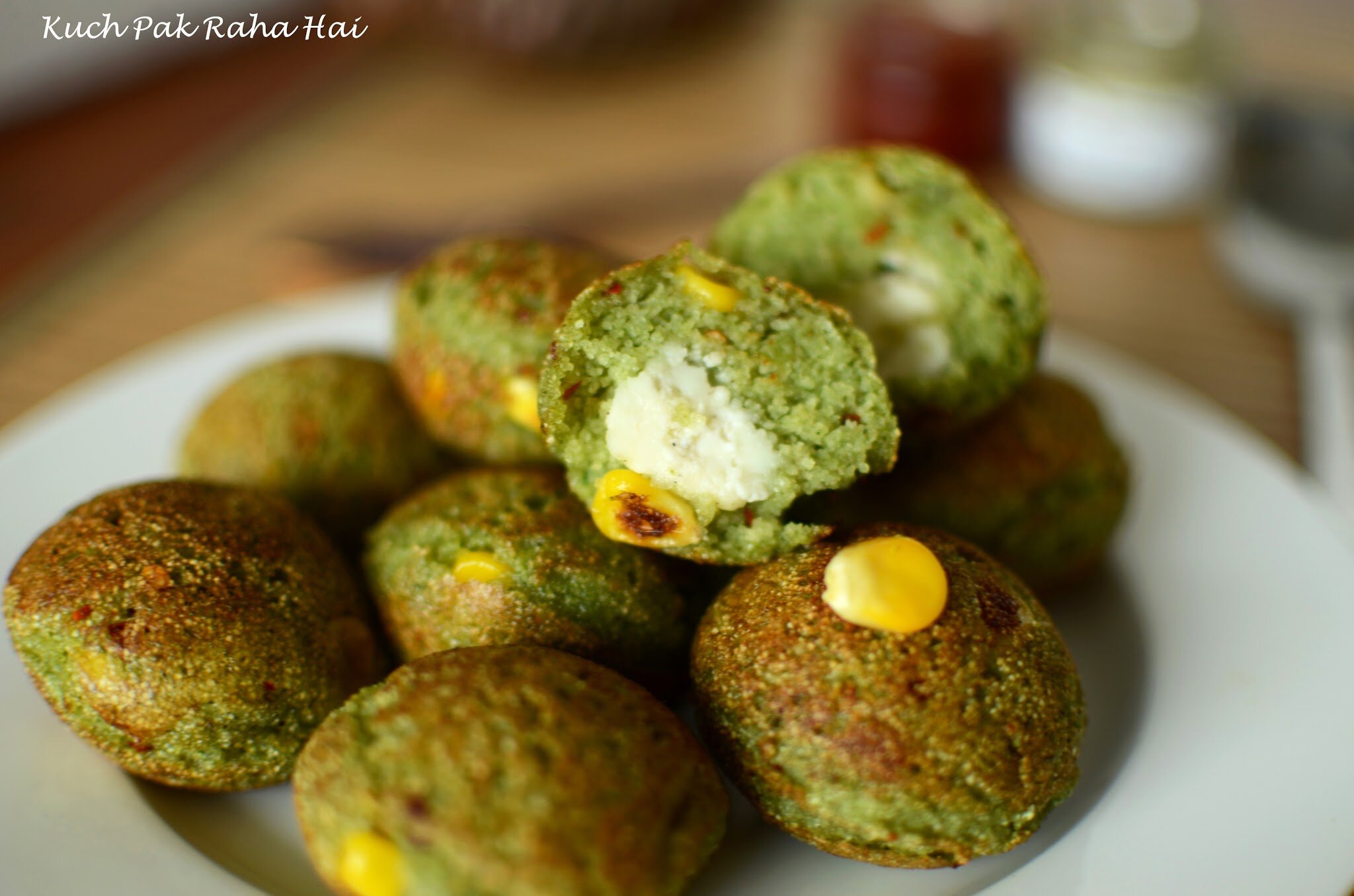 Spinach (palak in hindi) has number of health benefits and is great for overall health of the body. It is a rich source of iron, zinc, magnesium, phosphorus and many essential vitamins. As it has a bland taste, combining it with sweet corn kernels, ginger and other spices gives it a distinct taste and flavour.
I have used home made paneer for the stuffing but you can use market bought paneer also. You can even use flavoured or herbed paneer in this stuffed appe recipe. If you don't wish to use paneer, then you can skip it or can even replace it with some grated cheese or potato mash.
These days various brands have introduced their appe pan in market. You can use any non stick or cast iron appe pan to make these palak corn appe. Just remember to season or brush the appe pan generously with oil before filling in the batter.
I have also shared a Youtube video for Spinach Corn Appe. If you are having doubts about consistency of batter or how to flip Appe, you can refer to this video. Please Subscribe to our channel if you like it 😊.
Watch Video:
More appe pan Recipes:
Ingredients: (Makes 8-9 pieces)
Sooji (Semolina) – 1/2 cup
Yoghurt (Curd) – 1/4 cup + 2 tbsp
Spinach (Palak) puree – 1/4 cup
Boiled sweet corn kernels – 1/4 cup
Salt – to taste
Red chilli flakes – 1/2 tsp (to taste)
Red chilli powder – 1/2 tsp
Ginger paste – 1/2 tsp
Roasted cumin powder – 1/4 tsp
Eno – 1 tsp
Paneer – 50 grams
Powdered black pepper – 1/2 tsp
Oil – For cooking
Notes:
1. Spices can be adjusted as per your taste. If you are making it for kids, feel free to skip red chilli flakes/powder.
2. If you don't want to make stuffed appe, feel free to skip paneer.
Steps To Prepare:
Step 1:
Mix suji or rava (semolina), curd (yoghurt), spinach puree, boiled sweet corn kernels, black pepper, salt, red chilli flakes, red chilli powder, ginger paste and cumin powder in a mixing bowl.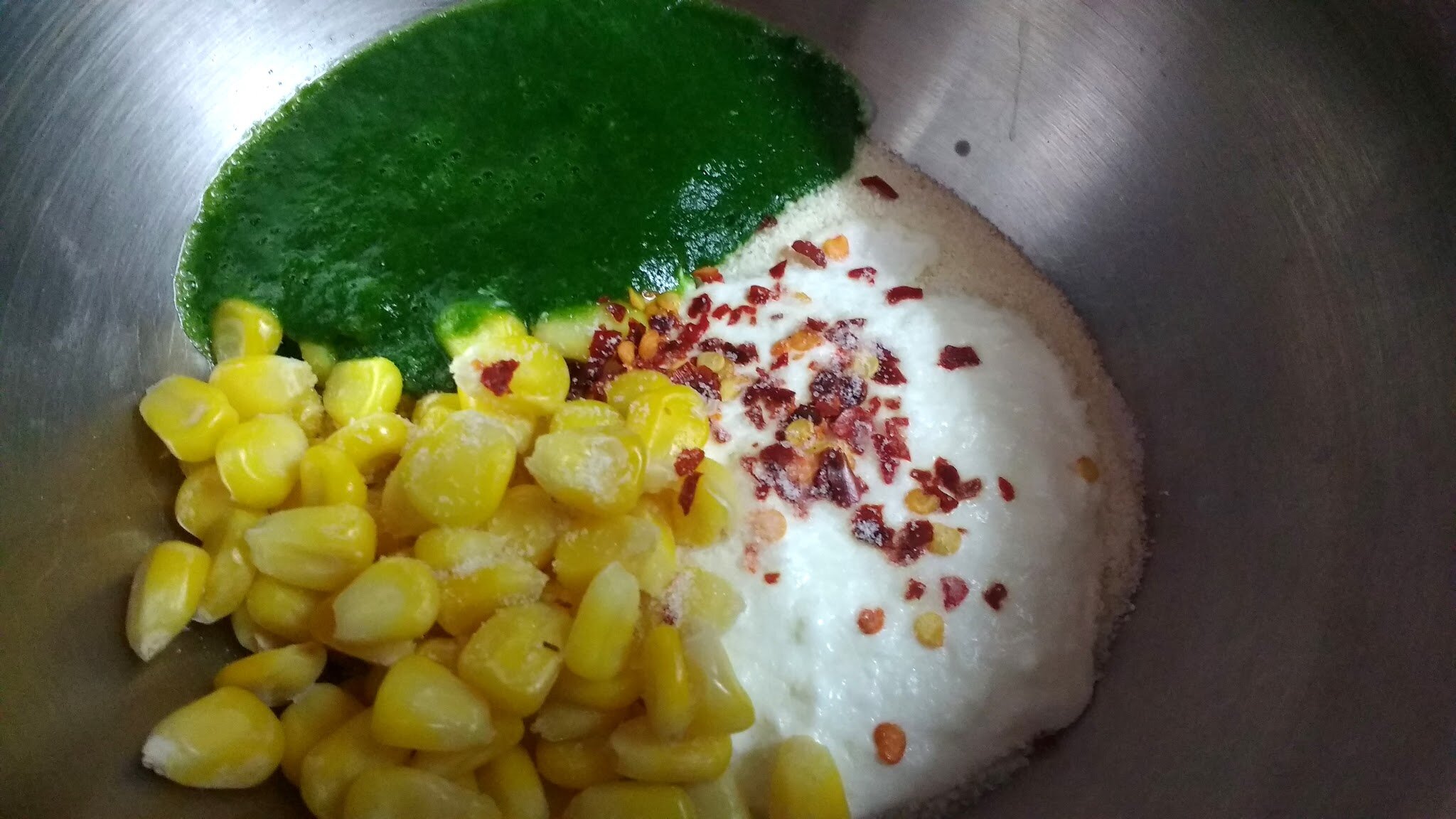 Mix well all the ingredients to form a thick batter. If the batter is too thick or you are not able to form even mixture, add 1 tbsp of curd or water more. Keep it aside.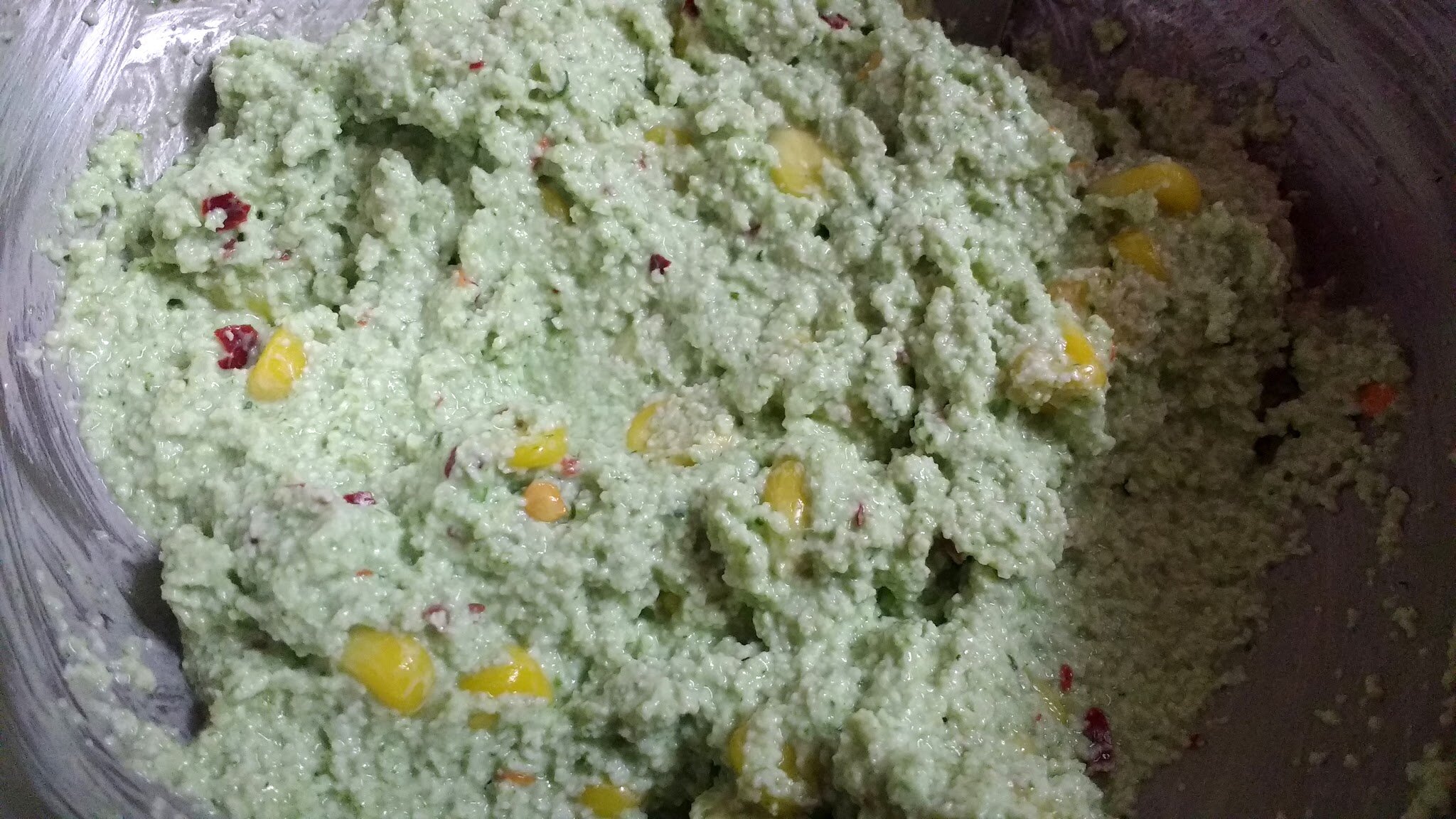 Step 2:
Crumble the paneer using hands or spoons. Add salt and powdered black pepper to it. Roll it into small balls as shown below. Keep it aside.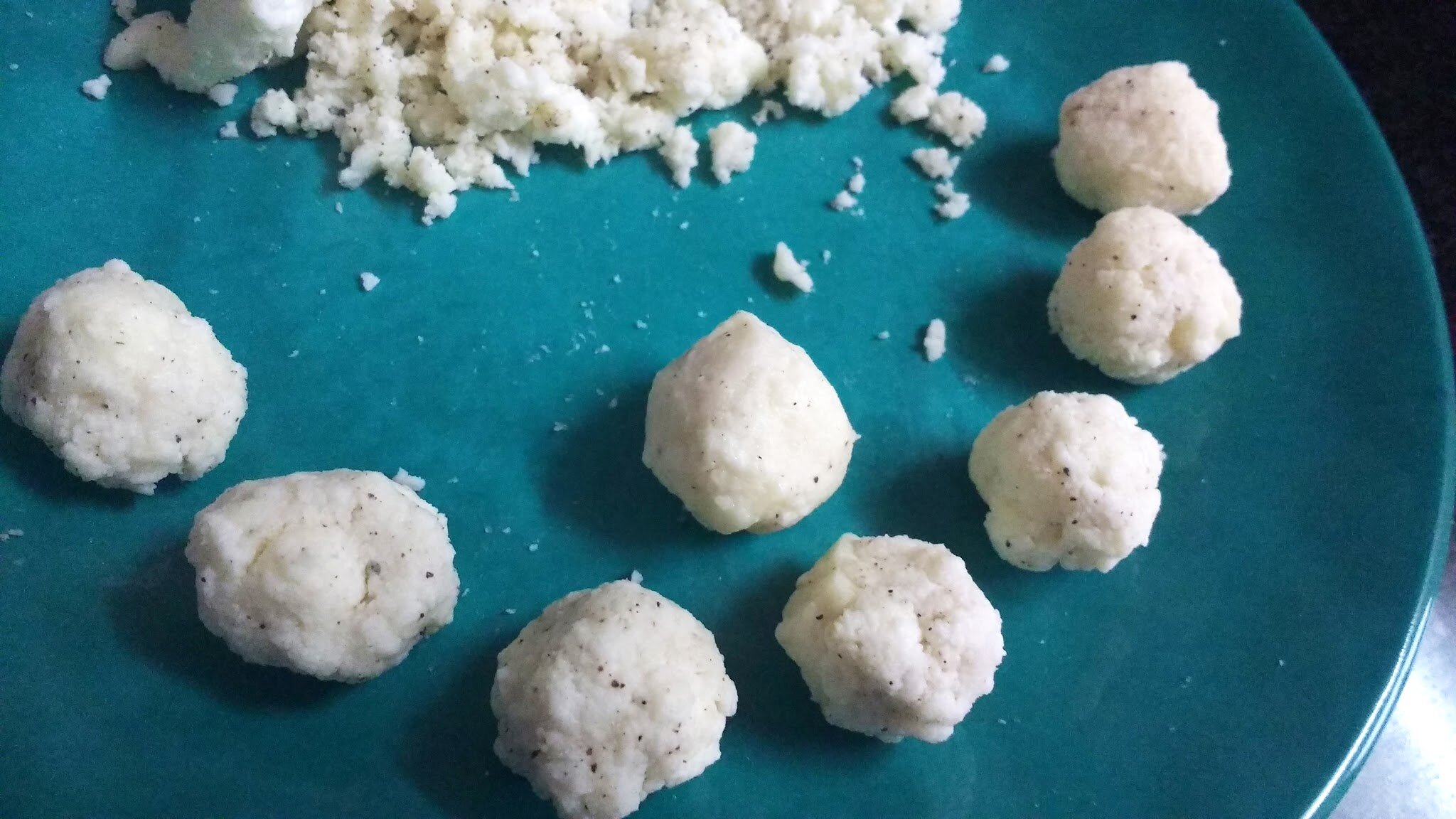 Step 3:
Add the eno to the mixture prepared in step1. Mix well. The mixture should become light and fluffy.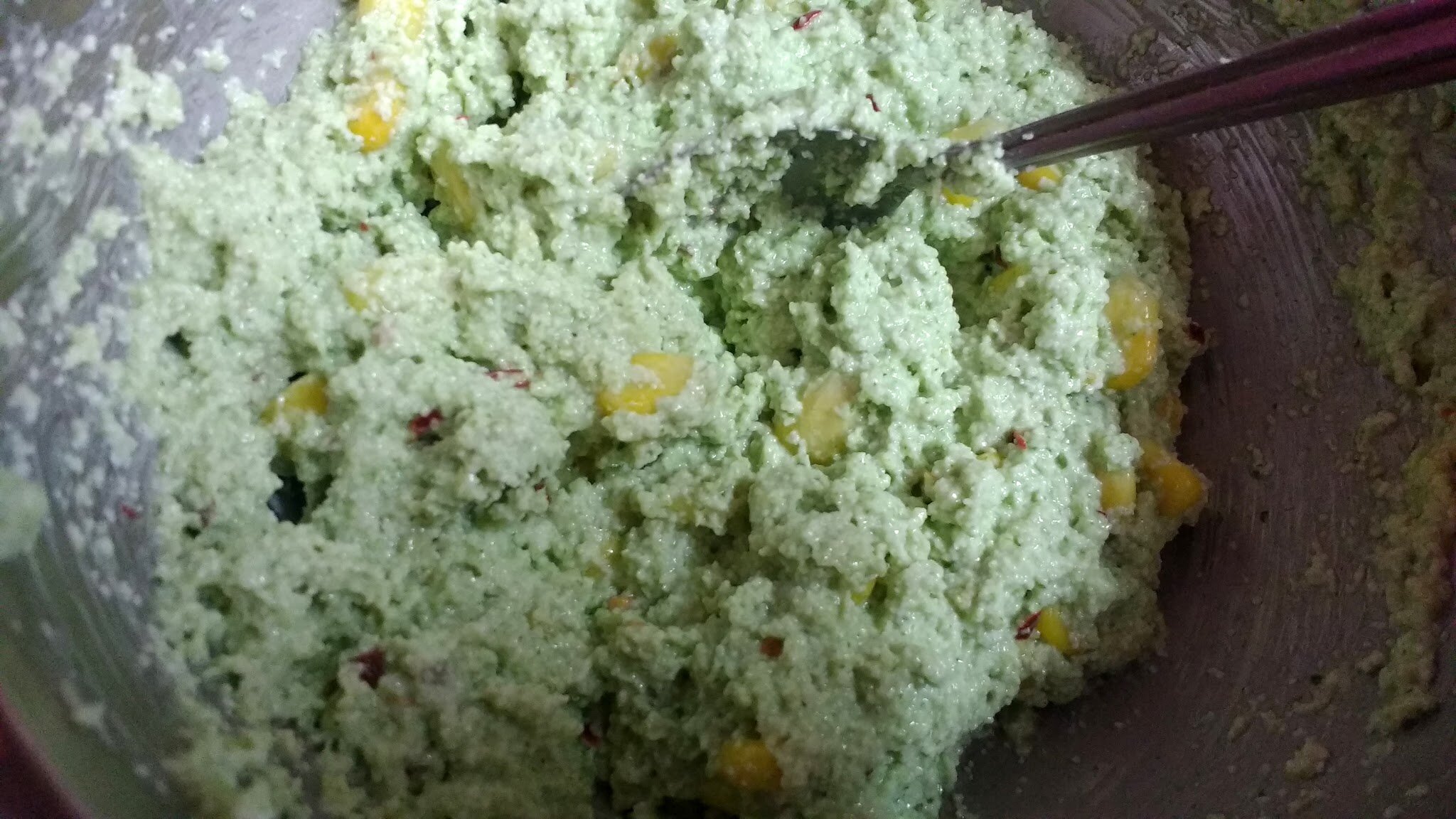 Step 4:
Keep the appe(or paniyaram) pan on a low flame. Brush some oil inside the cavities of the pan.
The appe stand I have used is readily available in market these days and can be bought online also. You can check it out on Amazon store.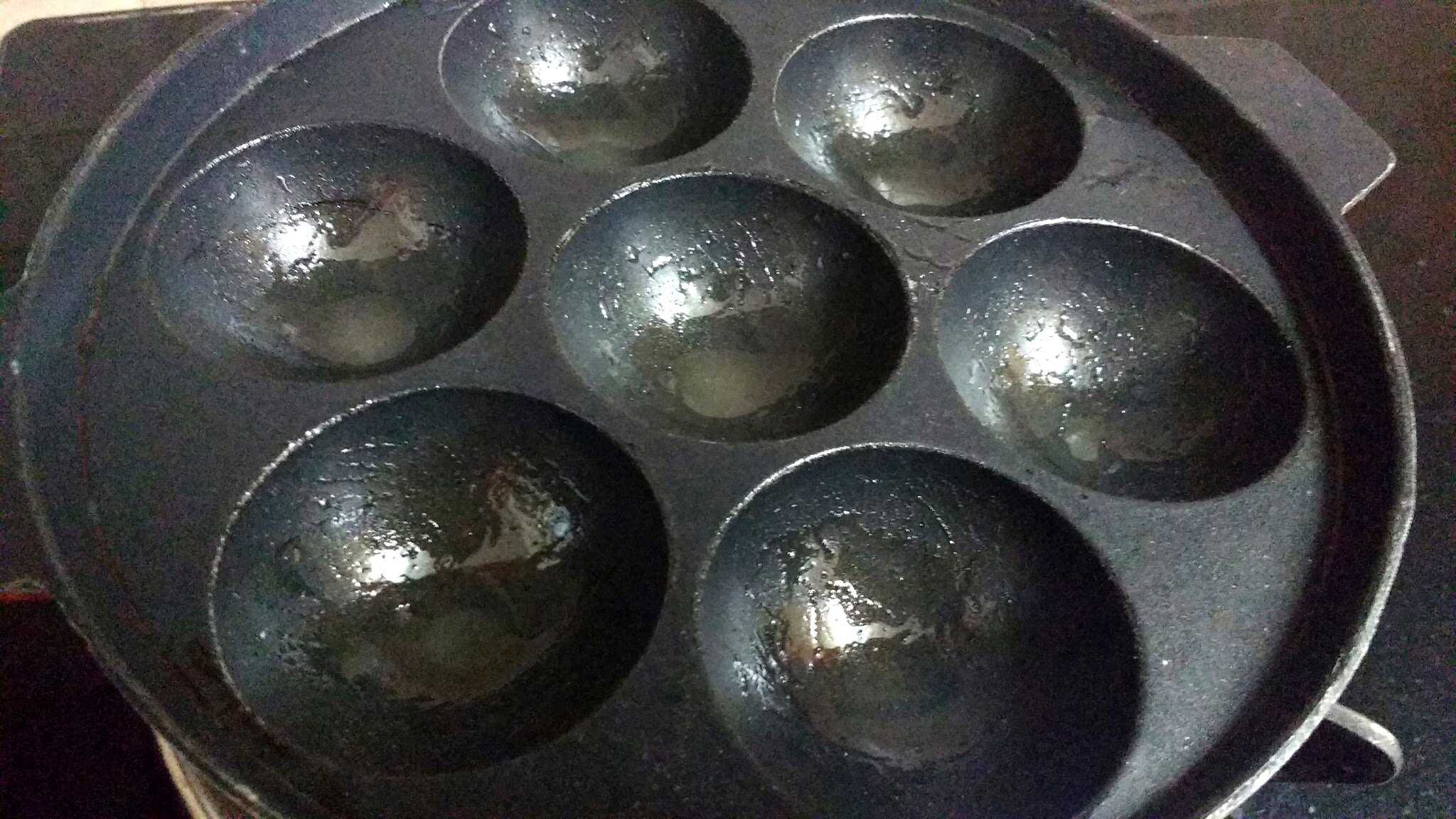 Using a spoon drop some mixture inside the cavities of appe pan. Place one paneer ball inside each cavity. Gently pressing it downwards. (Don't push it downwards using too much force else it would sink.)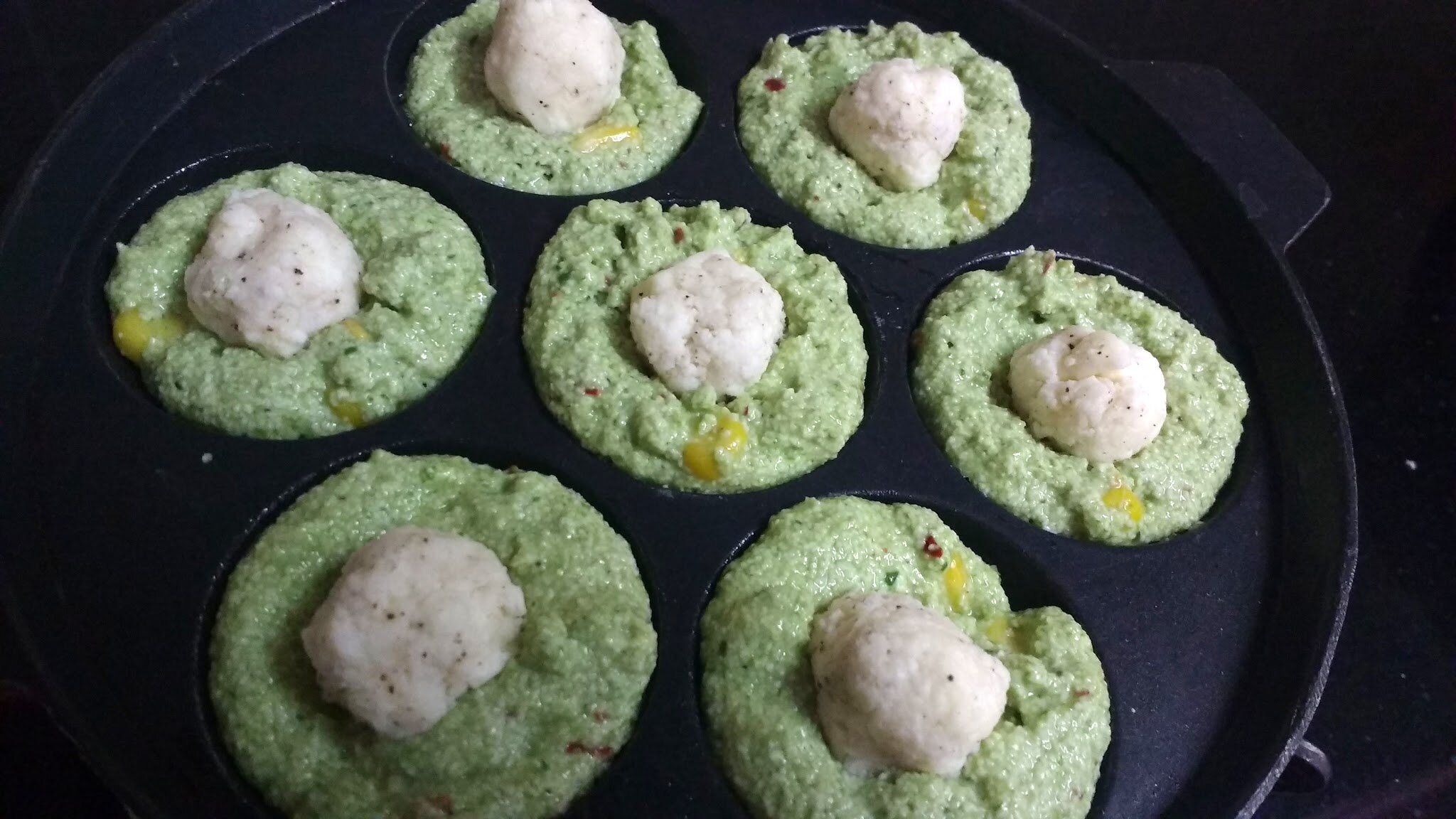 Spread little quantity of mixture on top of each of the panner ball also. We are doing so, in order to keep each of the paneer ball in centre. Let the appe cook on low flame.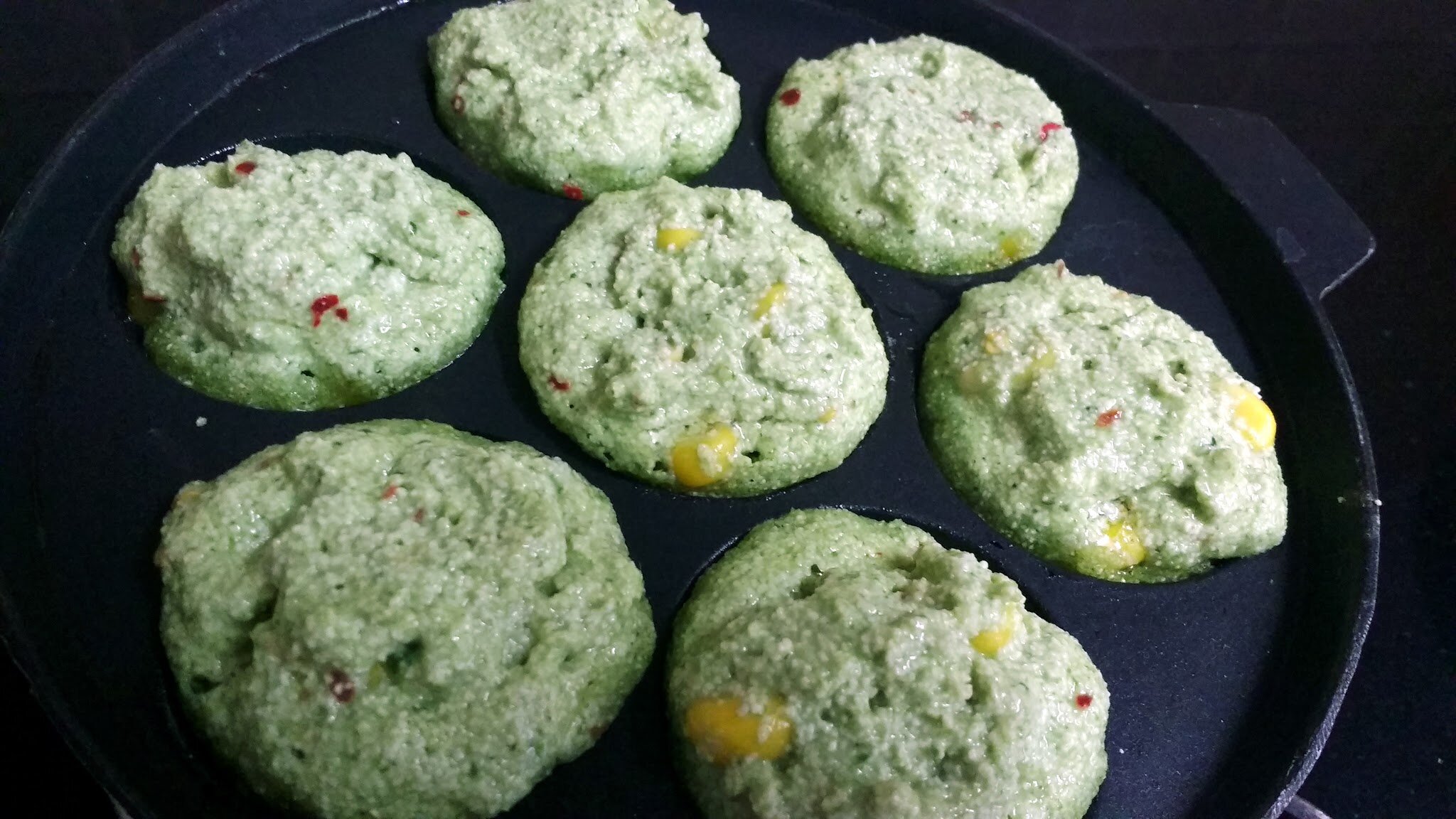 Step 5:
After 2 minutes, check the sides of appe using a knife. If they have started to cook, flip them using a knife. Please take care that you flip the appe when top part is still wet otherwise they will turn out flat from one side. After flipping drop some more oil on the sides.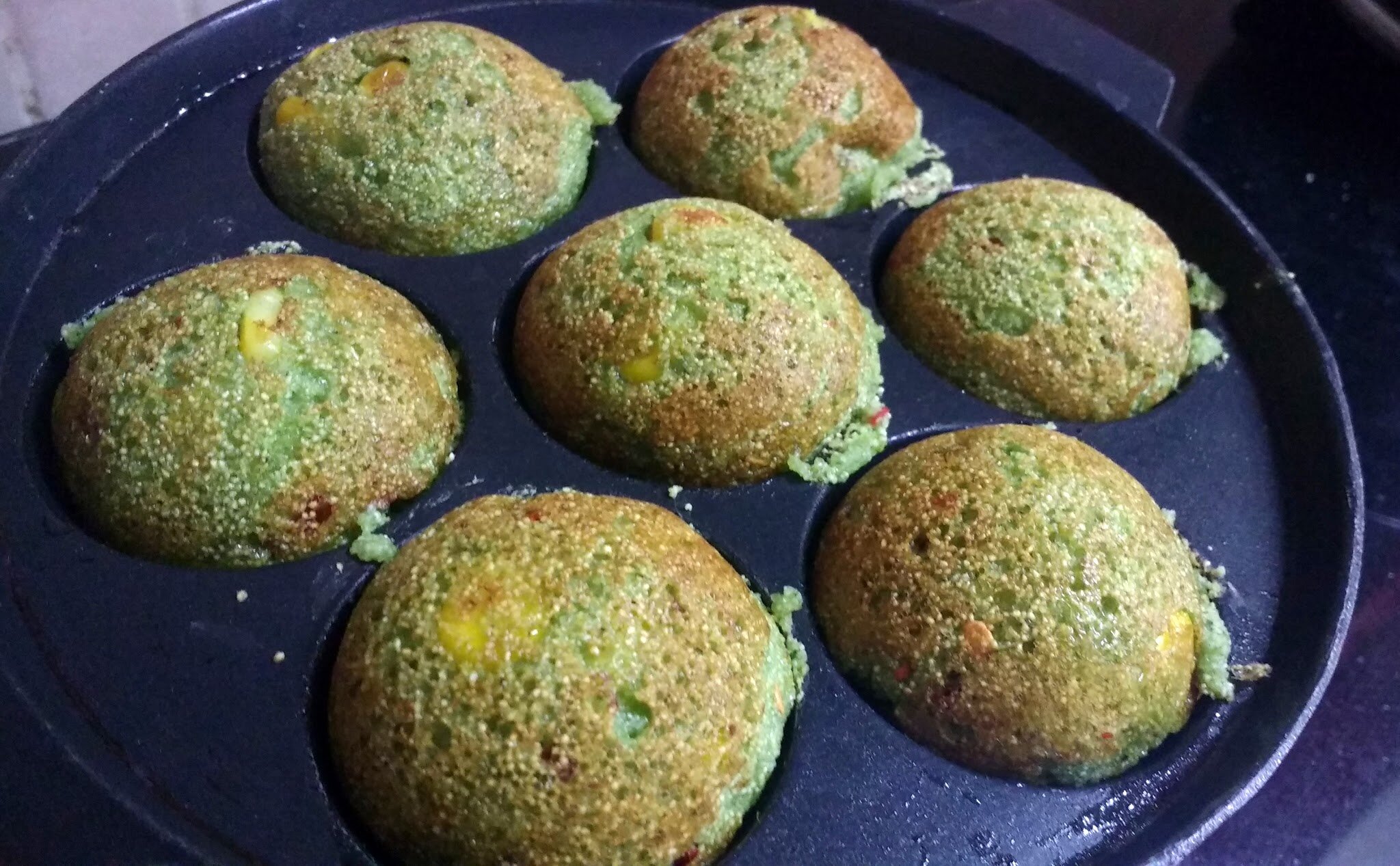 Let the appe cook till they are golden brown on both sides. Enjoy these hot steaming healthy spinach corn appe with coconut or onion tomato chutney. Bon Appetit!!!!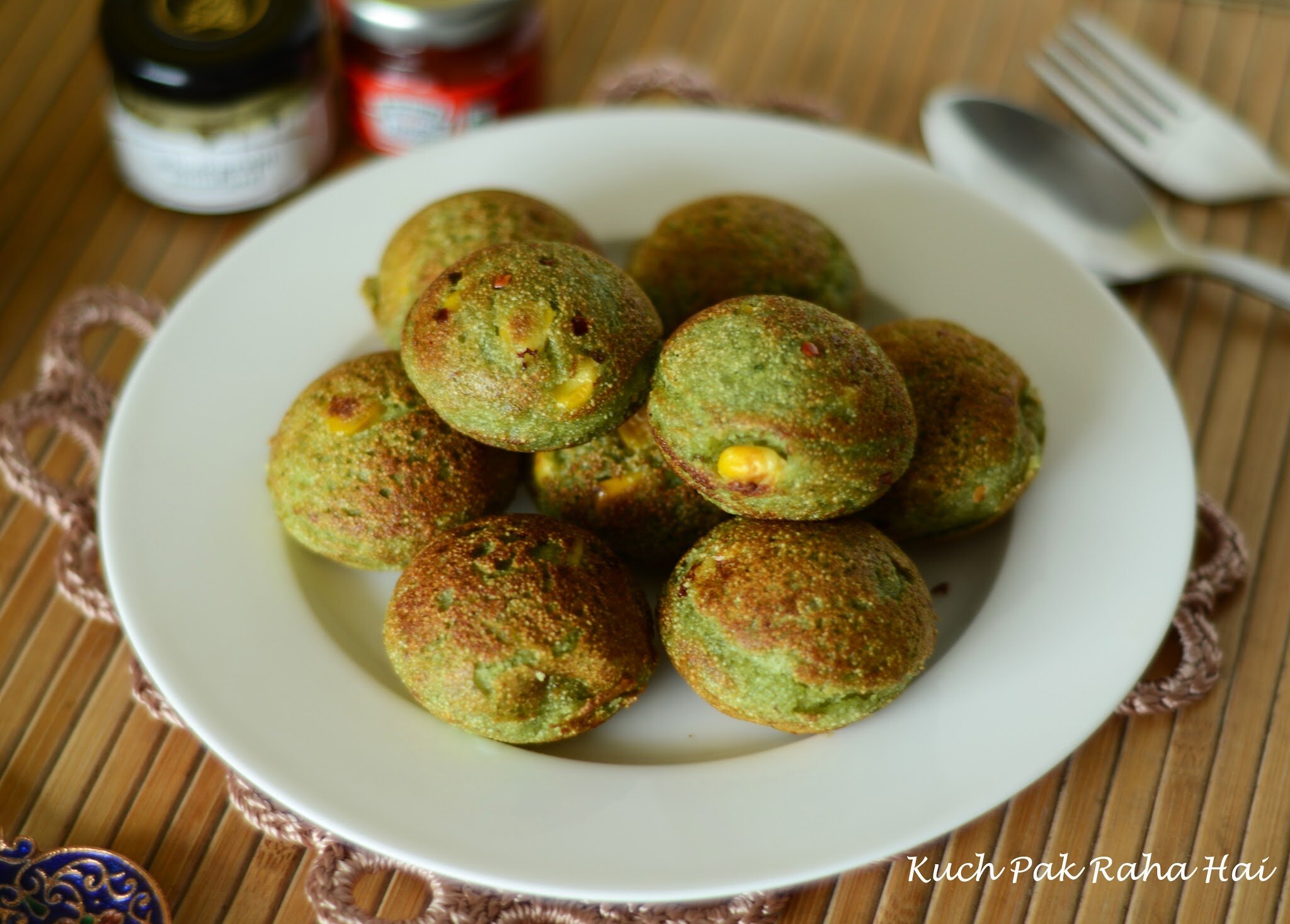 More Spinach or Palak Recipes:
Pin it for later :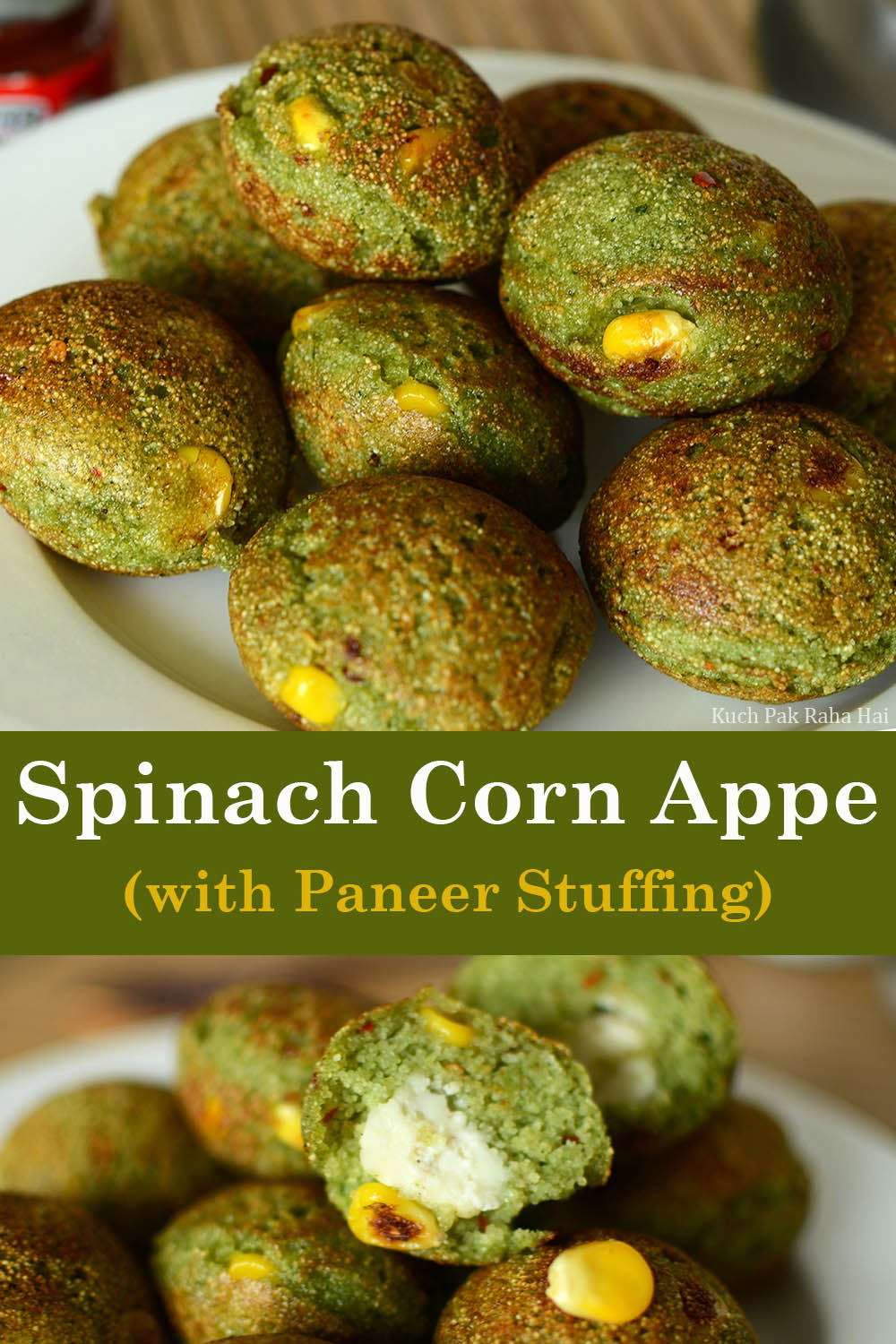 If you try this recipe & share pics on social media, don't forget to tag us on Facebook or Instagram or use #kuchpakrahahai.