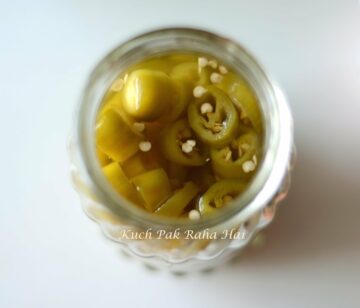 Good morning to all the readers there.Today I am going to share the procedure for making "Instant Pickled Jalapeños". The method is really quick and fuss-free. I had to make this as my hubby is very much fond of jalapeños over pizzas and in sandwiches. By storing jalapeños this way, you can have them whenever you want at one hand distance. Jalapeños are not the fieriest of chillies but they lend a tantalizing taste to your yoghurt or sour cream dips.
The origin of Jalapeños goes back to Mexico. It is a medium sized chilli pepper pod of the species Capsicum Annum.
Source : https://en.wikipedia.org/wiki/Jalapeño
List Of Ingredients:
Jalapeno- 9 to 10
Water-1/2 cup
White vinegar – 1/2 cup
Sugar- 1tsp
Salt-1 & 1/2 tsp
Garlic Pod-1
Steps To Prepare:
Step1:
Cut Jalapeños in round rings and wash under running water to remove excess seeds. Spread them on a towel to dry.
Step2:
Add vinegar, water, sugar, salt and crushed garlic pod in a pan. Bring them to boil. Switch off the flame and add jalapeños to it. Stir gently. Cover with a lid and let it cool.
Step3:
Once the contents of pan are cooled completely, store it in a glass jar. Please make sure that chillies are completely submerged in the vinegar-water solution.
Enjoy these jalapeños as a pickle or as a topping over your pizza or as sandwich filling!!!