Paneer Bhurji is a flavoursome protein packed Indian vegetarian dish made using scrambled paneer (Cottage Cheese), fresh vegetables like  onions, tomatoes, capsicum, ginger along with an aromatic blend of Indian spices.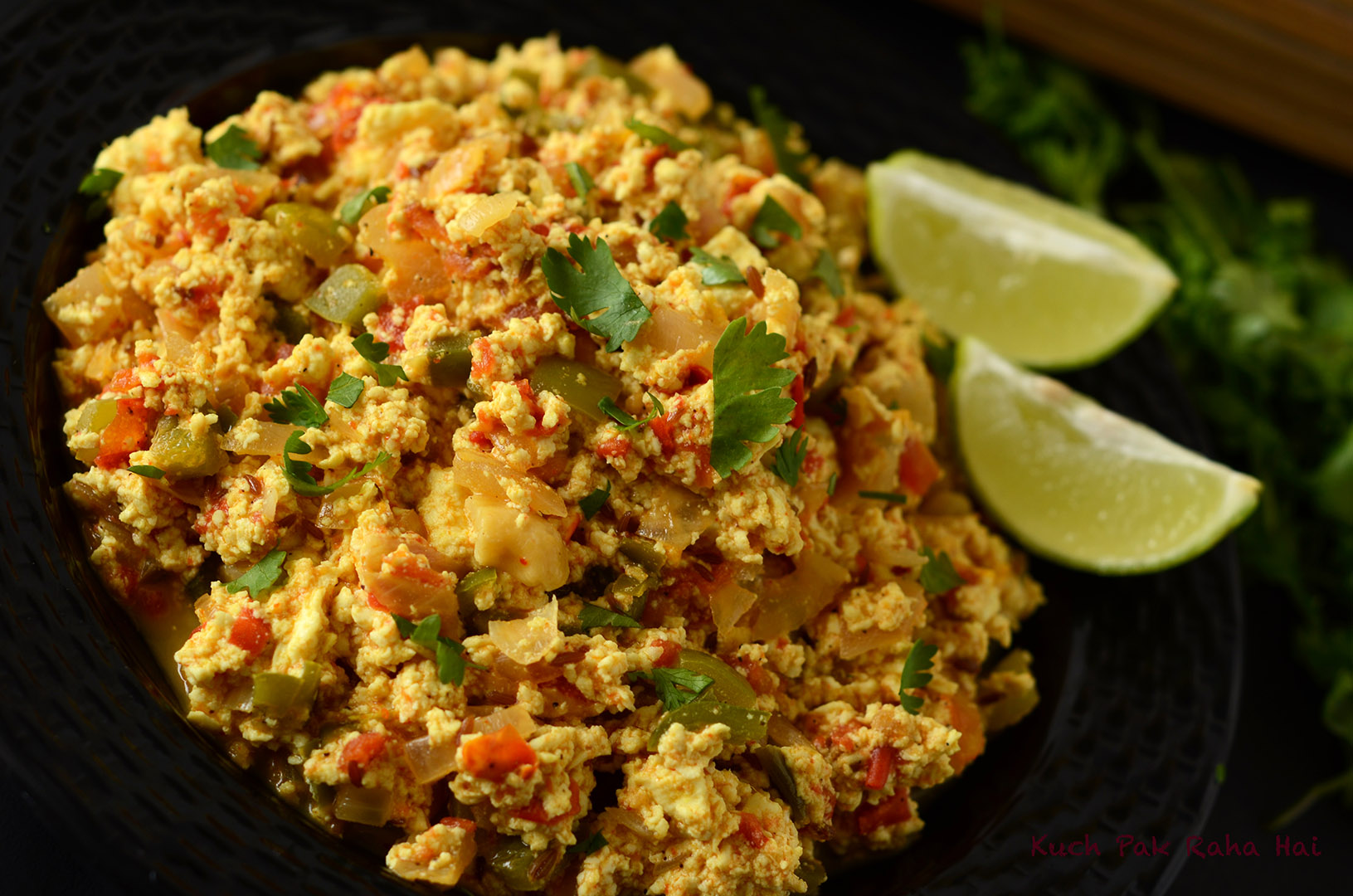 Paneer bhurji can be served as main dish with some hot chapatis, naan or as a side dish with with dal etc. It can also be used as filling in sandwiches or wraps.
Paneer or Indian Cottage Cheese is a great source of protein and calcium especially in a vegetarian diet. As it is low in carbs and full of good fats, it is often recommended for weight loss also. Paneer is made by curdling the milk using vinegar or lemon juice. You can buy paneer from market or check out this post on how to make fresh paneer at home.
Paneer Bhurji is an absolutely flavour packed paneer recipe and tastes so soft & juicy !! It is also a kid friendly recipe as you can mellow down the spices as their taste and they are surely going to love it in their lunch box with roti or parathas.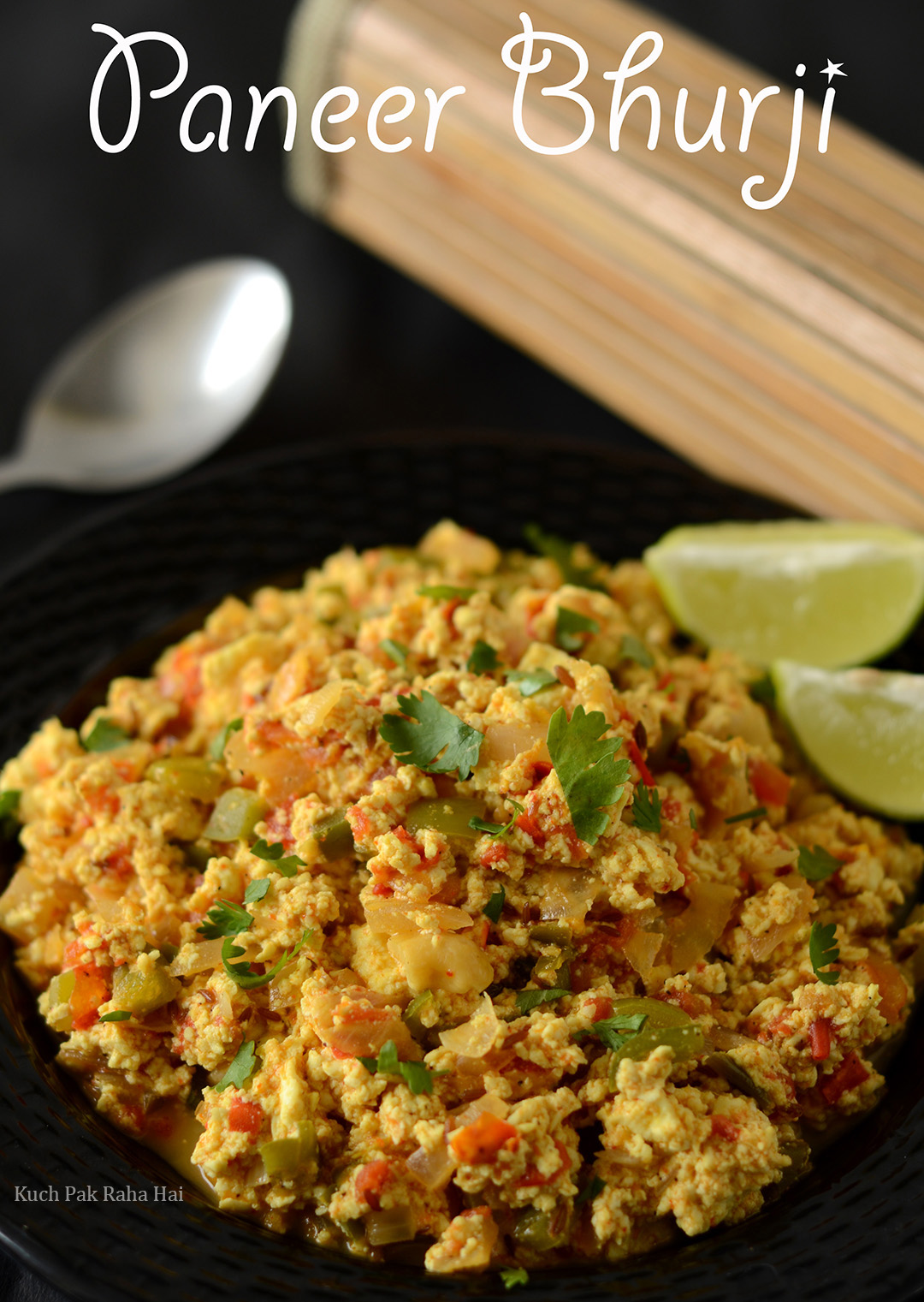 Paneer bhurji is an easy & quick dinner option when you don't have enough time or energy to make anything elaborate. Just handful of chopped vegetables, crumbled paneer, few spices and you are good to go!! I even like to eat leftover paneer bhurji over my toast in breakfast. The spices in the recipe can be adjusted as per one's taste. You can omit cashews if you are allergic to nuts.
Hope you would like this melt in the mouth and delightful Paneer Bhurji recipe!!
List Of Ingredients: (Served 3 to 4)
Crumbled Paneer(Indian Cottage Cheese)-250 grams
Ghee/Cooking Oil/Clarified Butter-2tbsp
Ginger Paste- 1 tsp
Cumin seeds (Jeera)- 1 tsp
Chopped Green Chillies-2
Chopped Small Onions-2
Chopped Capsicum-1/4 cup
Chopped Cashews-1/4 cup
Chopped Small Tomatoes-3
Turmeric Powder (Haldi)- 1/4 tsp
Salt-1 tsp (or to taste)
Red Chilli Powder (Lal Mirch)-1/2 tsp
Black Pepper (Kali Mirch)-1/2 tsp
Coriander Powder (Dhaniya powder)-1 tsp
Milk-1/4 cup
Garam Masala-1/4 tsp
For garnishing:
Butter- 1tsp
Lemon Juice- 2 tsp
Coriander Leaves-For Garnishing
Steps To Prepare:
Step 1:
Heat ghee in a heavy bottomed pan and add cumin seeds. When the seeds begin to crackle, add ginger paste and chopped green chillies. Stir well for 10-15 seconds. Add chopped onions. Fry the onions till they turn pink in colour.
Step 2:
Add chopped cashews and capsicum to it . Stir once again. Let the cashews and capsicum sauté for 2-3 minutes.
Step 3:
Add chopped tomatoes, salt, red chilli powder, black pepper, turmeric powder and coriander powder. Mix well and let it cook for 10 minutes.
Step 4:
Once the all the moisture is evaporated from the pan, add grated cottage cheese along with milk.
Mix well all the ingredients and then cover the pan with a lid. Let the bhurji cook for 5 more minutes on low flame. This gives crumbled panner ample of time to absorb milk and spices. Sprinkle some garam masala at the end.
At the time of serving, add butter (optional) and freshly squeezed lemon juice. Garnish with chopped coriander leaves. The addition of lemon juice and fresh coriander leaves add so much of freshness in this dish so please don't skip it 🙂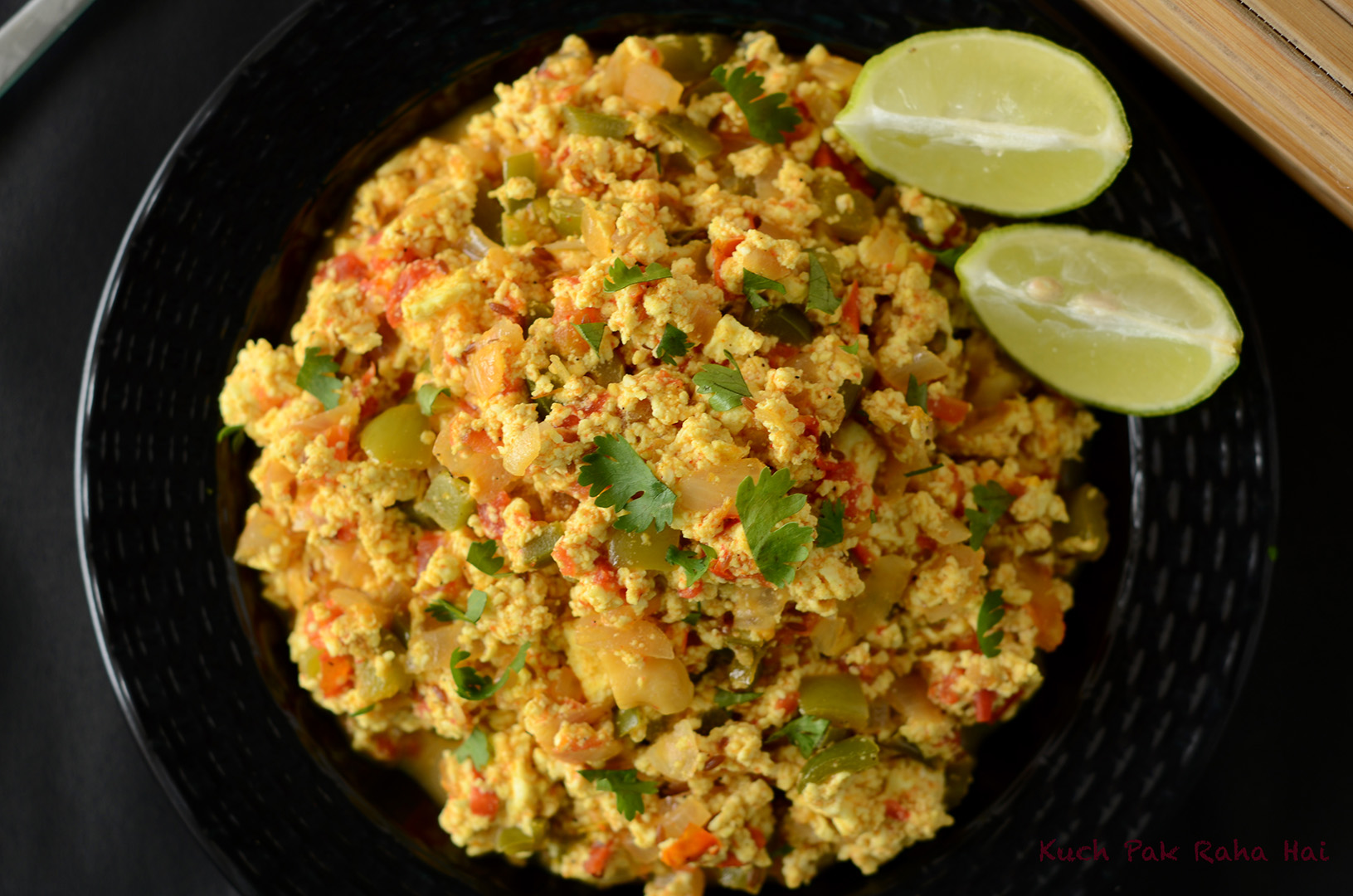 Serve this hot and delicious Paneer Bhurji with chapati or parathas.
Bon Appetit!!
Let's stay connected
Facebook |Instagram |Pinterest |Youtube
More recipes you might like: