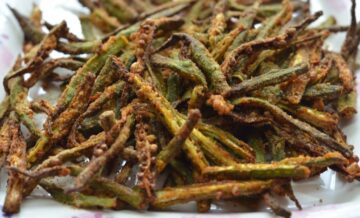 Kurkuri Bhindi or Crispy Okra prepared in air fryer is a delicious crunchy low oil recipe prepared using okra (bhindi), chickpea flour (besan) and few Indian spices. It is vegan, gluten free & can be served as snack or side dish.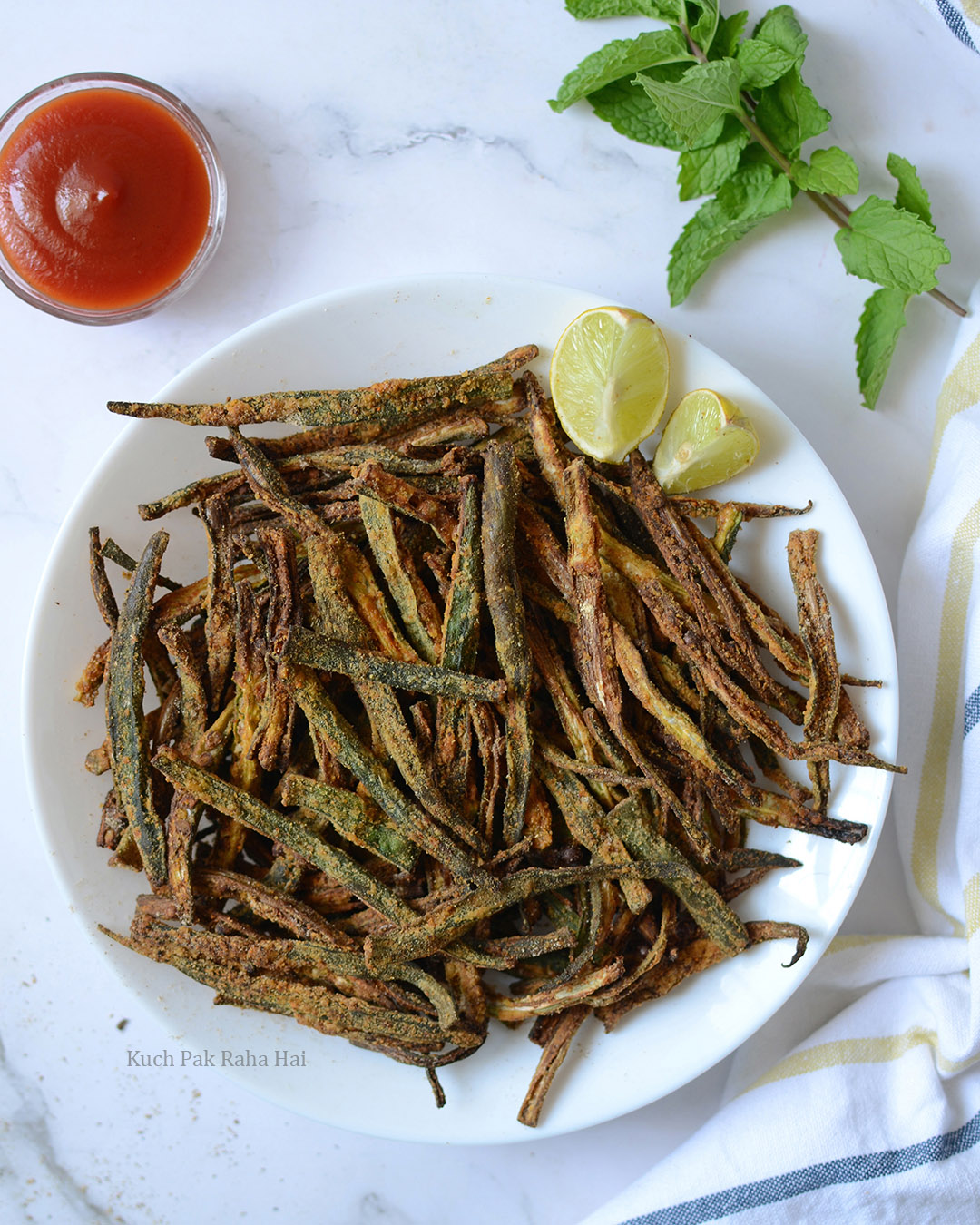 Okra vegetable is also known as lady's fingers or bhindi (in hindi). It has number of health benefits as it packed with vitamin K, vitamin C, folate and magnesium etc and is considered to be a low calorie vegetable. 
How to make crispy okra in air fryer?
Traditionally kurkuri bhindi (or crispy okra) is prepared by coating okra in a mixture of chickpea flour (besan), Indian spices like cumin, red chilli powder, coriander powder etc and then deep frying on high flame till it is crisp. All the steps remain the same except instead of deep frying we will be air frying okra thus making it guilt free & so easy to make.
You can adjust the spices as per your taste. This air fryer okra or bhindi recipe is:
Low Oil
Vegan
Gluten Free
Healthy Snack or Side Dish
Can I cook frozen okra in air fryer?
Yes you can use frozen okra too in this recipe. No need to thaw it before using. The marinating steps will remain the same, however you might have to increase or adjust the air frying time to get the desired crispness.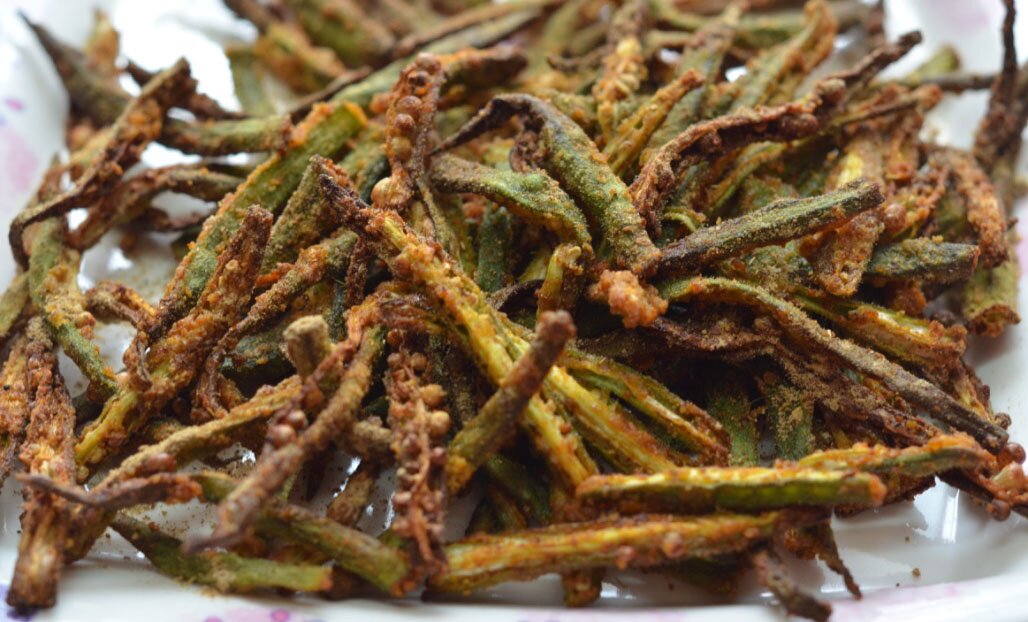 My family loves kurkuri bhindi. It is mostly served as a side dish with chapati & dal at my home but sometimes we snack on it with some ketchup or chutney too. I always hesitated in making it frequently as the recipe required deep frying. With this air fryer version, I find making crispy okra so easy & healthy as you can make an entire batch with just 1-2 tbsp of oil.
I have recently received my air fryer as a gift from my nani (grandmother) and since then I am on a recipe trial spree with it. I have already tried Potato Wedges, Moong Dal Pakora (Lentil Fritters) in air fryer and both have come out really nice. They were crisp, well cooked and that too when I am using such little amount of oil.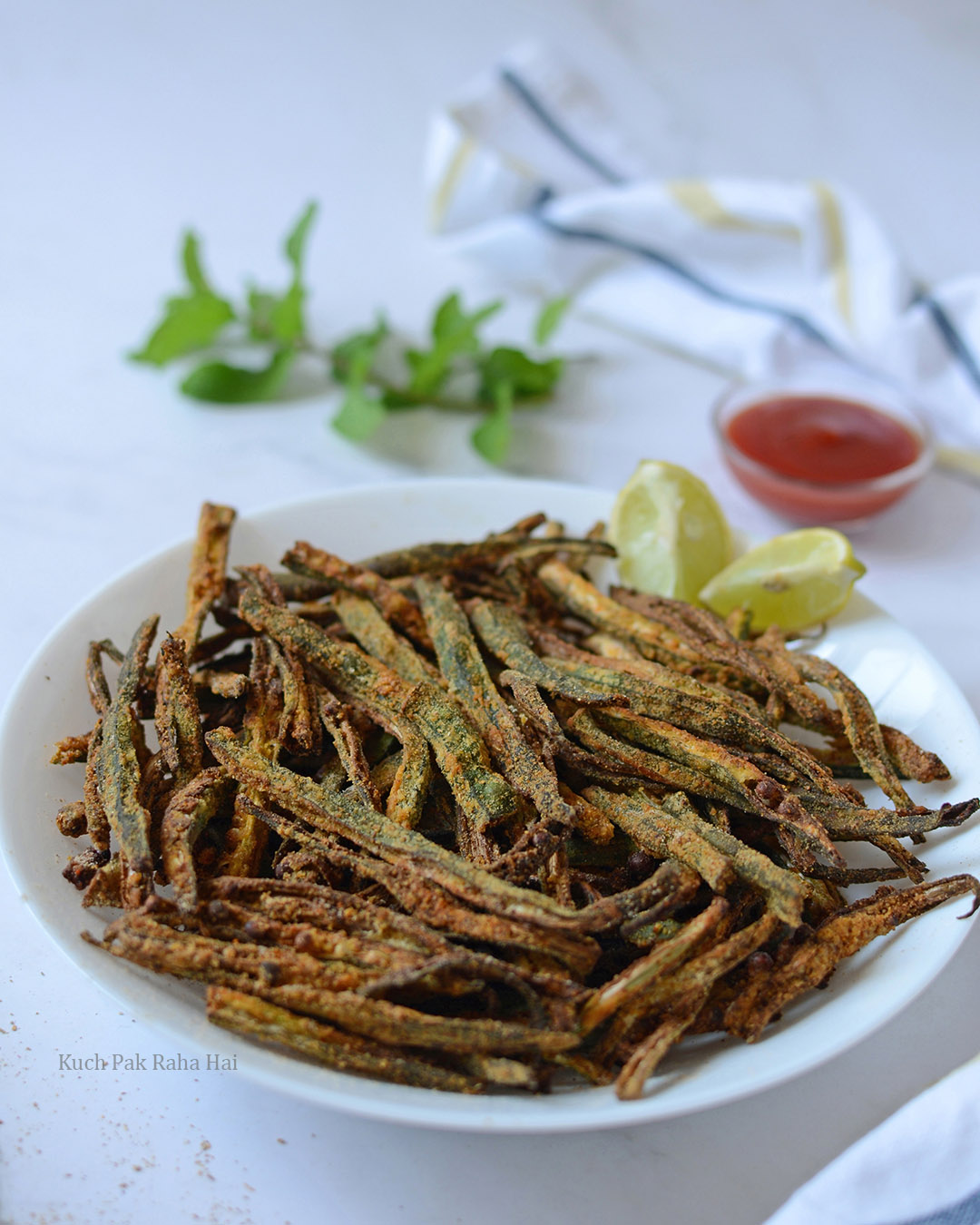 Hope you would like this kurkuri bhindi or okra recipe in air fryer. More vegetarian air fryer recipes:
Ingredients:
Okra (Bhindi) – 250 grams
Chickpea flour (Besan)- 2 tbsp
Rice Flour- 1 tsp (optional)
Salt- 1 tsp (or to taste)
Red Chilli Powder / Paprika- 1 tsp
Coriander Powder (Dhaniya) – 1 tsp
Cumin Powder (Jeera) – 1/2 tsp
Mango Powder (

Amchoor

)- 1/2 tsp
Chaat Masala – 1 tsp
Cooking Oil – 2 tbsp
Substitutions:
You can use any cooking oil like sunflower, canola or olive oil to make this crispy okra recipe.
Adding rice flour is optional. It is added to increase the crispiness of air fried okra.
Mango powder or amchoor is added to add sourness. If you don't have it add some lemon juice instead.
Directions:
Step 1:
Wash the bhindi or okra well with water and then let it dry on a kitchen towel or tissue.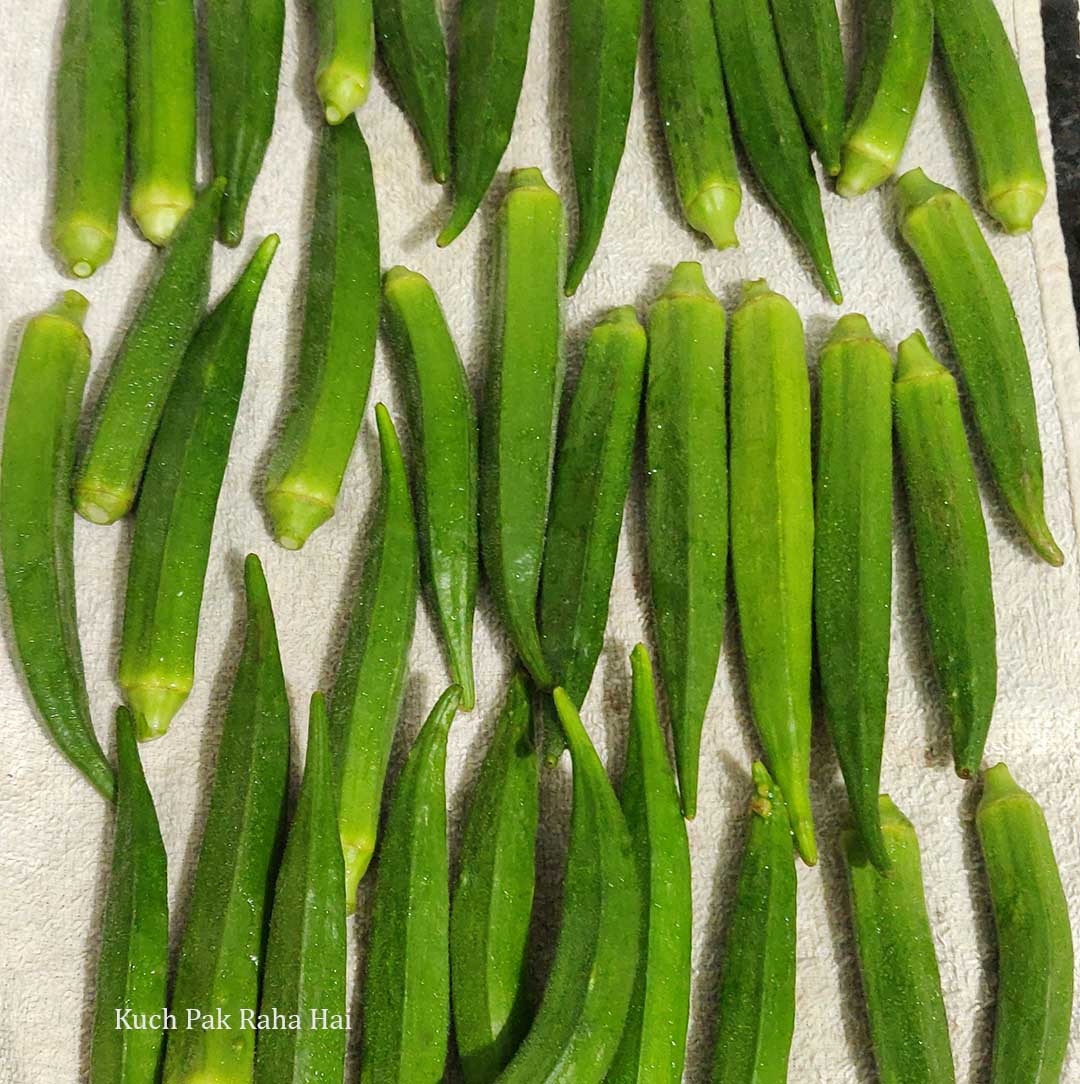 Chop the top and thin bottom part of the lady fingers. Slit them in half or four pieces and leave them on same kitchen towel to dry for 5-10 minutes more. This makes sure there is no extra moisture left in okra.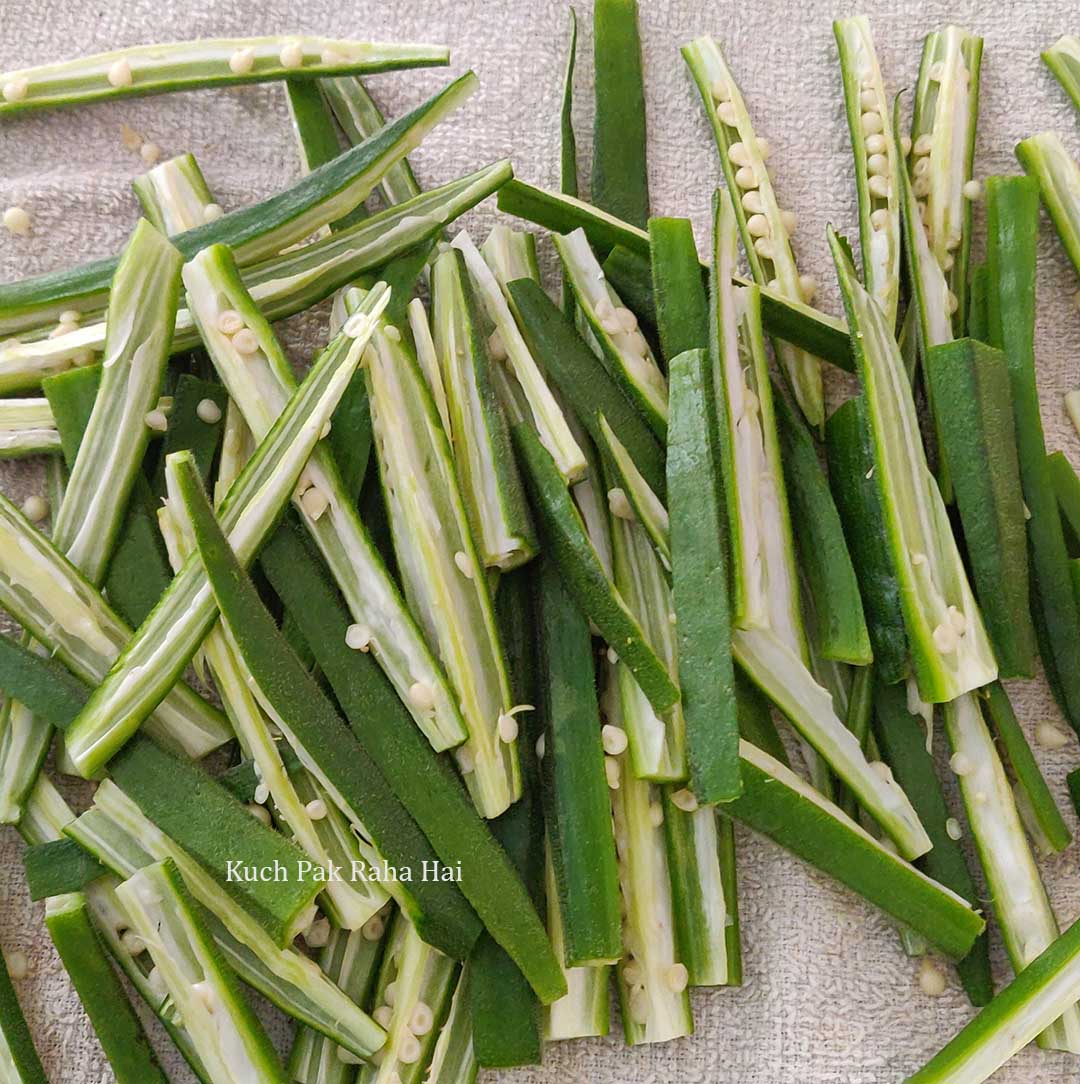 Step 2:
Preheat the air fryer for 5-10 minutes at 180°C (356°F). While the air fryer is preheating, lets move to next step.
Step 3:
In a mixing bowl transfer the okra slivers. First coat the okra (bhindi) slivers with oil and mix well.
Step 4:
Sprinkle gram flour, salt & spices- red chilli powder, coriander powder, cumin powder, mango powder. Mix well such that all the spices and chickpea flour coats the bhindi.
Important Tip: Do not keep the okra for long once it has come in contact with salt as it starts to release its moisture and become soggy.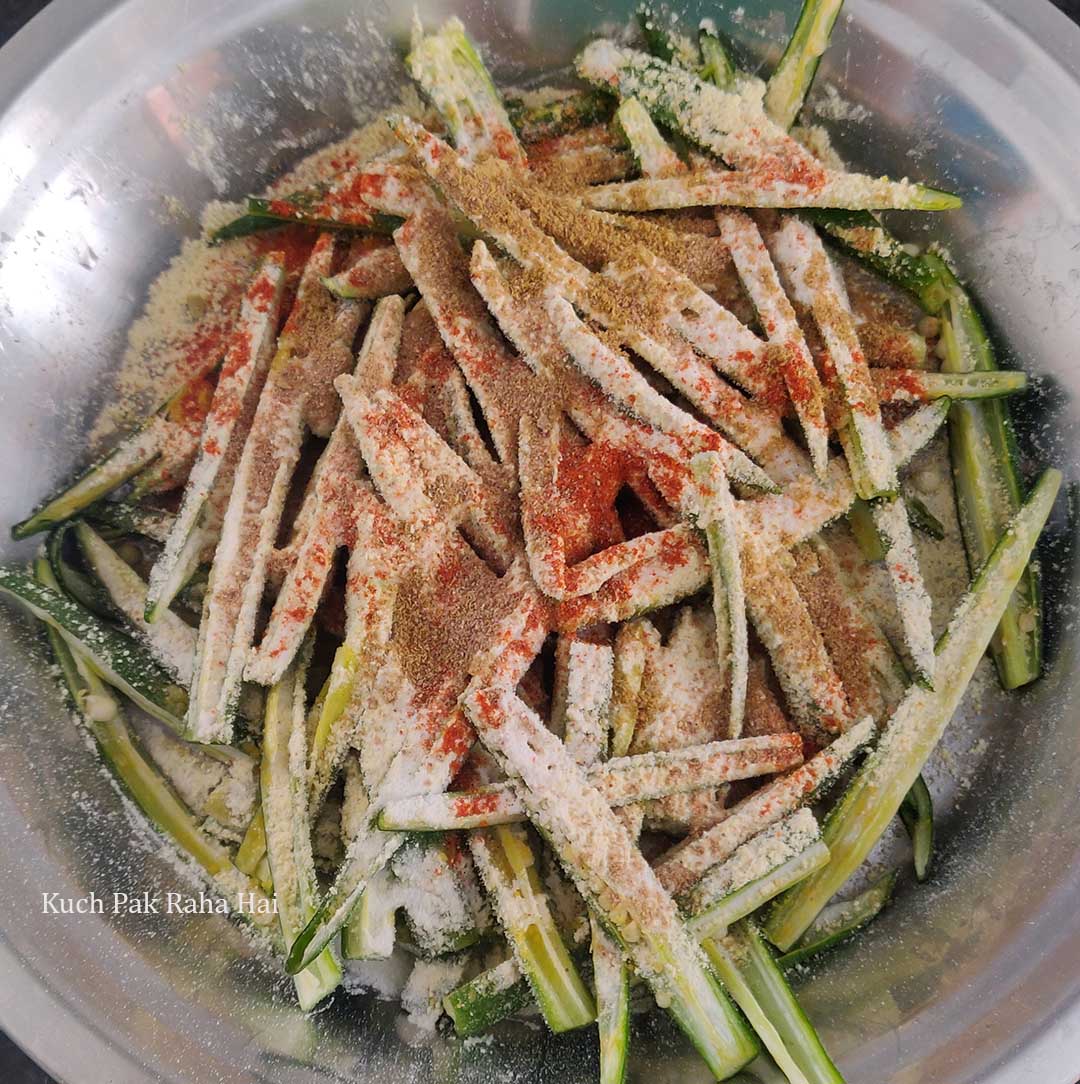 Step 5:
Once the air fryer is preheated, transfer the okra (bhindi) in air fryer basket and cook it at 180°C (356°F) for next 10-12 minutes. Spray some oil over it. Do not overstuff the basket as we want okra pieces to cook evenly.
Take the air fryer basket out and flip the bhindi pieces after every 5 minutes. Spray more oil of required. It may cook any moment after 10 minutes so keep an eye on it after this time.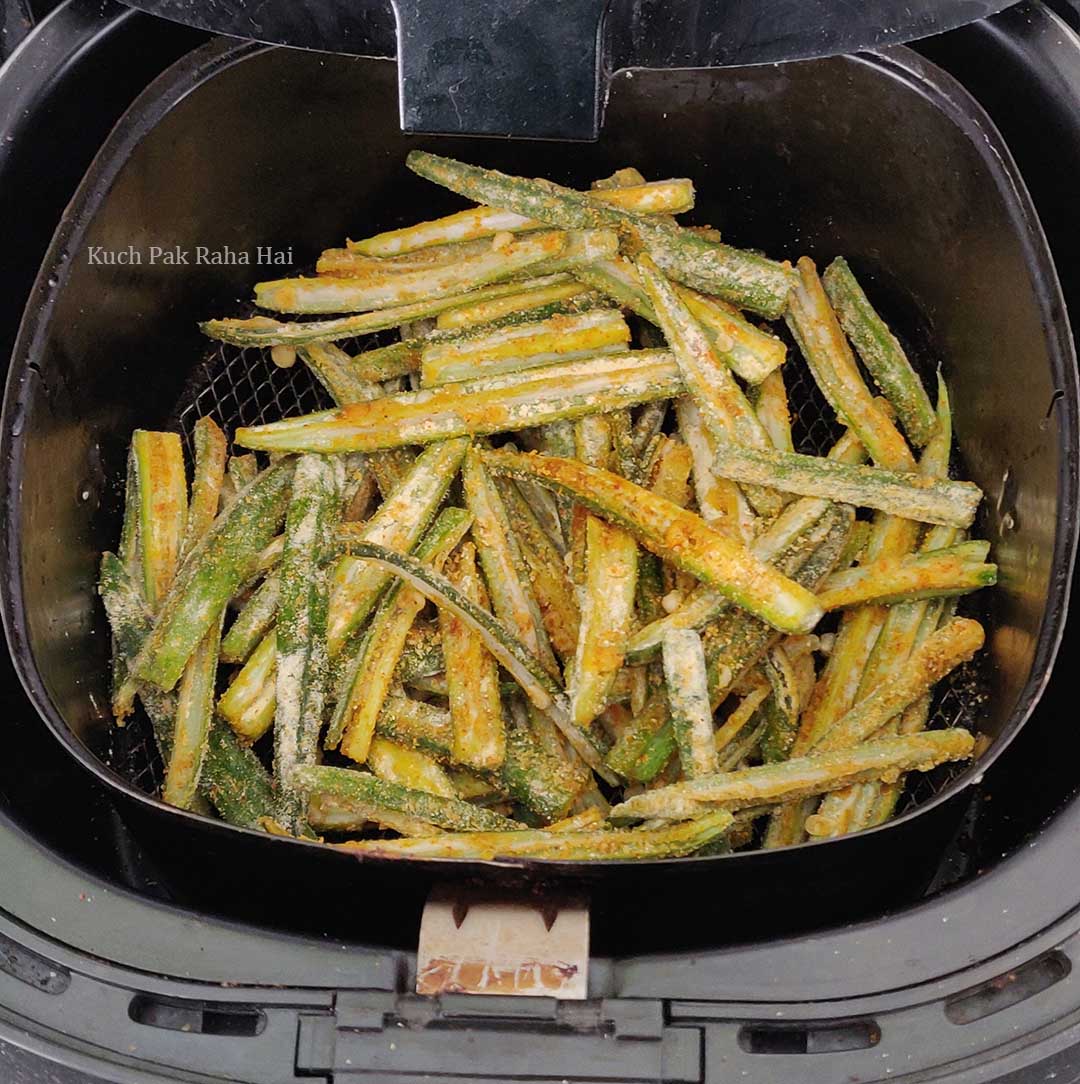 Step 6:
Once the bhindi has air fried, sprinkle chaat masala over it while the bhindi it is still hot. This makes sure the chaat masala sticks to the okra slivers. Let it cool down in basket for 2-3 minutes itself.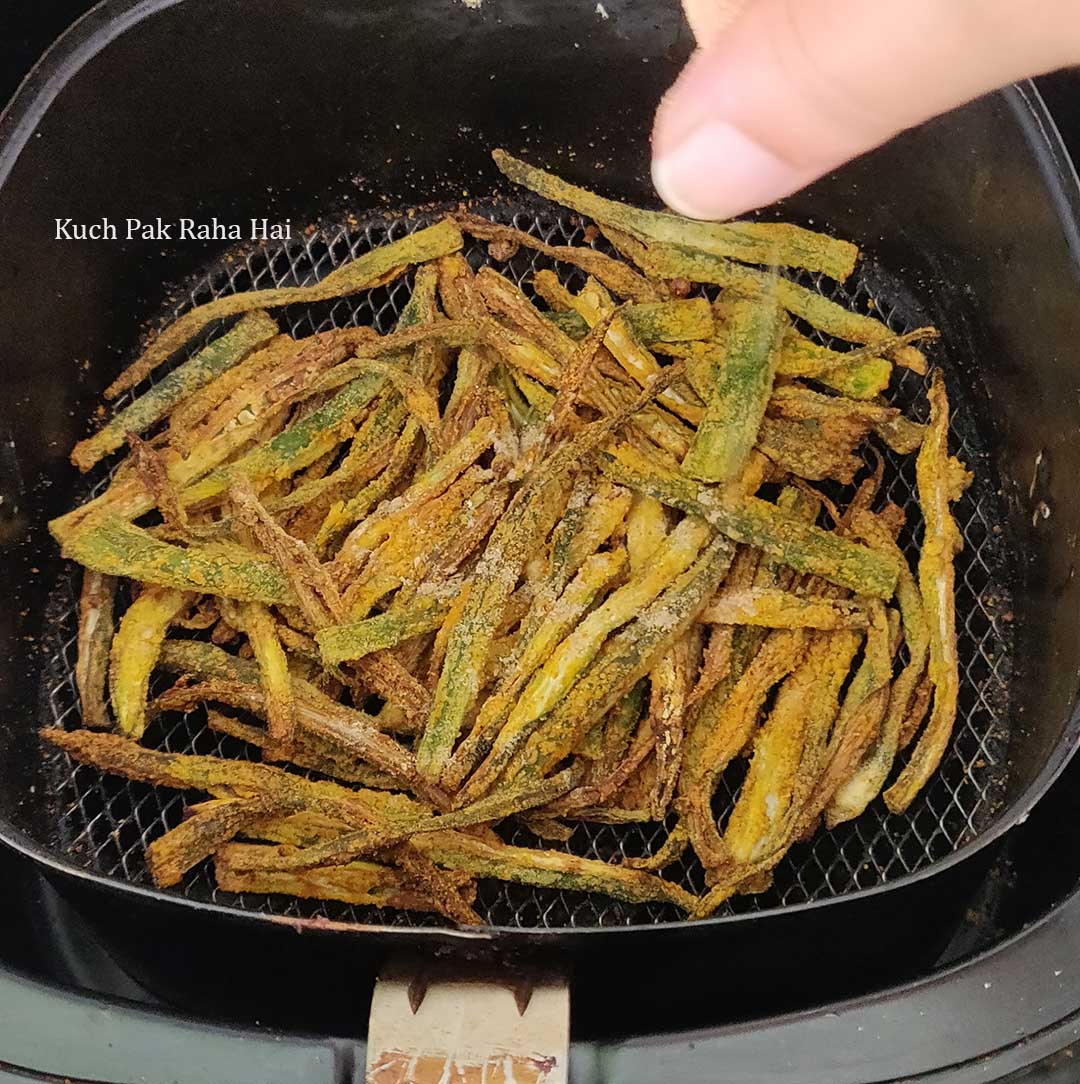 Delicious crunchy air fried okra is ready. Serve it hot with dal, rice or with any dip of your choice Bon Appetit !!
Pin for later: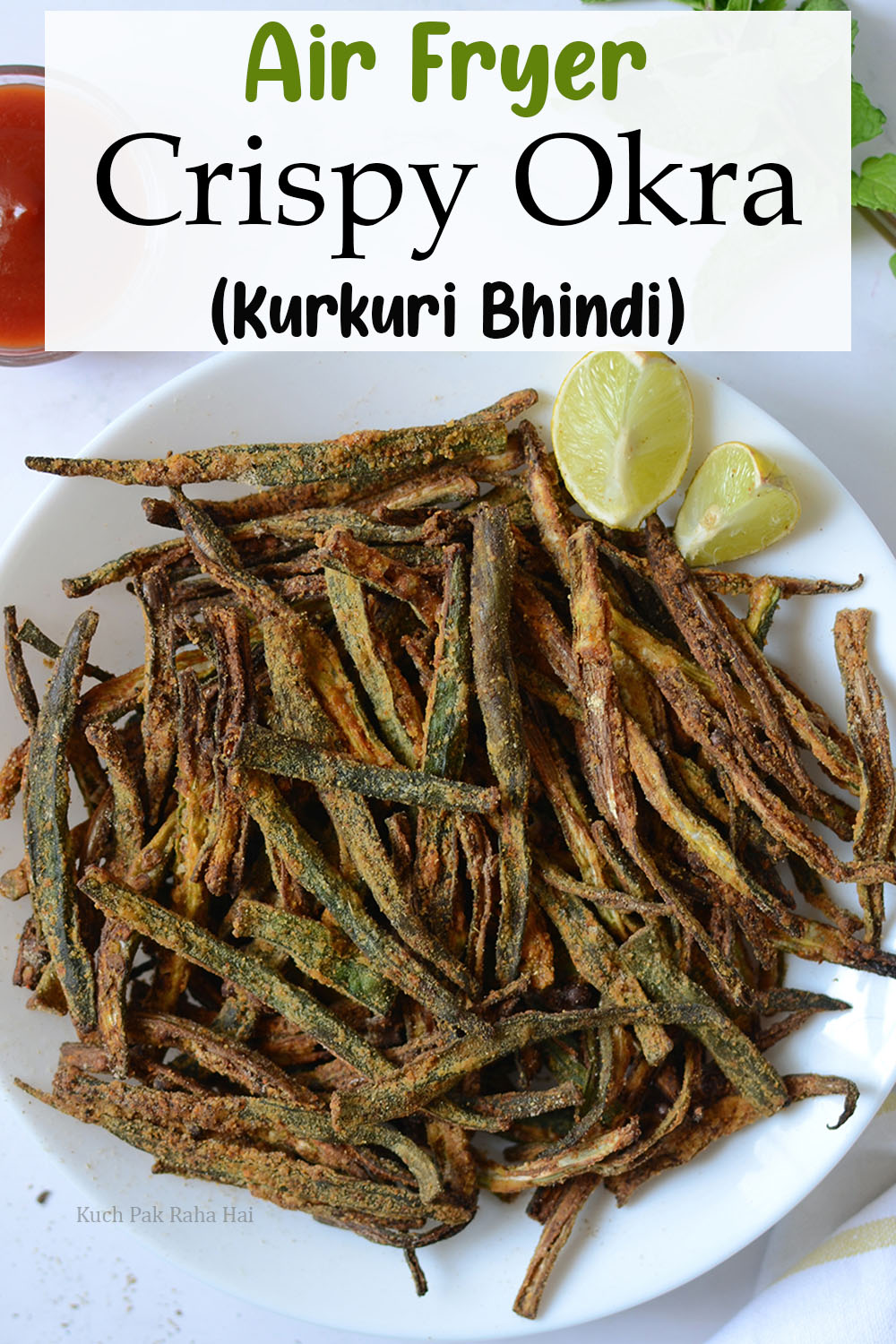 If you try this air fryer okra recipe & share pics on social media, then don't forget to tag us on Facebook, Instagram or use #kuchpakrahahai.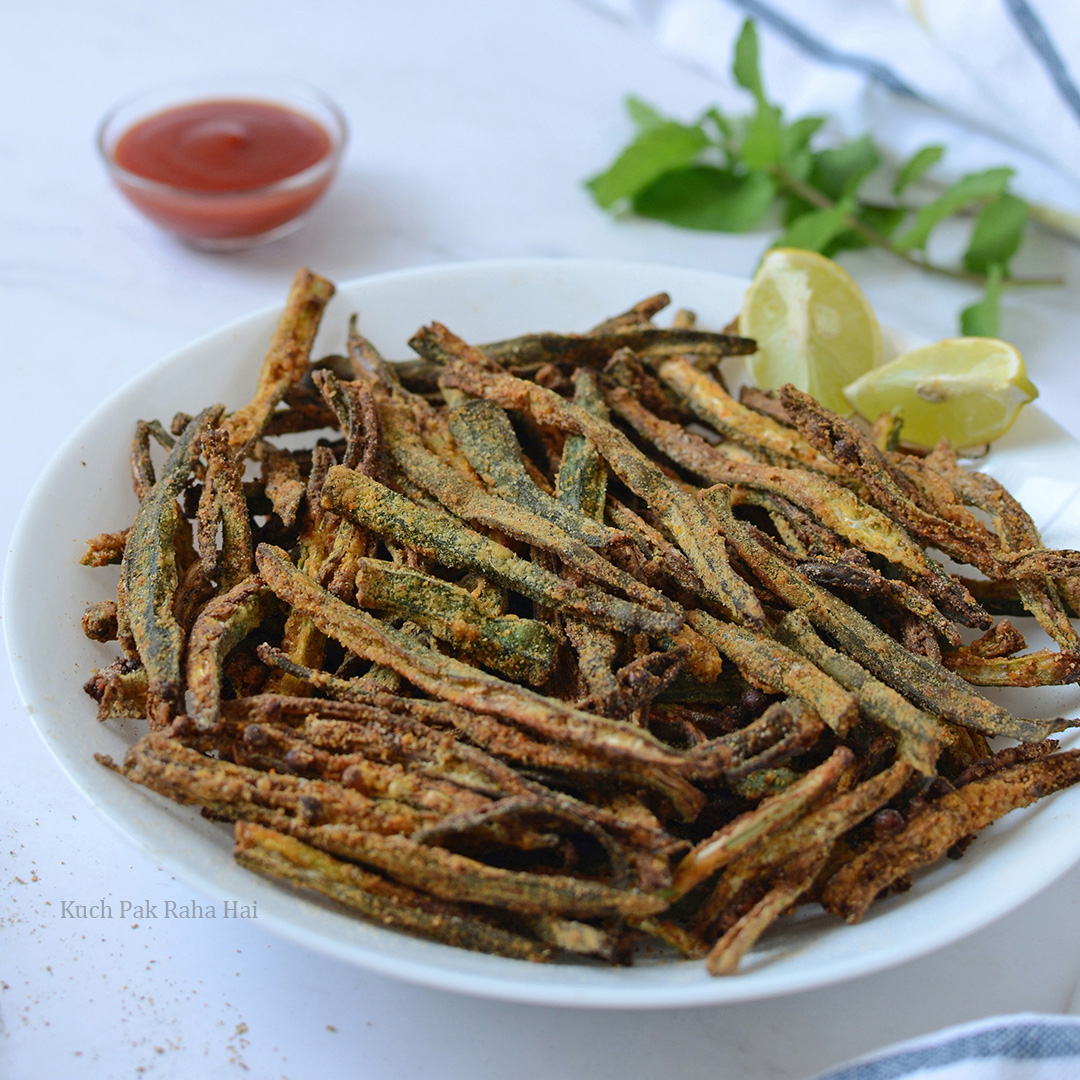 Let's stay connected
Facebook | Instagram | Pinterest| Youtube