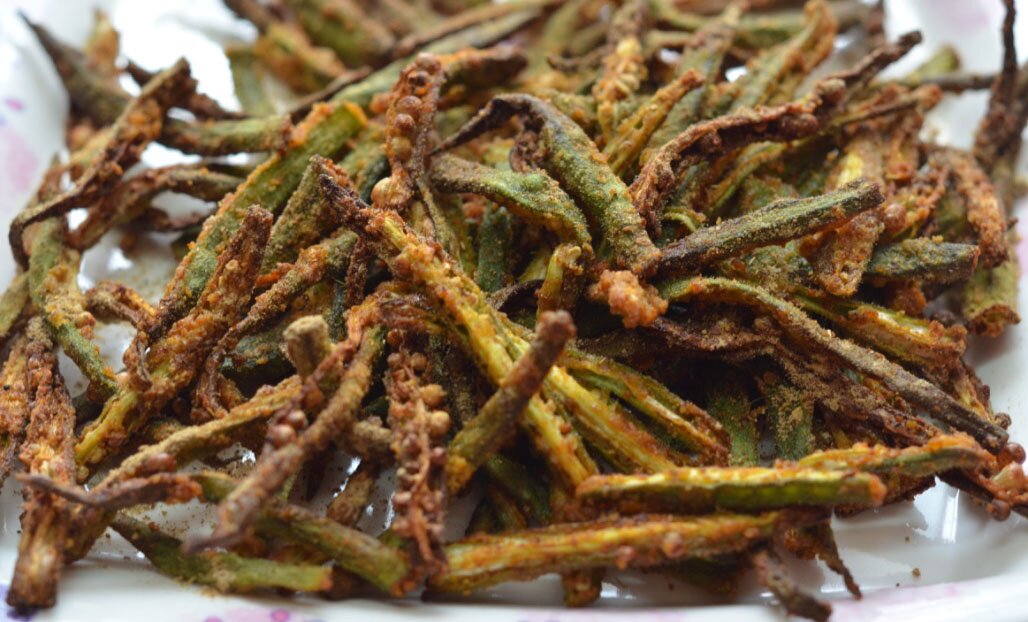 Good Evening to all the readers. Today I am going to share "Kurkuri Bhindi (Okra)" recipe that can be made in few minutes in AirFryer. It is easy to prepare and does not take much time also.
What is more special about it is that I have prepared it in Philips Airfryer gifted to me by my nani 🙂 . I got it two days back and since then I am surfing and searching about all the items that can be made in this. I have already tried Potato Wedges, Moong Dal Pakora in air fryer and both have come out really nice. They were crisp, well cooked and that too when I am using such little amount of oil (almost no oil you can say). The product has indeed exceeded my expectation. The best part is you don't have to sweat in kitchen waiting for things to be cooked.
Generally we prepare Kurkuri bindi by coating it in a mixture of spices, gram flour and then deep frying on high flame till it is crisp. Air fryer saves you from the deep frying step. It not only saves oil but also gives you a healthier guilt-free version of Kurkuri bhindi.
You can adjust the spices little bit as per your taste. Please don't consider that I am advertising any product or brand. I am just sharing my experience and dishes that can be prepared using that appliance.
Other Vegetarian Air Fryer Recipes:
For more Air Fryer recipes, you can Click here.Hope you would like this Kurkuri Bhindi in Air Fryer recipe.
List Of Ingredients:
Bhindi/Okra/Ladyfinger – 250 grams
Gram flour – 2 tbsp
Salt – 1 tsp (or to taste)
Red Chilli Powder – 1 tsp
Coriander Powder – 1 tsp
Cumin Powder – 1/2 tsp
Mango Powder – 1/2 tsp
Chaat Masala – 1 tsp
Oil – 2 tbsp
Steps To Prepare:
Step1:
Wash the bhindi under running water and let it dry for sometime. Slit all the bhindi vertically in four pieces.
Step2:
Sprinkle gram flour, salt, red chilli powder, coriander powder, cumin powder, mango powder, chaat masala and oil over it. Mix it well such that al the spices and gram flour sticks to the bhindi.
Step3:
Preheat the electric fryer for 5 minutes at 200 degrees. Once it is preheated, place the bhindi on the air fryer's mesh and cook it at 180 degrees for next 13-15 minutes. Take the air fryer basket out and flip the bhindi pieces after 5 minutes intervals. It may cook any moment after 10 minutes so keep an eye on it after this time.
"Kurkuri Bhindi" is ready. Top it up some more chaat masala if you want. Serve it with hot chapati or eat it as a snack :).