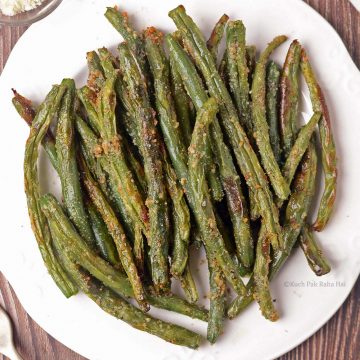 Crispy air fried garlic green beans with parmesan makes for a yummy healthy snack or side dish any time. It is simple, quick to make yet loaded with so much flavour.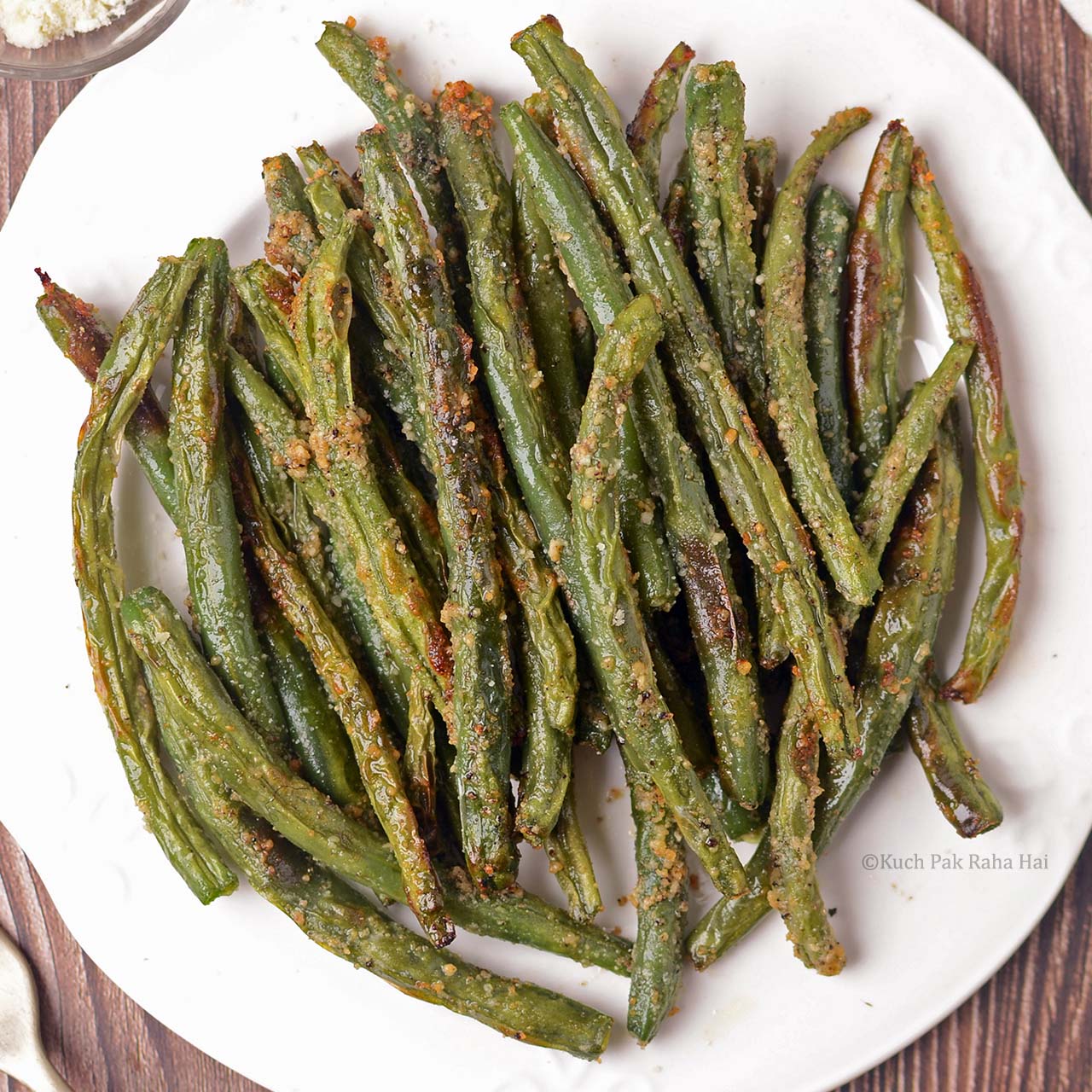 The crispy air fryer green beans recipe shared here is:
Vegetarian
Gluten free (No bread crumbs used)
Can be made vegan
Easy & quick to make
When it comes to green beans, I generally make stir fried potato green beans to accompany everyday meals. This time I tried air frying green beans and the result was better than I expected as the beans turned out yummy with garlic flavour, crispy edges and tender insides.
Ingredients to make airfryer green beans:
Green Beans: Also, known as French beans or string beans, they are a rich source of several mineral, vitamins and anti oxidants. Always use fresh green beans for best taste and texture. You can also use yellow beans (known as 'wax beans').
Butter / Olive oil: Some melted butter adds flavour to the beans and make them crispy while air frying. You can use olive oil too or a mix of both.
Garlic Powder: I like to use garlic powder as seasoning as it sticks better to the beans. If you don't have garlic powder, you can use fresh minced garlic.
Seasoning: Apart from garlic powder, some salt & freshly crushed black pepper are added to the beans. If you like spicy beans, then feel free to add some red chilli powder or cayenne pepper.
Parmesan Cheese: I love these green beans with some parmesan but if you want to cut down calories, you can skip adding it. For vegan air fried beans, you can use vegan parmesan cheese.
Optional: Adding handful of panko bread crumbs to the green beans before air frying, adds crunchy texture to the beans. I have not added them here but if you wish you can add them.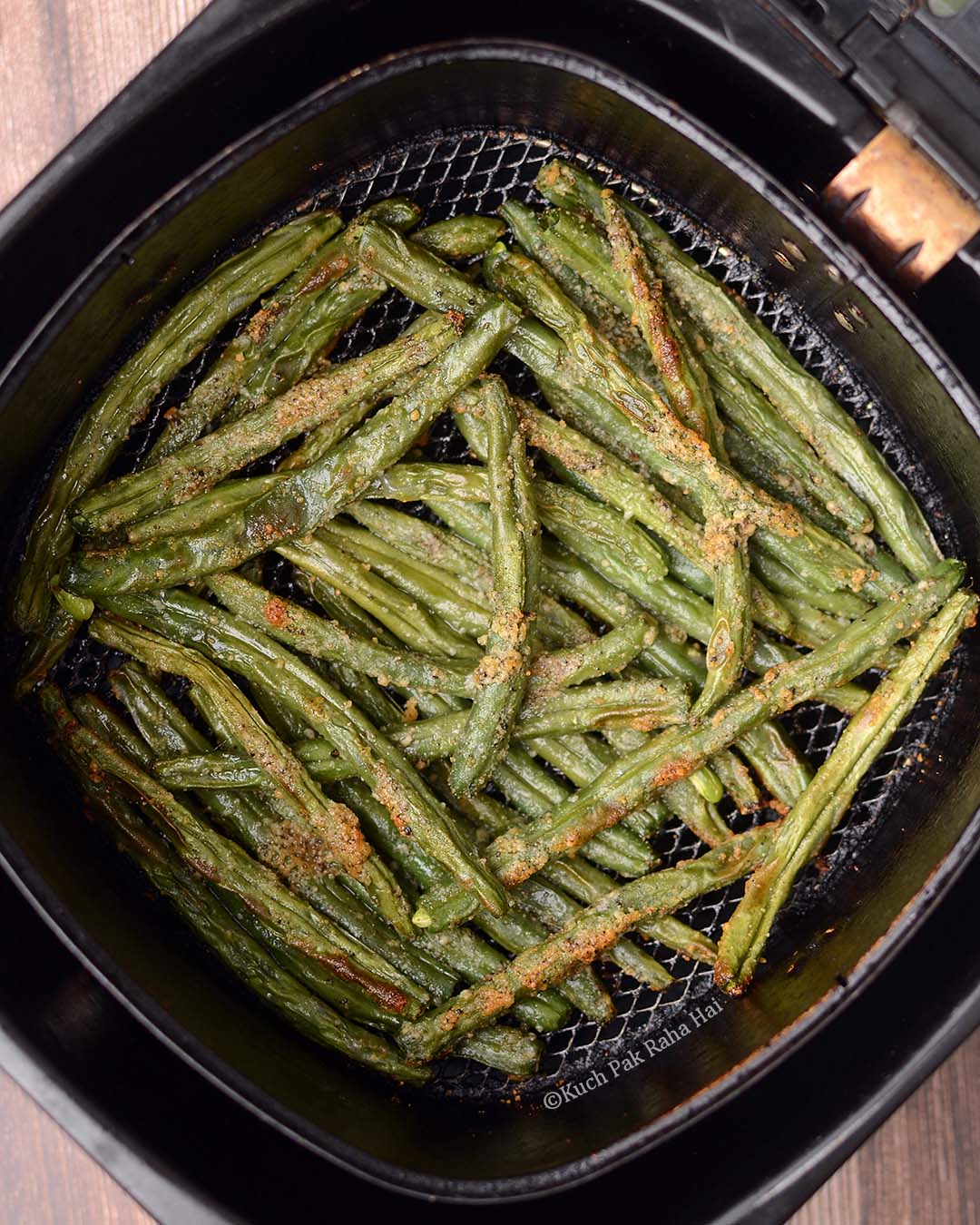 How to make air fryer green beans?
I tried this recipe two ways – first where green beans where directly air fried and the second way in which they were boiled for 3-4 minutes and then air fried. In the first method the beans were little bland and you could taste rawness at certain spots. I liked the second method better, as all beans were uniformly cooked and yielded better texture after air frying.
More air fryer recipes:
Hope you would like this yummy easy air fryer green beans recipe.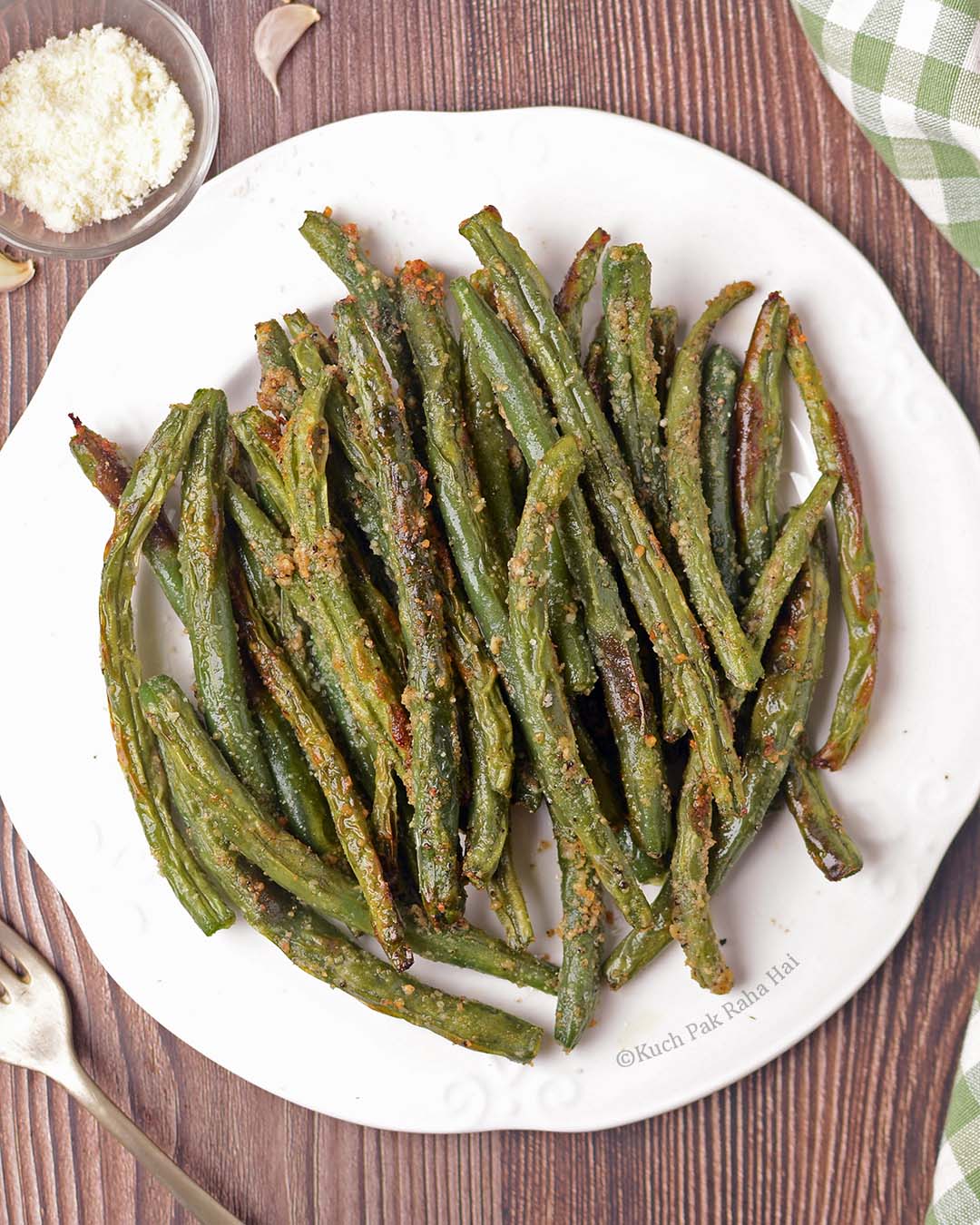 Ingredients:
Fresh Green Beans- 250 gms (1/2 lbs)
Water – 4 cups
Melted Butter- 1/2 tbsp
Olive Oil-1 tbsp
Crushed black pepper-1/4 tsp
Garlic Powder-1/2 tsp
Salt- 1/2 +1/4 tsp (to taste)
Grated Parmesan Cheese-1 tbsp
Notes:
Instead of garlic powder, you can use 1 tbsp freshly minced garlic.
You can skip butter in this recipe and use olive oil only.
To make vegan air fried beans, use vegan butter & vegan parmesan.
Directions:
Step 1:
Wash the green beans well and trim off the edges.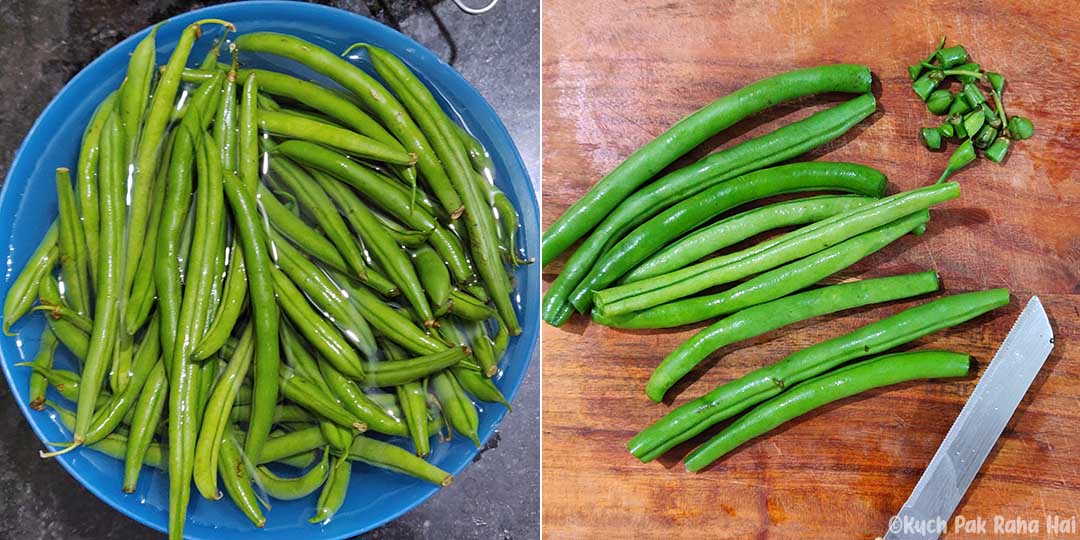 Step 2:
Add water & 1/2 tsp salt in a deep pan and bring it to boil. Add green beans to it and boil for 3-4 minutes. Once done, transfer them on a colander to drain off all excess water.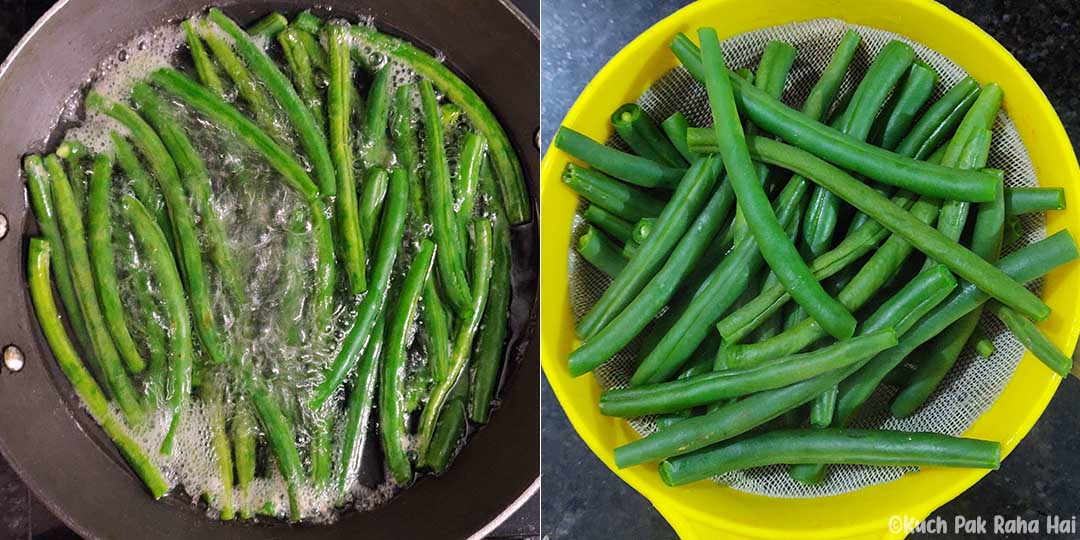 Step 3:
Take a large mixing bowl. Add melted butter, olive oil, salt, crushed black pepper, garlic powder, green beans and parmesan to it. Mix well so that all beans are coated well.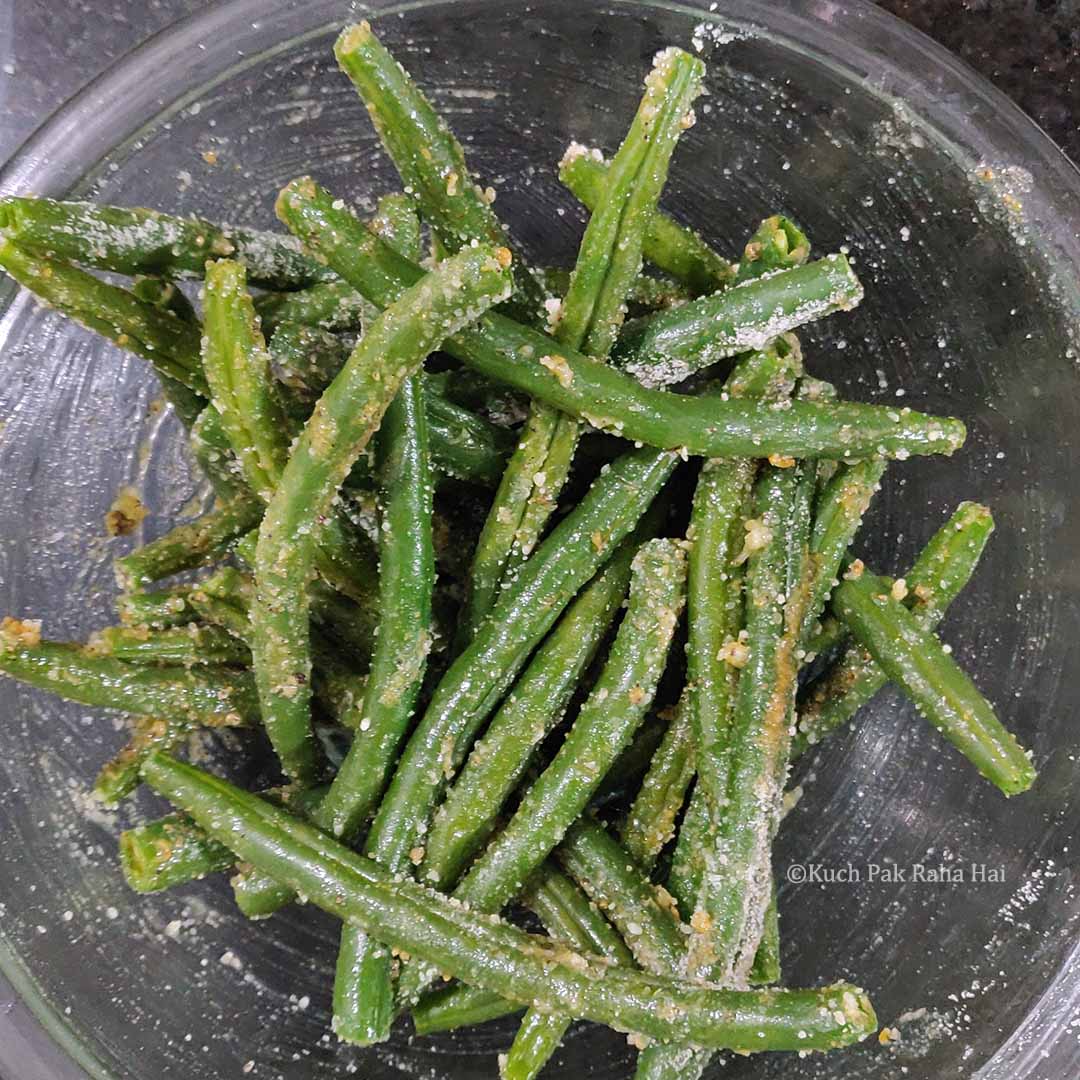 Step 4:
Set the air fryer for preheating at 200°C (392°F). Once air fryer is preheated, spread green beans into its basket. Avoid overcrowding. If you are making bigger portions, make in small batches.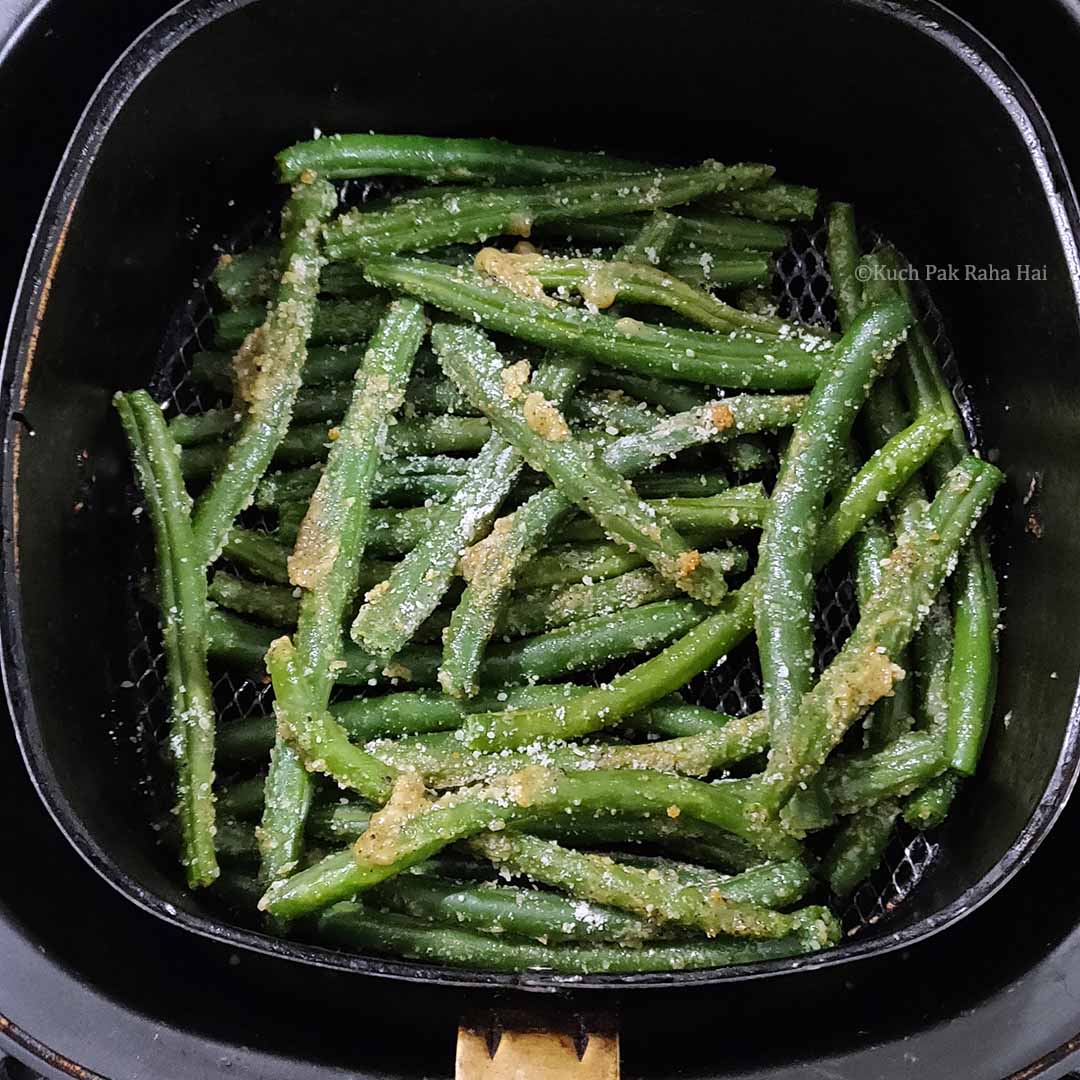 Air fry these green beans at 200°C (392°F) for 5 to 6 minutes till they becomes crispy from edges and tender inside. (Note: The air fryer time can vary by 1-2 minutes depending in the size & brand of air fryer. Taste the beans once after 5 min and increase the time if required.)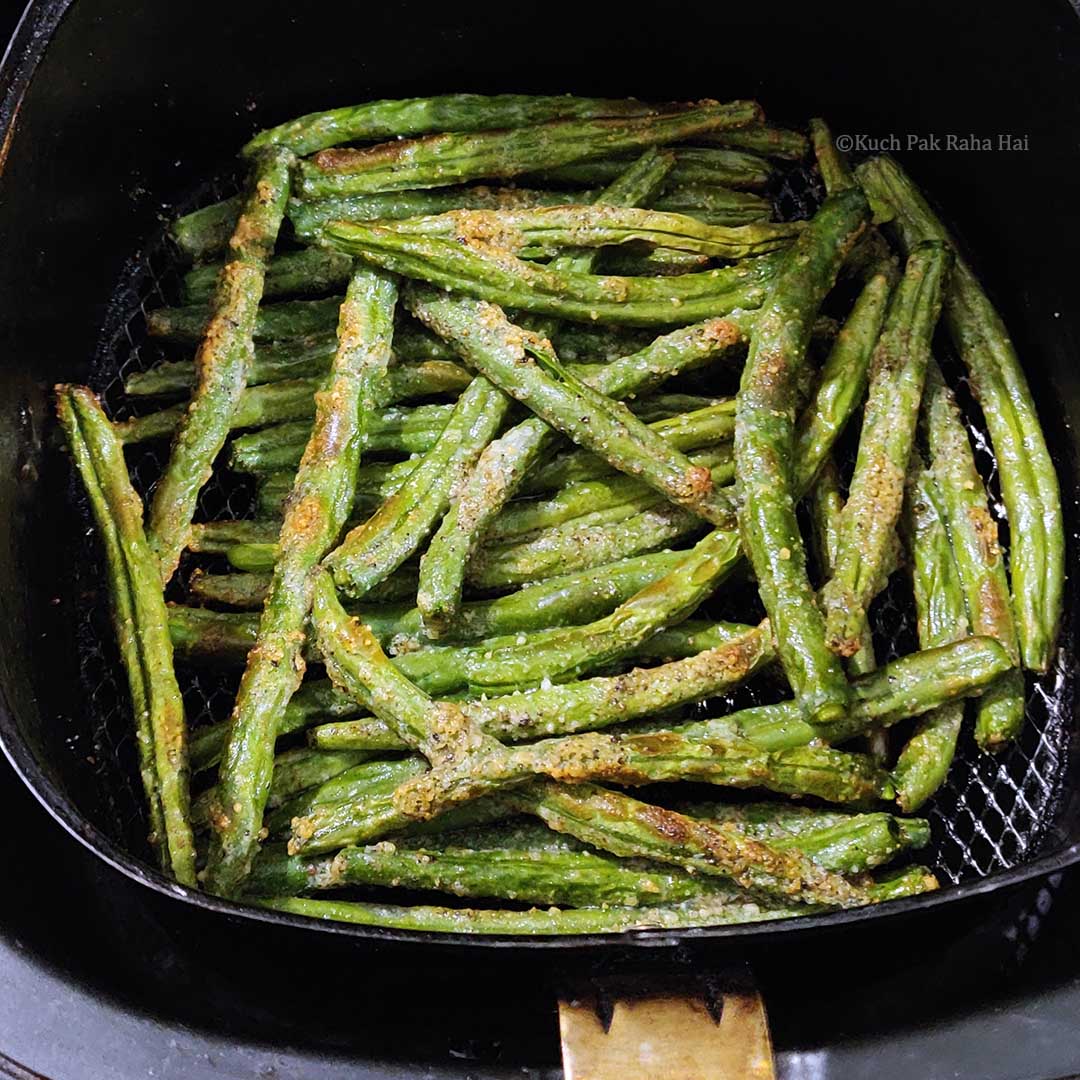 Serve them hot immediately. Bon appetit!!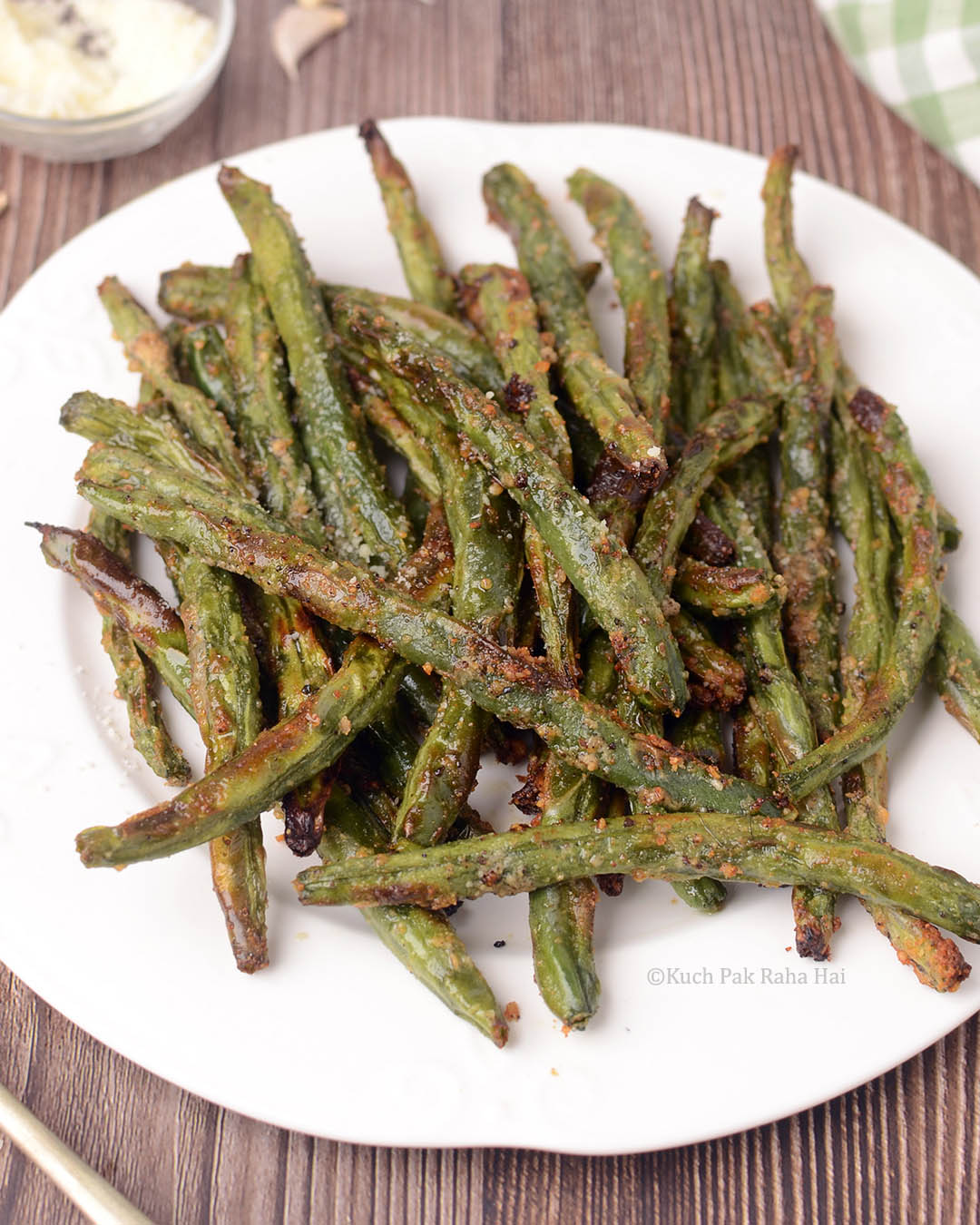 FAQ:
How to reheat air fried green beans?
These beans start to become limp on cooling down. So it's better to consume when they are fresh out of air fryer. If you want to reheat them, air fry for 1-2 minutes.
Can I make these air fryer green beans in advance?
I would recommend boiling the string beans beforehand and store in an airtight container in fridge. Whenever you want to have them, toss them in olive oil, seasoning and air fry.
Pin for later: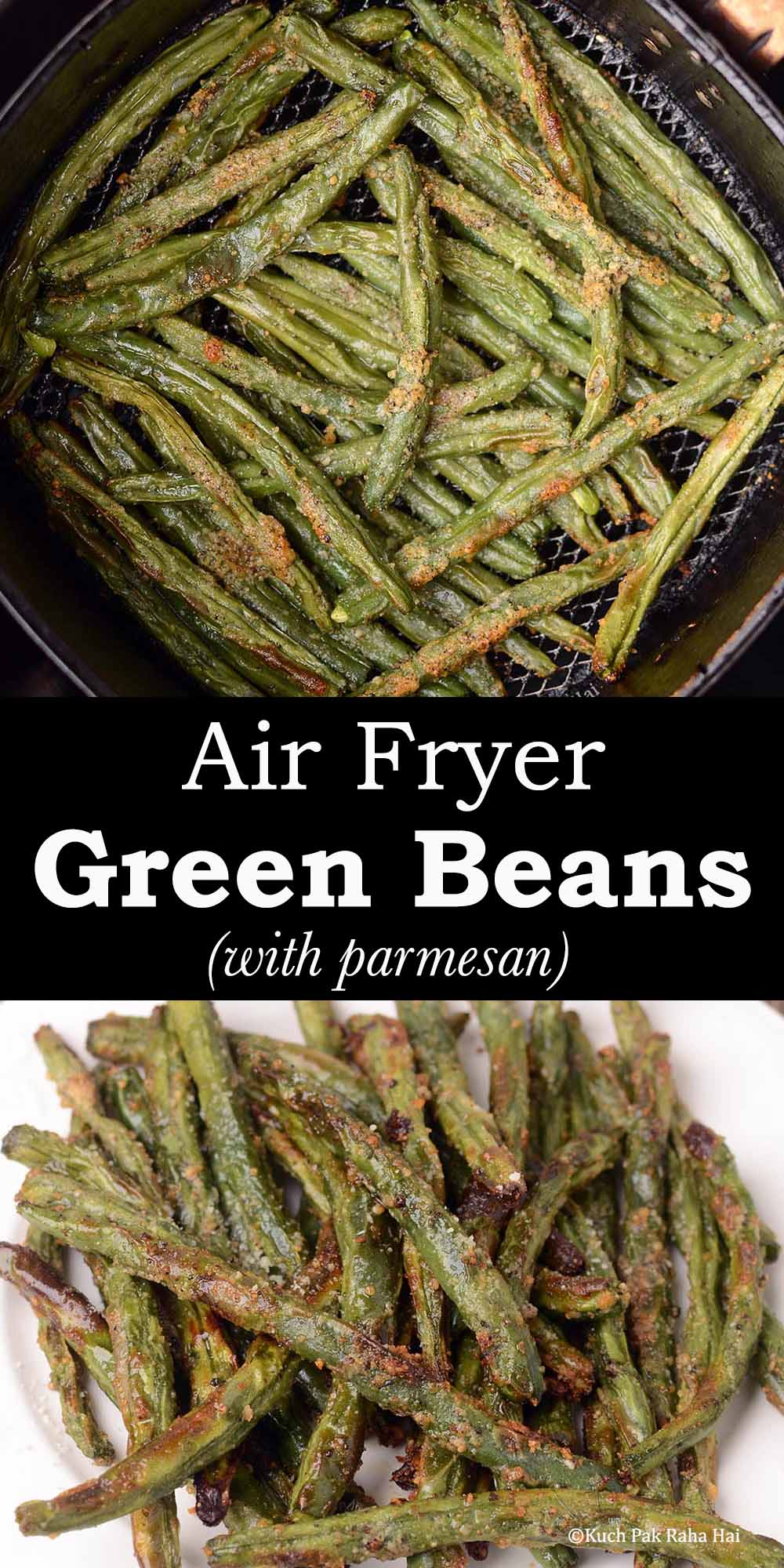 If you try this garlic parmesan green beans recipe & share pics on social media, then don't forget to tag on Facebook, Instagram or use #kuchpakrahahai.
Let's stay connected
Facebook | Instagram | Pinterest| Youtube