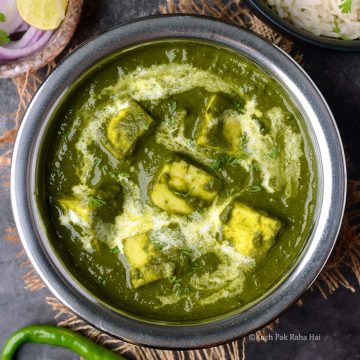 Soft, succulent paneer cubes dunked in smooth, luscious spinach sauce is perfect for healthy & delicious lunch or dinner. It can be enjoyed with Indian breads like chapatis (roti), naan or steamed rice.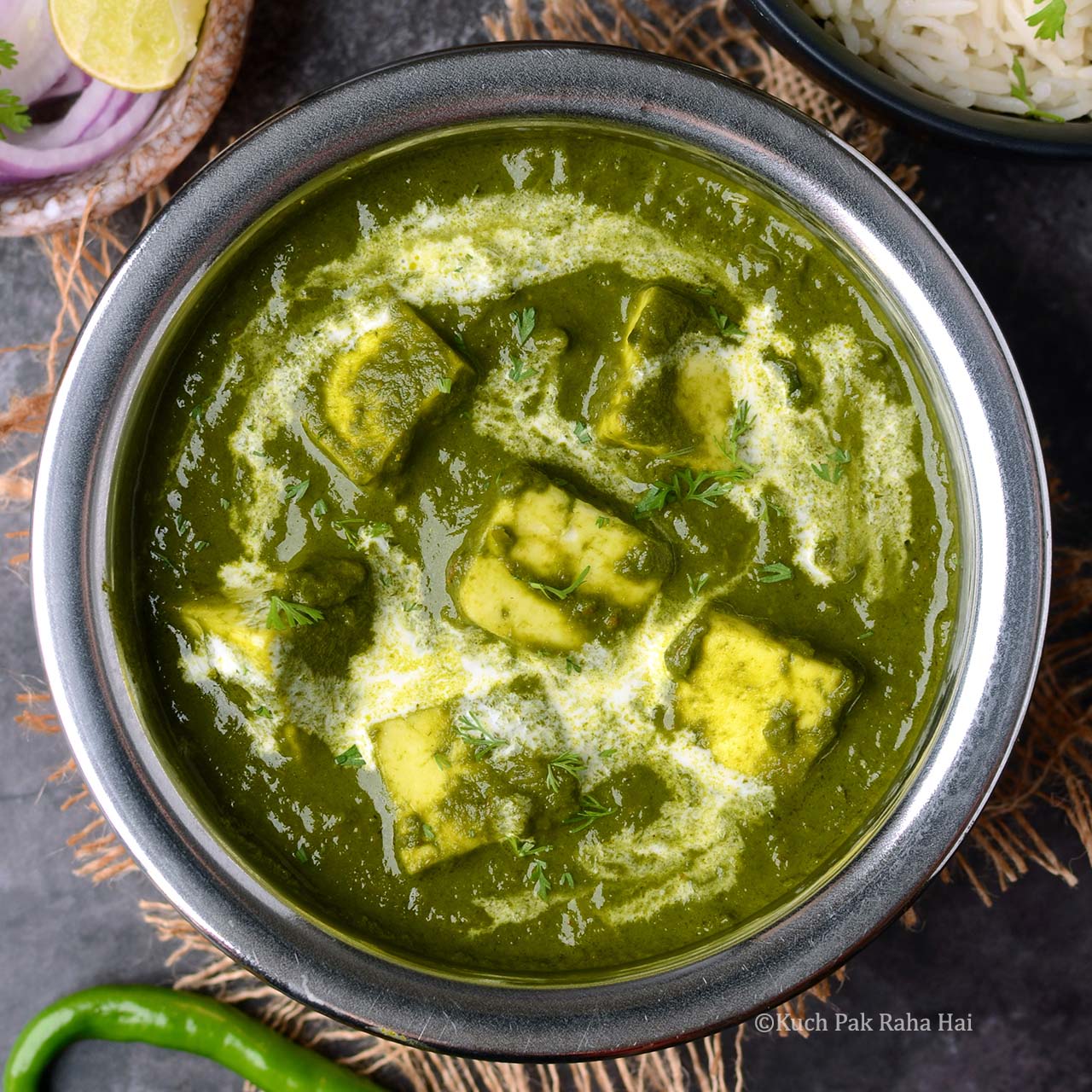 In this post, I have shared a quick yet easy method to make restaurant style palak paneer at home. When it comes to paneer recipes, the list is endless with paneer butter masala, shahi paneer, kadhai paneer & paneer bhurji etc but my favourite will always be palak paneer as along with being yummy & flavour packed, it is healthy too.
The palak paneer recipe shared here is :
Vegetarian
Gluten free
Nutritious & yummy
Can be made vegan (dairy free)
Palak or spinach always reminds me of the cartoon character 'Popeye'; how he used to gulp the entire tin of spinach & got those herculean muscles in no time, to save 'Olive' from 'Pluto' the villain. I think almost every mother has taken the help of popeye character to make their kids eat spinach.
What is the meaning of Palak Paneer?
Palak, also known as spinach in english, is a leafy green edible plant belonging to amaranth family and is known for its high nutritional value. Paneer or Indian cottage cheese, made by curdling milk with some vinegar or lemon juice, is a great source of protein & calcium.
To make palak paneer, we prepare a smooth green sauce using spinach puree, onion, tomatoes, ginger, garlic & few spices. In this gravy,  we add  paneer cubes & simmer for some time. To bind all the flavours together & add creaminess, some heavy cream is added. If you are calorie conscious, you can use low fat cream or milk.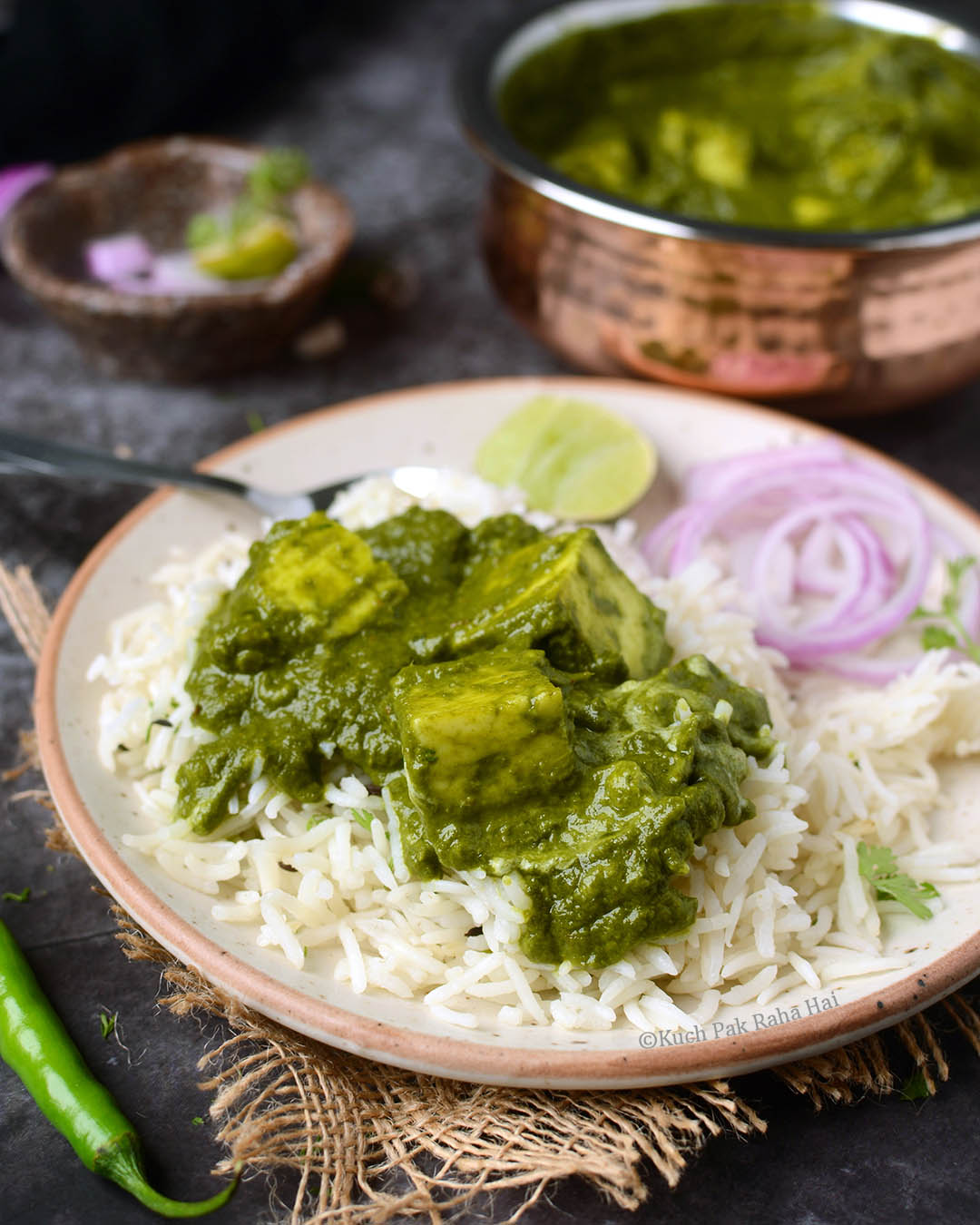 Some people like to sauté or deep fry paneer before adding it to the gravy but I like to add it as it is. You can use store bought or fresh homemade paneer to make palak paneer.
If you want to make Jain palak paneer i.e. without onion & garlic, then skip adding them & instead use 1/4 tsp of heeng (asafoetida).
How to make vegan palak paneer ?
You can make palak paneer vegan (dairy free), by using extra firm tofu instead of paneer. Drain & press the tofu for 20 to 30 minutes to get rid of excess moisture. Cut it into bite size cubes. Heat oil in a pan and sauté them till they are lightly browned.
In place of cream, use coconut milk or cashew cream. Cashew cream is made by soaking cashews in hot water to soften them up & then blending with water to get smooth silky creamy texture. Rest of the recipe & method will remain the same.
What is the difference between Saag paneer & Palak paneer?
People often get confused with saag paneer vs palak paneer as they both are green in colour. However the main difference between the two is in the kind of leafy greens used in making them. Saag is made by using a combination of mustard greens (sarson), spinach, collard greens, chenopodium (bathua) whereas palak paneer is made by using spinach only.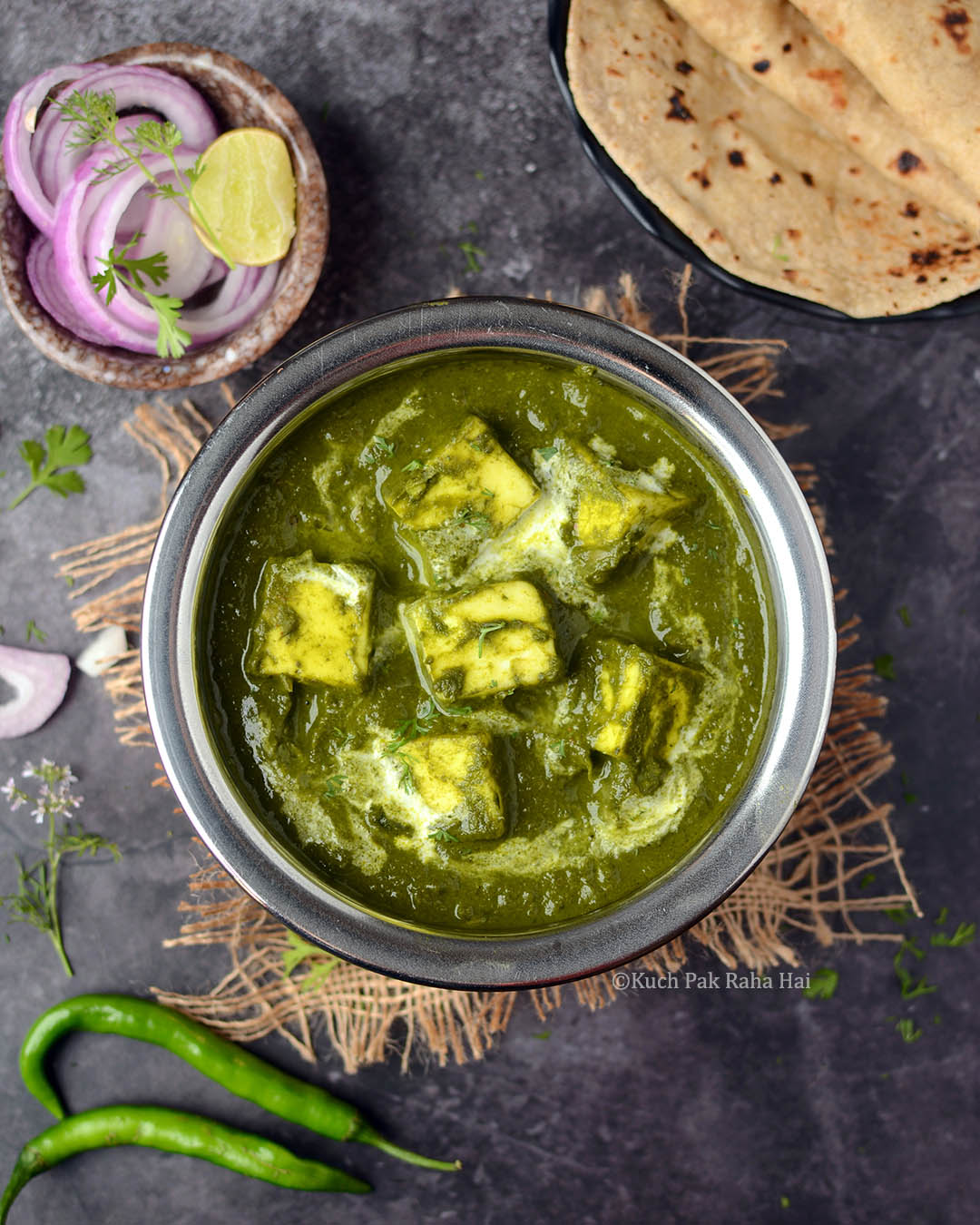 More spinach recipes:
I have shared more tips at the end of post, do check them out. Hope you will like this easy palak paneer recipe.

Ingredients:
Spinach (Palak) – 500 grams (17 oz)
Paneer / Tofu – 200 grams
Oil / Ghee – 2 tbsp
Ginger – 1 inch piece
Green Chillies – 2
Cumin seeds (jeera) – 1 tsp
Whole Dried Red Chilli- 1
Garlic (minced)- 3 to 4 cloves
Onion (finely chopped) – 1 small
Tomatoes (blended) – 2 small
Turmeric (haldi)- 1/2 tsp
Red Chilli Powder – 1/2 tsp
Coriander Powder- 3/4 tsp
Salt – 1 tsp (or to taste)
Lemon Juice – 1 tsp
Heavy Cream / Cashew Cream*- 3 tbsp
Water – For cooking
Notes:
*To make cashew cream, soak 8-10 cashews in hot water for 10 minutes. Blend them with 1/4 to 1/3 cup water.
Instead of lemon juice, you can also use 1/2 tsp amchoor (dry mango powder).
Directions:
Step 1:
Chop off the hard stems of spinach leaves. You can leave tender leaves as it is. Wash them well under running water to get rid of any dirt.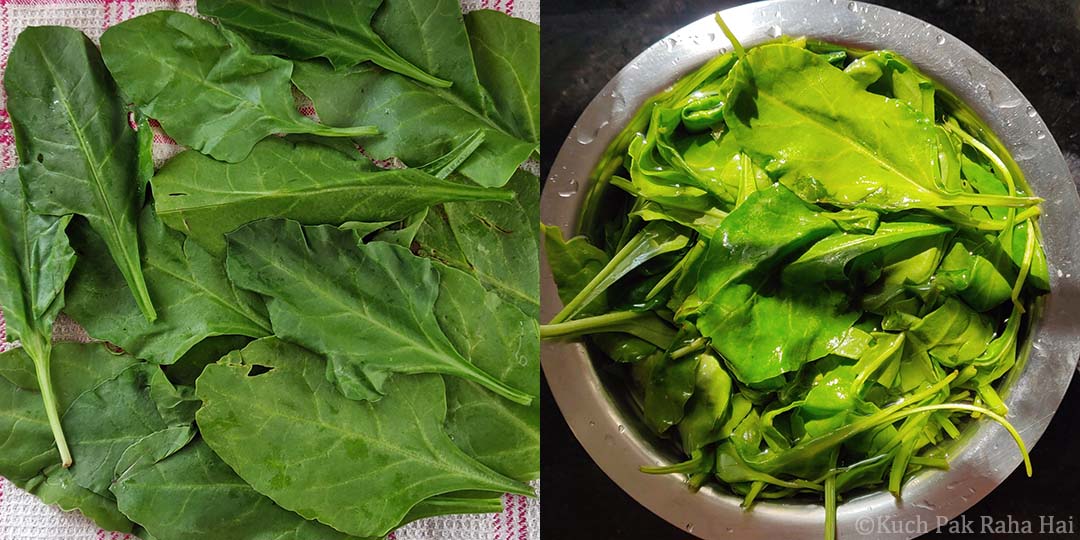 Step 2:
Take water in a deep pan & bring it to rolling boil. Once the water starts boiling, add spinach to it. Boil for 2-3 minutes.
Immediately, transfer these leaves in ice cold water for 5 minutes to prevent further cooking.
Add this blanched spinach (palak) in a blending jar with ginger & deseeded green chilli. Add little bit water if required. Blend well to get smooth puree. Keep it aside.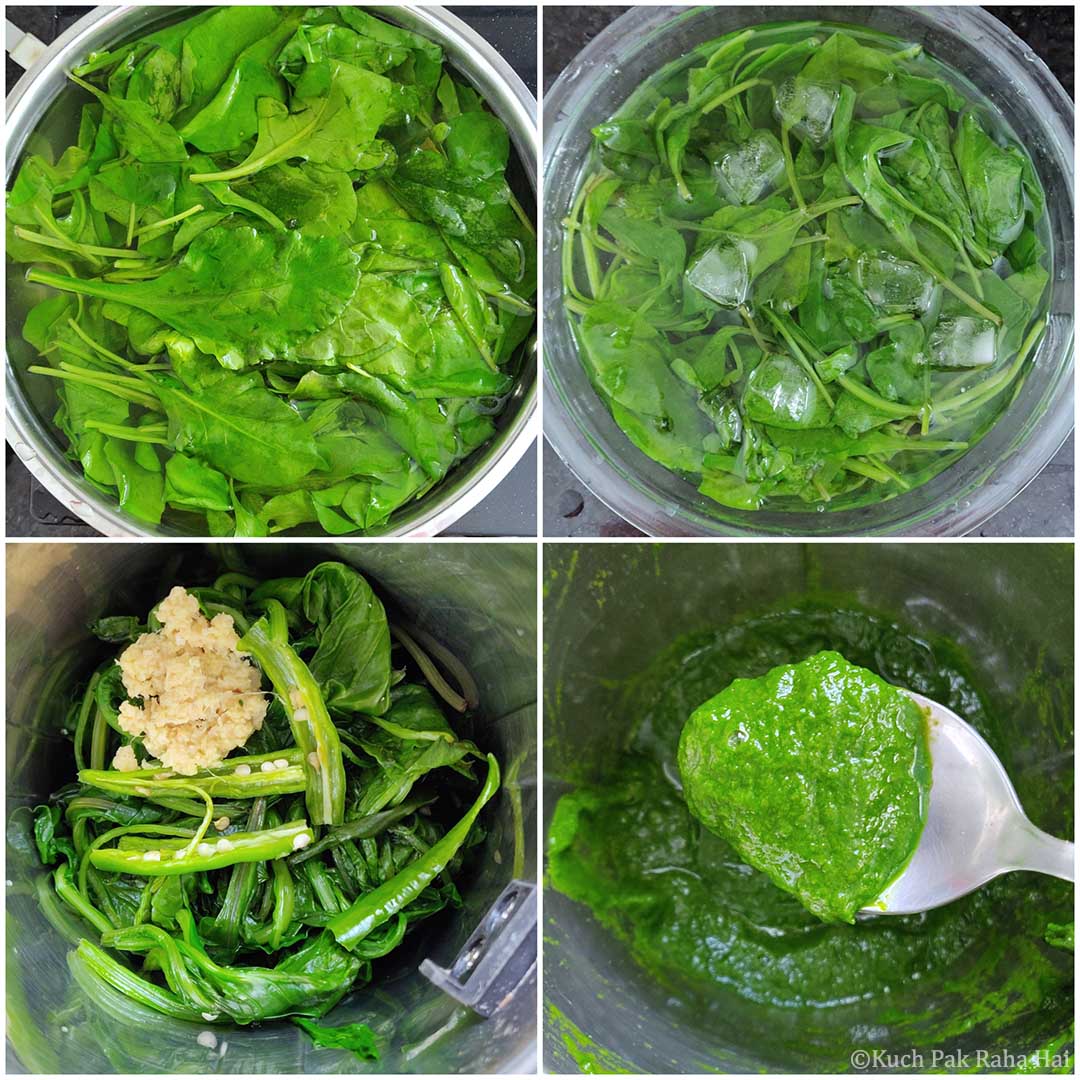 Step 3:
In a pan, heat oil or ghee. Add cumin seeds (jeera), chopped onions, garlic and whole dried red chilli. Cook till onions turn translucent in colour.
Add freshly pureed tomatoes, salt and let the mixture cook on medium low flame. When the masala mixture begins to thicken up, add all the spices. Cook till you see fat separating from mixture.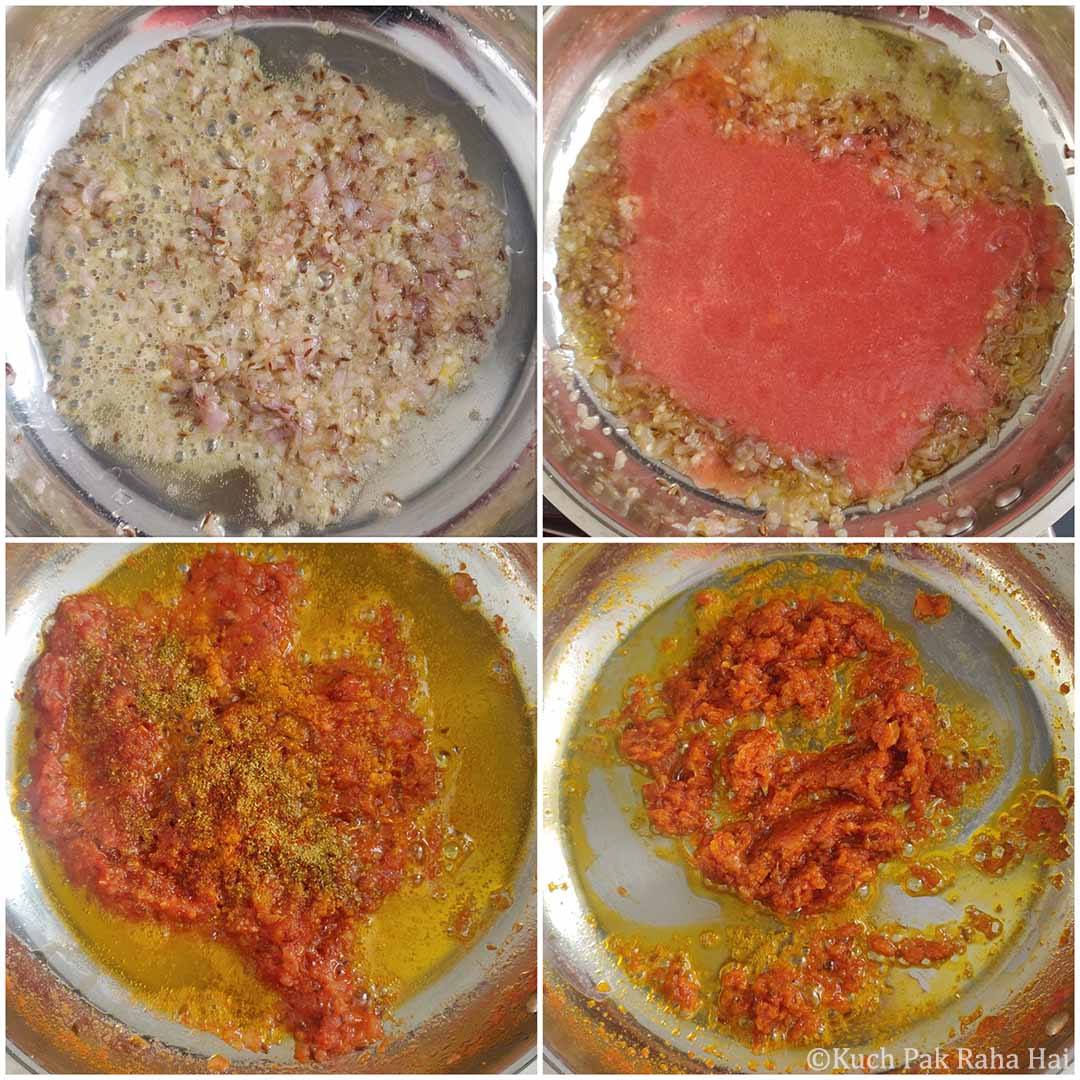 (I forgot to add whole dried red chilli here, but please add it when you are making)
Step 4:
Add spinach puree to this cooked masala & mix well. If the consistency seems too thick, add 2-3 tbsp water. Simmer for 3 to 4 minutes.
Taste once & if the tomatoes were less sour, add lemon juice. Add heavy cream (or cashew cream) & mix well. Add paneer or tofu cubes to this palak sauce just before serving & simmer for another 2 minutes.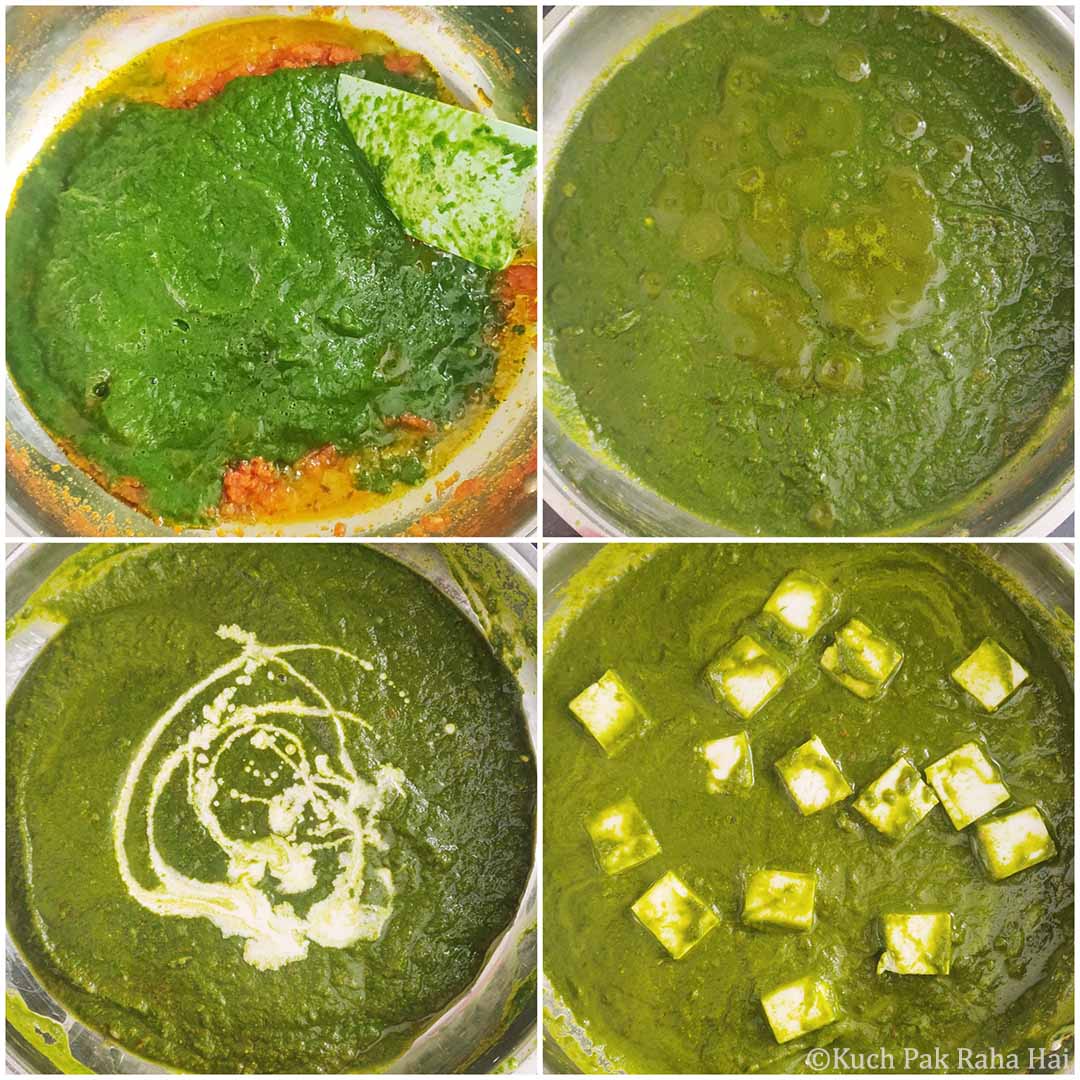 Don't cook too much after adding paneer. Garnish with some more cream. Serve hot with chapati, paratha, naan or jeera rice.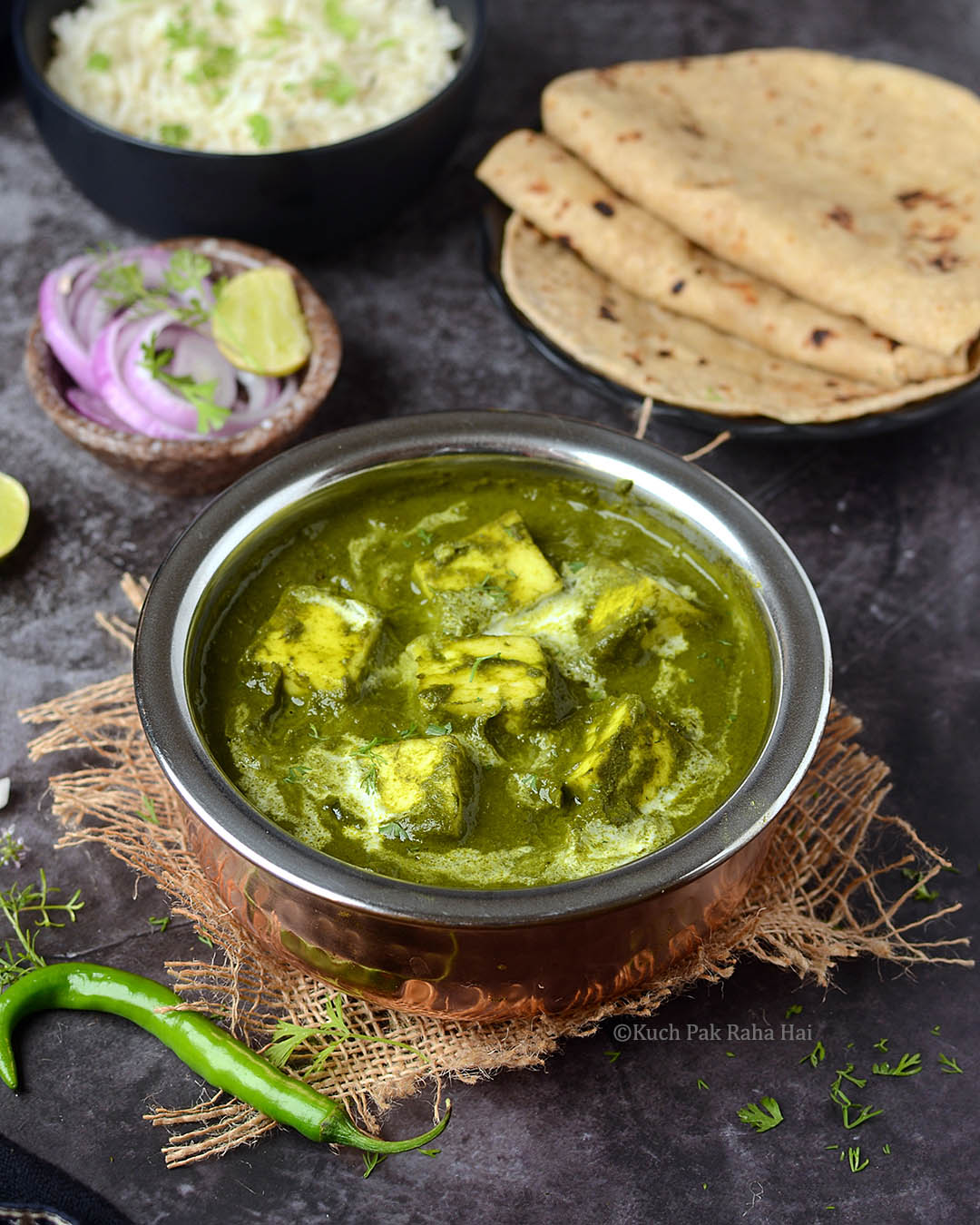 Can I freeze palak paneer?
Yes you can easily store palak paneer is freezer for upto a month. Whenever you want to have it, thaw on kitchen counter. Heat 2-3 tbsp water in a pan and transfer palak paneer in it. Cover & heat on low flame for 4 – 5 minutes. Serve immediately.
Tips to make perfect palak paneer:
1. To retain the perfect green colour in palak paneer avoid overcooking it at any step. We have cooked spinach twice in this recipe, first by blanching in beginning & then towards the end with masala. Keep track of the timing in both steps.
2. Red chilli powder turns the palak paneer darker in colour. So it is better to use green chillies or whole dried chillies for spiciness .
3. Don't mix too much after adding paneer as over mixing can break the paneer pieces. Add paneer only after the gravy is ready.
4. Don't heat too much after adding paneer as it can make the paneer rubbery or chewy.
Pin for later: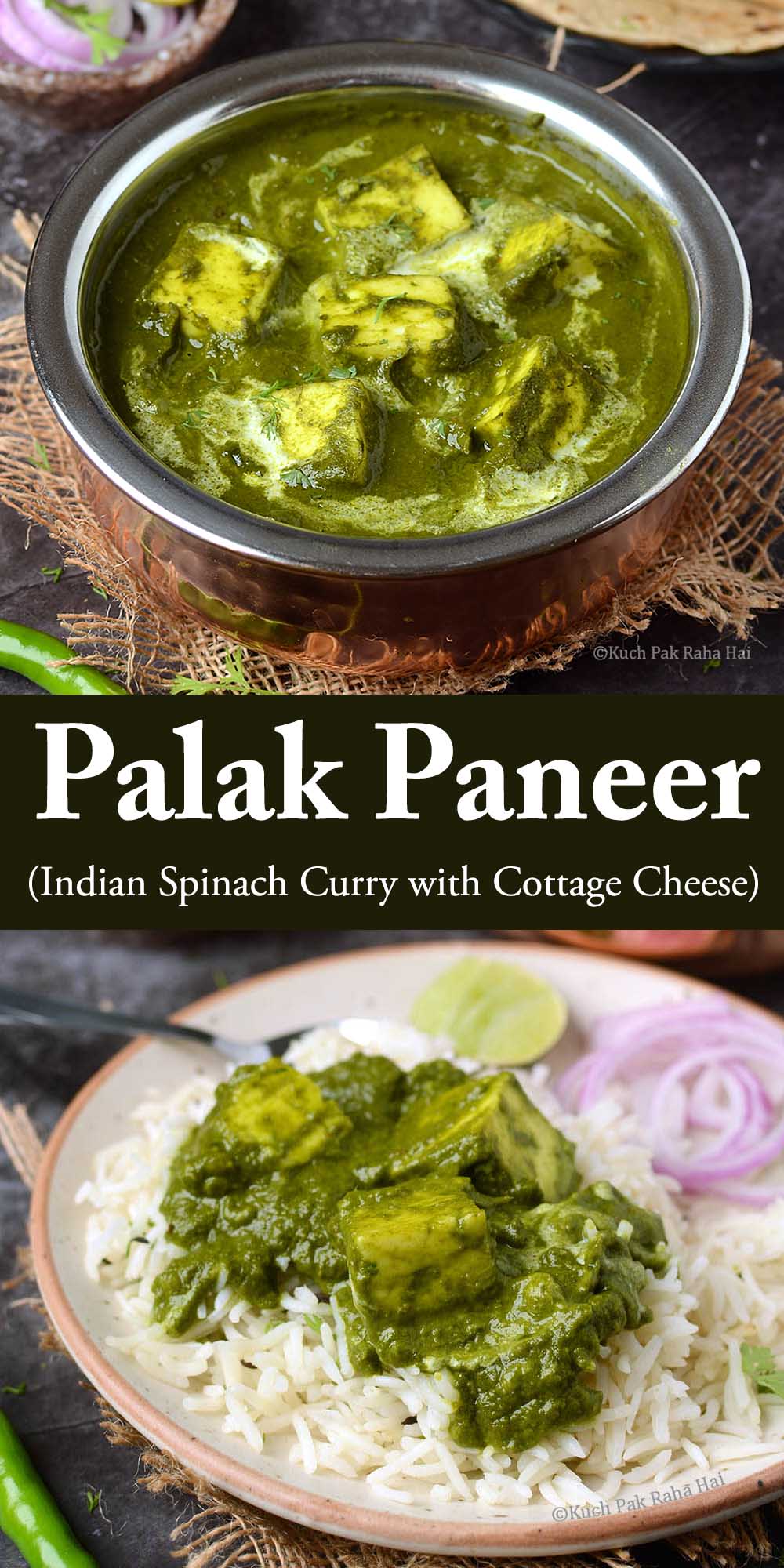 More Indian vegetarian recipes:
If you try this easy Indian spinach paneer recipe at home & share pics on social media, then don't forget to tag on Facebook, Instagram or use #kuchpakrahahai.