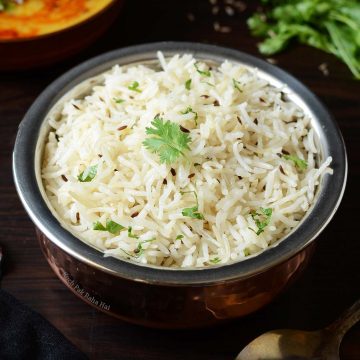 Jeera rice or cumin rice is an aromatic Indian rice recipe made by cooking basmati rice with roasted cumin, ghee (or oil) & salt. It is served with dal (lentils), curries or gravy dishes. Both stovetop & pressure cooker methods are explained in the post.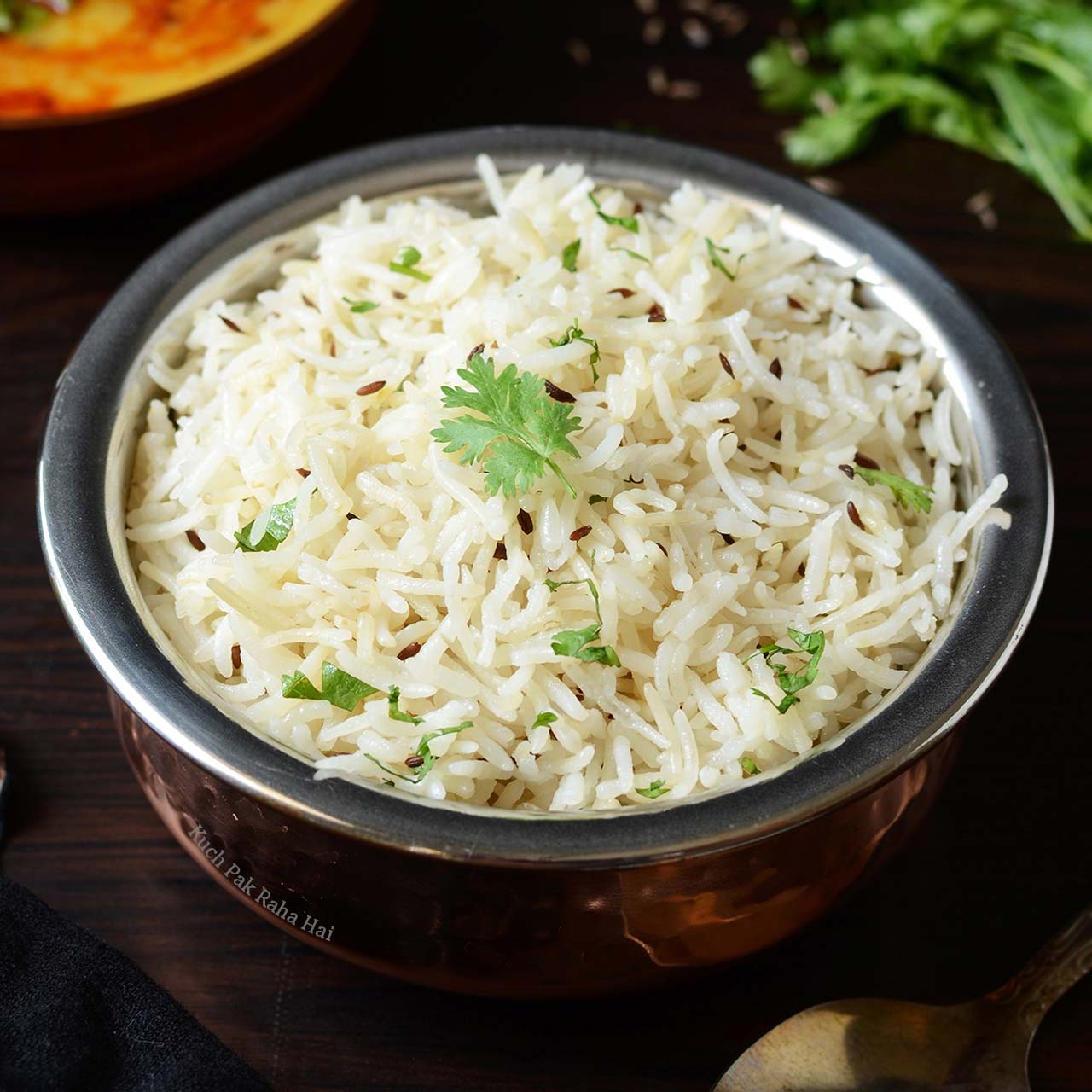 The jeera rice pilaf (or pulao) recipe shared here is easy, quick and you will get perfect non sticky fluffy restaurant style rice each time. It is vegan (dairy free), gluten free and great to make for everyday meals with dal or curries like :
Cumin seeds are also known as jeera. They are slightly elongated, light brown in colour and because of their warm earthy aroma used in many other Indian recipes or curries. You can easily buy them online or in any Indian grocery store.
Jeera rice can be prepared in many ways like on stove top, in slow cooker, rice cooker or instant pot etc. In this post I have made it in two ways:
Ingredients for cumin rice:
Rice : It is best to use long grain basmati rice for this jeera rice recipe as they have the best aroma & texture. Also if you could find aged basmati rice it would be better as ageing is said to improve the quality fo rice.
Here I have used India gate basmati rice. You can use any brand of your choice, just make sure to use long grain variety.
Cumin (Jeera): Use whole cumin seeds for this recipe. They are first sautéed in some ghee or oil, as this way they tend to release their aroma better. If you don't have whole cumin seeds, you can substitute it with cumin powder.
Ghee / oil: Authentic Indian Cumin rice is cooked with ghee (clarified butter). However if you want to make this recipe vegan or dairy free, use any cooking oil like olive oil, avocado or sunflower oil.
Salt: Salt is quintessential for any rice recipe. You can use regular table salt or pink salt.
Fresh coriander / Cilantro: The prepared rice are further garnished with fresh herbs like chopped coriander or cilantro for adding freshness. However skip it if you don't have it.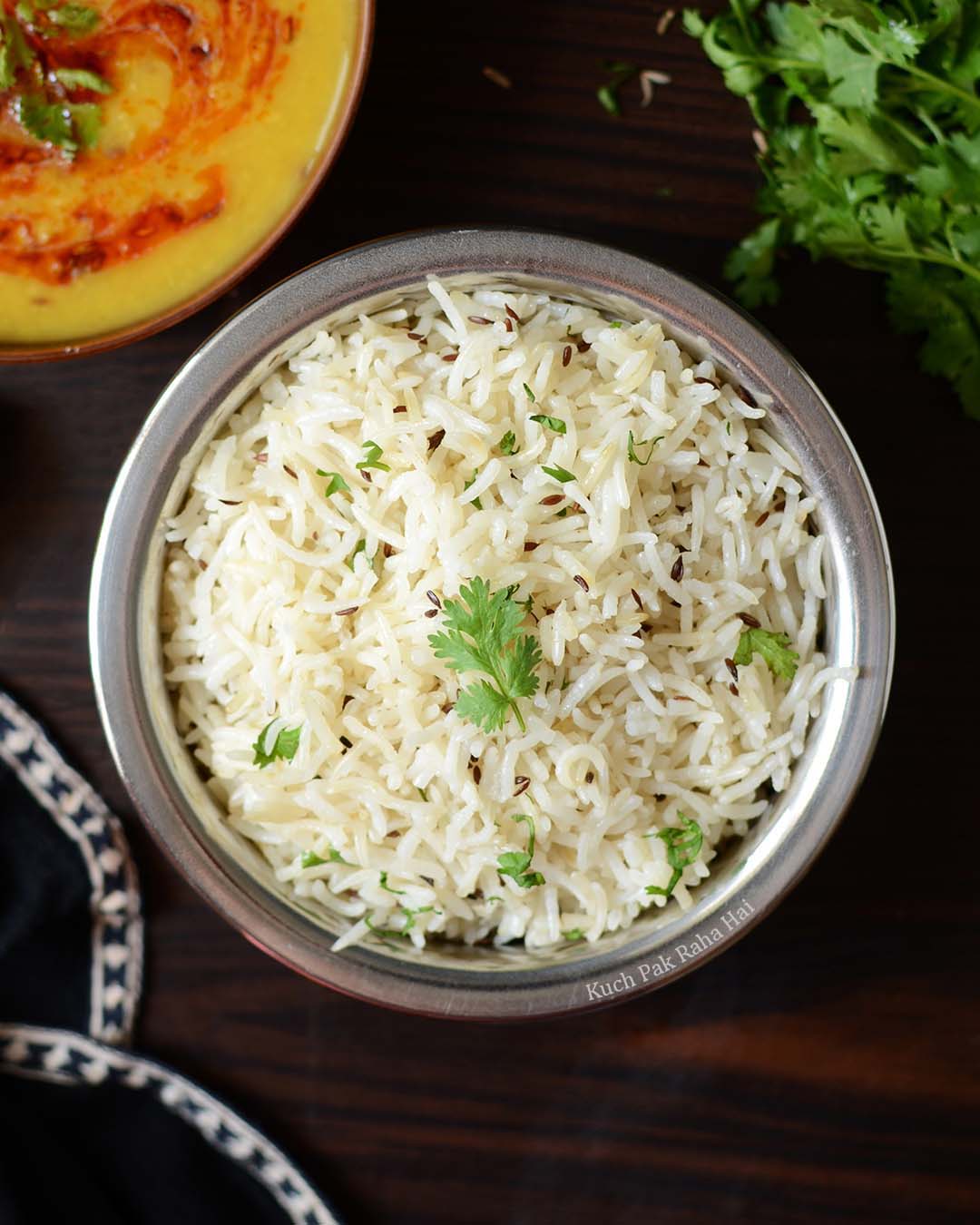 Tips to make perfect fluffy non sticky rice:
Washing:
The first & foremost step is to rinse the rice well under running water to get rid of all the dust and impurities.
Soaking:
We need to soak it for at least 20 to 30 minutes to get rid of all the excess starch that makes them sticky. Also the soaking process reduces the cooking time as the rice grains had already absorbed the water & they begin to soften quickly on heating up. Always discard the water in which rice was soaked. Use fresh water for cooking.
Rice to water ratio:
The rice to water ratio makes a whole lot of difference in the texture of rice. Too much water leaves them overcooked, mushy and less water will leave them chewy. The thumb rule which is always followed in my home is:
If you are making rice in open pan on stovetop, the rice to water ratio should be 1:2. For every 1 cup of rice use 2 cups of water.
If you are making rice in pressure cooker, the rice to water ratio should be 1:1. For every 1 cup rice, use 1 cup of water or little more than 1 cup.
More rice recipes: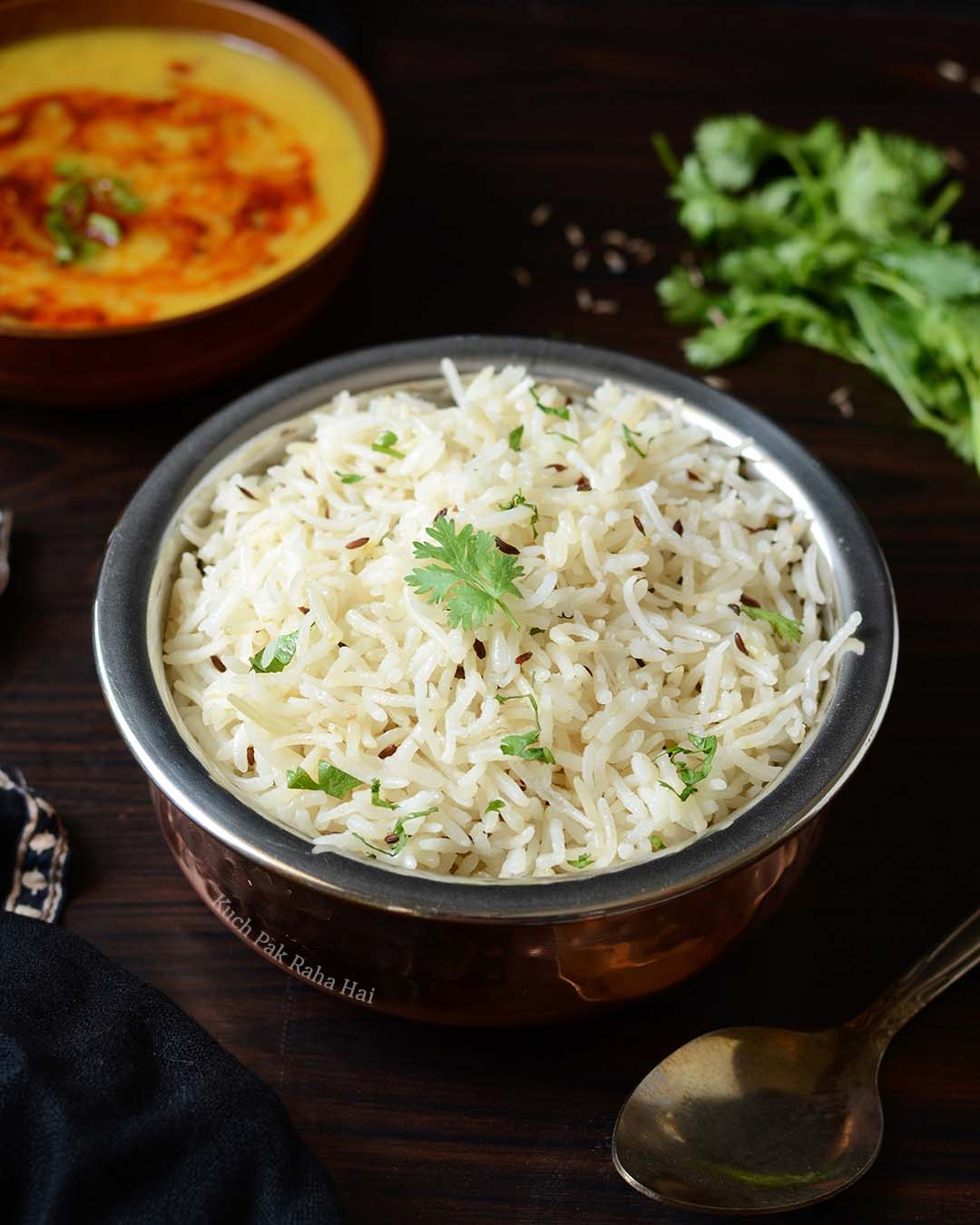 Hope you would like this easy jeera rice recipe!!

Ingredients:(4 servings)
Basmati rice- 1 cup
Ghee / Oil- (1 + 1/2) tbsp
Cumin seeds (jeera)- 2 tsp
Salt – 1/2 tsp (to taste)
Water- 2 cups (for cooking)
For garnishing:
Chopped coriander / cilantro- 2 tsp (optional)
Directions:
Step 1:
Add water to the rice and gently scrube with fingers. You can see the water will turn milky. Rinse it 2 to 3 times till you get clear water.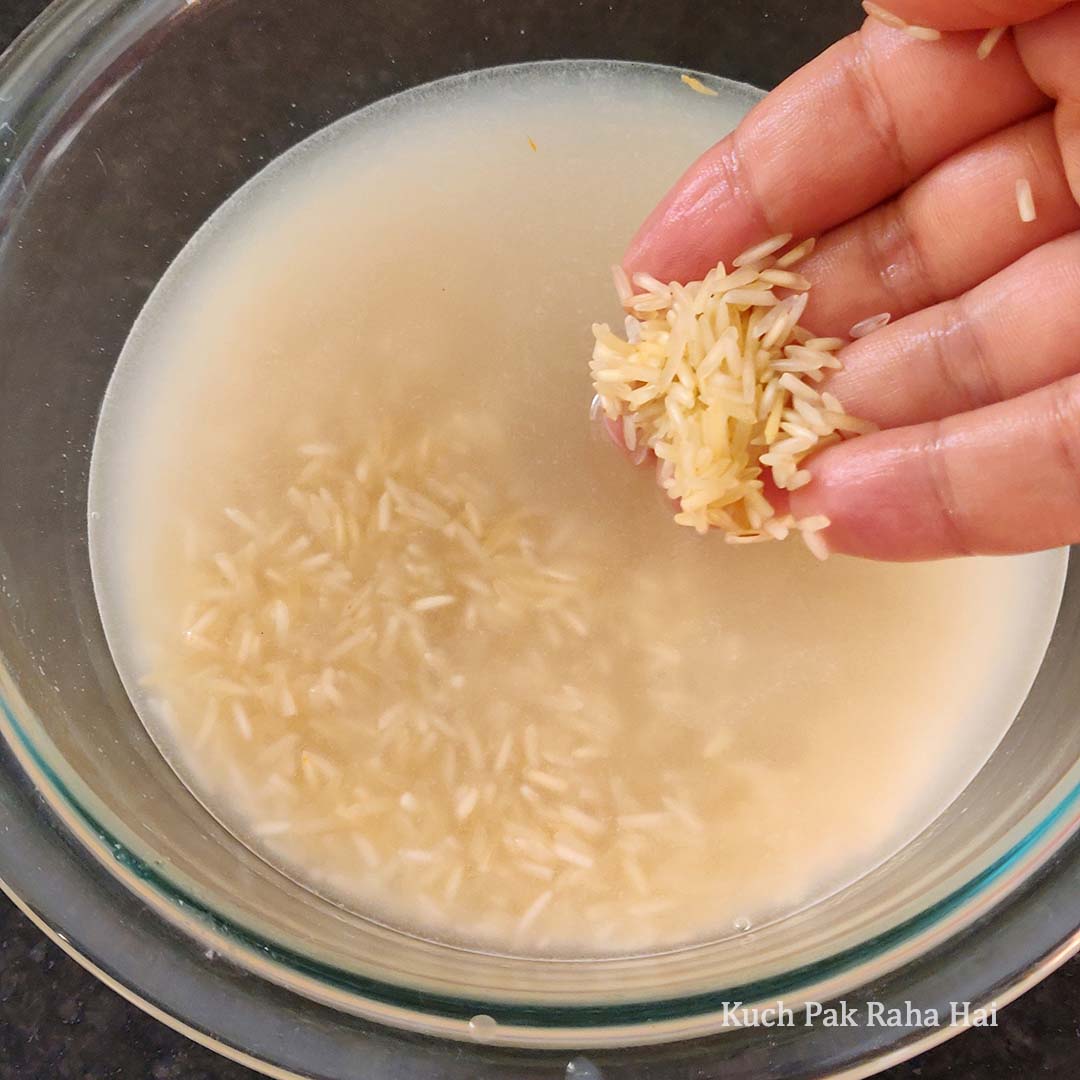 Soak it in water for 20-30 minutes.
Step 2:
Heat oil or ghee in a pan. Add cumin seeds to it & let them sauté till the seeds begin to crackle up & release their aroma.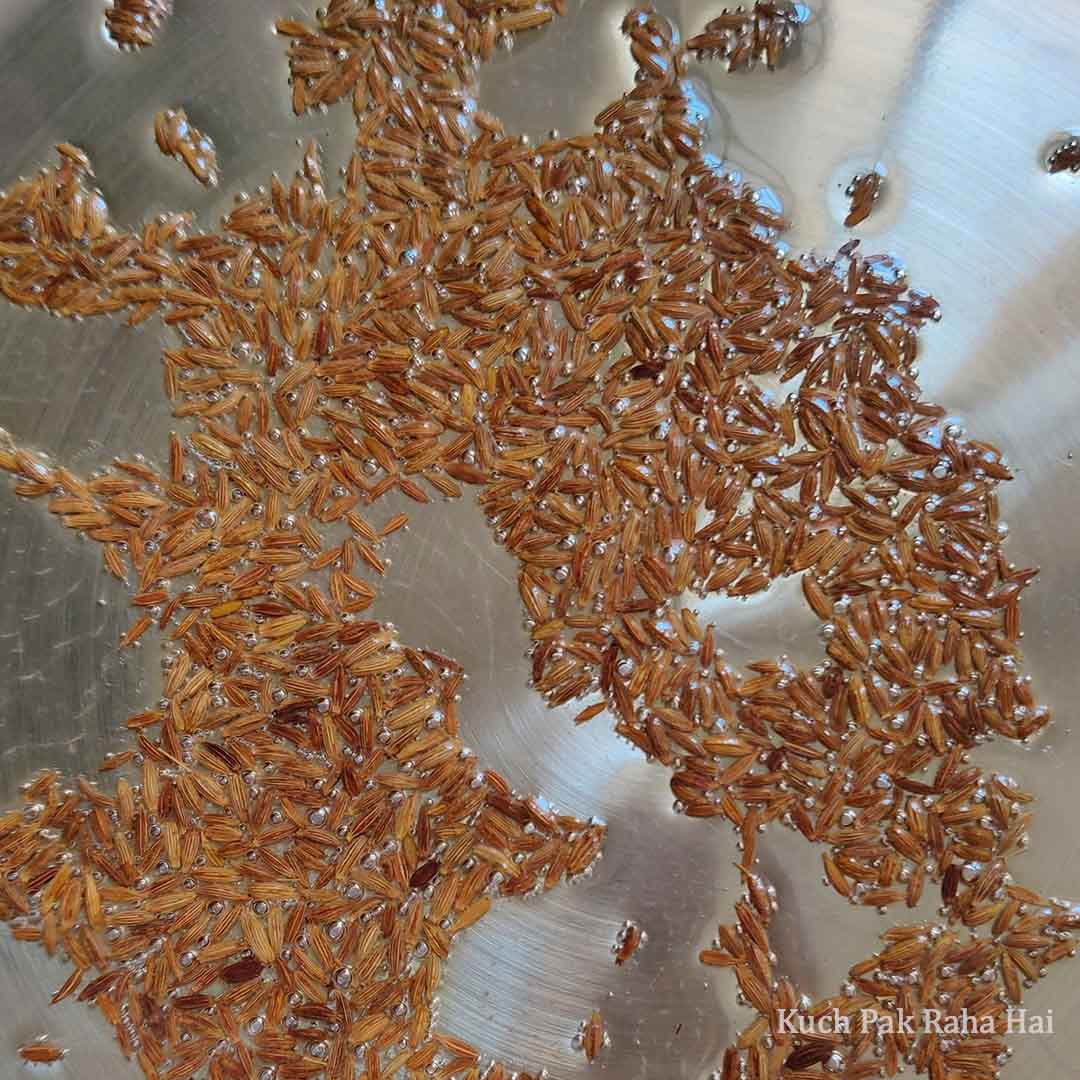 Step 3:
Add fresh water, salt & soaked rice to it (discard the water in which rice was soaked). Stir gently and once the water comes to boil, simmer down the flame.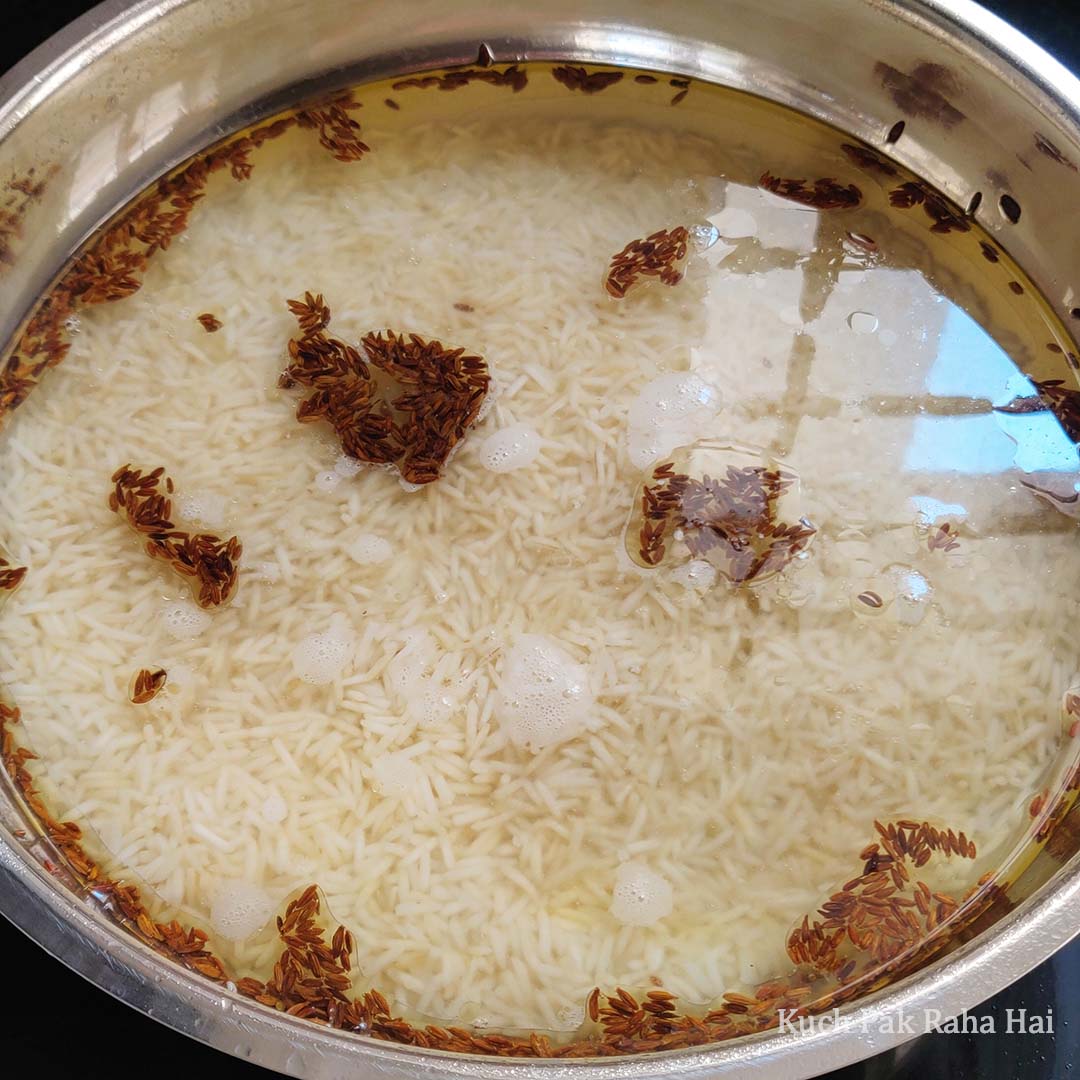 Partially cover the pan as shown in the image below. Let the rice cook on low flame for 12 to 15 minutes.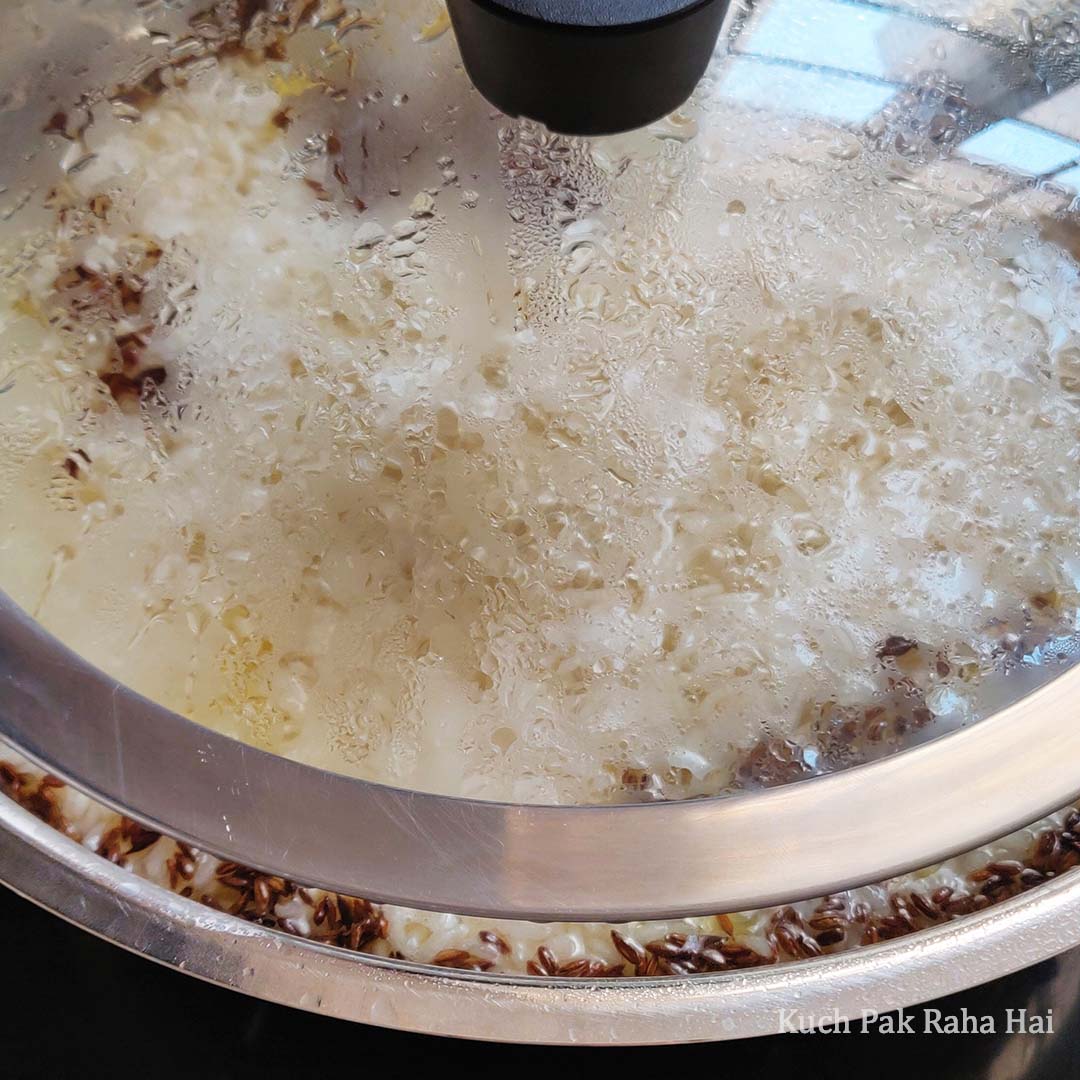 Step 4:
After 12 minutes check the pan. If there is no water left, switch off the flame & completely cover the rice with a lid for 10 more minutes. Do not open the lid as the rice will continue to cook in residual heat.
Remove the lid and fluff up the rice with a fork before serving (Never use a spoon as it could break or mash the rice grains).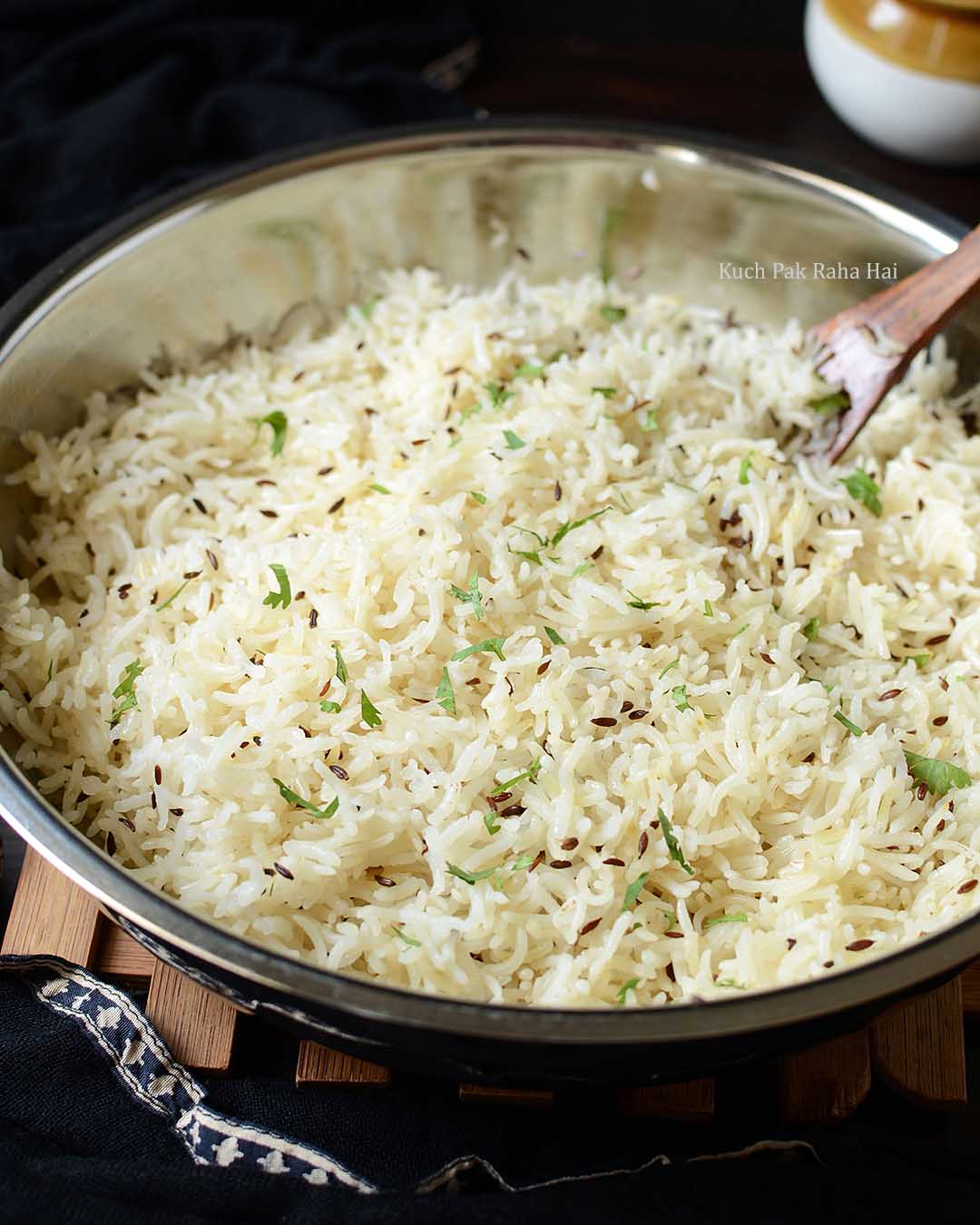 Garnish with some freshly chopped herbs like coriander or cilantro. Enjoy them warm with some dal or curry.
How to make rice in pressure cooker?
Wash & soak the rice as explained in steps above. Heat ghee or oil in pressure cooker. Add cumin seeds and saute till they begin to crackle up. Add water, salt and soaked rice to it. (Rice to water ratio  1:1 ; If you using 1 cup rice add 1 cup water). After two whistles, simmer down the flame for 3 to 4 minutes & them switch off the flame. Let the cooker pressure release on it own. Serve it hot with any dal or curry.
How to make cumin rice with already cooked rice?
Heat oil in pan and cumin seeds to it. Once the seeds begin to crackle, add cooked basmati rice and salt (if not added while boiling). Mix gently with the help of a fork. Garnish with freshly chopped coriander. Serve hot.
Pin for later: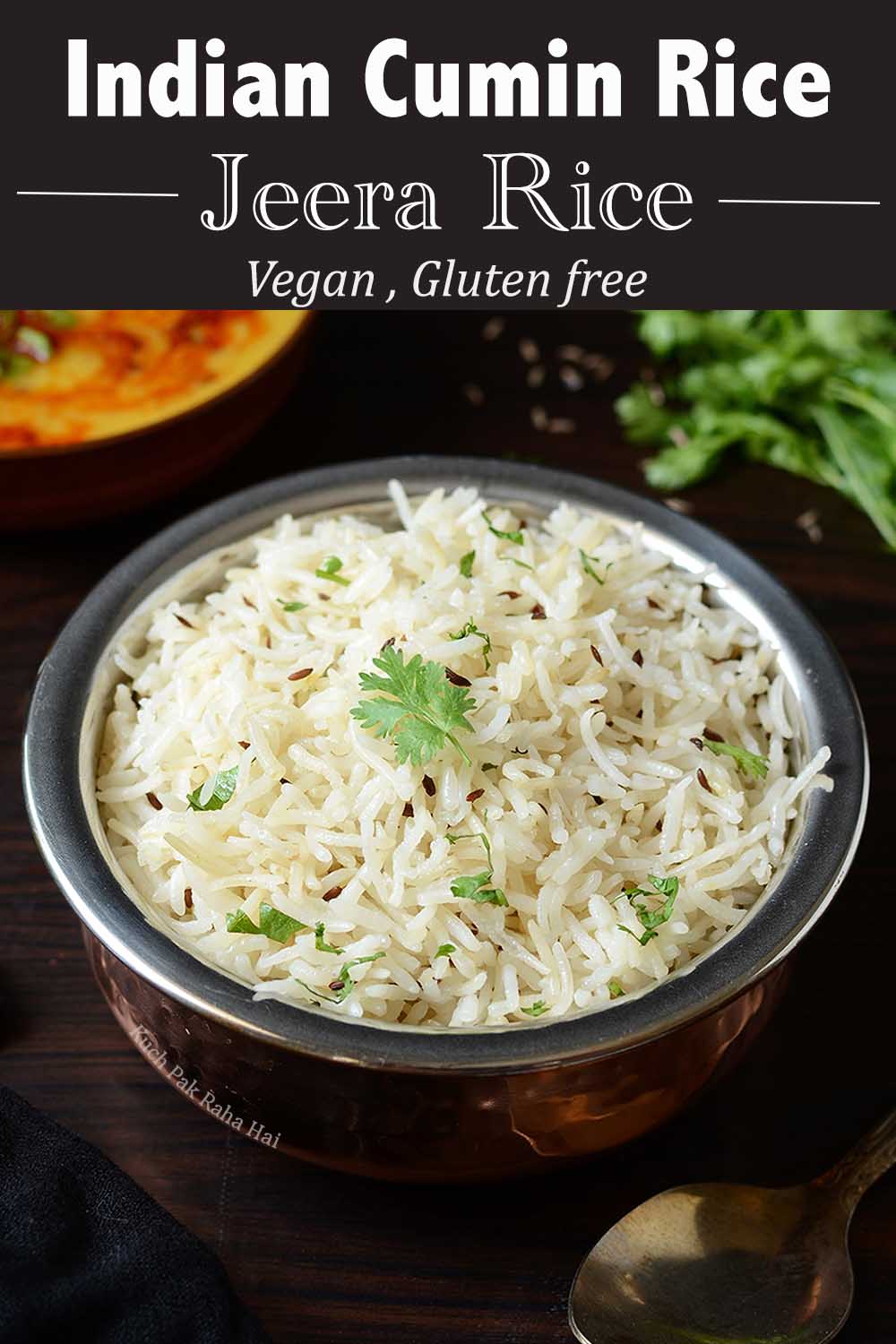 If you try this cumin rice recipe & share pics on social media, then don't forget to tag on Facebook or Instagram or use #kuchpakrahahai.
Let's stay connected
Facebook | Instagram | Pinterest| Youtube