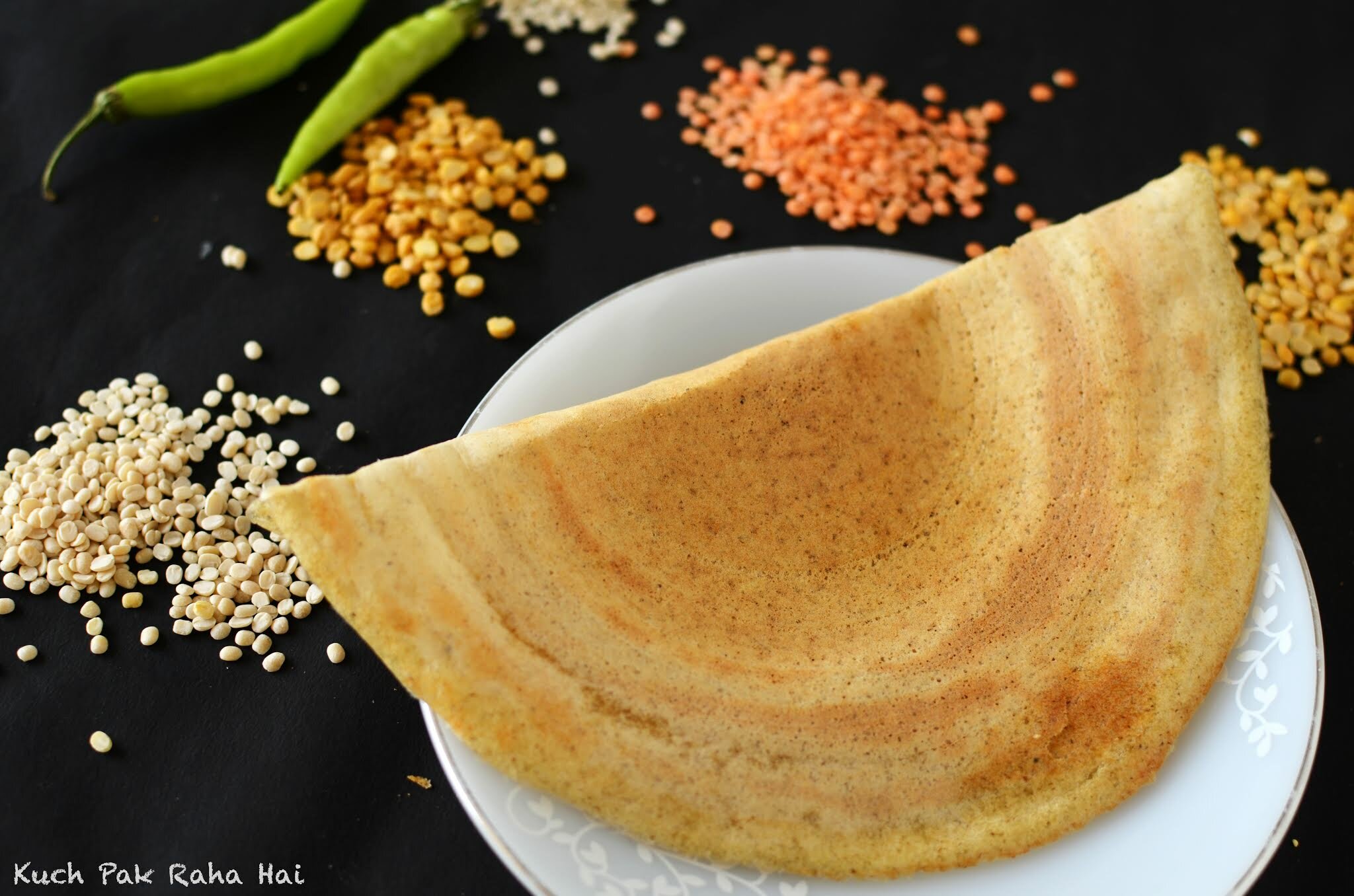 Mixed Lentils Dosa is a healthy, tasty & protein packed dosa made using different types of Lentils (or "Dal" in Hindi). This dosa recipe which I am going to share today does not require use of rice. Also, it is an instant recipe that means it does not need any fermentation time.
Mixed Dal Dosa is known by various other regional names in India like "Bele Dosa" derived from "Bele" meaning lentils in Kannada, "Adai Dosa" in Telugu, "Panchratan Dal" Dosa as referred by some people in North which means Dosa made using five types of Dal. For those people who are not familiar with "Dosa", these are South Indian crepes which are thin & crispy in texture.
Mixed Lentil Dosa is a nutritious healthy breakfast recipe which can be made in just few minutes once its batter is ready. I keep looking for such breakfast recipes which are full of nutrients and at the same time does not require long preparation time in mornings. This recipe is topmost as it easily meets both the criterion. I generally soak these lentils a night before. In the morning all I have to do is grind these soaked lentils with salt & water and the batter is ready. I store this batter for up to 3 days in refrigerator & my morning breakfast is sorted like a breeze every time.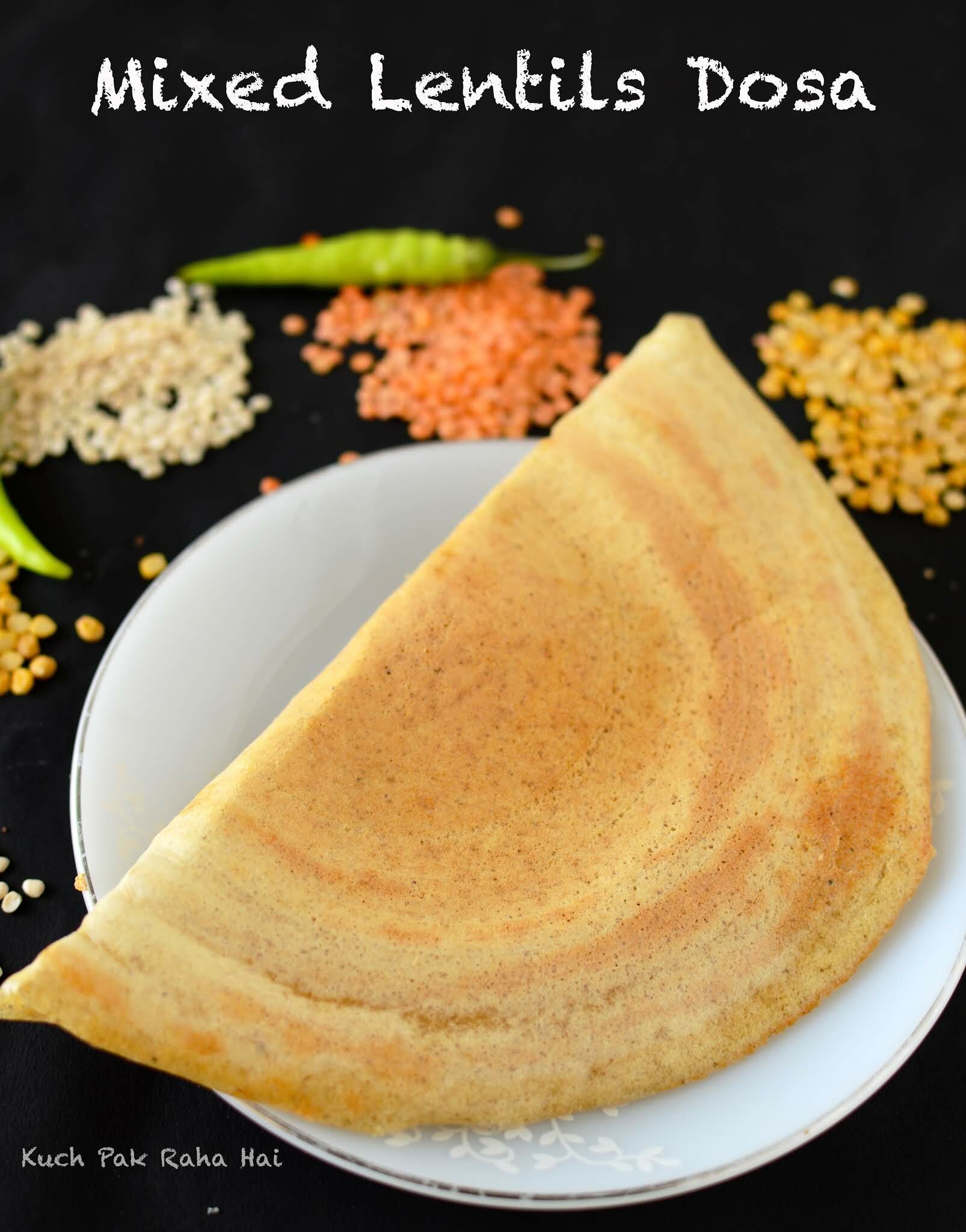 The five lentils or dal I have used in this recipe are – Urad Dal, Split Green Moong Dal, Masoor Dal, Moong Dal and Chana Dal.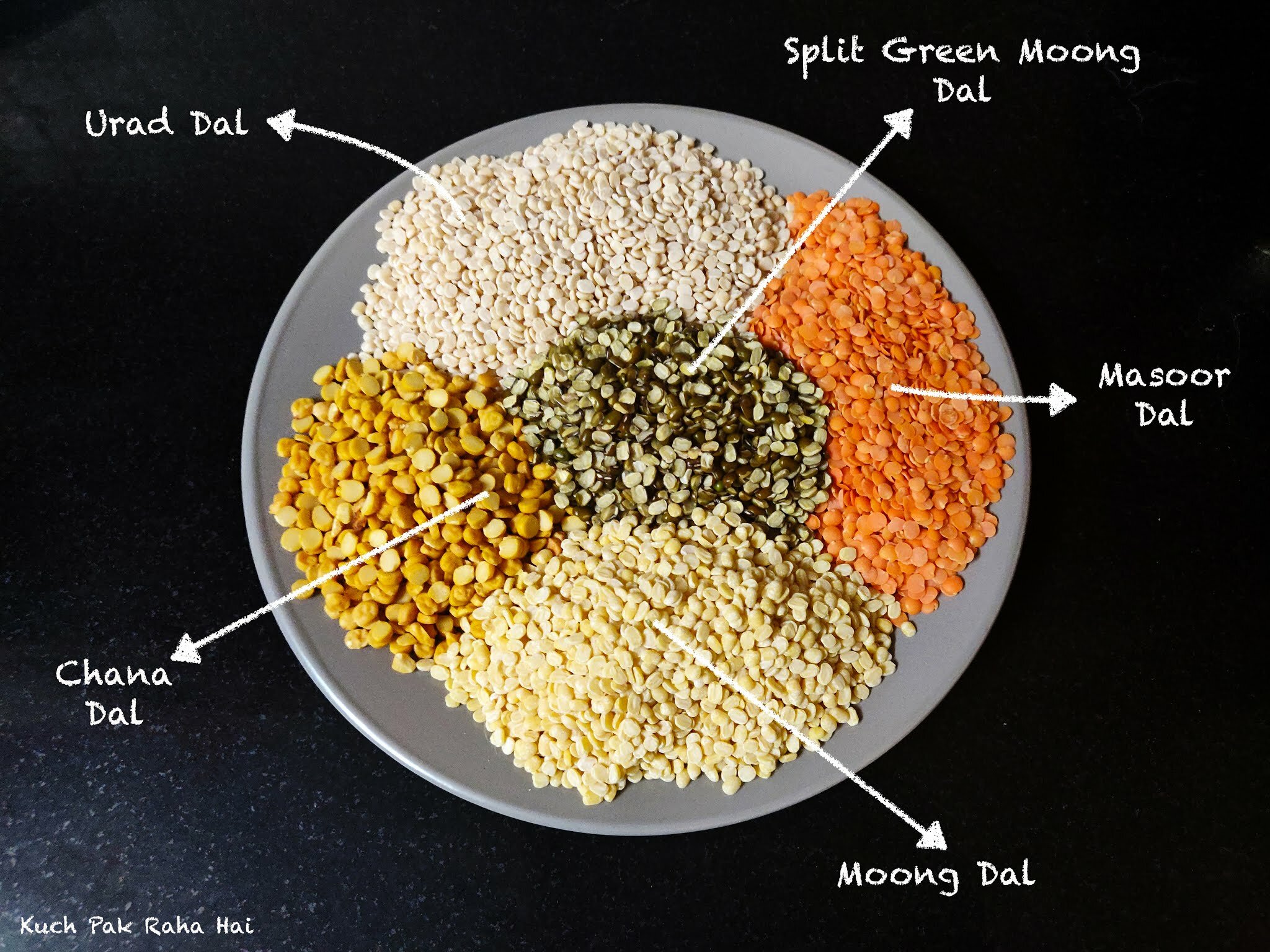 The Dosas turn out to be perfectly thin & crispy if you follow the exact proportions mentioned below in the ingredients list. Regarding the nutritional value, these lentil dosas are low calorie, full of proteins, rich in iron and folate. They are completely gluten Free and vegan (if cooked using oil). It would otherwise be difficult to include so many different lentils in our diet every day but with this recipe you are having a little bit of each type and that too without compromising on taste or time.
You can enjoy this Dosa with Coconut or Fresh Coriander chutney, recipes for which are shared in Chutneys/Dips section of the blog. You can even have it with traditional Sambhar and classic Aloo Masala which is served with traditional Rice Dosa.
Other recipes which are completely made using Lentils and shared on this blog are-
Hope you would like this delicious and nutritious Mixed Lentil Dosa Recipe!!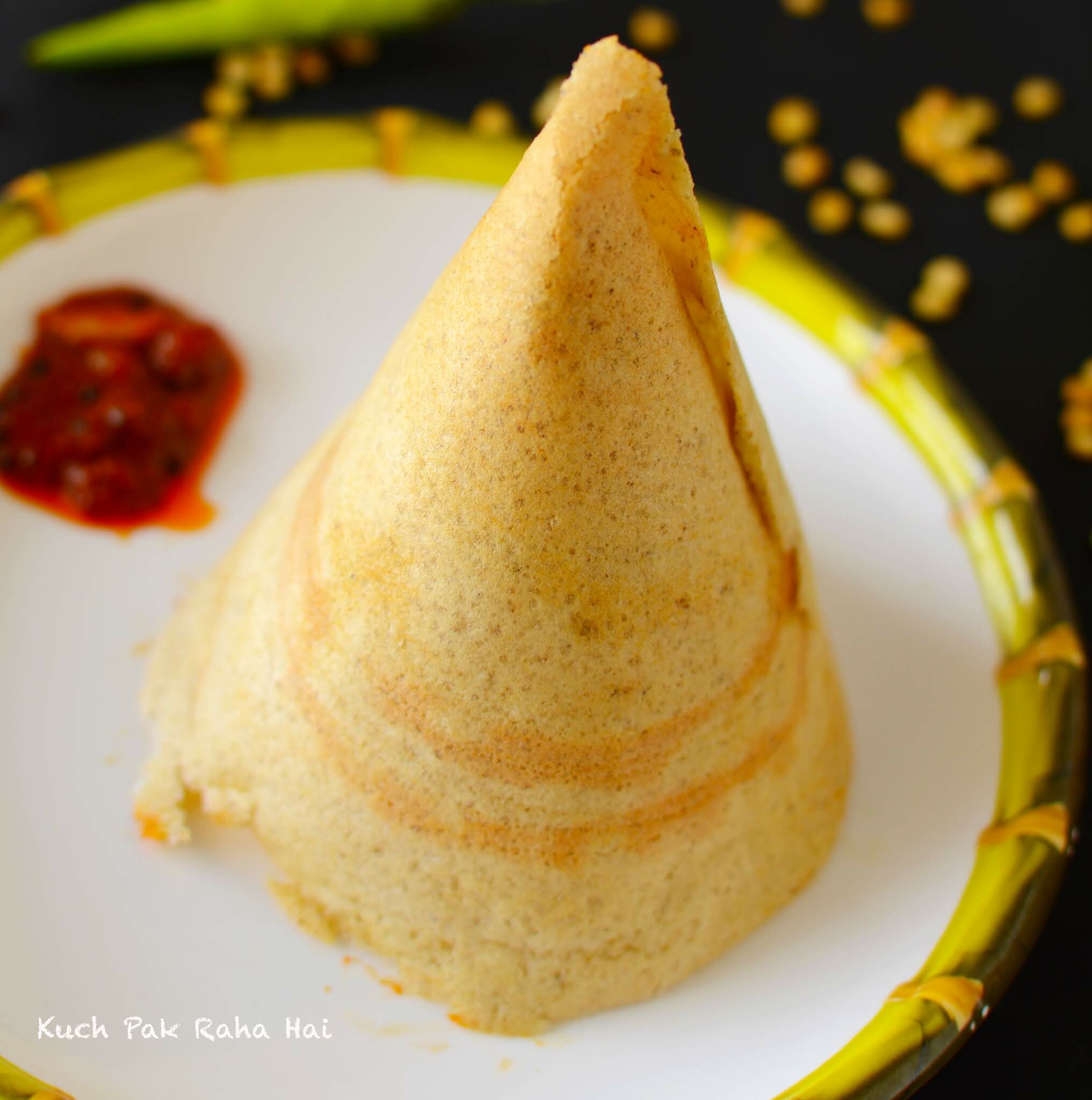 List of Ingredients: (Makes 10-12 pieces)
Urad Dal – 1/2 cup
Yellow Moong Dal-1/4 cup
Orange Masoor Dal-1/4 cup
Split Chana Dal- 1/4 cup
Split Green Moong Dal-1/4 cup
Water-1/2 to 3/4 cup (roughly)
Salt – To Taste
Oil / Ghee – For cooking
Steps To Prepare:
Step1:
Add all the lentils in the above mentioned proportion in a big bowl. Wash them thoroughly & change the water twice or thrice. Soak them for 3-4 hours. I generally prefer to soak these a night before.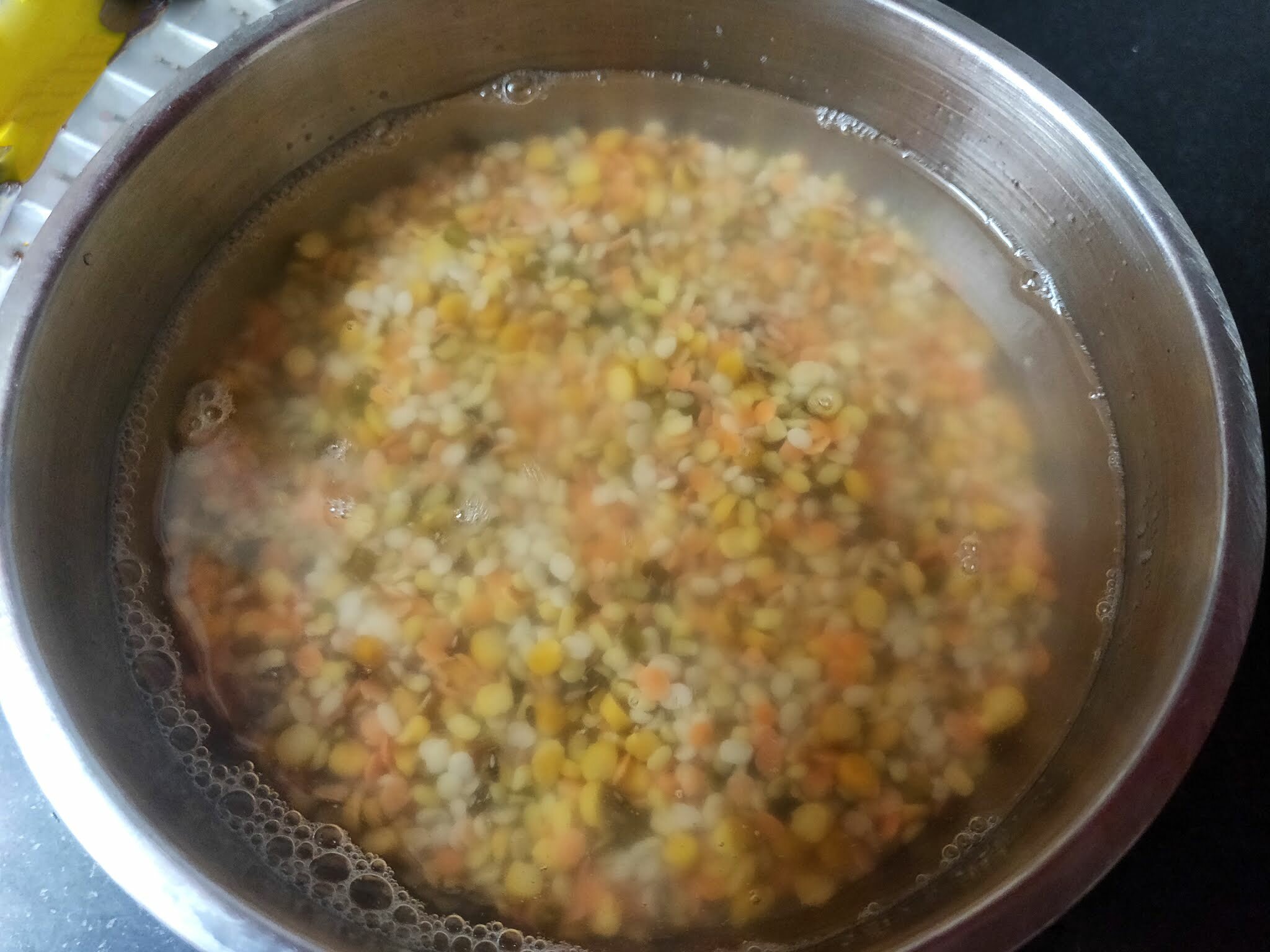 Step2:
After few hours of soaking you will notice that lentils grains begin to swell & become slightly soft too.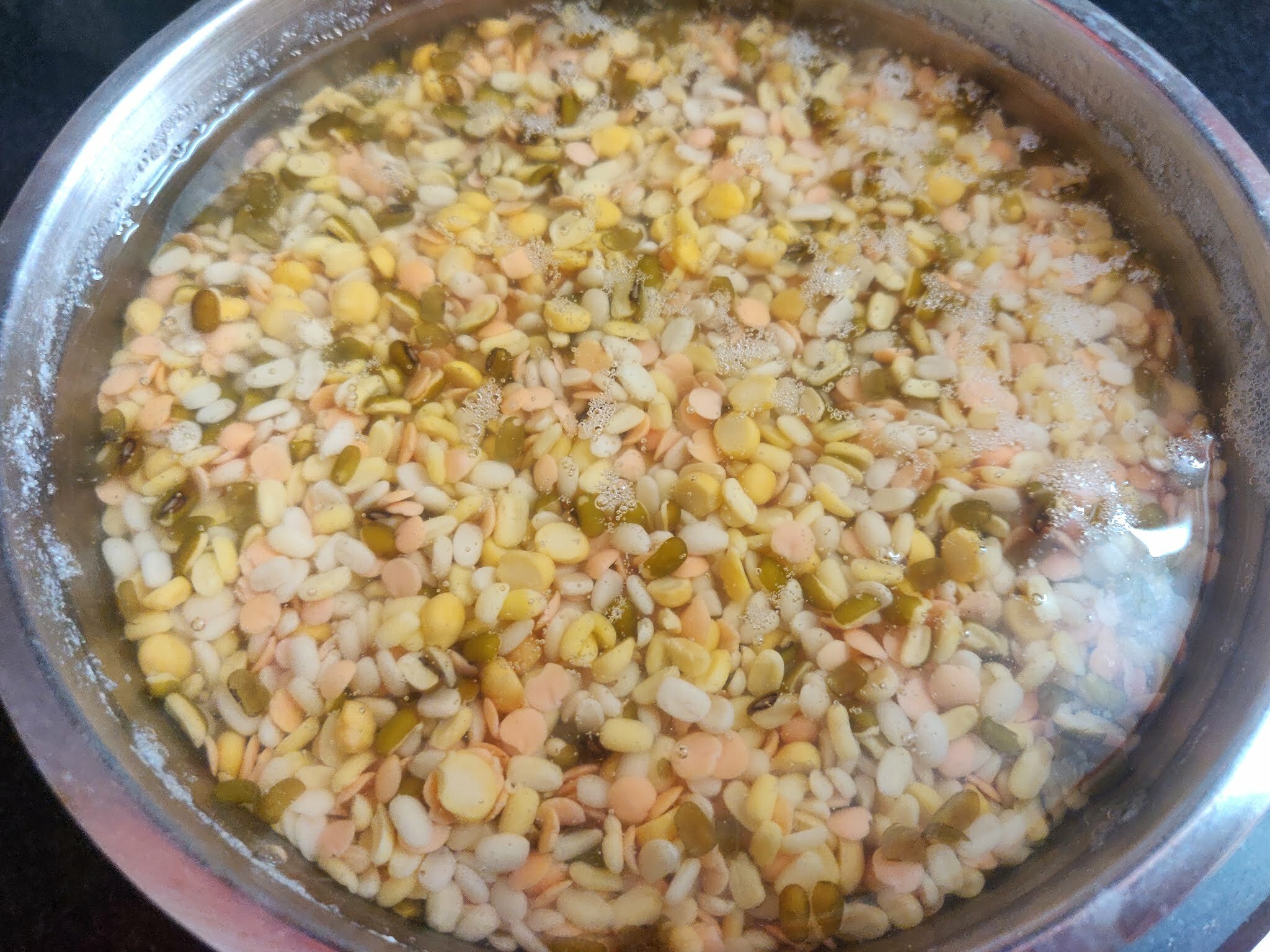 Add these soaked lentils, salt & water in a grinding jar. Start by adding 1/2 cup water only. If the batter becomes too thick then add further tablespoon by tablespoon. Here I am using WonderChef Nutri-Blend Bullet Mixi for preparing the batter. It is really a good kitchen gadget for preparing smoothies & everyday grinding tasks. You can check out its price & other specification on Amazon by clicking here.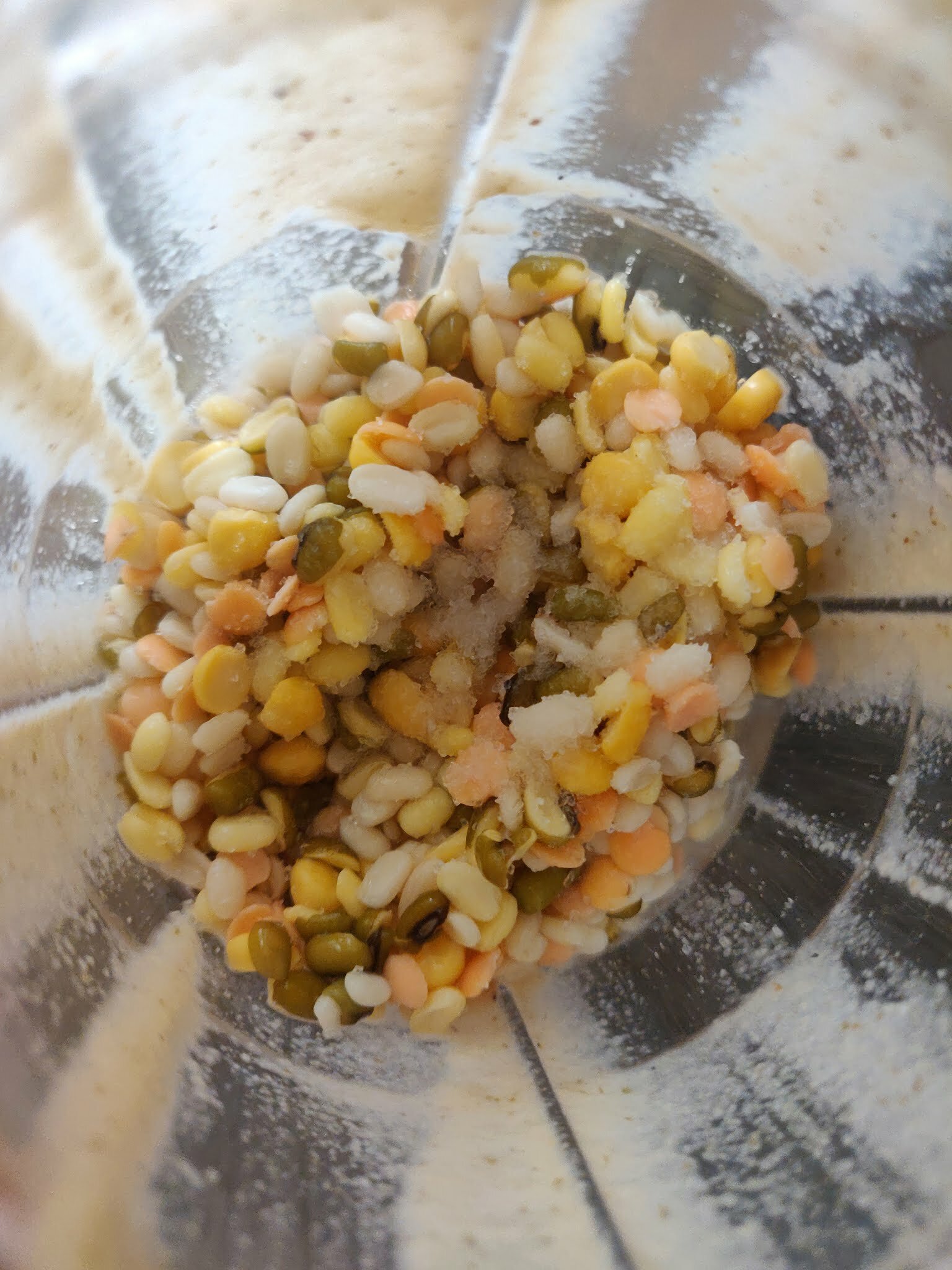 Give a nice pulse so that all the lentils are crushed completely till the batter becomes smooth.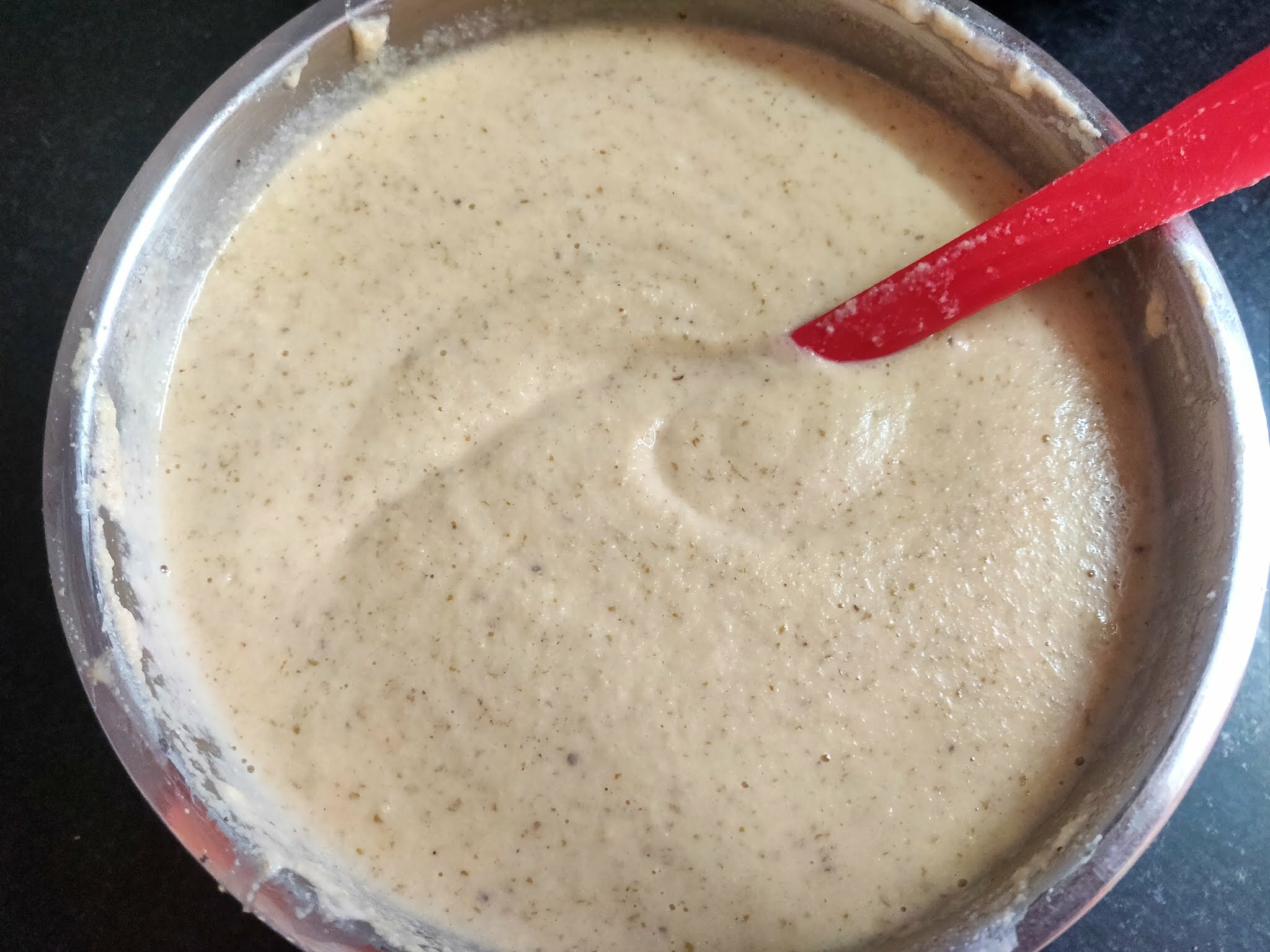 Step3:
Once the batter is ready, we will proceed to make dosas using it. Take a non-stick Tawa or heavy base griddle, spread some oil or ghee on it. Keep the tawa/griddle on medium heat. Wipe it off with a tissue while spreading it with a help of a tissue. This makes tawa non-sticky & manageable for dosas.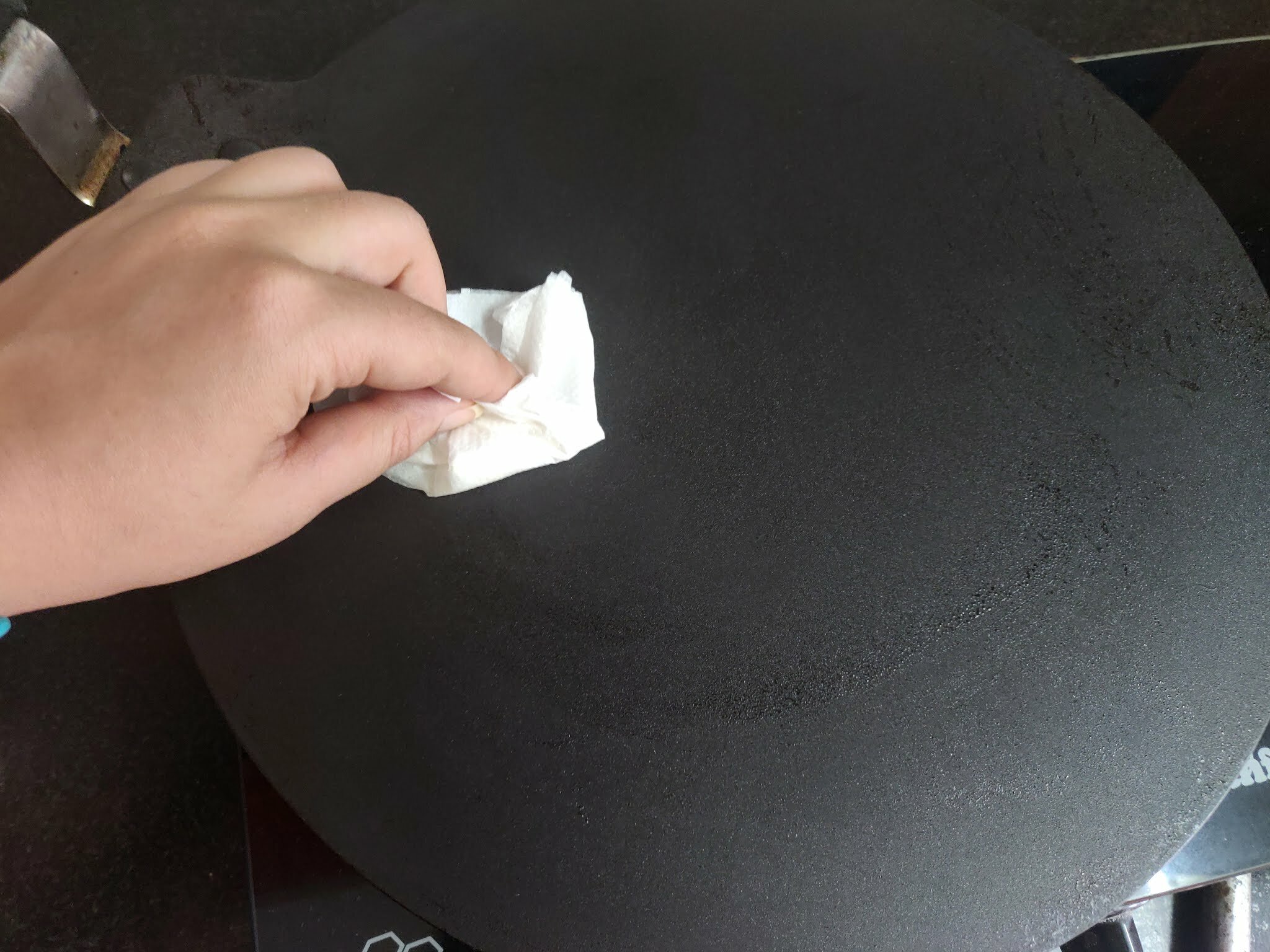 Hawkins Dosa Tawa: https://amzn.to/3f4kzpU
Step4:
When tawa is slighlty hot, take a laddle full of batter & spread it in circular motion to give it a round shape. Keep the flame on Medium-High flame now.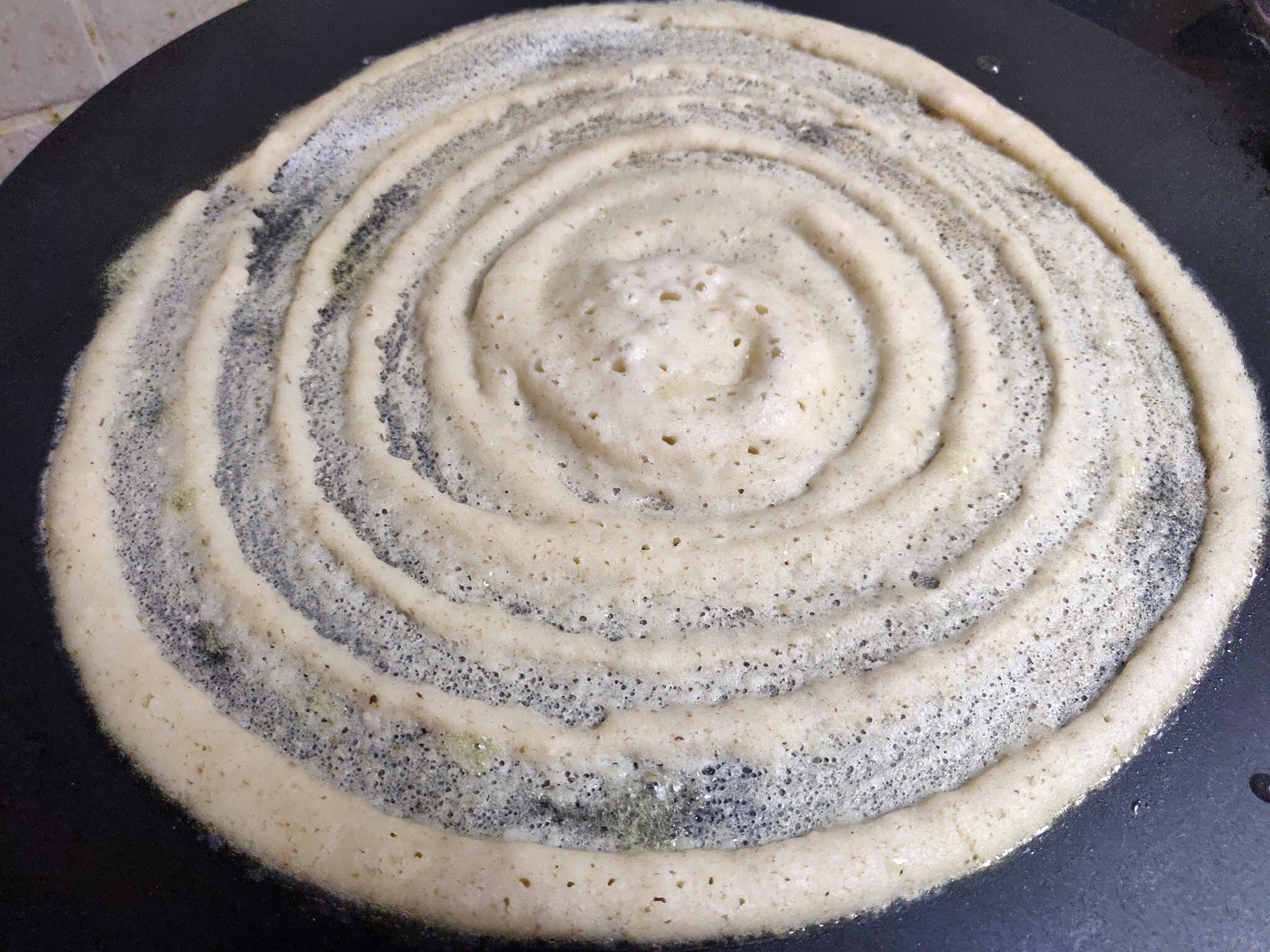 Step5:
After 1 minute, take a teaspoon of oil or ghee & spread it on edges and centre of dosa using a spoon or silicon brush. You will notice in some time the edges of the dosa will start coming off by itself.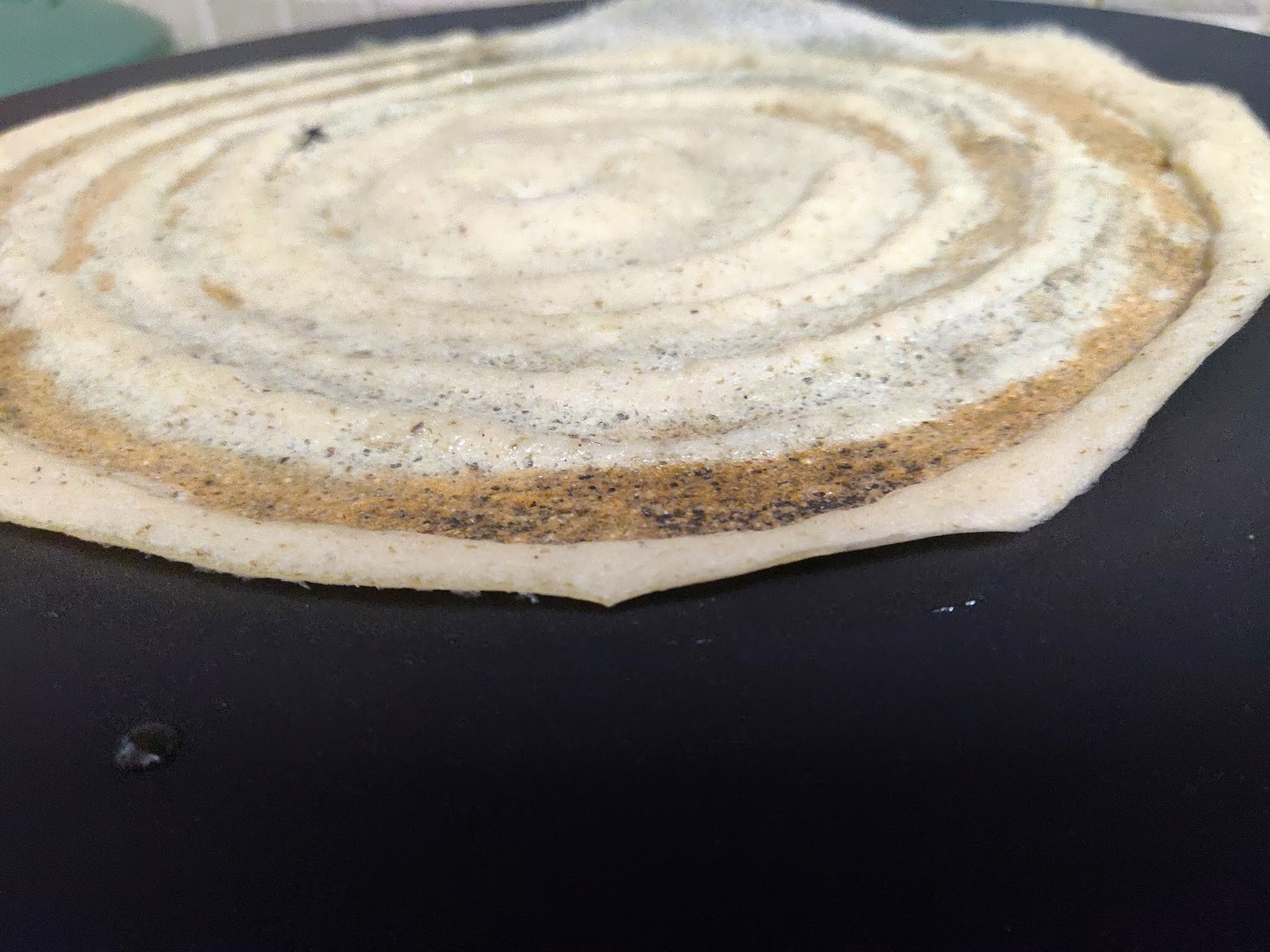 Step6:
If required use some more ghee or oil & starting from the edges, try to lift the dosa. No need to cook it from other side.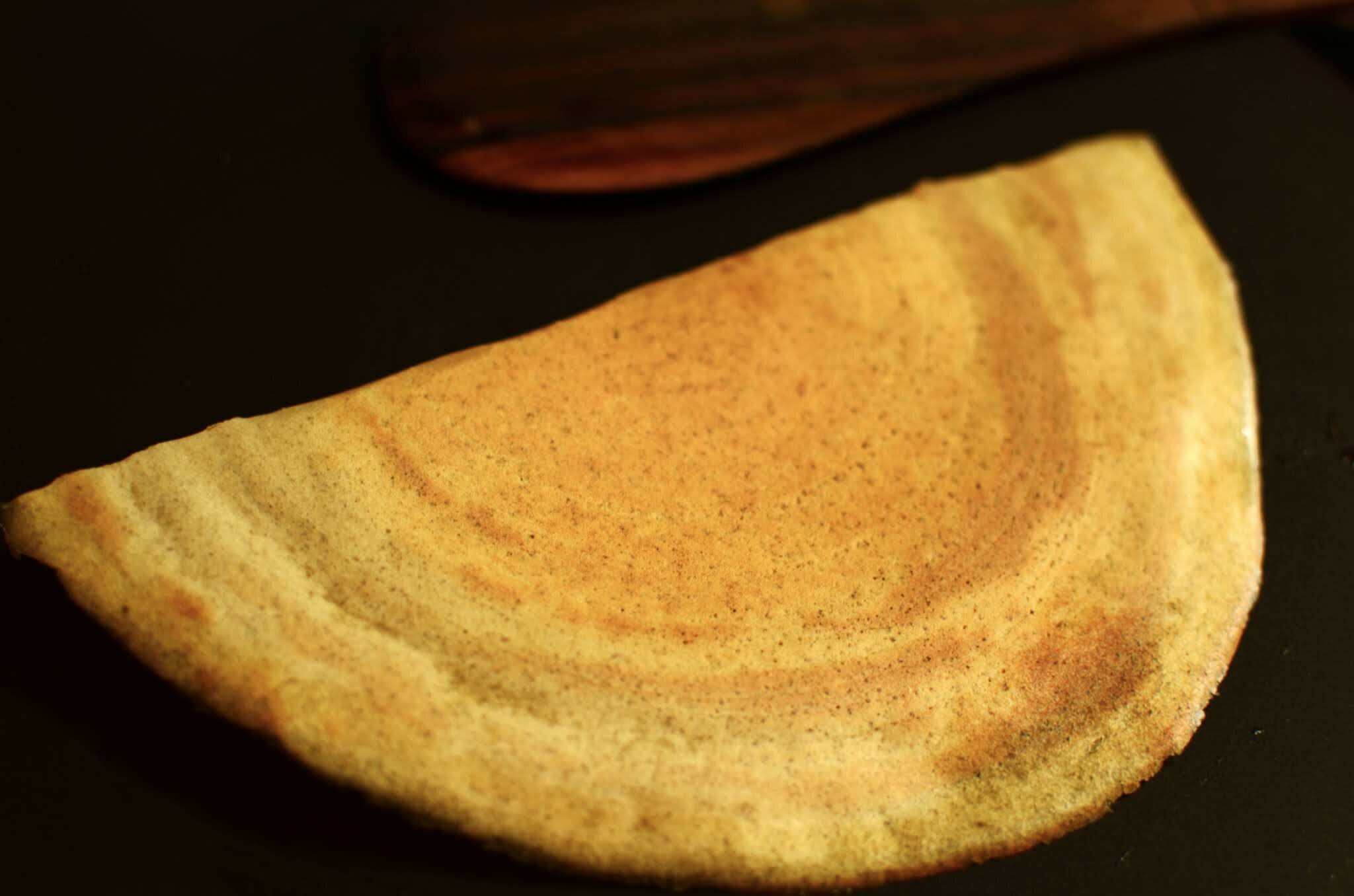 Enjoy it with Coconut or Fresh Coriander Chutney!!