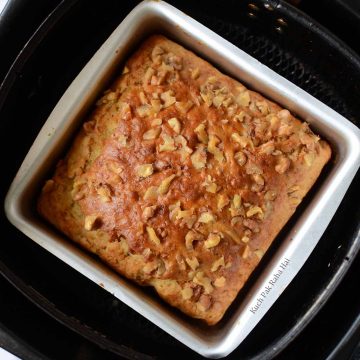 Delicious, soft, moist & easy banana bread recipe made in air fryer. It is made without eggs and can be made vegan too (dairy free).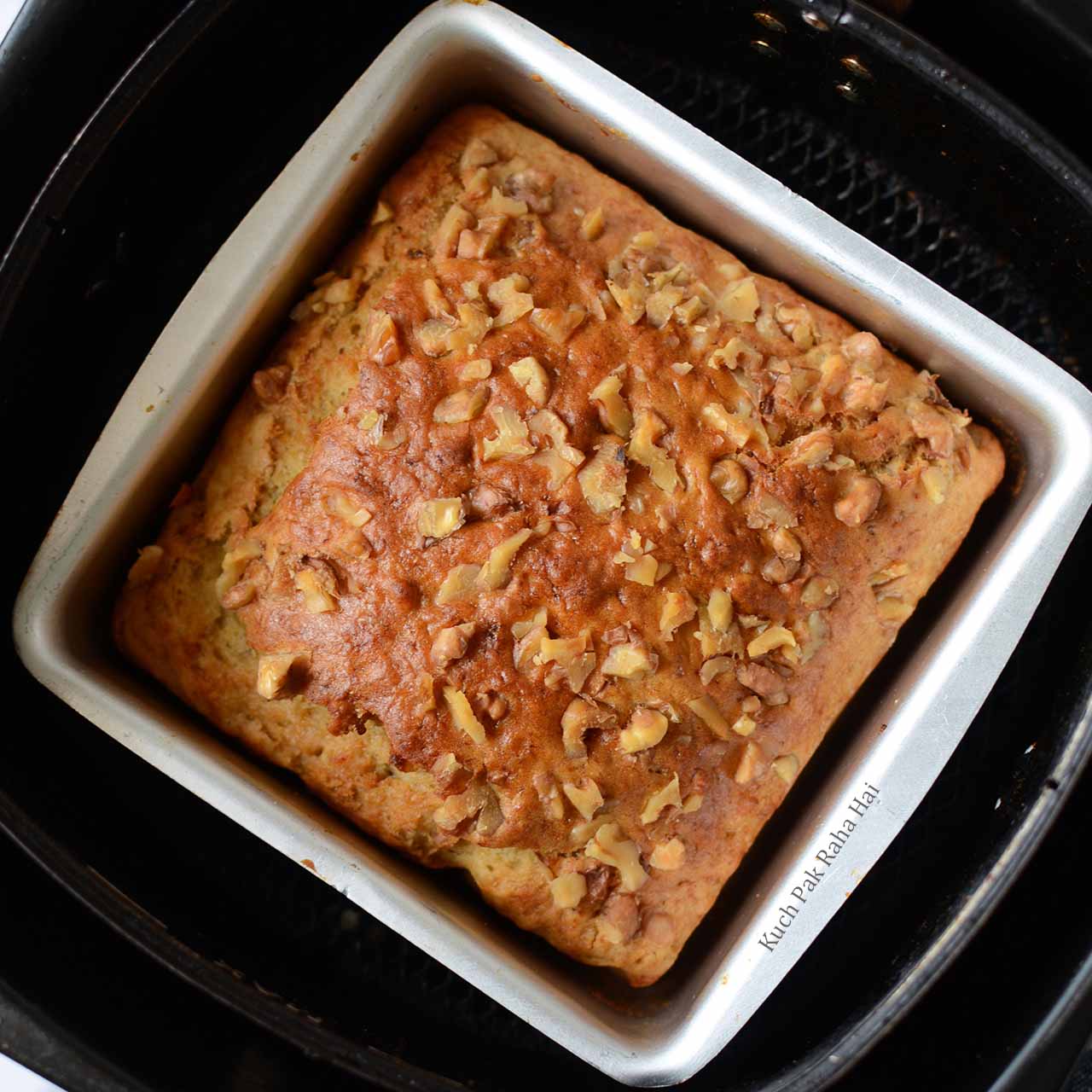 Last week I tried my egg free blueberry muffins recipe in air fryer & the muffins turned out absolutely soft and fluffy. Banana Bread is made quite frequently at my home for tea time snack, so I decided to try it in air fryer too.
The air fryer banana bread recipe shared here is:
Eggless
Dairy Free / Vegan
Made in one bowl
Gets ready in less than 30 minutes!!
The eggless banana bread recipe shared here is adapted from Vegan Chocolate Banana Bread (whole wheat) that I had shared earlier on the blog. As that recipe was baked in an oven in a bigger pan, I scaled it down to fit in my air fryer with a few alterations.
Though I have oven for everyday baking but I would recommend baking in air fryer if you are looking forward to bake smaller portions (as the air fryer basket cannot accommodate big pans or muffin trays). Also the air fryer takes less time than oven, so for quick bakes it's a perfect choice.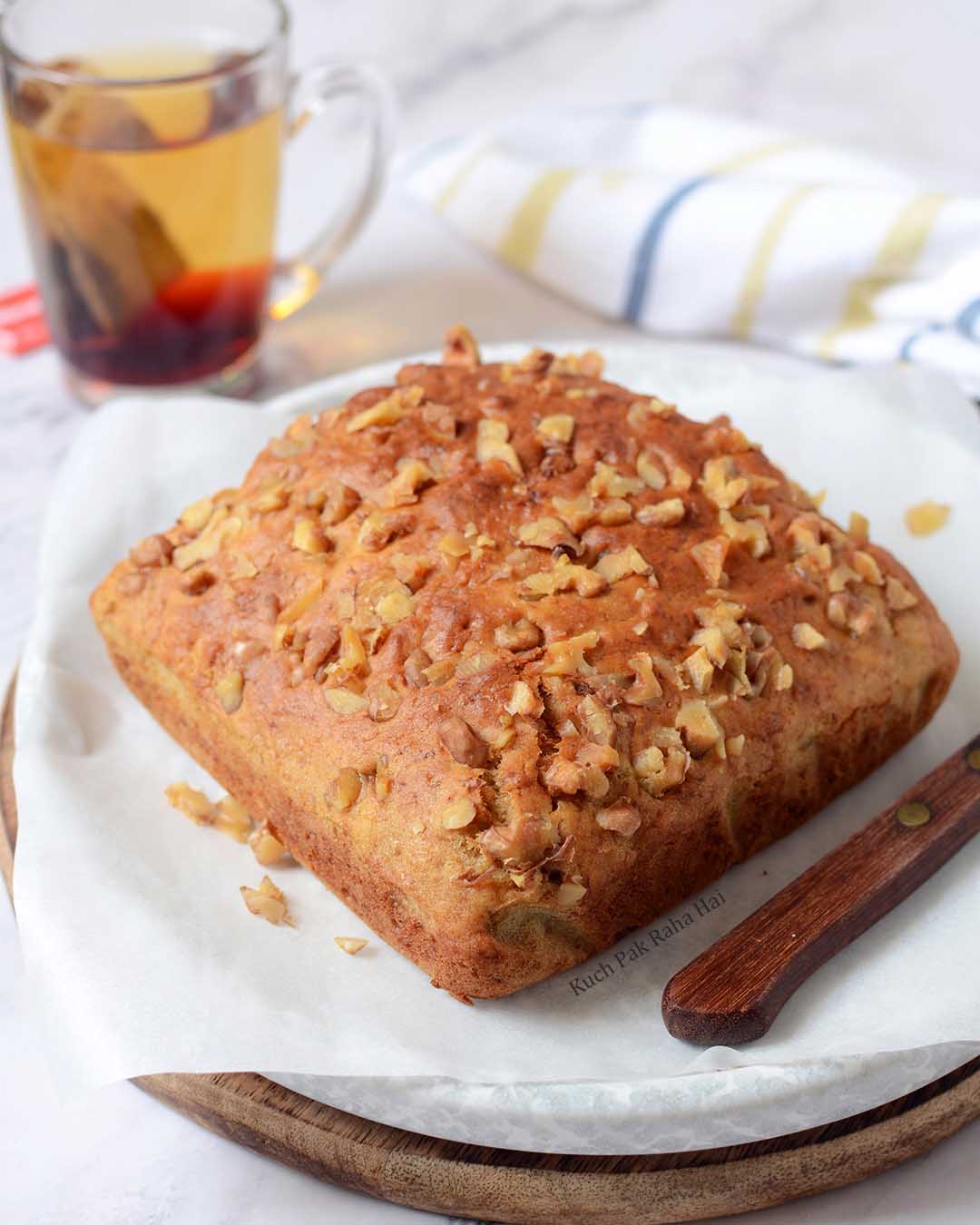 Air fryer Banana Bread Ingredients:
Banana: Use ripe banana (the ones with dark spots on skin) for making banana bread. The spottier the bananas, more ripe they will be & hence sweeter. This way the bread will be sweetened from natural sugars of banana and you will have to add lesser sugar otherwise.
Milk: You can use regular milk or non dairy milk options like almond, oats or soy in this recipe.
Sugar: I like to use brown sugar in banana bread as they have high moisture content which make the baked goods moist. You can use regular plain white sugar or even coconut sugar.
Oil- Little bit of oil make the bread moist, thus preventing it from getting fry during baking. I have used olive oil here. You can use sunflower, canola oil or if you are not bothered with the smell of coconut then you can use coconut oil too.
Flour- I have made this bread with all purpose flour. You can make it with whole wheat flour too but then increase the amount of milk as whole wheat flour absorbs more liquid (Check the eggless whole wheat banana bread recipe).
Optional- As banana & walnuts is a classic combination I have added few handful of chopped walnuts in this bread recipe. If you want to make nut free banana bread, skip walnuts & instead use chocolate chips.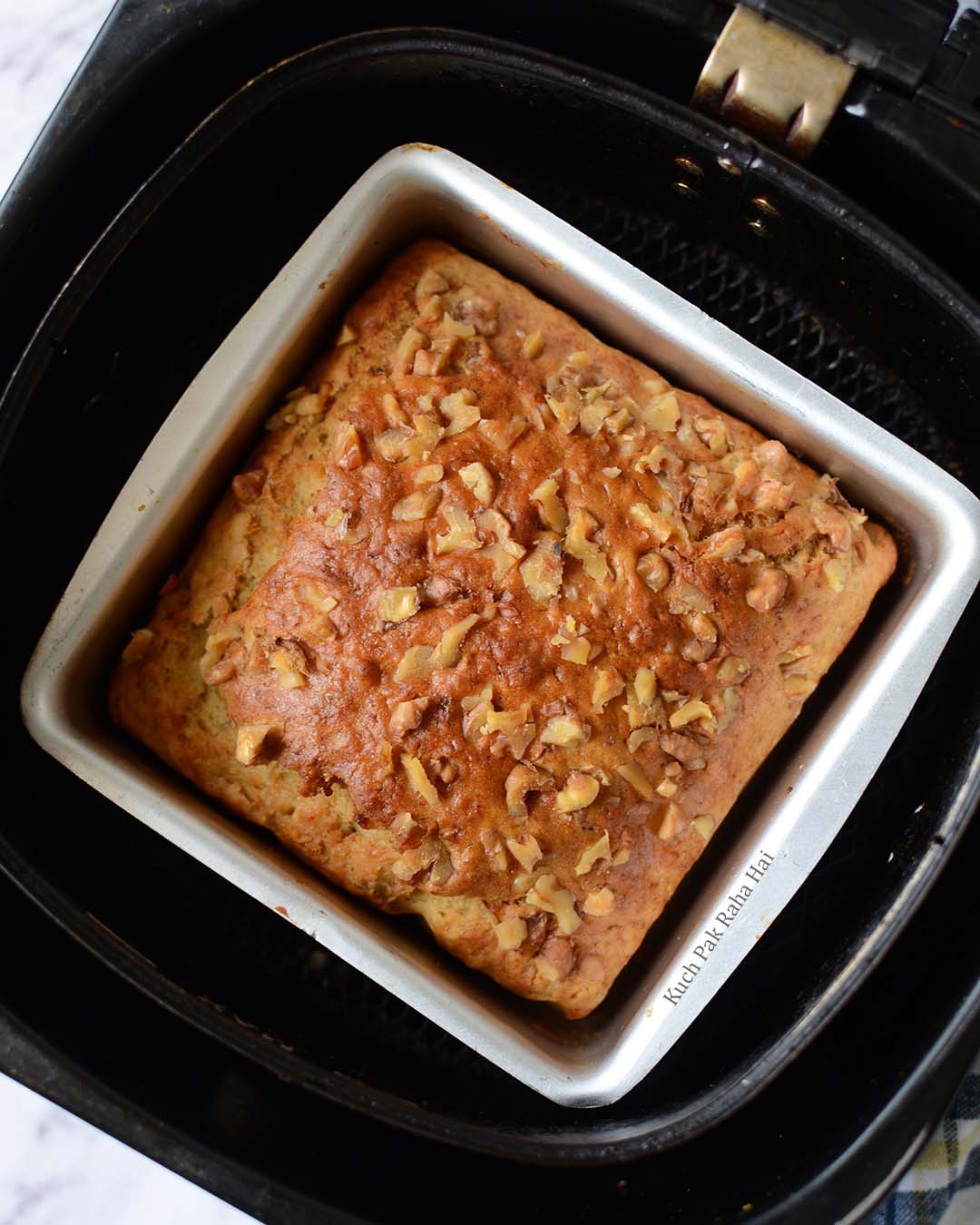 How to make banana bread?
The recipe is quite simple as it begins with mashing the ripe banana with the help of a fork & then adding rest of the liquid ingredients along with sugar and whisk well till sugar is dissolved completely. We will then sieve our dry ingredients over this mixture and fold gently to make a smooth batter. Pour this batter in lined baking tin and bake in preheated air fryer for 18 to 20 minutes.
Youtube Video:
Type of Tin used in air fryer:
I have used small (5″x 5″) square aluminium baking tin to bake this banana bread (as the regular loaf tin was not fitting in my air fryer basket). You can use round or small loaf baking tin. Whatever shape you choose make sure to check whether it fits in the air fryer basket before pouring the batter.
Some more vegan or vegetarian air fryer recipes you might like to try:
Hope you would like this easy one bowl egg free air fryer banana bread recipe.

Ingredients:
Ripe Bananas*-2
All Purpose Flour (Maida)-1 cup (120 grams)
Milk / Non-dairy milk-1/4 cup
Brown Sugar-1/3 cup
Oil-3 tbsp
Baking Powder-1 tsp
Baking Soda-1/4 tsp
Vanilla Extract-1 tsp
Salt- A pinch
Chopped Walnuts- 8 to 10
Notes:
1.*Equivalent to 1/2 cup mashed banana.
2. To make vegan banana bread use any non dairy milk like almond, soy or oats milk.
3. Use any neutral odourless oil like sunflower, canola or olive oil.
4. Measuring Cup used here: 1 cup = 250 ml
5. If you like sweetness on higher side or bananas are less sweet, increase the quantity of sugar to 1/2 cup.
Directions:
Step 1:
Peel the ripe bananas & transfer them in a mixing bowl. Mash them well with the help of a fork. Add milk, oil, vanilla and brown sugar to it and whisk well till all ingredients are mixed properly. Keep it aside.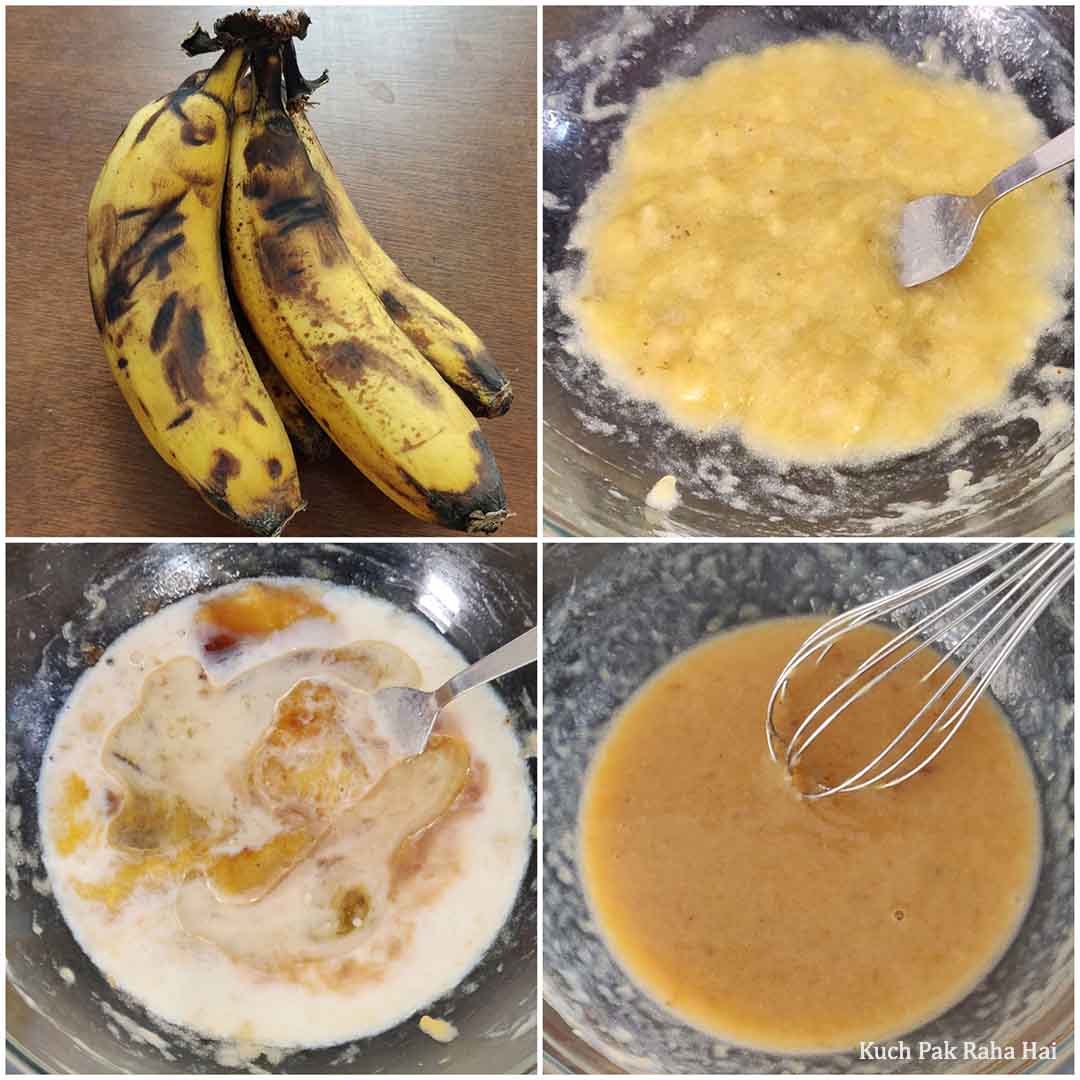 Step 2:
Set the air fryer for preheating at 160° Celsius. Prepare the tin by brushing oil over it and then lining with a parchment paper. Brush some oil over the paper too. Keep it aside.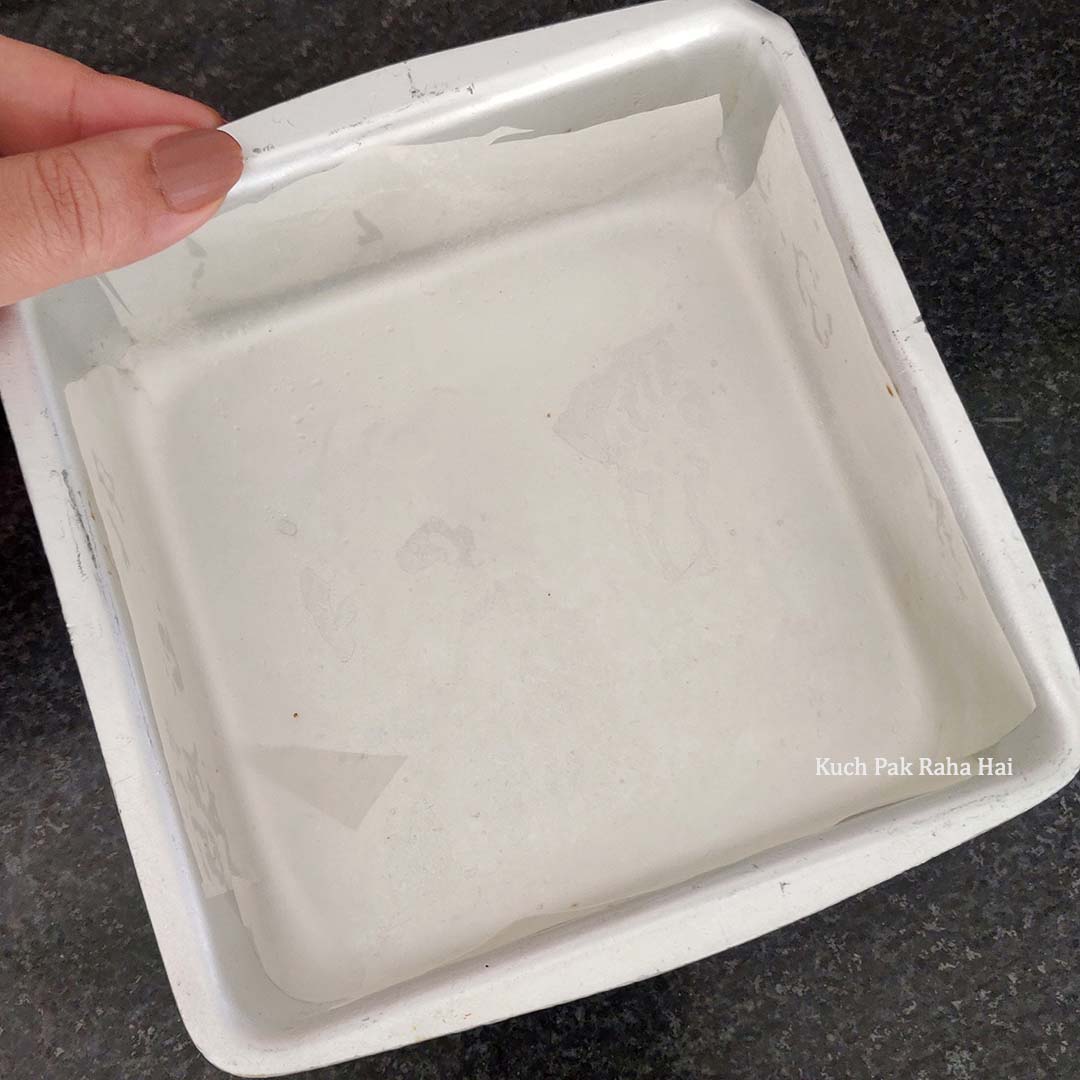 Step 3:
Place a sieve over this bowl and add flour, baking powder, baking soda & salt to it. Sieve these ingredients over wet ingredients.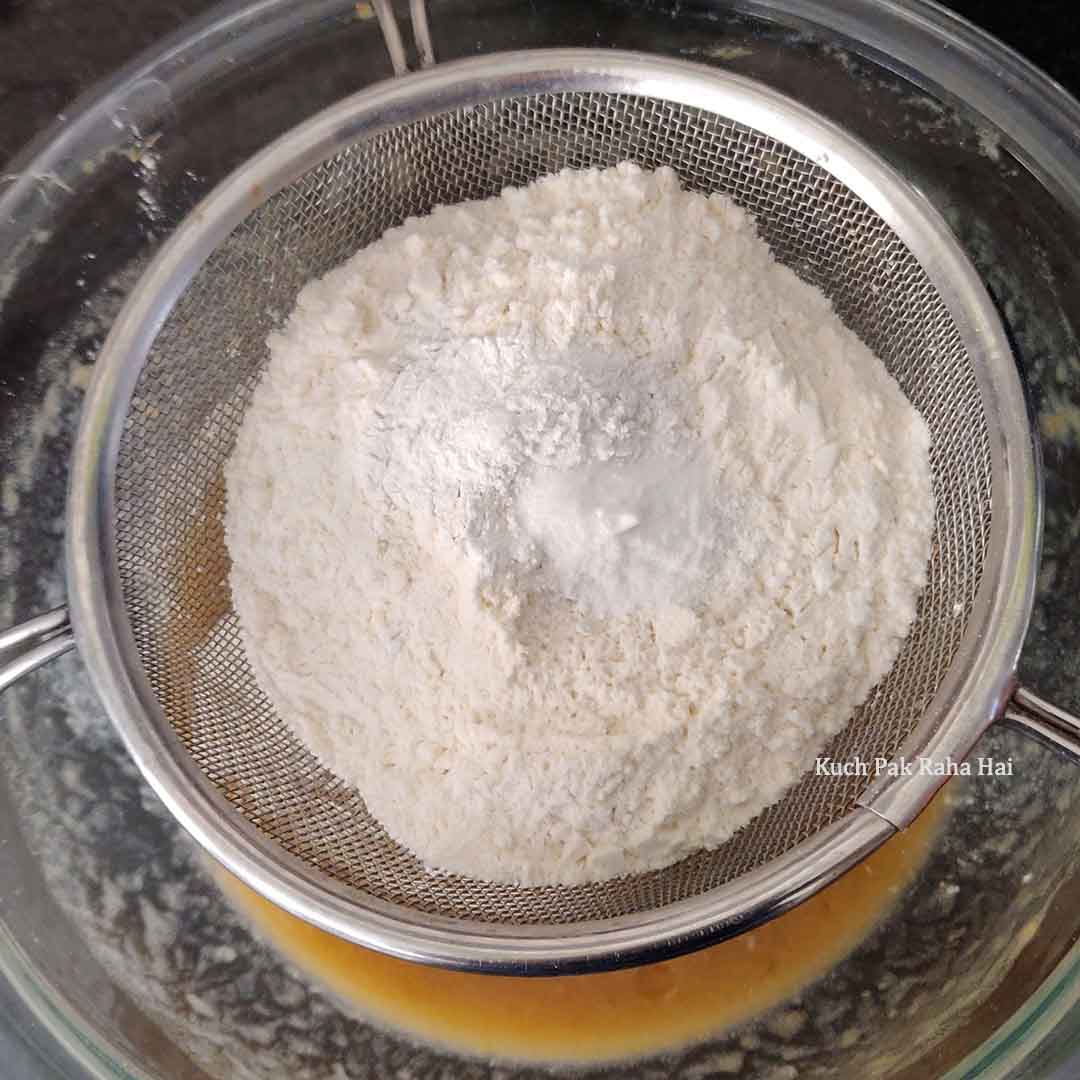 Step 4:
Add half of the chopped walnuts over sieved flour (save remaining half for the top).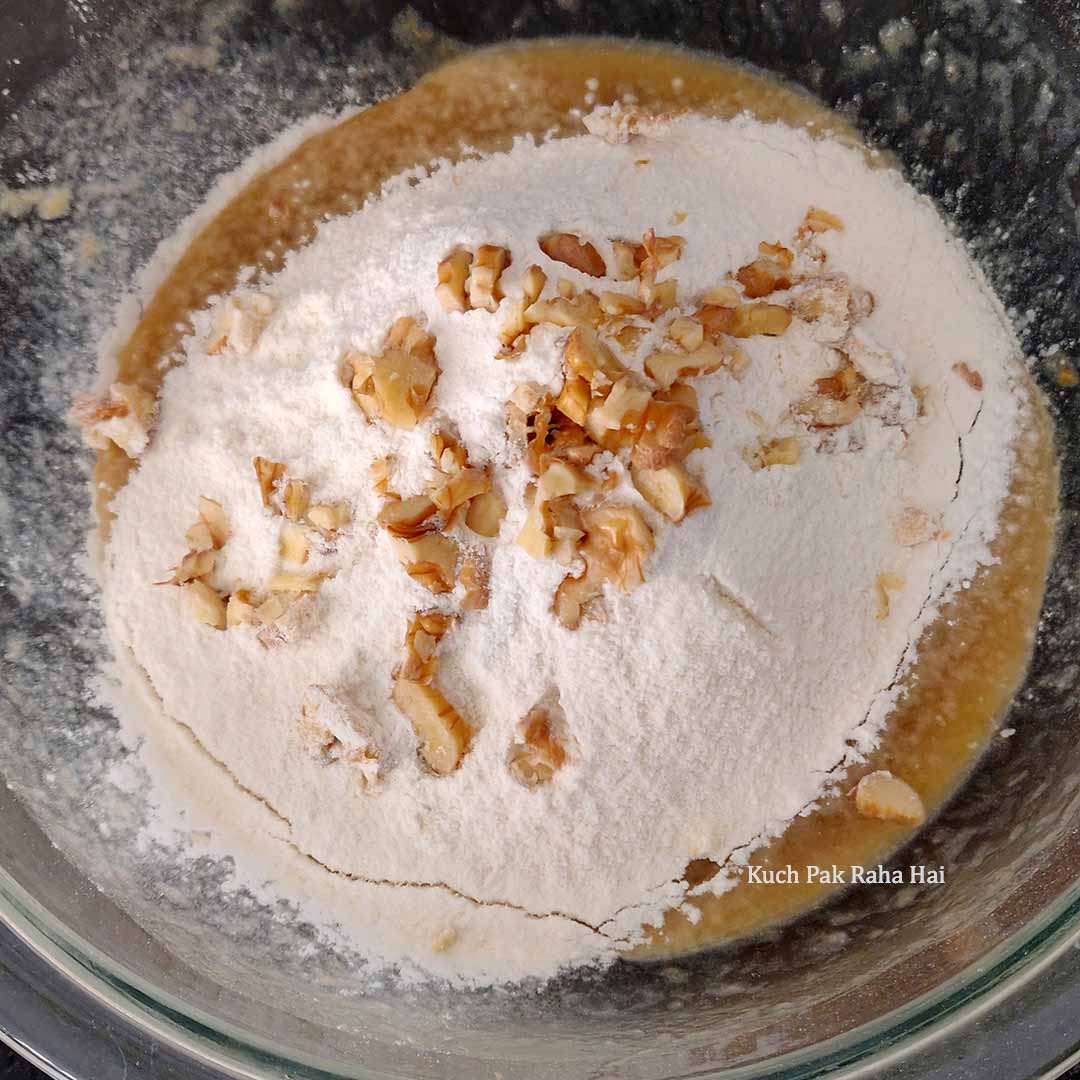 Step 5:
Fold the batter gently using cut & fold method till you get a smooth lump free batter. Transfer this batter in lined cake tin & top up with remaining chopped walnuts.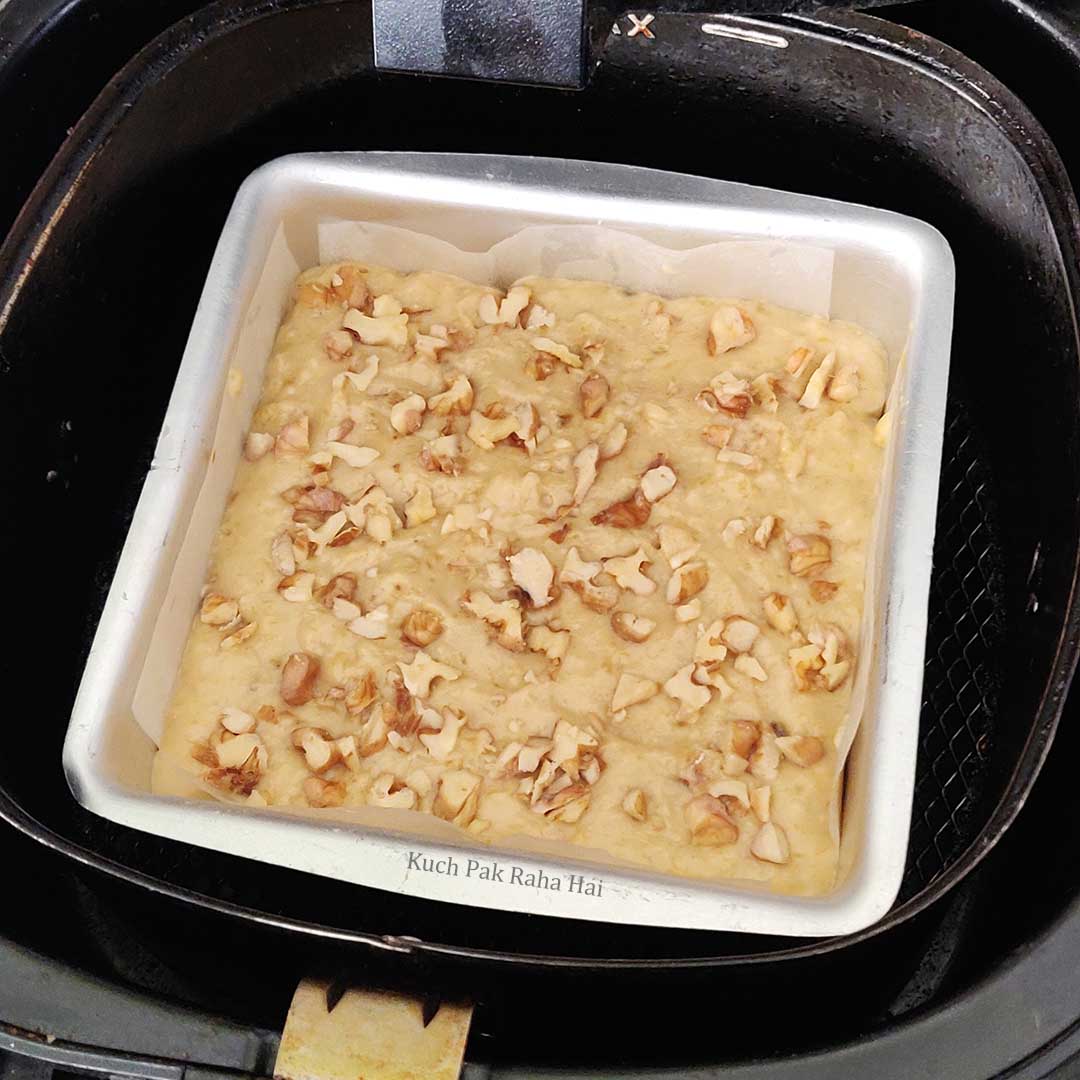 Step 6:
Bake in preheated air fryer at 160°C (320°F) for 18 to 20 minutes. Check the centre with the a toothpick or skewer after 18 minutes. If it comes out clean the bread is done else bake for 2 to 3 minutes more.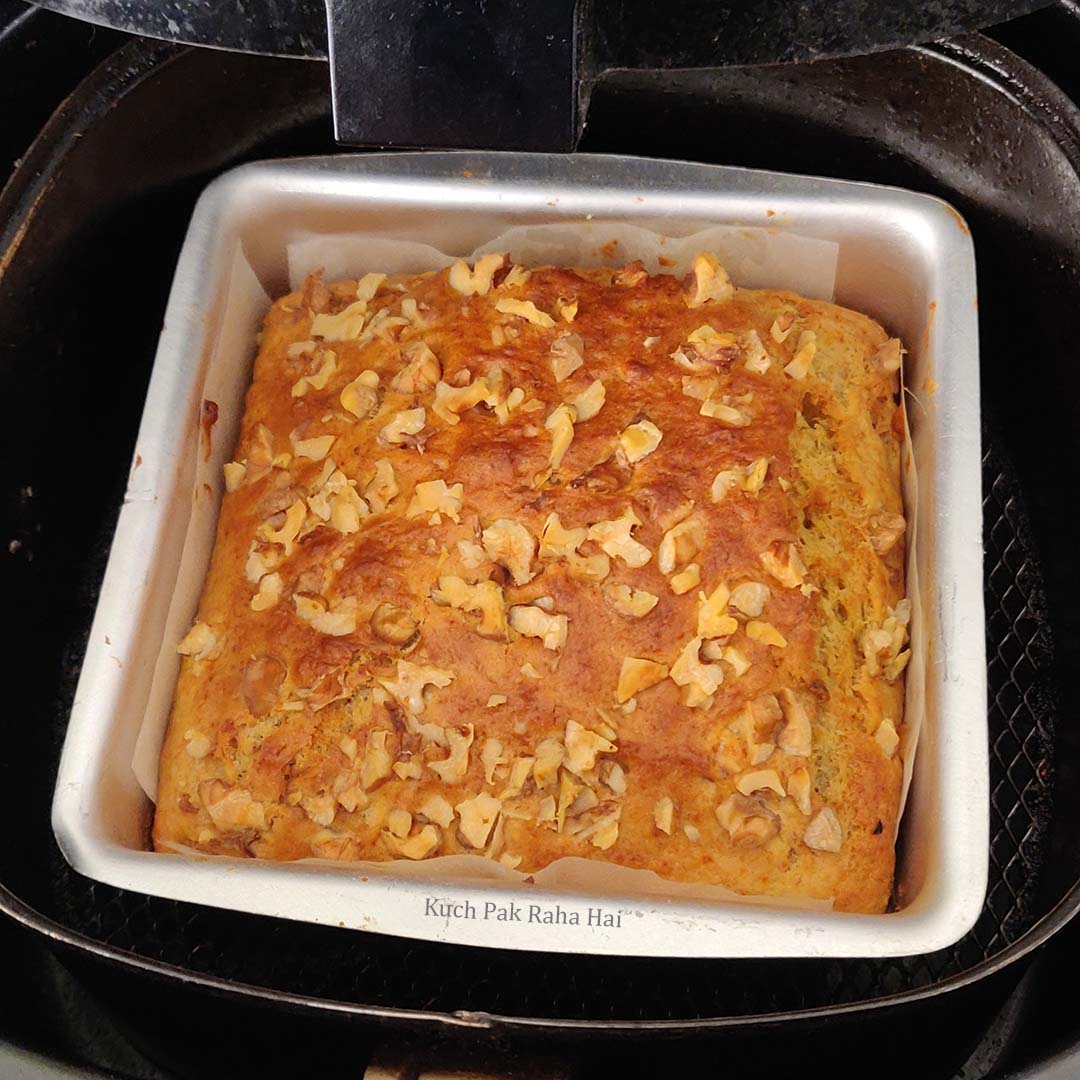 Let the bread cool down in the tin for 5 minutes  and then invert it over a wire rack to cool down completely.
Slice and enjoy the walnut banana bread with a cuppa tea or coffee!!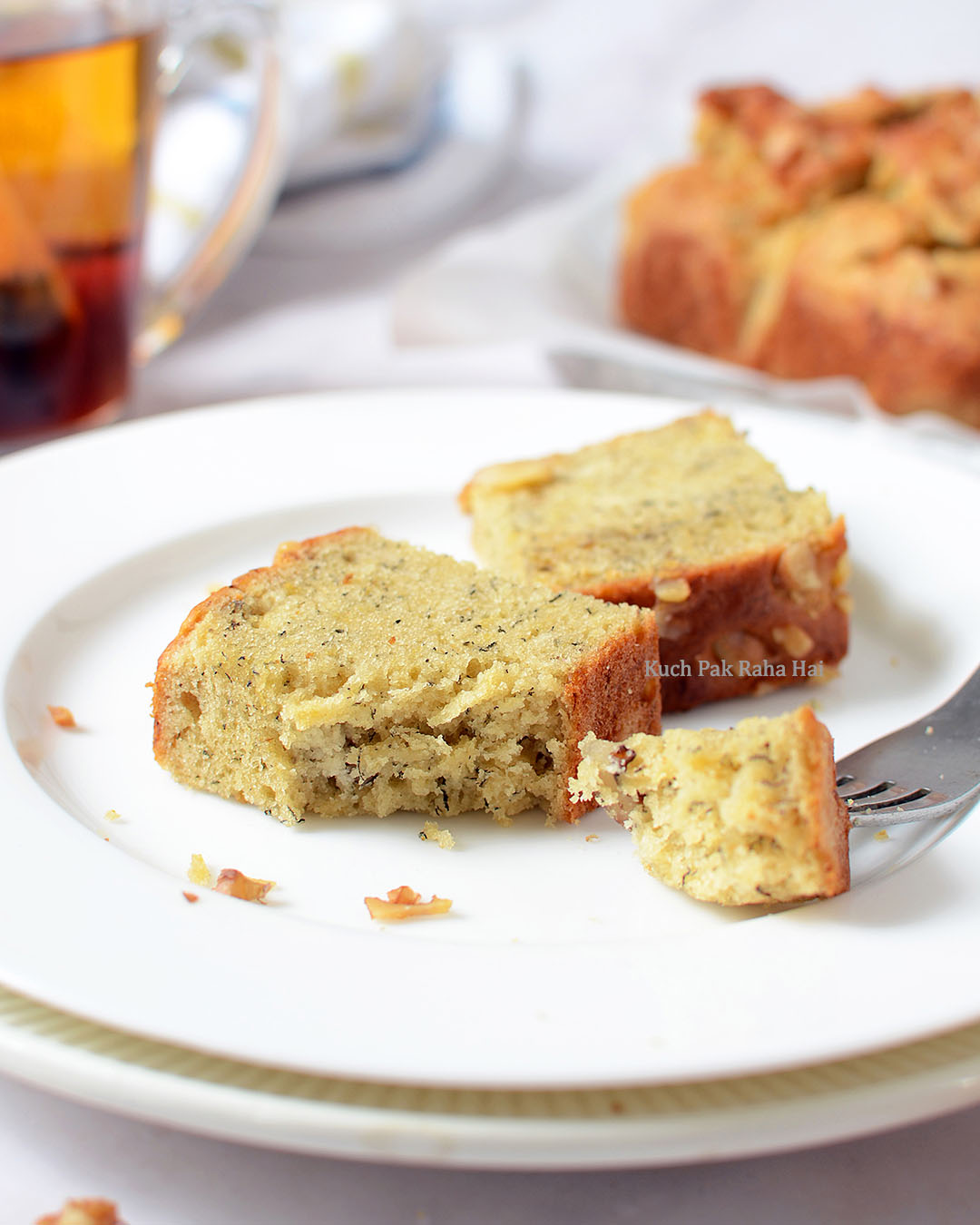 How to store this banana bread?
You can store it in an air tight container in fridge for 2 to 3 days. I would not suggest storing it longer than that as it has fresh fruit. You can even cling wrap individual slices and freeze them for upto a month. Whenever you want to have it, thaw on kitchen counter or microwave for 30 to 40 seconds.
Can I bake this recipe in regular oven?
Yes, you can bake this eggless banana bread recipe in regular oven too. Bake at 180°Celsius for 25-30 minutes till the skewer or knife comes out clean.
More Banana Recipes:
Pin for later:

If you try this easy egg free air fryer banana bread recipe & share pics on social media, then don't forget to tag on Facebook, Instagram or use #kuchpakrahahai.
Let's stay connected
Facebook | Instagram | Pinterest| Youtube