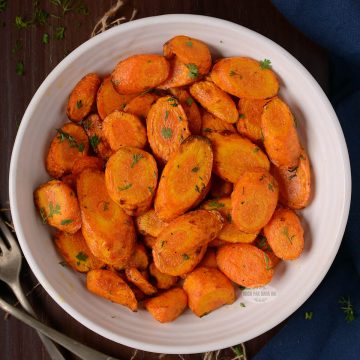 Perfectly tender air fryer roasted carrots taste so delicious & are a great healthy addition to everyday meals. You will need just 5 ingredients & less than 15 minutes to make these yummy carrots.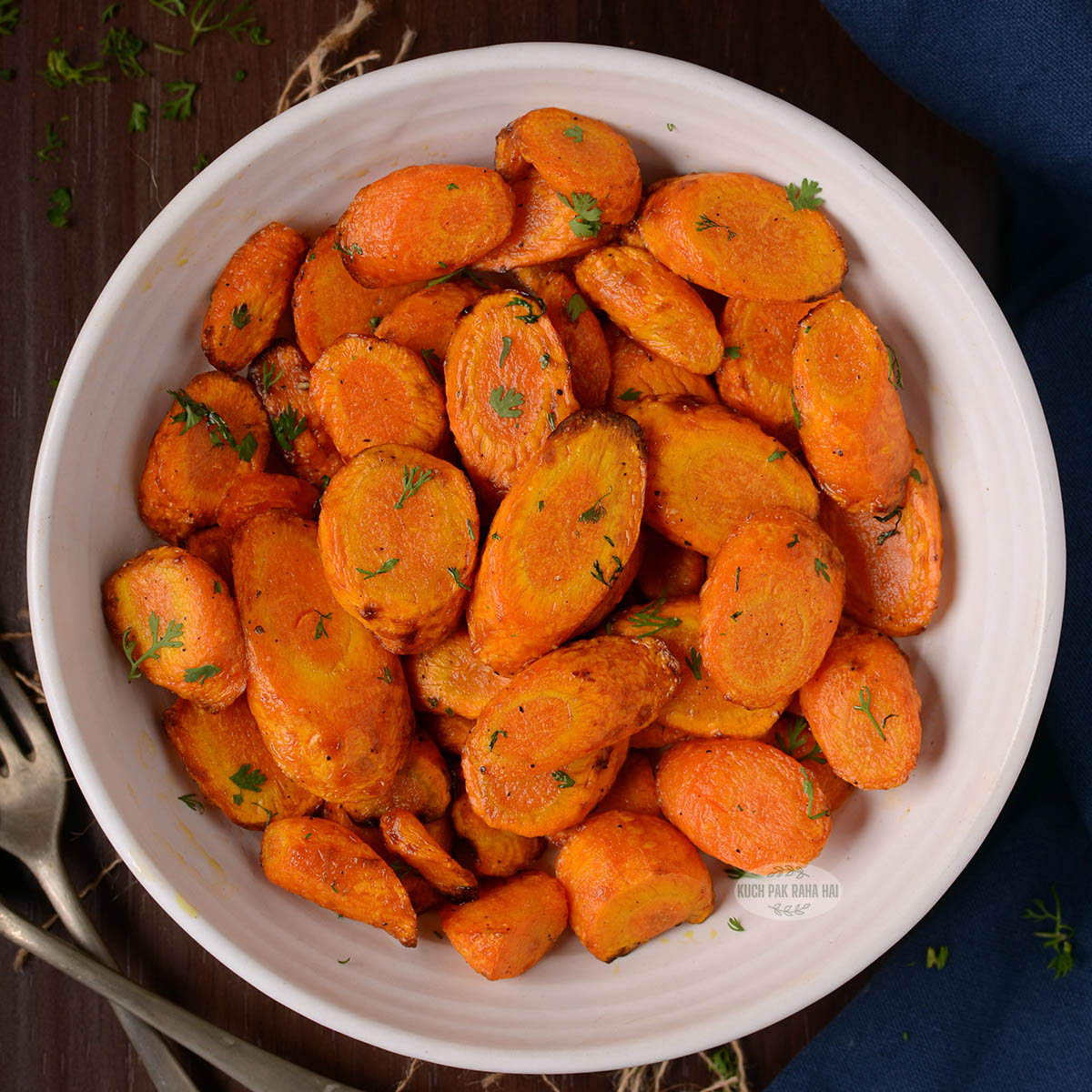 These air fryer carrots can be enjoyed as snack with dip, served as side dish, used in making salads or blended in soups or pasta sauces for added nutrition. You can season them with just salt, black pepper or add any seasoning / herbs of your choice.
The air fried carrots recipe shared here is-
Low Calorie
Gluten free
Vegan / Vegetarian
Easy & quick to make
With airfryer, making roasted vegetables has become so effortless. I have tried making mini potatoes, broccoli, mushrooms, green beans etc in it and everything turned out just perfect and that too in less time than oven.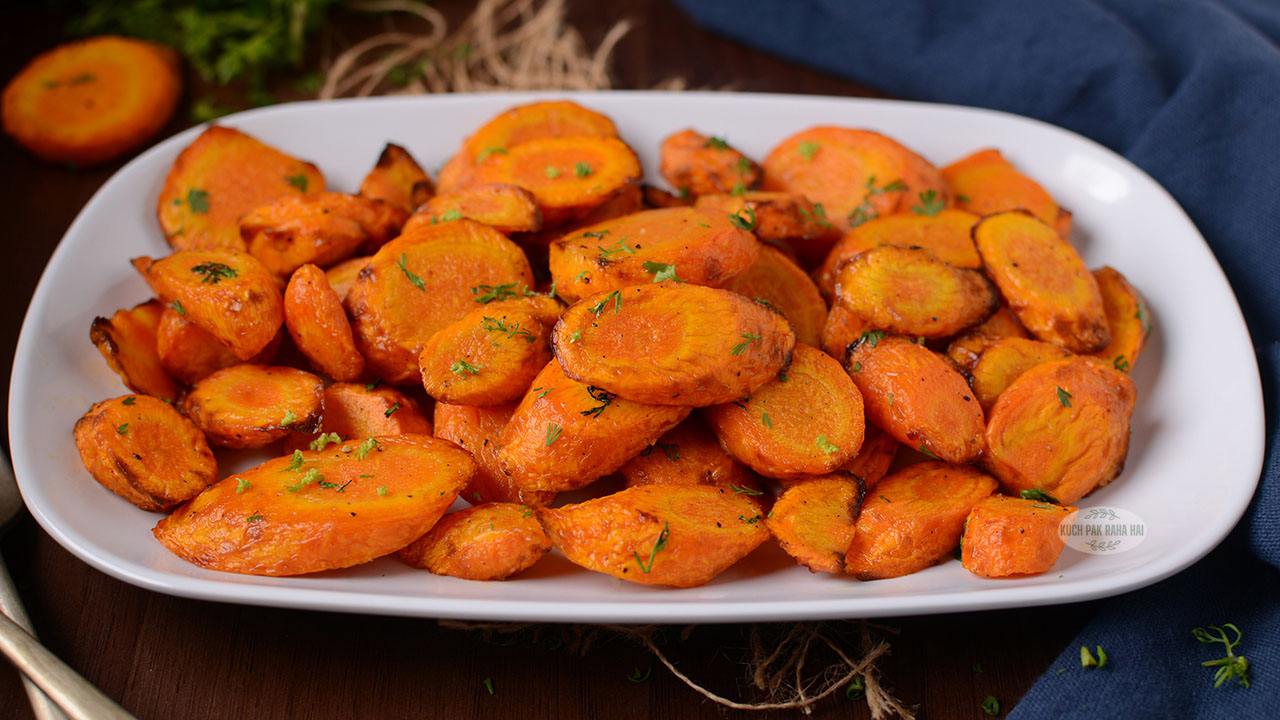 Air fryer Carrot Ingredients:
Carrots: Use fresh firm crunchy carrots to make roasted carrots. Stale carrots get limp in texture, making them difficult to peel or cut & they don't taste as good also. Instead of regular carrots, you can even use baby carrots here.
Oil: Use any cooking oil like avocado, sunflower, sesame or olive oil. It is important to use oil while air frying carrots as otherwise they can get dehydrated instead of roasting.
Seasoning: I have used simple salt and crushed black pepper to season these carrots.
Sugar: I like to add little bit of fine brown sugar to carrots as it enhances their flavour while glazing them beautifully. However this is an optional ingredient.
Fresh Herbs: A generous sprinkle of chopped herbs like cilantro, coriander or basil adds freshness to the roasted carrots.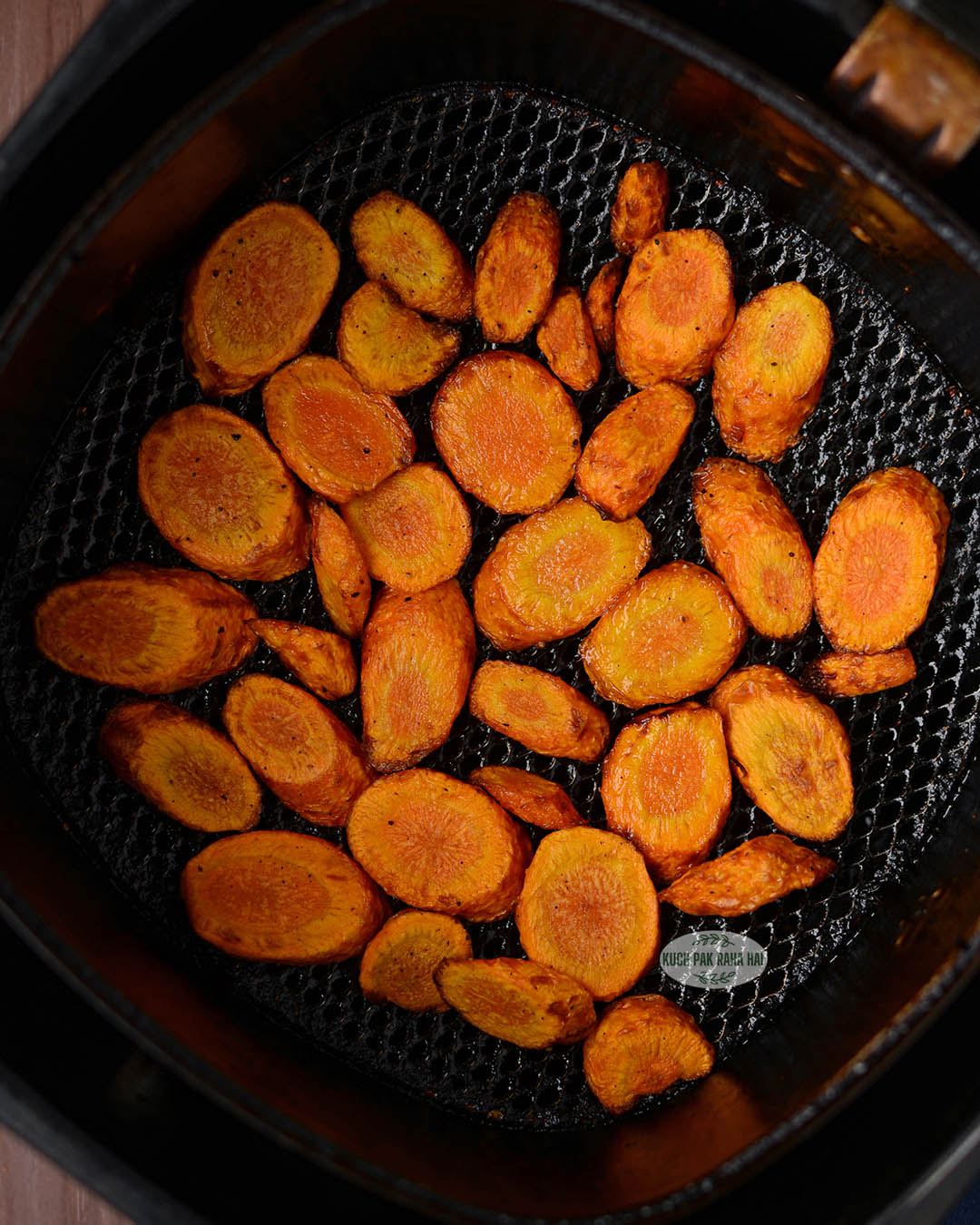 Roasted Carrots Variations:
Honey Glazed Carrots: Replace brown sugar with a honey or maple syrup to make honey glazed carrots in air fryer. You can also little bit of balsamic vinegar for sourness.
Air Fryer Baby Carrots: You can follow this same recipe, time & temperature to make baby carrots in air fryer. You can skip chopping them or cut them into half to make bite size pieces.
Parmesan Carrots: Along with salt & black pepper, you can add Italian seasoning or dried herbs to season these carrots. Add parmesan cheese in last 1-2 minutes of air frying.
Onion Garlic Carrots: You can also add some onion powder, garlic powder or freshly minced garlic to add more flavour to carrots.
Indian Spiced Carrots: Spices like cumin powder, red chilli powder, coriander powder or garam masala can be added to give Indian flavour to these carrots.
How long to cook carrots in air fryer?
Cooking carrots in air fryer takes roughly 10 minutes. The time can vary slightly depending on the size of air fryer model and thickness of carrot slices. Always check with a fork or knife to check if the carrots have become tender. I prefer to air fry them at 180°C(360°F) and then increase the temperature to 200°C (390°F) in last 1 or 2 minutes to get crispy edges.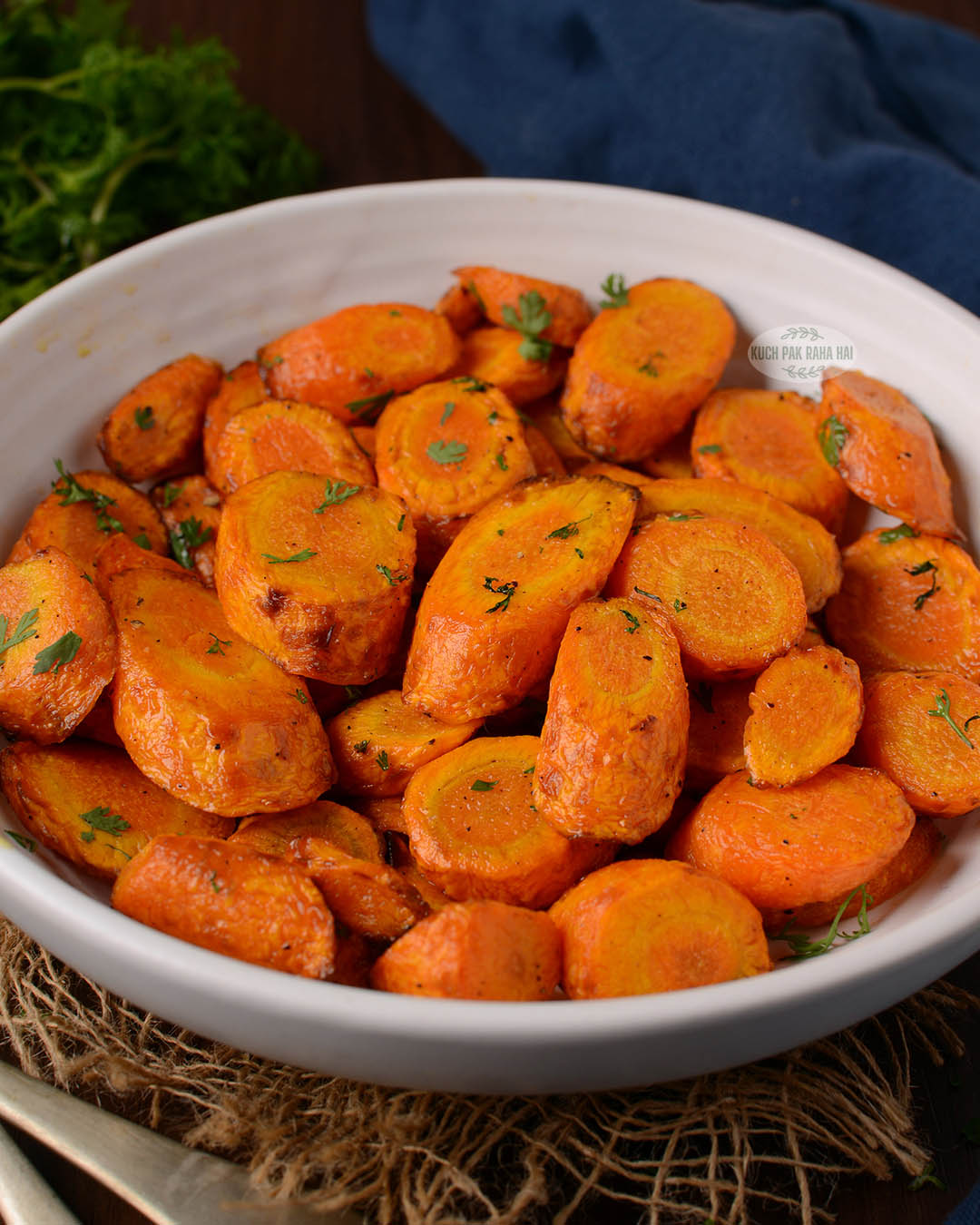 Hope you will like this easy air fryer carrots recipe. More air fryer roasted vegetables:
Ingredients:
Carrots-1 pound (500 gms)
Olive Oil / Avocado Oil-1 tbsp
Crushed Black Pepper-1/4 tsp
Salt-1/2 tsp (to taste)
Fine brown sugar- 1 tsp (optional)
Directions:
Step 1:
Wash the carrots and chop the ends. Peel and cut them at an angle while keeping 1/2″ inch thickness. Make sure to keep all pieces of similar size for same cooking time.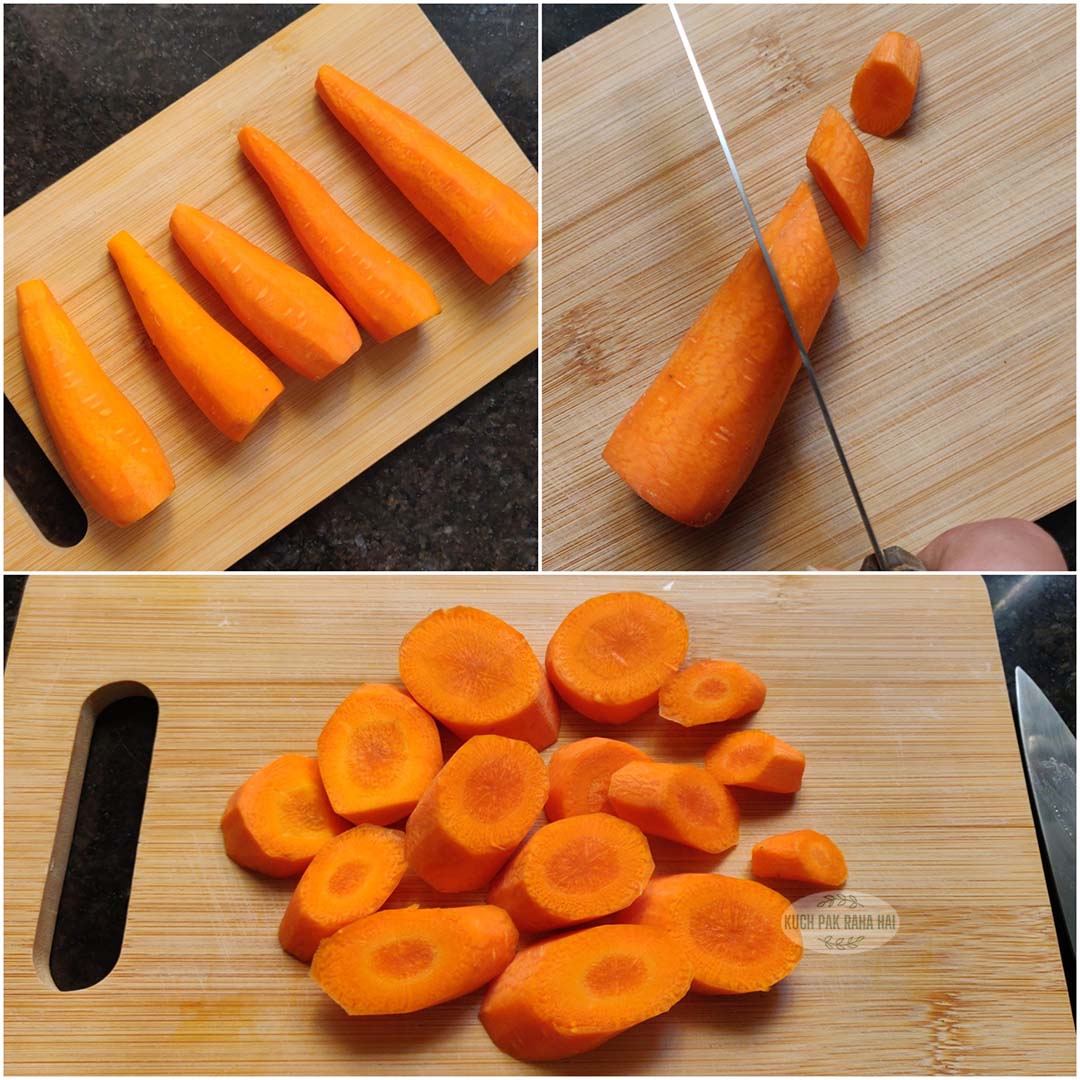 Step 2:
Mix oil, salt, black pepper and brown sugar in a small bowl. (If you are using onion powder, garlic powder or Italian seasoning add at this step).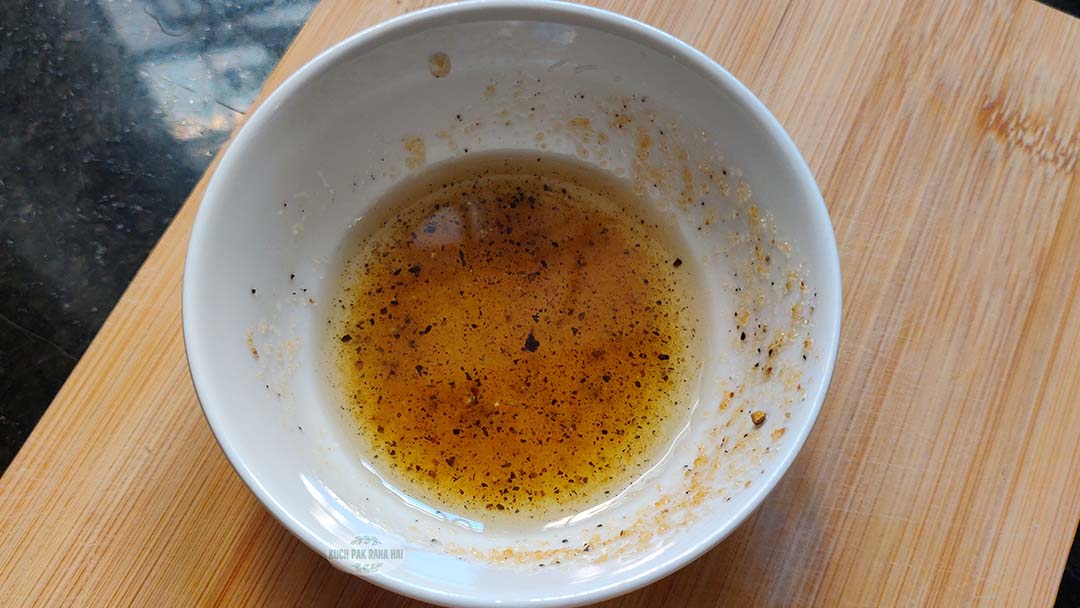 Step 3:
Transfer chopped carrots in a bowl and add this oil over them. Mix well so that all carrot slices are coated properly.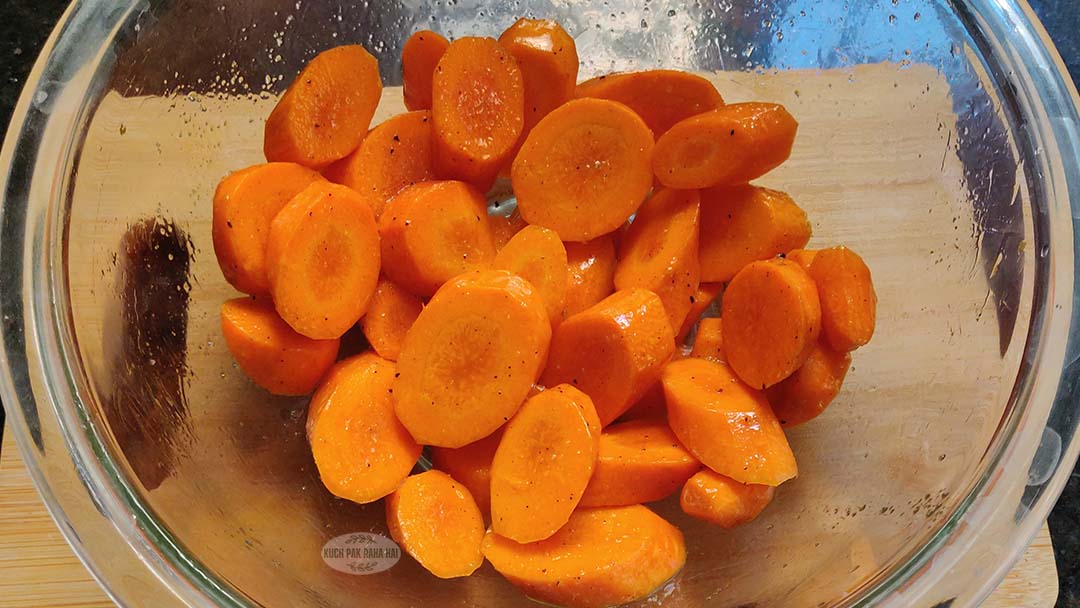 Step 4:
Transfer them in an airfryer basket (some overlapping is ok). Air fry at 180°C (360°F) for 8-10 minutes while shaking after halftime. To get slightly charred crispy edges, increase the temp to 200°C (390°F) in last 1-2 minutes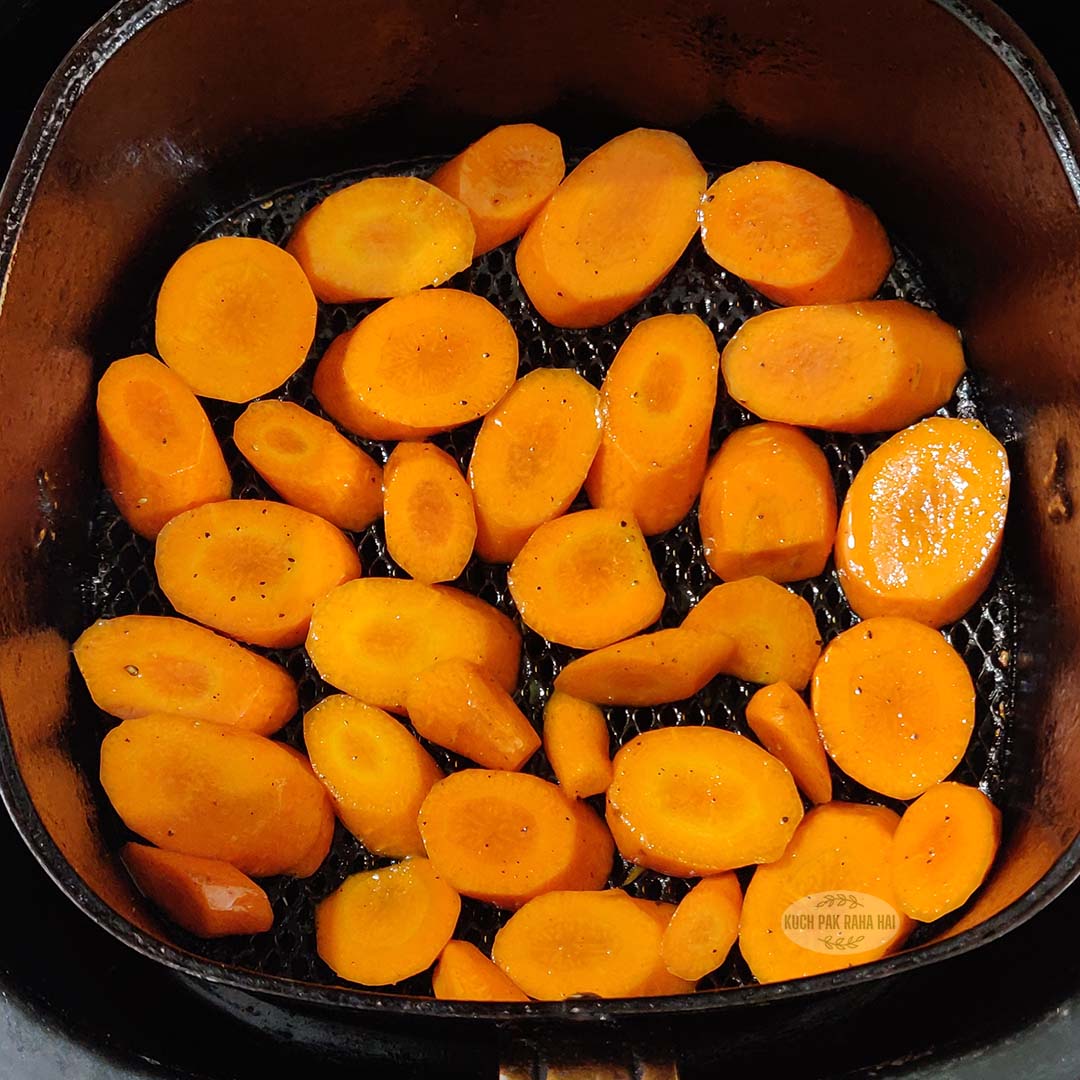 Step 5:
Check the carrots with a fork for tenderness. If you find resistance then air fry for 1 to 2 minutes more. (Time can vary slightly depending on air fryer brand so please adjust time accordingly).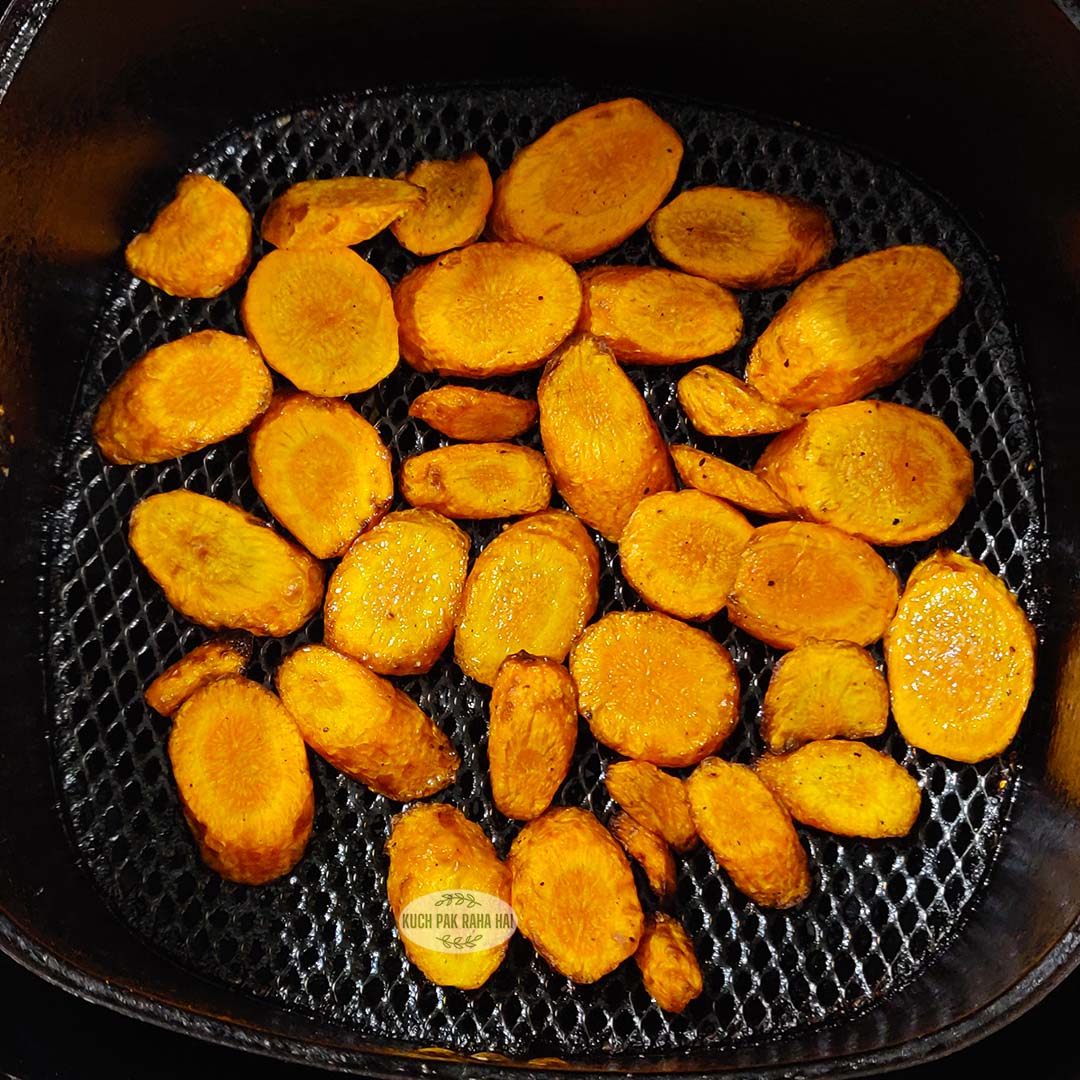 Transfer these air fried roasted carrots in a serving bowl and garnish with freshly chopped herbs.
Recipe Tips:
1. If you want to make large quantities of carrots, then make in batches. Don't fill the basket too much as it will restrict the hot air flow in air fryer and all pieces may not quick evenly.
2. After air frying, sometimes the surface of carrots may appear dry though it still tastes good. You can drizzle 1/2 tsp oil (along with fresh herbs) and toss the carrots gently to get the shine on surface.
3. Mixing seasoning with oil first ensures that all carrot slices are evenly coated with it. Feel free to add any herbs or seasoning of your choice in oil.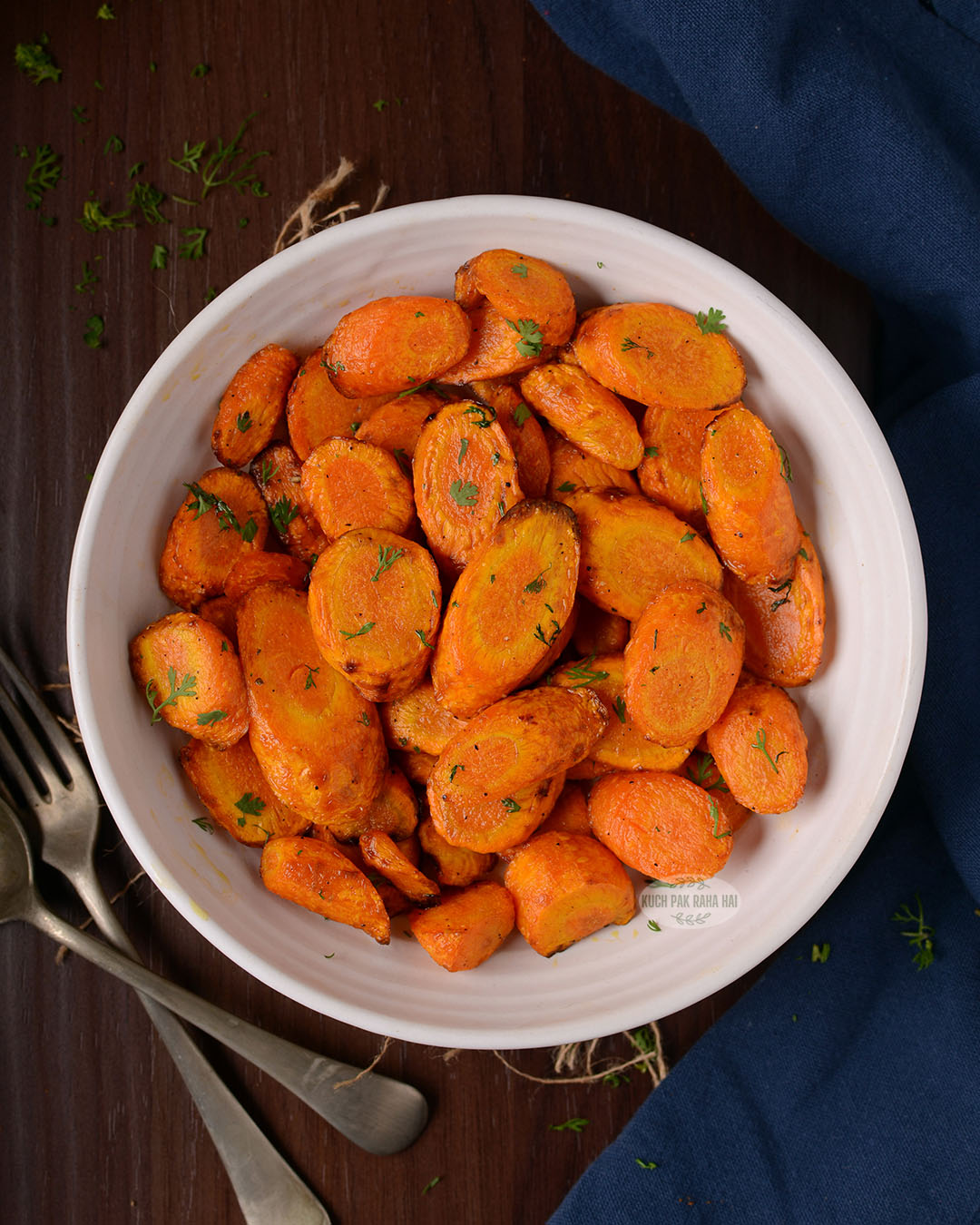 How to store & reheat leftovers?
You can store the leftover carrots in an airtight container in fridge for upto 2 days. Reheat them in microwave for 30-40 seconds or air fry them for 2 minutes at 180°C (360°F).
Pin for later: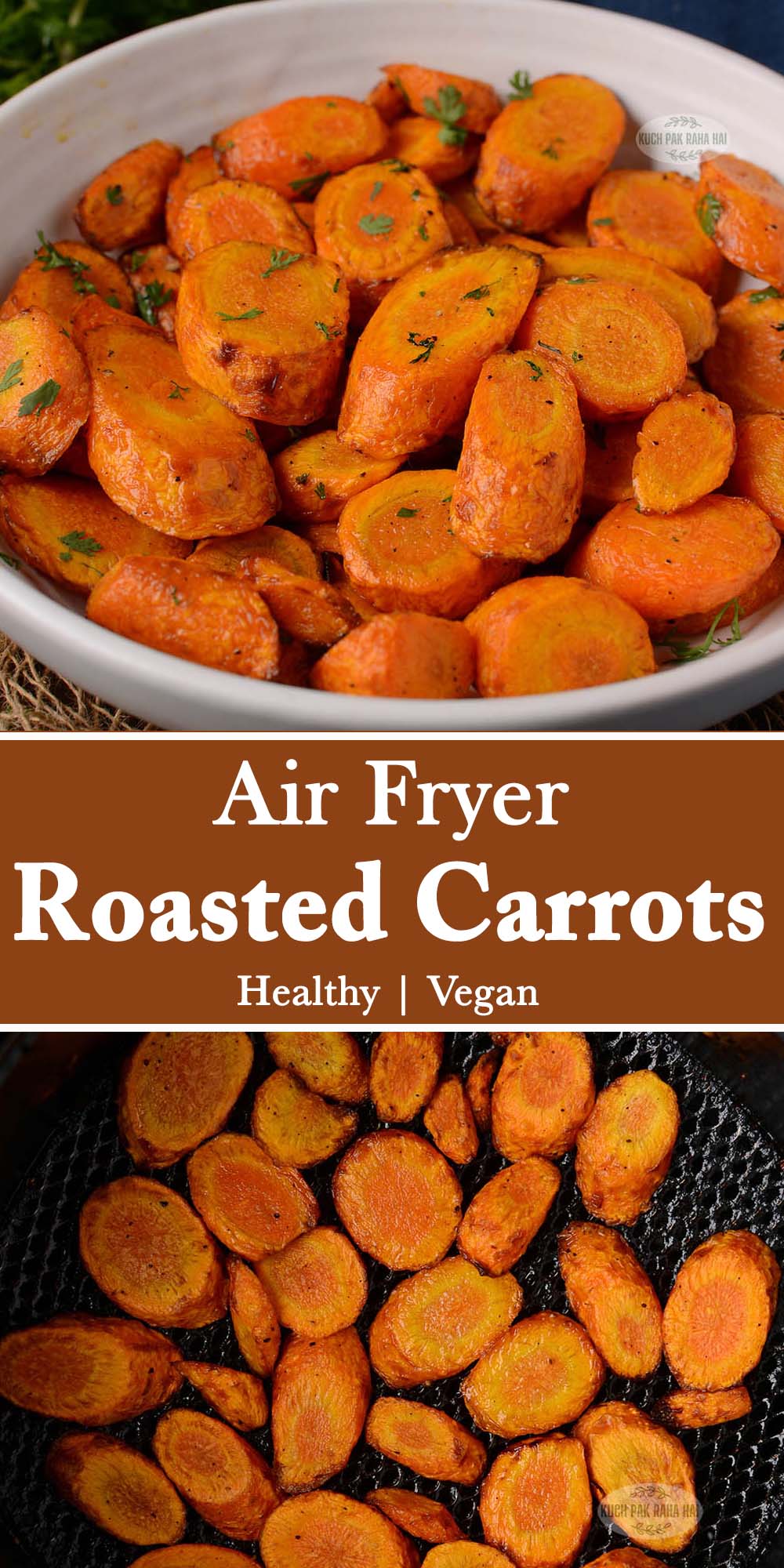 If you try this air fried carrots recipe & share pics on social media, then don't forget to tag on Facebook, Instagram or use #kuchpakrahahai.
Let's stay connected
Facebook | Instagram | Pinterest| Youtube