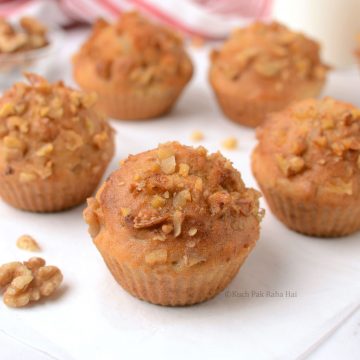 Easy recipe to make soft, fluffy tender banana muffins in air fryer. It is an egg free recipe and you can add blueberries, chocolate chips or walnuts to these muffins as per your choice.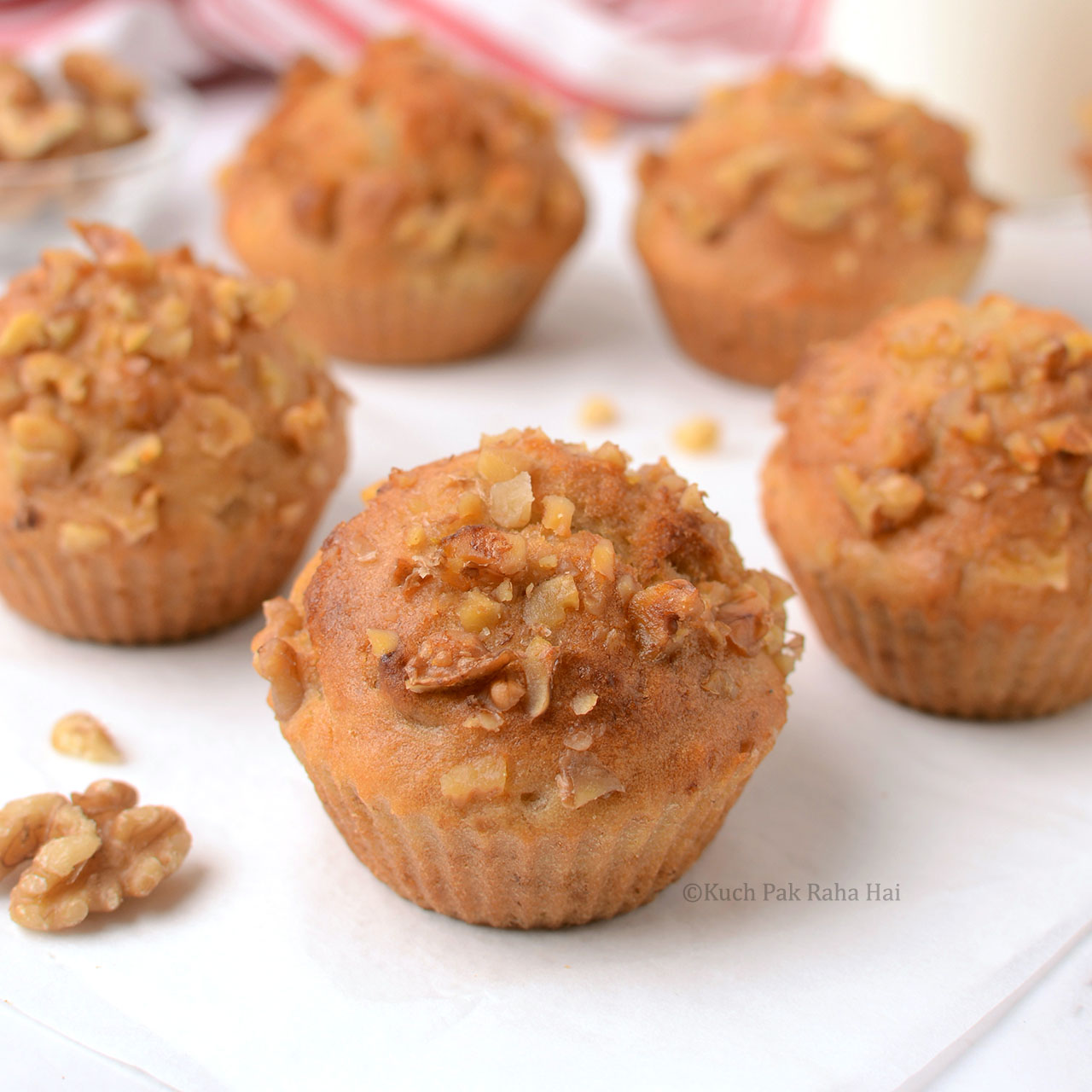 These banana muffins are perfect for breakfast, snack or can be packed in kids lunch box. The air fryer muffins recipe shared here is :
Vegetarian (eggless)
Can be made vegan
Kids friendly
Takes just 20 minutes
Ingredients for air fryer muffins:
Flour:  I have used all purpose flour to make these banana muffins in air fryer. Whole Wheat flour can also be used but you might have to increase the quantity of liquids in the recipe as it absorbs more moisture.
Banana: As ripe bananas are naturally sweeter in taste, it is best to use ripe or overripe bananas to make these muffins.
Oil: I have used cold pressed sunflower oil here. You can also use any neutral flavourless oil like avocado, canola or olive oil.
Yogurt: Yogurt works as an egg replacer here. It makes the muffins soft & moist. If your are using homemade yogurt (also known as curd), then use thick part and discard the watery part. To make vegan muffins, use non-dairy yogurt options like coconut or peanut yogurt.
Sugar: I have used granulated white sugar here. You can also use brown sugar or coconut sugar.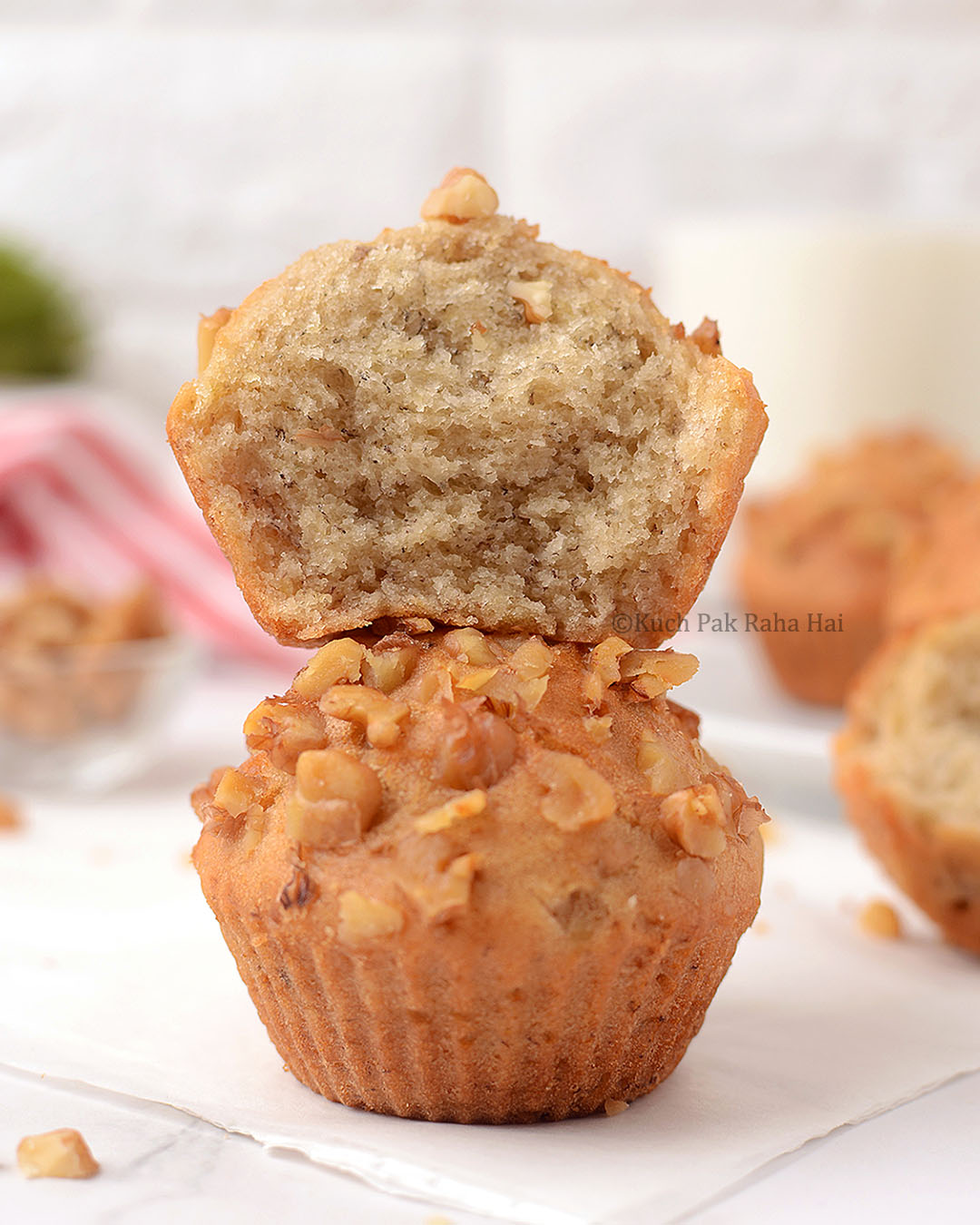 Milk: Little bit of milk adds softness to the muffins. For vegan muffins, use almond, soy or oat milk.
Additional: You can add walnuts, blueberries, chocolate chips or use streusel for topping these muffins.
Can you make muffins in an air fryer?
Yes you can bake muffins in air fryer just like regular oven. Most of the muffin recipes that you can bake in oven can be baked in air fryer. You can make them using boxed mix or from scratch as I have made here.
The only difference which I felt is that you cannot fit the muffin tray inside air fryer (maybe in larger ones you could fit it but it was fitting in mine). So you have to use silicon moulds for muffins in air fryer.
Paper cups vs silicone cups in air fryer:
Yes you can use both paper cups & silicone cups inside the air fryer. However in absence of baking tray the paper cups don't hold their shape very well and expands as the muffins rise, whereas silicone cups hold their shape while baking in air fryer.
Some brands include these silicone muffin cups with the air fryer accessories but you can also easily buy them online or from any baking store.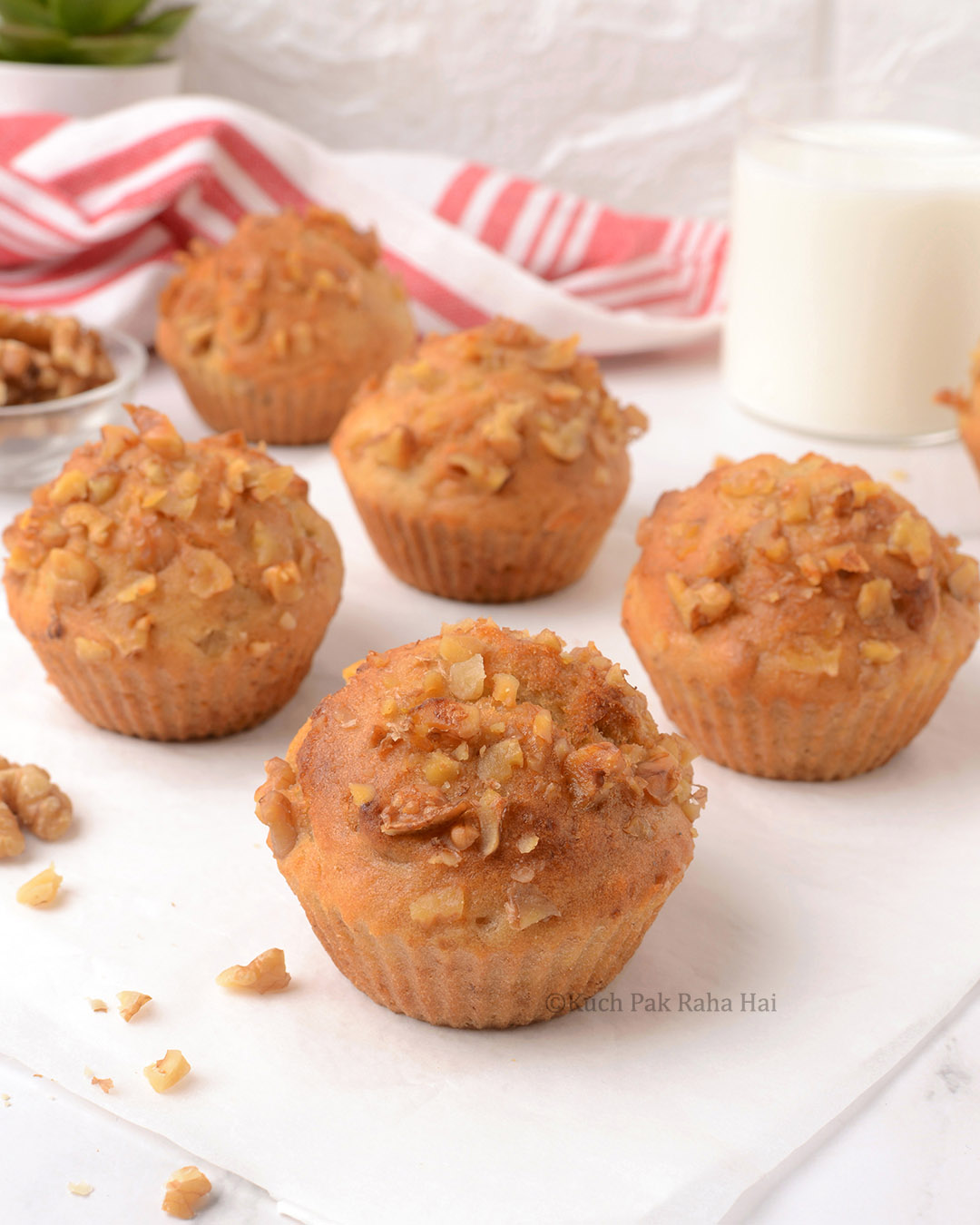 How to make muffins in air fryer?
To make muffins in air fryer we begin by sieving dry ingredients (flour & rising agents. Then whisk the wet ingredients well (banana, oil, sugar and vanilla). Fold the dry ingredients into wet ingredients while adding some milk. Transfer the prepared batter in silicone cups and bake in a preheated air fryer at 160°C (320°F) temperature.
Air fryer Muffin Variations:
Banana Blueberry Muffins: You can add fresh or frozen blueberries in the batter as per availability. If you want to make these muffins without banana, then checkout this eggless blueberry lemon muffins recipe which I have also tried in air fryer.
Banana Chocolate Chip Muffins: Feel free to add handful of chocolate chips or chopped chocolate pieces to these muffins. For making healthy muffins, you can make also try this eggless banana oats muffins recipe.

Banana Walnut Muffins:

Banana & walnuts nuts make an excellent pair. You can also use other nuts like almonds or hazelnuts.
Youtube Video:
I have also tried baking Apple Cinnamon Muffins (whole wheat) in air fryer and they turned out amazing. If you have some spare apples lying around in kitchen pantry, then do try this recipe too.
More egg free air fryer recipes: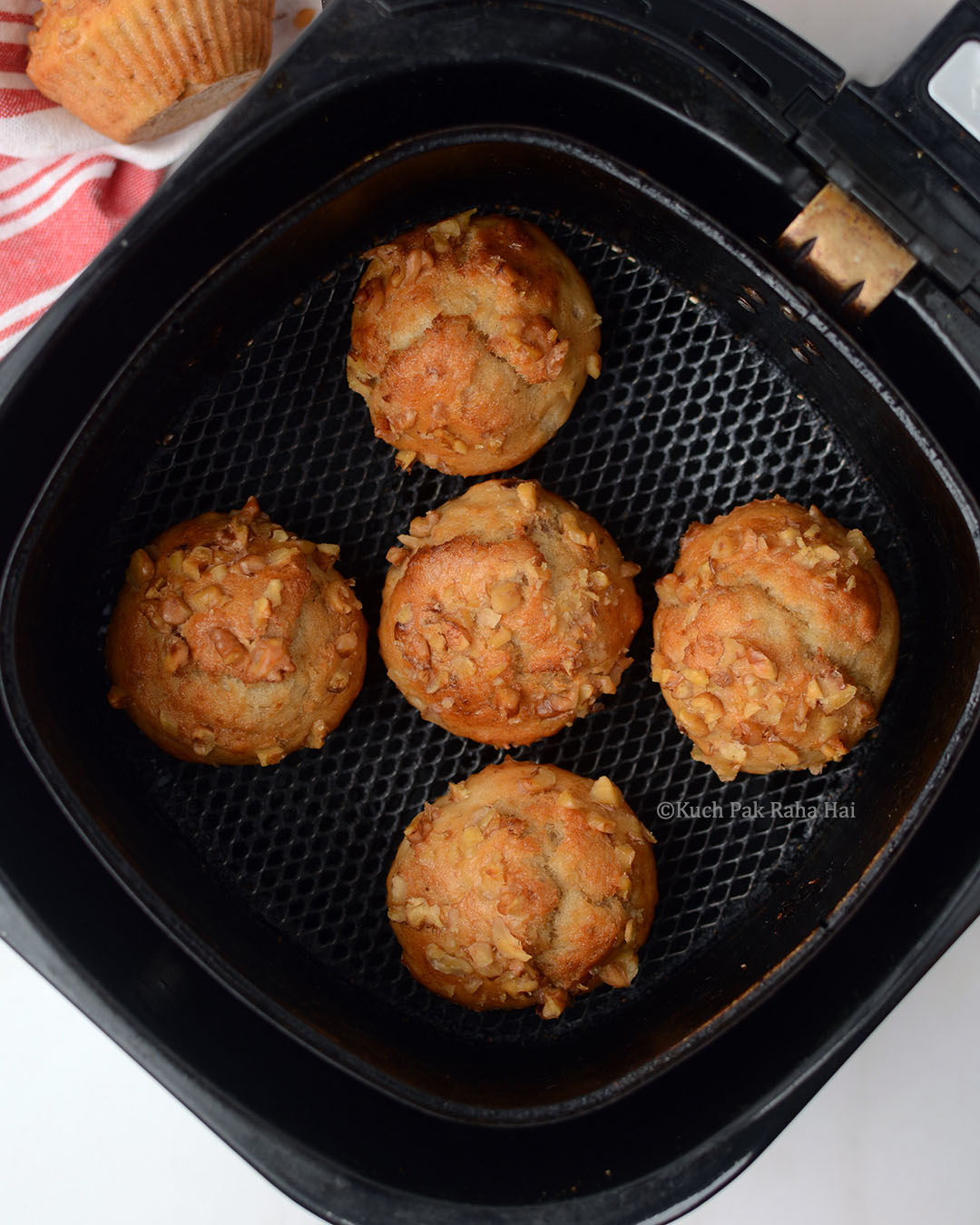 Ingredients:
All purpose flour- 1 cup (120 grams)
Baking powder- 1 tsp
Baking soda- 1/4 tsp
Salt- A pinch
Ripe Banana (mashed)- 1/2 cup (135gms)
Yogurt- 1/4 cup (62 grams)
Oil- 1/4 cup (50 grams)
Granulated Sugar- 1/3 cup + 1 tbsp (82gms)
Vanilla Extract- 1 tsp
Milk / Soy milk – 1 tbsp + 1 tsp (divided)
Walnuts – 8 to 10 (chopped)
Notes:
Measuring cups used: 1 cup = 250 ml. The recipe yields 8 muffins.
 I have used (1+1/2) medium banana here to get 1/2 cup mashed banana (135 grams).
To make these muffins vegan, you can use plant based yogurt like coconut yogurt.
If you like less sweet muffins, use 1/3 cup sugar (70 grams).
Directions:
Step 1:
Place a sieve over a bowl and add flour, salt, baking powder and baking soda to it. Sieve and keep aside.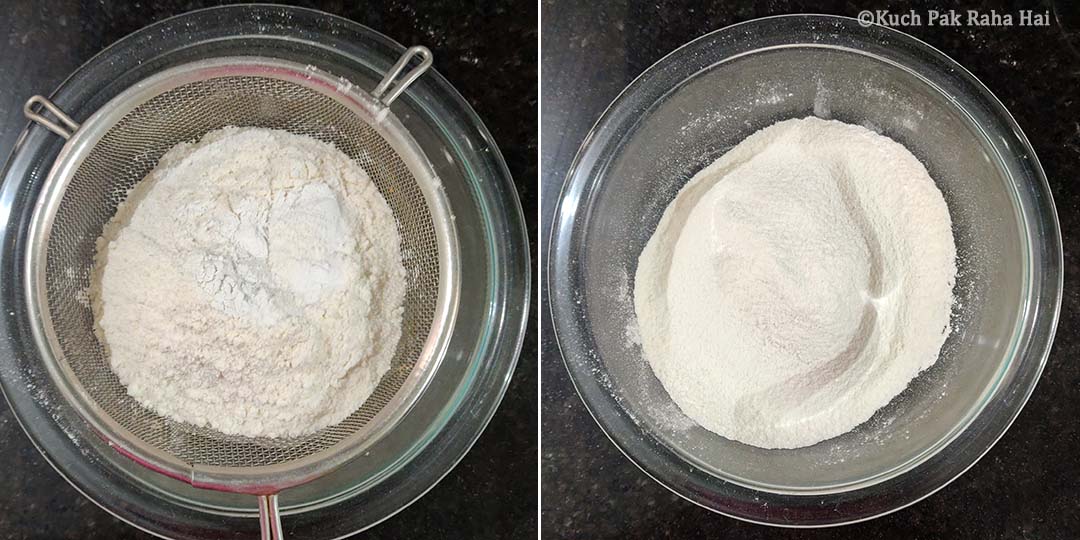 Step 2:
Take half of the chopped walnuts (or blueberries) and add 1/4 tsp flour to it. Mix gently so that they are coated well. This prevents the nuts or berries from sinking. Keep them aside.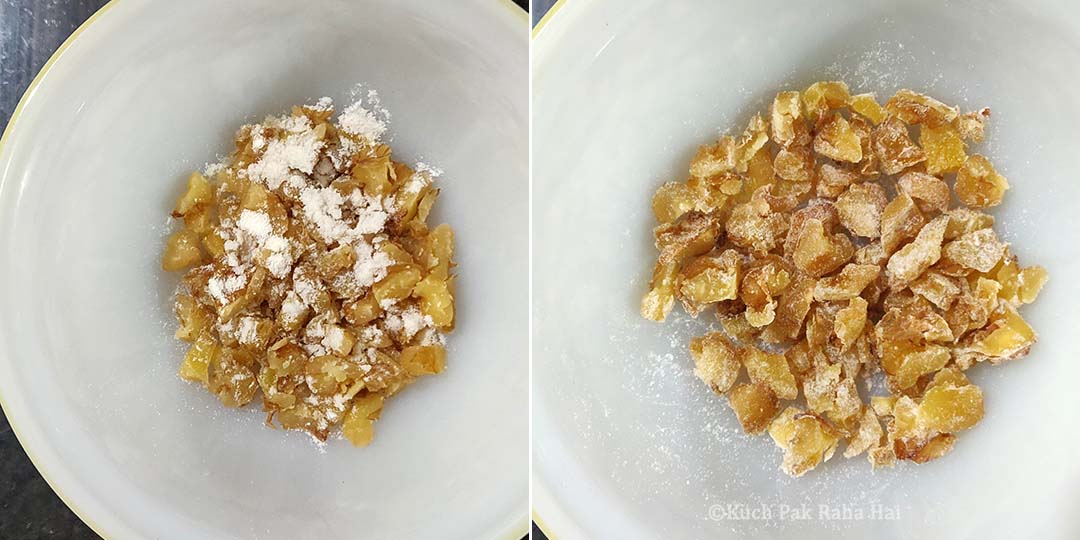 Step 3:
Add banana, granulated sugar, milk (1 tbsp), oil, yogurt and vanilla extract in a large bowl. Whisk for 10-12 minutes till sugar is dissolved completely.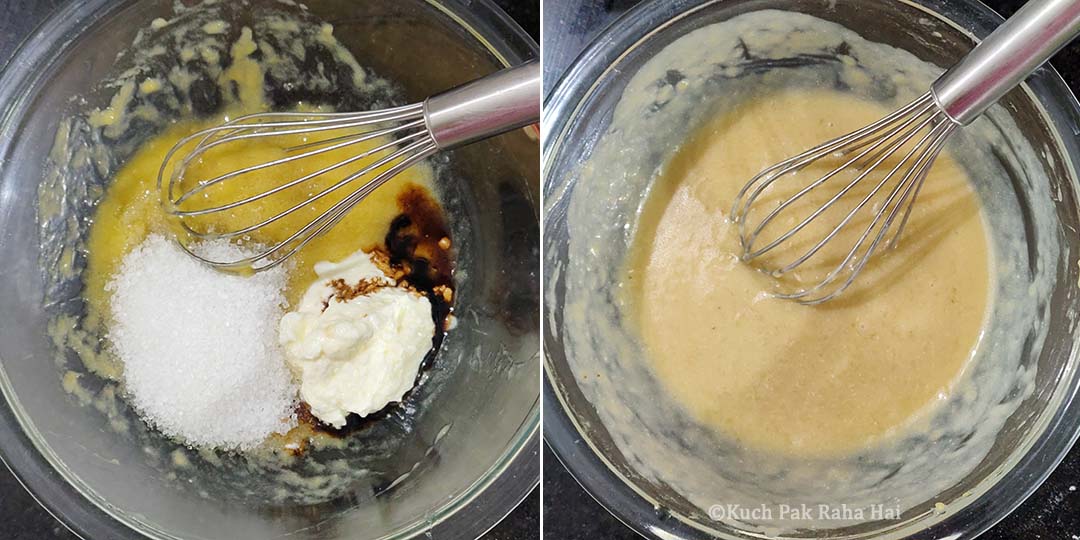 Step 4:
Add sieved dry ingredients to it in 2 parts and fold gently (using cut & fold method). If the batter seems too thick, then add 1-2 tsp milk more. The batter should be on slightly thicker side (shown in video).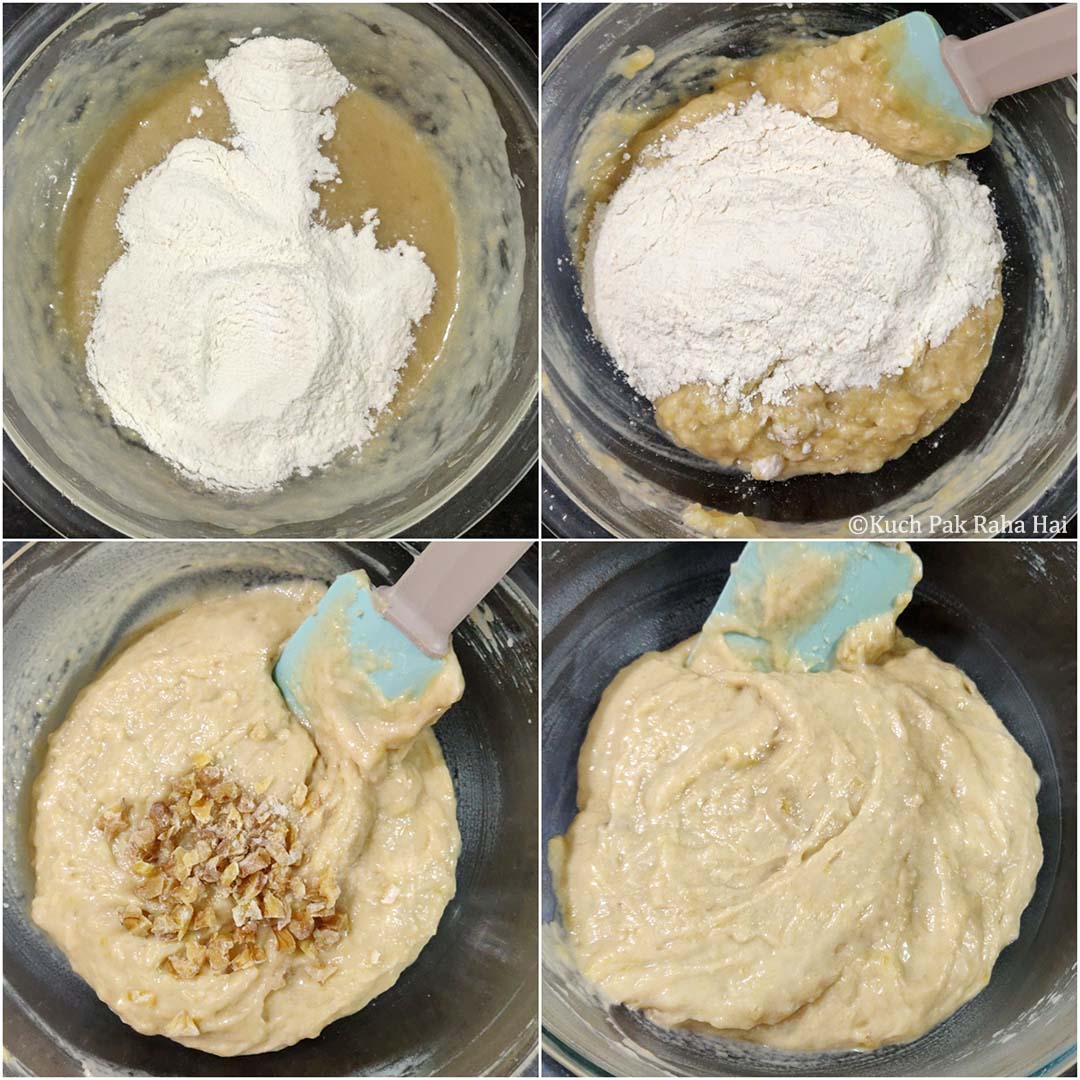 Step 5:
Set the air fryer for preheating at 160°C (320°F) for 4-5 min. While the air fryer is preheating, transfer the muffin batter in silicon moulds and top them up with remaining chopped walnuts.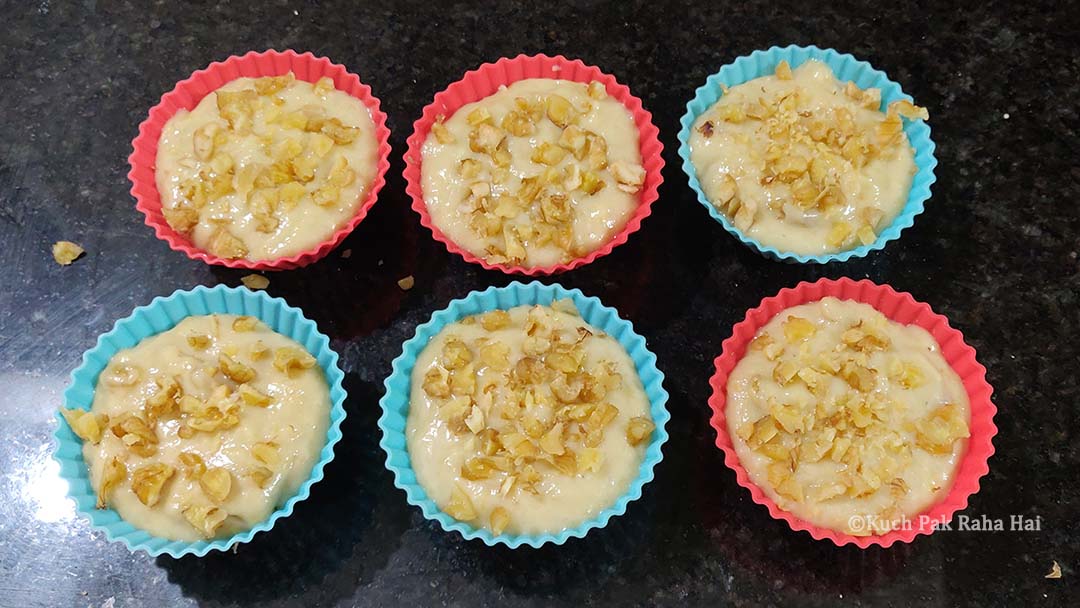 Step 6:
Bake these muffins in a preheated air fryer at 160°C (320°F) for 11-13 minutes. Check the centre of any muffin around 11 minutes with a knife or skewer.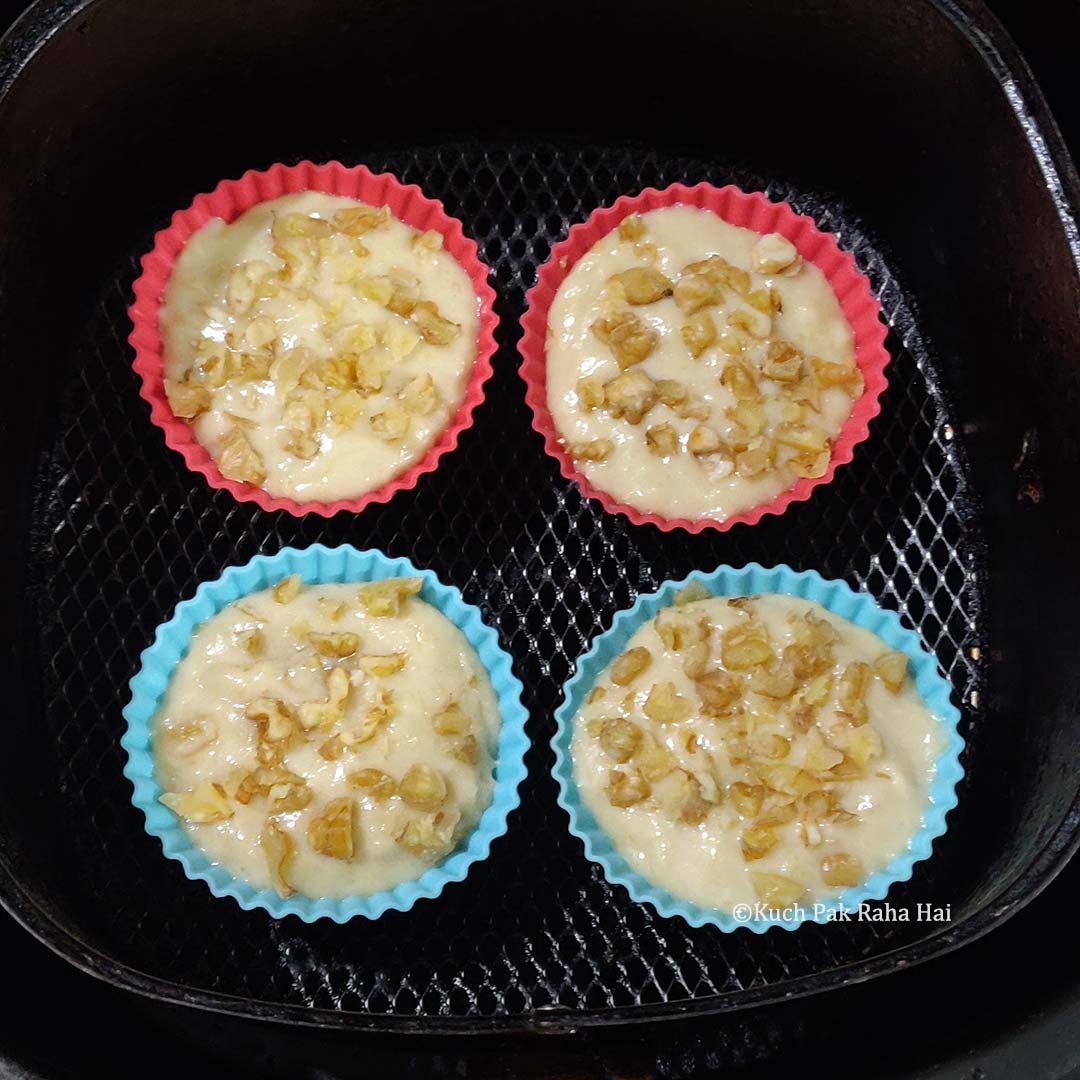 If its tip comes out clean, then muffins are ready else bake for another 2 minutes. The muffins in my air fryer got ready in 11 minutes.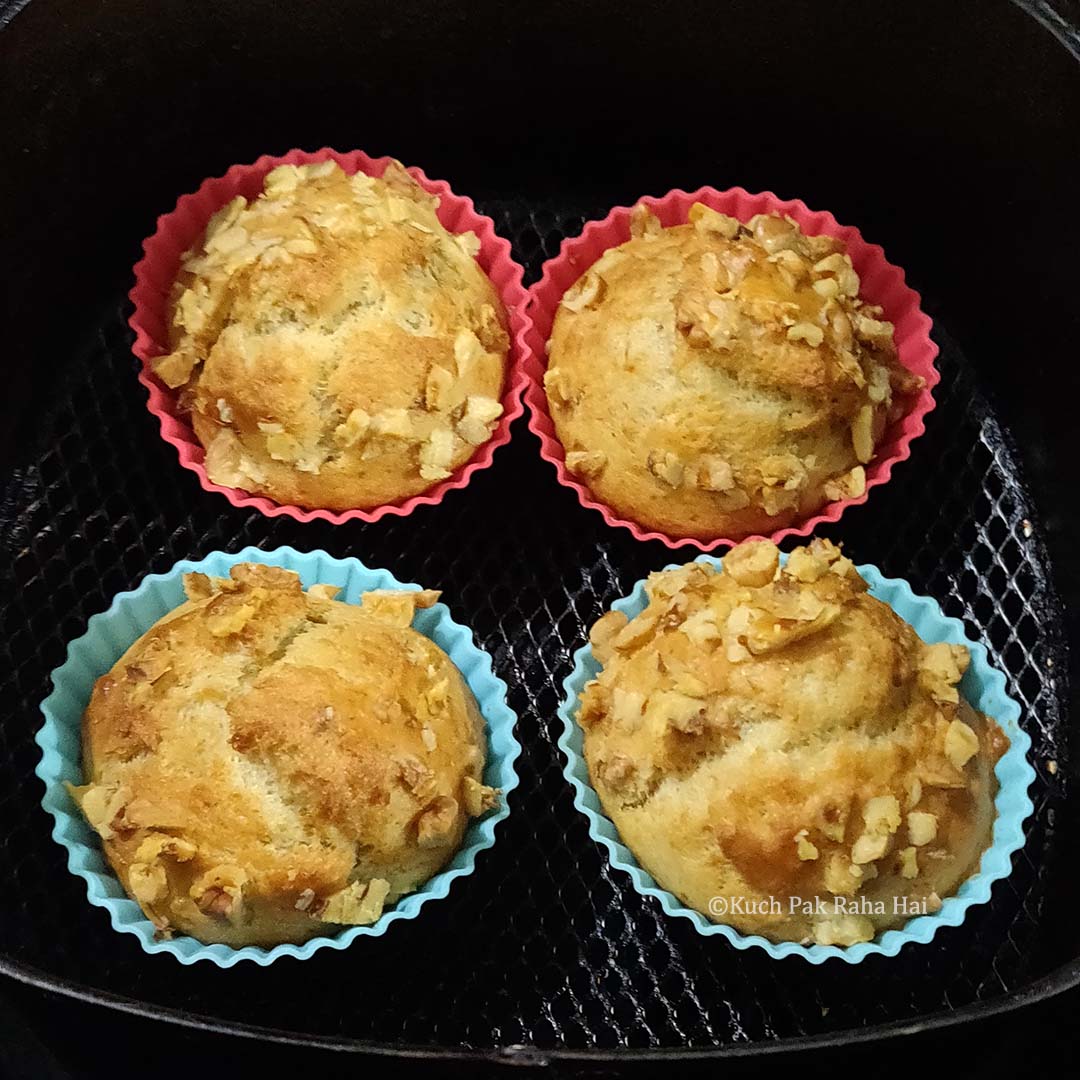 Step 7:
Let the muffins cool down in mould for 5 minutes. Remove the muffins from silicon moulds and then transfer over a wire rack to cool completely.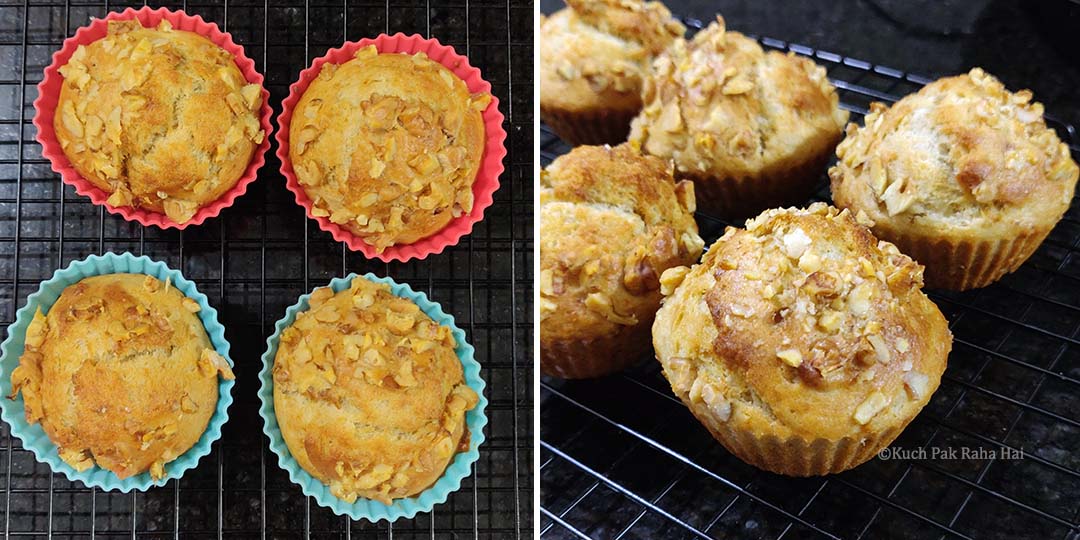 You can wait for them to cool down (which is the hardest part here) or just enjoy warm banana walnut muffins with coffee or tea.
FAQ:
How to store these air fryer muffins?
Store them in an air tight container in fridge for 2-3 days. You can have them cold or microwave for 10-15 seconds before consuming.
Can I freeze these air fryer banana muffins?
Yes you can freeze them in a resealable freezer safe bag for upto a month. Whenever you want to have a muffin, take it out and microwave for 30-40 seconds.
Pin for later: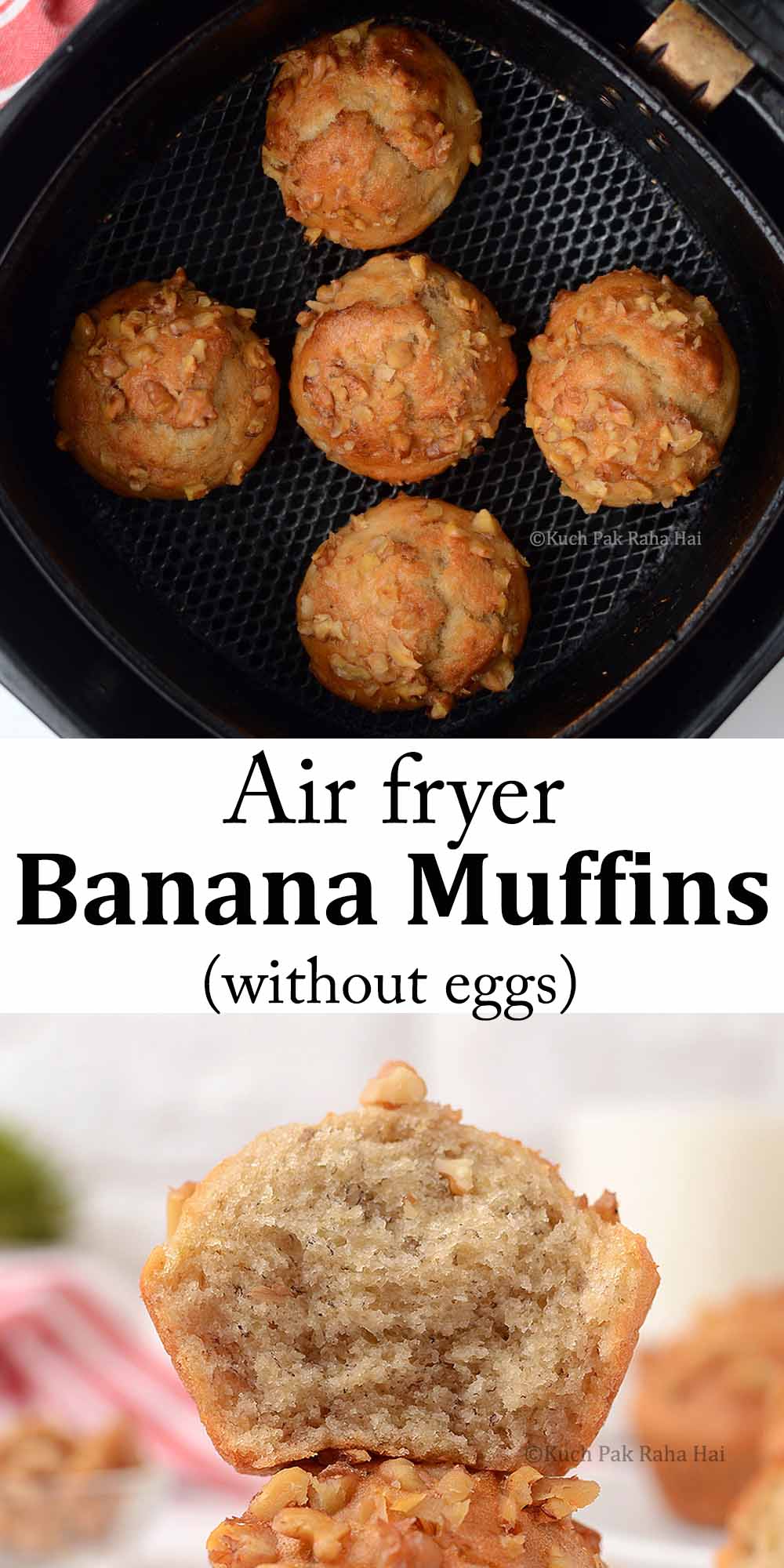 If you try this eggless air fryer muffin recipe & share pics on social media, then don't forget to tag on Facebook, Instagram or use #kuchpakrahahai.
Let's stay connected
Facebook | Instagram | Pinterest| Youtube