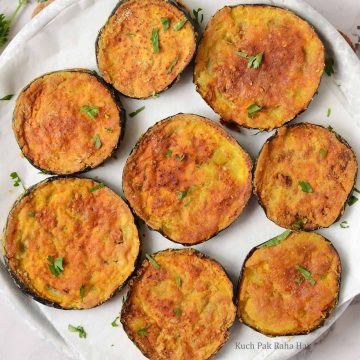 Air fryer eggplant (or Baingan Katri) is a easy eggplant recipe where marinated eggplant discs are coated with chickpea flour and air fried till golden brown & crispy. It is vegan, gluten free, can be served as a snack or side dish.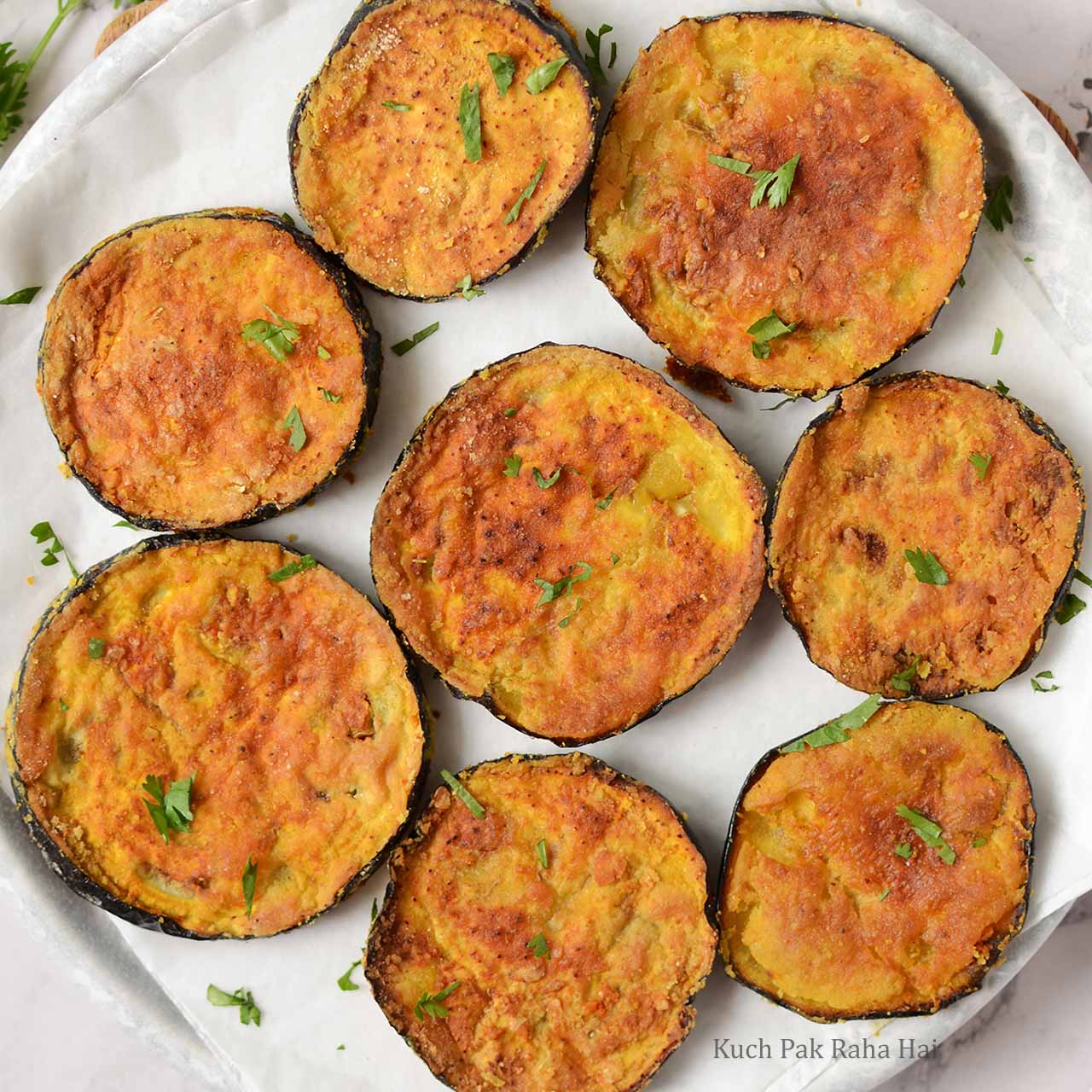 This eggplant recipe is popularly known as 'Baingan Katri' in India & is traditionally shallow fried or deep fried. As my quest to try more vegetable recipes in air fryer goes on, I tried this one in air fryer too. The eggplant turned out absolutely delicious with crispy outside, soft inside and that too using very little oil.
Eggplant is known various names in different regions like brinjal, aubergines, baingan or begun. The air fryer eggplant recipe shared here is:
Vegan / Vegetarian
Gluten Free
Easy to make
Has no eggs or breadcrumbs
Gets ready in less than 30 minutes
Ingredients for air fryer eggplant:
Eggplant: Choose a fresh & firm large eggplant to make this recipe. Whenever you are picking eggplant, look for a lighter one as it indicates the probability of having lesser seeds inside.
Spices: The eggplant is marinated in a mixture of red chilli powder, turmeric powder and garam masala. You can even use paprika, amchoor (dry mango powder) or other seasoning of your choice.
Flour: As I wanted to make this recipe gluten free, I have not breaded them using panko breadcrumbs & instead used a mixture of chickpea flour & rice flour. If you don't have rice flour, you can also use chickpea flour only. This flour coating makes the eggplant crispy from outside.
Oil: You can use any oil of your choice like sunflower, avocado, canola or olive for cooking.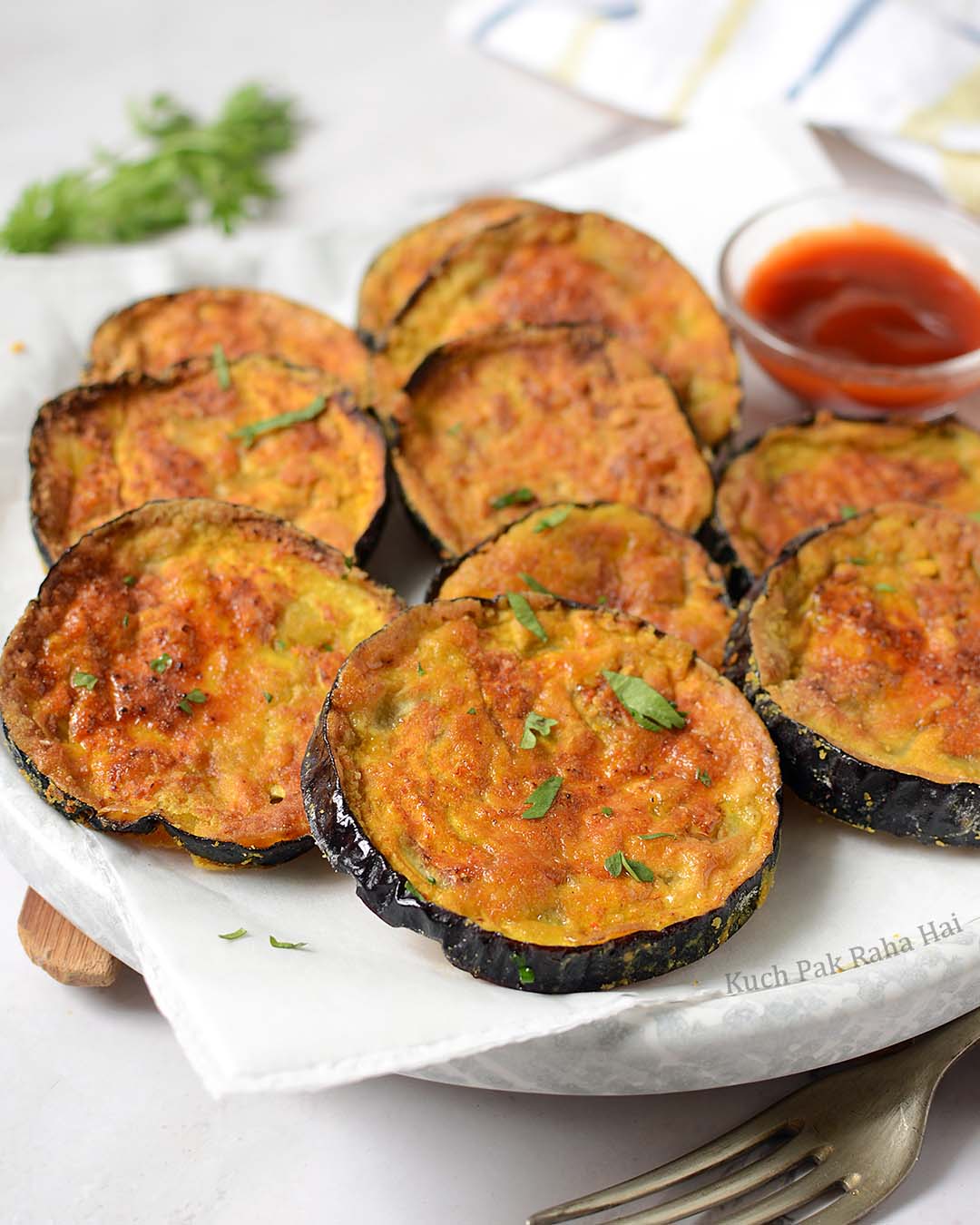 Tips to make perfect eggplant in air fryer:
Soaking eggplant in salt water: Sometimes eggplants are slightly bitter in taste. To remove that bitterness it is better to soak them in salt water for 10 minutes.
Slicing: Make sure you don't cut the slices too thin or thick as if they are cut too thick they may get crispy from outside but remain raw from inside and if cut too thin they may get dry from inside. Keep the slices uniform (around 1.5 cm thickness) for same cooking time.
Don't leave the eggplants on counter for too long after slicing as they begin to oxidize quickly. Transfer them in the salt water as soon as you slice them.
How to cook eggplant in air fryer?
Wash & evenly slice the eggplants. Soak those slices in salt water for 10 minutes and then spread them over a kitchen towel to get rid of excess moisture. Marinate them with oil, spices & then coat evenly with chickpea flour. Air fry till they nice become nice golden crispy.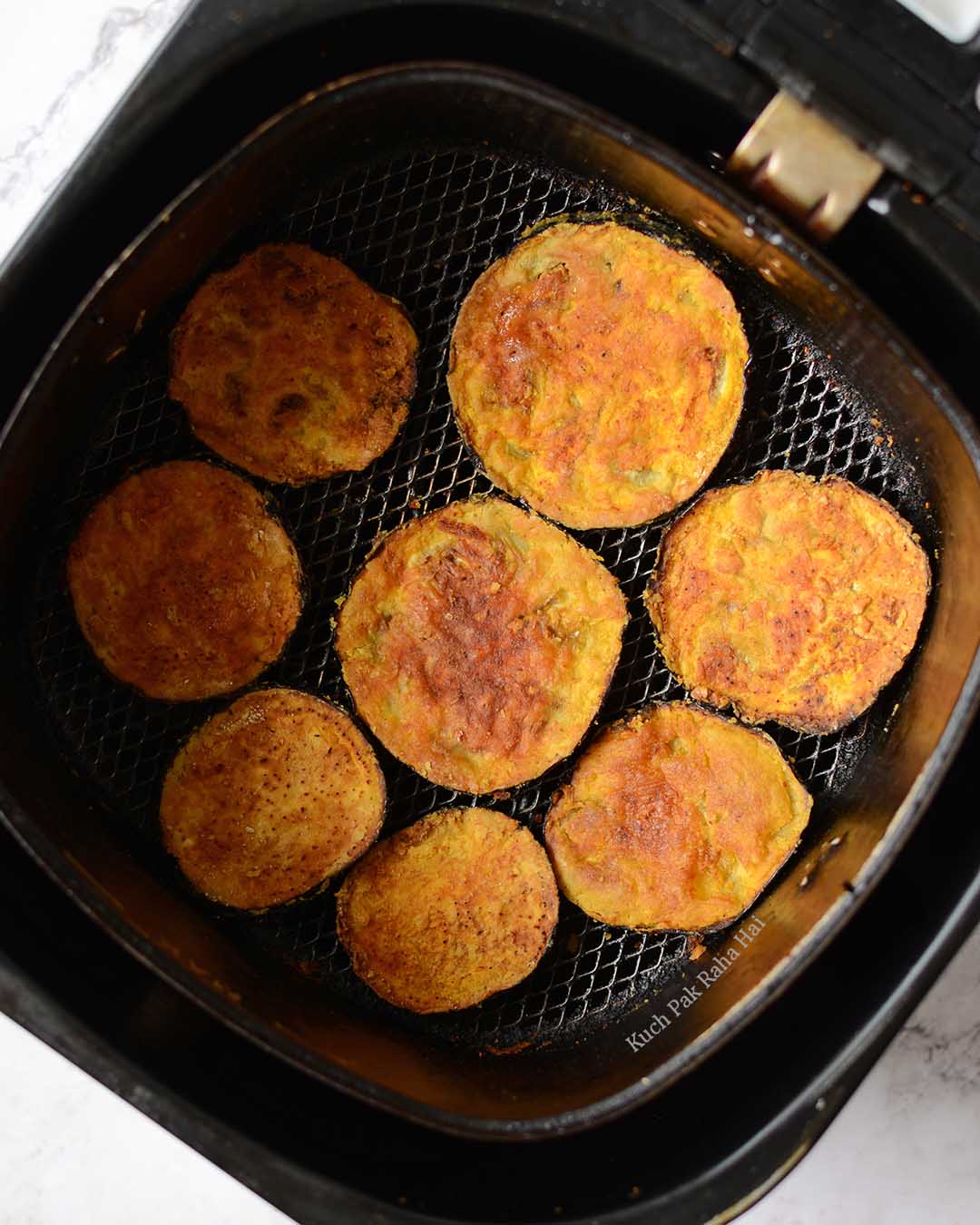 Hope you would like this easy air fryer baked eggplant recipe!! Also if you are looking for more eggplant recipes, then do check out the recipe for roasted eggplant mash (baingan bharta).
More air fryer veggie recipes:
Ingredients:
Eggplant- 1 (12 to 14 slices)
Oil- 3 to 4 tsp
Red Chilli Powder / Paprika- 1/2 tsp
Turmeric powder (

haldi

)- 1/4 tsp
Garam Masala- 1/2 tsp
Salt – 1 tsp (to taste)
Chickpea Flour (besan)- 4 tbsp
Rice Flour*- 1 tbsp (optional)
Chopped Cilantro or Coriander- For garnishing
Notes:
1. If you don't have rice flour replace it with equal quantity of chickpea flour or you can even use semolina.
2. Adjust the spices as per your taste or use other seasoning of your choice recipe.
Directions:
Step 1:
Wash & slice the eggplant in round slices.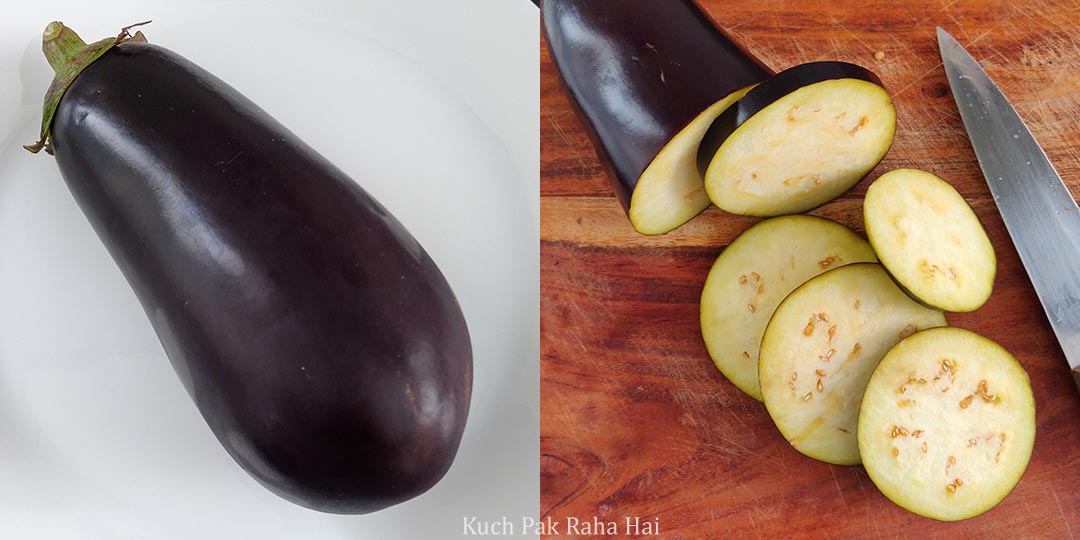 Step 2:
Add 1/2 tsp salt in water and submerge the slices in it for 10 minutes. In the meanwhile, let's move to next step.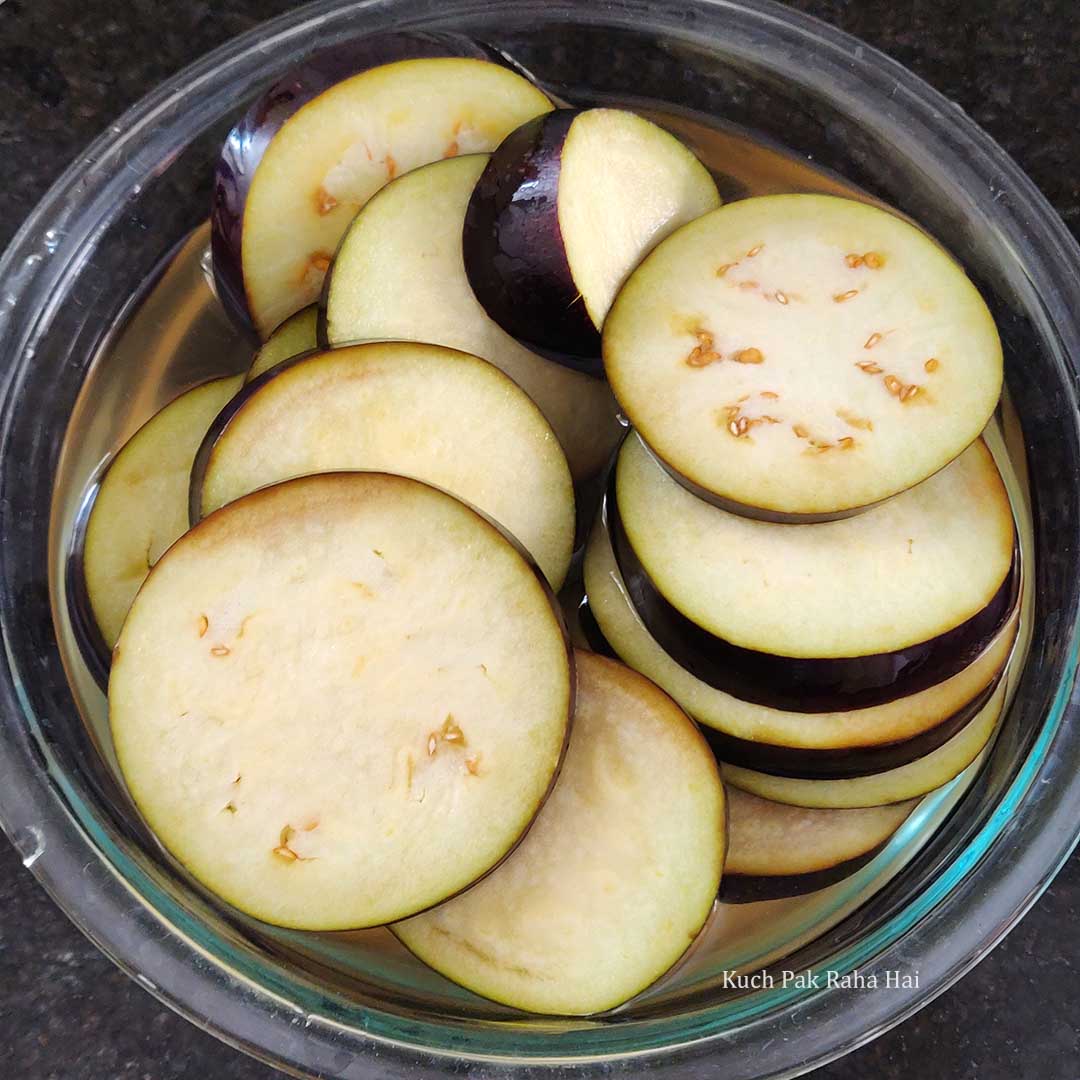 Step 3:
In a small bowl or plate, mix all the spices with 1/2 tsp salt. In another bowl, mix together chickpea flour (besan), rice flour & 1/4 tsp salt. Keep both these bowls aside.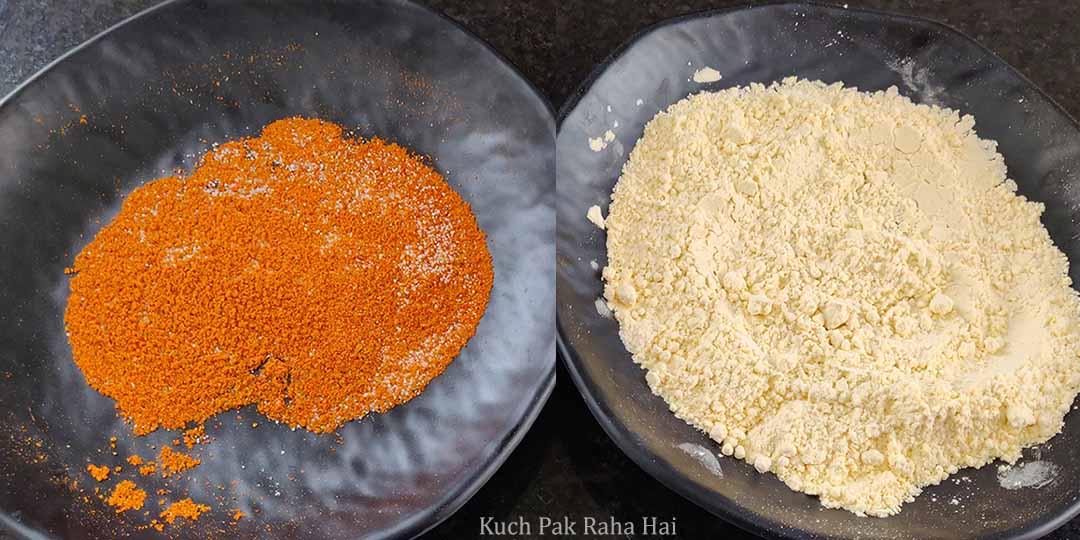 Step 4:
Spread the eggplant slices on a kitchen towel to soak excess water. Transfer them in a bowl & spray or drizzle oil over them. Sprinkle the spice mix (prepared above) and rub it on all slices.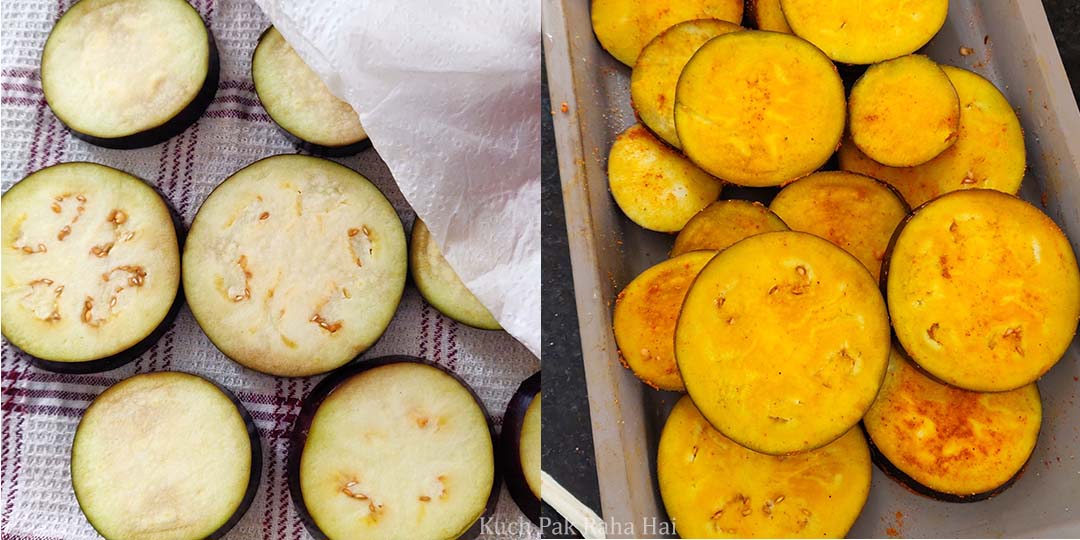 Step 5:
Coat these marinated eggplant slices on both sides with this flour mixture.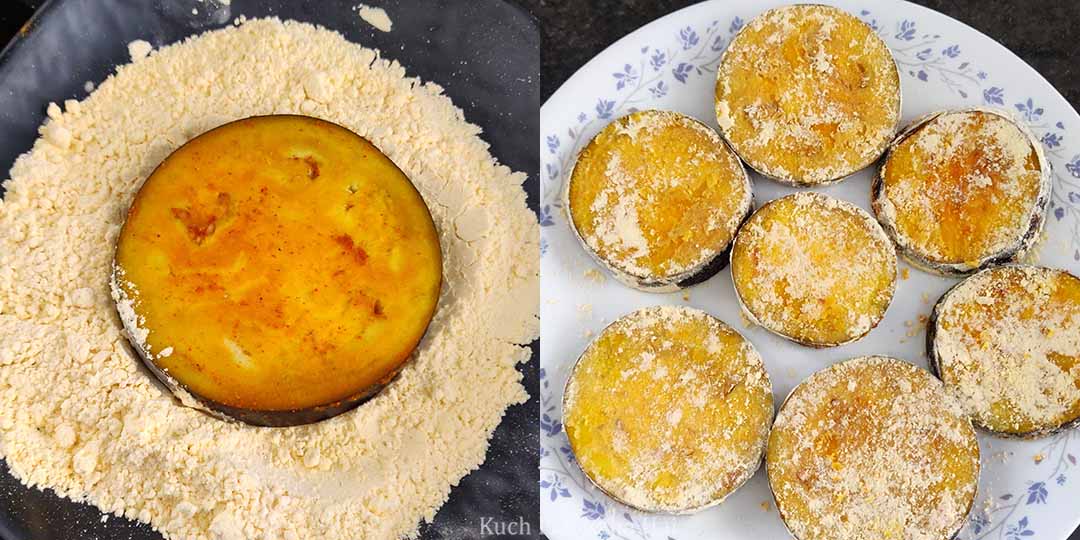 Step 6:
Preheat the air fryer at 180°C (356°F). Transfer the slices in air fryer basket & spray or brush some oil on it.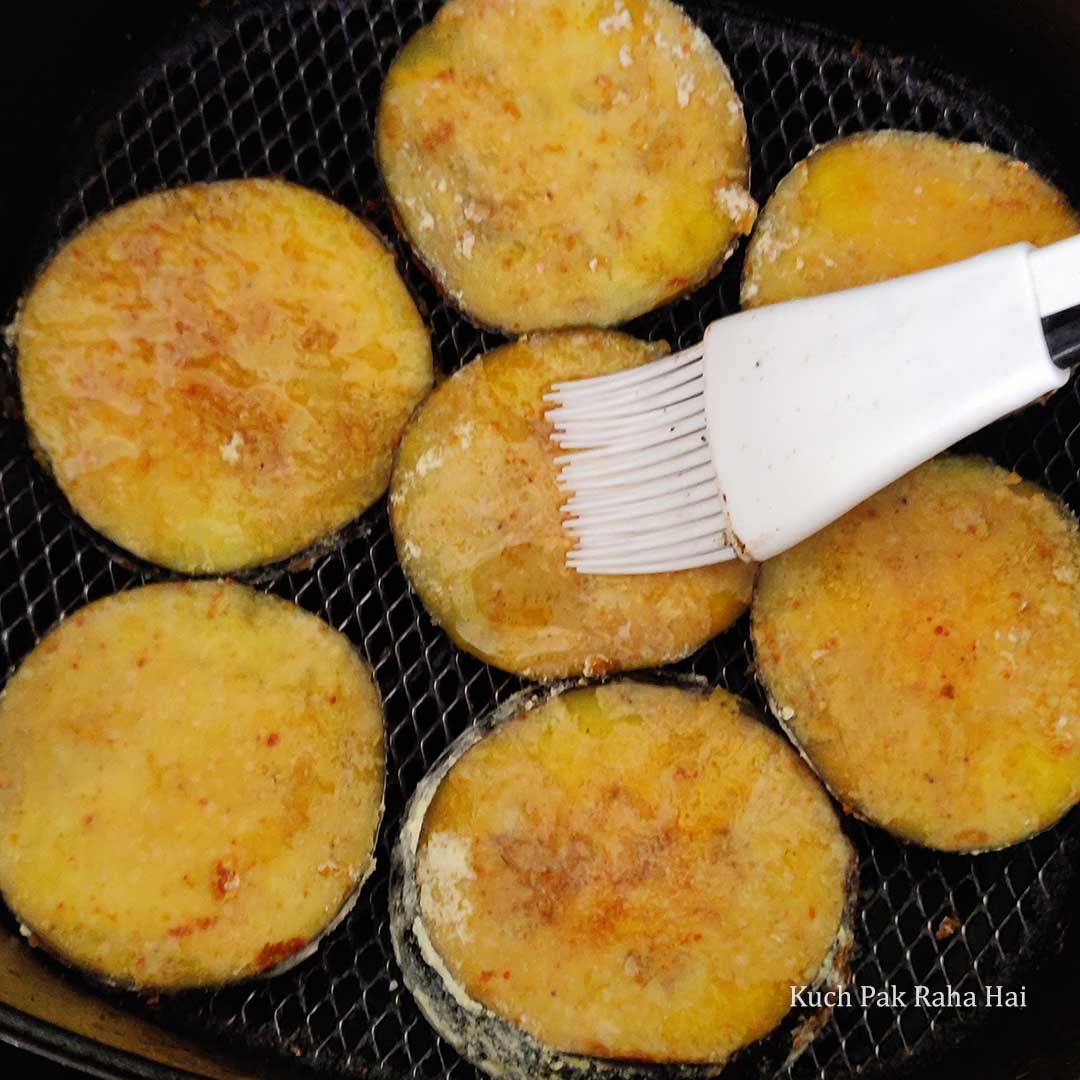 Air fry at 180°C (356°F) for 13 to 15 minutes, flipping them halfway after 7 minutes. Spray oil as needed. Air fry till the slices become golden in colour.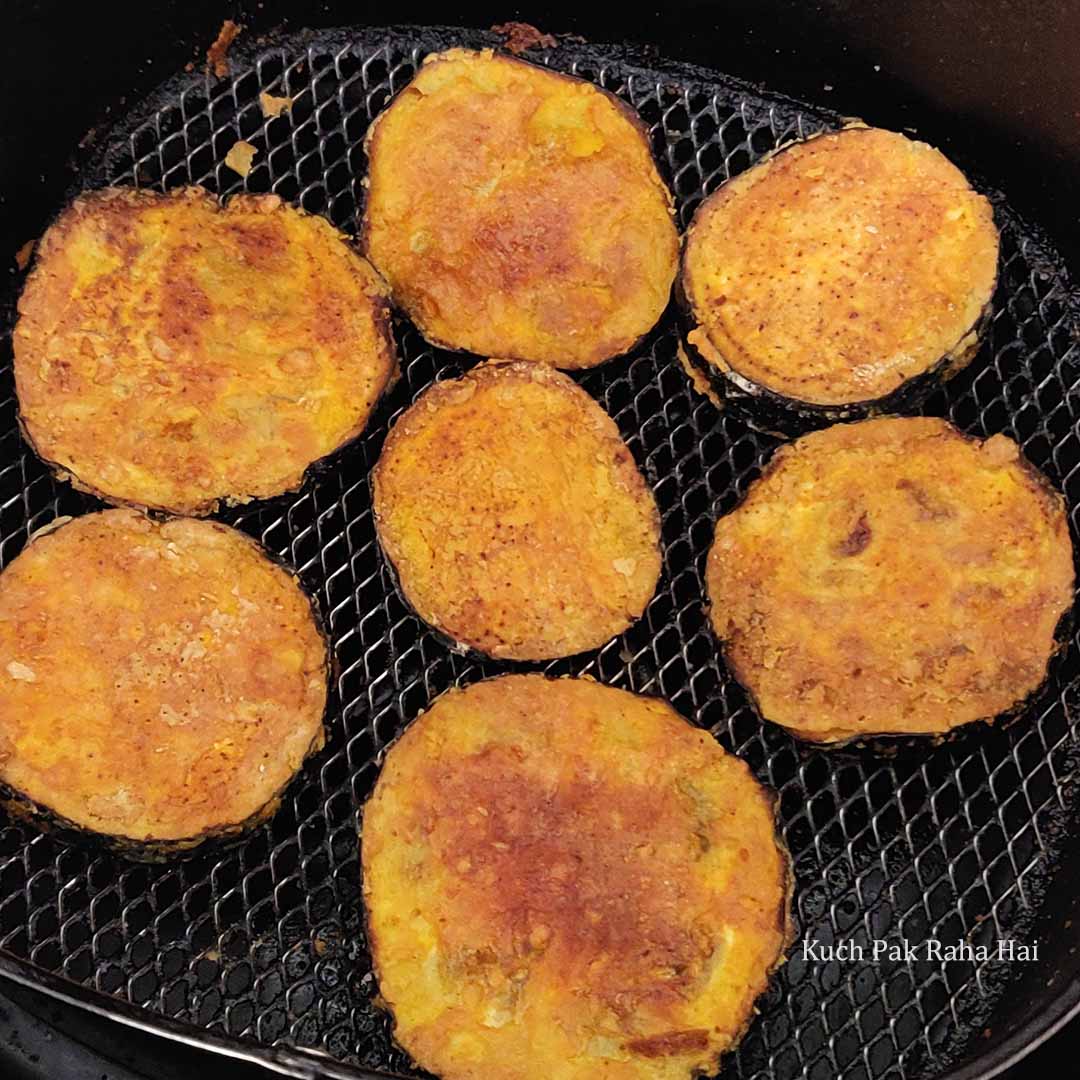 Garnish with some freshly chopped cilantro or coriander. Enjoy this air fried eggplant with dip or serve as side dish with dal & steamed rice!!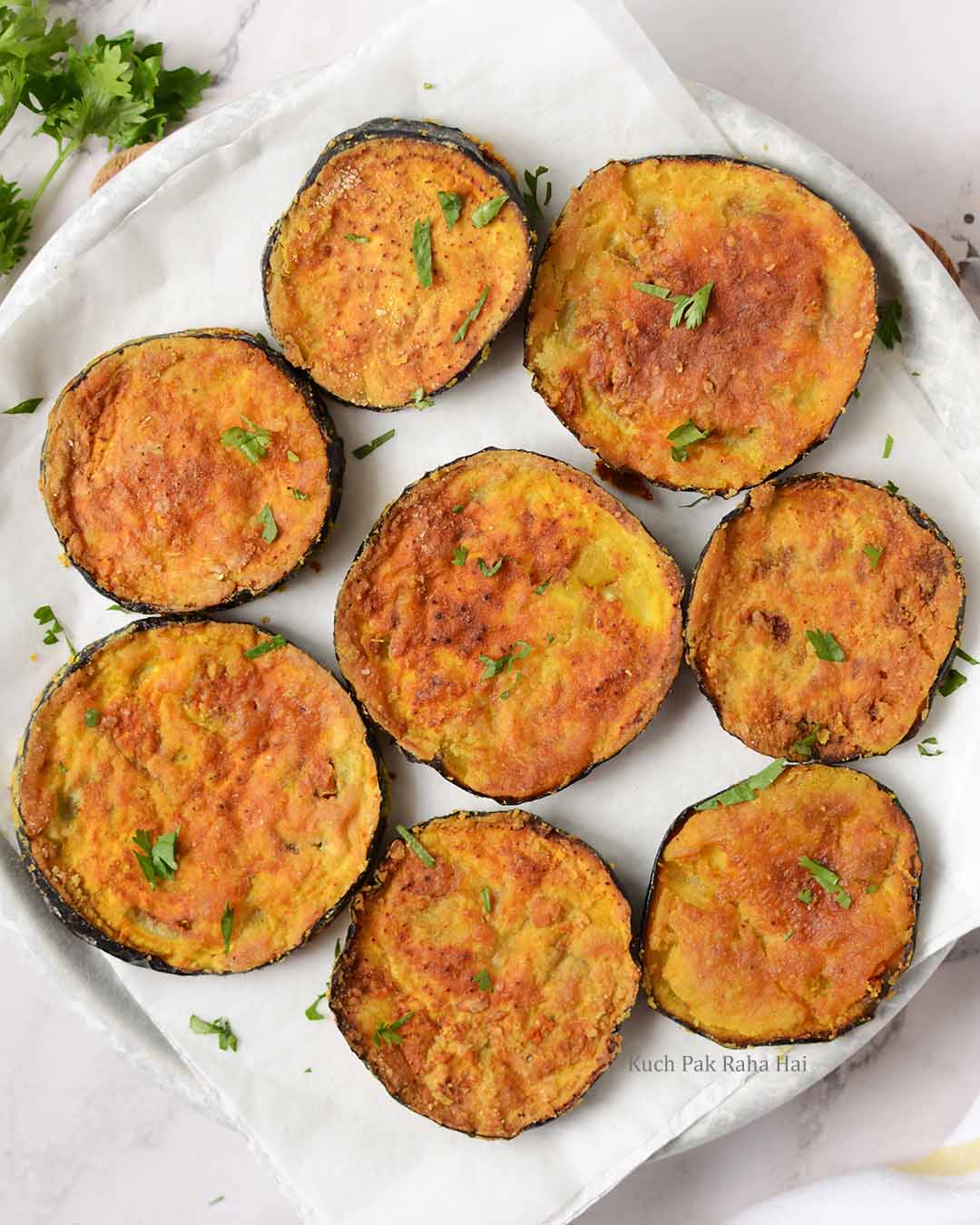 More egg free air fryer recipes:
If you try this air fryer eggplant (aubergine) recipe & share pics on social media, then don't forget to tag on Facebook or Instagram or use #kuchpakrahahai.
Pin for later: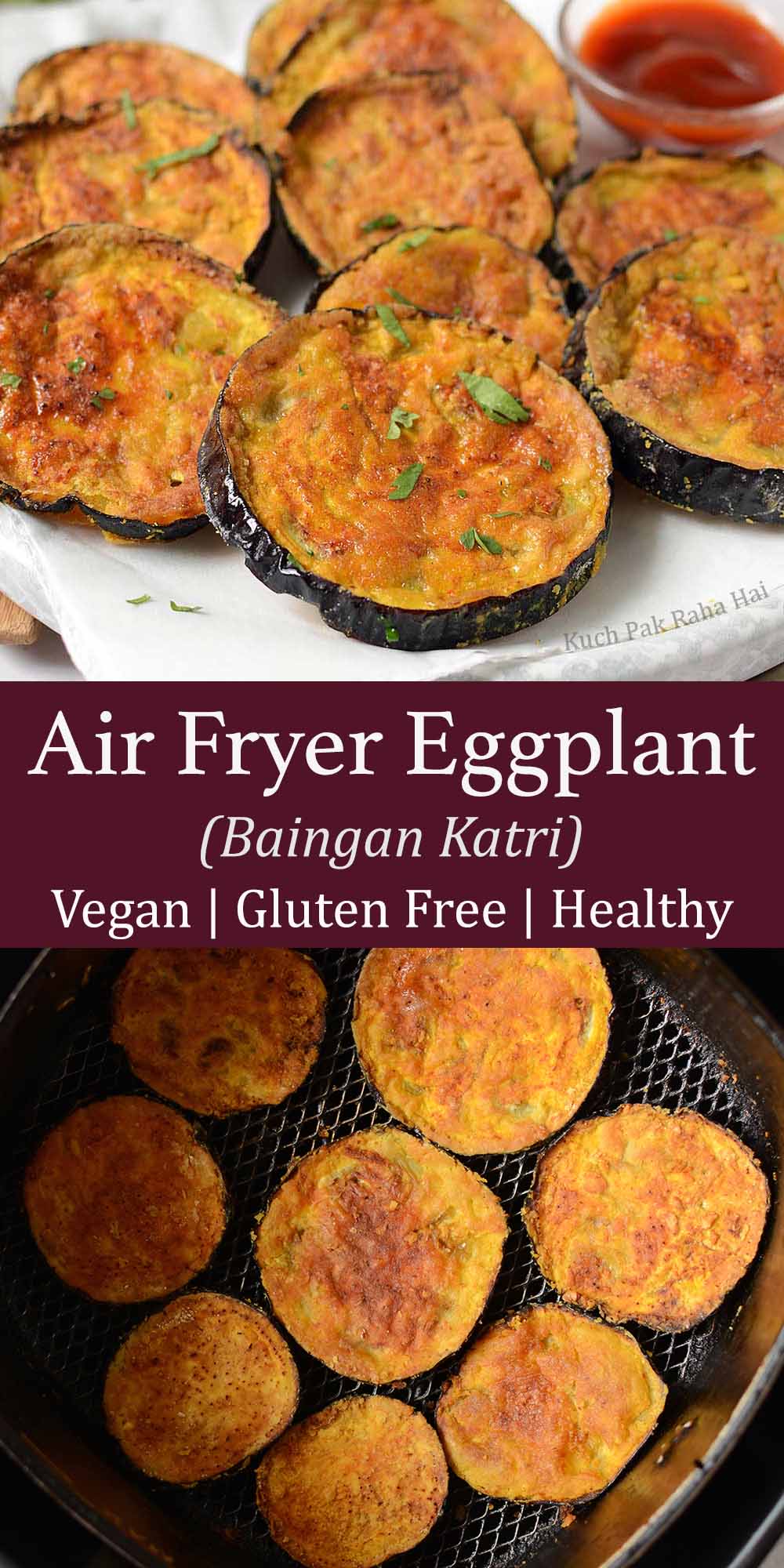 Let's stay connected
Facebook | Instagram | Pinterest| Youtube