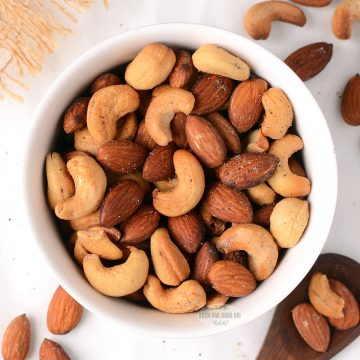 Crunchy roasted air fryer nuts like almonds, cashews or peanuts are great as quick, wholesome and filling snack. They take less than 10 minutes, are so easy to make and can be seasoned as per your choice.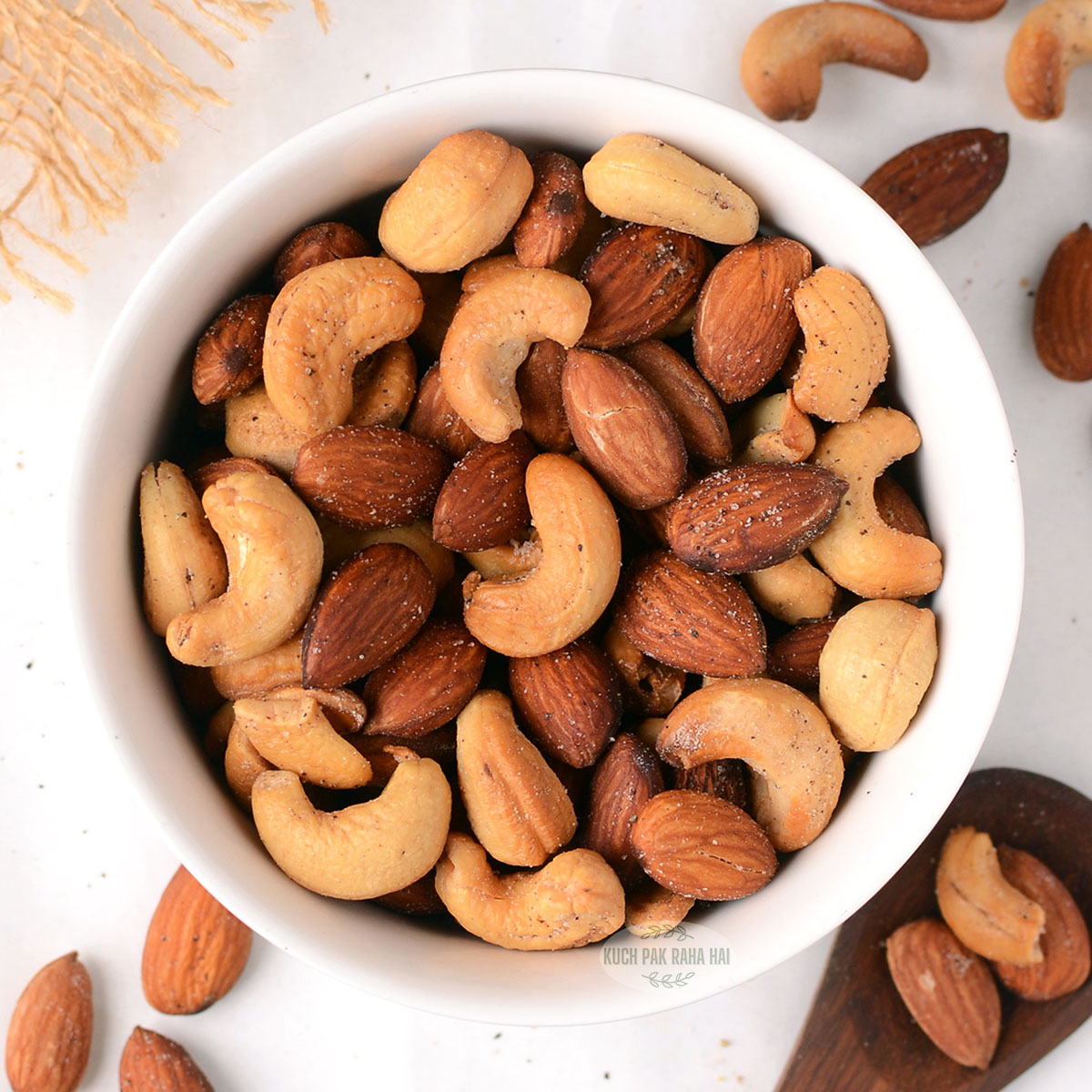 These roasted air fried nuts are a wonderful option as vegan, gluten free & nutrient-dense snack. You can enjoy them with tea or coffee, carry while travelling, use in making trail mixes or add to salads for crunch. I sometimes even roast only cashews or peanuts and use them to make nut butter.
I like the way how air fryer cooks snacks or nuts using almost little or no oil. Earlier I tried roasted masala peanuts and lotus seeds in air fryer and both turned out really good. So I decided to give a try to roasting almonds & cashew nuts in air fryer and I was not disappointed this time too.
These homemade roasted air fryer roasted nuts are much better than packaged snacks like chips or wafers laced with preservatives and also cost effective than store bought roasted nuts. By making them at home, you can control the amount of salt going in them or add any seasonings of your choice.
These roasted nuts are great for edible gifting also during festive season. You can roast them without any salt and then dip them one by one in melted chocolate to make chocolate cashews or almonds.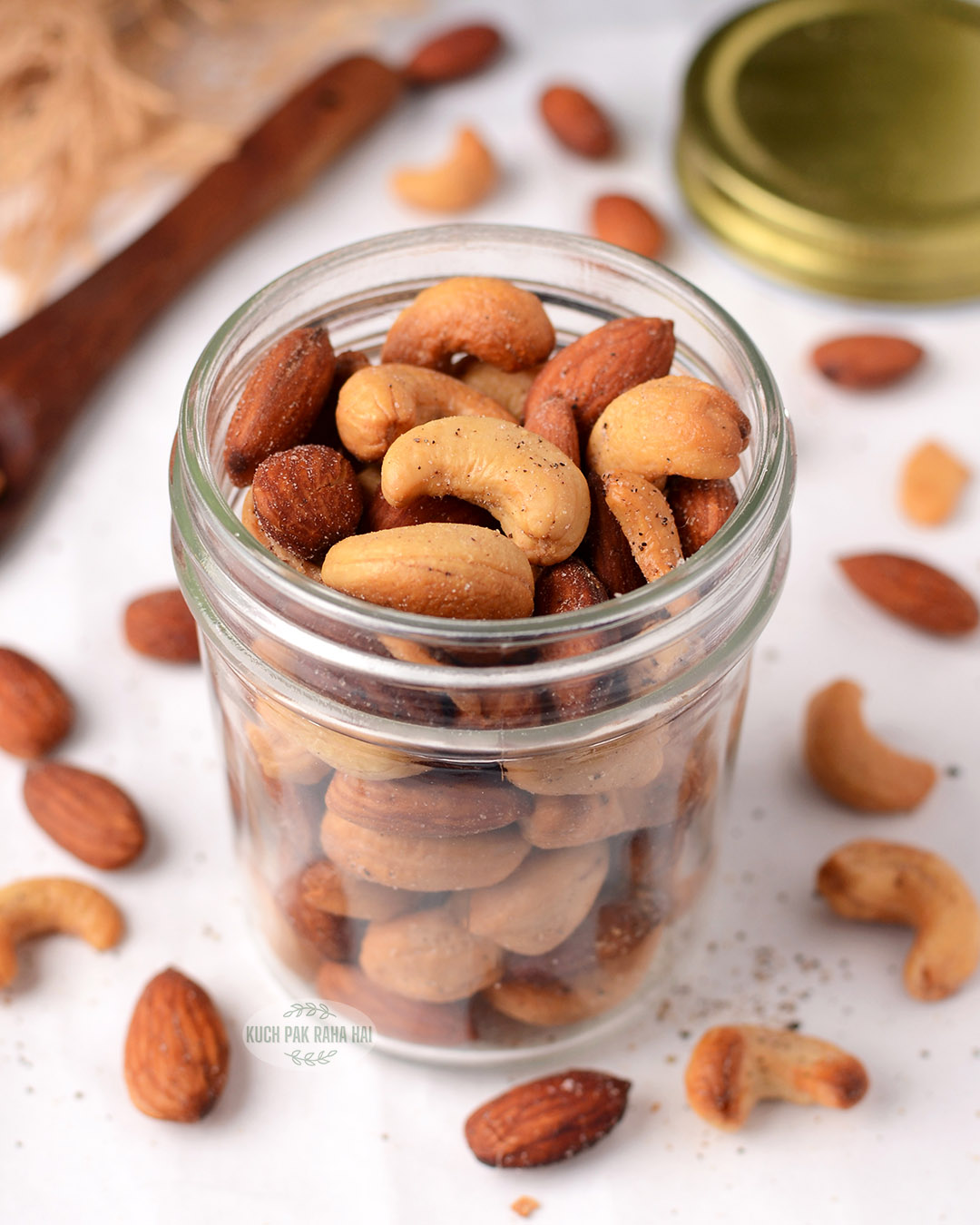 Air fryer Nuts Ingredients:
Nuts: I have roasted only almonds & cashews here but using the same method you can roast other nuts also like walnuts or pecans.
The only point to note is the air frying time. For example peanuts take around 4 minutes of cooking time and almonds or cashews take 5-6 minutes. This way you may have to adjust the time according to the type of nut you are using.
Oil: You can use olive oil, avocado oil or any cooking of your choice. Ghee (clarified butter) can also be used.
Seasoning: I have used simple salt & black pepper powder to season these nuts but you can make masala nuts or spiced nuts by using other seasoning of your choice like smoked paprika, red chilli powder, onion powder, garlic powder, amchoor (dry mango powder) or chaat masala.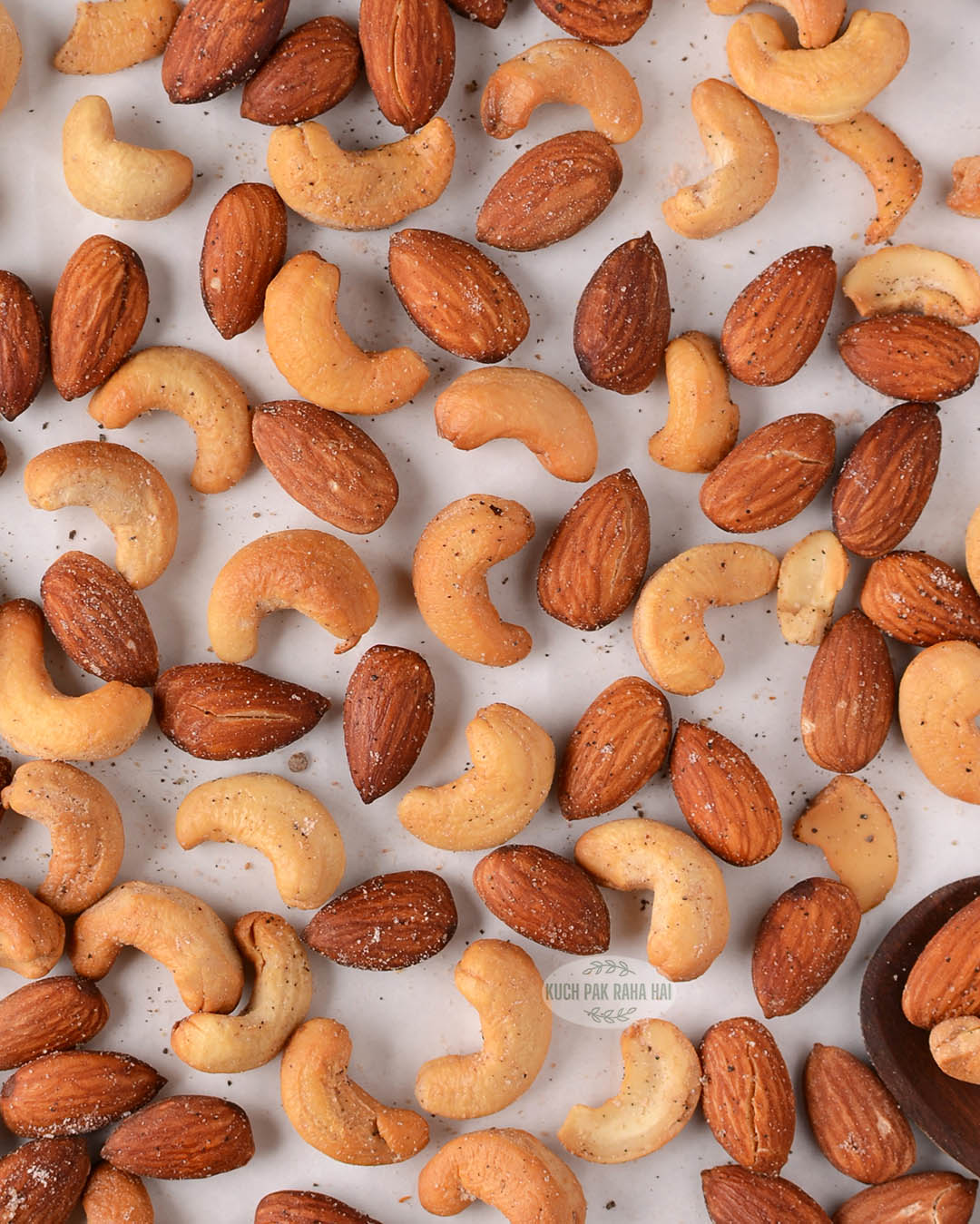 Why to use air fryer for roasting nuts?
People often ask me how air fryer cooking is different in terms of taste & texture in comparison to regular cooking methods. The main difference which I have noticed is food gets evenly cooked in air fryer and that too using negligible oil or fat.
Before air fryer, I use to toast these almonds and cashews in a heavy bottomed pan or microwave. However with air fryer, I noticed the cooking time is lesser, all nuts get equally crispy and you don't have to stand in front of the stove stirring them every now & then.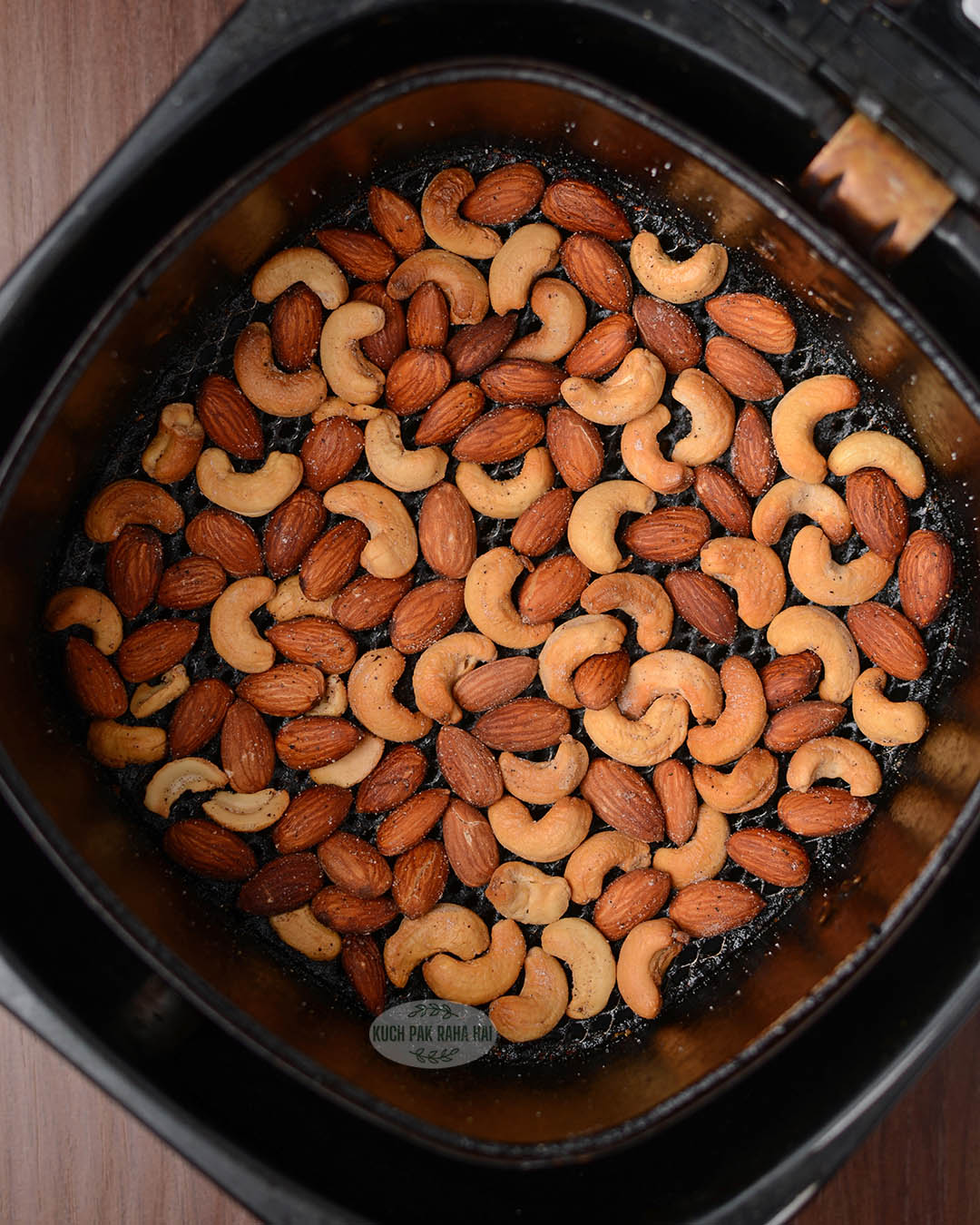 Different nuts like almond, cashew, peanuts, walnuts, pecans etc are considered to be good source of healthy fats, fibre, protein and essential vitamins. Though it is good to include them in every day diet but should be consumed in moderation depending on your age or dietary requirements.
Hope you would like these air fryer cashews and almonds recipe. More recipes you would like to try:
Ingredients:
Almonds – 1/2 cup
Cashews – 1/2 cup
Oil / Ghee- 1 + 1/2 tsp
Pink salt / Table Salt – 1/2 tsp (or to taste)
Black Pepper (powdered)- 1/2 tsp
Directions:
Step 1:
Transfer almonds and cashews in a bowl. Add 1 tsp oil, salt and black pepper to it. Mix well such that all nuts are coated well.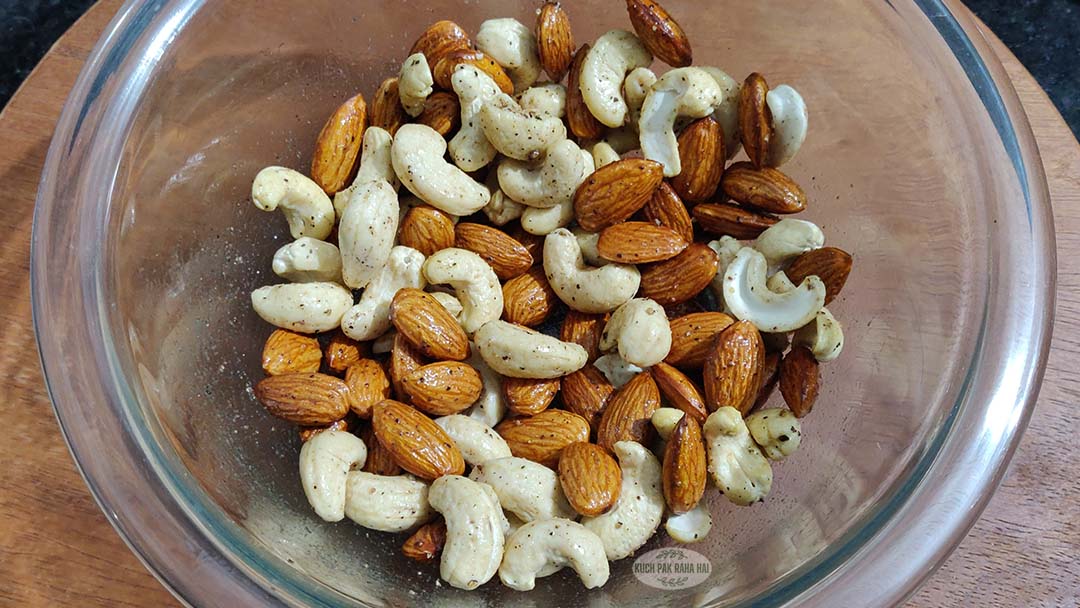 Step 2 :
Brush some oil in air fryer basket. Transfer these seasoned nuts to air fryer basket and spread them as much as possible for even roasting (Some overlapping is fine).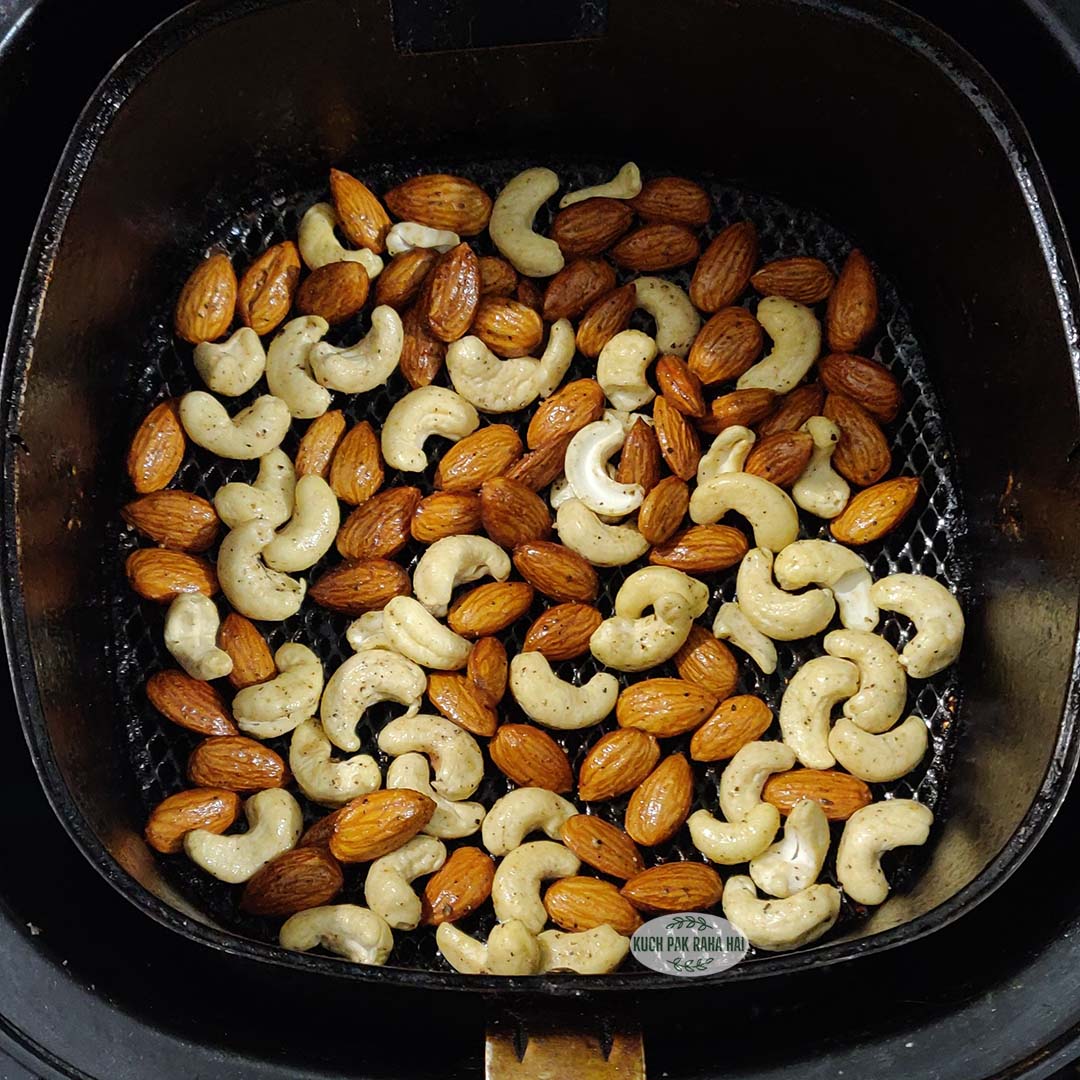 Step 3:
Air fry nuts at 180°C (356°F) temperature for 4 to 5 minutes till they become slightly golden in colour. Shake after half time. Keep an eye after 4 minutes.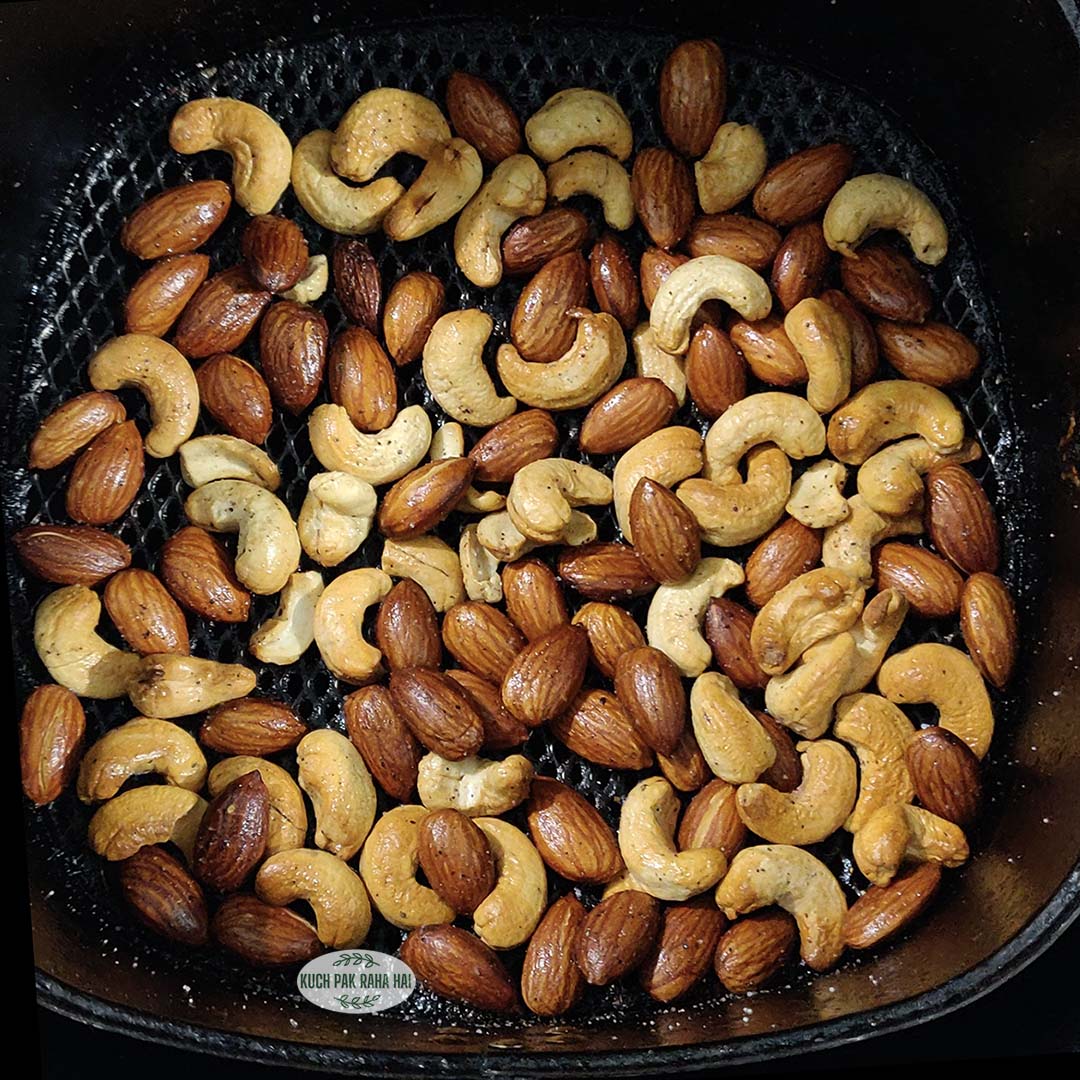 (The air frying time can vary slightly depending on the air fryer model, so you might have have to adjust the time by 1 to 2 minutes accordingly.)
Bring the air fryer basket out and let the nuts cool in basket only. They become crunchier on cooling down. Enjoy these tasty crunchy roasted nuts with tea or coffee.
How to store these air fried nuts?
Once the nuts are cooled completely, store them in an airtight container. Use clean dry spoon while handling the nuts. This way they can easily be stored for 2-3 weeks easily.
Pin for later: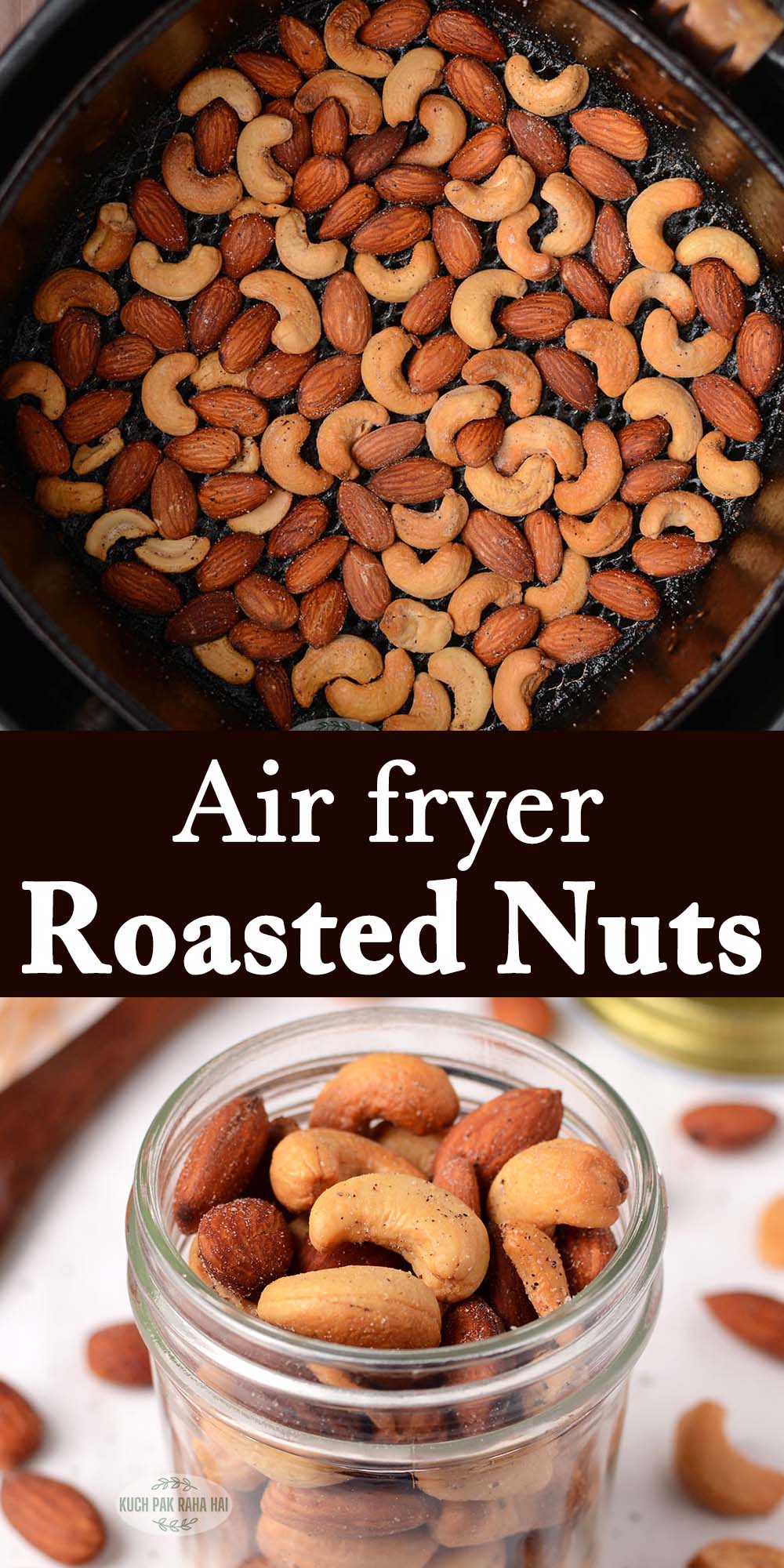 (Note: This post was originally published on Oct 15, 2015 and has been updated with fresh images & more helpful tips.)
If you air fry nuts using the recipe & share pics on social media, then don't forget to tag on Facebook, Instagram or use #kuchpakrahahai.
Let's stay connected
Facebook | Instagram | Pinterest| Youtube