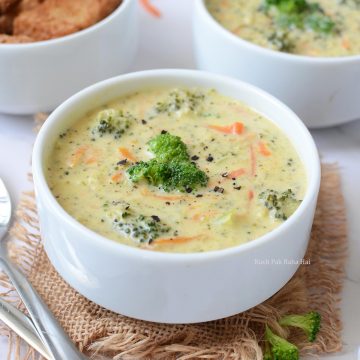 Delicious thick creamy broccoli cheddar soup perfect to cosy up your chilly winter evening. It is easy, quick and makes for a perfect soul satisfying dinner on a busy weekday.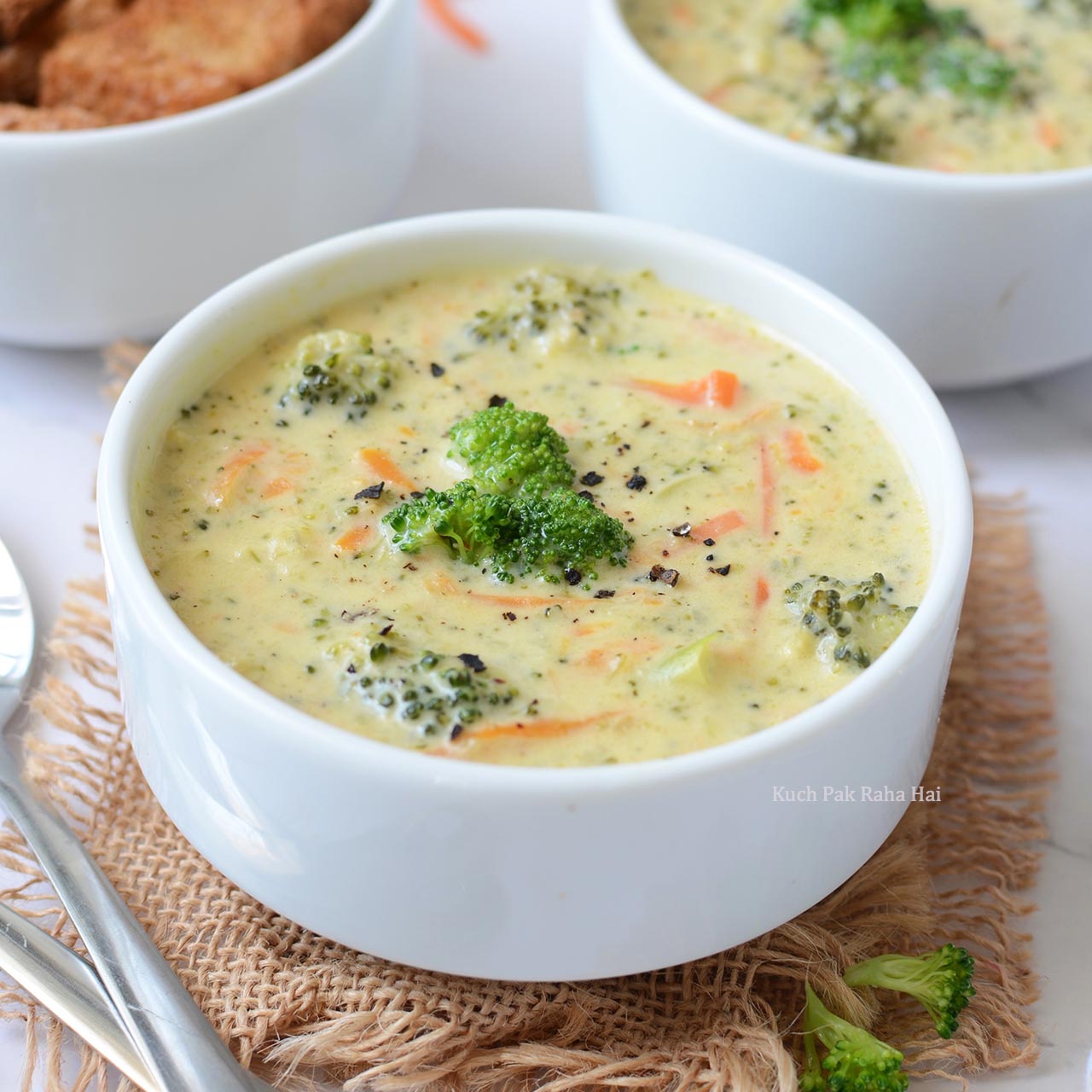 This homemade cheddar broccoli soup is:
Vegetarian
Made in one pot (stovetop)
Absolutely thick & creamy!!
Can be made vegan & gluten free
The soup recipe can easily be adapted to make vegan (dairy free) and gluten free (no flour). All the ingredients & substitutions are mentioned in detail below.
Broccoli is a cruciferous vegetable and belongs to the cabbage family (that includes cauliflower, kale, Brussels sprouts etc). It is considered a superfood as it packed with antioxidants, number of nutrients like vitamin C, vitamin K and minerals like calcium, potassium & folate. It is low in calories and full of fibre, so often recommended for weight loss also
The first time I tasted Broccoli Cheddar Cheese soup was in a restaurant & instantly fell in love with it. What differentiates this soup from cream of broccoli soup is the generous use of cheddar and cream. Also, the cream of broccoli soup is low calorie, lighter & smoother than broccoli cheese soup.
Cheddar & broccoli makes for such a heavenly combination and if you are looking to indulge in yummy creamy goodness then this soup is definitely for you. I have made this soup on stove top but it can also be made in crockpot or slow cooker.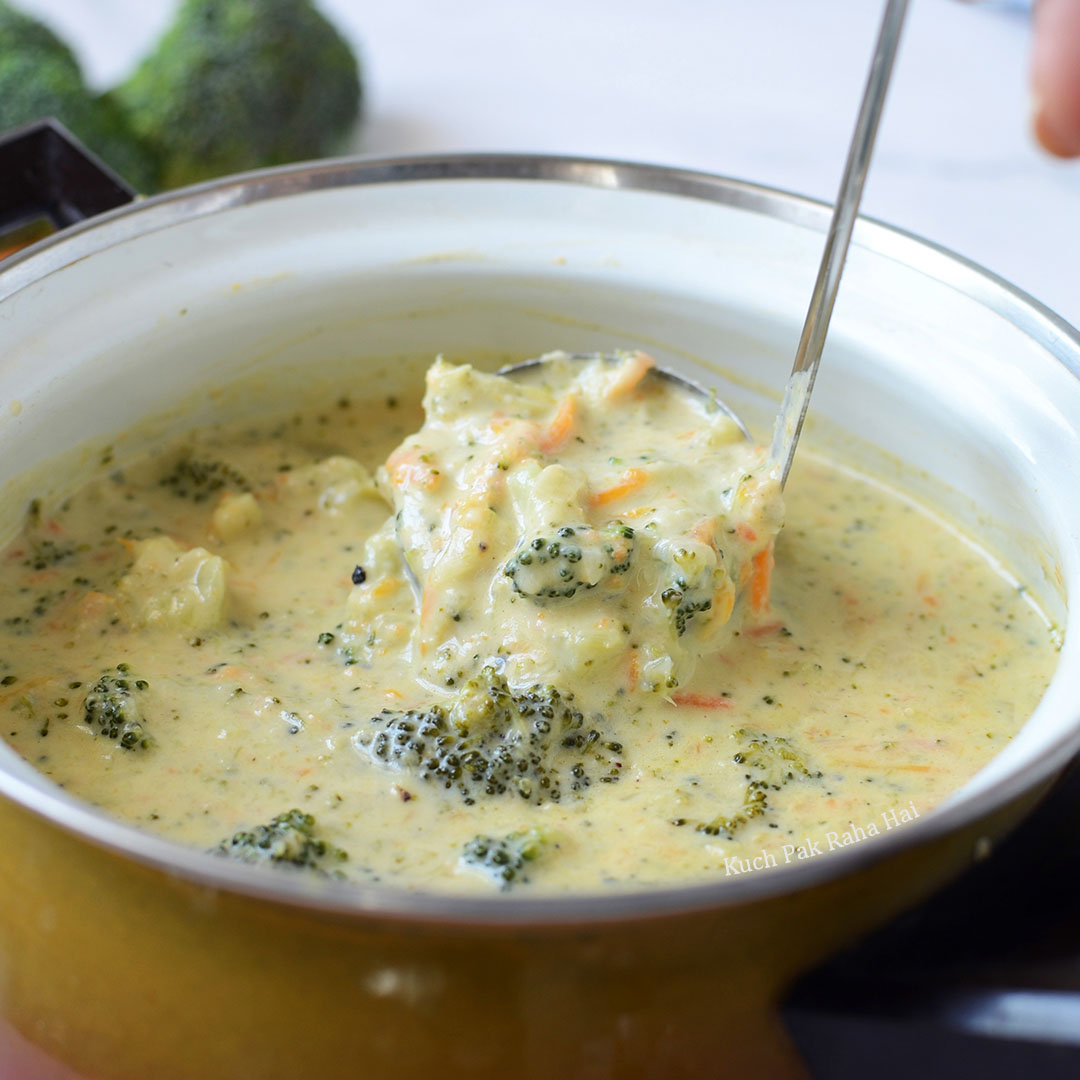 Broccoli Cheddar Soup Ingredients:
Broccoli: Soups made from fresh ingredients taste the best. It would be better if you could use fresh broccoli, however if it not available you can use frozen broccoli also to make this soup.
Vegetables: Garlic, onion and carrots adds depth to the soup flavour. It would be better if you could find yellow or white onions. Other vegetables that can be added are potatoes (diced), peas, cauliflower, baby corn etc. You can make this broccoli soup without onion and garlic too.
Vegetable stock: You can use homemade or low sodium store bought vegetable stock in the recipe. If you are non vegetarian you can use chicken stock here. If you don't have vegetable stock, you can even use water (though the soup might lack some flavour).
Butter & Olive Oil: I have used a mix of salted butter and olive oil in this soup. Mixing oil and butter prevents the butter from burning and also you don't get too much buttery taste in soup. For vegan version you can use only olive oil or vegan butter.
Milk & Cream: I have used whole milk and low fat cream to make the soup. You can use half and half or heavy cream also (Vegan alternatives mentioned  further in post). If you want to make low fat broccoli cheddar soup then you can use skimmed milk & low fat cream.
Cheddar: Sharp cheddar tastes best in this soup but you can use mild or white cheddar also.
Seasoning: The broccoli soup is seasoned with salt, crushed black pepper and nutmeg. Though nutmeg is used in very small quantity but it definitely makes a lot of difference. You can also use white pepper or red chilli flakes to adjust the heat in soup.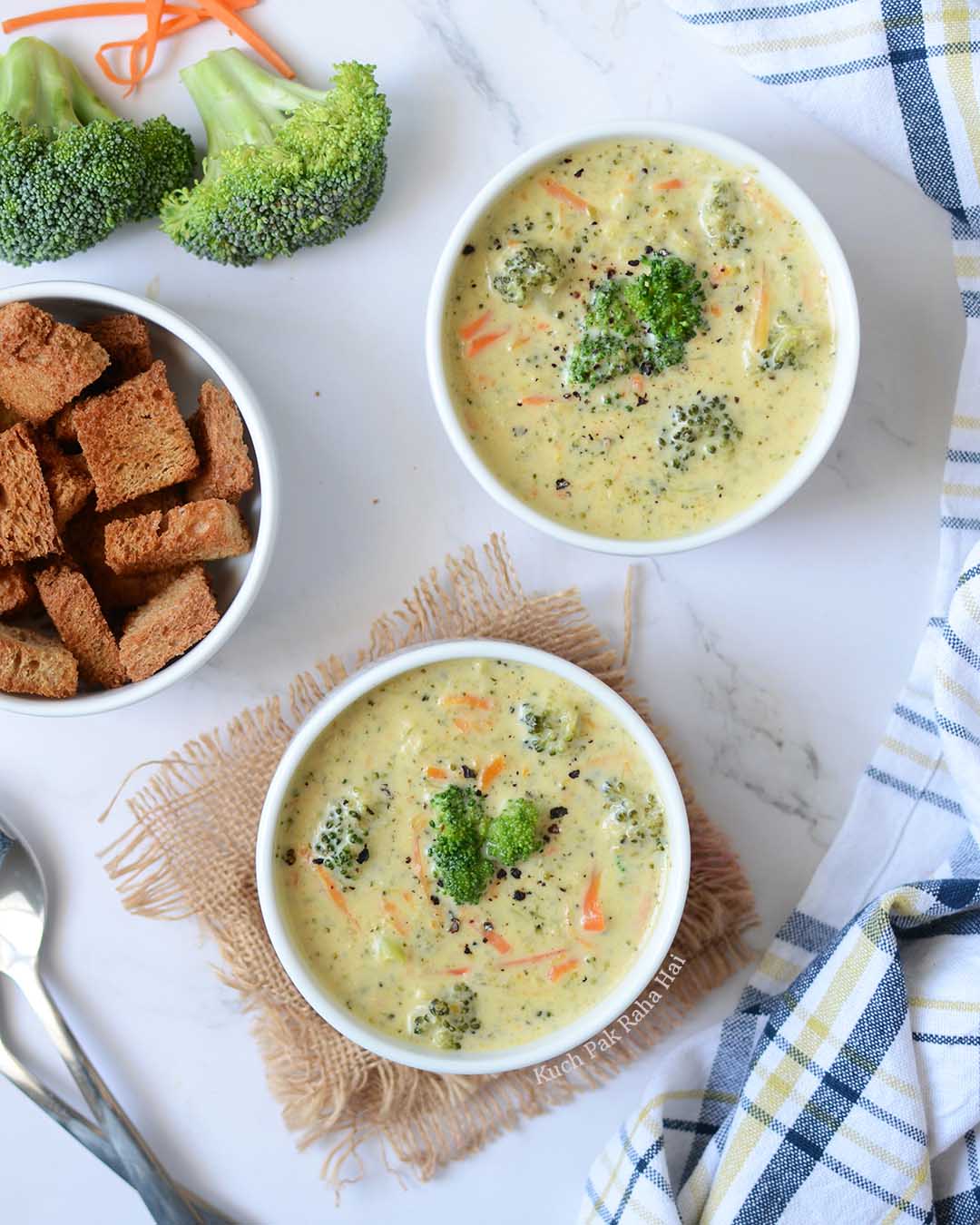 What goes with broccoli cheddar soup?
You can serve this soup in bread bowls or accompany the soup with rustic artisan bread, garlic bread or bread croutons. My family absolutely loves dipping freshly baked garlic bread sticks in this yummy creamy broccoli soup and no doubt it makes for such a filling, satisfying dinner on a chilly winter evening.
How to make vegan broccoli cheddar soup?
Instead of butter you can make this soup entirely in olive oil or vegan butter. The milk and cream in this recipe can be swapped with full fat unsweetened coconut milk or dairy free milk options like almond, oats or soy milk. Also the cheddar cheese can be replaced by non dairy cheese.
Is broccoli cheese soup healthy?
Everyone has their own definition of healthy & unhealthy foods. If you are someone who is looking for low calorie soup recipe then you can feel free to reduce the amount of cream or cheese in this recipe or can even skip them entirely.
If you are looking for healthy weight loss soup recipes, then do check out the links below: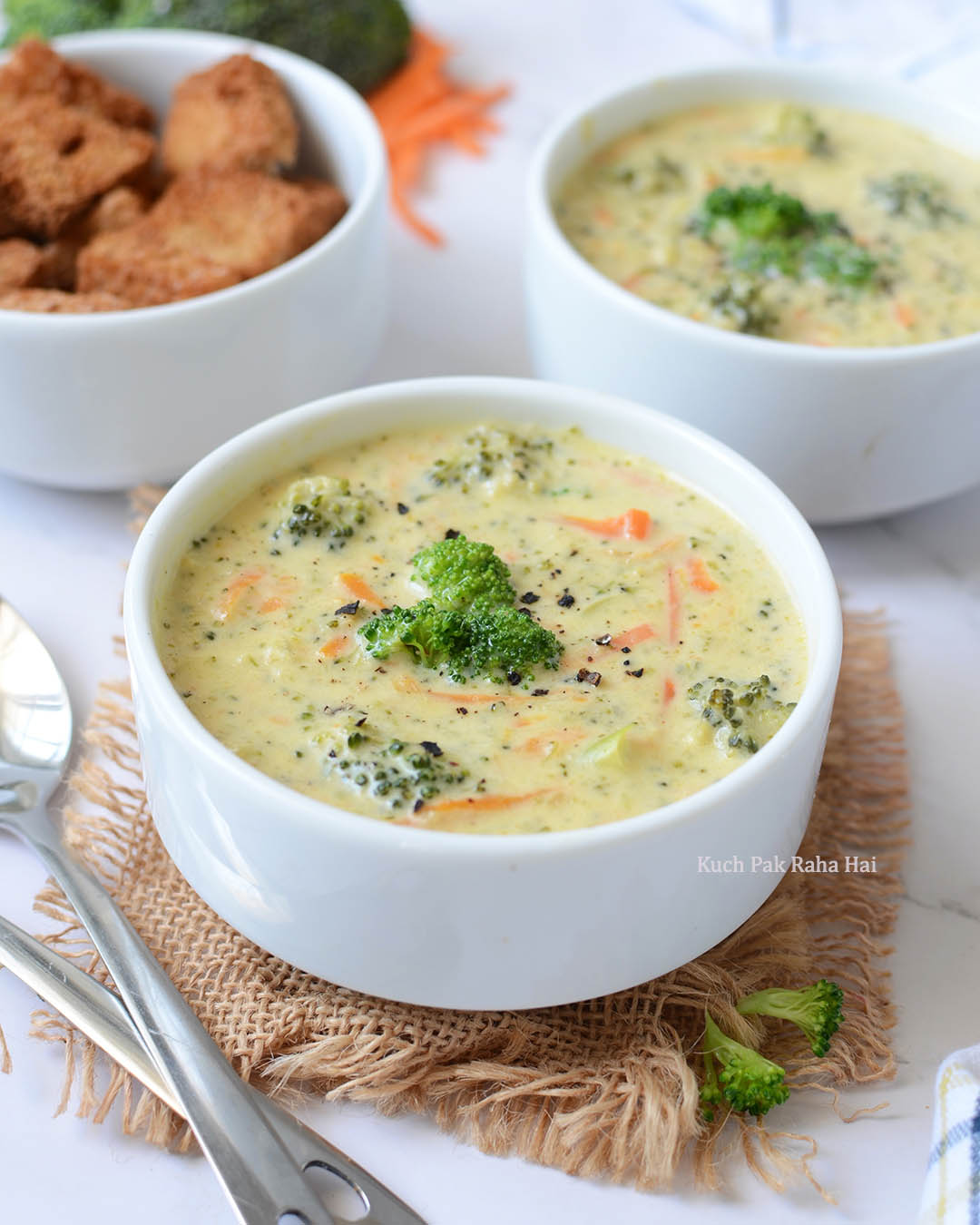 Can I make gluten free broccoli cheddar soup?
A little bit of flour is used in this recipe for thickening. To make it gluten free you can use cornstarch, however the method will be different. Dissolve 2 to 3 teaspoon cornstarch in 1/3 cup water and mix well using a whisker to get smooth lump free mixture. Add this slurry to the soup while mixing continuously. Heat the soup for another 3 to 4 minutes and you will notice how it begins to thicken up.
Hope you would like this Broccoli Cheddar Cheese Soup recipe!!
More broccoli recipes you can try:
List of Ingredients: (Makes 3-4 servings)
Olive Oil-2 tbsp
Butter / Vegan Butter- 1 tbsp (salted)
Broccoli Florets- 2 & 1/2 cups (250 grams)
Carrots (shredded)- 1 cup
White Onion (diced)- 1 large
Garlic Cloves (minced)- 2 to 3 small
Vegetable stock / Water-2 cups
All Purpose Flour-3 tbsp
Whole Milk-1 cup
Cream- 1/3 cup
Sharp Cheddar (grated)-1 cup
Salt – 1 tsp (to taste)
Black Pepper-1 tsp (to taste0
Nutmeg- 1/8 tsp
Notes:
1. Instead of all purpose flour you can use whole wheat flour. If you want to make gluten free soup, use cornstarch but add it as explained in the post above.
2. Instead of sharp cheddar you can even use mild cheddar, monterey jack, white cheddar or mixed cheese  etc.
3. You can use heavy cream or low fat cream as per your choice in this recipe.
4. Feel free to add some chilli flakes or replace black pepper with white pepper
Steps To Prepare:
Step 1:
Cut the broccoli into small florets and wash them properly under running water. Keep them aside.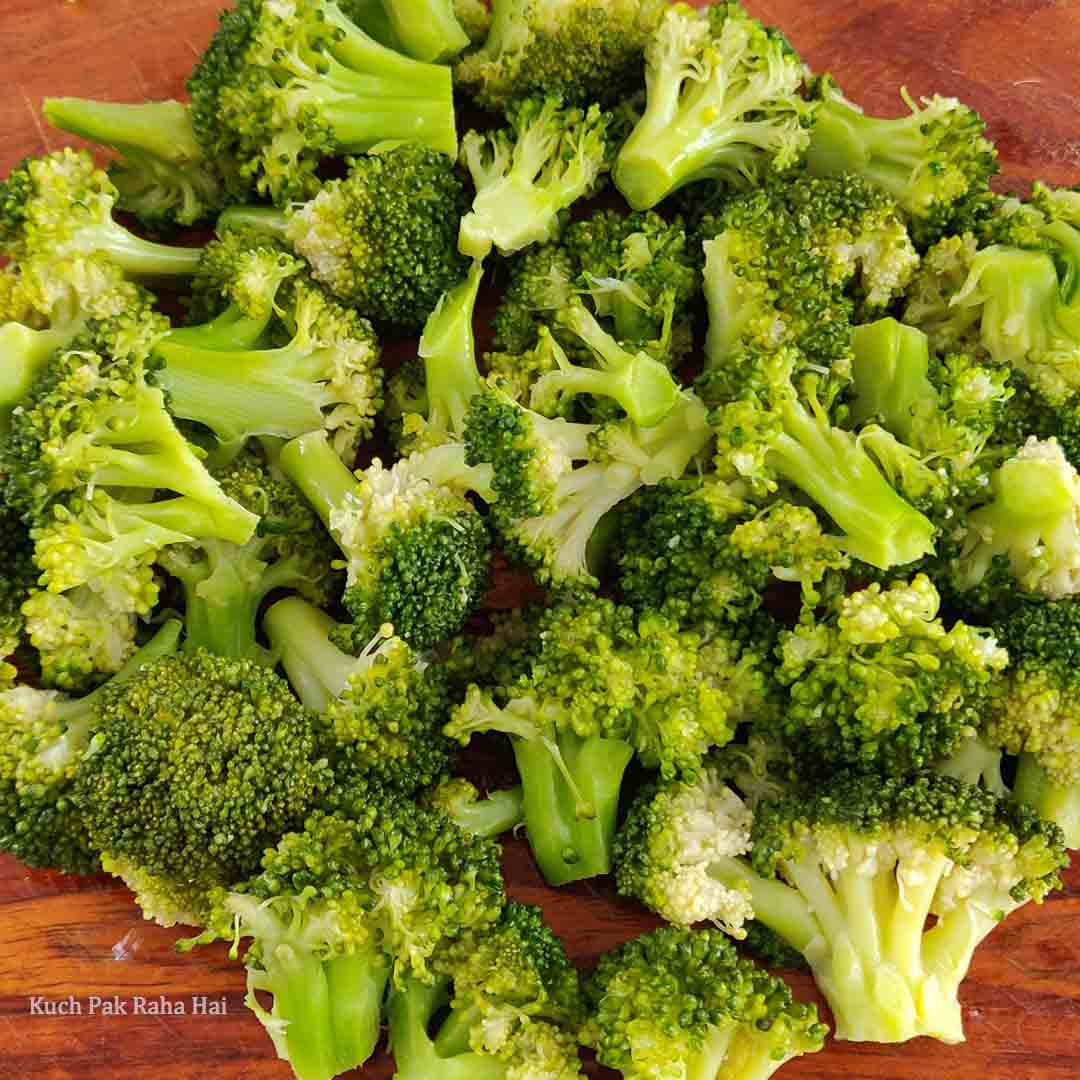 Step 2:
Heat olive oil in a pan. Add finely minced garlic and diced onions to it. Sauté till the onions become soft & translucent.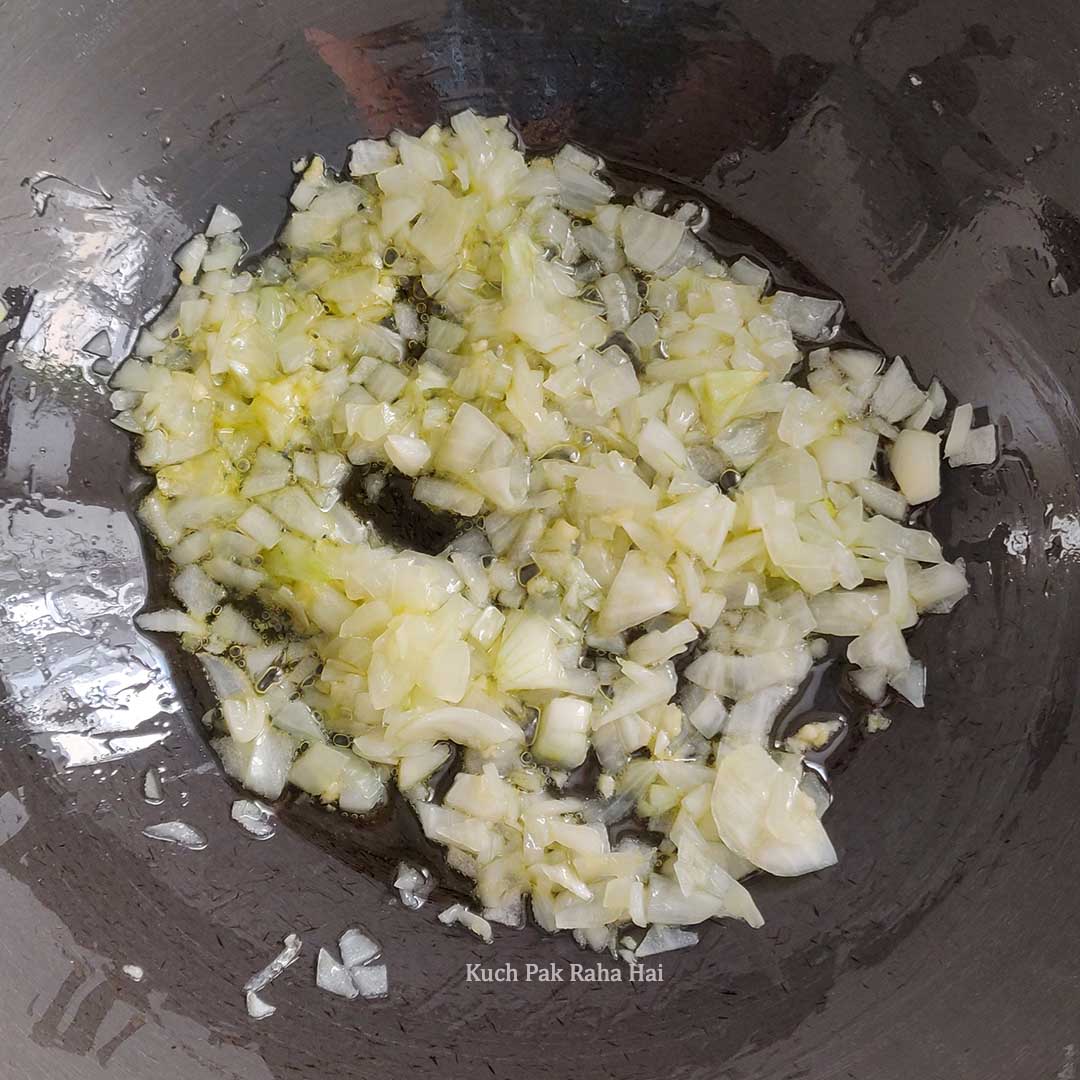 Step 3:
Add butter to the same pan. When the butter melts completely, add flour to it and sauté till the flour turns golden brown in colour.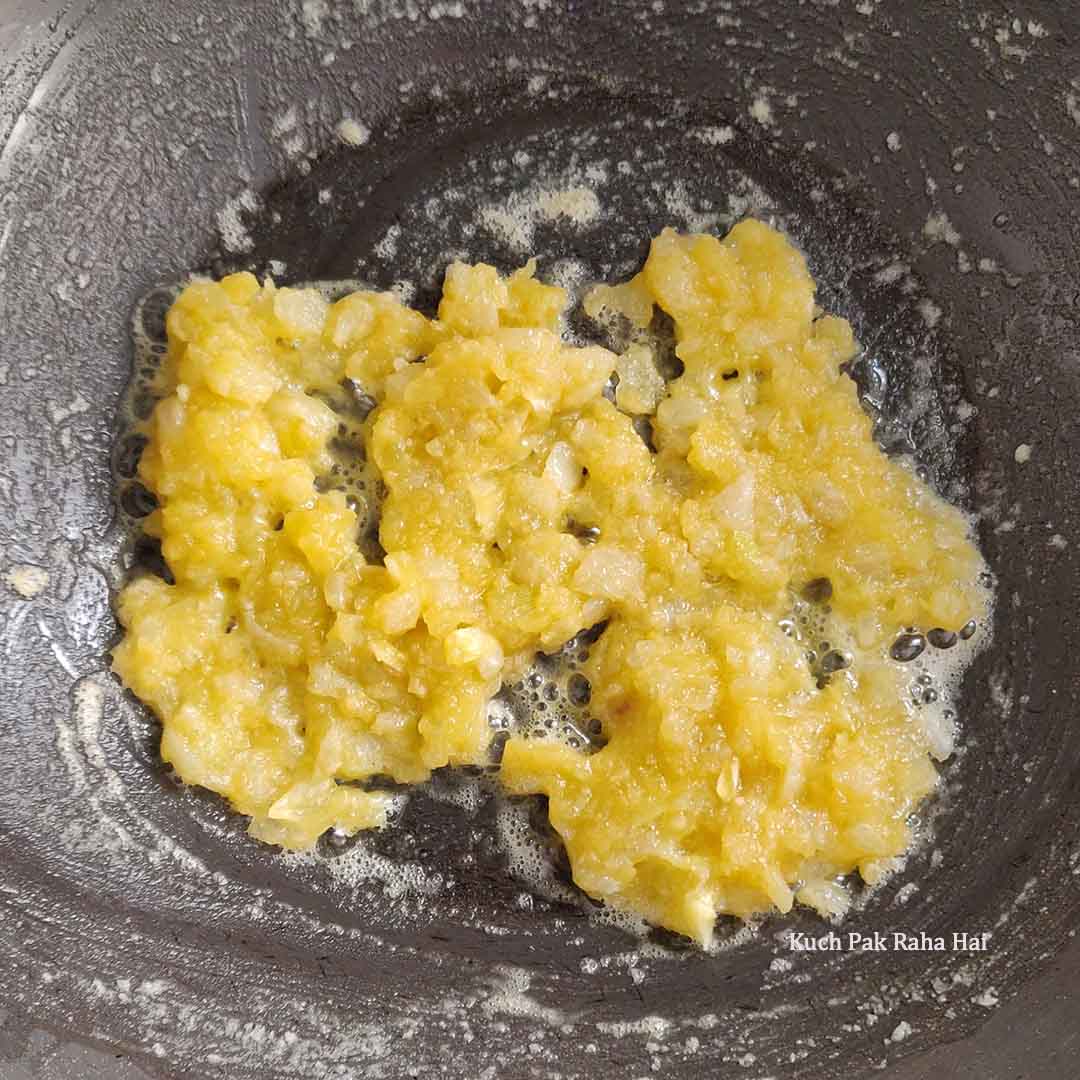 Step 4:
Add chopped broccoli, shredded carrot to the pan & sauté for 1-2 minutes more. Simmer down the flame, add vegetable stock (or water), milk and cream while continuously stirring. Keep stirring & mixing as otherwise the milk can get curdled. Add salt, crushed black pepper and nutmeg to the soup. Mix well and let the soup simmer for 25 to 30 minutes.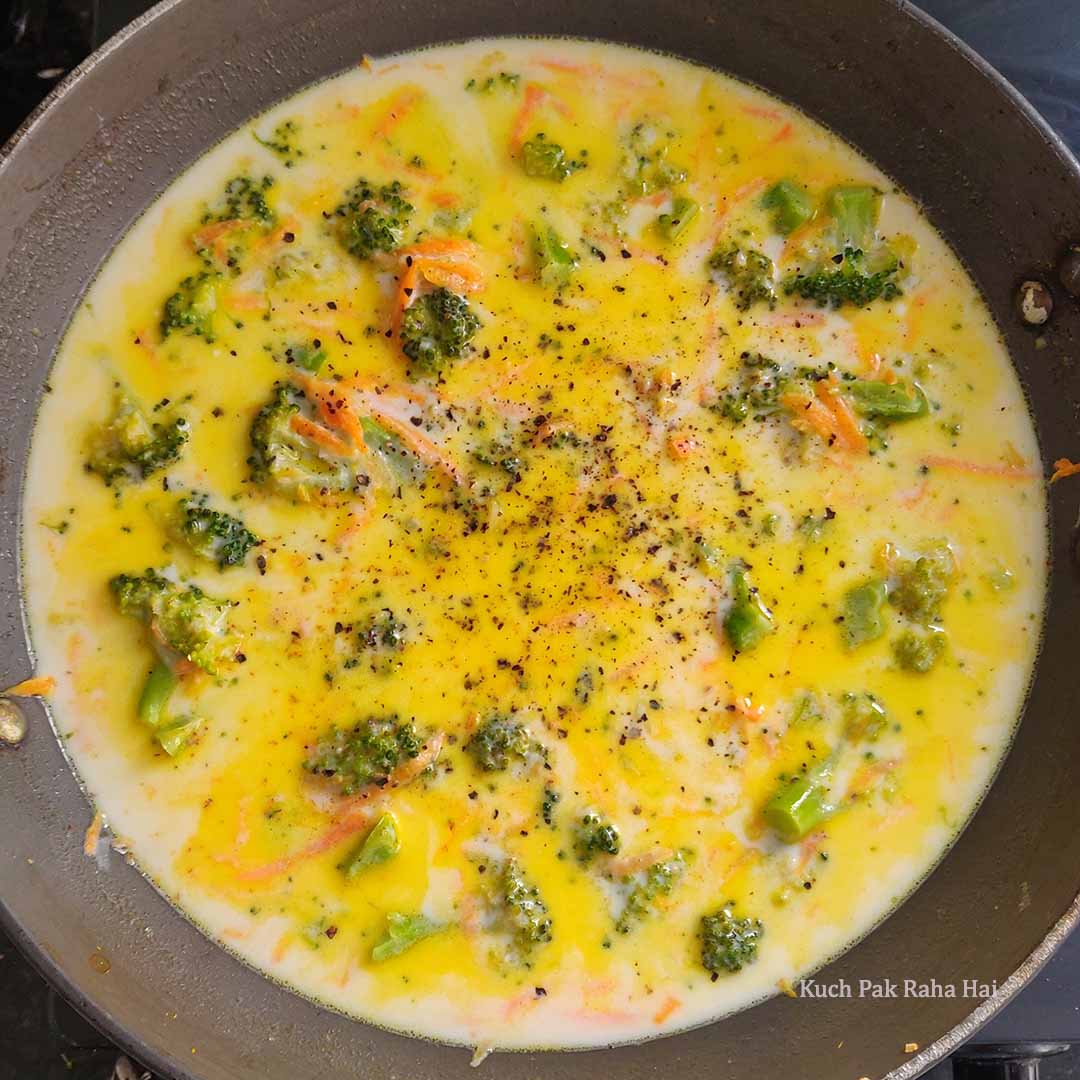 Step 6:
Once the soup begins to thicken up, let it cool down a bit. Blend it coarsely using an immersion blender. I like my soup chunky so I have not smoothen the entire soup. Mix well and bring the soup to boil once again.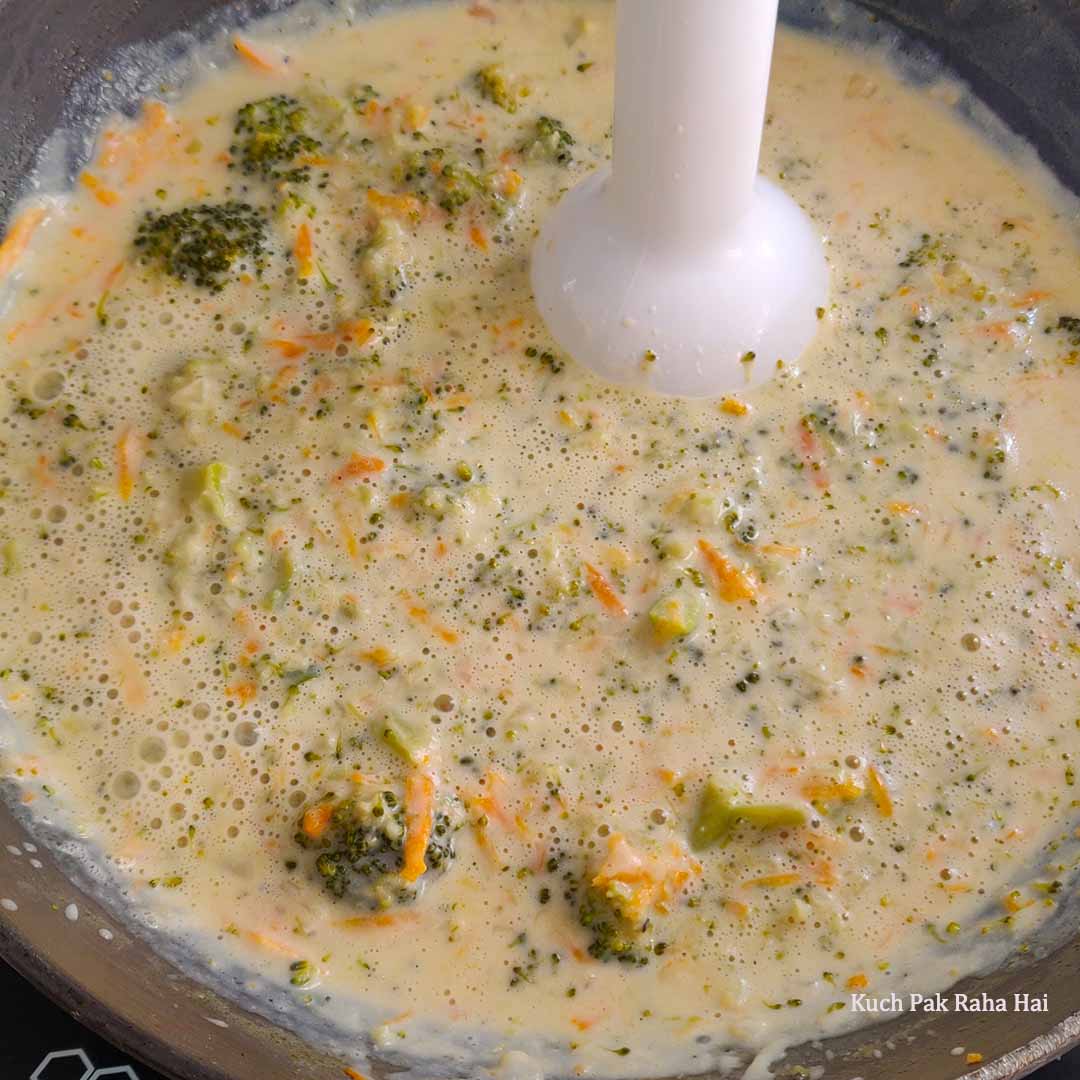 Switch off the flame. Add grated cheddar gradually to it. The cheese will gradually melt on low heat. Do not boil the soup after adding cheese. Mix well, taste and adjust salt, black pepper etc as per your taste.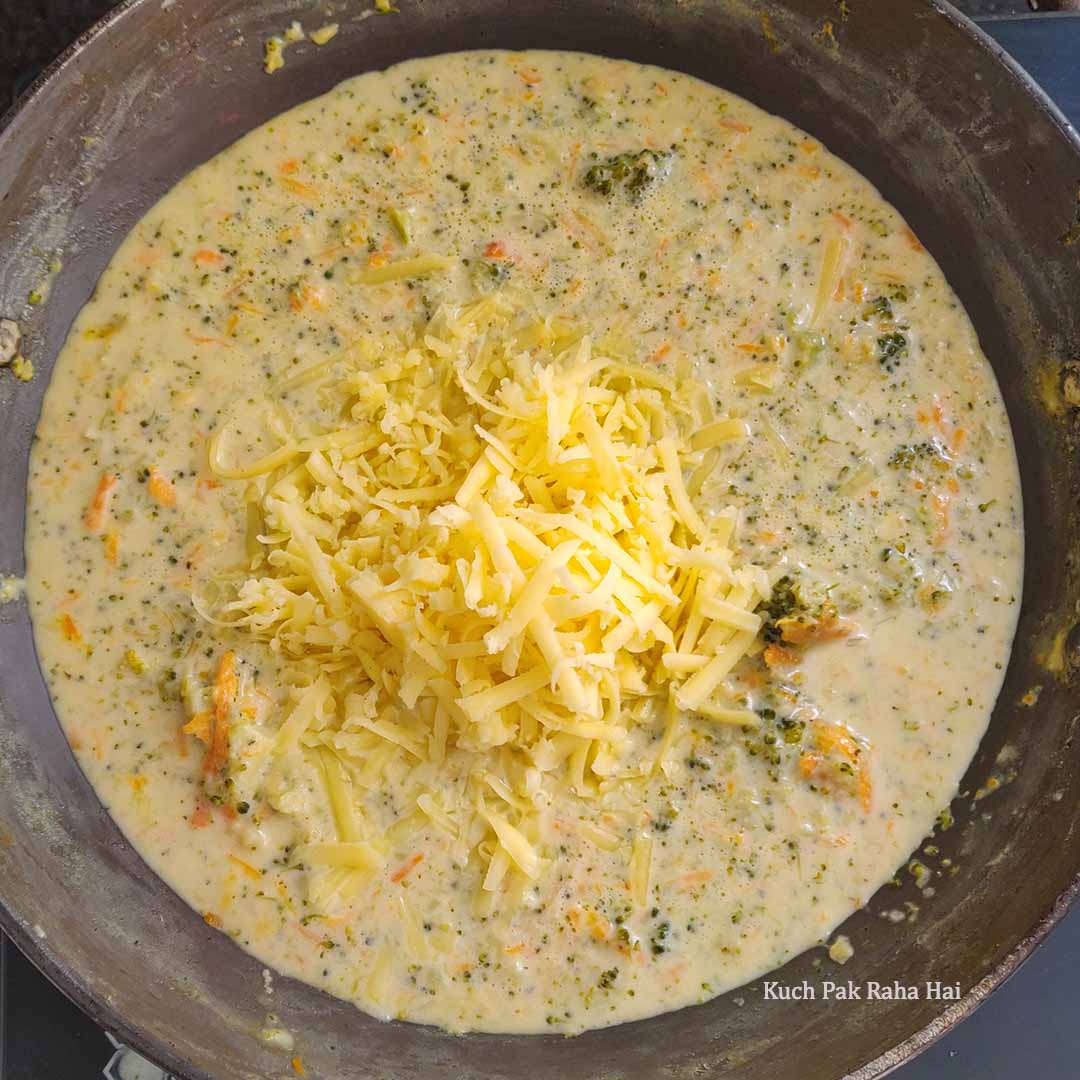 You can serve this lip smacking cheesy broccoli soup in bread bowl. Top up with some more steamed/boiled broccoli pieces or grated cheese and enjoy!!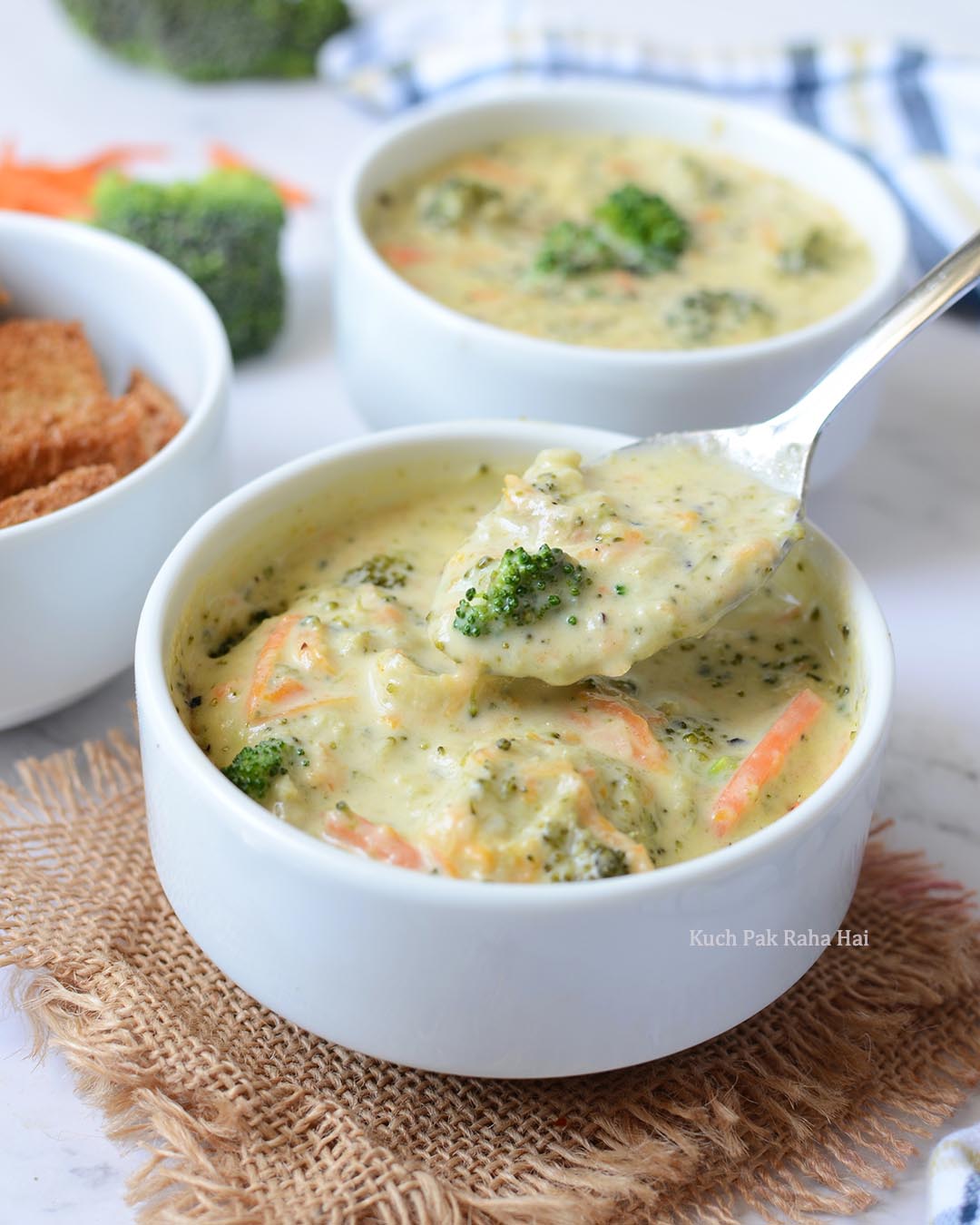 FAQ:
How long can we store this broccoli cheese soup?
You can store it in an airtight container for upto 3-4 days. Reheat it on low flame on stovetop (to avoid curdling) or you can microwave it for 2-3 minutes.
Pin for later: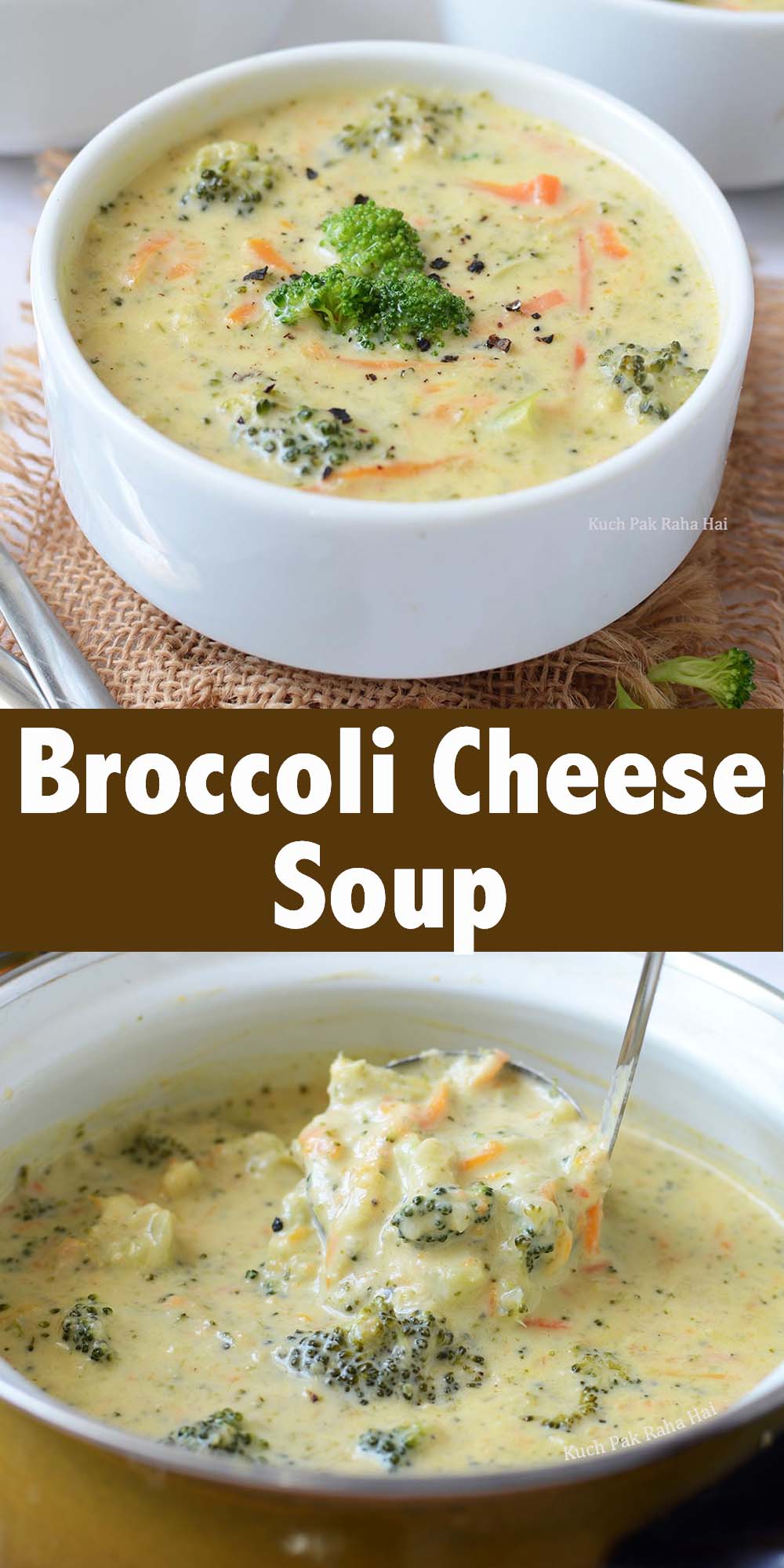 If you try this recipe & share pics on social media, then don't forget to tag us on Facebook or Instagram or use #kuchpakrahahai.
Let's stay connected
Facebook | Instagram | Pinterest | Youtube