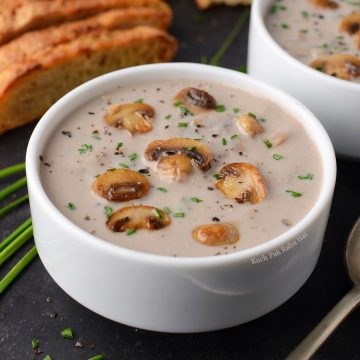 Delicious and easy creamy mushroom soup recipe perfect for a cosy winter evening. It is a light and healthy soup as it is made without cream & can be enjoyed with some roasted veggies or bread for a scrumptious filling dinner.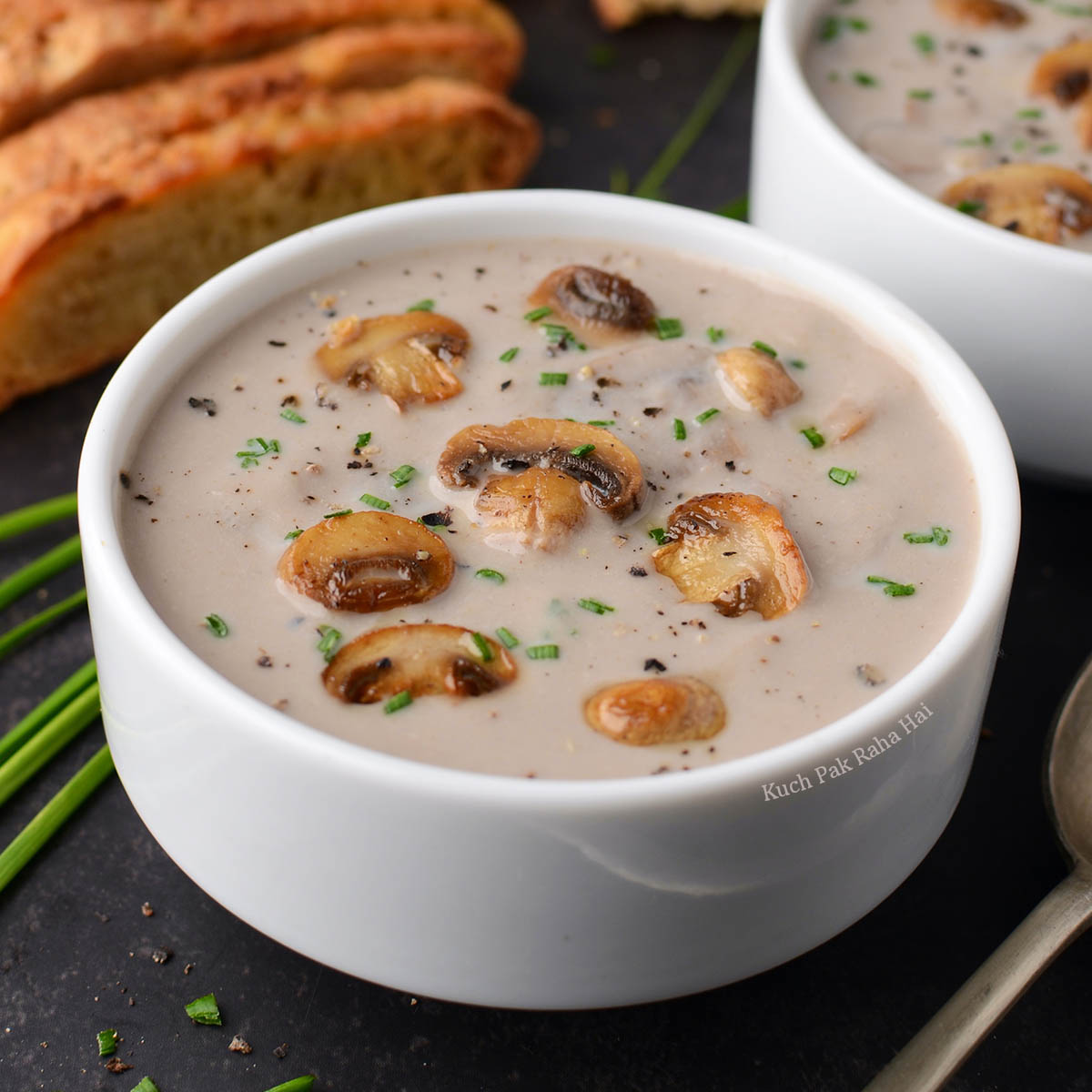 This homemade cream of mushroom soup turns out lip smacking, creamy just like you get in the restaurants but minus all the extra calories as it is not loaded with cream or butter. It is:
Nutritious
Light (made without cream)
Absolutely delicious!!
Can be made Vegan
Mushrooms are known for their number of health benefits. They are low in calories, rich in antioxidants and are packed with many essential vitamins and minerals like vitamin B, potassium & copper etc.  If you are looking for more mushroom recipes then do try out:
Christmas & New year has just gone by and after a whole week of indulgence, I thought of having some break and made this delicious comforting bowl of earthy fragrant mushroom soup.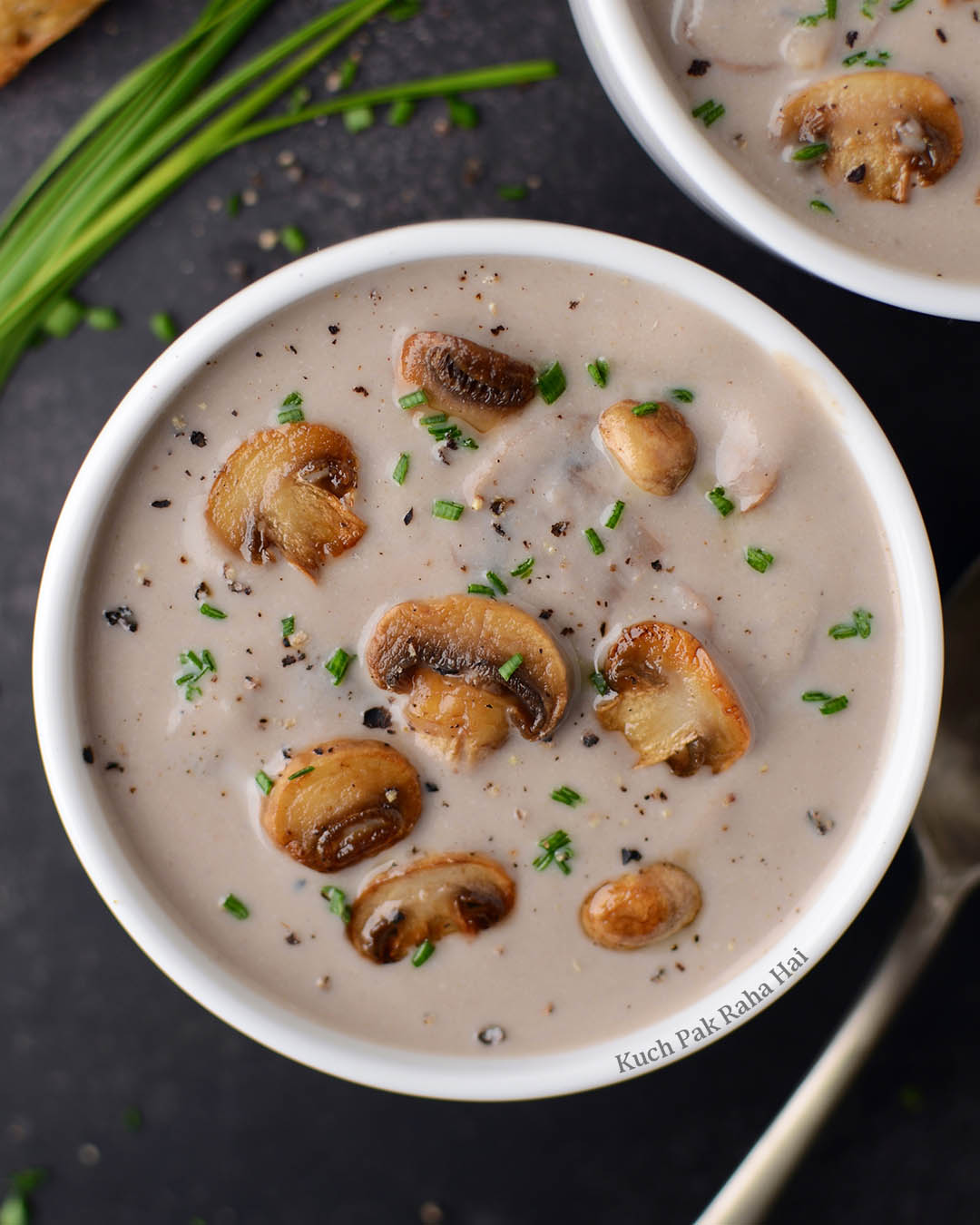 If you are looking for simple quick weight loss soup recipes then do try this healthy mushroom soup as it is not loaded with fat and tastes so much better than canned soup. 
To make it, onion, garlic, mushrooms are sautéed in a mix of olive oil & butter. Butter enhances the earthy taste of mushrooms so I would definitely recommend adding it. To thicken up the soup, some whole wheat flour is roasted in the same pan, followed by addition of vegetable stock and milk. Milk adds creaminess to the soup without making it too heavy.
As we are making this mushroom soup without cream, we will be pureeing some of the mushrooms to make the soup thick and creamy. I like to have some mushroom pieces in my soup so I will be leaving few pieces as it is. However if you want you can puree the entire soup for smoother consistency.
You can definitely add some heavy cream, low fat cream or coconut milk but personally I like this lighter low fat version of soup more.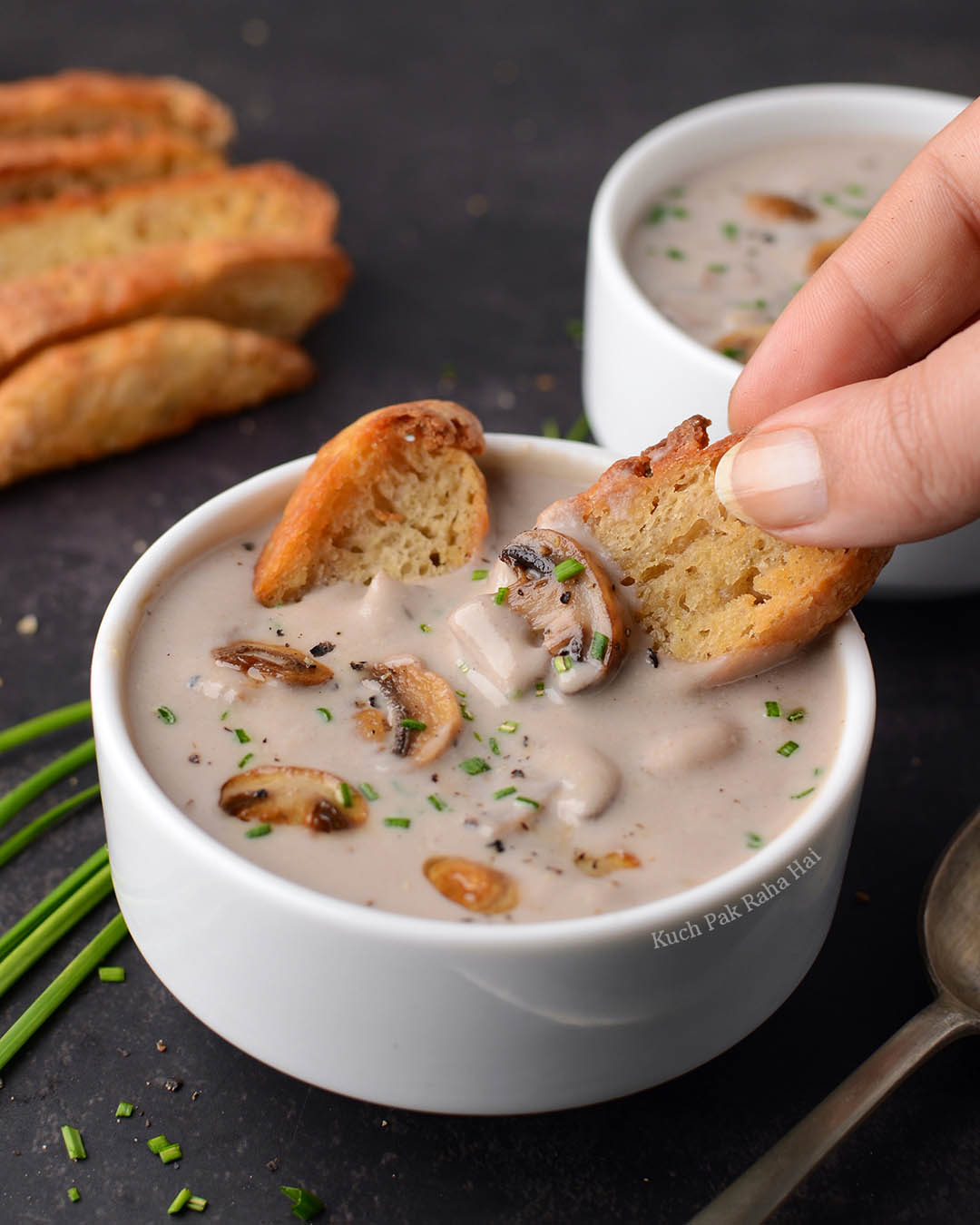 Which type of mushrooms should be used in soup?
I have used white button mushrooms for making this soup. You can also use some shiitake, oyster or cremini mushrooms for more umami flavour. If you are using dried mushrooms then soak them in warm water before using them in soup.
What can be served with mushroom soup?
You can serve it with some toasted bread. I like to accompany this soup with garlic bread, sautéed or roasted veggies like broccoli, bell peppers or salad for light dinner.
How to clean mushrooms?
Ideally mushrooms should be scrubbed with a dry or damp cloth to get rid of all the dirt from them. As I have used organic mushrooms they also had some soil particles stuck to them, so I quickly rinsed them 2-3 times under running water. After that they were spread over a kitchen towel and scrubbed gently.
Mushrooms should never be dipped in water for long as they already have high water content and because of their porous nature they tend to absorb the moisture quickly thus ruining their texture.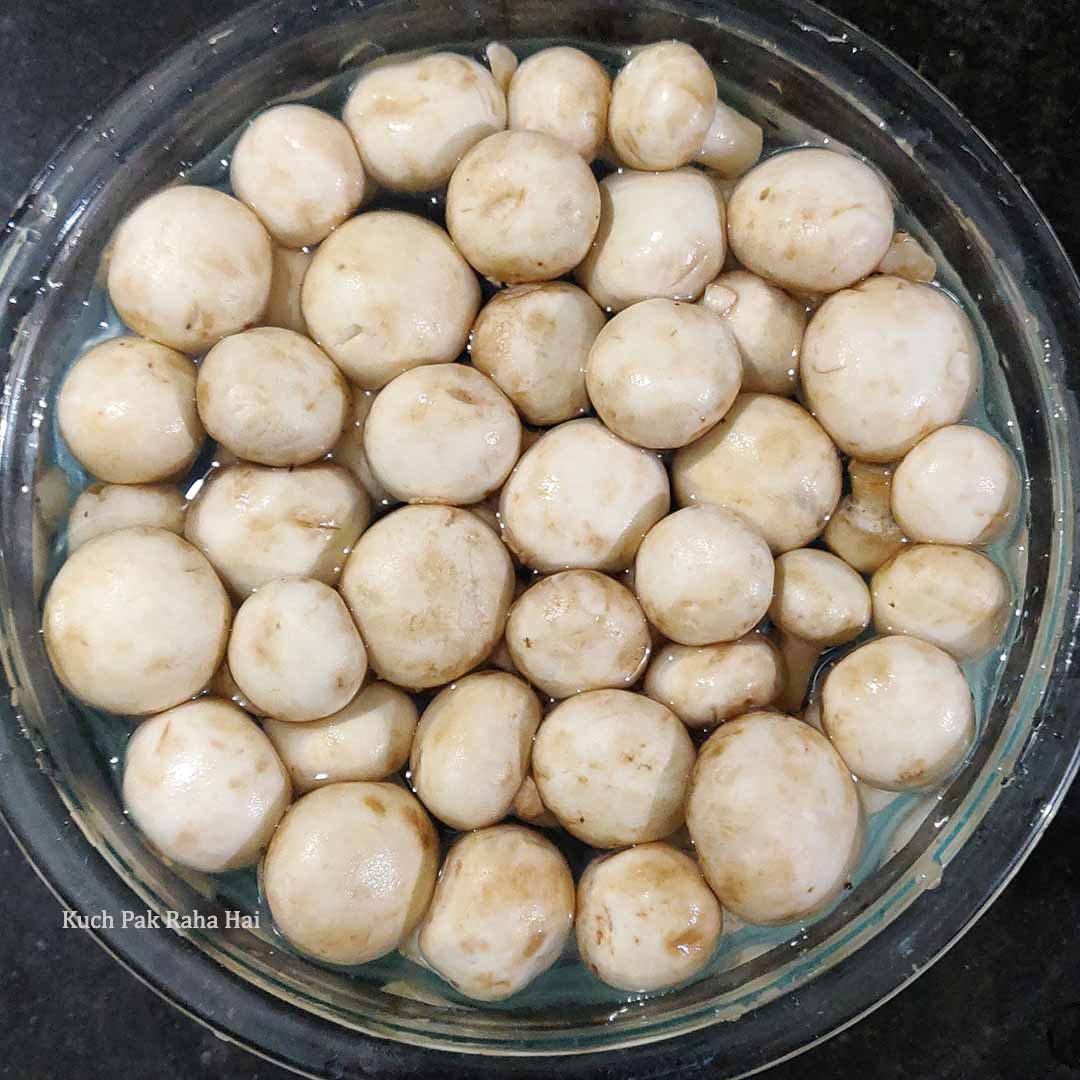 All the substitutions are mentioned under the ingredients list. Hope you will like this delectable creamy mushroom soup.
More easy vegetarian or vegan soup recipes: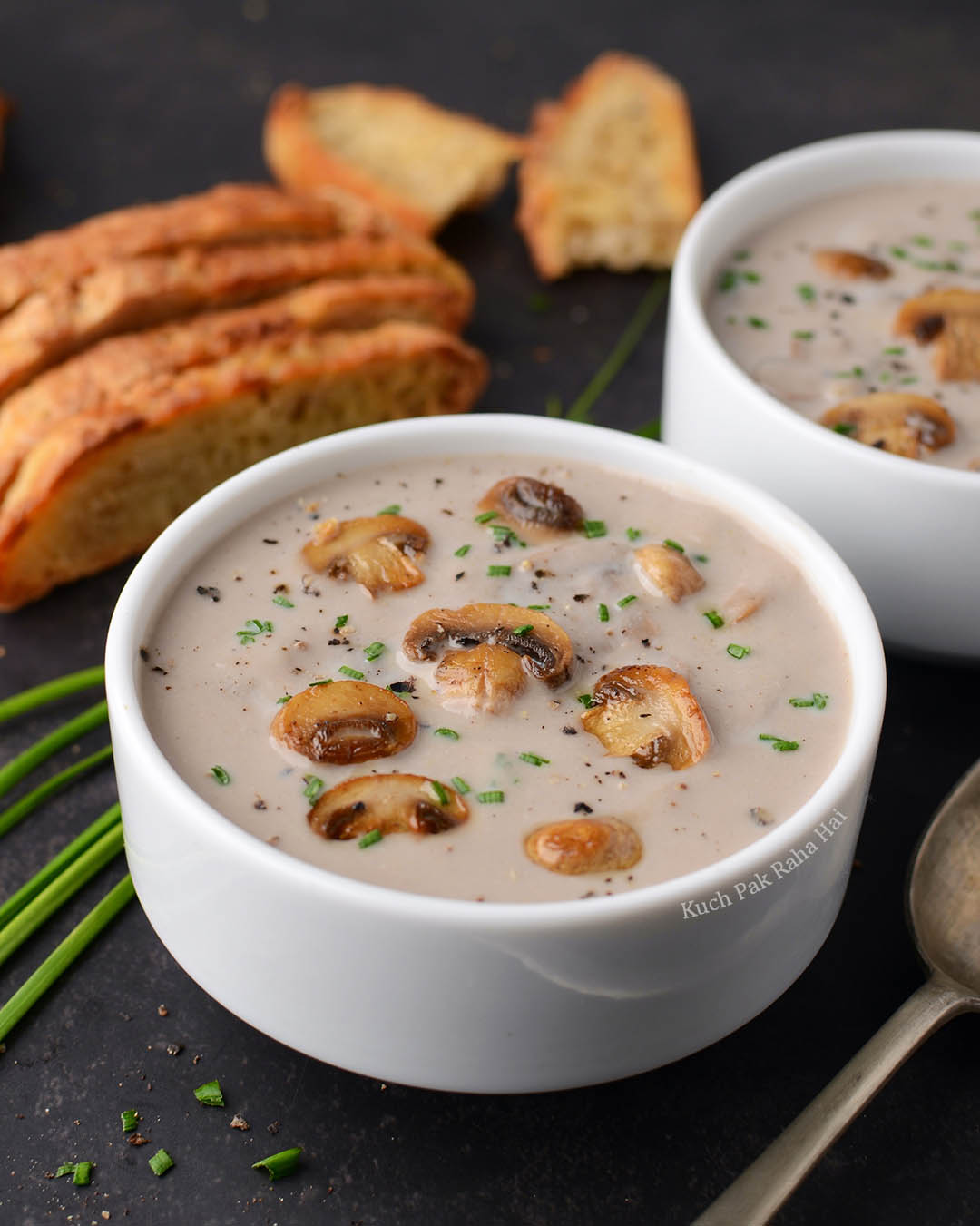 Serves : 2 to 3
Ingredients:
Butter / Vegan Butter- 1 tsp
Olive Oil- 2 tsp
Mushrooms- 250 grams
Vegetable Stock / Water- 1 cup
Milk / Almond Milk- 1 cup
Onion (small)-1
Garlic Cloves- 2 to 3
Dried Thyme-1/4 tsp
Salt- 3/4 tsp (to taste)
Crushed black pepper- 1/2 tsp
Whole Wheat Flour*- 2 tbsp
Chopped Parsley or Chives (for garnishing)- 2 tsp
Substitutions:
1. *Instead of whole wheat flour you can use all purpose flour (maida). If you want to make this mushroom soup gluten free, then you can replace it with almond flour.
2. You can even skip butter and use only olive oil to make this soup.
3. Other flavours that you can add in this soup – pinch of nutmeg, rosemary dried oregano or some soy sauce.
3. Double or triple the recipe for additional servings.
Directions:
Step 1:
Wash & pat dry the mushrooms on a kitchen towel (details explained above in post). Slice and keep them aside. Finely chop onion and garlic also.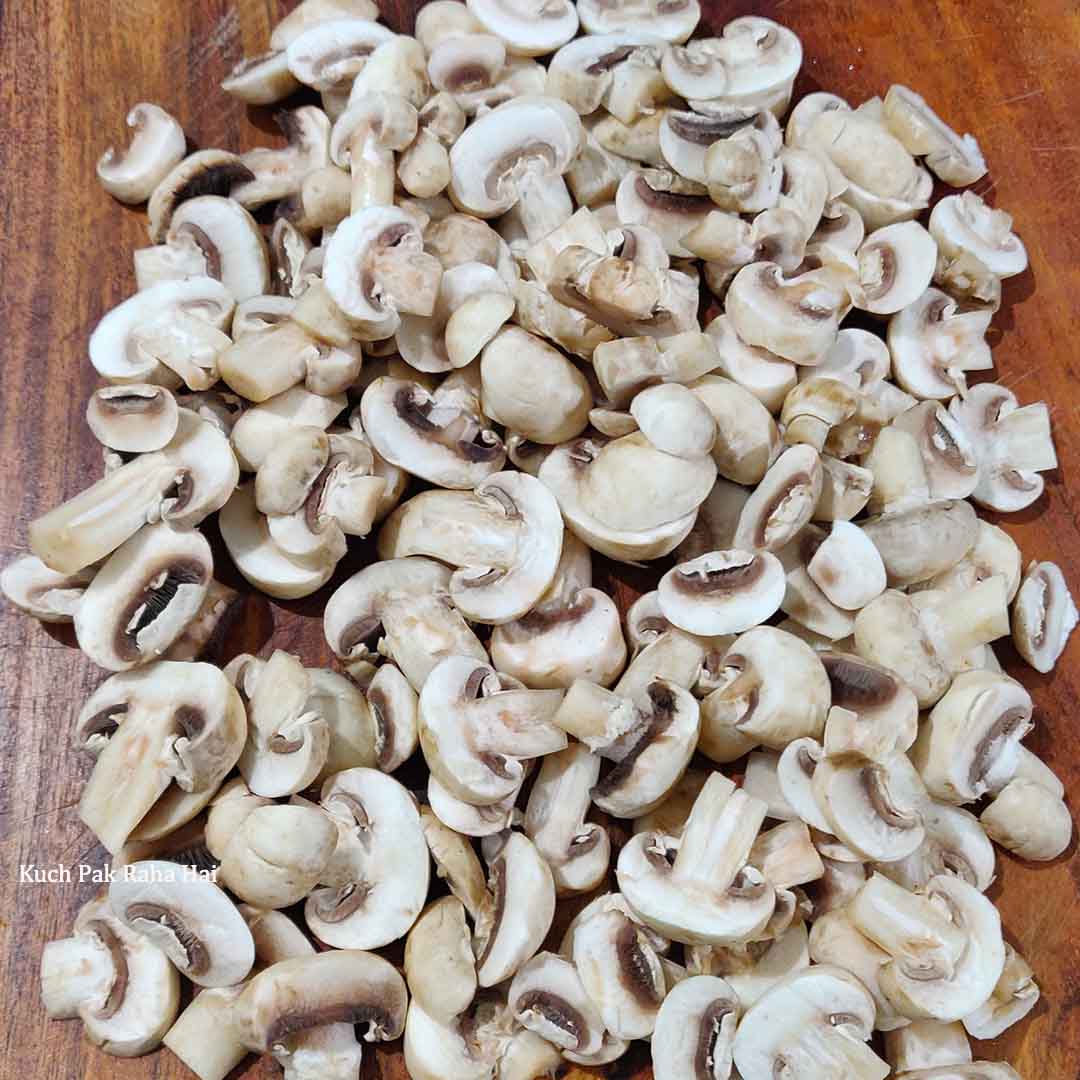 Step 2:
Heat butter & olive oil in a pan. Add finely chopped onions, garlic and sauté them on medium flame for 1-2 minutes.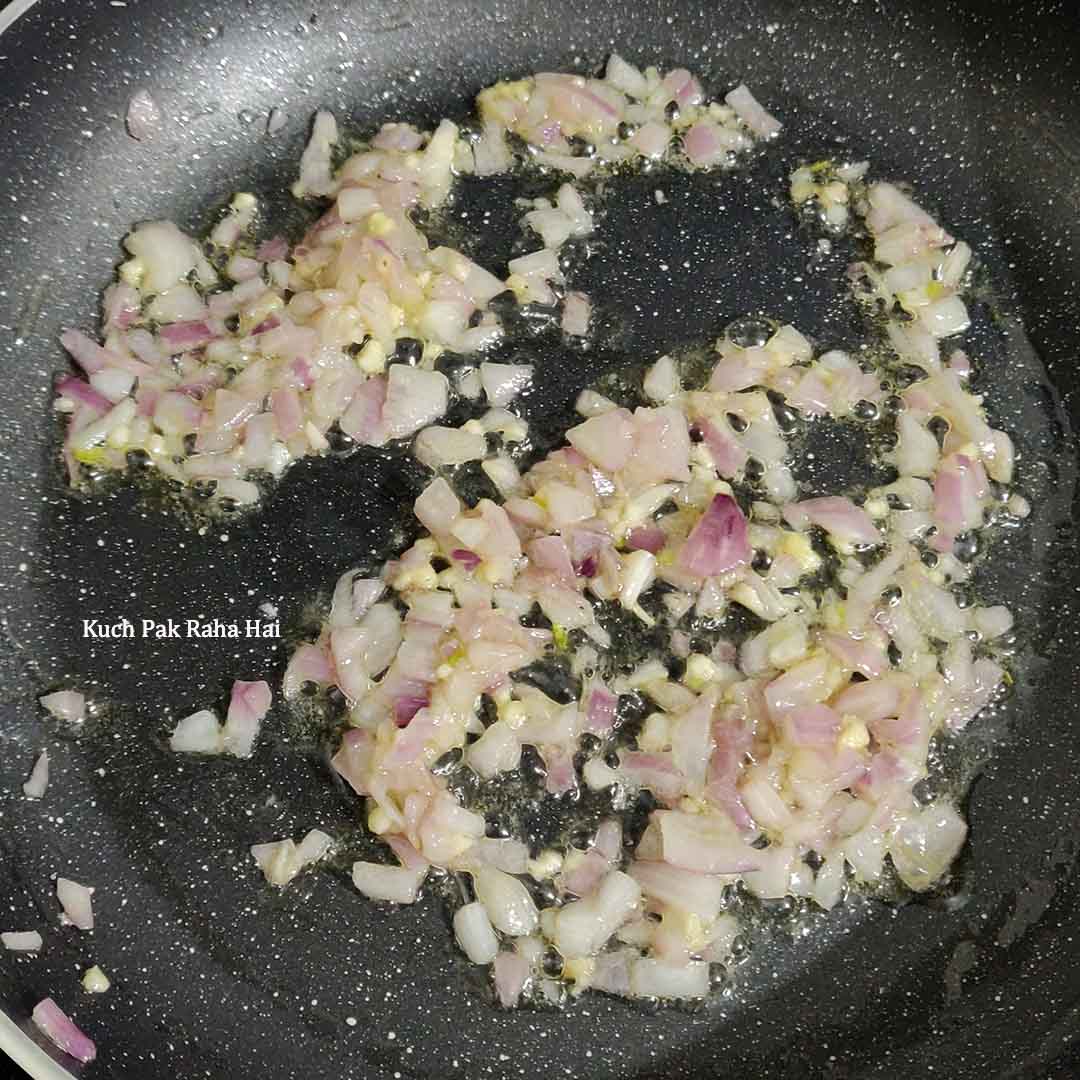 Step 3:
Once the onion turns pink in colour, add mushroom slices and salt to the pan. Sauté for 3 to 4 minutes till they become golden brown from outside. When mushtooms are sauteed, add flour (whole wheat or all purpose) in the pan and roast it for 1 minute while stirring. Mix well all the ingredients.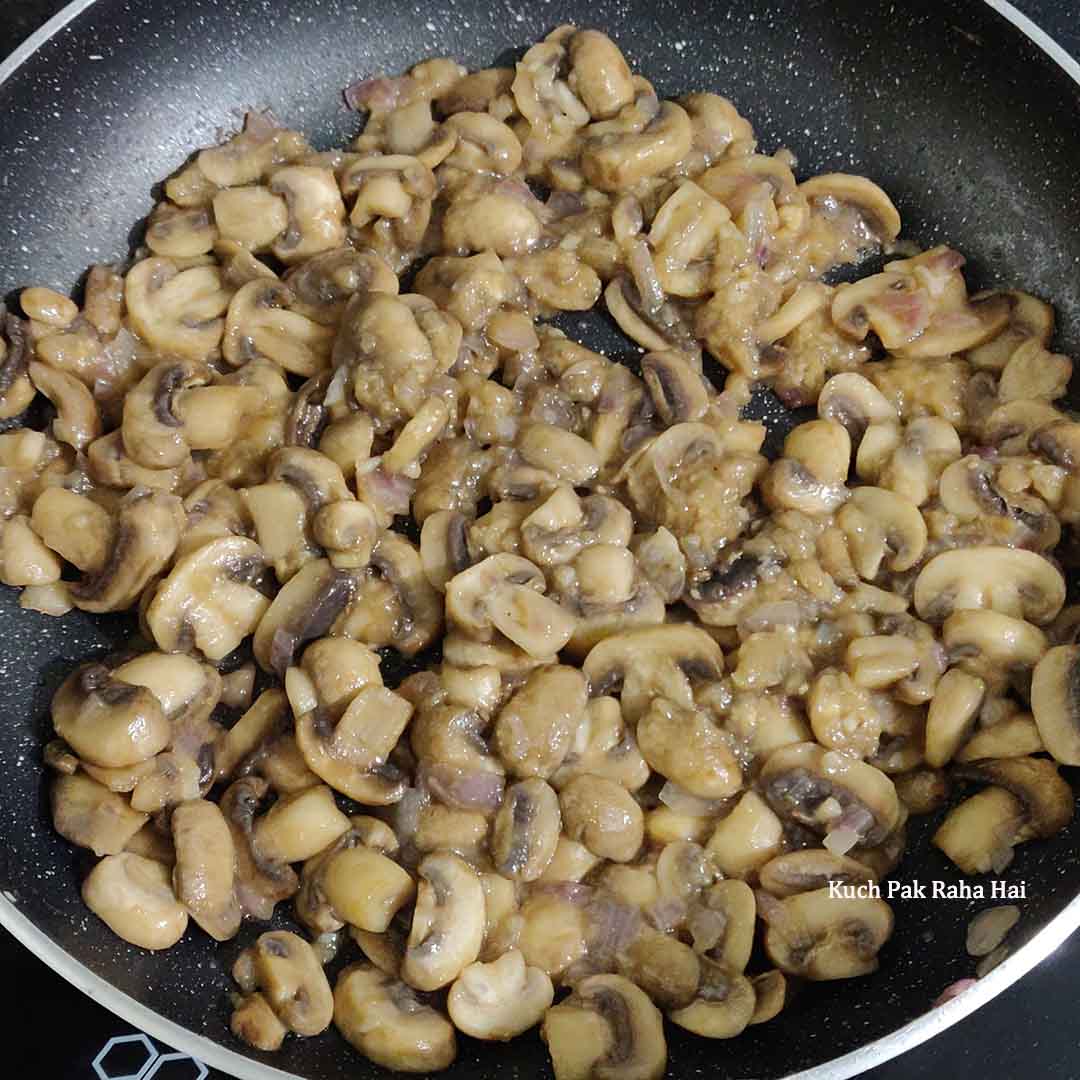 Step 5:
Add vegetable stock (or water), milk, thyme and crushed black pepper to the sautéed mushrooms. Mix well, bring the mixture to boil and then simmer the soup for 8-10 minutes.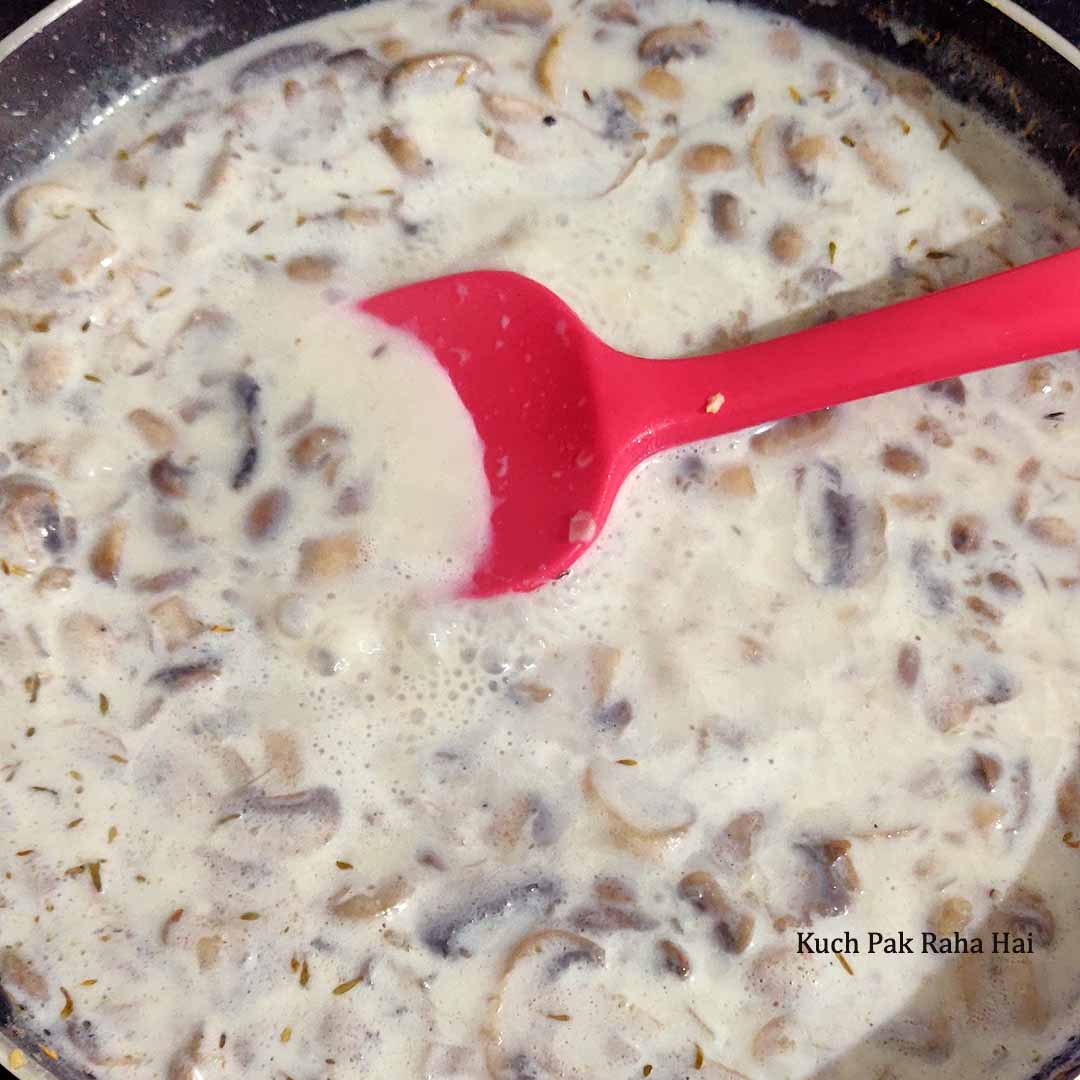 Step 6:
Switch off the flame and let the soup cool down. It will thicken up as it cools down. Transfer the soup in blending jar. I like my soup chunky so I have left few mushroom pieces in pan but if you wish you can blend the entire soup. Transfer this puree back in the pan and mix well. Let the soup heat for another 3-4 minutes on medium flame.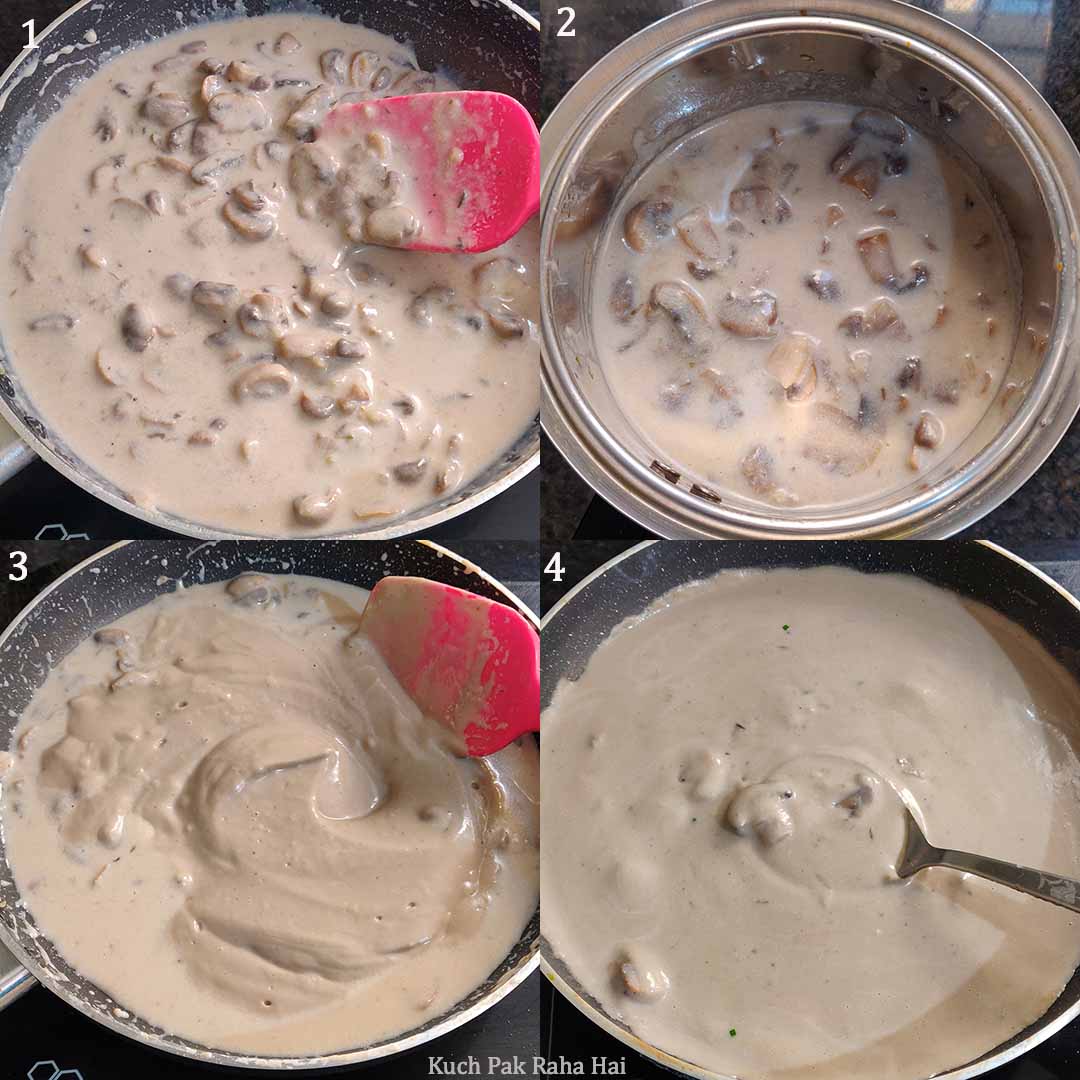 Adjust the consistency of the soup as per your choice by adding more milk or vegetable stock. Garnish with some sautéed mushroom pieces, finely chopped chives or parsley. Serve hot.
Can I add cream to this mushroom soup?
If you want to add cream to this soup, add 1/4 cup heavy or low fat cream in the last step of the recipe.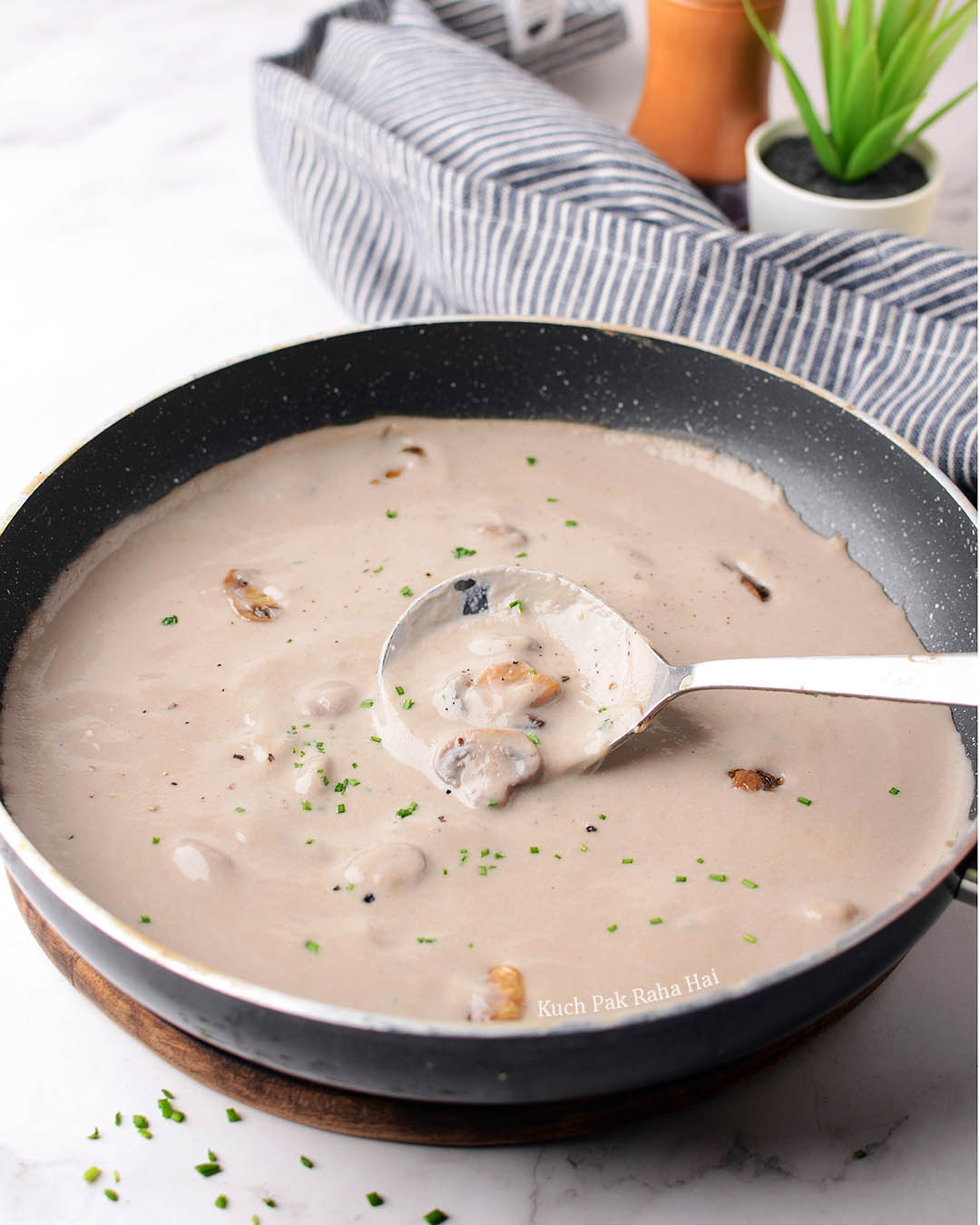 How to thicken the soup using cornstarch?
Cornstarch or Cornflour is completely gluten free and often used to thicken the soup. To use it, first dissolve it in some milk or water and mix well. Add this slurry to the soup while mixing continuously. Bring the soup to boil and then simmer for for 2-3 minutes. You will notice the soup will begin to thicken up gradually.
Kitchen Products Used:
(The links shared above are Amazon Affiliate links. It will not cost you anything extra but I may earn a small amount if you purchase anything using them.)
Pin for later: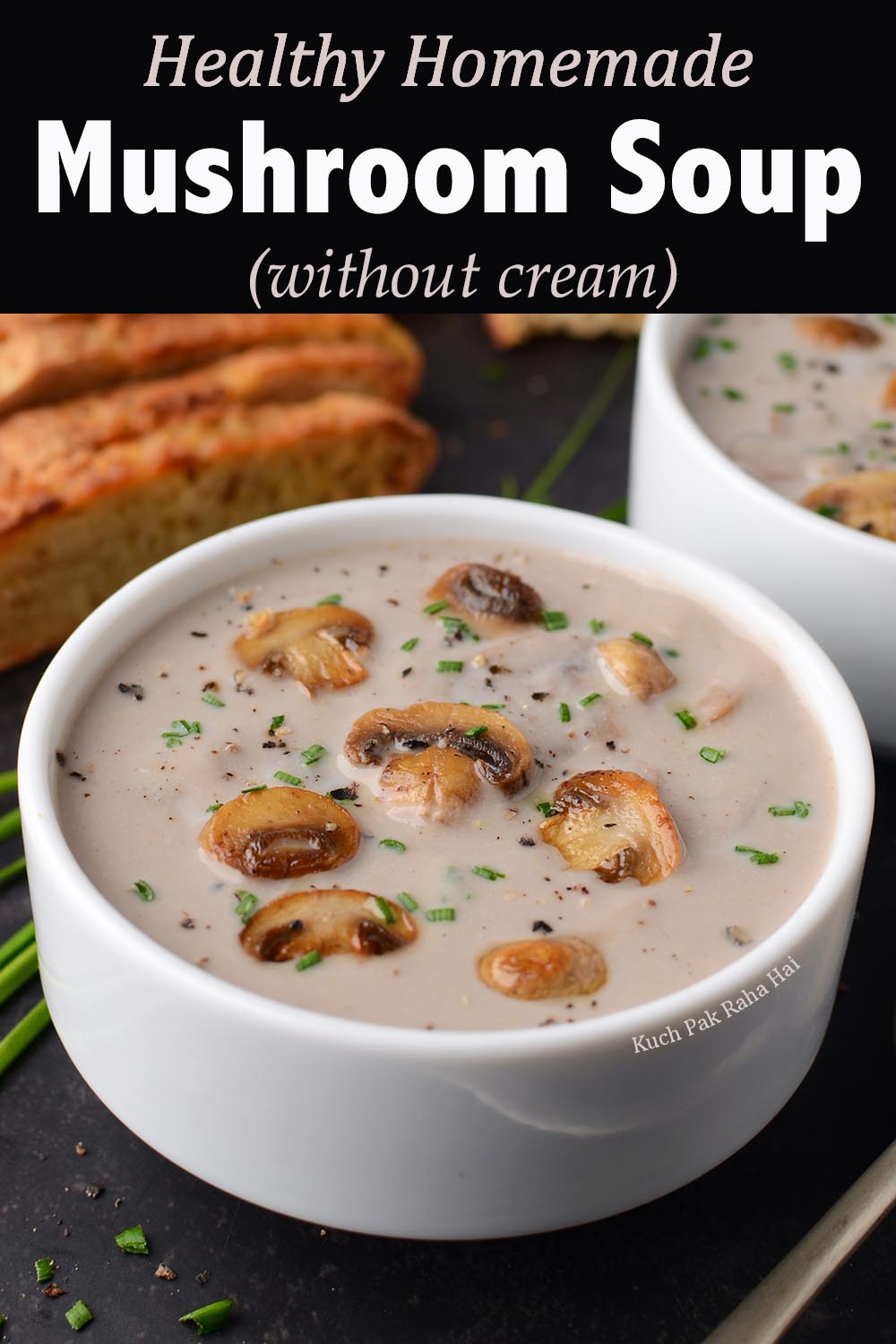 If you try this recipe & share pics on social media, then don't forget to tag us on Facebook or Instagram or use the hashtag #kuchpakrahahai.
Let's stay connected
Facebook|Instagram|Pinterest|Youtube