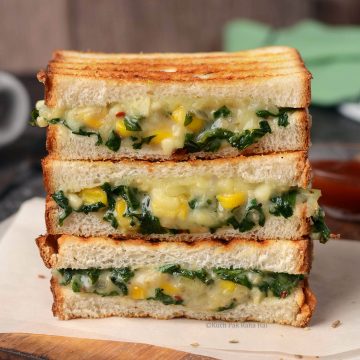 Spinach corn sandwich is a yummy healthy vegetarian grilled sandwich recipe with goodness of spinach & corn kernels. It is a great option for breakfast, kids lunch box or evening snack with a cuppa tea or cappuccino.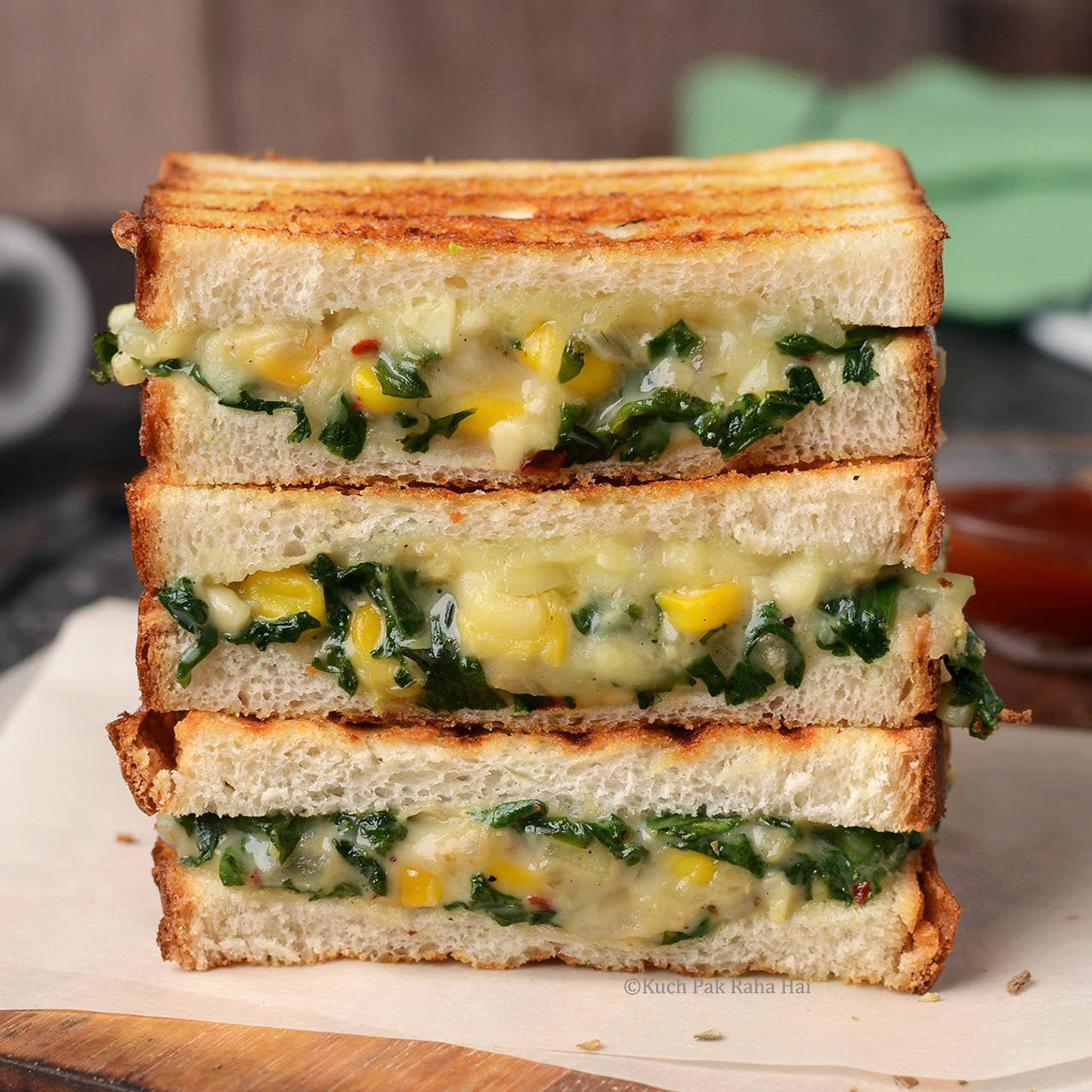 My earliest memory of these spinach sandwiches goes back to the time when I was a kid, my mom preparing these sandwiches and making me & brother eat so that we can be strong like 'popeye'. They are so easy to make and one of the favourite breakfast options at my home.
For a lighter version you can skip adding cheese or use whole wheat or oats bread to make this sandwich. Spinach, also known as palak, has number of health benefits as it contains iron, vitamin C, vitamin E & magnesium etc. The earthy taste of spinach is complemented by sweetness from corn kernels. Both the ingredients are combined with a creamy cheesy well seasoned white sauce which makes a yummy filling for sandwices.
Ingredients for spinach corn sandwich:
Bread: You can use white bread, brown bread, whole wheat, multigrain, sourdough, gluten free or any bread of your choice.
Spinach: Fresh spinach tastes best in these sandwiches. However you can use frozen spinach too, though you might have to cook it a little longer.
Sweet Corn: You can use fresh or frozen sweet corn kernels. They need to be boiled before using them in making filling.
Flour: Little bit flour is added to thicken up the filling. If you want to make these sandwiches without all purpose flour (maida), you can use whole wheat flour.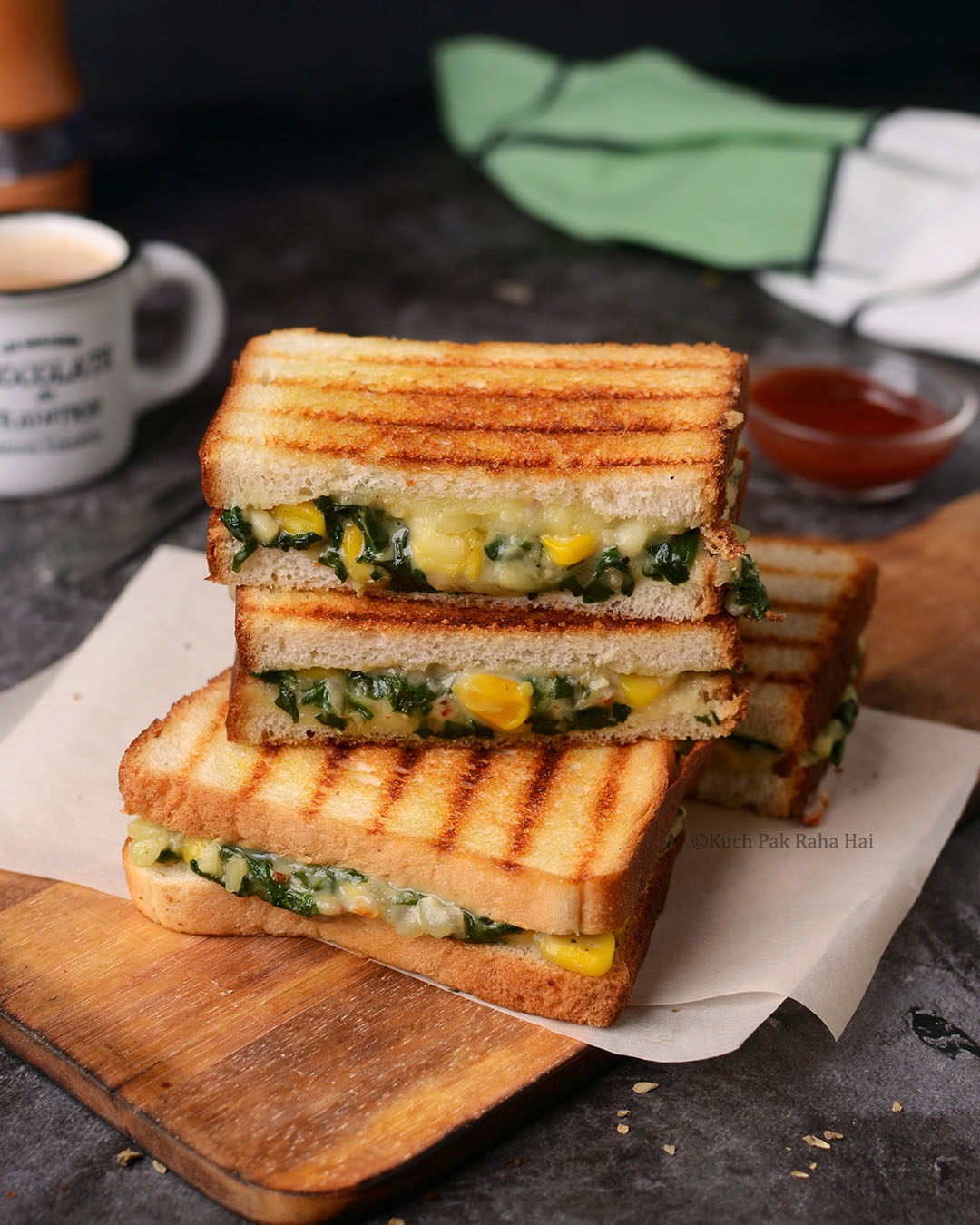 Butter / Oil: You can use butter, oil or a mix of two for filling or grilling.
Cheese: In this spinach corn sandwich recipe,  you can use processed cheese, shredded mozzarella, cheddar or even crumbled feta in filling. Cheese makes the filling creamier, however you can skip it too.
Milk:  You can use whole milk, skimmed (toned) or non dairy milk as per your choice.
Seasoning: Chilli flakes, dried orgeano or mixed herbs, crushed black pepper are used as seasoning. You can adjust them as per your taste.
Onion & Garlic: Both onion & garlic enhance the flavour.
Instead of cheese you can also use 2-3 tbsp mayonnaise to make the filling more creamy. To make these sandwich protein rich, you can also add some crumbled paneer (indian cottage cheese) in filling.
Can I make these spinach corn sandwiches vegan?
To make these sandwiches vegan, use vegan sandwich bread. Instead of dairy milk use non dairy milk options like almond, oats or soy. You can skip adding cheese or use vegan cheese.
Can I make these sandwiches in advance?
You can prepare the spinach corn filling in advance & store it in fridge. Whenever you are ready to make the sandwiches, preheat the sandwich or panini maker and prepare these sandwiches. It will take 5-7 minutes to grill the sandwiches and delicious nutritious breakfast would be ready.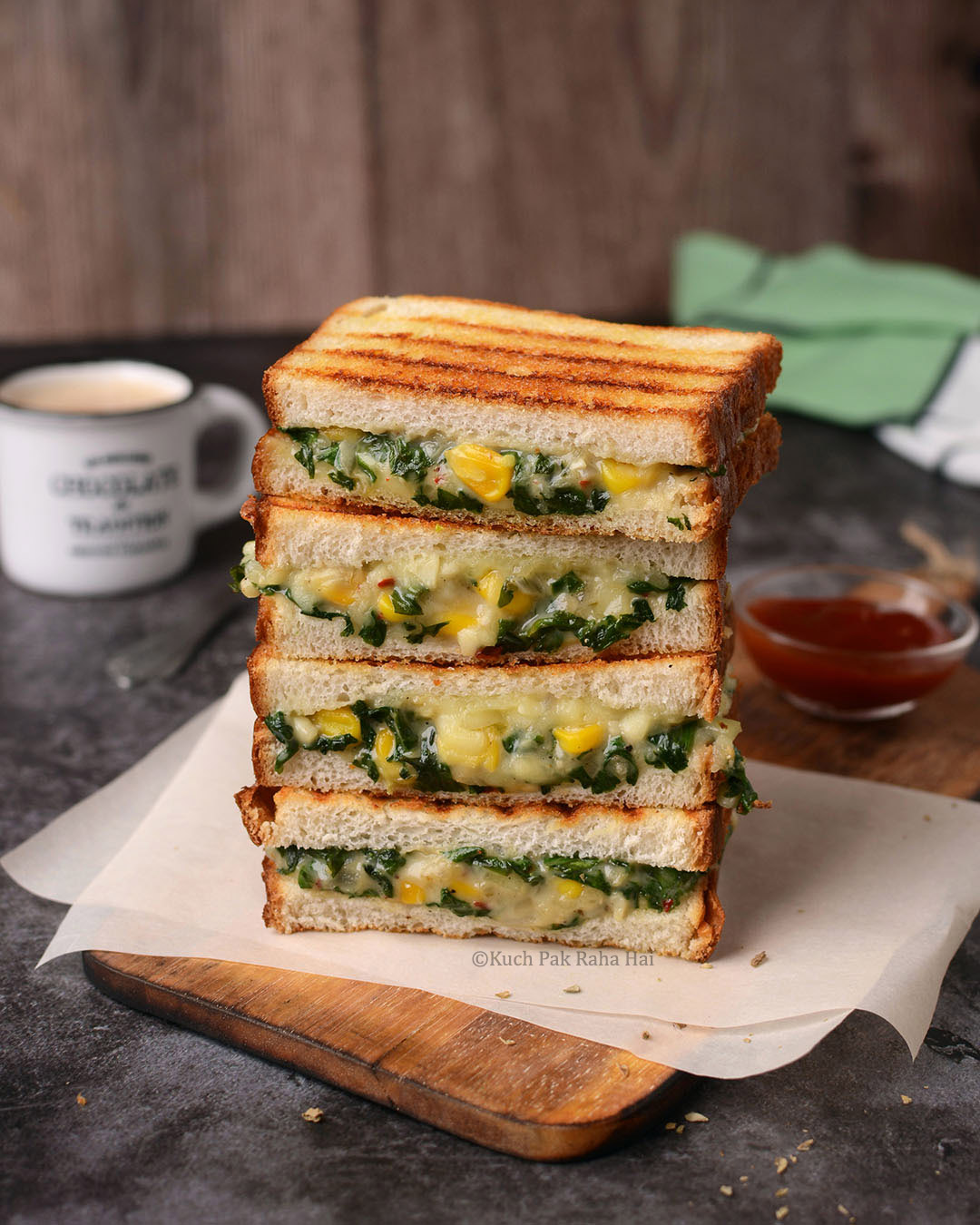 More vegetarian sandwich recipes you would like:
Hope you would like this easy cheese spinach corn sandwich recipe.
Ingredients: (For 3 sandwiches)
Chopped Spinach- (2 +1/2) cups
Boiled Sweet Corn- 1/2 cup
Oil- 1 tbsp
Onion (finely chopped)- 1 small
Garlic cloves (finely chopped)- 2 to 3
Flour*- 1 tbsp
Milk (room temp)- 1/2 cup
Grated Cheese- 1/3 cup
Salt- 1/2 tsp (to taste)
Crushed Black Pepper- 1/2 tsp
Red Chilli Flakes- 1/2 tsp
Dried Oregano / Mixed herbs- 1/2 tsp
Bread Slices- 6
Butter / Oil- For cooking
Notes:
1. *You can use all purpose flour (maida) or whole wheat flour here.
2. For a lighter version, you can reduce the quantity of grated cheese or skip it.
3. To make vegan sandwiches, use plant based milk like almond, soy and vegan cheese.
Directions:
Step 1:
Heat oil in a non-stick pan. Add chopped garlic & onions. Sauté till onions become translucent in colour.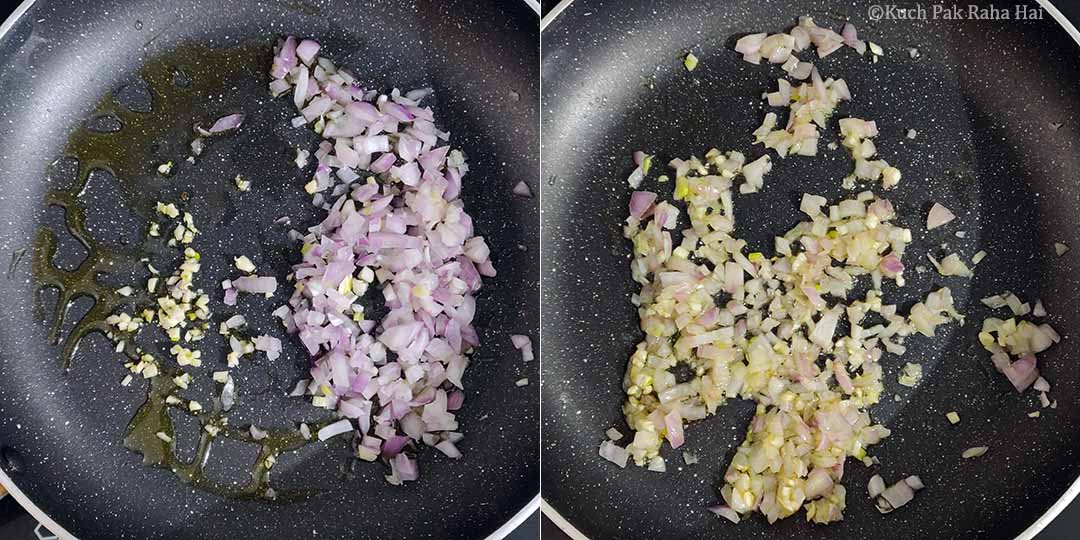 Step 2:
Add chopped spinach leaves & boiled sweet corn kernels. Let them cook for 2-3 minutes till spinach begins to soften up.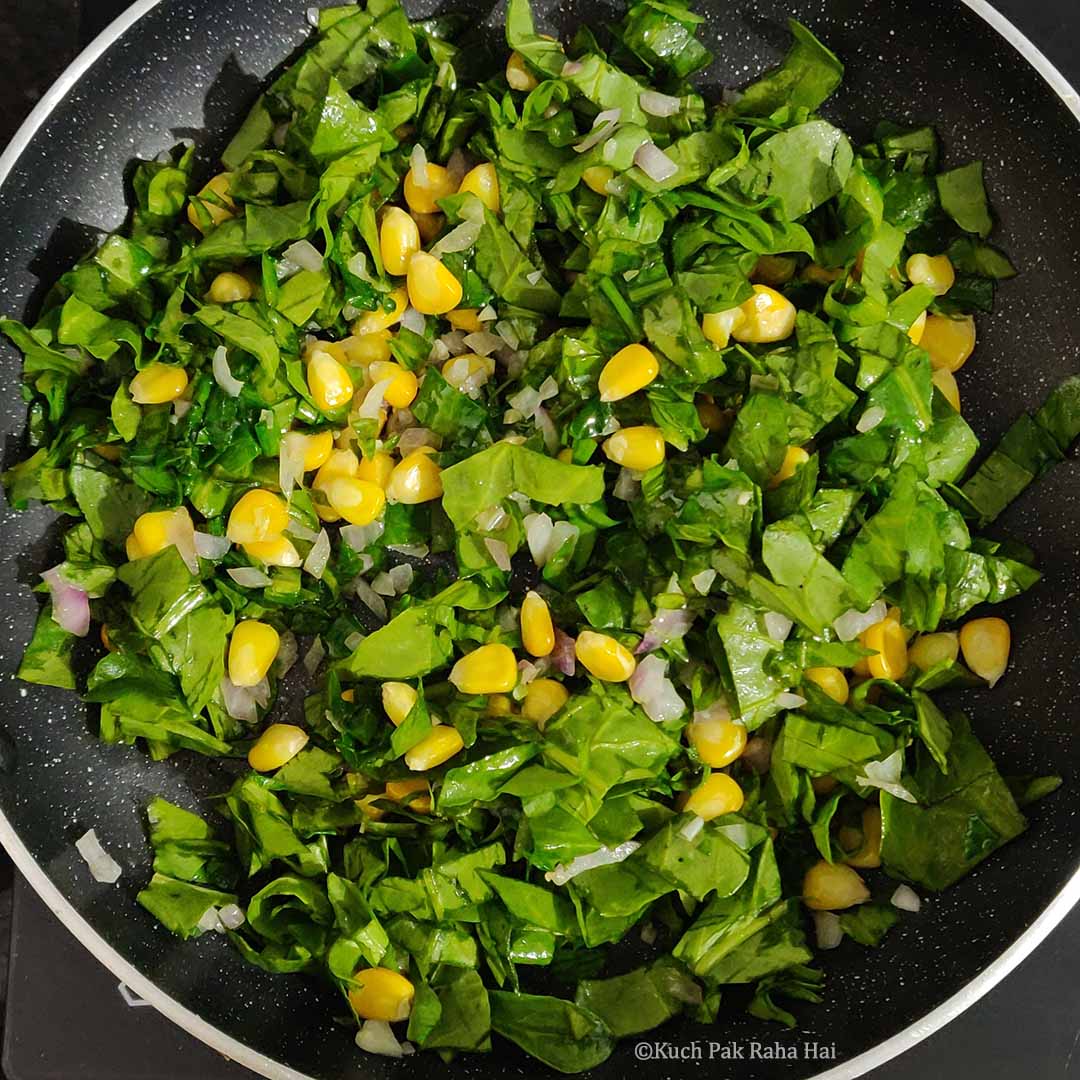 Step 3:
Add flour (all purpose or whole wheat) to it and mix well. Let it cook for another 3 to 4 minutes.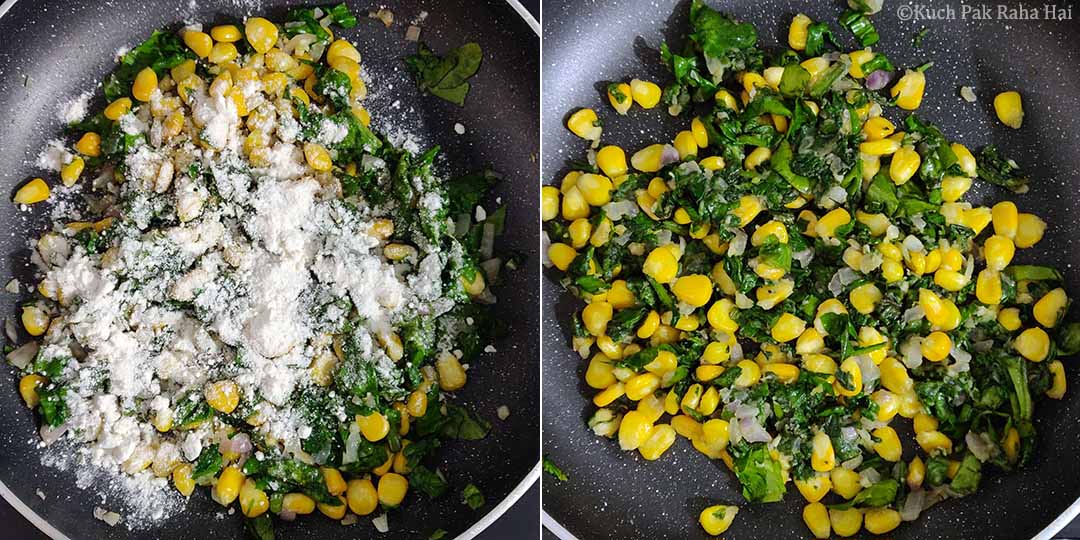 Step 4:
Reduce the flame to low & add milk to this mixture while continuous stirring to avoid any lumps. Cook on medium-low flame for 3 to 4 minutes while stirring till the mixture begins to thicken up.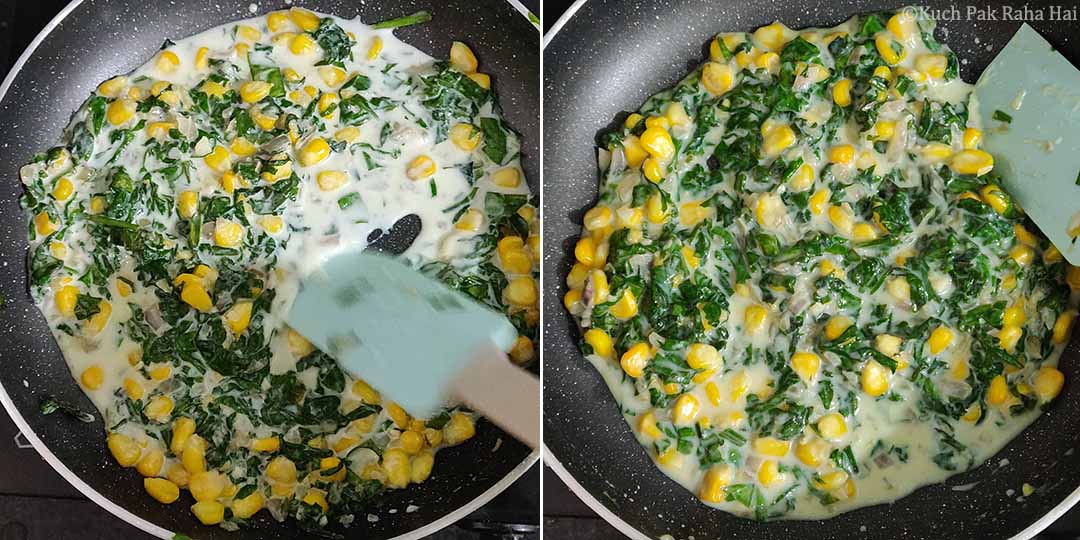 Step 5:
Add salt, chilli flakes, crushed black pepper & oregano (or mixed dried herbs) along with some of the grated cheese to it. Mix well and taste once to adjust salt or seasoning as per your taste. Keep this sandwich filling aside & let it cool down for 2-3 minutes.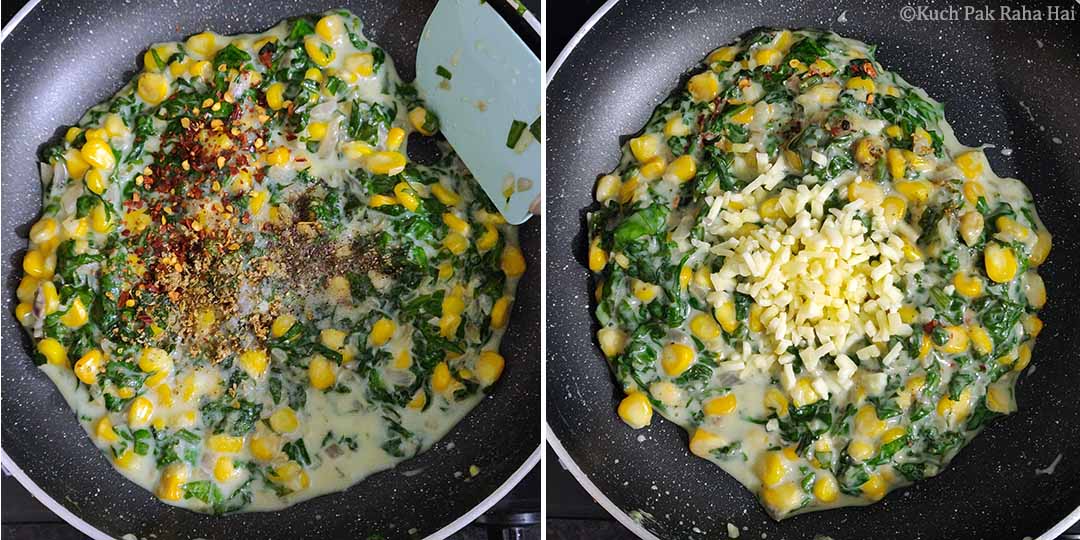 Step 6:
Take two bread slices. Apply butter on one slice, invert it & spread spoonful of prepared stuffing on it. Sprinkle some grated cheese on it. Place the second slice above it and apply some butter or oil on top of it too.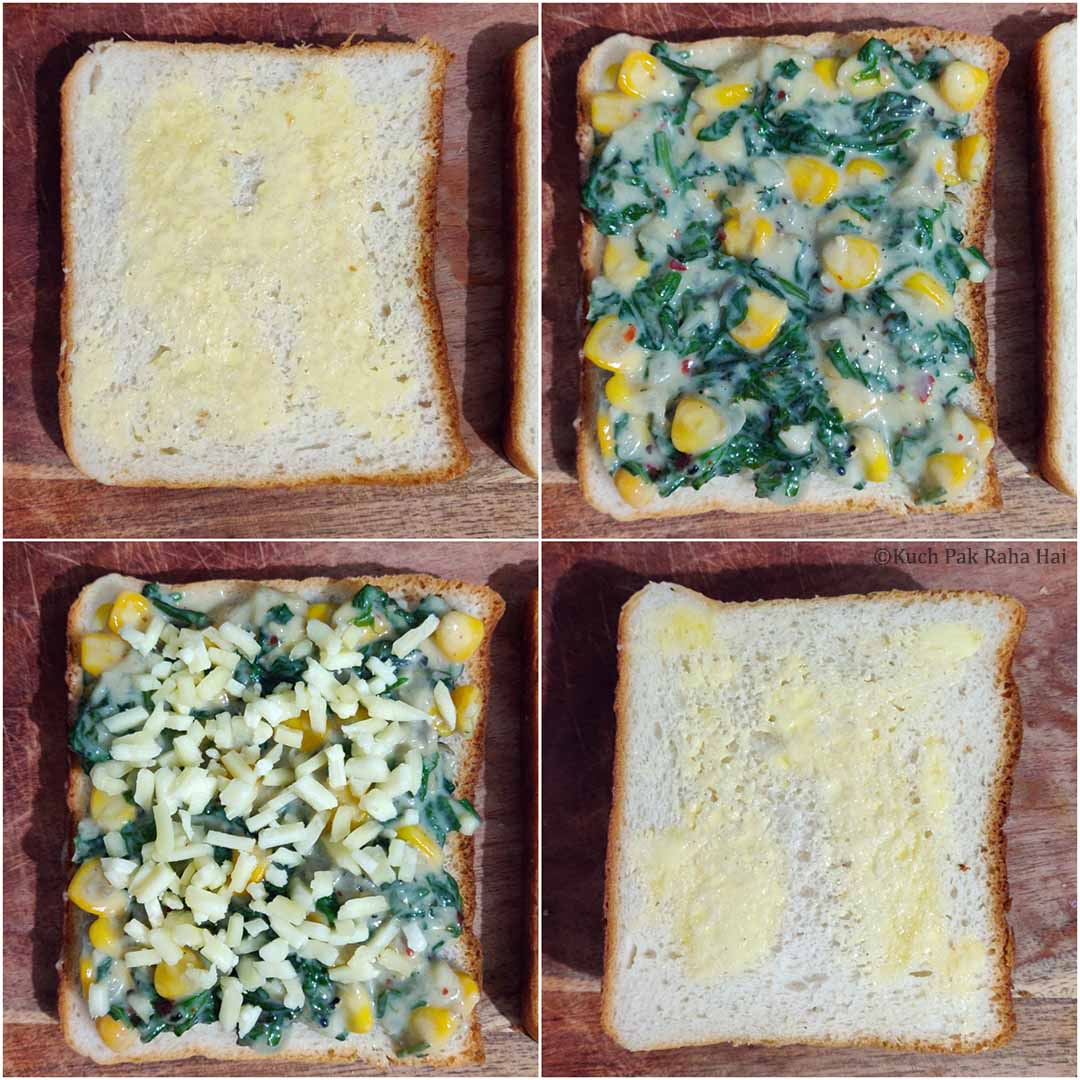 Step 7:
Preheat the sandwich maker or panini press. Brush some oil on its plates. Grill the sandwich for 4-5 minutes till they turn golden brown.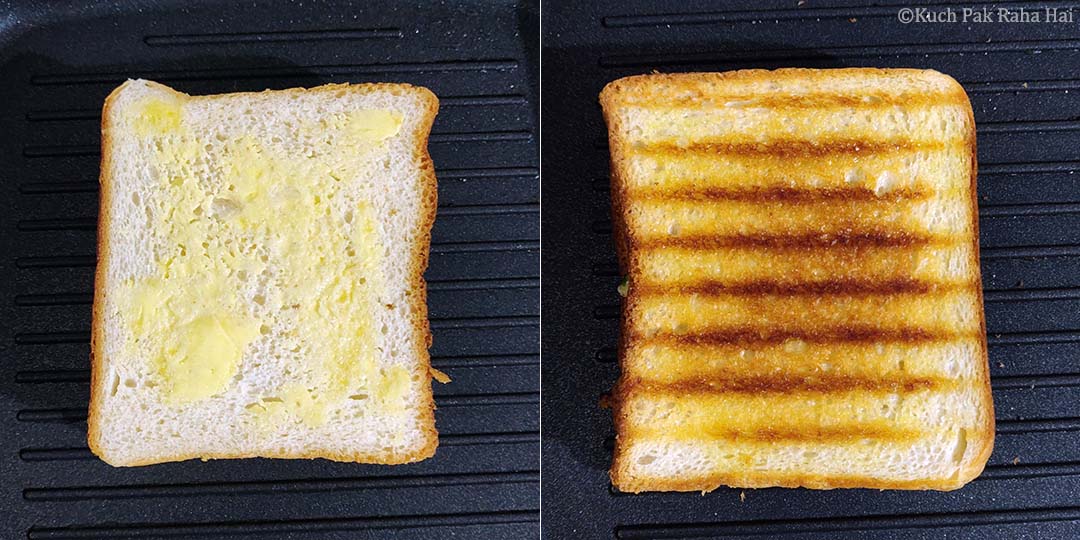 (You can also make these sandwiches on a tawa or pan. Apply oil or butter on it and toast the sandwiches on medium low flame while gently pressing with a spatula. Cook on both sides till they become golden brown in colour.)
Enjoy these yummy cheesy spinach corn sandwich with ketchup or mayonnaise.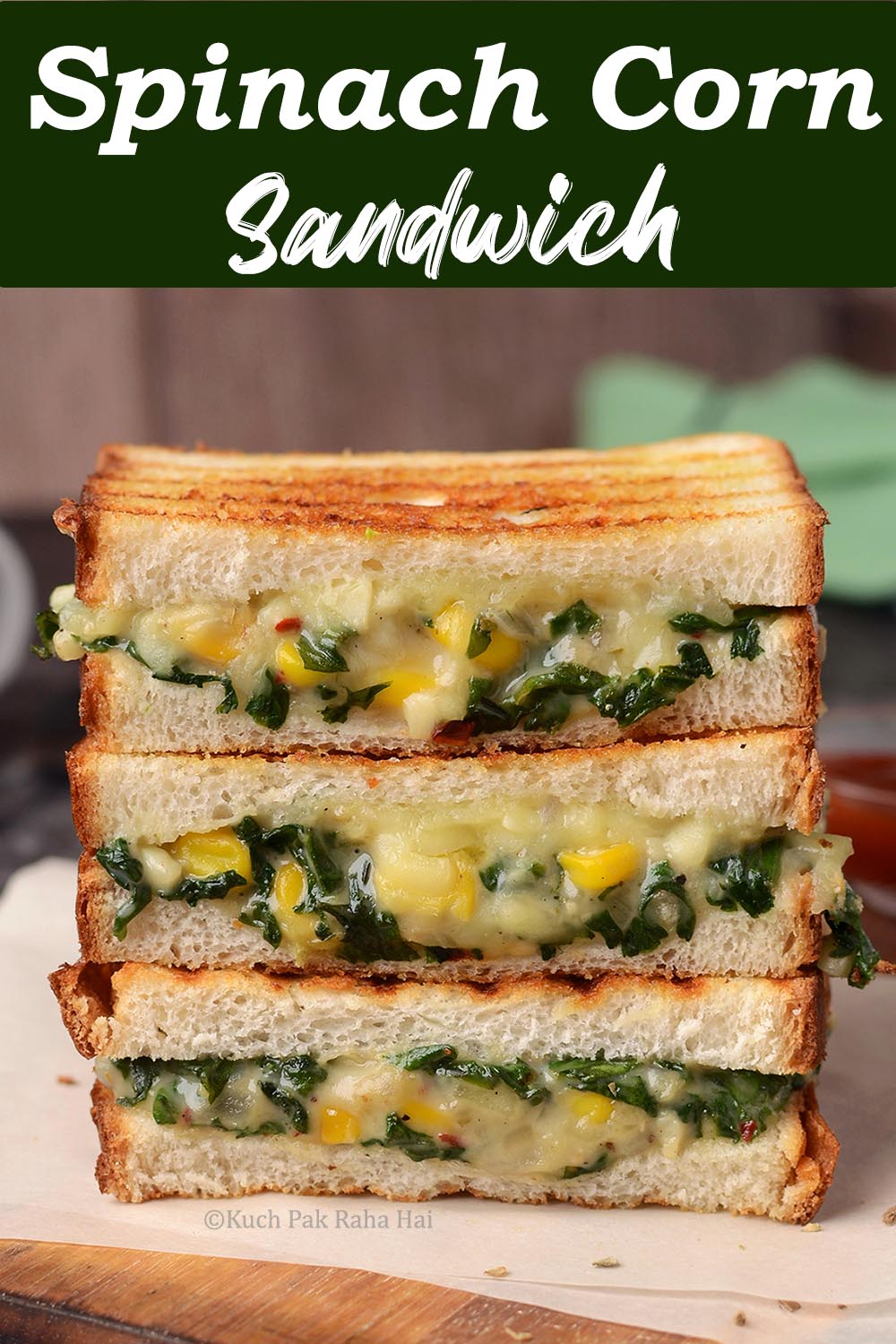 More tasty spinach recipes:
If you try this spinach and corn sandwich recipe & share pics on social media, then don't forget to tag on Facebook, Instagram or use #kuchpakrahahai.
Let's stay connected
Facebook | Instagram | Pinterest| Youtube