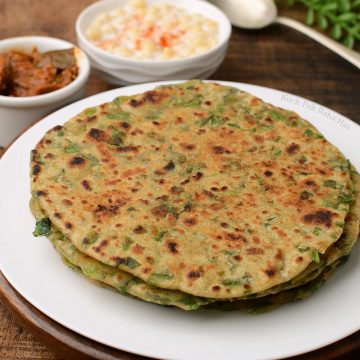 Palak Methi Paratha is a delicious Indian flat bread made with whole wheat flour, fresh spinach (palak), fenugreek (methi) leaves, ginger, green chillies and seasoned with aromatic Indian spices. They are especially made in winter season in India when you get ample of fresh greens in market. These parathas are quite healthy because of generous use of palak and taste absolutely flavoursome.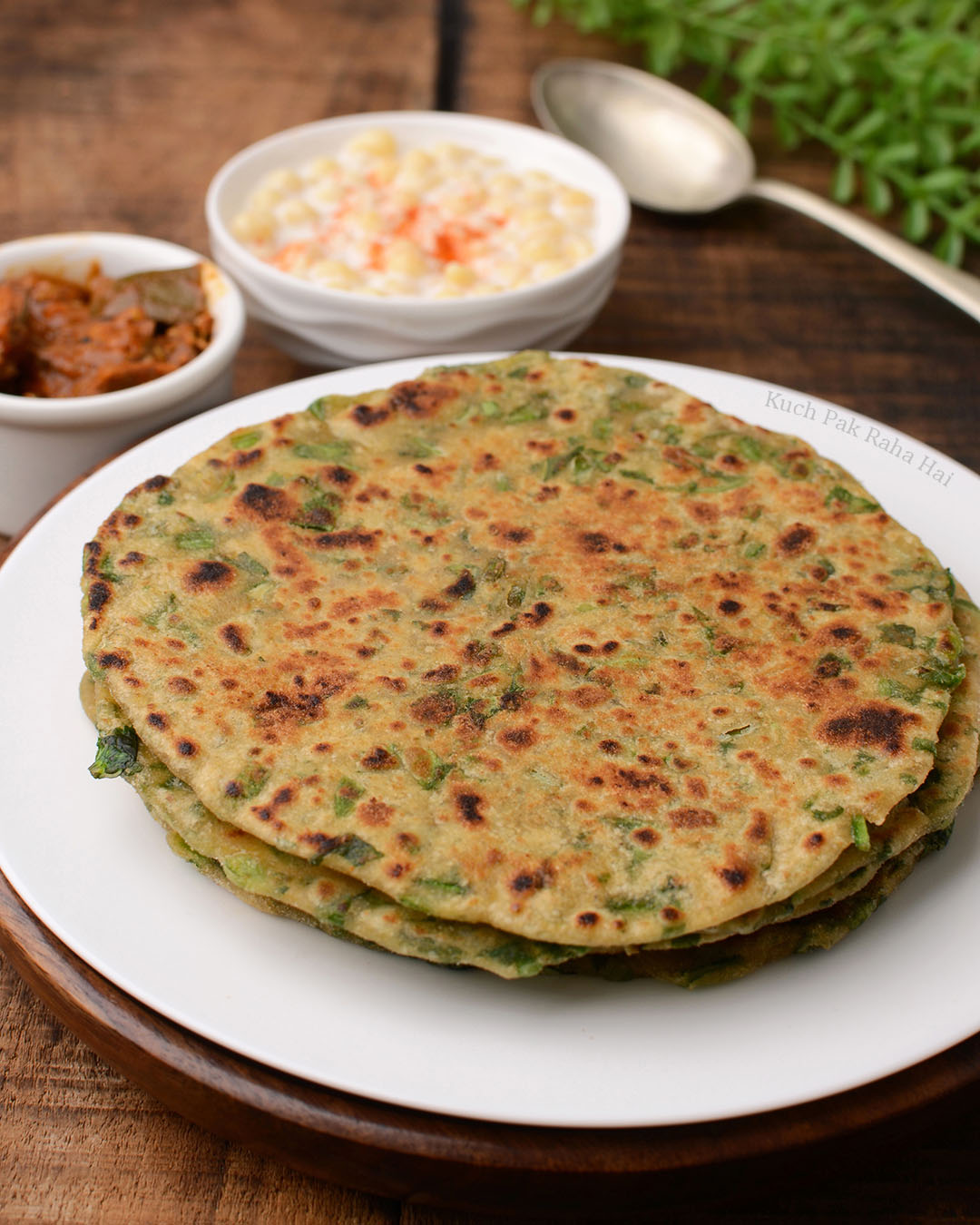 The palak methi parathas are usually served with some yoghurt (curd) and mango pickle. You can also serve them in lunch or dinner with any of dal (lentil) or curries.
If you want to make only palak paratha, then feel free to skip methi leaves from the recipe. Personally I like the combination of spinach & methi in this paratha recipe and the addition of ginger & green chillies make them even more flavoursome.
To make palak methi paratha, first green leafy vegetables are washed, left to dry a bit on colander and then finely chopped. They are then combined with dry flour and spices first. We will then gradually add water to the mixture and knead a smooth dough.
In winters, these spinach parathas are absolute favourite at my home and are often relished with a dollop of white butter and a cup of hot masala chai. To make them more filling and rich in protein, I sometimes also stuff these parathas with grated paneer.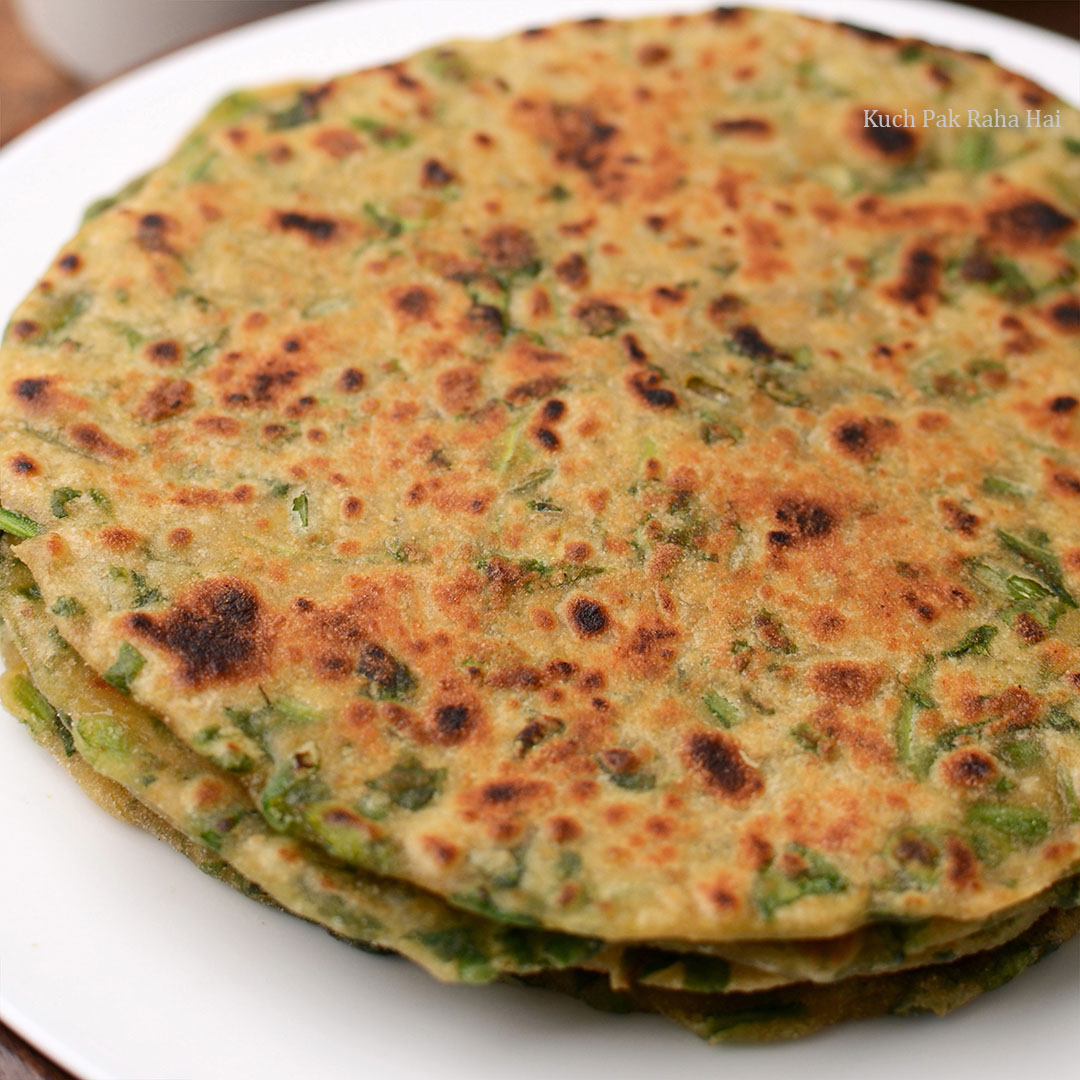 I have added some besan (chickpea flour) to the dough as it gives a lovely golden tinge to the parathas and compliments its innate rustic aroma. A little bit of garlic has also been added in the recipe as spinach and garlic tastes great together but if you are looking for 'No onion No garlic' recipe feel free to skip it.
Many people also prepare the spinach paratha by preparing the veggies-seasoning mixture first and then stuffing it in parathas. You can even puree the spinach & use it for kneading the dough. Please take care of not pureeing the methi (fenugreek) leaves as it turns bitter on grinding. Always add the chopped leaves in dough.
I had earlier shared recipe for Urad Dal Paratha (Lentil Flatbread) which is another healthy protein packed paratha recipe. Do check out its recipe if you are looking to include more protein in your everyday diet. For gluten free paratha, you can refer to Rajgira Aloo Paratha recipe.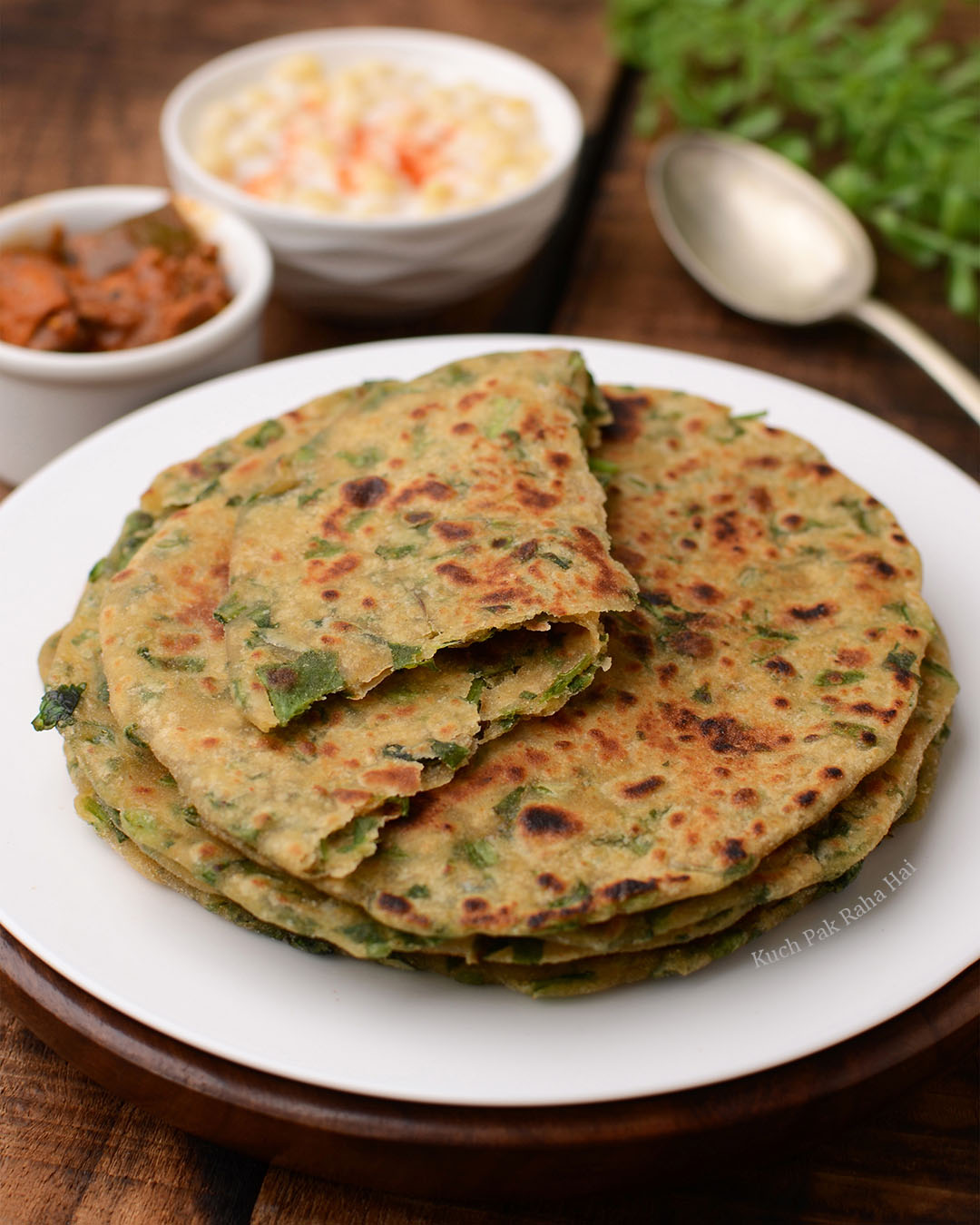 Hope you would like this easy & delicious palak methi paratha recipe. I have also shared a YouTube video for this same spinach paratha recipe. You can roll these parathas in 2 ways, both the methods are shown in the video.
Watch Video:
More spinach recipes:
List of Ingredients: (Makes 8 to 10 parathas)
Whole Wheat Flour (Aata)-2 & 1/2 cups
Besan (Chickpea flour)-2 tbsp
Heeng (Asafoetida)-1/4 tsp
Red Chilli Powder-1/2 tsp
Salt-1 tsp (or to taste)
Oil- 2 tsp
Ginger Paste- 2 tsp
Chopped Green Chillies- 2
Chopped Spinach-2 cups (~100 grams)
Chopped Methi-1/2 cup (~30 grams)
Finely chopped Garlic cloves- 3 to 4 (optional)
Oil or Ghee- For Cooking
Water- 1 cup (approx)
Notes:
1. To make these parathas or flatbread vegan, cook them in any oil like sunflower oil, olive oil etc
2. Adjust the spices as per your taste.
3. Adding besan or chickpea flour is optional. It is added to add a hint of yellow colour & aroma to the parathas.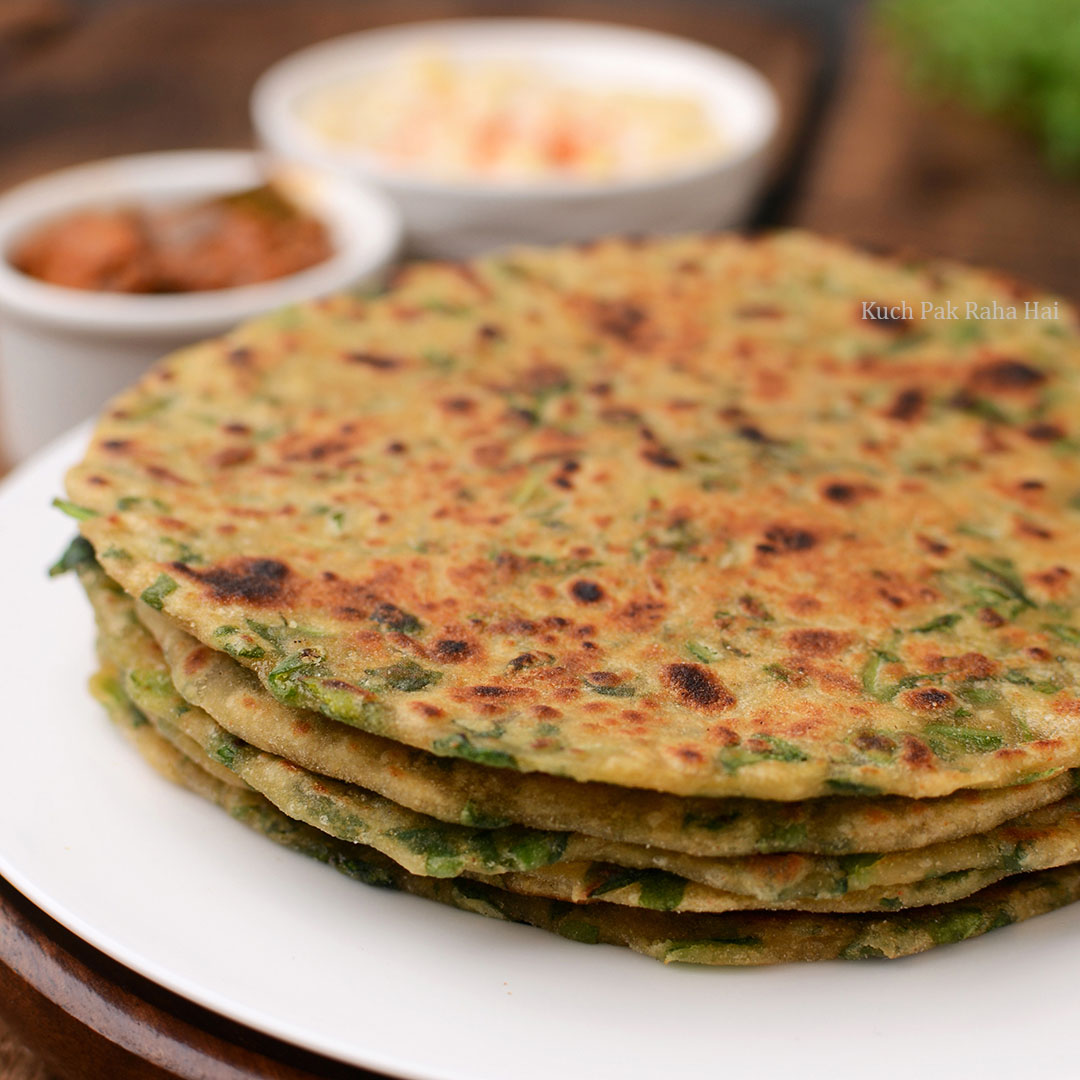 Steps To Prepare:
Step 1:
Take all the ingredients in a mixing bowl except the cooking oil. Mix well with your hands or spoon.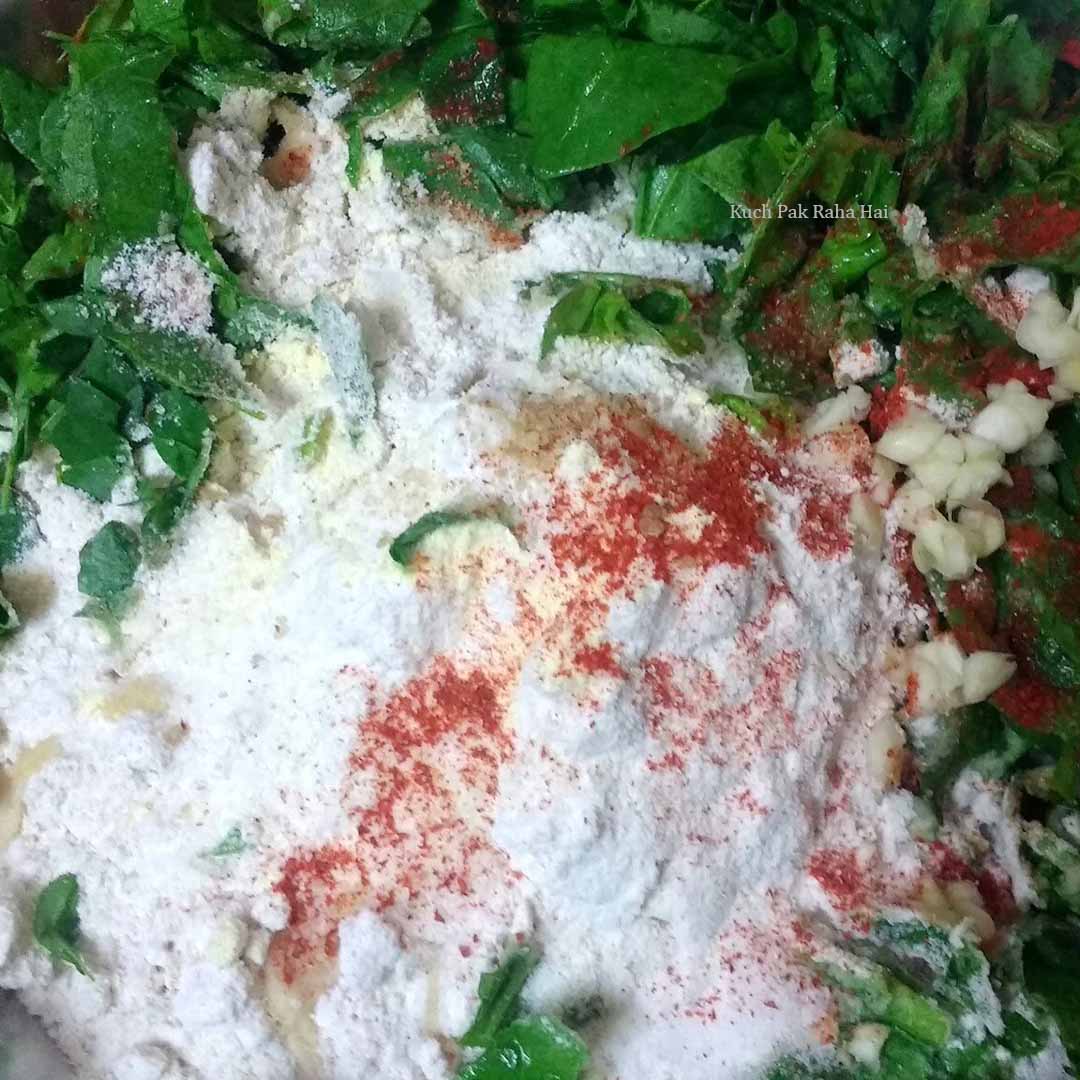 Step 2:
Add water gradually to the mixture and start kneading. The quantity of water depends on the quality of flour & the moisture in spinach leaves. Prepare a soft & smooth dough & Rub it with some oil. Cover and let it rest for 20-30 minutes.
Step 3:
Rub some oil on your hands and make balls out of the dough. Flatten them gently.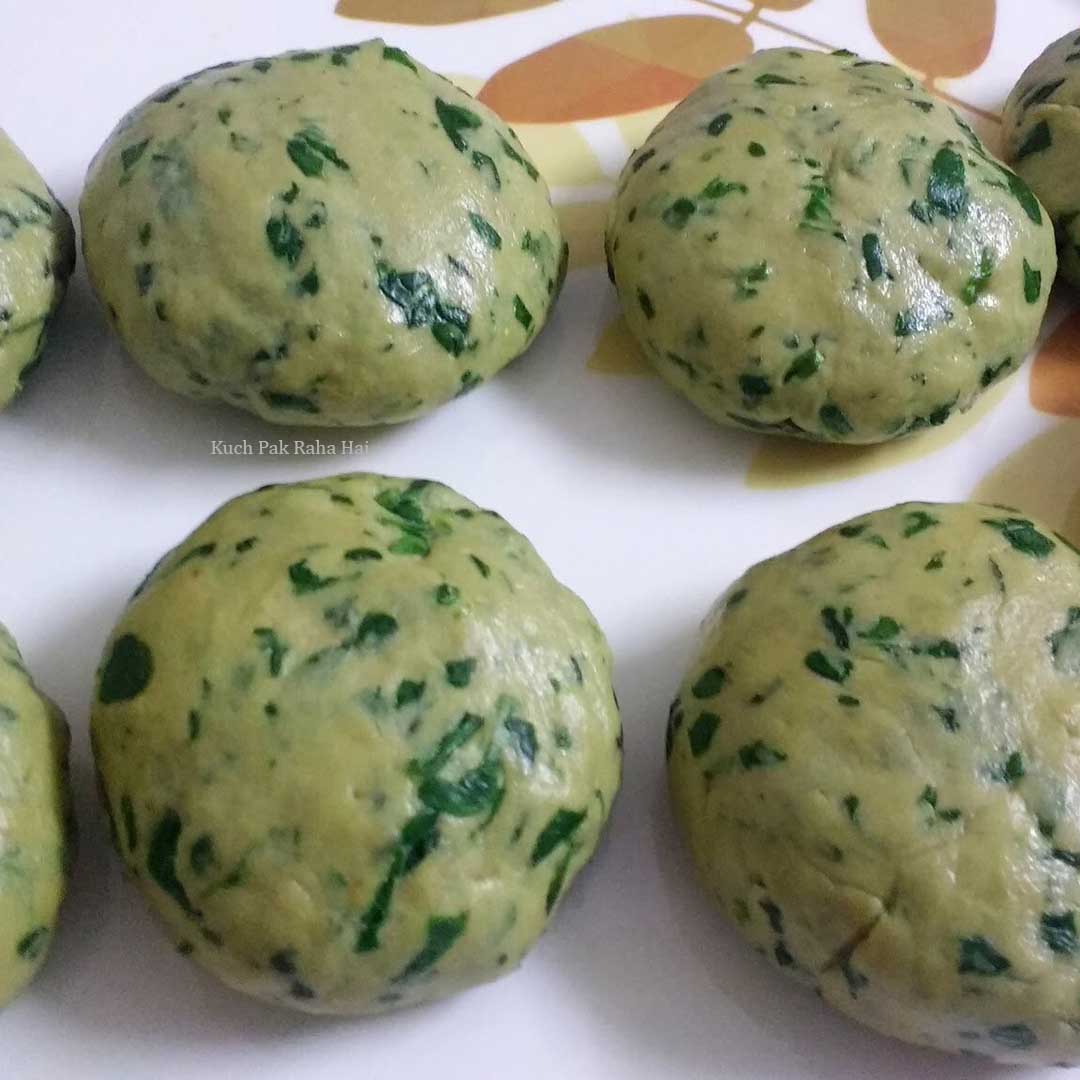 Step 4:
Roll the flattened balls into circles of roughly 2-3″ inches diameter. Spread some oil in the centre of the circle and then form a dumpling as shown below.

Step 5:
Flatten the dumpling and roll it into dry flour. Roll it into a circle of 5 inches diameter. Heat tawa or any non stick pan. Roast the parathas from both sides till you get small golden spots on both surfaces.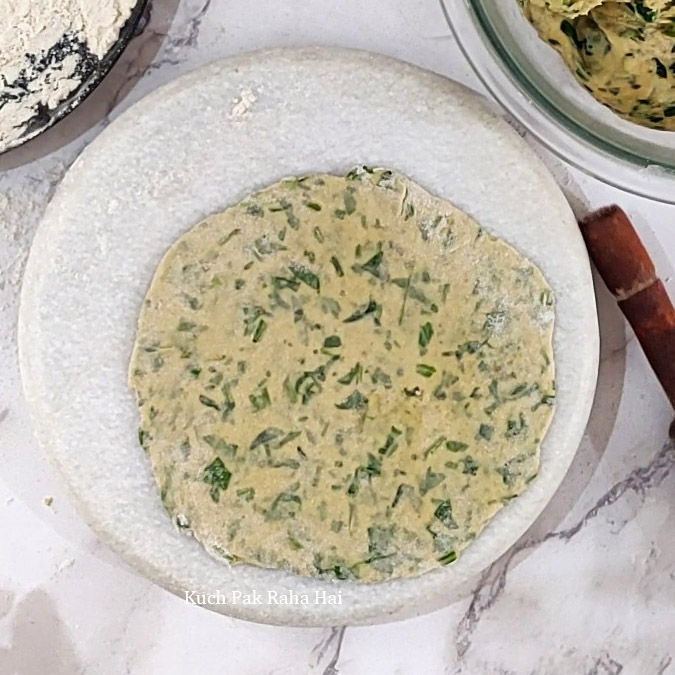 Step 6:
Spread some oil of one side of half cooked paratha and flip it. Spread some more oil and press it gently. Flip once or twice more till paratha is completely cooked.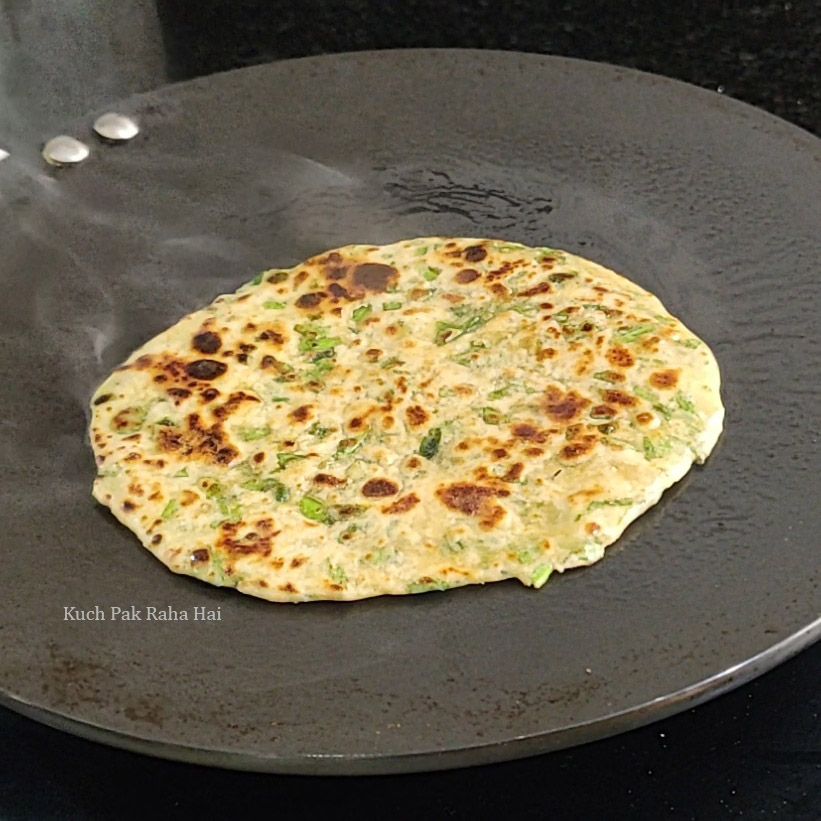 Enjoy hot steaming Palak and Methi Parathas with yogurt (curd), pickle or any curry. Bon Appetit!!
Pin it for later: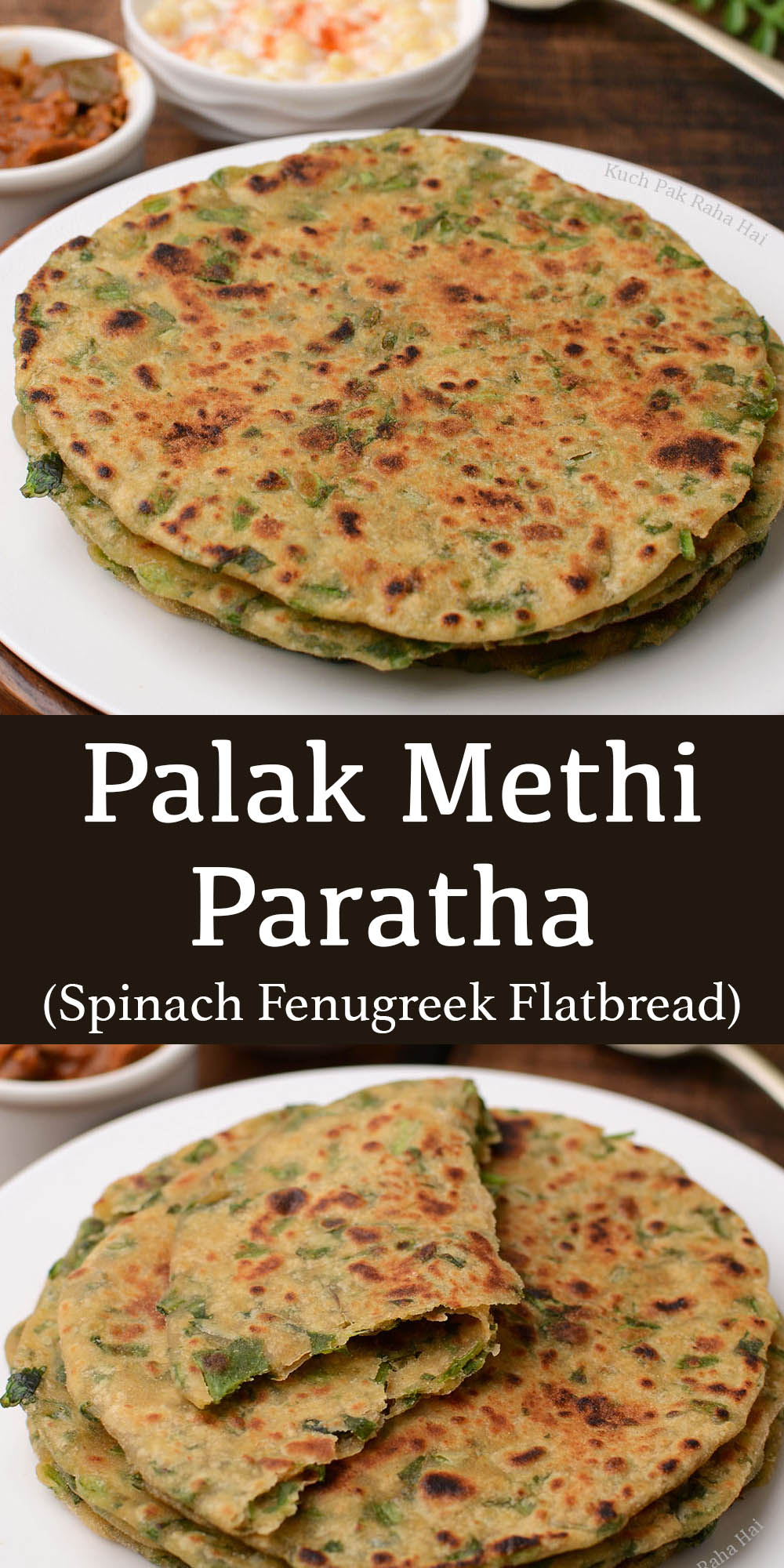 Can we use frozen spinach for making these parathas?
Yes you can use frozen spinach for making parathas. Just thaw them first & then use accordingly.
Feel free to drop your feedback in the comments section below or you can also send messages or food-pictures on Facebook, Instagram & use the hashtag #kuchpakrahahai.
Let's stay connected
Facebook | Instagram | Pinterest | Youtube