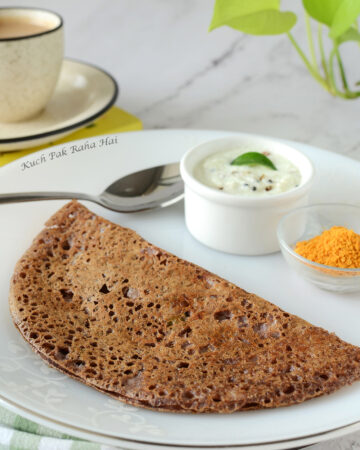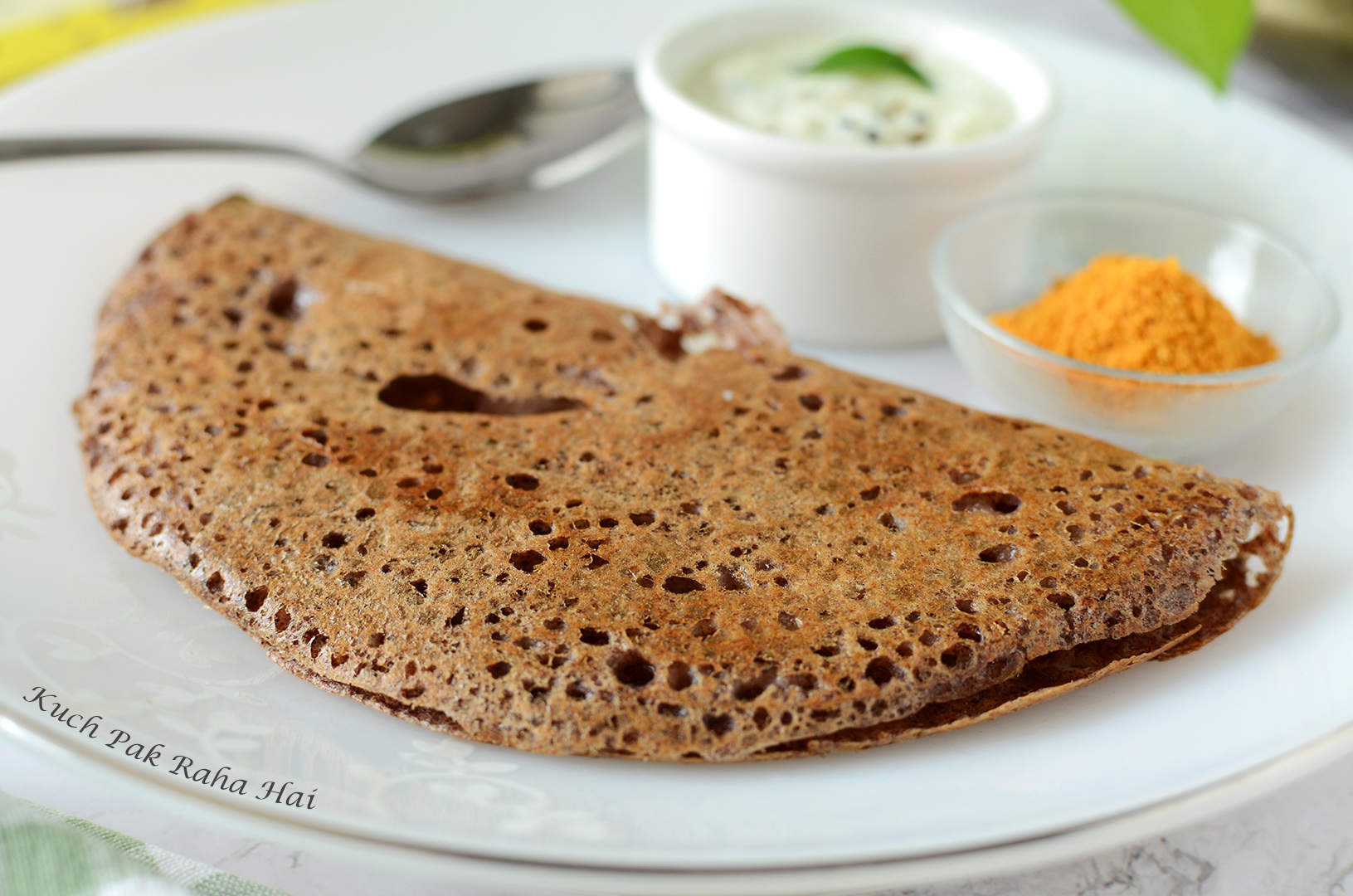 Ragi Dosa is a healthy delicious Indian recipe made using Ragi or 'Finger Millet'. Here instant ragi dosa recipe is shared which does not require any soaking or fermentation. No rava or semolina has been added to it. It is completely gluten free and can be prepared in a short time.
Ragi is also known by other names like 'nachni', 'mandua' or 'finger millet' in english. In this Instant ragi dosa recipe, we have used ragi flour which is easily available in market these days. You don't need to do soaking or fermentation at any step. Rice flour has also been added as it makes the dosa more crispy. Initially I used to add some semolina or rava(sooji) also, but then I tried making them without it and the dosas turned out perfect. The benefit of skipping semolina is that the recipe becomes gluten free. The curd or yoghurt adds a slight sour taste to the dosa just the way you get in authentic fermented dosa batter. Along with it, some chopped onion, green chillies, ginger paste and spices are mixed in the batter as they enhance the taste & flavours in dosa.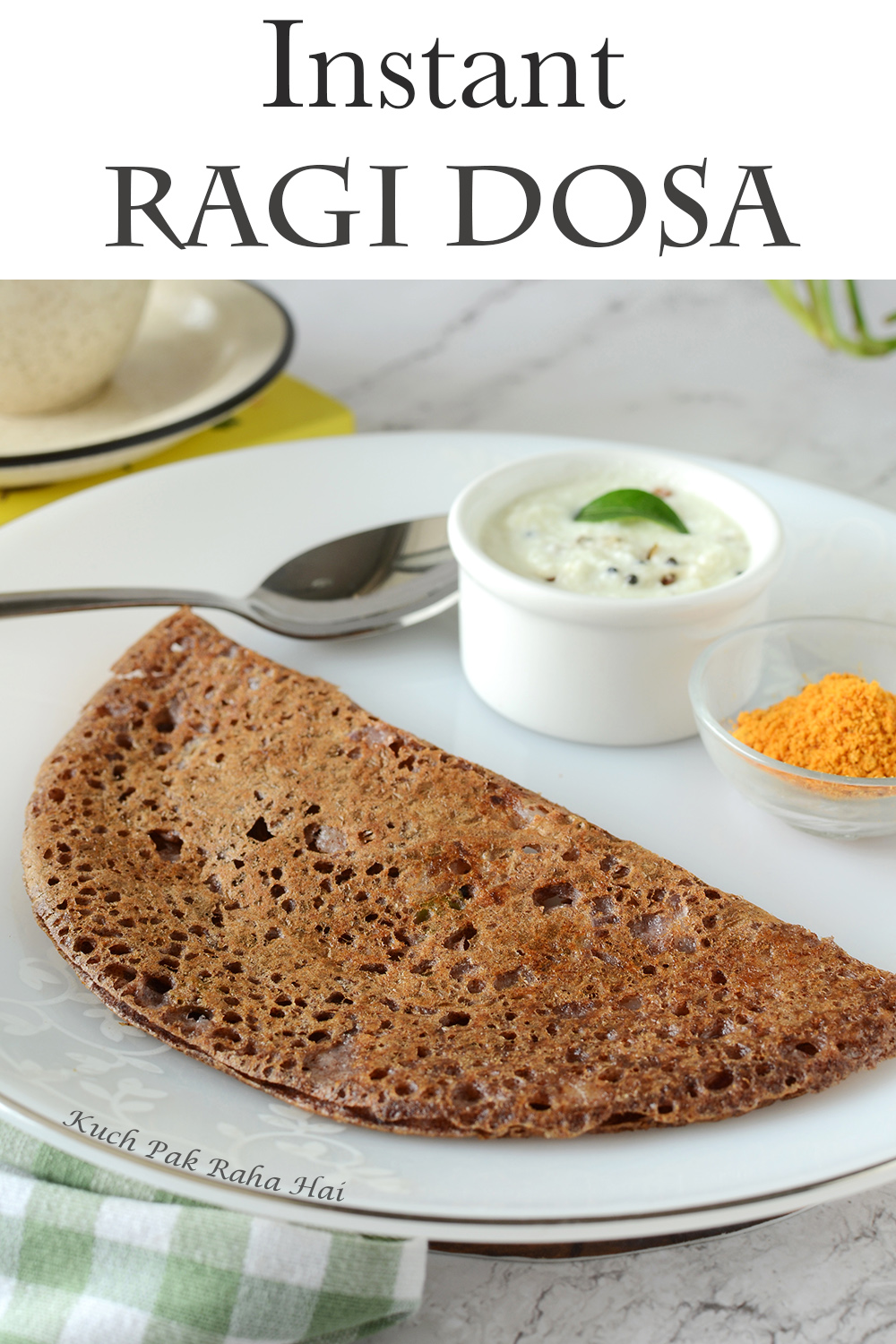 Ragi is one of the known ancient grains, looks like small brown coloured round seeds & is said to be extremely nutritious. As it is gluten free, it is considered suitable for people who are gluten intolerant. It is great source of protein, calcium, iron & dietary fibre. It is also often recommended to people for weight loss or people suffering from diabetes as it helps in maintaining blood sugar levels.
For those who are unaware, dosas are thin crispy crepes and one of the popular food items of South India. Traditionally they are made by soaking rice, urad dal (lentil), methi (fenugreek) seeds; followed by grinding & fermentation. With hectic lifestyle these days, sometimes it is not possible to go through this entire process. In such scenario, this Instant ragi dosa is perfect for breakfast or lunch. You can have it with sambhar, coconut chutney or onion-tomato chutney. I like to have it accompany it with some Idli podi too.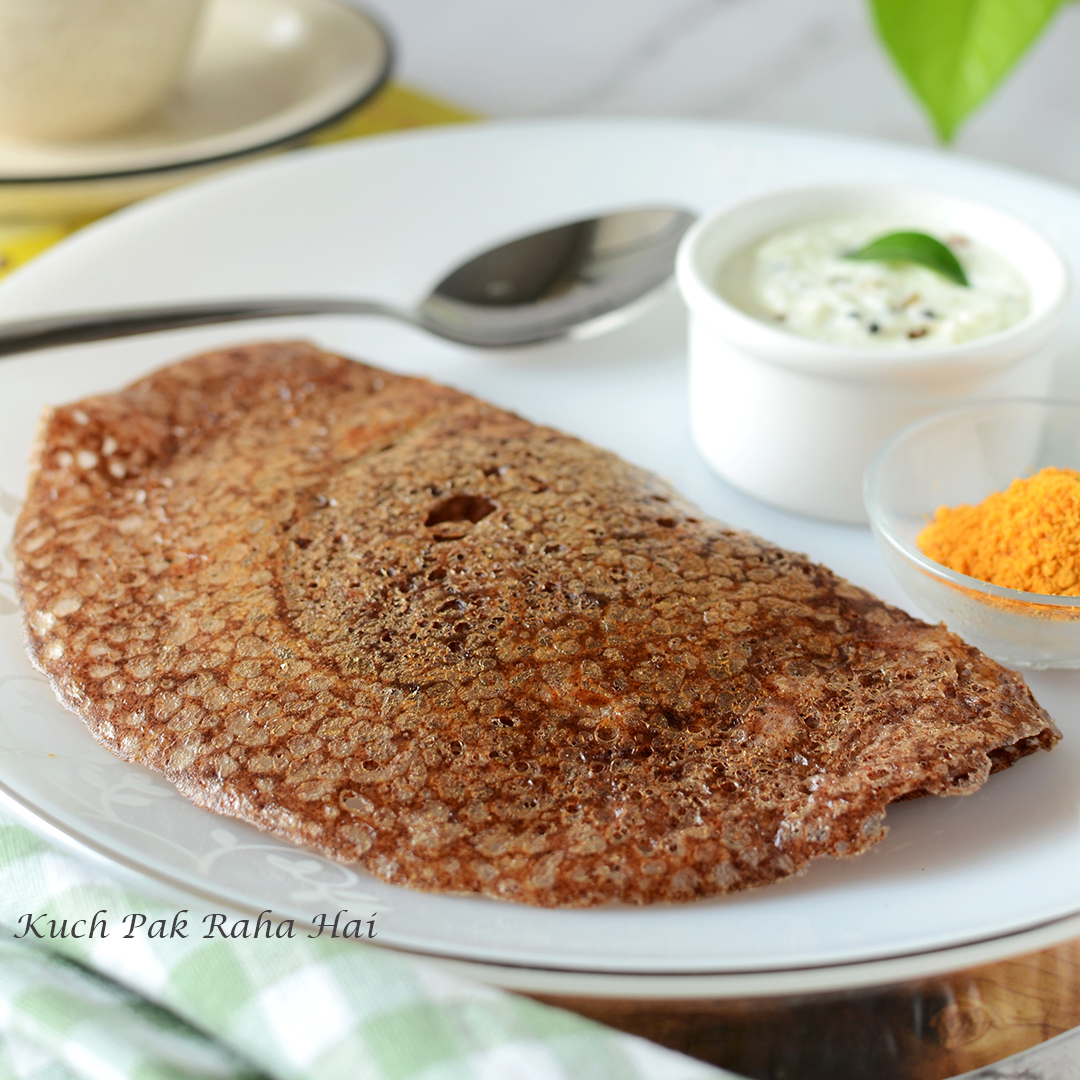 If you are looking for more Ragi recipes then you can check out the posts below:
You might also like:
Hope you would like this yummy Instant Ragi Dosa recipe. If you try it, do tag us on Instagram or Facebook or use the hashtag #kuchpakrahahai. You can also subscribe to our Youtube Channel for more recipe videos.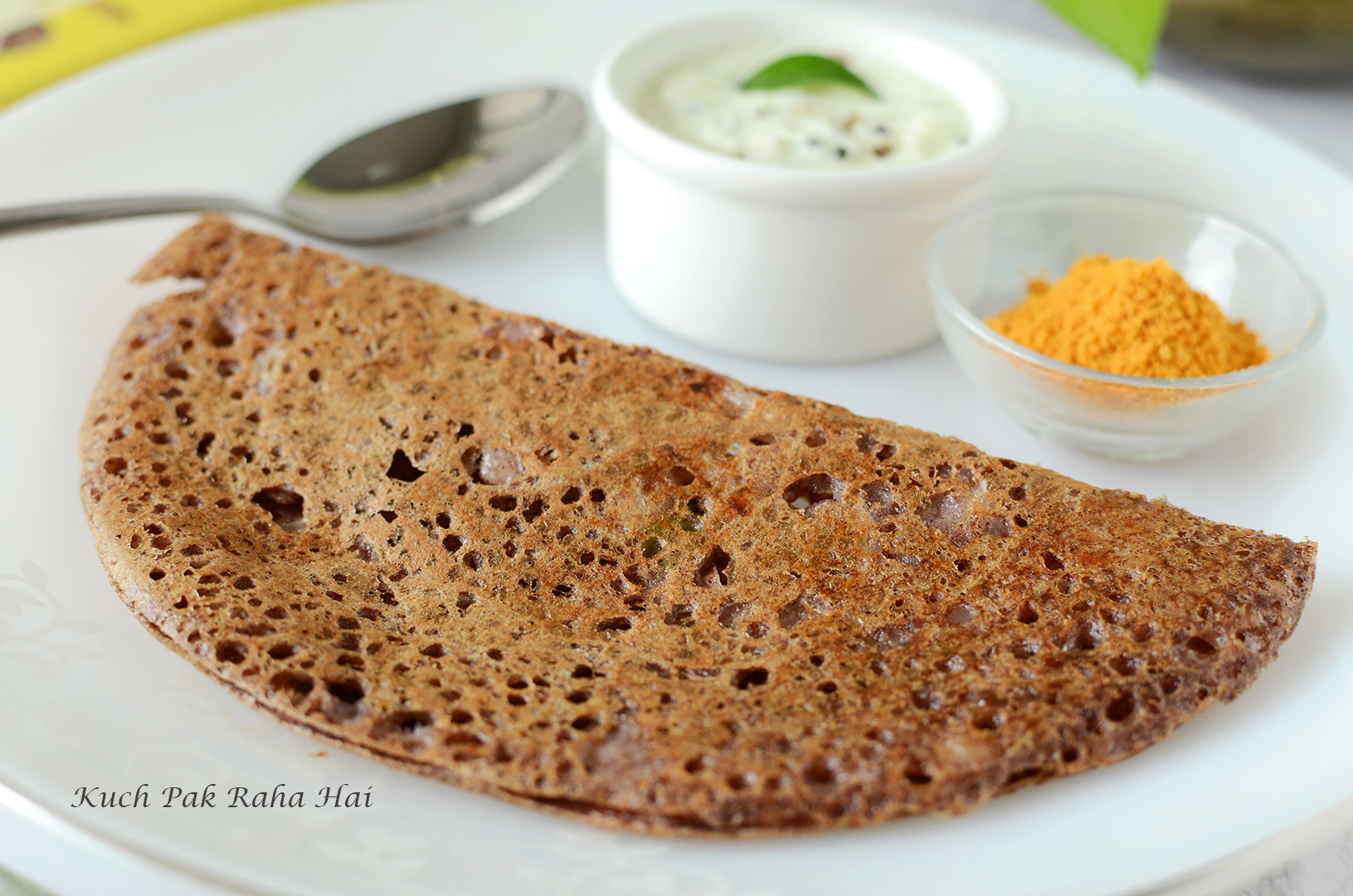 I have also shared a Youtube video for the same recipe. You can check it out incase you have confusion at any step. If you like the recipe, don't forget to subscribe to our Youtube channel.
Watch the Video:
List of Ingredients:
Ragi Flour – 1 cup 
Rice Flour – 1/2 cup
Curd/Yoghurt – 1/4 cup
Chopped Onion – 1/2 cup
Ginger paste – 1/2 tsp
Chopped Green Chilli – 1
Cumin seeds(Jeera) – 1 tsp
Crushed Black pepper – 1/2 tsp
Salt – 1 tsp (or to taste)
Water – 2 & 1/2 cups
Oil for cooking
Steps To Prepare:
Step 1:
Take ragi flour, rice flour & curd in a mixing bowl.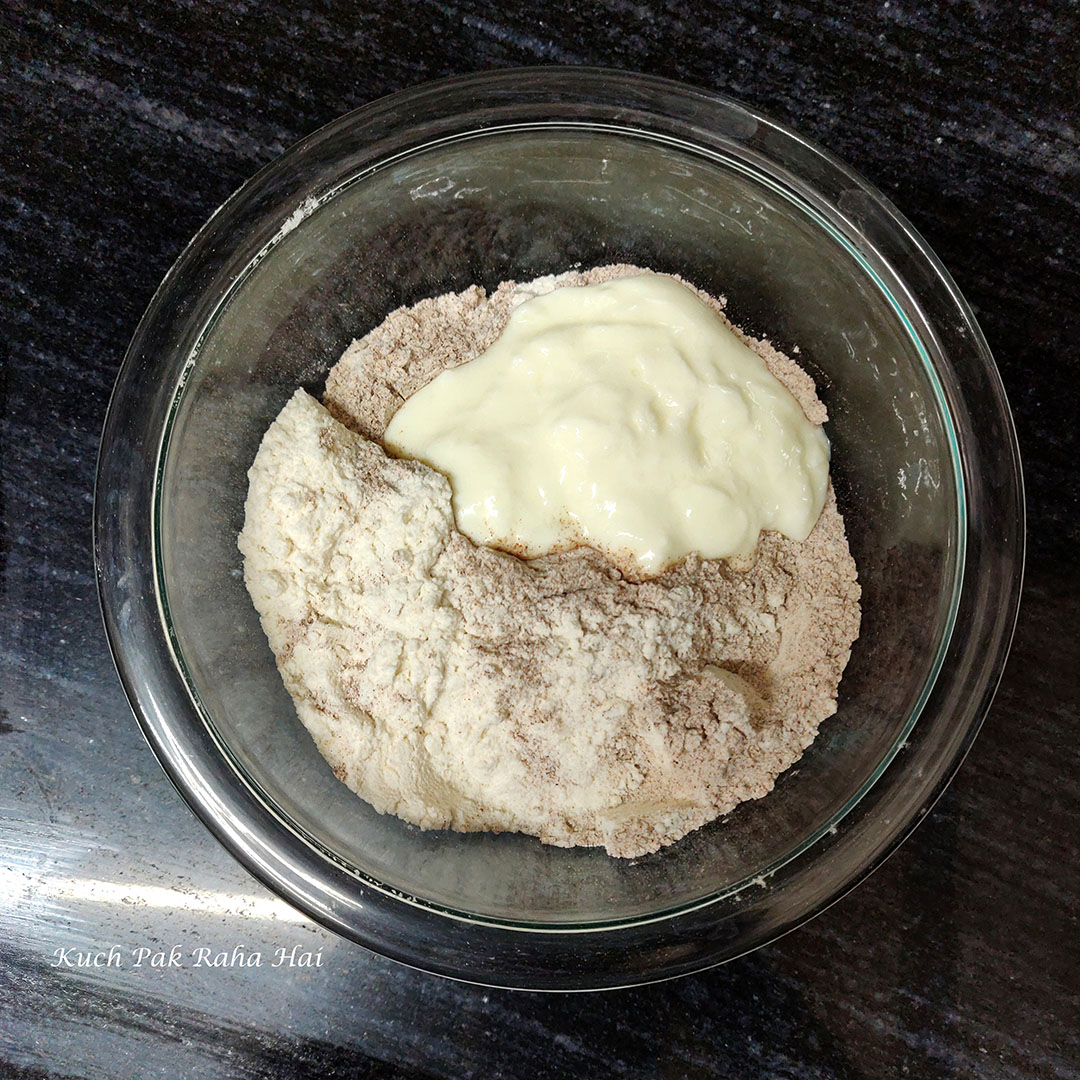 Step 2:
Start adding water to the above mix and form a thin batter.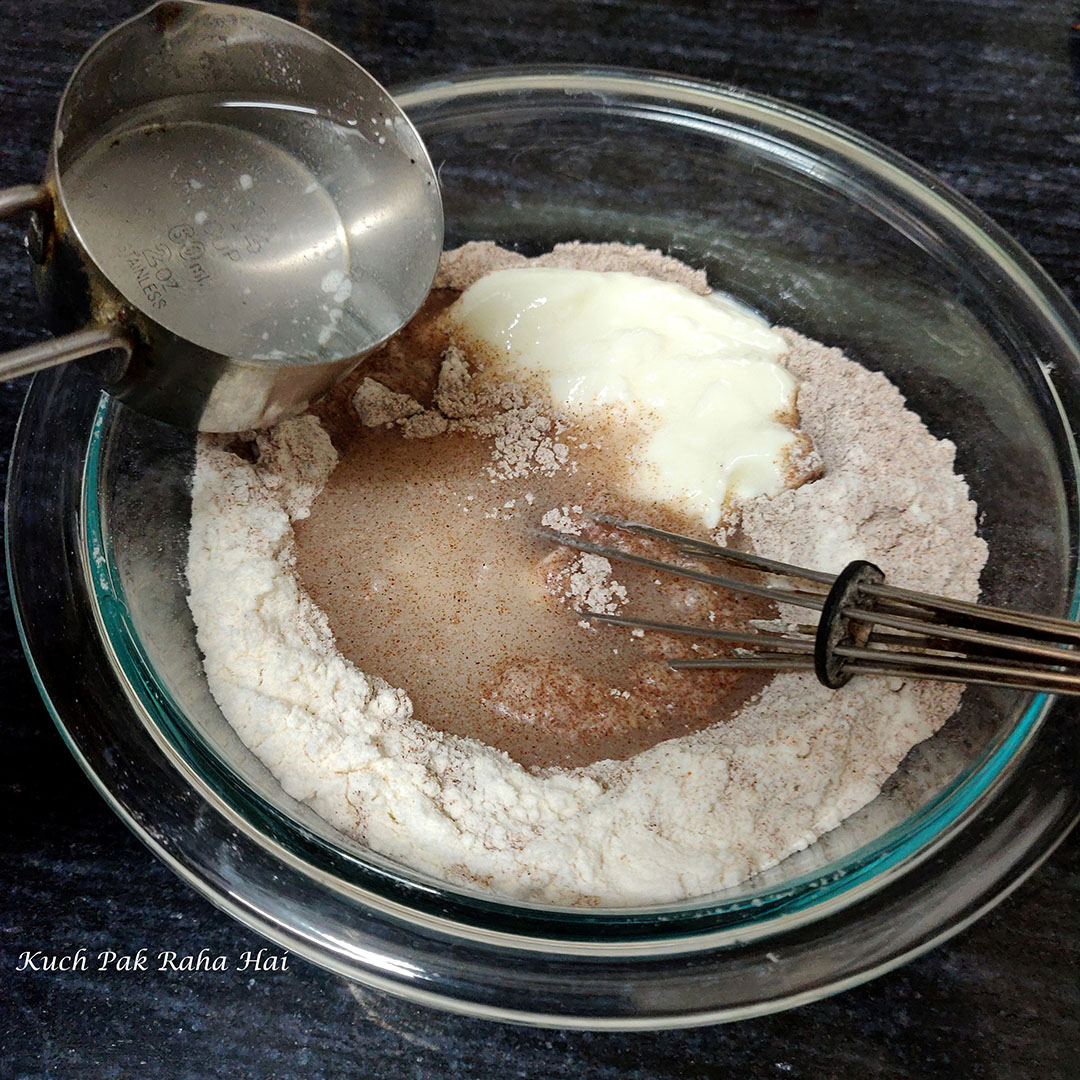 As you can see below, the batter is free flowing & there are no lumps.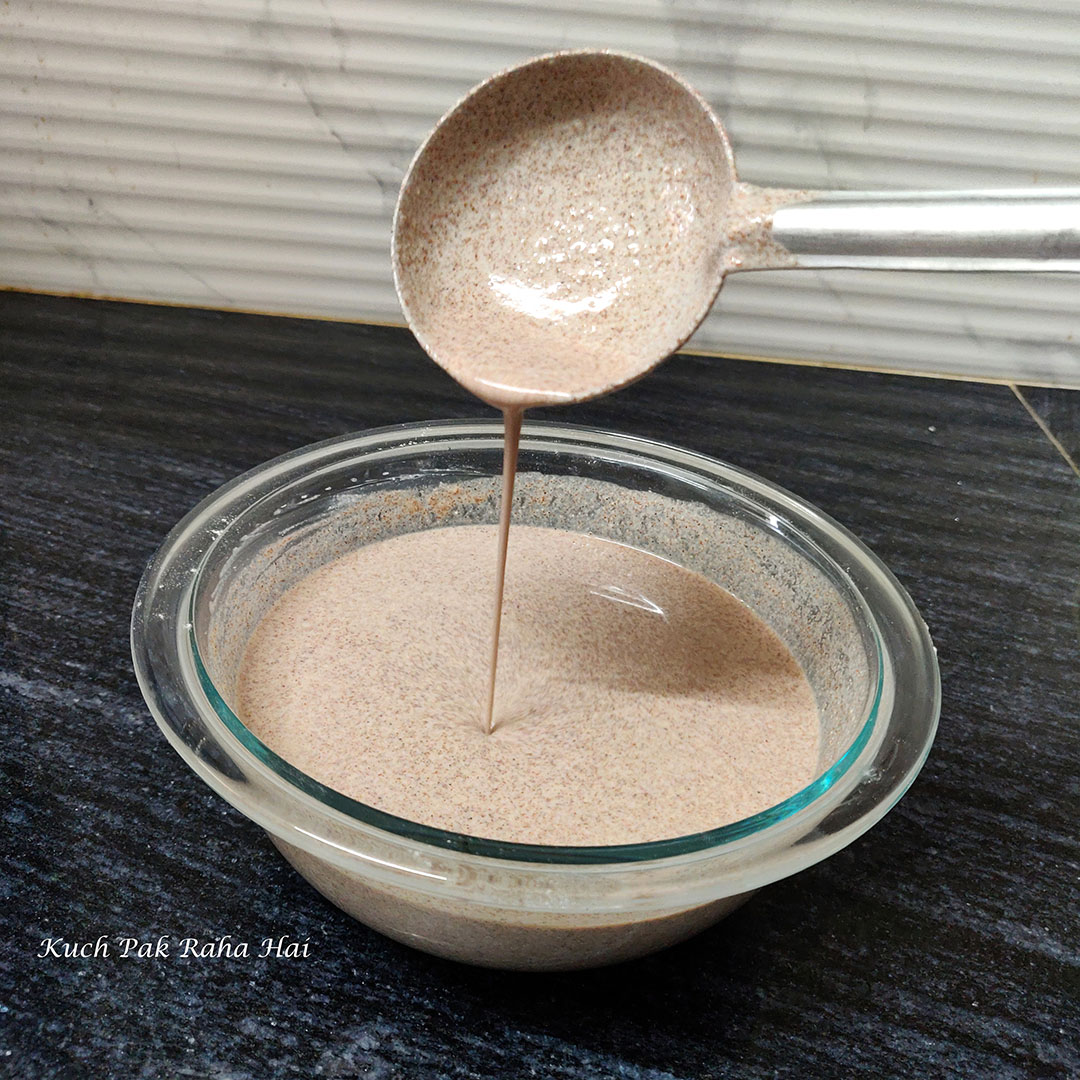 Step 3:
Add chopped onion, green chilli, ginger paste, salt and rest of the spices to it. You can adjust the spices as per your taste.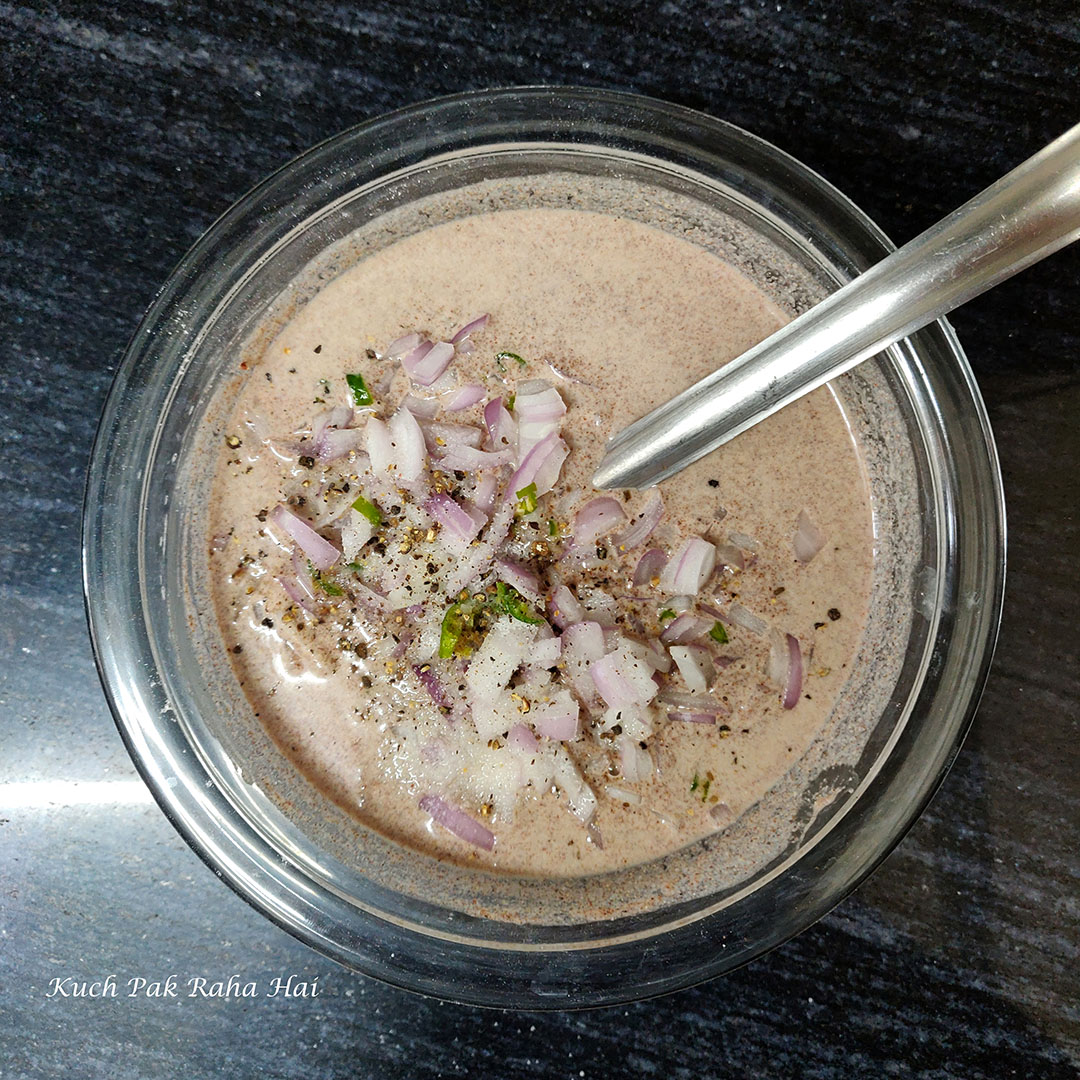 Step 4:
Heat a non stick or heavy bottomed pan. Brush some oil on it & wipe with tissue.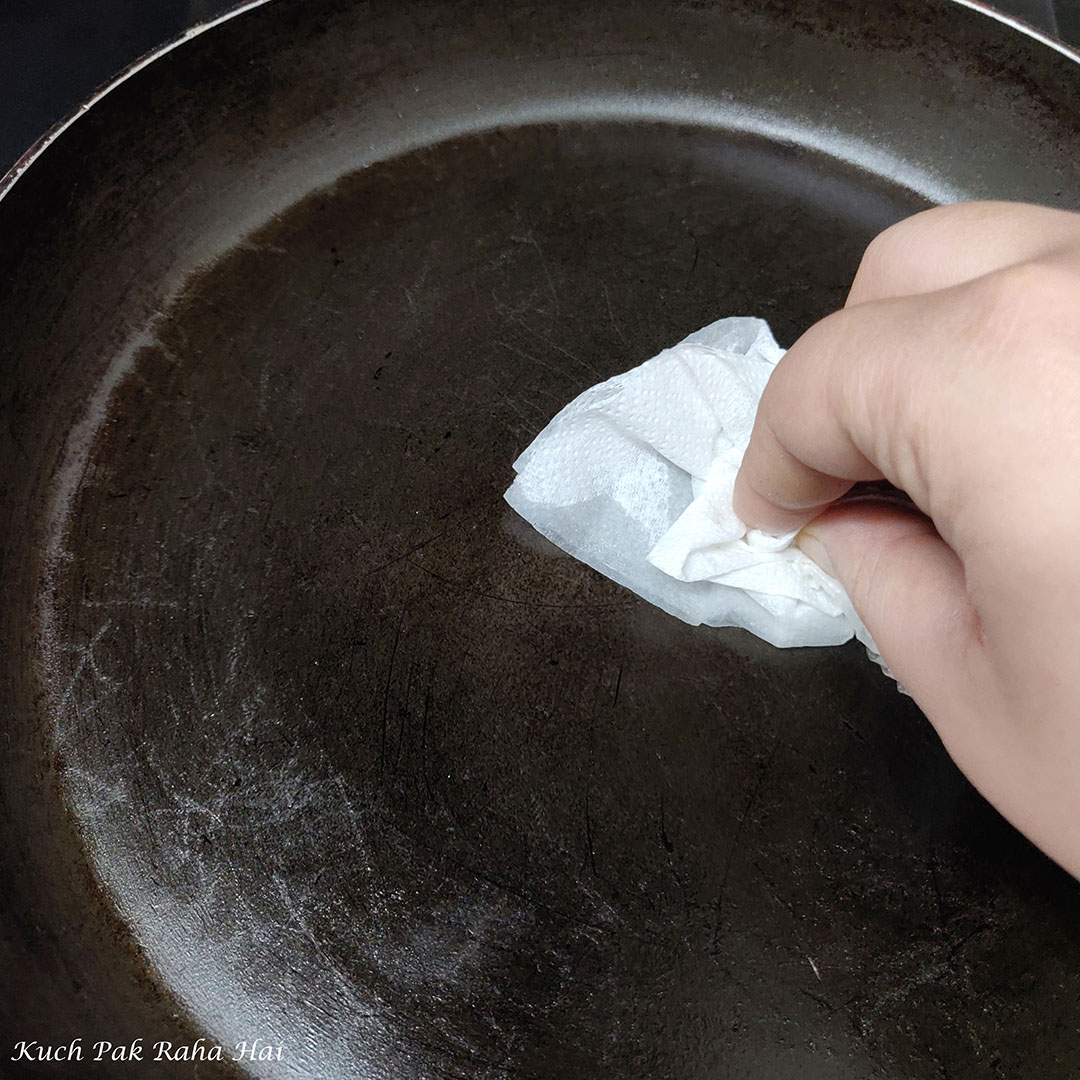 When the pan is hot, using a laddle, pour ragi dosa batter on it. Start from outwards & move inwards while pouring the batter. If there are some bigger gaps left in between, fill them with more batter.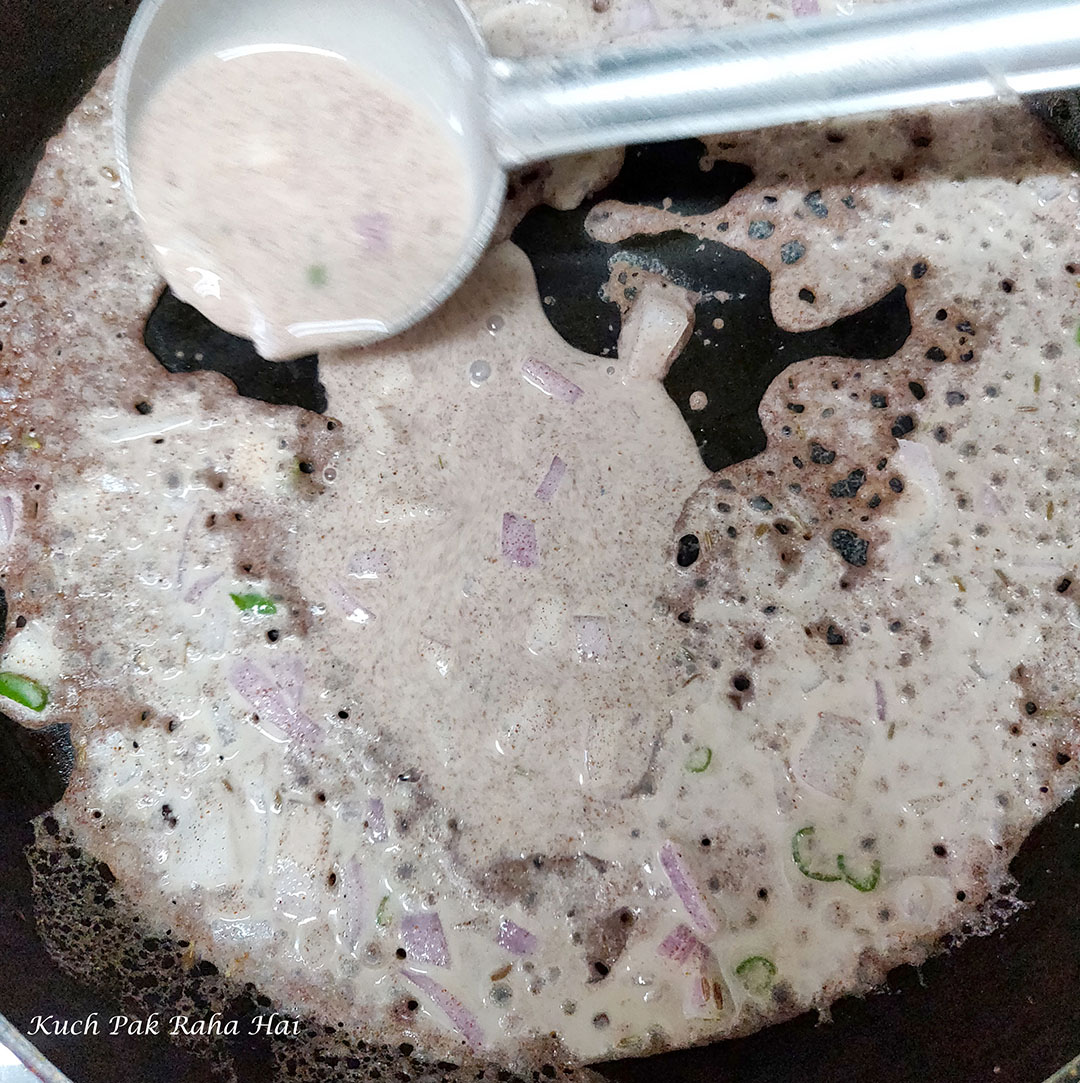 As the pan is hot, you will see the dosa would automatically form a lace like structure (just the way you see in traditional rava dosa). Let it cook on medium-low flame.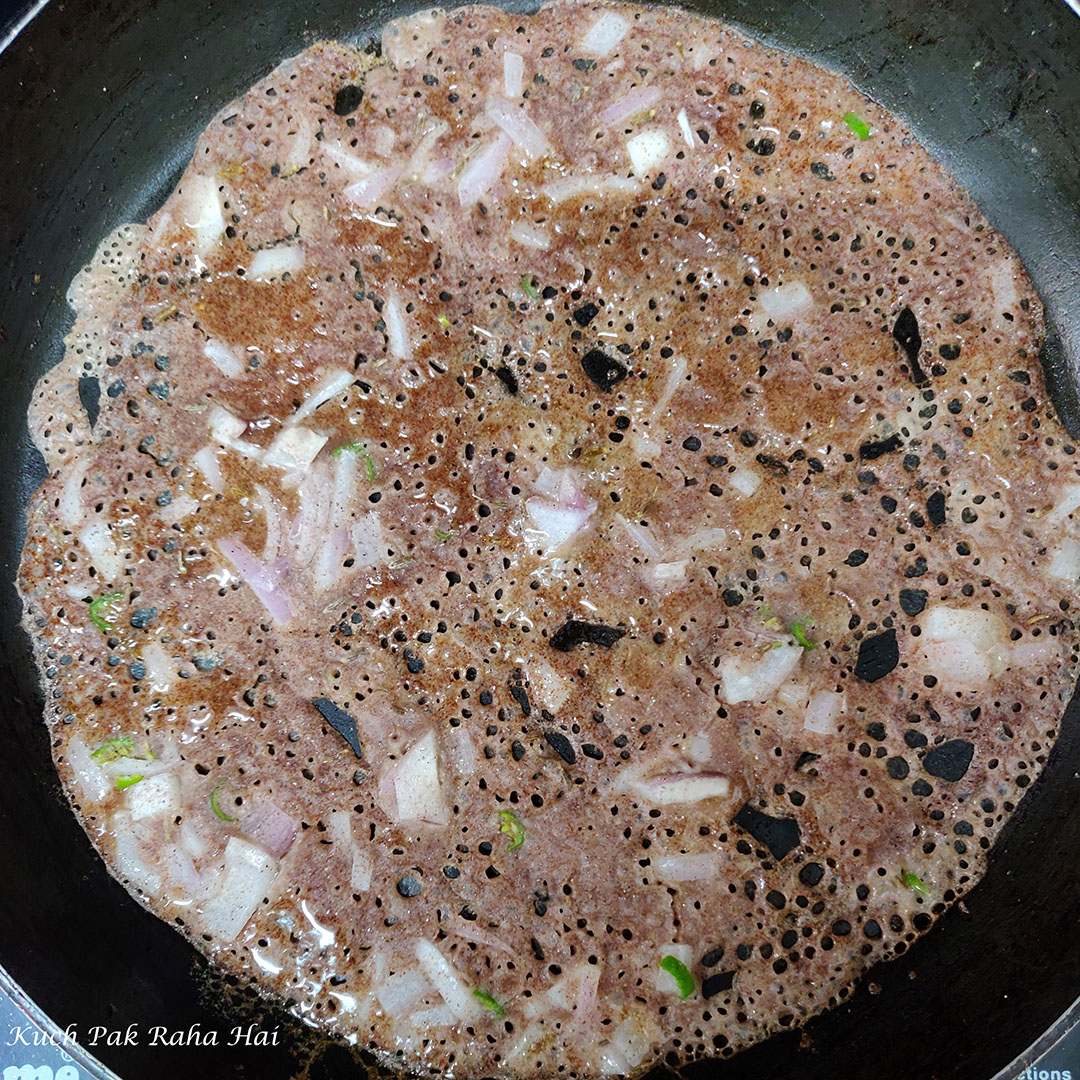 Drizzle some oil on the edges & in the centre. Cook till it is crispy & golden. If you want you can cook from other side too but I prefer my dosas cooked from one side only.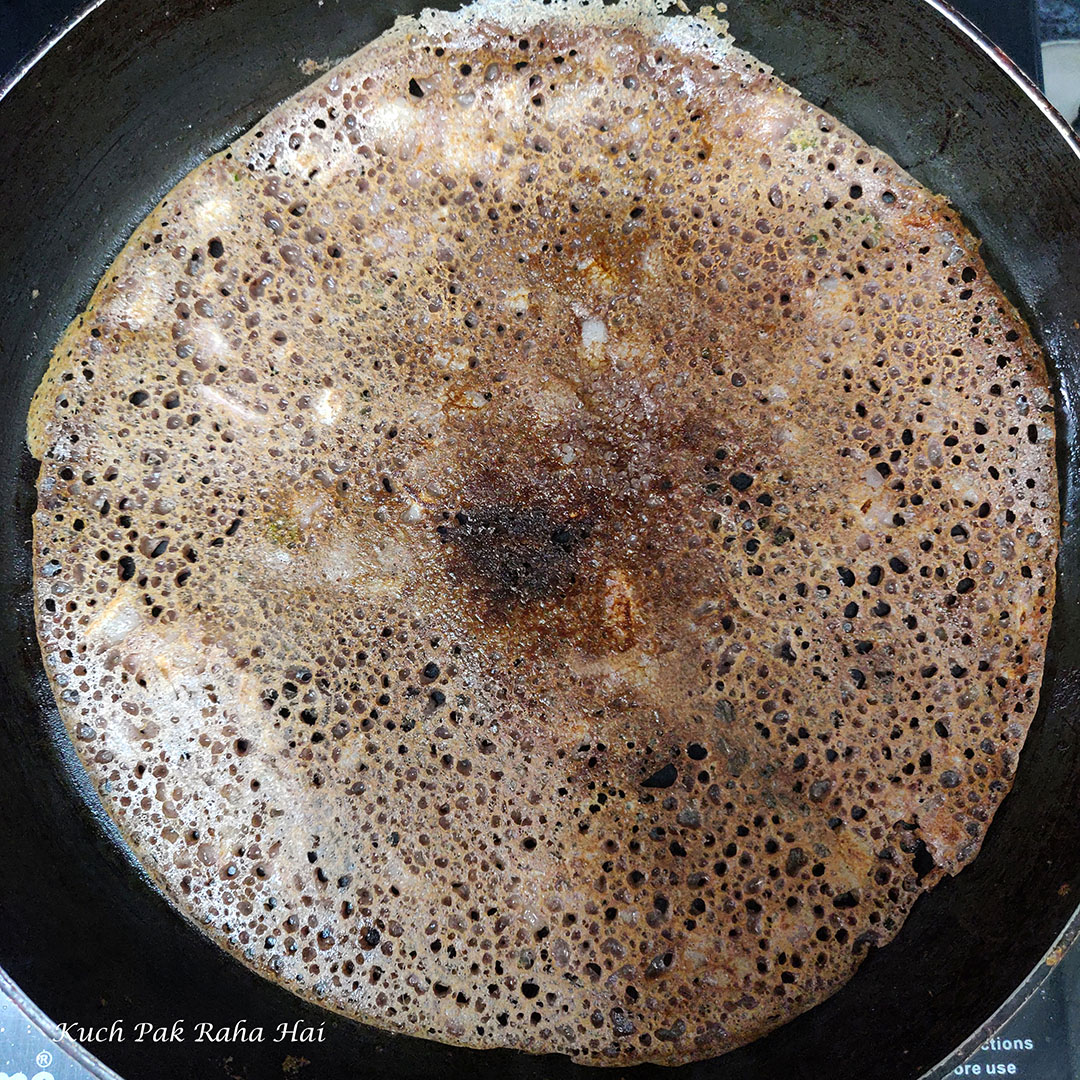 Enjoy these delicious crispy Ragi dosa with sambhar, coconut chutney or onion tomato chutney.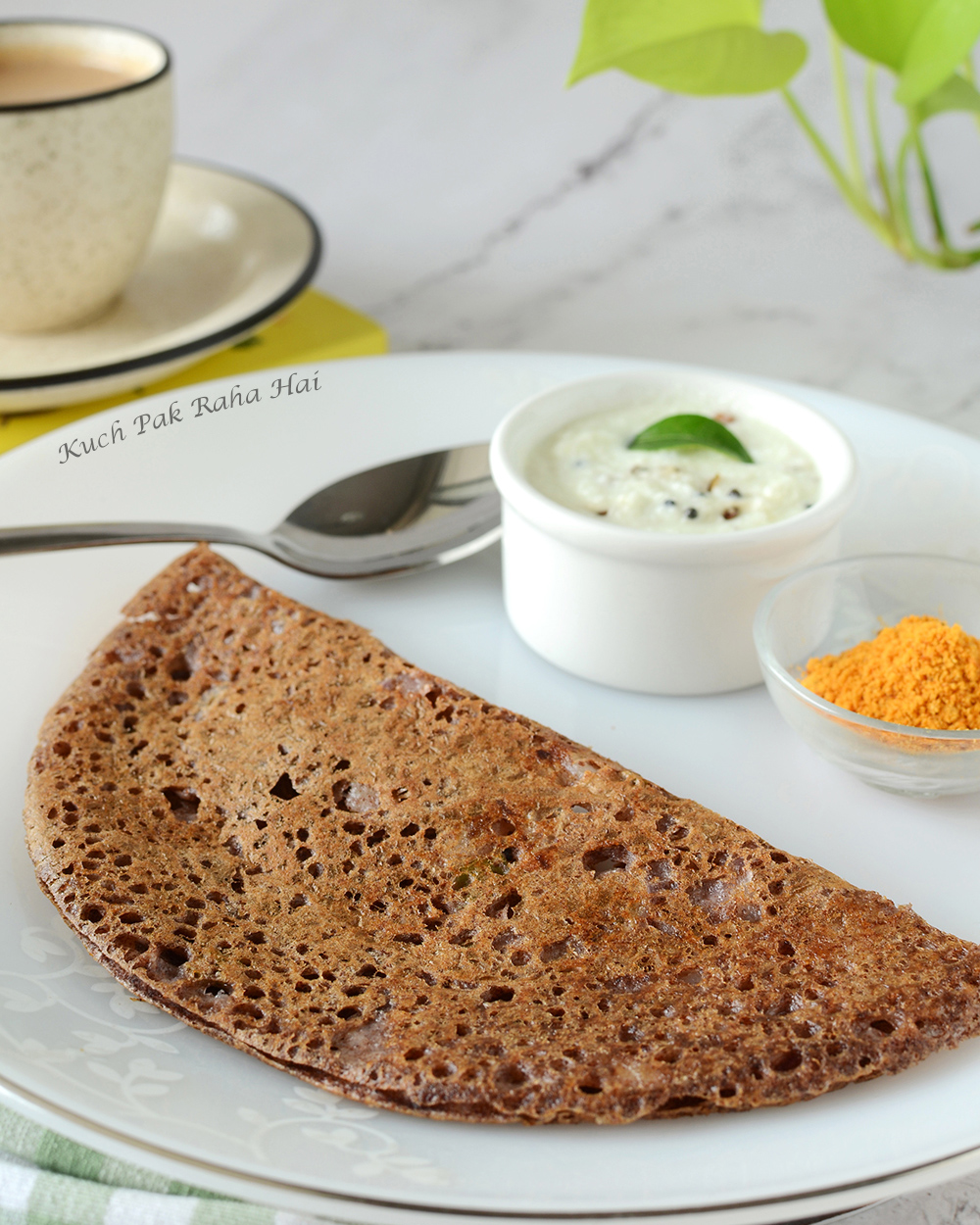 (Please note this page has amazon affiliate links for products which I have used or recommend personally)