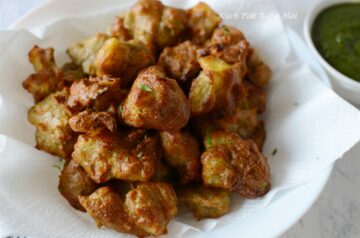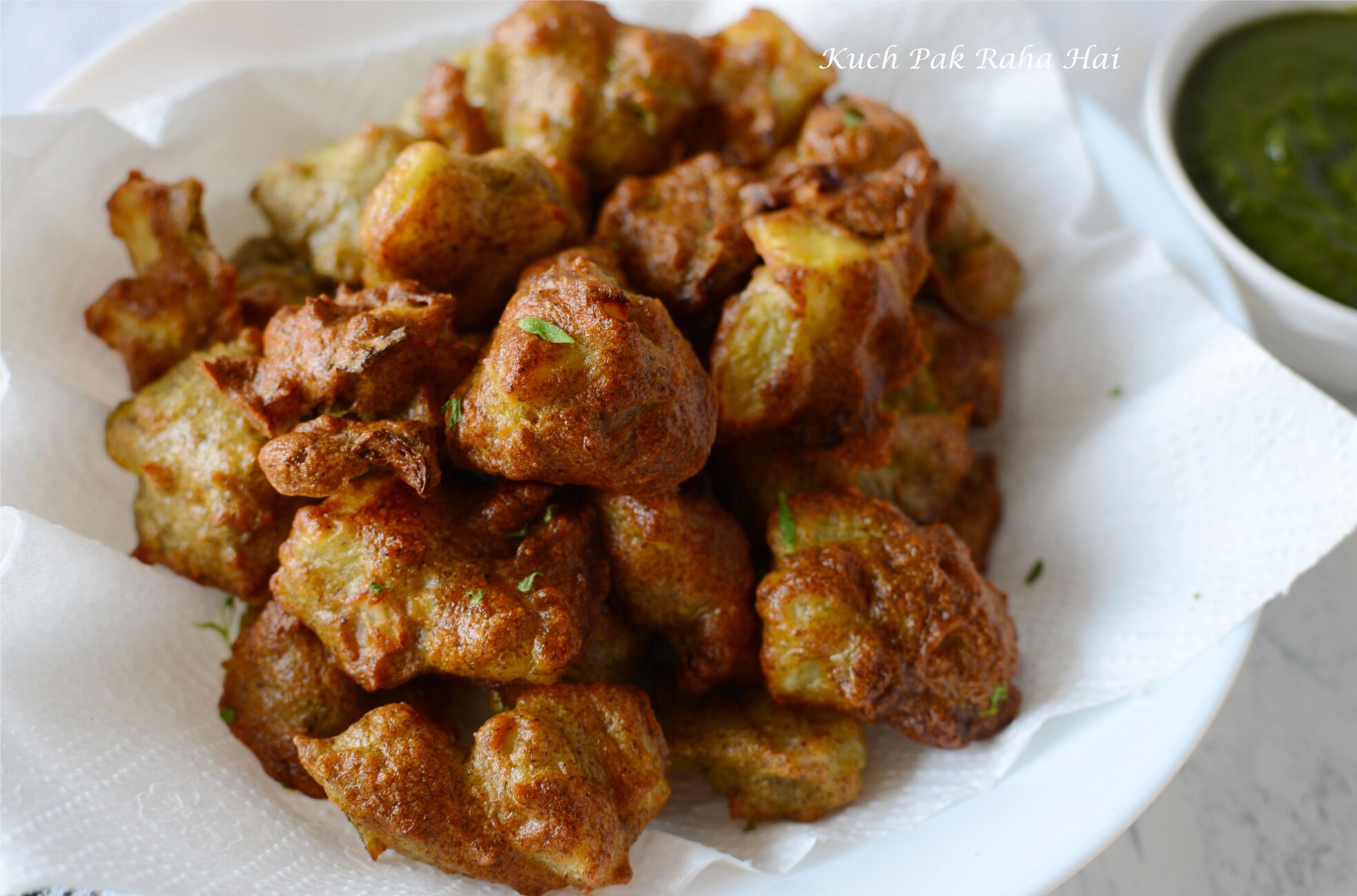 Moong Dal Pakoda is a delicious & popular Indian vegetarian fritters recipe made using Moong dal (Yellow Lentil / Green Split Gram) mixed with onion, green chillies and other spices. Instead of deep frying, we will make them in air fryer. This is a perfect snack recipe or can be served as appetisers too with tamarind or fresh coriander chutney.
Traditionally, these lentil fritters are deep fried. However I tried making them in air fryer and they came out really good👌. With the same recipe and lesser oil, these moong dal pakoras in air fryer score full marks in taste and health area. Moong Dal is a rich source of protein, fibre and is considered to be one of the easily digestible of all lentils. It is also a good source of essential vitamins, minerals including potassium, calcium & iron etc. These crispy fritters made using moong dal are quite nutritious & by air frying we have considerably reduced the fat content. Thus you can easily satisfy your pakora cravings without losing track of calories 😎💪.
Moong Dal comes in number of varieties – Whole green gram, split green gram, yellow split gram. I have used here combination of yellow & green split gram as it gives a nice crunch and colour to pakoras. Some boiled potatoes & onions have been added to the pakora mix as they make the insides of pakora soft without impacting the crunchiness from outside. Easily available basic spices are used in it like red chilli, coriander powder etc. The salt & spices can be slightly altered as per own preference.
Apart from these fritters, moong dal can be used in versatile ways. Some of the other recipes with moong dal are shared below:
Few things which I would like to advice before you start making these Moong Dal pakodas in air fryer:
Please add minimum amount of water while grinding dal. More the moisture in batter lesser the pakoras will be crunchy.
Be generous in applying oil on foil. This oil will not let the pakoras stick to the foil and also will help in cooking from bottom. Also for browning on top do brush some oil (when they are half cooked and not sticky anymore). This gives the lovely colour and crunchiness to them.
If you batter has accidentally gone thin feel free to add some rice flour or chickpea flour(besan).
You can half fry these pakoras in advance. Airfry them once again just at the time of serving so that they are served hot.
 The air frying time depends on the quality of dal, thickness of batter, air fryer model etc. So you may have to adjust the cooking time from 5-10 minutes.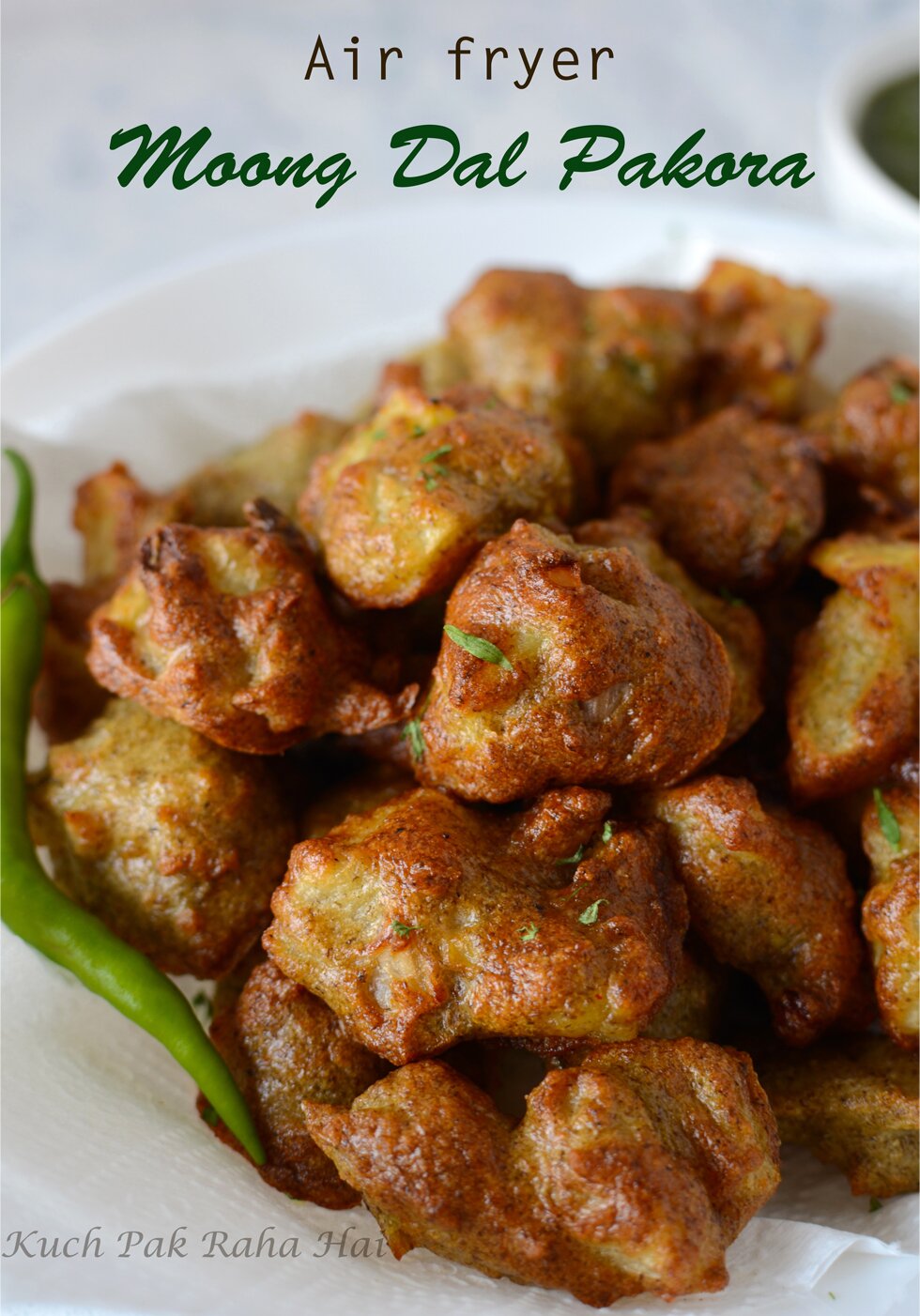 Other similar Air Fryer recipes which you might be interested in:
Hope you would likes this Moong Dal Pakoda recipe in air fryer 😊🙏!!
List Of Ingredients: (Serves 2-3)
Yellow Moong Daal – 1/2 cup
Split Green Moong Dal – 1/2 cup
Green Chillies – 2
Medium Onion – 1
Boiled small potatoes – 4
Ginger Paste – 1tsp
Chopped Coriander leaves – 2 tbsp
Salt – 1 tsp (or to taste)
Red Chilli Powder – 3/4 tsp
Coriander Powder – 1 tsp
Rice Flour – 2 tbsp (optional)
Water – 2 to 3 tbsp
Oil – for cooking
Steps To Prepare:
Step1:
Soak split yellow & green moong dal for 3-4 hours at least. I generally soak it overnight as softer the dal becomes lesser the water it requires for grinding.
Step2:
Grind the soaked pulses coarsely. Add water gradually. We want the mixture to be thick & not flowy. If there is excess moisture in the batter the pakori/fritters will come out less crunchy.
Step3:
Transfer the grinded dal in a bowl. Add finely chopped potatoes, onion, green chillies, ginger paste,  salt, red chilli powder, coriander powder and 2 tsp of oil to it.
Mix the ingredients well with the help of a spatula or spoon. Mash the potatoes lightly. Adding rice flour is optional. It absorbs moisture & gives extra crunch to pakoras.
Step4:
Preheat the air fryer at 180 degree celsius for 15 minutes. Preheating is an important step so please don't skip it.
Step5:
Once the air fryer is preheated take its basket out and place a square piece of foil on its bottom. Brush some oil on the foil paper with the help of a brush. Make sure you do not leave any space un-oiled otherwise the pakoras would stick to the foil. Also please leave some space around foil so that air can circulate. Do not cover the basket completely.
Please be generous in applying oil as this will help in cooking of pakoras from bottom plus they wont stick to the foil.
Apply oil with a brush/spoon, and thereafter drop small portions of the batter on the foil. Place this filled basket inside the air fryer and cook it for 10-12 minutes at 180 degree celsius.
Step6:
After 10 minutes, take the basket out. Now you have half-fried pakoras ready with you. Pick them carefully from the foil and keep them in a box. Re-oil the foil, drop another set of pakoras on the foil and repeat the process.
This way you can collect half fried pakoras in 2-3 batches. If you have air fryer with bigger basket then it should not take more than 2 batches. Below is the batch of half fried Pakoras.
Step7:
This is to be done just before serving. Once you have half fried pakoras ready with you, remove the foil paper from the basket. Brush some oil on the air fryer grill and pakoras. Cook them in air fryer for another 5 minutes or till they are completely golden brown from outside.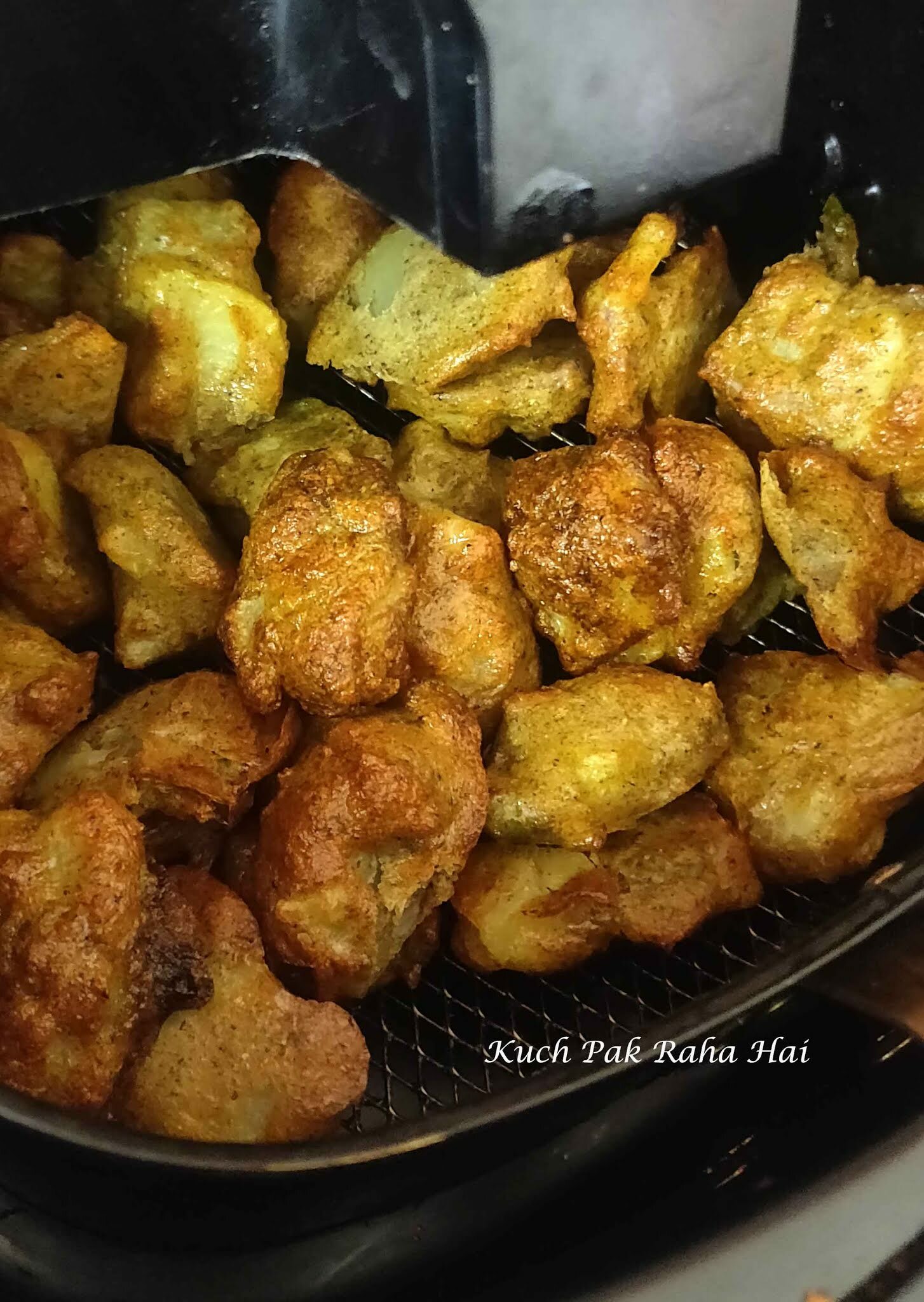 Crunchy Moong Dal Pakoras are ready. Serve them hot with Tamarind Chutney or fresh Coriander Chutney!! 🙂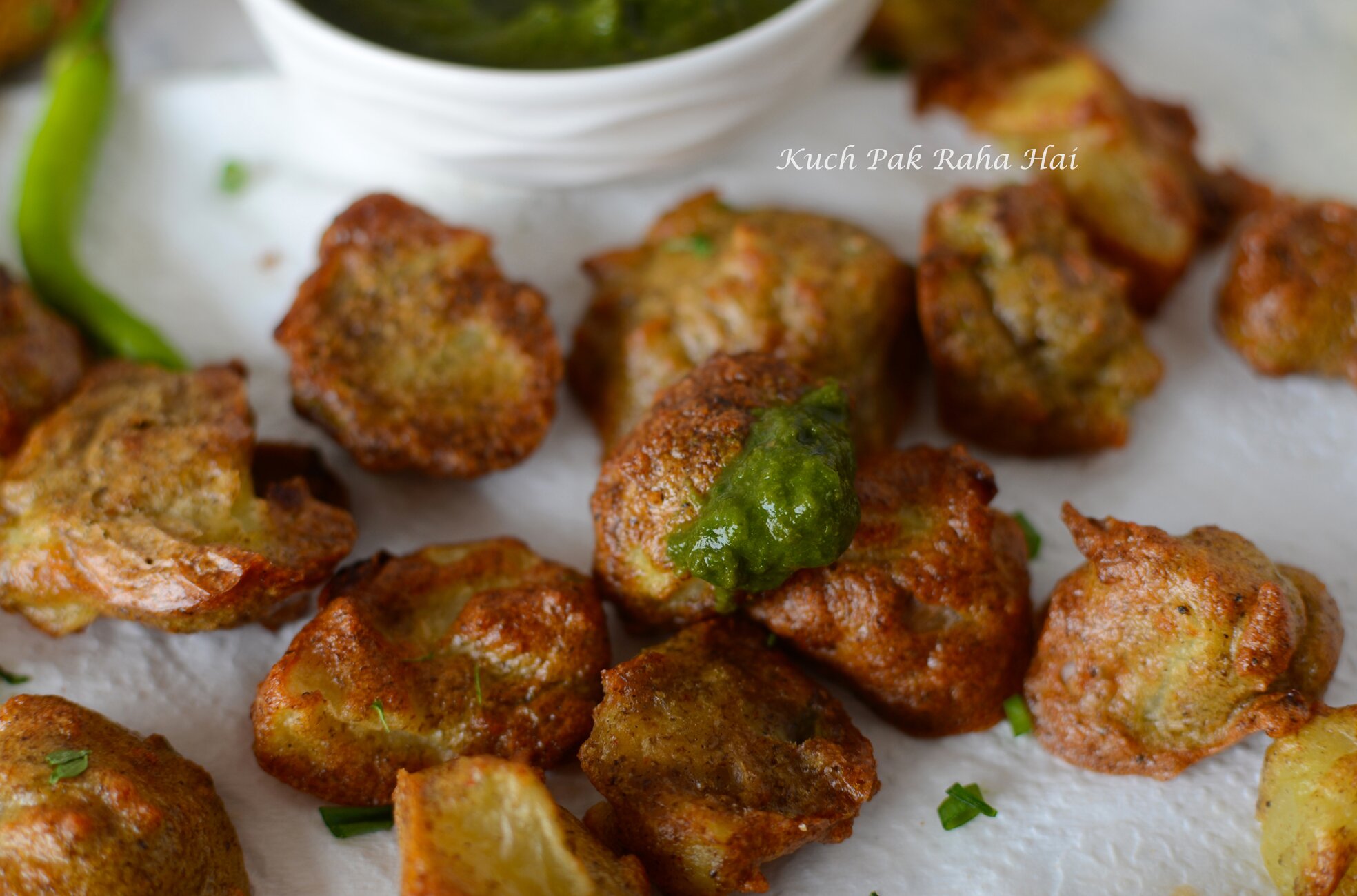 If you try this recipe and share pics on social media, then don't forget to tag us on Facebook or Instagram.
Bon Appetit!!