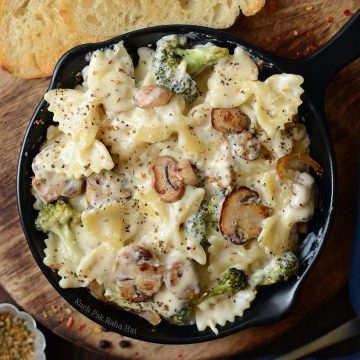 Creamy, cheesy & delicious white sauce pasta with mushrooms, broccoli and onions. It is such an easy pasta recipe, perfect fix for quick meals and you can always load it with more veggies of your choice.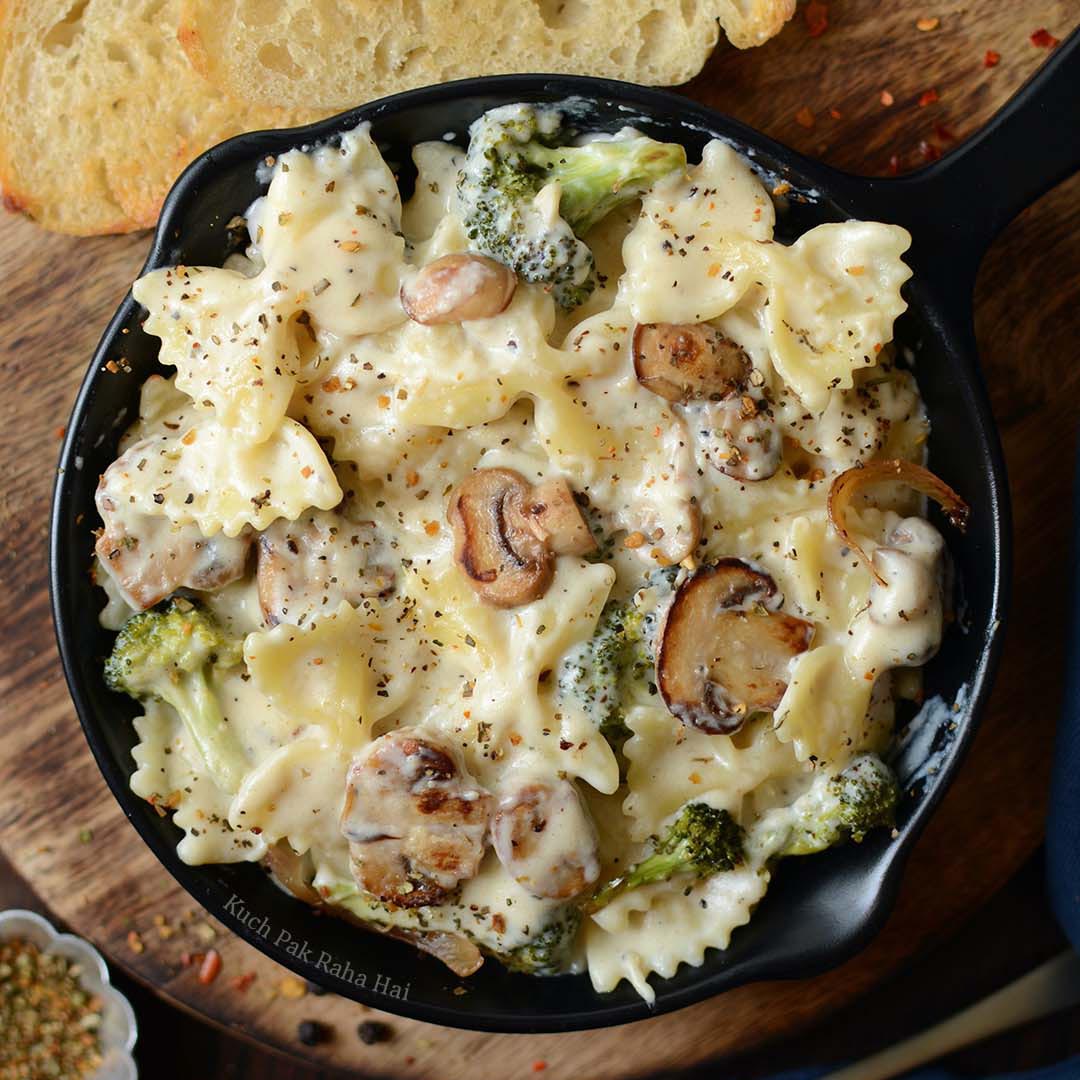 This pasta with velvety cheesy white sauce is one of the favourite weekend dinner recipes at my home. Who on earth would not love a warm bowl of pasta, toasted garlic bread and some white wine for dinner (absolute bliss!!). The best part about this recipe is you can add any seasonal vegetables to this pasta to make it more nutritious and filling.
You can use penne, spaghetti, linguine, fusilli, farfalle or any variety of pasta in this recipe. These days gluten free pasta, lentil pasta, chickpea pasta and whole wheat pasta are also available in market. You can also try this recipe with them.
I have added here some caramelised onions, mushrooms and crunchy broccoli to add flavour and texture to white sauce. Other vegetables like bell peppers, cauliflower, baby corn, black olives also taste great in this pasta recipe. If you like broccoli or cauliflower to be soft,  you can blanche or boil them before adding in pasta.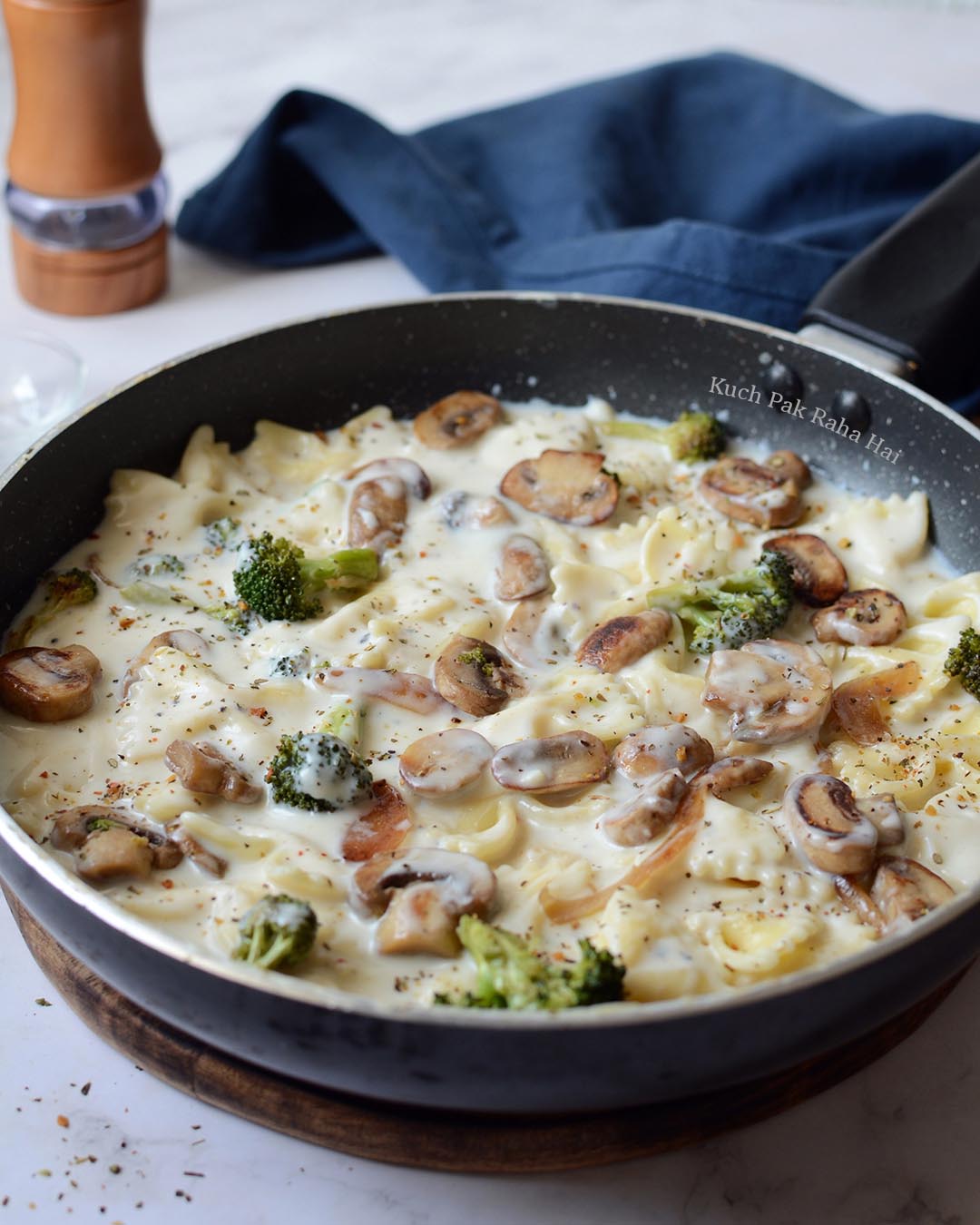 What's white sauce made of?
The sauce which we usually refer to as 'White Sauce' is actually Béchamel sauce. Its main ingredients are flour, butter, milk, and is known to be one of the 'mother sauces' in French cuisine. To make bechamel cheese sauce, some good quality grated parmesan, cheddar or processed cheese is added it. Cheese gives a lovely creaminess and richness to the sauce.
How to make white sauce?
To make white sauce, we begin by heating butter in a pan. Once the butter is melted, we add flour to it and roast the flour while continuously stirring till it slightly changes its colour. This is done on medium-low flame as we don't want the butter or flour to burn.
This mixture of fat and flour is called 'roux' and is used for thickening gravies or sauces. We then gradually add milk to it while whisking and cook the sauce till it becomes thick and velvety.
Traditionally salt, white pepper and a pinch of nutmeg are added in a béchamel (or white sauce) but here I have used crushed black pepper instead of white pepper and added few dried herbs too like oregano and thyme.
Apart from regular pasta, you can even use this bechamel sauce in lasagana or casserole recipes. 
People often get confused between Alfredo vs Béchamel sauce. However they are quite different as Alfredo is made with butter, parmesan and heavy cream.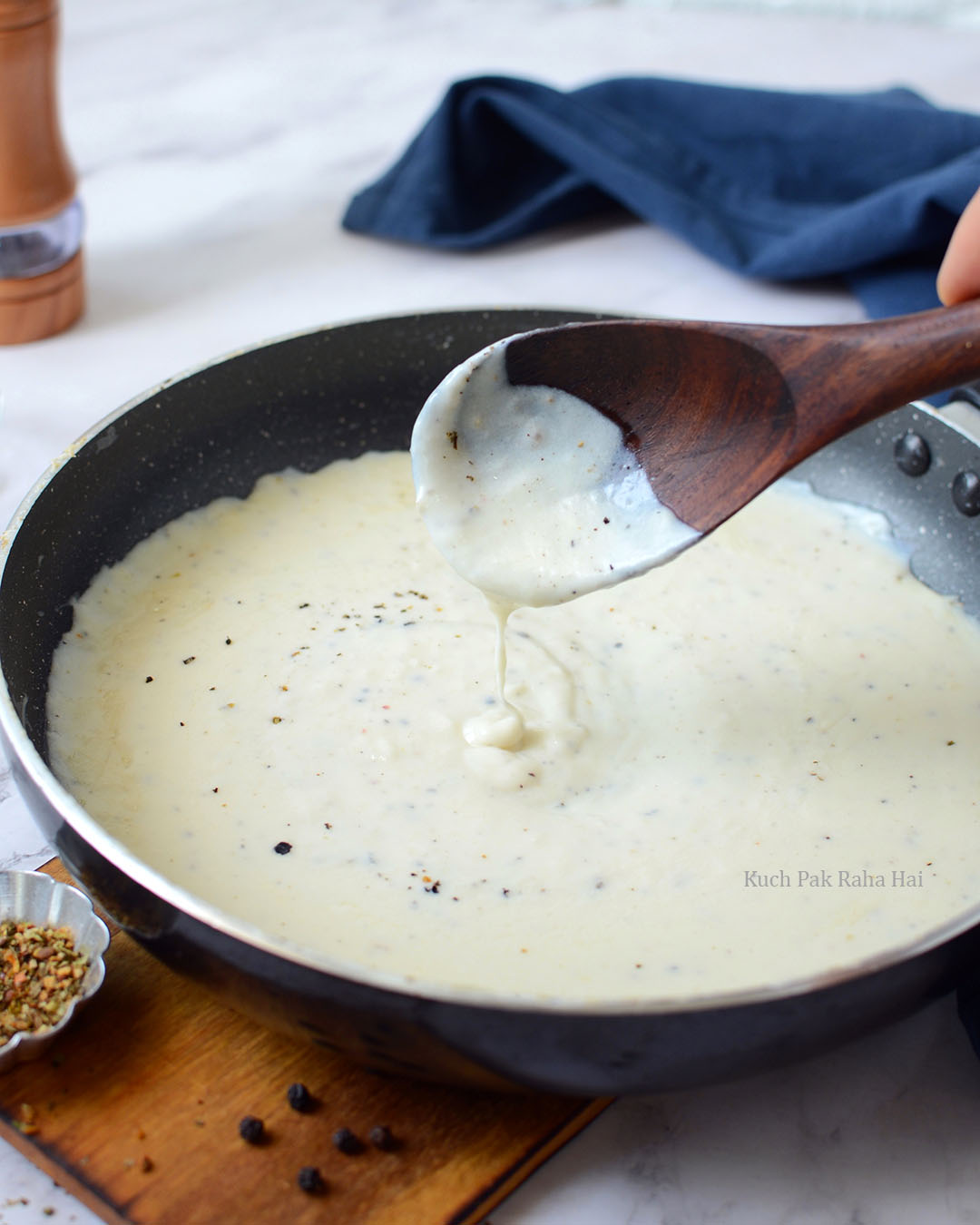 How to make vegan white sauce pasta?
To make vegan bechamel sauce, use vegan butter and plant based milk like almond or soy milk. Instead of vegan butter, you can even use some olive oil. Rest of the recipe will remain the same.
Can I use whole wheat flour in making white sauce?
If you are trying to avoid all purpose flour or maida, then you can definitely use whole wheat flour in this recipe. However with whole wheat I have noticed the sauce gets light brown in colour. 
You can serve white sauce pasta with :
Youtube Video:
More vegetarian pasta recipes:
Hope you would like this easy creamy white sauce pasta recipe!!
Ingredients: (Serves 2)
Pasta- (1+1/2) cups (~150 grams)
Water- 6 cups (for boiling)
Olive Oil-2 to 3 tsp
Garlic Cloves- 3 to 4
Sliced Onions-1/2 cup
Broccoli Florets-1 cup
Sliced Mushrooms-1 cup
Butter / Vegan Butter-2 tbsp
All Purpose Flour (Maida)-3 tbsp
Milk / Almond or Soy milk -2 cups
Salt – 1+3/4 tsp (or to taste)
Nutmeg- A pinch
Crushed Black Pepper-1/2 tsp
Chilli Flakes- 1/4 tsp
Mixed herb seasoning- 1/2 tsp
Grated Cheese*-1/4 cup (optional)
Notes:
1. * You can use grated cheddar cheese, parmesan or processed cheese. For low calorie version skip adding cheese. Don't worry, the sauce turns absolutely thick and creamy even without cheese!!
2. To make vegan white sauce, use vegan butter / olive oil instead of regular butter and dairy free milk like almond or soy milk. 
3. I have used mixed herbs Italian seasoning here which has dried oregano, dried basil and dried thyme.
4. For a richer taste you can use full fat milk or add 1-2 tablespoons of heavy cream.
5. Feel free to add more vegetables to this pasta like bell peppers, baby corn or black olives.
6. If you want more saucy pasta, make extra sauce or boil lesser amount of pasta than mentioned above.
7. You can use salted or unsalted butter to make this white sauce. If you are using salted butter add lesser salt later on. Add it after tasting the final sauce.
Steps To Prepare:
Step 1:
Bring the water to rolling boil in a pan. Add 1 tsp salt and pasta to it. Boil pasta for 8-10 minutes as per the packet instructions. (Reserve some of the water in which pasta is boiled to be used later).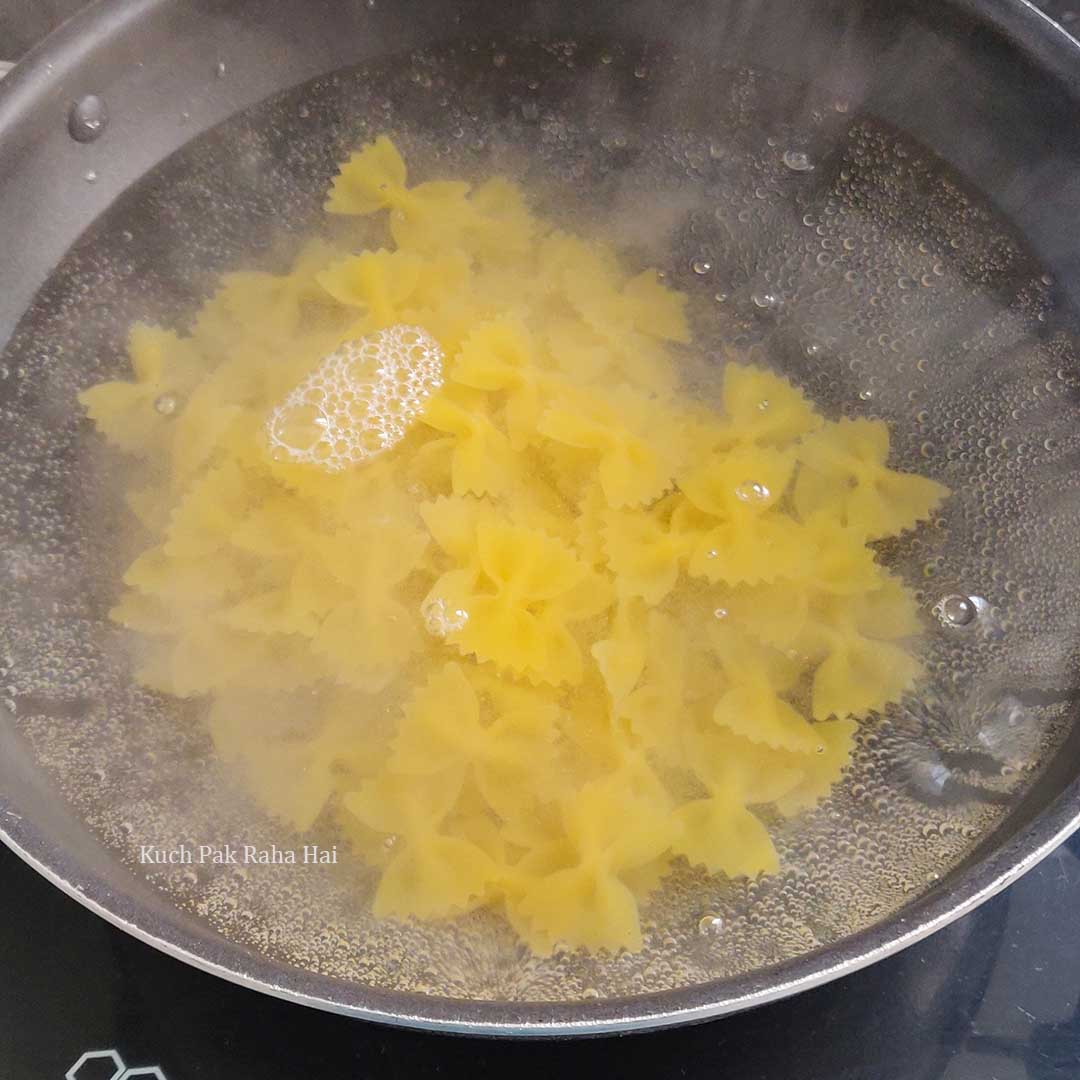 Step 2:
Add oil in a frying pan. Add sliced onions and saute for 1 minute. Then add sliced mushrooms, broccoli florets and sauté for 3-4 minutes on medium high flame. I like to keep broccoli crunchy but if you like softer texture you can blanche or boil it. Keep these sautéed veggies aside.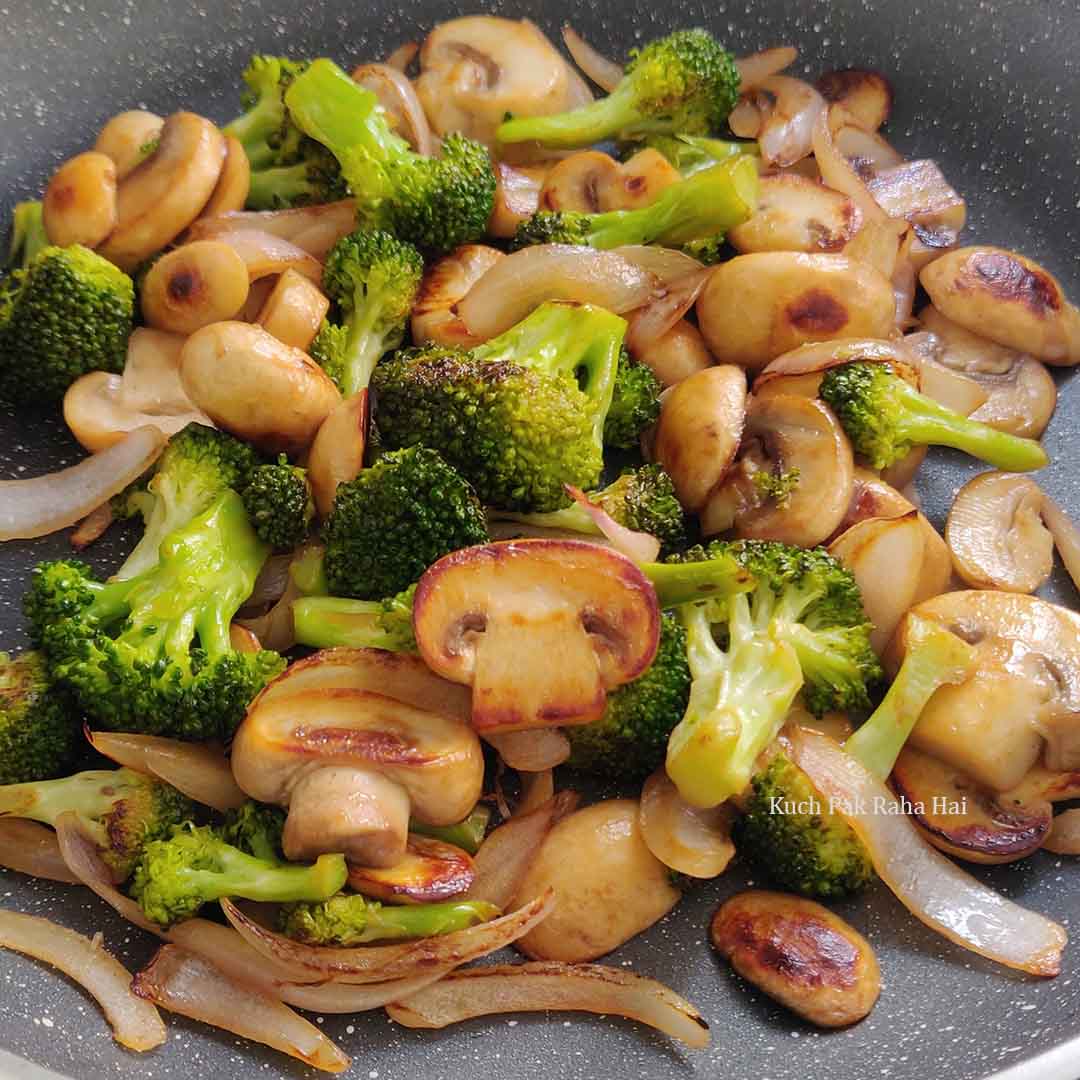 Step 3:
In the same pan, heat butter on medium-low flame. Once the butter starts melting, add minced garlic. Saute for 15-20 seconds and then and add flour (maida) to it.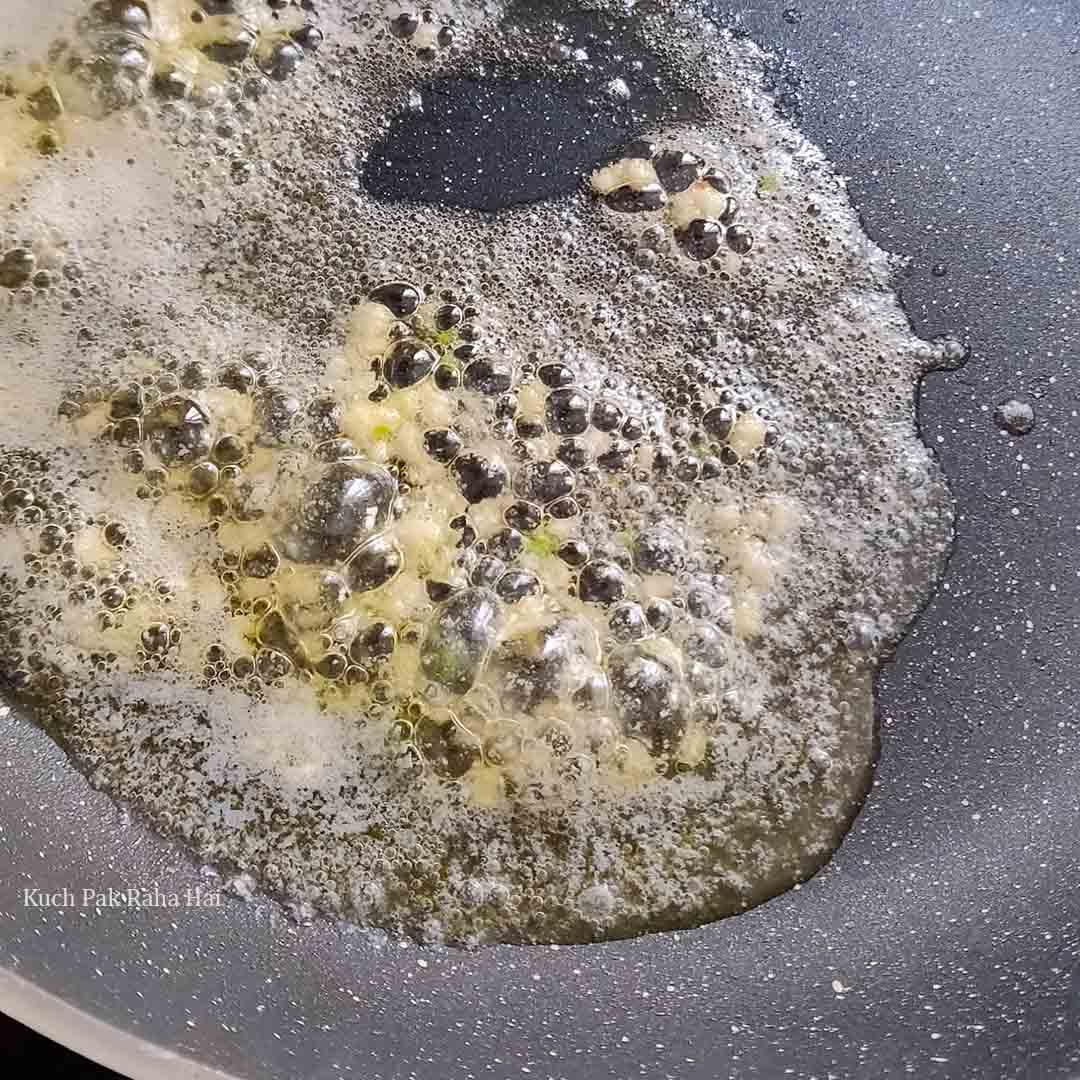 Mix continuously and roast the flour on medium-low till it slightly changes the colour.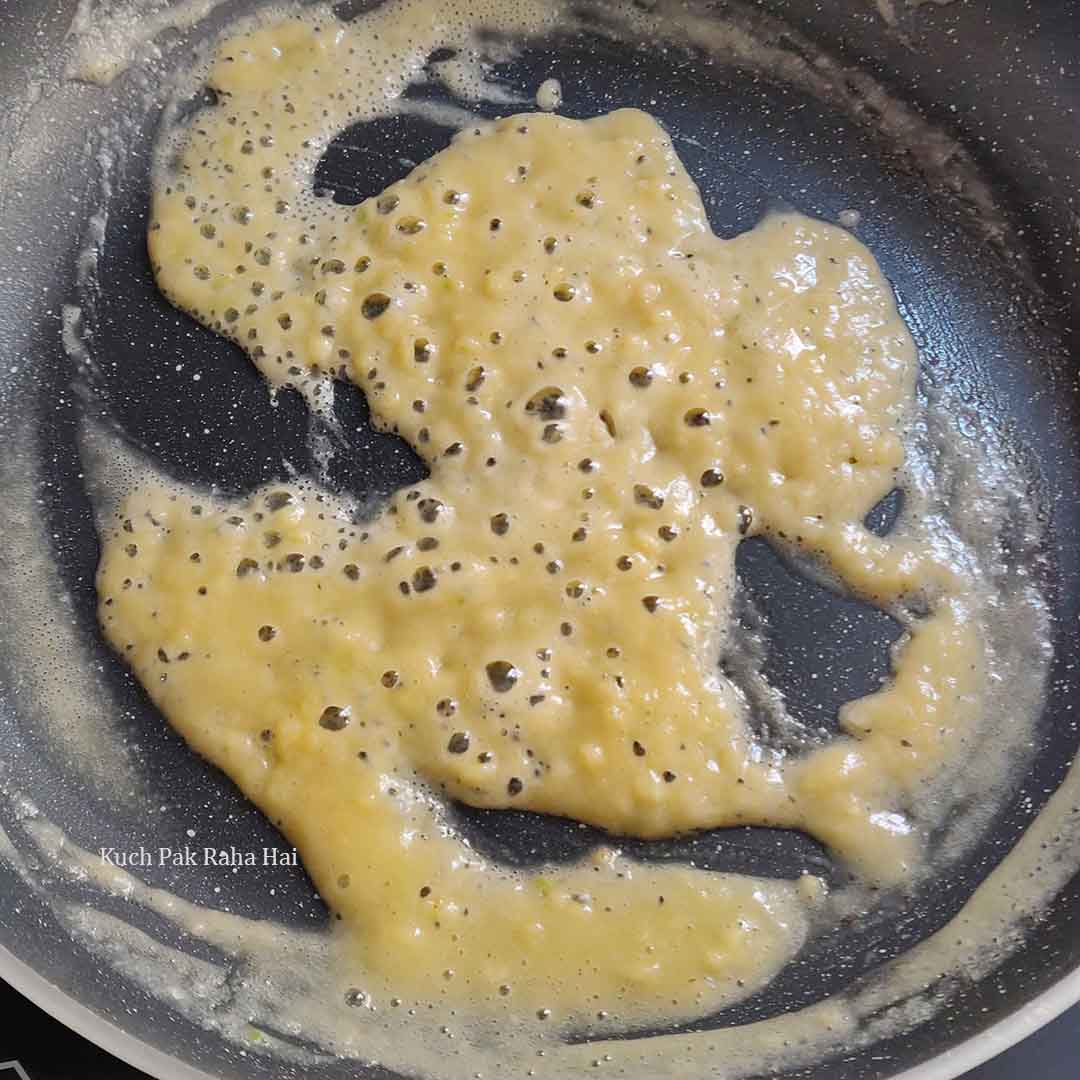 Step 4:
Gradually add milk to it while continuously stirring. Do not add all the milk in one go or stop stirring else lumps will form.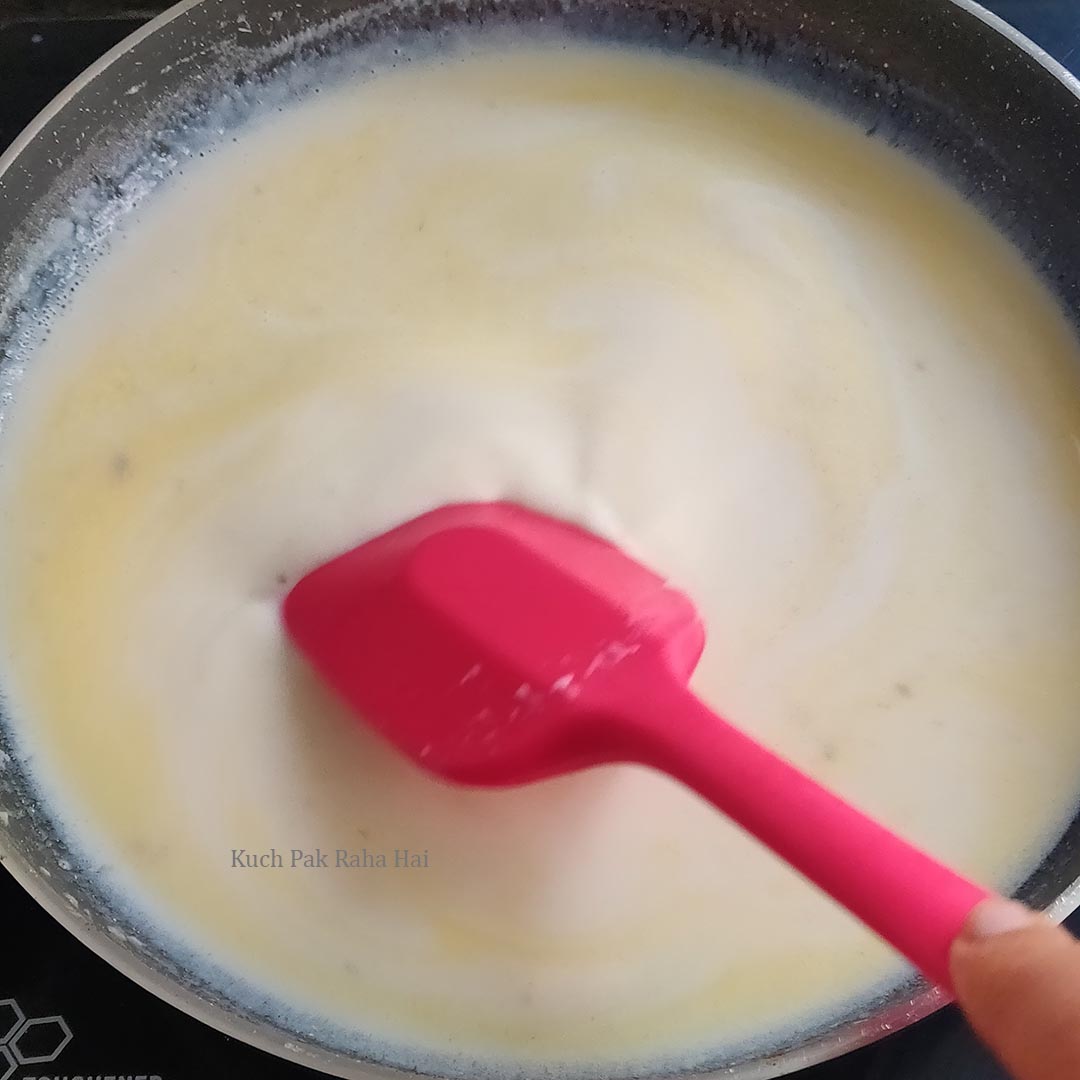 Step 5:
Keep stirring till the mixture starts boiling and attains sauce like consistency. When the sauce starts coating the spoon it means it is ready.
Add crushed black pepper, nutmeg, mixed dried herbs, chilli flakes and remaining salt. Mix well and switch off the flame. Taste the sauce once and adjust salt or seasoning as per your taste. If you are adding cheese in the sauce, add it now and mix once again.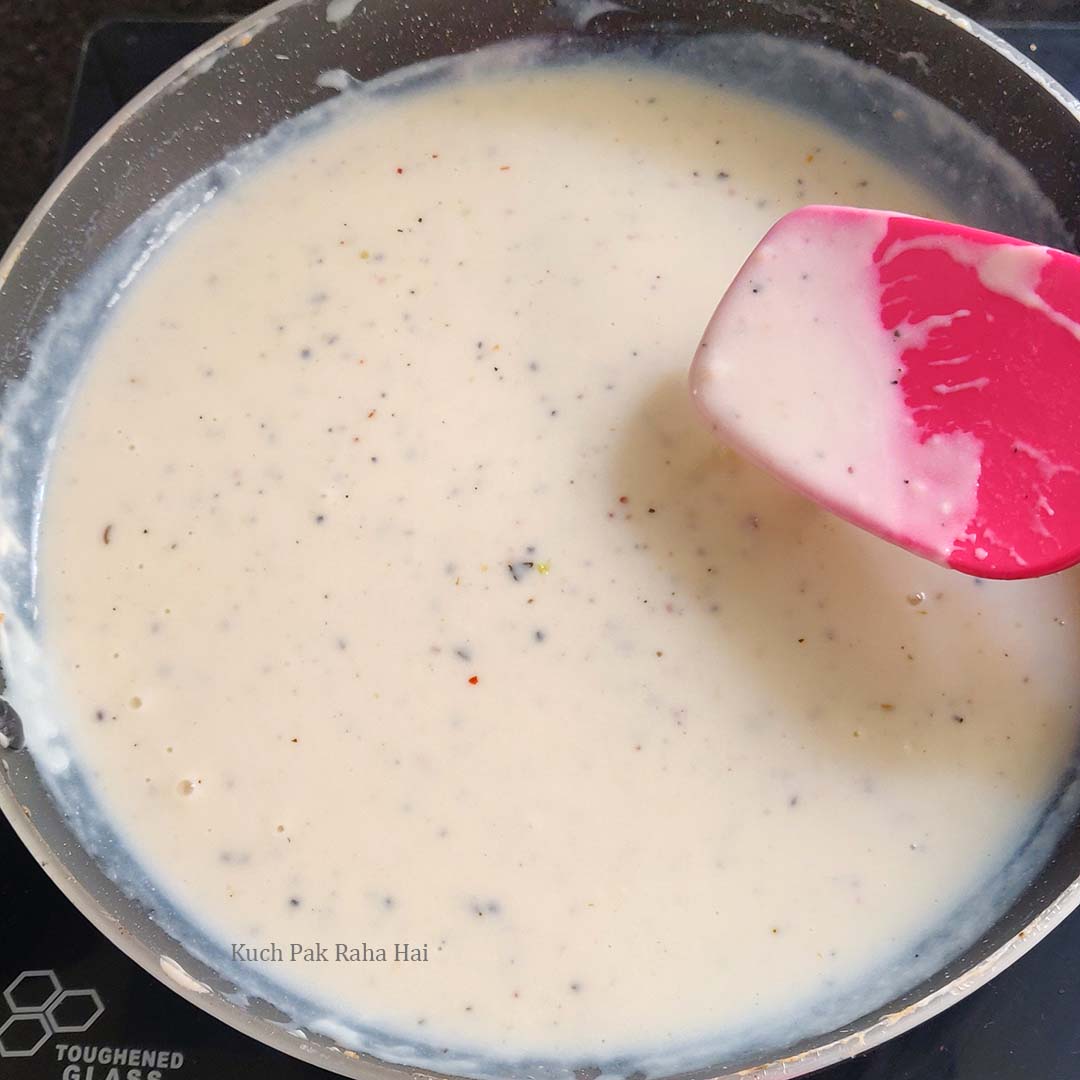 Step 6:
To the above white sauce, add sautéed vegetables and boiled pasta. Toss gently so that all vegetables and pasta are coated evenly with the sauce. If required, add 1-2 tbsp of reserved pasta water.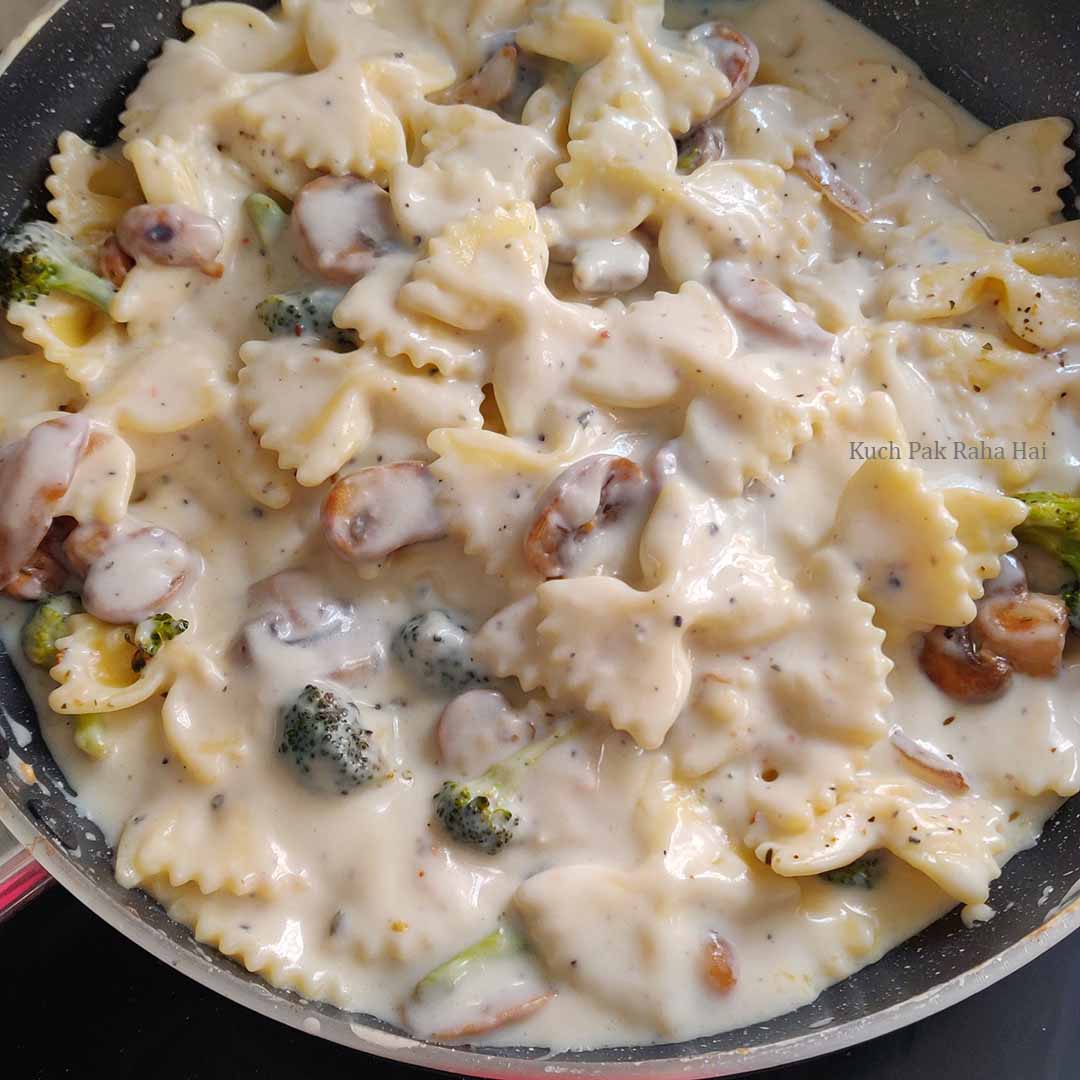 Delectable creamy white sauce pasta is ready. Serve it hot. Bon Appetit!!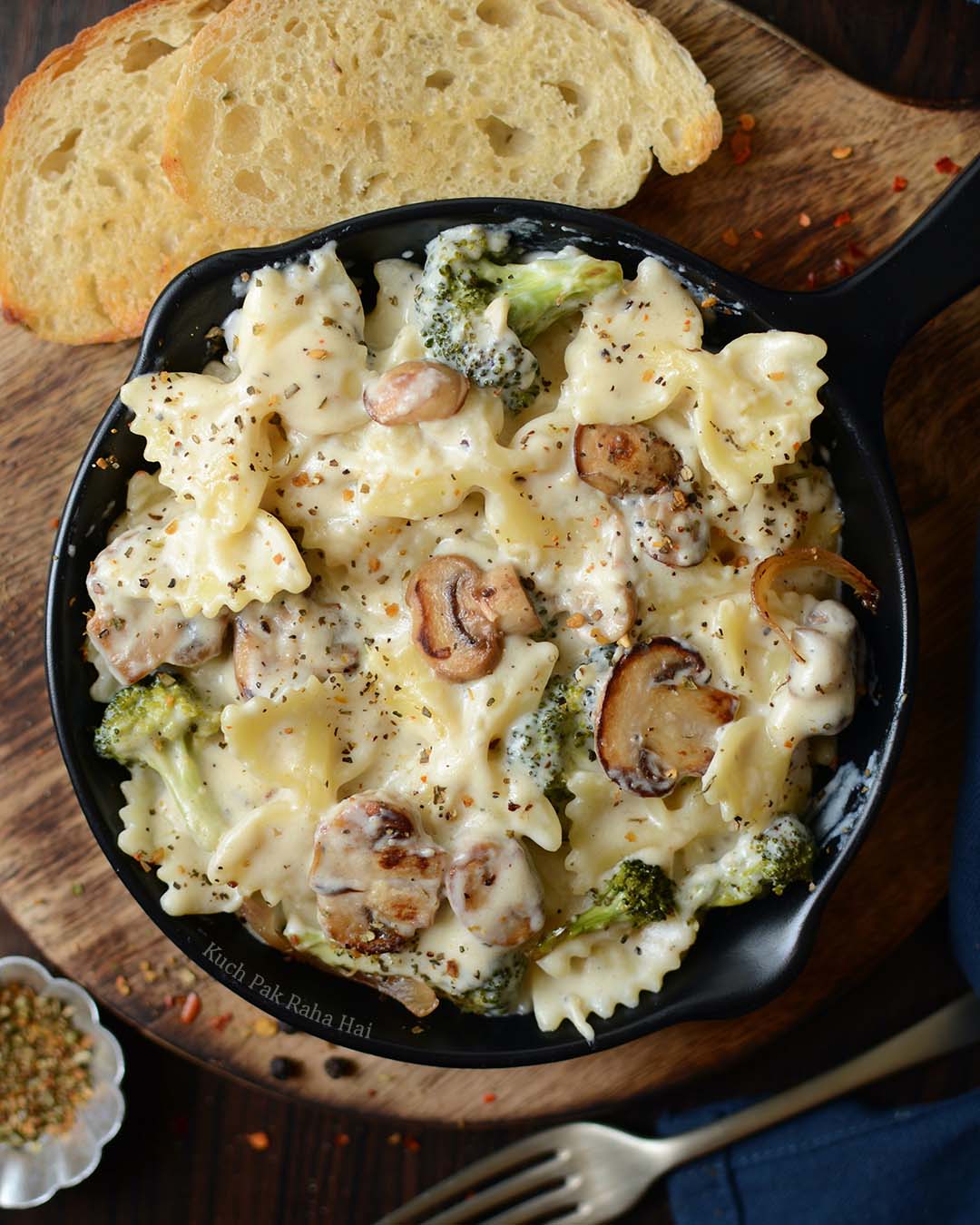 Can I make this pasta in advance?
It is better to not mix the sauce and boiled pasta beforehand as pasta absorbs all the sauce if kept for long time. Also the sauce thickens with time so leave it on a little bit thinner side. At the time of serving heat the sauce in a pan and toss pasta in it. You can use reserved pasta water while reheating to loosen up the sauce.
You can even bake this pasta. Instead of adding cheese in sauce, add it on the top of ready pasta & bake it at 180 degrees for 10-15 minutes till cheese starts to melt and have those golden brown speckles on top.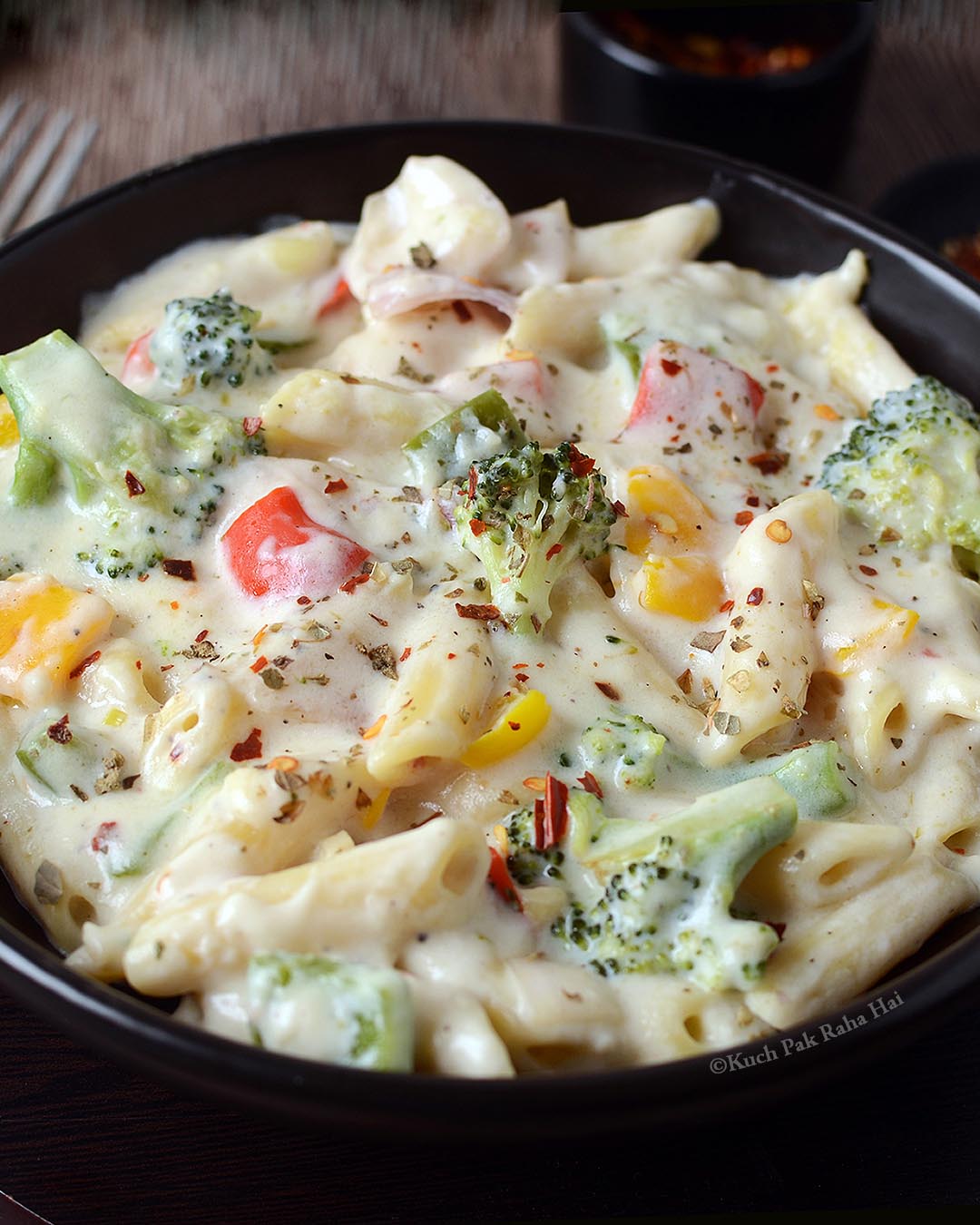 More recipes you might like:
Pin for later: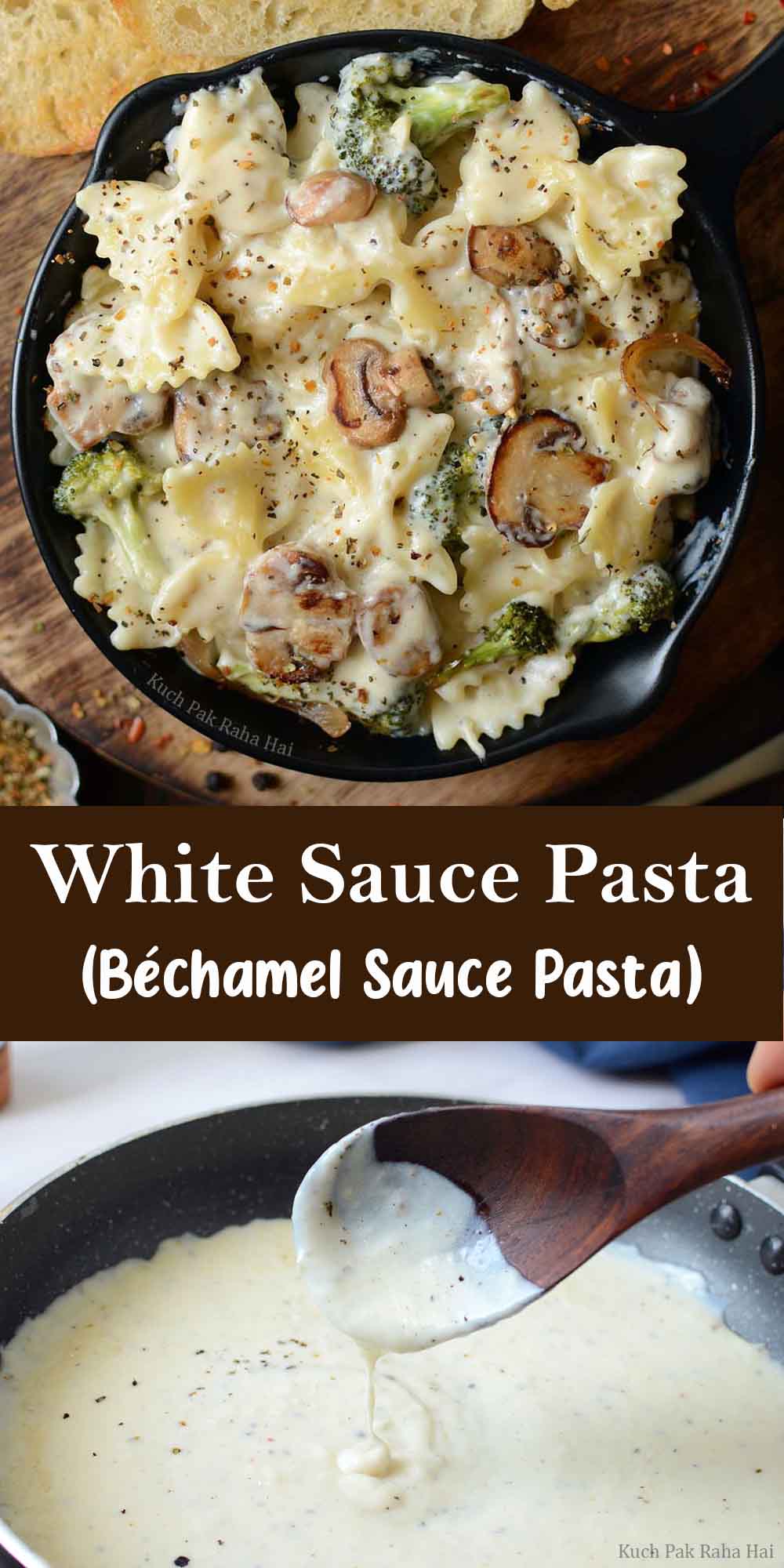 Let's stay connected
Facebook | Instagram | Pinterest | Youtube