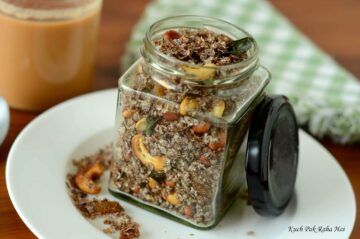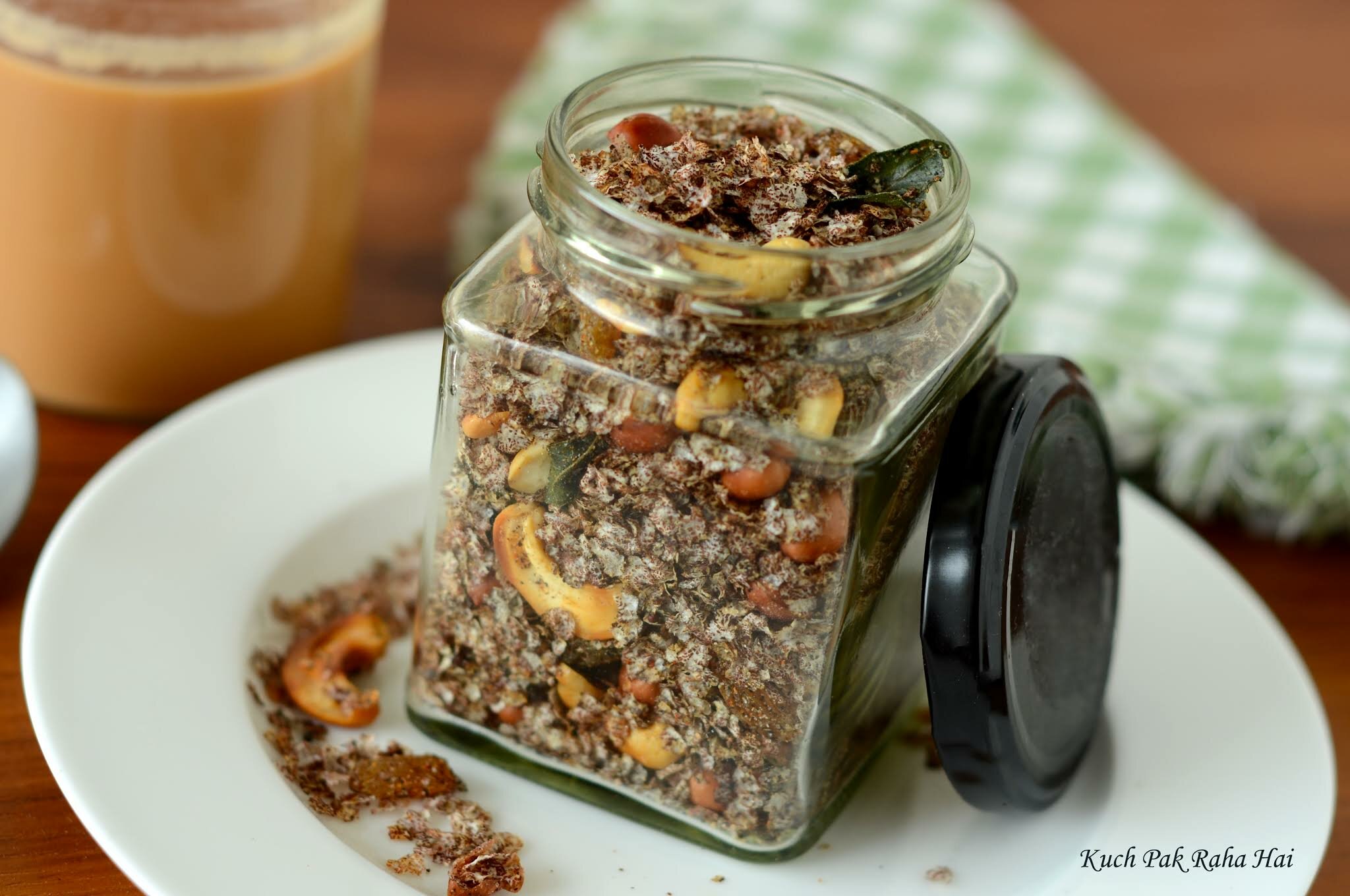 Roasted Ragi Chivda or namkeen is a perfect non-fried healthy snack which you can enjoy with a cup of tea or coffee. The combination of roasted ragi flakes, crunchy peanuts, rich cashews, sweet raisins & curry leaves is absolutely heavenly & full of flavours. You can even carry it while travelling as it makes you feel full for longer because of its rich fibre content.
Ragi, Nachni or "Finger Millet" as called in English has become quite popular these days among people because of its various health benefits. Though it was consumed in ancient times also (especially in South India), however it has recently been popularized again as it is gluten free and helps in weight loss.
It is a rich source of fibre packed with Vitamin D, amino acids and calcium. Many nutritionists consider it to be one of the healthiest grains and beneficial especially for diabetic patients. These days Ragi is available in market in form of flour, cookies, crackers and even flakes. Many people even make ladoos, dosa or porridge using it. In itself Ragi does not have any taste of its own but you get a nice nutty flavour on roasting it.
In one of my earlier post, I had shared the method of making Roasted Poha Chiwda. I tried making Ragi Chiwda on similar lines using ragi flakes and got perfectly crunchy delicious chiwda. I have used here "Health Sutra" brand Ragi flakes/Poha which I bought from Big basket. You can even buy it from Amazon.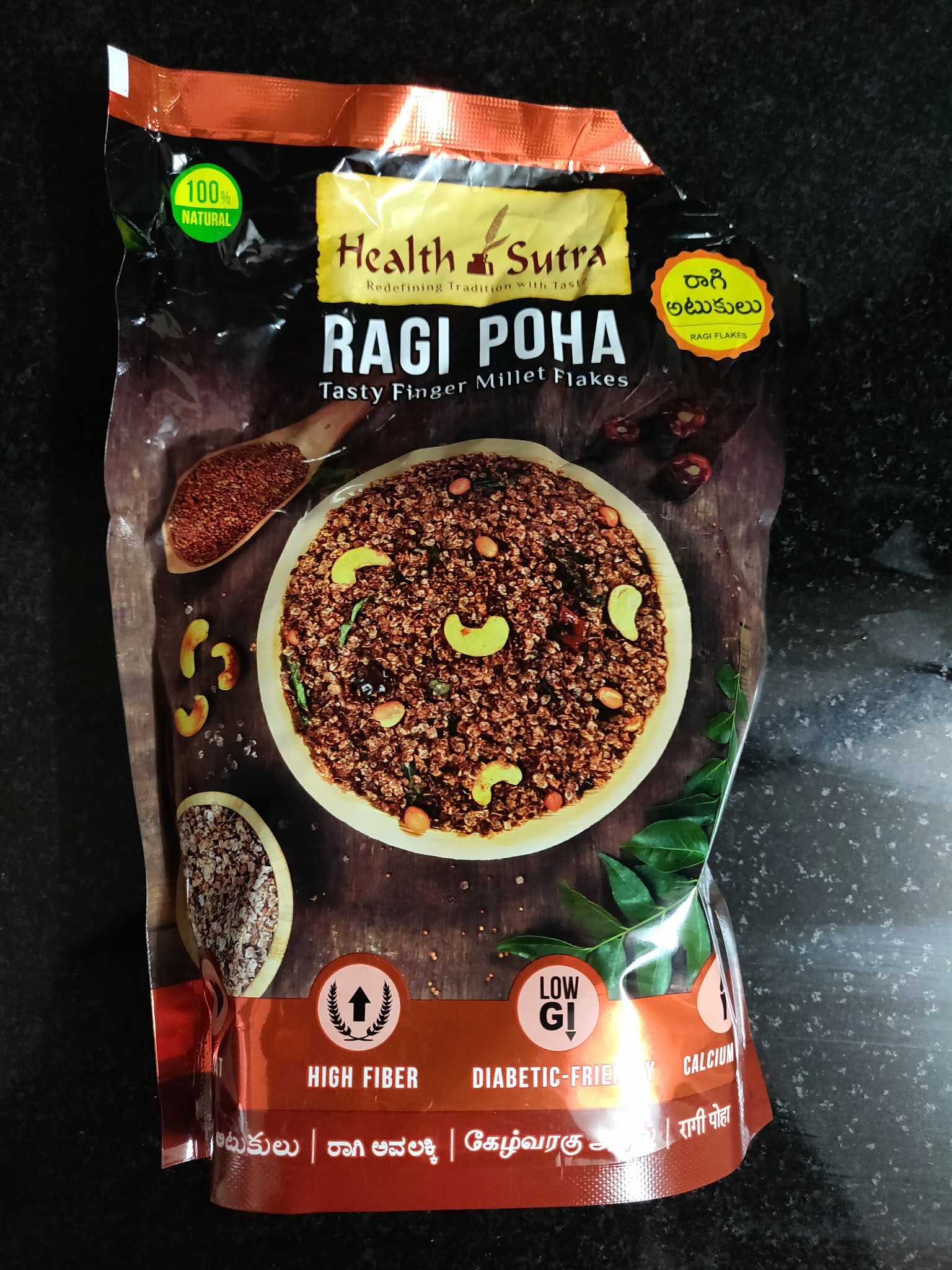 I have used olive oil in making this namkeen. You can use any other cooking oil or even ghee. The spices can be adjusted as per your own taste. I have used mango powder along with raisins here as it gives a sweet sour flavour to the mixture. Adding mango powder is totally optional.
Hope you would like this Roasted Ragi Flakes Chivda recipe!! 🙂  Would love to hear your feedback in comments section below.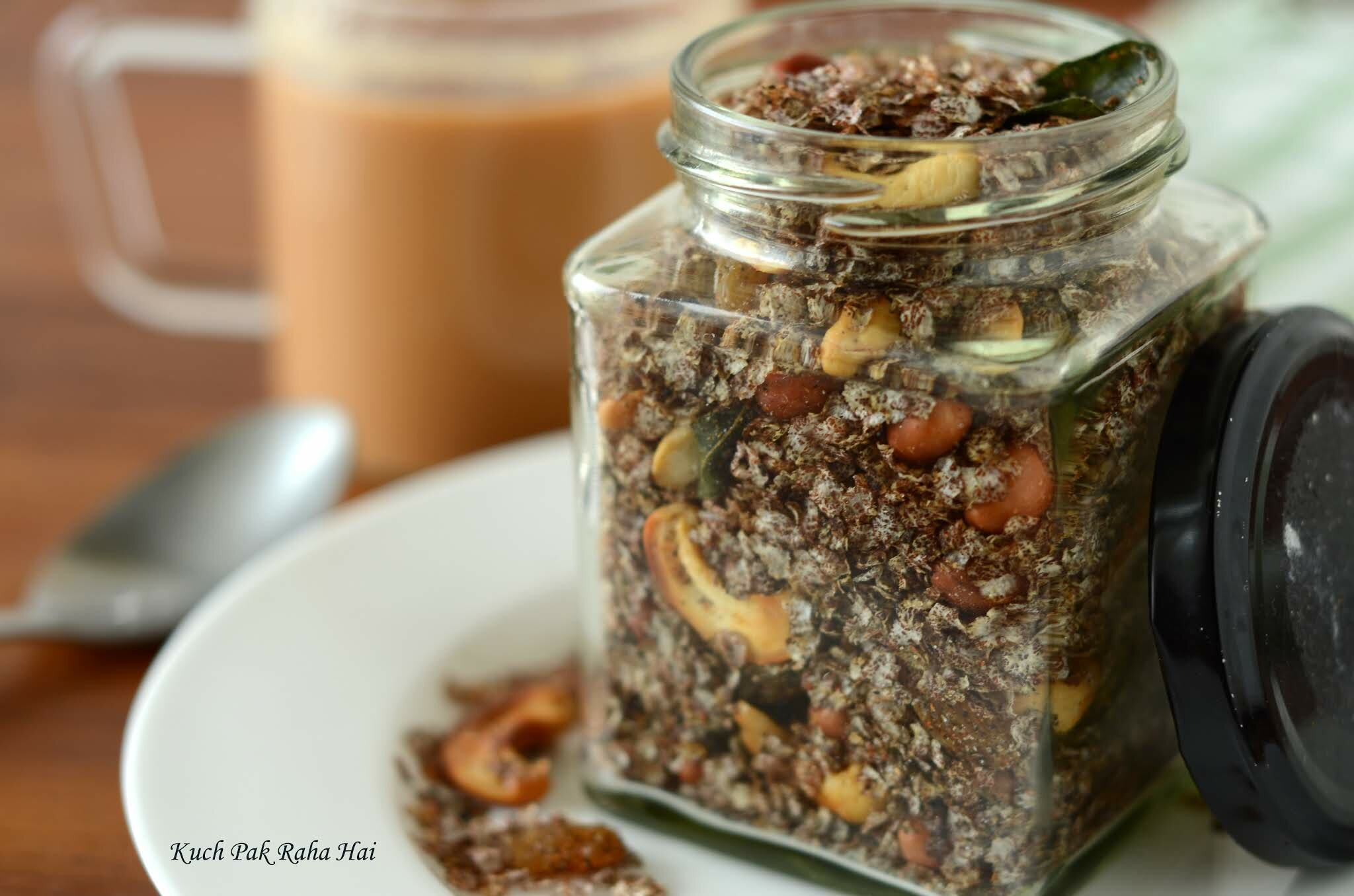 Other Healthy Snacks recipes you might like. You can also check out Starters & Snacks section for complete list:
List of Ingredients:
Ragi (Finger Millet) Flakes- 1&1/2 cups
Dried Curry Leaves – 10 to 12
Mustard seeds – 1 tsp
Peanuts-1/4 cup
Cashew Nuts-1/4 cup
Raisins-1/4 cup
Salt- To taste
Sugar-1/2 tsp
Red Chilli Powder/Black Pepper-1/2 tsp
Mango powder-1/2 tsp (optional)
Olive Oil/Ghee/Cooking oil-1 tbsp
Steps To Prepare:
Step1:
Heat a heavy bottomed or non-stick pan. Add Ragi Flakes to it. Roast it for 2-3 minutes till the flakes become crispy and slightly puffed. Keep these roasted ragi flakes aside.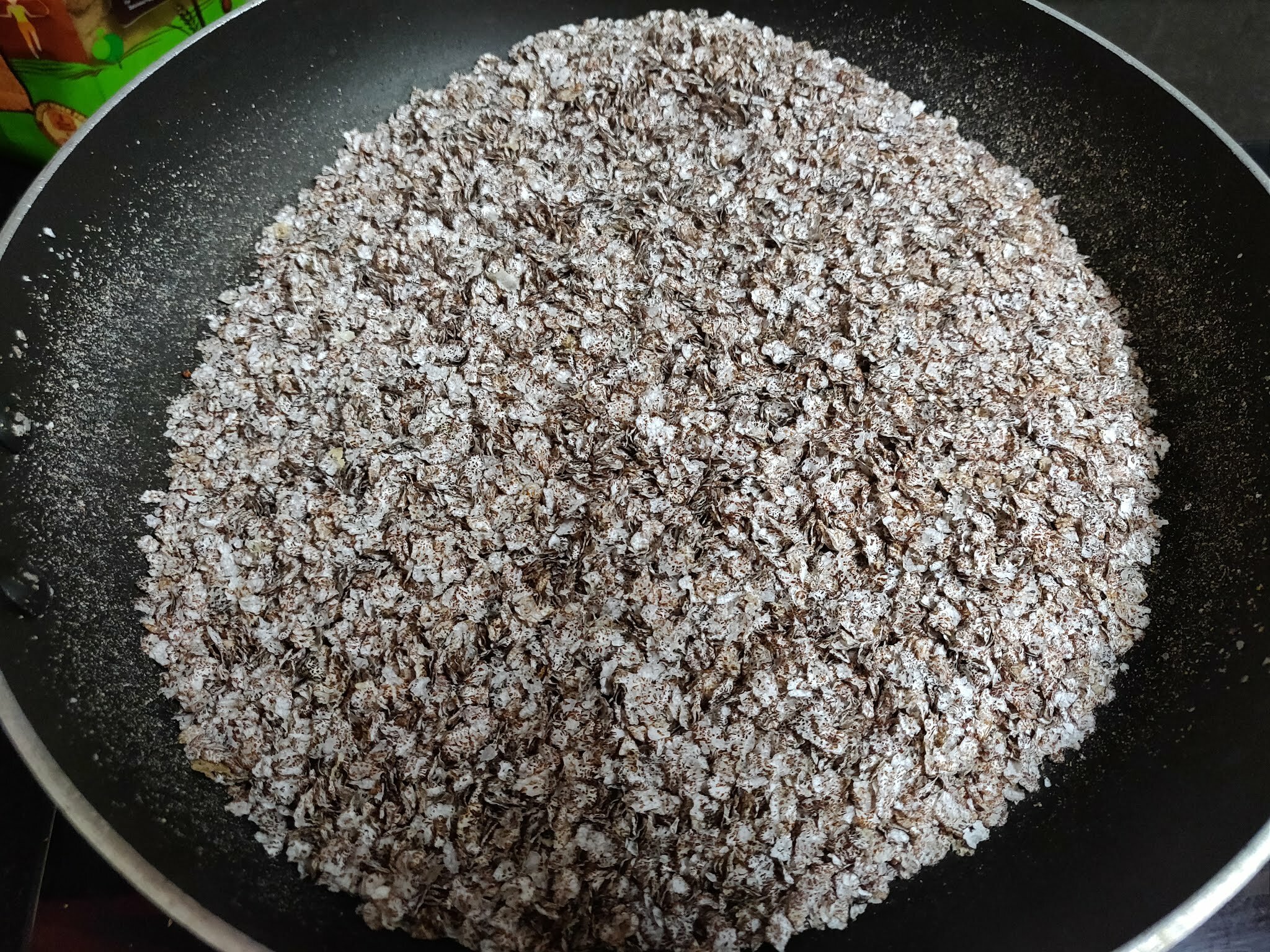 Step2:
In the same pan, heat oil. Add peanuts and cashews to it . Let them fry on low flame till they become slightly golden in colour. In case you are using fresh curry leaves add them at this step so that they get roasted properly along with nuts.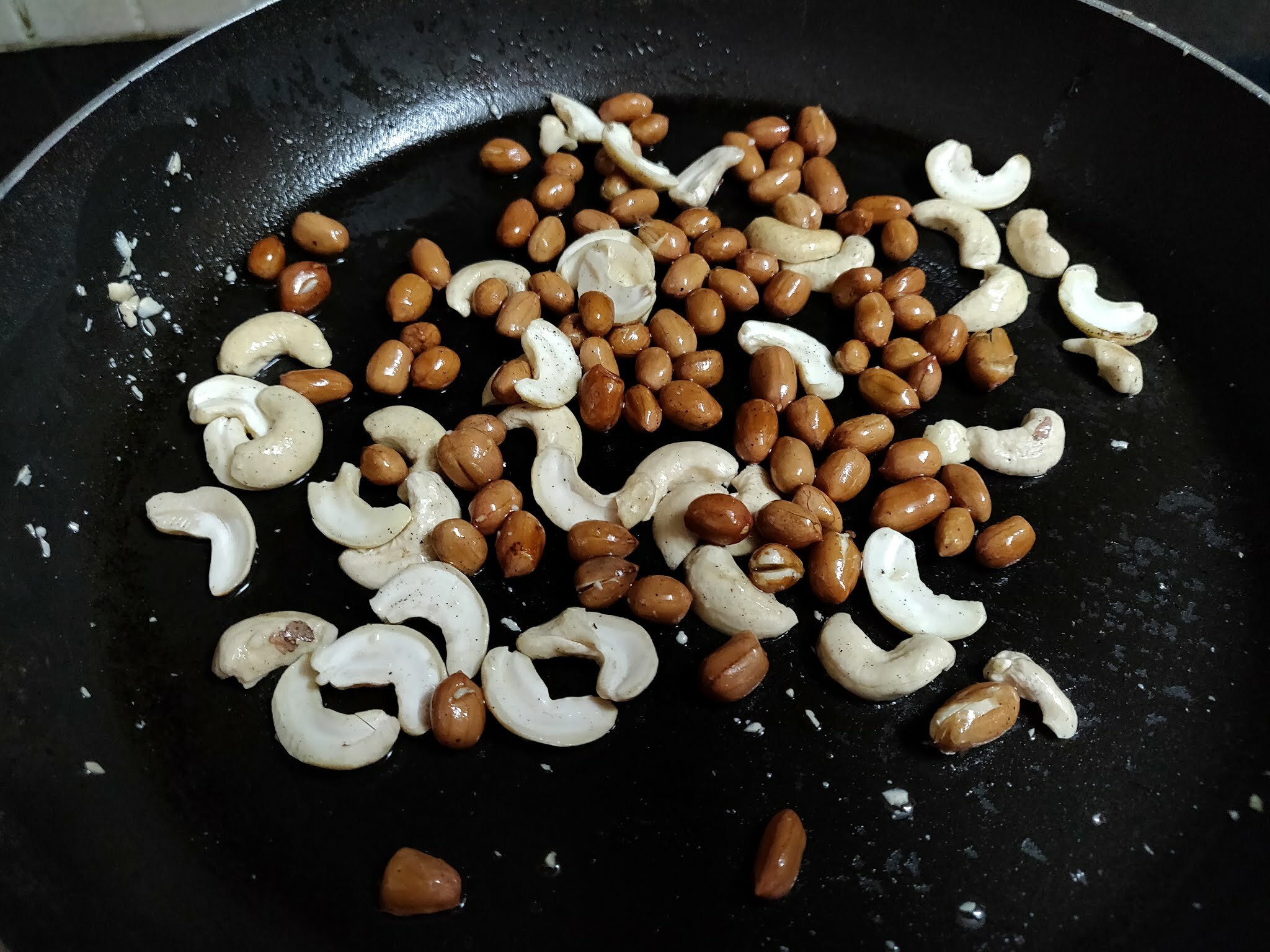 Step3:
Add mustard seeds and dried curry leaves to it. Sauté them till the mustard seeds start to splutter.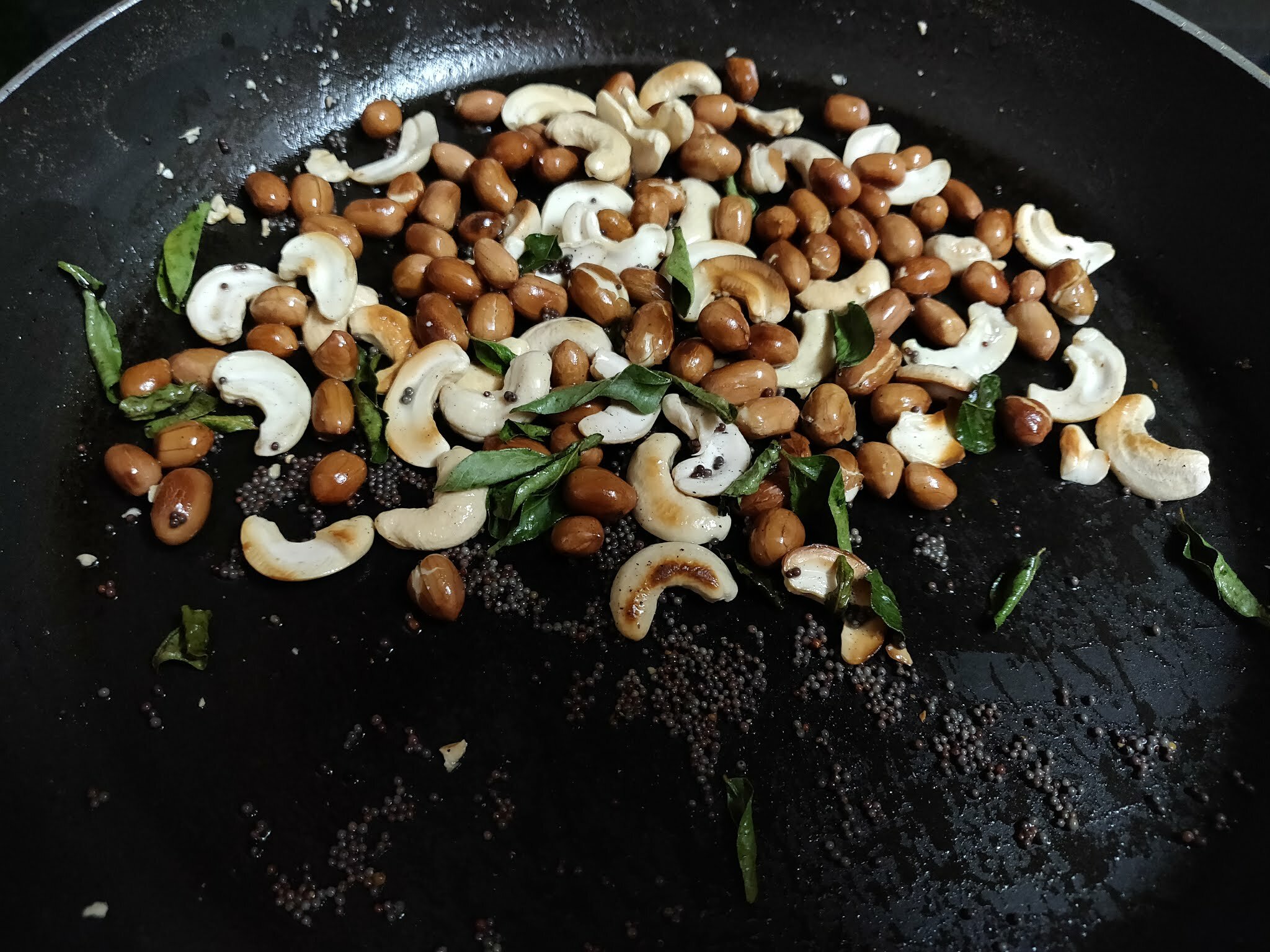 Step4:
Add roasted ragi flakes to it. Switch off the flame. Finally add raisins, salt, sugar, mango powder and red chilli powder in pan.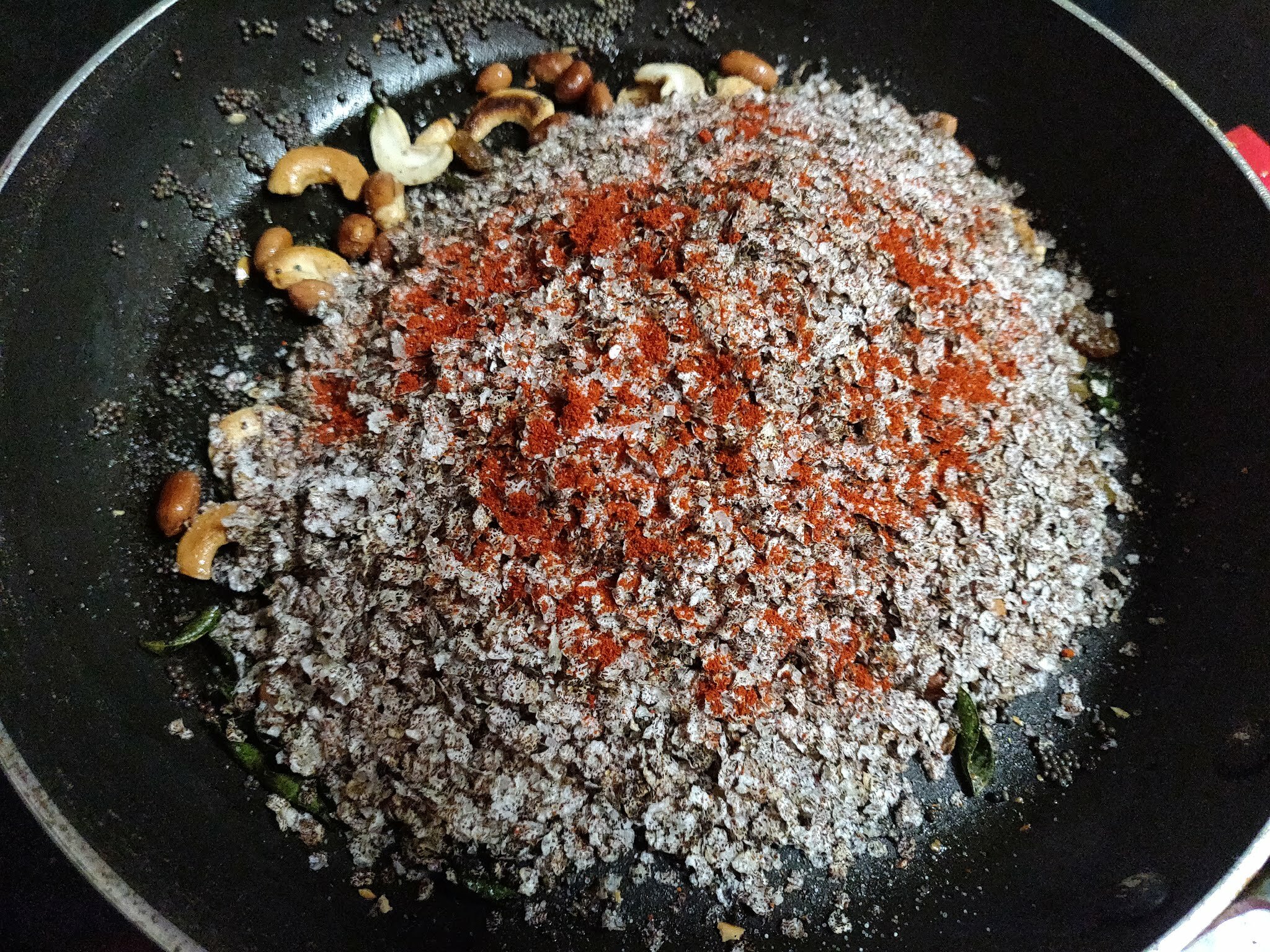 Step5:
Gently toss the pan so that all ingredients are mixed properly. Let the Chivda/Munchies cool down.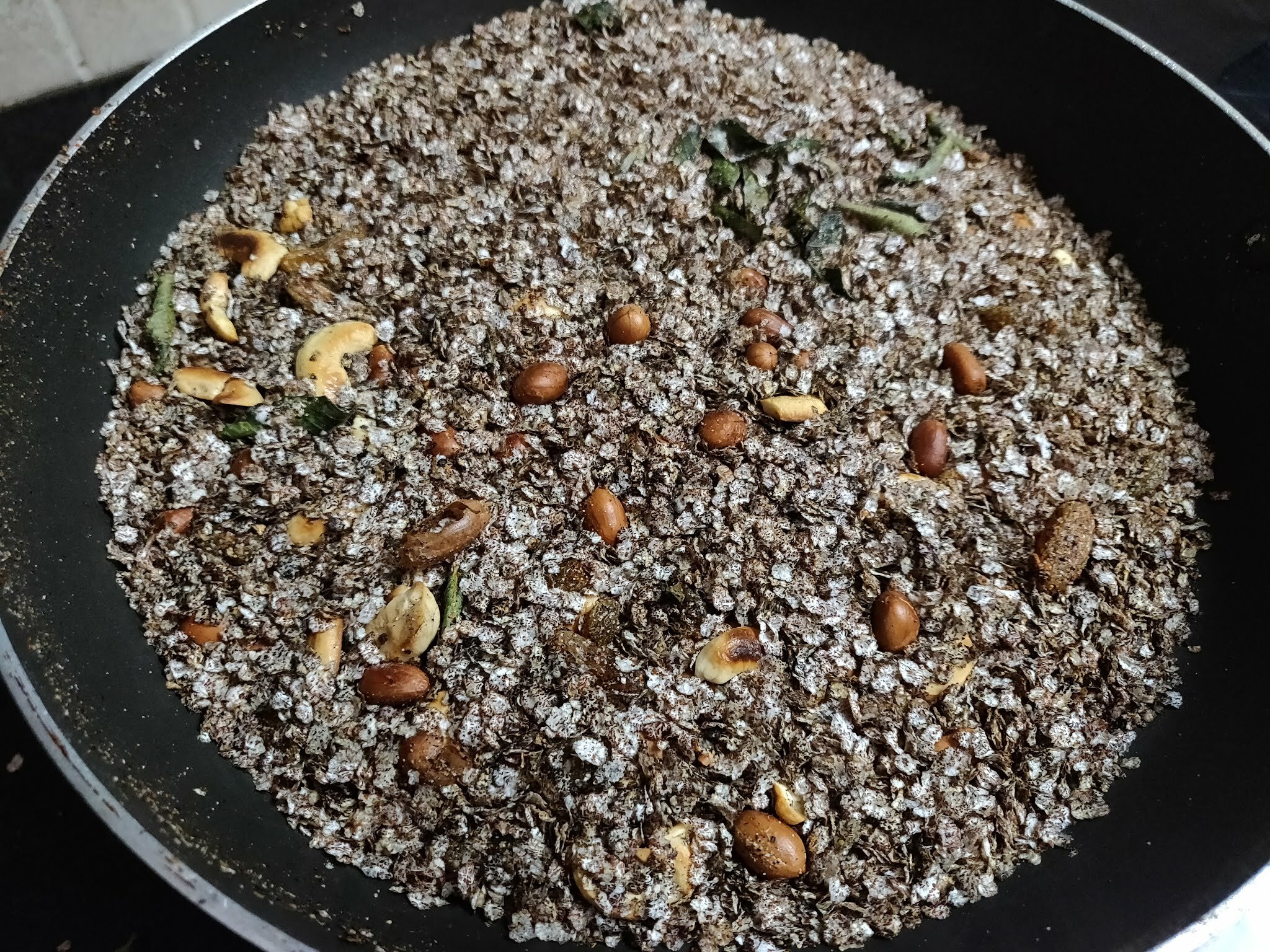 Store Ragi flakes chivda in an air tight container or jar. Carry it while travelling; give in your kids tiffin or enjoy it with your hot cup of tea 🙂