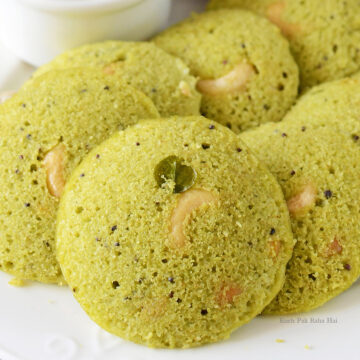 Matar Oats Idli is a delicious Indian vegetarian breakfast recipe made using oats and fresh green peas (matar). It is an Instant idli recipe which means you don't need to do any soaking or fermentation here unlike traditional idli recipes.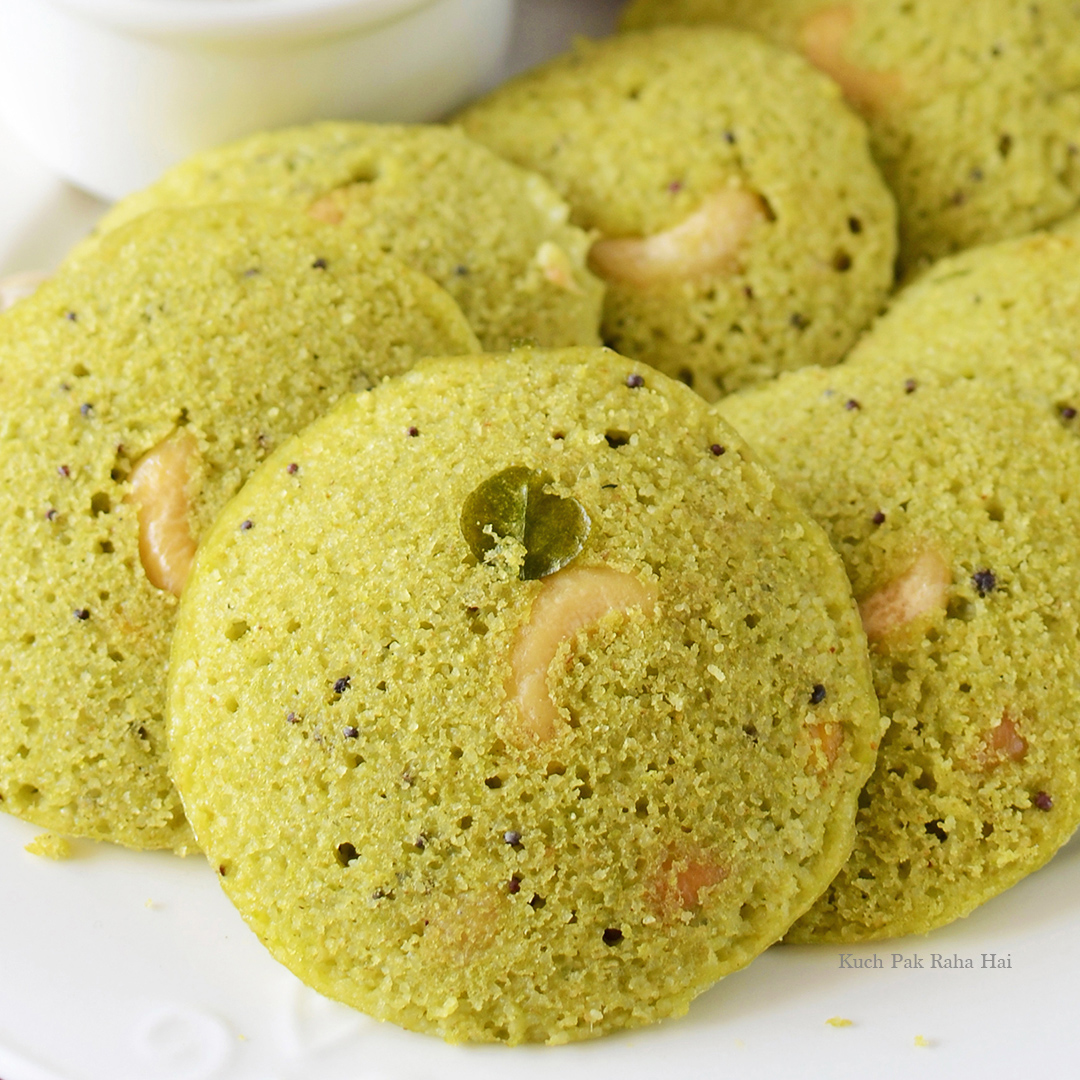 Some rava or sooji (semolina) has also been added to make the idlis more soft & fluffy. You can use any types of oats- instant or rolled to make these idlis.
The best part about winters in India is the abundant availability of fresh green vegetables like saag (mustard greens), palak (spinach), Methi (Fenugreek greens) & Matar (peas) etc in market. After making matar parathas & sandwiches, I thought to give Matar idli a try.
These Matar Idlis turned out so good that I couldn't resist myself from sharing here. They taste absolutely fresh and light with hints of ginger , green chilly and curry leaves. With oats these idlis become healthier and perfect for everyday breakfast. On a winter morning, these soft warm idlis with a hot cup of filter coffee is an absolute bliss.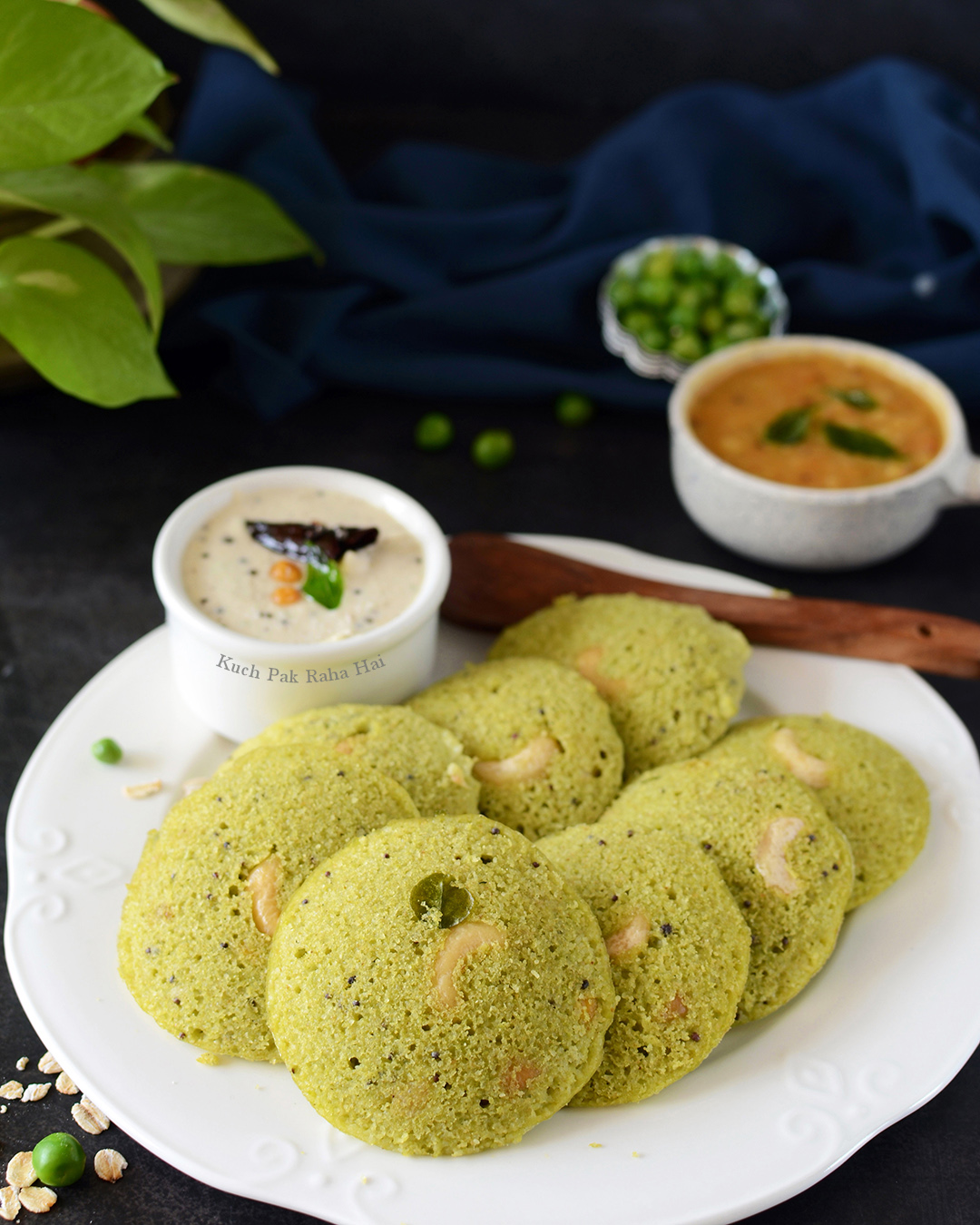 Matar Oats Idli Ingredients:
Oats: You can use any variety of oats for making these idlis. I have used instant oats but you can also use rolled or steel cut oats.
Matar (Peas): Both frozen or fresh matar (peas) can be used here. If you are using frozen peas then wash & thaw them first.
Semolina (Rawa): Some rawa (also known as sooji) is also added to the batter. It gives structure to the idlis and makes them fluffy in texture.
Fruit Salt (Eno): Traditinally idli batter is fermented which make the idli rise during steaming process. As this is an instant idli recipe (no fermentation done), fruit salt or eno is added to mimic the same action.
Cashews: It add some crunch to the idlis and looks lovely in contrast of green idlis. However you can skip it also.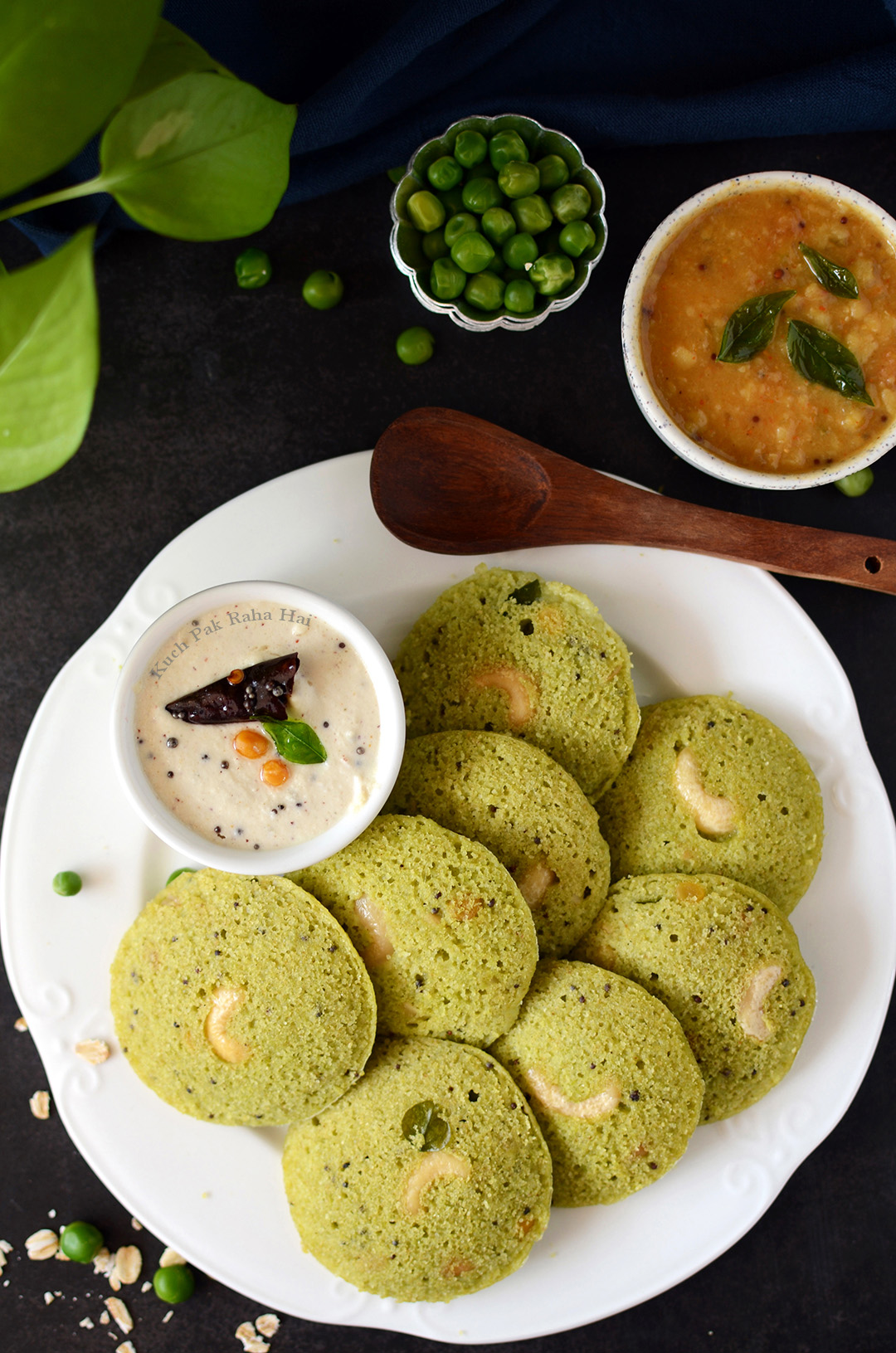 Serving Suggestion:
These Instant Matar Oats Idli tastes best with coconut chutney. You can also enjoy it with sambhar or other chutneys like peanut or chana dal chutney.
I have also shared a youtube video for this same Matar Oats Idli recipe. If you like the recipe, don't forget to like or subscribe to Kuch Pak Raha Hai channel:
Youtube Video:
More Indian breakfast recipes you might like.
Hope you would like this delicious Instant Matar Oats Idli recipe!!
Ingredients: (Makes 12 Idli)
Matar (Peas)- 3/4 cup
Oats – 1/2 cup
Green Chilli-1
Ginger – 1 tsp
Water-1/4 cup
Rawa (Semolina)- 1/4 cup
Yoghurt (Curd)-1/2 cup
Fruit Salt (Eno)- 3/4 tsp
Salt – To taste
Split Cashews- 12 (optional)
For Tempering:
Cooking Oil-2 tsp
Mustard seeds(Rai)- 1 tsp
Chana Dal-1 tsp
Curry Leaves-8 to 10
Chopped Cashews-5 to 6
Directions:
Step 1:
Roast oats in a pan or kadhai for 3-4 minutes. Keep stirring it intermittently and continue roasting till they release their aroma. Once done let them cool down.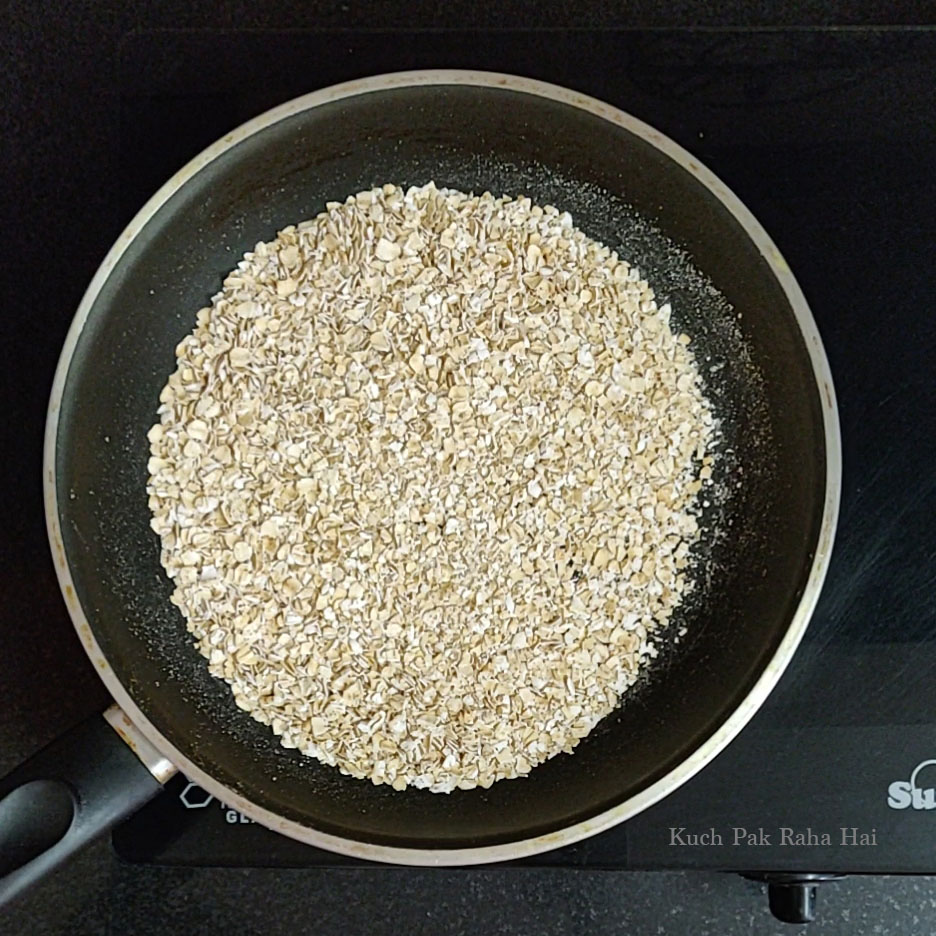 Step 2:
Add these roasted oats in a grinder and grind them coarsely. Keep these aside.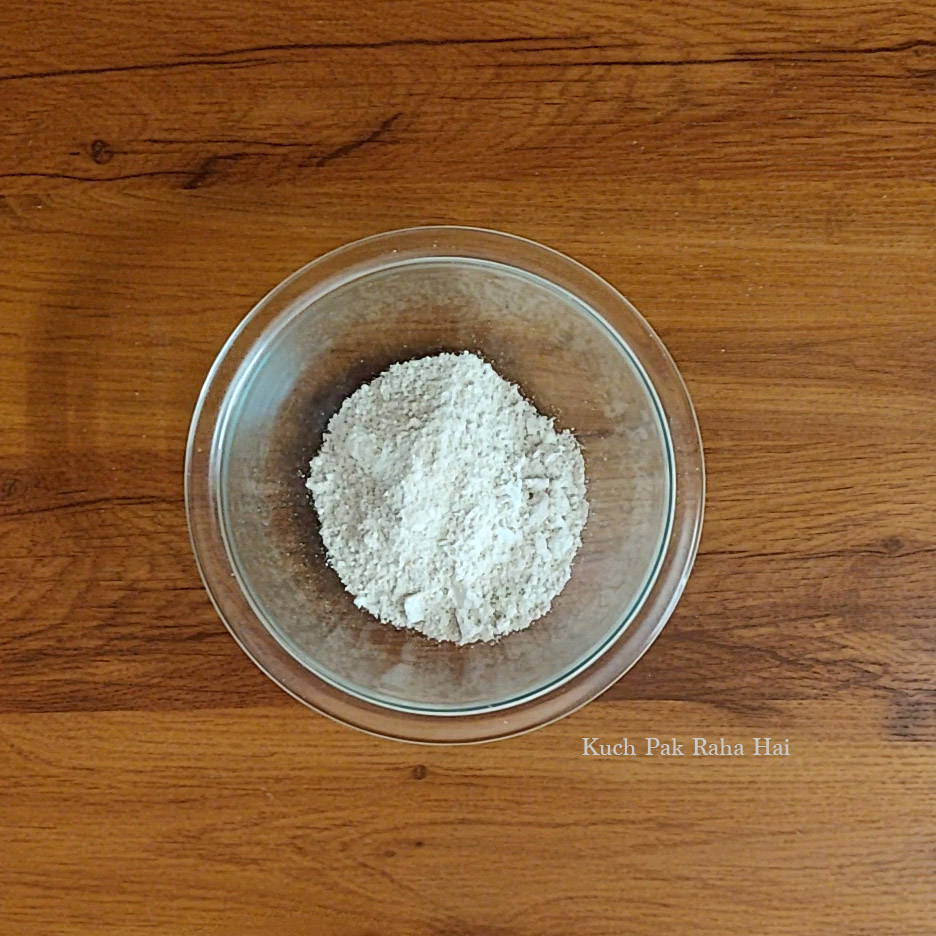 Step 3:
Add peas, green chilli, ginger piece & water in blender jar. Blend till it forms a smooth puree. Keep it aside.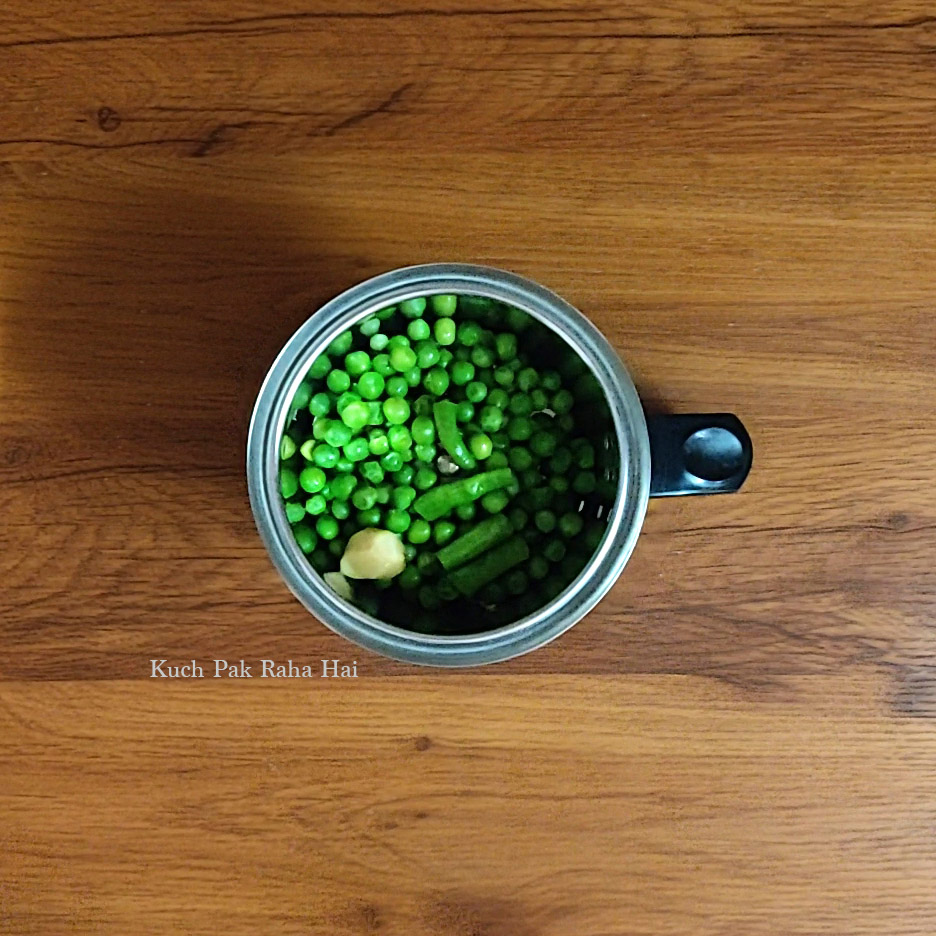 Step 4:
In a mixing bowl, add oats flour (which we prepared above), rava, peas puree, curd (yogurt) and salt mix well. If the batter seems too thick add some water. Keep it aside.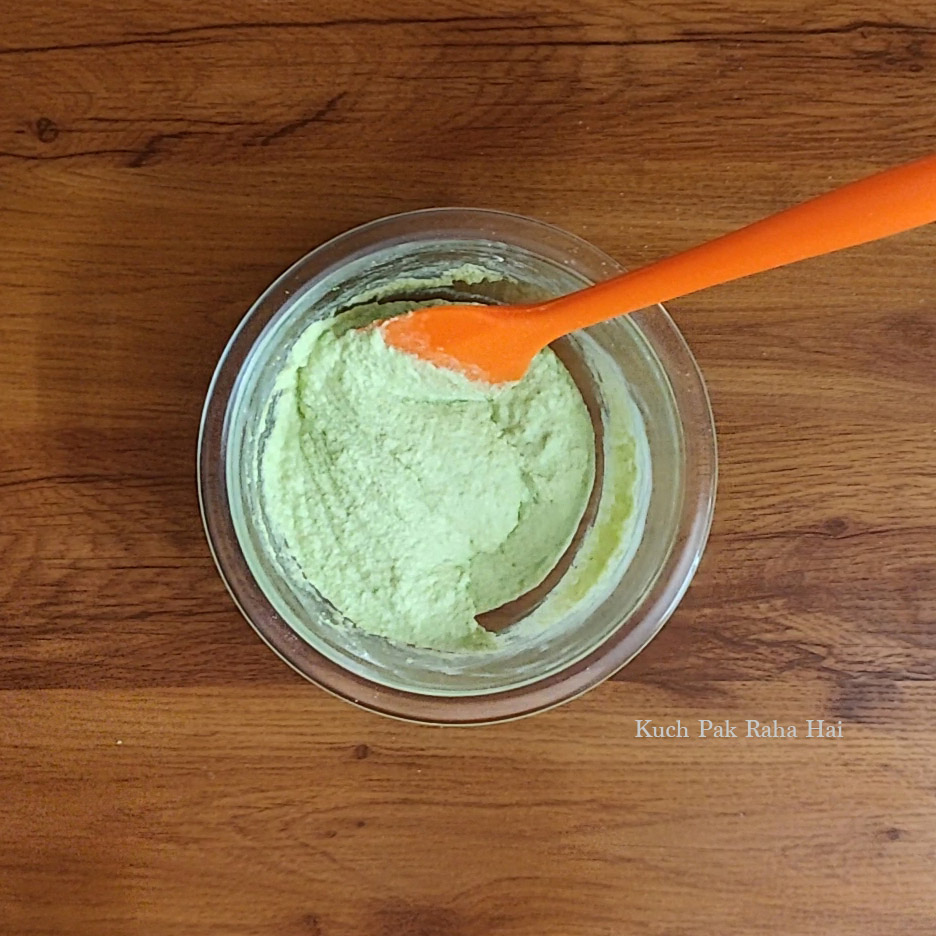 Step 5:
In a small pan heat oil, add mustard seeds, chana dal, cashews and curry leaves. Saute it for 30-40 seconds. Add it to the idli batter which we prepared above. Mix well. Cover this mixture and let it rest for 30 minutes.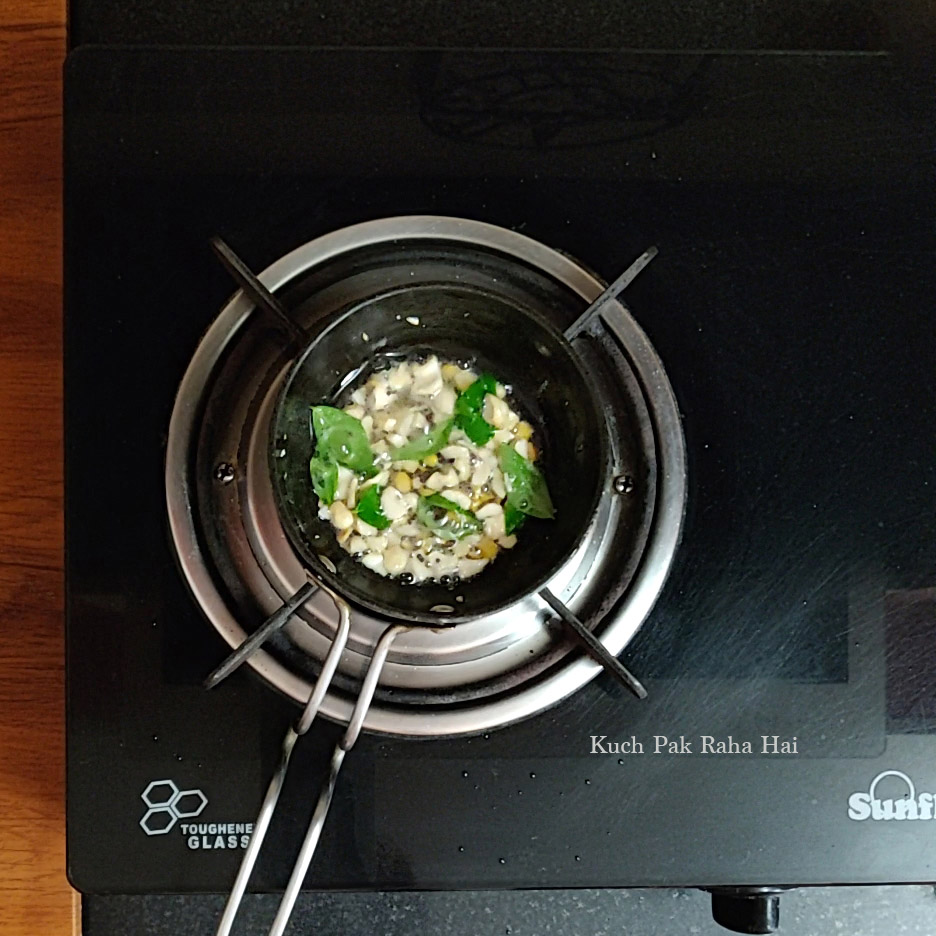 Resting is an important step as it helps in softening of oats and gives time to absorb all flavours.
Step 6:
When you are ready to make idlis, keep some water in a steamer for boiling. By the time water is boiling, check the batter. If it has turned too thick add 2-3 tsp water more. Add eno (fruit salt) and mix well. You will notice the batter will become fluffy & light.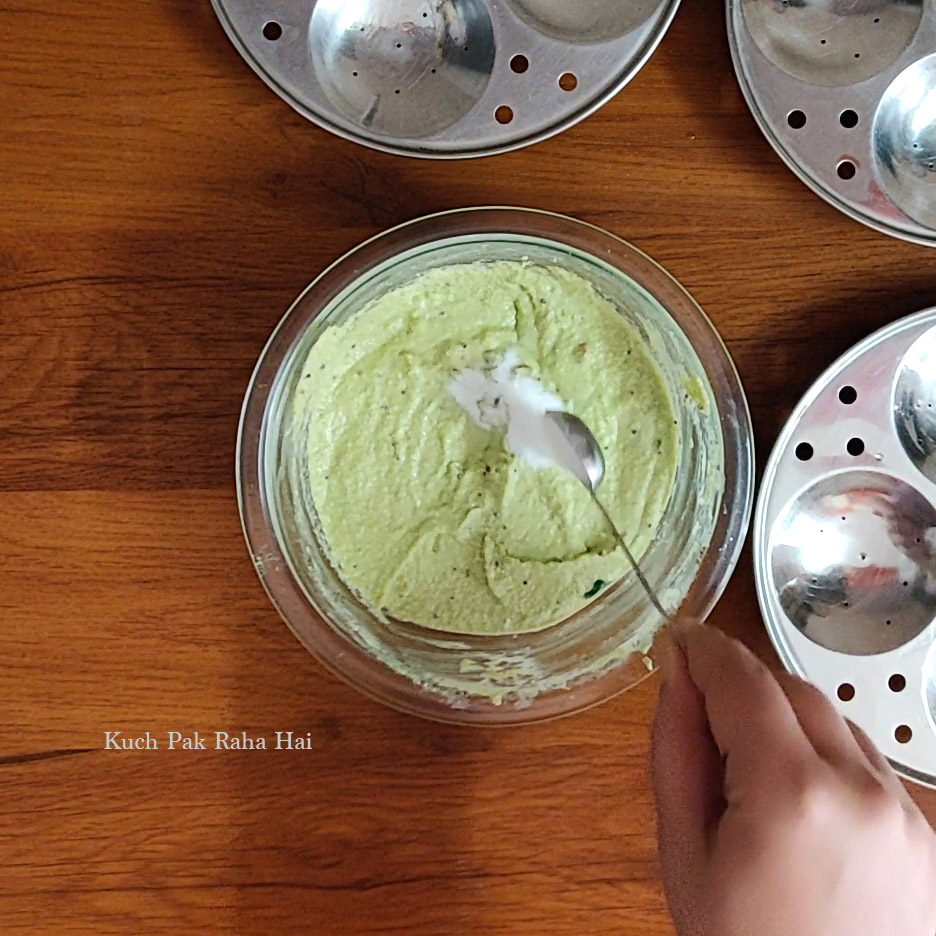 Step 7:
Apply oil on idli plates. Place half split cashew in each of the slot and pour idli batter on it using a spoon. Gently level it.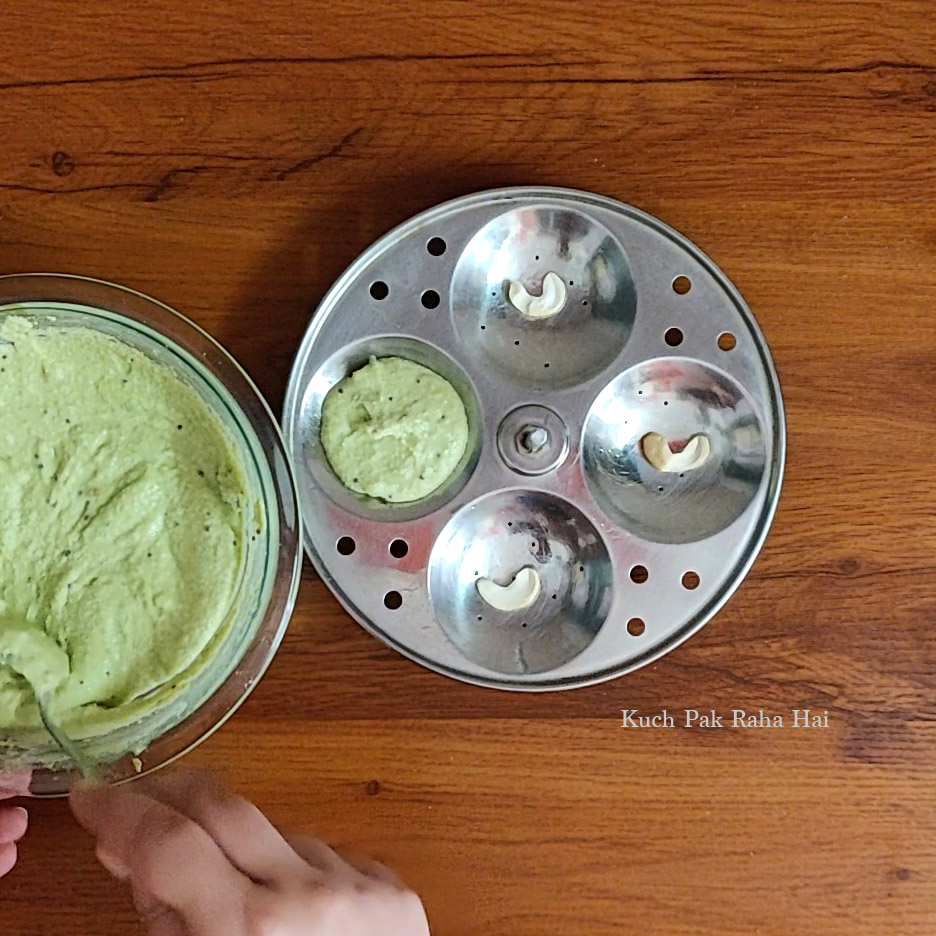 Step 8:
Lower these idli stand in steamer. Cover it with a lid and stem for 10-12 minutes. After 10 minutes, check the centre of a idli with a knife for doneness.
There should not be any wet batter on tip of knife. Once done, bring the idli plates out of steamer. Let it cool down for 2-3 minutes and then scoop them out with a help of knife or spoon.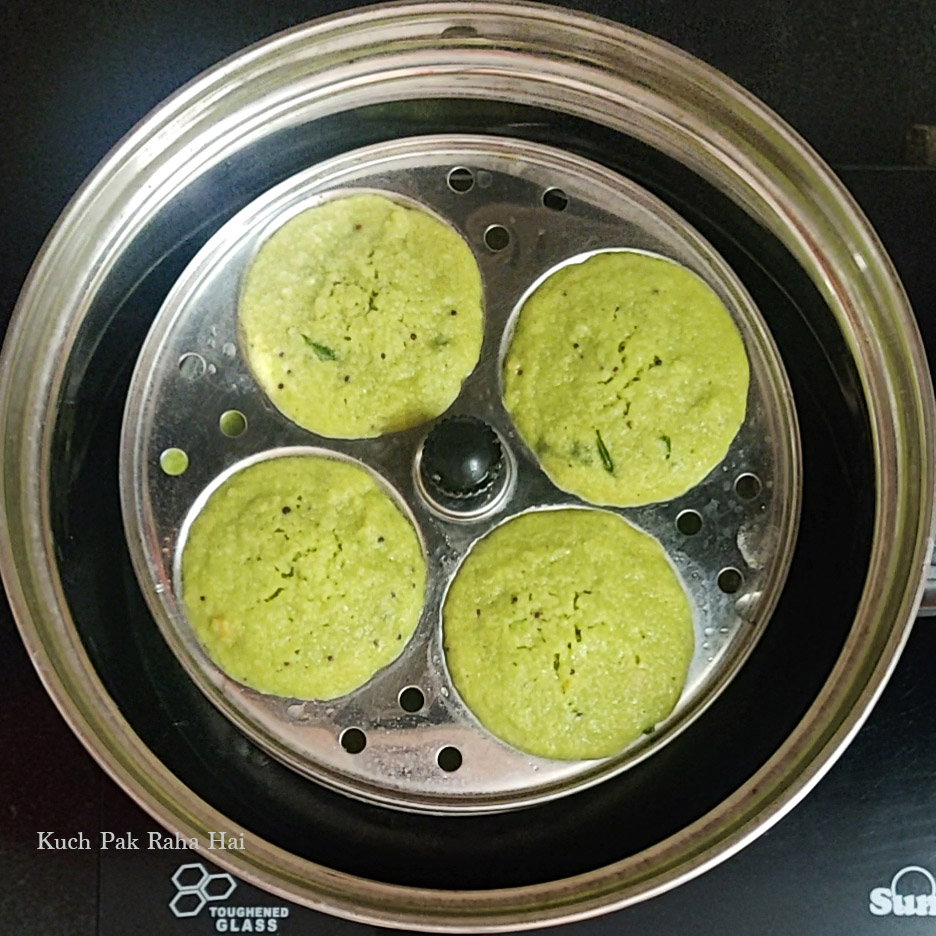 Enjoy these yummy soft idlis with coconut chutney or peanut chutney.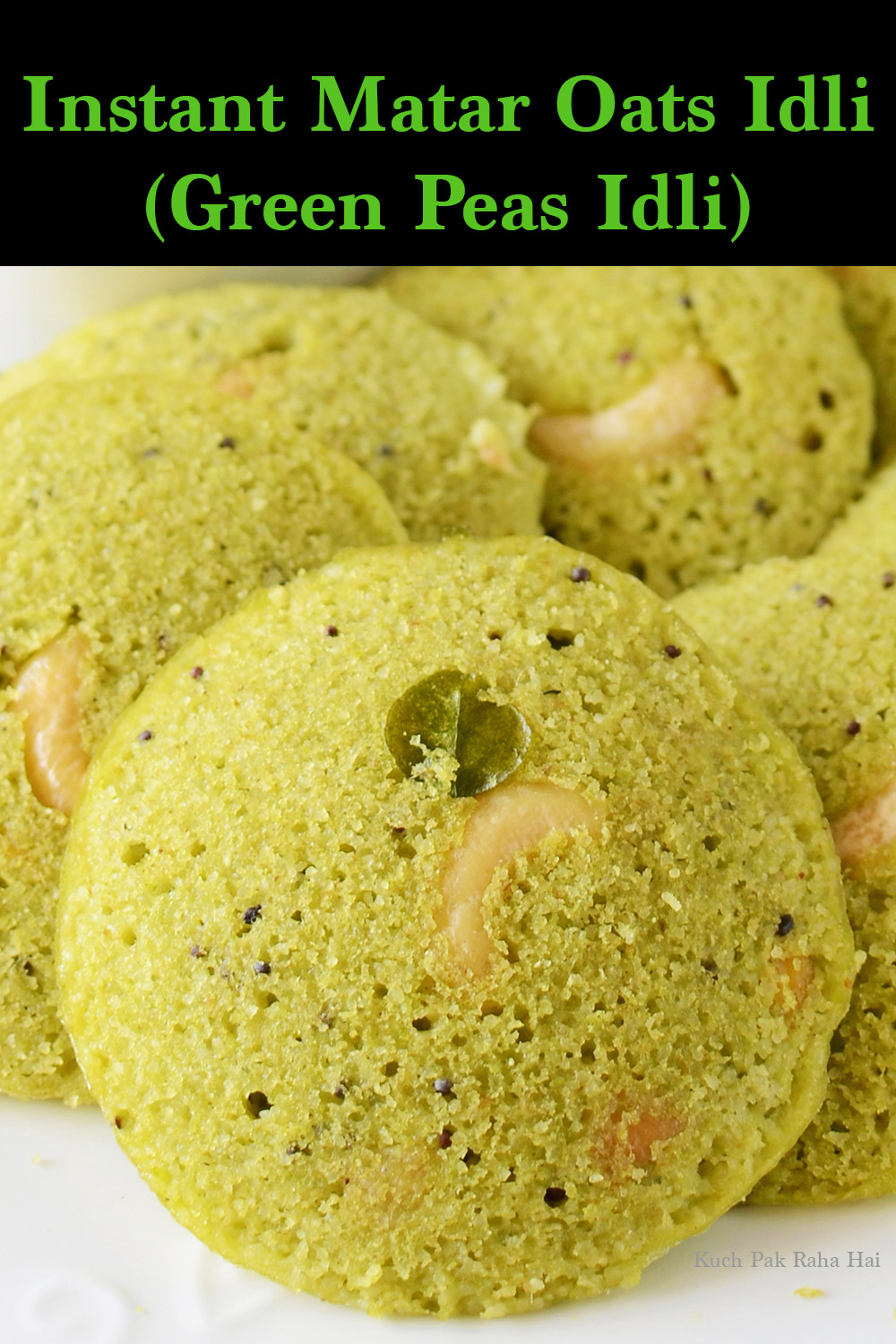 How to make these Matar Oats Idli quickly for breakfast?
You can roast the oats, grind them beforehand and store it in airtight container. This way whenever your are preparing these idlis it will save your preparation time.
The second way is to prepare the batter a night before (don't add eno fruit salt), cover it and keep it in fridge. In morning whenever you are ready to make idlis bring the batter back to room temperature, add some water if it has thickened and add eno to it. Bon Appetit!! 🙂 
More Oats recipes (all are eggless):
If you try this easy oats idli recipe & share pics on social media, then don't forget to tag on Facebook, Instagram or use #kuchpakrahahai.
Let's stay connected
Facebook | Instagram | Pinterest| Youtube