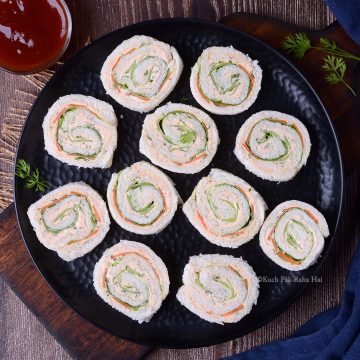 Pinwheel sandwiches are delicious refreshing mini bread sandwiches with layers of tasty cream cheese filling, cucumbers, carrots and lettuce. They are a great option to include in sandwich platter, serve as finger food in party, high tea, picnic or can be packed as snack in lunch box .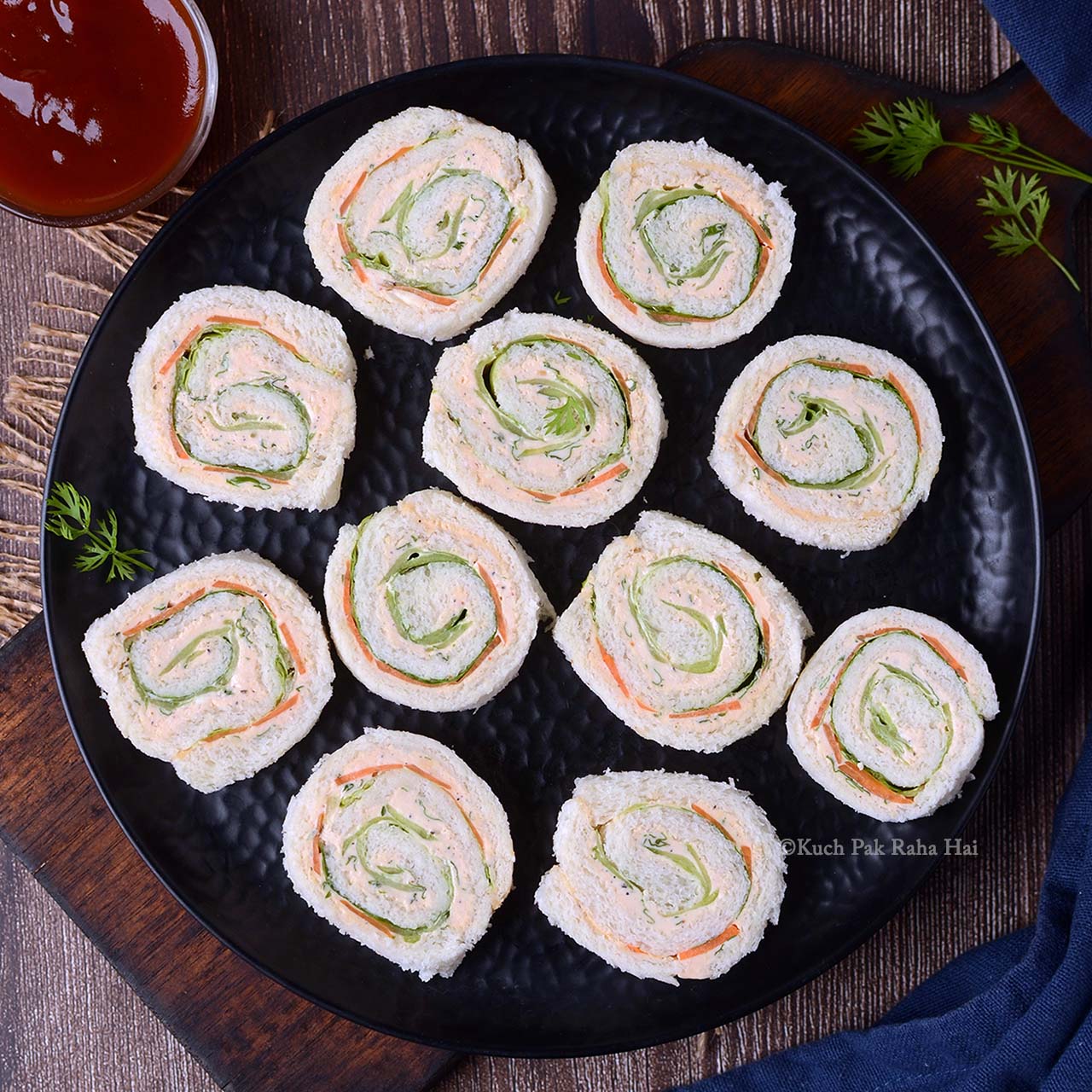 These pinwheel sandwiches are also called spiral sandwiches or sandwich roll ups. As it is a cold sandwich recipe (i.e. no grilling, no cooking, fireless cooking recipe), you can even involve kids in making them.
The pinwheel sandwich recipe shared here is :
Vegetarian
Kids friendly
Easy to make
Made with bread (not tortilla)
Great for potluck or picnics
With orange carrots, green lettuce and white bread, these tricolour sandwiches are also perfect for Republic day or Independence day food theme. If you are looking for more pinwheel appetiser recipes, then do check out pinwheel samosa recipe which can be made on both stovetop or air fryer.
Ingredients for pinwheel sandwiches:
Bread Slices: The bread used should be fresh and soft as it otherwise can break while rolling (bread become dry & crumbly as it gets older). I prefer to use white sandwich bread for these pinwheels.
Cream Cheese: You can use plain or flavoured cream cheese for these sandwiches. Make sure to bring it to room temperature first to make it spreadable.
Vegetables: I have used cucumber, carrots and romaine lettuce in these pinwheel sandwiches. Instead of romaine lettuce you can also use iceberg lettuce or red lettuce leaves. We will not be using the seed part of cucumbers as it is high in water content which can make the sandwiches soggy.
Seasoning: Salt, crushed black pepper and Italian seasoning have been used to season these sandwiches. You can also use red chilli flakes, dried basil, oregano or thyme etc.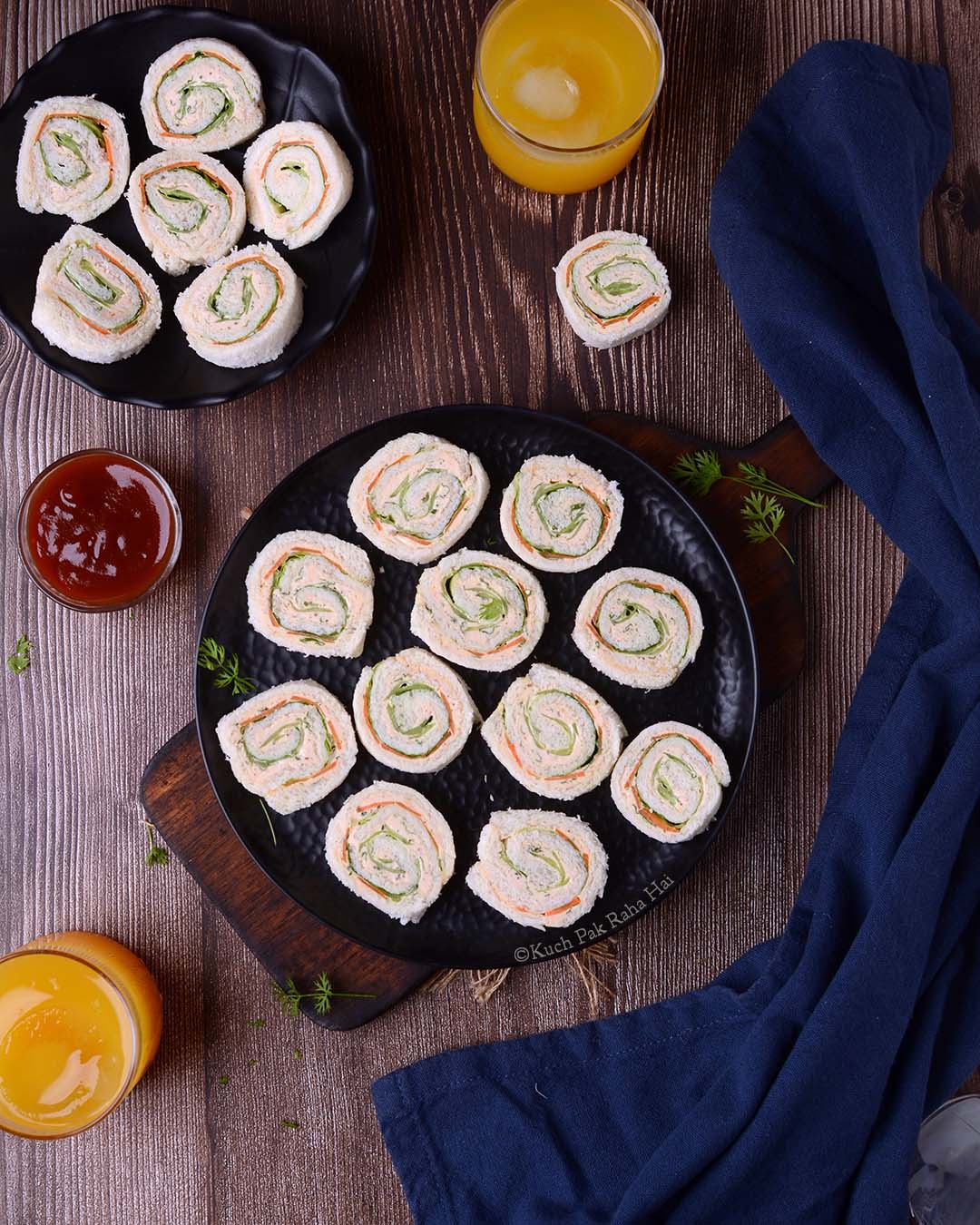 Mayonnaise: I like to add some mayonnaise to make the filling smooth and easy to spread. You can skip it also.
Ketchup: It adds flavour and colour to the cream cheese filling. Instead of ketchup, you can zing up your pinwheel sandwich by adding some sriracha, tabasco or cilantro mint green chutney in cream cheese filling.
Lemon & fresh herbs: Little bit of lemon juice and fresh herbs cut through the saltiness of cream cheese and add freshness to the filling. You can use herbs like cilantro. spring onion greens, scallions, coriander or garlic chives.
How to make pinwheel sandwiches?
Preparing the filling:
To prepare these colourful bite size sandwiches we begin by mixing cream cheese, Italian seasoning, ketchup, salt, black pepper and fresh herbs.
Prepping the vegetables:
Peel carrots and cucumbers. Then thinly slice the carrots and cucumber using a food processor, grater or peeling knife. We will now begin assembling the sandwich by layering the bread, cream cheese, vegetable slices and lettuce.
Rolling bread for sandwiches:
We first flatten the bread slices with the help of a rolling pin. Layer them with prepared cream cheese filling, sliced veggies and lettuce. Carefully roll the layered bread slices, wrap in a cling film and chill in fridge for at least 2 hrs.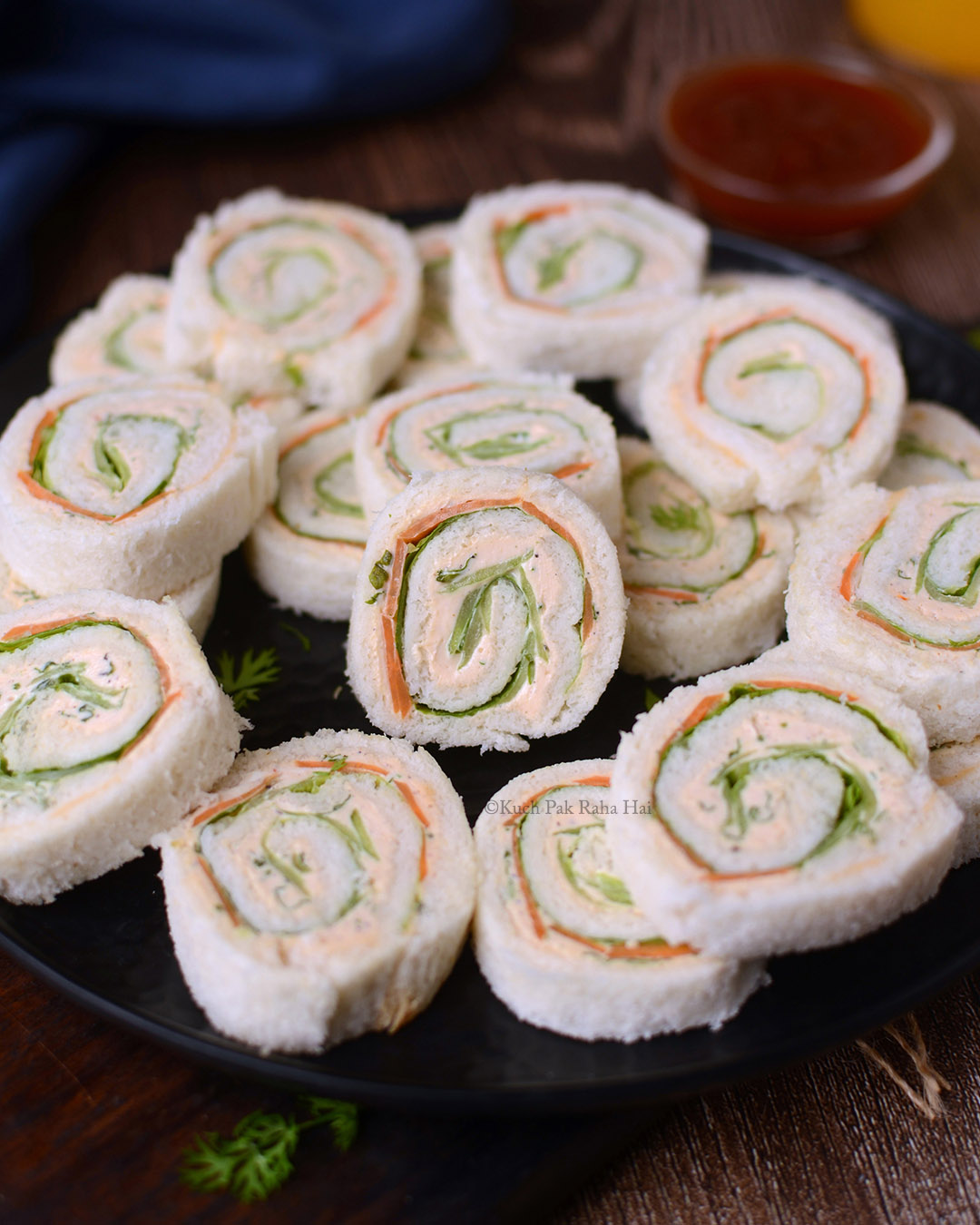 Chilling the sandwiches is important step as it makes cutting the process easier and you get neatly cut pinwheel sandwiches. Once chilled, unwrap the cling film and using a sharp knife cut the sandwiches.
Pinwheel Sandwich Variations:
You can make pinwheel sandwiches without cream cheese and try different variations like:
Mayonnaise: Instead of cream cheese, you can use mayonnaise or a mixture of mayo or sour cream. To make these pinwheel sandwiches vegan, use vegan mayonnaise.
Peanut Butter & Jelly: Cream cheese & veggies can be swapped with some creamy peanut butter, jelly or strawberry jam.
Hummus: To make these sandwiches protein packed, use chickpea hummus or roasted beetroot hummus as spread instead of cream cheese.
Cheese: You can also add some grated processed cheese or cheddar cheese in cream cheese filling.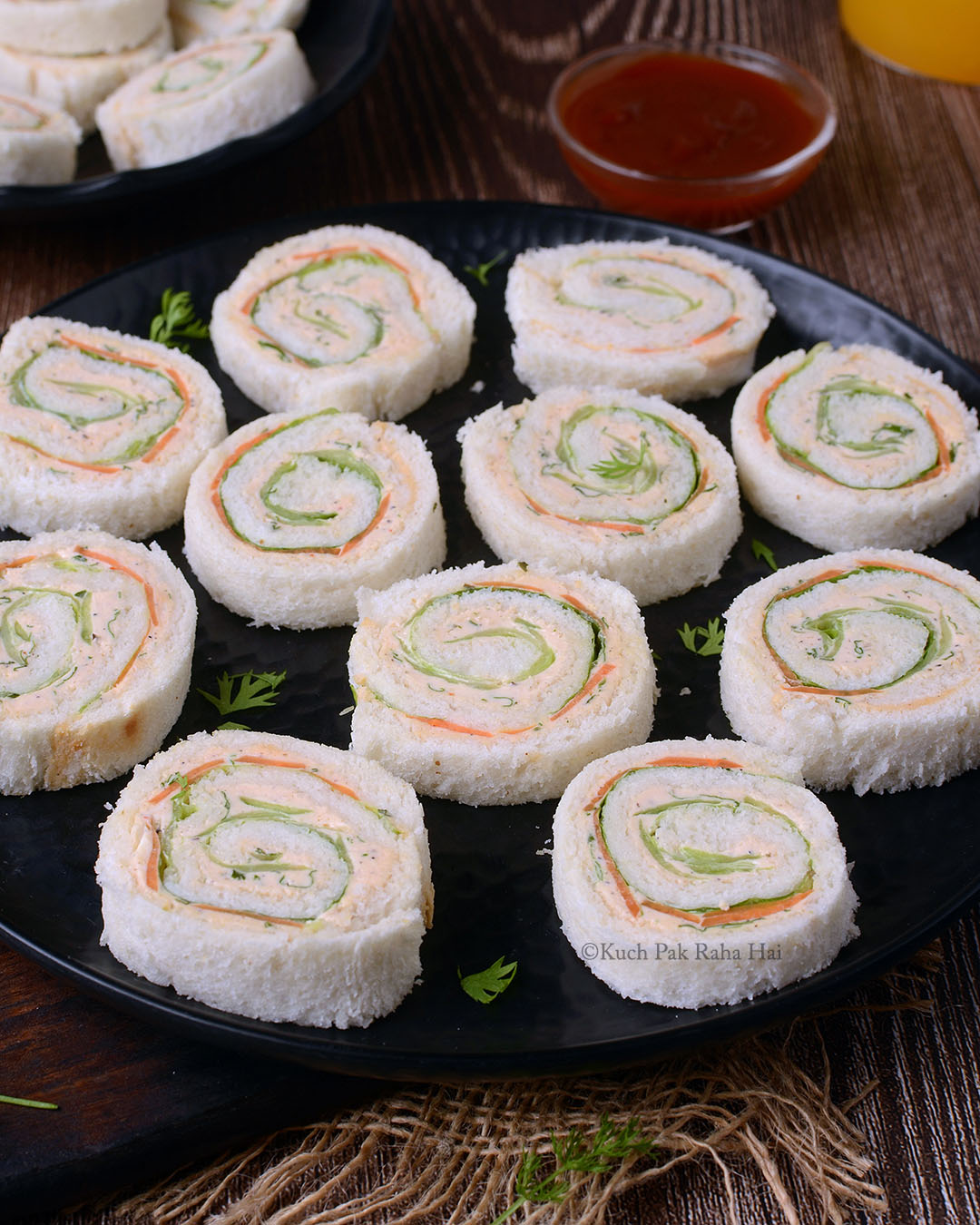 Different kind of seasoning or spices like smoked paprika, cajun seasoning, red chilli flakes etc & vegetable like boiled sweet corn, finely chopped french beans, onions, coloured bell peppers, olives or jalapeños etc can also be added in the filling.
More vegetarian sandwich recipes you might like:
Ingredients:
Bread Slices- 8
Cucumbers- 2
Carrots-2
Romaine Lettuce- 5 to 6 leaves
Cream Cheese-150 grams (5 oz.)
Ketchup – 2 tsp
Mayonnaise- 1 tbsp
Crushed Black Pepper-1/4 tsp (to taste)
Italian Seasoning- 1/4 tsp
Salt-1/8 tsp (to taste)
Lemon Juice- 2 tsp
Chopped cilantro*-2 tbsp
Notes:
Bring the cream cheese to room temp to make it easily mixable with seasoning.
The above recipe yields 28-30 pinwheel sandwiches.
Instead of cilantro, you can use other fresh herbs like spring onion greens, coriander or chives.
Directions:
Step 1:
Add cream cheese, ketchup, mayonnaise, black pepper, Italian seasoning, salt and lemon juice in a bowl. Mix well till it becomes smooth & spreadable. Taste and adjust salt if required. Keep aside.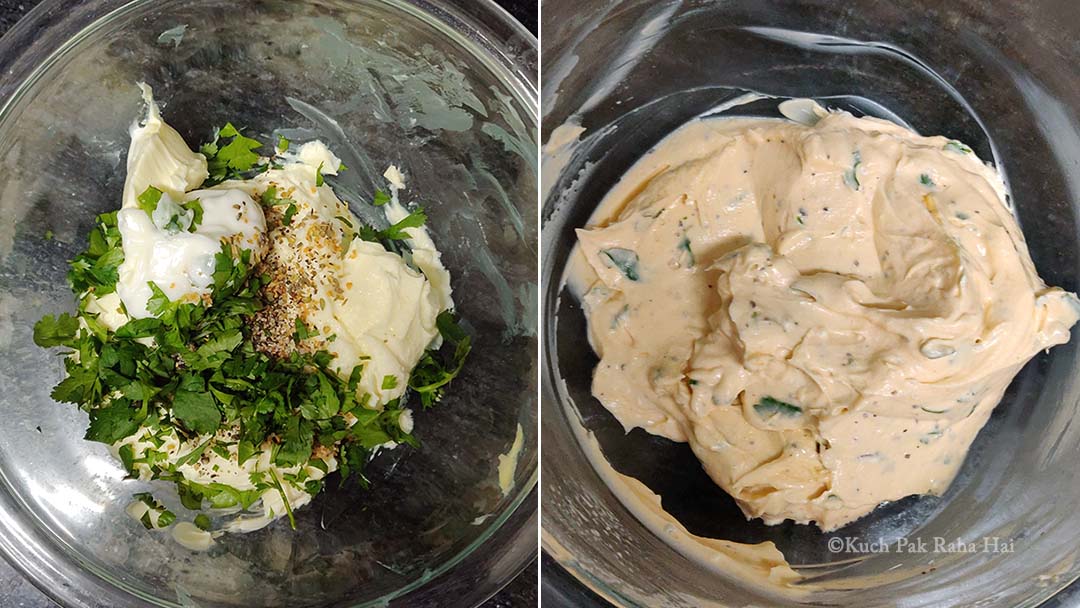 Step 2:
Peel the cucumbers and carrots. Using the same peeler, peel out cucumber and carrot strips. Skip the seed part of cucumbers. Keep them aside.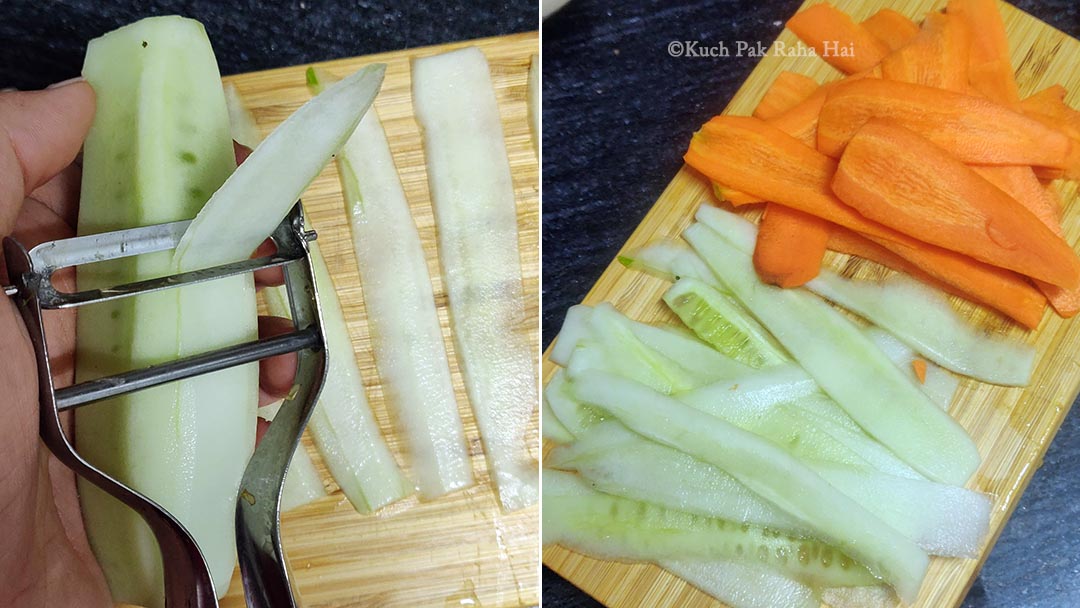 Step 3:
Chop off the hard edges (crust) of bread slices. Spread cling film on kitchen counter and place a bread slice on it. Roll it flat using a rolling pin. Repeat this process with second slice.
Slightly overlap the second slice over first one such that their one edge is overlapping. Using a rolling pin, again flatten the overlapped edges so that both slices are joined.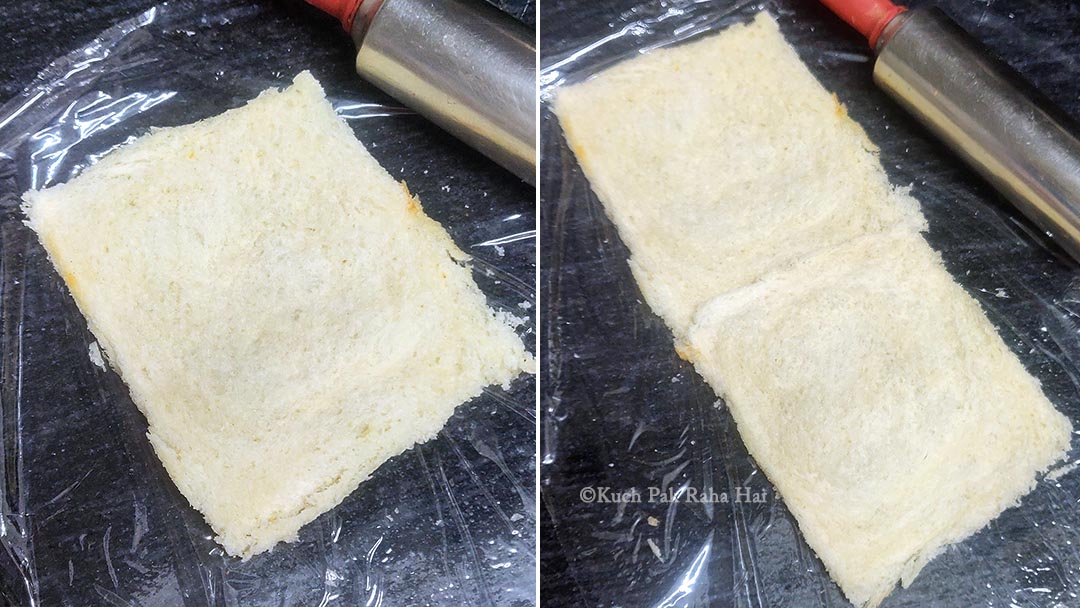 Step 4:
Spread the prepared cream cheese filling on the bread slices. Layer cucumber, carrots slices over it. Roughly tear the lettuce leaves and arrange them over cucumbers and carrots.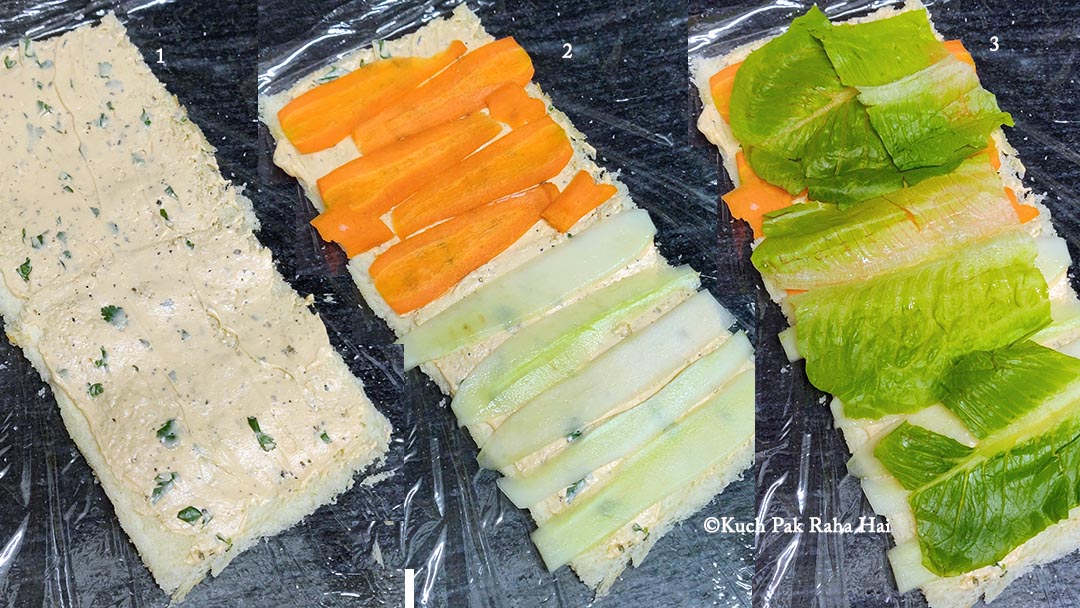 Step 5:
Carefully start rolling the bread into a tight roll. Wrap this roll tightly in a cling wrap and twist the corners to seal the bread roll.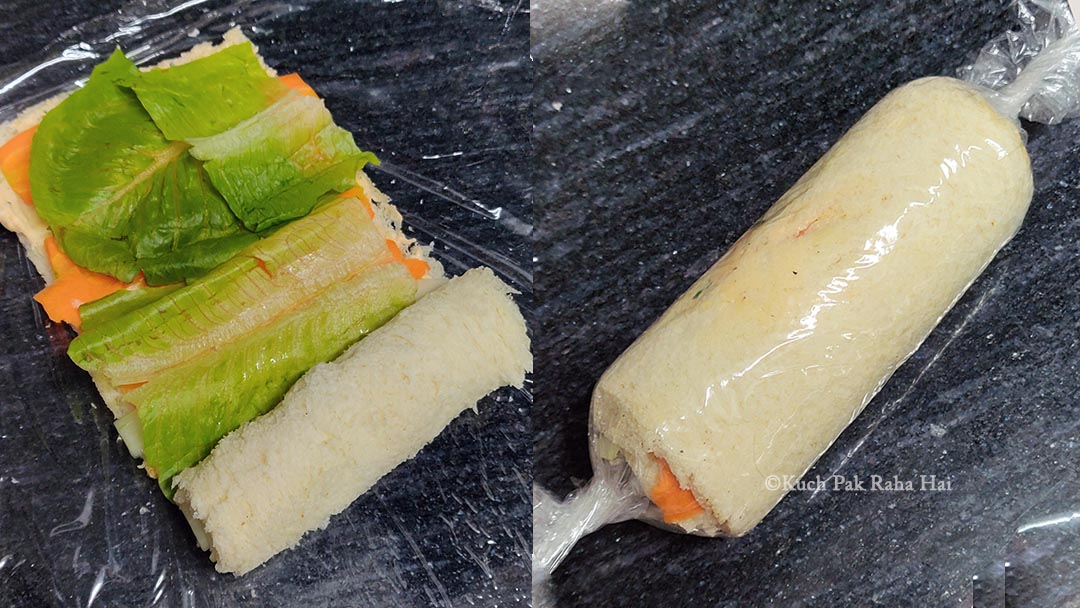 Step 6:
Chill this roll in fridge for 2-3 hrs (or overnight). Once chilled unwrap the cling wrap. Hold the bread roll firmly on a chopping board and cut the slices using a sharp knife.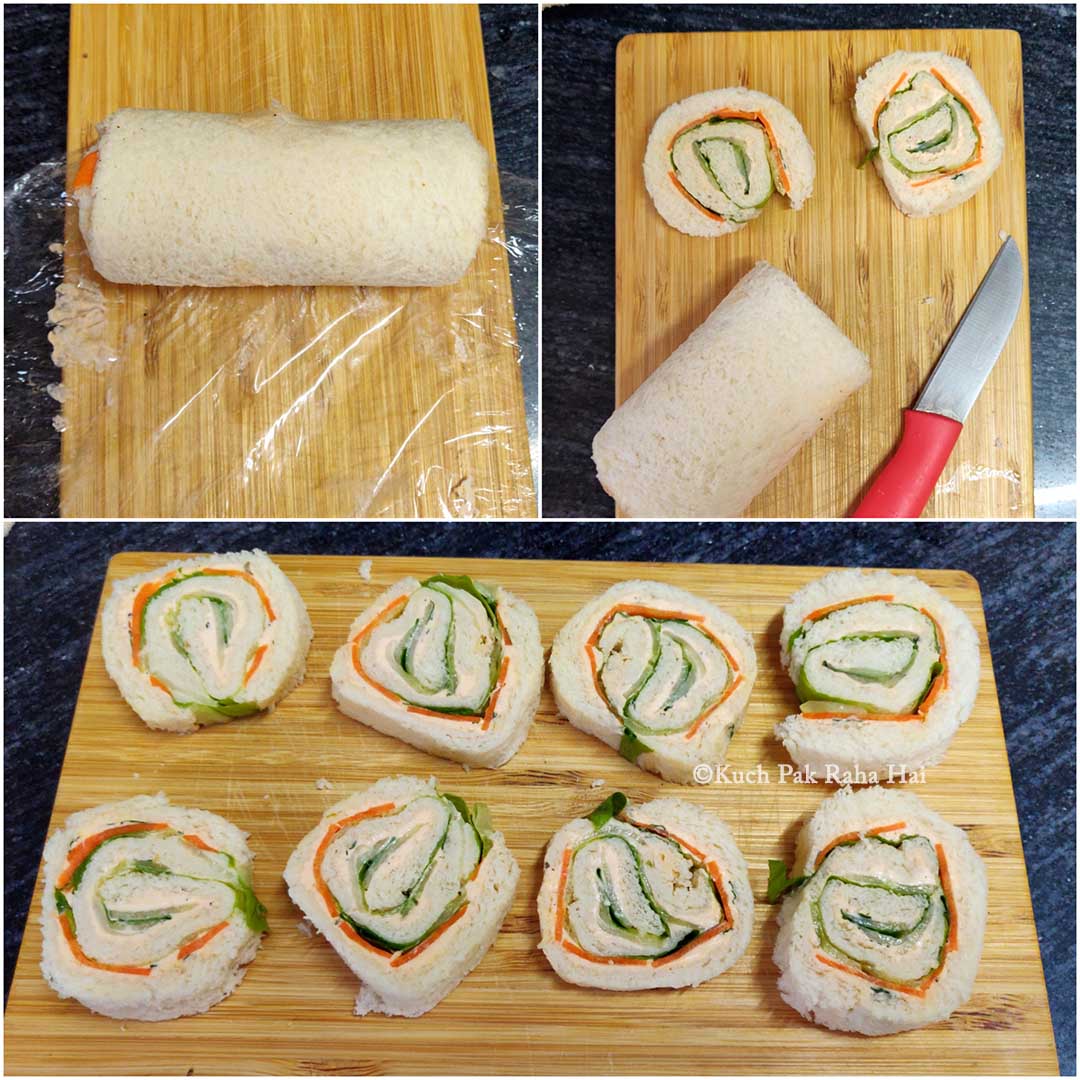 Enjoy these pinwheel sandwiches as it is or serve them with ketchup.
Can I make these bread pinwheel sandwiches in advance?
Yes you can prepare the sandwich rolls, cling wrap them tightly & store in fridge for upto 2 days. Slice them just before serving. This also makes it a good option for breakfast or kids' tiffin box also as you can make these rolls previous night and in morning you can just slice and pack the sandwiches
If you have leftover cut sandwiches, then store them in an airtight container in fridge. I would not recommend storing them much longer as the vegetables start releasing their moisture.
Tips:
1. Please don't skip the chilling step as it help the sandwich to set properly. They should be chilled for minimum 2 hrs and can even be kept overnight in fridge.
2. You can use eat remaining leftover cucumber (seed part) as salad or add it in green smoothies.
3. The leftover cream cheese filling can also be used in wraps or as dip. or enjoy it with crackers or snacks like falafel, crispy baby corns, pasta chips etc.
Pin for later: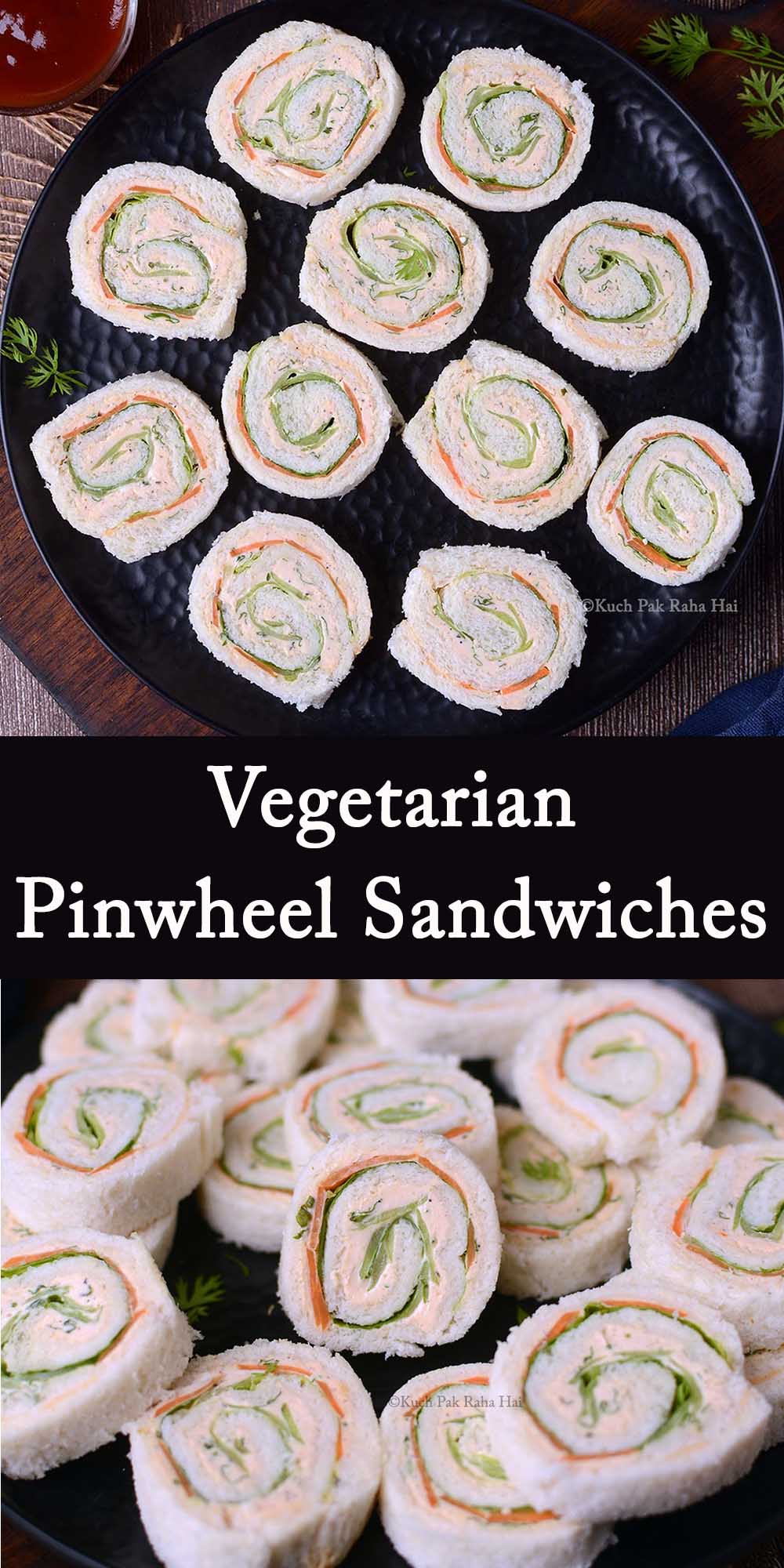 More fireless cooking recipes:
If you try this easy veg pinwheel sandwiches recipe & share pics on social media, then don't forget to tag on Facebook, Instagram or use #kuchpakrahahai.
Let's stay connected
Facebook | Instagram | Pinterest| Youtube