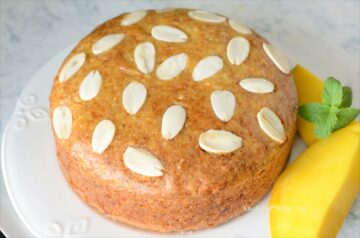 Easy eggless mango cake recipe made using fresh mango puree. This mango  cake turns out absolutely soft, spongy bursting with mango flavour in every bite. It is made without butter or condensed milk.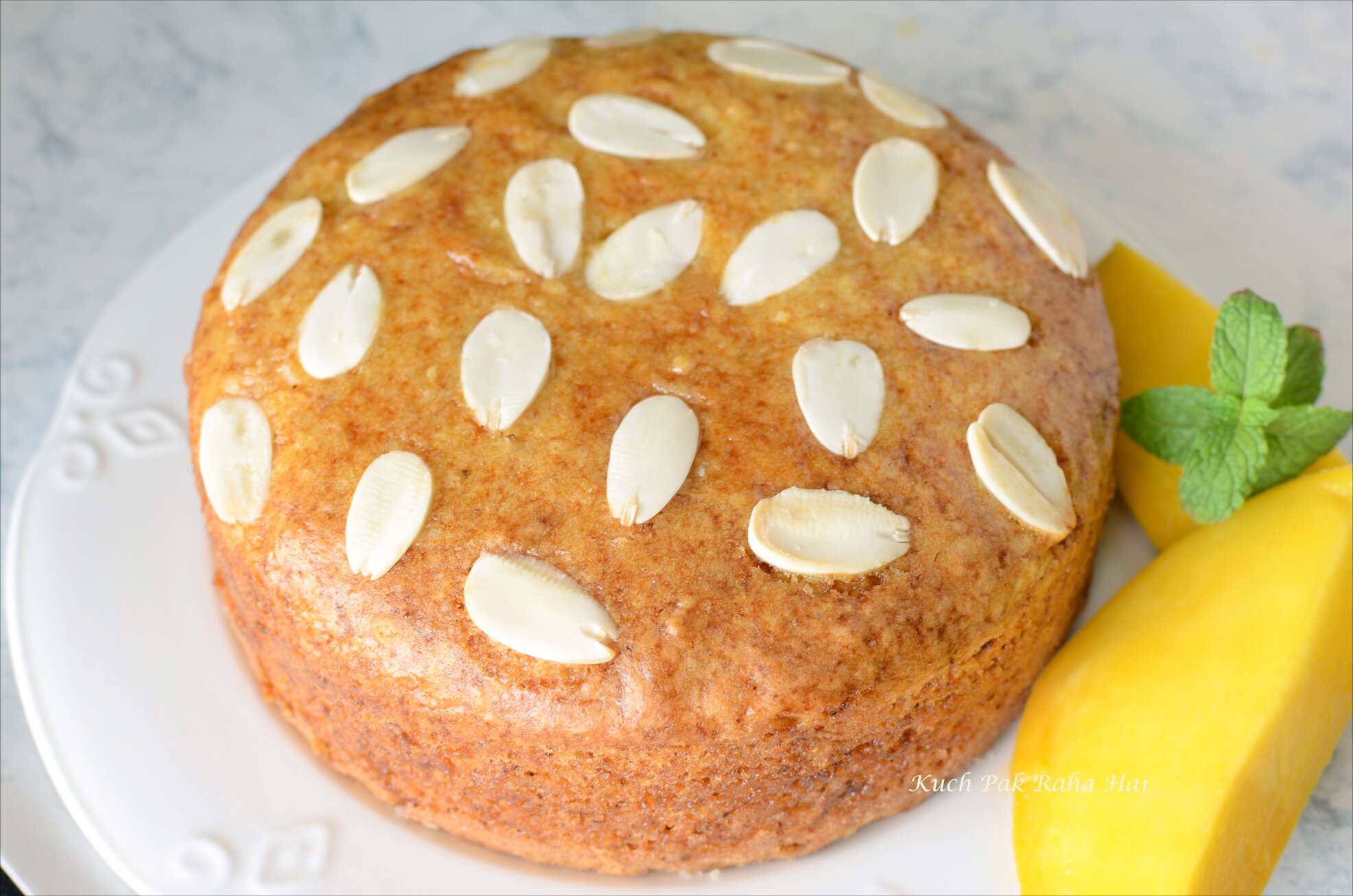 It is summer time and also season for ripe juicy mangoes. In this post we will be making Eggless Mango Cake using pulp of fresh mangoes. The cake comes out to be so soft & spongy with lip smacking hints of mangoes. It is a prefect cake for summers with refreshing fruity flavour. No artificial colour or essence is used in this recipe
This post is special one as it marks 2nd blog anniversary. I still remember this day two years back when I was writing the first post on this blog, I was myself really unsure how things would turn out. Initial idea was just to compile a set of tried & tested recipes with some supporting images that would help the readers to understand and execute a recipe.
Gradually, things started falling into place automatically. The first person who has encouraged me and supported me so much in this blog during these 2 years is my mom. She made sure she pushed me beyond the limits which I had set for myself. Without her, I don't know what I would have done as a food blogger.
The other two persons who have been a part of this journey are my brother and husband. My brother has always been my honest critic which has really helped me in improvising my writing and designing skills. The person who really saw me grow in my journey of cooking is my husband. I had many ups and down during my trials for new recipes. Some were hit, some where flops but he made sure to bring a smile on my face even while eating those not-so-good dishes. I can't thank him enough for his patience and positivity. I have learned so much from him in  photography. The journey of clicking pictures from a mobile phone to DSLR was possible just because of him.
Last but not the least, to all the readers who send such beautiful comments and pictures of tried recipes, the mere thought of bringing a smile on someone's face really motivates me to even work harder and come up with new interesting recipes every time.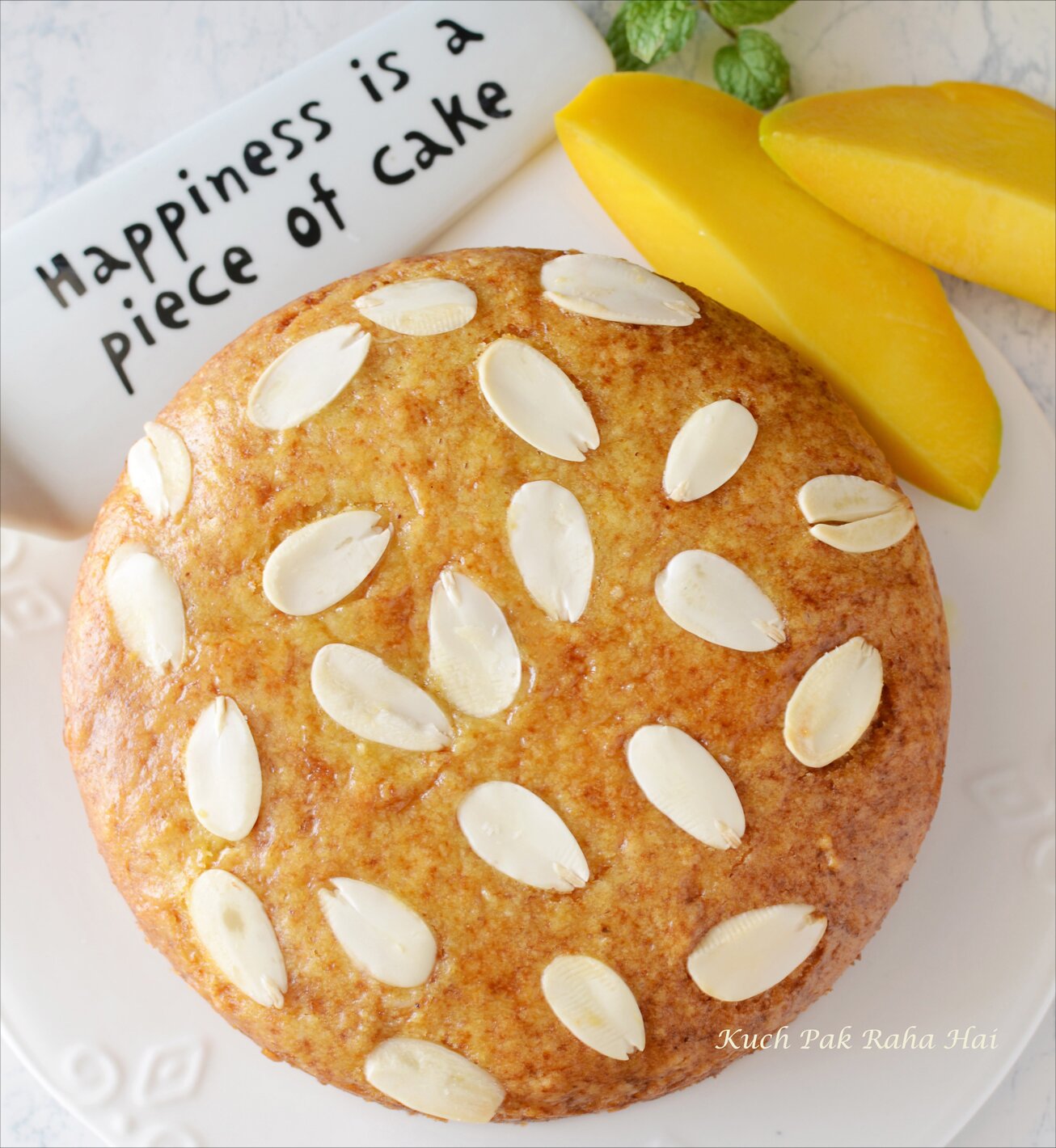 The Eggless Mango cake recipe which I am sharing today is really simple to make with the ingredients readily available at home. I have used fresh mango pulp in it preparation.You can add little bit of colour or mango essence if you want, however I have not used any.
You can use tinned mango pulp too for this cake. For vegan version, replace dairy milk with almond or soy milk. For garnishing use any nuts of your choice. Its summer time her so I have used soaked & peeled almonds. You can use pistachios too.
This cake tastes best when chilled and served with fresh mangoes. It is soft, spongy and delicious with hues of mango flavour in every bite. The colour of the cake also comes out really nice because of the fresh mango puree used. You can top up this cake with chocolate ganache, vanilla ice cream or enjoy its slice with a cup of tea.  Hope you would like this yummy eggless mango cake recipe!!
I have shared youtube video for this same recipe. You can refer to it in case facing any confusion at  any step. I have shown every step in detail so that even if you are beginner you can bake this cake easily.
Watch here :
List Of Ingredients:
Maida (All Purpose Flour)- 1 & 1/2 cup
Baking Powder-1 tsp
Baking Soda- 1/2 tsp
Warm Milk-1/4 cup (For vegan version use almond milk)
Sugar- 3/4 cup
Fresh Mango Puree-3/4 cup (You can use tinned mango pulp also)
Lemon Juice- 1 tsp
Sunflower Oil- 1/4 cup
Mango Essence- 1/4 tsp (optional)
For Garnishing:
Sliced Almonds/Pistachios – 8 to 10
Cake Tin
Round Aluminium Cake Tin with 6.5 inches diameter. You can use silicon mould as well.
Steps To Prepare:
Step1:
Sieve together all the dry ingredients-maida or all purpose flour, baking powder and baking soda. Keep them aside.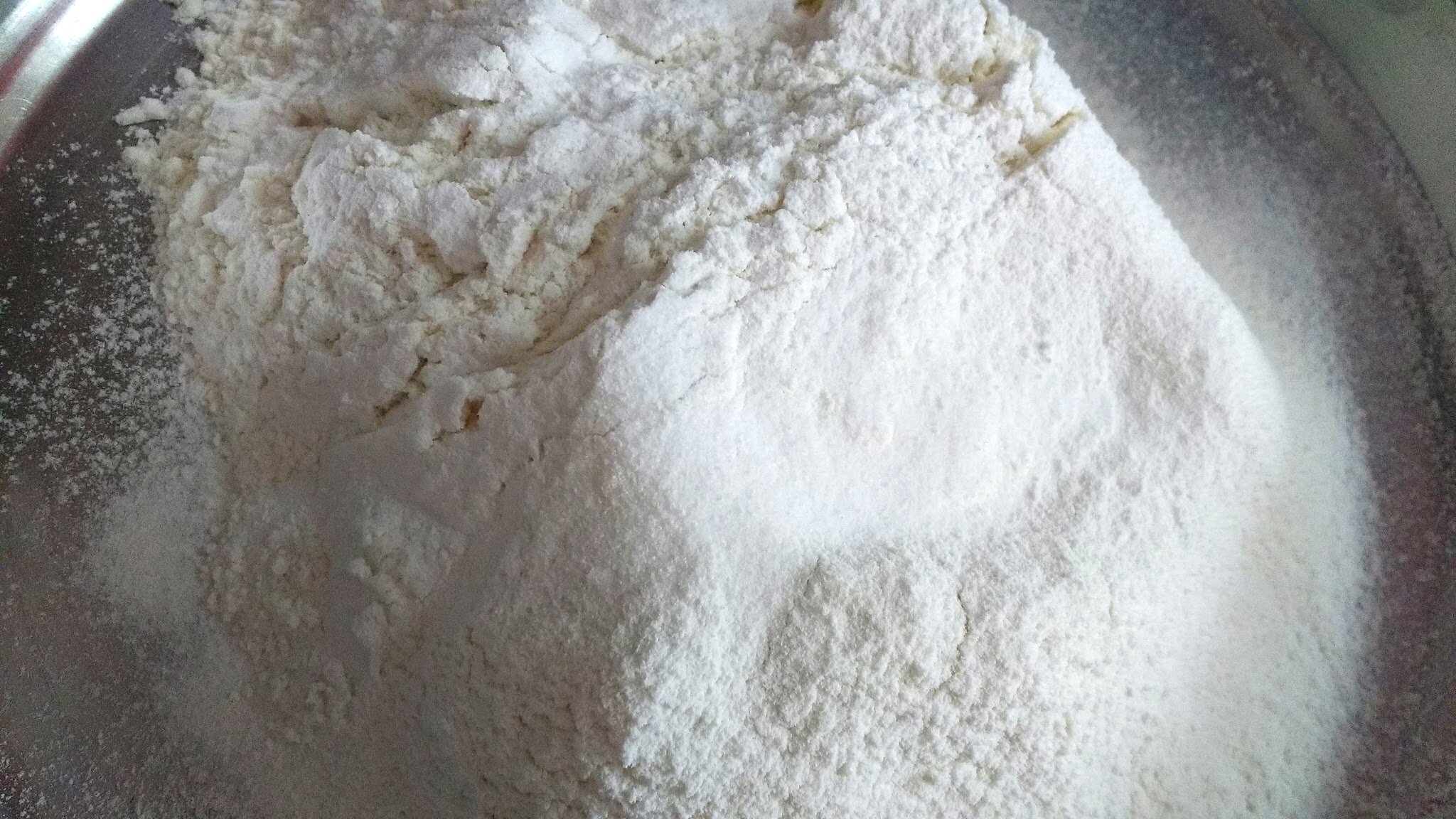 Step2:
Add sugar to the warm milk. Whisk till all the sugar is completely dissolved.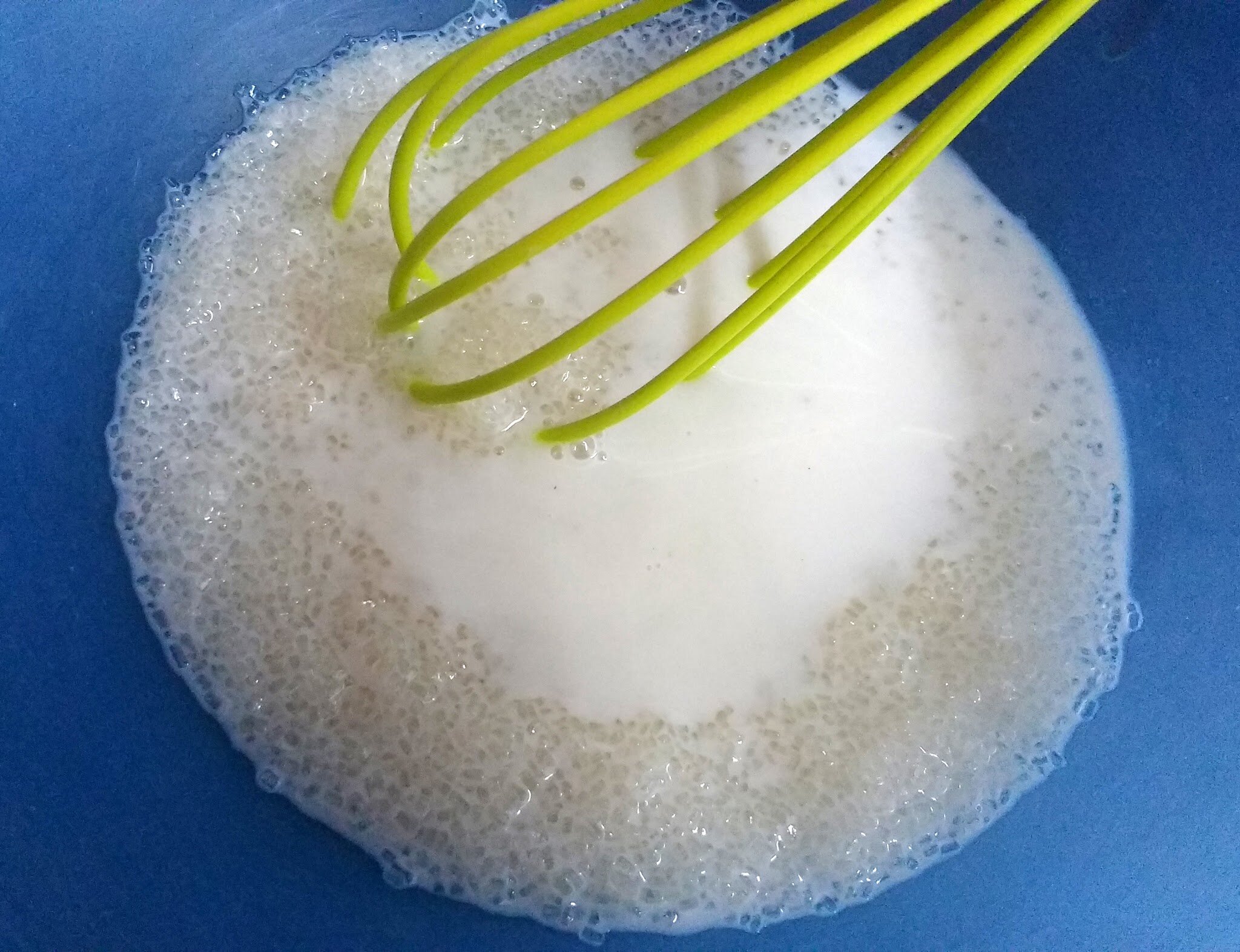 Silicon Whisk: https://amzn.to/2XmKljc
Step3:
Puree the fresh mangoes slices. It takes almost one mango to gives 3/4th cup of puree. You can even use tinned mango pulp. Add this mango puree and lemon juice to the whisked milk-sugar mixture. Mix well all the ingredients.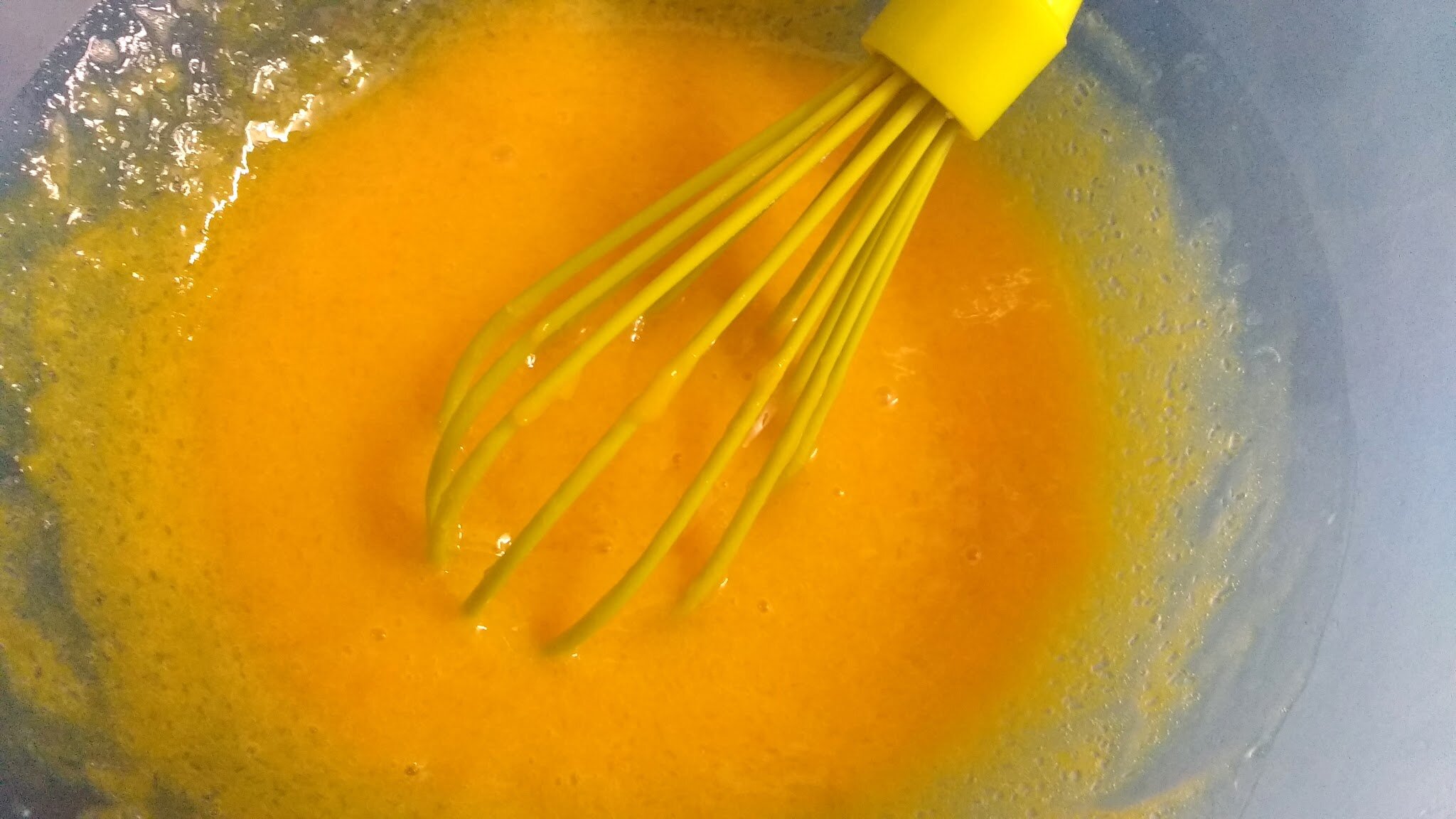 Step4:
Add oil to the above mixture to form a thick mixture. Please take care the oil should be tasteless and odourless. If the oil has smell of its own then it alters the overall aroma of the cake. Keep it aside.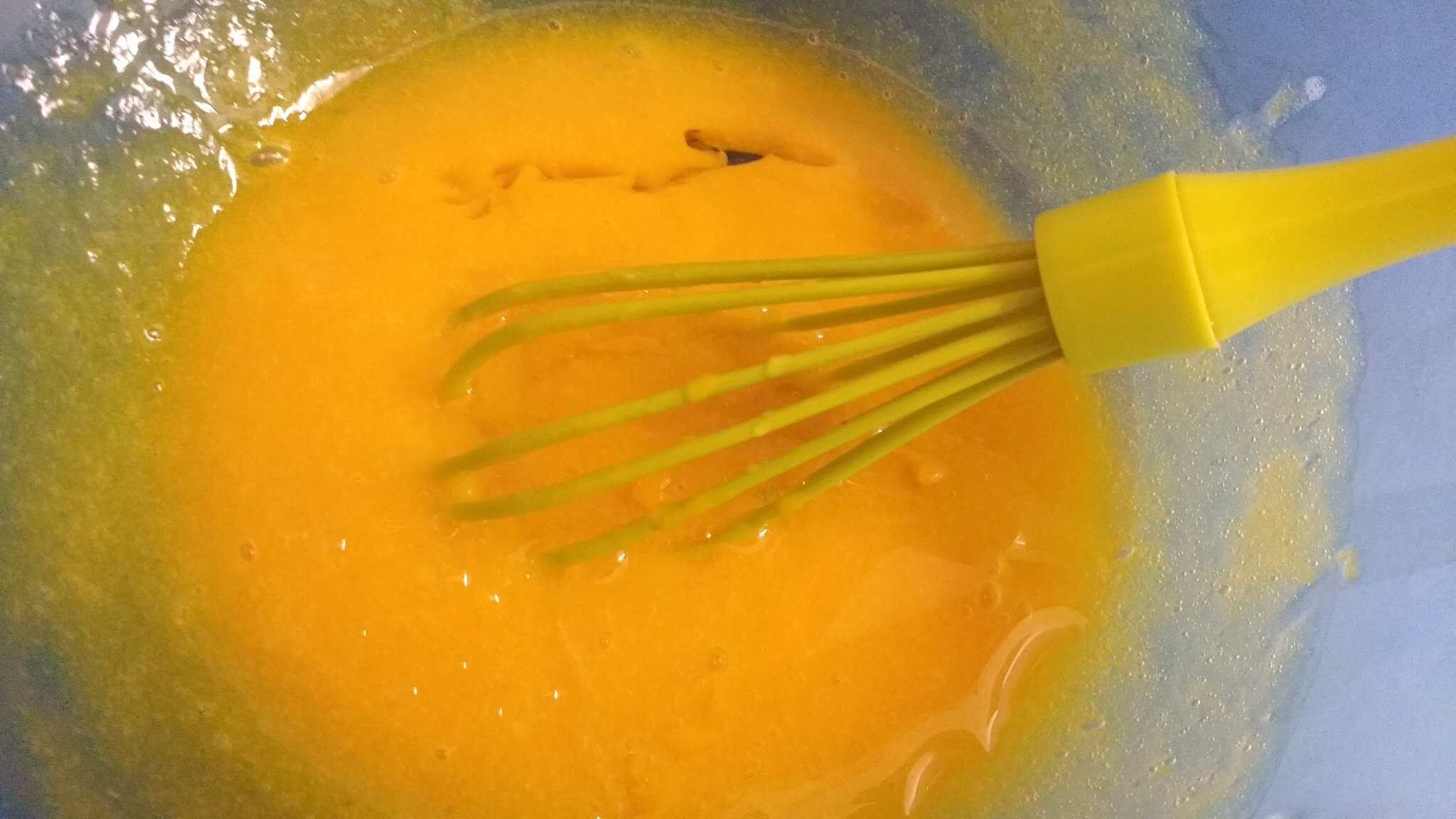 Step5:
Set the oven for preheating at 170 degree Celsius. By the time it is preheating, line the cake tin with butter paper. Grease it using little bit of oil or butter.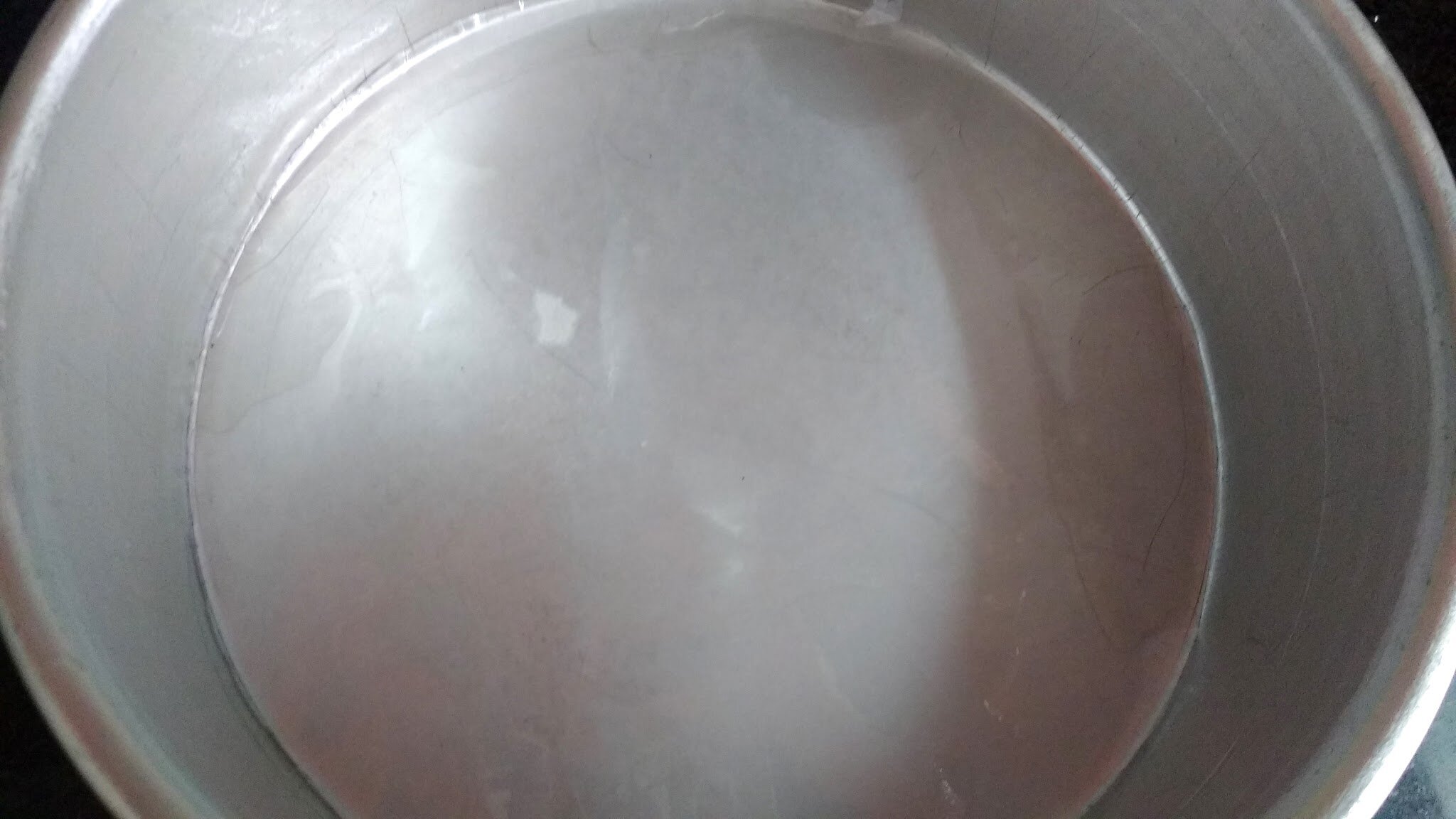 Cake Tin: https://amzn.to/2XRHxtx
Step6:
Add the sieved dry ingredients to the mixture prepared in step4. Fold the dry ingredients into wet ingredients gently using silicon spatula to give smooth thick batter.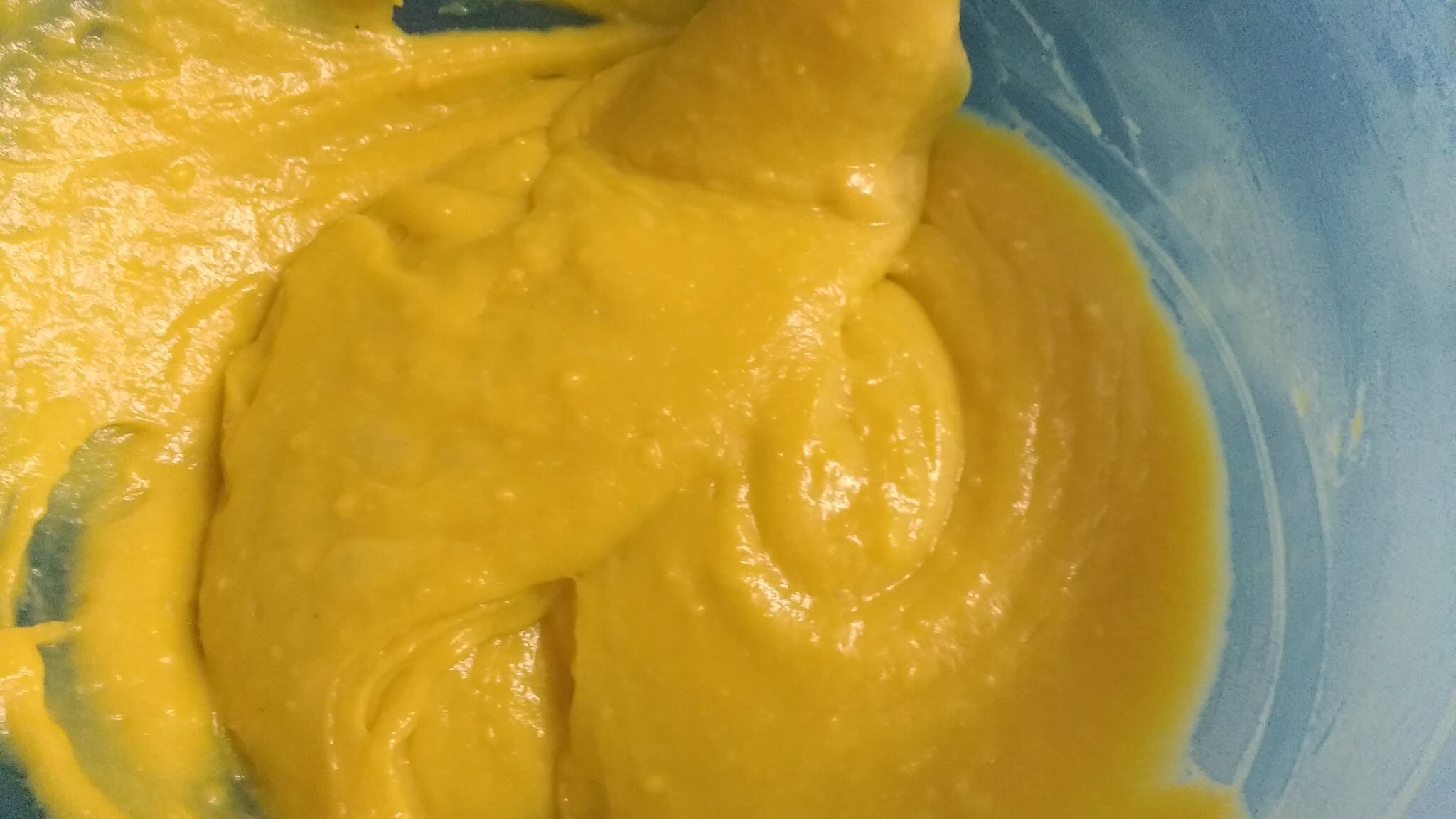 Silicon Spatula & Brush: https://amzn.to/36NShgw
Step7:
Transfer the cake batter in the greased cake tin. Garnish with sliced almonds or Pistachios. Tap it gently to remove air bubbles.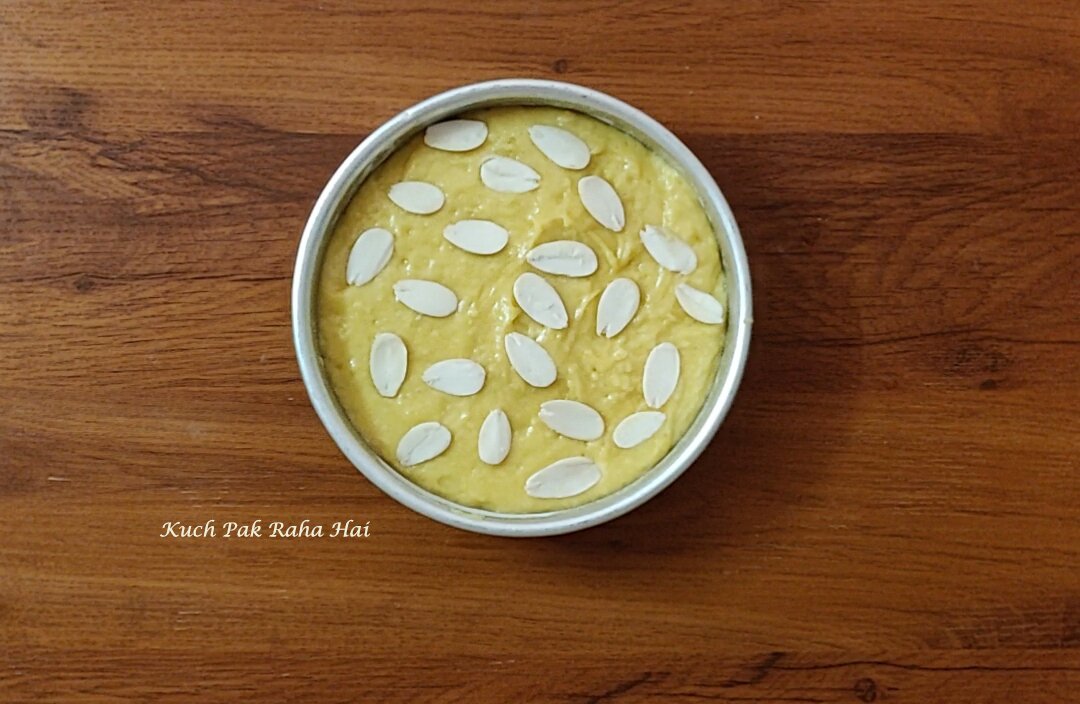 Step8:
If the oven has preheated by now, place the cake tin inside and let it bake for 170 degrees Celsius for 30 minutes. After 30 minutes, test its centre using a tooth pick or skewer. If it comes out clean, the cake is ready else bake for another 5 minutes.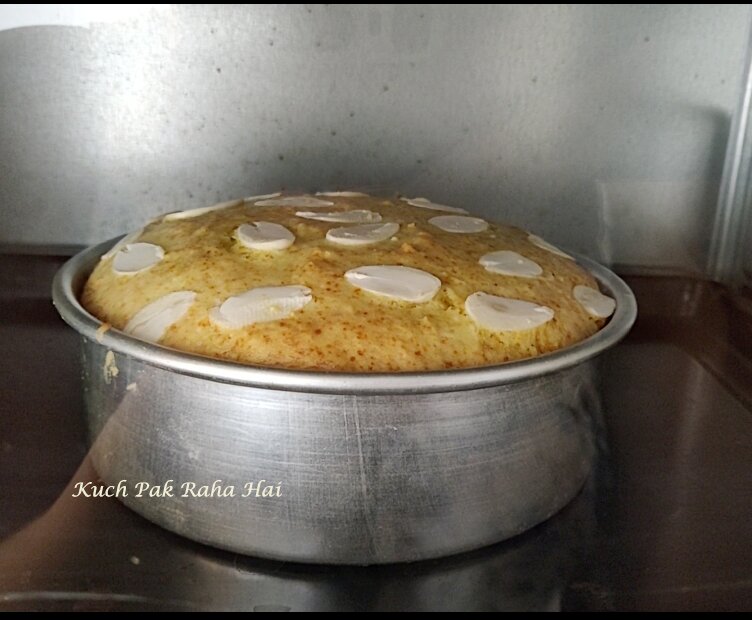 Once the cake is ready, bring it out of oven. Let it stay in cake tin for 10-15 minutes. After that rotate a knife along its edges to free them. Invert it over a plate. Pat it gently. The cake should come out clean. Remove the butter paper from the back. Place it over a wire rack to cool down completely.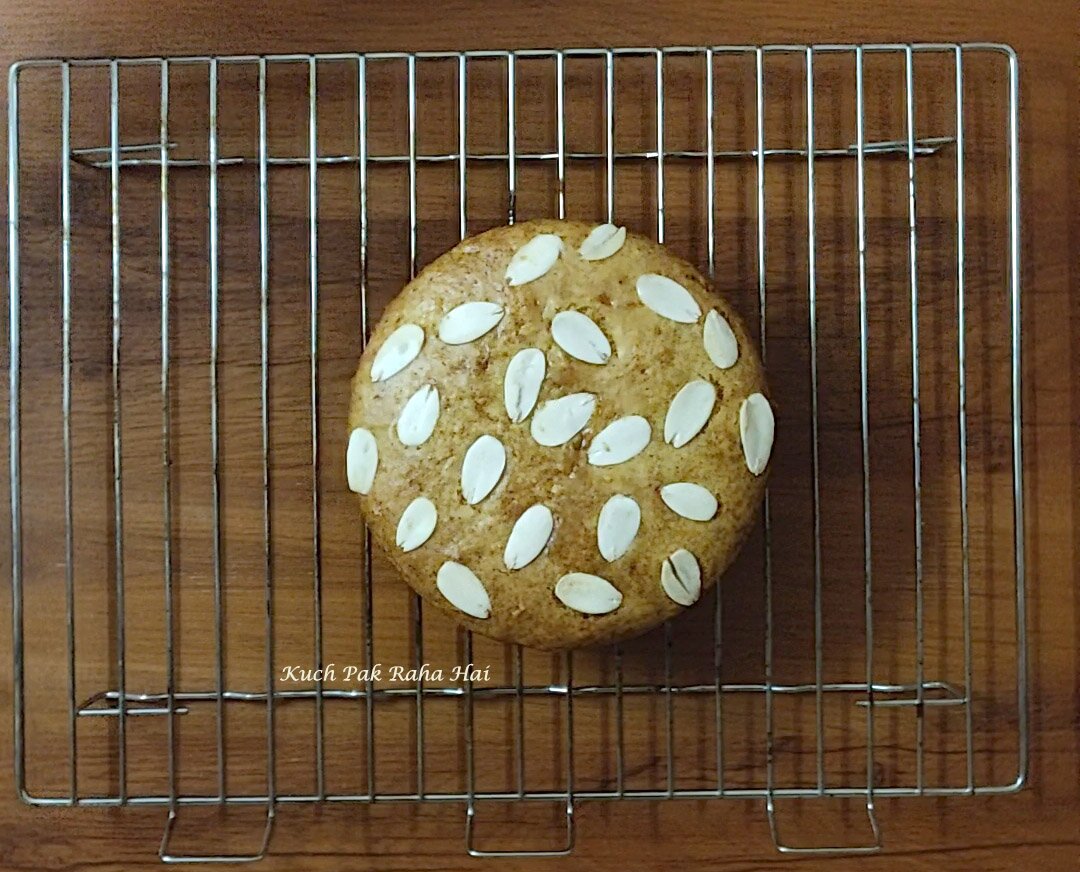 Personally I felt this cake tastes best when chilled. Store it in any airtight container inside fridge.  At the time of serving take it out from fridge and serve with fresh chilled mango pieces or a scoop of vanilla ice cream. It tastes heavenly!!!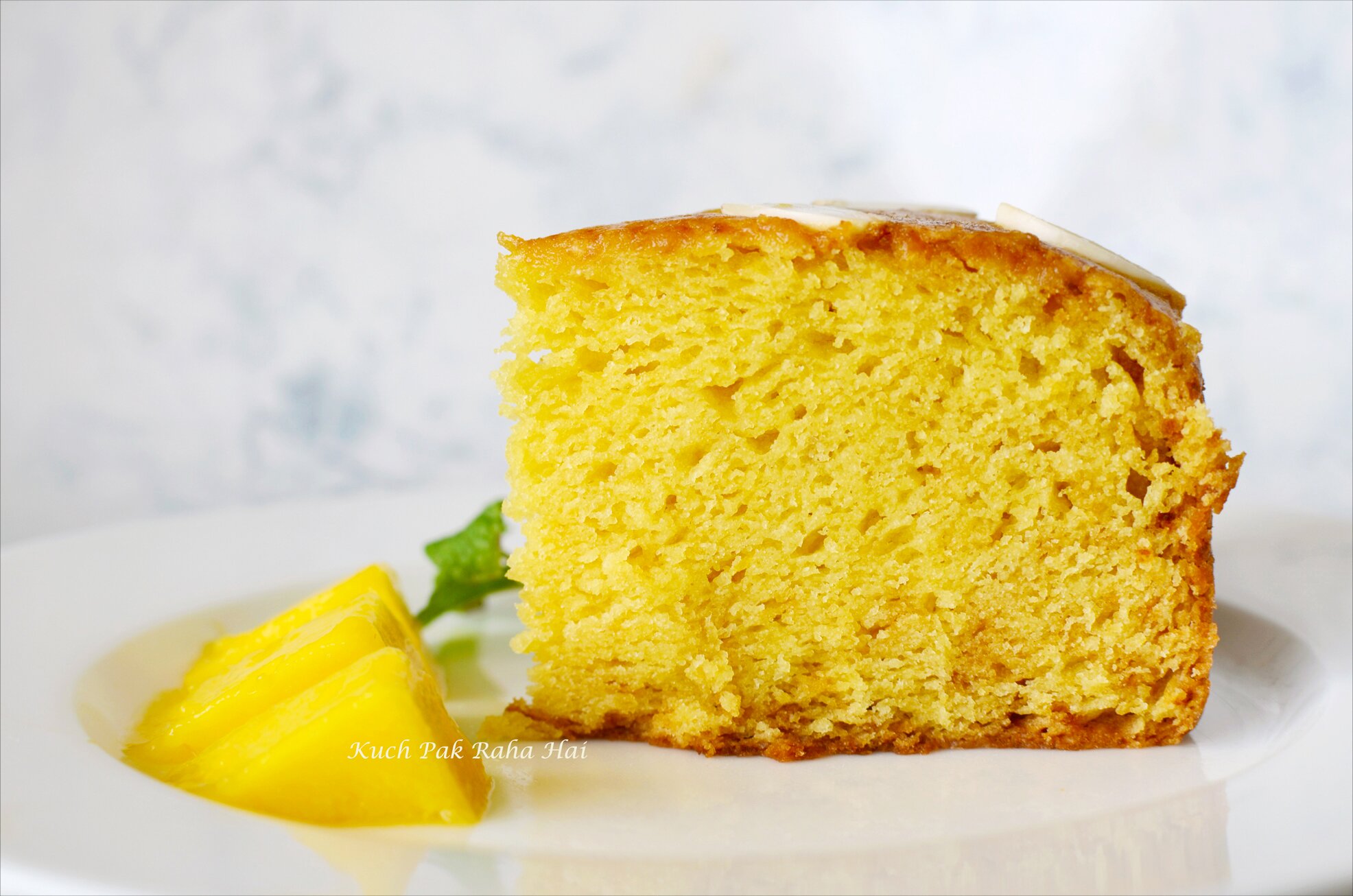 If you try this mango cake recipe, do tag us on Facebook or Instagram or use the hashtag #kuchpakrahahai. Your feedback & suggestions are valuable :).
Let's stay connected
Facebook| Instagram| Pinterest| Youtube
More Mango recipes you might like: