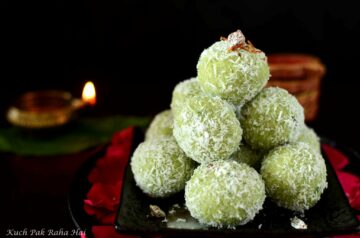 Paan Coconut Ladoo is a delicious, quick & easy Indian sweet recipe made with paan (betel leaves), gulkand (rose jam) & coconut. In order to replicate the real paan flavours, fresh paan leaves have been used & centre of the ladoos is filled with gulkand just like the way you get in actual paan.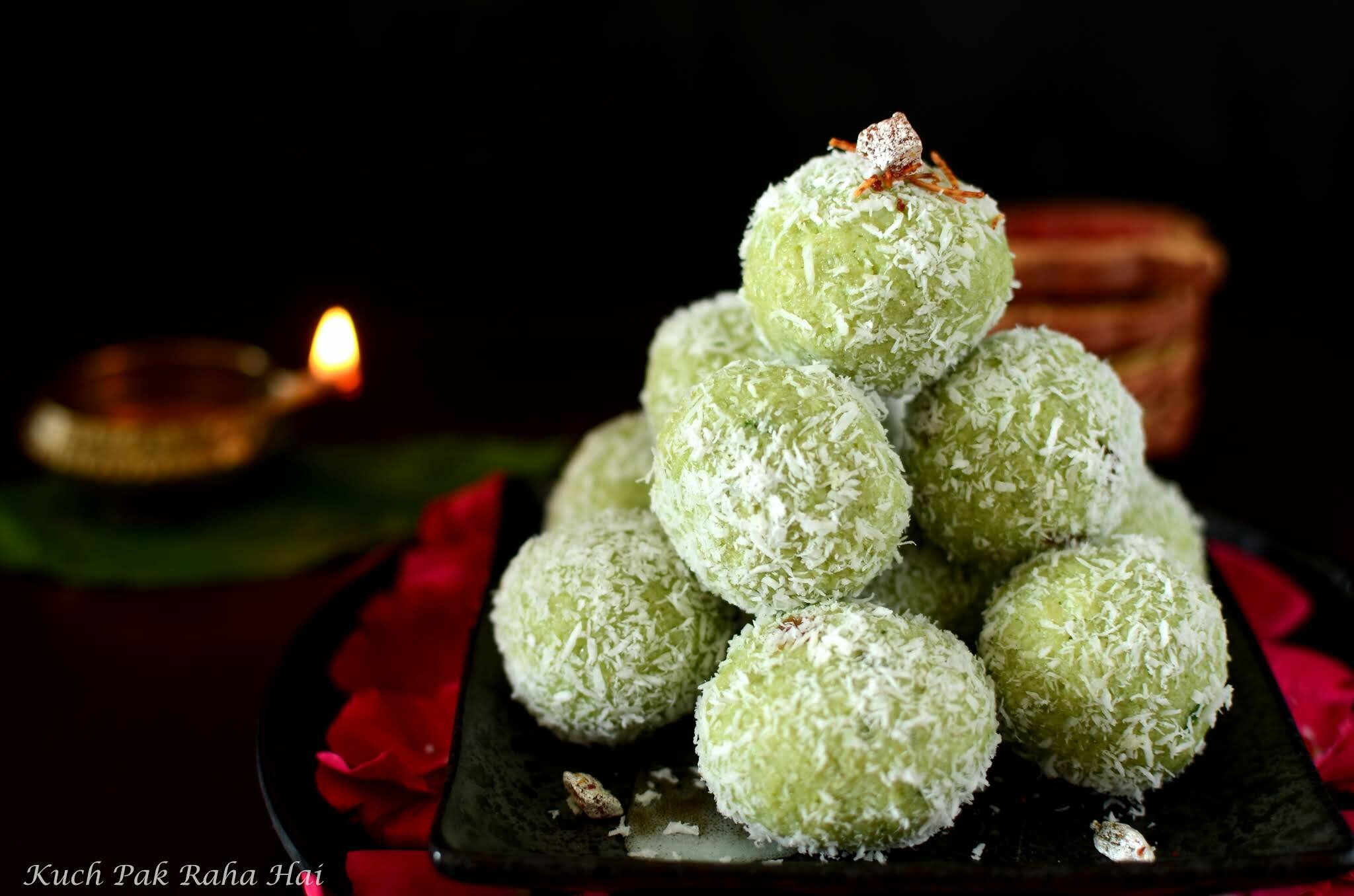 These Paan Ladoos  are absolute delightful amalgamation of Coconut with Paan. It is a completely gluten free ladoo recipe and no artificial colors or essence has been used in it.
Diwali is the time of year when there is festivities all around, everyone is in the mood to celebrate and sweets are the indispensable of this celebration. Though many of the Indian sweets recipe require real kitchen skills and expertise, this paan ladoo recipe is so easy to make that even a novice can make them. You can also involve your kids too in rolling and coating part of ladoos which I am sure they will enjoy.
For all those who are unfamiliar with hindi terminology, paan is called "Betel" in English and gulkand is rose preserve. In India "Paan" is basically Gulkand, supari (Areca nut), Kattha (Catechu) etc wrapped in a paan(betel) leaf and generally devoured after finishing meals.
Earlier I had shared recipe for Instant Coconut Ladoos in which just two ingredients were used. This was a very simple, quick recipe and liked by many readers of the blog. You can check out that recipe by clicking here. The Paan coconut ladoos are inspired from this recipe only with some addition of flavours.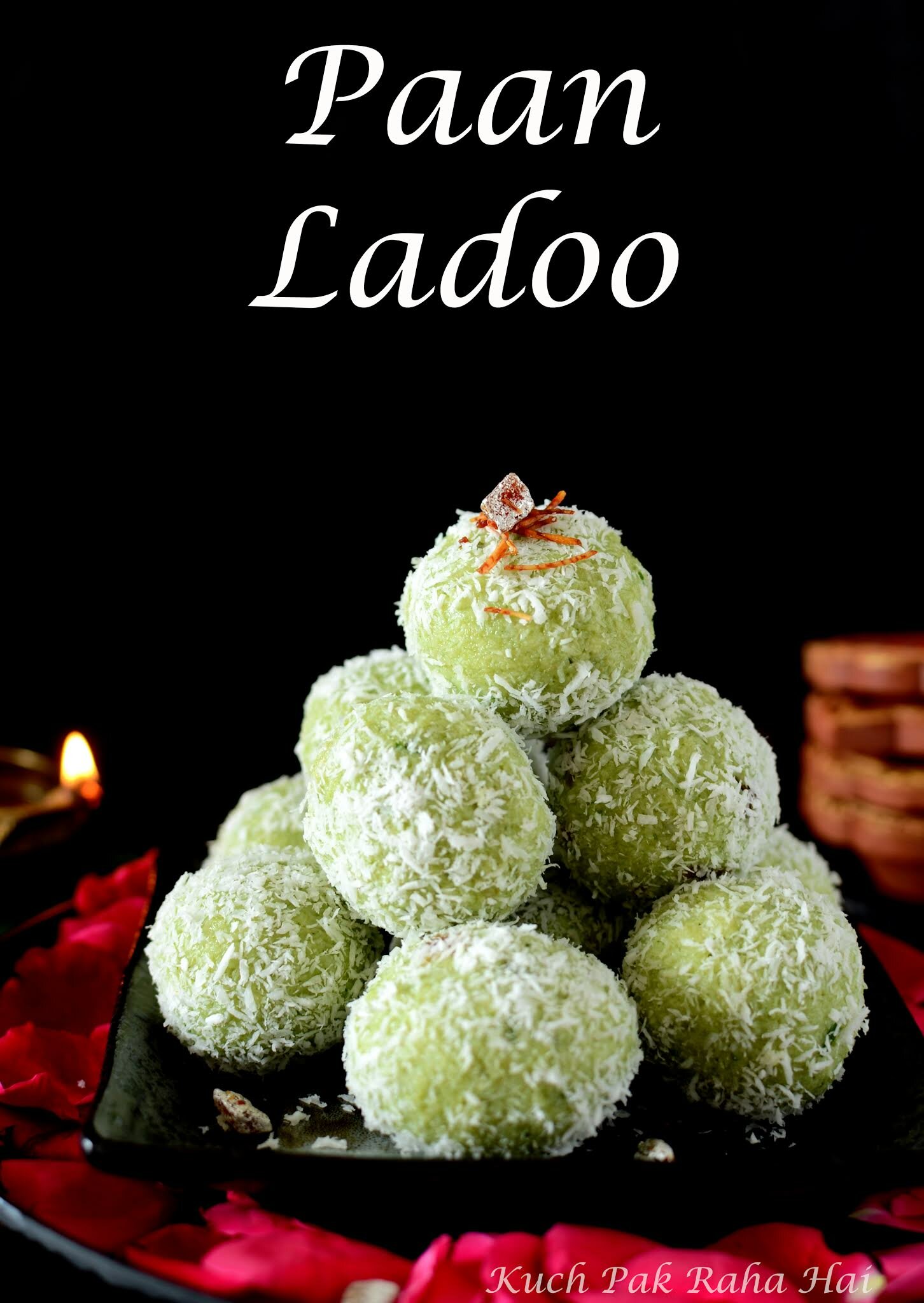 I made these Paan ladoos this Diwali and they were very much appreciated by friends and family. I kept them as "Prasad" in our "Pooja Thali" and spontaneously my husband pointed out how these ladoos have all the auspicious ingredients "Paan, Pushp and Mewa" which are generally kept in Hindu Poojas.
After many repeated request for food videos, I have finally tried to come up with the YouTube video of the recipe which you can find at the end of this post. The video has been kept short and precise and will clear off any doubts about the process. Please like and subscribe to KuchPakRahaHai channel as it will really encourage us to come up with more of such videos. Any feedback will be appreciated 🙂 .
I got the Paan leaves and Gulkand from our local paan shop. You can also find Gulkand jars online on Amazon. Other two ingredients used in recipe are desiccated coconut powder and condensed milk. I topped these ladoos with some silver coated elaichi (cardamom) and supari (Betel nut) from Dizzle brand.
Hope you would like this Paan Coconut Ladoos recipe.
Youtube Video :
Ingredients: (Makes 12 pieces)
Condensed Milk-200 grams
Dessicated Coconut powder-2 & 1/4 cups
Paan (Betel) leaves-6
Gulkand- 1/2 cup
Ghee-1 tsp
For garnishing: (Optional)
Supari/Elaichi- 10-12 pieces
Directions:
Step1:
Wash the paan leaves well. Dry it over a kitchen towel. Add paan(betel) leaves and condensed milk in a mixer and blend them form a even mix.  Keep it aside.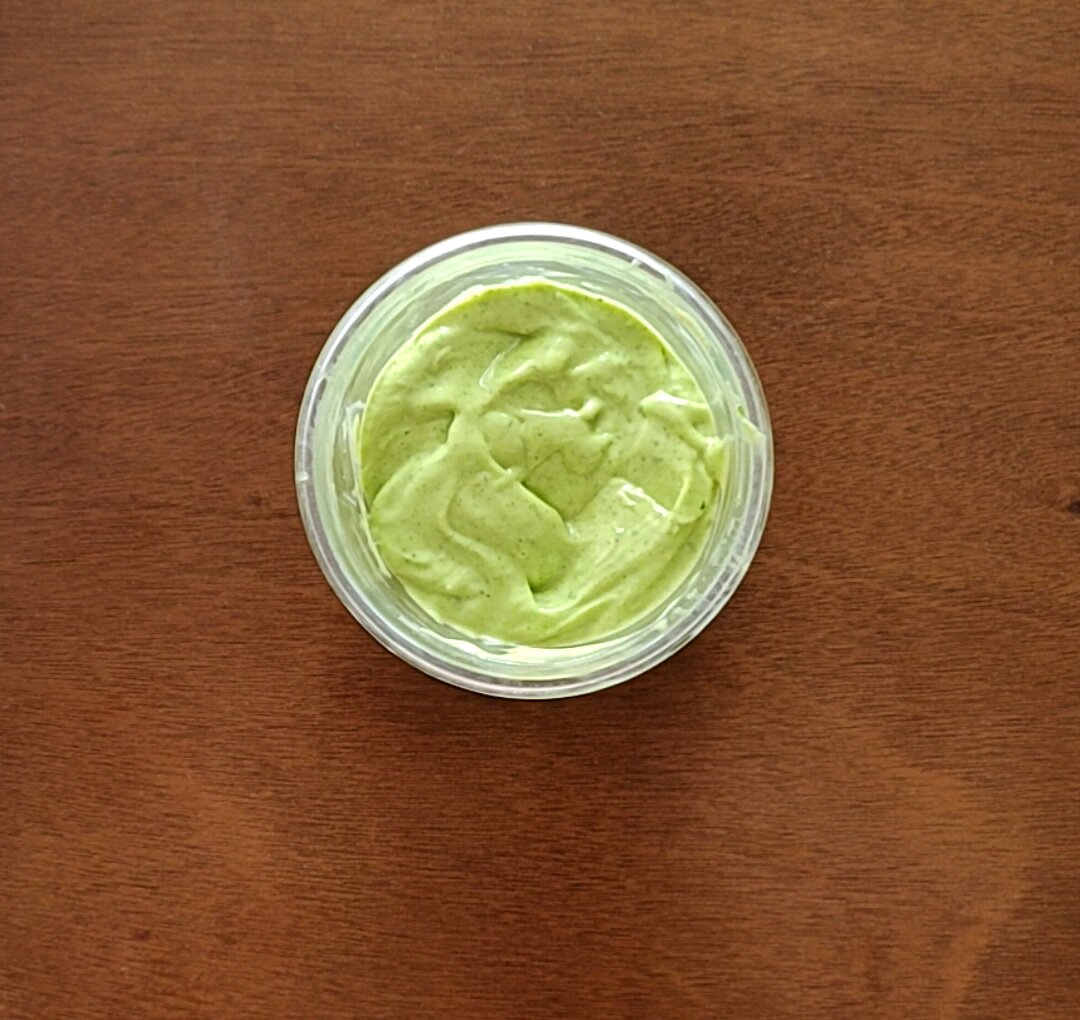 Step2:
In a heavy bottomed or non stick pan, dry roast 2 cups of desiccated coconut powder on low flame till it release its aroma. It takes roughly 3-4 minutes. Please note we are saving 1/4 cup of coconut powder for later on. Switch off the flame.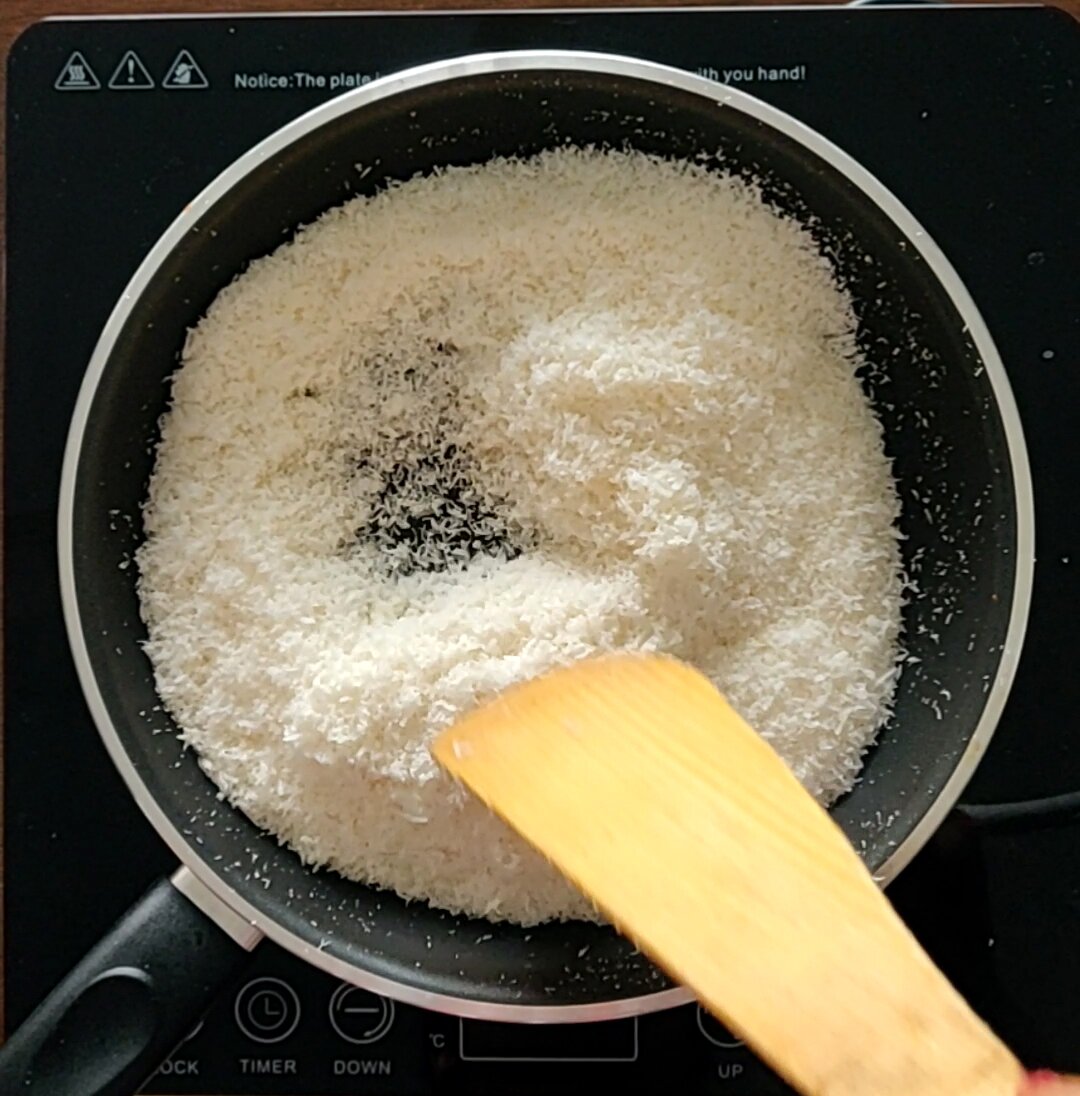 Step3:
Add paan & condensed milk blend (which we prepared in step1) to it. Mix well.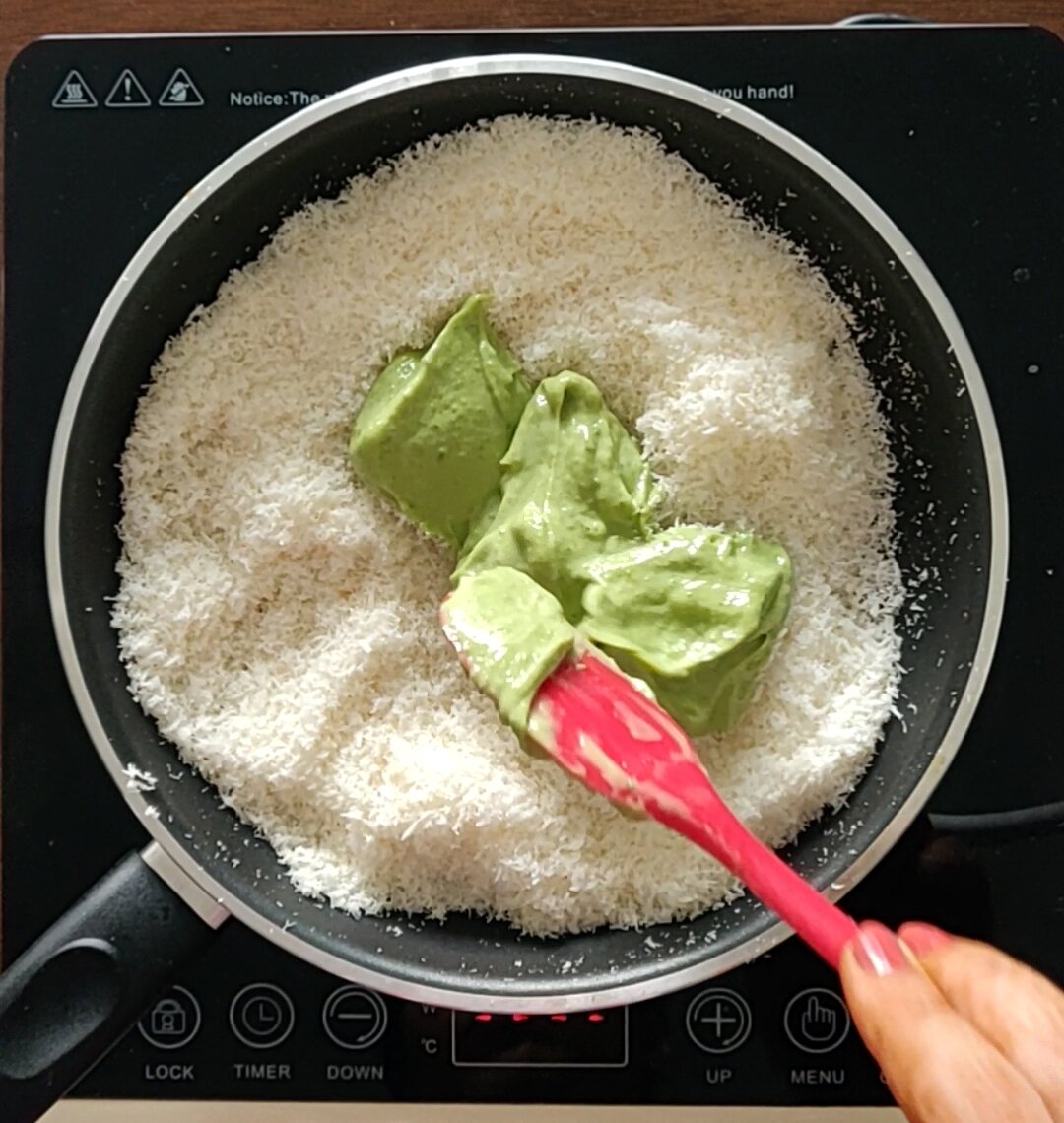 Transfer this mixture in another bowl and let it cool down.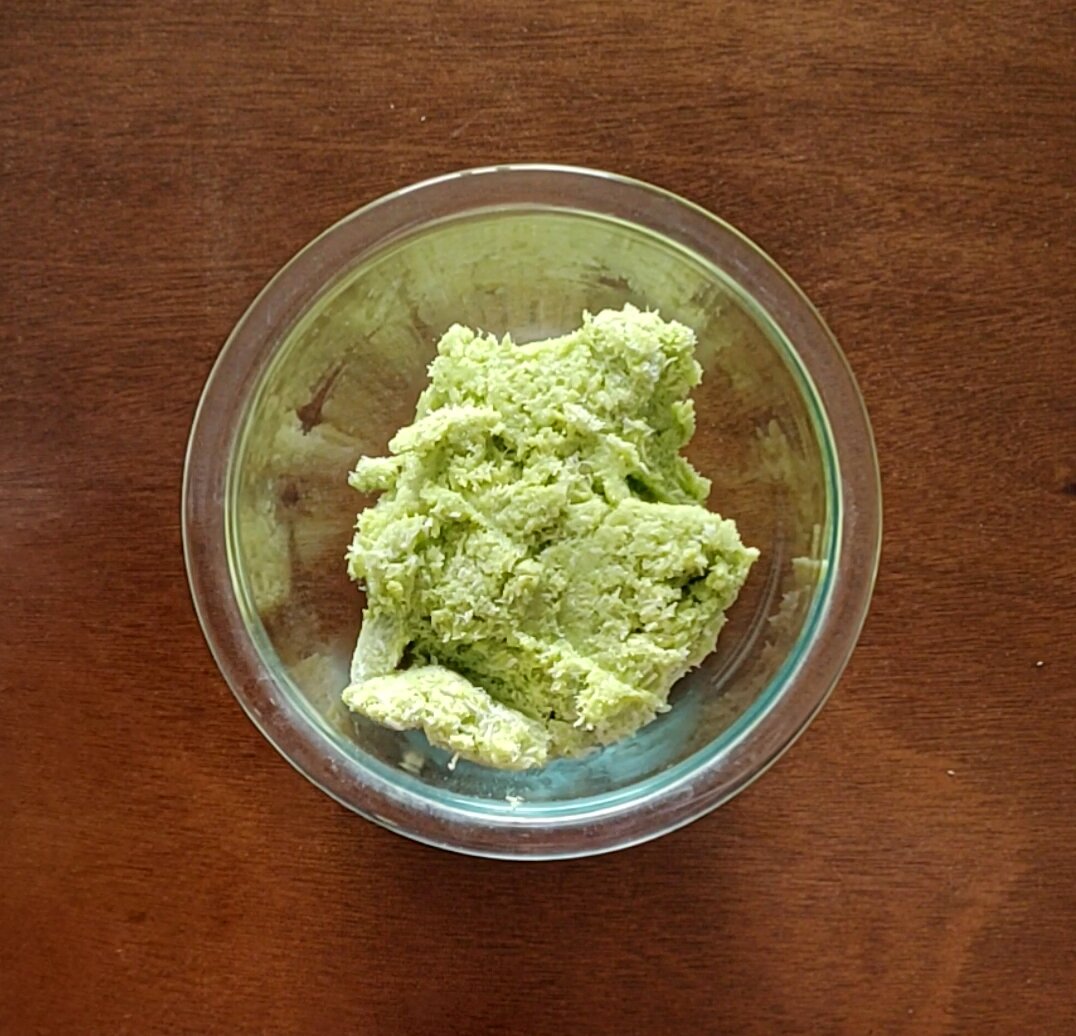 Step4:
Rub some ghee on your palms. Take a small lemon sized portion of this mix and roll a ball out of it. Flatten it on your palms and place 1 tsp of gulkand on it.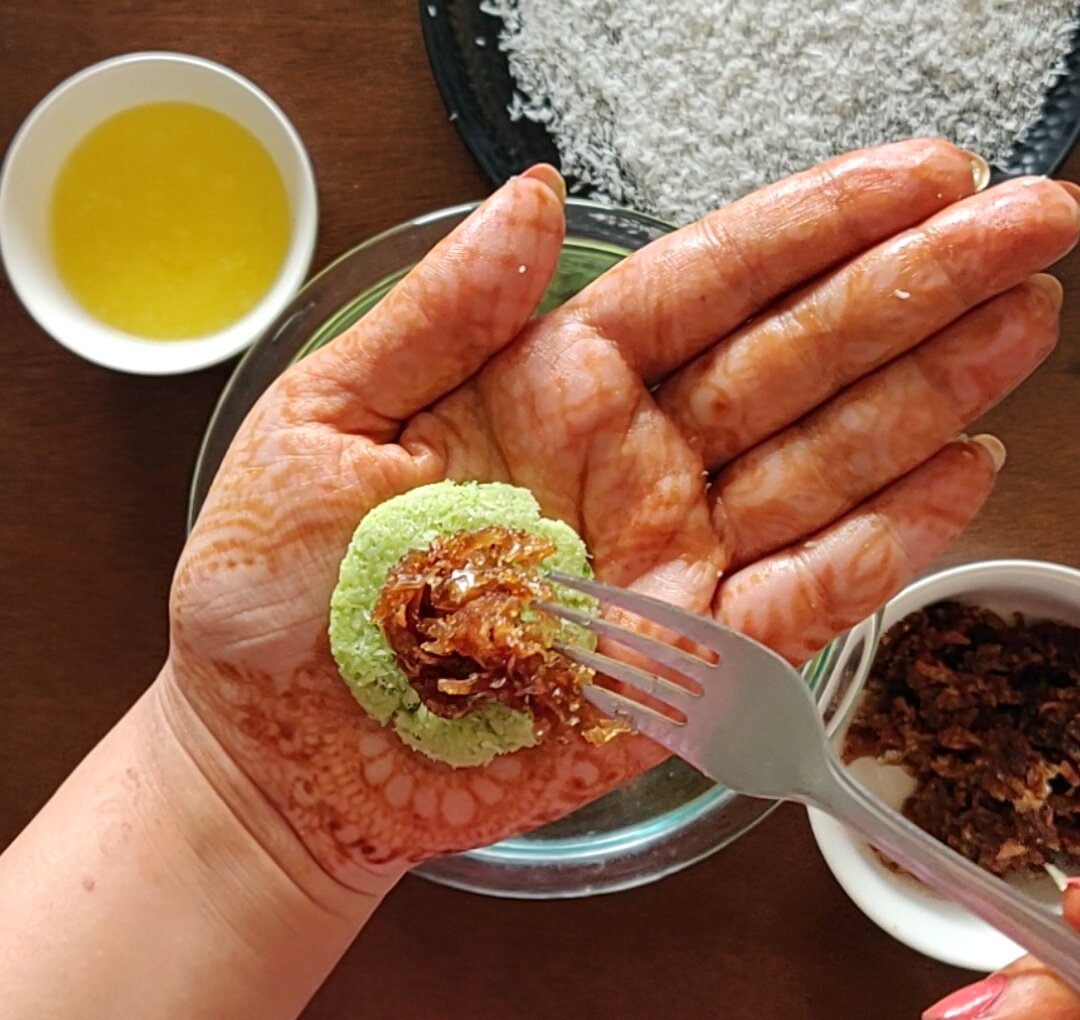 Then bring over the flat edges over this gulkand and again roll it into a smooth ball. Repeat this process for remaining mix.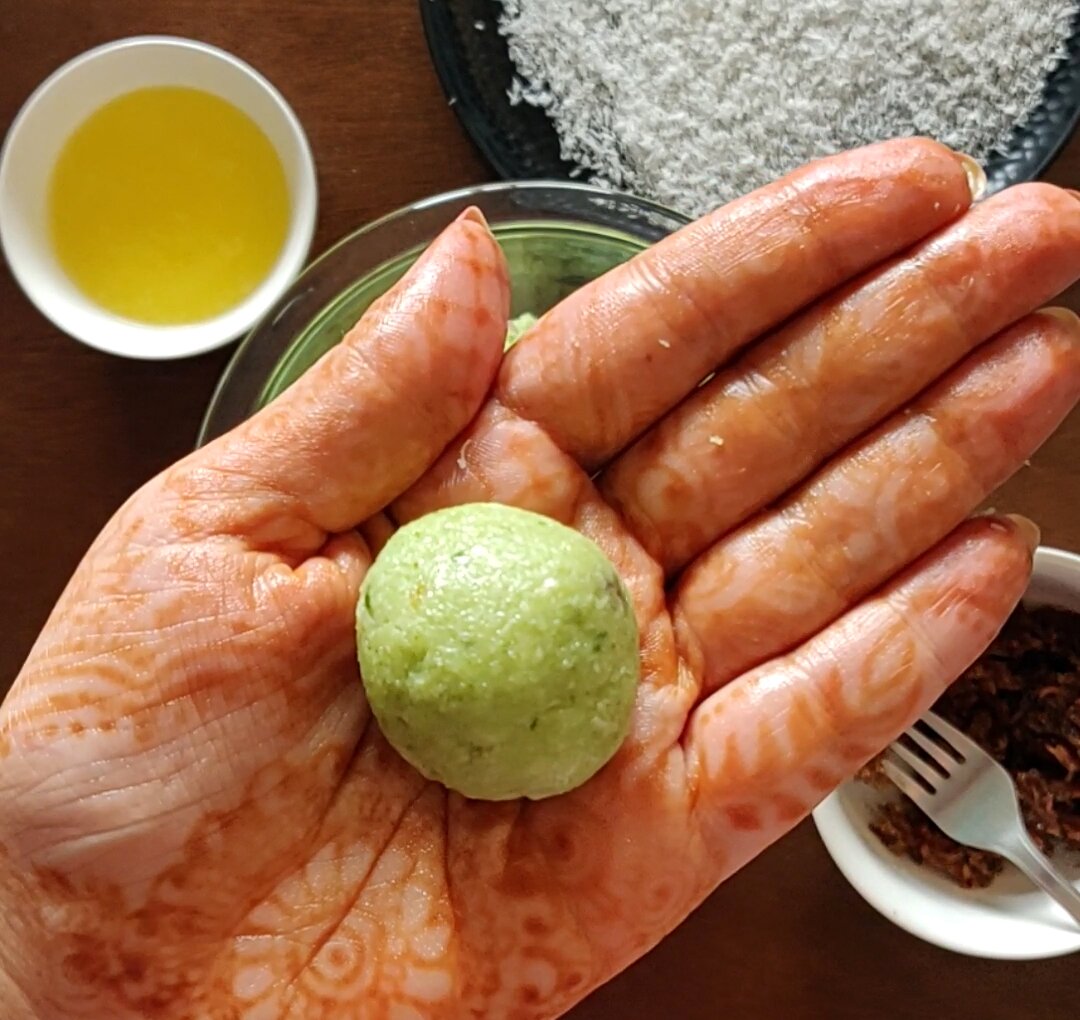 Step5:
Roll these ball gently in desiccated coconut powder.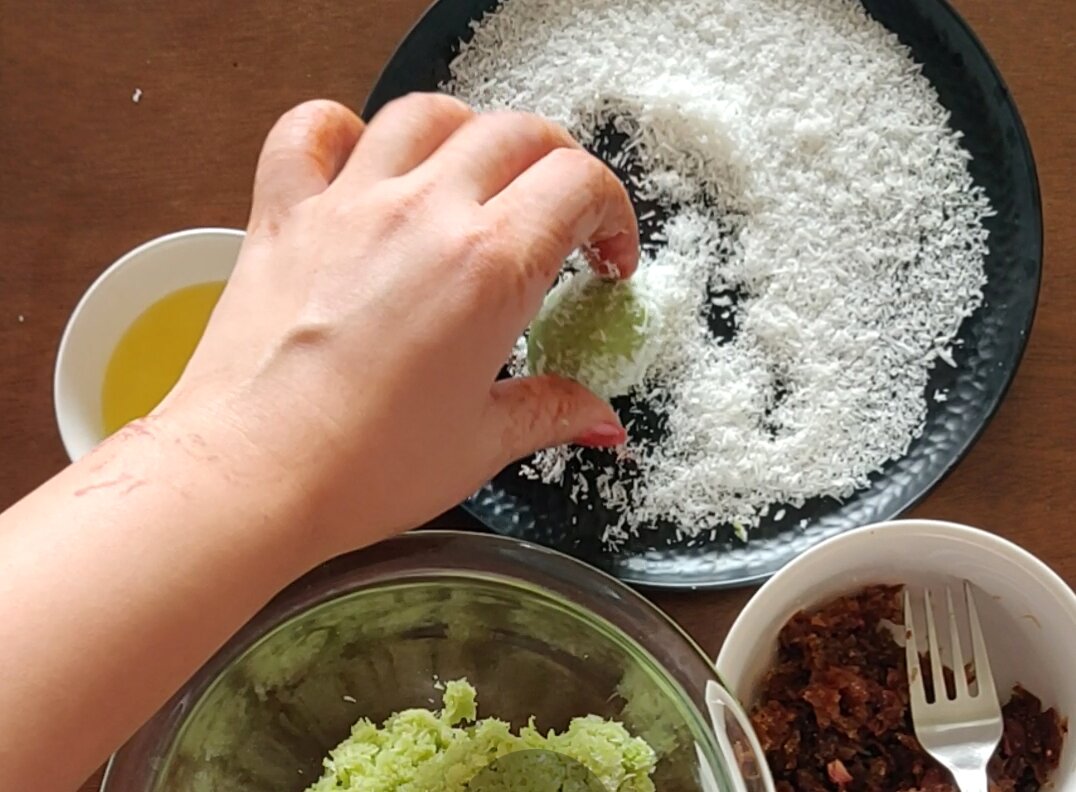 Garnish it with some supari or Elaichi but it is totally optional. Delicious Paan Ladoos are ready!! 🙂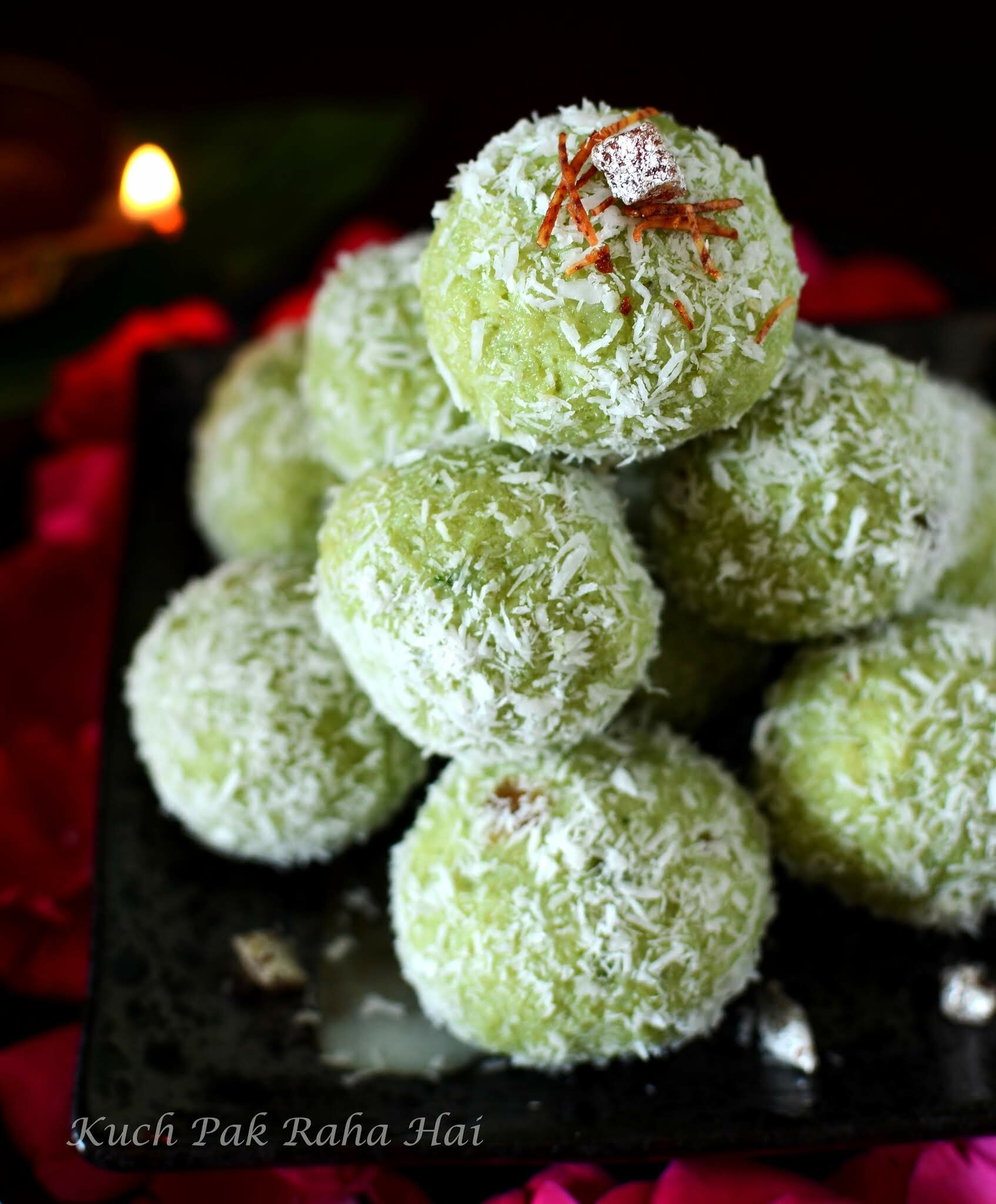 Festive Wishes to you & your family 🙂
Let's stay connected
Facebook| Instagram| Pinterest| Youtube
More Indian Sweet Recipes you might like :