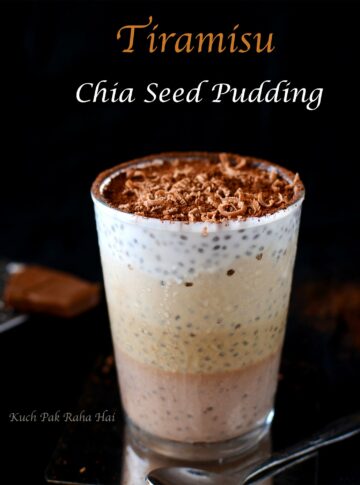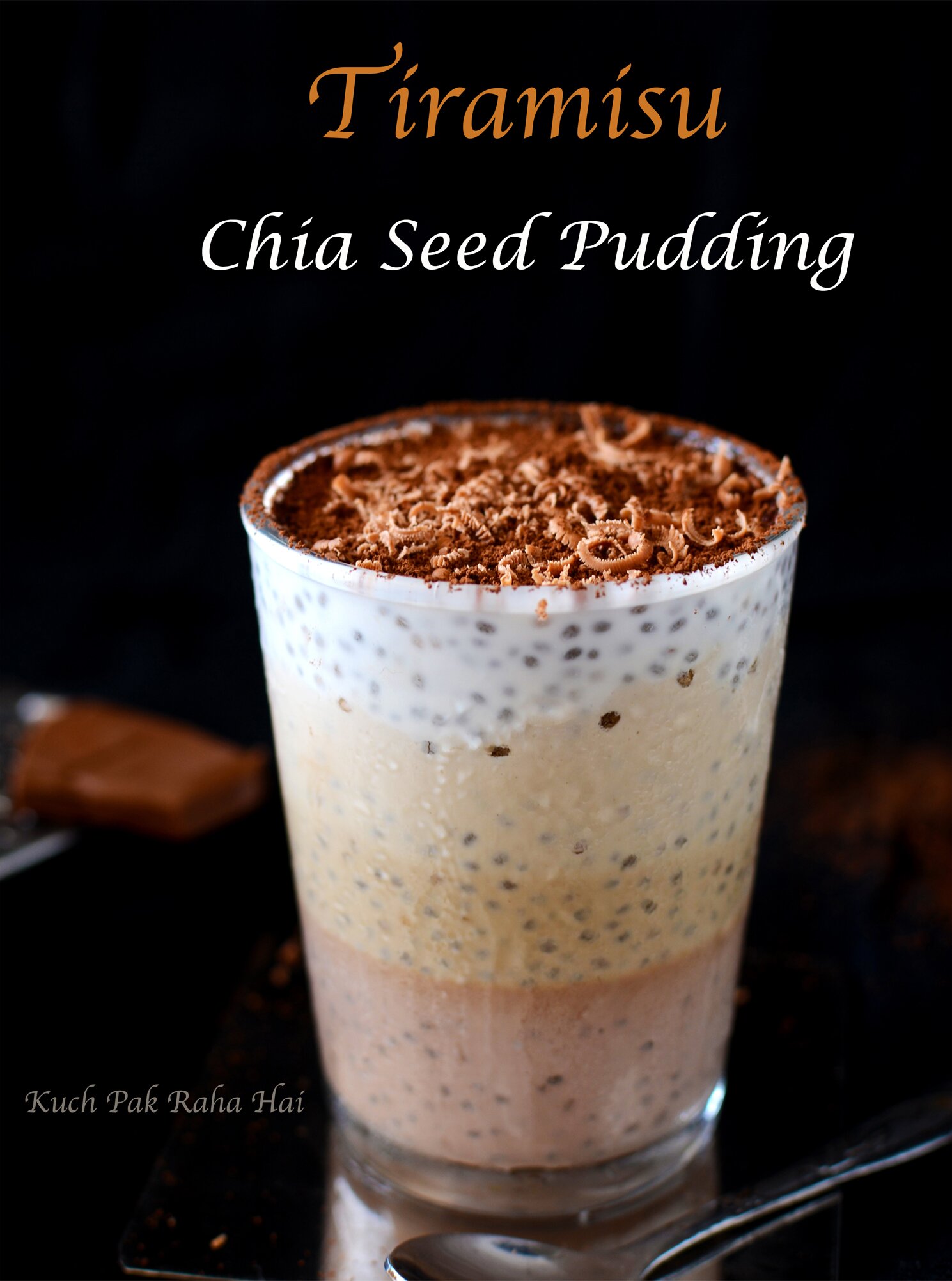 Chia Seed Pudding is a delicious way to include chia seeds in your everyday diet. These seeds have the tendency to gain a gel like texture on coming in contact with liquids. The puddings are thickened or set making use of this property of chia seeds and flavoured using fresh fruits, syrups, cocoa, and coffee etc.
The Tiramisu chia seed pudding recipe I am sharing here is inspired by flavours in Tiramisu i.e. coffee, cocoa, and vanilla. Though the authentic Tiramisu dessert also consists of layers of mascarpone cheese and coffee soaked ladyfingers but we are not adding this in our recipe as we want it to be a breakfast💪 or a light dessert recipe🍯. Tiramisu chia seed pudding has got a creamy texture with layers of coffee, cocoa and vanilla melting in your mouth with each bite.
Chia seeds are rich source of omega-3 fatty acids, antioxidants and provide fibre, protein, calcium and magnesium etc. These can be added on your salads, fruits, porridge, parfaits and Overnight oats etc. You may also like Mango Overnight Oats Chia Seed Pudding recipe which I have shared recently. This is an absolutely delightful recipe where overnight oats and chia seeds are combined with fresh juicy mangoes.
Tiramisu chia seed pudding recipe is a quick way of satisfying the sugar cravings without any guilty indulgence. I love chocolate & coffee and that is why Tiramisu tops the list of my favourite desserts. Currently with this lockdown we are not able to find half of the ingredients in markets. So I gave a thought about fusing theses flavour into something which can be made quickly without needing a long list of ingredients.
This recipe comes quite handy as you can prepare & store a bunch of these jars beforehand in fridge and can have them as breakfast, mid day snack or light dessert after meals. These blog posts apart from sharing the recipes are also serving as a mini-journal for this lockdown period. I hope when all this ends with the world restored to normal state, these posts will definitely remind me to be more thankful for all the resources and blessings of everyday life🙏.
This chia seed pudding recipe is quite flexible. You can adjust the amount of cocoa or coffee as per your liking. The milk can be substitued for Almond/ Soy/Coconut milk for vegan version. You have many options for sweetener like white sugar, honey, coconut sugar, stevia drops or maple syrup. The pudding can be garnished with some grated dark/milk chocolate, chocolate chips, toasted nuts or dusted with some cocoa powder.
Hope you will like this yummy Tiramisu Chia Seed Pudding Recipe!!
List of Ingredients:
Coconut Milk / Low Fat Milk-200 ml
Chia seeds- 4 tsp
Cocoa Powder-1/4 tsp
Instant Coffee-1/4 tsp (Add some more if you like stronger coffee flavour)
Vanilla Essence- 2 drops
Sugar / Honey- 1.5 tsp (Maple syrup for vegans)
For garnishing:
Cocoa powder
Grated chocolate
Steps to Prepare:
Step1:
We will divide our 1 cup milk into roughly three or four parts, depending on how many layers do we want. Similarly chia seeds and sugar/honey will be divided in these layers.
I am using coconut milk here. For the bottom most layer, add milk in a small bowl. Microwave it for 10-15 seconds. Add chia seeds, sugar/honey and cocoa powder to it. Mix well. Let it soak like this for 5-10 minutes.The mixture will become thick & gel like.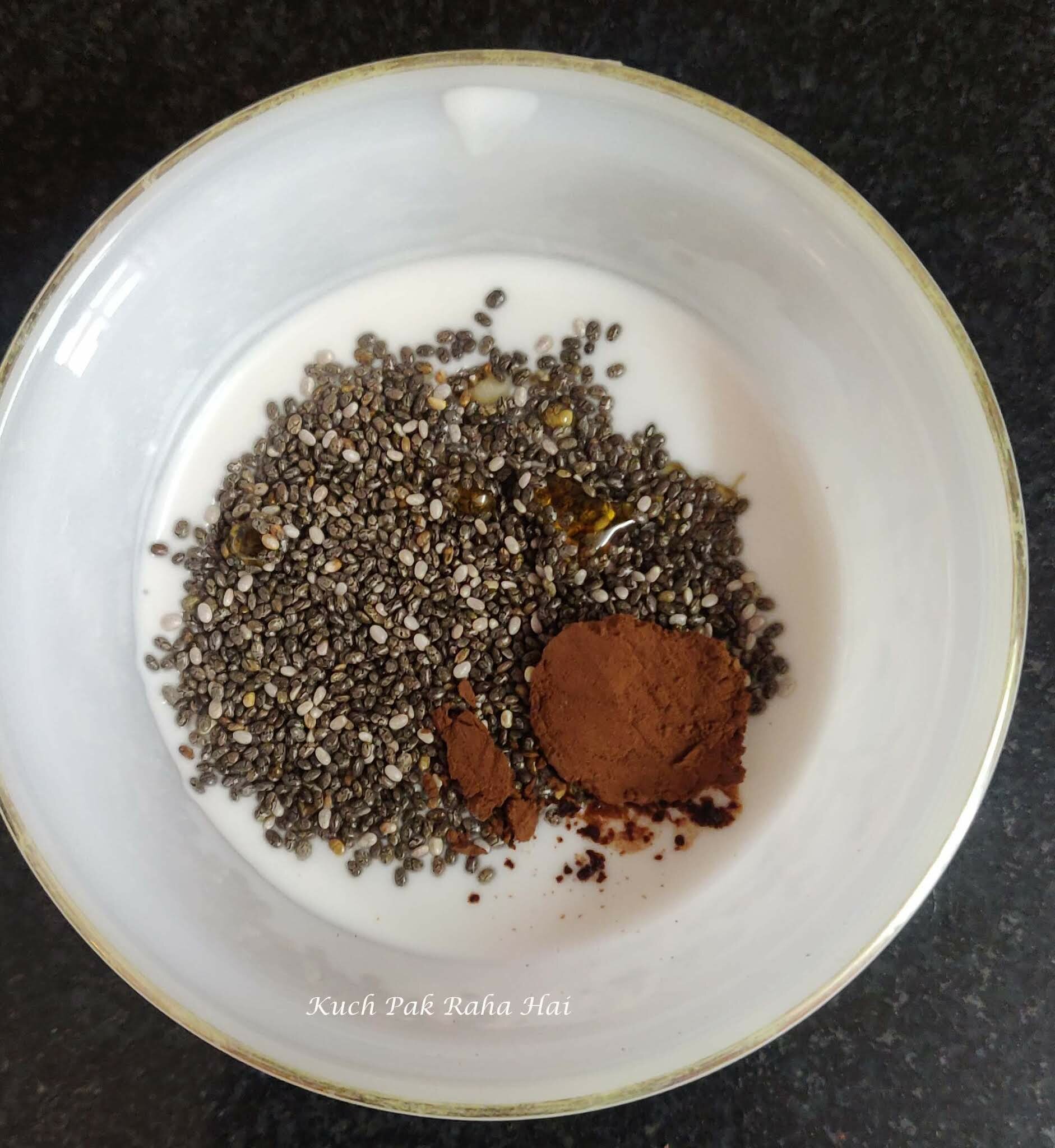 Transfer it a jar or bowl in which you finally intend to serve it and place it in freezer in the mean time.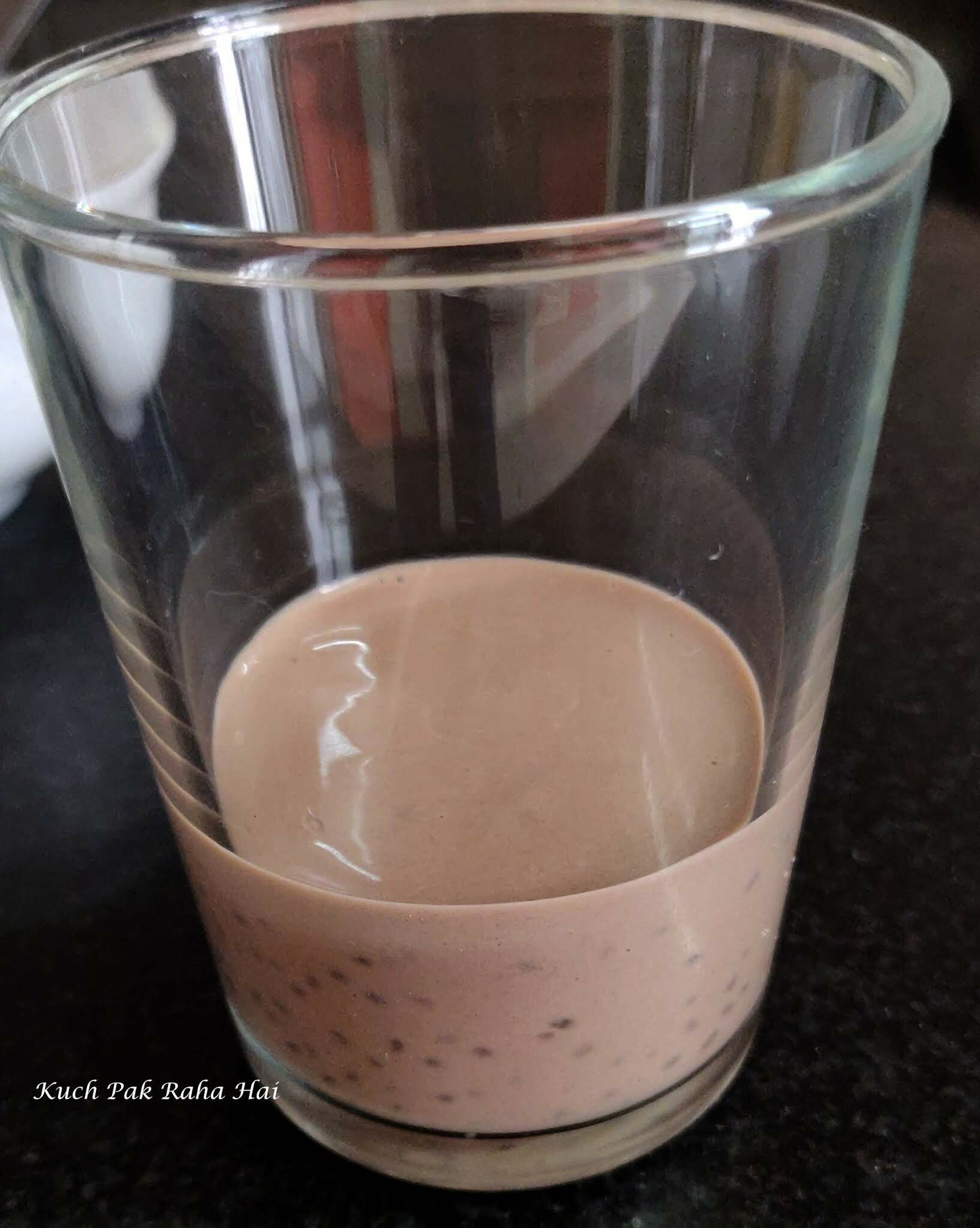 Step2:
For the second layer, in the same bowl add some more milk. Microwave it for 10-15 seconds. Add chia seeds, sweetener and instant coffee powder to it. Mix well and keep it aside till you get a gel like consistency. If you want two layers save some coffee for next layer. In this way we will have two more layers-(cocoa+coffee) & (only coffee).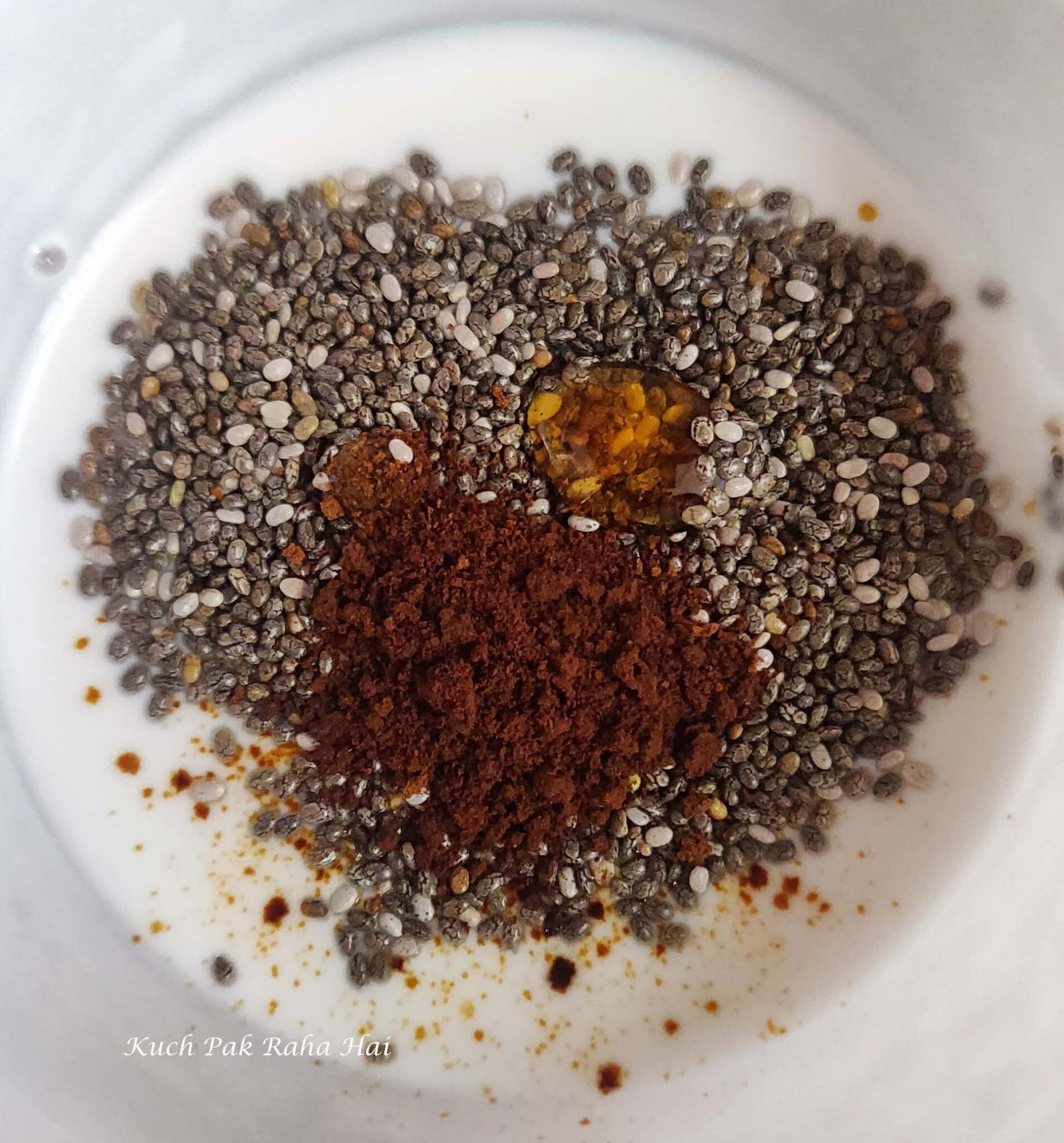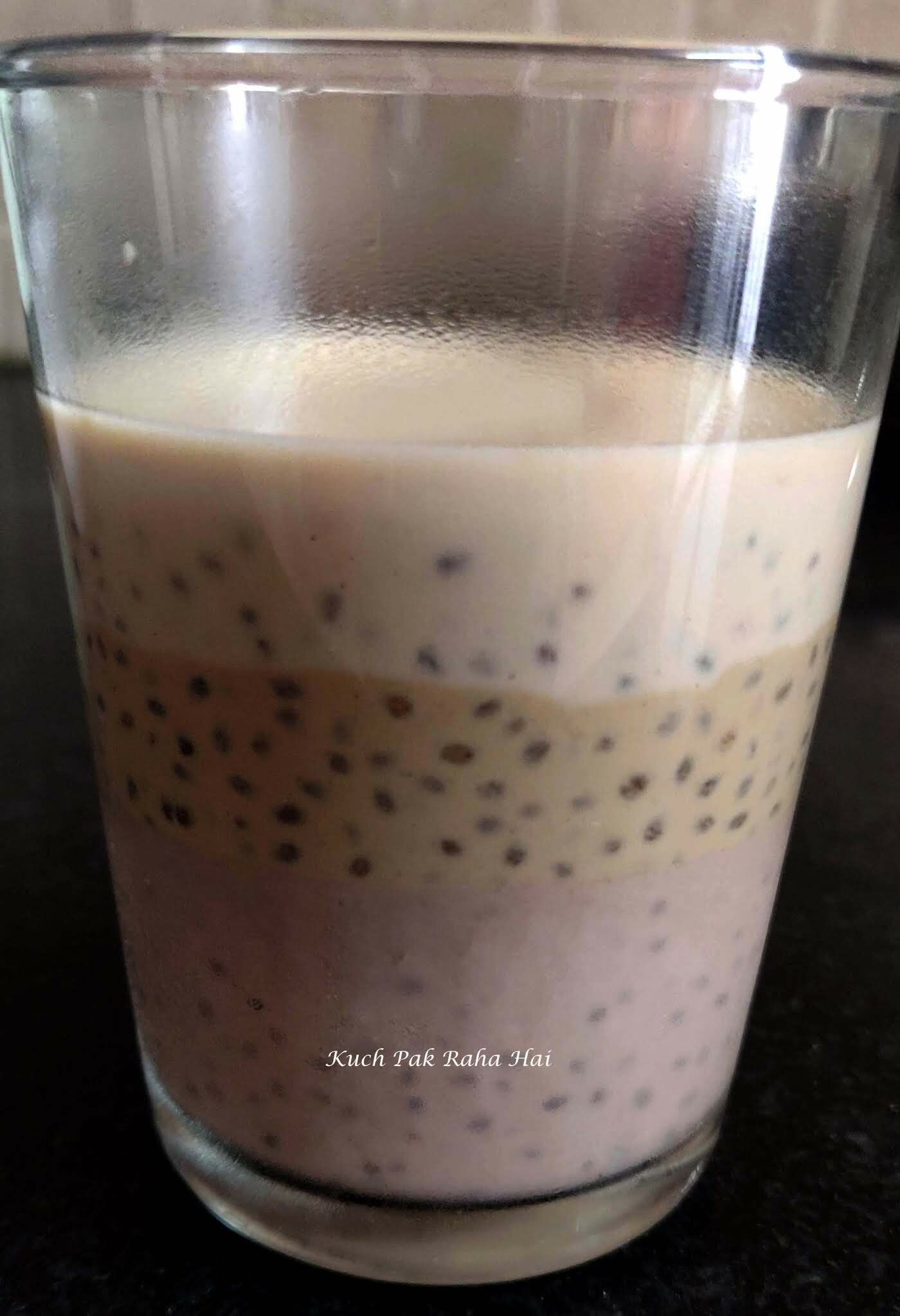 Add these layers on top of previous layer gently using a spoon. Don't pour it with sudden force else the layers can mix up. Transfer it in a freezer again so that layers can set.
Step3:
For the last layer, take remaining milk in a bowl. Microwave it for 10-15 seconds and add vanilla essence, chia seeds and sweetner to it. Mix well and keep it aside till it gets gel like consistency.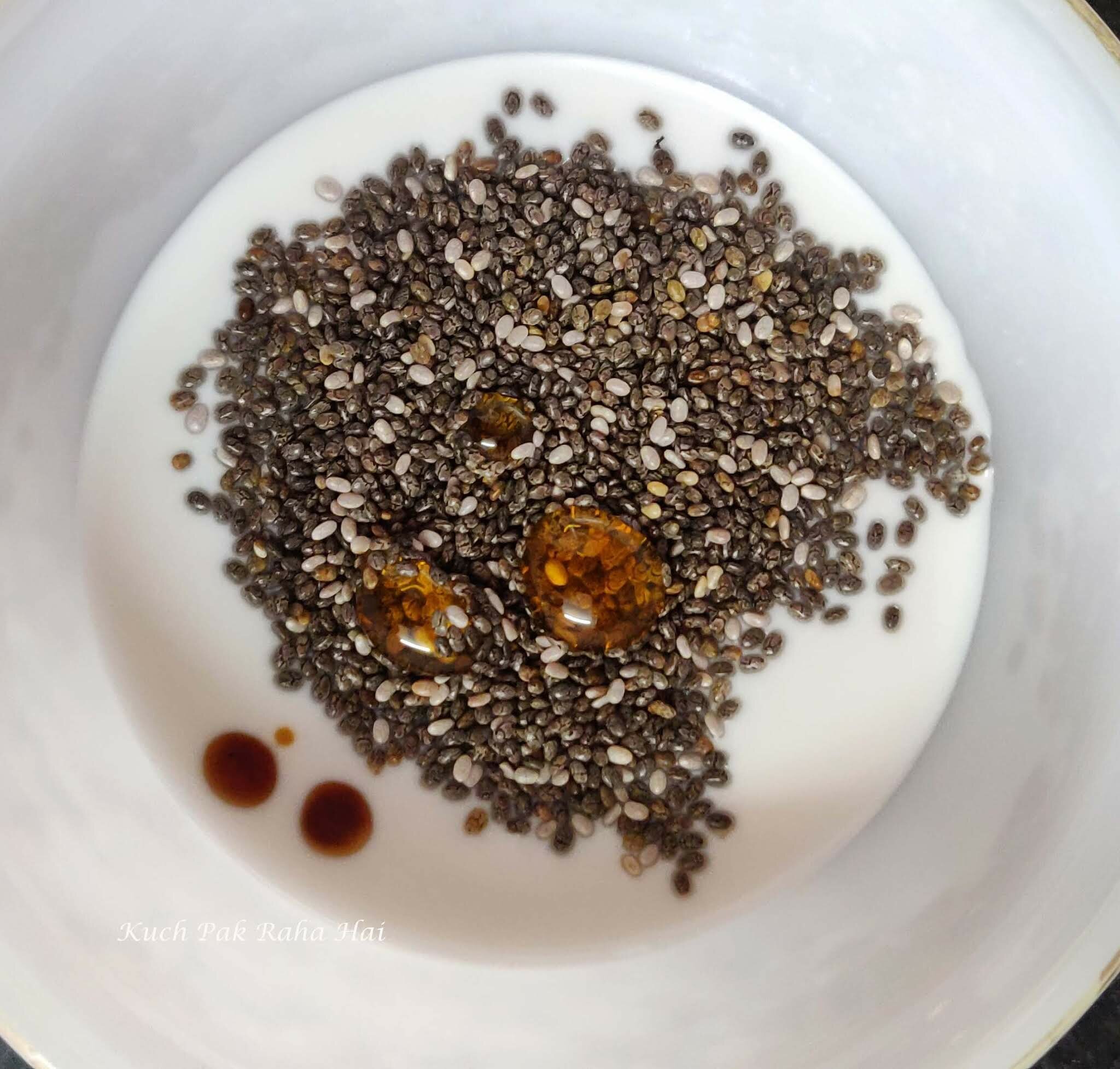 Transfer it using a spoon over the previous layers which we had set earlier. Finally let this jar chill in refrigerator (not in freezer) till you are ready to serve it. You can even keep it overnight to have it in breakfast next day.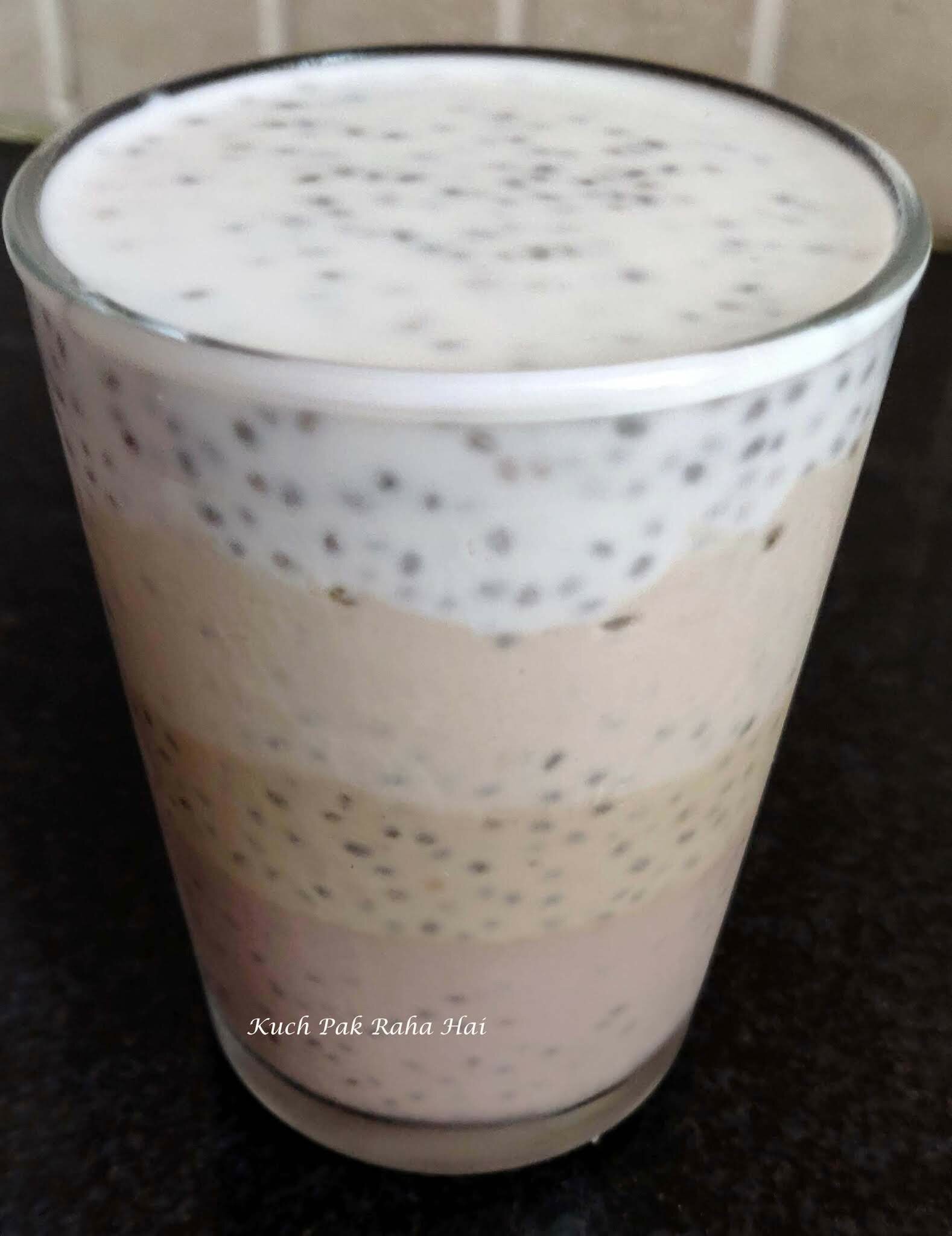 At the time of serving dust some cocoa powder over it or sprinkle some toasted nuts. Have this delicious Tiramisu flavoured Chia seed Pudding in your breakfast or serve it as a dessert!!!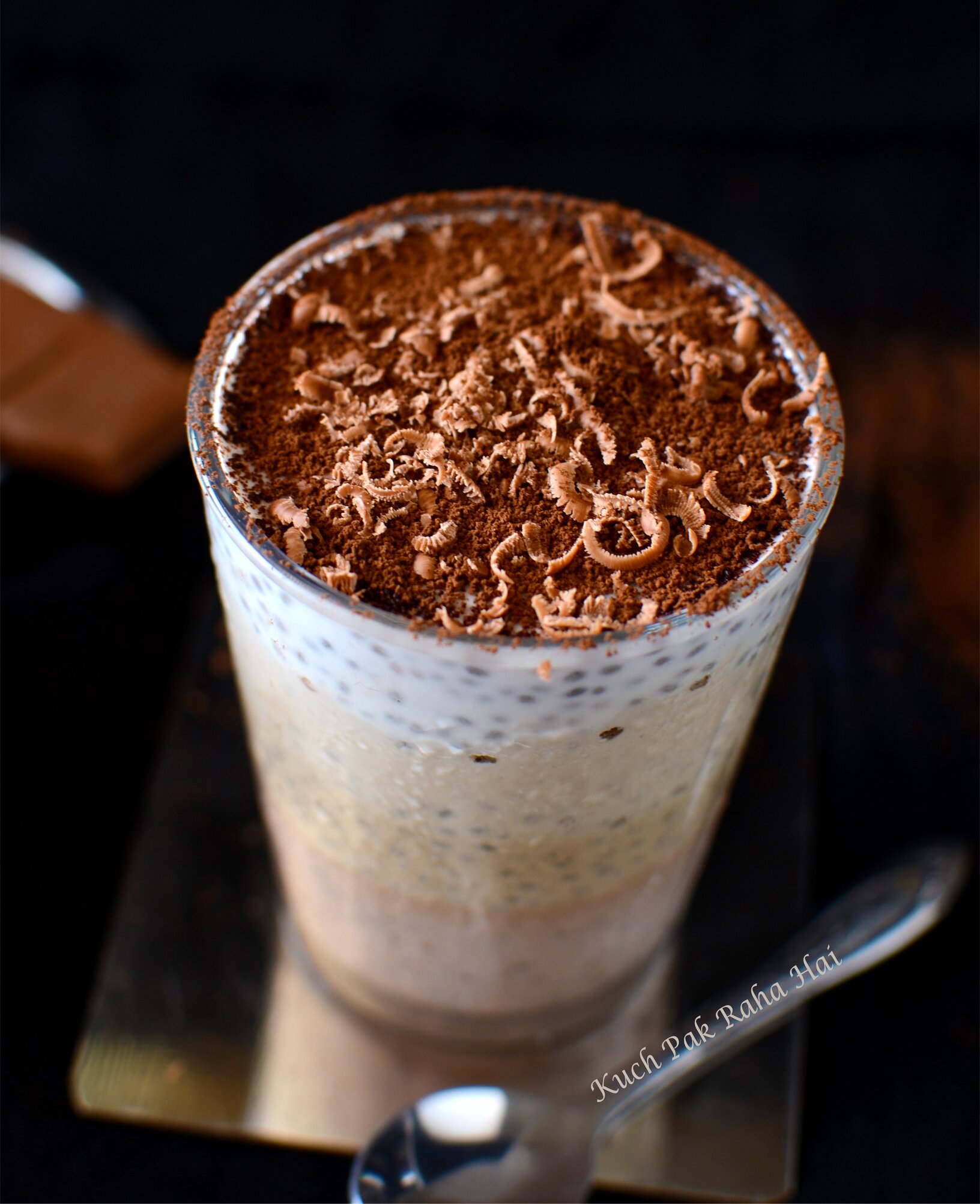 Bon Appetit!!
More such recipes you might like:
Let's stay connected
Facebook | Instagram | Pinterest | Youtube