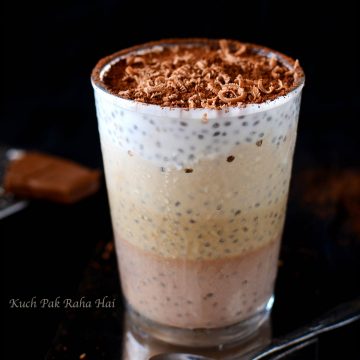 Delicious creamy chia seed pudding inspired by tiramisu flavours – coffee, vanilla and cocoa. It is a healthy breakfast or snack recipe & can be served as a light dessert too. You can make it with regular milk or dairy free options like coconut, almond, soy or oat milk for vegan version,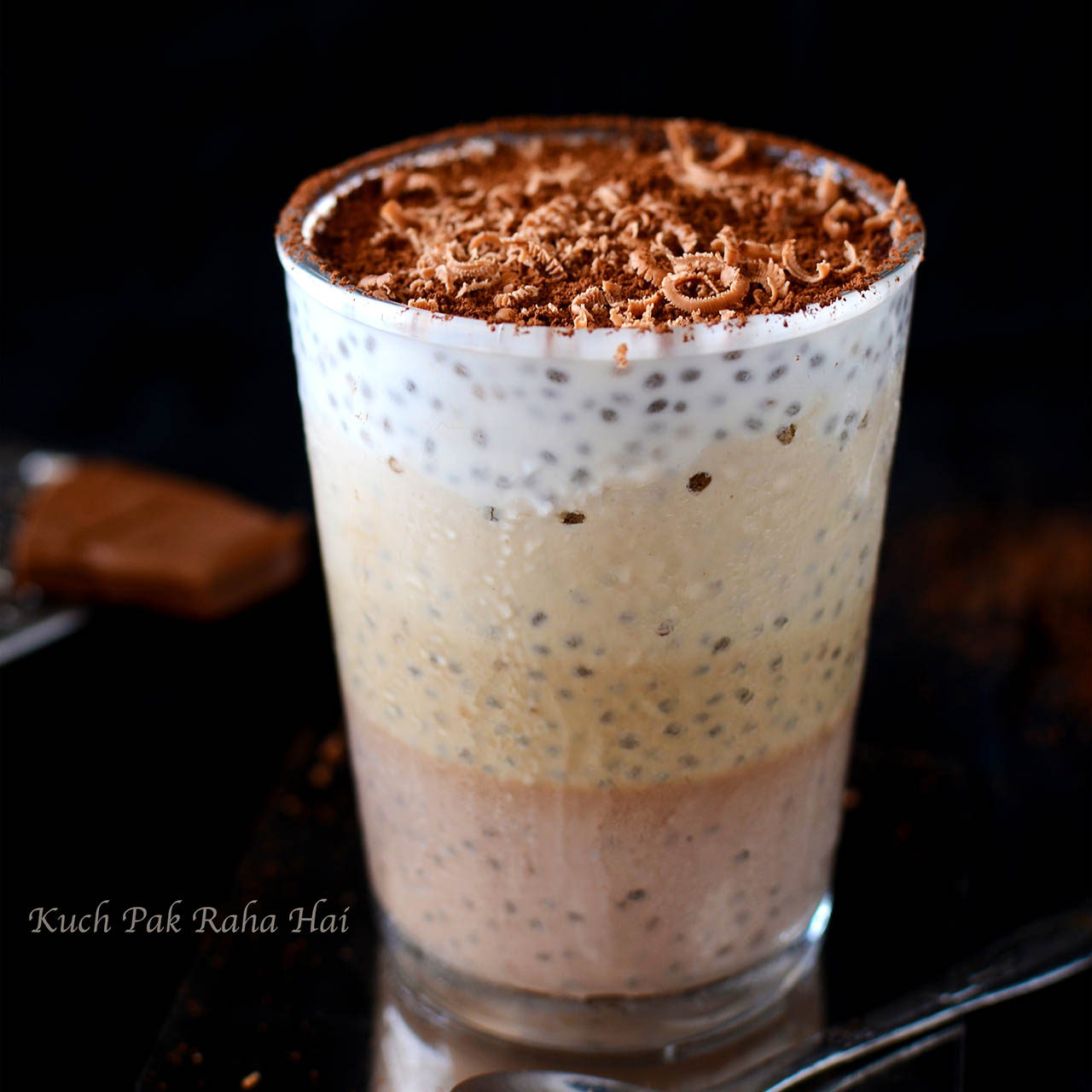 Chia Seed Pudding is a delicious way to include chia seeds in your everyday diet. These seeds have the tendency to gain a gel like texture on coming in contact with liquids. The puddings are thickened or set making use of this property of chia seeds and flavoured using fresh fruits, syrups, cocoa, and coffee etc.
The layered chia pudding recipe shared here is:
Vegan / Vegetarian
Gluten free
Easy to make
Can be served as breakfast or light dessert
Chia seeds benefits:
Chia seeds are rich source of omega-3 fatty acids, antioxidants and provide fibre, protein, calcium and magnesium etc. They are recommended to be consumed after soaking as this helps them in gaining gel like consistency, thus making their absorption easier. These chia seeds are great for weight loss as because of their high fibre content, one feels full for longer.
They can be added on salads, fruits, porridge, parfaits and overnight oats etc. You may also like lip smacking mango overnight oats chia pudding recipe which combines delicious mangoes, overnight oats and creamy chia seed pudding made with coconut milk.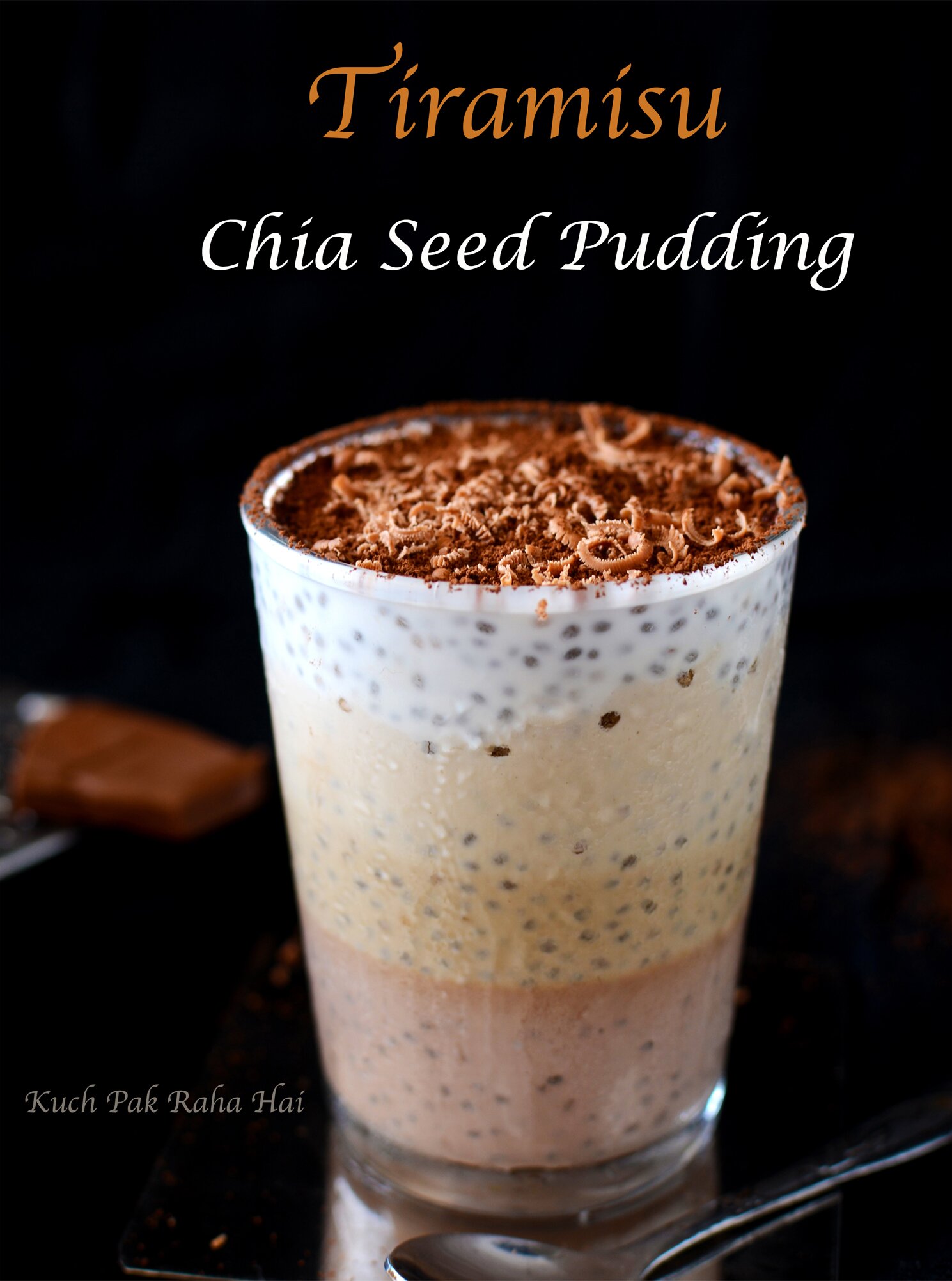 Ingredients for chia seed pudding:
This chia seed pudding recipe is quite flexible and you alter it as per your taste and diet requirements.
Milk: You can use regular milk, skimmed milk or to make vegan chia pudding you can use almond, soy, coconut milk .
Sweetener: You have many options for sweetener like white sugar, honey, maple syrup, coconut sugar, stevia drops or maple syrup.
Coffee: I have used instant coffee powder here. If you like strong coffee flavour, you can even use espresso shot or increase the quantity of coffee powder.
Cocoa: Use unsweetened cocoa powder for the recipe. It is to be used twice in the recipe- first in one of the layers and then dusted on top.
Vanilla Extract: Vanilla balances the bitterness of coffee, cocoa and dark chocolate. You can use vanilla extract or essence for the recipe.
The pudding can be garnished with some grated dark or milk chocolate, chocolate chips, toasted nuts or dusted with some cocoa powder.
Can I make this chia seed pudding ahead of time?
Yes you can make it ahead of time and store in fridge till the time of serving. I generally make it a night before and keep it in fridge overnight to have next day. You can even set it in small jars or bowls with lid and carry them while commuting or for having as a quick mid day snack.
Though the authentic Tiramisu recipe consists of layers of mascarpone cheese and coffee soaked ladyfingers, I have not used any as  I wanted to keep the pudding light & healthy. Just took some inspiration from its layers and presentation to make this eye pleasing & tasty chia pudding. It is also a a great option to serve as light dessert.
The main tip in this recipe is to follow the proper ratio of chia seeds to liquid. The chia seeds should gain perfect gel like consistency.
Do check out some more recipes with oats & chia seeds:
Youtube Video:
Hope you will like this yummy Tiramisu Chia Seed Pudding Recipe!!

Ingredients: (Makes 2 to 3 servings)
Warm Milk / Coconut Milk*- (1+1/2) cups
Chia seeds- (4+ 1/2) tbsp
Cocoa Powder (unsweetened)-3/4 tsp
Instant Coffee-1 tsp
Vanilla Extract- 2 to 3 drops
Honey / Maple Syrup- 3 tsp (to taste)
For garnishing:
Cocoa powder- 1 tsp
Grated Dark chocolate – 2 to 3 pieces
Notes:
 *Use any dairy free milk of your choice like almond, oats, soy or coconut milk to make this chia seed pudding vegan.
Adjust the quantity of sugar as per your taste. You can also use stevia or coconut sugar.
Directions:
Step 1:
Divide warm milk into three or four parts (depending on how many layers do you want). Similarly divide chia seeds and honey / maple syrup into equal parts.
Step 2:
Add one part warm milk in a bowl and add chia seeds, honey and cocoa powder to it. Mix well for 2 minutes. Keep it in fridge for 30-40 minutes. By the time this layer is chilling, let's move to next step.
(Note: If you are using coconut milk which is thicker in texture it takes approx. 10 minutes to thicken up and gain gel like structure. In other types of milk it takes upto 30 to 40 minutes.)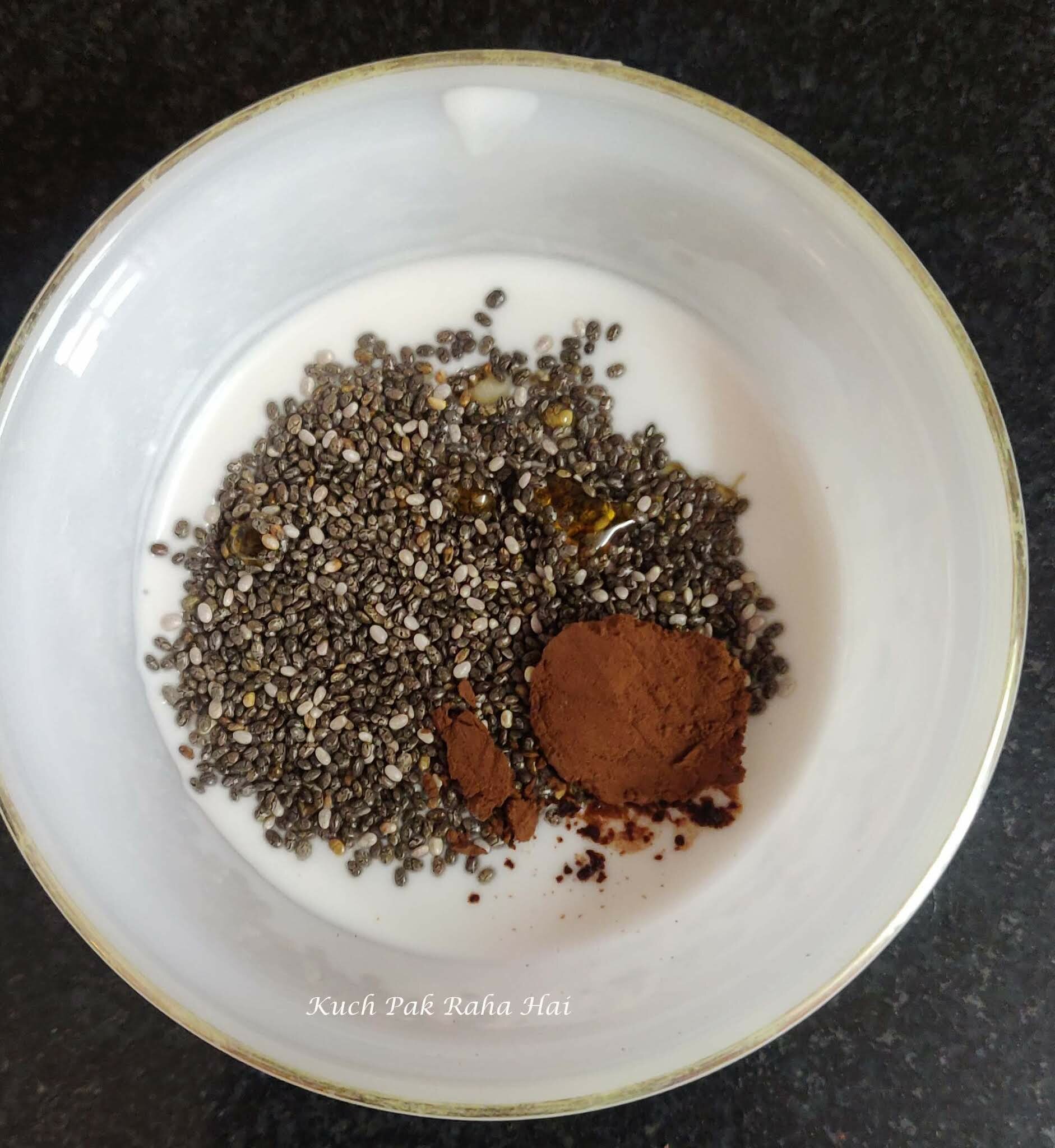 Step 3:
Add warm milk to a bowl along with chia seeds, honey and instant coffee powder. Mix well and keep it in fridge for 30 to 40 minutes. (You can make only coffee layer or if you are making 4 layers, then similarly make another layer of coffee+cocoa).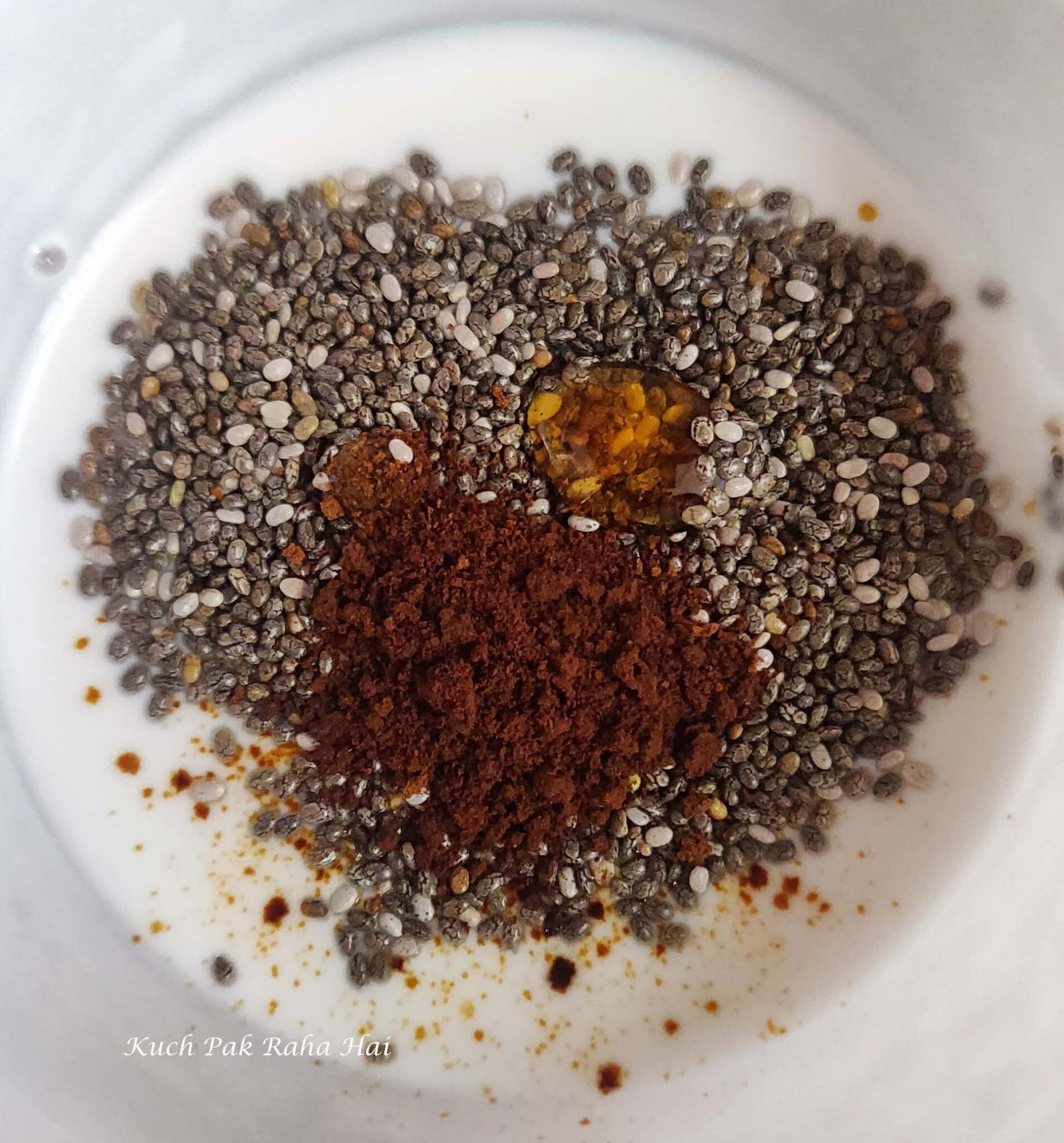 Step 4:
For the last layer, take warm milk in a bowl and add vanilla essence, chia seeds and sweetener to it. Mix well and keep it in fridge for 30-40 minutes till it gets gel like consistency.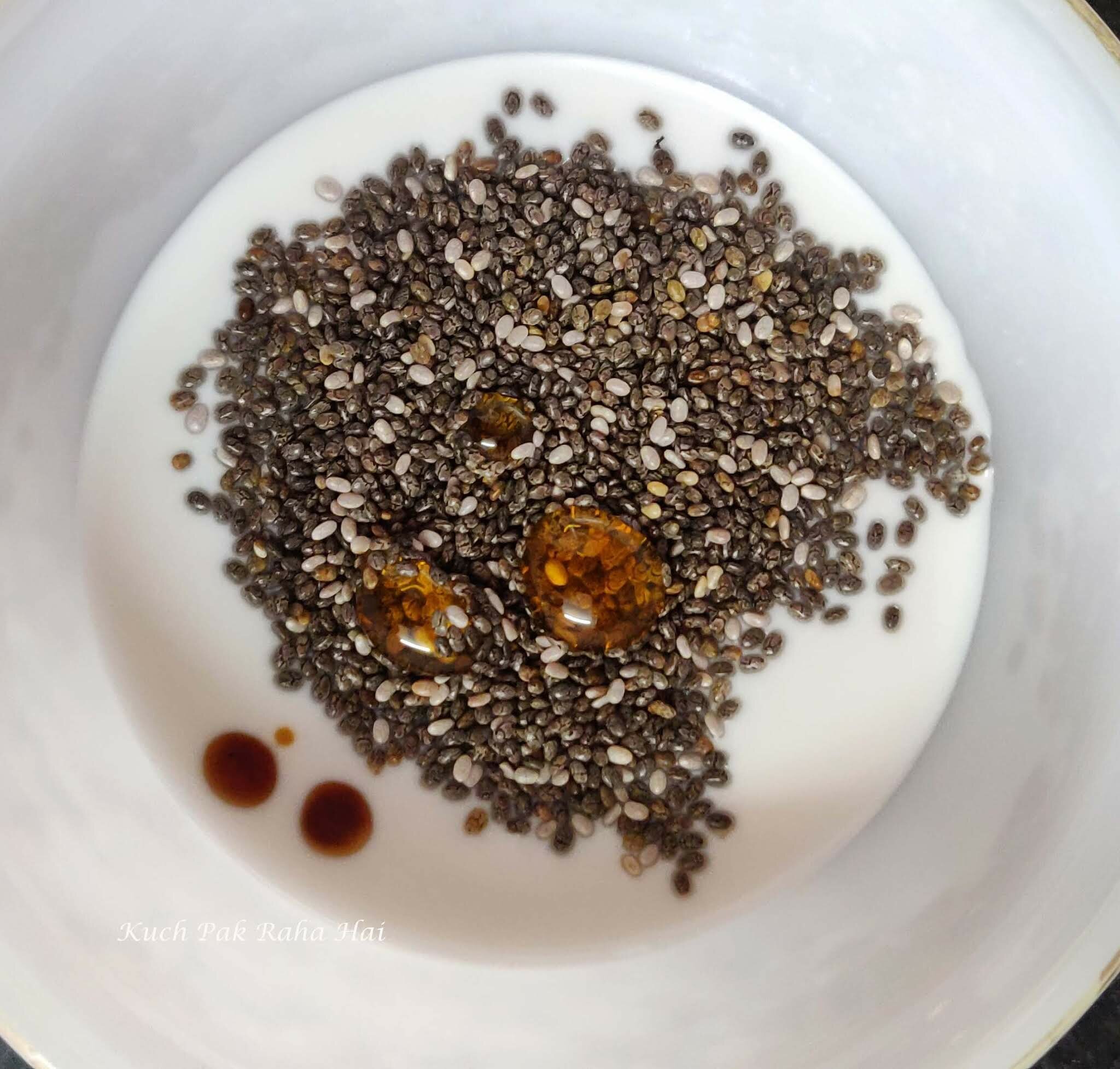 Step 5:
After 40 minutes, all the chia pudding layers will have thickened up. Begin by first pouring cocoa layer in a small glass or dessert jar using a spoon.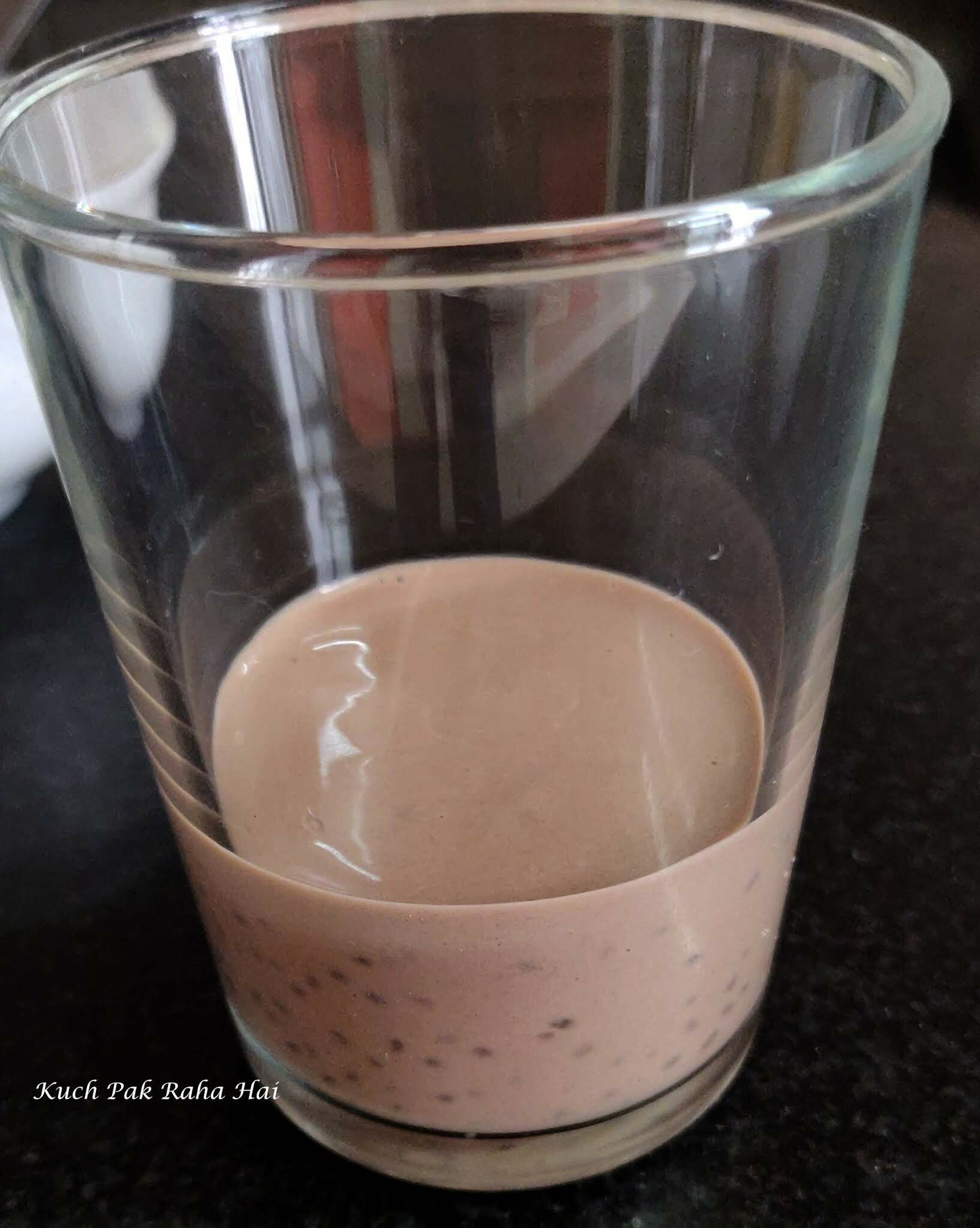 Over this cocoa layer, slowly spoon the coffee layer starting from the edges (shown in video also.)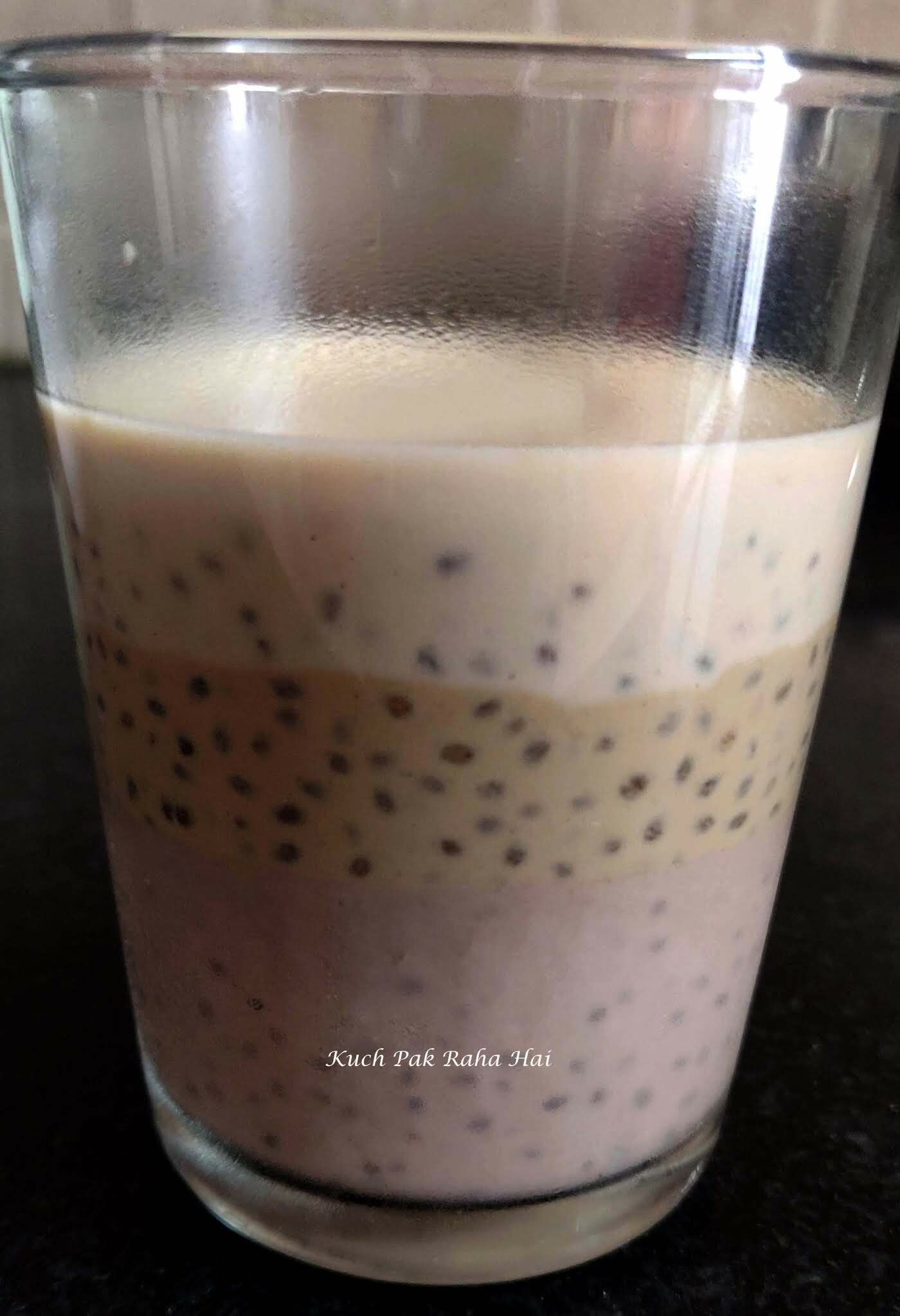 Finally pour the vanilla layer on top. Let this jar chill in fridge (not freezer) for 4-5 hrs to set. You can even keep it overnight to have it in breakfast next day.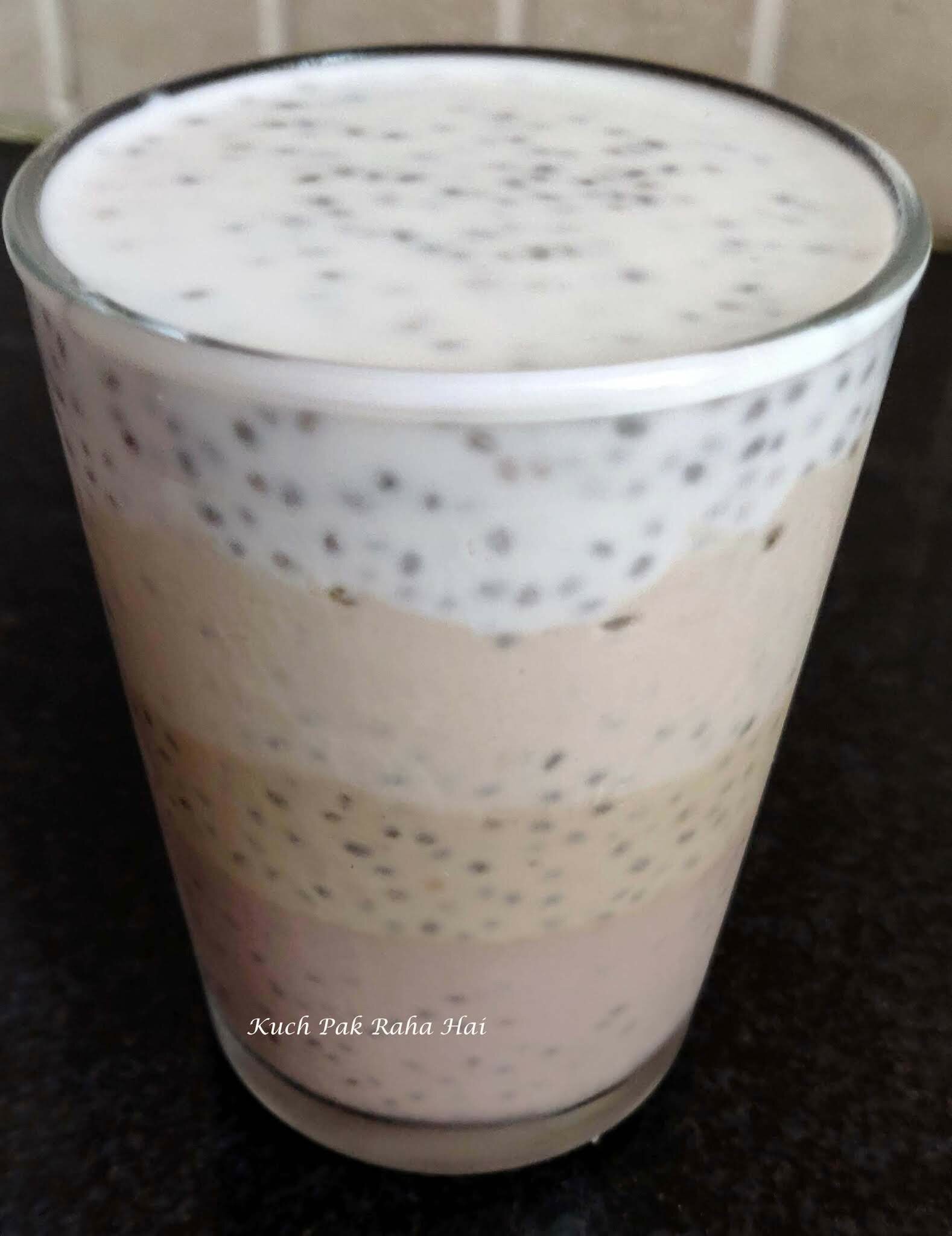 At the time of serving dust some cocoa powder and grate dark chocolate over it. Enjoy this delicious creamy chia pudding as breakfast or light dessert.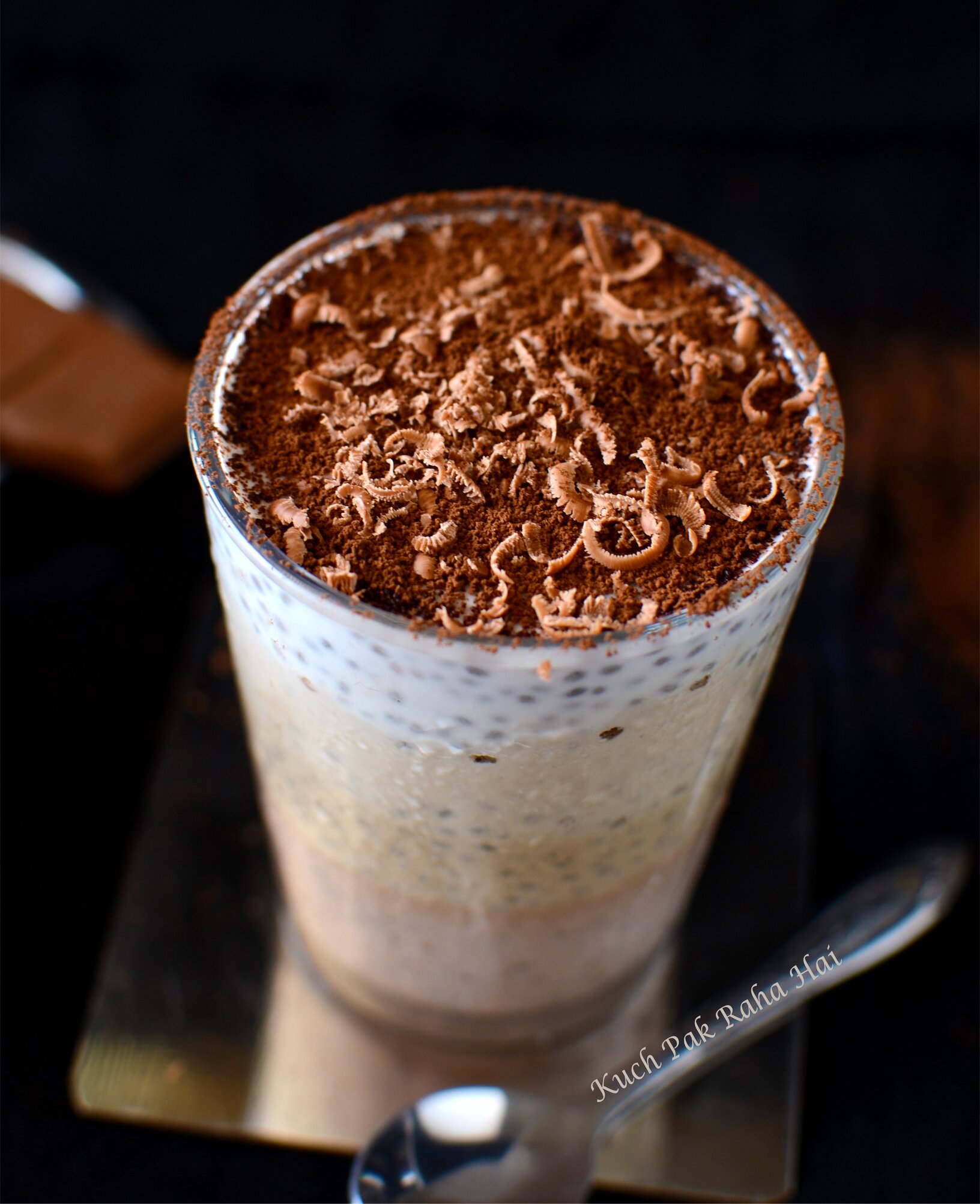 Bon Appetit!!
Tips:
Before you start pouring layers in this pudding, make sure the chia seed milk have become gel like (see video for reference). Depending on the quality of chia seeds, sometimes they might take longer to thicken up or you may have to add some more.
You can adapt the recipe to make as many layers you want.
More healthy breakfast recipes:
If you try this easy chia pudding recipe & share pics on social media, then don't forget to tag on Facebook, Instagram or use #kuchpakrahahai.
Let's stay connected
Facebook | Instagram | Pinterest| Youtube