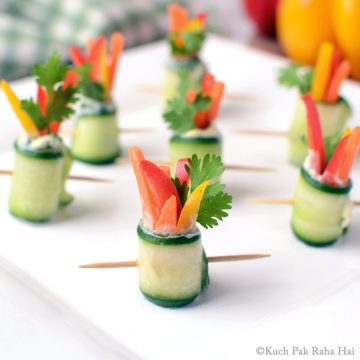 Refreshing creamy cucumber rolls with crunchy carrots, bell peppers make for a perfect summer snack or appetizer. They are healthy, light, simple & fun to make.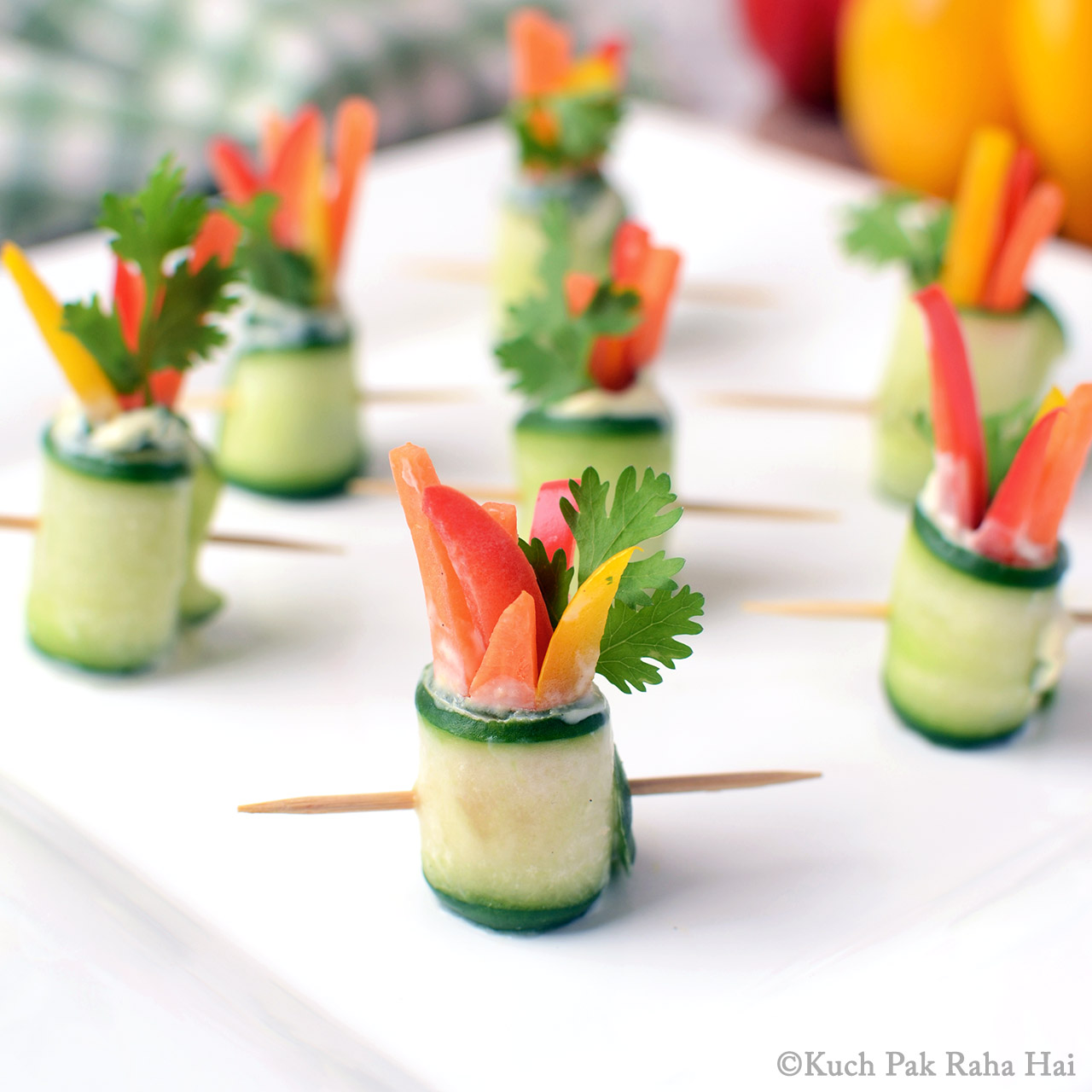 These pretty cucumber roll ups are almost like mini salad bites, so easy to serve and perfect crowd pleaser. Whether its pool party, potluck or picnic, they instantly elevate the food table with their bright pop of colours.
The cucumber roll recipe shared here is:
Vegetarian
Gluten Free
Kids friendly
Can be made vegan
Low Carbs & Keto friendly
If you are planning a summer party or looking for some fireless cooking recipes with fruits or vegetables, then along with these cucumber rolls you can consider options like coleslaw sandwiches, pinwheel sandwiches , tzatziki (cucumber yogurt dip) or mango pineapple salsa (with chips).
Cucumber Rolls Ingredients:
Cucumbers: We will be using english cucumbers for making these rolls as they have least seeds in comparison to other varieties. Cucumber are great to consume in summer season as they help in keeping the body hydrated, flushes toxins and nourishes the body with essential minerals. Instead of cucumbers you can also use zucchini to make these rolls.
Cream Cheese: I absolutely love cucumber & cream cheese pairing. Bring the cream cheese to room temperature to soften it up before using. It is also suitable for keto diet as 2 tbsp serving of cream cheese has only 1.2 grams carbs and 9 grams of fat.
However if want to make low fat version of cucumber roll salad, then you can substitute cream cheese with hummus, mashed avocado, greek yogurt or strained yogurt (hung curd). (To checkout the procedure for strained yogurt, checkout yogurt vegetable sandwiches post).
(To make these cucumber rolls vegan, use vegan cream cheese, avocado or hummus.)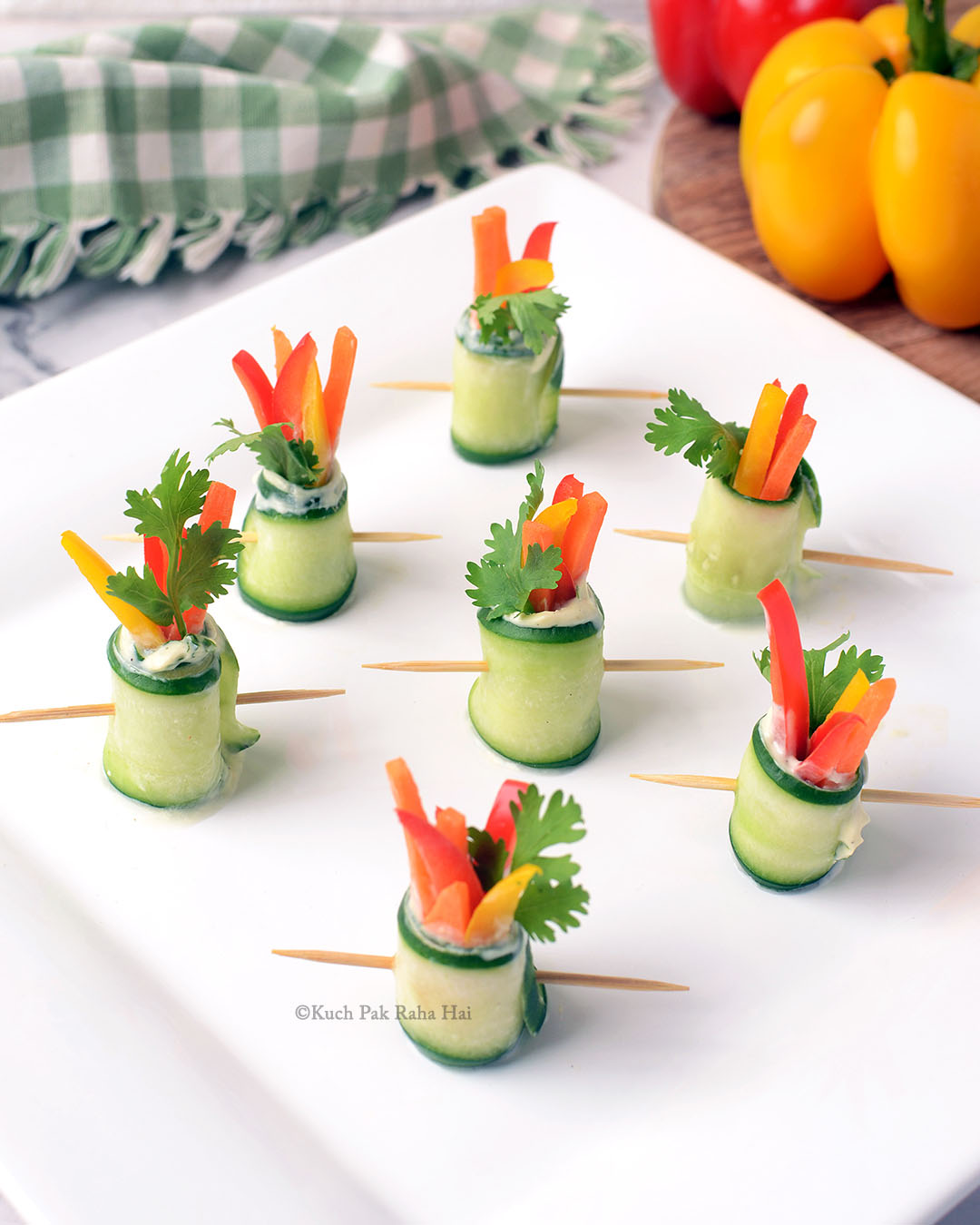 Herbs: Fresh herbs like dill, cilantro, coriander, spring onions greens, scallion or chives instantly add freshness & aroma to cream cheese filling. Feel free to add any herbs as per your choice.
Other Veggies: I have used carrots, coloured bell pepper (red & yellow) in these cucumber rolls as they instantly add a pop of colour and add nutrition to these cucumber rolls. You can also use avocado or any one or two vegetable as per your liking.
Seasoning: I have kept the seasoning simple with just a dash of salt & crushed black pepper. You can add other spices as per your choice like garlic powder, roasted cumin powder, sriracha or cayenne pepper too.
At first glance people can confuse these rolls with cucumber sushi rolls (also know as kappa maki), however sushi is different as it also has Japanese rice & nori seaweed.
How to make cucumber rolls?
To make these vegetable rolls, we first wash the cucumbers well and slice them using mandolin slicer or peeling knife to get long strips. Cut the carrots, bell peppers into matchsticks & keep aside. Mix cream cheese with herbs, seasoning and slather on cucumber slices. Place veggie matchsticks on it and roll carefully. Seal them with a toothpick.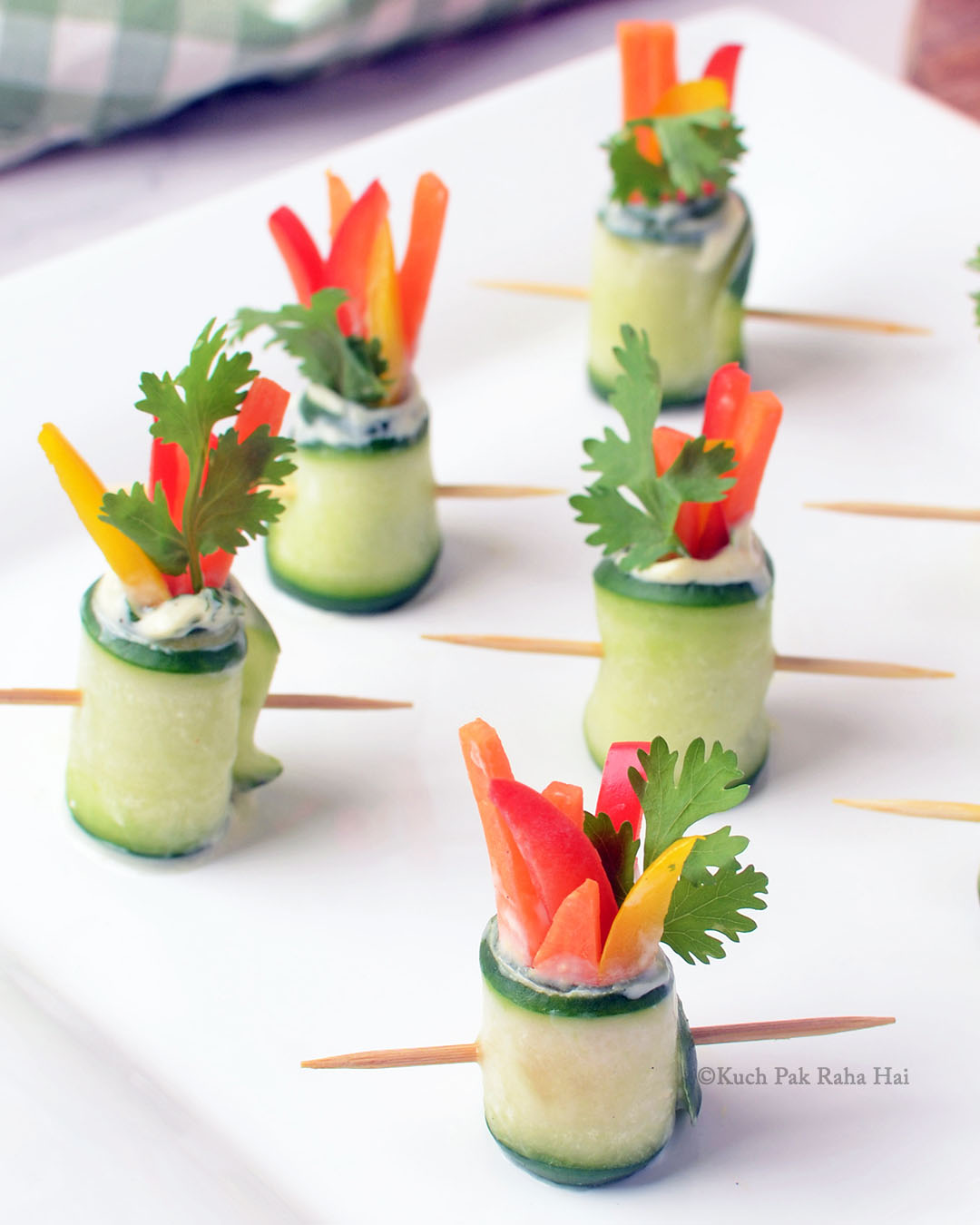 Hope you would like this simple cucumber roll recipe. More easy salad recipes you might like:
Ingredients: (Makes 10-12 pieces)
English Cucumbers – 2
Carrot (small) -1
Red Bell Pepper- 1/4
Yellow Bell Pepper- 1/4
Cream Cheese / Hummus– 3 tbsp
Crushed Black pepper- 1/8 tsp
Chopped Cilantro- 1 tbsp
Notes:
Bring the cream cheese to room temp to make it easily spreadable.
Instead of cilantro you can use any other fresh herbs. Also, any other spices or seasoning like garlic powder, onion powder, cayenne pepper etc can also be added.
Directions:
Step 1:
Mix cream cheese, chopped herbs, salt and black pepper in a bowl. Mix well. Keep aside.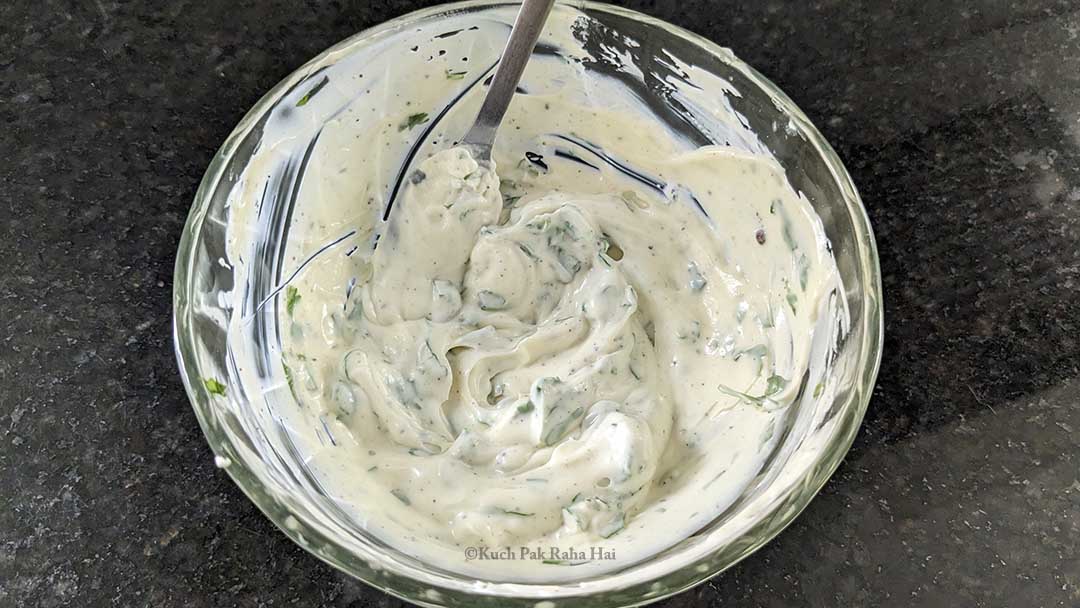 Step 2:
Cut carrots & bell peppers into matchsticks using a sharp knife. Don't keep them too thick or too thin. Keep them aside.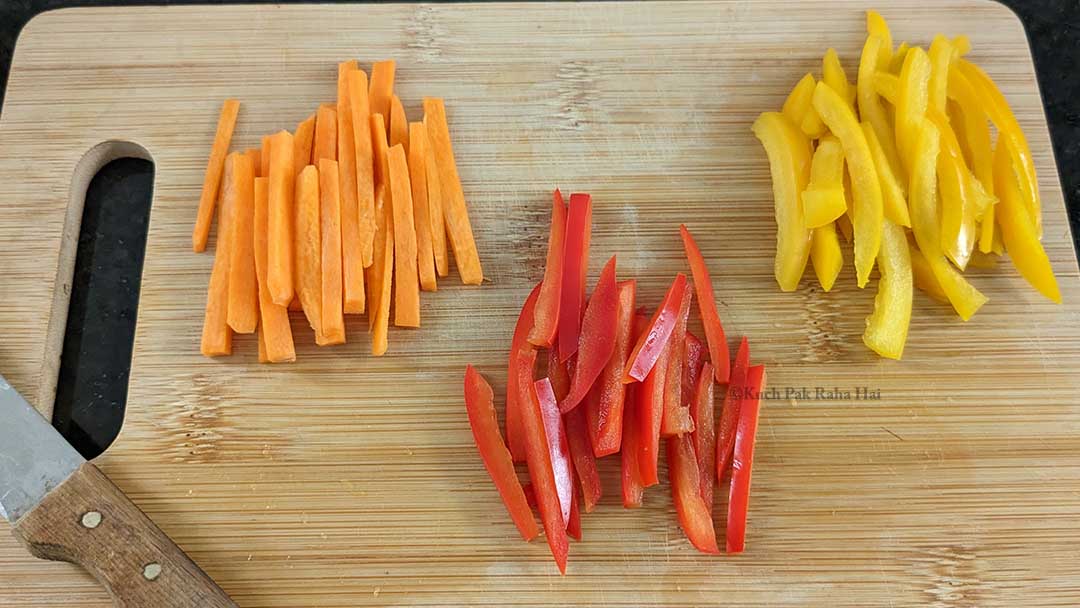 Step 3:
Wash the cucumbers thoroughly. Pat dry with kitchen towel. Slice them using a mandolin slicer or peeling knife. (Stop when you reach the center seed part. Use the leftover cucumber part in salads or smoothie). Transfer these cucumber strips on a kitchen towel to get rid of extra moisture.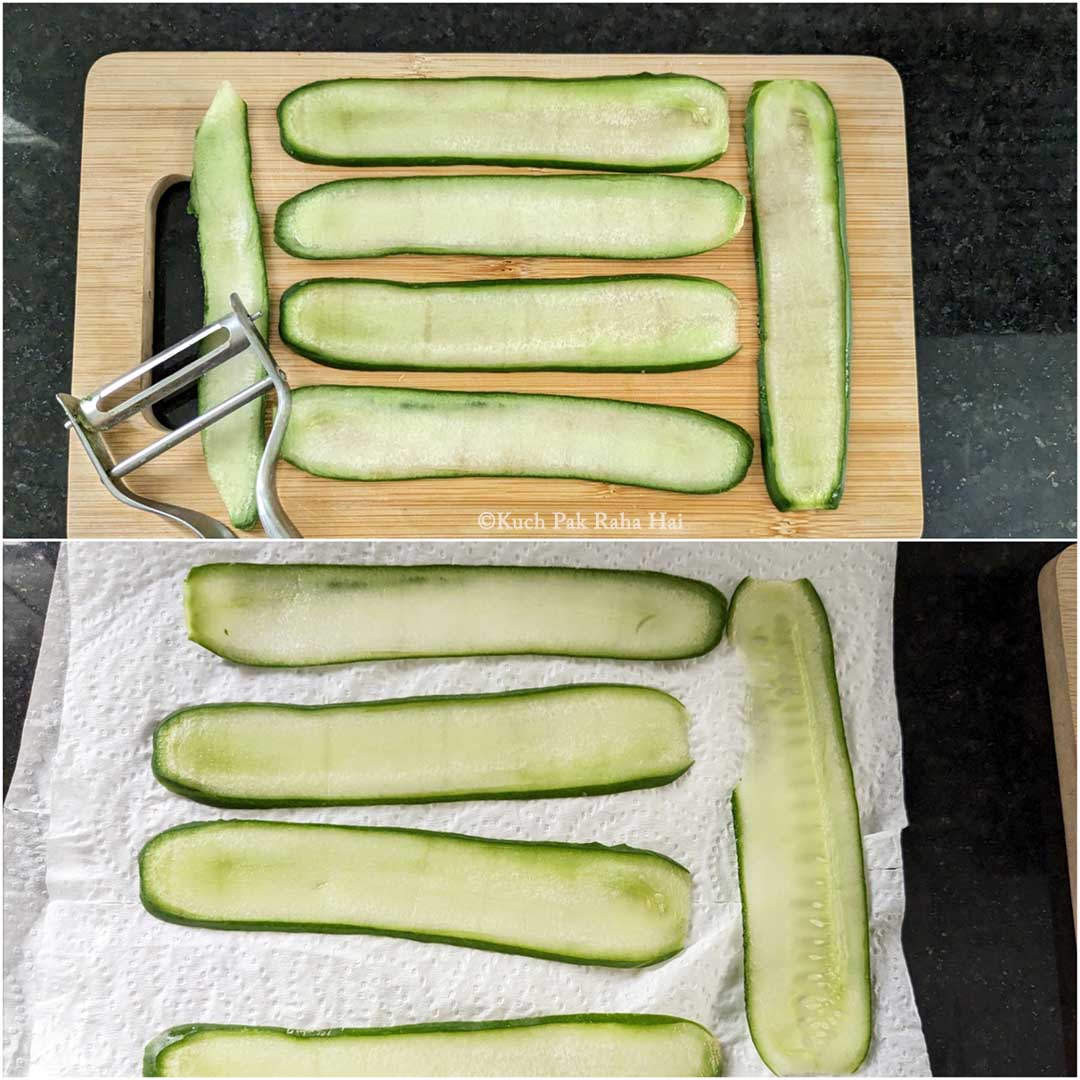 Step 4:
Slather the herb cream cheese on each cucumber strip. Place 2-4 vegetable sticks on their one end & roll gently. Seal with toothpick (makes it easier to pick & eat).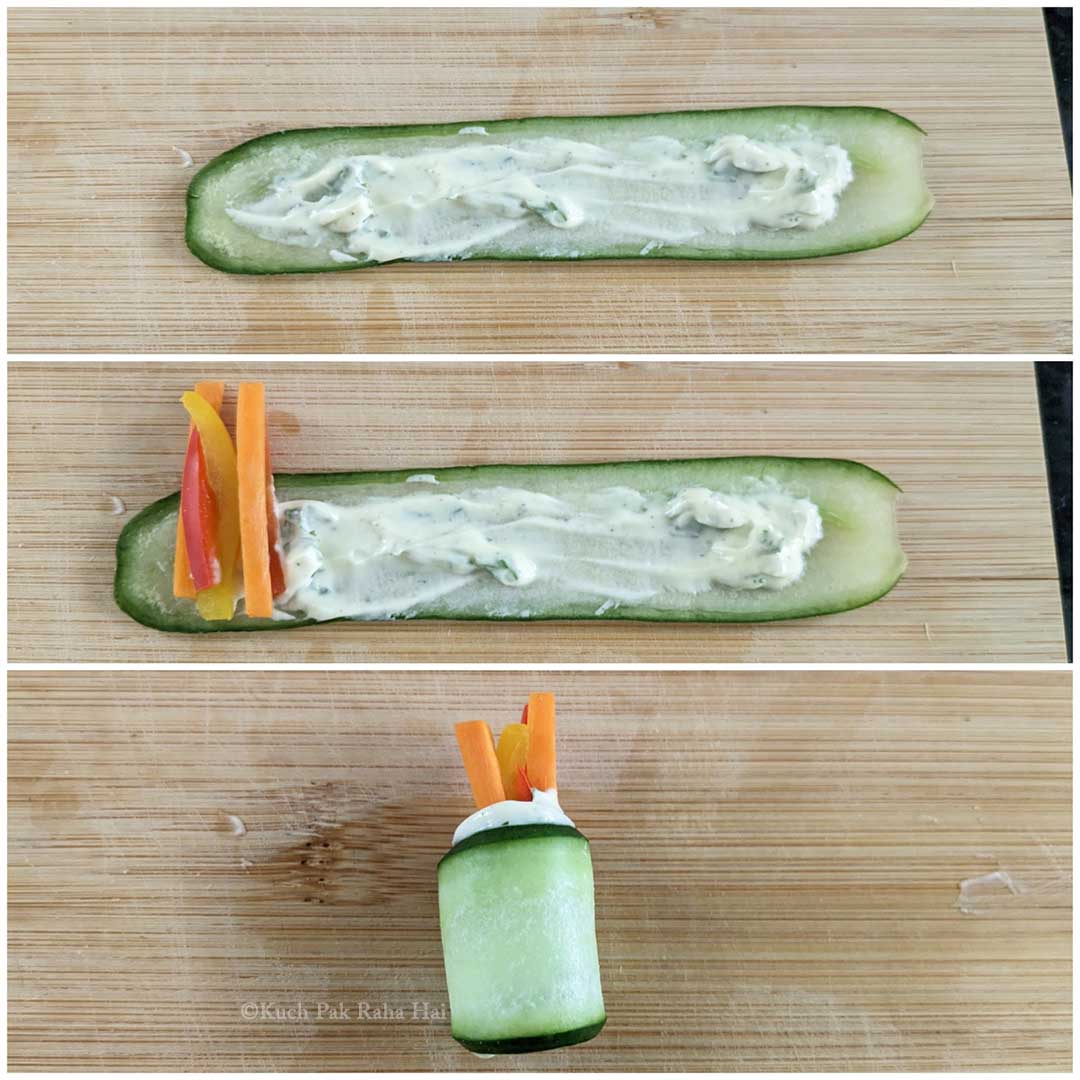 Garnish with more fresh herbs before serving. Delicious healthy cucumber salad rolls are ready!! 🙂
Pin for later: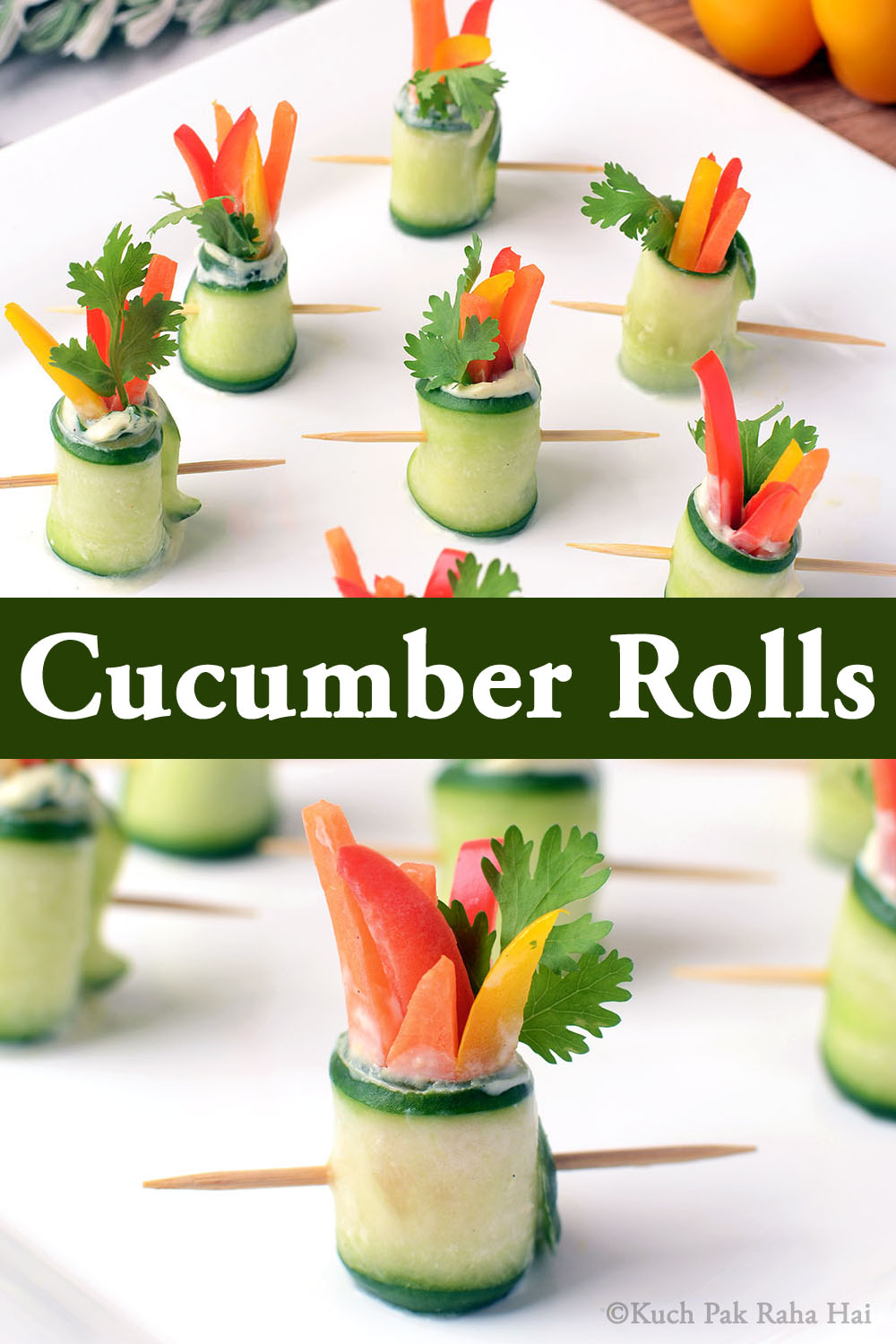 If you try this easy cucumber roll ups recipe & share pics on social media, then don't forget to tag on Facebook , Instagram or use #kuchpakrahahai.
Let's stay connected
Facebook | Instagram | Pinterest| Youtube