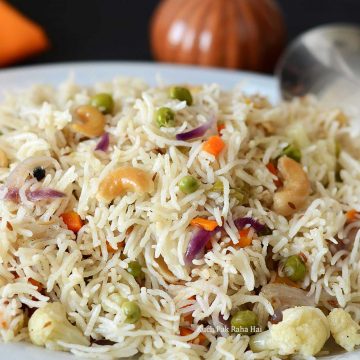 Veg Pulao or pilaf is a delicious and easy one pot Indian rice recipe prepared with basmati rice, fresh seasonal vegetables, aromatic spices and ghee or oil.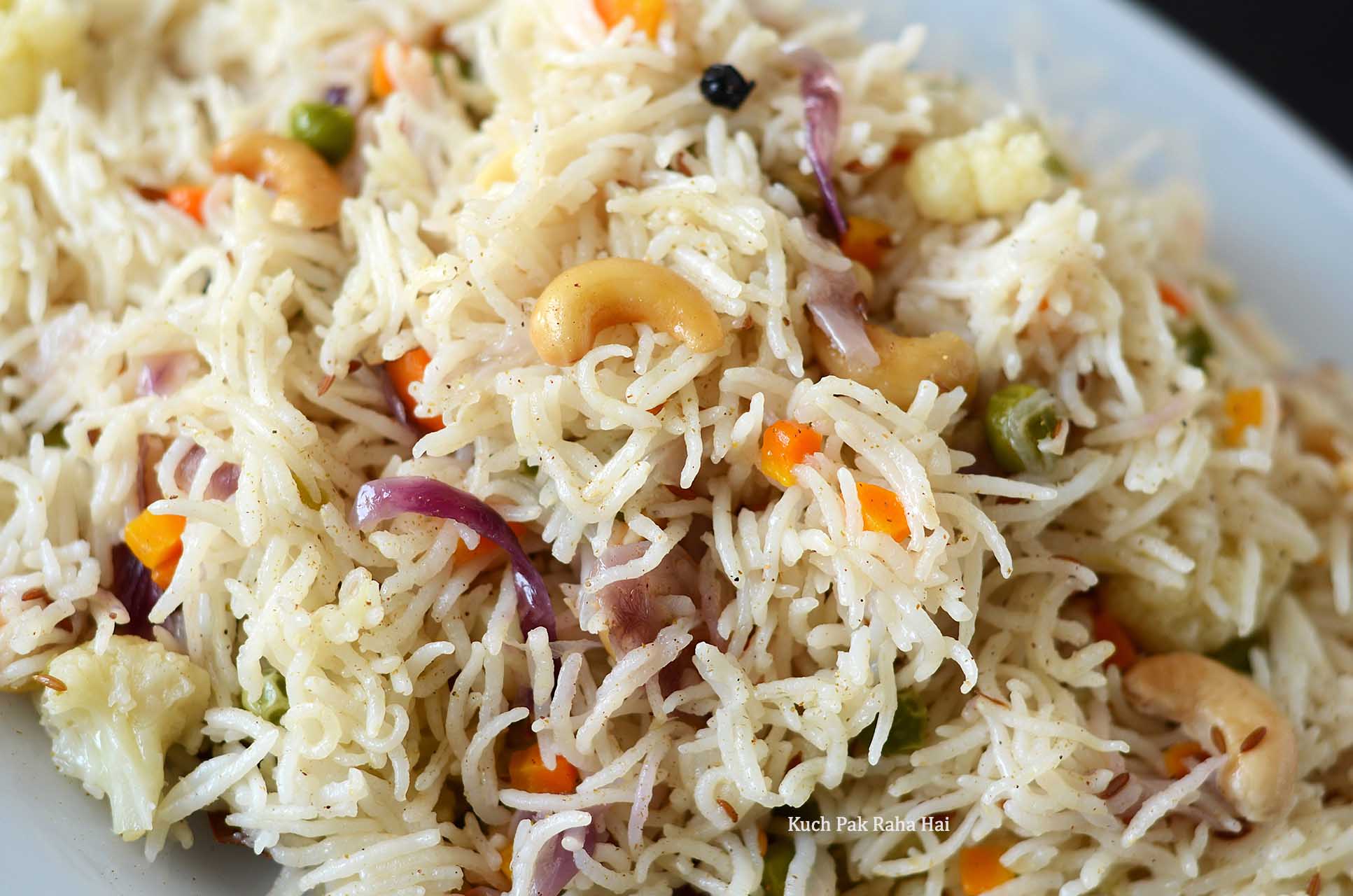 The rice pilaf recipe shared here is:
Vegan / Vegetarian
Gluten Free
Easy & quick
Made in one pot (pressure cooker)
During winters we all search for healthy, easy & quick meal recipes that can be prepared without much of preparation or hassle. With just handful of kitchen ingredients like rice, vegetables, spices, salt & water (or stock), you can make this absolutely comforting pulao in a short time in pressure cooker.
Which vegetables can be added to rice pilaf?
Traditionally ginger, green chillies, onion, cauliflower, carrots and peas are used in pilaf but you can always add more vegetables like potatoes, broccoli, bell peppers etc. Instead of water, you can also use vegetable stock or chicken stock while cooking to add more flavour.
(As some people of Jain community refrain from having onions, so if you want to make Jain veg pulao then skip using onions.)
Can I use frozen vegetables for making pilaf?
Yes, I have tried this recipe with frozen vegetables & it just turned out fine. Just wash them once under running water before adding in pressure cooker.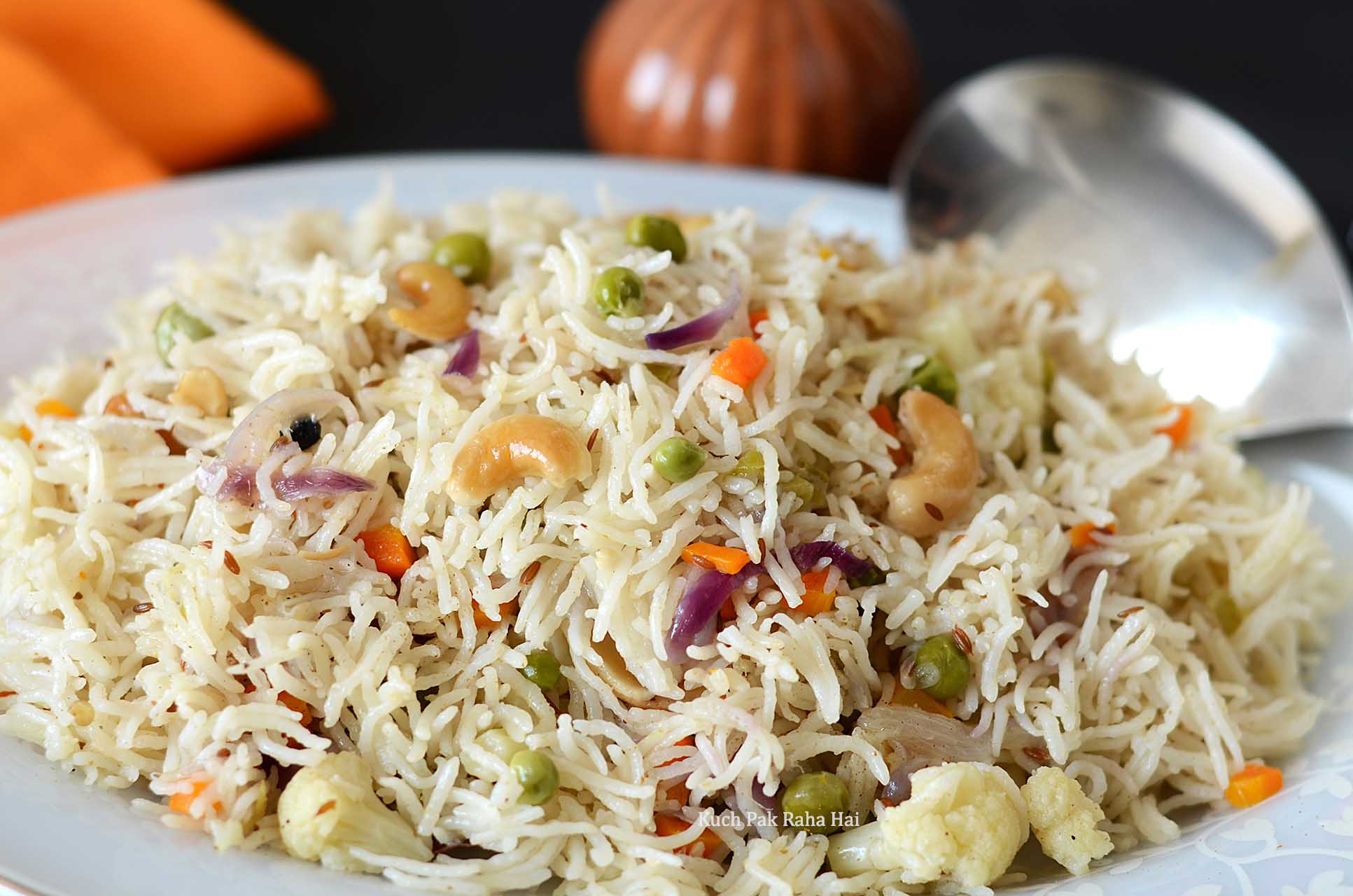 What to serve with rice pilaf?
You can enjoy it as it is or have it with some yogurt (raita) and pickles . It can also be served with dal (lentils) or curries like:
Tips to make perfect pilaf:
The veg rice pilaf recipe that I have shared here is made in pressure cooker. Many people complain that whenever they make rice, the grains turn out to be sticky and not fluffy (each grain separated). From my understanding & experience, the texture of the rice depends on-
Quality of rice
Ratio of rice to water
Rinsing & soaking rice
Long gain Basmati rice is the best option when it comes to making pulao or biryani. Some rice varieties of rice like glutinous rice (oryza) have inherent quality of becoming sticky on cooking. Also don't get confused with parboiled rice which is partially cooked rice variety.
Secondly, if the ratio of rice to water is wrong then it would result in either overcooked or undercooked rice. The rice and water ratio which I generally follow while making pulao is 1 : 1.5 i.e. for every 1 cup of rice, take 1.5 cups of water. For making plain rice even 1 : 1 ratio is fine but with vegetable pulao some extra water is required for cooking vegetables also.
Rinsing & soaking the rice is an important step. First we rinse it 2 to 3 times, till the water in which we are washing starts becoming clear. Soaking it for 20 to 30 minutes makes sure all the excess starch is washed off while also reducing the cooking time.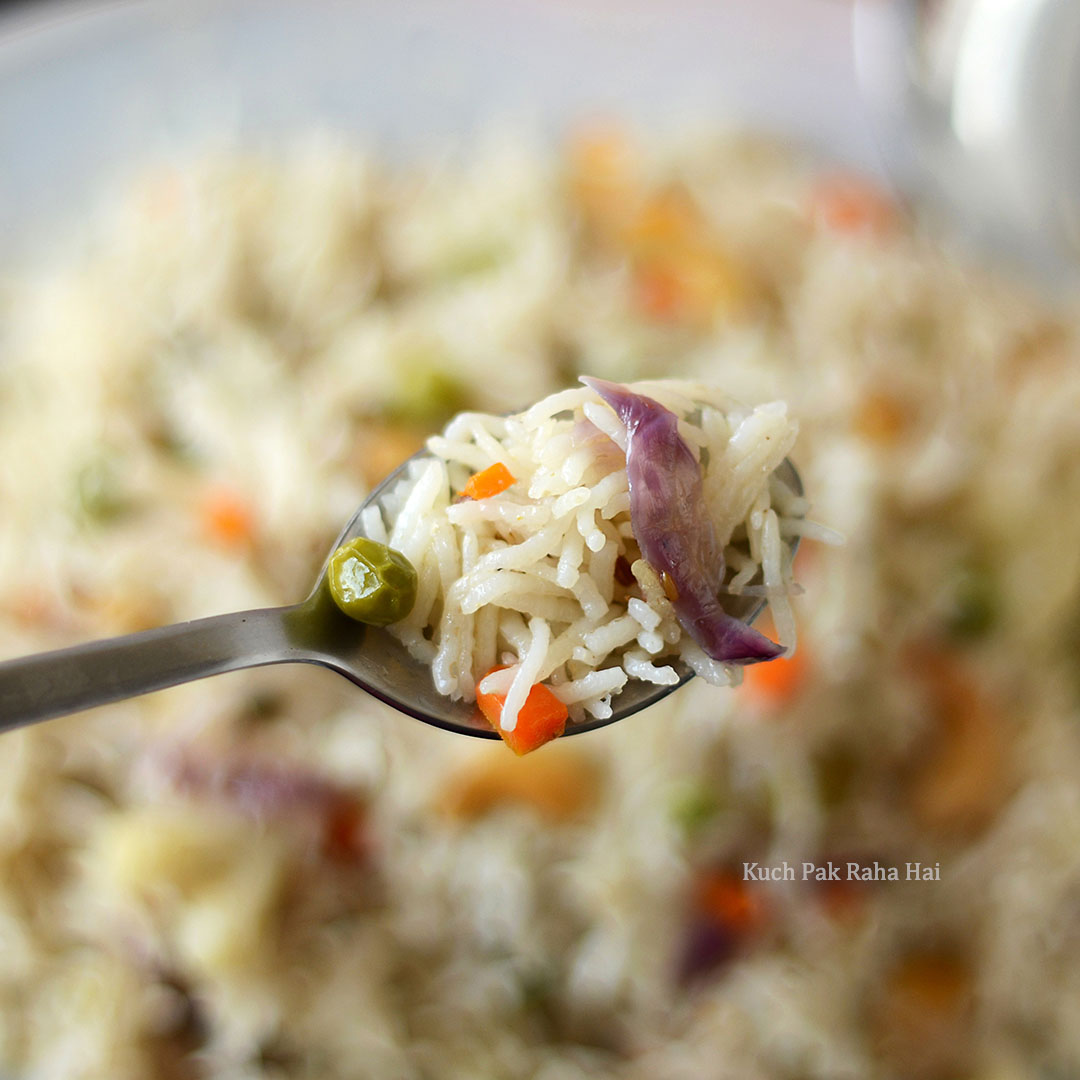 Can I make this pulao recipe in Instant pot?
Recently I have come across many posts on facebook where people are making pilaf in instant pots. Though I don't have any instant pot right now but if you own one then you can definitely try this recipe in it as well.
More delicious rice recipes:
Hope you would like this easy flavoursome veg pulao recipe!!!
List of ingredients: (Serves 4 people)
Basmati Rice – 1.5 cups
Water- 2 & ¼ cup
Salt – 2 tsp (or to taste)
Ghee / Cooking Oil – 1 tbsp
Cumin Seeds (Jeera) – 1 & ½ tsp
Black Peppercorns – 3 to 4
Bay leaves – 1
Cardamom – 2 to 3
Cloves – 3
Cinnamon – 1 inch piece
Cashews – 8 to 10 (split)
Onion – 1 large (Sliced)
Ginger – 1 tsp
Green Chillies – 1
Lime Juice – 6 to 7 drops
Chopped cauliflower – ¼ cup
Peas – ½ cup
Chopped carrots – ¼ cup
Garam Masala – ½ tsp
Steps To Prepare:
Step 1:
Rinse the rice twice or thrice till you start getting clear water. Soak the rice in water for 20 minutes. This is done to wash out extra starch from rice.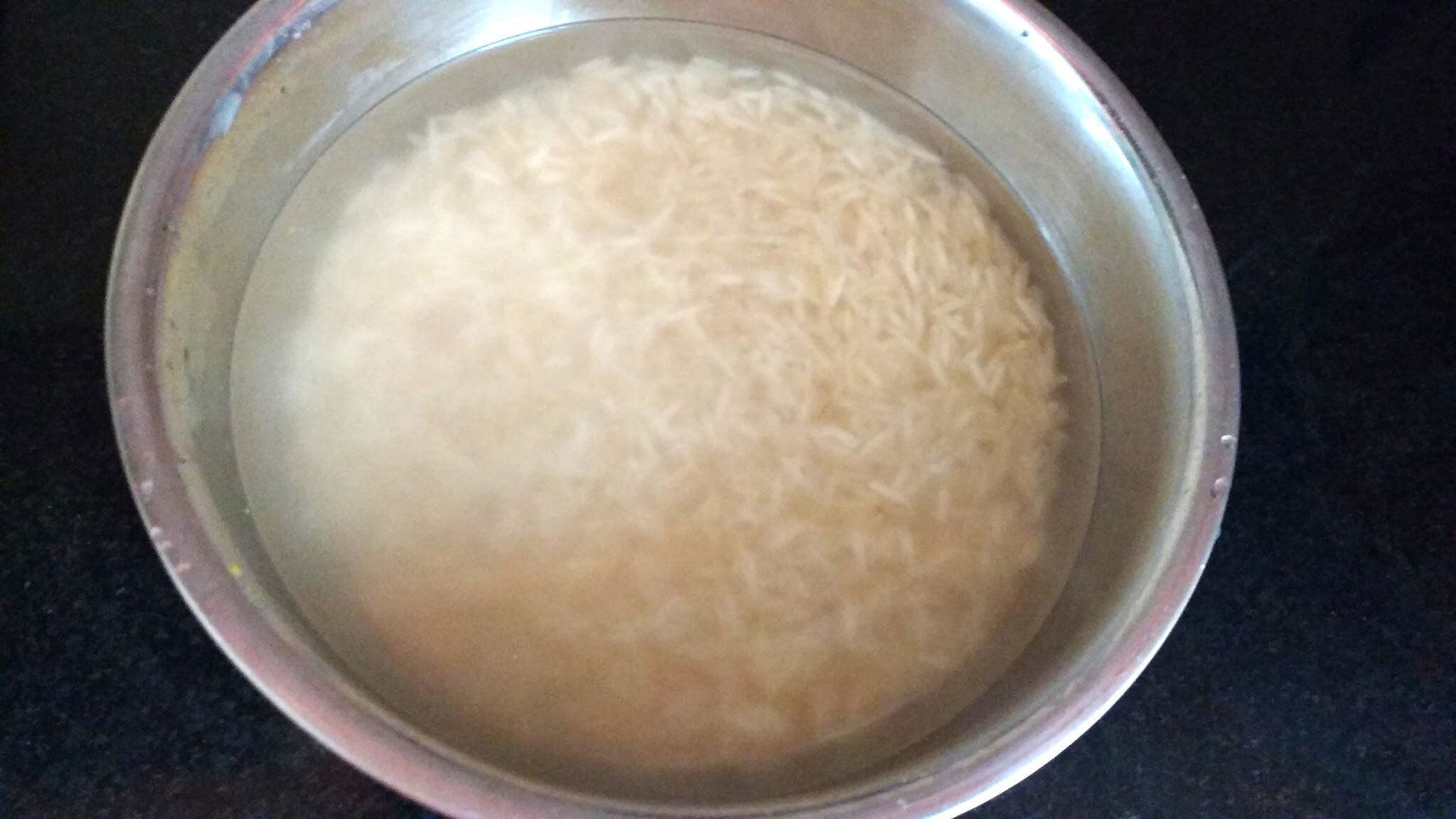 Step 2:
Heat oil or ghee in a heavy bottomed pressure cooker. Add cumin seeds, black peppercorn, Bay leaves, cardamom, cloves and cinnamon. Roast them on low flame in ghee for 30 to 40 seconds till they start releasing their aroma. Add cashews to it and let them sauté too till they turn slightly golden in colour.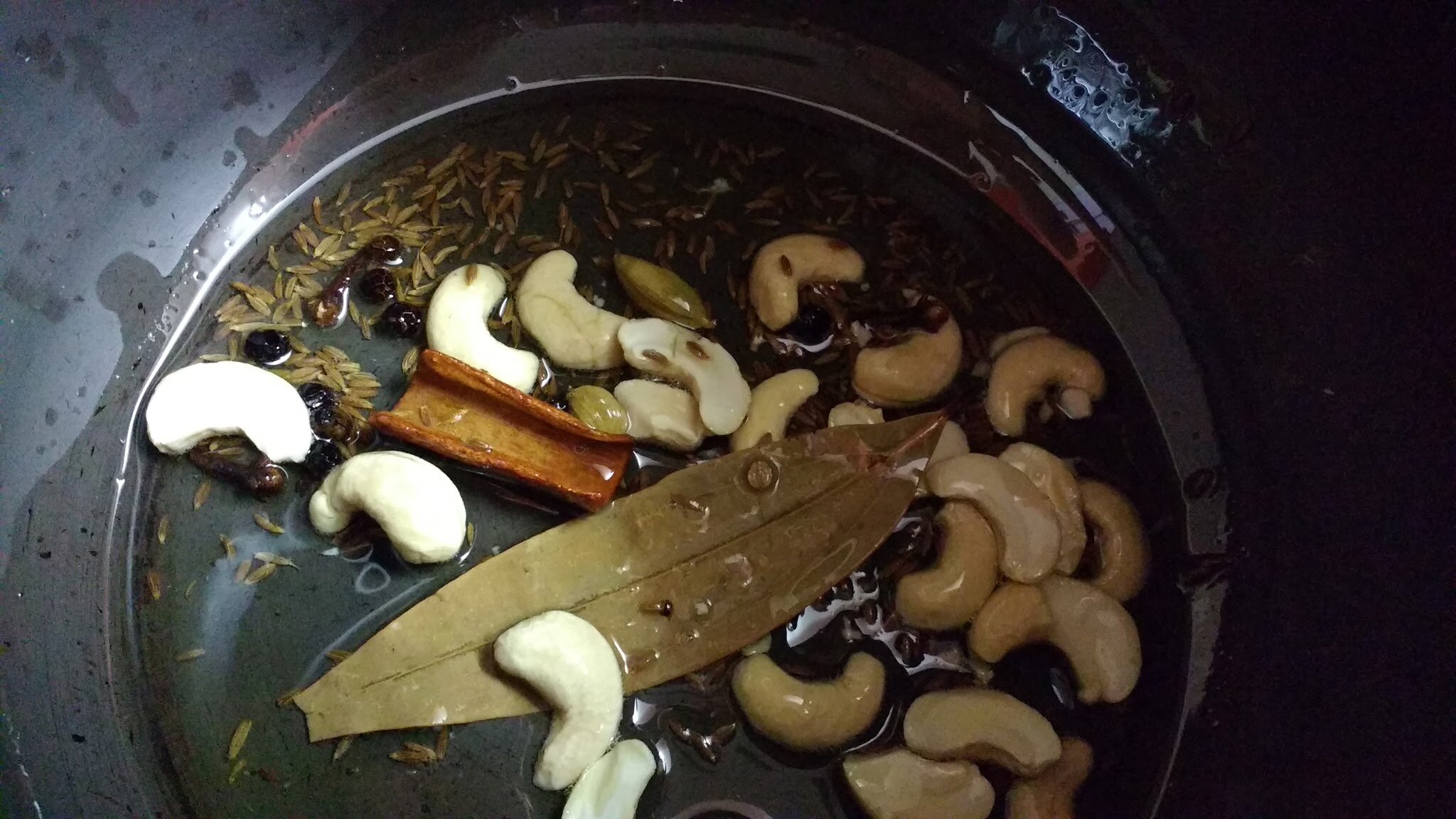 Step 3:
Add sliced onions, grated ginger and finely chopped green chillies to it. Sauté them on medium flame till onion slices turn pink in colour.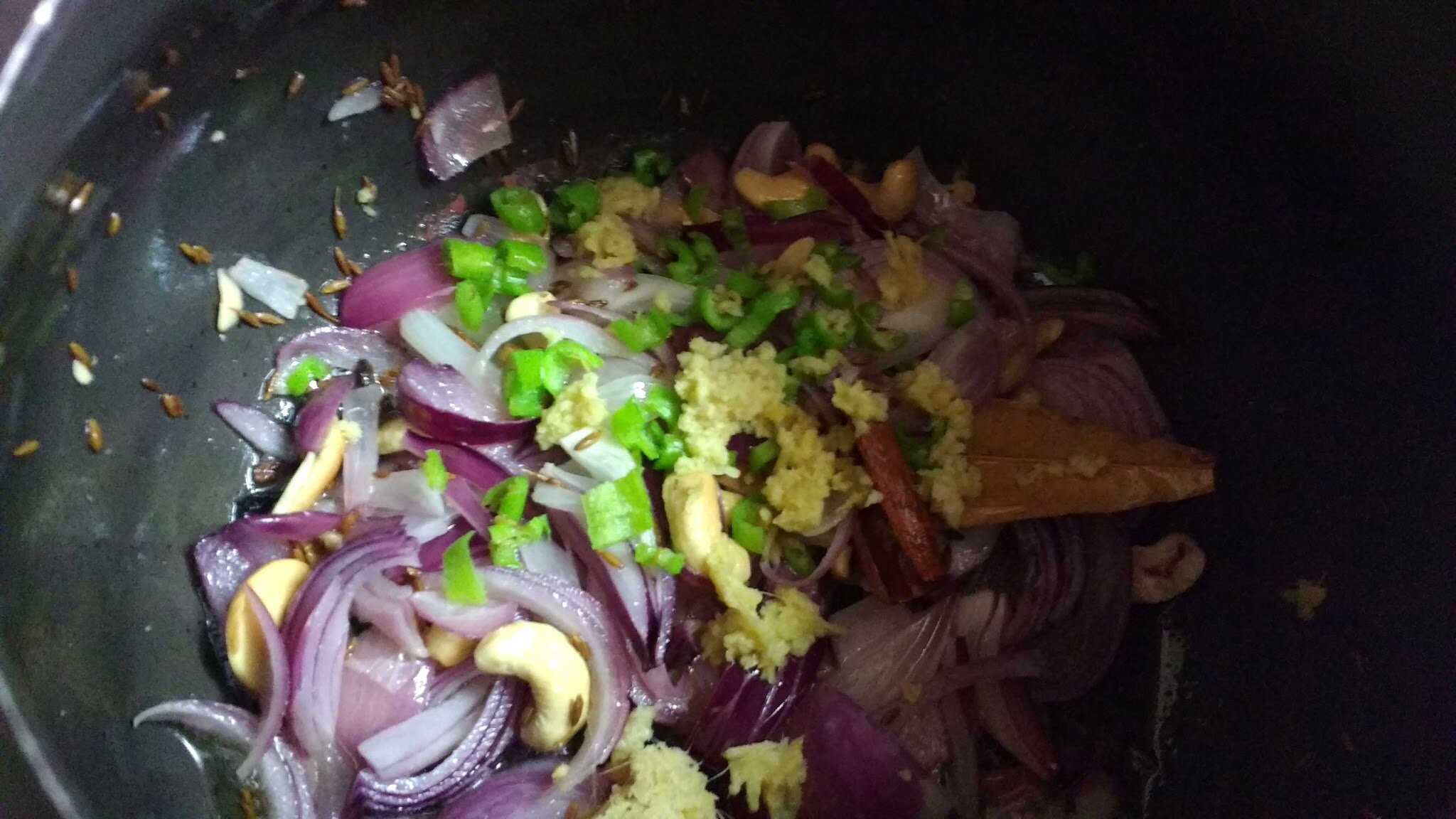 Step 4:
Add peas, chopped cauliflower and carrots. Sauté the veggies for 2-3 minutes.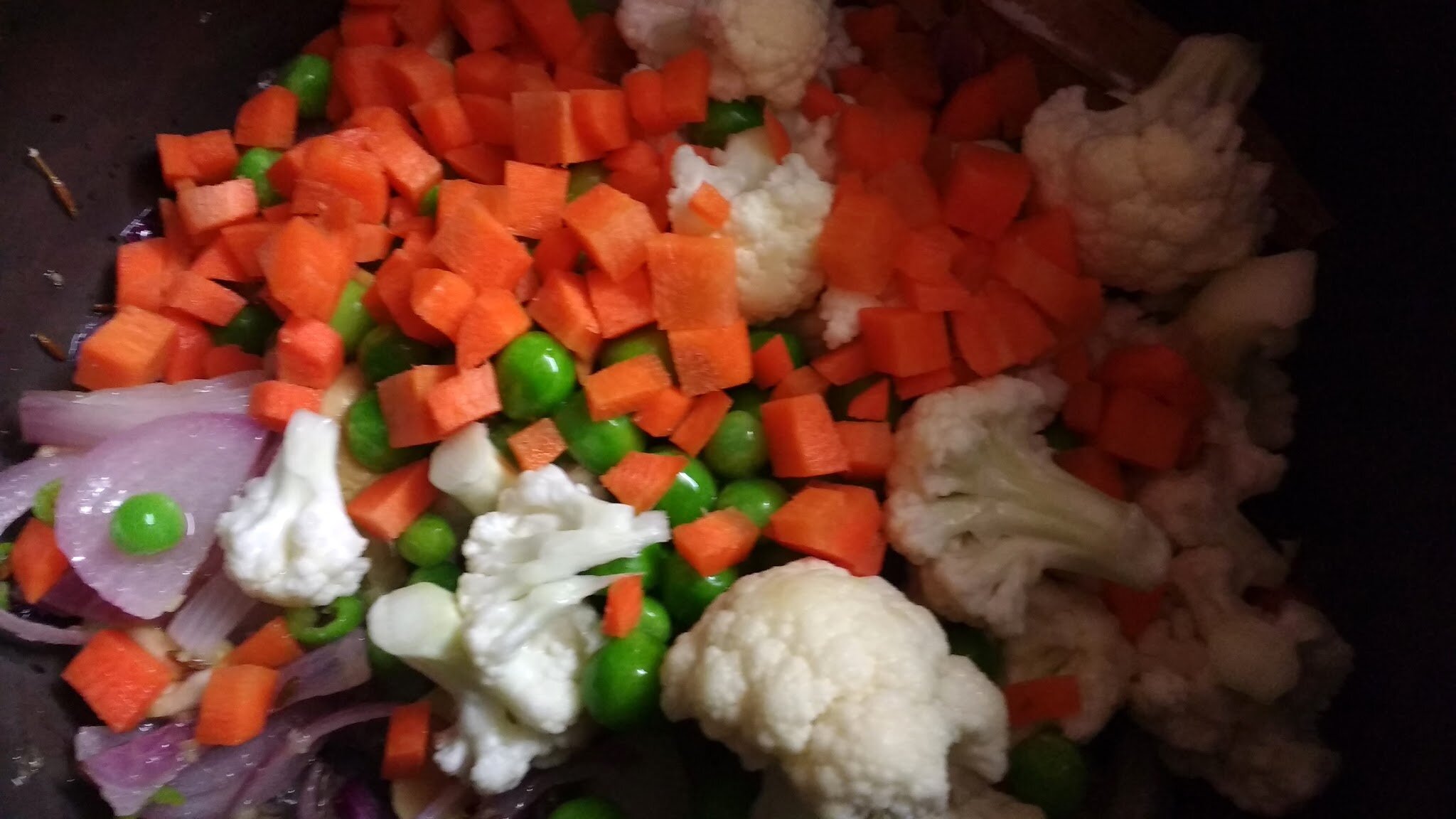 Step 5:
Strain off the water from rice using colander. Add these soaked rice to sautéed veggies and stir gently as you don't want to break the rice grains.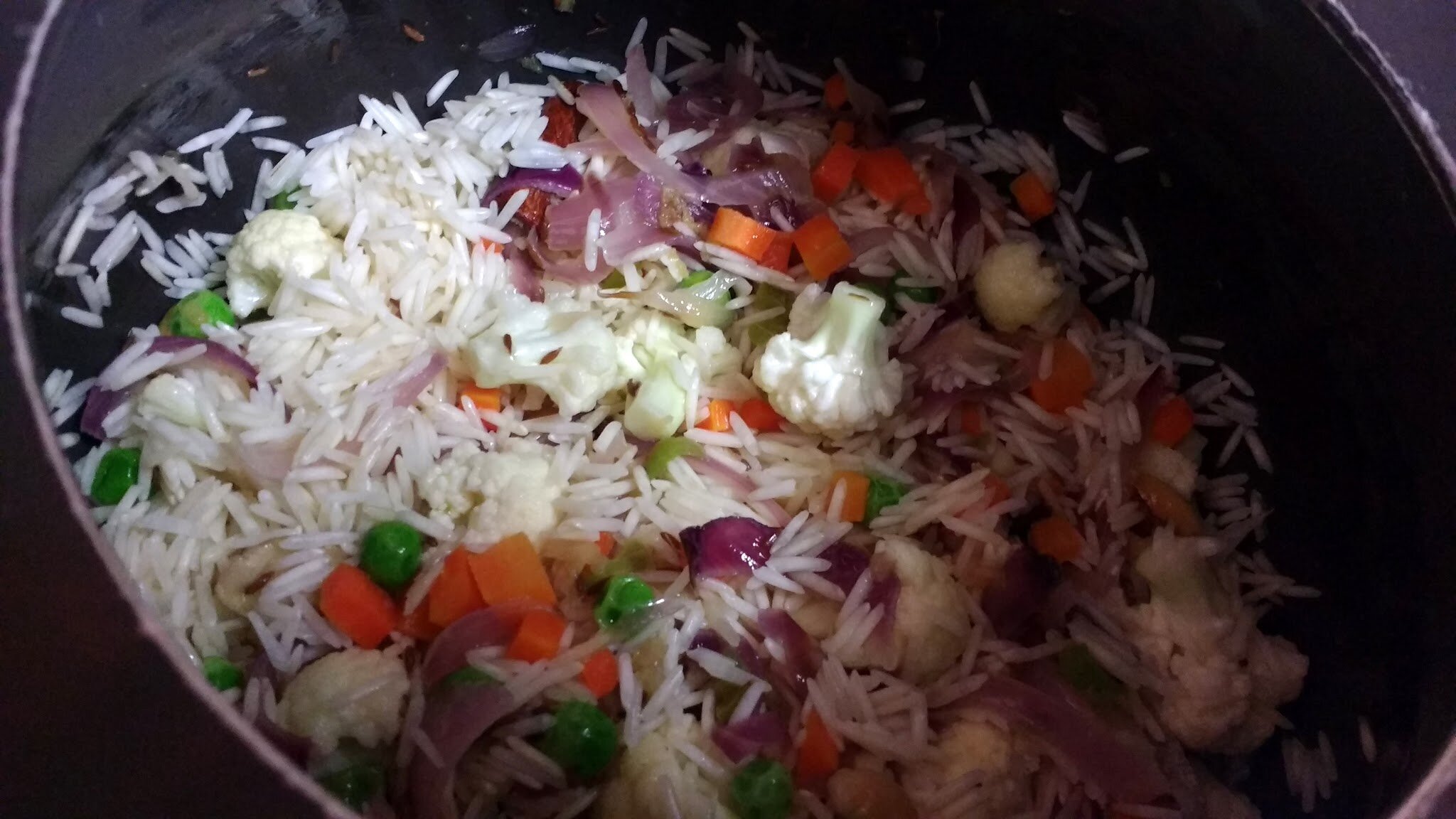 Step 6:
Add water, salt and lemon juice to rice. Sprinkle some garam masala on top. If you are unsure about the quantity of salt to be added, just taste the water. It should taste salty on little bit higher side.
Step 7:
Pressure cook the rice for whole 2 whistles. Sim it for two minutes and then switch off the flame. Wait till all the pressure is released. After opening the cooker fluff the rice with the help of a fork so that each grain gets separated.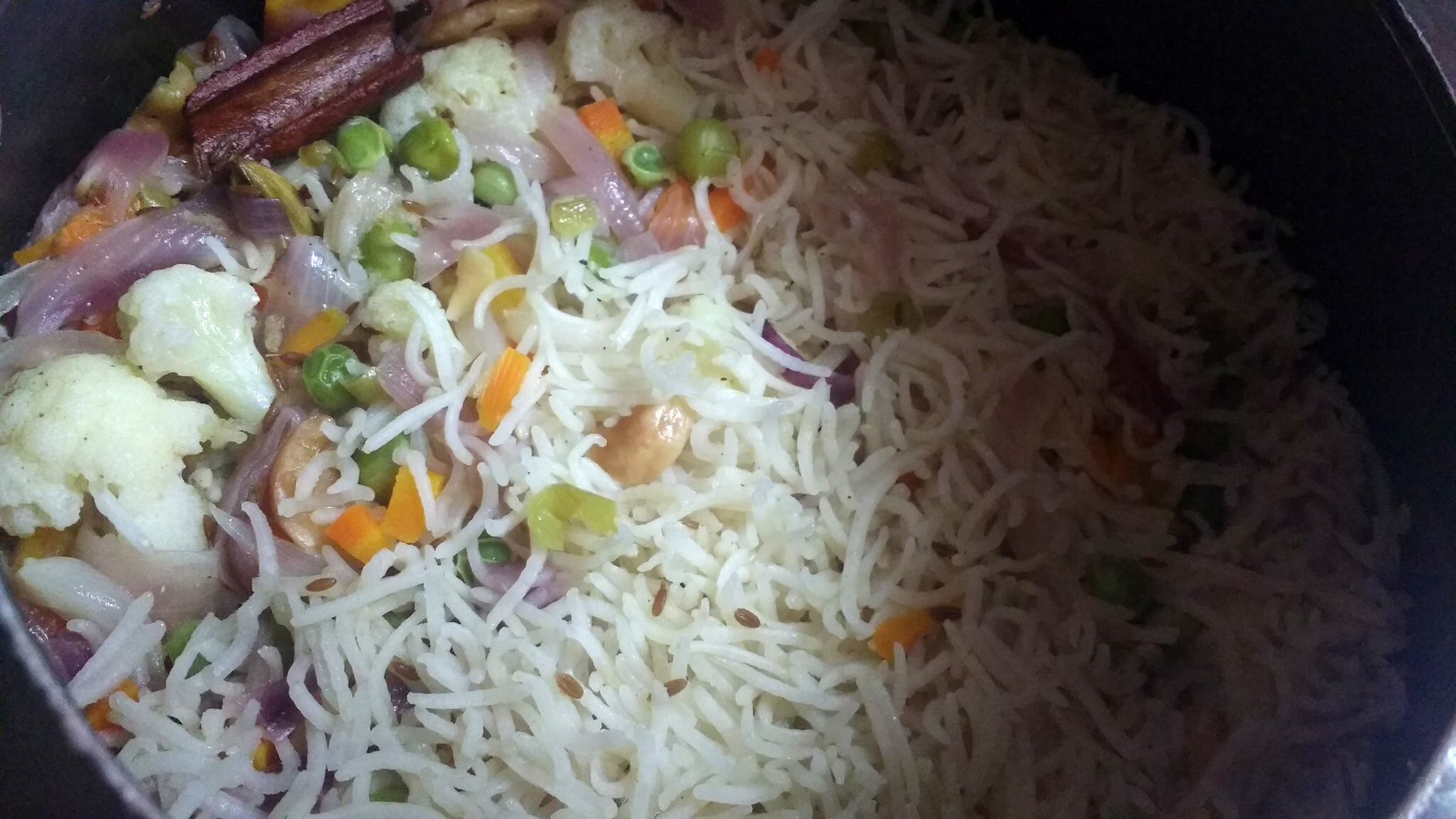 Delicious aromatic Veg Pulao is ready. Enjoy it with dal, curries or raita.
Pin for later: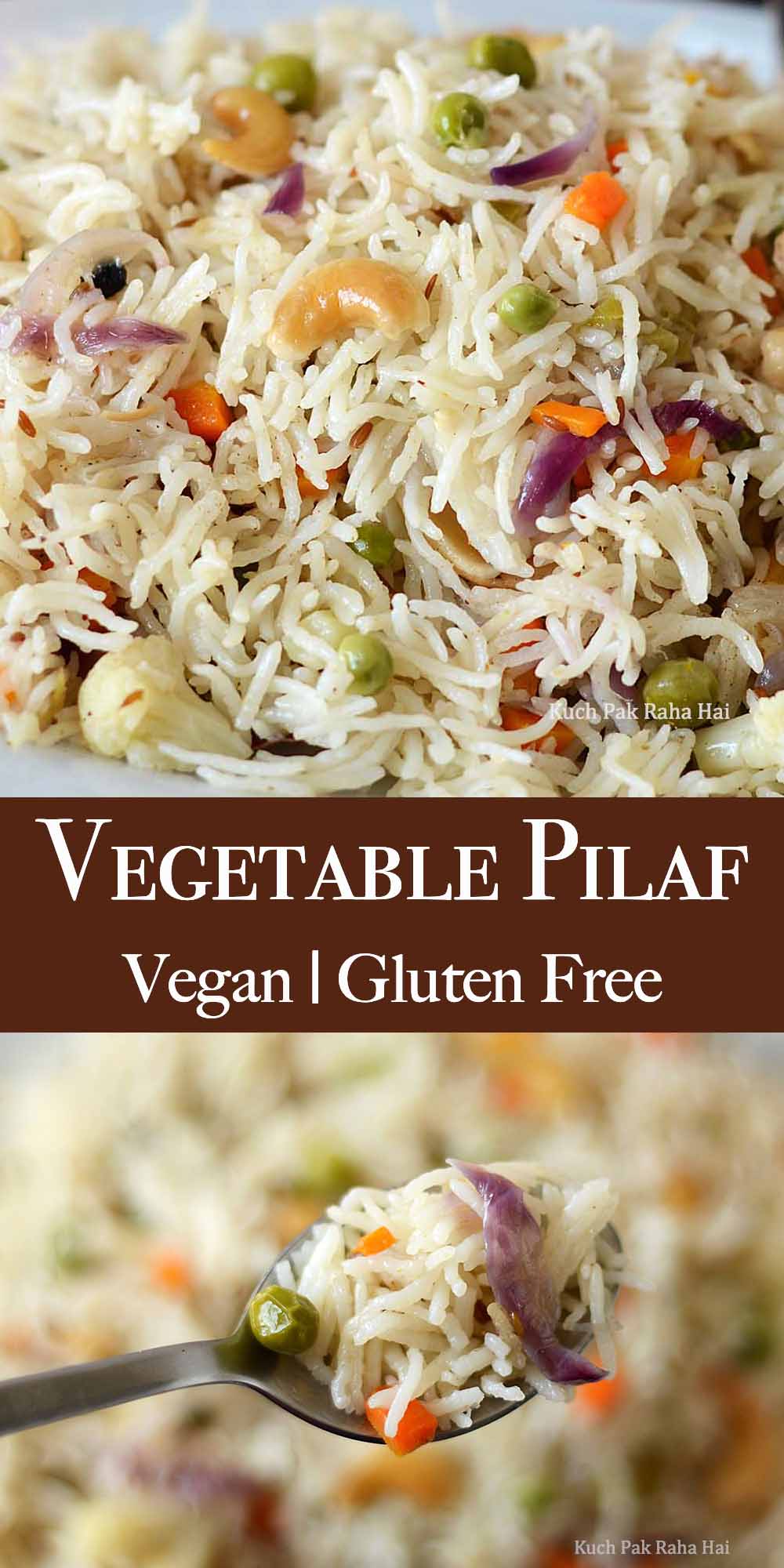 If you try this pilaf recipe & share pics on social media, then don't forget to tag on Facebook, Instagram or use #kuchpakrahahai.
Let's stay connected
Facebook | Instagram | Pinterest| Youtube