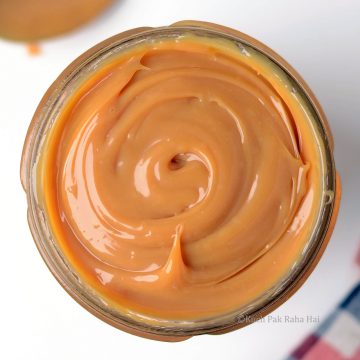 Dulce de Leche is creamy, thick, toffee like tasting sweet sauce made by caramelising milk. Traditionally it is made by simmering milk & sugar but here we will make it with sweetened condensed milk.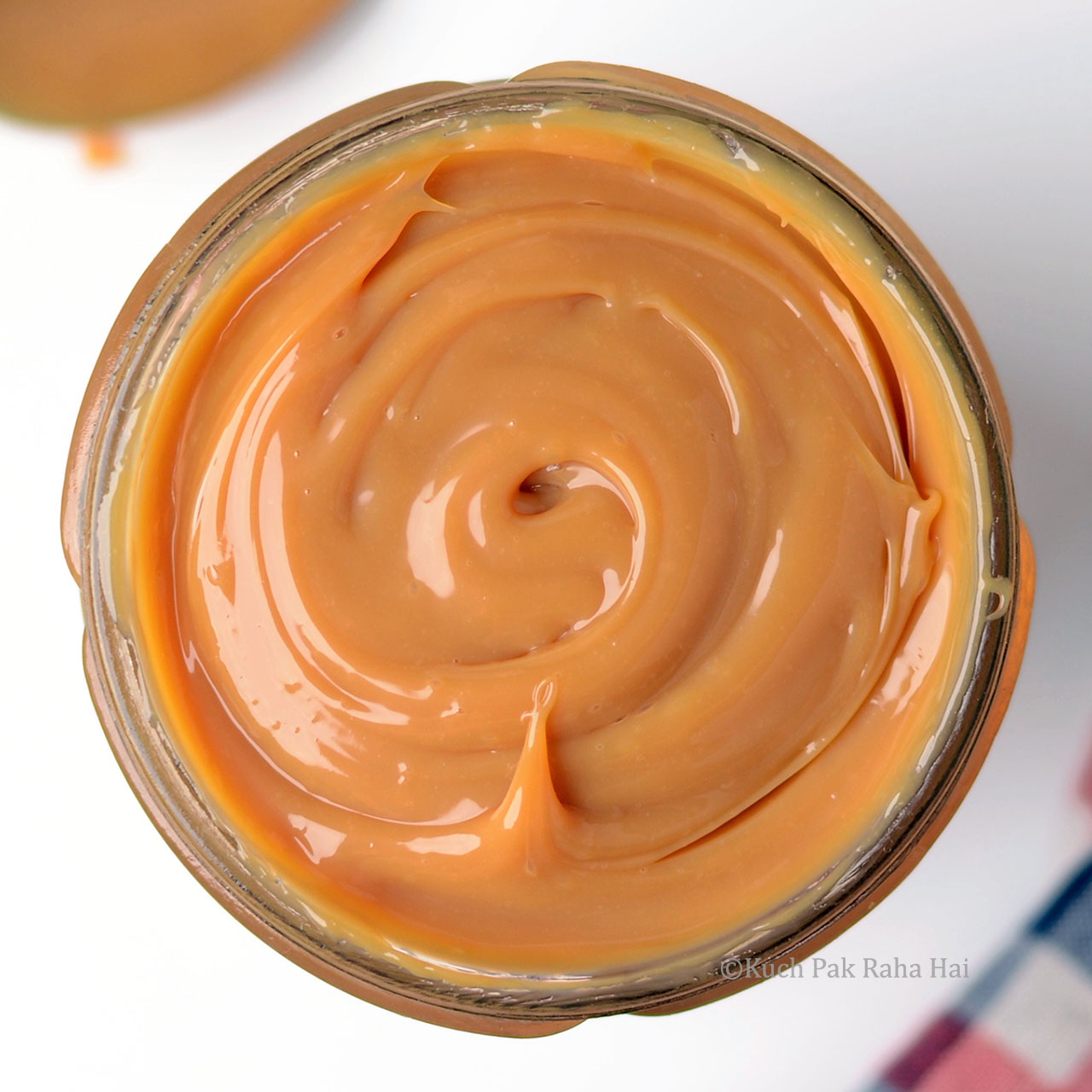 What is Dulce de Leche?
The word dulce de leche comes from Spanish which literally translates to 'sweet of milk' in english. It is pronounced as duhl-se.duh.leh-chey & is made by slow cooking milk and sugar for several hours while stirring till it becomes thick & creamy in texture.
The origin of this confection is from Latin America (Mexico, Argentina, Colombia etc). It known by various other regional names like arequipe, manjar, manjar blanco or cajeta (made with goat's milk) etc.
The dulce de leche recipe shared here is made with just one ingredient i.e sweetened condensed milk (yes it is that easy to make!!). I would say it is more of a method or technique rather than a recipe using which you can easily make dulce de leche any time at home.
Dulce de leche vs Caramel:
People often get confused between these two as they look quite similar in colour & texture. However they are different as caramel is made with butter, sugar & heavy cream whereas dulce de leche is made with milk & sugar.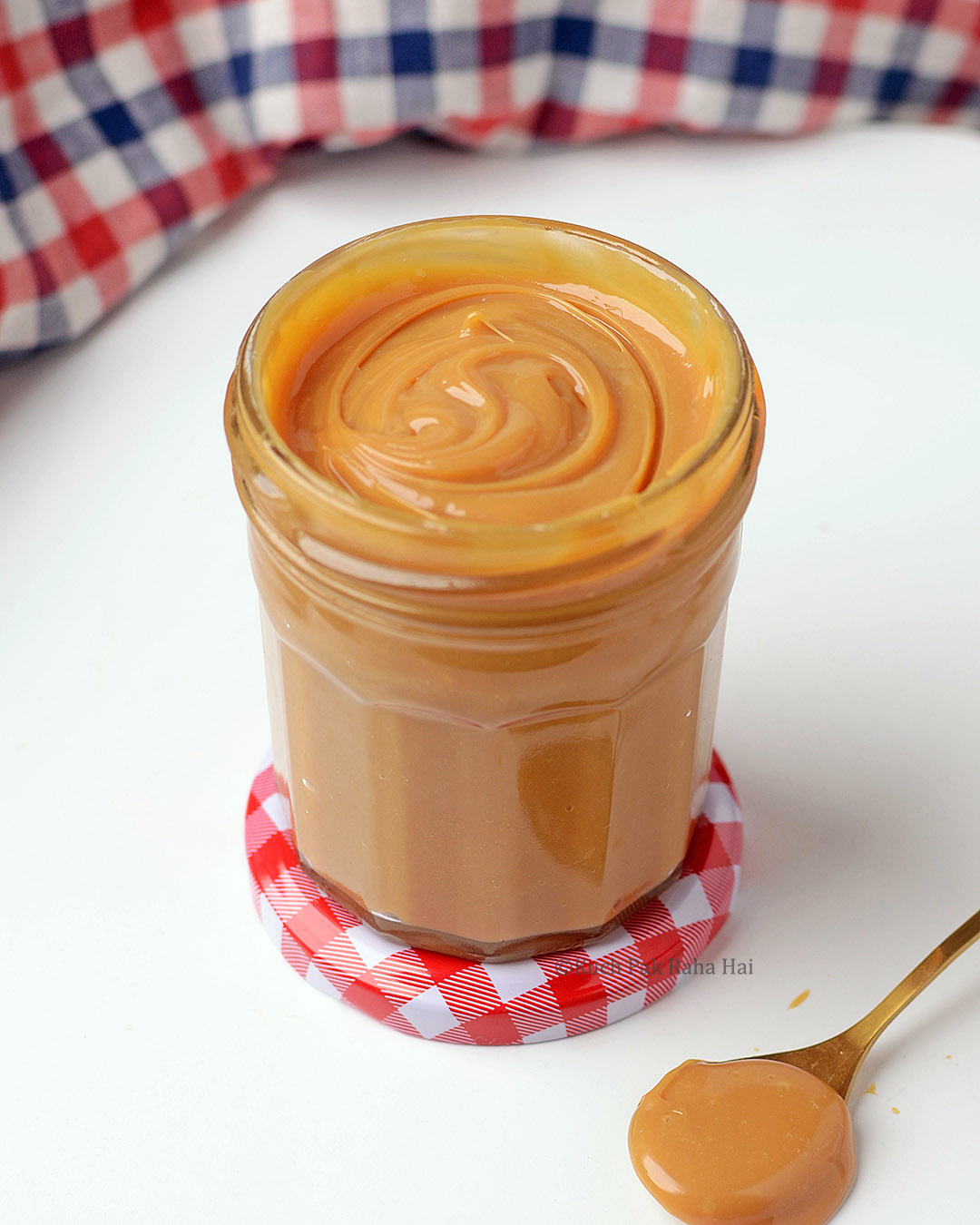 How to make dulce de leche?
I have shown three methods of making dulce de leche (or DDL):
In oven
In pot (on stovetop)
In pressure cooker (on stovetop)
In all three methods, the pressure cooker takes least time for cooking. The only downside of using stovetop method is you have to be cautious to make sure that the tin is submerged in water at all times (Personally that's why I prefer oven method).
If you are skeptical about making dulce de leche stovetop, then simply use an oven to make it. I have tried this recipe with both Amul & Nestle Milkmaid. You can use any brand of your choice but just make sure the condensed milk is sweetened.
Dulce de Leche Uses:
1. You can use it in recipes like banoffee pie, dulce de leche ice cream, alfajores (sandwich cookies), cheesecake, mousse, cookies, mug cake or tart etc.
2. For drizzling on ice creams, brownies, crepes, pancakes, baked oats or donuts.
3. As a dip for churros or make it part of dessert charcuterie board with fruits (apple, banana, grapes & strawberries etc), cookies, chocolate and cake slices.
4. Can be used in filling or decorating cake, cupcakes.
5. In milkshake, hot chocolate or coffee as sweetener.
6. It is also great option to include in gift baskets on festivals like Thanksgiving, Christmas, Diwali or holidays.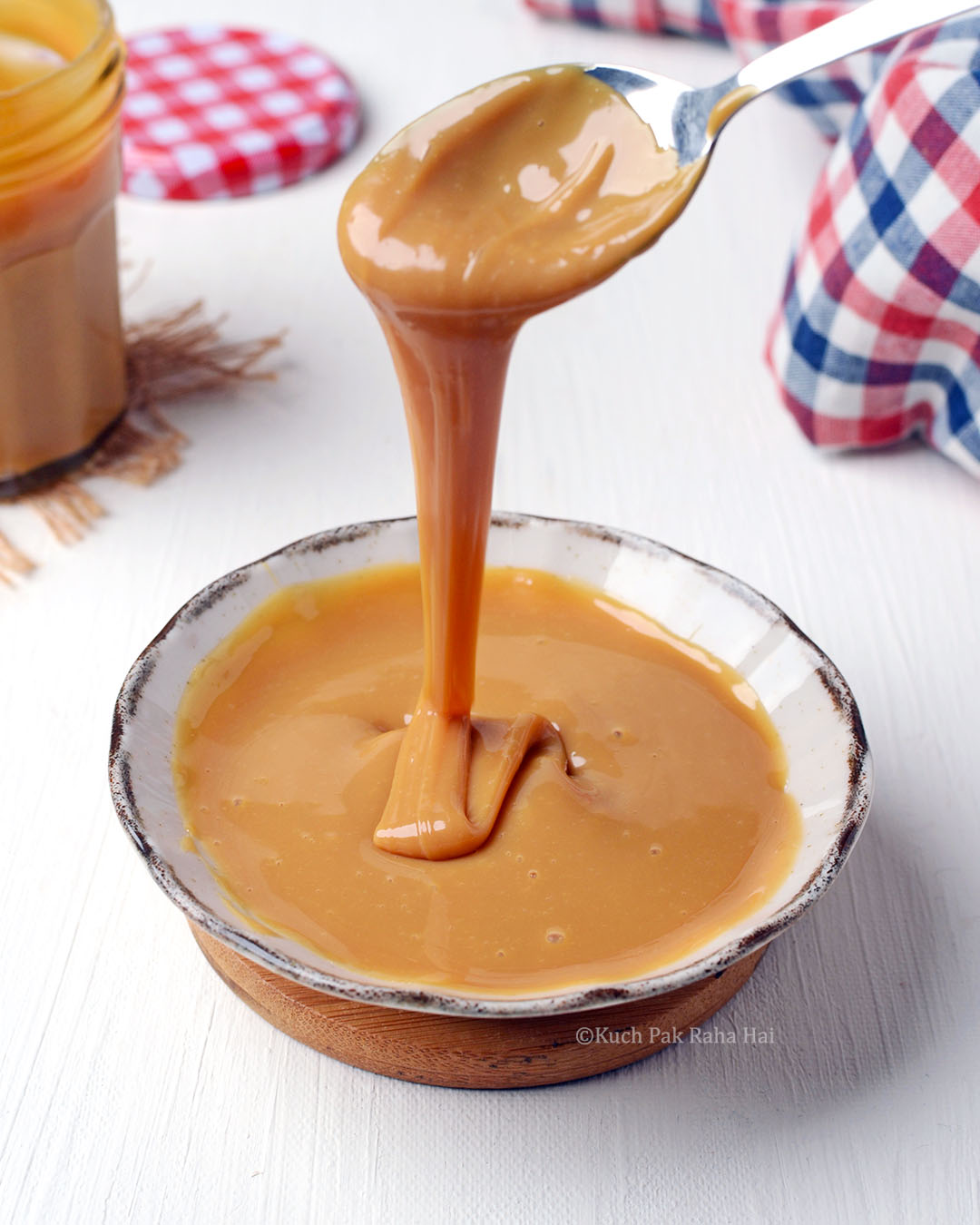 Hope you would try & like this simple homemade dulce de leche recipe. I would love to hear your feedback in the comments section.

Ingredients:
Sweetened Condensed Milk- 1 can (400grams)
Water – for boiling
Directions:
How to make dulce de leche in oven?
Step 1:
Transfer the condensed milk from can to an oven safe dish using a spoon or silicon spatula. Cover this dish with an aluminium foil.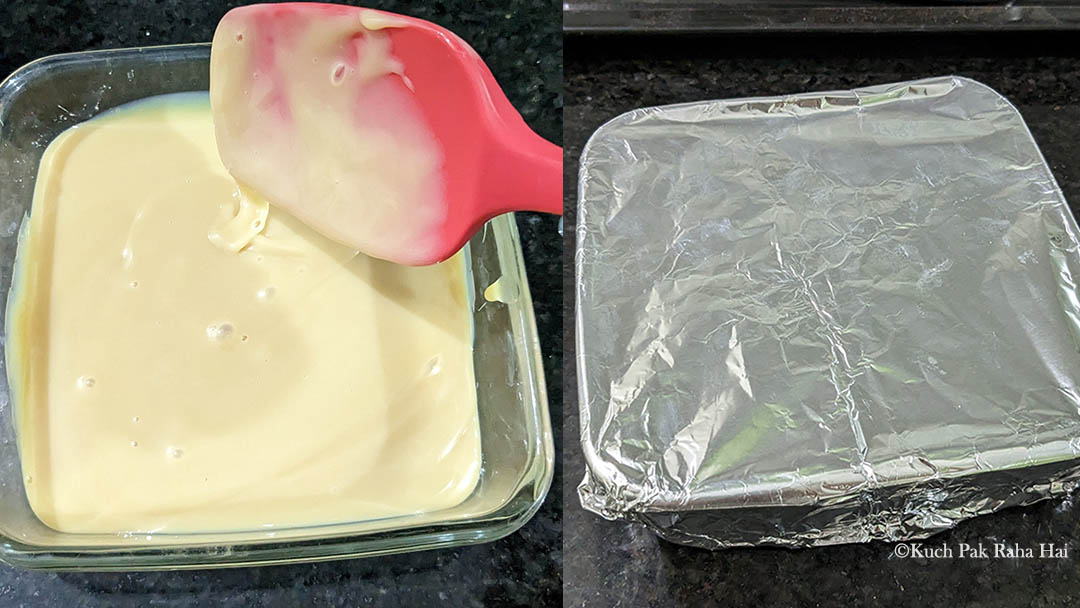 Step 2:
Keep this dulce de leche dish inside another oven safe dish (or tray). Fill the outer dish (or tray) with hot water such that the inner dish is dipped in at least 1.5 inches in water (also called bain marie cooking method).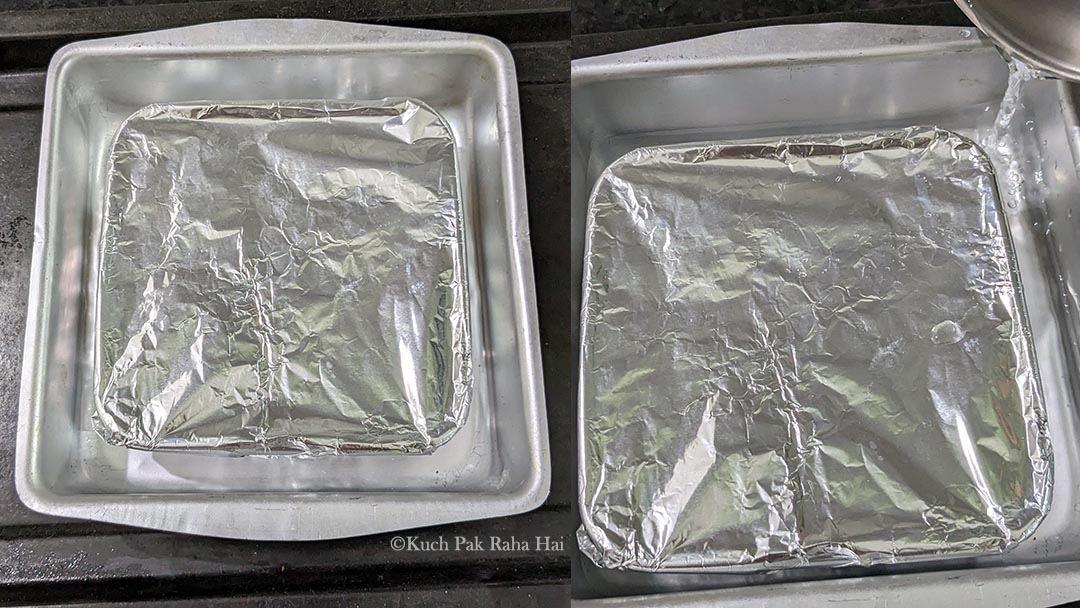 Step 3:
Preheat the oven at 220°C. Transfer this tray in preheated oven at bake at 220°C for 1 to 2 hrs.
The longer you bake it the darker & thicker dulce de leche you will get. You can adjust the baking time as per your liking. Just check the water level after half time & refill water if required.
To check the consistency & colour, carefully lift the corner of foil. Here I have baked it for 1.5 hrs.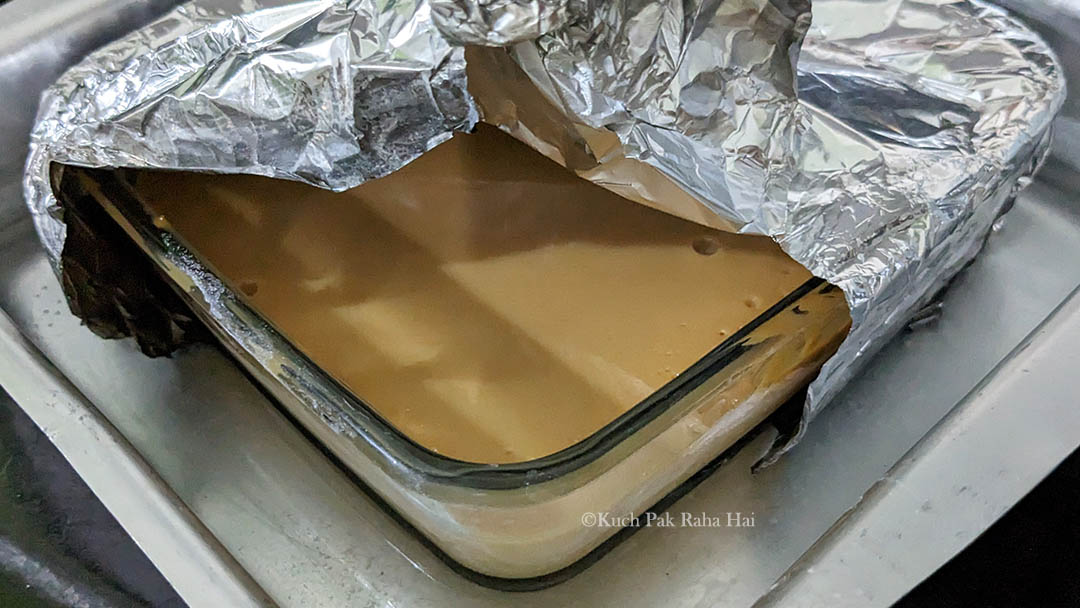 Once done, bring the tray out of oven. Take out dulce de leche dish, uncover and let it cool. You can mix it with spoon when it is warm. Initially it will be of flowing consistency but will thicken up on cooling (as you can see below).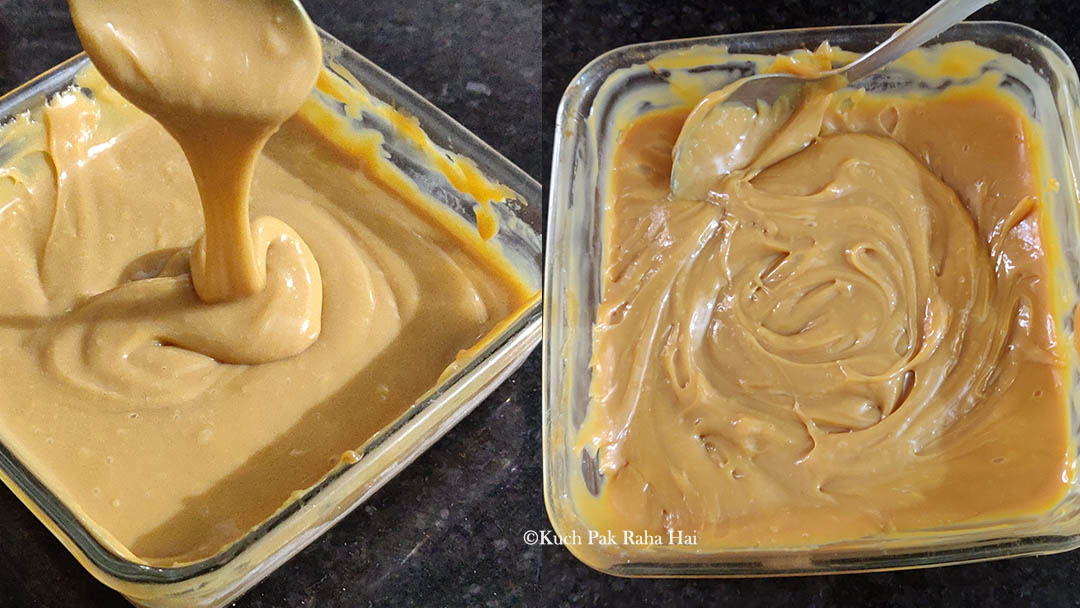 Delicious creamy dulce de leche is ready. Enjoy it as it is or drizzle over your desserts!! Once the dulce de leche is cooled you can transfer it in an airtight container in fridge.
(Storage instructions & process to soften is shared at the end of this post.)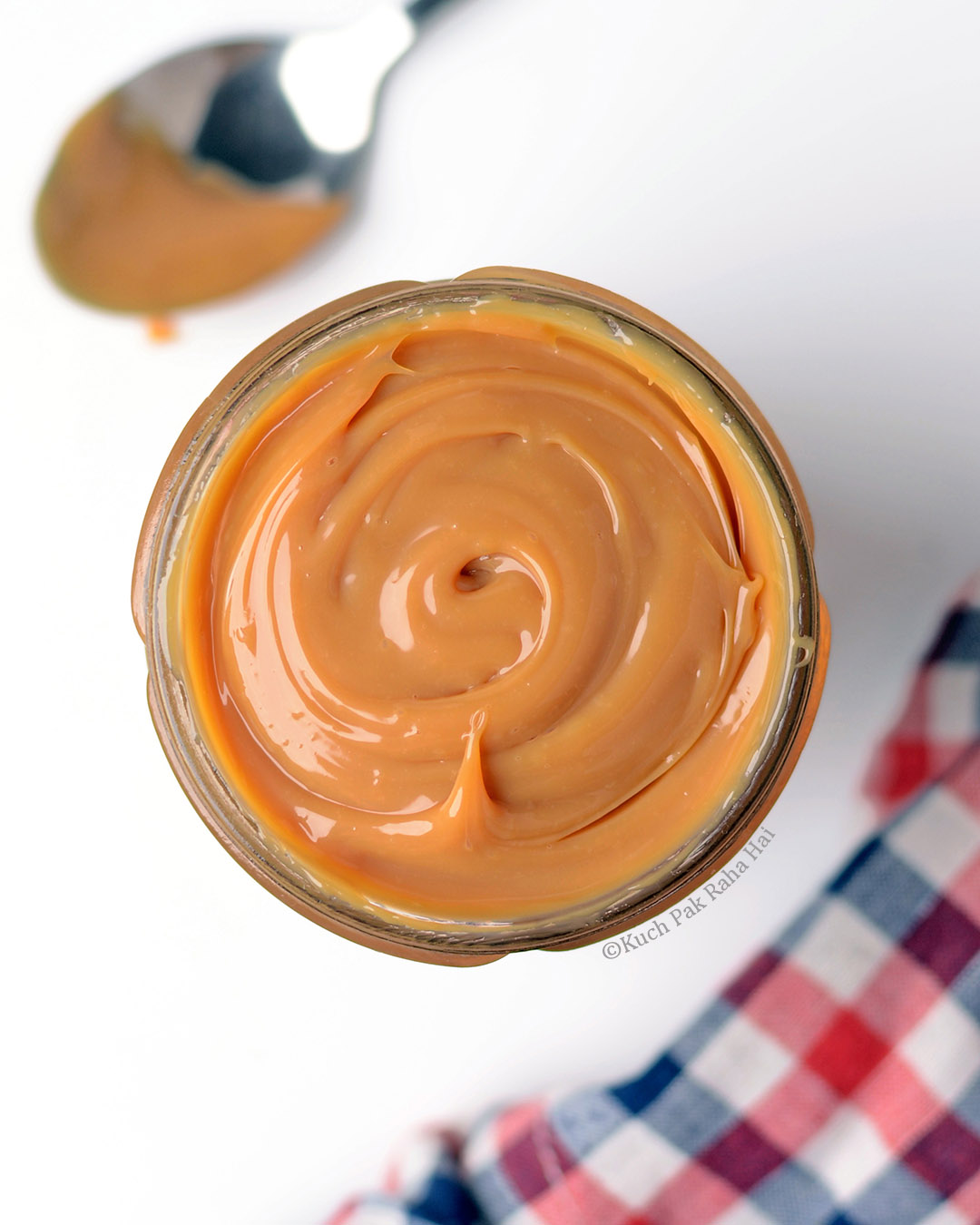 (Stovetop Method)
Important: If you are making dulce le che on stovetop in pot or pressure cooker, then make sure the condensed milk can or tin should be completely submerged in water during the entire cooking process as otherwise it can tear open because of over heating.
How to make dulce de leche in pot?
Step 1:
Remove any labels from the condensed milk can. Take a deep pot and place it side ways in it. Fill it up with water such that the level is at least 2″inches above the can.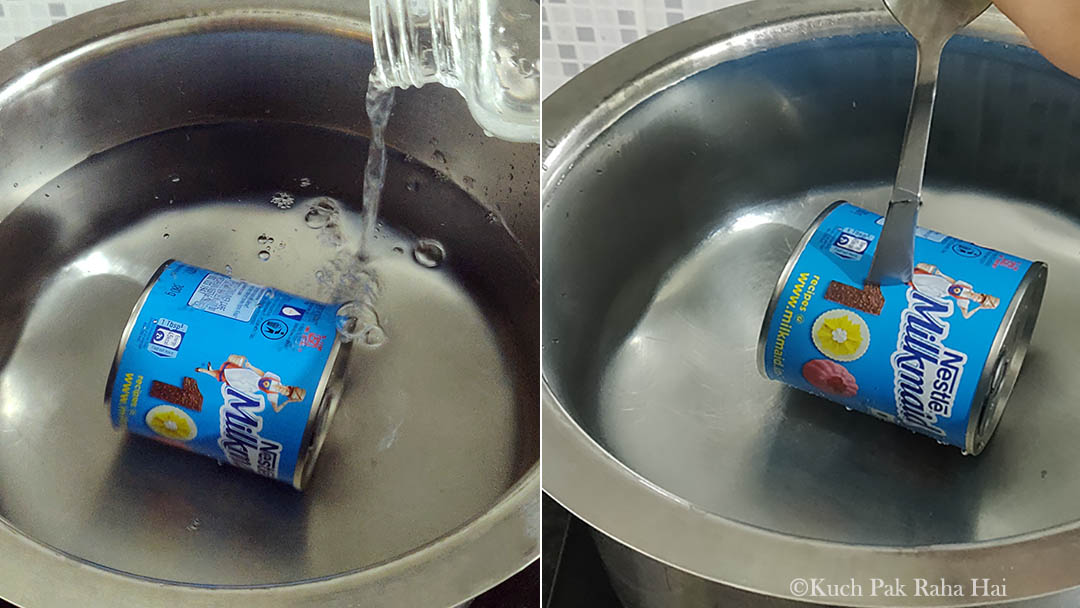 Step 2:
Bring the water to boil. Once the water has come to boil, simmer it for next 3 hrs. Make sure the can is submerged in water at all times.
Check after every 30-40 minutes, if the water level comes down add some more water. After 1 hr, I noticed the water level was coming down so I added some more water in the pot.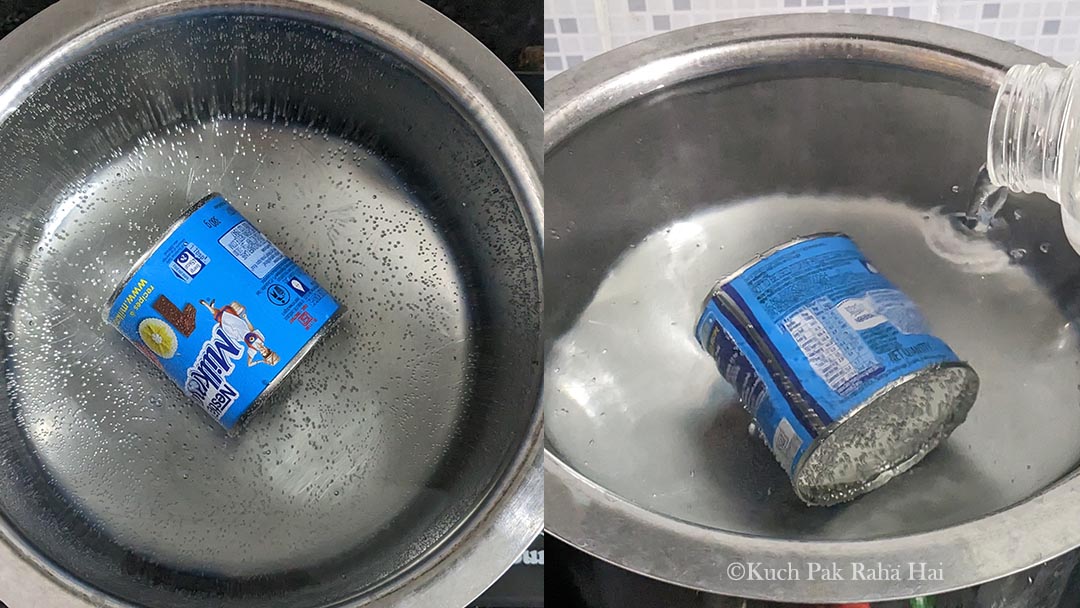 Step 3:
After 3 hrs, switch off the flame and let the can cool down in pot itself. Please DO NOT open the can while it is still hot as it can spurt hot dulce de leche because of pressure inside. Let it cool down completely.
Open the can once it has cooled.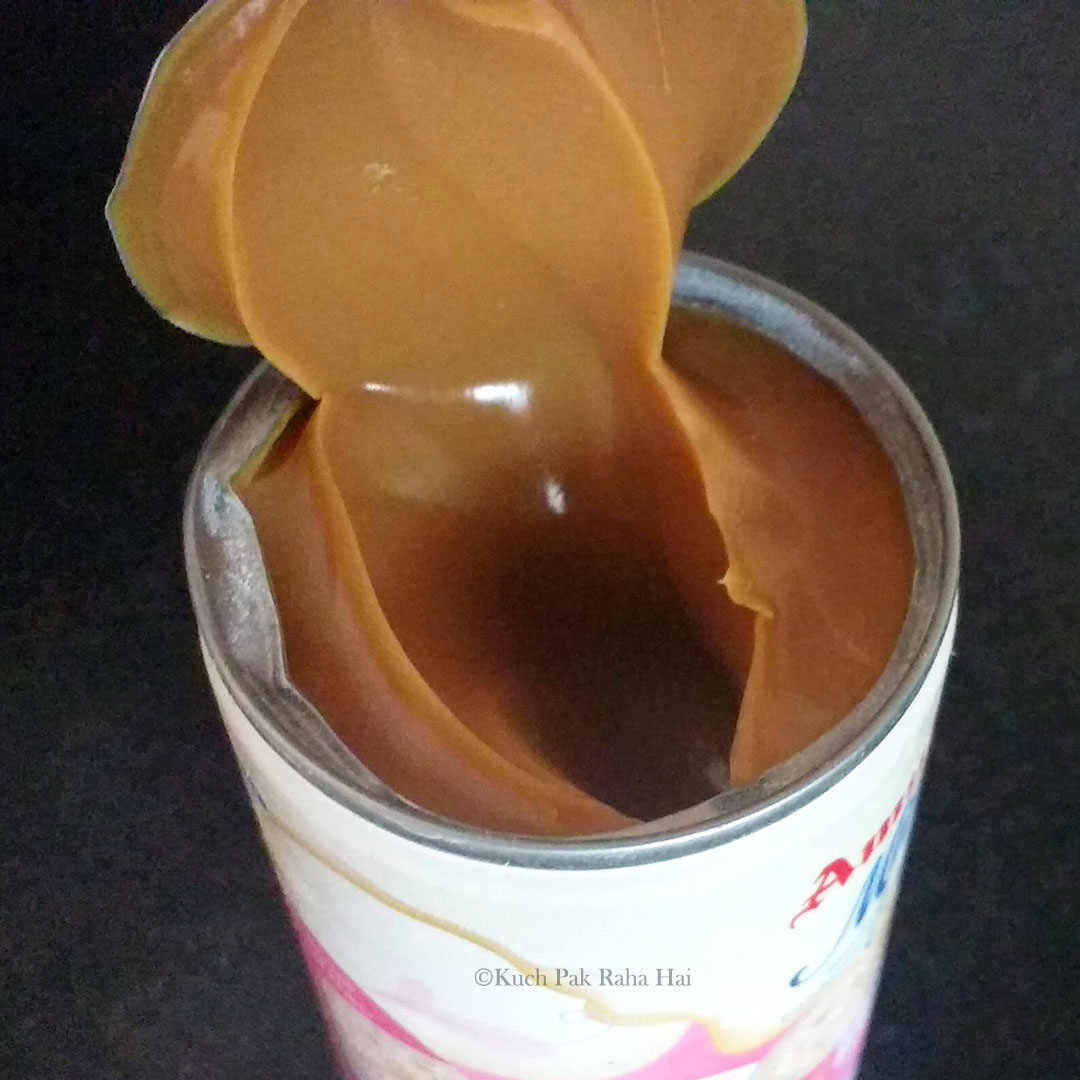 How to make dulce de leche in pressure cooker?
Step 1:
Take a can of condensed milk, remove the paper label if there is any on the can.
Step 2:
Place the tin on its side in a pressure cooker and fill the cooker with water such that the water level is at least 2 inches above the can.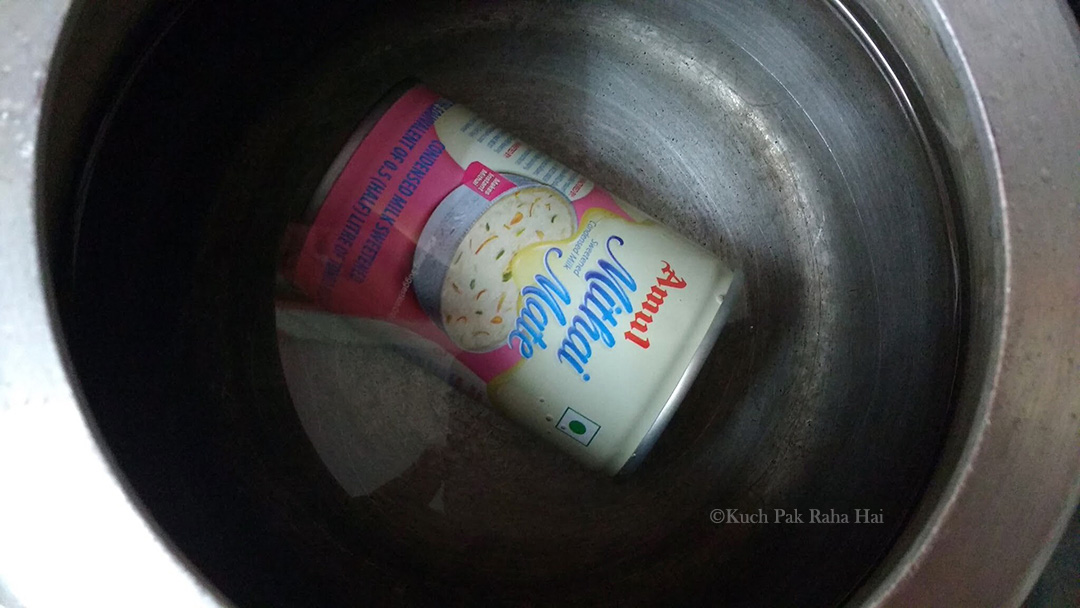 Step 3:
Keep the cooker on high flame. After one whistle lower the flame. Keep on low flame for 10-12 minutes if you are using a small tin (200 gms) and for 20-25 minutes if you are using (400 gms) tin.
Step 4:
Switch off the flame and let the pressure release naturally. Once the pressure is released, open the lid and place the can on wire rack to cool completely. Do not try to open the can while it is hot.
Step 5:
Once the can has cooled, open and scoop dulce de leche using a clean spoon or silicon spatula and transfer in an airtight container.
FAQ:
How to soften dulce de leche (ddl)?
Dulce de leche tends to thicken up as it cools down especially after keeping in fridge. It is scoopable but not of a spreadable (or drizzling) consistency. This is what i do to soften or melt it-
Take out whatever quantity of dulce de leche you are planning to use in a small bowl. Take a bigger bowl & add hot water to it. Place this small bowl of dulce de leche inside this hot water for 1-2 minutes (for larger quantity you can use double boiler method).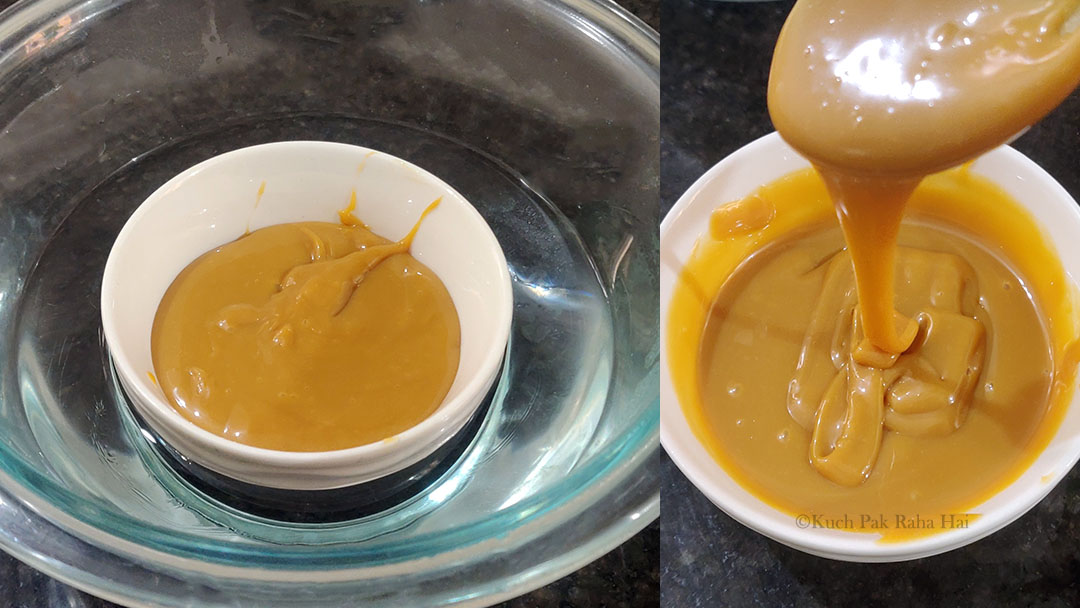 Make sure the water level is just enough to dip the bowl & not submerge it (else water will get inside dulce de leche). Take out the dulce de leche bowl from water & mix well with a spoon till it becomes of flowing consistency.
How to store dulce le che ?
The unopened can of DDL can easily be kept for upto 2 months. If you have opened the can, then transfer its contents in an airtight container or jar and store in fridge for upto 2 weeks. Use clean dry spoon to take out dulce de leche from jar everytime.
Pin for later: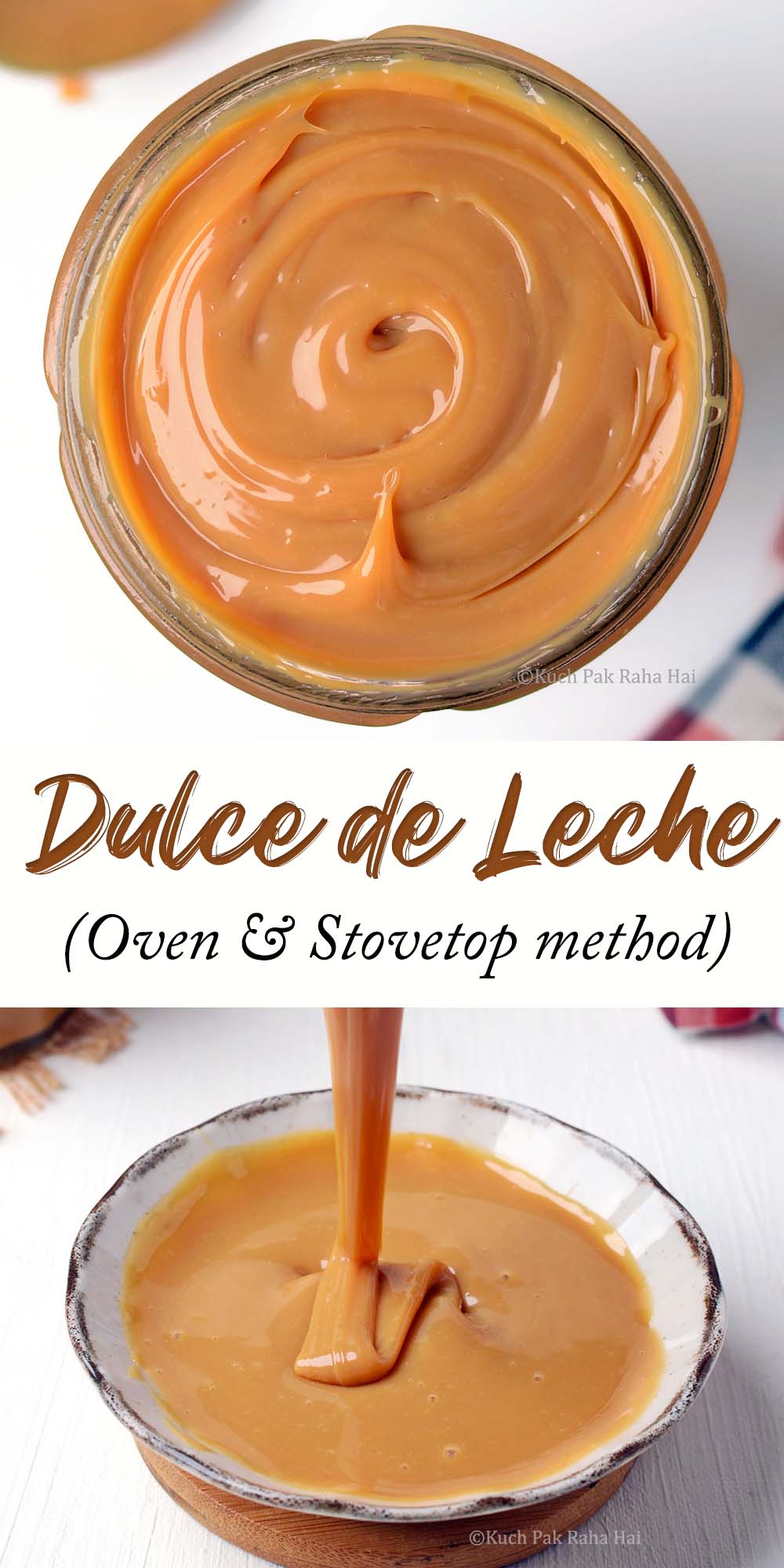 Some dessert recipes you might like:
If you try this easy dulce de leche recipe & share pics on social media, then don't forget to tag on Facebook, Instagram or use #kuchpakrahahai.
Let's stay connected
Facebook | Instagram | Pinterest| Youtube