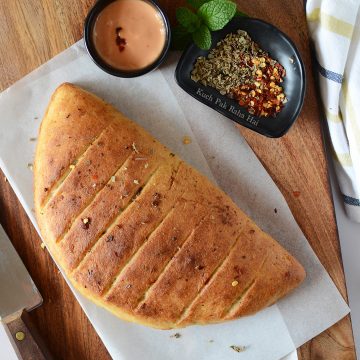 Delectable buttery garlic bread with crispy exterior, soft chewy insides and stuffed with stringy melt in the mouth cheese. This stuffed garlic bread is brushed with generous amount of herbed butter which makes it even more irresistible. It is cut in the form of breadsticks which makes them easy to serve.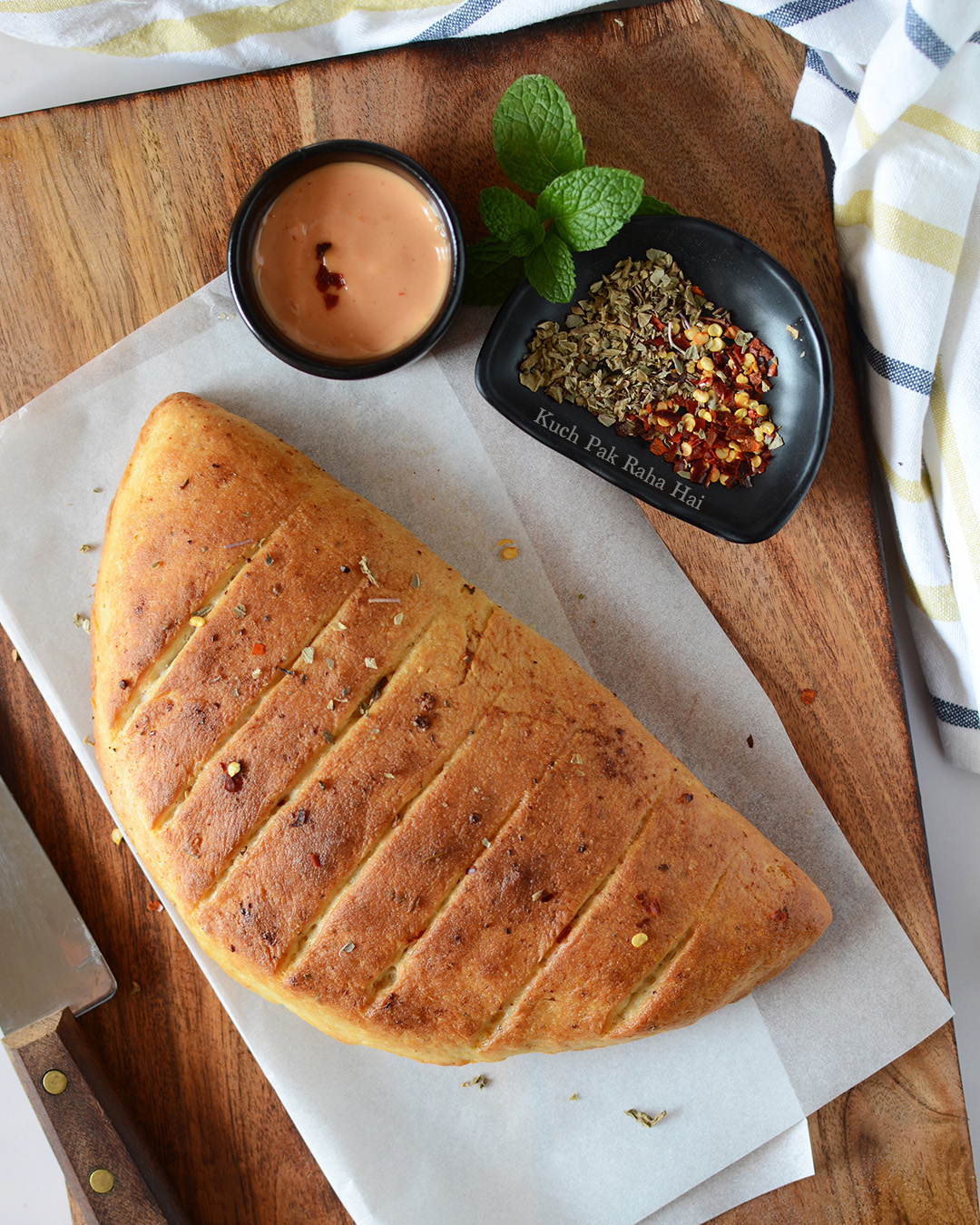 In this post a simple recipe for 'Dominos' style cheese stuffed garlic bread recipe has been shared which you can easily prepare at home. The shape of this bread is inspired from the one that you get at Dominos in India. It is almost semi circle in shape & cut in a way that you can pull out sticks from it.
It is a great option for appetiser, starters, accompaniment with soups or as a vegetarian side dish with pizzas & pasta like: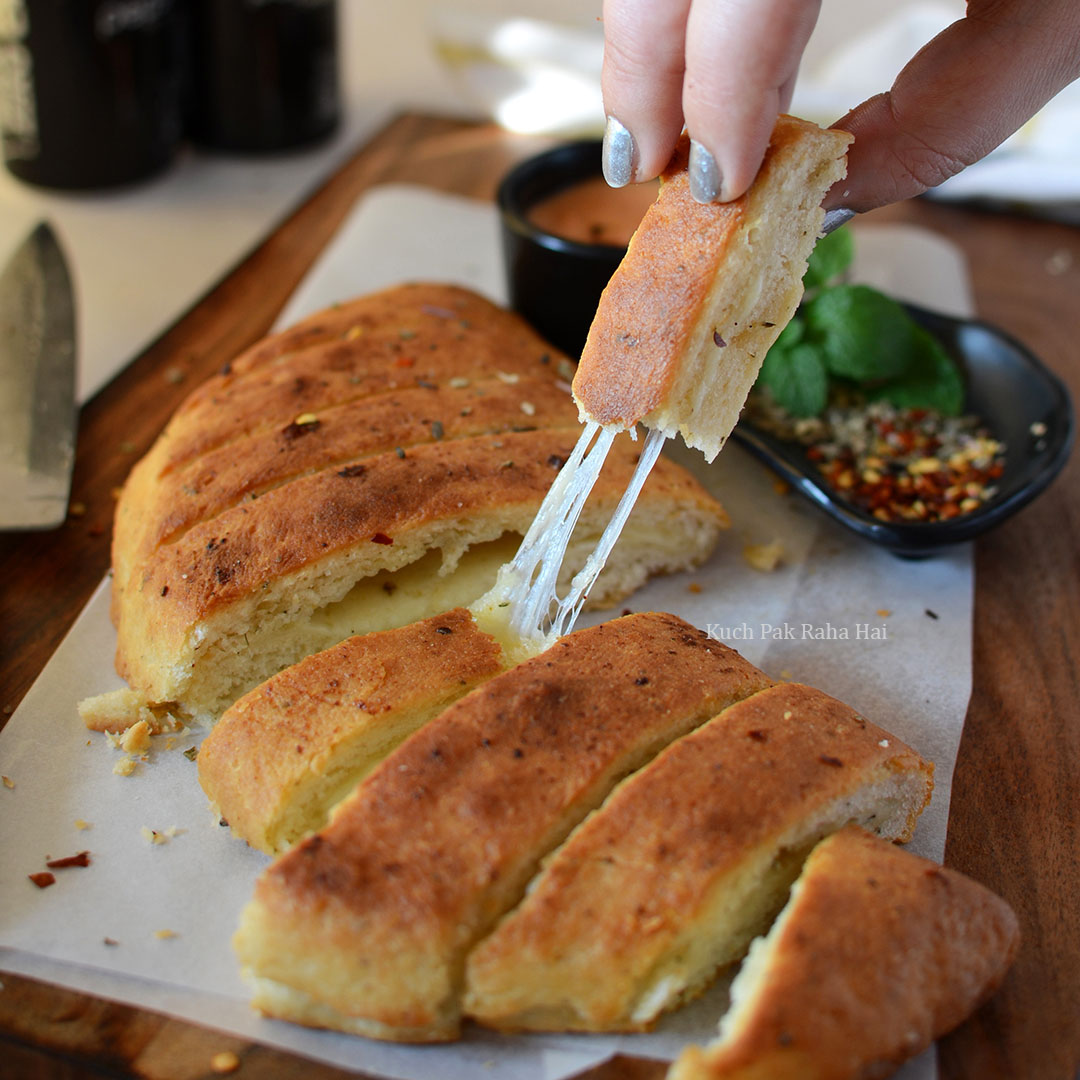 I tried making this garlic bread without yeast too (using yoghurt, baking powder etc) but that typical 'bread aroma' and taste was missing from it. Also, when you are craving for Dominos style bread and in your head keep comparing it with the one you get there, you don't get that satisfaction from no-yeast version. Personally I feel it tastes much better than even the ones you get in Dominos as it is fresh, you get to eat it while it is still hot & you get to add a generous amount of good quality cheese.
Which type of yeast is used in making garlic bread?
To those who  have never worked with yeast before, I would request them to not get intimidated by the use of yeast as it is a very easy and basic recipe. If you follow it correctly, I am sure you will get perfect garlic bread in first attempt itself.
As there are many varieties available in market- dry yeast, fresh yeast, instant yeast ; I thought it is better to share the exact brand with type of yeast. I have used Urban Platter Active Dry Yeast in making this bread. I am quite satisfied with it and have used it innumerable times in my baking spree so would definitely recommend it. However if you are not able to find the exact one, you can look for a same type of yeast in different brand.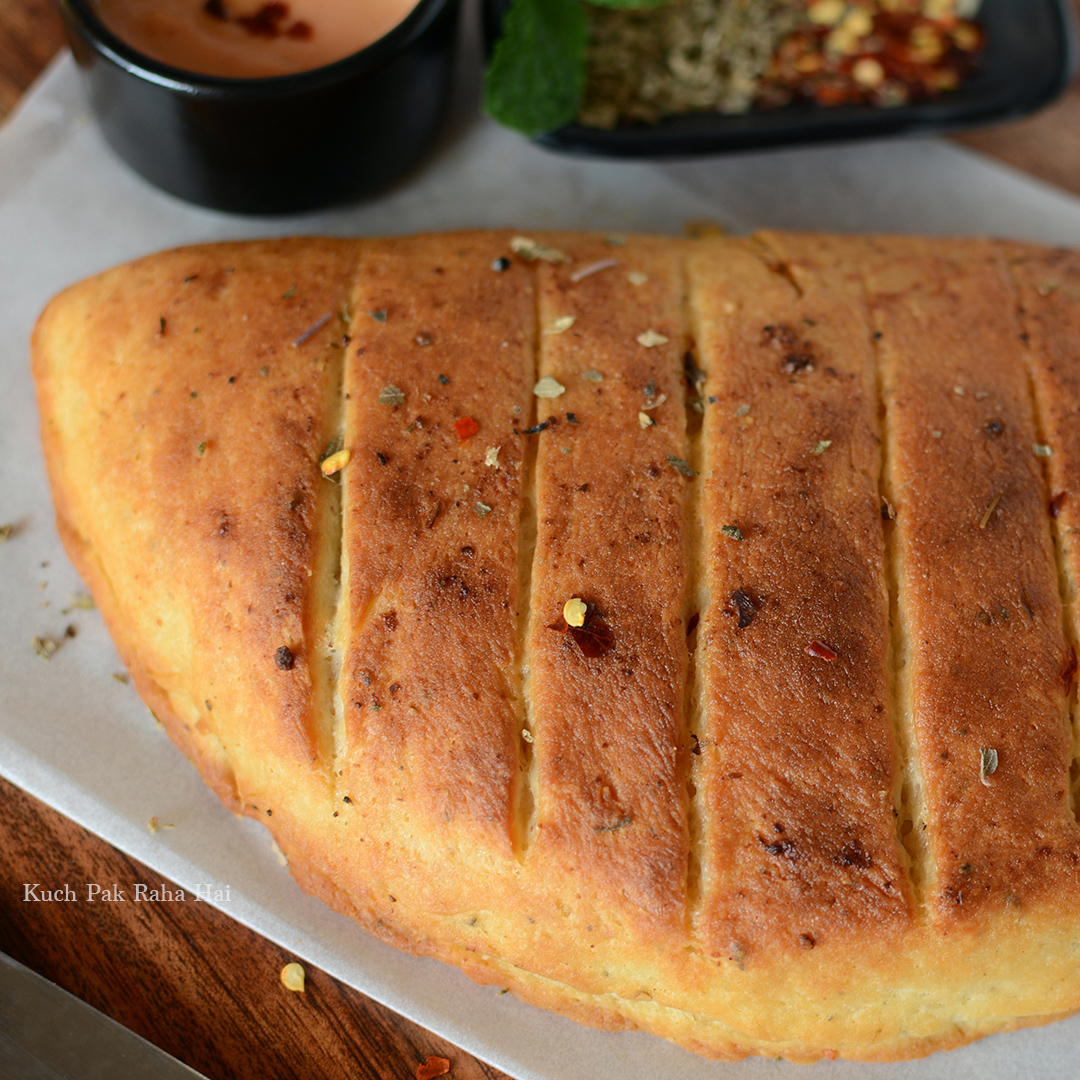 My mom has been making bread for many years & was asking me to learn it from her since a long time. Few times I saw her making bread dough & shaping but never tried it on my own. Thanks to lockdown and all the restrictions which made me & my husband miss this Dominos bread so much that I had to finally learn bread making at home. I have made this bread uncountable times in year 2020 and thought why not to share it before this year ends.
Notes:
1. Milk Powder gives a mild sweet taste to the bread. If you don't have milk powder, you can use milk in place of (Water+Milk Powder) mixture.
2. You can use fresh/dried Oregano or mixed Italian seasoning in the recipe. I have used here KEYA brand mixed seasoning which tastes quite similar to the one we get in Dominos.
3. You may need to add 2-3 tsp of water more during kneading as the quantity of water varies as per the quality of flour.
4. For better taste instead of regular salted butter you can use herbed garlic butter (like Amul garlic butter).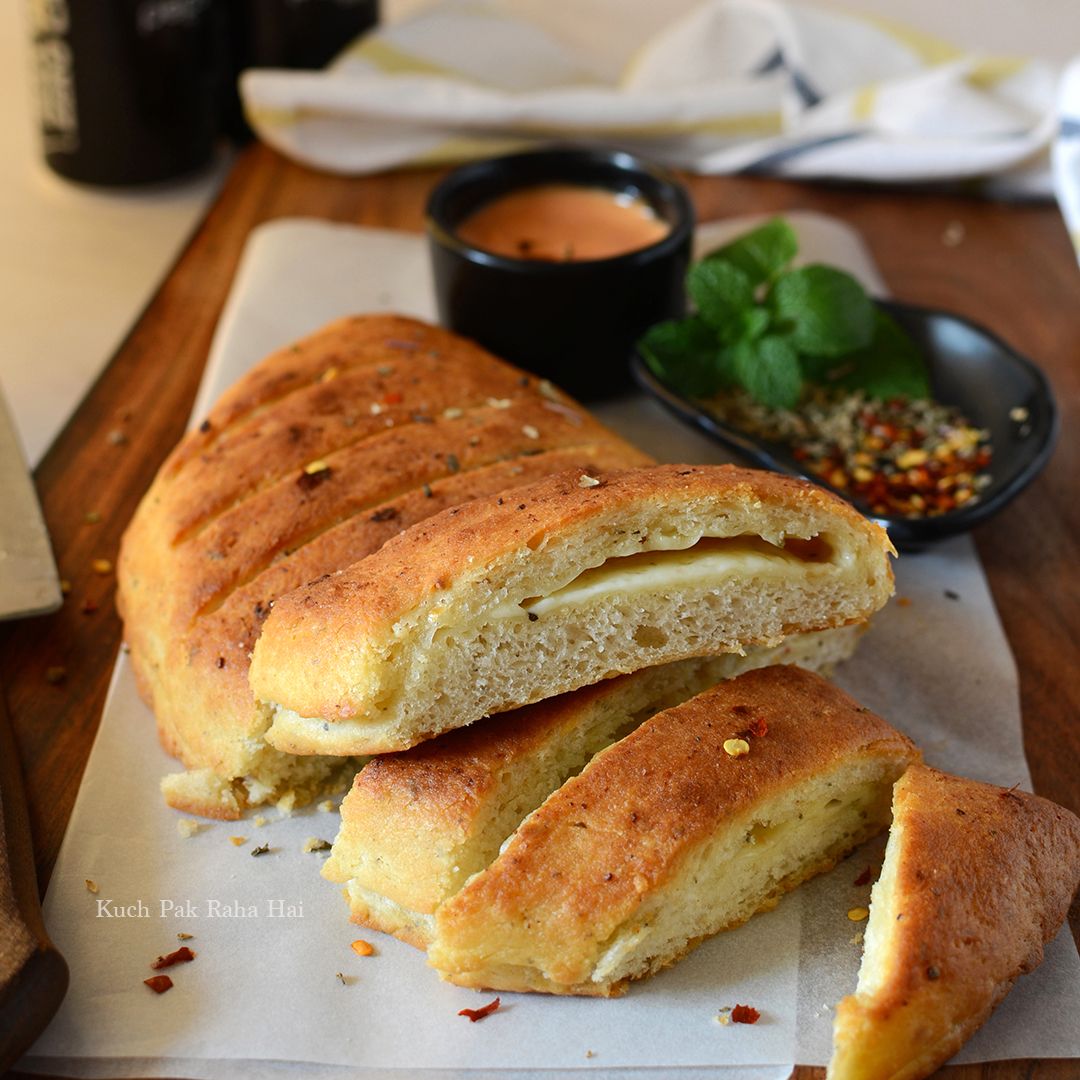 5. You can add jalapeños, olives, sweet corn kernels along with cheese in garlic bread stuffing. For a lighter version you can skip mozzarella cheese altogether.
6. If you don't have mozzarella or cheddar cheese, you can use cheese spread also.
I have also shared a Youtube video for this same recipe. In case of any doubt at any step, please refer to the video.
Youtube Video:
Hope you will like this easy delicious cheesy garlic bread recipe!!
More bread recipes:
Ingredients: (Makes 1 bread)
Warm Water – 1/3 cup
Sugar – 1 tsp
Milk Powder – 2 tsp
Active Dry Yeast – 1/2 tsp
All Purpose Flour (Maida) – 1 cup
Salt – 1/4 tsp
Melted butter – 1 tsp
Olive Oil – 2 tsp
Garlic Cloves – 2
Oregano / Mixed seasoning – 3/4 tsp
Mozzarella Cheese – 1/2 cup
Garlic Herbed Butter:
Salted Butter – 1/4 cup
Garlic Cloves – 4
Oregano / Mixed Seasoning – 1 tsp
Chilli flakes – 1/2 tsp 
Directions:
Step 1:
Add warm water, sugar & milk powder in a mixing bowl. Give a gentle stir and add yeast to it. Let it rest for 4-5 minutes. You will notice froth forming on top. This brand of yeast takes 5 minutes but other brand may take upto 10 minutes.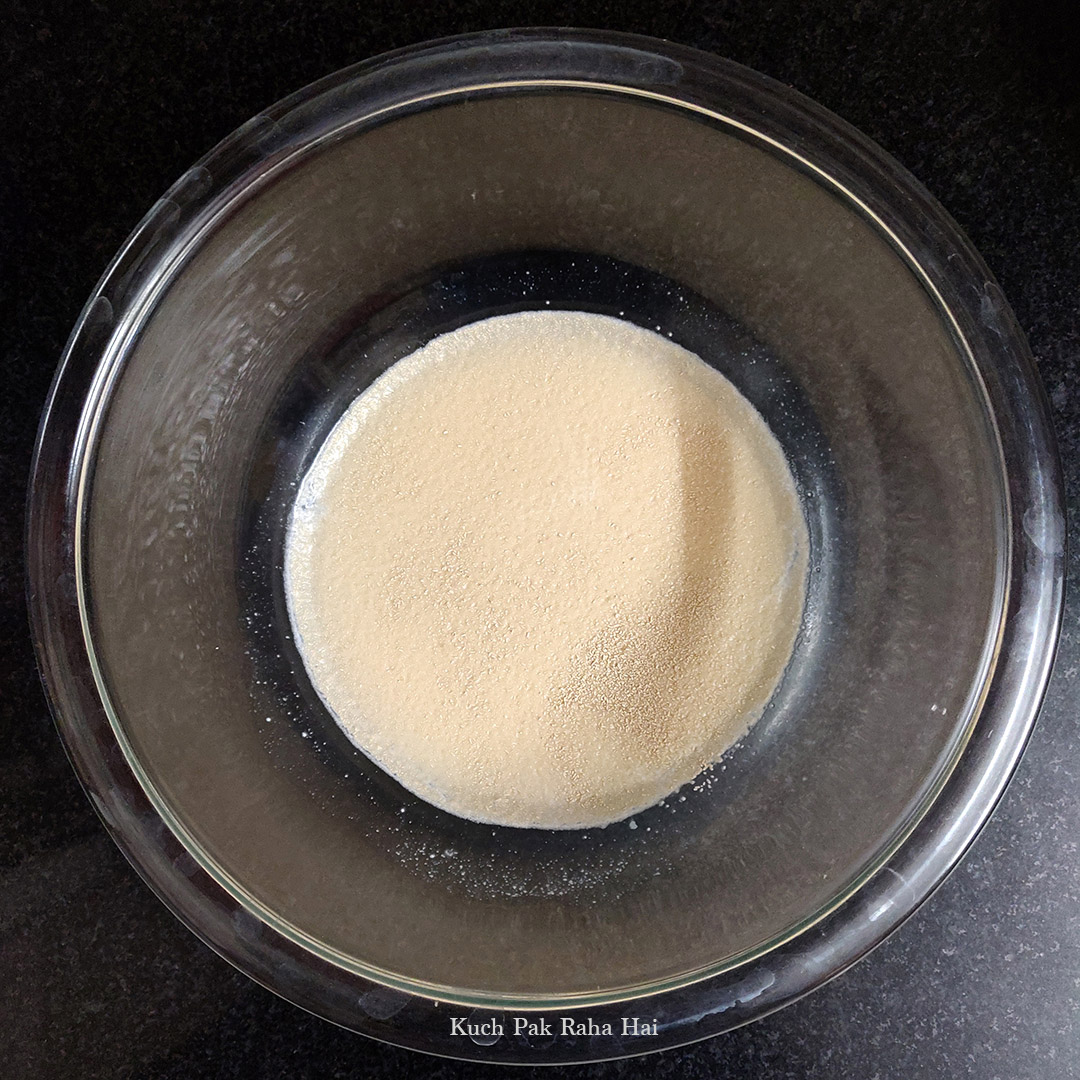 Step 2:
Add flour to the above bowl along with salt. Add finely chopped garlic, salt, melted butter & oregano seasoning in it. Instead of butter you can use olive oil also.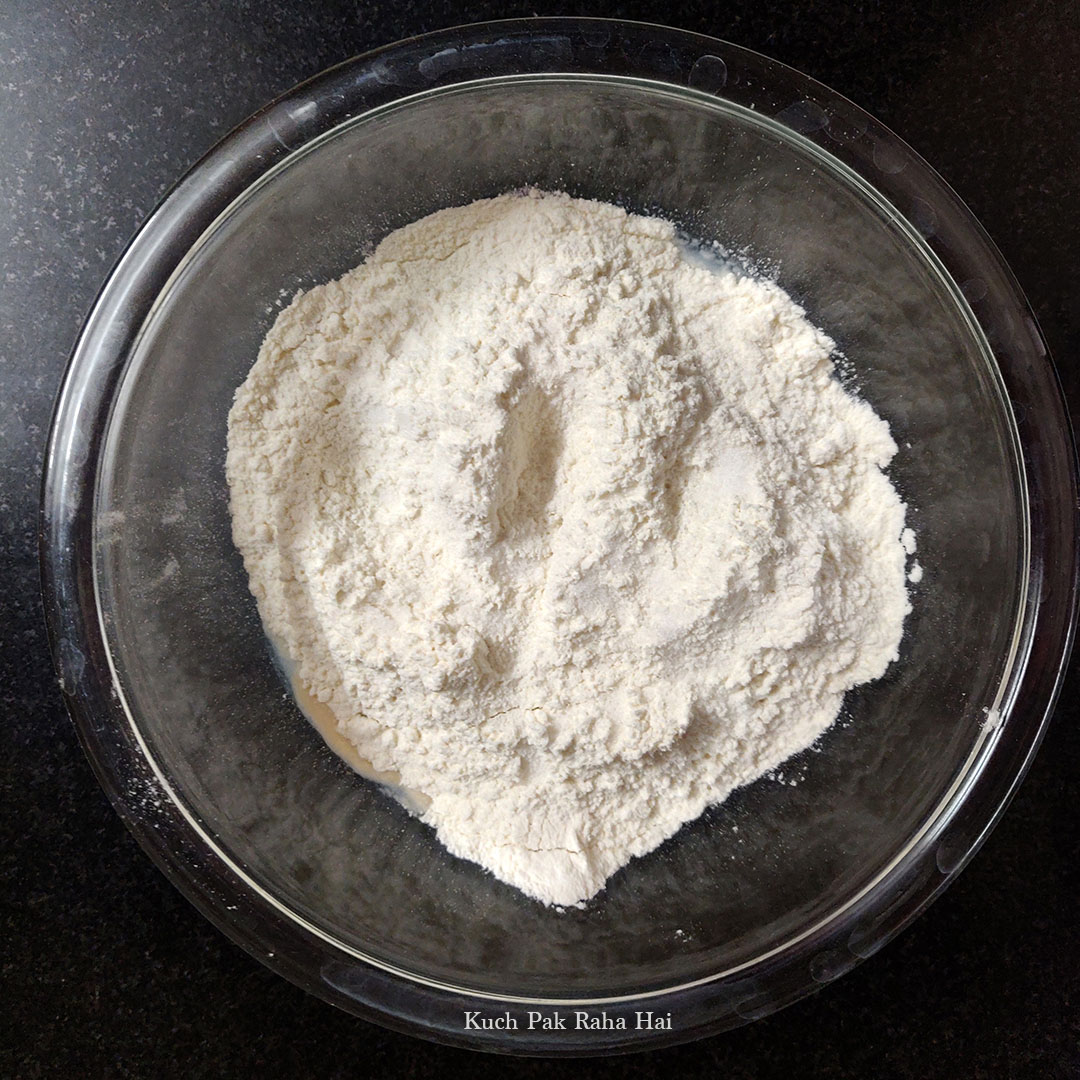 Start kneading the dough. If dough feels tight, add 2-3 tsp water more. Knead it for at least 10-12 minutes while using you palm to stretch it upwards. Add 1 tsp of oil also while kneading to make the dough completely soft and smooth. Tuck in the dough by stretching its sides. Apply some olive oil inside the bowl and then on the dough. Seal the bowl using cling film.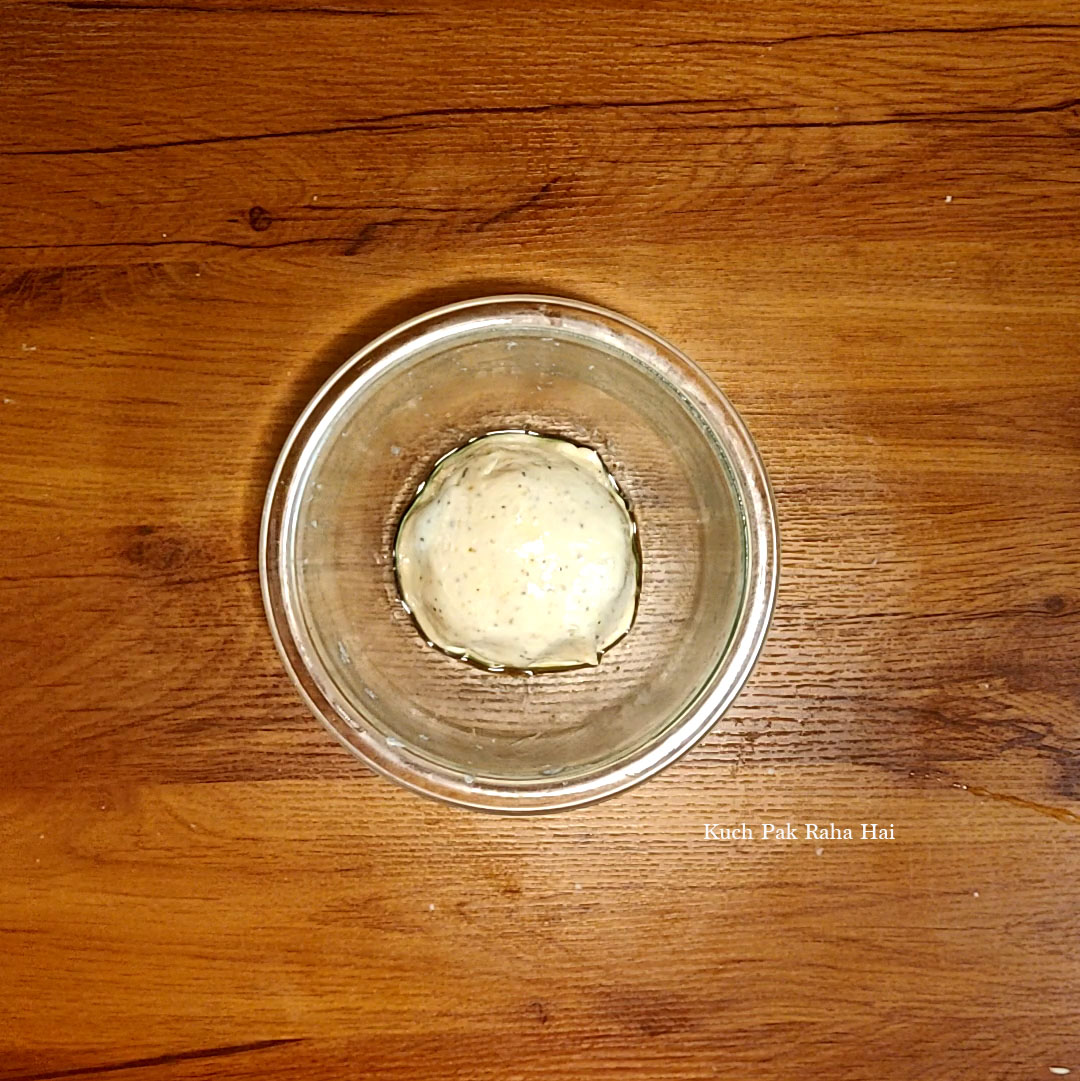 (Tip: One way to know that the dough is ready is when you will press the dough gently with your finger it will slightly bounce back.)
Step 3:
Rest the dough till it becomes double in volume. In summers this takes roughly 2 hours but in winters it might take even 3-4 hours. Below you can see how the dough has doubled up.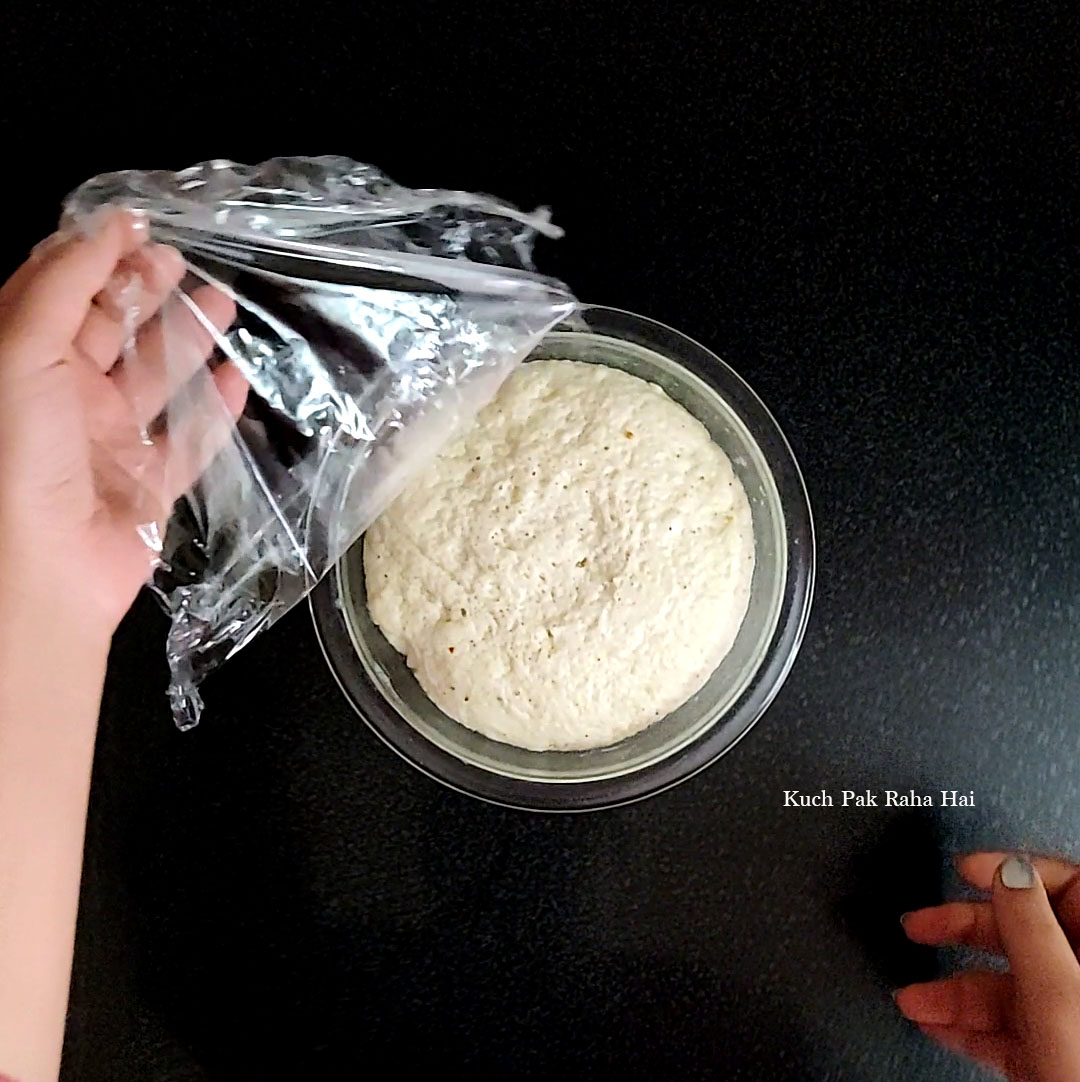 Step 4:
Prepare the garlic butter by mixing melted butter, finely chopped garlic cloves, mixed oregano seasoning and chilli flakes. Keep it aside.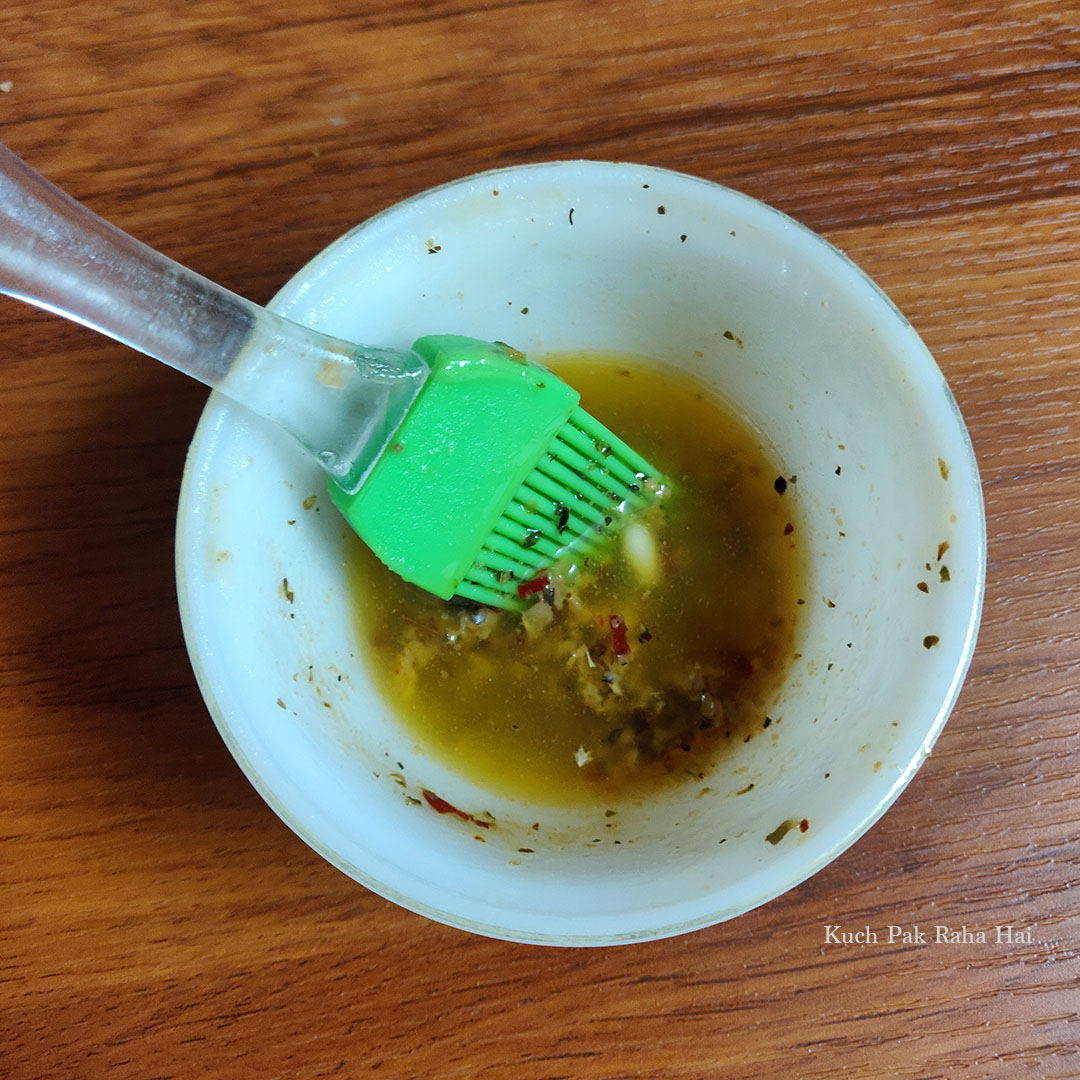 Step 5:
Once the dough is ready lightly punch it. Knead it gently once again. Dust some flour on kitchen counter & start rolling the dough in 8-9 inches diameter circle. You can use rolling pin or use hands to spread the dough. Prepare the baking tray by brushing herbed butter on it. Transfer the dough on that baking tray.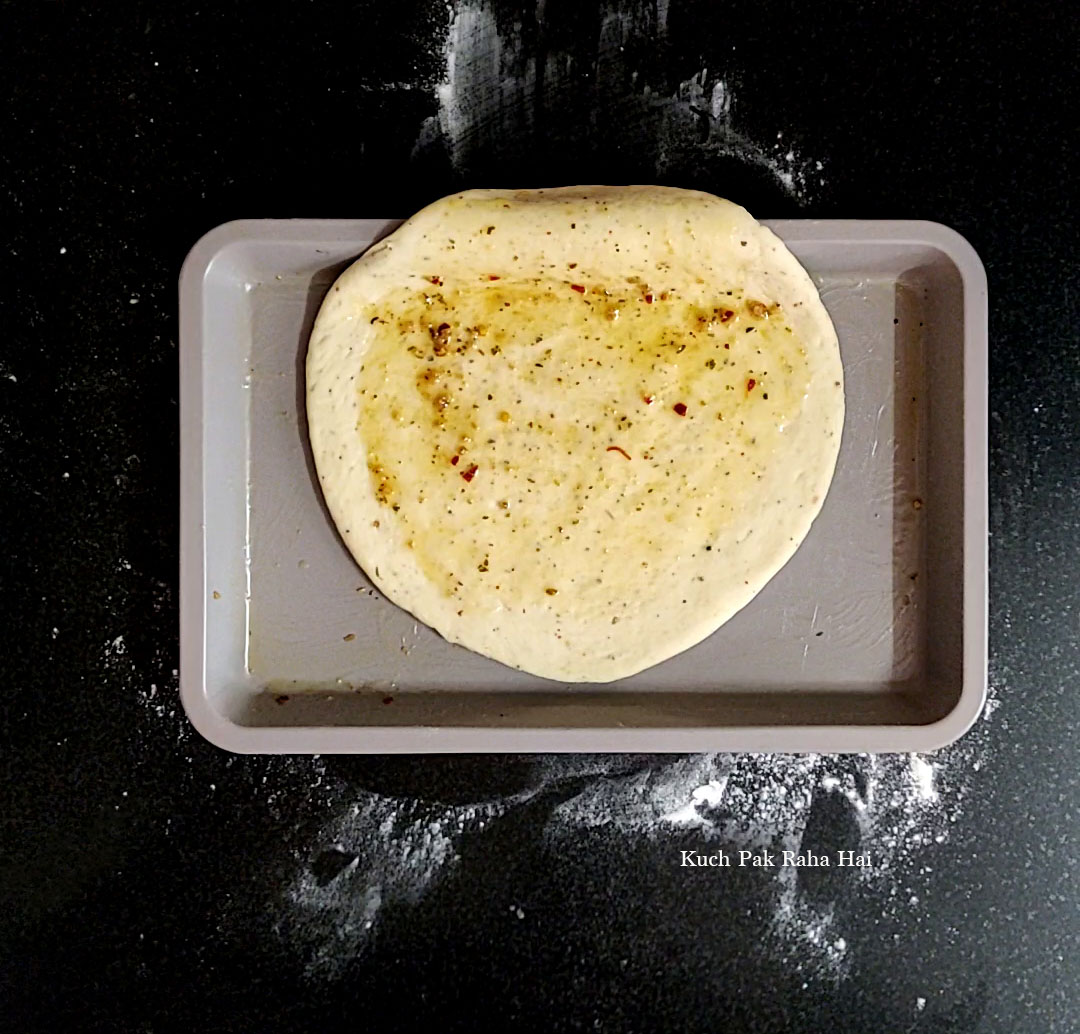 Step 6:
Add mozzarella cheese to the half part of bread.
Fold over the dough into half to turn it into semi circle. Press or pinch the the sides of bread to seal it properly. Using a knife gently make vertical marks on bread. We just have to make marks & not cut through the bread.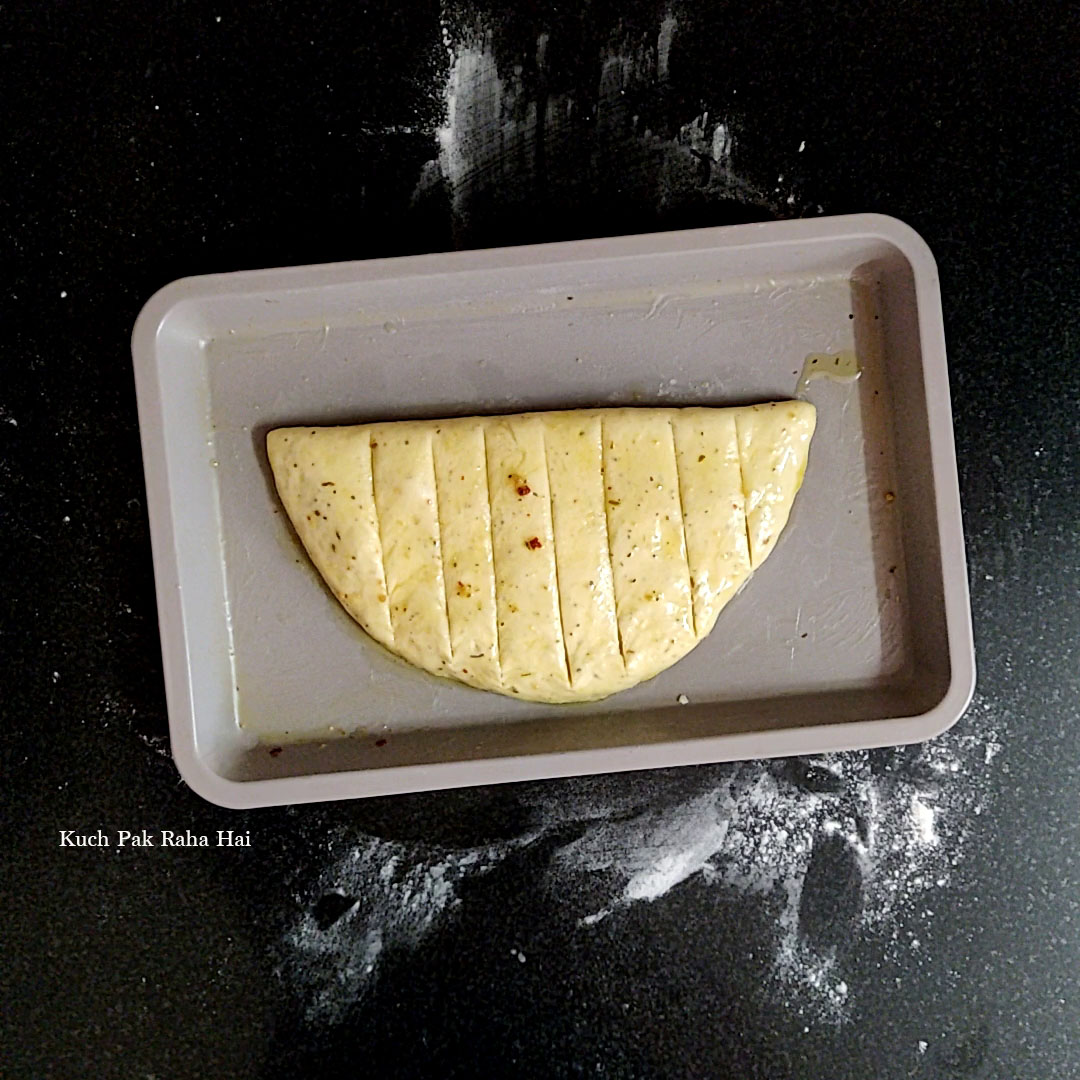 Step 7:
Brush some garlic butter on the shaped bread and let it rest for 20-30 minutes for second rise. Cover it with a cling film or slightly wet cloth during resting.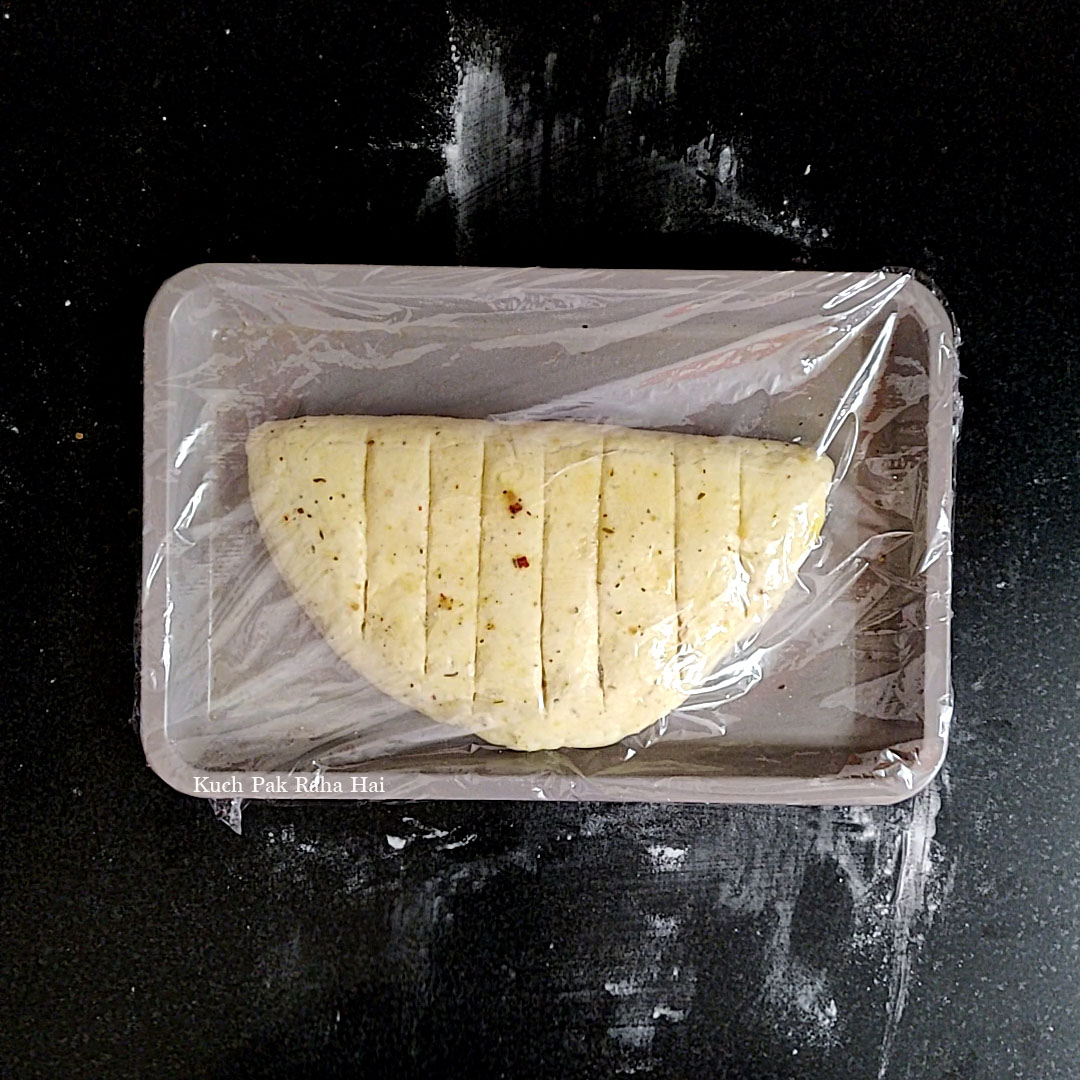 In the meantime, set the oven for preheating at 180 degree celsius for 15 minutes. After the resting time, remove cling film from top & bake the bread at 180 degrees for 15 minutes. Once the garlic bread is baked brush some more garlic butter on it (optional).
(Tip: If you are not getting golden brown colour on top, switch on ONLY the top rod at 200°C for additional 2 minutes.)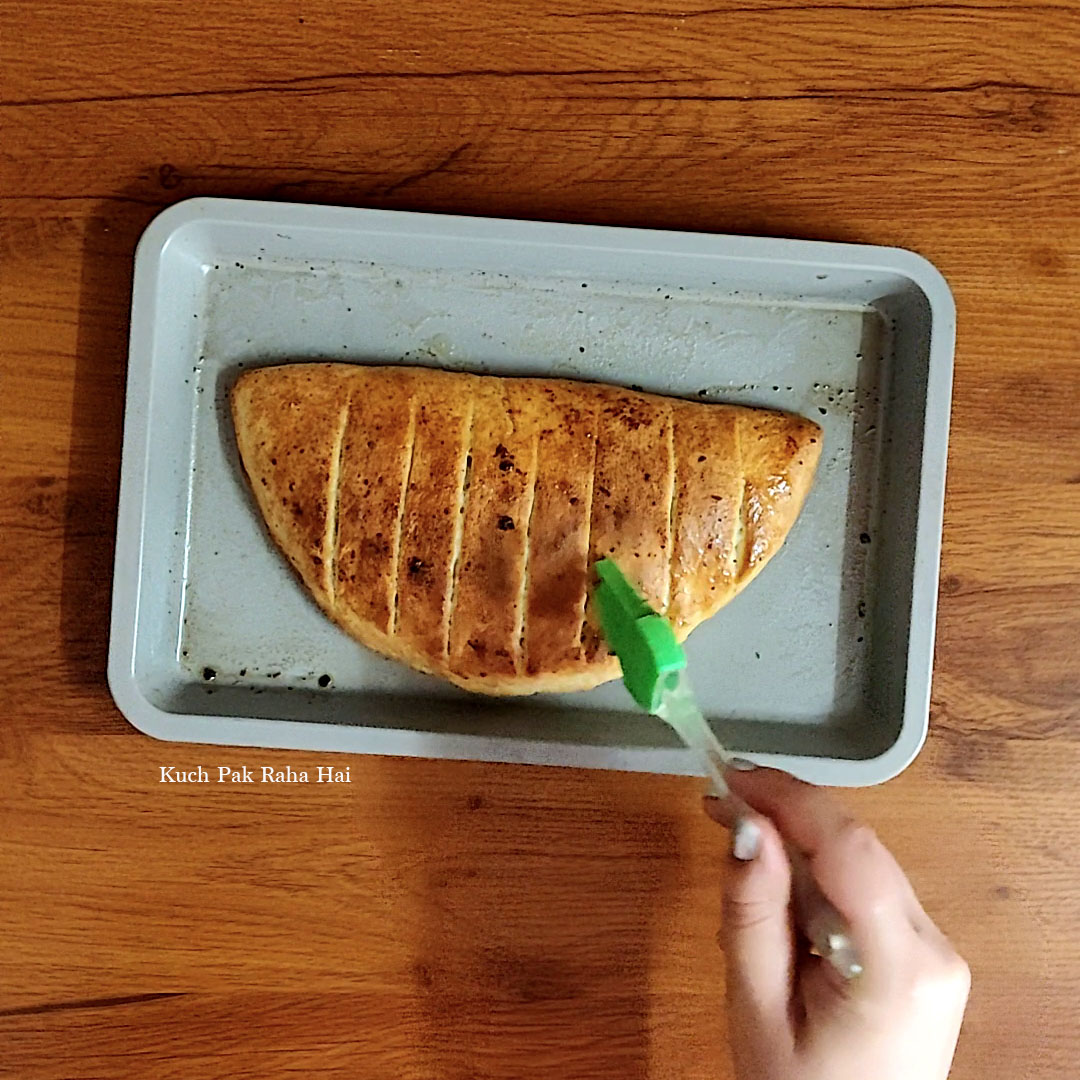 Delicious cheesy garlic bread is ready to be served. Enjoy it warm with your soup or drinks. Bon Appetit!!
Pin for later: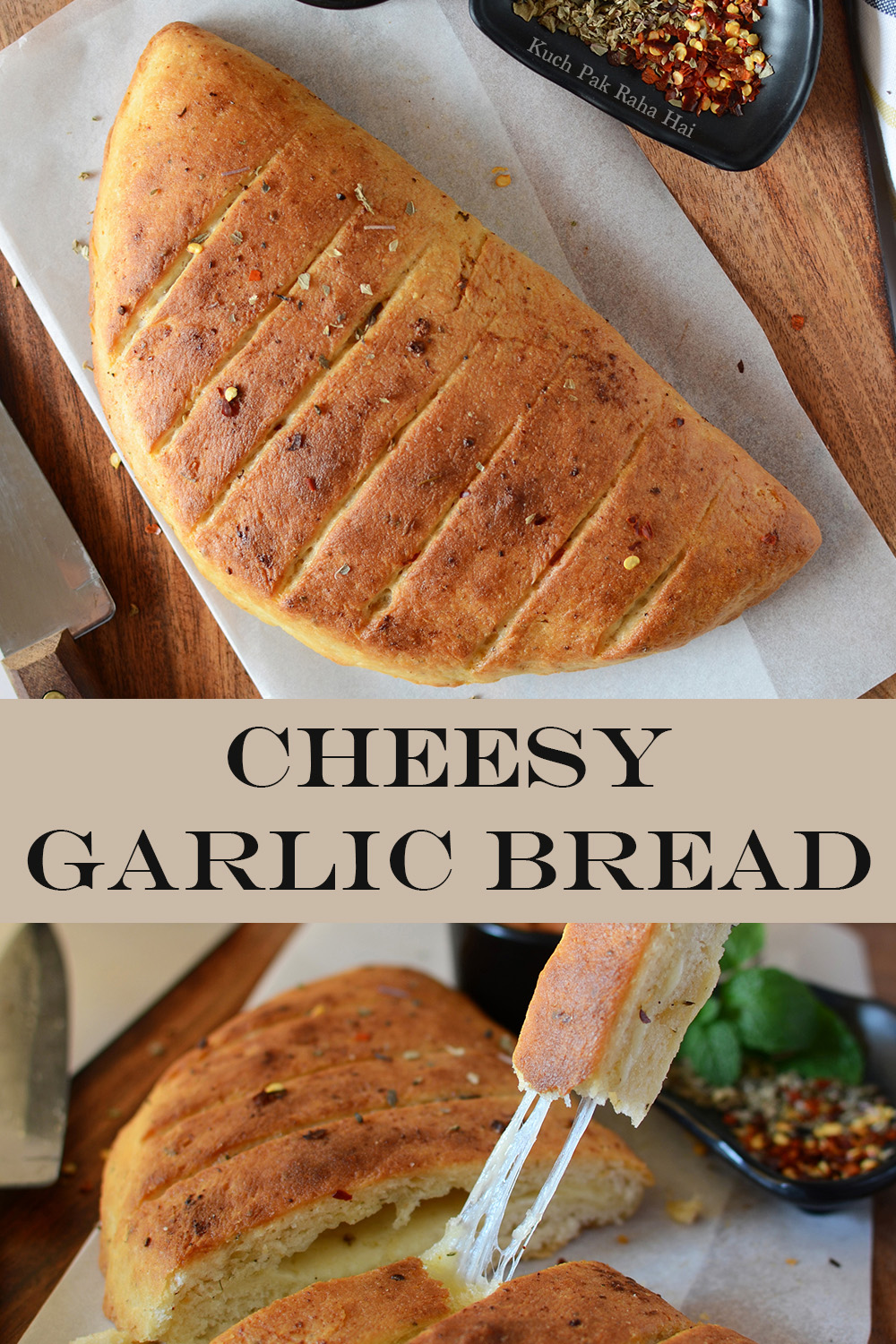 If you try this stuffed garlic bread recipe & share pics on social media, don't forget to tag us on Facebook, Instagram or use #kuchpakrahahai.
Let's stay connected
Facebook | Instagram | Pinterest| Youtube