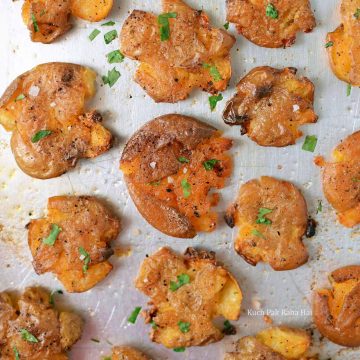 Crispy golden smashed potatoes with soft fluffy insides makes for a perfect appetiser, side dish or snack any day. It is such a yummy easy recipe and can be baked in both oven or air fryer.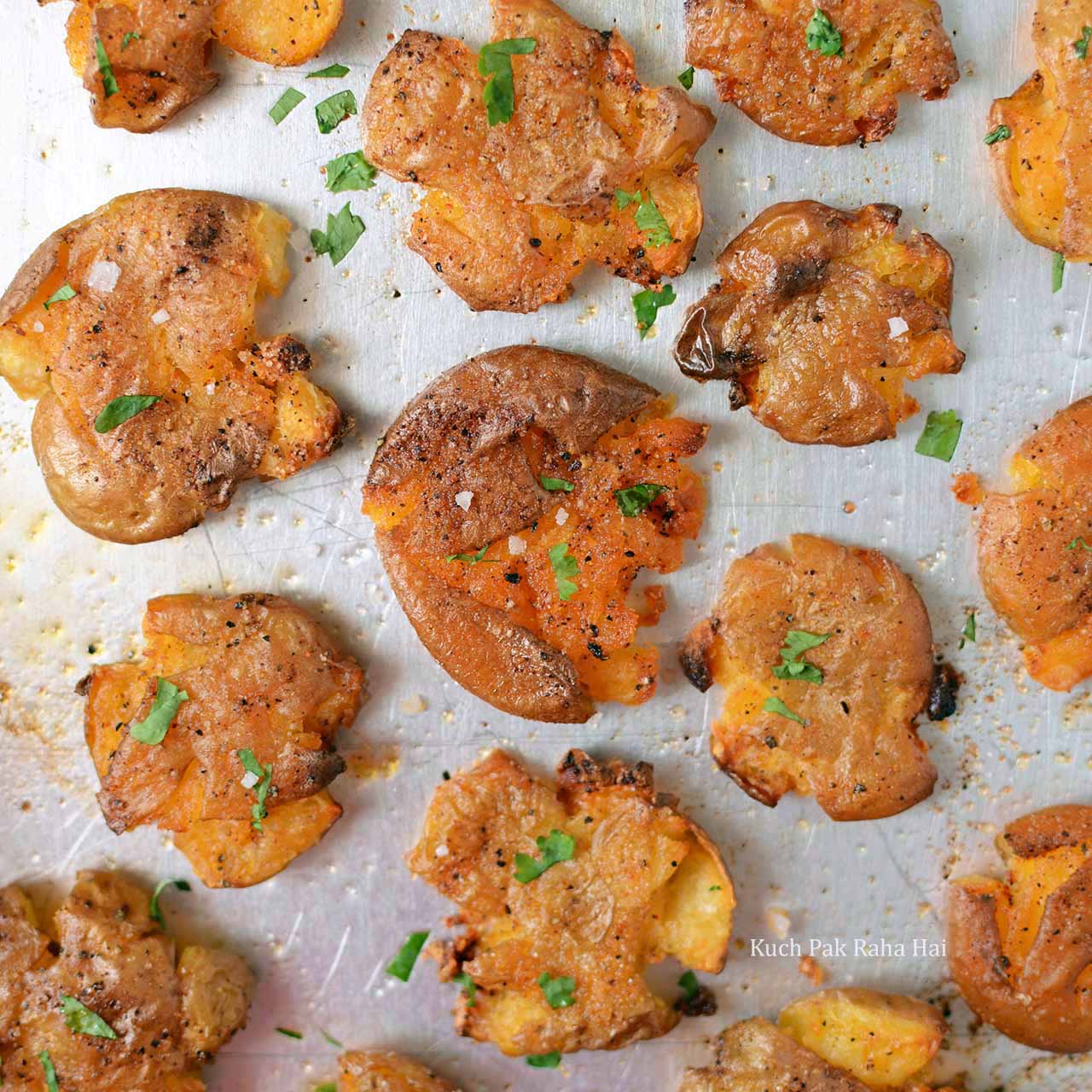 The crispy smashed potatoes shared here is:
Vegan
Baked
Gluten Free
Kids Friendly
Great to serve as snack or side dish
They are great option for potlucks, family dinner, games day or thanksgiving dinner for sides. I mean I have never seen any adult or kid complaining about potatoes. Whether it is french fries, potato wedges, hasselback potatoes, baked potatoes, in one form or the other they are always a safe bet.
These smashed potatoes can in roasted in oven or airfryer. Both methods are explained in the post.
Ingredients for Smashed Potatoes:
Potatoes: Use small yellow or baby potatoes for this crispy smashed potato recipe. Make sure the potatoes are not too big in size as they will take longer to soften up.
Olive Oil: Olive oil helps in making the potatoes crispy. You can even use butter or any other oil of your choice.
Seasoning: I have used salt, ground black pepper, onion powder, garlic powder & paprika  /red chilli powder to flavour these smashed potatoes. I avoid using fresh garlic as it can sometimes burn while baking.
Fresh Herbs: Use any fresh chopped herbs for garnishing like cilantro, coriander, spring onion greens or chives along with some lemon juice for adding freshness & zing to smashpotatoes. However feel free to skip if you don't have it.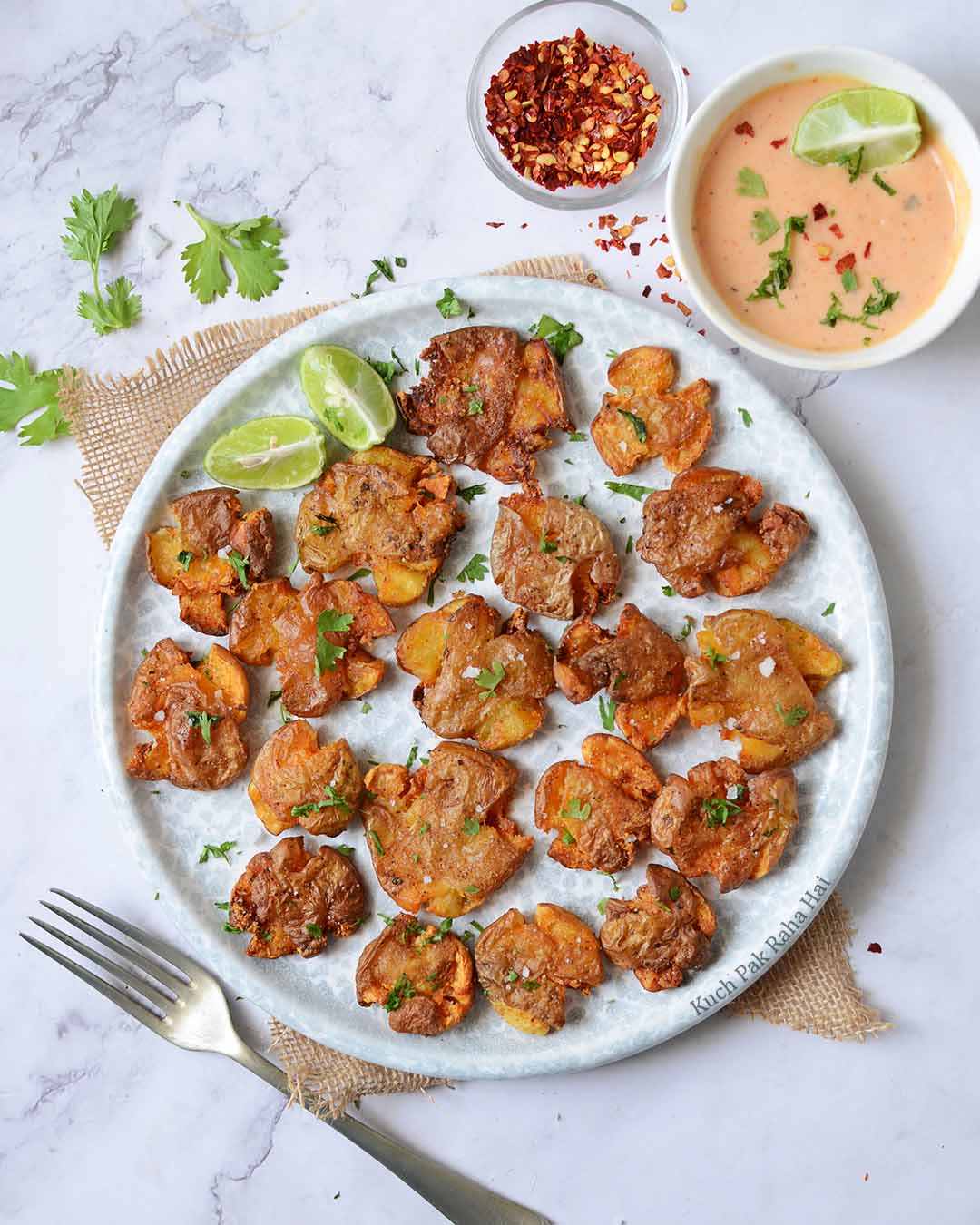 Other seasoning ideas: Italian seasoning, cajun seasoning, cumin powder, coriander powder, turmeric are few other seasonings that you can use in this recipe.
Optional Ingredients-
Cheese: You can sprinkle some freshly grated parmesan once the potatoes are out of oven. If you don't have parmesan, you can use any other meltable cheese and sprinkle over potatoes in last 5 minutes of baking.
Fresh garlic: If you are a garlic lover & would want to make garlic smashed potatoes, then add some freshly minced garlic along with other spices in olive oil. You can even brush some garlic infused oil once the potatoes are out of oven or air fryer.
Smashed Potatoes Serving Ideas:
You can serve these smashed potatoes with:
Ketchup
Sour Cream
Ranch Dressing
Garlic Mayo
Chipotle sauce
Spicy Mayo dip (recipe shared below)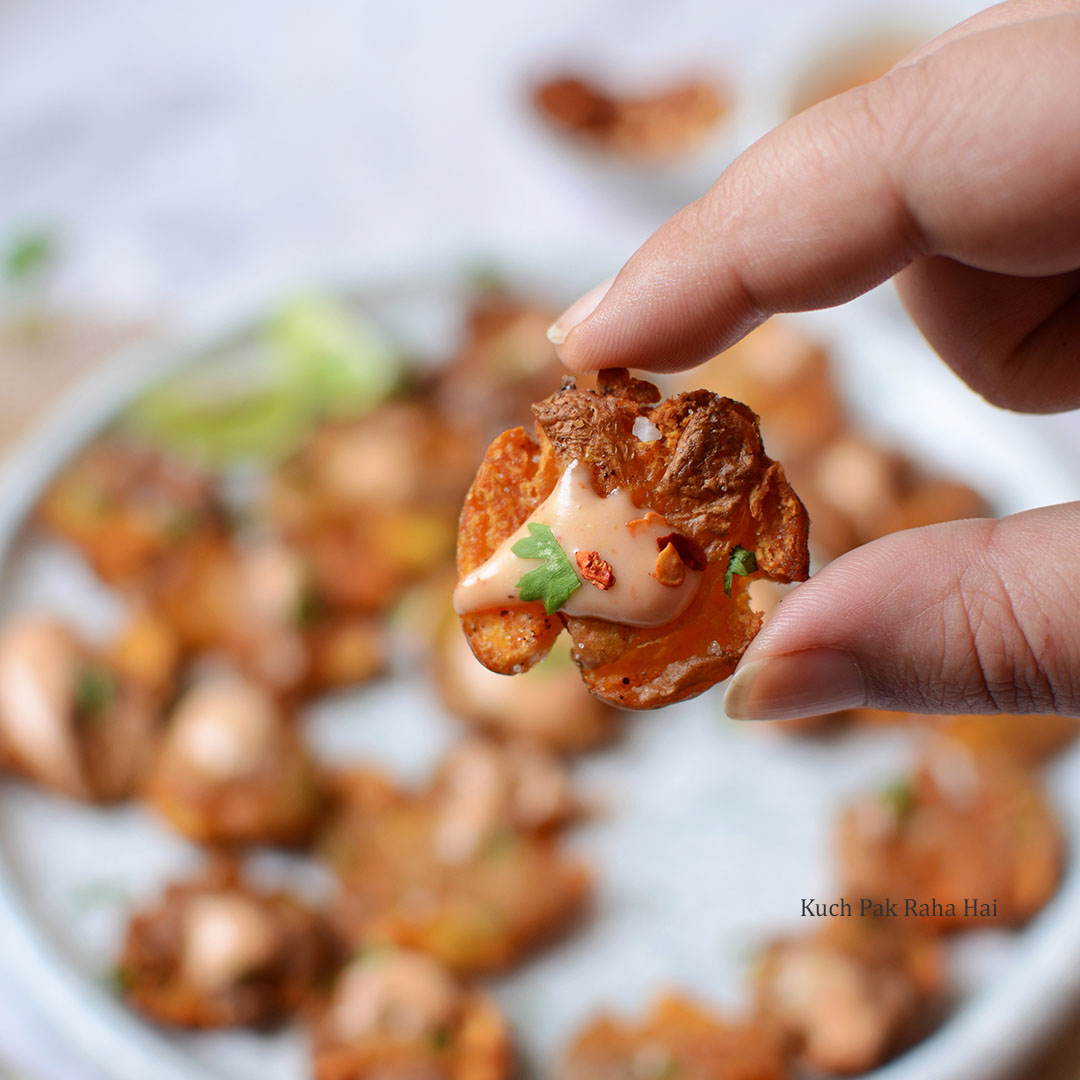 Tips to make perfect smashed potatoes:
1. Make sure not to over boil the potatoes as otherwise they can break into pieces while smashing.
2. Be generous with using oil as they help in making the potatoes crispy.
What is the difference between mashed potatoes and smashed potatoes?
Though both the dishes sounds similar, they are actually quite different. We begin by boiling potatoes in both recipes. For making mashed potatoes, we peel and mash them with cream / milk, butter, black pepper and salt. In smashed potatoes recipe, we leave the peels on, smash and roast them in oven or air fryer till they are golden crispy.
More air fryer recipes:
Hope you would like this easy delicious crispy smashed potatoes recipe.

Ingredients:
Small Potatoes / Baby Potatoes-1/2 kg (~1 pound)
Salt- 1+1/2 tsp (to taste)
Olive Oil- 2 to 3 tbsp (divided)
Garlic Powder-1/4 tsp
Onion Powder-1/8 tsp
Black Pepper (ground)-1/4 tsp (to taste)
Paprika / Red Chilli Powder- 1/4 tsp
Chopped Cilantro / Chives- For garnishing
For spicy mayo dip:
Mayonnaise-4 tbsp
Sriracha sauce- 1 tsp
Lemon Juice- 1 tsp
Ground Black Pepper-1/4 tsp
Garlic powder-1/8 tsp
Onion Powder-1/8 tsp
Oregano-1/8 tsp
Salt- To taste
Notes:
If making for kids, then feel free to skip red chilli powder in this recipe.

Instead of olive oil you can use melted butter or a mix of (olive oil + butter). Rest all the substitutions are explained in post above.

If you don't have garlic powder you can use fresh minced garlic cloves.
Directions:
Step 1:
Wash the baby potatoes while gently scrubbing to get rid of all dirt.
Step 2:
Heat water in a pan, add 1/2 tsp salt and baby potatoes to it. Cover & let it boil for 15 to 20 minutes till they are fork tender. Once boiled transfer them on a colander to drip all water from them.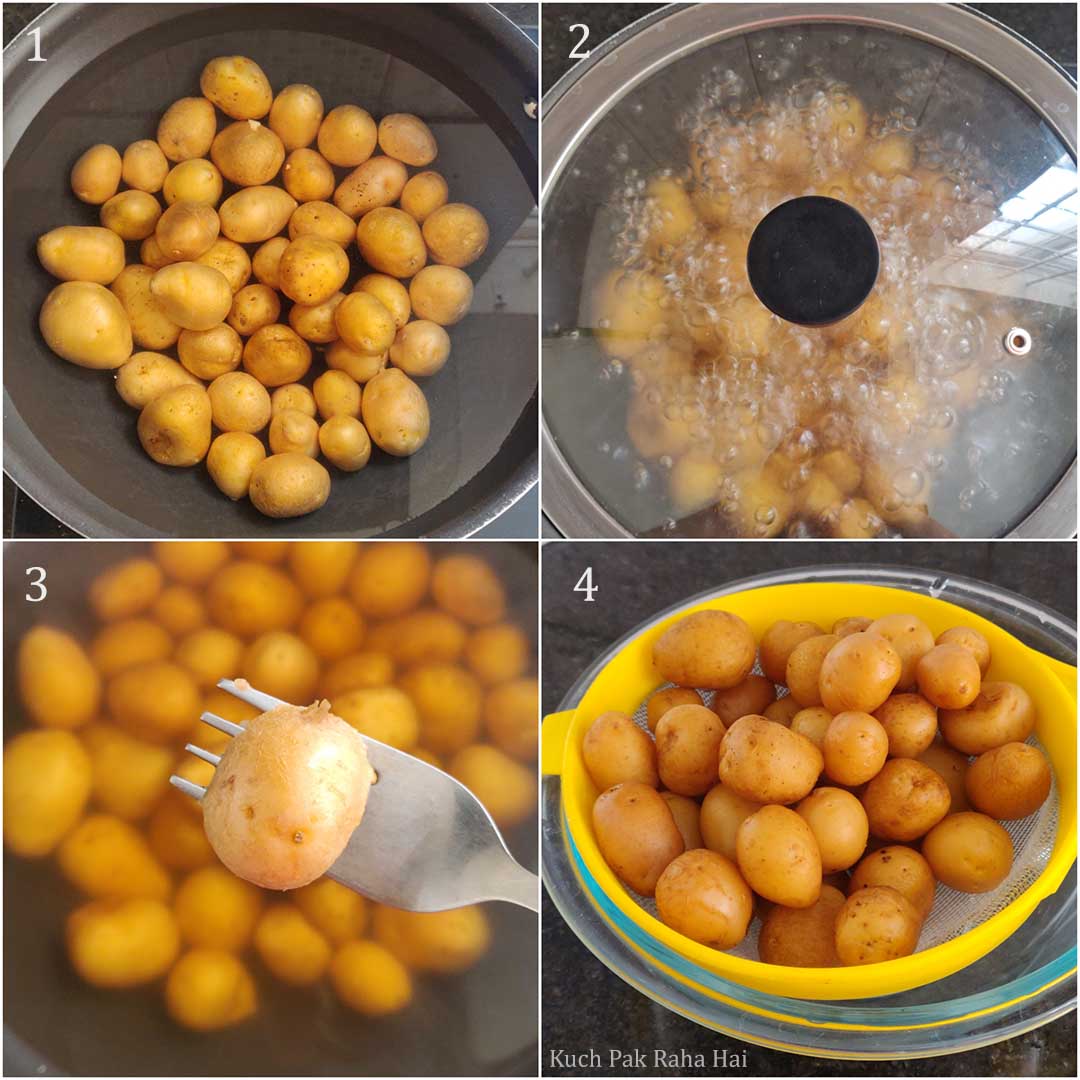 Step 3:
Brush 1 to 2 teaspoon oil on a baking tray. Keep it aside.
In another small bowl, mix remaining olive oil with ground black pepper, onion, garlic powder & paprika / red chilli powder (or whatever seasoning you are using). Keep it aside too.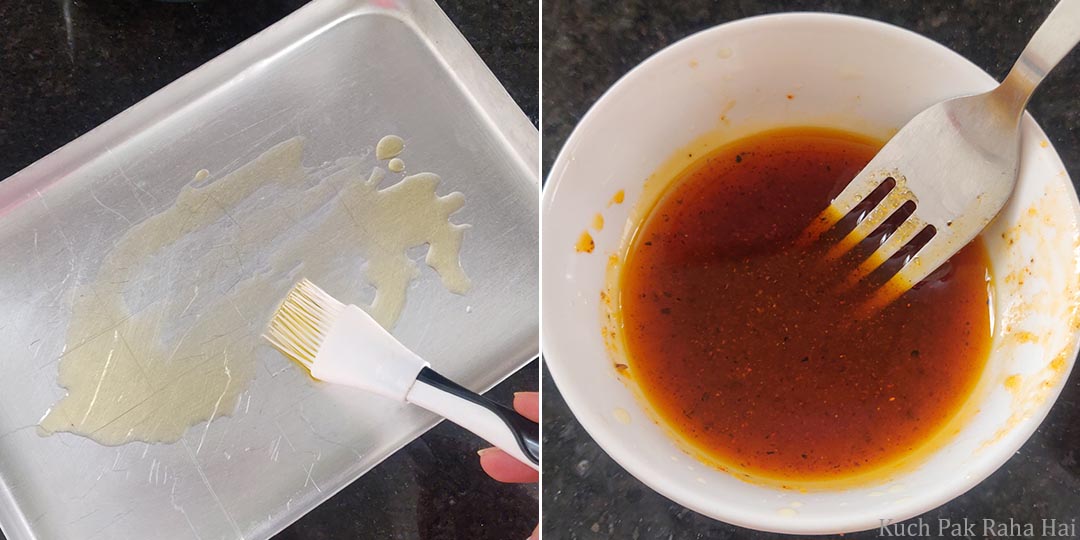 Step 4:
On the oiled baking tray, arrange boiled potatoes while leaving enough space between them. Smash them with back of a glass or measuring cup. Keep the thickness to roughly 1/4 inch. If the potatoes are still hot, let them cool down for 5 minutes to let the steam escape.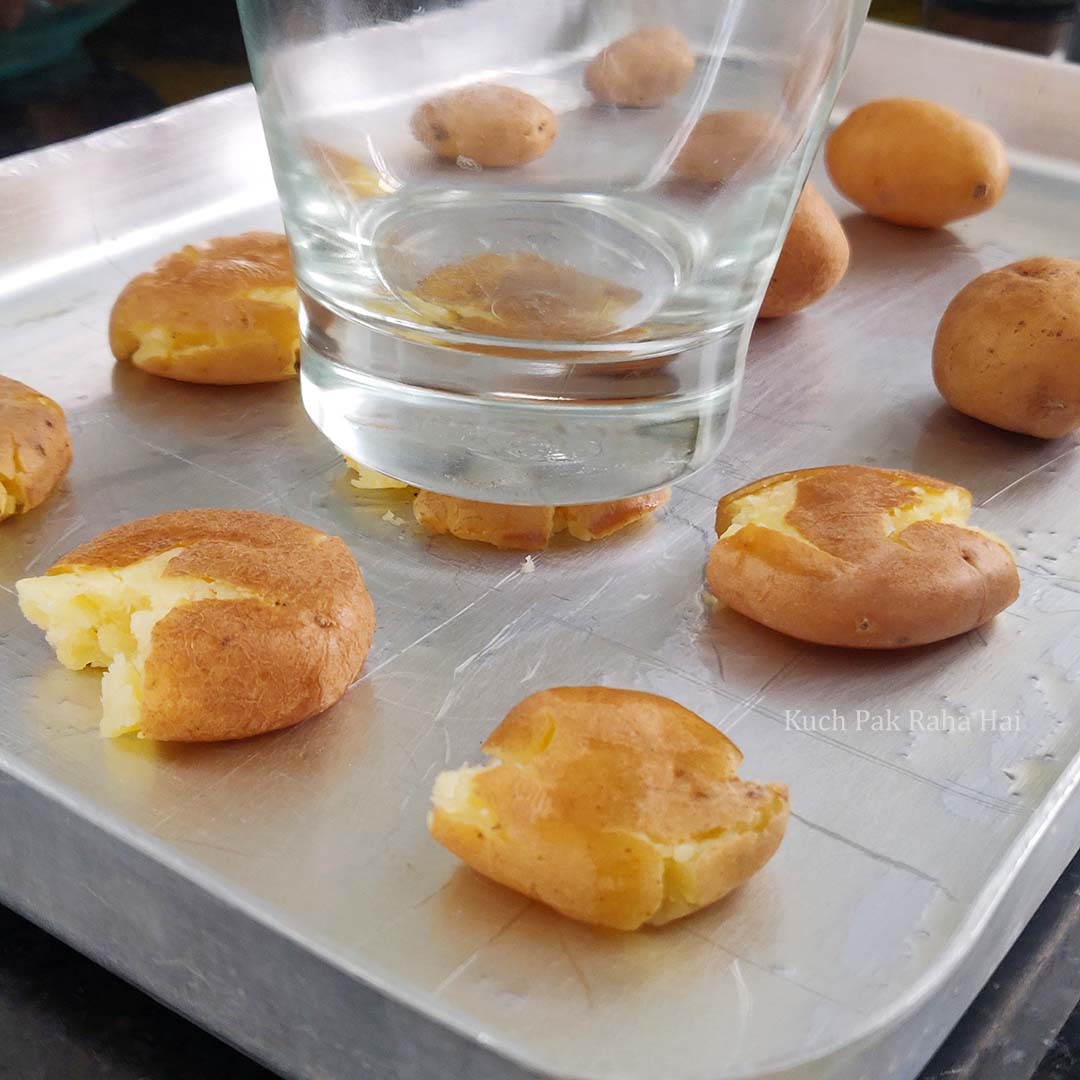 Step 5:
Brush these smashed potatoes generously with olive oil & spice mixture. Sprinkle little bit salt on each piece.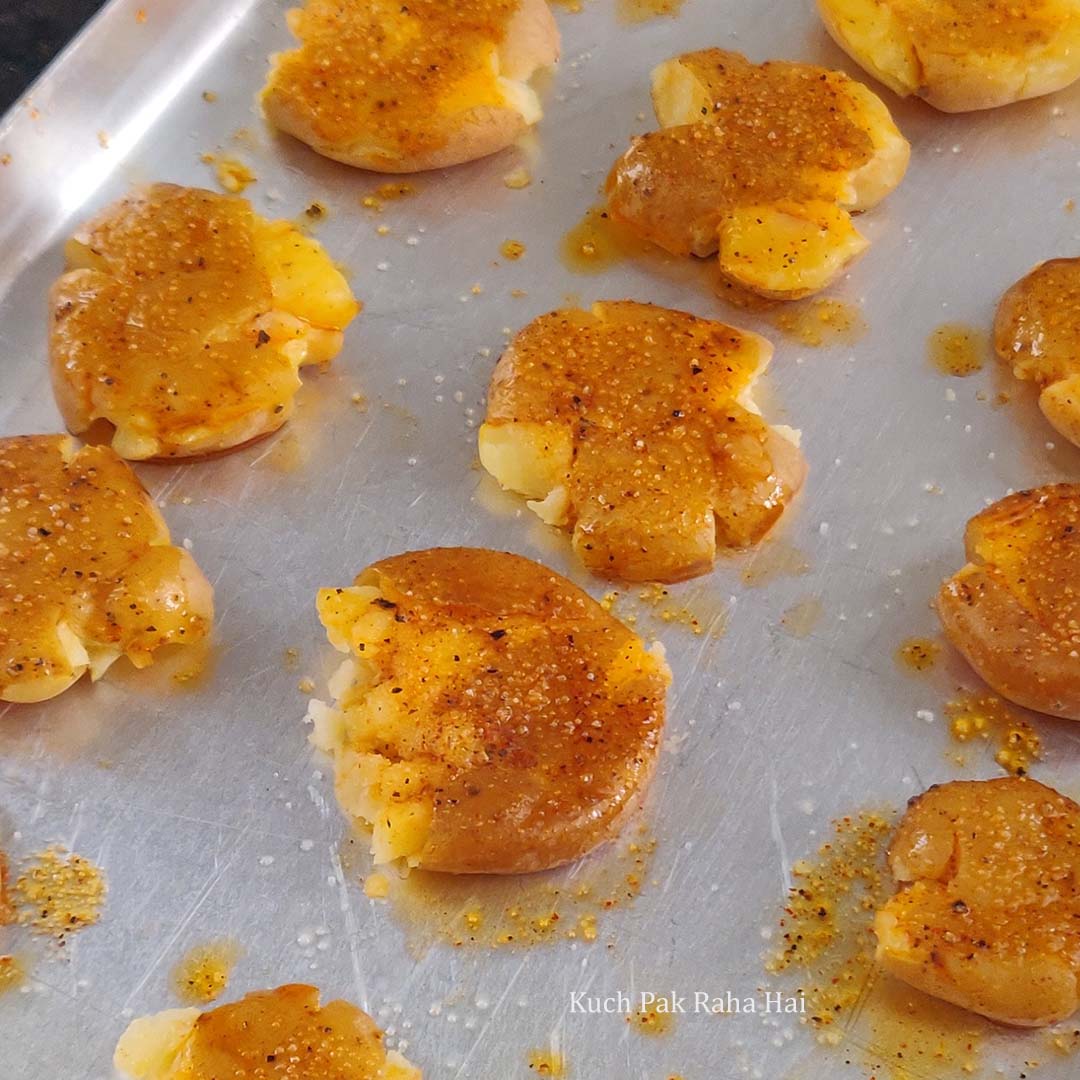 Step 6:
Preheat the oven at 200°C (400°F).  Bake these smashed potatoes for around 30-40 minutes while rotating the tray after half time till they are crispy golden from outside.
Once out of the oven you can brush with some leftover olive oil / melted butter or sprinkle some sea salt. Garnish with freshly chopped herbs and enjoy with spice mayonnaise dip. Bon Appetit !!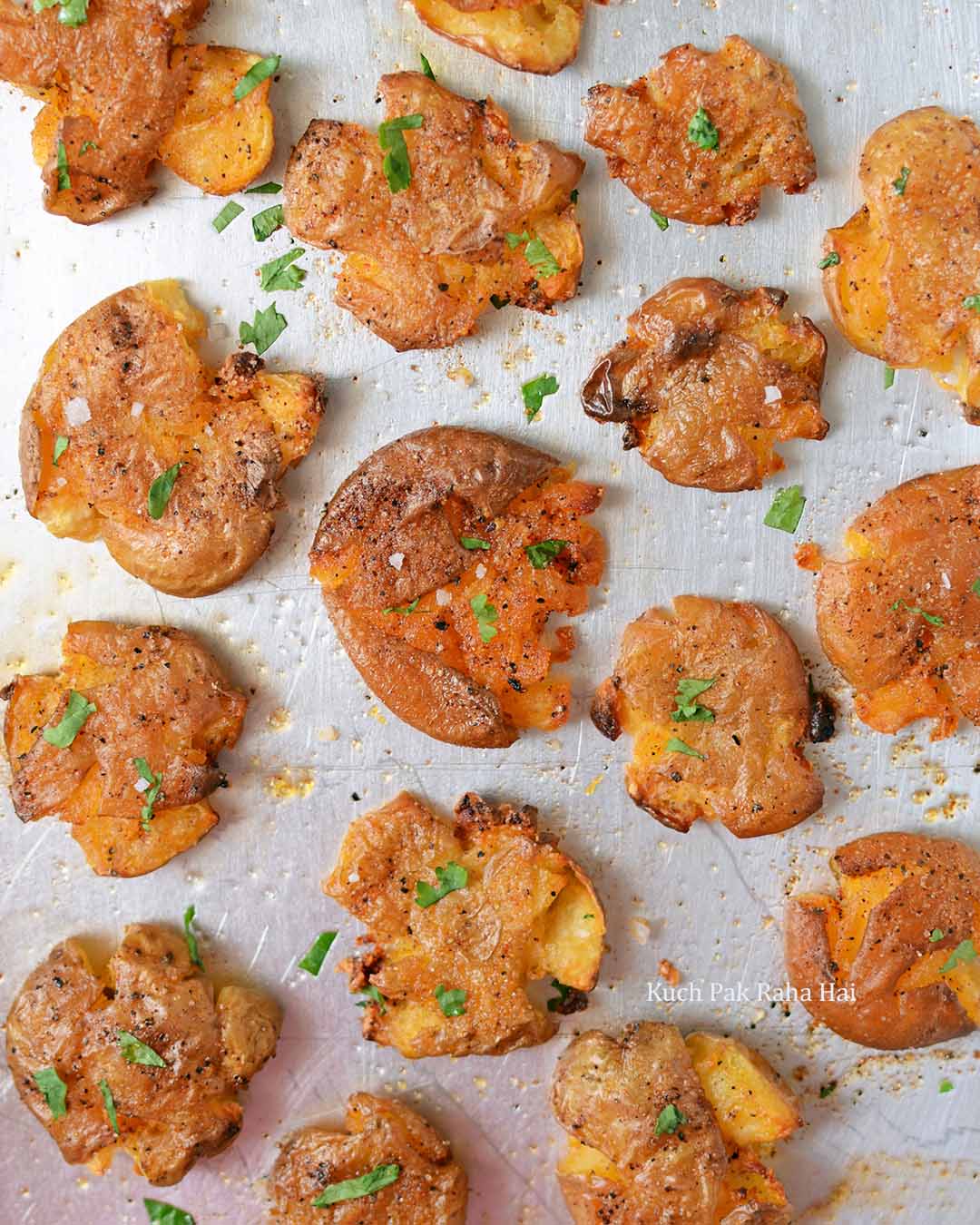 Air fryer smashed potatoes
The recipe will remain same till step 5. After that, proceed as explained in steps below:
1. Preheat the air fryer at 200°C (400°F). Spread the smashed potatoes in air fryer basket and brush olive oil & spice mixture on them.
2. Air fry them at 200°C(400°F) for 13 to 15 minutes till they are completely crispy from outside.
Tip: Don't overlap the potatoes in basket as they will not turn out evenly crispy.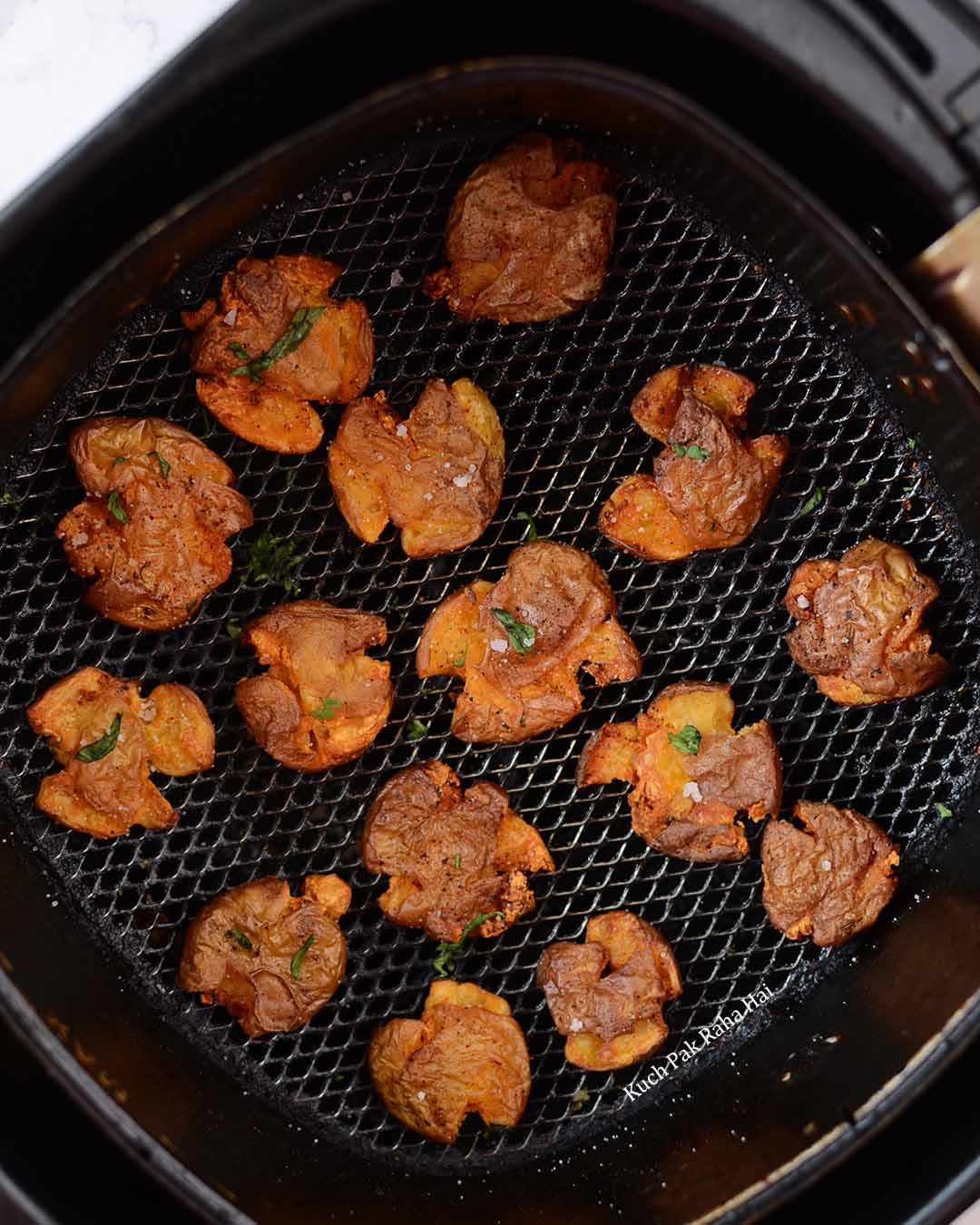 FAQ:
How to make spicy mayonnaise dip?
Take all the ingredients of dip in a bowl and mix well using a fork or whisker. You can also add some chopped fresh herbs like cilantro or chives to it.
How to store & reheat smashed potatoes?
You can store them in an airtight container in fridge for 2 to 3 days. In order to reheat them, bake or air fry them in a preheated oven / air fryer for 2 to 3 minutes.
More air fried snacks recipes you might like to try:
Pin for later: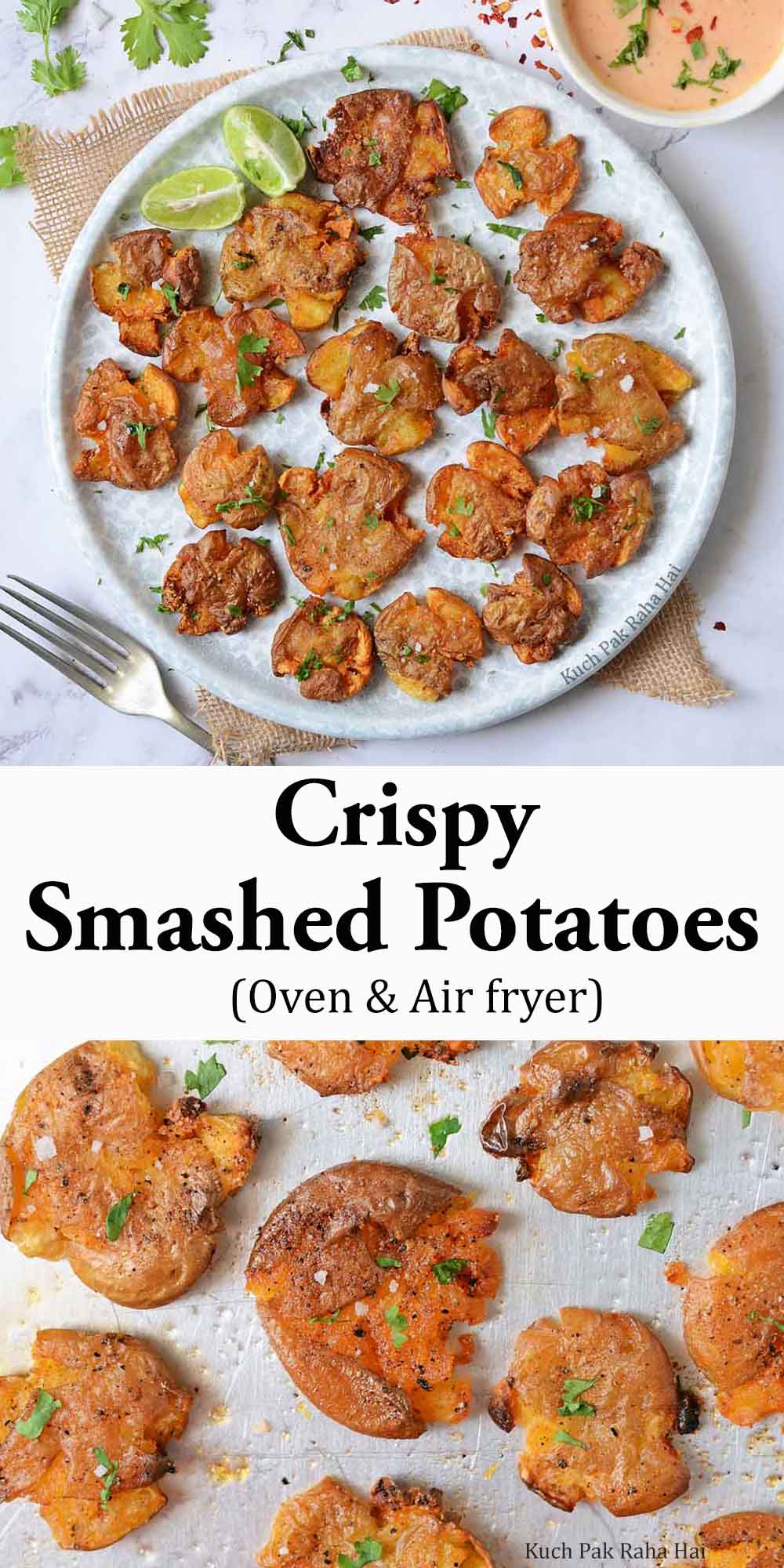 If you try this smashed or crushed potatoes recipe & share pics on social media, then don't forget to tag on Facebook, Instagram or use #kuchpakrahahai.
Let's stay connected
Facebook | Instagram | Pinterest| Youtube